No trip to Italy would be complete without a visit to Venice, the aptly-named City of Water.
From the scenic canals to the breathtaking Gothic architecture, Venice is truly unlike any other place in the world
Not to mention, their approach to cooking is different than other Italian regions, including its cichetti tradition and its handmade egg pastas, popular among Northern Italian cuisine.
So while you're at it, you should definitely take a Venice cooking class so you can bring those flavors and techniques back with you.
Fettuccine, ravioli, and other kinds of pasta are just the tip of the iceberg – wait until you've tried local risotto, baccalà mantecato, and sarde in saor, among other iconic antipasti (called cicchetti here in Venice).
Your local Italian restaurant back home just can't measure up to the real deal — and taking a cooking class in Venice is the best way to cope the reverse culture shock of coming back home from an epic Italian vacation.
So try a Venice cooking class and learn to make authentic dishes from Italy's finest chefs!
The 12 Top Venice Cooking Classes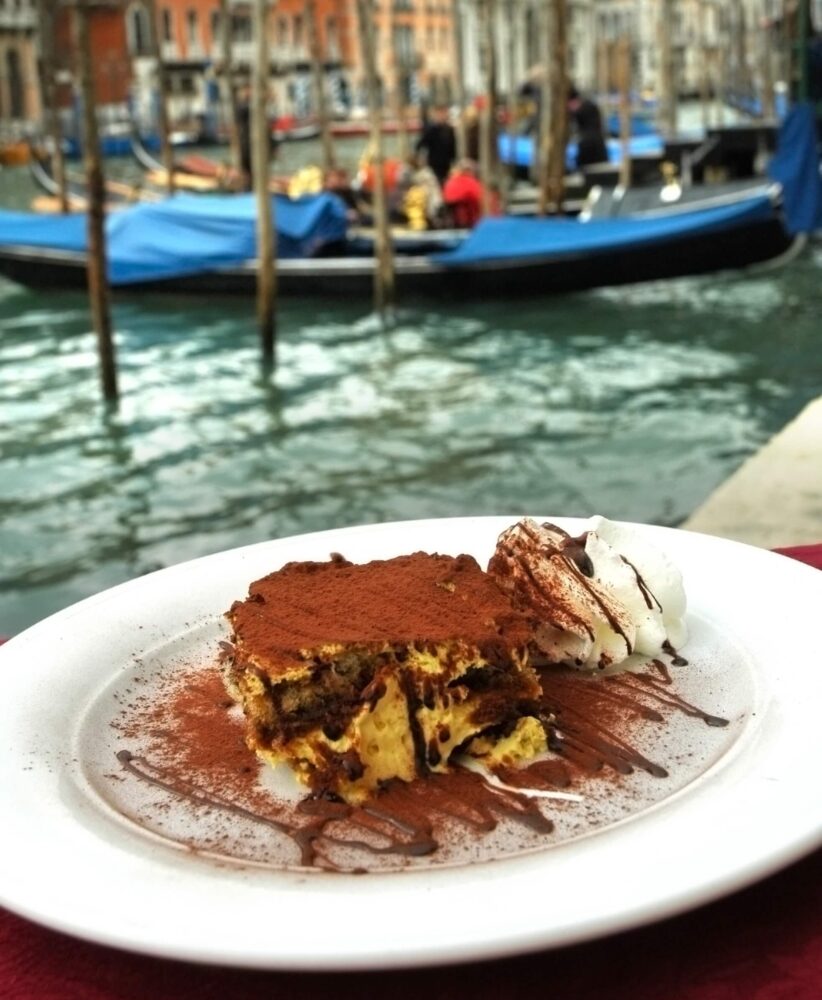 Note: This post contains affiliate links, which means I may receive a small commission if you purchase something through one of these links. Thank you for supporting the free content on this site! For more information on affiliate links and cookies, see my disclosure page for more details.
⌛ Class Length: 3 hours | 🌟 Rating: 4.8/5 stars (60+ reviews) | 👩‍🍳 Book Now
This Venice cooking class teaches you to prepare traditional Venetian dishes in a relaxed and friendly atmosphere — a local old-school family home!
It sets the perfect atmosphere for a day of home cooking.
Experience authentic Venetian hospitality during this three-hour cooking class, taught by a local Venetian.
You'll learn to make two different pasta recipes – one stuffed pasta and one fresh pasta.
Learn to make pasta dough from scratch: mixing the dough, rolling, and shaping.
For the stuffed pasta, you will learn how to prepare a delicious filling and how to fold and seal the pasta.
"It was wonderful! I gained confidence in cooking Italian. I met a wonderful couple and an excellant teacher in a beautiful historic building. It was great sharing food and conversation. Highly recommend."

Read more reviews here!
After making the pasta, you will learn to prepare the famous Italian dessert, tiramisu.
This gorgeous dessert perfectly blends sweet flavors (like chocolate and mascarpone cream) with bitter flavors (like espresso and liqueur).
Then everything is assembled in beautiful layers, with a stunning presentation.
Best of all, this is a kid-friendly class, and you'd be hard-pressed to find a better host to teach your little ones!
For the adults in the group, there's also some tasty aperitivo for good measure – it's hard to turn down some quality local prosecco along with snacks!
You can usually arrange for a morning or evening slot too, so it's pretty easy to fit the class into your schedule!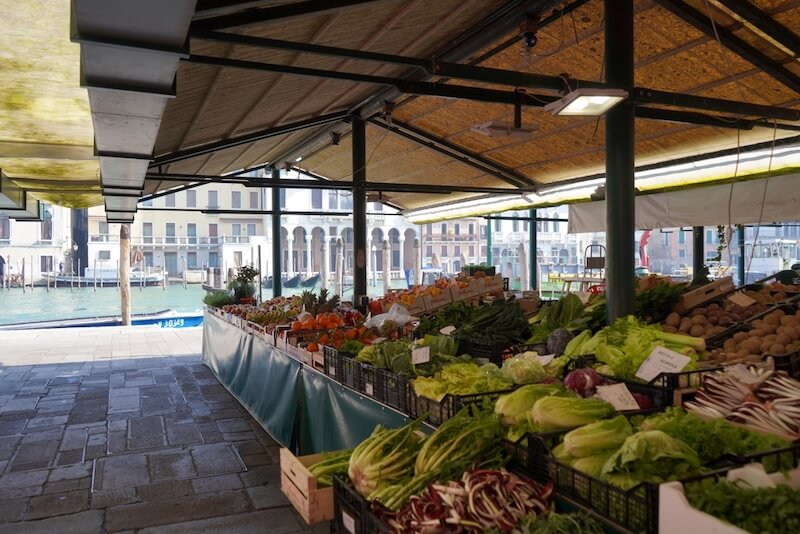 ⌛ Class Length: 4 hours | 🌟 Rating: 5/5 stars (30+ reviews) | 👩‍🍳 Book Now
If this Venice cooking class doesn't get you drooling with its lunch menu, nothing will!
Unless you take the cooking class at 5 PM or on a Sunday, you'll start things off with a market tour to hand-pick the finest ingredients Venice has to offer.
But don't sweat it — even if you're not able to visit the market, you'll still have access to the freshest ingredients, as your host will carefully select them for you.
Once that's done, you'll get to cooking at a Venetian home to really get into the spirit of things on this 4-hour cooking class.
"We met up with Lorenzo at the meeting point, he showed us round the Rialto market. Then he took us back to his place where we had the most amazing few hours. We prepared and cooked wonderful pasta and sauce along with a tiramisu. It was brilliant from start to finish. Thank you Lorenzo"

Read more reviews here!
You'll be learning to make pasta for the main course, as well as a starter and dessert for the ultimate Italian experience. Yup, three tasty courses!
You can expect a super-casual atmosphere, and you even get to sip on some tasty wine as you cook!
If you like the sample, there's plenty more to go around when you sit down to enjoy your cooking!
Once you've taken off your apron, you'll sit down to enjoy the meal you've prepared, accompanied by more wine (obviously!).
The experience of cooking in a Venetian home, using local fresh ingredients, and sharing a meal with new friends is one you'll never forget.
⌛ Class Length: 4 hours | 🌟 Rating: 4.9/5 stars (65+ reviews) | 👩‍🍳 Book Now
What really makes this Venice cooking class stand out is just how engaging the host is.
Carolyn is an American married to a Venice local who has lived in Italy for the last 20 years, and this gives her a unique approach to cooking Venetian-style cuisine. 
Plus, her many awards for her Venetian cooking speak for themselves!
That said, the way she'll greet you as you enter her home is very much Italian – with a welcome glass of Prosecco and some cichetti, of course.
"This was one of the best experiences we've had! The class, food, recipes, and instructor were just amazing! Go early in your stay in Venice because she does a fantastic job give local tips and helps you understand Venice more as a local!"

Read more reviews here!
Whether you prefer your pasta with meat, cheese, or veggies, this class will turn you into a pro in no time!
To top things off, you'll learn to make Italian cookies and a creamy delight distinct to Venice. 
If it's summer and the weather is pleasant, you get to conclude the lesson on the balcony, relishing in the view as you enjoy your food. Also, a glass of regional wine for good measure!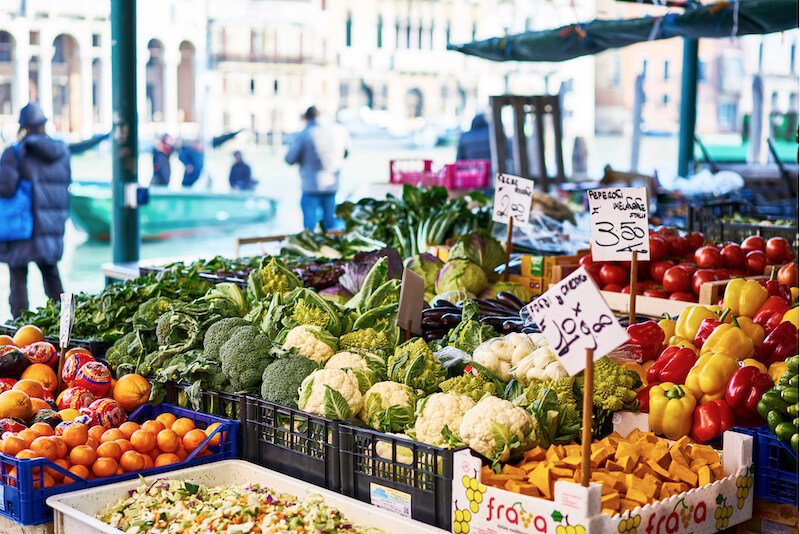 ⌛ Class Length: 5 hours | 🌟 Rating: New! | 👩‍🍳 Book Now
If you have more time, consider booking this half-day Venice cooking class — it takes 5 hours, so it's a little less crunched for time!
Things start off nice and easy with a market tour – you'll get to look at produce from Venice's finest farmers to guarantee the best, freshest ingredients for the ultimate culinary experience.
The class covers three tried-and-true local recipes, and you get to work under the guidance of one of Cesarina's premier chefs, a local cooking school that highlights home chefs.
"Market tour was a bit slow but once you start cooking with Rosa it was a blast. One of the highlights of the trip."

Read more reviews here!
Whether you're in the mood for coffee, wine, or anything in between, there's something for everyone to enjoy as you learn these three recipes.
Importantly, you can let your host know ahead of time if you have any dietary restrictions. Whatever your needs are, they'll be met!
You can choose between a morning and an afternoon slot, but there's some leeway in deciding when you begin the market tour, especially since it's a small group of just 4 chefs-in-training.
At the end of the class, you'll get to sit down and savor the fruits of your labor as you indulge in the delicious Italian cooking made entirely by your group!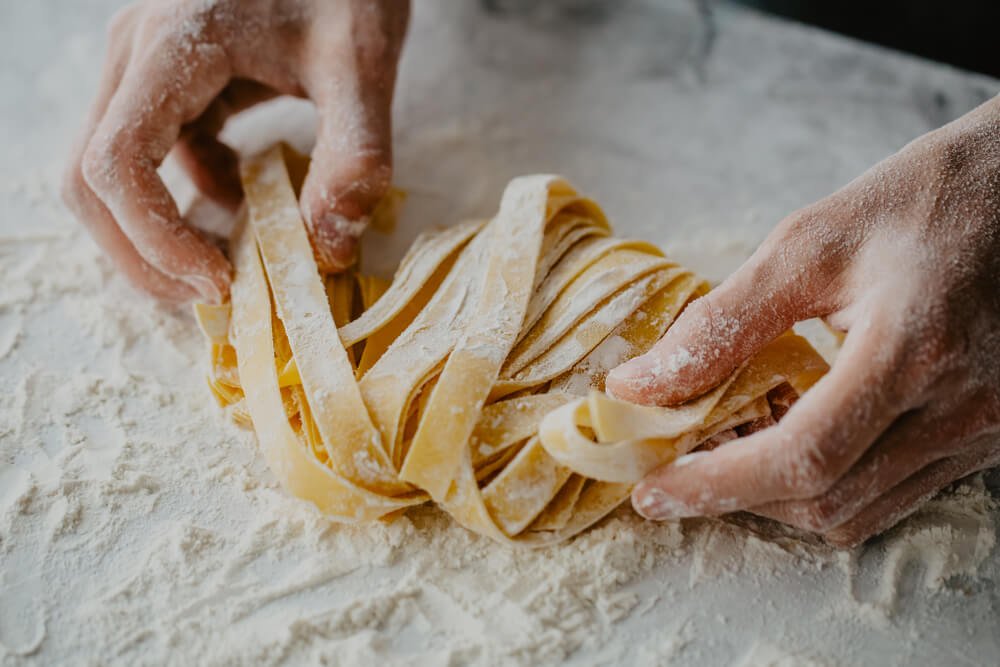 ⌛ Class Length: 3 hours | 🌟 Rating: New! | 👩‍🍳 Book Now
This Venice cooking course is similar to the one above, but this one is private!
You'll learn to cook three delicious handmade pasta dishes with the help of your Cesarina – a professional chef from a popular network of home cooks.
Learning to cook delicious local dishes and mingling with knowledgeable locals – what more could you want from a Venice cooking class?
On top of the class being private, everyone gets their own separate workspace and all the assistance they need.
The private group size is capped at 10 people, so it's perfect for big families or larger groups.
"very nice experience with Giulia, good explanation and good food during unforgettable moment."

Read more reviews here!
The amount of ground you cover in 3 hours is impressive, and there's the added pleasure of listening to your host talk about Venice!
Naturally, there's some quality wine in it for you — with your choice of red or white wine — so you can expect a lively atmosphere over lunch or dinner, depending on which tour you choose.
Since the cooking lesson is entirely private, you can customize many aspects of it.
Generally, the lunch cooking class starts at 10 AM. Meanwhile, the dinner class starts at 5 PM. However, they can work with your schedule and adjust if needed.
Vegetarians, vegans, celiacs: don't be shy about letting the host know your food restrictions; your teacher will work with you to ensure that you're able to enjoy the class and the meal.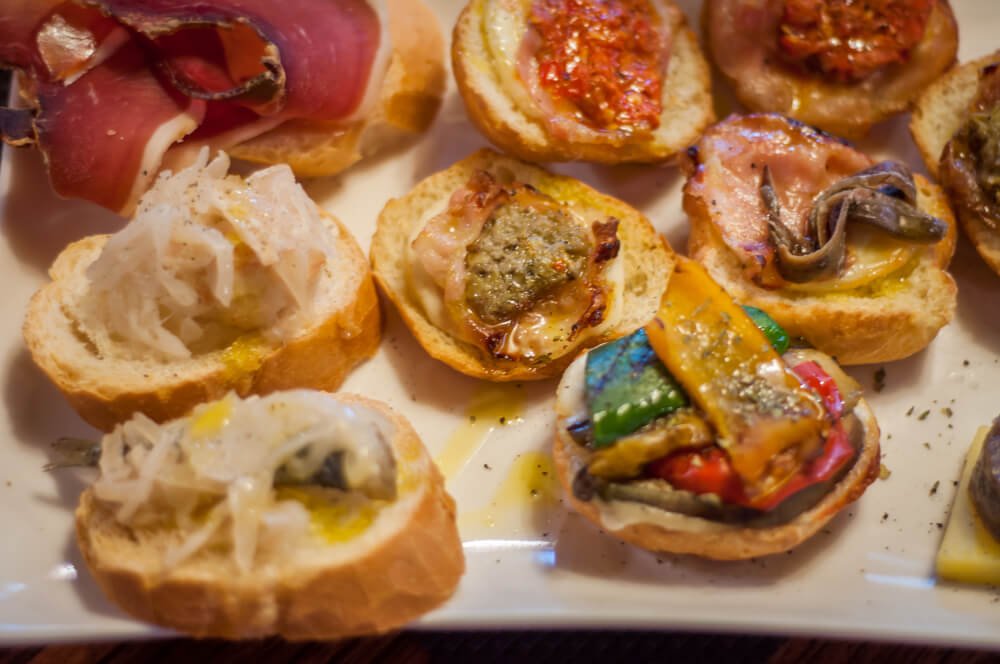 ⌛ Class Length: 4 hours | 🌟 Rating: New! | 👩‍🍳 Book Now
Unique Features:
–Learning to make a variety of cicchetti — at least 6 or 7 types
-Lots of one-on-one interaction due to the small group size
-Enjoying a drink of prosecco as you eat, aperitivo-style

➜ Read more about this Venetian cooking class here!
Side dishes can be every bit as important as the main course, and this Venice cooking class covers cicchetti, a Venetian classic!
This 4-hour cooking class covers 6 to 7 different kinds of cicchetti, including both contemporary and traditional-style cookery.
But what are cicchetti? Basically, they're small plates of delicious food that are typically served in local bàcari, or wine bars, a tradition unique to Venetian cuisine.
The specific dishes you'll make depend on the availability of seasonal ingredients — ranging from meat, fish, to vegetable — so you could even try the class again during a return trip!
If you come back in a different season, you can practically guarantee different seasonal ingredients will be highlighted!
Also, cicchetti goes great with prosecco, and your host has you covered on that front too! The delightful bubbles are perfect paired with the small plates.
The class is a great pick if you're not particularly experienced in the kitchen – there's definitely an art to making good cichetti, but it's a lot less messy than a lot of other Italian recipes!
Either way, since the class is private, you and your group of up to 6 people should have no trouble learning the recipe in a few hours.
Children are welcome too, making this a solid choice for a family of travelers!
Capped at a max group size of 6 people, this cooking class is specifically intended to be an intimate experience, with lots of 1:1 attention.
Also, be aware that this class does not accommodate dietary restrictions, such as allergies or vegetarian/vegan diets. Make sure you're okay with that before booking this class!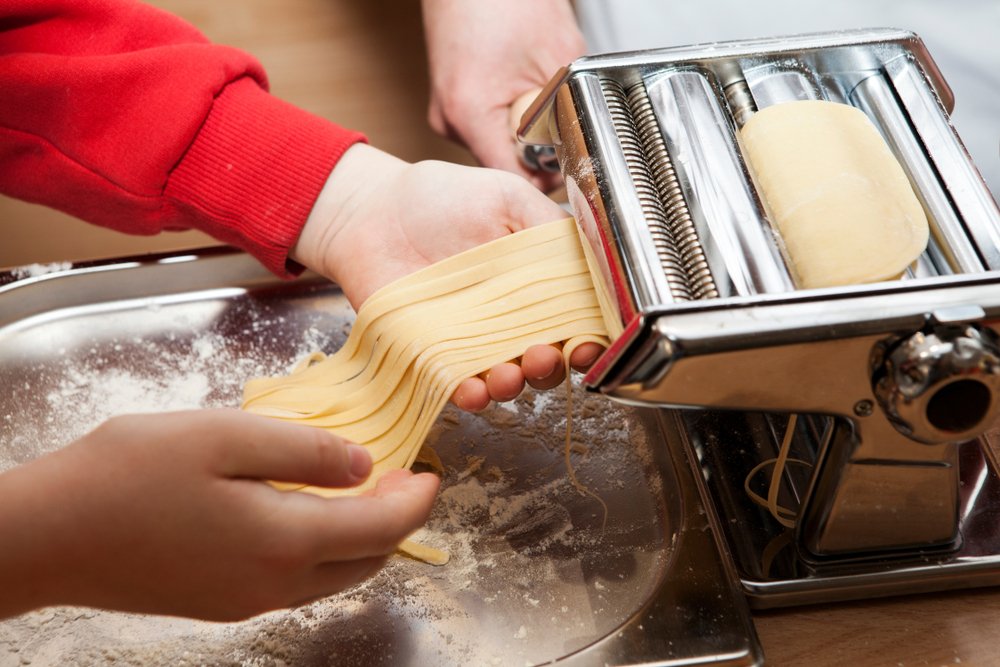 ⌛ Class Length: 4 hours | 🌟 Rating: New! | 👩‍🍳 Book Now
Does it get better than a private cooking class in the most ancient village in Venice?
What about if you throw in a market tour, wine pairing, and an expert chef to help you, all set at one of the region's most stunning resorts?
Malamocco is one of the most charming (and ancient) villages in the Venice region, and that's exactly where this Venice cooking class is held!
The class is held at Relais Alberti, a small but luxurious resort, so you could even choose to stay here if you wind up loving it (which, we admit, is likely to happen).
Don't worry about getting here: meet at Piazzale Santa Maria Elisabetta in the heart of Venice for an easy transfer.
On this 4-hour private cooking class, you'll get to visit a local market to pick out ingredients.
Plenty of fish and plant-based options are possible, so this is a great pick for people with dietary restrictions!
Participants get a lot of say in which ingredients are chosen, so what you'll be cooking largely depends on you.
Either way, you can expect to learn lots and sample some delicious Venetian wine along the way!
They'll teach you the art of wine pairing, so you can understand how to best pair food with wine for the ultimate foodie experience.
You'll also receive the recipes via email at the end of the class, so you'll have to double the incentive to attempt these classic Italian food recipes back home.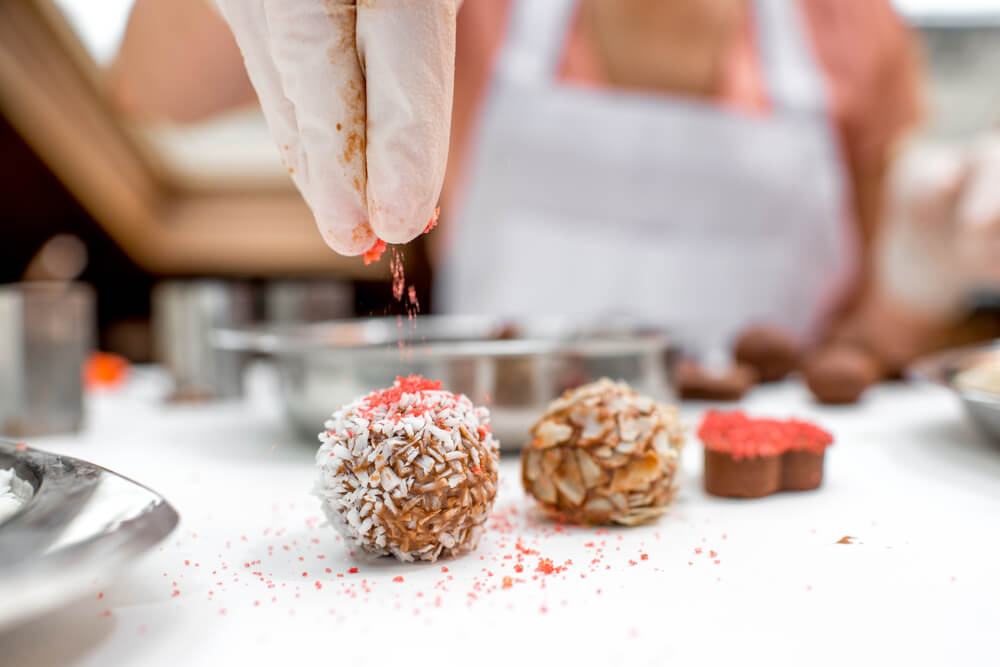 ⌛ Class Length: 2 hours | 🌟 Rating: New! | 👩‍🍳 Book Now
Who says Venice cooking classes are all about pasta?
This 2-hour private chocolate class is an incredible experience perfect for sweet tooths!
This unique class pairs you with a professional chocolatier and teaches you to make authentic Italian desserts in a small group capped at 4 people.
Your instructor is a walking reference book on chocolate, so you'll learn a lot of the theory and history of chocolate-making.
Once you've learned how to dilute chocolate into ganache and mousse, you're prepared to combine that knowledge and turn it into the holy grail of chocolates: truffles, of course!
And of course, you'll wash them down with Italian-style hot chocolate (think thick, rich, and creamy) at the end.
Since this cooking class specializes in sweets, it's relatively short and sweet (pardon the pun) – all the more reason to check it out, since it's so easy to fit into your Venice itinerary, between gondola rides and explore Piazza San Marco.
Plus, at the end of the class, you'll get to take home any surviving chocolates to snack on later in your trip — or to bring home, if it can make it all the way back!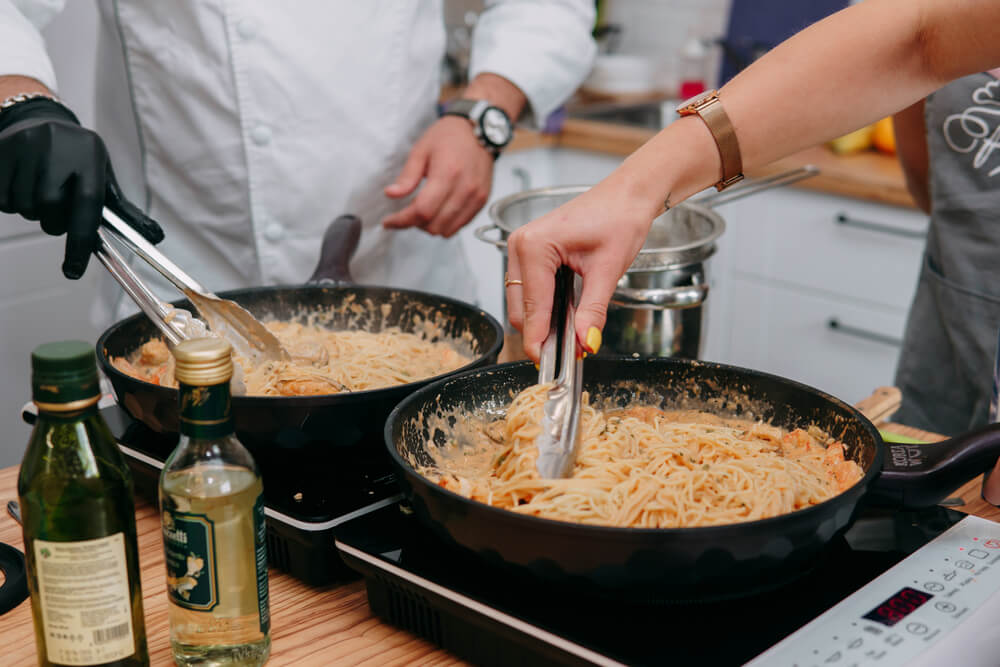 ⌛ Class Length: 4 hours | 🌟 Rating: New! | 👩‍🍳 Book Now
Here's another quality Cesarina class that covers three spectacular recipes in one day.
This option is one of the many Italian cooking classes organized by a group of Venice's finest chefs, and it really shows.
These recipes have been handed down from generation to generation, so it may be your turn to carry the torch!
This is a great option for a pair of traveling lovebirds, since it's a private tour for a minimum of two participants.
The dishes don't necessarily have to be meat-based either – just be sure to let your host know ahead of time if you're vegetarian or vegan.
You can choose between a morning and an evening class if there are free slots. We don't have to tell you which is the more romantic option!
It also doesn't hurt that you can sip on wine as you feast. Talk about a mood-setter!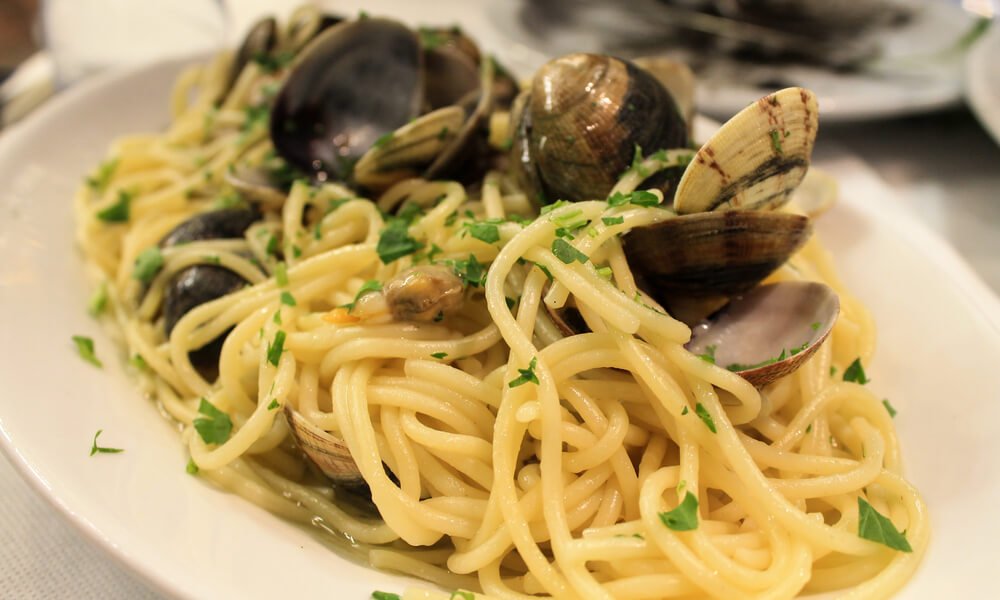 ⌛ Class Length: 6 hours | 🌟 Rating: New! | 👩‍🍳 Book Now
If a boat trip and a chance to mingle with local farmers sounds like a good deal, this is one of the best cooking classes in Venice for you!
You'll be catching your boat early in the morning near Saint Mark's Square, passing fishing villages and haunted islands along the way (yes, haunted — we'll leave that to your guide to explain!).
Once you get off, it's time for a visit to an organic farm for a taste of their wine and produce.
These folks rely on fishing and agriculture for a living, and that's also reflected in the class' menu.
You'll be making mussels, fried seafood salad, and clam pasta, made that much sweeter with a side of red wine or prosecco.
After several courses of seafood and some other nibbles (salt marsh honey, anyone?), you can head back to Venice with a once-in-a-lifetime experience under your belt!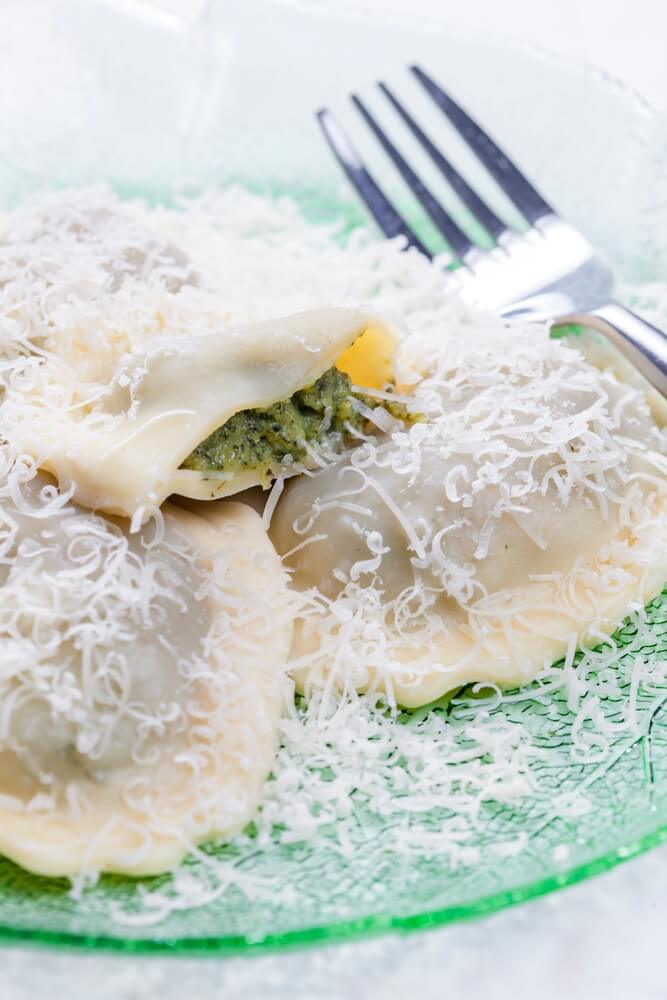 ⌛ Class Length: 4 hours | 🌟 Rating: New! | 👩‍🍳 Book Now
Nothing beats a countryside Venice cooking class at a local farm.
Note that pick up is not included, so you'll have to get yourself to Rovigo, but it's well worth it!
The 4-hour class starts early in the morning, so you'll be free to do plenty of exploring right after lunch with an entire free afternoon.
As for the dishes, the specifics vary depending on the season and available ingredients, but expect pasta of all kinds.
Ravioli, gnocchi, and tagliatelle are three tantalizing possibilities!
The best dish is probably tortelli ripieni di ricotta, made using the region's finest cheese and spinach.
Between that and the appetizers and desserts, it's harder to think of what this class doesn't cover!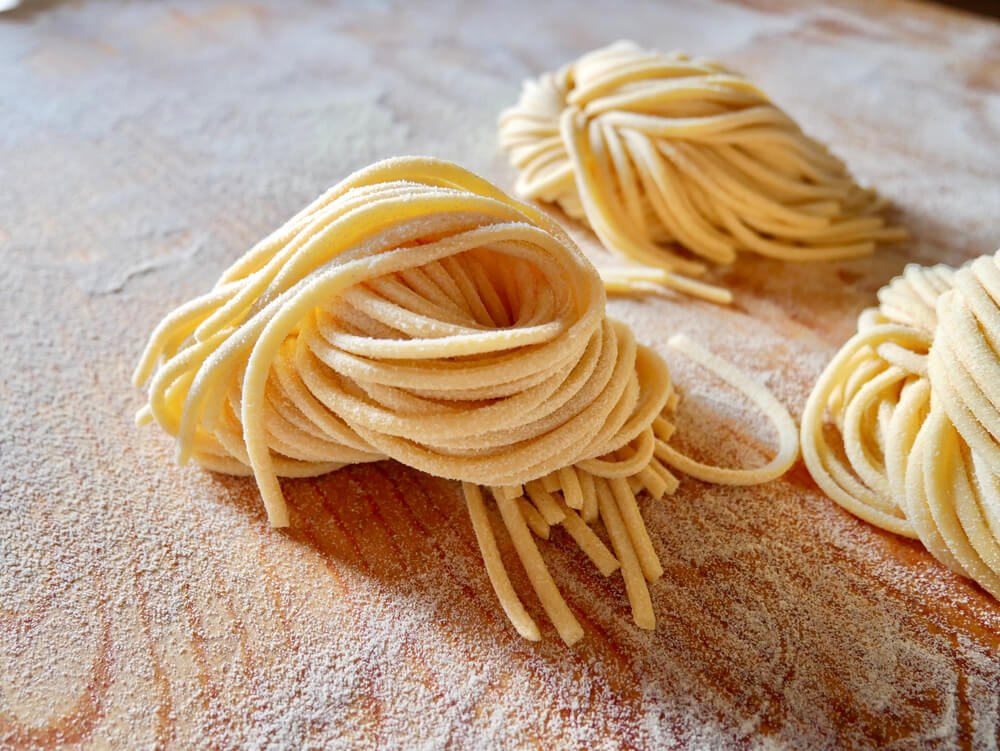 ⌛ Class Length: 4 hours | 🌟 Rating: New! | 👩‍🍳 Book Now
We hear you, vegetarians — this list has been pretty meat-heavy so far — but this vegetarian Venice cooking class was designed with you in mind!
To make things even better, Catia teaches the class in her outdoor patio-kitchen hybrid in the summertime to let you enjoy some fresh air as you cook.
Things are equally cozy in the wintertime, as you huddle around the fireplace and practice your cooking chops!
Things start on a high note with Venetian cicchetti selection to get your appetite going before the main attraction.
Speaking of, there are two main dishes: bigoli and ravioli, no meat required!
Finally, you'll go over a recipe for tiramisu, a must-try during any visit to Italy.
The cherry on top is the local Veneto wine you'll be sipping on as you master the art of Italian-style vegetarian cooking!
Allison Green is a former educator turned travel blogger. She holds a Masters in Teaching and a B.A. in English and Creative Writing. Her blog posts merge her educational background and her experience traveling to 60+ countries to encourage thoughtful travel experiences that both educate and entertain. She has been a speaker at the World Travel Writers Conference and her writing, photography, and podcasting work has appeared in National Geographic, CNN Arabic, CBC Canada, and Forbes, amongst others. Now based in the San Francisco Bay Area where she grew up, she has also lived in Prague, Sofia, and New York City.