I moved to Prague in 2009, when the foodie scene was…. shall we say, in its beginning stages.
Heavy stews served with heavier dumplings, fatty cuts of meat swimming in thick stews, and enough beer to fill you up before you even took a bite of food.
If you were vegetarian, the answer to 'what should I eat in Prague?' was pretty much just a plate of fried cheese (with some fried potatoes and maybe a slice of tomato, if you were lucky).
How dramatically the Prague food scene has changed in the last decade, I can't even begin to express!
While there are plentiful Prague restaurants serving traditional Czech food, the general level of food is far more refined than it used to be.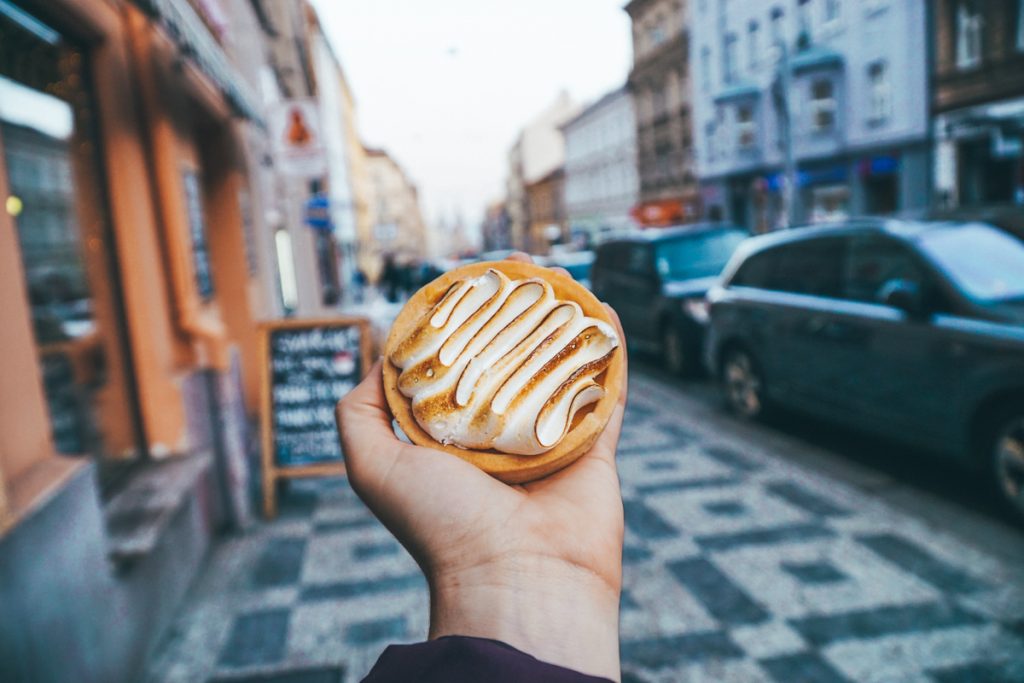 Note: This post contains affiliate links, which means I may receive a small commission if you purchase something through one of these links. Thank you for supporting the free content on this site! For more information on affiliate links and cookies, see my disclosure page for more details.
It still uses those traditional flavors and textures that I fell in love with:
The savoriness of deep purple cabbage when it's cooked for ages.
The piquant bite of carroway seeds tucked away in a dish.
The savoriness and lush green color of pumpkin seed oil drizzled atop a soup.
The denseness of a perfectly boiled knedlicky.
But everything has been updated for today's standards, and Czech food has really upleveled while maintaining its humble roots.
Part of my goal when re-visiting Prague for the first time in nearly a decade (!) this winter was to create a comprehensive guide to what to eat in Prague for first-timers.
I'm not Czech, but I did live there for 6 months (and have the atrociously out-of-practice Czech to prove it).
So when I came back to the city, it was my goal to re-discover all the Prague foods I had been missing in my life since I left the city and try to find the most delicious modern updates.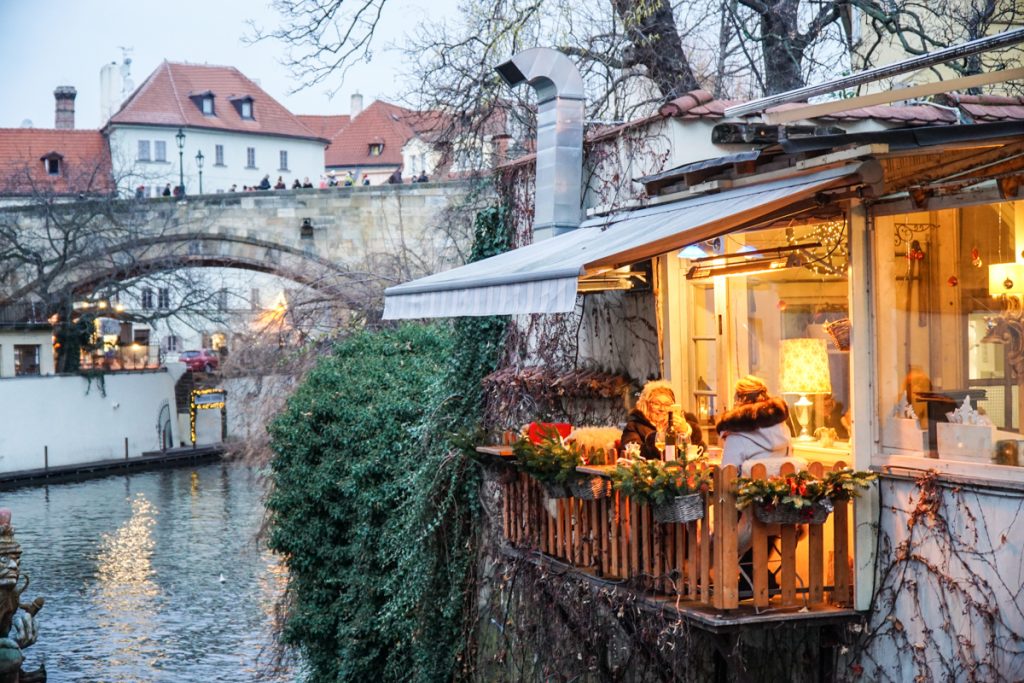 To maximize my short 4 days in Prague, I signed up for a food tour to best taste what the city had to offer.
This is the food tour I took; it is 4 hours and encompasses a variety of tastings, savory and sweet, from ultra-traditional to modern takes on Czech favorites.
My guide Vladimir was amazing and so was the food I tried, so I highly recommend it as a way to get to know Prague's food culture and maximize your time by getting to taste things in small portions along the way.
You can book your tour online easily by clicking here!
As a general tip, I always recommend doing a food tour on the first day of your travels – that way, you know what you like, what you don't, and what you haven't sampled yet!
That way, you can best maximize that precious stomach space while also getting to know a local's point of view on the best food in Prague and where to find it.
Anything that is covered on this food tour I will mark with an asterisk, so that you'll know what's on the Prague food tour I took so you can see if the food tour is up your alley.
Alternately, if you're taking the food tour a few days into your trip, I'll give you tips to avoid eating at these places before your tour so you don't double up at a particular restaurant and end up disappointed.
For example, I accidentally went to Café Louvre for the delightful svíčková the night before my tour, which was on the menu for the following day.
While they were easily able to swap it out for a goulash, they can't promise any substitutions. Therefore I've marked it clearly so you can be prepared!
Here is a brief guide of my favorite things to eat in Prague. I did my absolute best with only 4 days in the city to re-taste all of my favorite Czech dishes, so I'd have up-to-date restaurant recommendations for you.
Unfortunately, I'm less of a bottomless pit than I hoped, so there are a few foods that I know are traditional can't-miss Prague foods that I didn't sample on this most recent trip.
When that's the case, I'll do my best to recommend a restaurant from my guide's recommendations or other locals' tips.
Traditional Czech Dishes to Eat in Prague
Czech Soups
Kulajda – mushroom & potato soup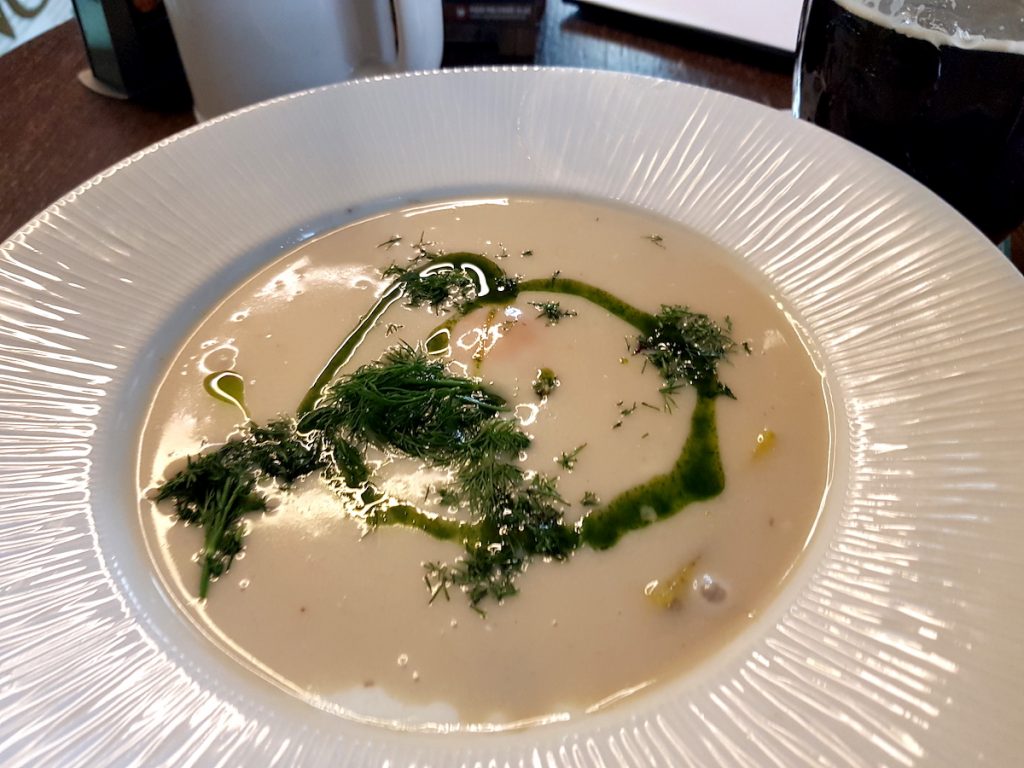 One of the first Czech dishes I had when returning to Prague, kuladja polévka (polévka just means soup) was one of my must-eats.
This traditional Czech soup is like an even more decadent cream of mushroom soup. It has a slightly sour, slightly sweet taste from the sour cream and mushrooms which make up most of the dish.
There are also potatoes, a generous portion of dill (so not suitable for members of DILLWATCH), and a poached egg, often a quail egg. Sometimes, a drizzle of thick green sunflower oil will be served on top to add richness – not that this dish needs it.
I ordered this as a starter, but it easily could have been my main meal, especially with the tasty dark beer I ordered to accompany it.
I ate this at the excellent Hospoda Hajnakova and highly recommend this restaurant for an offbeat place to try traditional Czech dishes without the tourists. It's located well outside the Old Town in the leafy, lovely neighborhood of Vinohrady, one of my favorite places in Prague.
Zelňačka – sauerkraut soup *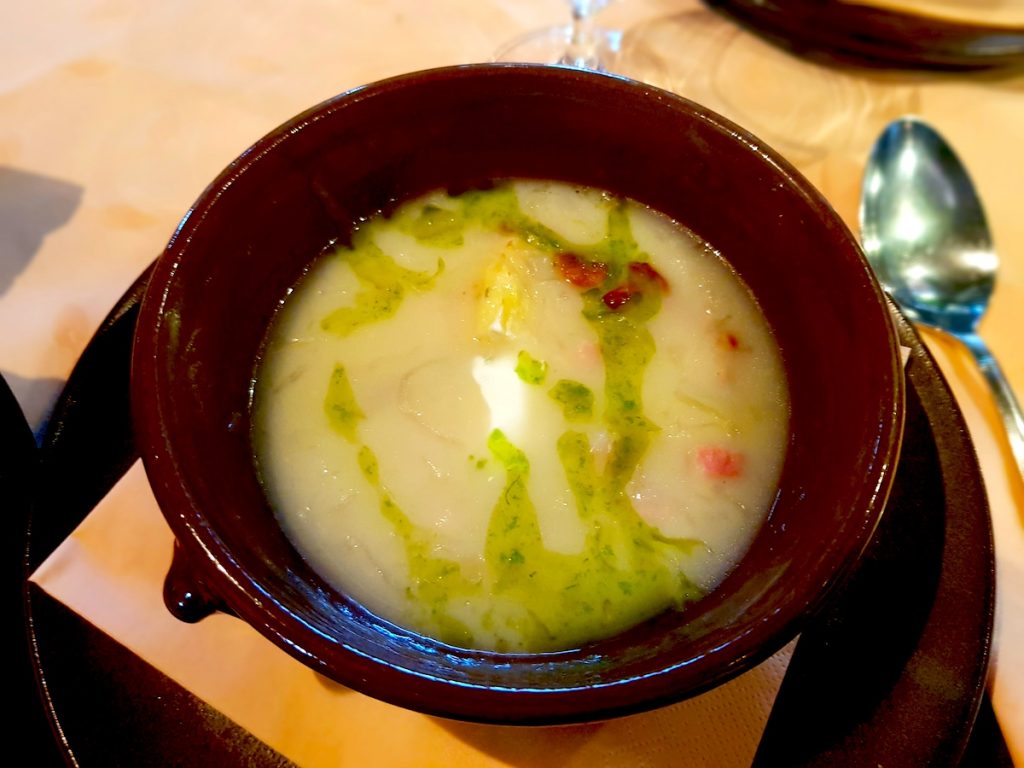 If you asked me if one of the Prague dishes I'd fall in love with on my return was sauerkraut soup, I'd probably have laughed.
I'm not a huge fan of sauerkraut like… at all. A bit on a hot dog or as a side to a sausage, sure. But an entire soup based of it? That's a little much for me.
Well, turns out I ate my words (and they were delicious.)
Kyselica is made of a base of a ton of of saeurkraut, as well as sour cream, potatoes, smoked sausage, and often mushrooms.
Similar to the kulajda I had the day prior, there was a drizzle of green pumpkinseed oil on top.
Whereas I'd expect a cabbage-based soup to be a bit 'stringy', it was actually soft and lush like a chowder.
We ate this at a restaurant that I would have never expected to have fabulous food, Zvonice.
It's located on the 8th floor of a medieval belltower, which to me screams tourist trap – but I can attest, the food is traditional, tasty, and well-worth the stop (the views don't hurt).
Česnečka – garlic 'hangover' soup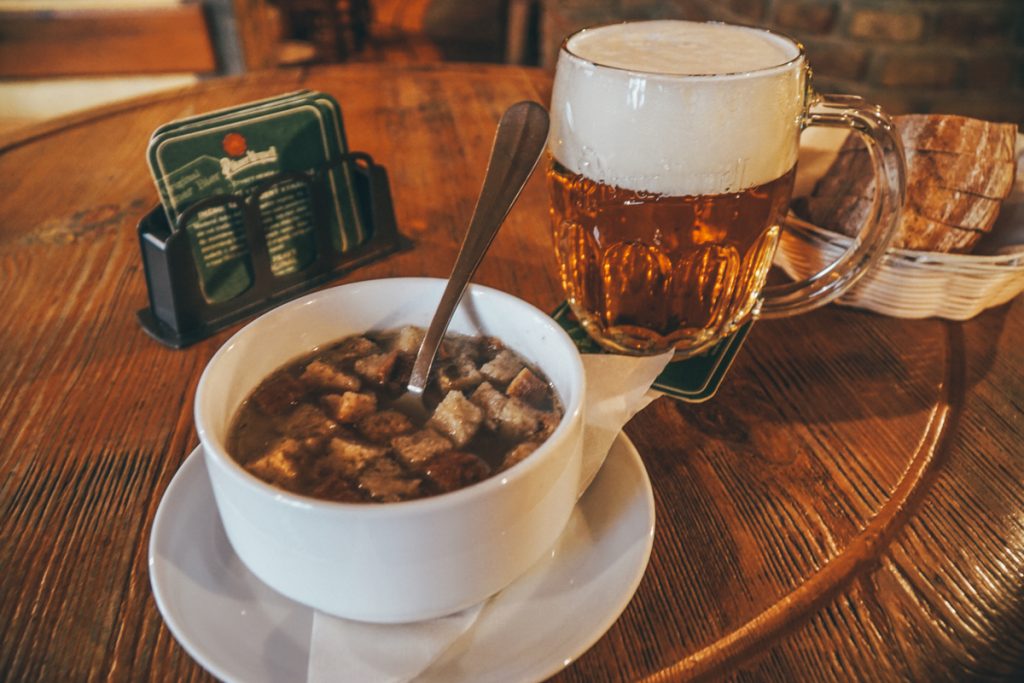 Full disclosure… I may have returned to Prague simply to eat this soup. This is the soup I associate with the city.
Unfortunately, it's fallen out of vogue quite a bit, and it's hard to find it on menus. I guess "garlic soup" isn't a big seller. And that is quite literally what is it.
You may also see it named "hangover soup," as it's often 'prescribed' for hangovers (and is remarkably curative – trust me, as a 19-year-old American girl let loose in Prague, I tested this hypothesis quite a bit).
There are two main versions. One is a thin, beef broth packed with garlic, topped with toasty rye bread cubes to soak it up and a smattering of delicious, slightly spicy carroway seeds. This is the česnečka I loved and missed.
There is another version, a creamy version sometimes loaded with cheese as well. This is something I ate frequently during my time studying in Prague, but it doesn't have the same saudade that traditional thin, brothy česnečka has for me.
I searched for a new restaurant to try česnečka in, having heard that the beloved upstart Lokal has a fantastic version, but alas – it wasn't on the menu that day.
I went back to my old standard for garlic soup, U Provaznice – aka the "Ropemaker's Wife" – but unfortunately, I found the standard had fallen quite a bit in the years since I frequented it.
I went for lunch, and it seemed that basically the only people who come here are now are large tour groups and the care they used to take in their dishes is lacking.
My česnečka was good, but not great. I'm still on the hunt for the perfect česnečka, but it seems I may have to try to make it myself.
I wouldn't seek it out at U Provaznice, but promise me that if you do see it on a menu, you'll order this must-try Prague dish.
Czech Starters & Beer Snacks
Vuřty na černém pivu – sausages in dark beer
I was recommended to visit U Pinkasů by my lovely Prague food tour guide, Vladimir, and I was so happy I took him up on his recommendation.
Simply put, the sausages in dark beer were one of the most delightful surprises of my trip.
Surprisingly spicy (Czech food is generally rather mild), this brought me back to an true Texas-style chile con carne, but with rich, juicy sausages instead of chunks of beef. It was absolutely fabulous.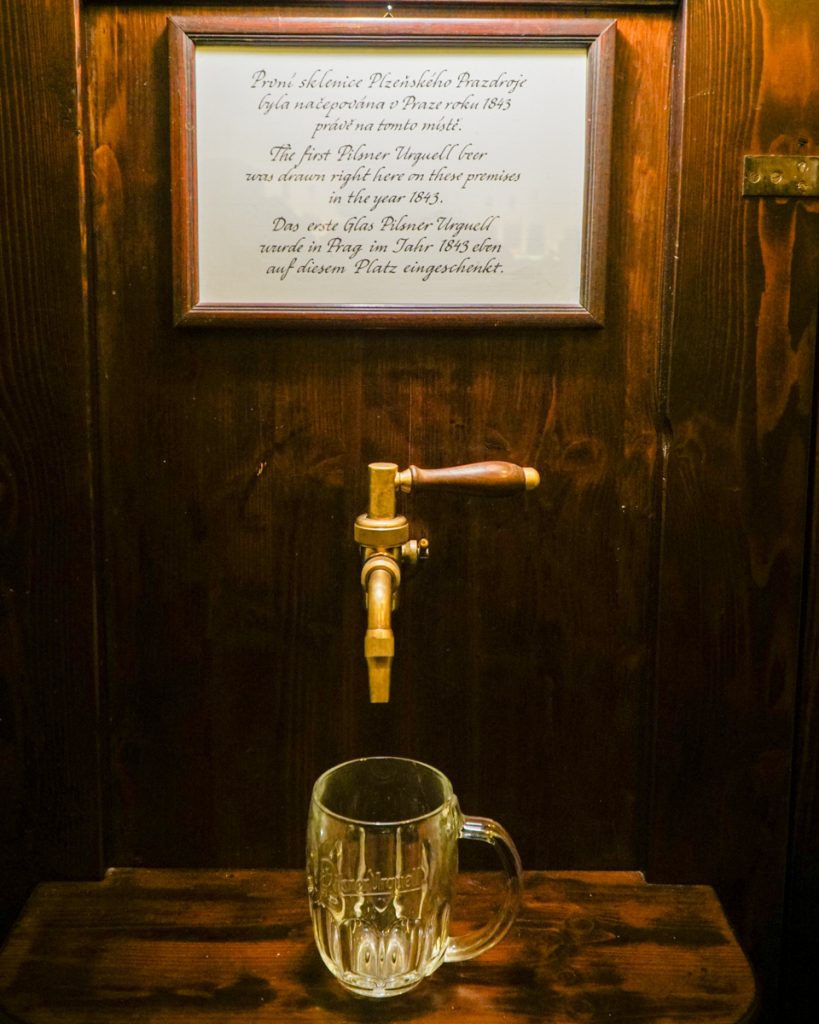 But I loved the restaurant of U Pinkasů for its place in history as well. This is the first-ever pub to pour a Pilsner Urquell from the tank. In fact, the tap is still marked in the basement level – it's a bit of shrine, really.
Naturally, they pour a perfect Pilsner – far more foam (well over a third of the beer) than you undoubtedly are used to drinking, but trust me, it's exactly how it's supposed to be.
Bramboráky – potato pancakes
Czech-style potato pancakes are one of my favorite traditional dishes to eat in Prague, and I always make sure to add it to my order whenever possible.
I had the bramboráky alongside my sausages at U Pinkasů and it was perfect. I've also in the past loved the bramboráky at U Provaznice, but given the overall decline in quality of the restaurant, I'm not sure they'd still be up to par.
Frankly, though, this is a dish you can get at virtually every Czech restaurant in Prague, so I wouldn't seek it out too frantically — it'll come!
I also saw fantastic looking bramboráky on sale at the farmer's market in Jiřího z Poděbrad.
I stopped myself as I was about to start my food tour and didn't want to fill up too much in advance of my tour – which ended up being a smart move, as I was stuffed to the metaphorical gills afterwards.
Tatarák – steak tartare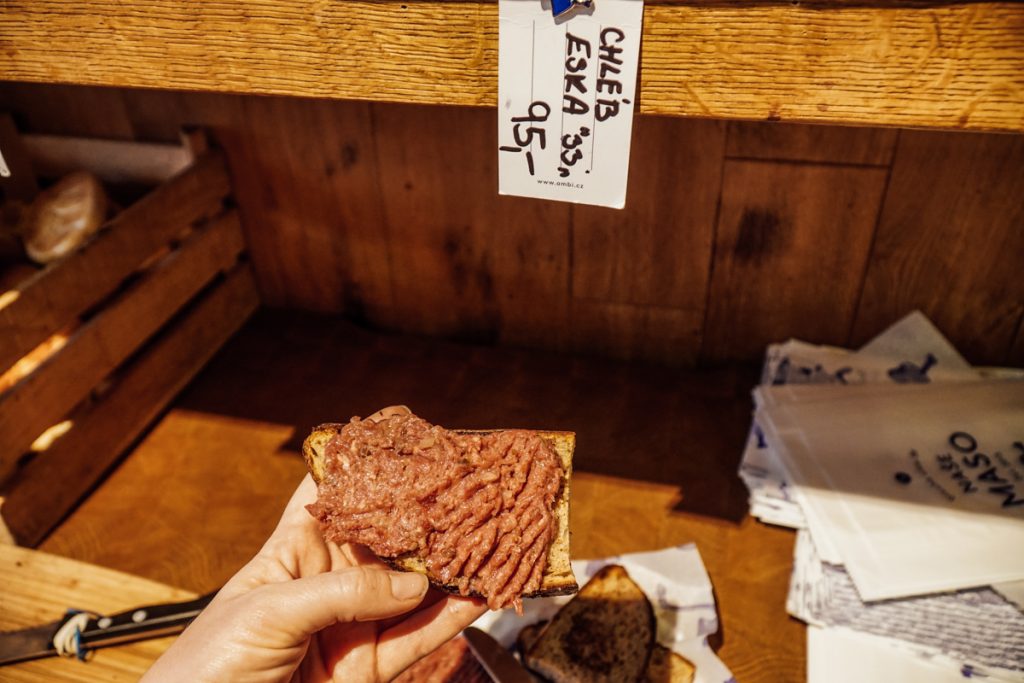 File this under foods that I, at 19, was too unadventurous to try my first time living in Prague.
I always saw Czech people ordering this at restaurants, but never could muster up the courage (growing up in the 90s seeing panicked news of mad cow disease every time my turned on the TV as a child may have had something to do with it).
I was extremely excited to try steak tartare, or tatarák, this time around. I mean, where else in the world can you eat some of the best beef tartare for under 200 CZK, about $8 USD?
I opted for it at one of the most-raved about butcher shops in the city, Naše Maso. (Note: the food tour does go here, but you do not try the tartar) 
Tip: You can skip the intimidating line for the butcher if you are just ordering prepared food, rather than cuts of meat from the butcher.
It's an enormous portion as well, probably better suited to be shared between two people or eaten as the main meal. I had this as a "snack" (note to self, 200 grams of raw meat served atop a giant piece of bread is not really a "snack" at all).
You can order steak tartar at nearly every Czech restaurants.
While I love the version at Naše Maso – fresh, perfectly minced, flecked with onion and greens, atop a perfectly toasted garlicky slab of bread – standing up trying desperately to find a place to eat kind of ruins the fanciness you want to feel when you order steak tartare.
Instead, I'd recommend seeking it out at Kantyna, a restaurant I unfortunately didn't have a chance to check out but heard raving reviews about.
It's a sit-down, unpretentious restaurant run by some of the butchers from Naše Maso so you can have the same high-quality meat without the often standing-room-only vibe.
Chlebíčky – open-faced mini sandwiches *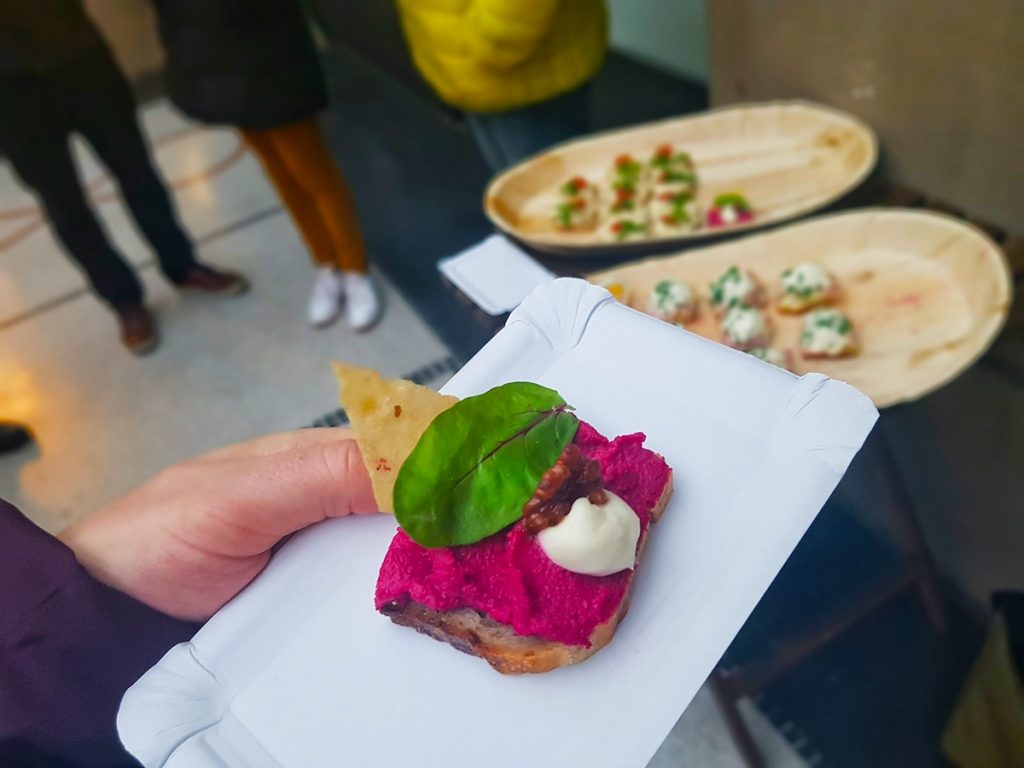 A Czech institution dating back to the early 20th century, chlebíčky are one of the few examples of Prague food that can truly be considered 'street food'.
The other Czech 'street foods' being the kielbasa and smažený sýr sandwiches that are the mainstay of drunken late nights spent around Wenceslas Square, right before grabbing a night tram.
These small sandwiches are designed to be a snack or, if you order several, a meal.
We got to try three sandwiches on our Prague food tour. One was made with beetroot, fresh goat cheese, and walnut. Predictably, it was absolutely delicious.
Another was made with celery root, remoulade, and tomato. I loved it, but it didn't hold a candle to the first or last one.
The last and final chlebíčky was far more delicious than I could have ever imagined: half a perfectly boiled egg slathered in remoulade with a slice of Prague ham underneath.
I could eat it every day and be happy, though admittedly my heart would not be.
We had them at Sisters, which is right next to Naše Maso. It's quite busy with locals and tourists, but the lines seem to move quickly as everything is ready-made.
Pražská šunka & maso – Prague ham & other meats *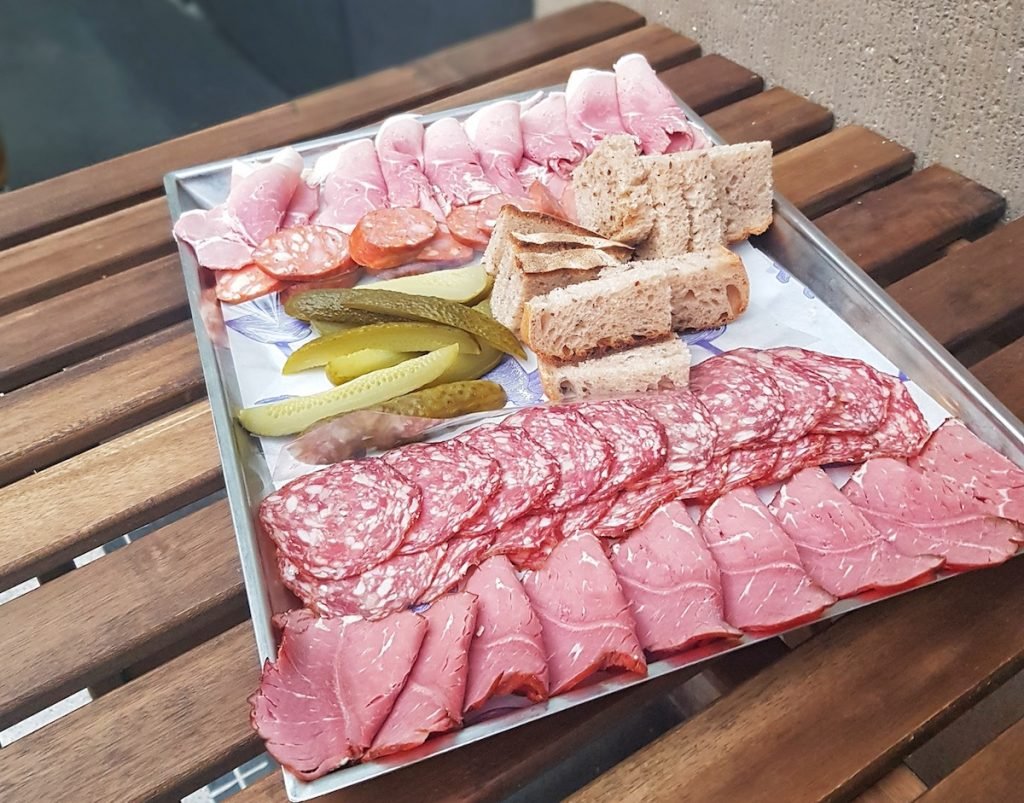 Of course, virtually every country in Europe has its own slant on the charcuterie board.
At Naše Maso, we tried the famous Prague ham (pražská šunka), which is a delicious brined and beechwood-smoked ham you can only find in Prague. Delicious.
We also tried a beef 'Prague ham' that has its roots in the Jewish community, who kept kosher and naturally wanted a develop a version of their own Prague ham, sans the pork.
It was tasty, but come on – can you ever really hope to beat ham?
We also tried a kielbasa-style sausage as well as a 'tourist' sausage, so named for the fact that Czechs would take them on road trips to the few countries they were allowed to visit during Communist times – Romania, Bulgaria, Hungary, and a handful of others.
These 'tourist' sausages would keep well without being refrigerated.
Tasty and certainly interesting from a food-history perspective, but not my favorite (that honor would go to Prague ham).
Smažený sýr – fried cheese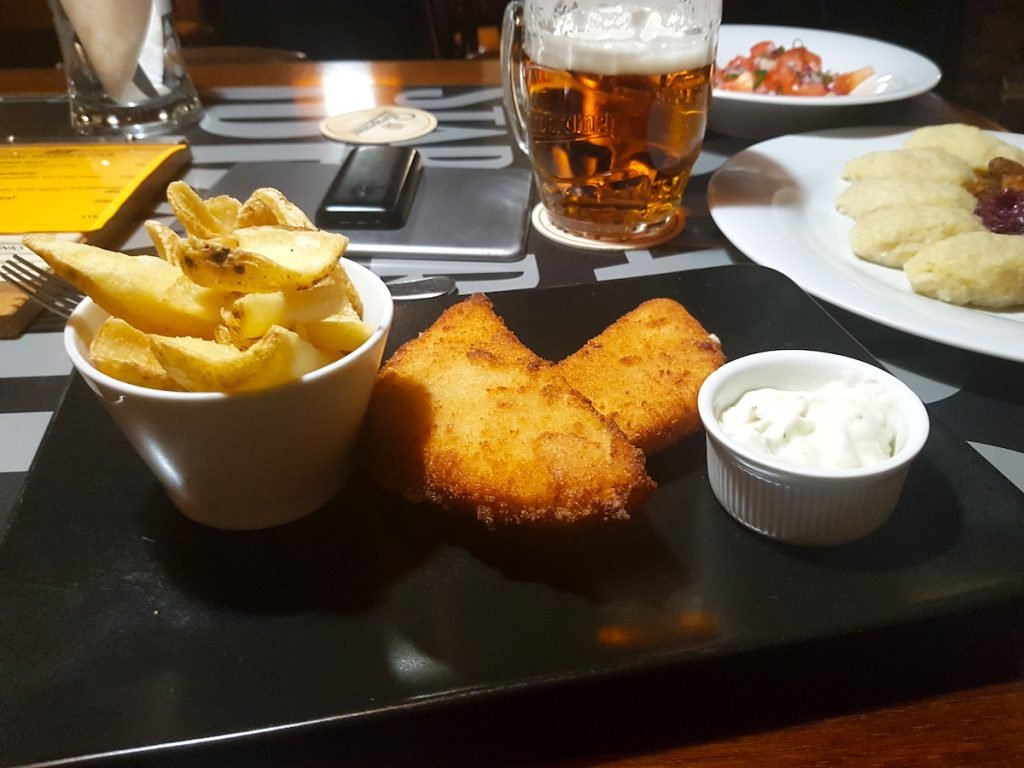 I struggled with whether to put this in snacks or main courses, but as it's typically on 'bar food' menus I thought it belonged best here.
It's also the most popular main course for vegetarians in Prague, so if you don't eat meat, you may find yourself eating quite a bit of smaž (as I affectionally came to call it while living there) over the course of your trip.
Smažený sýr is a deep fried cheese often served with a tartar sauce or something quite similar – and if that's not unhealthy enough, often with some French fries to boot.
I had it over some beers with my friend Amos at Potrefená Husa Resslova just a few steps from the Dancing House and it was delicious, though I've also heard rave reviews about the smaž at – where else? – Lokal.
Czech Main Dishes
Svíčková – beef in a root vegetable purée with dumplings *
The mac-daddy of Czech cuisine, you simply can't go to Prague as a foodie and miss the delicious, unique svíčková.
And where better to enjoy it than the beloved Café Louvre, over a hundred years old and a favorite haunt of famous visitors ranging from Kafka to Einstein to Havel.
If it's good enough for the former Czech president, it's likely good enough for me.
This dish may seem simple, but it's actually rather complex, often taking hours to complete.
It's made of perfectly boiled thin slices of beef tenderloin resting in a slightly sweet sauce made of carrots and parsnips, smooth to perfection.
It's served with a slice of lemon, a few cranberries, and a dollop of lightly sweetened cream so that you can mix it in or leave it out.
I generally don't love sweet with my savory, but I loved the flavor combination and went for my cream and cranberries several times during the meal.
Of course, it's served with several of the ubiquitous hearty boiled bread dumplings called knedlíky so you can better sop up all that delicious parsnippy root vegetable saucy goodness at the end.
Drooling over Czech food yet? Make the most of your time and schedule a tasty food tour in advance – I recommend doing it the first day you arrive, so you can get local tips on where to eat next!
Guláš – slightly spicy beef goulash with dumplings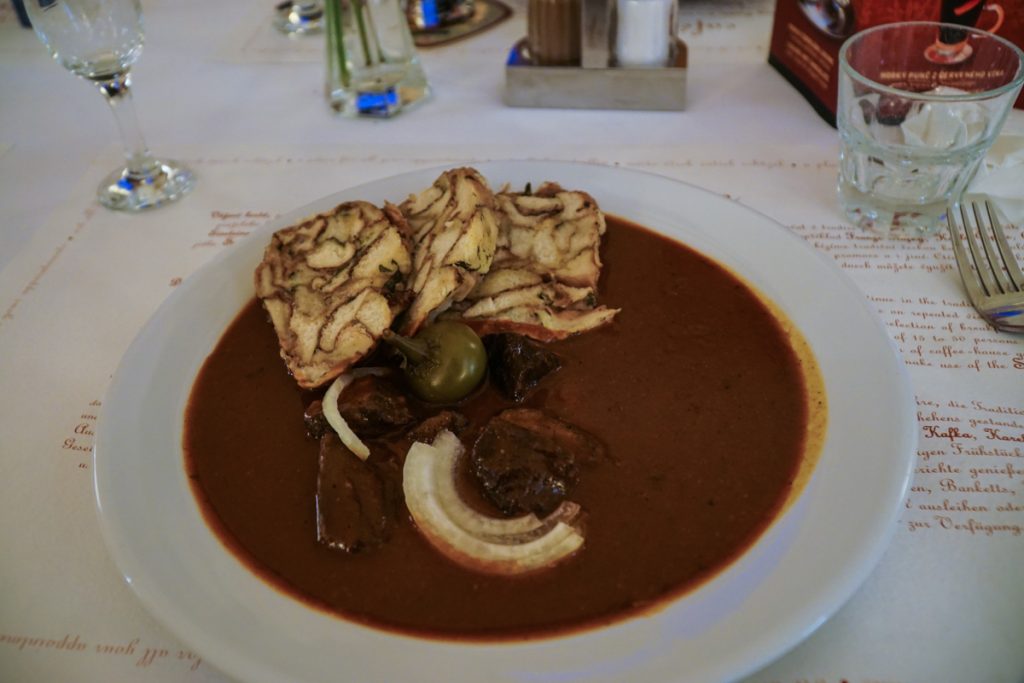 Sorry, Budapest – I love you dearly, but Prague clearly has the edge on delivering a stellar goulash.
Whereas Hungarian goulash is thin and soupy, Czech goulash is thick, hearty, and properly stew-y.
While which version is better is certainly subject to debate – and likely influenced at least a wee bit by where your roots are – I will defend Czech goulash to the death.
Czech-style goulash is a thick, paprika-laced stew with chunks of braised beef.
You'll often find it spiced with carroway and marjoram, two Czech additions that are rather welcome here, and topped with some thin slices of raw onion.
Of course, the bread dumpling is welcome here as well, and is just as essential a part of the meal as the goulash itself.
I've eaten this dish in countless restaurants around the city and never find it disappointing – it's always satisfying.
I had a fantastic version at Café Louvre, but I am sure it's not hard to find a good goulash nearly anywhere that is not a blatant tourist trap.
Pečená kachna se zelím – duck with red cabbage and dumplings *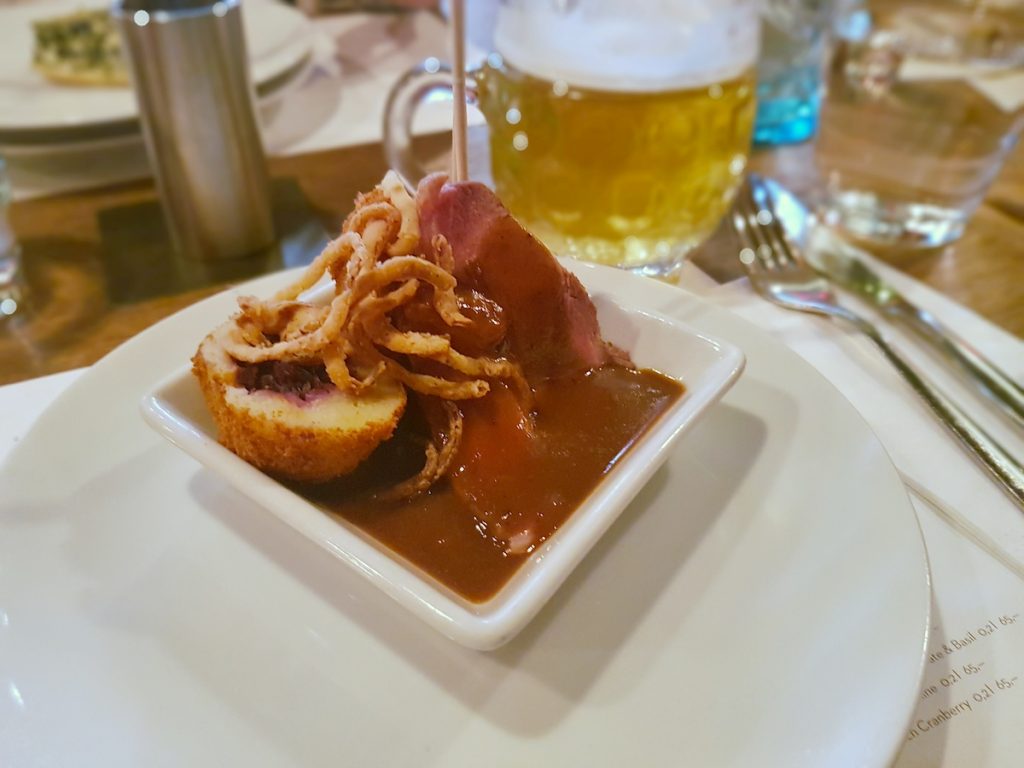 A food so nice, I tried it twice!
First, I had this on the food tour at a modern Czech tapas-style restaurant called Špejle which means skewer.
Basically, you order from a selection of pre-made Czech-inspired tapas and pay by the skewer at the end.
Their version was quite different than the standard: a thin slice of duck breast served alongside a red cabbage stuffed dumpling.
It was really tasty, but honestly, it wasn't one of my favorites on the tour. Perhaps I'm a purist and prefer the original too much!
Instead (or, more like, in addition) I recommend you go for the duck at Hospoda Hajnakova.
They serve a massive confit duck leg served with perfectly melty-sweet red cabbage and as many boiled bread dumplings as you can stand.
Served with dark beer, it's one of the best things to eat in Prague. It's as good as it gets.
Řízek – schnitzel (generally pork)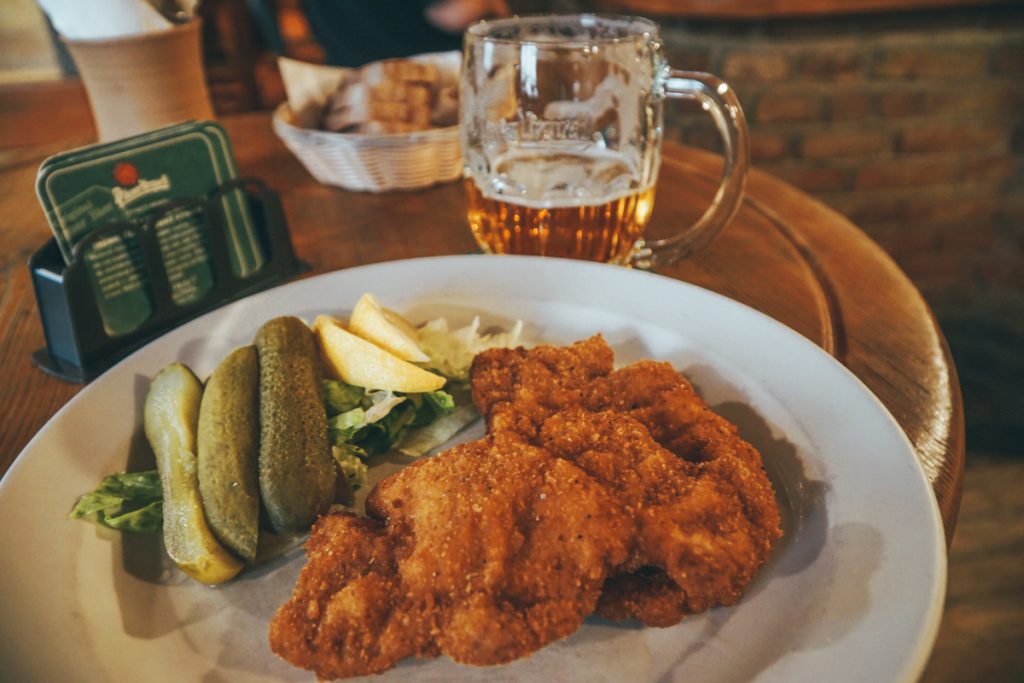 The influence of Austrian and German culture is strong in Bohemia, the Western part of the Czech Republic which includes Prague.
And one lasting culinary ramification of that legacy is the schnitzel that is now ubiquitous on nearly every Czech menu.
Whereas the Viennese prefer a veal schnitzel, in Prague, pork is far more common.
However, you can also sometimes find beef or chicken. It's often served with potatoes or potato salad.
I had it at U Provaznice and was deeply unimpressed – I'd recommend trying it at Lokal or Kantýna instead, or perhaps at Café Louvre. 
Koleno – pork knuckle
I'll be honest, I've yet to try koleno.
The first time I lived in Prague I was too squeamish to order a pork knuckle.
Coming back 10 years later and eating my way through the city, I was too full to try it.
Most pork knuckles are freaking enormous, nearly a kilogram of meat and bone, and often best enjoyed between two… or three… people.
As a solo traveler, I had to give it a pass this time around.
It's generally served with horseradish, mustard, and pickles. The best places that I've heard for koleno include Klášterní šenk in Břevnov (part of the monastery grounds) and Pivovarský Klub in Karlin.
Halušky – Slovakian dumplings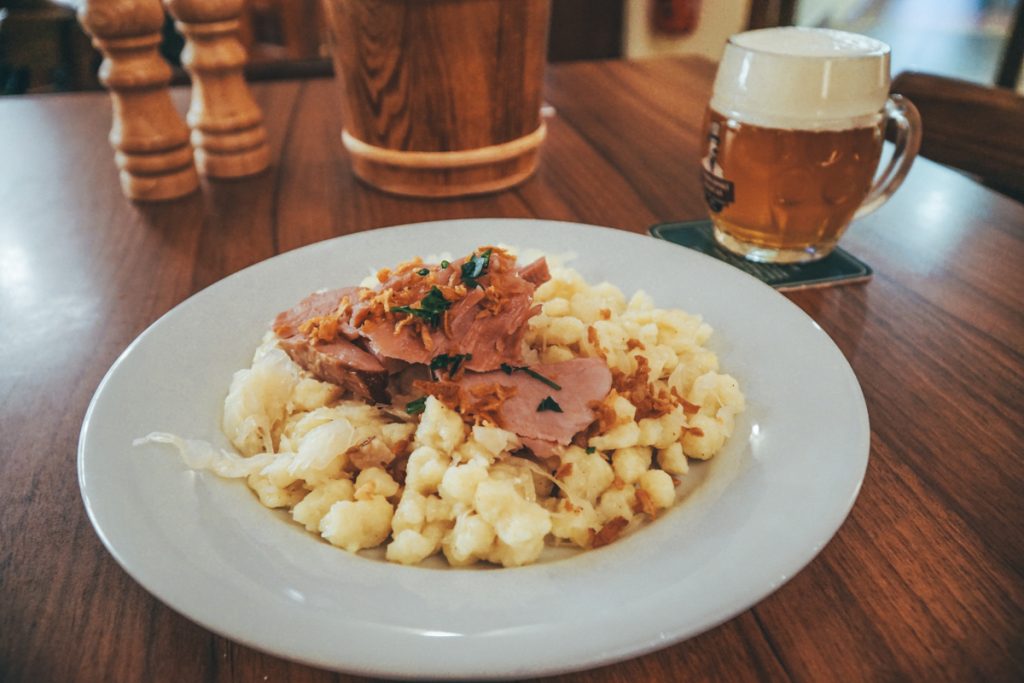 While technically a Slovak food – please don't crucify me, Czechs, for including it here – you'll find halušky all over Prague.
Regardless of origin, it's a food I think you shouldn't miss when you ask yourself what to eat in Prague.
I had it at Zapomenutý Čas in lovely Vinohrady (my favorite neighborhood in Prague, and where I used to live) and highly recommend it.
It was served with Prague ham and tons of fried shallots – a dream.
However, their lunch specials often change, so you may not see halušky on the menu.
Vepřo-knedlo-zelo – roast pork with cabbage and dumplings
While Czechs rave about svíčková, if you had to ask their what their national dish is, I'm certain most people will answer "vepřo-knedlo–zelo" – aka, pork-dumpling-cabbage.
The cabbage is usually sauerkraut, but occasionally it'll be red cabbage. Also abbreviated lovingly to VKZ, this dish is as Czech as it gets and it's truly a can't-miss while in Prague.
Again, I'll recommend Lokal for this, although U Pinkasů supposedly has a delightful version as well.
I didn't have a chance to try it on my most recent trip but it was a staple of my Prague eats when I lived there.
Czech Desserts & Sweets
Kremrole – cream-stuffed puff pastry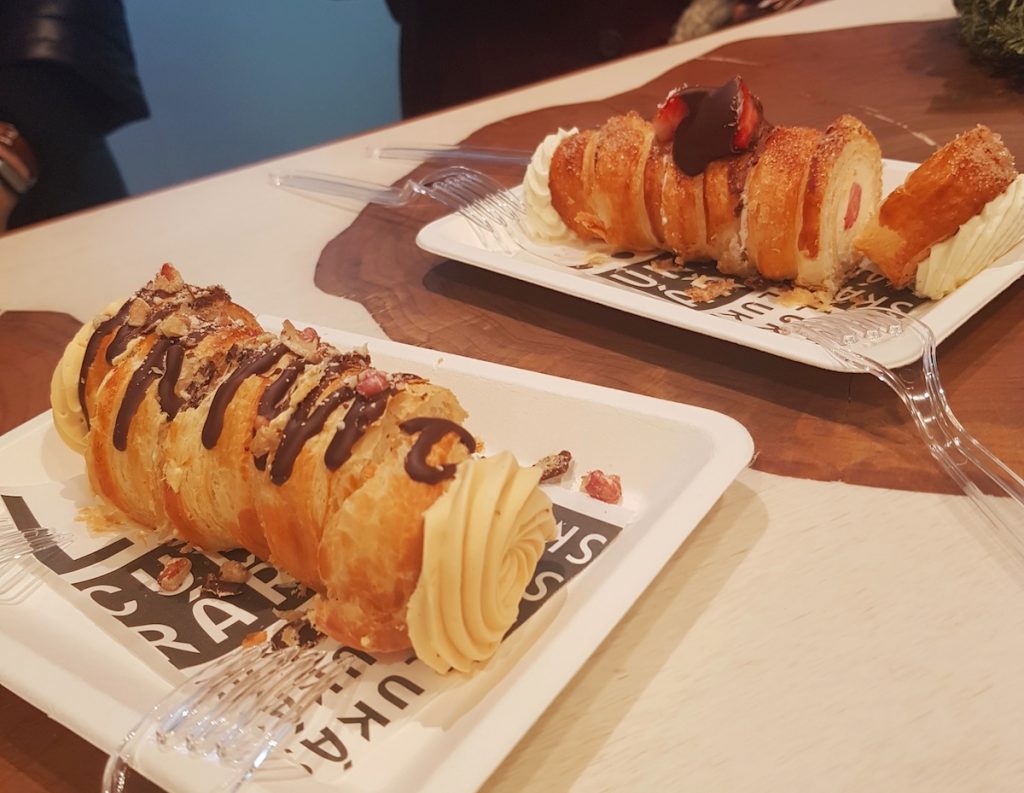 What do you mean, I'm not going to put trdelník on this list?
Well, for one, it's not traditionally Czech. At all.
It came from Hungary (likely by way of Transylvania) as a Christmas snack at the markets.
Once Czech entrepreneurs caught onto how much tourists loved eating (and photographing) these sugary pastries, they started making them all year round.
They also started claiming all up and down that these are traditional Czech desserts when that is patently false.
Czechs get a little bit testy when you say trdelník is Czech – and especially testy when you do something silly like fill it with ice cream.
What Czechs do love, however, is the decidedly less popular but vastly superior kremrole.
This crispy puff pastry is stuffed with meringue or flavored cream (I tried salted caramel and OMG, it was dreamy).
I tried it at Lukáš Skála Cukrář and I can't imagine a better kremrole so I won't even try.
It's right next to Sisters and Naše Maso, so it's a natural stop to make if you have a sweet tooth.
I don't really have a sweet tooth – I far prefer savory food and am lukewarm towards sweets – and I adored it.
Ovocné knedlíky – boiled fruit dumplings
One of the most traditional Czech desserts you can find, don't miss sampling these!
And if you don't like your desserts too sweet, these are great because they're less sugar-packed than other desserts.
They're filled with fruit – traditionally strawberry or plum – and served with some butter and sometimes some curd cheese.
However, you'll also sometimes see them with a vanilla cream sauce or cinnamon and sugar.
The lovely Café Savoy is my top pick (although a tiny bit pricy, but the atmosphere is worth it!), but you'll see them on the menus of most restaurants that serve traditional Czech food.
Jablečný štrůdl – apple strudel with warm vanilla sauce *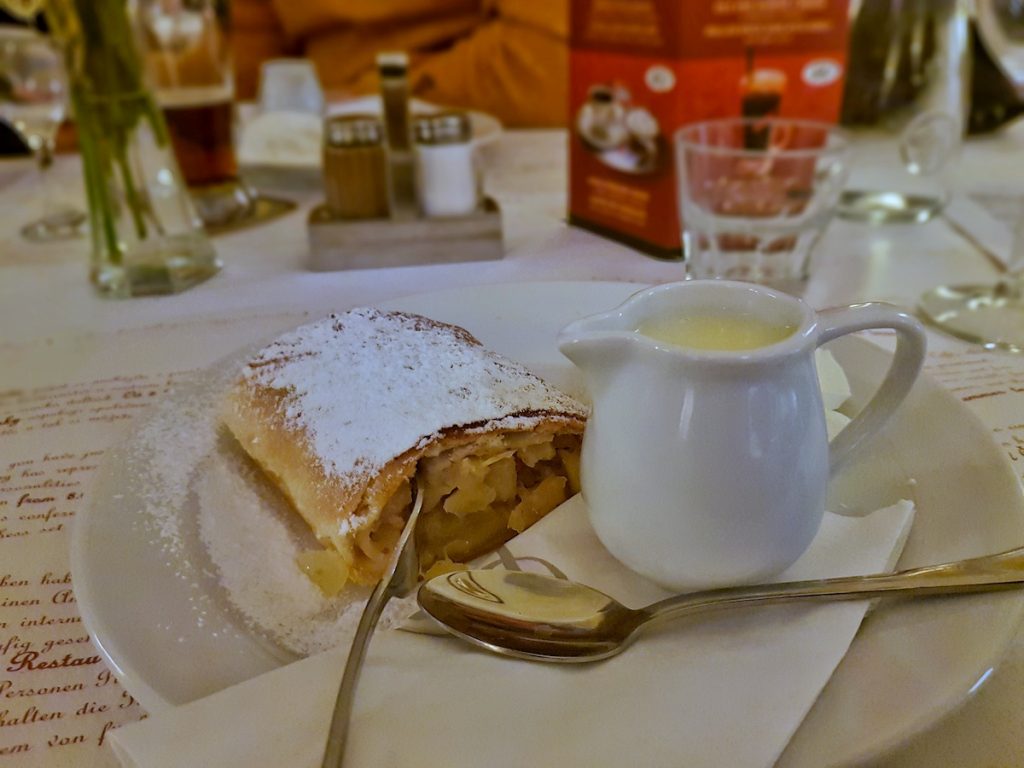 I've eaten apple strudel in Austria, Germany, and Northern Italy – and this one in Prague at the exquisite Café Louvre exceeded them all.
My favorite thing is that the strudel itself is not that sweet, but you can add some of the warm vanilla sauce or the whipped cream (or both) to sweeten it to your perfect taste.
The combination of the flaky layers of strudel, the cinnamon-flecked apple, the warm vanilla sauce and the cool dollops of cream. It's a truly dreamy dish, and one of the top Prague desserts you simply must try.
Koláče (kolache) – sweet rolls with fruits or poppy seed *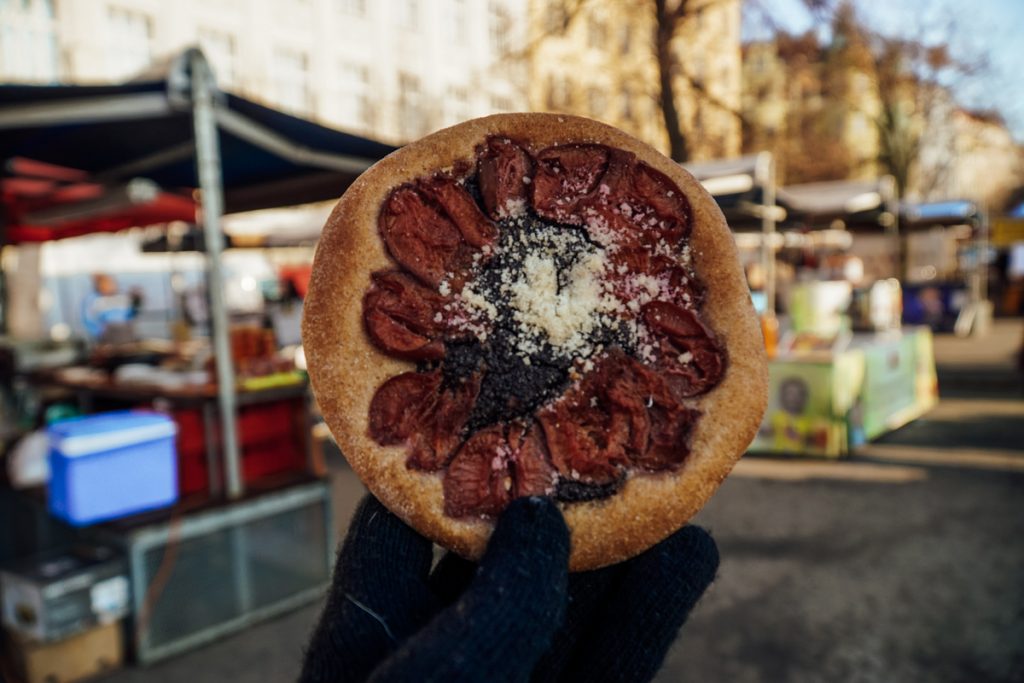 Funny enough, the first place I heard of kolache wasn't Prague but actually Brooklyn, where Brooklyn Kolache Co. swept up the Fort Greene foodie scene in a storm.
Returning to Prague years later, I was finally able to taste the original kolache. And guys, is it ever tasty!
I tried it first at the Jiřího z Poděbrad Farmer's Market and then had another one (no complaints) hours laters at the first stop on our Eating Prague food tour, Perníčkův sen.
Personally, I liked the poppy seed variety even better than the plum one I bought at the market!
Note: A big thank you to Eating Prague for hosting me on the food tour! All opinions expressed and stubborn pounds gained are entirely my own.
Allison Green is a former educator turned travel blogger. She holds a Masters in Teaching and a B.A. in English and Creative Writing. Her blog posts merge her educational background and her experience traveling to 60+ countries to encourage thoughtful travel experiences that both educate and entertain. She has been a speaker at the World Travel Writers Conference and her writing, photography, and podcasting work has appeared in National Geographic, CNN Arabic, CBC Canada, and Forbes, amongst others. Now based in the San Francisco Bay Area where she grew up, she has also lived in Prague, Sofia, and New York City.