Both Cancun and Cozumel offer white-sand beaches, reefs for snorkelers and scuba divers, and year-round beautiful weather: but which is the best place for you?
If you're trying to pick between Cancun vs. Cozumel, this guide will lay out the pros and cons to help you pick the better option for your upcoming Mexico trip.
The short answer is there is no perfect place: a great place for one person may be another person's idea of hell!
I'll tell you what my choice is at the end of this post, after you've seen all the reasons why one might choose Cancun over Cozumel and vice versa.
Cancun Pros
Pro #1: Cancun International Airport has more (and cheaper) direct flights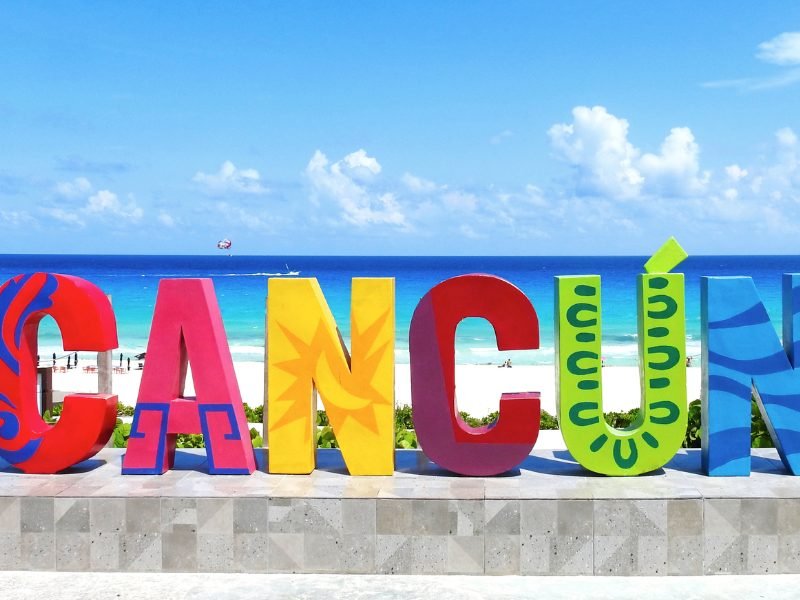 Note: This post contains affiliate links, which means I may receive a small commission if you purchase something through one of these links. Thank you for supporting the free content on this site! For more information on affiliate links and cookies, see my disclosure page for more details.
Since Cancun is such a popular tourist destination, it makes sense that there is a huge variety of direct flights to Cancun's international airport (so much, in fact, that CUN is one of the top 10 busiest airports in the world!)
If you're traveling with limited vacation time, the convenience of a direct flight can't be beat.
Plus, flights to Cancun tend to be cheaper compared to flights to Cozumel. That said, prices here can soar, especially during high-travel times like school holidays or the Day of the Dead.
Cancun also has a lot more international flights, including flights from elsewhere in Latin America and Europe, whereas the Cozumel airport tends to only have flights from Mexico and a few cities in the United States.
Pro #2: Cancun is a perfect base for all sorts of day trips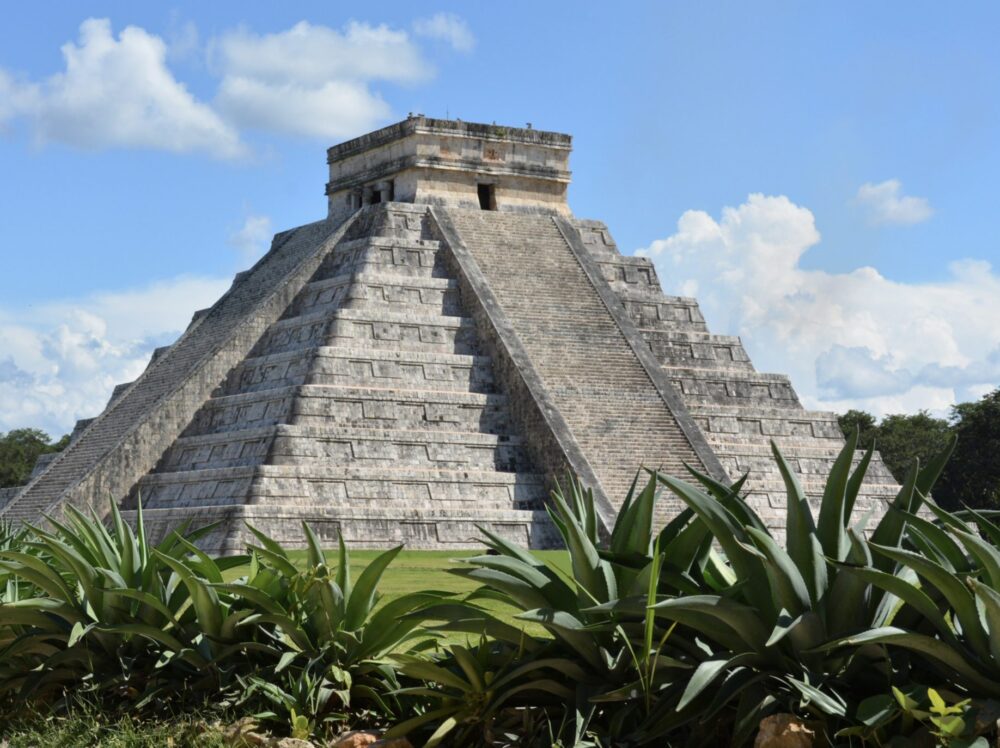 Since Cancun is in the heart of the Yucatan Peninsula, it's quite easy to use Cancun as the base for many day trips throughout the area.
Interested in history and culture? Hop on a tour leading you to Mayan ruins like Chichen Itza and Coba, two of the most famous historical landmarks of Mexico.
Prefer to explore some smaller islands near Cancun? You can explore Isla Mujeres or check out the fun things to do in Isla Holbox.
Want to see the famous cenotes of the Yucatan peninsula? The hardest choice will be narrowing down which of the many cenotes near Cancun deserve your time!
Want some quick recs for Cancun day trips? Here are some favorite tours and excursions at a glance!

➤ Chichen Itza & Cenote Day Trip from Cancun 

➤ Tulum & Coba Ruins Day Trip from Cancun 

➤ Tulum Ruins, Cenotes & Sea Turtle Day Trip from Cancun 

And that's not even going into the myriad of adventure parks and water parks there are all along the Riviera Maya (which I'll go into in the next section).
Basically, there are no shortage of fun side trips you can add to a Cancun vacation.
Pro #3: Cancun is closer to more family-friendly activities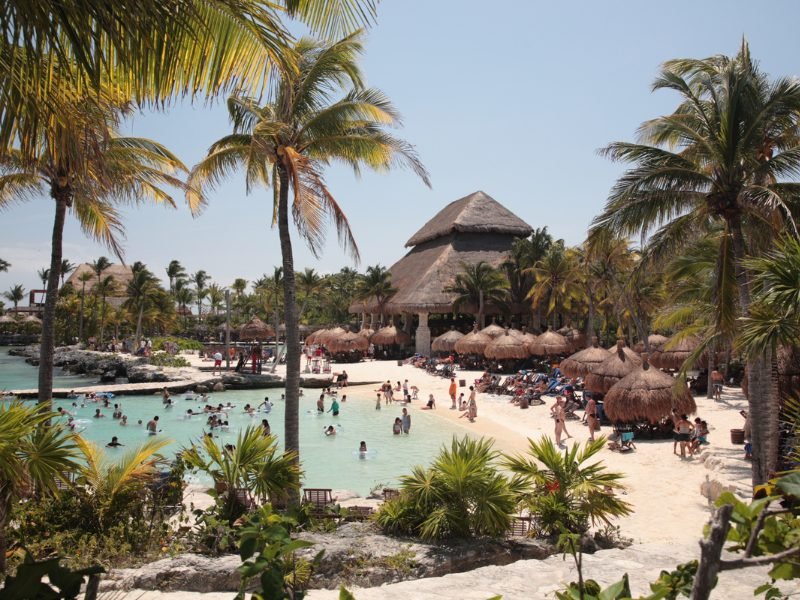 If you're looking for your next family vacation, Cancun is probably the better choice.
There are a huge variety of amusement park and water park destinations that specifically cater to families, with plenty of fun things for all ages to enjoy.
Kids will love places like Xcaret, a water theme park near Playa del Carmen, where you can enjoy an underground river, artificial lagoon, a coral reef aquarium, and a beach area.
For a more thrilling experience better suited for older kids, there's the Xel-Ha waterpark, where you can take a lighthouse-themed waterslide that's nearly 100 feet high and try your hand at a 20-foot cliff jump!
Adventure-seeking families will enjoy more high-adrenaline destinations like the Xplor Adventure Park — it's the most-visited zipline park in the world and has a ton of other fun adventure activities for all to have a good time on!
… And that's just three of the many options for adventure parks and water parks in the Cancun and Riviera Maya area!
Looking into Cancun water parks and amusement parks? Here are our picks.

➤ Xplor Park (Ziplining, underground rivers, and amphibious vehicle excursions -- all included in your ticket)

➤ Xcaret Park (Manatees lagoons, coral reef aquariums, and entertainment -- all included in your ticket)

➤Xel-Ha (Snorkeling, waterslides, hammock islands, and all-inclusive food and drink -- all included in your ticket)

On the other hand, Cozumel is smaller and sleepier, with no parks that can quite match what the Riviera Maya has to offer.
There are a few kid-friendly places at Cozumel, but they're more beach clubs than adventure parks.
Two options are Paradise Beach which has some fun inflatables and water trampoline set in shallow waters and Playa Mia Grand Beach Park with water slides and an inflatable park.
While kids can certainly enjoy some time at Cozumel at places like these beach clubs, there just isn't the same concentration of choices when it comes to kid-friendly activities.
Pro #4: The Cancun and Riviera Maya area has more luxury and all inclusive resort choices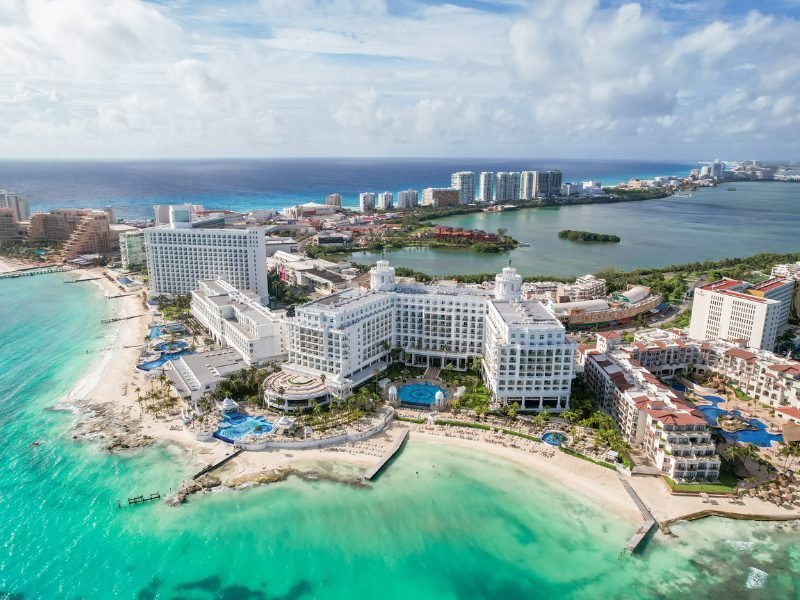 The whole coastline of the Riviera Maya area is known for its luxury hotels and all inclusives that have a ridiculous number of amenities.
If you're looking for that sort of vacation where you just sit back and enjoy the resort amenities, I'd opt for Cancun, not Cozumel.
All inclusives in Cancun and the Riviera Maya can be a little pricy, that's to be sure, but they're some of the best all inclusives you'll find the world.
There are all inclusives in Cozumel (I stayed at one, at the Palace Cozumel), but they are far fewer in number so you have fewer choices.
Plus, these resorts are a lot smaller, so the amenities are not as impressive compared to what you'll find in the Cancun and Riviera Maya region.
Pro #5: Cancun has livelier nightlife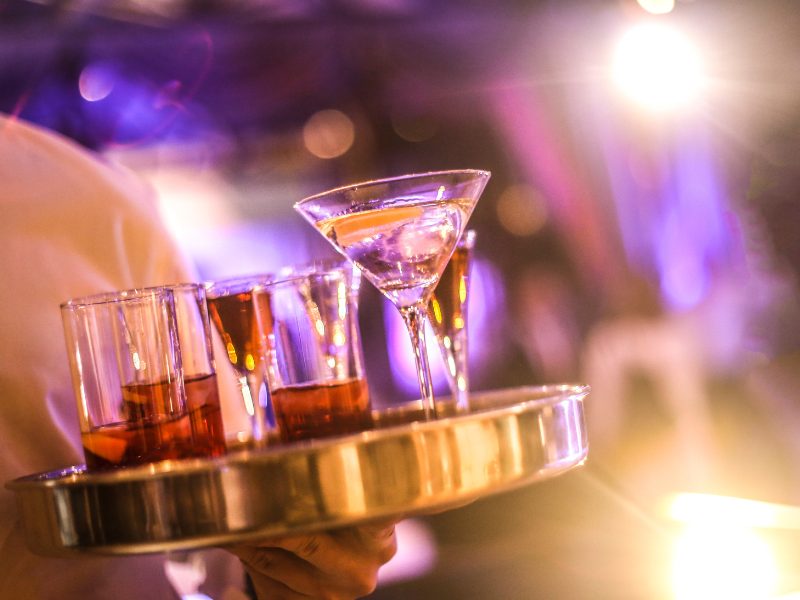 This is a pro for some and a con for others (read: me, a grouchy neurodivergent who doesn't drink and can't stand loud noises).
But if you're looking for a fun getaway with your friends where vibrant nightlife is a big part of the experience, Cancun is the only option here.
Cancun is also where you'll find a lot of the dinner show style nights out, such as Coco Bongo, etc. that are popular options for bachelorettes and birthday celebrations.
However, these nightlife options can also be pricy even by American standards.
For example, Coco Bongo has entry costing around $80 USD per person for ladies' nights on less-popular days, and $120 per person for Thursday through Sunday night options.
It does include drinks and snacks as well as a live performance, but it's certainly an expense!
On the other hand, Cozumel has very little nightlife to speak of — it's a sleepy little cruise port with many travelers hitting the hay early so they can wake up at 6 AM, bright-eyed and not hungover for their dives that day!
There are a handful of restaurants with live music and bars with DJs that make Cozumel have a hint of nightlife, but it'll never compare to Cancun in that way.
For some that's a good thing, for other that's a bad thing.
Pro #6: Cancun and Riviera Maya have more beautiful beaches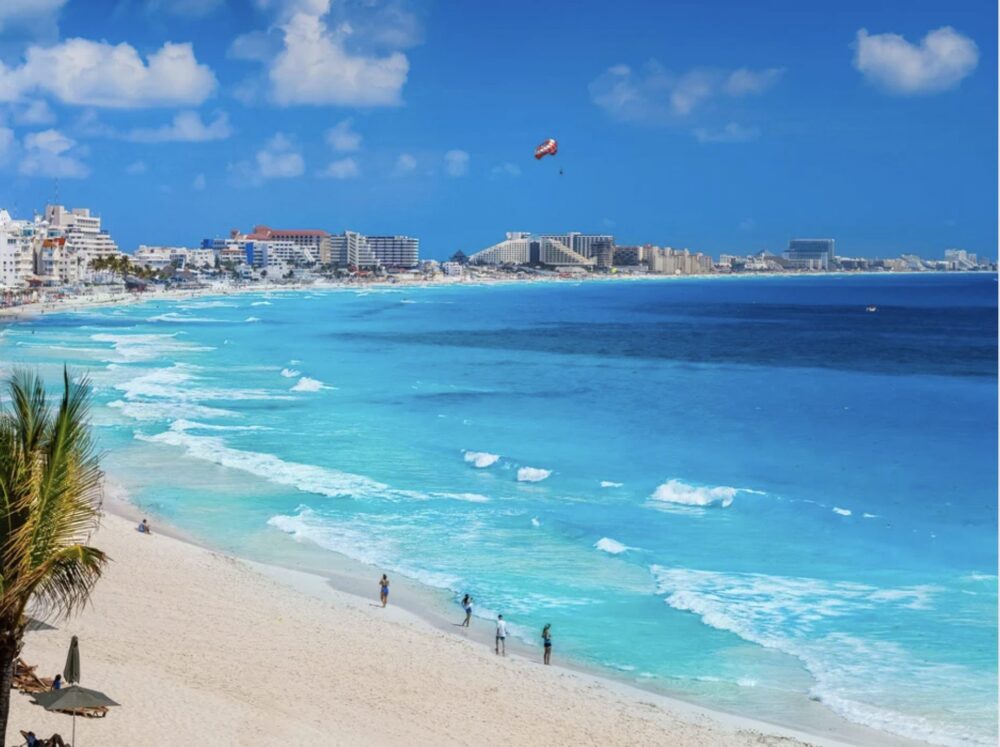 While Cozumel definitely has some beautiful beaches, particularly on its more untouched east side, Cancun and Riviera Maya definitely take the cake here when it comes to best beaches.
Cancun's beaches are world-famous for their plush white sand and sparkling turquoise water, framed by palm trees and studded with all the beach bars, clubs, and amenities you could ever want.
Meanwhile, Cozumel mostly has rocky beaches on its west coast (where all the hotels are).
Its sandy beaches on the east coast are beautiful, but they often don't have favorable swimming conditions due to strong currents.
Cancun Cons
Con #1: Downtown Cancun is louder and less safe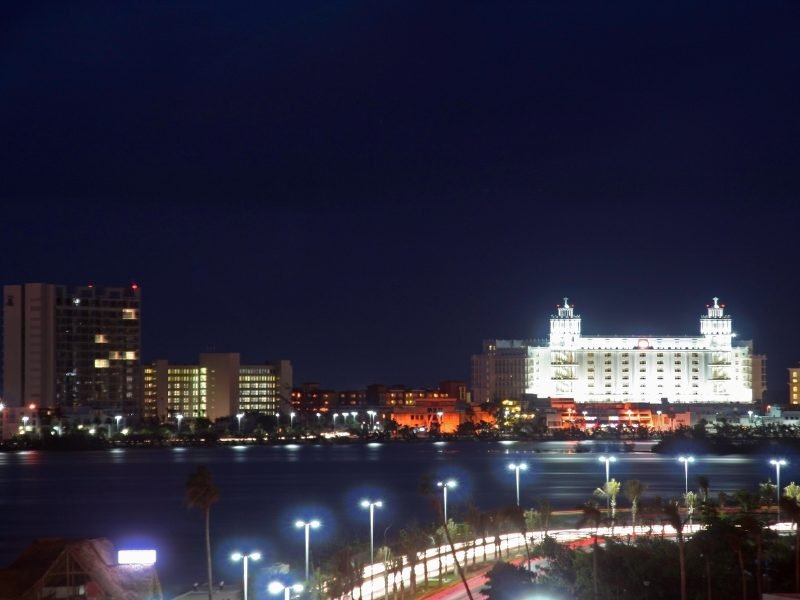 When it comes down to it, by the stats, Cancun not as safe as Cozumel. But that's not to say it's unsafe.
Let's remember that we're comparing apples to oranges here: Cancun is a metropolis of over a million people, whereas Cozumel is a small island with around 80,000 residents.
Plus, since Cancun has more of a party scene, the crowd skews younger, rowdier, and drunker.
This causes problems in both directions. Inebriated tourists often start fights and commit crimes themselves, but they're also easier targets for crimes like mugging.
Cancun has a higher homicide rate, with 540 homicides reported in 2020 vs. Cozumel's 6 (adjusted for population, Cancun's homicide rate is 0.00054% to Cozumel's 0.000075%).
That said, the majority of violent crime in Cancun occurs between rival gang members, and it's generally not something you would encounter as a tourist, especially if you avoid getting inebriated or getting involved in drugs.
As a tourist, you're far more likely to be the victim of crimes like petty theft than anything that threatens your physical safety.
Con #2: It can be difficult to get around Cancun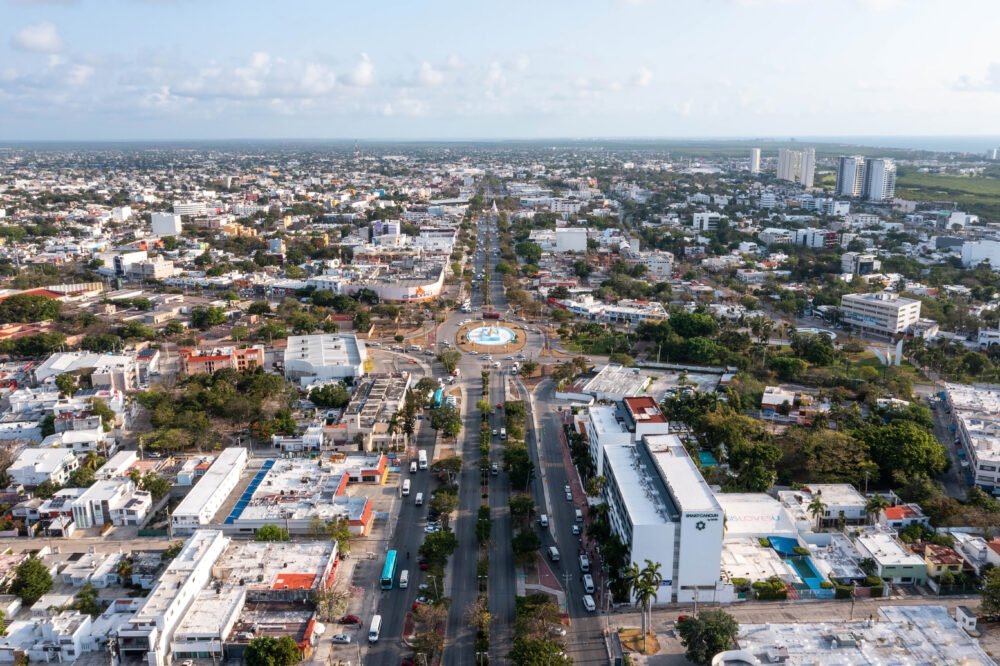 Cancun is a huge metropolis, and as such, getting around isn't exactly a piece of cake.
The hotel zone is located in a different area than downtown, and traffic between the two areas can be heavy at times.
This can be frustrating and even isolating if you end up feeling somewhat confined to the hotel zone, and this is one reason why many people end up sticking to their all-inclusive while in Cancun — getting out and about can just be a pain.
Additionally, public transportation in Cancun is tough to figure out, and taxis aren't always available — and those that are aren't always the most scrupulous, sometimes refusing fares they don't think are worth their time or worse, overcharging or taking a circuitous route to rack up the fare.
On the other hand, Cozumel is so small that it's quite easy to navigate, even if you're staying outside of the downtown area in the hotel area to the north or south of the main town.
Taxis in Cozumel are everywhere and easy to handle, and they generally don't mess around with overcharging their patrons and are more honest about fares.
Con #3: Cancun can be too party-focused and touristy, especially during spring break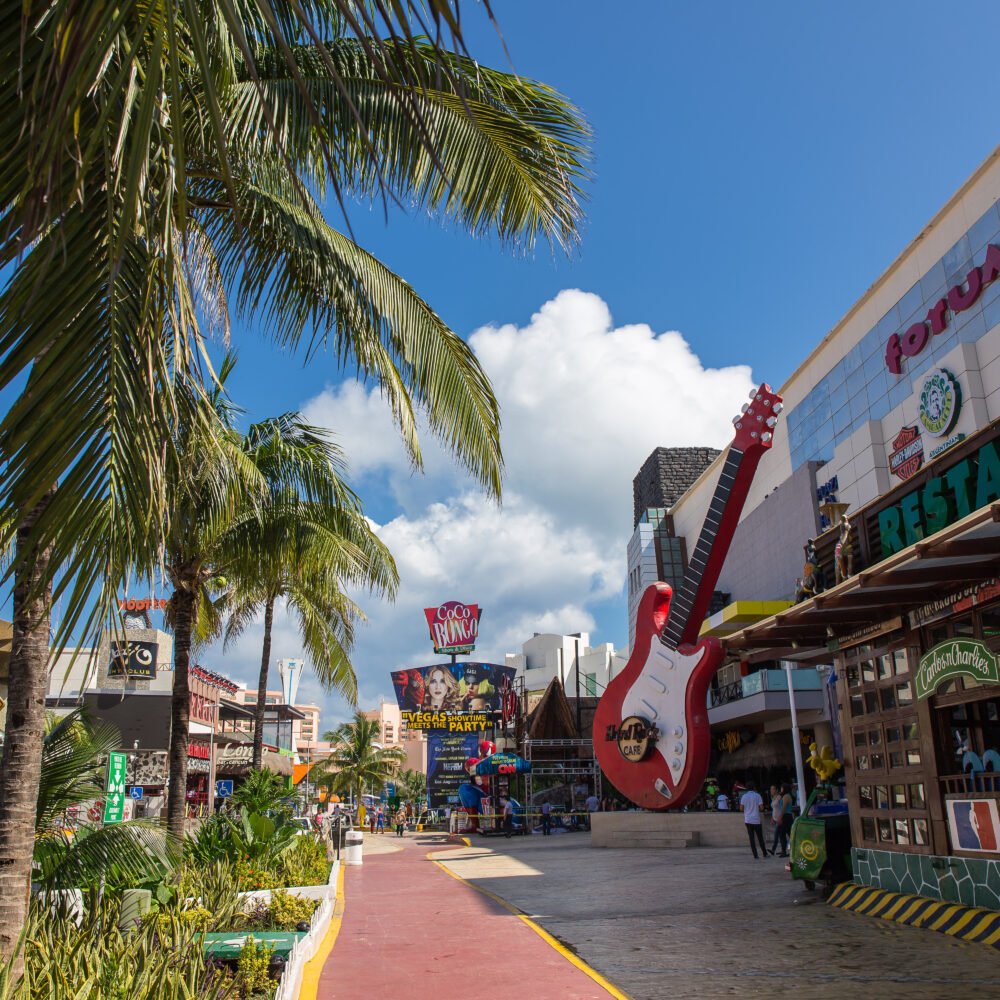 Cancun is pretty much synonymous with Spring Break — so you can imagine that the party atmosphere there can easily get pretty overwhelming pretty quickly.
The excessive partying can create its own issues like noise, litter, and crime — not anyone's idea of a good time.
While you can carve out your own little pocket of Cancun that avoids all the party revelry, you do have to avoid certain areas and even certain times of year (forget basically all of March and April).
To avoid these problems, scout your hotel wisely, opting for something that is well-reviewed, quiet, and geared towards the kind of travel you're aiming to have.
Cancun can also feel a little overly touristic as well, and it's hard to find authenticity amongst its tourist traps and mass crowds, especially in peak season.
Cozumel is also quite touristic as it is a cruise port, but it's pretty easy to get off the main drag of Cozumel's downtown area and quickly feel like you're actually in Mexico, not a Disneyfied idea of it.
Con #4: Cancun's coral reefs have nothing on Cozumel.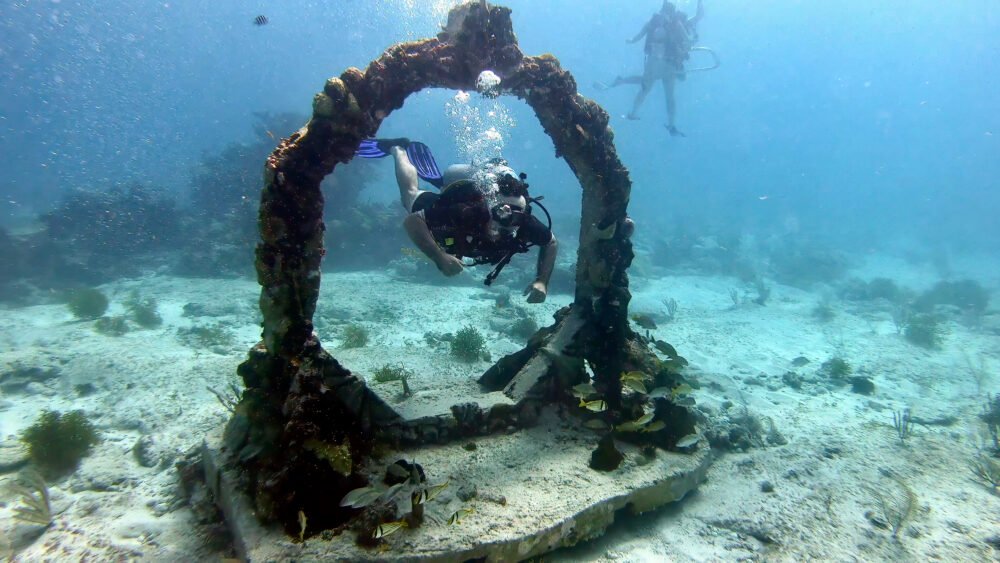 When it comes to enjoying the beautiful marine life and underwater world of Mexico's Caribbean coast, Cancun doesn't have as much to offer as Cozumel does.
The coral reefs in Cancun are not thriving quite as well as Cozumel's, although the waters around Cancun are home to one of Mexico's coolest museums, the Cancun Museum of Underwater Art (MUSA).
Cancun's vastness and its overtourism problem (and beachgoers not using reef-safe sunscreen) have created led to pollution issues and increased coral bleaching that have harmed its house reefs.
On the other hand, much of Cozumel's reefs are in fantastic condition — they are truly some of the healthiest reefs I've seen, which is shocking considering how much traffic they get.
Cozumel's reefs are less accessible than Cancun's, so they see fewer visitors, and those who do visit generally are more conscientious about preserving the reefs (typically since they came to Cozumel for its reefs in the first place!).
Plus, most of the reefs in Cozumel are part of a protected marine area, Cozumel Reefs National Park, which has strict standards for its upkeep — and divemasters and boat captains who work hard to keep the reefs thriving.
While there are a few places you can snorkel in Cancun, there are better options — a close nearby option would be Isla Mujeres, a mere 20-minute ferry ride away from Cancun.
Cozumel Pros
Pro #1: Cozumel has some of the best scuba diving in Mexico.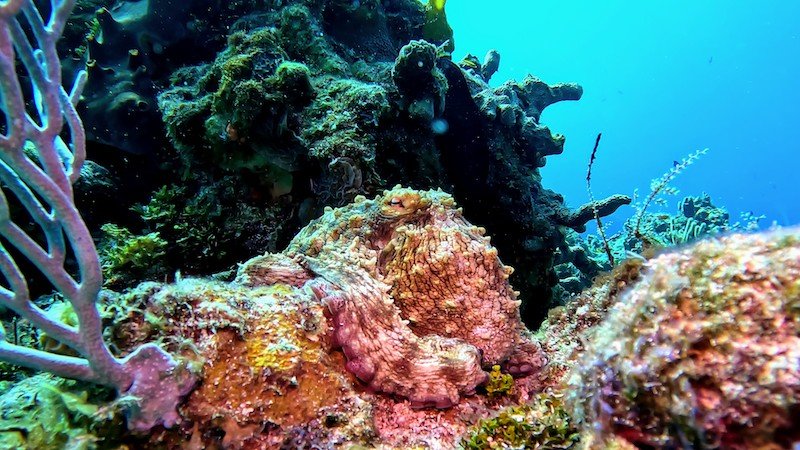 Cozumel is home to the Mesoamerican Barrier Reef, the second-largest reef in the world after the Great Barrier Reef. It stretches across three countries in Latin America: Mexico, Belize, and Honduras.
While Cozumel is often listed as one of the best destinations in the world for diving, I still underestimated this Mexican island, thinking it was too popular for its reef to be as healthy as it is… but I was pleasantly shocked.
I've actually never seen coral thriving quite like this anywhere in the world, even on my recent trip to French Polynesia, which is about as remote as it gets.
The Mesoamerican Reef system is the Caribbean's sea's crown jewel when it comes to diving and it's absolutely worth visiting Cozumel just to experience the diving.
Take it from me: according to my dive computer, I spent 13 hours underwater on my last trip to Cozumel (an average of 1.3 hours per day over a 10 day trip!) — and that's not even factoring in my snorkel days!
I saw countless species of tropical fish (including Cozumel's endemic species found nowhere else in the world, the splendid toadfish).
In terms of larger life, I saw three types of sea turtles — including a massive and ancient loggerhead turtle that looked like an underwater dinosaur, nearly a dozen spotted eagle rays (as well as two other kind of stingrays), and lots of sleepy nurse sharks hanging out under the reef ledges.
I'll be writing a lot more in-depth on Cozumel's dives shortly, but there's the quick version!
Pro #2: Cozumel is far more walkable and easy to navigate.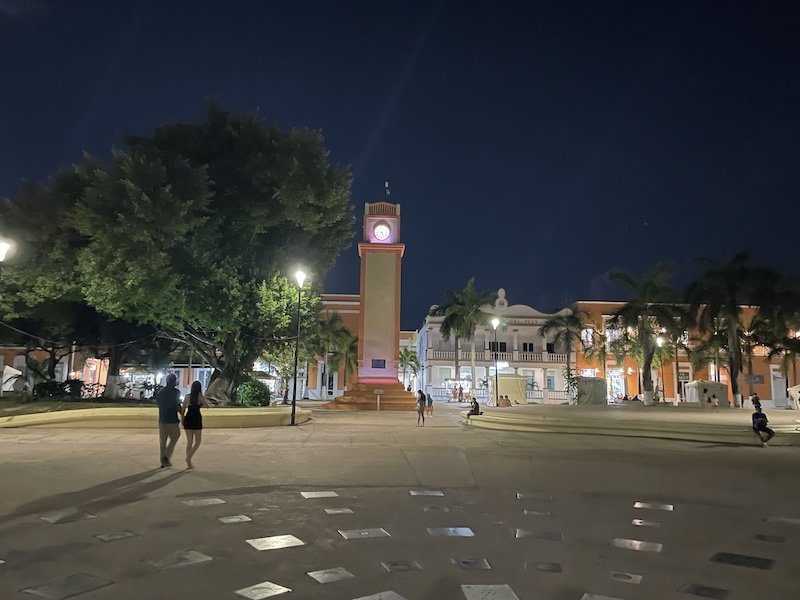 Cozumel isn't exactly a tiny island — it takes about an hour by car to circumnavigate the island — but it's still a lot more manageable than Cancun.
The downtown of Cozumel's main town, San Miguel, is pretty compact. Staying in the city center, I found we were able to walk almost everywhere we wanted to go within about 20 minutes.
The exception is if you go diving, you'll generally need to take a taxi to a local marina, since the dive shops don't do transfers (they aren't allowed to). Still, this only was around 110 pesos per ride, or about $5 USD.
For our 10 days in Cozumel, we mostly walked and only needed a taxi to meet our dive operator.
We chose to rent a car for two days to get to explore a little more of the island, particularly the east coast beaches, but it's not strictly necessary.
Pro #3: Cozumel has a calmer, safer downtown area.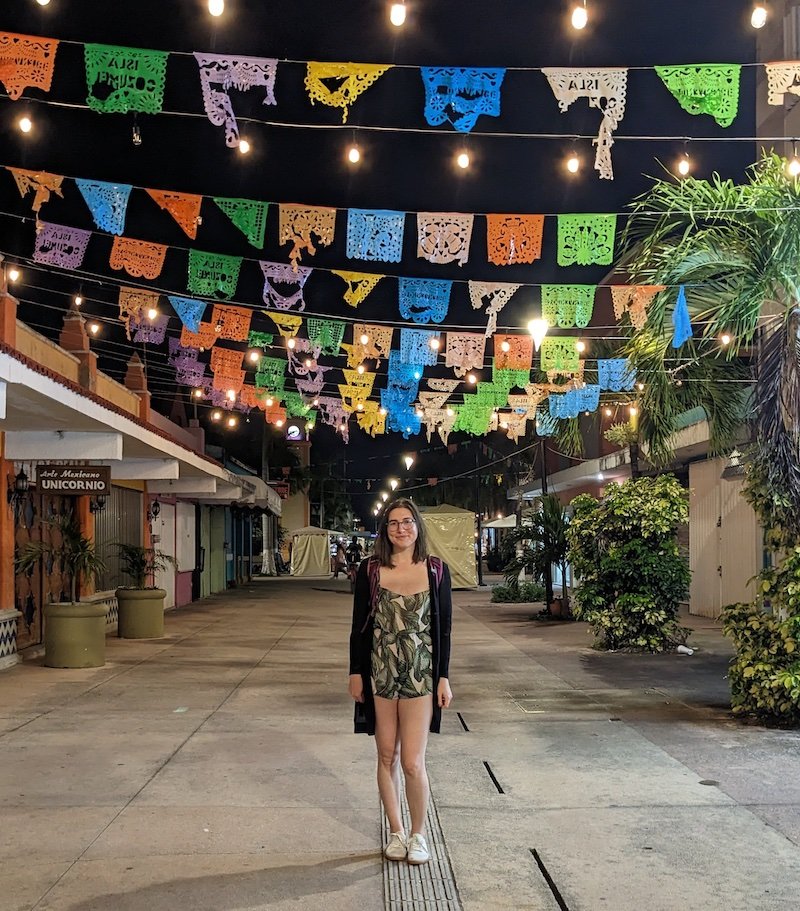 The worst thing you can say about Cozumel's downtown area is that it's sleepy and a bit schlocky around the main tourist parts. But it's definitely calm and safe!
Since Cozumel is mostly a dive-oriented destination, there's not as much of a party scene. Look how dead the streets were around 10 PM on a weekend!
Divers need to abstain from drinking excessively — both for their health while diving and because they've got some gnarly-early wake-up calls!
As a result, you'll find that Cozumel is a bit quieter at night. If you're looking for a party, you can probably find it, but it's not the main point of being there.
Pro #4: It's easy to see the entire island of Cozumel in a day.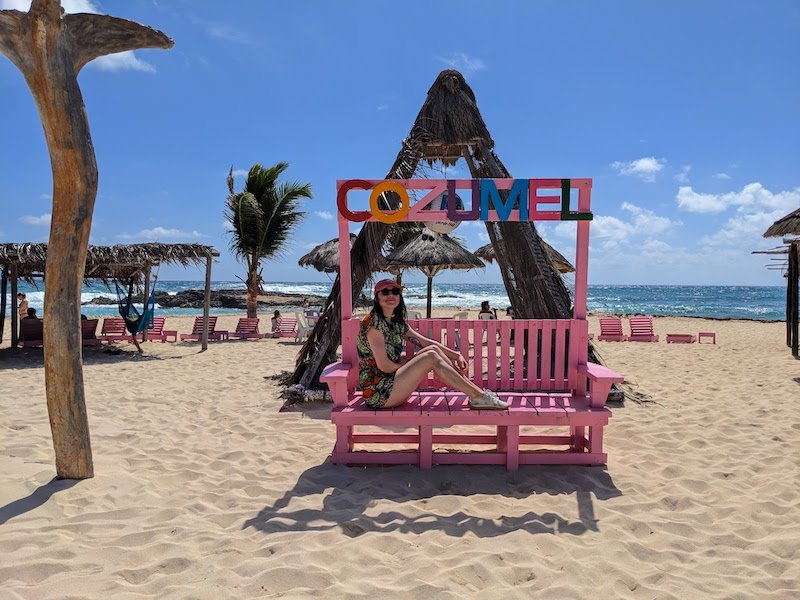 Cozumel's compact size makes it perfect for quick trips, as you can hit most of the highlights of the island in a single day (if you wake up early and power yourself up with a hearty chilaquiles breakfast, that is).
For a day tour of the island, here's what I would recommend (note that you'd need to rent a car to tackle it all).
Start heading towards the east side of the island with a visit the expansive Mayan ruins at San Gervasio.
Then spend some time on the beautiful east side beaches of Cozumel, like the wild Playa Chen Rio or Playa Punta Morena.
From there, make your way to Punta Sur Eco Park, where you can climb a lighthouse for epic views over the southern end of the island (both marshland and sea).
You can also see some small Mayan ruin remnants, keep an eye out for crocodiles, and explore the beautiful beach at the end of the reserve (note that the snorkeling here is pretty disappointing here, though).
After that, you can start circling back north along the island's west coast, stopping at a beach club for a drink, bite to eat, and maybe a snorkel.
A few popular spots are Playa Palancar, Skyreef (a great snorkel spot — I saw an octopus during the day, a rare find!), and Tikila Beach Club (where I did a lot of shore diving, and I imagine that the snorkeling is rather good as well).
Pro #5: Cozumel has a great mix of resorts and guesthouses.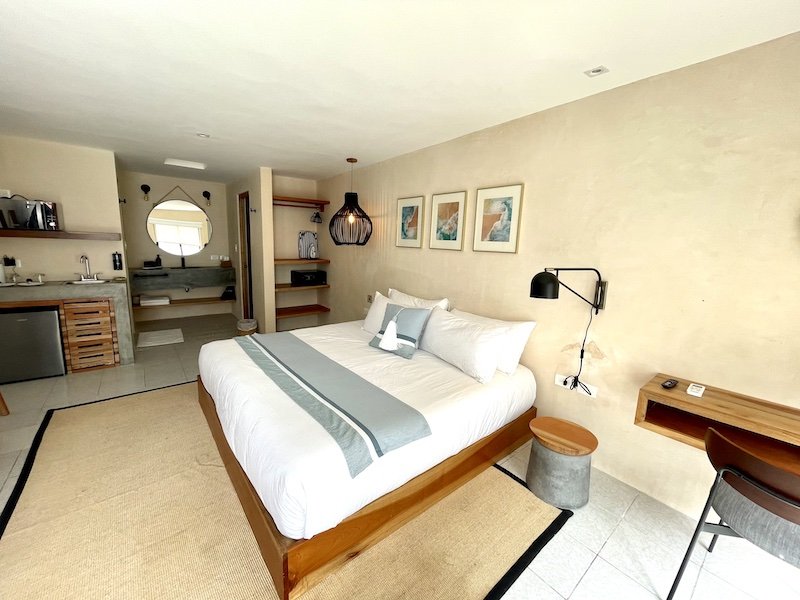 While your options in Cancun are pretty much all-inclusives and luxury chains, Cozumel has a more varied range of hotels, resorts, and guesthouses.
Yup, there are a few all-inclusives on Cozumel, like the popular Palace Cozumel.
But there are also a lot of great guesthouses in the downtown area which give you a more authentic experience of Cozumel since you can explore the local food and culture scene more easily.
We stayed at a new boutique hotel, ILLA Cozumel, which was a fantastic choice for a long-term stay (we were there for 10 days, working remotely and diving when we could!).
There are also a good handful of hostels in Cozumel for budget travelers, and budget-friendly options where you can lodge short-term or long-term while you complete your SCUBA education (whether you're just getting your open water or you're going for the divemaster title!)
There are also dive resorts that specifically cater to divers, offering services like free tanks and inclusive packages that bundle together your meals, boat dives, and unlimited tanks for shore dives on the house reef.
Pro #6: Cozumel has a compact, delicious dining scene.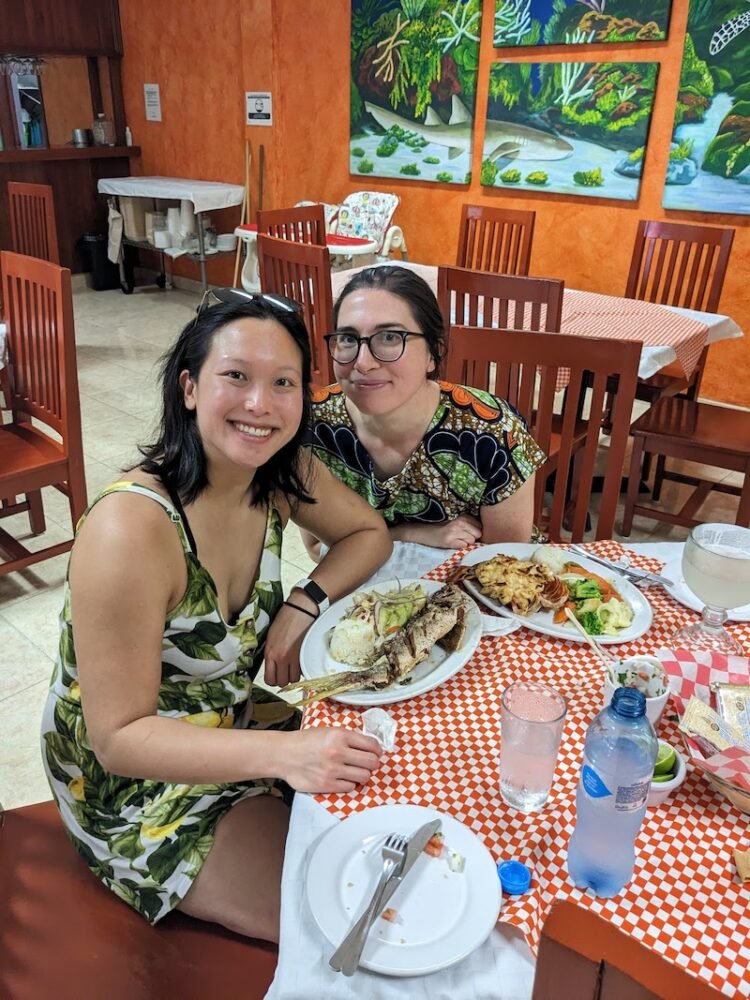 While undoubtedly, Cancun has a wider variety of dining options, the reality of it is that it is quite spread out and it can be difficult to know where to eat in Cancun — and then getting there is another part of the battle.
On the other hand, Cozumel is compact yet well-appointed for tourists, with a wide variety of options.
Skip the tourist traps and familiar names around the cruise terminal and ferry dock and you'll find plenty of great options for where to eat in Cozumel.
Enjoy upscale dining in a jungle-like oasis with tasteful live music at Kondesa (so nice, we ate there twice), or dig in with locals at taquerias like El Pique and Taqueria El Mexicano, which dish out the real deal.
Cozumel Cons
Con #1: Cozumel can be harder to get to, with fewer flights and a sometimes rough ferry ride.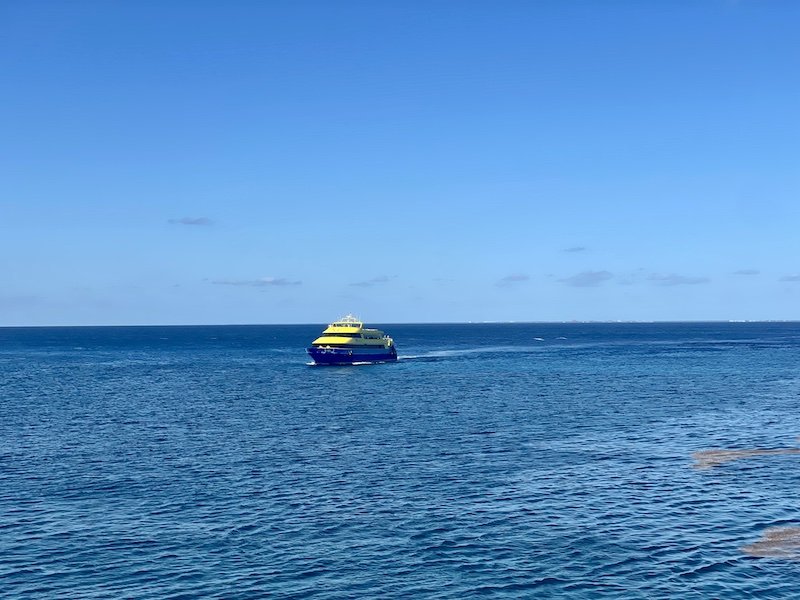 Cozumel has far fewer direct flights than Cancun — unless you're flying from Texas, where there are plenty of direct flights that offer easy access to this lovely small island (lucky them!).
That means you'll either have to book a flight with a layover, which isn't always well-timed, or getting to Cozumel via a combination of taxi and/or public transportation. There's no avoiding that ferry unless you fly!
Getting to Cozumel from Cancun Airport takes a minimum of two hours: about an hour to get to Playa del Carmen, and about an hour to buy your ferry tickets, take the ferry, and arrive in Cozumel.
Con #2: As an island, Cozumel is isolated from Mexico's Yucatan peninsula.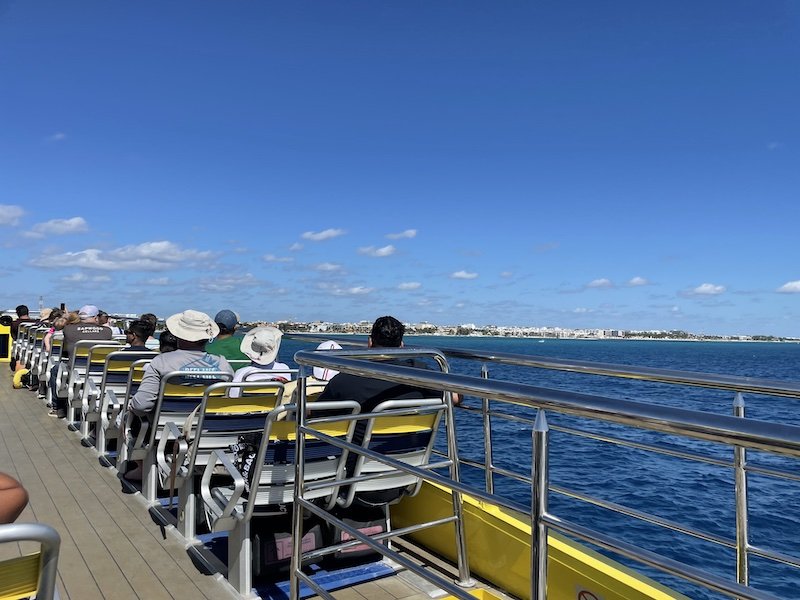 This sounds obvious (and it is) but it does bear mentioning. Since it's an island, Cozumel is tricky when it comes to day trips.
Playa del Carmen, another good gateway for Yucatan day trips, is just 30 minutes away, but it will require taking the ferry back and forth in a single day.
Depending on the weather, is not always a pleasant experience you want to repeat multiple times — the ferry has earned the nickname of 'the Vomit Comet' for a reason that I can personally attest to (multiple times…).
In short: if you plan to visit Cozumel, plan to stay on Cozumel. If you plan to visit Cancun, the entire Yucatan peninsula is at your fingertips!
Con #3: Cozumel's beaches are not the most lounge-friendly.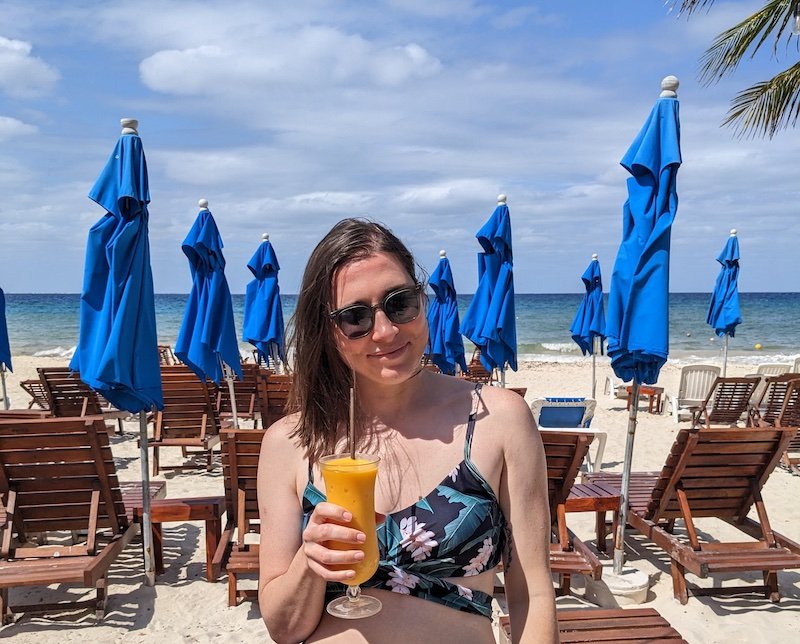 If you're looking for wide, white sandy beaches, Cozumel isn't quite the perfect pick.
Yes, there are a handful of sandy beaches on the east, but conditions here can be rough on this side of the island, and it's far from the hotels (you'll definitely need a car or taxi to reach them).
There are some beach clubs in Cozumel that have nice beaches — my personal pick is Paradise Beach Club, but I also liked CocoTiki Beach Club up north — but they require either an entry fee or a minimum spend, and a day here can add up quickly.
Much of Cozumel's west side is either rocky beaches or owned by resorts or beach clubs, so it's hard to find any public beaches to enjoy.
Con #4: Some of Cozumel's downtown is a bit tacky and cruise ship oriented.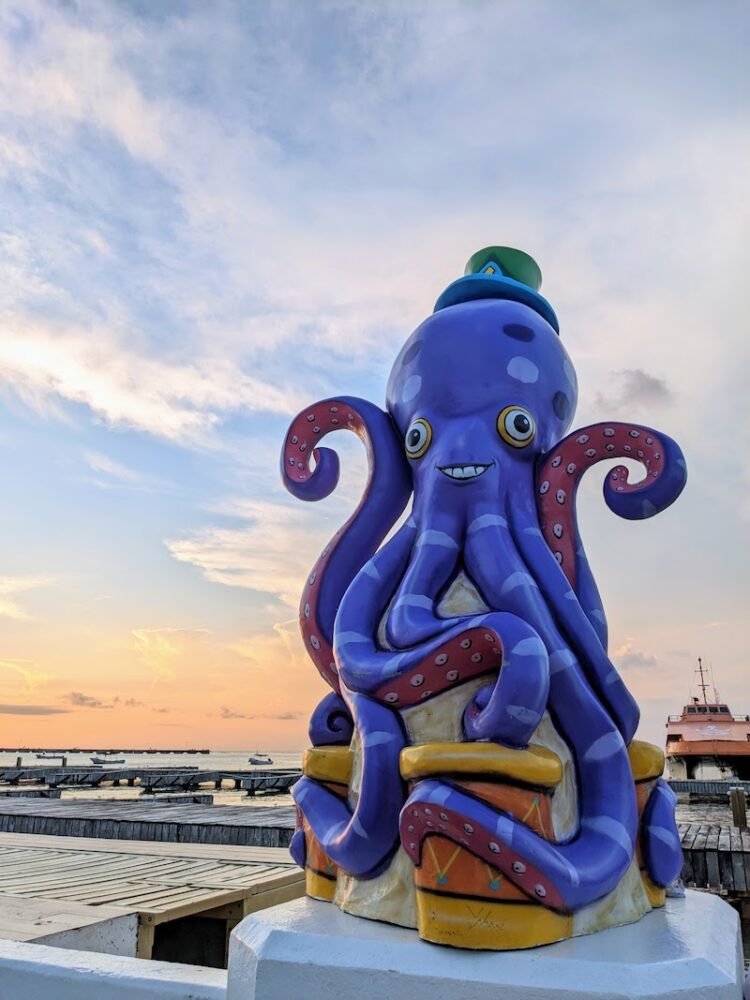 There are some stretches of San Miguel de Cozumel that are, well, just plain tacky.
I can't help but cringe every time I see the awkward sea sculptures along the beach boardwalk ruining an otherwise beautiful view.
That's not the mention the two weird giant figures that 'welcome' you to Cozumel as day-trippers clutter up the pathway leading down the main pedestrian road of San Miguel to take photos with them, for some reason.
And that's not to mention the Señor Frog of it all down by the cruise ship terminal!
That said — walk a few blocks away from the waterfront (literally, one or two blocks will do) and you'll instantly breathe a sigh of relief as you escape the schlock and find a more authentic side of Cozumel.
There's some great street art in Cozumel just as soon as you get off the main tourist drag, so keep your eyes peeled. It's a very artsy area!
What's My Pick Between Cancun or Cozumel?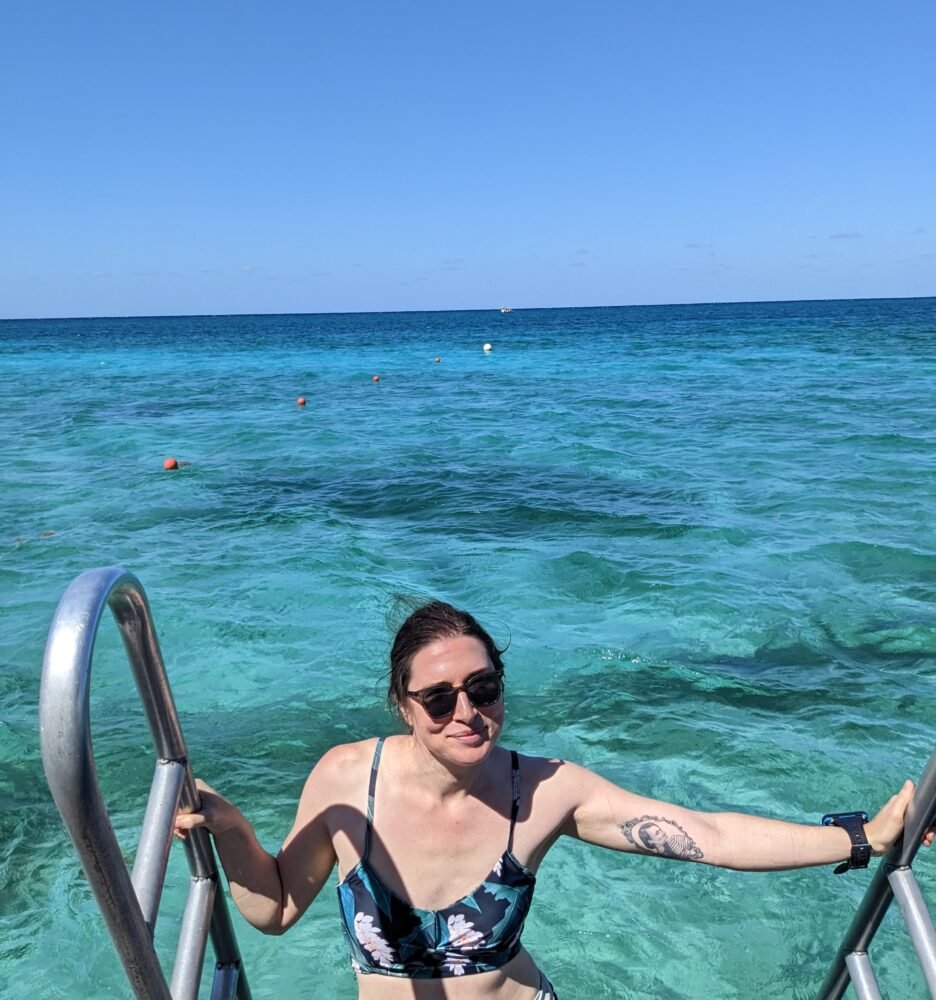 While I do have a preference in the Cancun or Cozumel debate, it's based on my own personal preferences and priorities, which are quite possibly different than yours!
As a diver, Cozumel is the best option for me, hands down.
The dive sites on Cozumel are unparalleled nearly anywhere else in Mexico except perhaps the Socorro Islands, which are only accessible by liveaboard — and only suitable for advanced divers.
For me, all inclusive resorts and nightlife aren't really my jam, because 1) I'm sober and 2) my ADHD is too severe to enjoy relaxing on a beach chaise for longer than, well, approximately 15 minutes.
That said, for people who choose vacation spots based on their ability to unwind and relax, Cancun and all its all-inclusive resorts on the Riviera Maya are absolutely perfect for just that!
Neither Cancun or Cancun are objectively better, but I hope this guide will help you decide which is the better pick for your next trip… or hell, just visit them both!
Allison Green is a former educator turned travel blogger. She holds a Masters in Teaching and a B.A. in English and Creative Writing. Her blog posts merge her educational background and her experience traveling to 60+ countries to encourage thoughtful travel experiences that both educate and entertain. She has been a speaker at the World Travel Writers Conference and her writing, photography, and podcasting work has appeared in National Geographic, CNN Arabic, CBC Canada, and Forbes, amongst others. Now based in the San Francisco Bay Area where she grew up, she has also lived in Prague, Sofia, and New York City.