A scorching hot, volcanic landscape in the middle of the ocean doesn't seem like the most hospital landscape for winemaking — and it's not — yet somehow, Lanzarote winemaking perseveres and endures.
The fury of past volcanic eruptions have cooled, creating a unique mineral-rich volcanic landscape that gives all its wines a unique terroir, distinct and complex.
It's true that the island's volcanic soil and ash have imparted something ethereal to the wines, shaping their character and flavor in a unique way that combines the fruity and floral of the grapes with the sharp minerality of the soil.
It's one thing to try to explain it, but it's another to taste it.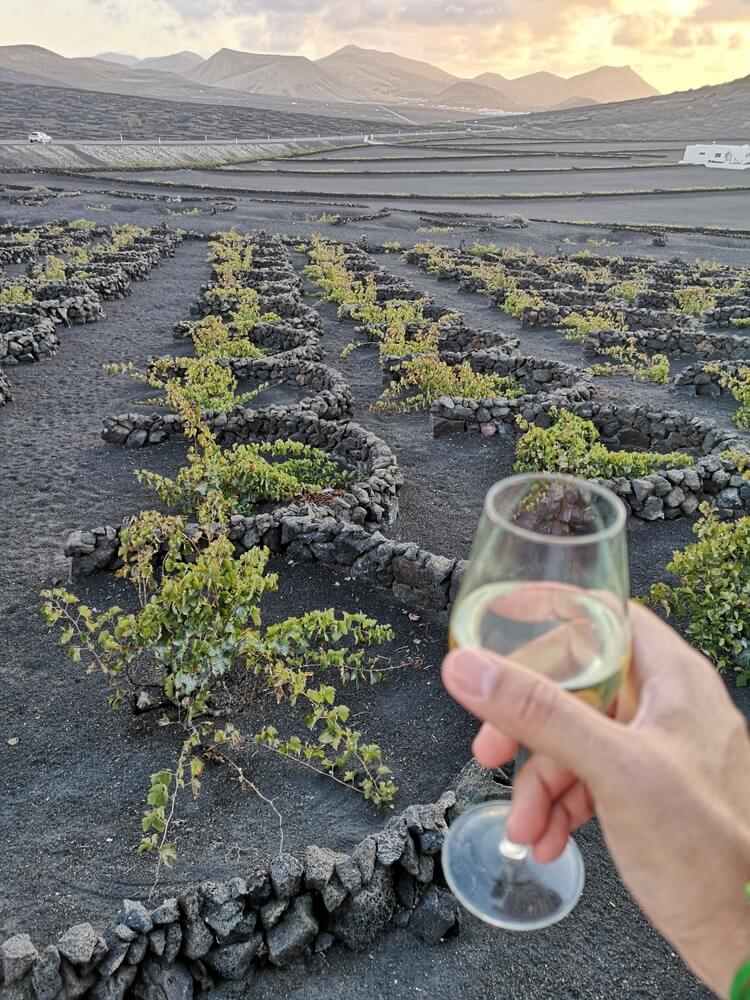 Note: This post contains affiliate links, which means I may receive a small commission if you purchase something through one of these links. Thank you for supporting the free content on this site! For more information on affiliate links and cookies, see my disclosure page for more details.
Taking a Lanzarote wine tour will not only explain it but have you experience it, where you can see just how unique this island's wines are.
The tradition of winemaking on Lanzarote is centuries-old, and it stands as a testament to the skill and creativity of the winemakers.
These creative farmers have turned the island's geological adversities (volcanic soil, strong winds, high heat) into an advantage with some unique methods.
But what exactly are those? Let's get into it below!
Why Is Lanzarote Wine So Special?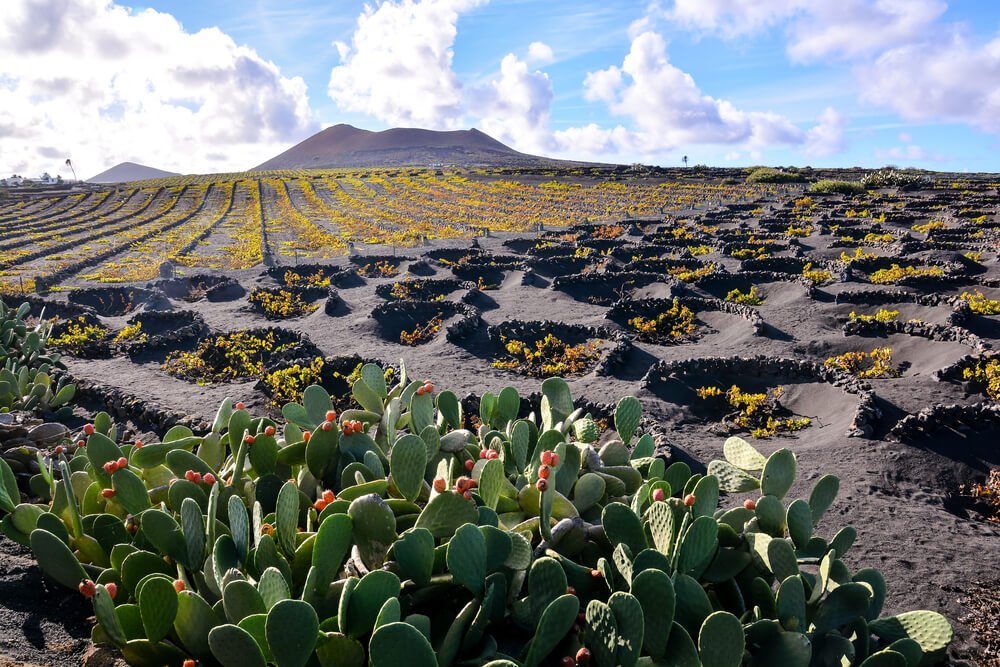 Wine geeks will have a blast exploring the volcanic history of Lanzarote's wine region and how that's impacted its winemaking traditions.
Due to the harsh conditions on the island, Lanzarote's winemaking stands out as one of the most unique vinicultural practices in the world.
Nestled in the Canary Islands (known for its harsh trade winds), this volcanic terrain is the birthplace of a viticulture that showcases human ingenuity in making the most of the island's remarkable but challenging geological characteristics.
Of course, Lanzarote wines are special for its volcanic soil, which is mostly a mixture of ash, lava, and pulverized rock that resulted after some devastating eruptions in the 18th century drastically changed the island's landscape.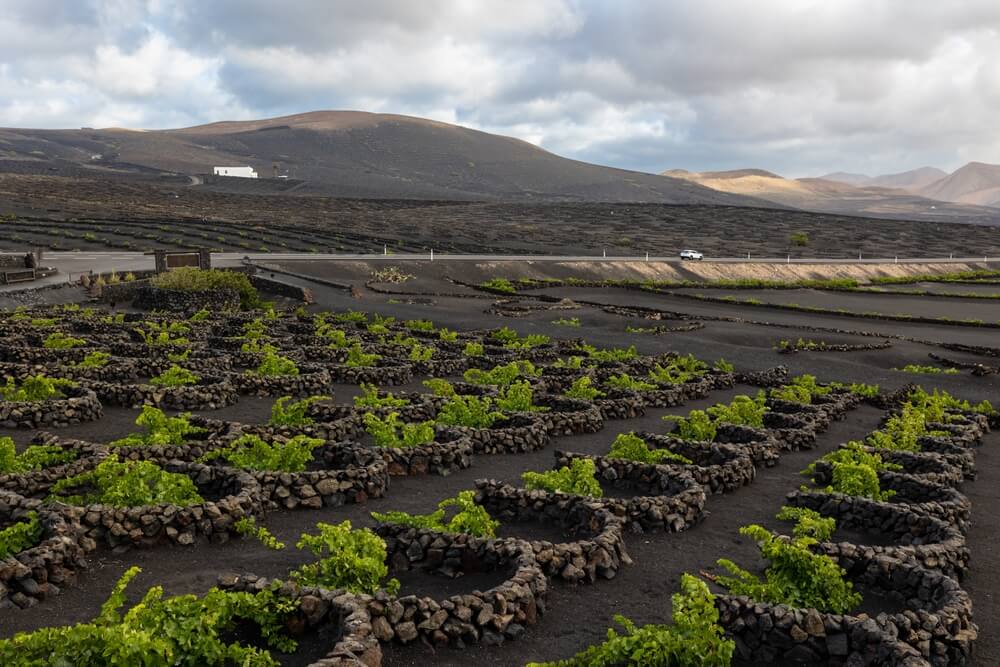 Yet that was also for the better in the long term, as the resulting volcanic soil proved surprisingly rather fertile for grape growing, with its minerals enriching the soil and imparting distinctive flavors to the grapes.
However, Lanzarote is hardly the only volcanic wine region — think of Mt. Etna and Santorini, for example, who other excellent winemaking regions that also have volcanic origins.
Where Lanzarote is unique is in its specific agricultural techniques that were developed in response to the harsh conditions, namely strong Atlantic winds and scarce rainfall.
Farmers, as always, were ingenius here: planting vines in funnel-shaped holes called gerias, with small semi-circular walls built around them to help collect the limited dew and moisture in the air and let it go to the vine's roots.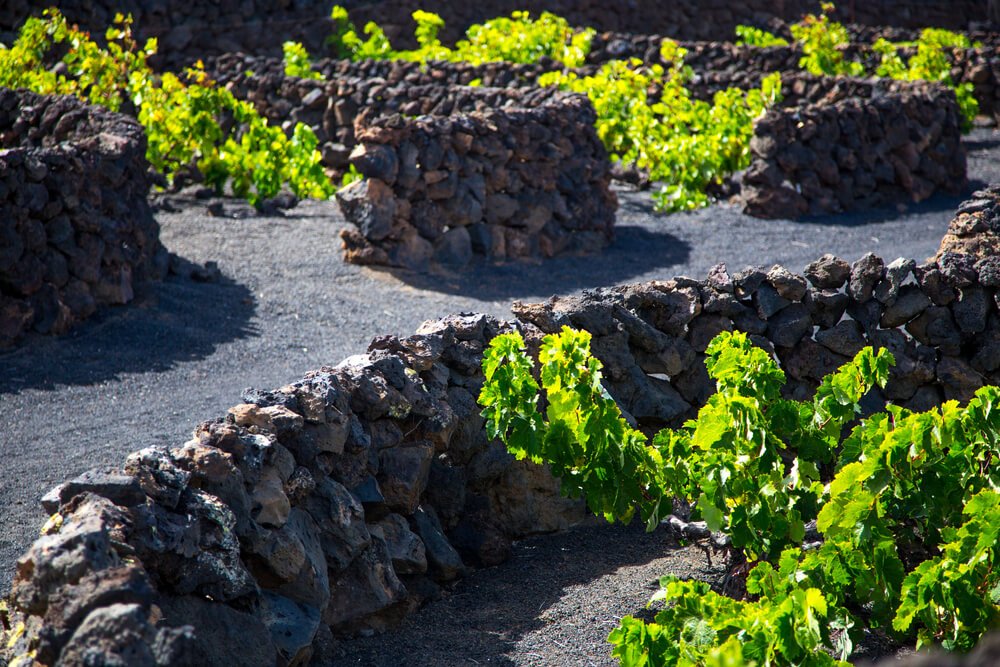 The shape also protects the vines from the wind, and in general, while the practices developed independently of one another, the principle is similar to the Santorini style of grape-growing, the kouloura.
Another unique aspect of Lanzarote winemaking is that the wine producers use a form of dry farming called "enarenado", since there's not really any natural access to water.
But volcanic ash is very porous, retaining moisture and gradually releasing it, so somehow, despite the limited water conditions, winemaking in Lanzarote was able to drive.
Lanzarote has a handful of indigenous varietals that have adapted to the island's harsh climate, including malvasia volcanica, a subtype of the popular malvasia grape.
From this, Lanzarote can produce all types of wine, from dry white wine to rich red wines to lusciously-sweet dessert wines.
The 5 Best Lanzarote Wine Tours and Wine Tastings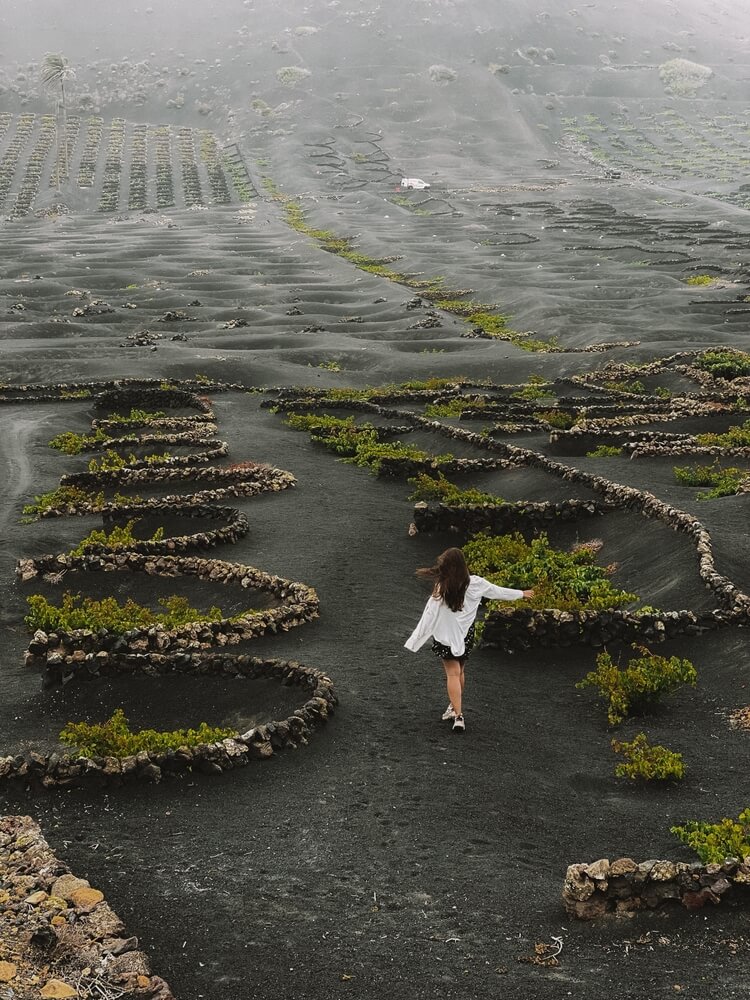 5 out of 5 stars, 70+ reviews
With a perfect rating from all who have taken the tour, it's hard to think of a better way to try wine tasting in Lanzarote than to combine it with some light hiking around the area.
This 4-hour Lanzarote wine and hiking tour combines epic views, history, and delicious wines all in one go, bringing you to the heart of Lanzarote's celebrated La Geria wine region.
This unique small group Lanzarote wine tour combines a guided hike through the island's stunning volcanic scenery with a delicious exploration of flavors.
Plus, it's tailored to be an intimate experience for a small group of just 8 participants maximum — which is great, as the hiking portion of the tour can be well-paced to suit the group's speed.
Your journey begins with the convenience of hotel pickup and drop-off, which is great as you don't have to consider having a designated driver — it's all sorted for you (great if you've rented a car in Lanzarote).
As you hike, you'll learn about La Geria's vineyards, where the so-called "miracle of Lanzarote" is unveiled to you: a unique agricultural technique, born from the ashes of 18th-century eruptions that ravaged the island.
Local farmers developed a method to cultivate vines in the volcanic soil, overcoming the challenges of scarce water resources.
The 9-kilometer guided hike through the area is nothing short of spectacular!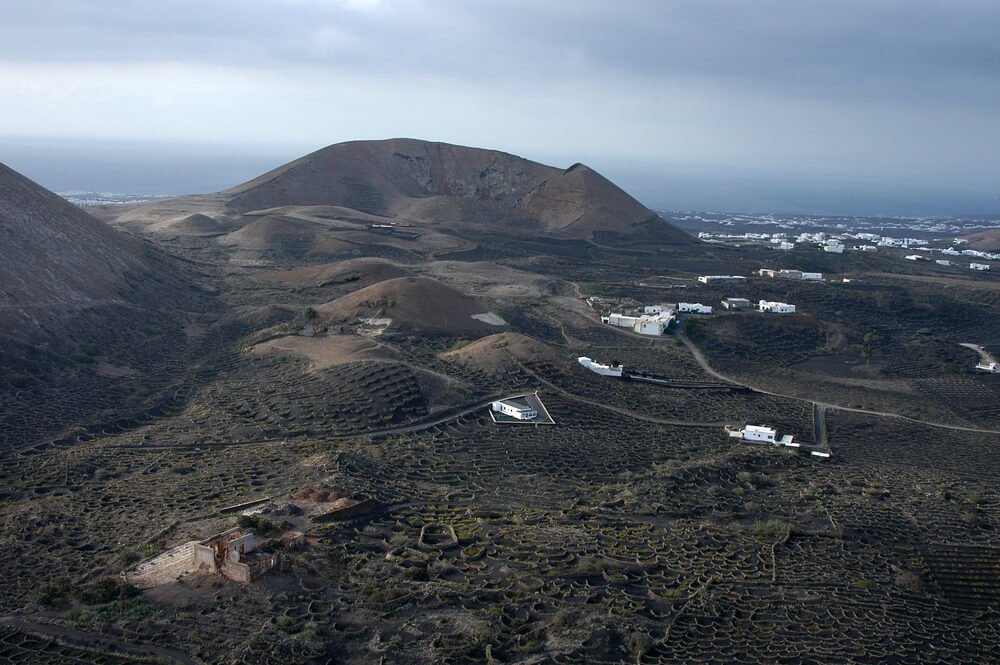 Walking through the unusual vineyards, you'll see the unique crescent-shaped stone walls that harbor the precious vines from both sun and wind.
Seeing this, you'll begin to understand how challenging winemaking in Lanzarote is — and how spectacular it is that it exists at all.
Climbing to the 3rd-highest peak of Lanzarote, your efforts are rewarded with panoramic views that stretch across the region.
Better yet, you can tuck into a little snack of fresh fruit and cookies, to help you re-energize for the hike back down.
But the tour's real peak (heh!) arrives when you descend from the heights and the wine tasting begins.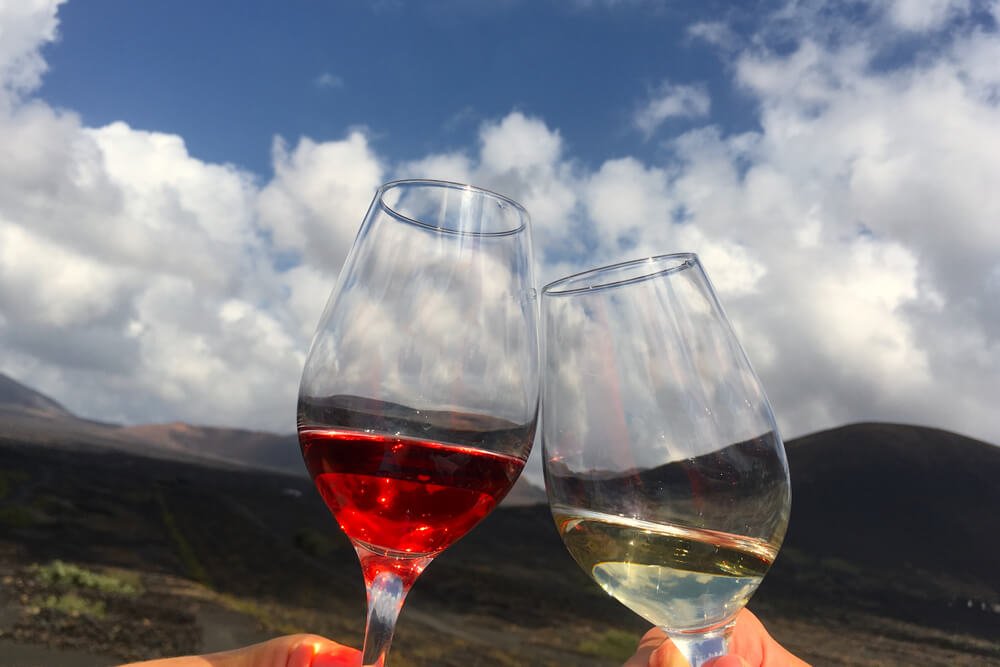 The dry Malvasia, a floral varietal that plays nicely with the harshness of this volcanic terrain, is the perfect way to reward yourself for a hike well down, the effort only making the wine's crisp notes even more delightful.
Paired with local cheese, you'll be able to distinguish the unique tasting notes of the wines as your guide tells you more about the distinct characteristics you'll find in a Lanzarote wine tasting.
And luckily, you can snooze off a bit on your drive back to your hotel, since the wheel is out of your hands!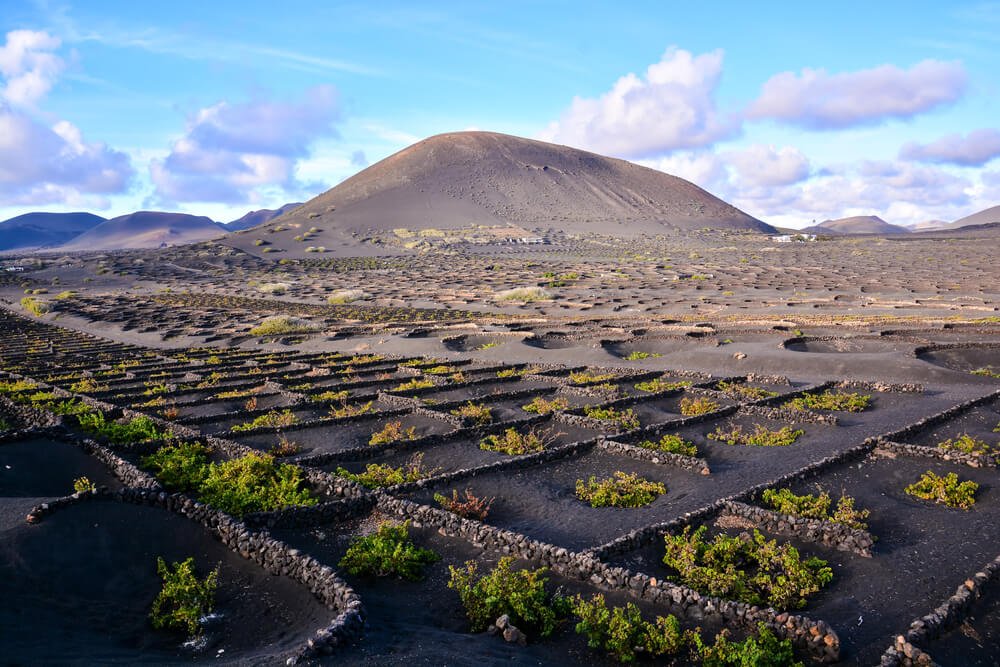 4.8 out of 5 stars, 15+ reviews
For a unique wine tasting in Lanzarote experience, indulge in a guided tour of the El Grifo Bodega led by their head sommelier!
Located close to Arrecife and the airport, this historic winery in San Bartolomé is a wonderful place to tour because it's not only a winery but also a museum.
History is important here, after all, as it's the oldest winery in the Canary Islands (and the fifth-oldest in all of Spain!)
This 2-hour tour is the perfect way to experience the best of Lanzarote's wines, led by someone who lives and breathes wine — and of course, knows the local wine better than anyone else.
With nearly 250 years of winemaking history under their belts, El Grifo is one of the longest continuously-running wineries in all of Spain, with no interruptions in that entire time period.
While now a much larger operation, you can see the old winery that dates back to 1775 at the Wine Museum, giving you a true sense of how much winemaking in Lanzarote has evolved over the years.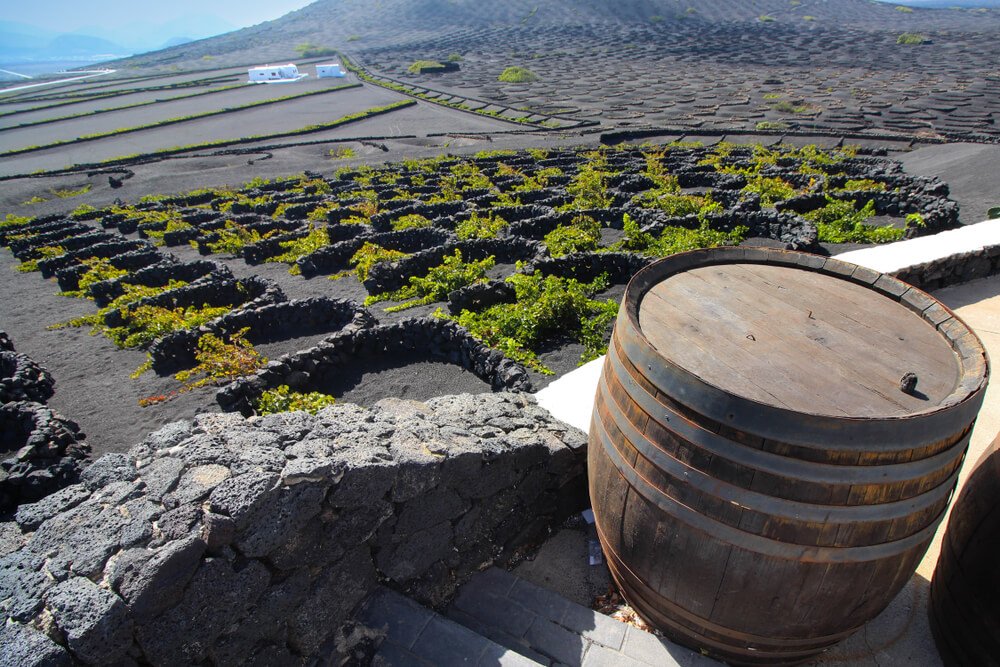 You'll learn about the origins of this bodega, back when camels were the main method of transporting and harvesting grapes — nature's tractor, I suppose!
Winemaking traditions changed drastically in the 1990s as technology became more advanced.
You'll learn about how the winery stepped forward in some ways, while keeping its foot in past tradition for the methods that have always worked, such as its unique grape-growing techniques.
This blend of historic and modern brought Lanzarote's wines to a new level (and made them far more accessible to the rest of the world).
After learning about the history of the winery, you'll be led through five of the most prized wines in El Grifo's wine catalogue, including volcanic malvasia and the unique listán negro, a Syrah grown in volcanic soil.
Of course, what's wine without some cheese pairing — local, from other island producers, of course!
And if you want to bring anything back with you, a discount is provided for those who take the tour (or a similar tour listed below) — and shipping is available.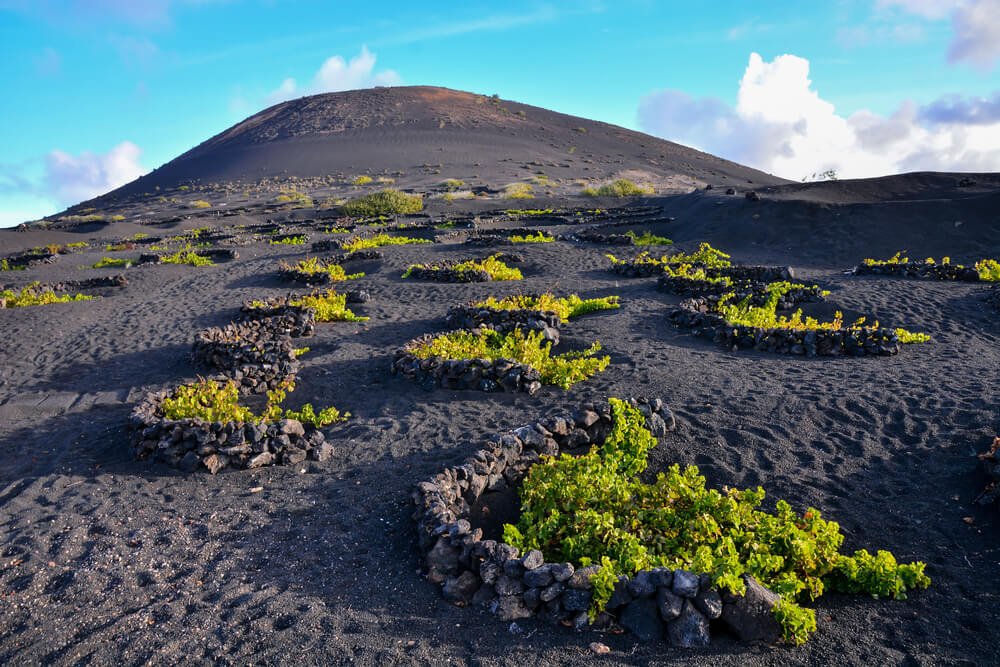 4.6 out of 5 stars, 30+ reviews
For a budget-friendly Lanzarote wine experience, skip the full-on guided tour detailed above and take this 1-hour tour and tasting that is also hosted at Bodegas El Grifo.
You'll learn about how winemaking has changed on Lanzarote through a tour here, and learn how traditions that were carefully nurtured over centuries saw a remarkable transformation in the 1990s.
A visit to the El Grifo Wine Museum is a highlight of this tour. Exhibits and artifacts tell the story of how the island's unique volcanic landscape shaped a unique winemaking landscape, growing grapes that are unlike others.
But of course, what's talk without something to back it up? The proof is in the tasting!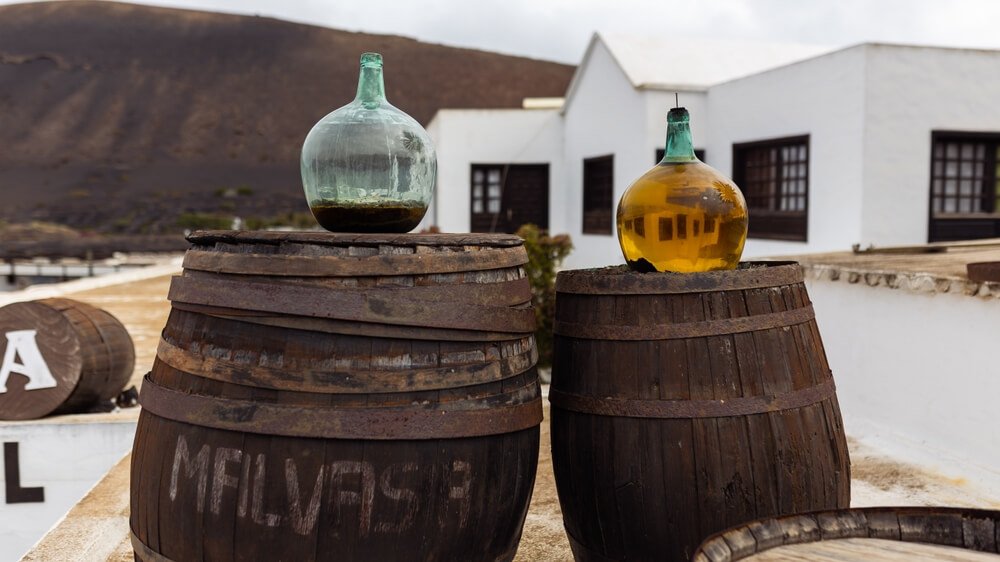 You'll see just how the impact of volcanic soil and ash have impacted the grapes here as you you savor three of Lanzarote's finest wines (whereas the premium tour above lets you taste five).
This winery is known for its malvasia and muscatel varieties, two delicate and floral varietals that flourish in the island's volcanic soil, balance beautiful flowery aromas against a metallic minerality.
You can also try the sparkling wine unique to Lanzarote, prized for its effervescence and complexity.
And since you'll likely want to bring some bottles home with you, luckily for you, taking this tour gives you a unique discount (and shipping is also available!)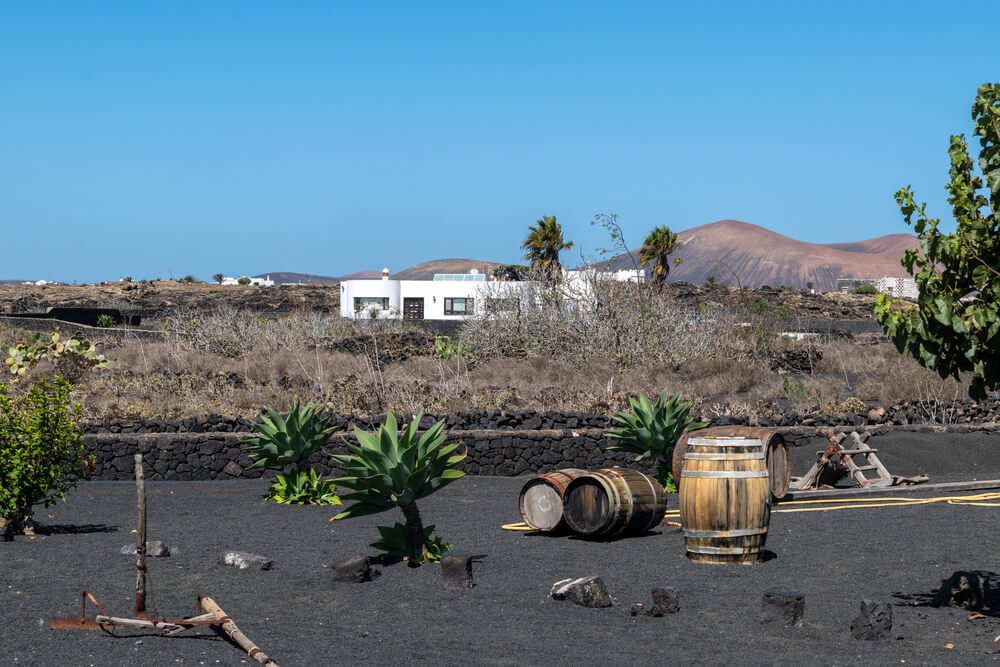 4.8 out of 5 stars, 25+ reviews
What's better than wine? Well, wine and chocolate, of course!
This Lanzarote wine tour brings you to the vineyards of one of Lanzarote's best wine producers, Bodegas Vega de Yuco.
You'll take a tour of the grounds of Finca Testeina (the farm that produces the grapes), which sits right at the foot of the Testeina Volcano.
On this 1.5-hour tour, you'll learn all about the history of Lanzarote winemaking, including the how the eruptions of Timanfaya impacted winemaking by comparing the methods before and after the eruptions.
You'll get to stroll through the vineyards to see the peculiar but effective techniques that go into making wine in Lanzarote — the method behind the madness!
And of course, a Lanzarote wine tour wouldn't be complete without a tasting, and you'll get to try two unique wines that are produced here, like malvasía volcánica and listán negro.
(Note that this is less than some other tours, which include up to 5 tastings, so if variety is important to you, this may not be the best Lanzarote wine tour!)
However, on the plus side, these wines are being paired with delicious artisanal chocolates, and all the wines you'll taste are organic!
You'll also learn the history of the manor house on the site, which dates back to the 16th century and is an important part of Lanzarote history.
All this with epic volcano views — it's hard to beat!
Note that this tour does not include transportation, so you'll have to have a designated driver or limit your drinking. However, with only two tastings, it's easy to hold back and not overindulge.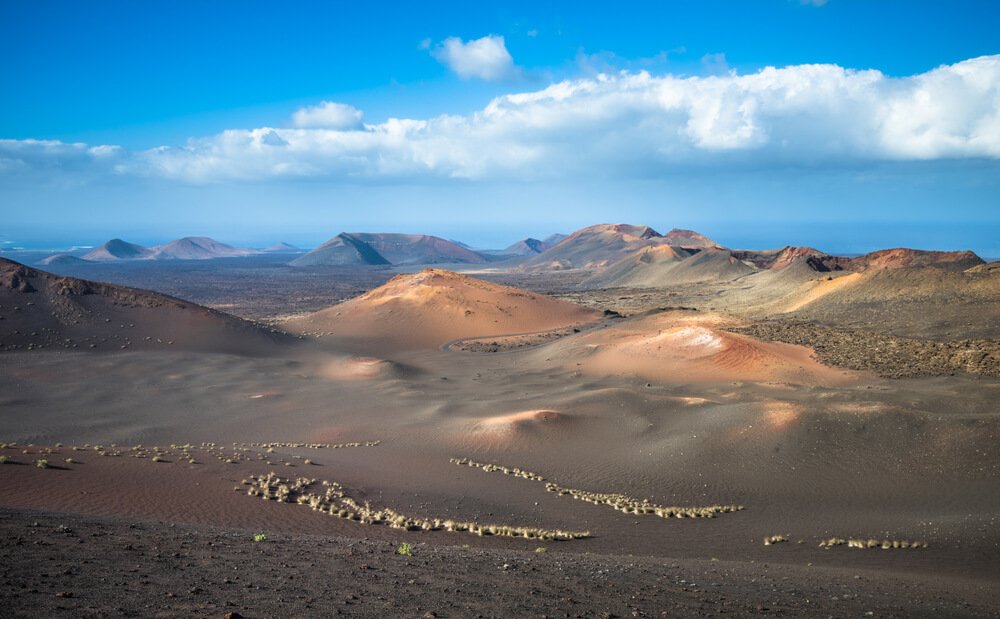 4.2 stars out of 5, 70+ reviews
This 5.5-hour tour is a great way to combine the chance of seeing all the sceneries of Timanfaya National Park with some wine tasting in Lanzarote, all on one tour!
You'll learn about the geothermal activity that still defines this park while your guide shows you Hilario's Plateau.
Then, you'll take a bus tour, the famous "Volcanoes Route", accompanied by a guide who can tell you all about how the different volcanic eruptions of Timanfaya and other of Lanzarote's volcanoes have impacted the geology and agriculture of the island.
You'll visit several gorgeous parts of the park, so this is a great tour for those who want to take landscape photos as well as have a wine tasting experience.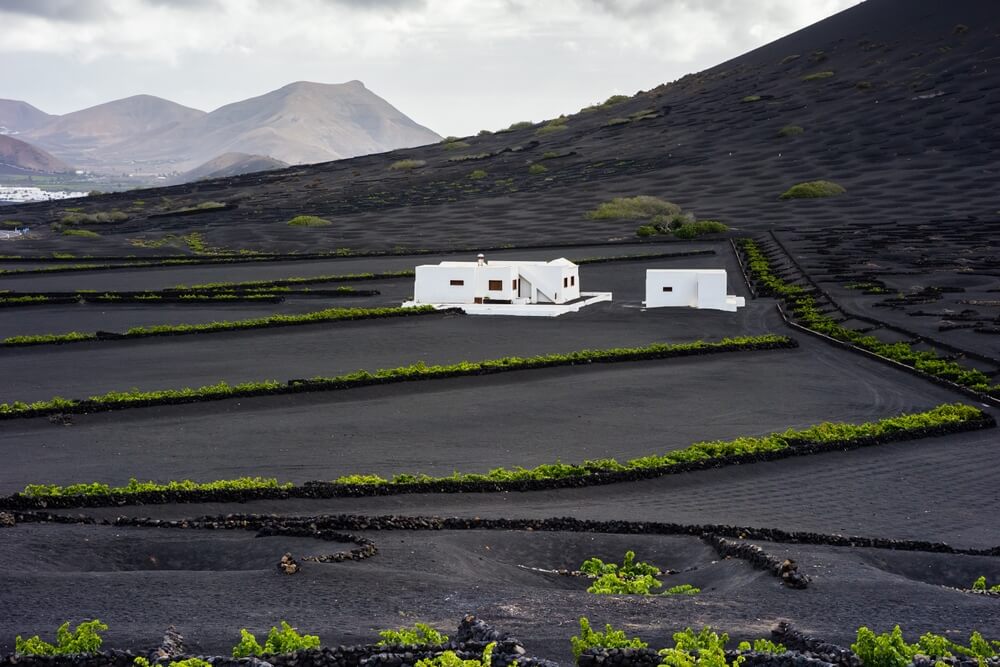 After exploring the park, you'll visit the wine region of Lanzarote, La Geria, where you can visit a winery typical of the region to taste its delicious wines, and learn the unique agricultural history of the region as you taste.
Note that the tour includes all transportation (great as there's no need to worry about having a designated driver!).
However, it does not include lunch, so plan to bring something along or have money set aside to grab lunch along the way.
Allison Green is a former educator turned travel blogger. She holds a Masters in Teaching and a B.A. in English and Creative Writing. Her blog posts merge her educational background and her experience traveling to 60+ countries to encourage thoughtful travel experiences that both educate and entertain. She has been a speaker at the World Travel Writers Conference and her writing, photography, and podcasting work has appeared in National Geographic, CNN Arabic, CBC Canada, and Forbes, amongst others. Now based in the San Francisco Bay Area where she grew up, she has also lived in Prague, Sofia, and New York City.