With views quickly shifting from pitch-black lava fields dotted with green grape vines to the cerulean coastline, Lanzarote has so much landscape diversity that it's hard to fathom.
This island of just 326 square miles — just a hair larger than New York City — offers so many different types of landscapes on this little speck of an island in a wild ocean.
Renting a car in Lanzarote is the best way to reach all corners of the island, as nothing is really that far apart.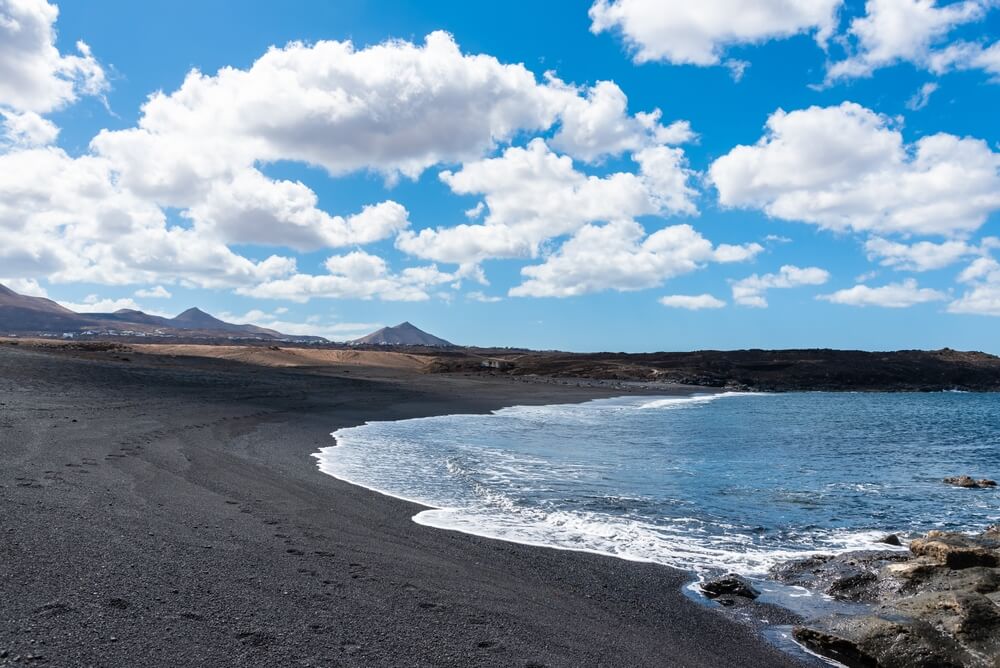 Note: This post contains affiliate links, which means I may receive a small commission if you purchase something through one of these links. Thank you for supporting the free content on this site! For more information on affiliate links and cookies, see my disclosure page for more details.
In fact, you can do Lanzarote road trip in just a few days and cover its most important sights, though of course, more time would always be welcomed.
Having rented a car in Lanzarote to explore it in-depth, I'm here to share the ins and outs of driving in Lanzarote, as well as a few insider tips from my experience.
Do You Need to Rent a Car in Lanzarote?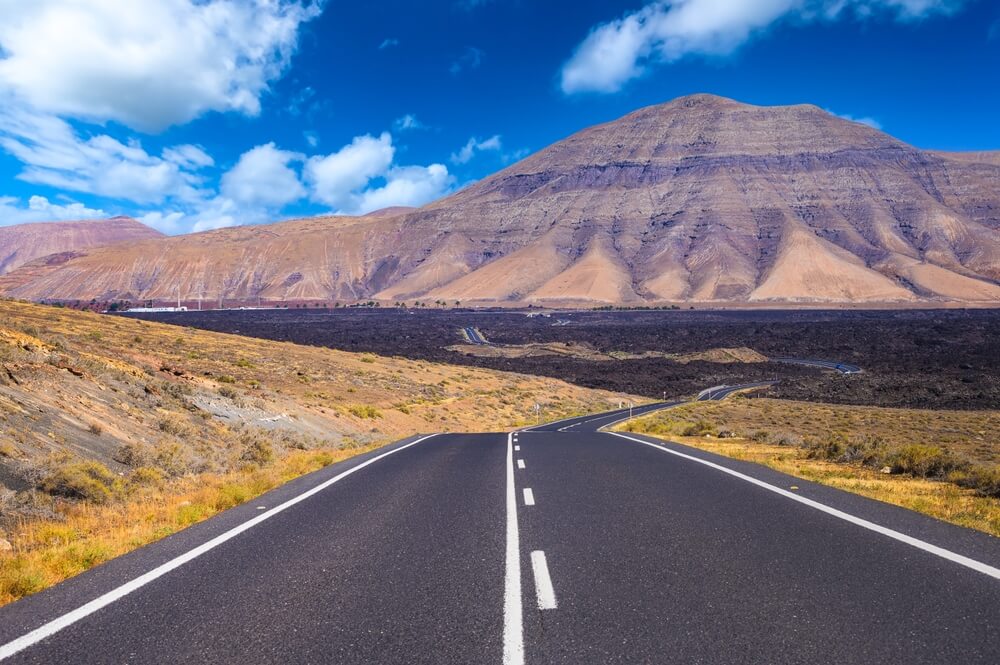 Of all the Canary Islands, Lanzarote is probably the one where you'll need the car the most.
While public transportation is available, many places worth seeing are impossible to visit if you don't have a car.
Although the island is not very big, especially compared to neighboring islands, renting a car in Lanzarote is extremely helpful.
If you're renting a car in Lanzarote, you can easily explore all of Lanzarote's key sights in three days (and if you have more time, add on a trip to La Graciosa).
Plus, having a car gives you more flexibility: you aren't constrained by bus timetables or guided tour schedules.
As another perk, you can visit well-known spots outside of peak hours, especially if you can be an early riser on vacation (it's tough, I know).
Is Driving in Lanzarote Hard?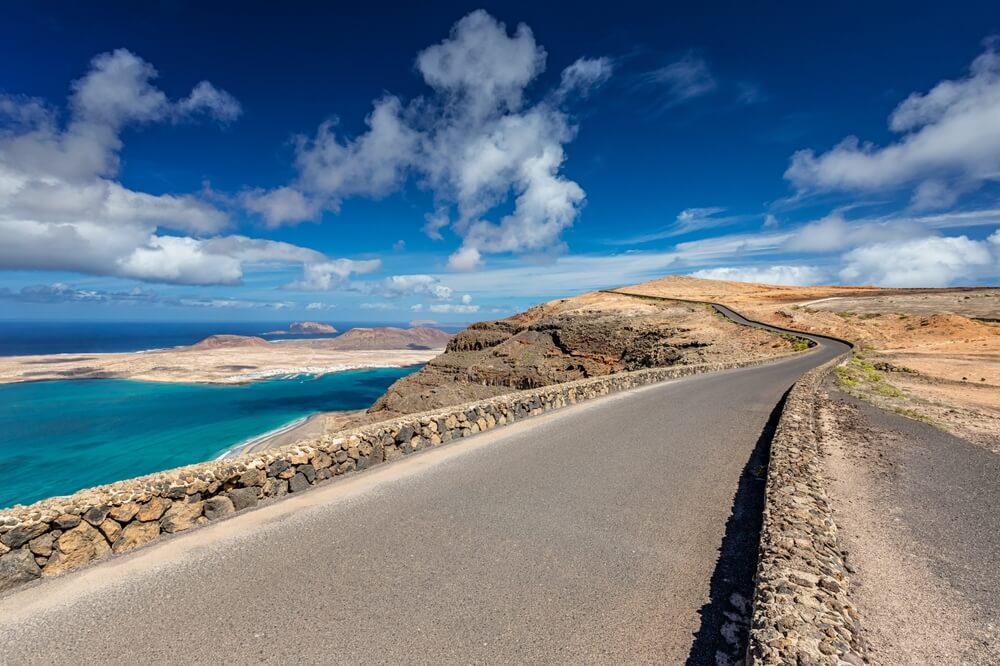 Lanzarote is probably the easiest island to drive in, given the mostly flat terrain.
Forget about the winding roads in Tenerife and Gran Canaria!
Lanzarote has long, straight roads crossing the volcanic landscape and providing a relaxing driving experience.
The only problematic part about driving in Lanzarote is that a few areas don't have paved roads.
These areas are more limited than in Fuerteventura (where renting a car is a little trickier), but still, you need to be mindful of this since rental agencies don't allow driving on unpaved roads.
Can You Bring Your Lanzarote Rental Car to Other Islands?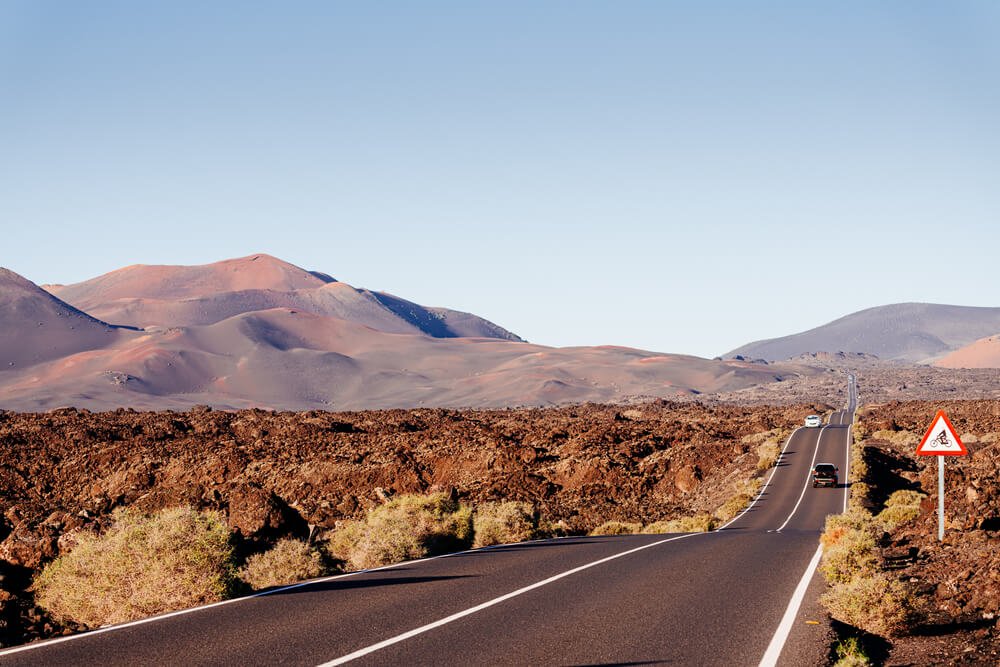 Even though the ferries connecting the Canary Islands permit the transportation of cars, rental companies do not allow their vehicles to be taken to other islands.
For example, if you plan to visit both Lanzarote and Fuerteventura, you should book a car rental in each location.
In this instance, it would make sense to pick up your Fuerteventura car rental from the town with the ferry terminal, Corralejo — not the Fuerteventura airport or the island capital.
The good part is that rental prices don't differ significantly from one island to another, so there's no real benefit in renting a car on one island and attempting to take it to others — it's just a minor inconvenience that is offset by the fact that you don't have to pay the toll for bringing a car on a ferry.
Where to Rent a Car in Lanzarote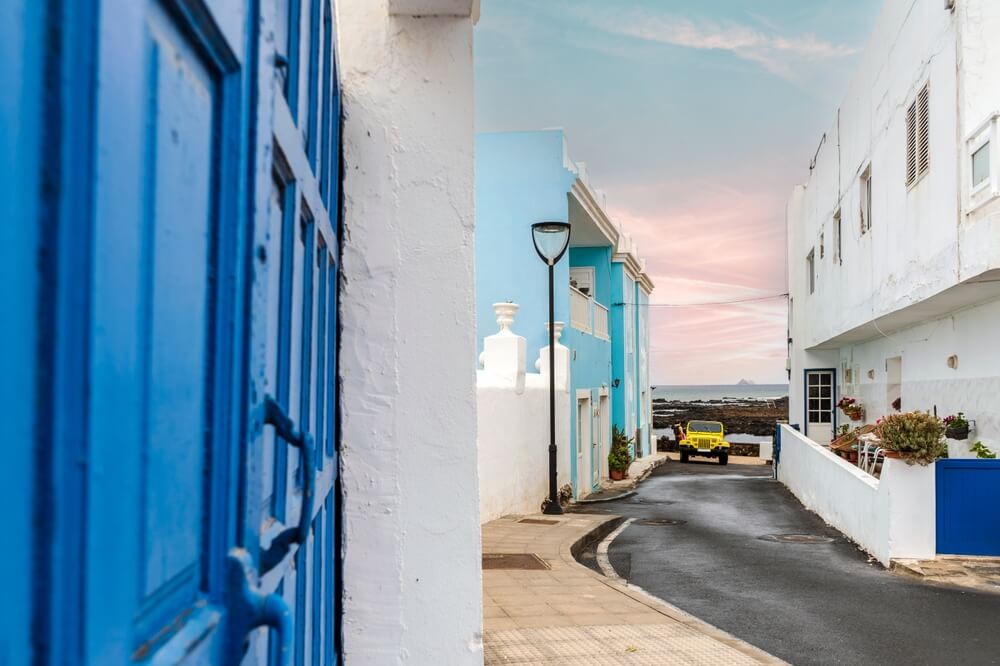 With the island being so small, there are fewer locations where you can rent a car in Lanzarote than on other islands.
The most popular places to rent a car are two different spots, and they're quite close together: namely, the capital city of Arrecife, and the airport, located just a few kilometers south of the capital.
Nevertheless, you may find rental agencies also in Playa Blanca, Puerto del Carmen, and Costa Teguise.
You can expect to pay roughly the same for a rental car across the island, although the airport tends to have more options, especially for last-minute rentals.
That said, unless you plan on spending an outsized amount of time in Arrecife where having a car can complicate matters a bit, it's easiest just to rent a car at the airport so you have it for the entire duration of your stay.
Cost of Renting a Car in Lanzarote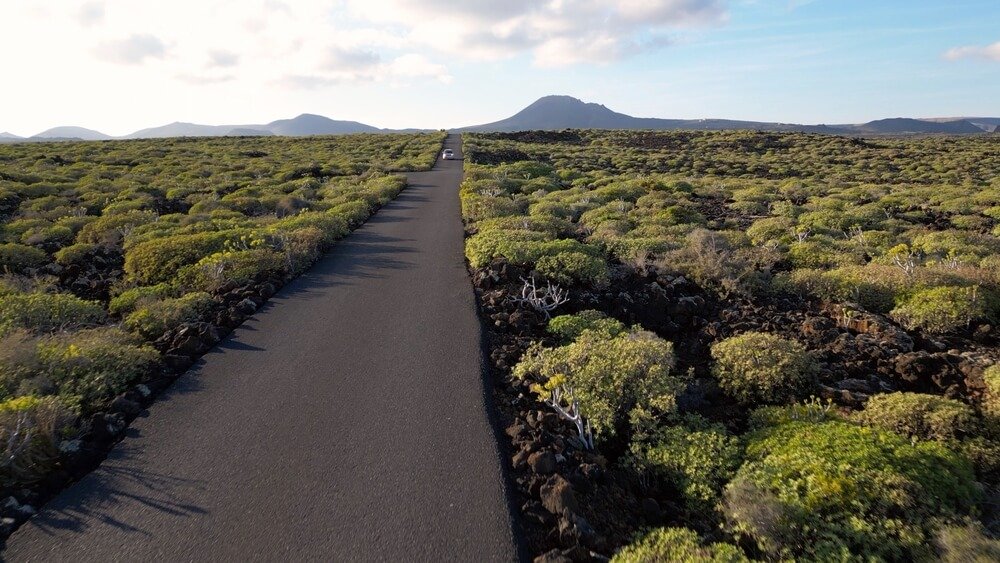 The cost of hiring a car in Lanzarote fluctuates, but it mostly depends on the time of year, the type of car you're reserving, and how far in advance you book.
Rental prices can range from $25 per day to over $100 per day, with the largest factor being the kind of car you rent.
In comparison to other European locations, the season that you visit Lanzarote has a lesser impact on price.
Given the consistently pleasant weather throughout the year on the islands, you can anticipate that winter prices will likely be on par with summer prices, if not higher.
The kind of car is the factor that most significantly affects the price.
Smaller, compact and economy vehicles tend to be more affordable, while bigger cars, convertibles, and SUVs come with a higher price tag.
Added features like an automatic transmission can also bump up the cost.
Generally speaking, early booking often leads to savings, as there will be more options and availability in the inventory, especially if you are looking for a specific type of car.
Key Tips for Renting a Car in Lanzarote
Get the right documents in place.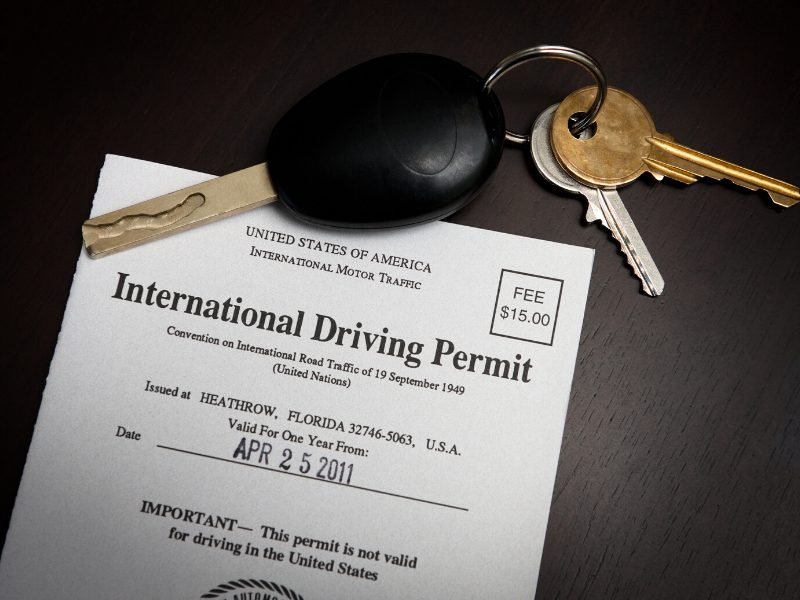 To hire a car in Lanzarote, you'll need a valid driving license, and sometimes an International Driving Permit (IDP) may be necessary as well.
Citizens from EU member states have the ability to drive in the Canary Islands without needing any supplementary documents.
Americans and many other citizens of countries outside of Europe are required to have an IDP as well as their regular driving license.
Typically, you'll need a credit card as well, as it's usually required for the deposit.
Debit cards may work sometimes, but are usually charged a very large deposit that may take a while to get refunded, vs. with credit cards, it's typically just a hold that is placed and pending.
Of course, you'll also need your passport or ID card if you're from the EU (but you'd need that to get to the Canary Islands, anyway — so that's hardly an ask).
You should also note that while legal driving age in Spain is 18, in the Canary Islands, you must be at least 21 to rent a car.
Additionally, if you are under the age of 25, be prepared for the possibility of an added young driver fee.
Be aware of what insurances you want and need.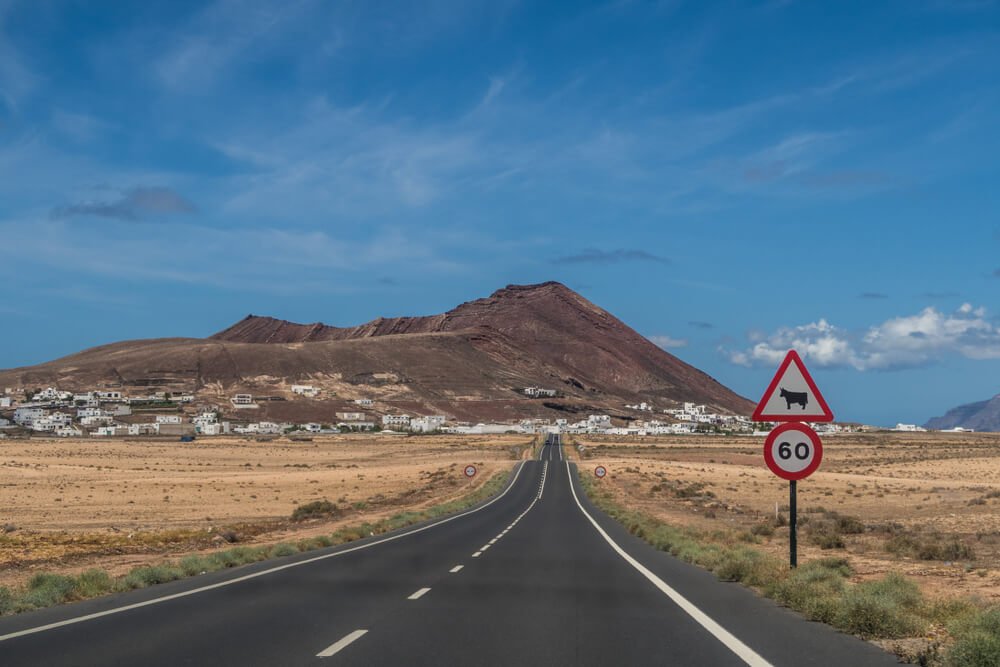 In Spain, including the Canary Islands, all rental cars are equipped with unlimited third-party liability insurance, as mandated by law.
Most rental vehicles also offer CDW (Collision Damage Waiver).
The CDW that comes standard usually includes a fairly substantial deductible, but there's an option to pay more for a zero-deductible CDW and protection against theft.
While not obligatory, another insurance many people purchase is Third Party Liability, which covers damage to other people's vehicles.
Though not an insurance per se, sometimes you may want to pay extra for roadside assistance, which provides support for non-accident-related issues such as a flat tire, lost car keys, or other mechanical problems.
If you own a credit card that extends international rental car insurance, you should carefully investigate the conditions of that particular coverage. Often, it demands that you reject specific insurances offered by the rental agency. Make sure to carry evidence of this, as rental companies might challenge it.
I usually opt for full coverage insurance when booking my rental, as it's an affordable add-on when pre-booked (commonly around $7 per day with providers like Discover Cars) and it handles minor incidents that are more apt to occur during the rental.
Severe car damage or collisions may be rare while renting, but minor mishaps like scratches while parking, dents, or windshield cracks are more common occurrences.
Investing in full coverage insurance is a minor expense that ensures peace of mind during your travels.
Pick the right car type (and right roads).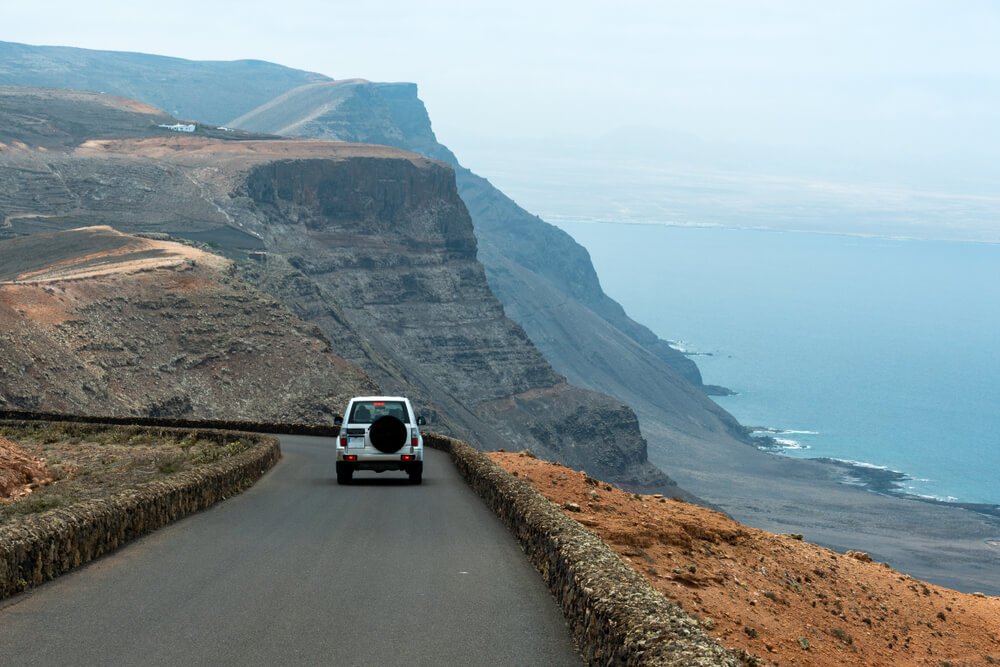 Picking the appropriate car type for driving in Lanzarote is key to minimizing the stress of renting a car abroad.
First, think about the number of passengers and the how much luggage you will have.
Opting for a compact car solely to cut costs could lead to a cramped experience that you'll want to avoid.
Given that Lanzarote's terrain is predominantly flat, there's no necessity to go for a particularly powerful vehicle.
Size here can actually be a disadvantage, especially when navigating narrow roads in some of the small villages and towns.
Note that driving off of any paved road has the potential to void your rental car insurance, so be careful when given the option to take a dirt/gravel road.
That said, if you choose to take any unpaved roads, a car with higher clearance can help… though, that's at the expense of making city and village streets a little tougher to navigate!
Have an offline navigation system as backup.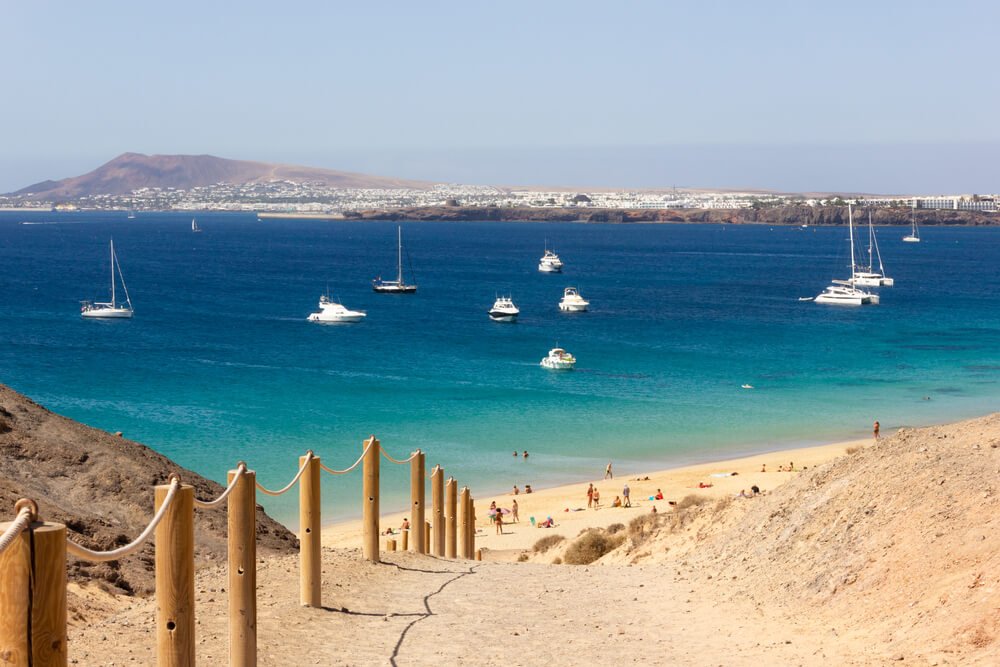 It's common to encounter areas with limited or no phone data while driving in more remote parts of Lanzarote.
As a result, relying solely on online maps and navigation apps might not be viable at times.
To prevent getting lost, make sure to download an offline map before your trip, or as soon as you land.
Even though navigating through the islands is generally uncomplicated, having an offline map on hand can be an invaluable aid.
Additionally, it serves as an effective method to conserve both data and phone battery life — which you'll need to take pictures of all the beautiful scenery you're seeing, after all.
Know a few basic rules about parking.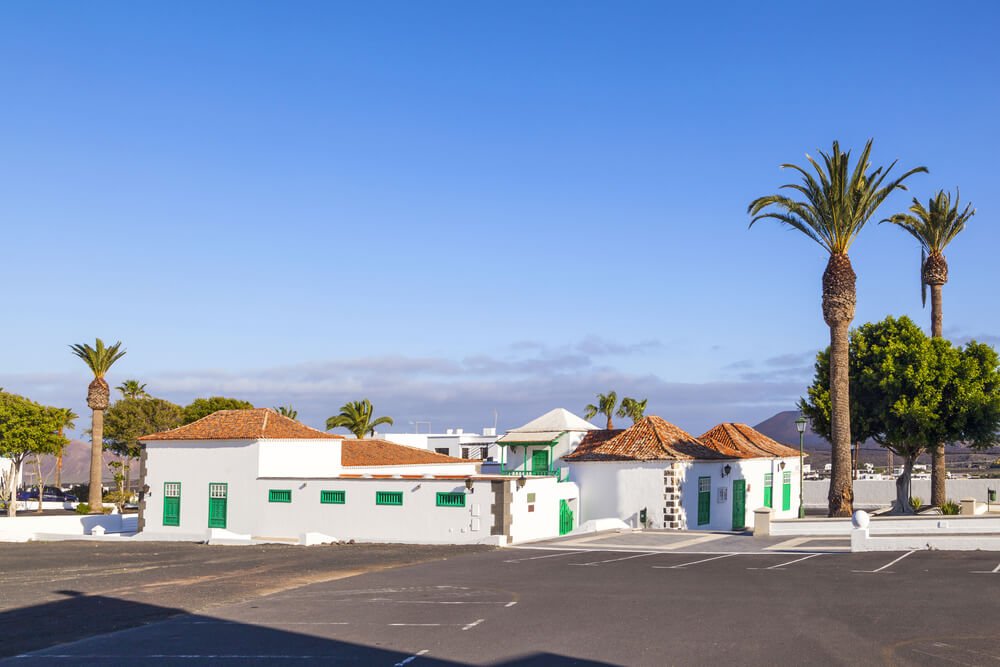 Parking regulations in Lanzarote are fairly straightforward, consistent with the rules across the Canary Islands.
Most of the time, you won't face difficulties in locating free parking spaces.
There are exceptions, such as highly popular tourist destinations and major cities, but generally, you'll still have options available.
Concerning specific parking rules, look for lots marked with white lines; these are free to use.
Blue lines indicate paid parking areas, while yellow lines mean that parking is prohibited.
By keeping these three basic rules in mind, you should find parking across the islands hassle-free.
In really popular spots like Playa del Papagayo, arriving early in the morning or later in the day is typically your best bet!
Be careful with drinking and driving.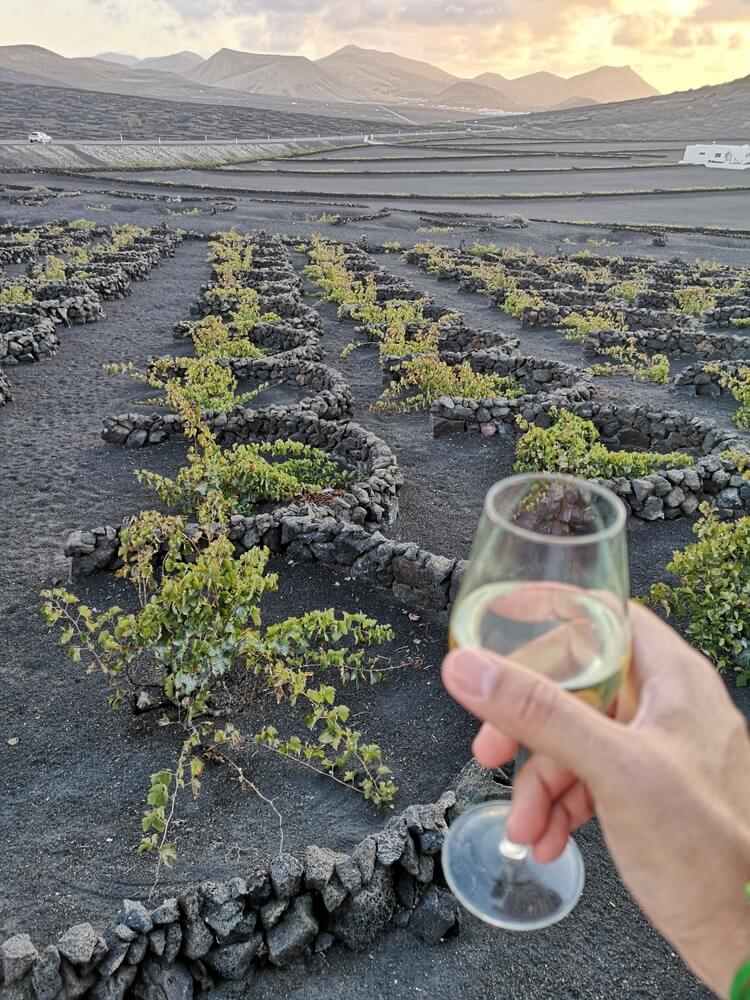 Lanzarote — as well as the rest of the Canary Islands and Spain as a whole — enforce strict regulations concerning drinking and driving.
The legal blood alcohol concentration (BAC) limit is 0.05% — a notable difference from the American legal limit of 0.08% BAC.
As a general guideline, having one alcoholic drink with a meal and taking your time to eat can keep you within the legal limits.
If you want to drink more, do so at the end of the day once you're ready to park the car for the night, or consider taking a guided tour like a Lanzarote wine tour so you have a designated driver.
Know the best spots to go with a car.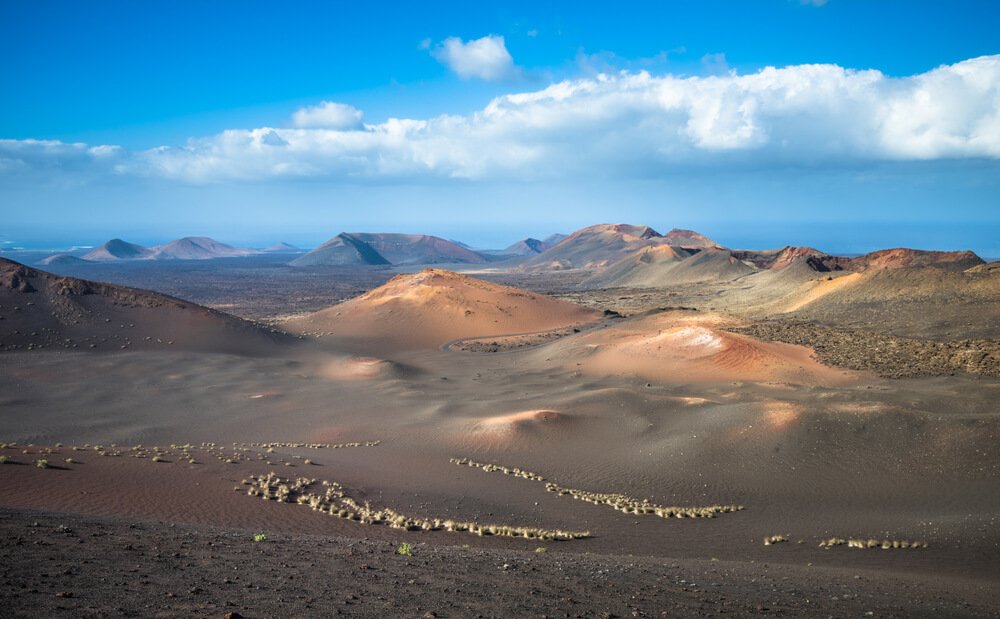 Renting a car in Lanzarote allows you to drive through the impressive volcanic landscapes and otherworldly sights of Los Volcanes Natural Park, Timanfaya National Park, and La Geria.
These places are only reachable by car or with guided tours — and while there are some instances in which a guided tour may make sense, like if you're taking a Lanzarote wine tour, it's nice to have the freedom to not need one.
Timanfaya National Park is enclosed within Los Volcanes Natural Park, and together they offer some of the island's most spectacular views.
You can drive through part of the parks, join guided tours, and hike up some of the ancient calderas.
La Geria is a small town known for its wine production, but what you must visit is the whole area around it, covered in unique vineyards grown on the black volcanic soil.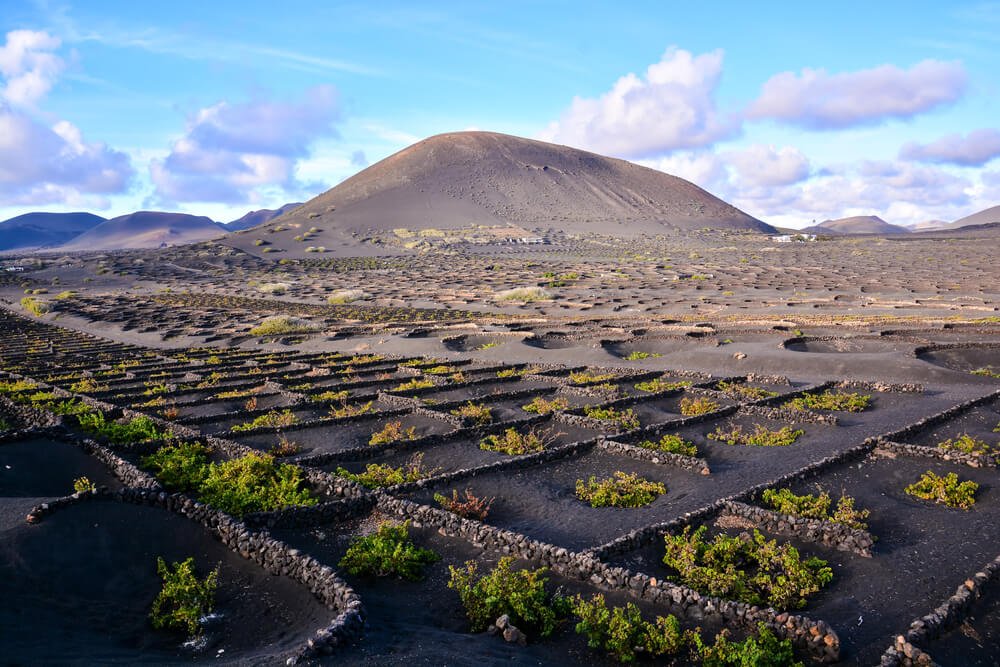 A geria is a cone-shaped hollow created in the volcanic soil to plant the vine, protecting the plant from the wind.
The endless lava fields dotted with these grape-bearing vines are a memorable sight on any Lanzarote road trip!
Lastly, you must have a car in Lanzarote to reach one of the island's most picturesque viewpoints, Mirador del Río.
The scenic viewpoint stands at roughly 475 meters above sea level and offers a panoramic view of the coast and the small island of La Graciosa off in the distance!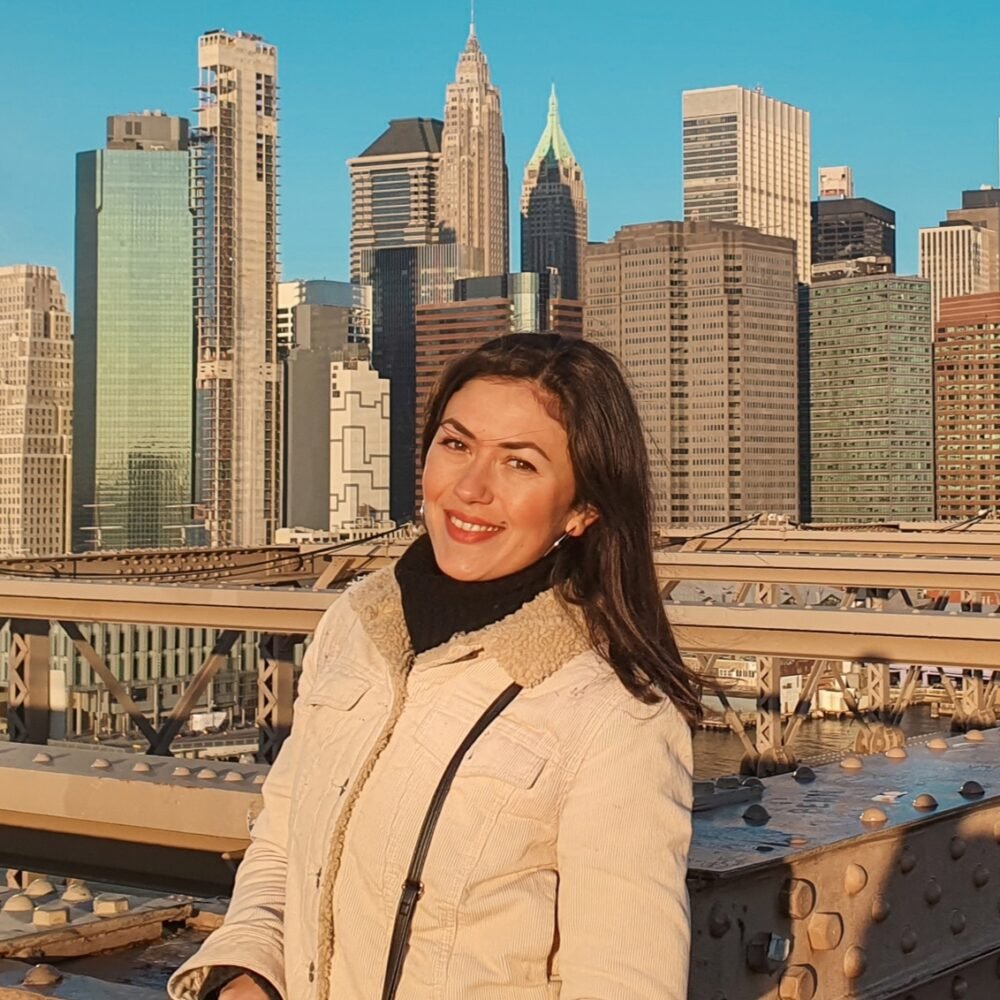 Roxana is a Romanian-born freelance travel writer who has lived in Italy for over 15 years. She has a Master's in Journalism and a Bachelor's in Film Studies. Her mission is to find hidden gems, even in the most popular travel destinations, and to inspire people to explore new places and cultures with the same curiosity! When she is not traveling, writing, or planning her next trip, she is either binge-watching TV shows or reading books.