Just a short drive from the main town of Somosomo on Taveuni, Fiji is one of the locals' favorite spots: the Waitavala Water Slides.
Don't get it twisted with the name: this isn't anything close to your average water slide!
Rather, it's a naturally occurring set of waterfalls that have created a flowing natural "chute" in the rock that you can careen down, pushed by the flow of the waterfall.
This is a small 'waterfall' though — not like Tavoro Falls, Wainibau Falls, and definitely nothing like Savulelele!
Set amidst the tropical backdrop of Taveuni, the Garden Island, you'll find this spot nearly empty on weekdays and populated with a handful of local families on weekends, enjoying the pools.
The kids especially love accompanying tourists down the slides, telling you exactly how to go down the slides — and in my case, begging to come with me on my next trip down the slides!
How To Get to the Waitavala Water Slides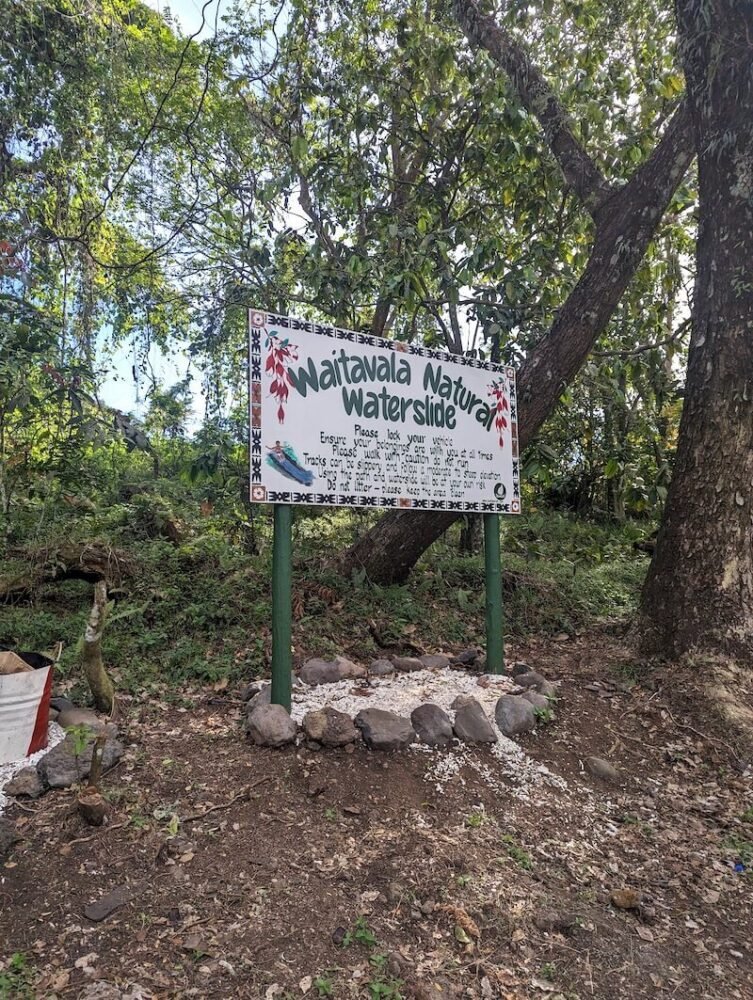 Note: This post contains affiliate links, which means I may receive a small commission if you purchase something through one of these links. Thank you for supporting the free content on this site! For more information on affiliate links and cookies, see my disclosure page for more details.
The easiest way to reach the Waitavala Water Slides in Fiji is by booking a taxi, who will wait for you at the slides while you enjoy them, and then bring you back to your hotel.
We stayed in Matei, and we were able to arrange a taxi to bring us to Waitavala Water Slides with a quick stop in Somosomo at the ATM (the only one on the island!).
You could also rent a car with Aloha Taveuni Rentals, which is well-reviewed, but we didn't do this while visiting Taveuni.
We generally found that taxis offered an easier and more enjoyable experience, even visiting further afield places like Tavoro Waterfalls and the Lavena Coastal Walk, because those need 4×4 sturdy cars.
We also were diving the Rainbow Reef every day so we had to use our afternoons wisely!
For the roundtrip between Waitavala and our hotel in Matei, we paid $50 FJD (about $22 USD) for the roundtrip ride and wait time.
The drive from Matei (we stayed at Maravu Taveuni Lodge) takes about 20 minutes to navigate the 15 kilometers.
You could also theoretically take the local bus and ask to be let off near the water slides, or at one of the villages nearby (Waiyevo/Tavuki), but I didn't try this.
The parking lot where you can find the trailhead to the Waitavala Water Slides is near the Taveuni Corrections Centre, located between Waiyevo and Tavuki villages.
Hiking to Waitavala Water Slide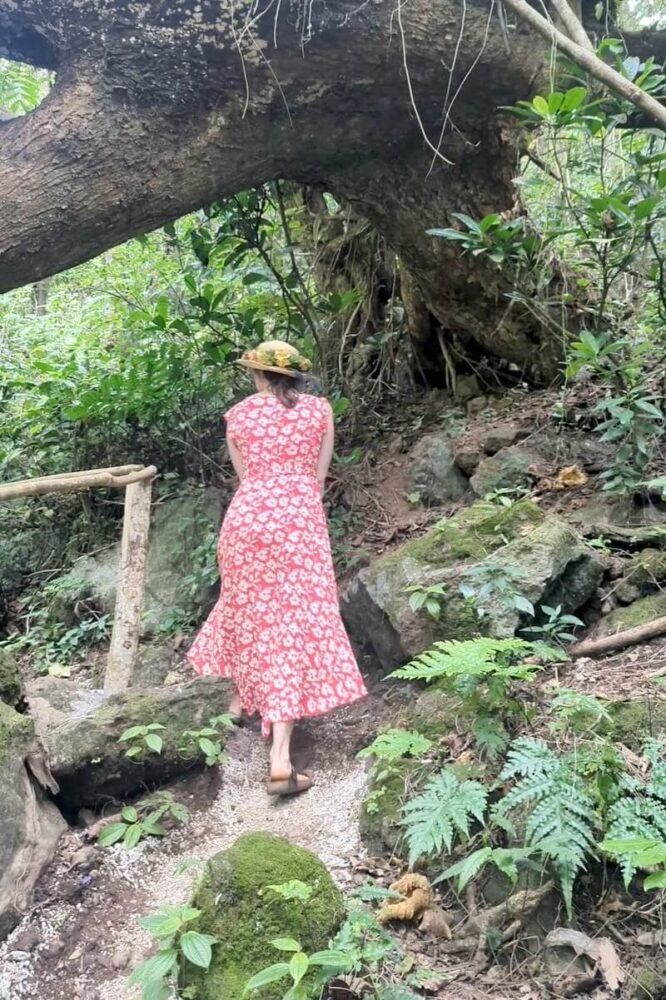 Once you reach the parking lot for the water slides, it's a really easy hike to get to the water slides.
I did the firs half in a dress and Birkenstocks, so you can see how easy it is to get to the main pool area.
It's about a 10 minute walk to the first pool (which is where you end when you finish the water slide) and then a little further to the place where you start the slide.
The first 10 minutes is really easy, a simple meandering yet well-trodden path with a few steps here and there.
Once you reach the natural pool, it gets a tiny bit tougher. You have to cross the stream, which has a rope to help you cross, but the rocks are still sort of slippery.
After crossing the stream section, you'll hike on a less well-trodden path, a little more jungly and unkempt. It's about a 5-minute walk from here if you're a quick walker, or 10 minutes if you are more careful.
Once you see a larger waterfall, you're at the place where the Waitavala Water Slide starts!
Don't go up this waterfall – instead, look to your right and you'll see the pools where you can begin the slide.
Especially if you visit on the weekends, you'll likely find local kids ready to show you exactly how it's done!
Is the Waitavala Water Slide Safe?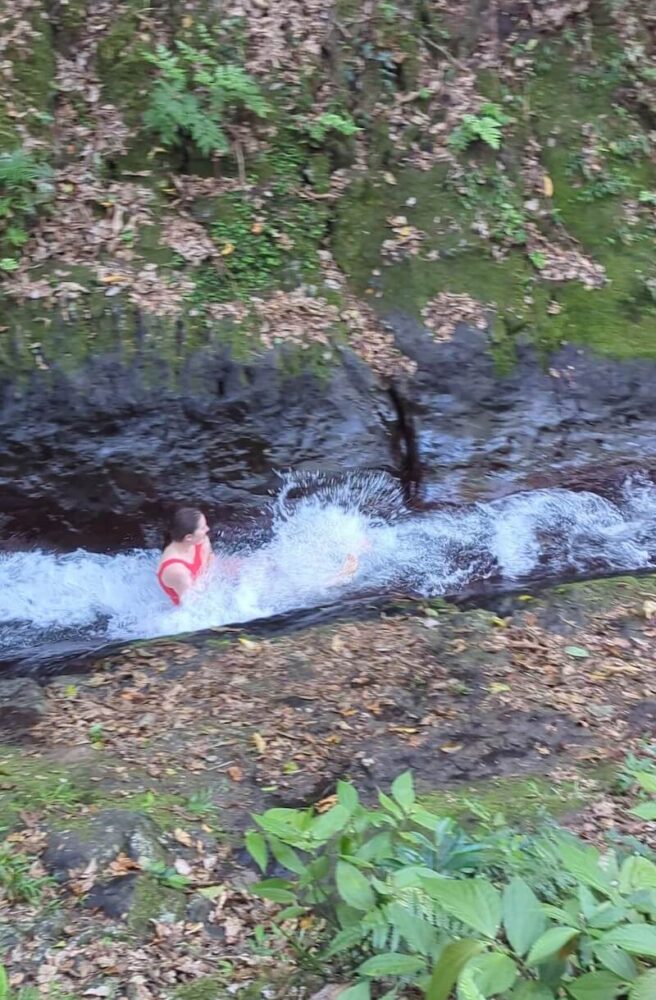 As a natural water slide, the Waitavala Water Slide is not built with safety in mind… because it's natural, not man-made.
This means that you are at the mercy of nature when you traverse the water slides (which the signs around you in the parking lot warn you!).
I will say from my personal experience that I did the Waitavala Water Slide twice and I enjoyed it both times and felt like it was pretty safe.
However, you do have to be careful in a few different ways. Don't lay down too much or you risk bumping your head on the rock.
Also, don't put your hands out to catch yourself. To avoid the instinct to do so, cross your arms over your chest.
The most likely injury on water slides and caves is breaking a finger, which incidentally, my friend did on a water slide in the ATM Cave when she put out a hand to catch herself. 
I will also say that I visited Fiji at the very end of August, which is in the middle of dry season.
Wet season in Fiji runs from November through April, and the water slides may not be safe during this time, depending on how much rain Taveuni has recently had.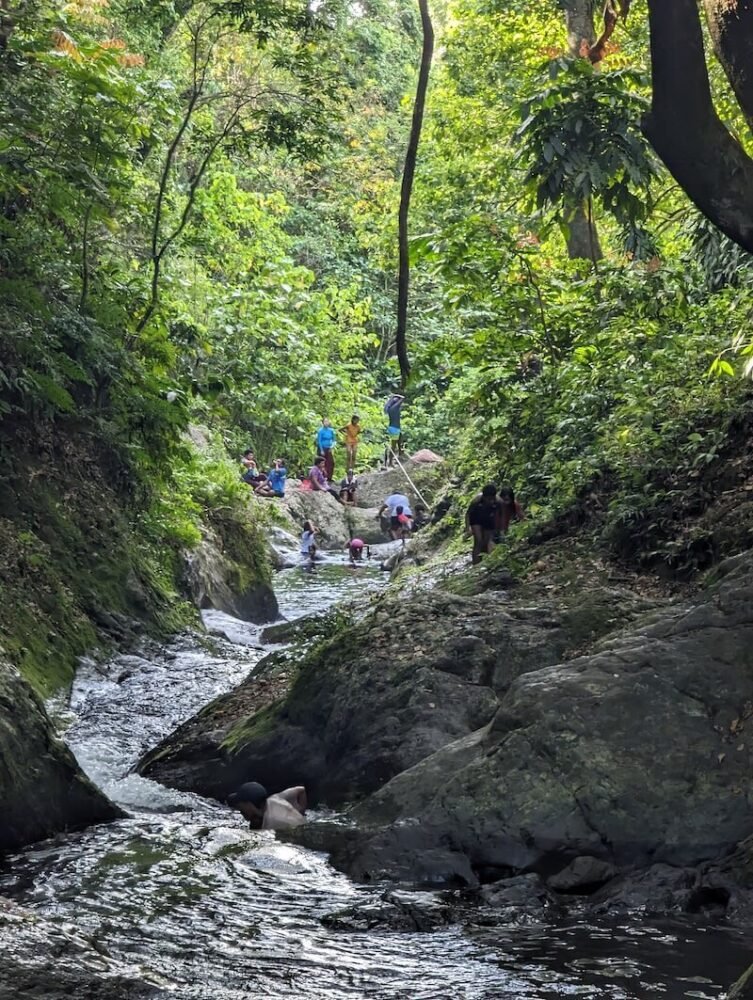 This is why I recommend going with a taxi driver (or even a guide if you want) to bring you there — they will tell you if it is safe enough to go on the slides.
Also, you should definitely be prepared to get a little bumped up! You'll definitely want to wear some sort of pants or shorts to keep your legs from getting scratched by the rocks.
I was fine in my bathing suit on top, but you may also want to want a rash guard or some sort if you want protection for your back, arms, and shoulders.

What is the Waitavala Water Slide Like?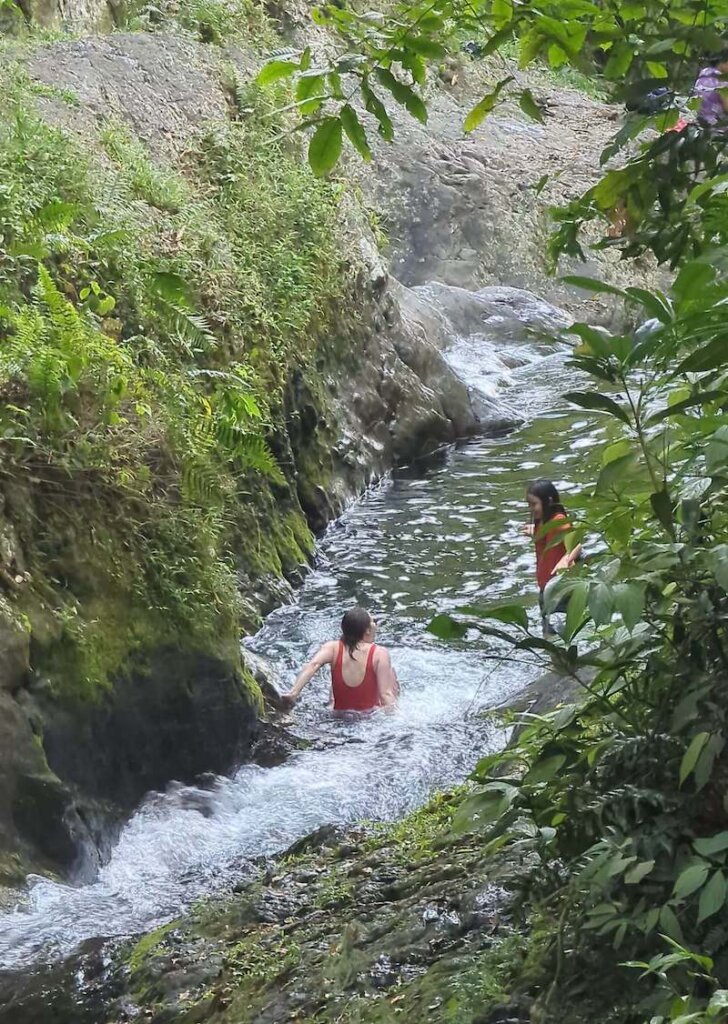 Once you reach the top point for the Waitavala Water Slide, you'll start in the first pool and ready yourself to go down the chute, polished by the tumble of water over the centuries.
Gently lean back (without laying back so far that you risk bumping your head) and surrender to the run of water — it'll drop you in a refreshingly cold pool, at which point, you'll make your way to the next chute.
There's one particular area where the chute gets very narrow, making you go quite fast and adding to the thrill of the natural toboggan ride!
At the end of the water slide, you'll reach the cold pool where a lot of people are relaxing.
Swim or walk up to the natural pool, grab the rope that helps you anchor yourself, and go for another spin if you're up to it!
Allison Green is a former educator turned travel blogger. She holds a Masters in Teaching and a B.A. in English and Creative Writing. Her blog posts merge her educational background and her experience traveling to 70+ countries to encourage responsible, enriching travel. She has been a speaker at the World Travel Writers Conference and her writing, photography, and podcasting work has appeared in National Geographic, CNN Arabic, CBC Canada, and Forbes, amongst others. Now a full-time traveler, she has lived in Prague, Sofia, New York City, and the San Francisco Bay Area.