The most populated Hawaiian island, Oahu is one of the main ports of call for travelers visiting Hawaii.
Whether you're snorkeling in Hanauma Bay, whale watching off of Waikiki, exploring the North Shore beaches, or hiking the Diamond Head Trail, there's no shortage of fun activities to add to your Oahu bucket list.
Here are some of our favorites to add to your Oahu itinerary, as chosen by travel bloggers who love Oahu!
Oahu Bucket List
Hike up to the Ehukai Pillbox.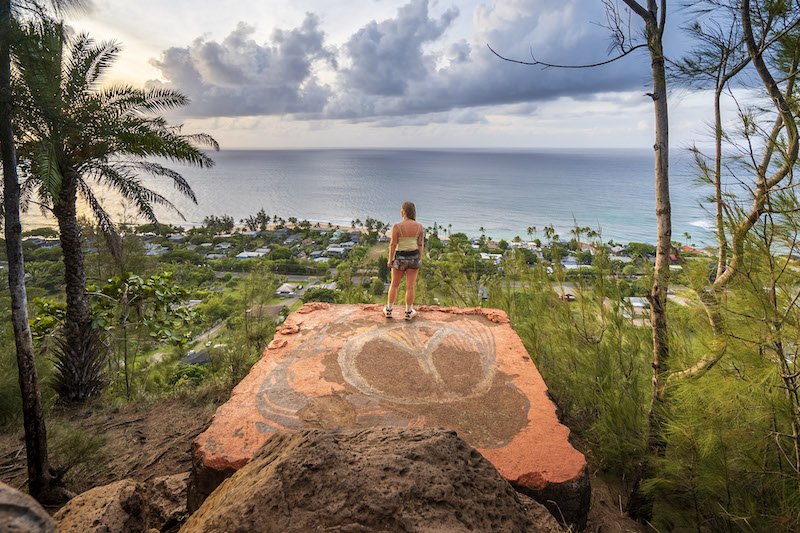 Note: This post contains affiliate links, which means I may receive a small commission if you purchase something through one of these links. Thank you for supporting the free content on this site! For more information on affiliate links and cookies, see my disclosure page for more details.
Contributed by Jessica Schmit of Uprooted Traveler
While the North Shore of Oahu is usually associated with big wave surfing and chill vibes, there's also some amazing trails, including the Ehukai Pillbox Hike, which provides panoramic views of some of the North Shore's most famous beaches and surf breaks.
This 2.1 mile out-and-back trail departs from the parking lot of the Sunset Beach Elementary School, climbing up and into a beautiful tropical forest.
The path involves scrambling up several steep, exposed root systems of trees- so make sure to wear proper hiking sandals or boots, as opposed to flip flops!
Once you've climbed to the top of the ridgeline, you'll discover two "pillboxes", which are concrete bunkers, constructed in the 1940s during World War II and used as observation stations due to their high vantage points.
While the pillboxes have long been abandoned by the military, they're still an excellent spot to take in birds eye views of the nearby Sunset Beach and Ehukai Beach Park, home to perhaps the most famous surf break in the world, the Banzai Pipeline.
Given its location along the western edge of the island, it's also one of the best places in Oahu to watch the sun sink into the Pacific Ocean every evening.
Just make sure to bring along a headlamp so you can safely make it down the steep and root-filled trail in the dark!
Swim with sea turtles on the North Shore.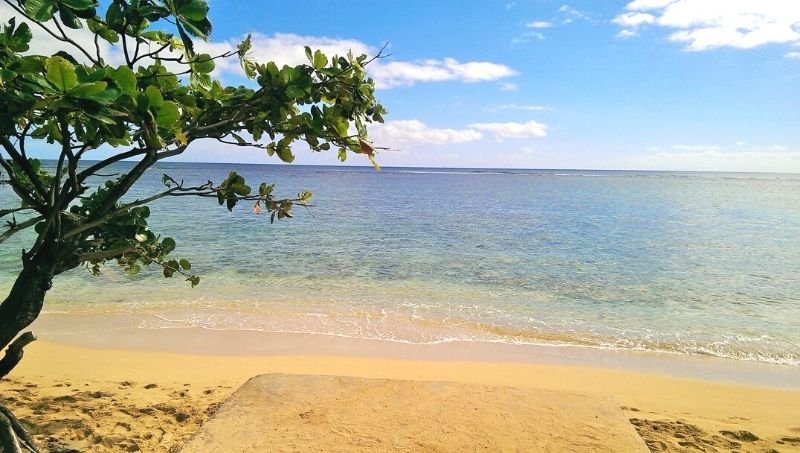 Contributed by Emily of Emily Embarks
Hawaii has long been a highly sought-after destination for travelers from around the globe with Oahu being a familiar favorite.
The island of Oahu is home to stunning coastlines, lush rainforests, inactive volcanoes, and even big cities.
But, one of the best places to include on your Oahu bucket list is the North Shore where you can go swimming with sea turtles… for free!
No, you don't need to make a reservation or pay to see these majestic ocean animals, they are simply everywhere along the various beaches that make up the North Shore.
Particularly famed for its large population of sea turtles, Laniakea Beach is practically a guaranteed spot to see nesting sea turtles and provides a high probability of getting the chance to swim with them, as well.
Just please remember to pack reef-safe sunscreen and respect the wildlife by giving them plenty of space!
But, if you want to avoid the crowds of Laniakea then look for local cars parked along the road as you drive along the North Shore.
All beaches in Hawaii are open to the public (with some restrictions) and many of them are unnamed.
So, grab a spot alongside the locals and head out to the beach! Be sure to observe any posted signs about currents — the North Shore can have strong currents and large waves!
These unnamed beaches are where you'll get the chance to swim with sea turtles without the chaos of tourist crowds and it's a truly amazing once-in-a-lifetime experience that can't be replicated elsewhere.
The best time to see sea turtles in the water is between late afternoon and dusk and it's recommended to bring an underwater camera, if possible.
Just keep in mind that these are the times that sharks are also feeding and sea turtles are a favorite of theirs, so it's a good idea to keep someone in charge of watching for any potential dangers in the water.
Attend the island's best luau.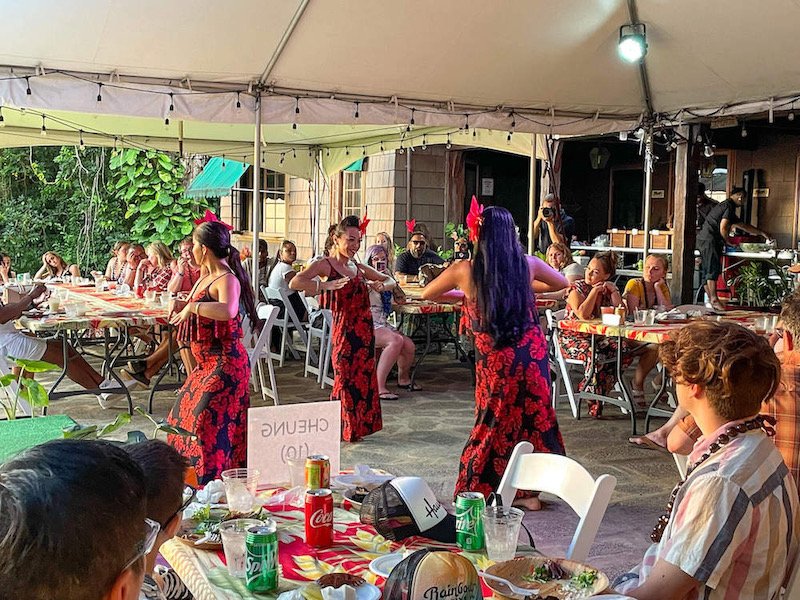 Contributed by Marcie Cheung of Hawaii Travel with Kids
While many people might have a luau on their Oahu bucket list, the truth is that some are vastly better than others!
It's easy to find large, commercial luaus with 300-500 tourists.
However, if you're looking for a small, intimate luau experience that feels like you're hanging out in a friend's backyard, you'll definitely want to add the Experience Nutridge Luau to your Oahu itinerary.
It takes place on a macadamia nut farm in the hills overlooking Honolulu (it's about a 25-minute drive from Waikiki) and right next to the Tantalus trailhead.
There are hands-on activities, Hawaiian lawn games, tons of cultural presentations, and lots of dancing.
After exploring the property and enjoying the festivities, you'll be invited to sit down for a delicious Hawaiian dinner in a tent.
They even have mini laulau (pork steamed in leaves) that is rarely offered at luaus!
After dinner, the dancers will come right to the middle of the tent and do some casual hula dancing. There are no bad seats!
And then they invite everyone up to just dance to the music to wrap up the evening. It really does feel like you're at a party or family gathering.
Since they only allow 50-60 guests per luau, it tends to book up quickly so you'll want to make reservations at least 2-3 months before your trip.
It's perfect for families, honeymooners, and anyone looking for an authentic Hawaiian experience.
Hike to the beautiful waterfall of Manoa Falls.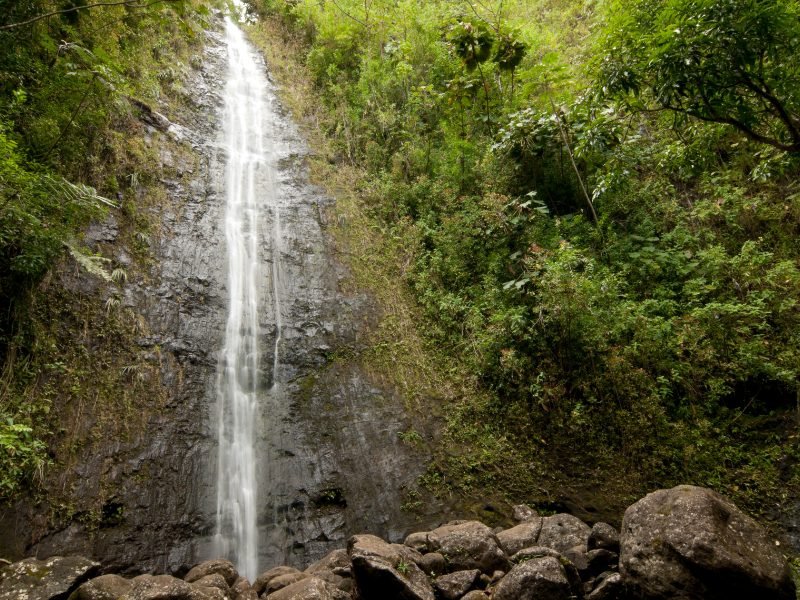 Contributed by Sarah Vanheel of CosmopoliClan
One of the most accessible waterfalls on Oahu, located just a 20-minute ride from Waikiki, is Manoa Falls.
It's one of the star attractions of Manoa Valley, the slice of rainforest that's also home to the Lyon Arboretum.
This beautiful 150-ft waterfall cascades over a rock into a misty pool. The waterfall in itself is beautiful but the short hike from the trailhead is just as mesmerizing.
The 1.6 mile trail starts near the Paradise Park parking lot and leads you through a tropical landscape dotted with eucalyptus trees, banyan trees and bamboo plants. Fragrant flowers complete the idyllic picture.
Note that Manoa Falls is at its best after a day (or more) of rain, at other times it can be more of a trickle.
The waterfall is not swimmable and you're not allowed to hike down to the pool due to the risk of rockslides.
The beauty of verdant Manoa Valley is a result of frequent showers, so expect the gravel trail to be rather muddy. Be sure to wear closed and sturdy shoes and don't forget to bring mosquito repellent or wear long sleeves.
This is one of the easiest waterfall hikes on Oahu, but it does have a moderate incline and a series of steps.
However, because it's rather short, it's perfectly suitable for visitors of all fitness levels as well as families.
This also means that it can get very busy, especially on weekends!
Experience the quiet oasis of the Byodo-In Temple and Gardens.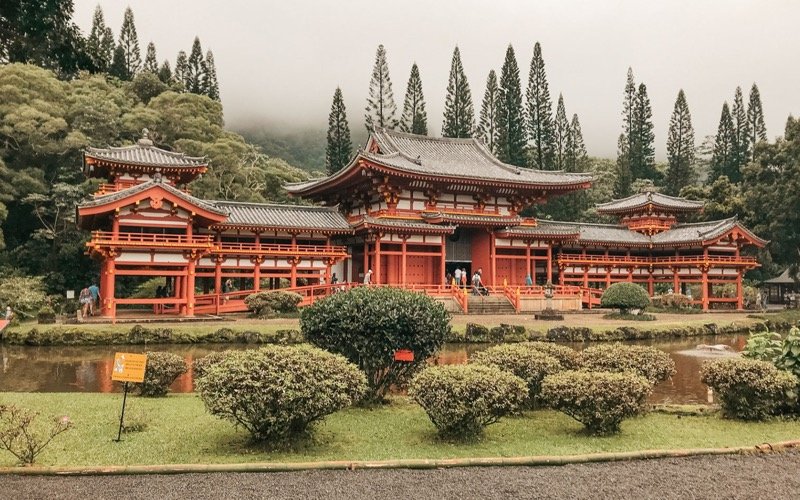 Contributed by Claire B. of Claire Pins
If you are looking for a calm and relaxing experience on your visit to O'ahu, you should add the Byodo-In Temple and Gardens to your Oahu bucket list!
The main red and white temple structure is surrounded by beautiful landscaped gardens set among soaring trees and a mountain range.
A large reflection pond features koi fish and black swans and you might see peacocks if you take a walk along the many pathways around the property.
This is an ideal environment for a quiet stroll or some relaxing meditation and reflection, and it is a unique and scenic place to take a break if you are driving around O'ahu for a day.
This temple was actually constructed as a smaller scale replica of a 950-year old temple in Uji, Japan which is also called the Byodo-In Temple, and stands as a UNESCO World Heritage Site.
Interestingly, this is a non-denominational site, meaning there are no monks in residence, but you will need to remove your shoes before entering the temple as a sign of respect.
There is an entrance fee to visit and a small gift shop is available.
This relaxing attraction is located at the base of the Koʻolau Mountains, within the Valley of the Temples Memorial Park, along the Eastern shore of the island of O'ahu.
It is only a 30 minute drive or about 15 miles from downtown Honolulu by car or taxi or 1 hour and 30 minutes on public transport.
Take the grueling but rewarding hike to Koko Crater.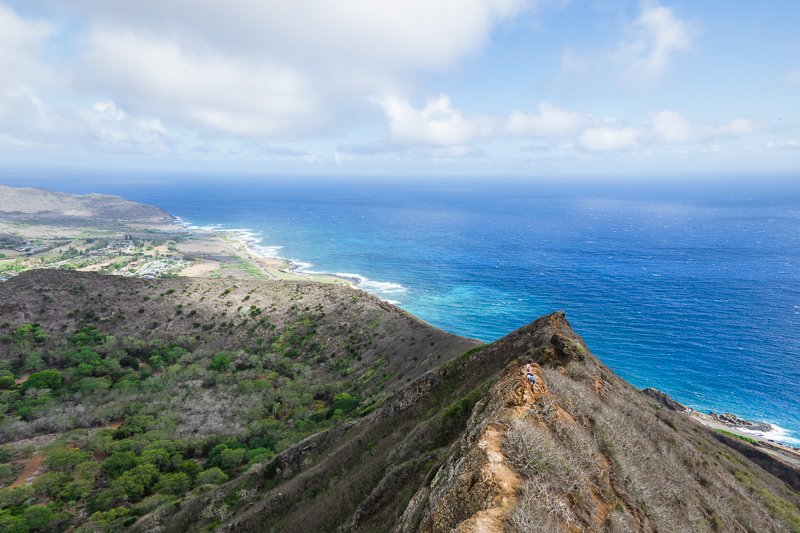 Contributed by Catherine Xu of Nomadicated
Get ready for a thigh burner if you plan to hike to the summit of Koko Crater on the eastern side of Oahu!
But the effort is awarded with epic panoramic views of Diamond Head and Hanauma Bay that make this hike worthy of being added to your Oahu bucket list.
Koko Crater Trail, better known as Koko Head Stairs, repurposes the now-defunct 1,048 step World War II tramway into a stairway leading to the top of a dormant volcano.
If that doesn't sound exciting enough, be prepared for the decades of neglect and erosion as only 800 stairs remain!
Although only 0.8 miles one-way along a well-marked trail, the difficulty lies in the 1,200 feet elevation change.
But as the Honolulu skyline and the glistening blue ocean come into view, you know it'll all be worth it!
At the summit, explore amongst the ruins of the old military bunker and walk along the Koko Head Ridge to see the entirety of the crater. Koko Crater last erupted 7,000 years ago and is, in fact, the tallest and best-preserved tuff cone in the area.
To get here, head to Koko Head District Park 25 minutes east of Waikiki. A free parking lot sits right by the Koko Head Stair trailhead.
Bonus: If you're looking for an even more difficult summit hike, the Koko Crater Trail Ridge is a narrow, steep, (dangerous) 2.4 mile hike along the crater's ridge.
I recommend an out-and-back hike on the left ridge that hugs the ocean. The badly eroded right side has treacherous rock climbing — only suitable for the most experienced hikers!
Kayak to the beautiful Mokolii Island.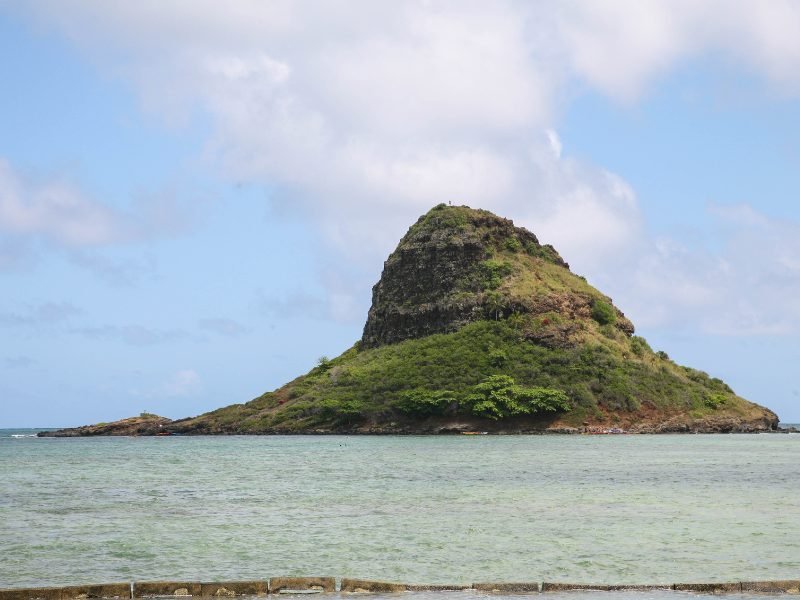 Contributed by David & Intan at The World Travel Guy
For a fun island hopping adventure, you can rent a kayak and paddle out to Mokolii Island.
This island is also known as Chinamans Hat because of its resemblance to a traditional Asian rice farming hat.
This little island is located on the windward side of Oahu (near Kualoa Ranch), and it's one of the most famous natural landmarks in the Hawaiian islands. You see it on all the postcards and calendars.
From the shore at Kualoa Beach Park, the distance is less than half a mile to Mokolii Island, and you can reach it in about 30 minutes of steady paddling with a kayak.
There's no shade at all, so you'll want to bring a hat and sunscreen with you!
Once you land on the island, there's a nice little hidden beach at the back, as well as a path to the top of the 'hat.'
The hike to the top is short, but intense and a bit sketchy. It only takes about 20 minutes, but some rock scrambling is required and shoes are a must for proper grip.
From the top of the island, you get amazing panoramic views of Kaneohe Bay and the whole windward side of Oahu island!
Take a stand-up paddle board out to the mokes.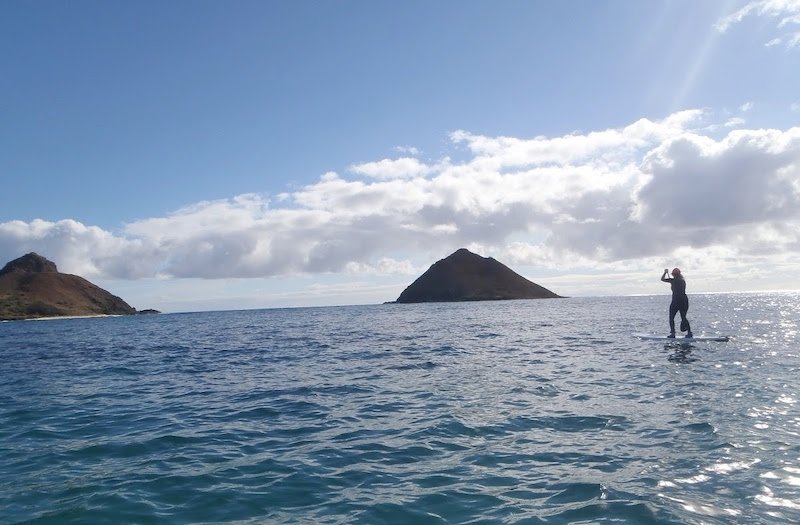 Contributed by Ashlee Fechino of The Happiness Function
If you love water sport adventures, there is no better place to paddle than around the Na Mokulua islands (a.k.a. The Mokes) in Oahu.
These two small, rocky islands are a short paddle from Lanikai beach and offer some of the best views in Hawaii. Lanikai beach is one of the most famous beaches in the world!
To plan the perfect day's adventure, rent kayaks or stand-up paddleboards from one of the surf shops in Kailua. Paddlers can do self-guided tours if they are experienced ocean paddlers or go on a guided tour with a local.
An offshore landing permit is required to land on Moku Nui, the larger island to the north. When you rent paddle gear, make sure you purchase your landing permit from the surf shops.
Note: people are not allowed on Moku Iki, the smaller island. This is because the islands are protected bird sanctuaries.
While paddling around, keep your eyes peeled for sea life, such as Hawaiian Monk Seals. They are endangered species and special to spot!
Plan to make reservations ahead of time to rent gear or go on a guided tour. Wear a bathing suit, sun shirt, hat, and sunglasses. Bring water, snacks, a waterproof camera, and reef-safe sunscreen. Watch the weather because the best time to go to The Mokes is early in the morning when the sea is calm.
An awesome Oahu bucket list adventure is a kayak or stand-up paddleboard trip to The Mokes! The turquoise blue waters are a vacationer's paradise.
Hike the Diamond Head Summit Trail.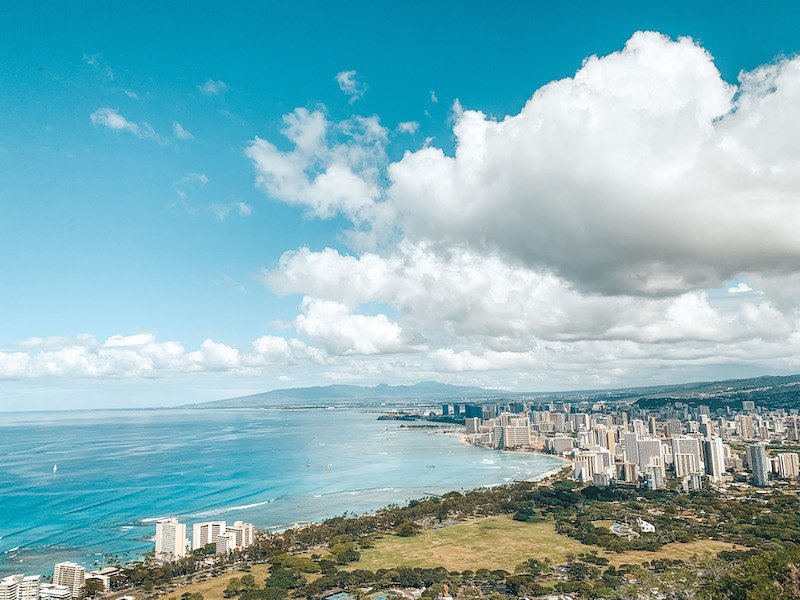 Contributed by Brittany of Travel by Brit
The Diamond Head State Monument is a dormant volcanic cone and is one of the most prominent landmarks on the island of Oahu.
It's known for its spectacular coastline views, fascinating military history, and the Diamond Head Summit Trail—one of the most popular hikes on Oahu!
Diamond Head is in Honolulu, the capital of Hawaii, but you can easily spot the volcano while you're relaxing on Waikiki Beach, which makes hiking this historic landmark one of the best things to do in Waikiki, Hawaii.
The Diamond Head State Monument is under a ten-minute drive from many of the most popular resorts in Waikiki.
The Diamond Head State Monument is closed on Wednesdays, but it's open from 6 AM – 4 PM on Thursday- Tuesday.
If you're planning to drive to Diamond Head, you should plan to pay $10 per car, and if you're walking to the mountain, admission is $5 per person.
The trail is short, just under a two-mile trek out and back, but it's very steep. Make sure you bring close-toed shoes or hiking boots and wear plenty of sunscreen to protect your skin from the island sunshine.
The best part about hiking Diamond Head is the spectacular views at the trail's end.
You'll see Waikiki, Honolulu, and miles of ocean stretching far and wide around the island.
If you want to have the sweeping views all to yourself, plan to arrive at the trail as soon as it opens!
Visit the Ko Olina Lagoons.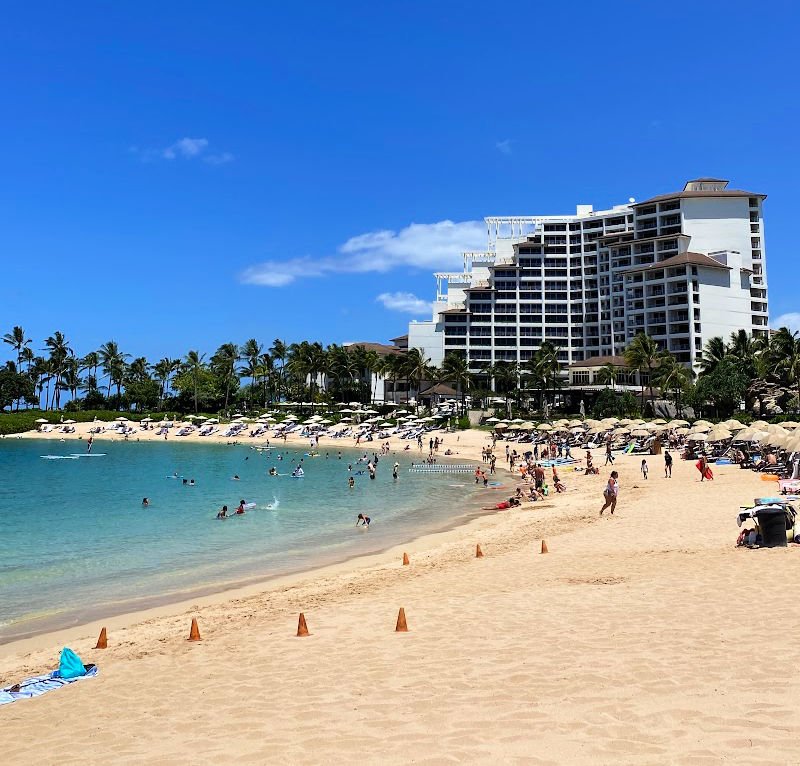 Contributed by Karee Blunt of Our Woven Journey
Waikiki may be the most popular beach in Oahu, but it's not the only game in town!
There's another beach that is a must-do, especially if you are traveling with kids.
The Ko Olina Lagoons have some of the calmest, most peaceful waters and are perfect for spending the day at the beach.
There are four man-made lagoons at Ko Olina, and a sidewalk connects one lagoon to another.
These lagoons are protected from the ocean waves by breakwaters that make the shallow, sandy entrances the perfect place for families to enjoy playing in the water.
Each lagoon is only ten to fifteen feet in the deepest areas, making it easy to see all the sea life below you.
Suppose you're visiting Oahu with children or beginner snorkelers. In that case, the Ko Olina Lagoons are the best spot to let them get used to the water without the waves that make other beaches potentially dangerous!
We're not the only ones who think the lagoons should be on your bucket list for Oahu!
Disney built their Aulani Resort in front of one of the lagoons so the families could spend their days basking in the sun without ever having to leave.
A Disney resort plus a family-friendly beach It's the perfect combination for a fantastic vacation in Hawaii.
However, you don't have to stay at the resort to visit the lagoons. The lagoons are free to all visitors every day of the week!
Pay your respects to Pearl Harbor.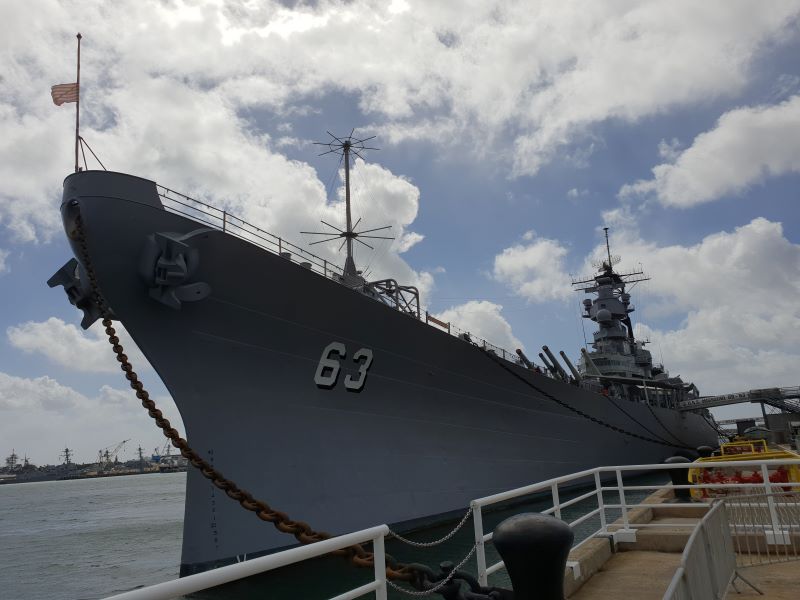 Contributed by Holly Kent from Globeblogging
Whether you're a history buff or just interested in checking out one of Hawaii's premier attractions, a visit to Pearl Harbor is not to be missed.
It's an undoubtedly somber and powerful place and while the Arizona Memorial is probably the most well known part, it is far from the only thing to see.
Located just under 12 miles from Waikiki, it can be a little inconvenient to reach if you don't have your own vehicle, but the Waikiki trolley runs to and from Pearl Harbor for US$25 per person for a one line ticket. The bus is cheaper, but also takes three times as long to get there.
The Arizona Memorial and the visitors center are free to visit, but there are capacity limits so you still need to buy tickets.
You can show up on the day and take your chances, or buy your spot online 24 hours ahead.
There are actually a total of six sites across two locations at the Pearl Harbor site: the other sites will require paid tickets.
The Passport Package is the best deal, including the audio tour for the Arizona and the exhibitions, plus entry to all locations and transport between them.
Don't miss your chance to wander through the USS Missouri, a decommissioned battleship which was the setting for the signing of the document which marked the end of WW2.
Being an active naval base you are not permitted to bring in any bags which can be used for concealment, so don't take a lot of things to carry.
Anything large can be checked at the cloakroom for $6 per item.
Allison Green is a former educator turned travel blogger. She holds a Masters in Teaching and a B.A. in English and Creative Writing. Her blog posts merge her educational background and her experience traveling to 60+ countries to encourage thoughtful travel experiences that both educate and entertain. She has been a speaker at the World Travel Writers Conference and her writing, photography, and podcasting work has appeared in National Geographic, CNN Arabic, CBC Canada, and Forbes, amongst others. Now based in the San Francisco Bay Area where she grew up, she has also lived in Prague, Sofia, and New York City.