Canals lined with colorful houses, cafés oozing with hygge, and the beating heart of the happiest nation on Earth: Copenhagen just breathes with life.
Travelers from around the world flock to admire Copenhagen's colorful architecture around the city center – and not just Nyhavn, its most famous row of candy-colored houses.
We found beautiful houses nearly everywhere we turned – whether it was a random street in our friend's neighborhood of Amagerbro, a used clothing store, or a random side street off the main drag.
There's no need to try to get the same Insta-famous shots as everyone else, so feel free to wander around Copenhagen and follow your eyes and see where it leads you.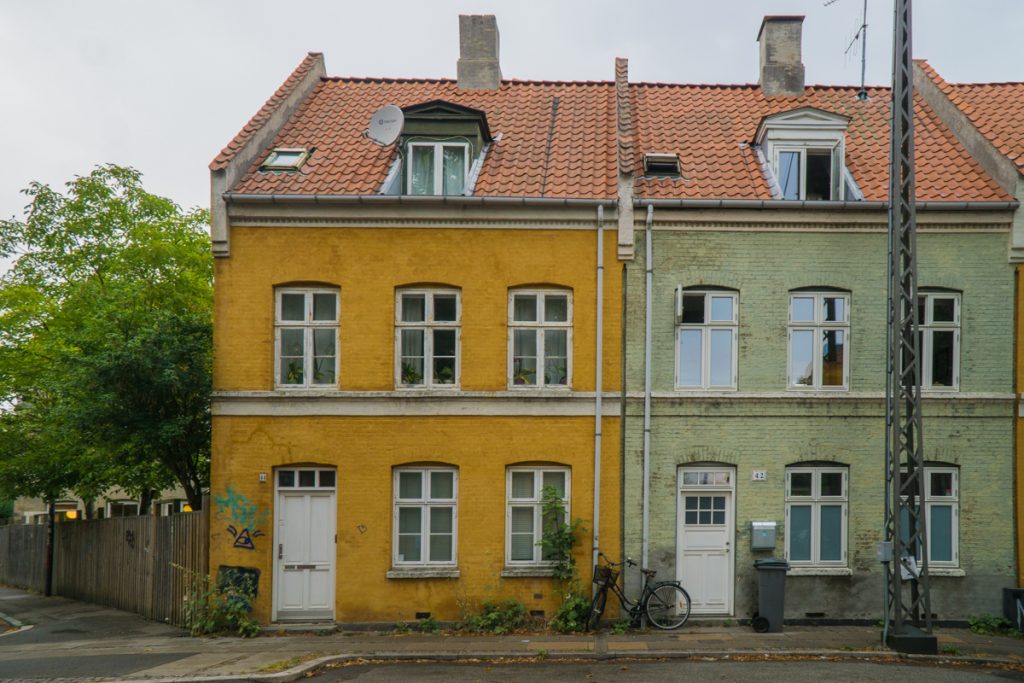 Note: This post contains affiliate links, which means I may receive a small commission if you purchase something through one of these links. Thank you for supporting the free content on this site! For more information on affiliate links and cookies, see my disclosure page for more details.
If you have to make the most of Copenhagen in one day, you have two choices: tick off all the touristy "musts" and spend half your day in line… or follow this alternative Copenhagen itinerary.
This one day Copenhagen guide will show you the city through a slightly off the beaten path lens, while being sure to take you to a few can't-miss popular Copenhagen musts.
This is my favorite way to travel: a blend of a few of the tourist top 10, with a heavy dash of the offbeat to see how the locals live in their city.
Here's what you won't find on this Copenhagen itinerary: The Little Mermaid sculpture (it's tiny and completely overrated), Tivoli Gardens (if you have one day in Copenhagen, you probably shouldn't spend it in a theme park), and the Copenhagen Zoo (zoos are nearly always unethical and the same basically everywhere).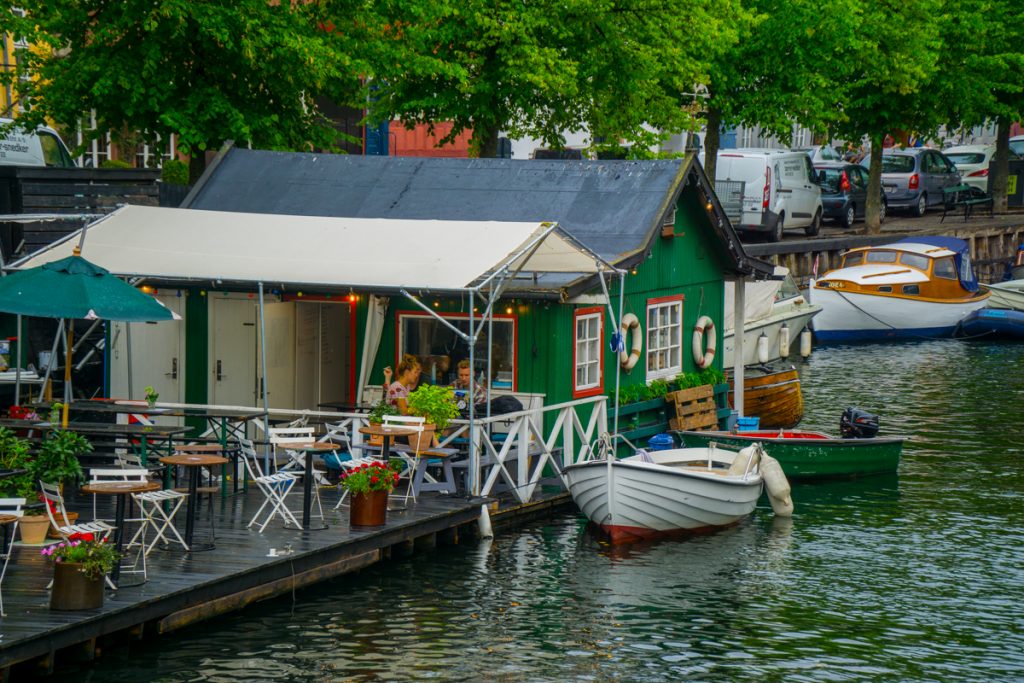 Instead, this alternative Copenhagen itinerary will bring you to some cool street art, delicious food halls, bottle shops of renegade Danish brewers, and authentic restaurants with cuisines from around the world.
You'll go to colorful houses in scenic harbors, cool canals to hang out by in the summer, and fun pubs where you can rub elbows with local Danes — who are really quite chatty once they've got a drink in them.
So, buckle up if you've got one day in Copenhagen: you're in for a busy, boozy 24 hours.
Your One Day in Copenhagen Itinerary
Explore the anarchist Freetown Christiania.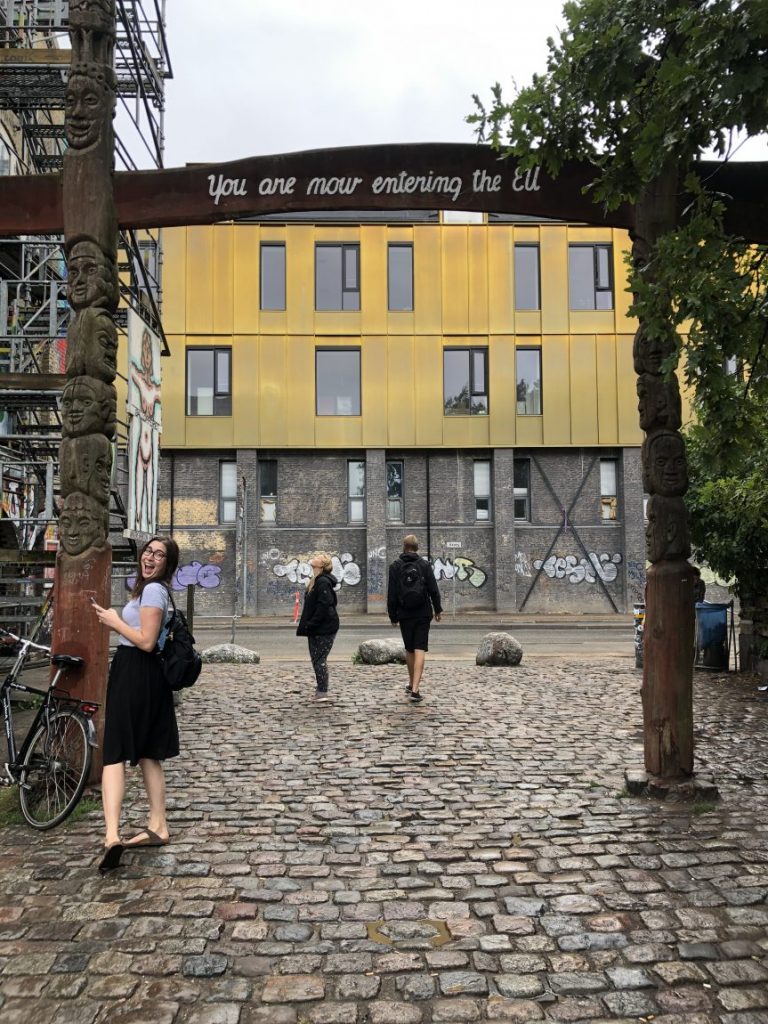 Founded in 1971, by people squatting in former military barracks in the borough of Christianshavn, Freetown Christiania is no stranger to controversy.
Some 1,000 residents – some temporary, some permanent – have formed a community in the heart of Copenhagen with its own self-governing set of rules, separate from Danish law.
Freetown Christiania views itself as a separate entity from Copenhagen, Denmark, or even the EU, for that matter.
This quirky neighborhood reminded me of Vilnius' utopian Užupis, but with a bit more edginess to it.
There is quite a bit of clutter, dilapidated houses, DIY skate parks, and street art lining the walls of this former military area.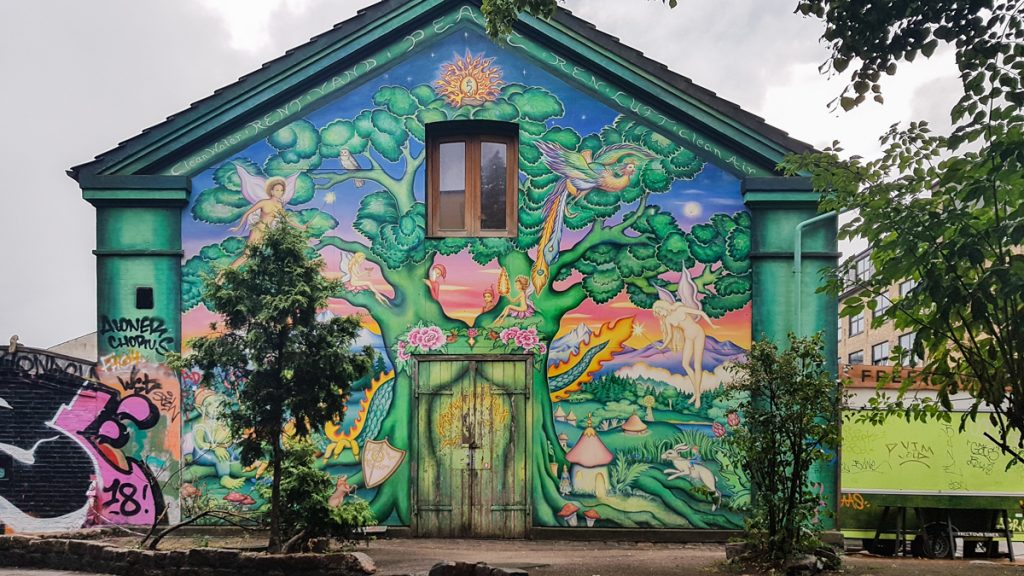 Christiania has a reputation for drug use – which is a bit overstated, in my opinion.
While there is some sale of soft drugs such as marijuana, there is a hard prohibition against the use or sale of any hard drugs.
I spent about an hour walking around taking photos and exploring, and I didn't get harassed or asked to buy anything.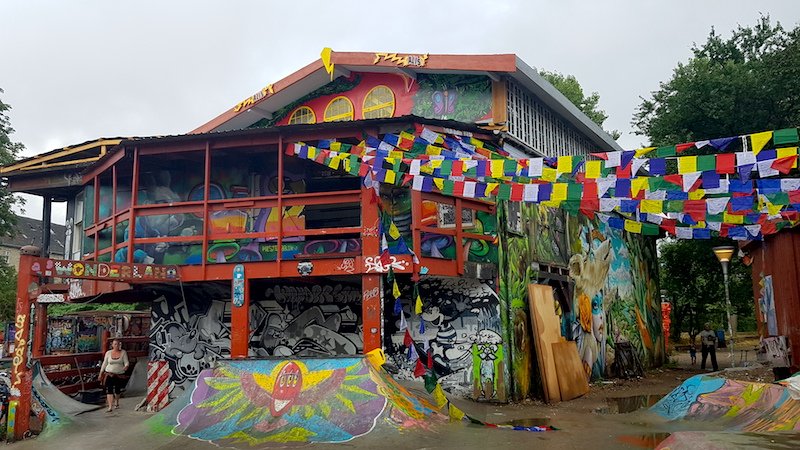 The reality is that Christiania is the fourth-most visited site in Copenhagen, and it's hardly 'off the beaten path'.
Still, it's well worth a visit, despite being firmly on the tourist trail.
Be respectful of the people who live there, and enjoy your exploration of a social experiment that has thrived and survived for some nearly five decades.
If you prefer some context and guidance, you can take a 90-minute guided walking tour of Christiania and Alternative Copenhagen. Click to read reviews and see prices!
Enjoy the colorful houses in Nyhavn, then go for a canal tour.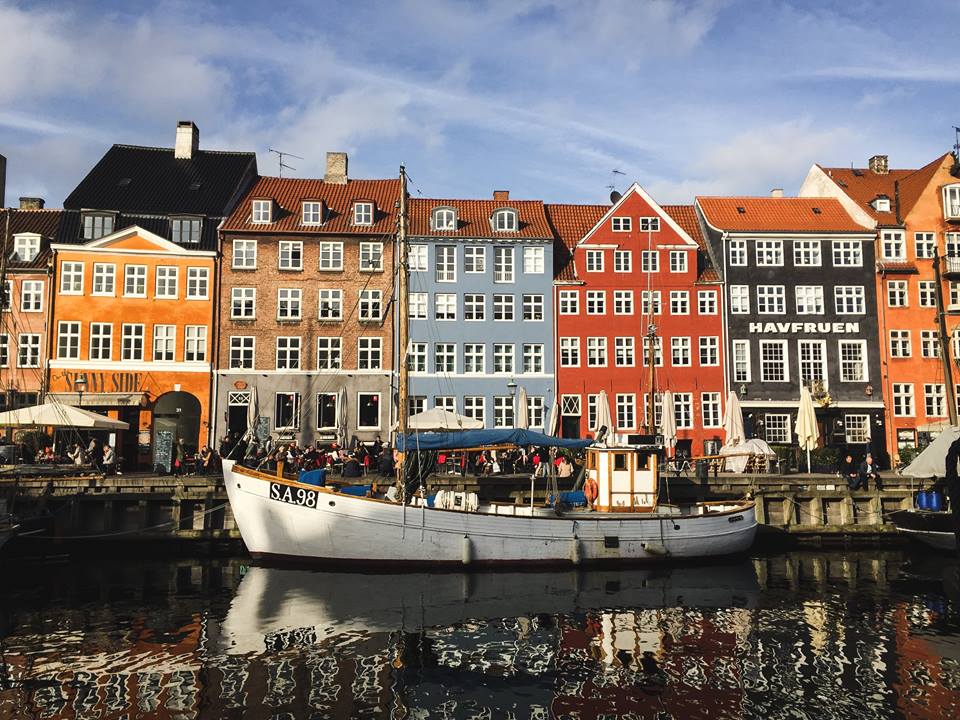 Touristy, yes – but Copenhagen is famous for its beautiful canals with their colorful houses lining the harbor.
There are some things you just shouldn't miss, even if you're aiming for a more alternative Copenhagen itinerary. Nyhavn is just one of those places!
After taking some photos of gorgeous Nyhavn, embrace your inner tourist (you do have only one day in Copenhagen, after all) by taking a quick canal boat ride through its neighborhoods.
Canal boat tours take about one hour and leave frequently from Nyhavn.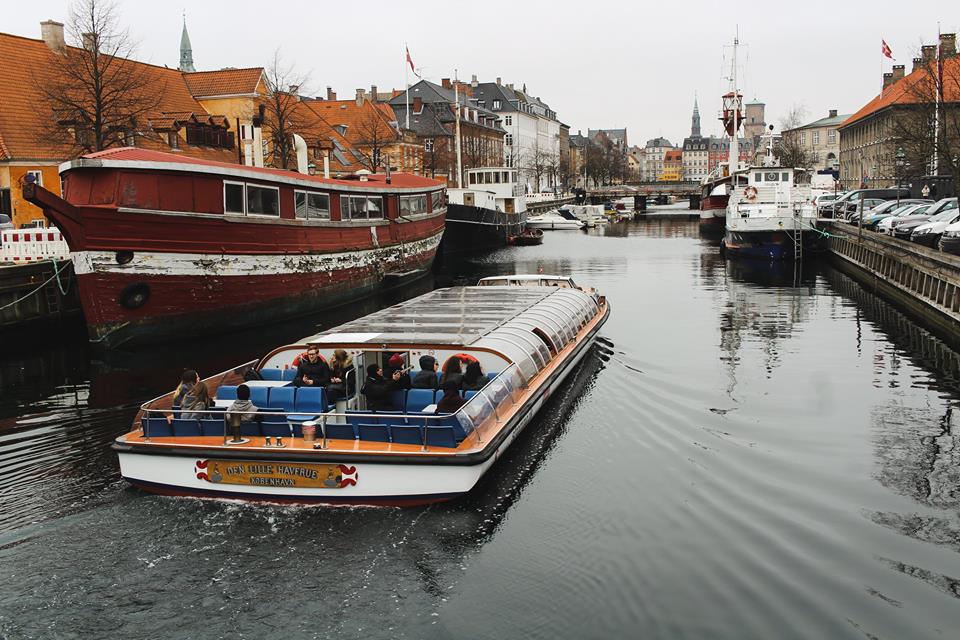 If you're a victim of the frequently finicky Danish weather, a canal boat tour is also a great way to pass time if the weather is not on your side.
Most of the canal boats have a glass roof, which keeps rain, cold, and other unpleasantness away while still allowing you a good view and to snap some photos.
It's the great way to get out of the rain!
Stop for a coffee.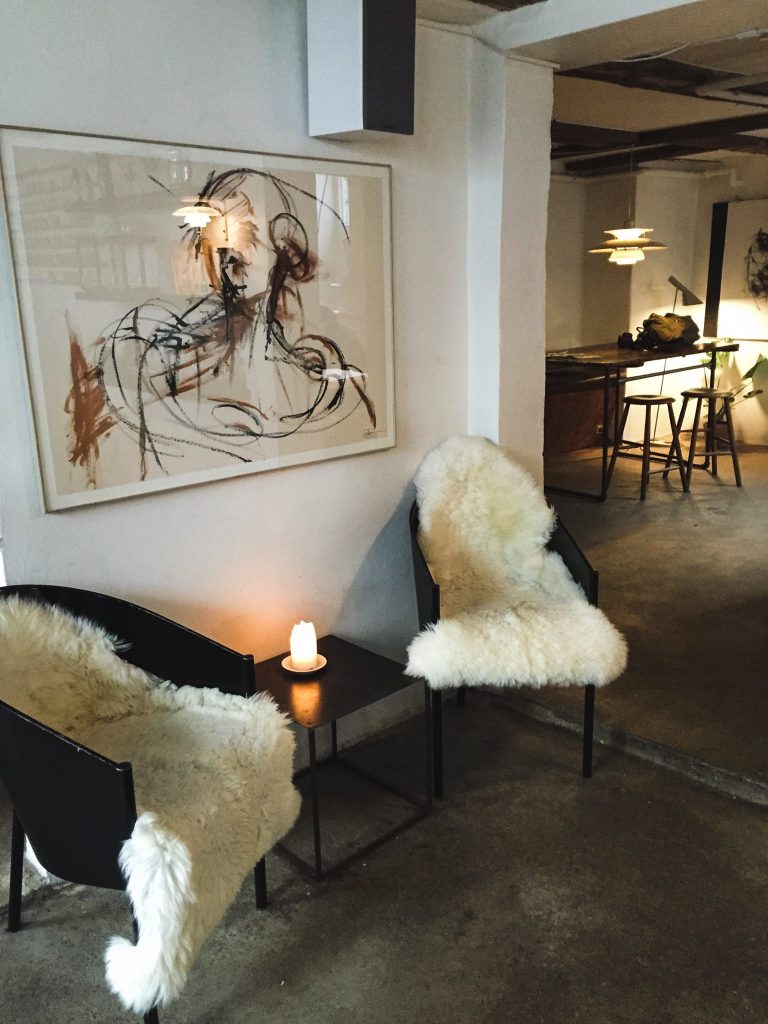 The Nordic countries love their coffee and Denmark is no exception!
In fact, Denmark is the 4th largest consumer of coffee in the world, trailing Finland, Norway, and Iceland.
Hey – you'd drink a lot of coffee too if your winter days were that short and cold!
Like everything in Denmark, you'll find coffee to be a bit more expensive than you're used to, whether you're stopping at a touristy café, a trendy coffee shop that specializes in single-origin beans, or at a boring chain.
Since you'll be paying a premium on your coffee anyway, you might as well enjoy one of Denmark's finest cups of coffee!
Some of Copenhagen's best coffee – and best Danish design – can be had at Copenhagen Coffee Lab in Amagerbro, but there are plenty of places you can find a good cup of coffee around the city if that's out of the way.
Enjoy a smørrebrød for lunch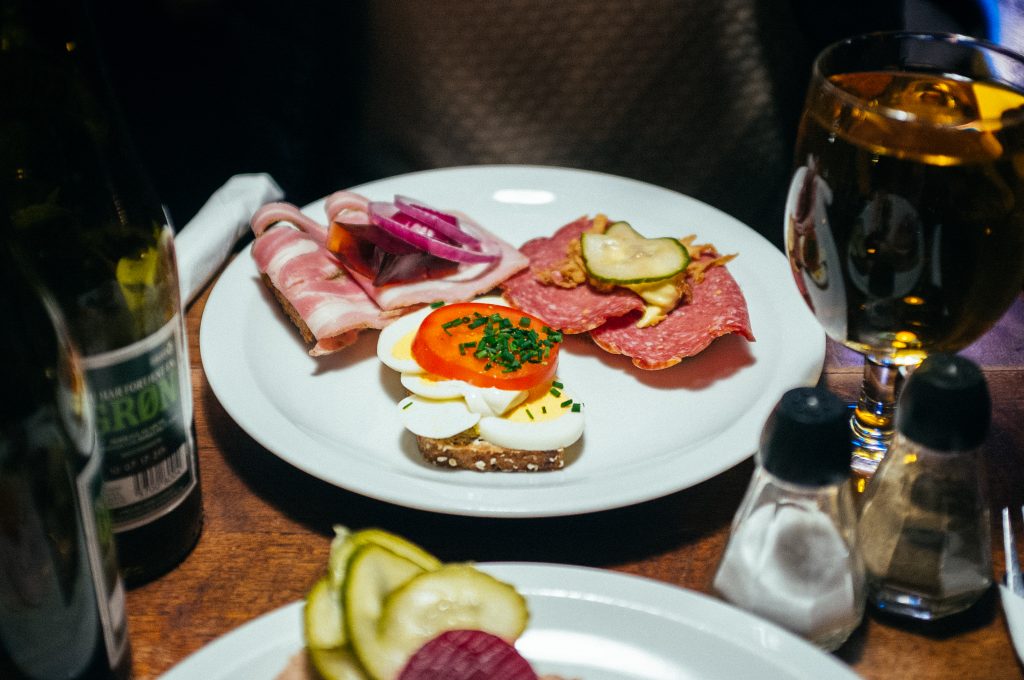 The Danish open-faced sandwich is a classic must-eat when in Copenhagen.
As you'd expect with the Nordics, the sandwiches are as aesthetically pleasing as they are delicious.
Danes don't mess around when it comes to design!
Hilariously, you'll find signs advertising smørrebrød to go – I can't think of a less pedestrian-friendly lunch than an open-faced sandwich piled high with gravity-defying toppings.
But hey, what do I know?
A smørrebrød is typically a piece of dense rye bread with your choice of toppings.
Usual toppings include some variation of fish or seafood- herring, mackerel, smoked salmon, and tiny shrimp being the most common choices.
For those who don't like fish, pâté, roast beef, and roast pork are also popular options, and Denmark is getting better at also including vegetarian options as well.
Alternately, you could opt for a 4-hour food walking tour that covers several tastes of Danish cuisine, including: four different smørrebrød, three types of local cheeses and two types of spread salads, 3 samples of beer, a traditional Danish hot dog, and Danish sweets!
Wander past the city center.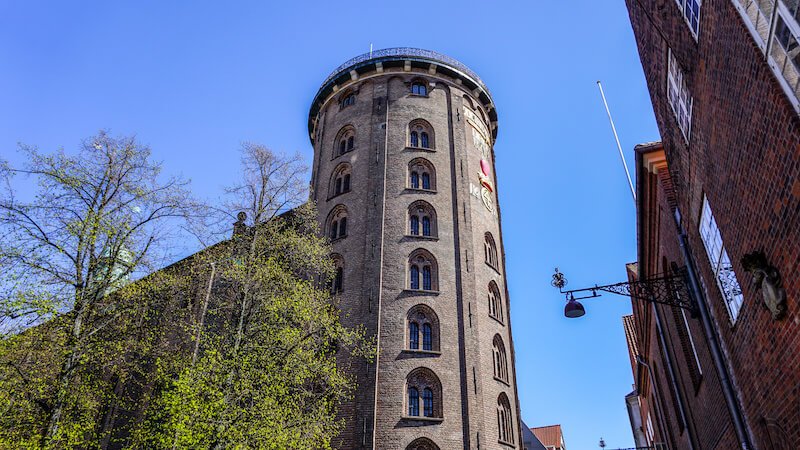 This is where you'll find tourists swarming to see the most popular sights, such as the Round Tower (Rundetaarn) and Helligaandskirken Church.
Wander through it at leisure, but don't get distracted by all the souvenir shops and long queues for the popular central attractions.
There's some deliciousness on the other side of the tourist-packed madness for you, so keep your eyes on the prize and make your way over to Torvehallerne!
If you don't want to walk around on foot, this would be a great time to pick one of the many Copenhagen bike tours on offer — there are options ranging from 1.5 hours to 3 hours, push bikes to e-bikes, so there's definitely something for everyone!
Drool over Copenhagen's best food hall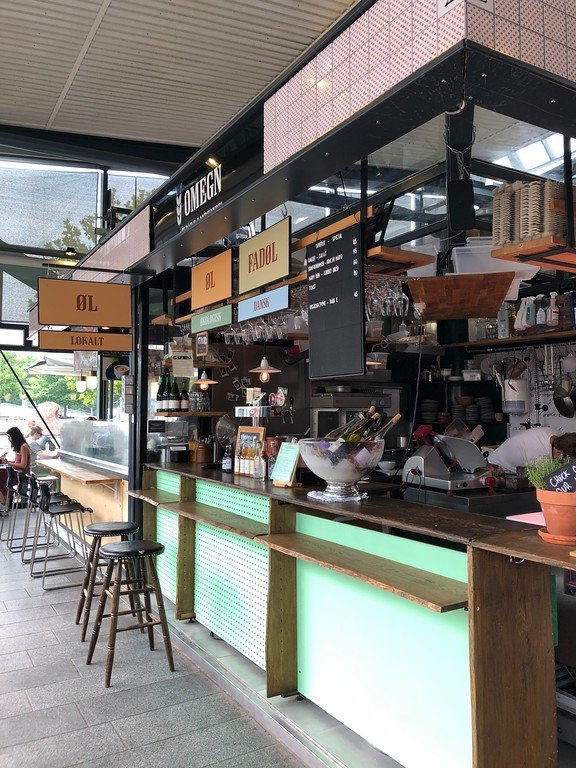 Food halls are quite popular in Scandinavia – probably because the weather is not kind enough to permit open-air markets, but the people still love their fresh foods.
Copenhagen's Torvehallerne is a great place to stop, whether you need to shop for more obscure ingredients at the Asian food stall (we were ecstatic to pick up some much-needed packs of kimchi ramen!) or just grab something to eat on the go for an affordable (but still Danish) price.
While a typical meal in Copenhagen is quite expensive, you'll find that its food halls often offer a great deal.
For example, a Vietnamese banh mi at the food hall will run you about 80 DKK, about $12 USD – a far cry from what you'd pay at a sit-down restaurant.
Stop to shop beer (or just gawk at the labels) at Mikkeller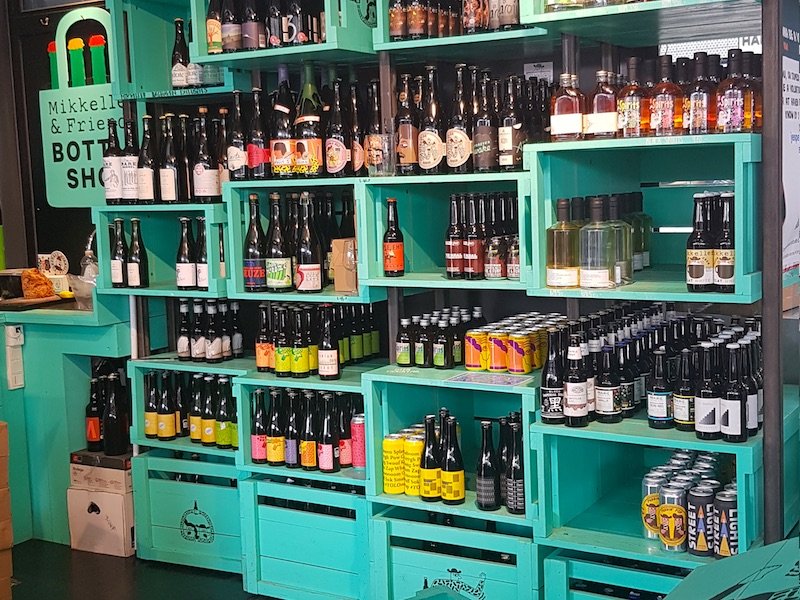 If you're a fan of craft beer, you probably already have heard of Mikkeller. If not – here's a little crash course.
Mikkeller is one of the foremost microbreweries in the world, a so-called "phantom brewery" as the company has no official brewery and instead works collaboratively with other brewers or does experimental beers.
Founded by two Danish home brewers, Mikkel Borg Bjergsø and Kristian Klarup Keller, the name 'Mikkeller' is a blend of the two men's first and last names, respectively.
Mikkeller specializes in creative beers inspired by homebrewing traditions and you can find a Mikkeller bottle shop in Torvehallerne.
Even if you are not a big fan of beer, it's worth checking out this little bottle shop while you're in the market.
I always love Mikkeller's bottle designs, which are just as creative as the brews inside them. Pick up some beers to enjoy on the canal later, or take it outside to enjoy now.
Wander around Nørrebro.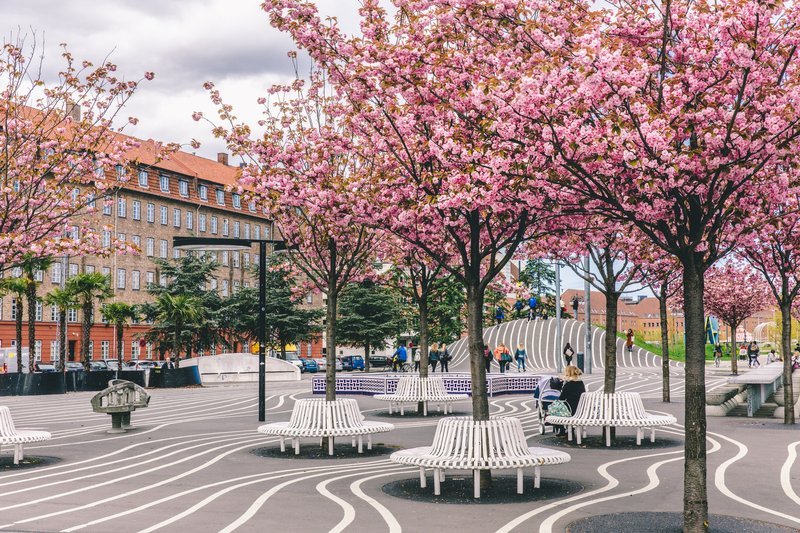 Just across the canal from Torvehallerne, you'll find the hip and trendy neighborhood of Nørrebro, one of Copenhagen's most densely diverse and interesting places.
Be sure to check out Superkilen, a self-described 'diversity park' featuring fixtures from around the world, whether it be Japanese sculptures or Moroccan fountains.
It's a common place for locals to hang out during the summer as well as a popular photo spot!
The Assistens Cemetery is also a calm green oasis and it's not uncommon to see bicyclists passing through the cemetery: a peaceful place of life as well as death.
Grab international food in Nørrebro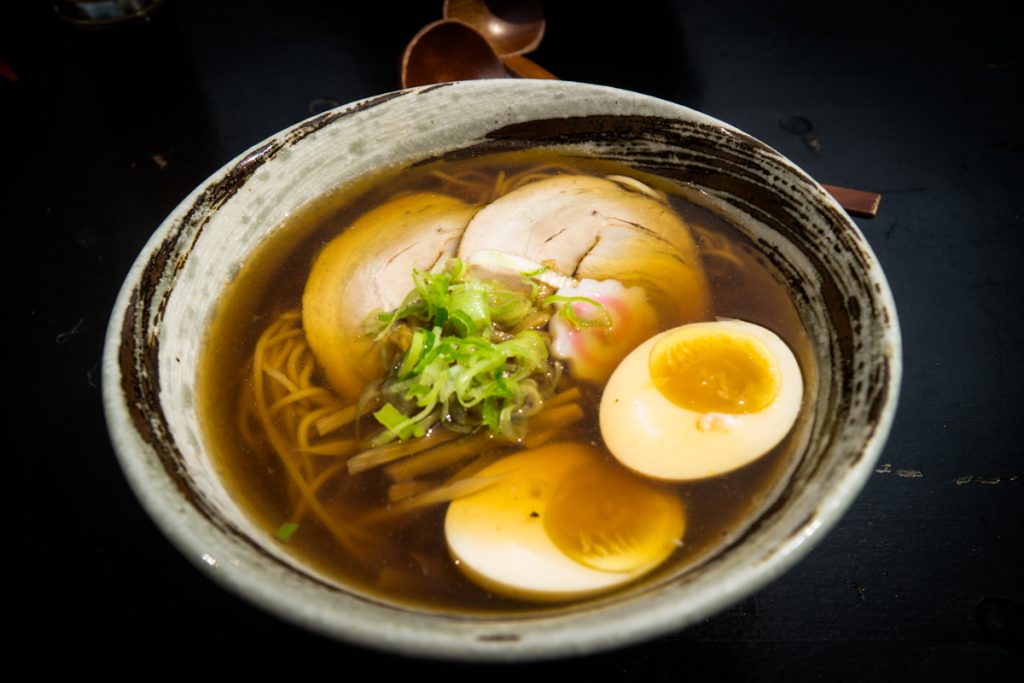 Copenhagen has become an increasingly diverse city over the years and it reflects in the cuisine.
While I love a smørrebrød or two, there's only so much pickled herring a girl can take. So, thank god for immigration!
Nørrebro is one of the most diverse neighborhoods in all of Copenhagen and it's where you can find delicious international cuisine from all over the globe.
But with only one day in Copenhagen planned on this trip before heading off to the Faroe Islands (I had previously visited for a longer time, visiting Copenhagen in winter), I could only fit so much in my stomach.
My friend Megan and I are total ramen fiends, and so we opted for Ramen to Bíiru, the best-rated ramen restaurant in town where you can actually get Mikkeller beer specially crafted to be paired with your ramen.
And the extra fun part: you get to order your ramen with a vending machine just like you do in Japan!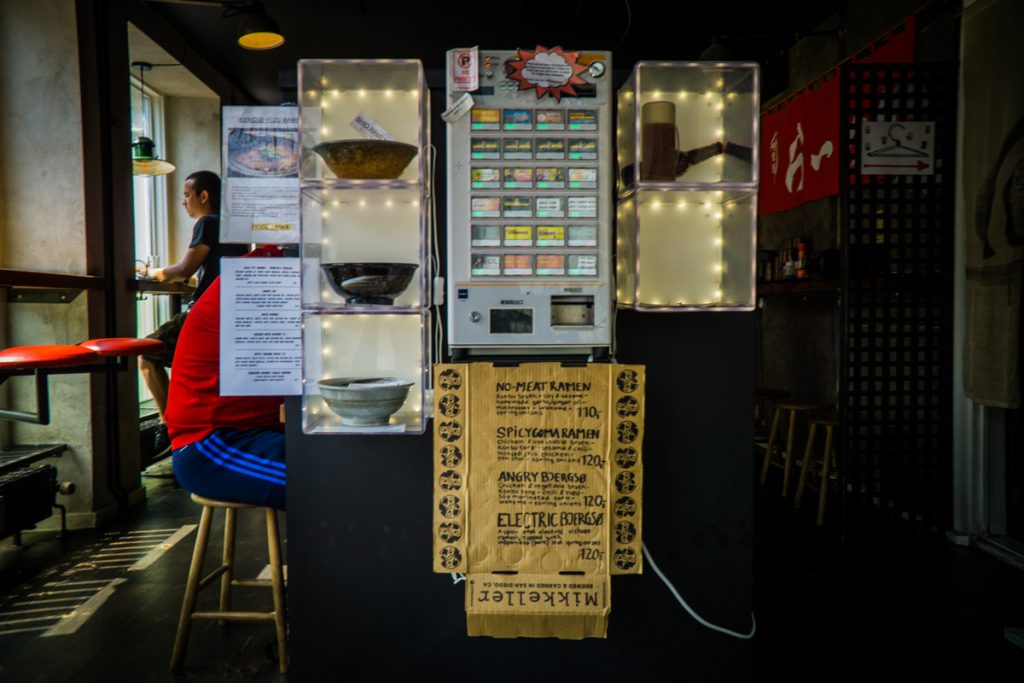 Our ramens were both excellent!
Megan went for the spicy miso ramen and I went for the classic shoyu ramen as my stomach is no longer to take spicy food the way it used to!
Prices are reasonable for Copenhagen, around 120 DKK ($18 USD) for a huge bowl of ramen.
If you're not a fan of ramen or you want to try something a little more unusual, you could go for Ethiopian at Ma'ed, Eritrean at Asmara, or Michelin-starred Thai at Kiin Kiin.
Watch the sunset (or take a dip) at Islands Brygge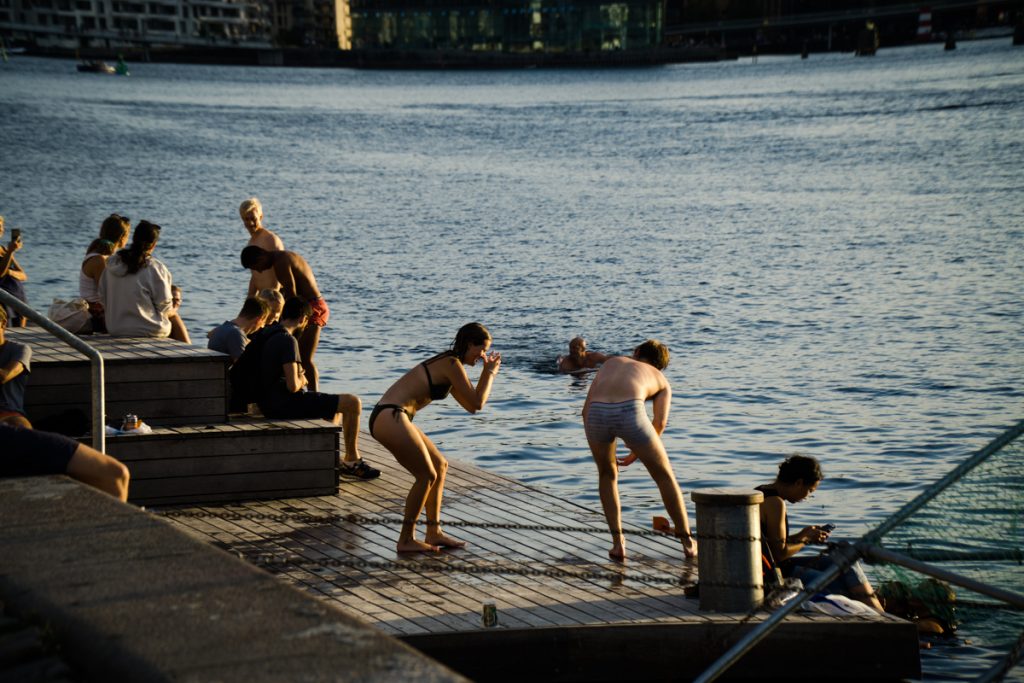 How many cities have water clean enough that you can swim right in the city center?
Coming from New York, I wouldn't take a dip in the East River if you paid me (well, maybe if you paid me the equivalent of six months' rent).
The Islands Brygge are close to the Langebro Bridge, which connects central Copenhagen to its eastern neighborhood, Amagerbro.
Copenhagen rarely gets truly "hot," but if you happen to be there on a rare warm day in the summer as we did, you may want to cool off in the canal like the locals do!
If the weather is too cold for you to get in, or you're just a baby like me who hates cold water no matter how hot it is outside, it's also common to sit with a beer, cider, or wine and enjoy the sunset over the canal.
End the night at one of Copenhagen's craft beer bars.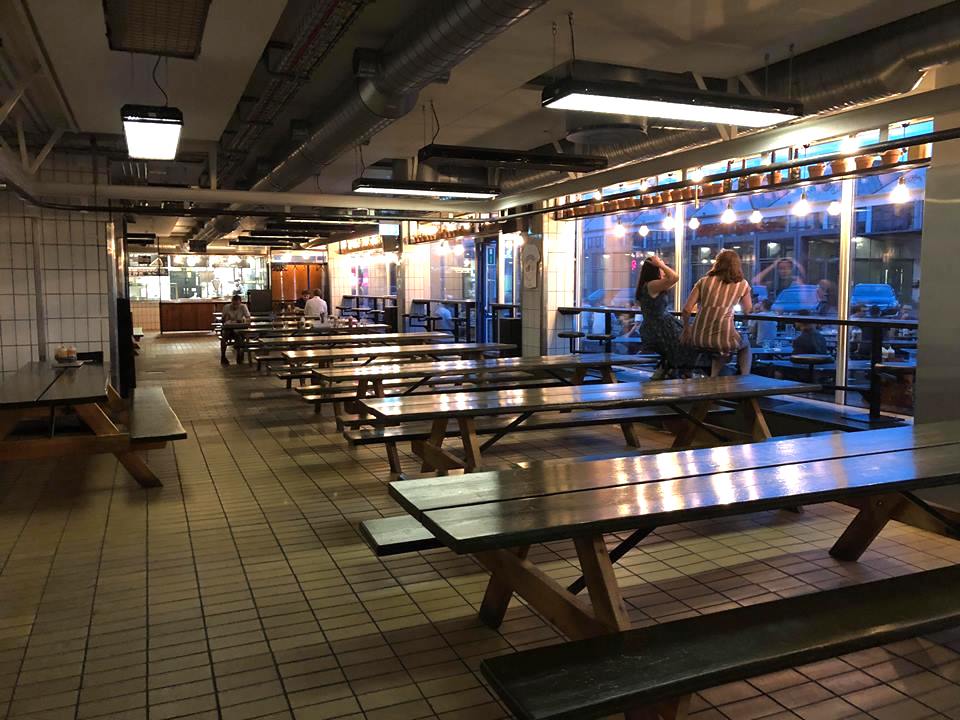 Denmark is on the cutting edge of craft beer and WarPigs is one of the best-loved bars for beer lovers in town!
That's certified by my Copenhagen travel buddy and craft beer expert Megan Starr.
Yes, going out for a few beers in Copenhagen will be pricy – expect to pay around 60-90 DKK for a beer, with the most common price being around 80 DKK ($12) for a beer.
But you'll be getting to sample of Denmark's most creative brewers and support local entrepreneurs.
Megan particularly enjoyed the New England IPA by WarPigs called 'Opposite Optimist' – she vouched for its deliciousness!
If none of the 22 taps at WarPigs suit your fancy, you'll be in the heart of Copenhagen's Meatpacking District (Kødbyen) so there's plenty of other bars to hop around afterward!
Where to Stay in Copenhagen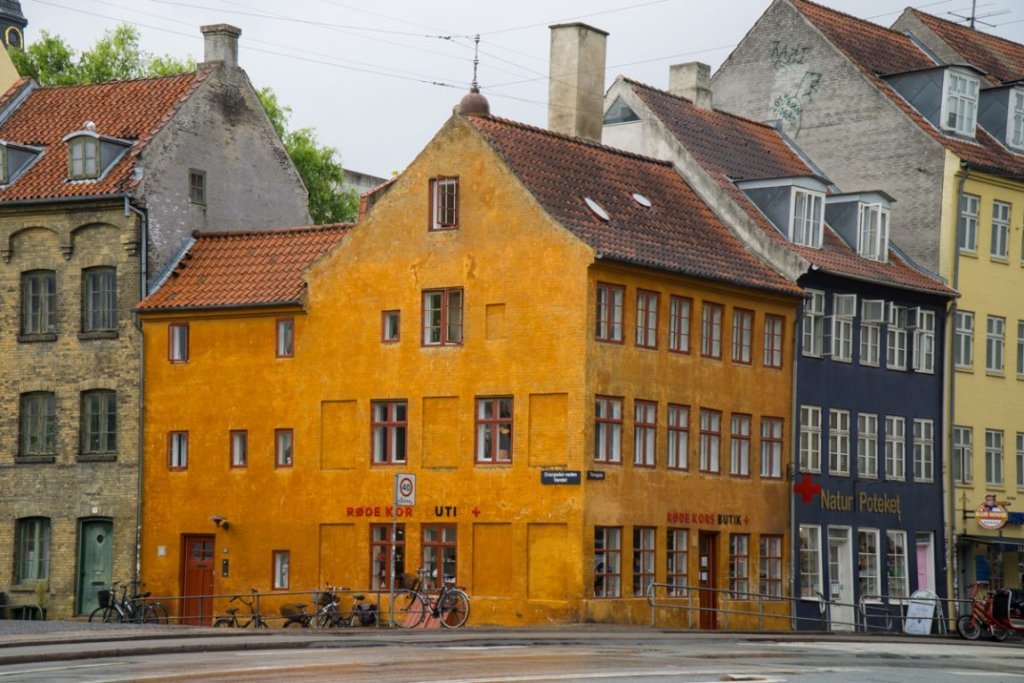 Copenhagen hotels are pricy, that's for sure.
I've been lucky enough to get to stay with friends the last two times I've visited Copenhagen – the perks of having friends all over the world!
While I don't have any firsthand recommendations, here's what I've curated from my research.
Budget: Hostels in Copenhagen are not cheap by any means and a simple bed in a dorm will likely set you back $30 USD a night at a minimum.
The cheapest, best hostels book up quickly so you want to book in advance if you are traveling on a budget.
The best-reviewed value hostel in Copenhagen is Steel House, which is located in central Copenhagen near the trendy Kødbyen neighborhood.
With a perfect location, excellent Danish design, and nearly 6,000 positive reviews, it's an easy choice.
Mid-range: If you prefer a little more privacy than a hostel offers, but don't have much of a budget to spend on accommodations, I recommend SleepCPH.
It's a bit outside the center but still walking distance (40 minutes, or faster with the metro) from Nyhavn, the heart of central Copenhagen.
It's located close to the airport so it's extra convenient if you have an early or late flight.
While it's not the most exciting neighborhood, the price is great and it is very convenient!
Luxury: Big money to spend in Copenhagen? You've got plenty of choices.
For a quirky but quietly upscale choice, Babette Guldsmeden has gorgeous design, is super eco-friendly, and has a rooftop terrace and sauna to enjoy.
The price is quite reasonable for expensive Copenhagen as well, especially if you are traveling outside of peak season.
What to Bring for One Day in Copenhagen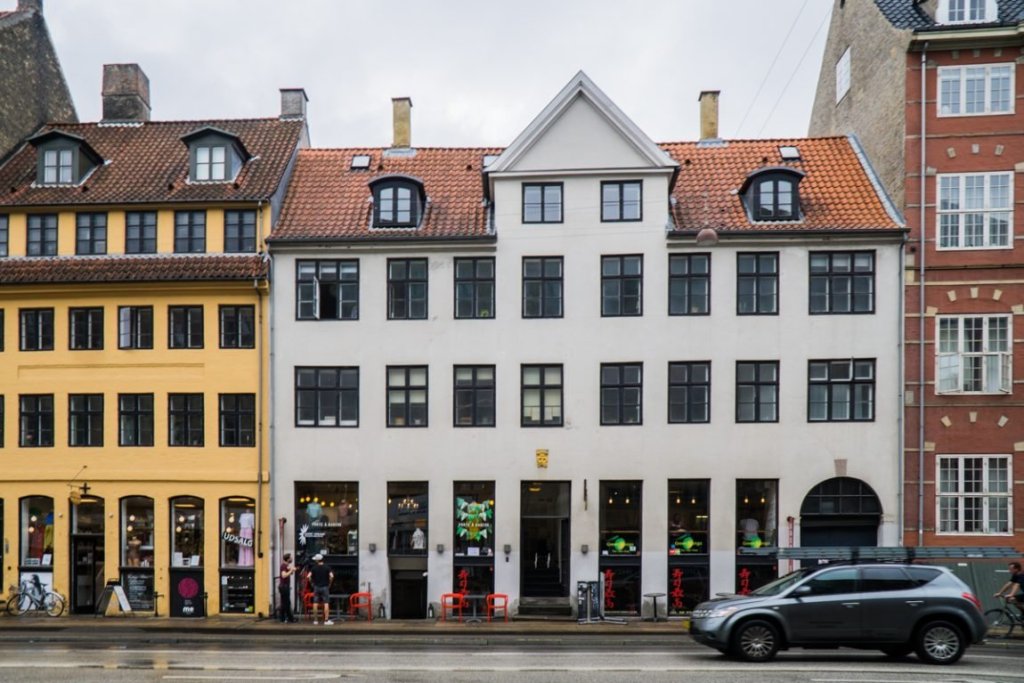 Rain jacket: Copenhagen isn't known for its spectacular weather — gray days are common and drizzle (or a downpour!) can come at any moment! I love the Marmot PreCip jacket because it has zippered underarm vents, making it extra useful in summer (think humid weather and thunderstorms!)
Comfortable walking shoes: This one day in Copenhagen itinerary has you walking basically everywhere… so you're going to want a comfy shoe. I love Hoka shoes! They're a bit chunky, but apparently that's very trendy right now — and even when that trend goes out of style, these are the most comfortable shoe I've ever worn, so you'll have to tear them out of my cold, dead hands.
Anti-theft bag: Copenhagen is a safe city… but pickpockets operate in virtually every European city that tourists go! My philosophy on avoiding pickpockets is you need to not be the most obvious target. I love this PacSafe CitySafe backpack because it has interlocking zippers that very clearly get locked into place through a metal clasp — it's visibly clear to any potential pickpocket that this will not be an easy target! Just make sure you keep all of your high-value items in this part of the bag, as other parts are more easily accessed.
Protect your travel investment!

Travel insurance coverage helps you recoup your losses in case of emergency, accident, illness, or theft.

I rely on SafetyWing for coverage when it comes to trip interruptions and cancellations as well as accidents and medical emergencies.

It offers great rates starting around $12/week with clear, easy-to-read coverage.
Allison Green is a former educator turned travel blogger. She holds a Masters in Teaching and a B.A. in English and Creative Writing. Her blog posts merge her educational background and her experience traveling to 70+ countries to encourage responsible, enriching travel. She has been a speaker at the World Travel Writers Conference and her writing, photography, and podcasting work has appeared in National Geographic, CNN Arabic, CBC Canada, and Forbes, amongst others. Now a full-time traveler, she has lived in Prague, Sofia, New York City, and the San Francisco Bay Area.