Many people think of French Polynesia and their minds immediately go to honeymoons in an overwater bungalow in Bora Bora, but there's so much to Tahiti than just that!
Tahiti is the largest island of French Polynesia and it has just a little bit of everything that French Polynesia has to offer — so much so that it's absolutely worth dedicating a few days to Tahiti.
This Tahiti itinerary will help you make the most of this gem and hopefully help you see why it's an integral part of any French Polynesia itinerary.
You see, the island of Tahiti itself is much more than just a layover for international flights between your origin and Tahiti's more popular neighbors in the Society Islands.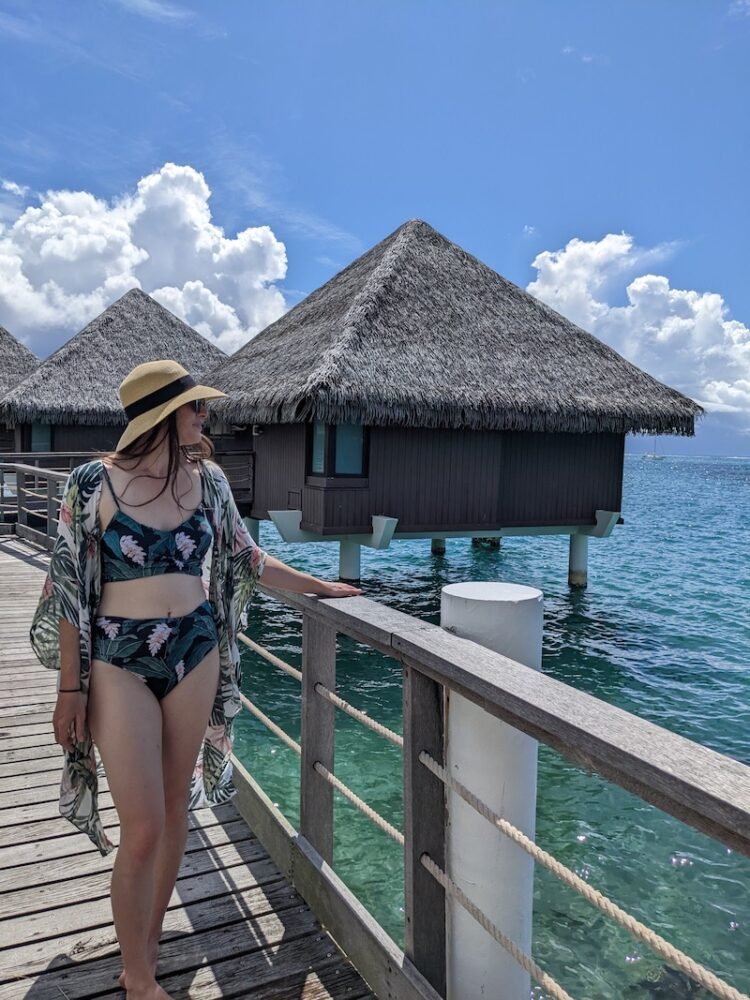 Note: This post contains affiliate links, which means I may receive a small commission if you purchase something through one of these links. Thank you for supporting the free content on this site! For more information on affiliate links and cookies, see my disclosure page for more details.
One of the best gems in the South Pacific, any trip to French Polynesia should dedicate a few days to the main island of the Islands of Tahiti.
We're talking black sand beaches, towering waterfalls in lush tropical landscapes, food trucks slinging fish so fresh they often don't even bother cooking it.
And that's just what's on land: you can't forget the stunningly clear waters, home to an array of vivid coral garden landscapes and all sorts of marine life for divers and snorkelers alike.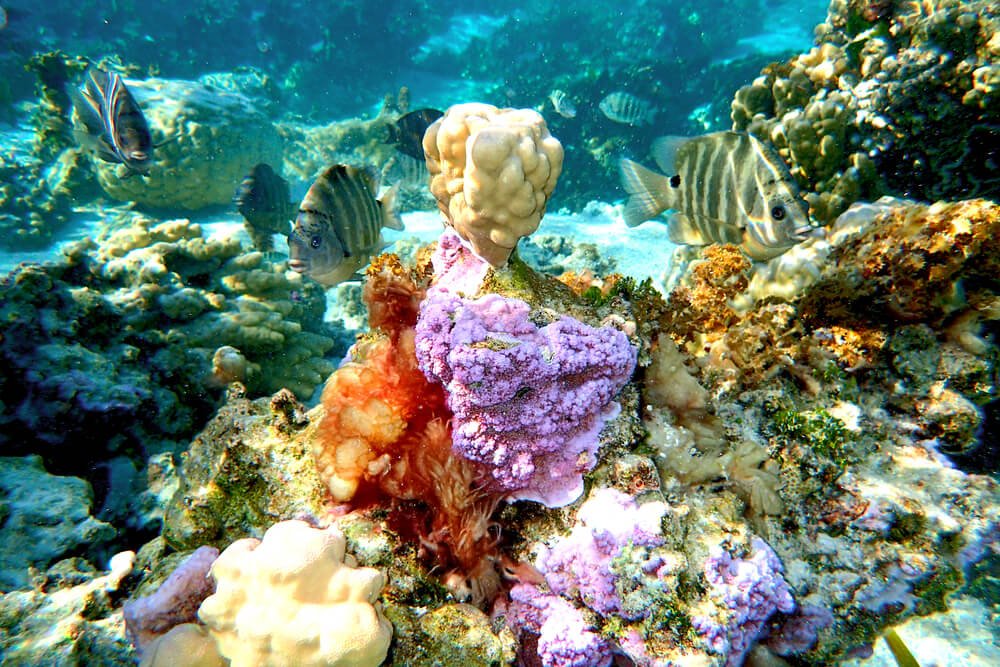 It's the largest island of French Polynesia and it has just a little bit of everything this massive island nation has to offer.
Why wouldn't you have the best time in Tahiti?
This Tahiti itinerary covers what to do in 3, 4, or 5 days on the island.
I've front-loaded this Tahiti itinerary with all the best things in do in Tahiti first, so that if you only have 3 days in Tahiti, you won't miss the highlights.
If you have more than 3 days in Tahiti (I personally spent 5 days in Tahiti), then you can add on even more epic experiences.
(And if you're also visiting Moorea, I have a 3 to 5 day Moorea itinerary, too!)
Day 1 of Your Tahiti Itinerary: Road Trip Around the Island
Start the day at Papeete Market.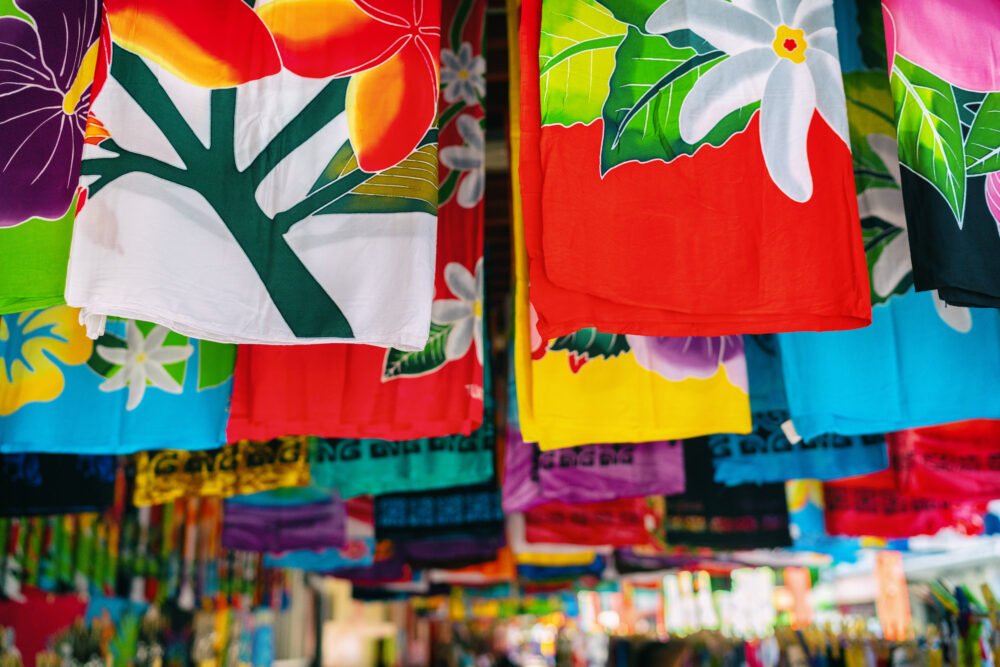 At its most bustling early in the day, visiting Papeete Market is a must on your Tahiti itinerary.
Head here first thing in the morning to grab some fresh fruits and snacks to keep you satisfied on your road trip today.
You'll find all sorts of unusual tropical fruits, like starfruit and breadfruit, that are hard to find outside of Tahiti.
This is also a great place to grab some Tahiti souvenirs!
You can also grab some French pastries nearby if you want coffee and some pastries for breakfast.
I recommend Le Palais Patisserie which is a little bit outside of downtown Papeete or Les Rêves de Lucie which is closer to Papeete Market.
Coffee, pastries, and fresh fruit: truly the best way to start the first day of your Tahiti itinerary!
Head to the Grottes de Mara'a.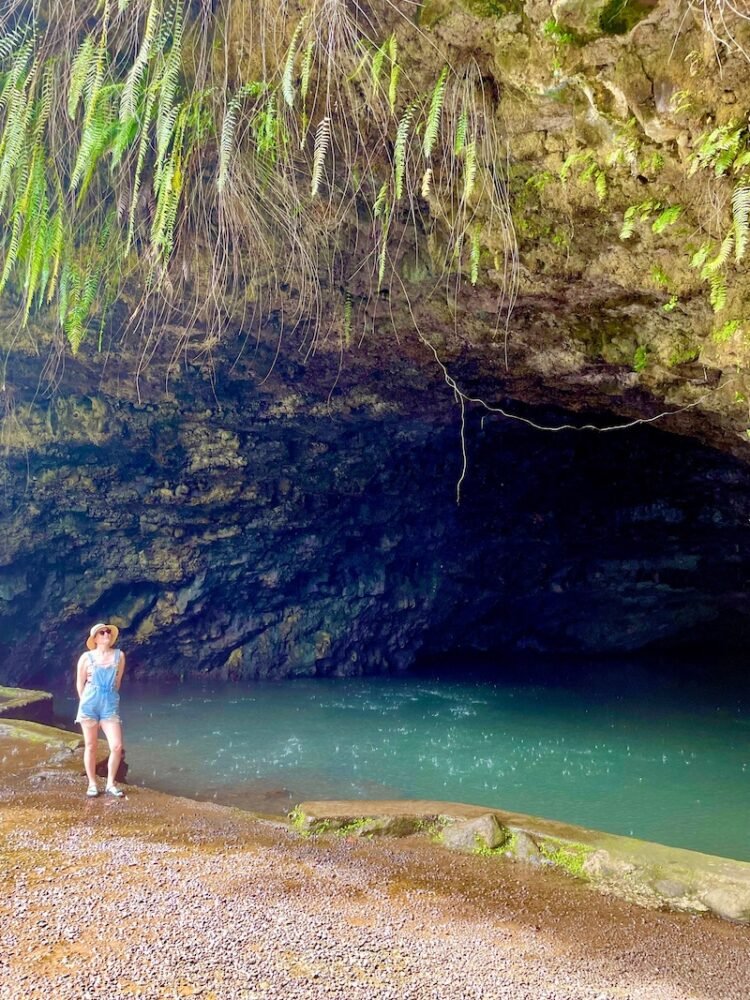 On this road trip of Tahiti, we'll be moving counter-clockwise, starting with Tahiti's more populated West Coast and ending the day along the East Coast.
One of my favorite places on Tahiti's West Coast are the beautiful Grottes de Mara'a, a stunning cave sheltering a beautiful turquoise blue pool of water.
Unfortunately, as inviting as the pool of water looks, taking a swim is prohibited for safety reasons!
The garden path leading up to the cave is stunning, and the face of the cave is beautiful as well.
Fern crawls down all over the rock before the cave's entrance while water trickles down from above, creating a peaceful sound of light rainfall and prismatic rainbows as you look up to the sky.
This is one of my favorite places in all of Tahiti and a great way to spend about 30 minutes.
Take a peaceful walk in the Vaipahi Water Gardens.
One of the best things about taking a road trip around Tahiti is that you'll find many of its loveliest attractions are free!
The Vaipahi Water Gardens are one such free attraction, full of beautiful flowers and home to a stunning waterfall that you can easily walk to, less than 10 minutes away from the parking lot.
After admiring the waterfall, you can continue walking around the gardens, or you can use this as a departure point to take one of the three hiking trails that depart from here.
You can hike the Vaipahi Great Loop (5 km, about 2 hours), the Vaipahi Small Loop (2.7 km, about 1 hour 15 minutes), or the Vaipahi River Trail, (1 km, about 35 minutes).
If you want to see more botanical gardens, you can continue onward to the Harrison Smith Botanic Garden, but I don't think it's necessary.
Head down to Tahiti Iti to end at Plage de Tautira for lunch.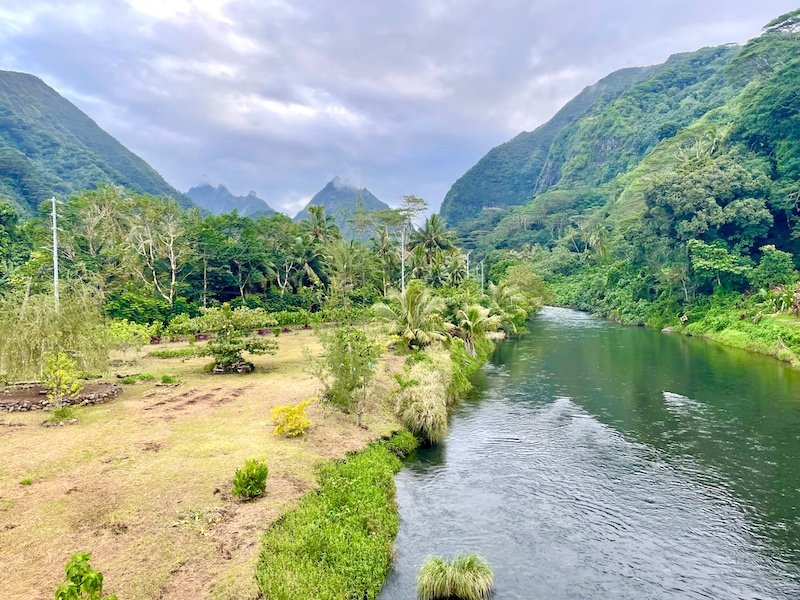 As part your road trip, you should make your way down to Tahiti Iti, the smaller peninsula at the southern part of Tahiti.
Drive all the way down to Plage de Tautira to enjoy one of Tahiti's most scenic vistas: a stunning display of natural beauty where few tourists ever make it!
From the beach, you can look back to see three waterfalls in a row, all flowing against a backdrop of jade-green mountains, as well as the mouth of the Vaitepiha River and the valley it creates.
Grab a bite to eat at Roulotte Ahlan Tautira (roulotte means 'food truck') and either a smoothie or a virgin piña colada at Te Anuanua Bowl.
Check out the Fa'aruma'i Waterfalls.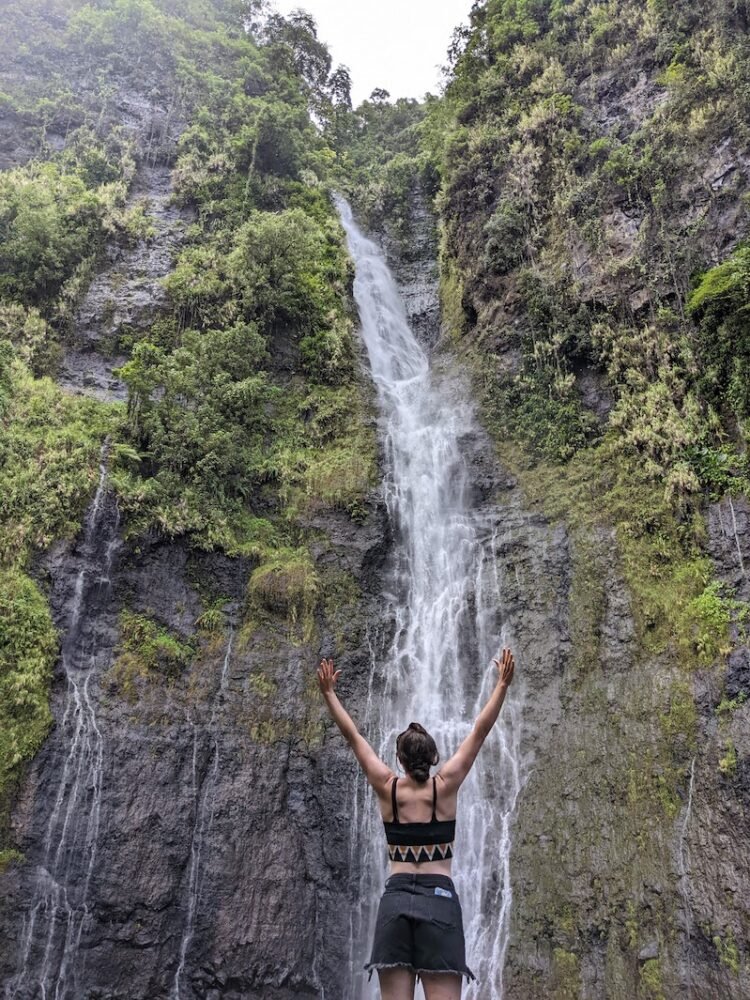 On an island full of waterfalls, it's hard to assert which one is best, but I'd argue that it's the trio of waterfalls called the Fa'aruma'i Waterfalls on Tahiti's quiet east coast.
Just off the main road, you'll find a parking lot and then it's a quick 5-minute walk through a stunningly lush green landscape to the first waterfall.
You'll have to double back to where you started and walk about 10 minutes more to reach the other two waterfalls, which are unbelievably beautiful.
Give yourself about an hour to enjoy these waterfalls and the hike at leisure.
Watch the waves at the Arahoho Blowhole.
One unique place to visit along the East Coast is the Arahoho Blowhole which was created by a lava tube hundreds of thousands of years ago.
As the lava cooled, it formed a tunnel along the sea's edge.
Now, when waves are particularly strong, the lava tube creates a "blowhole" effect — water shoots into the air dramatically, like what you'd see from the spout of a whale!
The height of the spout varies depending on the wave strength, but it can blow as high as 30 feet during high tide with large waves!
Watch surfers on Tahiti's East Coast.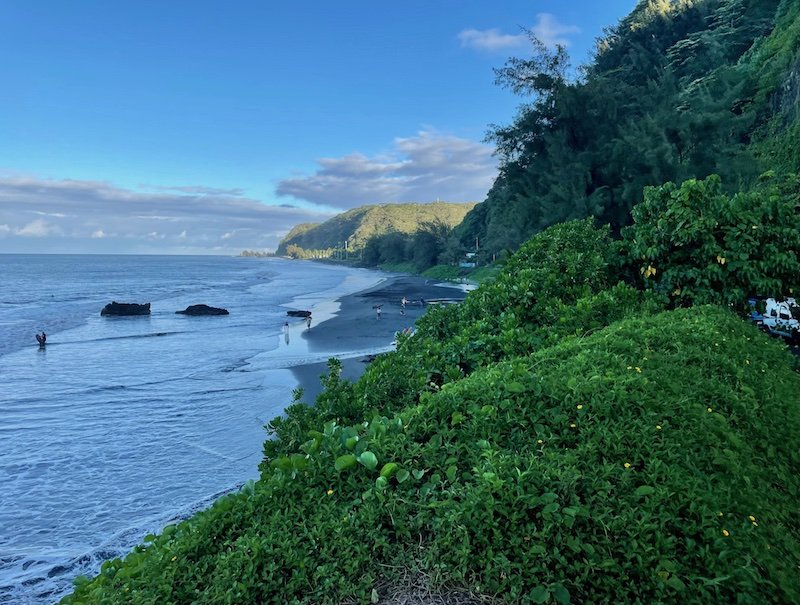 My first time surfing was my last, but I still love watching surfers do their thing. It's beautiful and artful and epic!
One of the best places to watch surfers is at the Baie de Papeno'o.
There's another spot just a bit south of the Ta Pahi Point that is unmarked but is also popular with surfers.
Stop at Point Venus for sunset.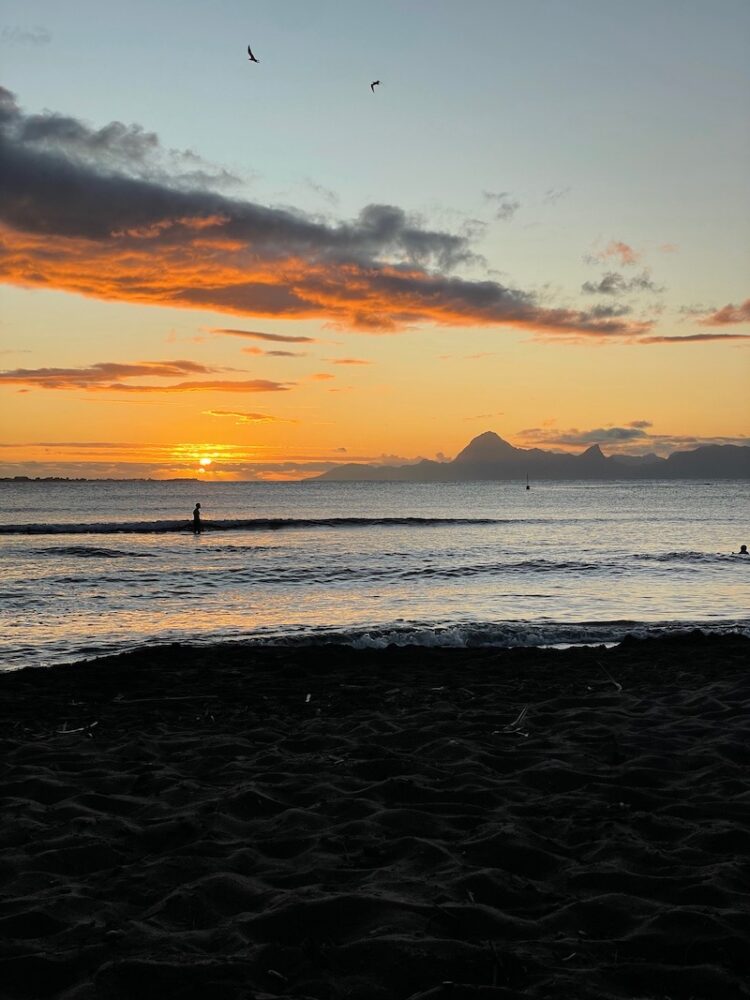 Home to a beautiful light house and a black sand beach with a picture perfect view of the island of Moorea right in front of you, Point Venus is a must-visit at sunset.
Bring a beach towel, some snacks, and get ready for one of the most stunning sunsets you'll ever see!
Enjoy the local cuisine of Papeete for dinner.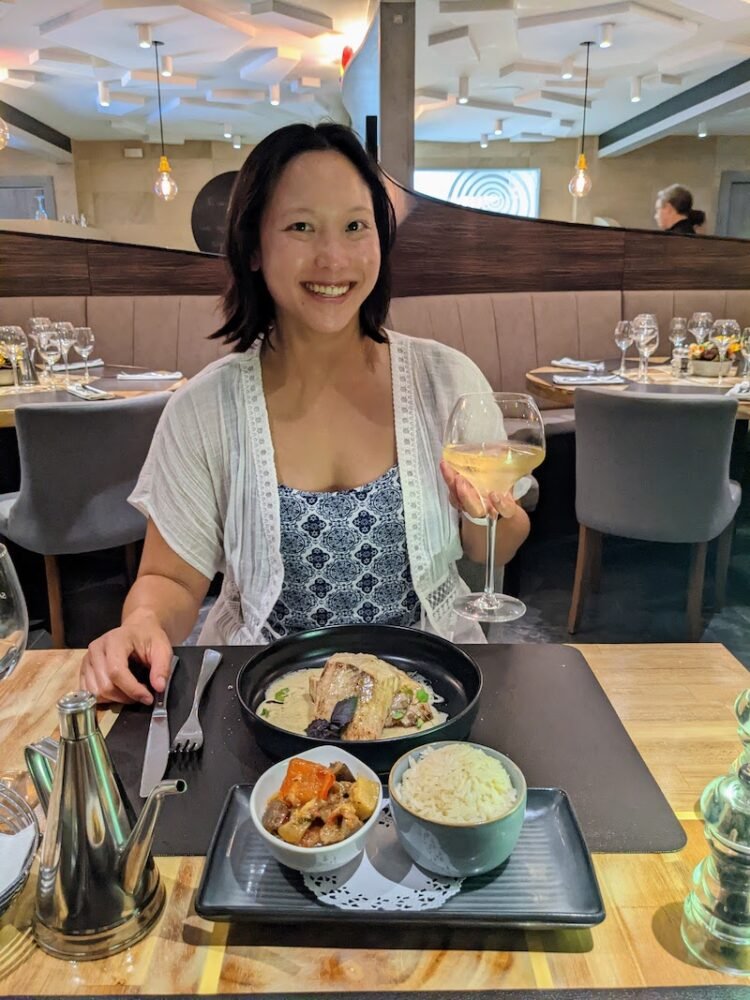 Papeete has a ton of wonderful restaurant offerings, from food trucks to fine dining.
You'll find an array of food trucks at Viate Square in downtown Papeete, as well as numerous restaurant offerings.
Our favorite place we ate at in Papeete was L'O A La Bouche.
We had beef tartare, mahi mahi with Tahitian vanilla and coconut sauce, papio with passionfruit and ginger sauce, and a trio of crème brûlées.
It was the best meal we had in all our 10 days in French Polynesia and best of all, it didn't break the bank too hard at only $55 USD per person, which is what I'm used to paying for far less in the Bay Area!
Day Two of Your Tahiti Itinerary: Whale Watching, Snorkeling, and/or Diving
Go snorkeling with humpback whales, if the season allows.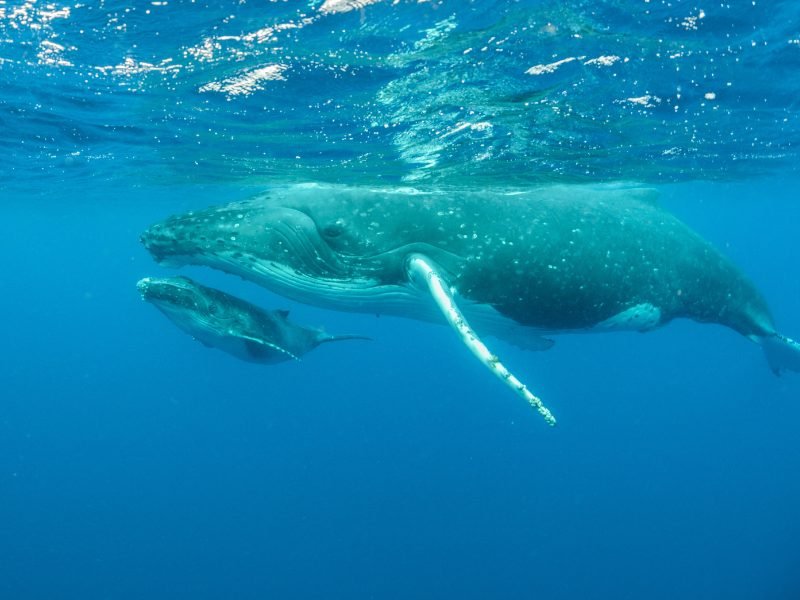 One of the most memorable things to do on a Tahiti itinerary is swim with the humpback whales!
Approximately from July through early November, the humpback whales migrate through Tahitian waters, where they mate, birth, and raise their young.
I suggest going with a small operator who keeps ethical whale watching and wildlife interaction practices at the forefront of their mind.
This tour operator has a good reputation, it came recommended by our dive operator in Moorea.
Their tours depart from a more remote part of the island, so you won't be crowded by other tours (and more importantly, the whales won't be crowded by you!).
Remember that Tahiti and Moorea are one of the few places in the world where you can snorkel in the water with humpback whales.
Keep this so by listening to everything your local guide tells you so that you can interact with these whales in a safe and ethical manner.
Humpback whales are not dangerous and do not eat humans.
Still, just like with any wildlife, don't interfere with their natural habitat or natural behaviors by interacting with them.
Admire them from a distance and if you're lucky, you may even get to hear their unique whale song while you snorkel with them!
Take an afternoon snorkel tour.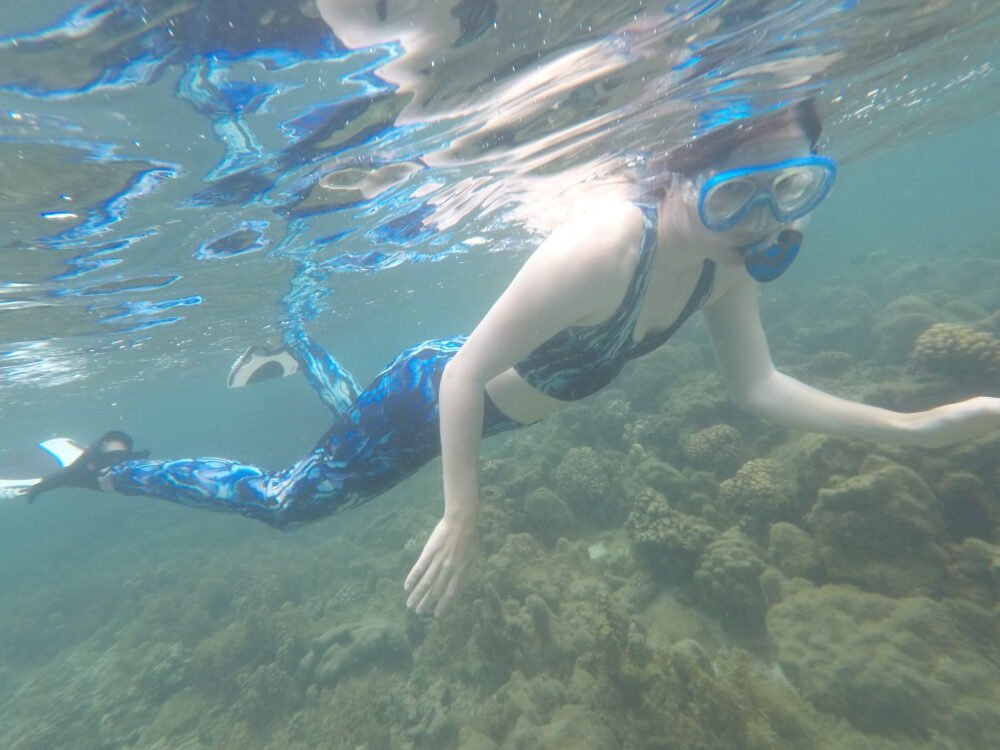 If you can't snorkel with whales because you're there outside of whale season, don't worry — Tahiti still has plenty of snorkeling opportunities!
Or if you just are itching to get back in the water, you can do these two snorkeling activities back-to-back.
You can do a snorkeling tour like this one, which brings you to the popular snorkel site called The Aquarium.
This site is home to three wrecks, and beautiful coral reefs and tropical fish have made their home around the wreckage, creating a beautiful contrast!
Alternately: Scuba dive by morning, snorkel with whales by afternoon.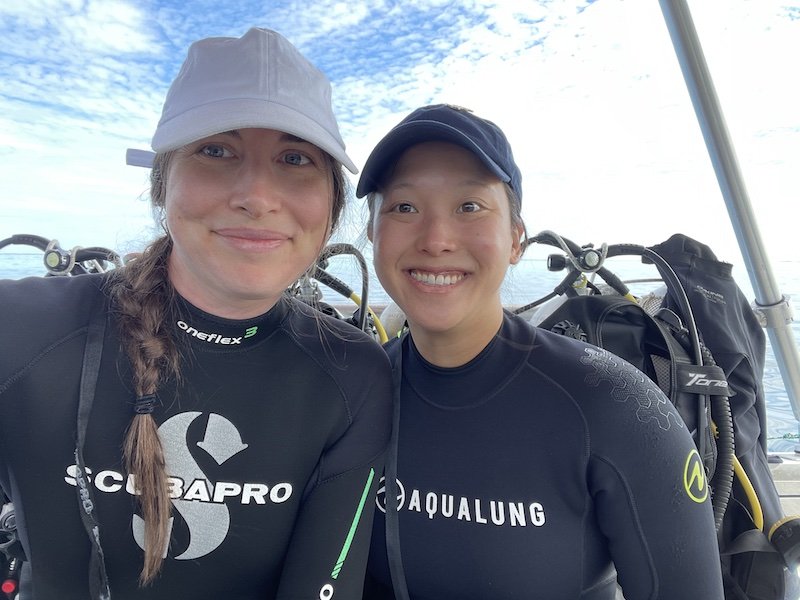 We dove four times in Tahiti and each dive was incredible, with unique sights on each that differentiated it from the last.
Beautiful and healthy coral, an abundance of tropical fish, and many sea turtles were three of the things all dives had in common.
But we also got to see all sorts of different underwater landscapes, from shallow reefs and underwater springs to undulating valleys of coral to steep coral walls.
It can be hard to time this day properly, so if you're traveling in whale season, so I'd suggest doing a one-tank dive in the morning with this dive company and then do a whale snorkeling tour at 1 PM.
If you're traveling outside of the humpback whale season, you can do a two-tank dive.
Day 3 of Your Tahiti Itinerary: More Diving or Trip to the Papeno'o Valley
Option 1: Do more scuba diving or snorkeling.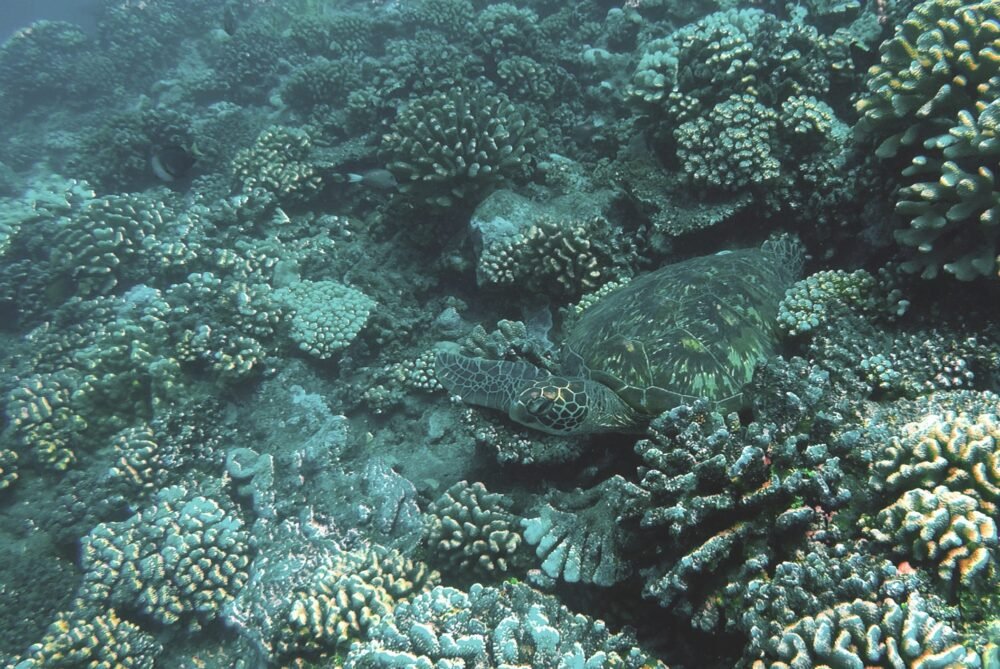 The priority of our Tahiti itinerary was scuba diving, so we structured our itinerary around that.
Overall we did two days of two-tank dives and felt like we only scratched the surface of what diving in Tahiti had to offer!
If you can't dive but want to get back in the water, this snorkeling tour is run by the same operator who also runs the whale watching tours, and it comes highly recommended by local dive shops in the area.
Option 2: Go for a 4×4 tour of the Papeno'o Valley.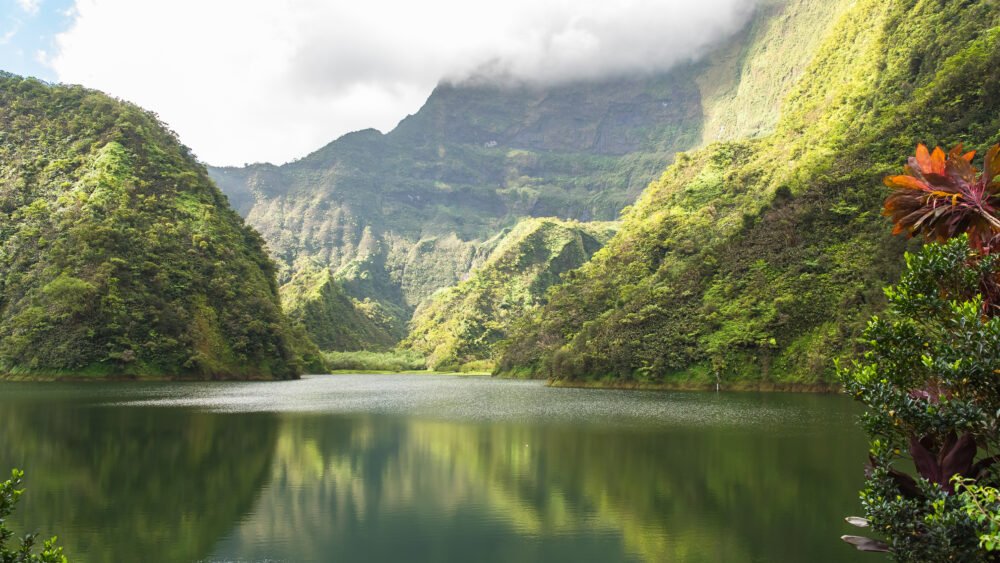 For a tour that — literally — goes off the beaten path, take a 4×4 safari through the stunning Papeno'o Valley.
This road crossing through the interior of Tahiti is no longer maintained, so it's only accessible by a 4×4… and there are very few, if any, 4x4s available as rental cars in Tahiti.
The Papeno'o Valley's inaccessibility is exactly what makes it one of the most scenic parts of Tahiti!
Without any other tourists crowding the way, you'll see countless waterfalls, colorful tropical plant life, scenic lakes, and landscapes that look straight of out the Jurassic Park movie.
I recommend this 4×4 Island Crossing tour to show you the parts of the island that you can't access with your own car!
Day 4 of Your Tahiti Itinerary: Day Trip to Moorea
Head to Moorea bright and early.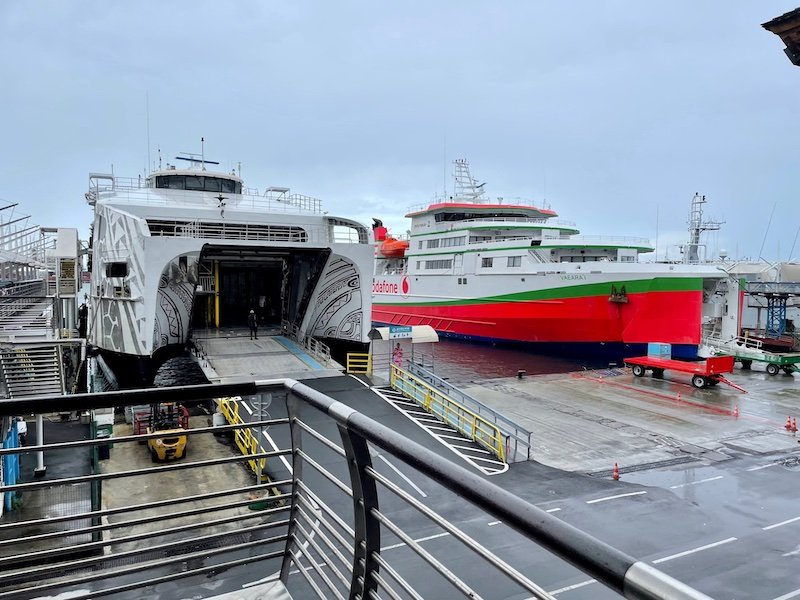 Moorea is definitely worthy of several days (we spent 5 days on Moorea) as there are so many great things to do in Moorea.
However, if you only have time for a day trip, you can absolutely make the most of it because the ferry from Tahiti to Moorea is so easy!
Head to Gare Maritime and book a spot on the Tahiti-Moorea ferry — there are departures approximately every 30 minutes to an hour.
Option 1: Snorkel on Temae Beach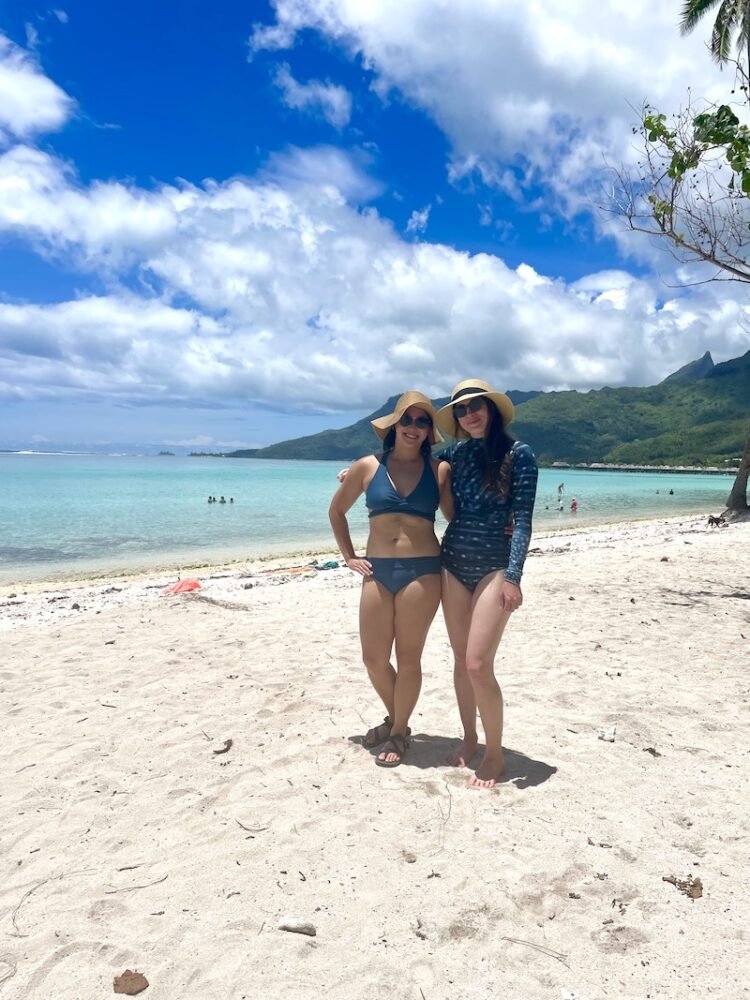 One of the best ways to spend your day trip to Moorea would be spending the day at the public beach of Temae Beach.
This is one of the best snorkeling spots in Moorea and it has some of the most amazing off-shore snorkeling (no need for a boat or tour!) that I've ever seen.
Plus, Temae Beach is located very close to the ferry so it's a cheap and easy taxi.
Just be sure to arrange your pick-up from your taxi driver too, because it's hard to get a taxi at Temae Beach itself.
There's a good food truck at Temae Beach that serves delicious poke bowls as well as coffee, etc.
Also, be sure to bring your own snorkel gear because there's nowhere to rent snorkel equipment if you don't have it.
You will definitely want snorkel fins too because the reef is a bit far out and you'll need your fins to swim that far without tiring yourself out (and you should still be a decently strong swimmer or bring your own floatation device)
Option 2: 4×4 Safari Tour of Moorea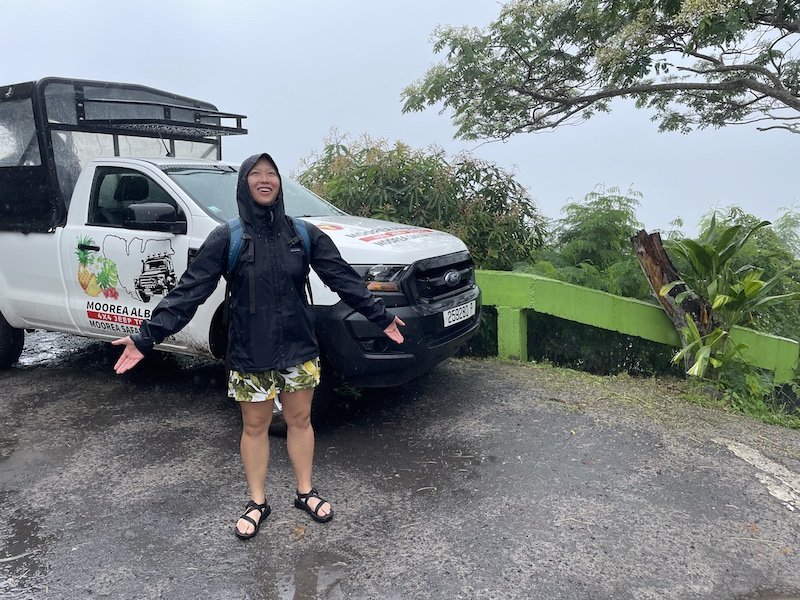 Another option is that you can go on a 4×4 safari tour of Moorea that will bring you to all the most famous spots on the island.
I suggest you book the afternoon tour to give yourself enough time to get to and from Moorea from Tahiti!
This tour will take you to Moorea's best lookout points, Magic Mountain with views of Ōpūnohu Bay as well as the Belvedere.
It will also take you to a vanilla plantation where you can sample some local jams and products as well as the pineapple fields of the Rotui factory (Moorea is known for its pineapples).
Option 3: Take a sailing and snorkeling tour of Moorea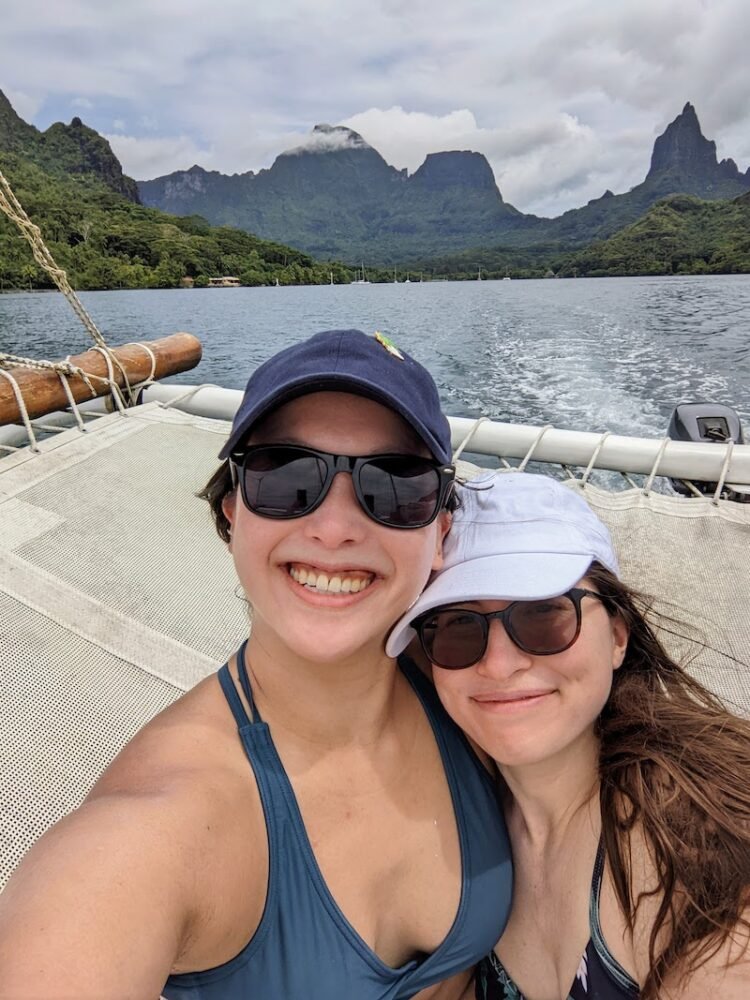 This sailing and snorkeling tour was one of my highlights of Moorea!
On board a cute little catamaran with a net to relax on, we first went to a beautiful lagoon where there were lots of black-tipped reef sharks and sting rays!
This was an incredible place to snorkel and is different from many other snorkel spots in Tahiti where you won't see rays or sharks in such large numbers.
We truly lost count of how many we saw!
After we went to another snorkel spot, between two motus (small islets) where there was beautiful coral and lots of fish to ooh and ahh over.
We got to enjoy fresh fruit, juice, and rum along the tour in between our destinations!
Again, book the afternoon tour of this if you are coming over from Tahiti on a day trip.
Day 5 of Your Tahiti Itinerary: Pick Your Final Adventure!
Option One: Go canyoning and hiking through lava tubes.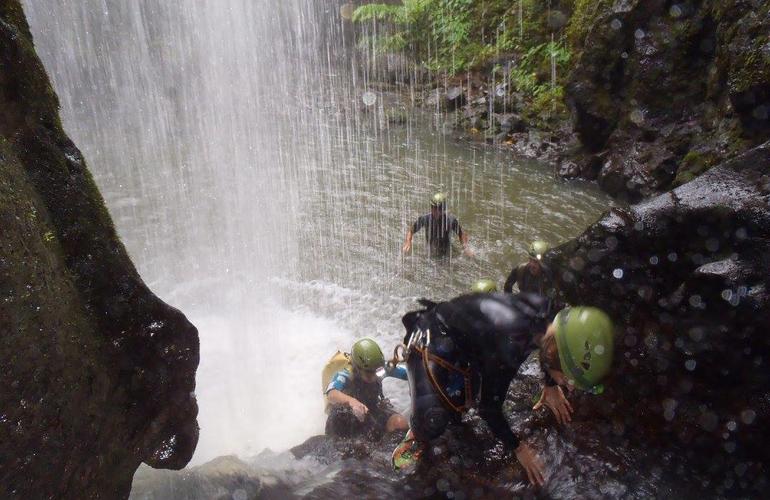 While you probably think of lagoons, coconut trees, and white-sand beaches when you think of Tahiti, there's more to Tahiti than just that.
Like Hawaii, Tahiti was formed by volcanic activity, leaving behind many hollowed-out lava tubes you can explore, the most famous of which are in Hitiaa.
You can take a full-day lava tube & canyoning tour where you hike through dark lava tubes with nothing but a headlamp for light, then swim and canyon through pools, and rappel down waterfalls!
If rappelling down waterfalls seems too scary for you, you can just pick the hiking option which does not include any rappelling/abseiling!
Option Two: Explore more of Tahiti Iti & Teapuhoo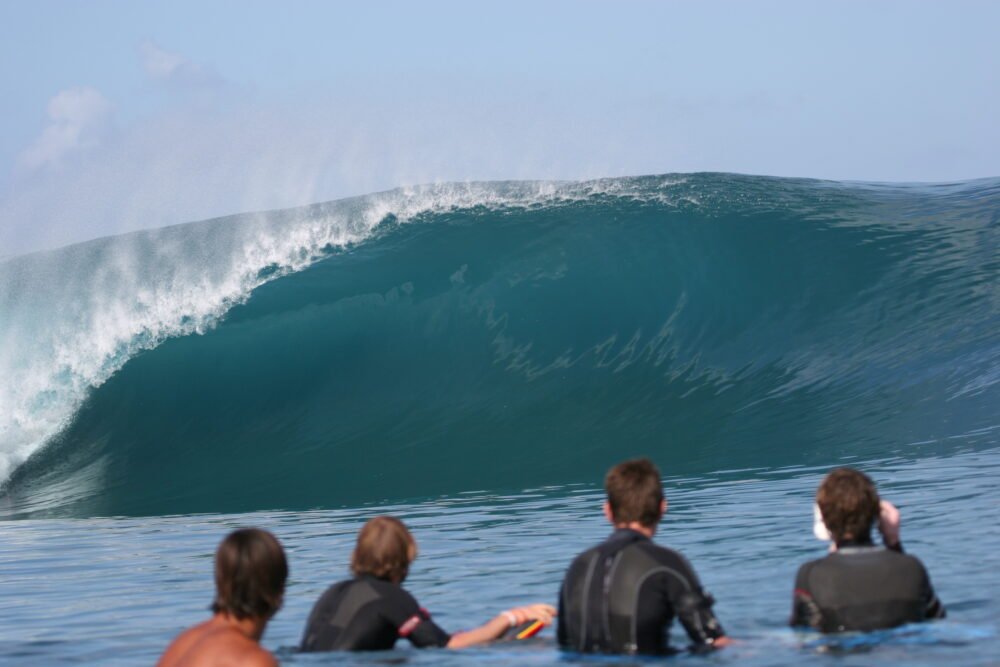 Another possible way to spend your final day in Tahiti would be taking a boat excursion around Tahiti Iti leaving from Teahupoo, the place with the biggest and baddest waves in Tahiti!
This tour starts in Teahupoo, and includes places you can only visit by boat because the road doesn't go any further!
You can visit Vaiau River, Vaipoiri Cave, the Te Pari Cliffs, and a secret lagoon snorkeling spot right off a sandbank, all in a quiet and little-visited corner of Tahiti!
Where to Stay in Tahiti
Guesthouse Pick: Fare Rearea
If you are looking for a traditional Tahitian guesthouse experience, we loved Fare Rearea in Papeete.
The location is perfect: central enough to walk to many places, but also having its own dedicated parking so we could always find a spot for our car after a long day of diving or exploring.
Our private studio room had its own little outdoor kitchenette and garden area, and the property itself had a fantastic pool and daily breakfast that were really lovely.
Resort Pick: Intercontinental Tahiti
We stayed for a few nights in a guesthouse, but we also wanted a little taste of the resort experience, so we chose to stay at the Intercontinental Tahiti for our last two nights.
We stayed in a deluxe room with a view of Moorea and it was stunning and spacious, with a beautiful balcony perfect for taking in the sunset.
The hotel's amenities were great — we loved the hotel restaurant, the infinity pool, the house reef you could snorkel at, and the lagoonarium where you could snorkel with colorful fish in an enclosed area.
The Intercontinental is home to the only overwater bungalows in Tahiti island proper, so if that's on your bucket list, this is the place!
Still, even if you just stay in a typical hotel room, it's a fantastic and unforgettable experience.
Allison Green is a former educator turned travel blogger. She holds a Masters in Teaching and a B.A. in English and Creative Writing. Her blog posts merge her educational background and her experience traveling to 70+ countries to encourage responsible, enriching travel. She has been a speaker at the World Travel Writers Conference and her writing, photography, and podcasting work has appeared in National Geographic, CNN Arabic, CBC Canada, and Forbes, amongst others. Now a full-time traveler, she has lived in Prague, Sofia, New York City, and the San Francisco Bay Area.