Obsidian black sand beaches, hundred-foot tall waterfalls, canopy-covered mountain peaks: there's no shortage of beauty on the island of Tahiti.
… And that's not counting Tahiti's pristine coral reefs and the amazing variety of marine life they shelter.
While many people skip over Tahiti in favor of more popular islands of Tahiti such as Bora Bora, I think Tahiti is the perfect place to spend several days.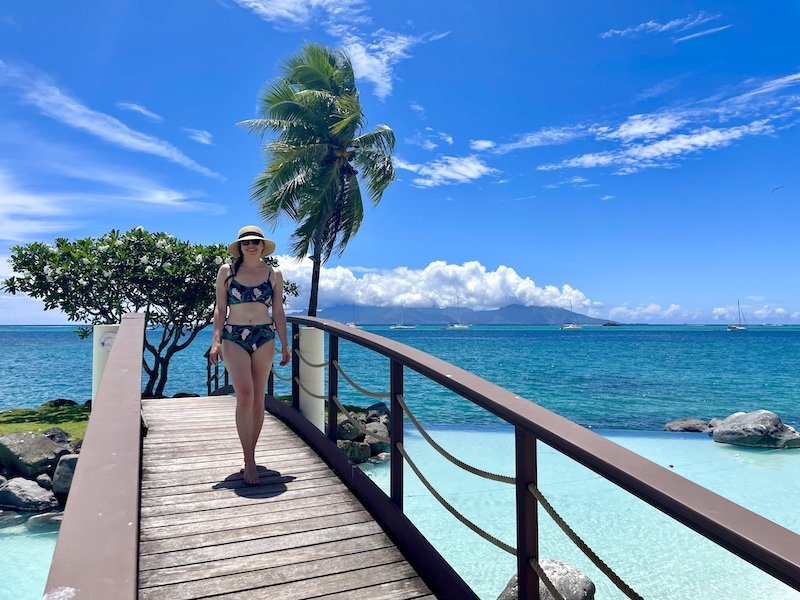 Note: This post contains affiliate links, which means I may receive a small commission if you purchase something through one of these links. Thank you for supporting the free content on this site! For more information on affiliate links and cookies, see my disclosure page for more details.
In this post, I'll show you just why Tahiti is worth visiting: mix and match these 33 top things to do in Tahiti to find the best way to enjoy your Tahiti vacation according to your own style!
This guide to Tahiti includes all sorts of different things, from water activities to 4×4 tours through otherwise inaccessible valleys, featuring all the most beautiful places in Tahiti along the way.
You can read this guide to make your own itinerary, or you can read my 3 to 5 day Tahiti itinerary to get an idea of how to structure your trip (and add on anything else you want along the way).
By the way, also visiting Moorea? I have a sister post to this one, with 33 more epic things to do, but in Moorea this time!

You can also see a post where I organize some of the top things to do in a Moorea itinerary.
Where is Tahiti?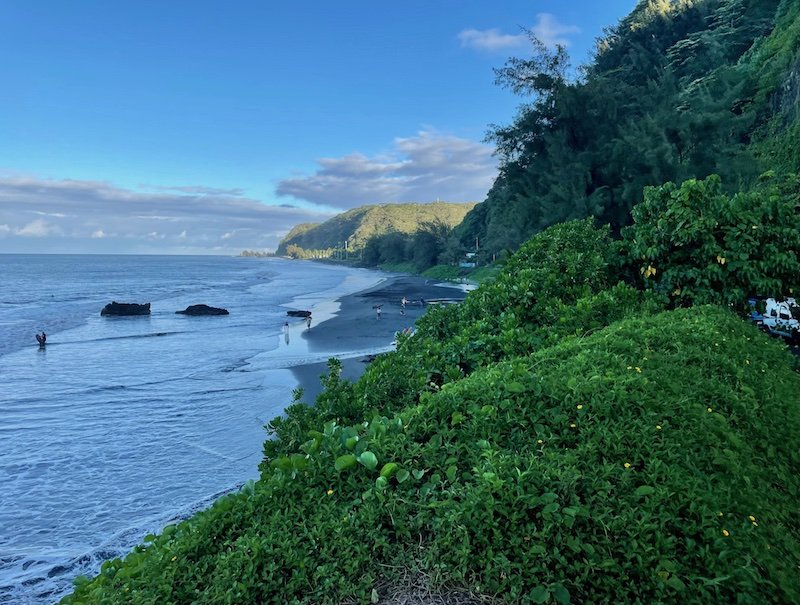 One of the largest and most famous South Pacific Islands, the island of Tahiti is the main island of French Polynesia.
Tahiti is home to the capital city of Papeete, the most populated island in French Polynesia.
Approximately 27,000 people live in Papeete itself, and about 137,000 people in the metro area of Papeete.
Tahiti is part of the Windward Islands, the eastern group of the Society Islands. Its neighboring islands include Moorea, Mehetia, Tetiaroa, and Maiao.
The larger group of islands which Tahiti belongs to is called the Society Islands, which includes Bora Bora, Huahine, Raiatea, Maupiti, Tahaa, Maupihaa, Manuae, and Tupai.
There are four other island groups which are part of French Polynesia the Tuamoto Islands, the Austral Islands, the Marquesas Islands, and the Gambier Islands.
How Do You Get to Tahiti?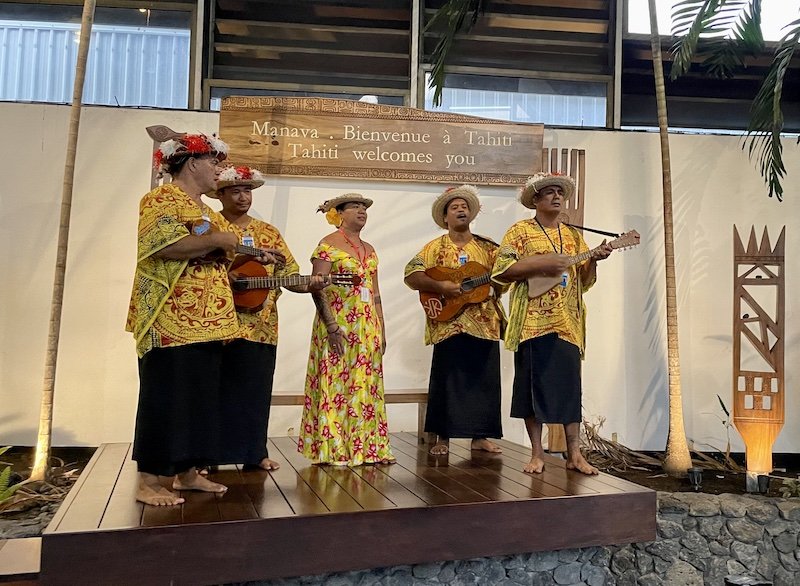 Several airlines serve Faa'a International Airport (PPT), the only international airport in French Polynesia.
If you want to go to any other French Polynesian Islands, you'll have to pass through Tahiti first!
Most major airlines leave either from California (SFO or LAX) if you're coming from the United States, or New Zealand (AKL) if you're coming from Oceania.
French Bee, United, Air Tahiti Nui, Air France, Air Calin, Air New Zealand, Hawaiian Airlines, and Latam Airlines are the airlines that serve Tahiti.
The Best Things to Do in Tahiti
Swim with the humpback whales of Tahiti.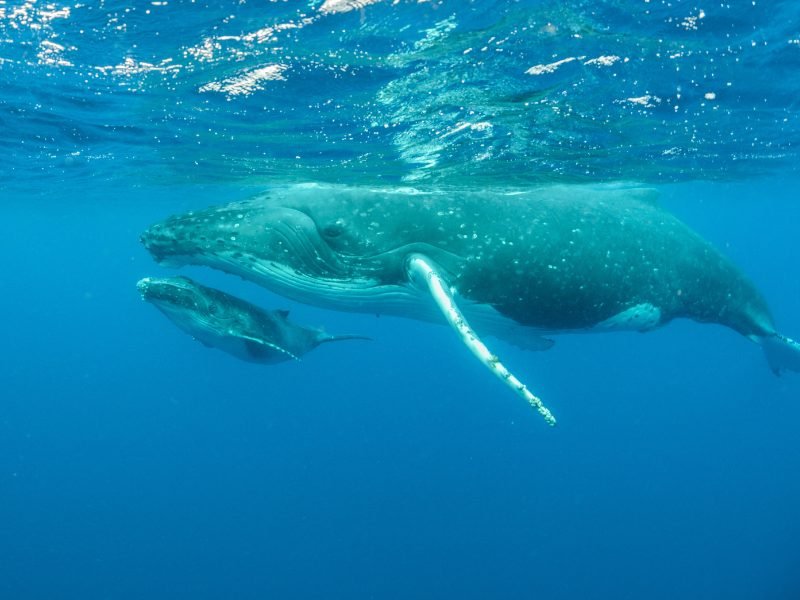 If you visit Tahiti during humpback whale season, you can't miss the chance to swim with these gentle giants!
From roughly July to October each year (and sometimes into early November) the humpback whales migrate to the waters around Tahiti: it's the perfect place to mate, birth, and raise their babies.
One of the most memorable activities you can do in Tahiti is go swimming with humpback whales.
To make sure your whale watching is ethical, I suggest going with a small operator.
The tour I'm recommending is run by a small operator with a great reputation on the island, in a remote part of the island where there are fewer operators so you won't be crowded by other people.
Very few places in the world allow you to do this, but Tahiti is one of them where you can actually snorkel in the water with these incredible creatures!
Your local guide will make sure you interact with these whales safely and ethically, keeping a safe distance for everyone.
Humpback whales are not dangerous, but as with any wildlife, you shouldn't mess with their natural habitat by interacting with them: just admire them from a distance.
If you're lucky, you may even get to hear their unique whale song from underwater!
When I went whale watching in Oahu, I learned that the whale song is the same between all the whales, but it changes each year: they pick a new tune that they like, and they all use it in unison! Pretty cool, right?
Make sure you add this to your Tahiti itinerary if you're visiting in whale season!
Eat delicious local foods at Tahiti's many food trucks.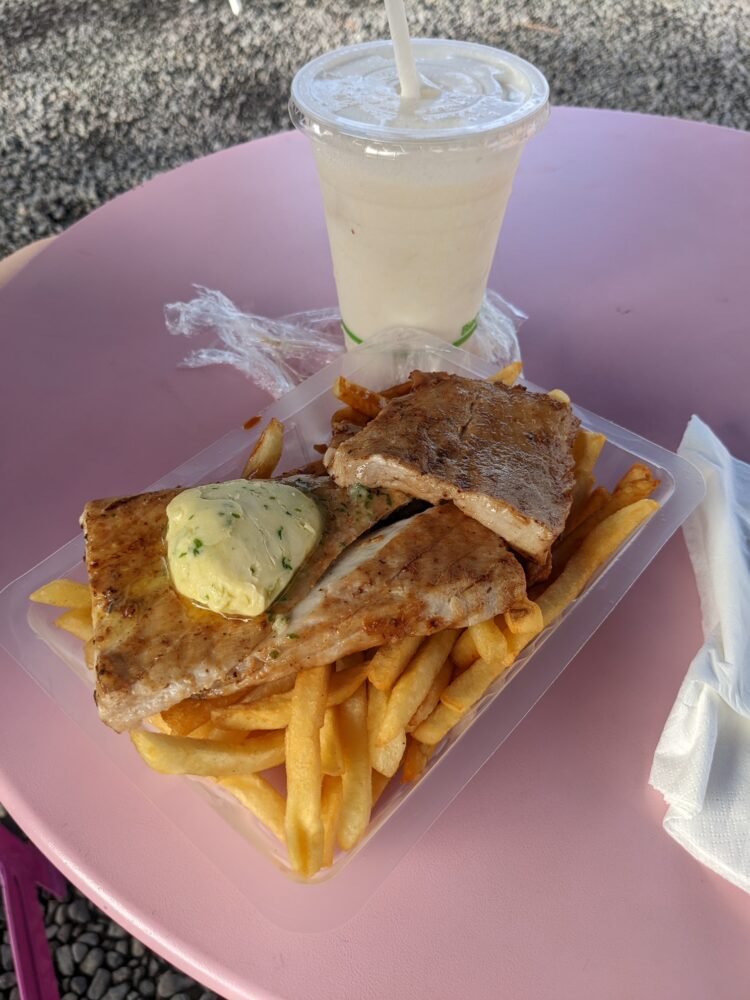 An essential part of experiencing Tahitian culture is joining the locals and tourists alike at a food truck (locally called a roulotte).
These food trucks serve up delicious fresh and often rather healthy food for affordable prices.
Of course, with all the crystal clear waters around you, it's no surprise that many of the food trucks in Tahiti feature incredible seafood!
One of the most famous Tahitian dishes is poisson cru, which is French for raw fish.
The freshly sliced raw tuna is served with thinly julienned vegetables like raw onion and carrots, and doused in delicious coconut milk!
Other popular dishes you'll see served at the food trucks in Tahiti and Moorea include seafood brochettes (kebabs), fish burgers, tuna ceviche, tuna carpaccio… you name it, there's probably a tuna version of it!
You'll find food trucks all over Tahiti and Moorea, but the most popular place in Tahiti is Viate Square.
Splurge on a fancy night out in Papeete's best restaurants.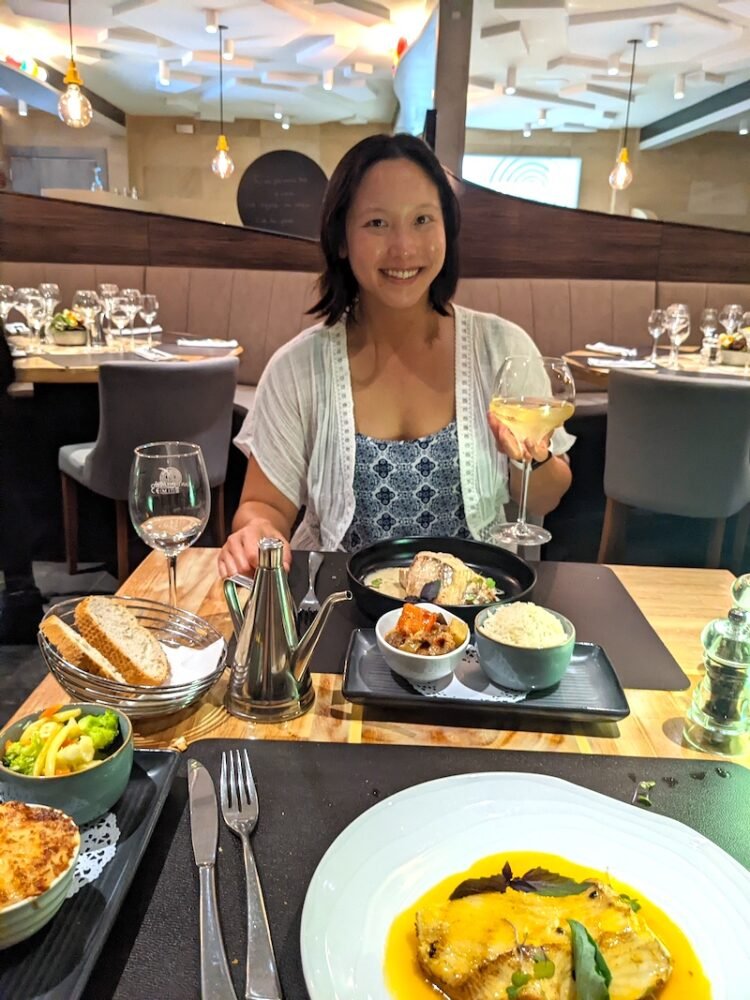 While Tahiti's food trucks are incredible, Papeete also has some great fine dining options where you can have an incredible meal at a reasonable price, especially compared to U.S. food prices (which is my point of comparison).
My partner and I had an incredible meal at L'O A La Bouche. We started with some of the best beef tartar we've ever had, and then followed it up with a seafood course each.
She had the mahi mahi with Tahitian vanilla and coconut sauce, and I tried the papio (a local fish) with a passionfruit and ginger coulis. Both were incredible!
We ended the meal with a trio of crème brûlées, including pistachio, Tahitian vanilla, and chocolate.
It was certainly a meal to remember, and at just $55 per person including drinks, it was a great deal!
Explore the fresh tropical fruits at Papeete Market.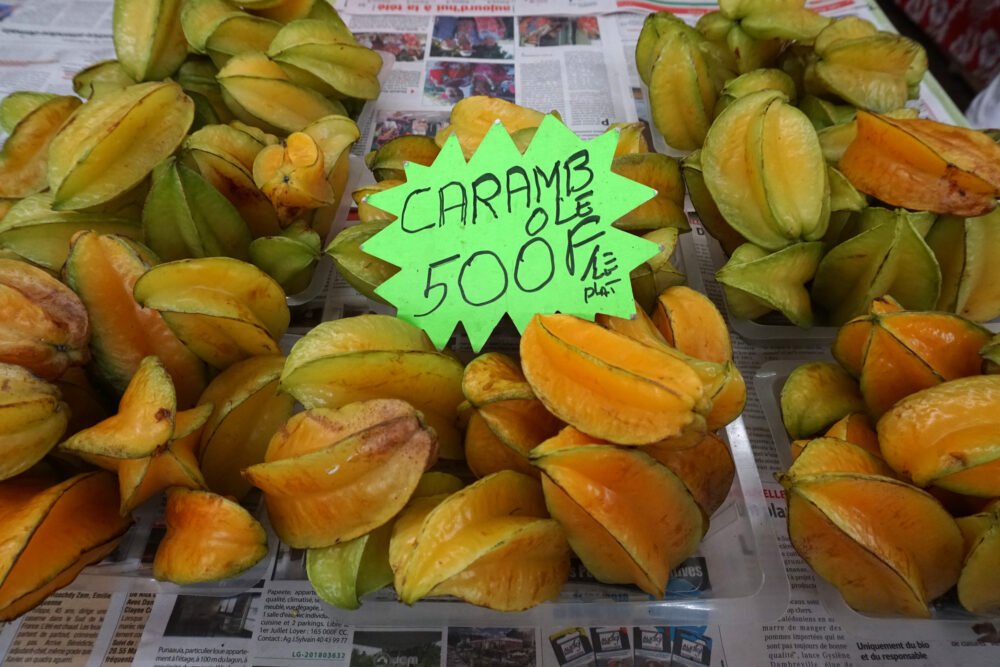 One thing I really like when traveling to tropical places is seeing what sort of unique tropical fruits you can find!
You'll find all sorts of fresh produce at the Papeete Market (Marche de Papeete), including star fruit (carambole), breadfruit (ulu), taro, and more.
Best of all, the produce is really affordable for the quality and freshness!
Besides tasty fresh produce, you can also get some beautiful Tahitian souvenirs here.
Go canyoning in Tahiti's lava tubes.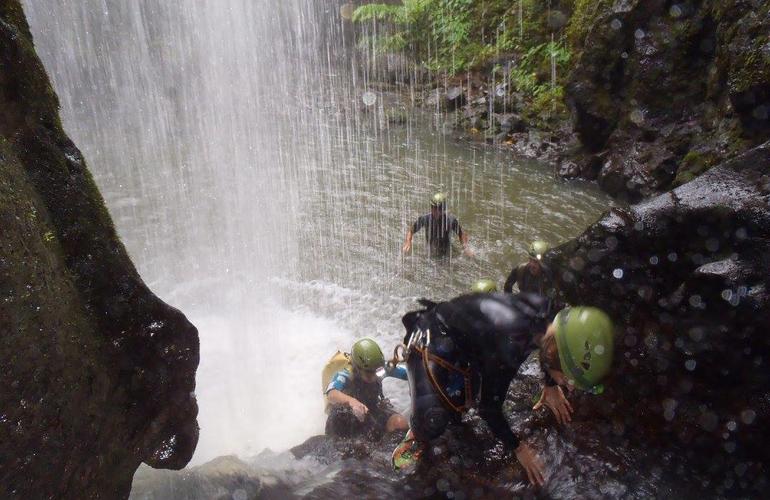 While everyone's mind goes to sun-drenched beaches and coconut trees when thinking of Tahiti, there's plenty of things to do in Tahiti for more adventurous travelers!
A can't-miss activity for adrenaline seekers is the Tahiti lava tube full-day tour, where you go hiking through dark lava tubes, canyoning in beautiful waters, and rappelling down waterfalls in Tahiti's rugged interior.
Because Tahiti — much like Hawaii — was formed by volcanic activity, there are a number of lava tubes located all over the island, but the most famous for exploring are in Hitiaa.
Together with your canyoning guide, you'll explore several lava tunnels with a headlamp before reaching an impressive area where there are also waterfalls and pools to jump into — all this in an underground cave structure!
After exploring the lava tubes, you can explore a river, swim in the waterfalls, and even get the chance to try
At the exit of the lavatubes, you will follow a beautiful river with waterfalls where you will be able to swim. The second part of the trip is done in the middle of a luxuriant vegetation with magnificent landscapes.
The canyoning option allows you to discover the lavatubes of Tahiti in a more technical way with abseiling.
Take a road trip down to Tahiti Iti.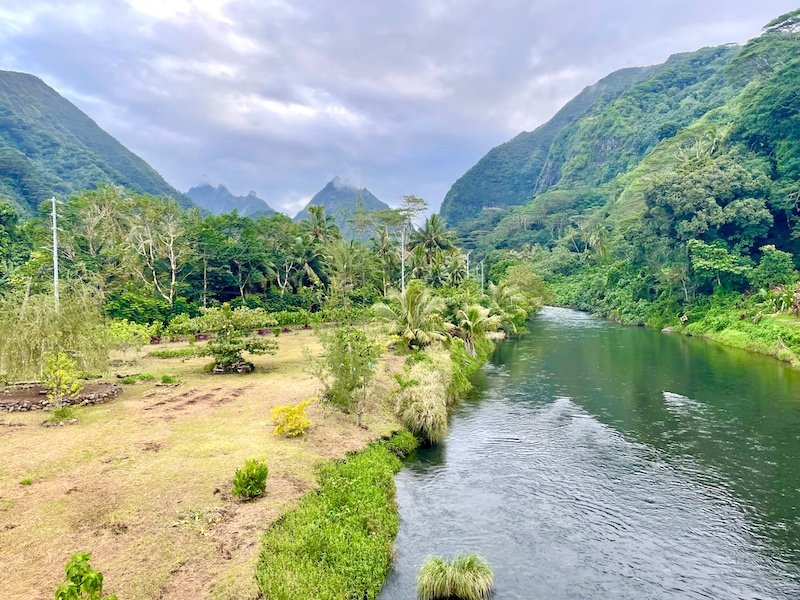 One of my favorite parts of my trip to Tahiti was driving all the way from Tahiti Nui (Big Tahiti) to Tahiti Iti (Little Tahiti), the little peninsula at the southern coast of Tahiti.
We drove all the way down to Plage de Tautira, where we enjoyed one of the best views of Tahiti.
You could see all its natural wonders in one vista here: three waterfalls lined up in a row against a backdrop of rough, jagged green mountains, and a river creating a valley through it. It was stunning!
There was also a phenomenal snack bar at Plage de Tautira where we enjoyed some of the best grilled fish we had in our entire time!
Admire the Vaipahi Water Gardens.
Home to a beautiful waterfall, the Vaipahi Water Gardens are a lovely place to take a stroll through Tahiti's flora.
There is a waterfall here that you can easily walk to, and then you can continue your walk either on one of the many hiking trails that departs from here or stay on flat ground and explore the large lake filled with water lilies.
There are three hiking options here: the Vaipahi Great Loop, which is 5 km and takes about 2 hours, the Vaipahi Small Loop, which is 2.7 km and takes about an hour and 15 minutes, or the Vaipahi River Trail, which is 1 km and takes about 35 minutes.
Take in the three stunning Faarumai Waterfalls.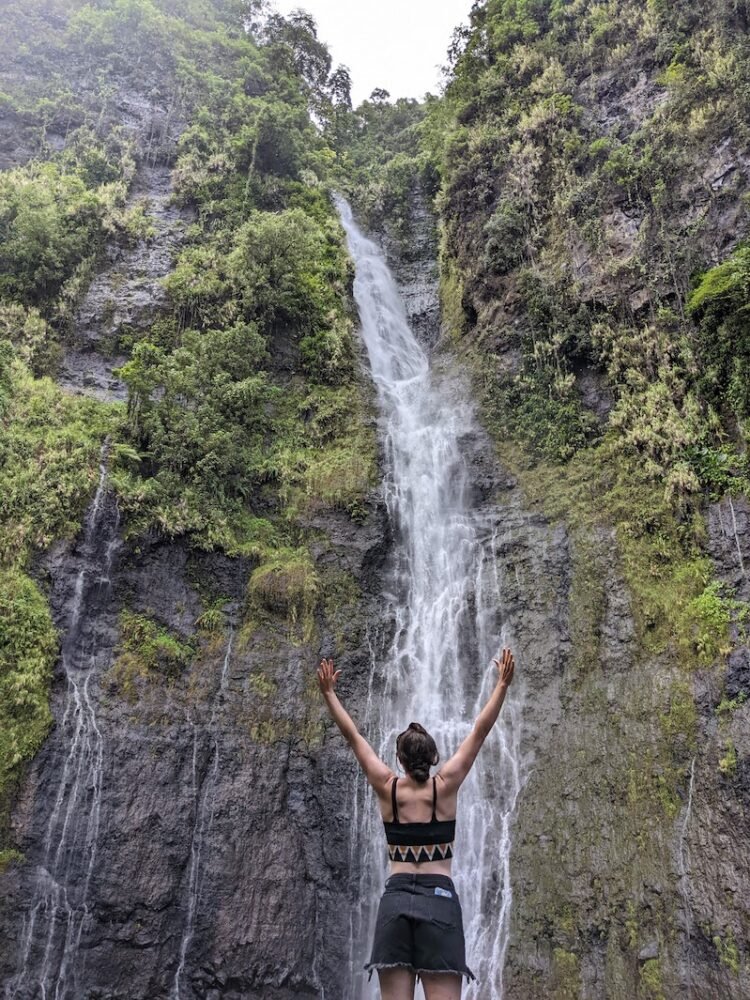 Vaipahi is just one of many beautiful waterfalls in Tahiti! The most stunning waterfalls in my opinion are the trio at Faarumai, located on the east coast of Tahiti.
It's quite easy to access these waterfalls: simply put Faarumai Waterfalls in the GPS and head to the end of the road, where you'll find a parking lot.
The first waterfall is just a 5-minute walk through the tropical forest. The other two are located in the opposite direction, about 15 minutes from where you began.
All in all, it's pretty epic that you can see three stunning waterfalls in less than an hourlong hike, including plenty of time to stop for photos!
Admire the beauty of Tahiti's grottoes.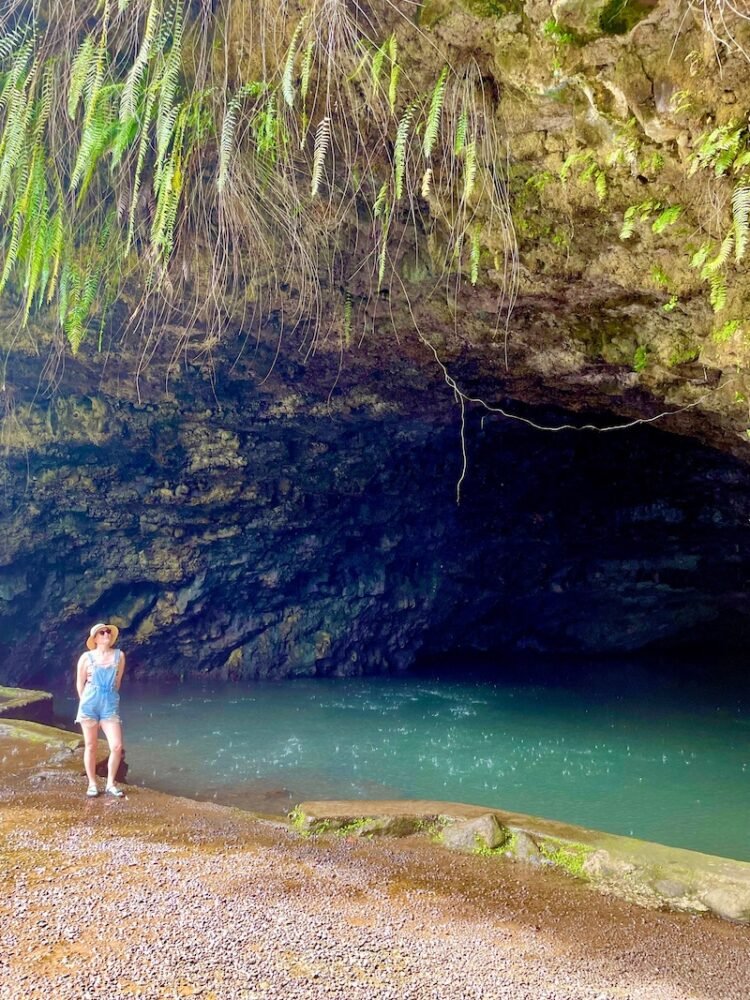 One of my favorite places on the west coast of Tahiti were the quiet, peaceful grottoes of Mara'a (Grottes de Mara'a on Google Maps).
I was surprised by the beauty of this little site that few people seemed to be visiting!
The walk through the dense foliage was stunning, and when we arrived at the cave, it was even more stunning than I could have imagined.
Imagine an isolated cave with ferns crawling all over the rock as a trickle of water cascaded over its face, creating rainbows, and an inviting deep turquoise pool in the cave.
Unfortunately, there's no going for a refreshing dip here: it's strictly prohibited for safety reasons, so don't be that person.
Explore the Papeno'o Valley by 4×4 tour.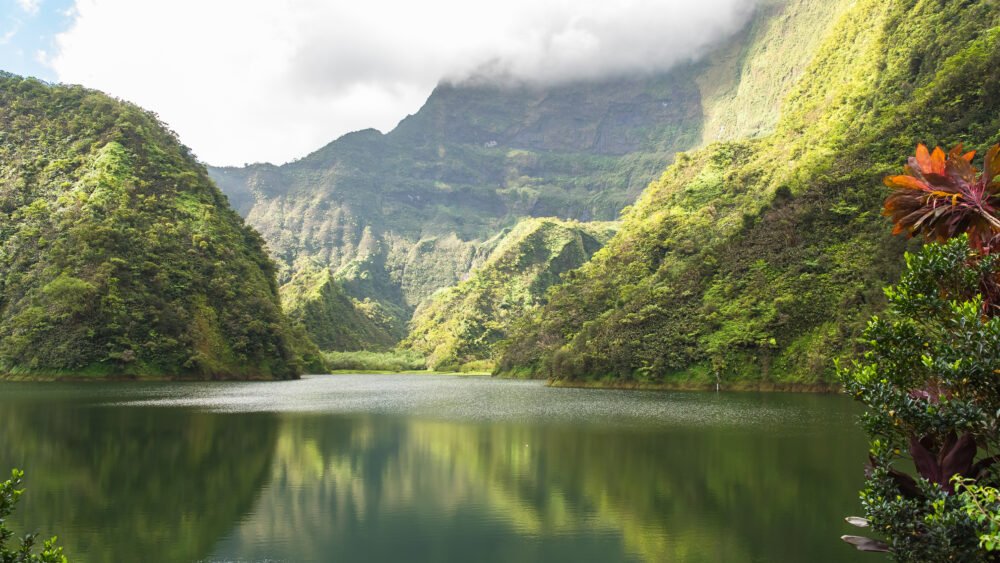 One of the most incredible parts of Tahiti is completely inaccessible with your standard rental car in Tahiti.
The interior of the island used to have a road passing through, but it no longer is maintained.
For that reason, you'll need to book a guided 4×4 tour if you want to check out the Papeno'o Valley — and once you realize what you'll see on a tour there, you'll certainly want to!
But its inaccessibility makes it one of the most scenic parts of Tahiti, practically untouched by tourism: you'll see so many waterfalls, scenic lakes set amidst lush valleys, tropical flora, and Jurassic-era looking landscapes everywhere you look.
I recommend this 4×4 Island Crossing tour to show you the parts of the island that you can't access with your own car!
Check out the unique Arahoho Blowhole.
For a unique spot to visit in Tahiti near the Faarumai Waterfalls, don't miss the Arahoho Blowhole.
This natural geological phenomenon was created by a lava tube which cooled and formed a tunnel hundreds of thousands of years ago.
Now, when there is a particularly strong wave, the lava tube will form a 'blowhole' similar to what you'd see from a whale: seawater shooting up into the air dramatically.
Typically, the water spout only is a few feet high, but it can spout up to 30 feet in height during storms and/or high tide!
Stay in an overwater bungalow at the Intercontinental Tahiti Resort.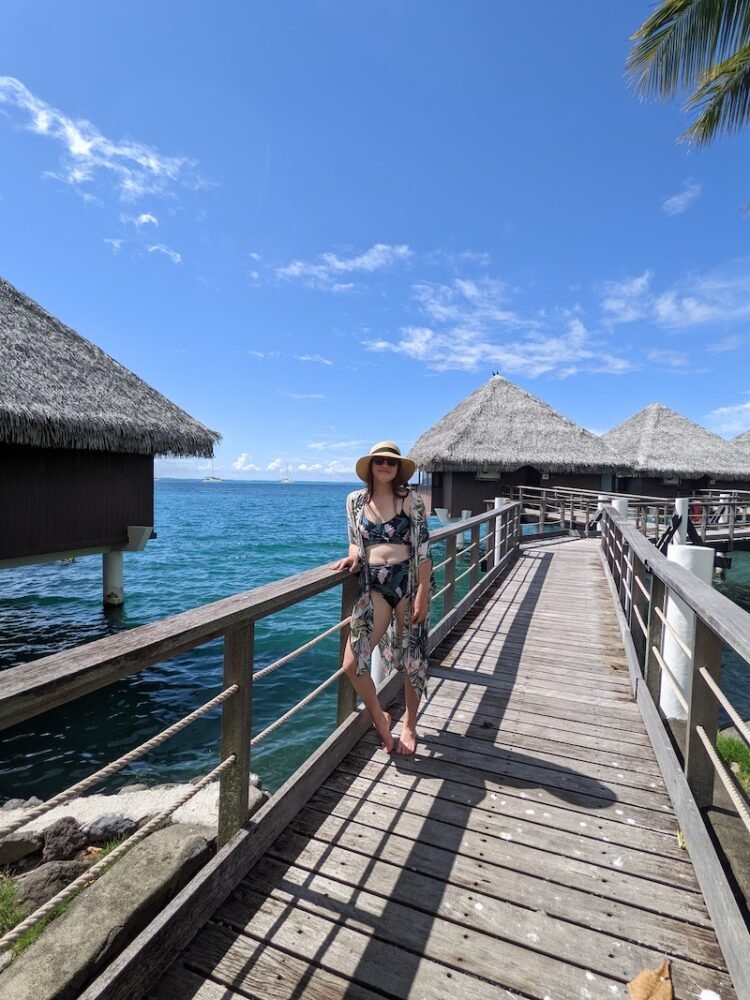 Tahiti has only one resort with overwater bungalows, unlike other islands like Bora Bora which have almost too many to choose from!
That is the Intercontinental Tahiti, which is located on the west coast of Tahiti with a beautiful view of Moorea.
We stayed here for two nights — though in a room facing the ocean and not in an overwater bungalow — and we thought it was epic!
I've also stayed in an overwater bungalow in the Maldives before, and it was an unforgettable experience (although the price tag is similarly unforgettable).
While I didn't get the chance to do this in Tahiti this trip, I hope to return to French Polynesia soon and check out some overwater bungalows!
We did swim over to the snorkeling in front of the Motu Bungalows and can confirm that it's excellent!
While staying there, we also spoke to a couple staying in one of the Motu suites and one of them said they saw a spotted eagle ray swimming past as they were sitting on their balcony!
Check bungalow rates & availability and other room options here!
Check out the Harrison Smith Botanical Gardens.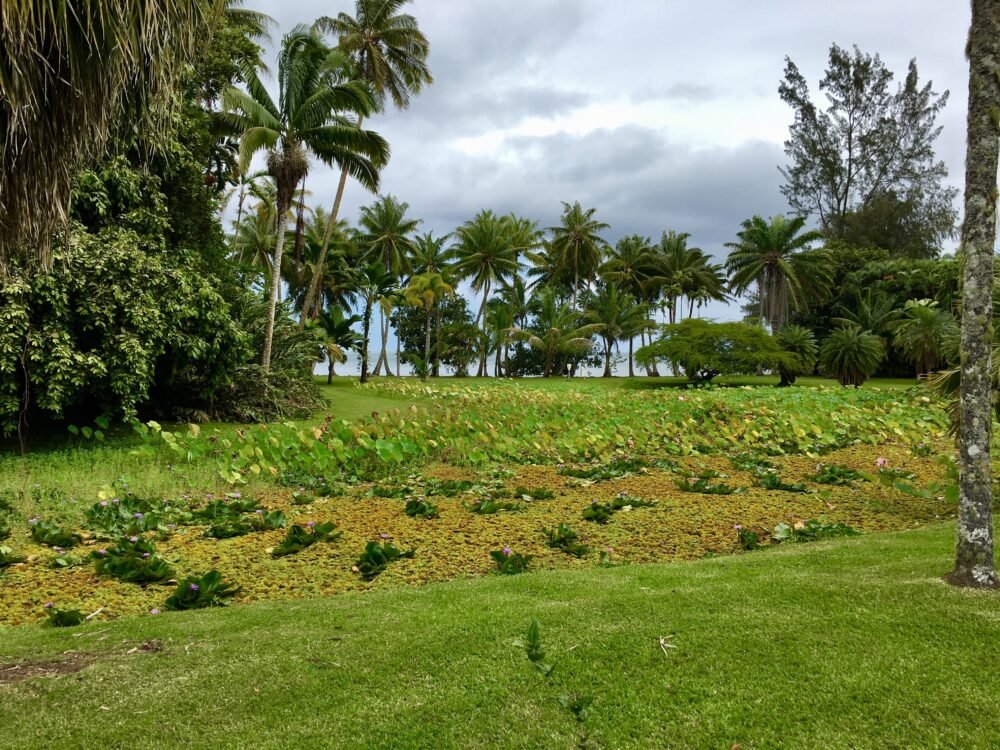 Just down the road from the Vaipahi Water Gardens is the Harrison Smith Botanical Garden, home to groves of palm trees, colorful hibiscus bushes, and hundreds of other tropical flora imported from the Americas, Asia, and Africa.
On one side, you can look out to the ocean, to the other, you can look behind and see the mountains of Tahiti: that's part of what makes this botanical garden so special.
Once a private land owned by an American, the botanical garden fell into disuse, but it was restored by the tourism office in 2017 and has been getting a beautiful glow up ever since.
Best of all, admission is free!
See the exterior of the (now-closed) Paul Gauguin Museum.
The French painter Paul Gauguin was one of Tahiti's most famous — and controversial — residents.
The Paul Gauguin Museum was dedicated to his work, but it closed in 2013 and shows no signs of reopening.
While Gauguin was a talented artist, you can't overlook his personal transgressions, especially when you're talking about his work in the context of Tahiti — where he had several child brides, potentially as young as 11.
Many people are grappling now with how to retrospectively live with Gauguin's legacy — from writing novels from the perspective of his child bride to penning thinkpieces on whether Gauguin should be 'cancelled'.
This museum, closed for years with no plans to reopen, seems frozen in time struggling with this same question.
That said, if you're already visiting the Harrison Smith Botanical Gardens, this is right nearby and you can check out the grounds and the beautiful (but abandoned) Japanese-inspired architecture of the museum.
Visit the spectacular Ta Pahi Point.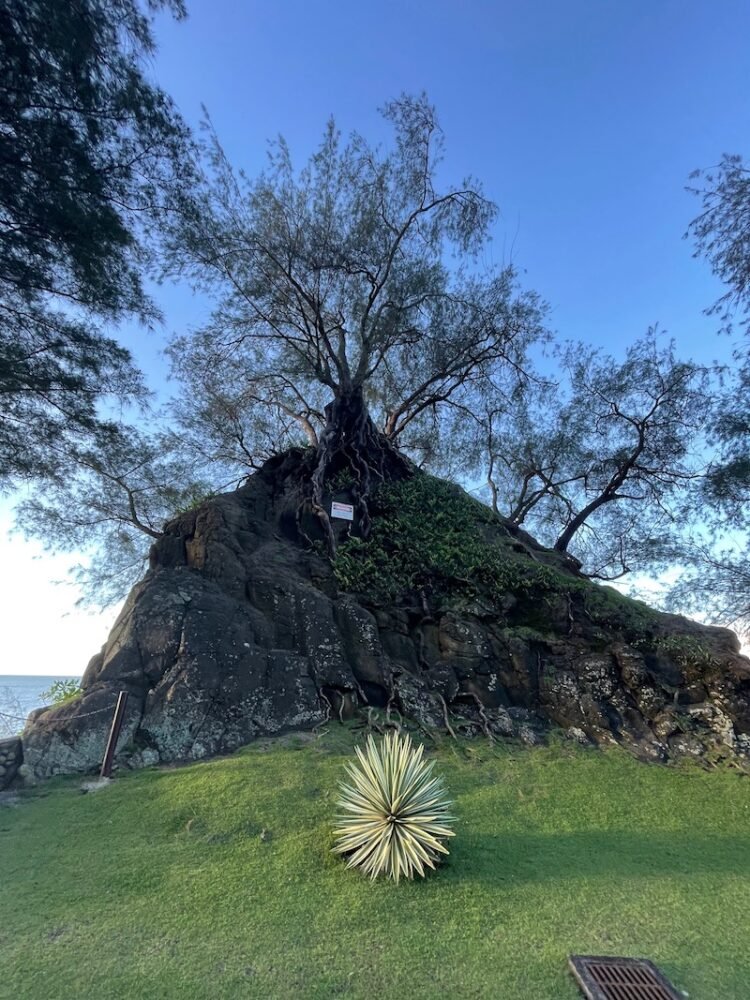 One of the most beautiful places on Tahiti's East Coast is Ta Pahi Point.
Raising more than 70 feet above the sea, you can look on one side and see the island of Moorea and Point Venus — to the other, you'll see Hiro's Rock and the black sand beaches below it.
This is also a great place to stop and watch the surfers around sunset!
Go snorkeling in Tahiti's pristine blue waters.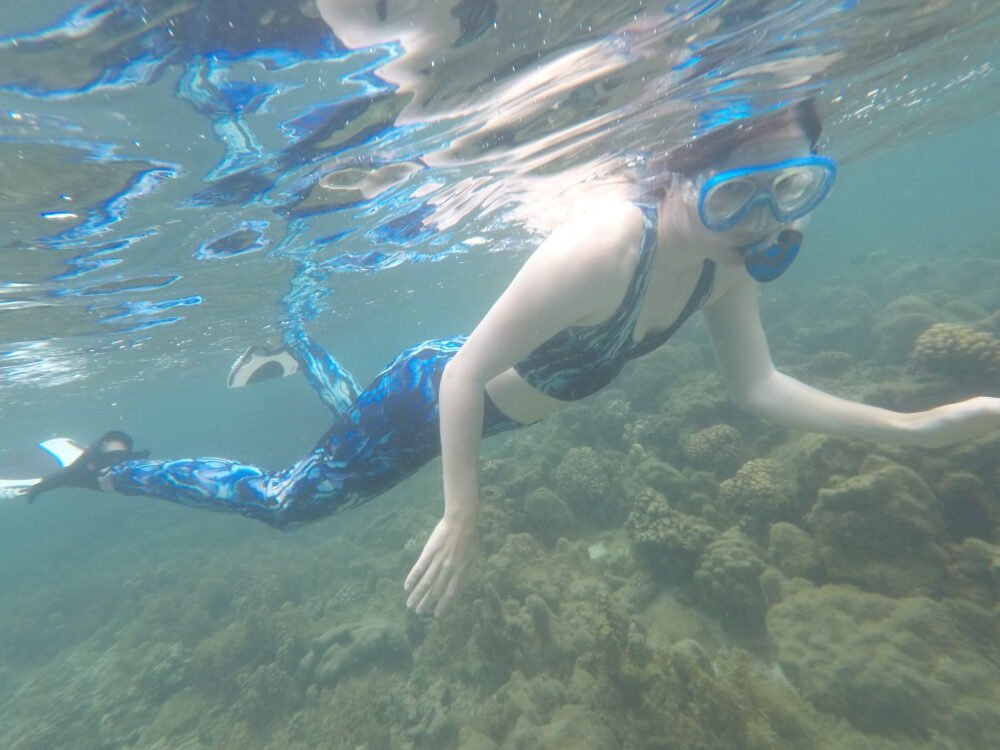 We mostly dove while we were in Tahiti — because really, once you start diving, it's hard to settle for snorkeling — but when we did snorkel, we were wildly impressed!
When we stayed at the Intercontinental we snorkeled their house reef and we were wildly impressed — it was some of the best off-shore snorkeling we've ever done!
We saw an uncountable number of colorful tropical fish, but more excitingly, we also got to see a day octopus, a moray eel, huge anemone gardens with clownfish (including babies!), and triggerfish.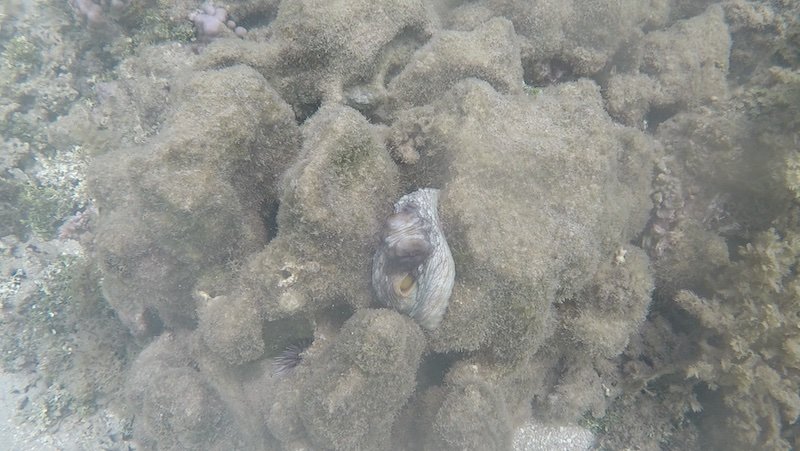 If you're staying at the Intercontinental, you can definitely enjoy snorkeling in front of the bungalows or in the enclosed lagoonarium if you feel uncomfortable in the open ocean.
You can also do a snorkeling tour like this one, which brings you to a snorkeling site called The Aquarium that features three wrecks and all the coral life and fish that have sprung up around the wreckage.
Note: Be careful when booking activities — many snorkeling activities are set on Moorea, Tahiti's sister island, so double check that your activity is departing from the right island!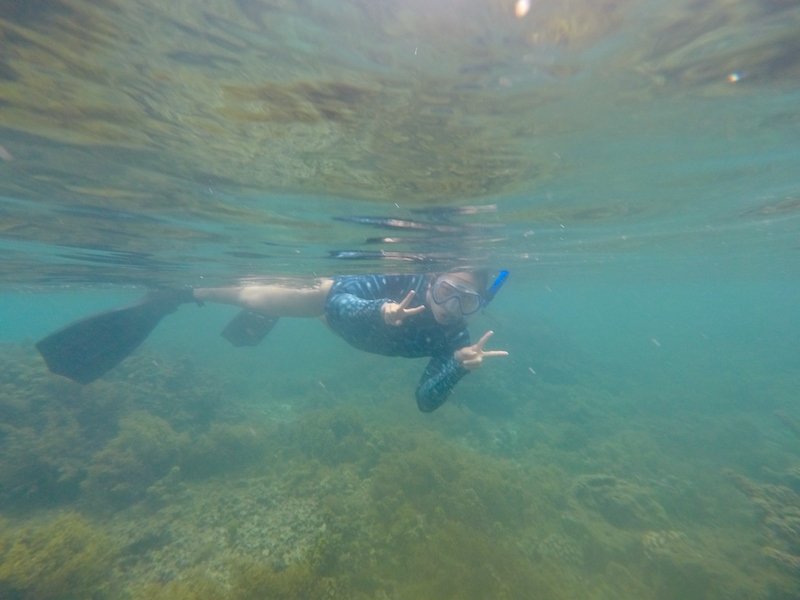 If you want to try something unique instead of your average snorkel, you can up the ante and try sea scootering.
You'll still have your snorkel and mask, but instead of swimming, you'll be zooming around by holding a powered motor that will bring you swiftly through the water with ease.
This tour also covers The Aquarium snorkel site, so it's a matter of whether you want a more traditional snorkel experience or if you want to have some mechanical assistance and speed!
Whichever tour you see, you're likely to see all sorts of fish but also possibly sting rays and small (harmless!) black-tipped reef sharks.
Dive Tahiti's beautiful reefs with colorful fish and turtles galore!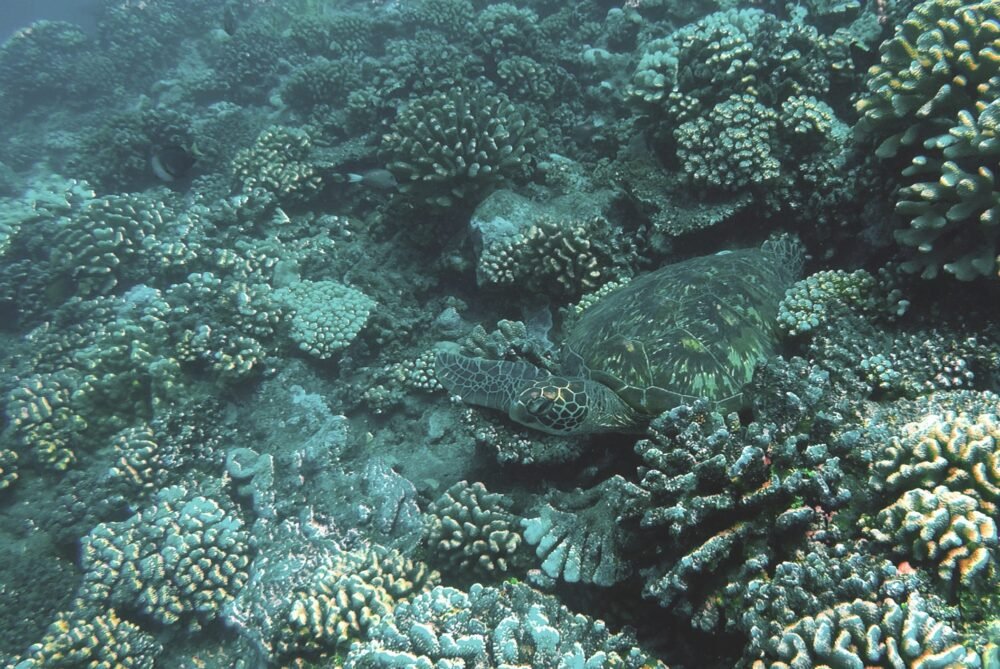 While we loved our snorkeling, scuba diving in Tahiti was definitely the highlight!
We dove four times during our stay and all were incredible in their own way.
We dived in Moorea as well and we found that excellent as well — it's hard to compare the two, but Moorea did slightly edge out Tahiti, but only by a nose!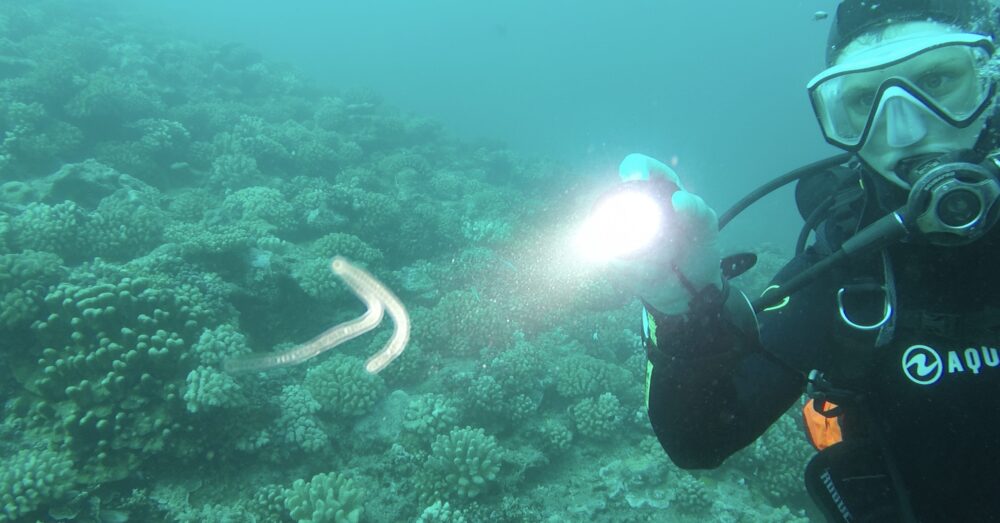 We saw all sorts of things: unique plankton formations (seen above), spiny rockfish, black-tipped reef sharks, hawksbill and green turtles, barracudas, and so much more.
But even just the topography of the dive sites we saw in Tahiti were incredible, with the underwater formations of valleys and coral walls and even underwater water sources spouting cold water from a vent!
Take in the sunset at Point Venus.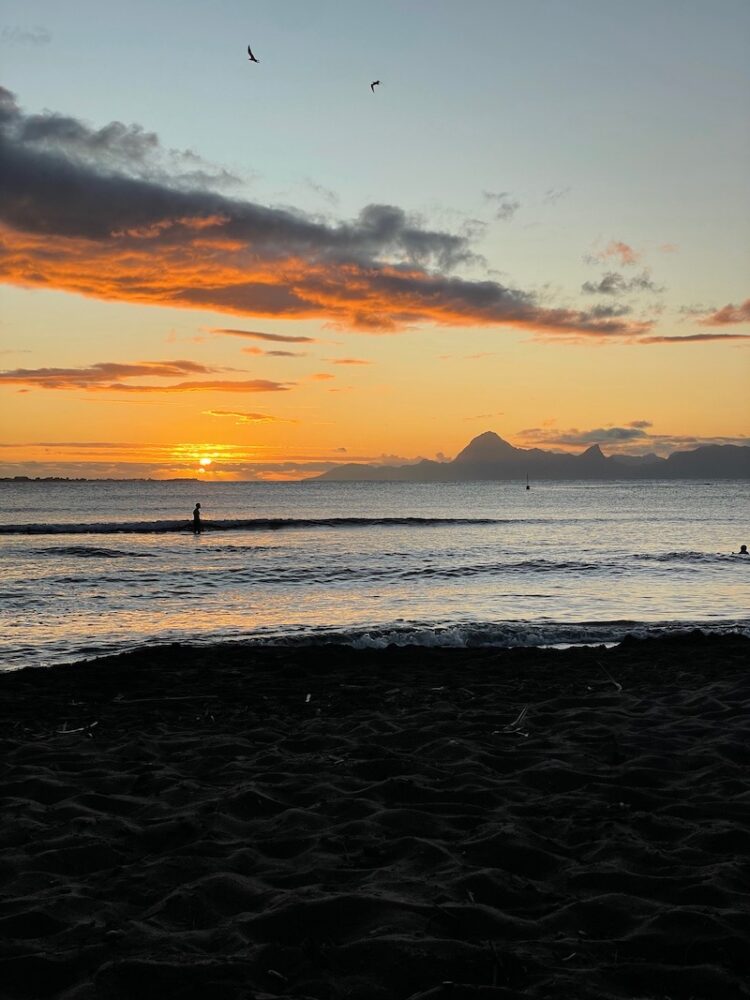 There are quite a few great spots in Tahiti to catch the sunset, but I think one of the best is at Point Venus, where there is a lighthouse and a public beach.
Get there before sunset to check out the historic lighthouse, then set up a little picnic with a view of Moorea to watch the sunset!
Admire Tahiti's beautiful black sand beaches.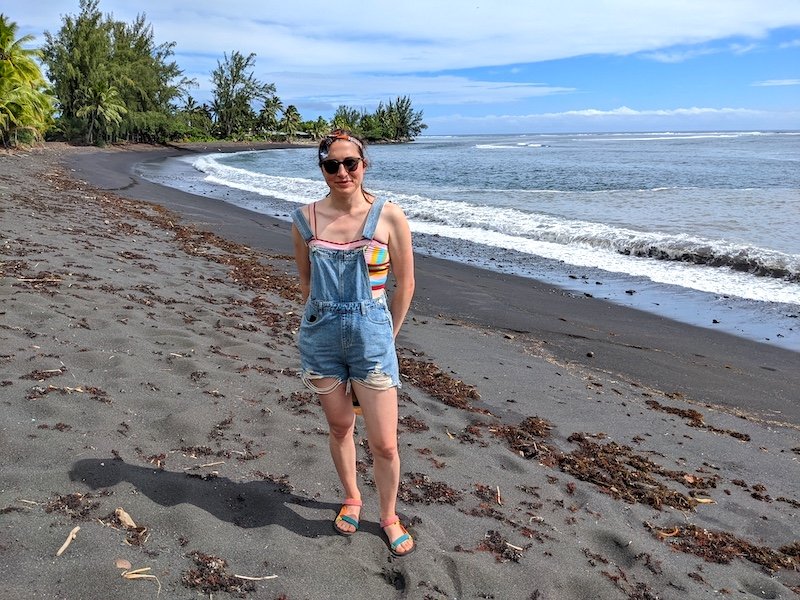 Tahiti is known for its stunning black sand beaches, due to its origins as a volcanic island.
While there are many black sand beaches, a few stand out: Lafayette Beach, Papenoo Beach, which is a great place to watch surfers, the beach at Point Venus, and Taharuu Beach which is shown above.
Sun yourself on Tahiti's white sand beaches.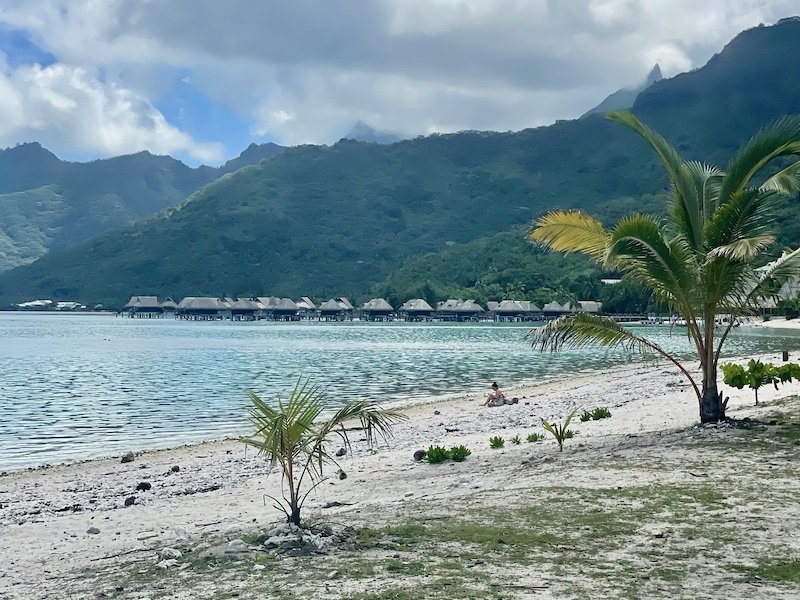 While the black sand beaches are beautiful, they're not very comfortable for sitting on… the soaring temperatures and the heat-absorbing black sand does not make for a good combination!
Luckily, Tahiti does have a few white sand beaches worth mentioning that are more pleasant for sunbathing.
One of the best white sand beaches in Tahiti is Vaiava Beach, which also happens to have an excellent snorkeling area. A few others are Maui Beach on Tahiti Iti and Toaroto Beach which is closer to Papeete.
There are even more white sand beaches on Moorea, such as Temae Beach (pictured above) if you really want some white sand beach time!
Take a day trip to Moorea.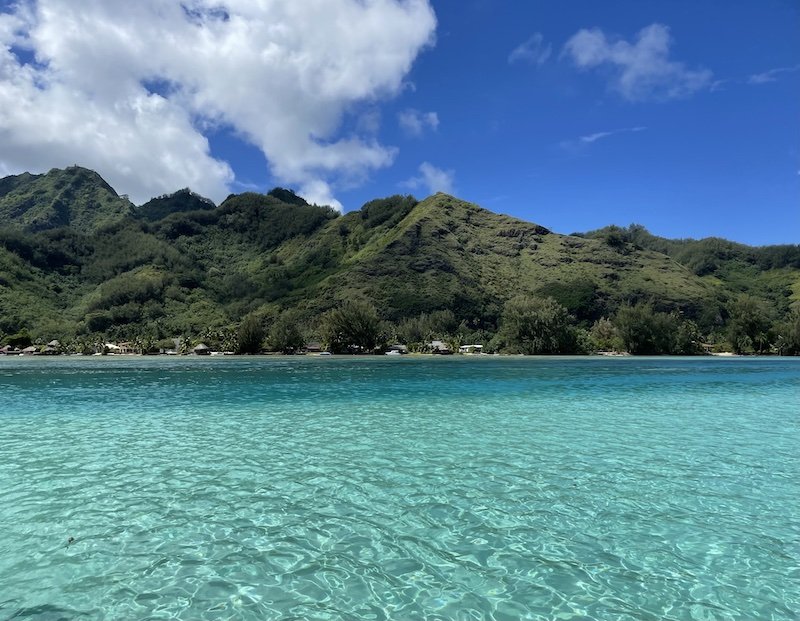 I will readily say that Moorea deserves more than just a day trip from Tahiti… in fact, we dedicated 5 of the 10 days of our French Polynesia itinerary to just Moorea!
That said, if you only have a day trip, you can absolutely make the most of it because the ferry from Tahiti to Moorea is so easy.
You could spend the day relaxing and snorkeling on Temae Beach (one of the best snorkeling spots in Moorea!) or you can go on a 4×4 safari tour of Moorea that will bring you to all the most famous spots on the island.
Tip: If you're not staying overnight in Moorea, book the afternoon tour to give yourself enough time to get to and from Moorea from Tahiti!
Watch surfers on Tahiti's East Coast.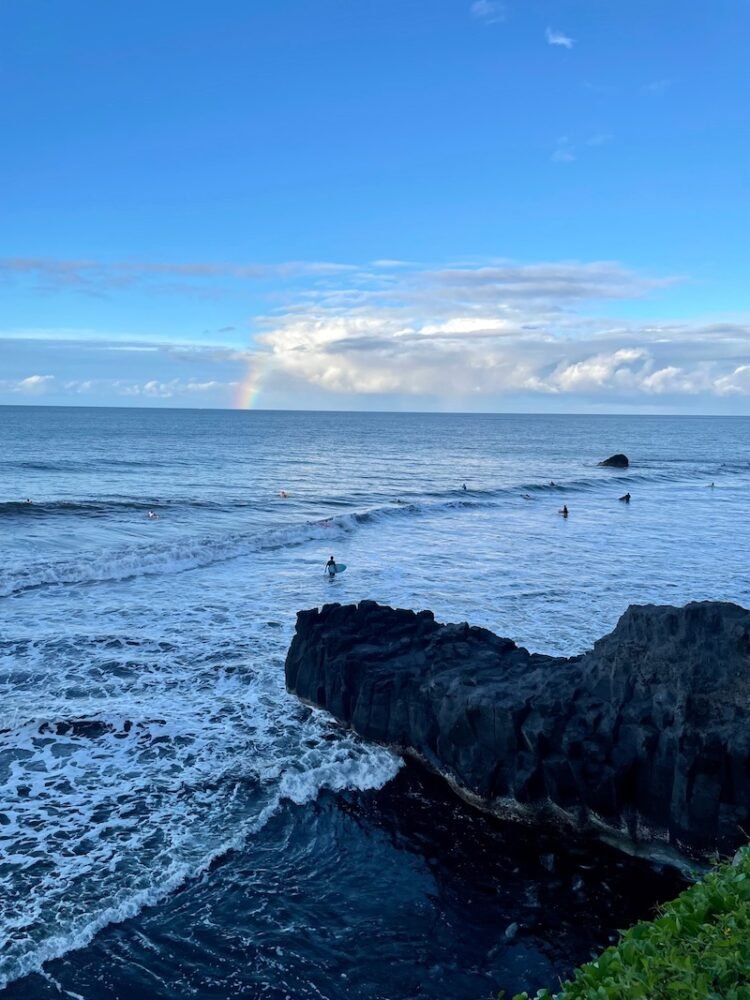 While I'm not a surfer, I love watching surfers do their thing — I find it really peaceful and amazing.
There are lots of places on the East Coast of Tahiti that have great waves and lots of surfers at all times of day, particularly in the afternoon before sunset.
We found a few great spots to watch surfers were around the Bay of Papeno'o (Baie de Papeno'o on Google Maps) and just a bit south of that, on the other side of Ta Pahi Point.
For more surf-watching, Teahupoo on Tahiti Iti is famous for its big waves, but we didn't have time to check it out on this recent trip to Tahiti, unfortunately!
Learn more about the island at the Museum of Tahiti.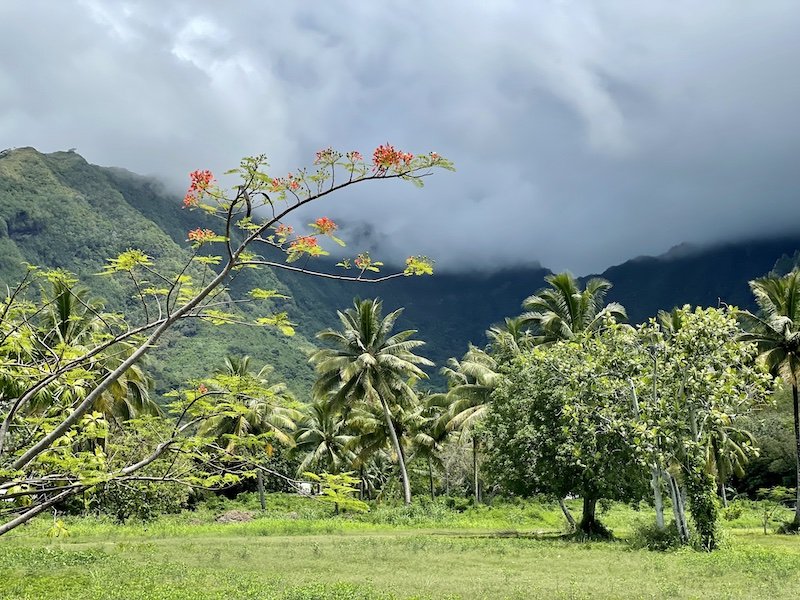 Unfortunately, the Museum of Tahiti and its Islands is temporarily closed for renovations, and it's not clear on the website when it will reopen.
When it's open, though, it should be well worth a visit!
You'll find everything from historical Polynesian artifacts that show the rich history of this islands to work from contemporary Polynesian artists.
Check out the historic marae of Tahiti.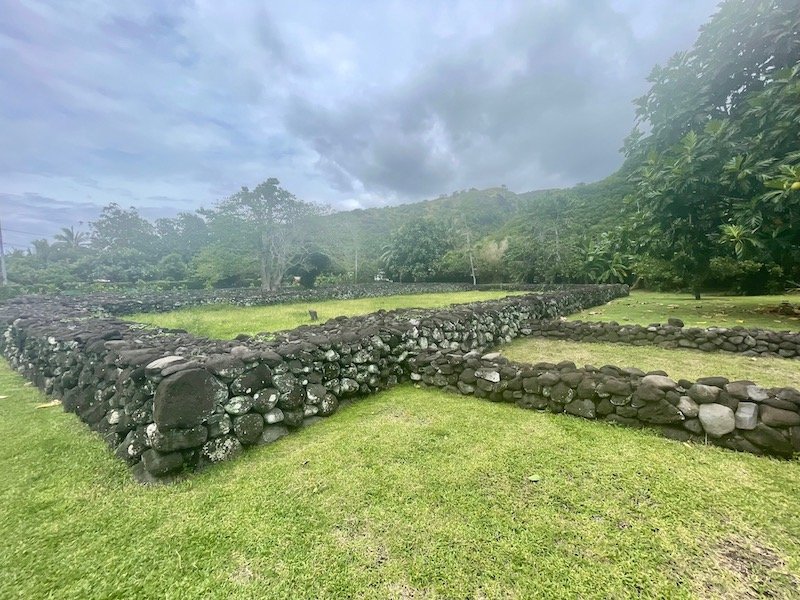 Did you know there are ancient ruins on Tahiti?
These sites, called marae, are the remnants of Polynesian settlements and give a glimpse into how people lived on the islands many centuries ago.
The two more interesting and well-preserved marae are found on the west coast of the island, not far from each other.
Don't miss checking out both Marae Ta'ata and 'Ārahurahu Marae if you're interested in learning more about the culture and history of Tahiti, and not just seeing its beaches and marine life!
Take a romantic sunset cruise.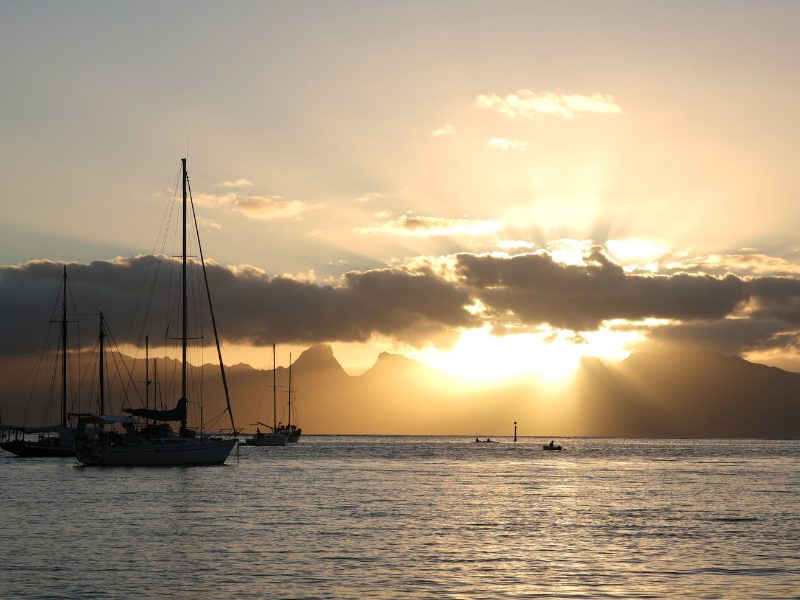 Getting out on the water is one of the best ways to appreciate Tahiti's stunning geography, with its tall mountain peaks that are hard to appreciate when you're on the island itself.
You can also get a closer view of Tahiti's sister island of Moorea, which is even more beautiful as you approach it on the water.
If you want to have a romantic evening activity during your time in Tahiti, a sunset cruise is a fantastic idea for you and your loved one.
This cruise includes pick-up and drop-off, a complimentary sunset cocktail, and a beautiful 1.5-hour cruise where you relax on a stunning lagoon with views of Tahiti and Moorea both.
Best of all, the boat is limited to 12 guests, so you're guaranteed an intimate, romantic atmosphere for a date night you can never forget!
Spend some time enjoying downtown Papeete's sights.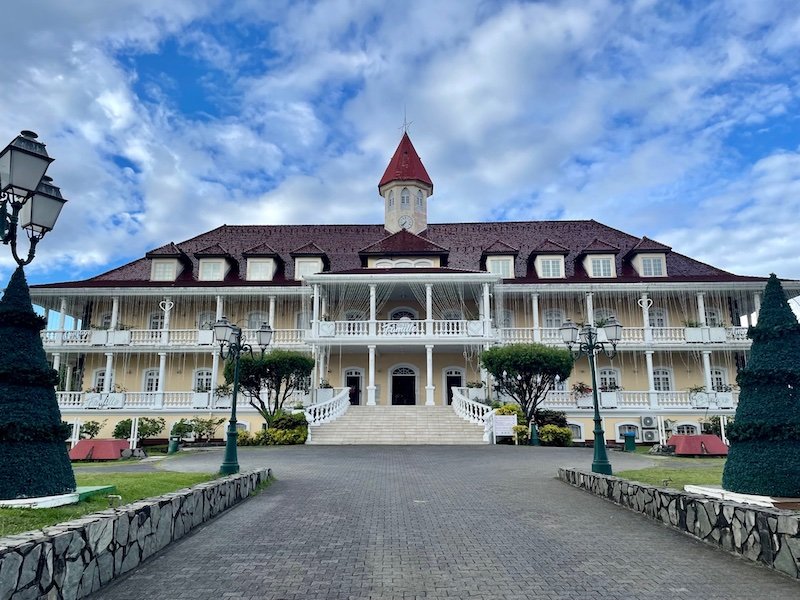 I spent three days in Papeete and while I'm happy to have spent the time there, I'll be the first to admit that it's not exactly a big bustling capital!
There still are a few sights worth seeing in downtown Papeete, generally clustered around the main Vaima Shopping Center in town.
It's worth taking a short walk around downtown Papeete to check out the following sites: the Notre Dame Cathedral, the Marina, the Town Hall (Mairie de Papeete), Place Vai'ete, and Pā'ōfa'i Gardens.
Part of what makes travel so interesting for me is not just the destination's landscapes and activities, but its people and everyday culture.
I enjoyed Papeete for the simple fact of getting to see the place where many Tahiti locals live, shop, and play!
Try delicious French pastries.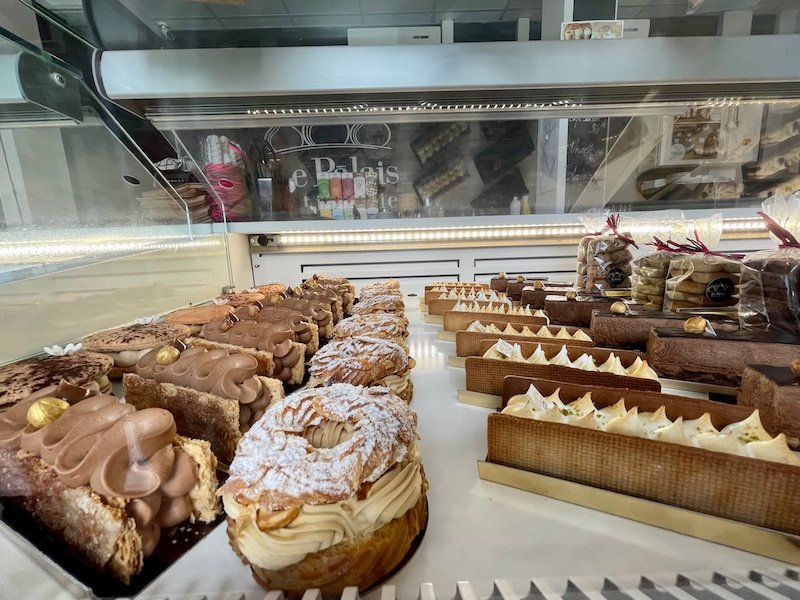 Since Tahiti and its islands are a French territory, the French influence is undeniable everywhere you look, from the language to downtown Papeete's architecture to the food.
That means that when you visit Tahiti, you get a taste of two cuisines in one place: the delicious Polynesian cuisine that showcases bountiful local seafood and tropical ingredients as well as traditional continental French cuisine… as well as tasty fusions of both!
While you absolutely should try local Tahitian food, it'd also be a crying shame to be technically on French soil and not eat all the delicious French pastries your stomach can fit.
Downtown Papeete has some of the best French bakeries — we loved Les Rêves de Lucie and Le Pālais Pātisserie and stocked up on pastries there during our trip! On Moorea, we loved Carameline.
Note: While I did enjoy getting to eat French food while in Tahiti, it's important that visitors don't take for granted that French Polynesia is and has been impacted by the hurtful legacy of colonialism, and the question of if and when French Polynesia should become independent are important matters close to the heart of many Polynesians, without one uniform answer across the board.
Explore the street art of downtown Papeete.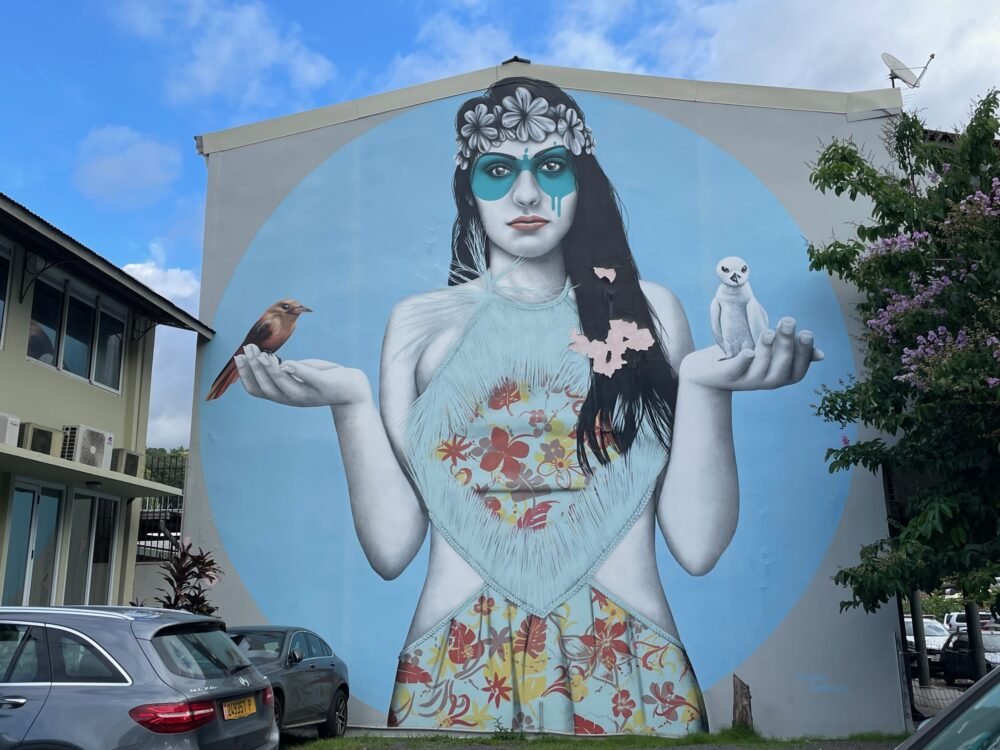 Papeete has some great street art that is well worth keeping an eye out for while you're exploring the downtown area.
A few pieces that I really liked were the following:
The octopus metal sculpture piece on the side of the ART'GRICULTURE building
The above pictured portrait near the Territorial Assembly building on Rue de Dr. Cassiau and Ave. du General de Gaulle
A piece meditating on immigration and identity in the Vaima Mall near the Karaaji restaurant.
Drive the coastal road around the island of Tahiti.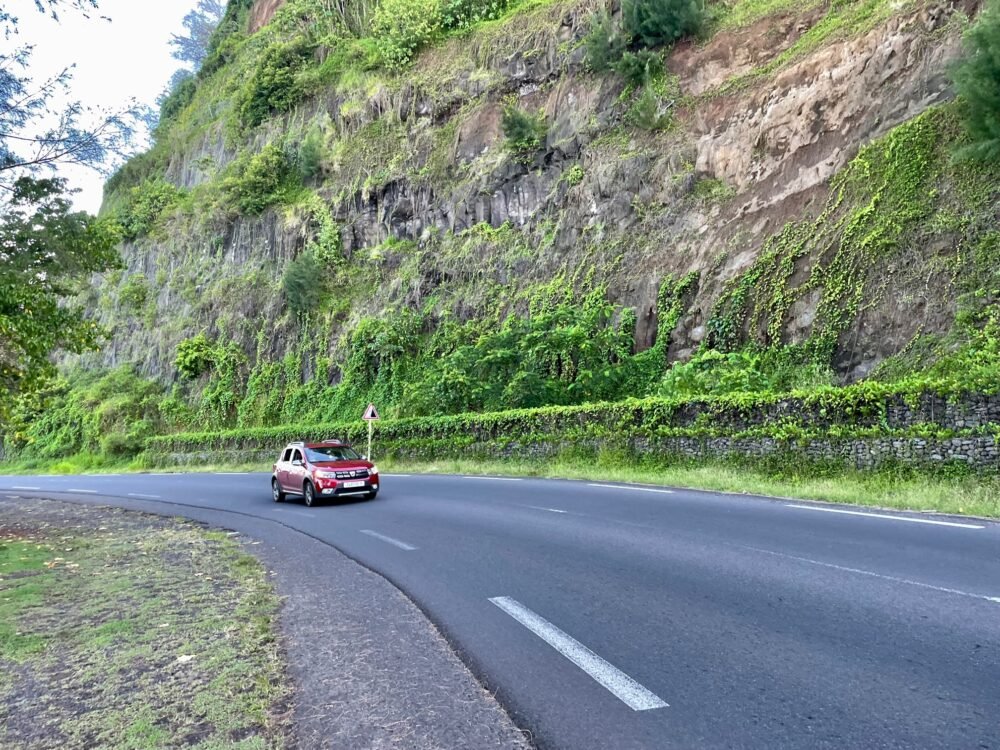 One of the coolest things to do in Tahiti is circumnavigate the island by car — it takes less time than you'd think, and there's so much to see that just requires quickly pulling over off the main road!
One thing to consider when driving around Tahiti is that the west side is far more developed whereas the east side is a lot more rustic, and the roads match that!
If you think there's a chance that you might be driving in the dark, do the east side first — the roads there are very dicey to drive at night, with almost no lights, zero reflector strips, and winding roads!
We learned this the hard way so you don't have to!
If you plan to do a road trip in Tahiti, I recommend you read my guide to renting a car in Tahiti first — it has a ton of helpful hints in it!
Shop for your very own Tahitian black pearls.
French Polynesia is famous for its Tahitian black pearls, although as an interesting fact, the pearls are actually not found on the island of Tahiti!
They are typically sourced from outer Tahitian islands, such as the Tuamoto Islands, in lower-lying coral atoll archipelagos.
These pearls are famous because they only come from one particular oyster found in very few other places in the world: the Tahitian black lip pearl oyster (its official name is the Pinctada margaritifera).
Many shops all over Tahiti specialize in pearls so you won't be hard-pressed to find one!
Take a helicopter tour over the island.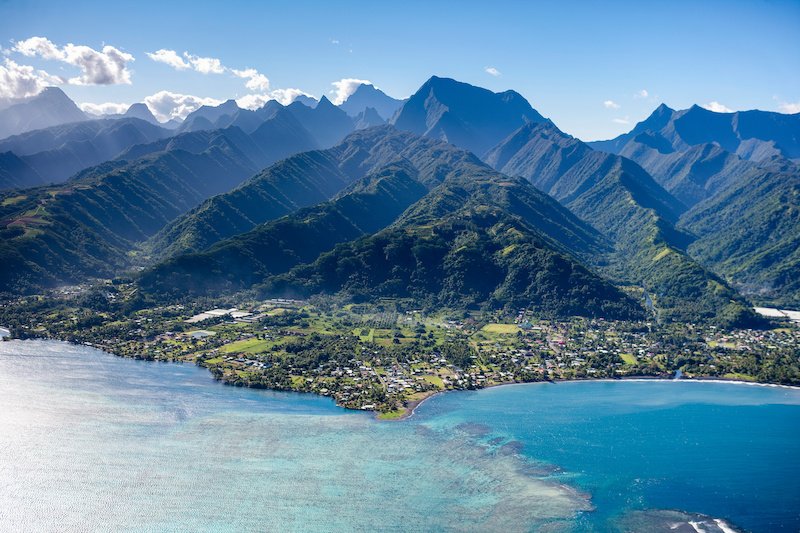 Tahiti is impressive no matter which way you slice it, but the best way to appreciate the magnificence of this stunning island is to see it from above!
We actually had a 30-minute helicopter tour booked with Air Tahiti Nui (you can book here) but unfortunately, it got canceled due to bad weather.
We were unable to rebook because group helicopter tours are only available on weekends (private tours are available on weekdays).
It's something I hope to be able to do on a repeat trip to Tahiti for sure, because Tahiti's landscape reminds me a lot of Kauai's Na Pali coast, which was the most memorable helicopter tour I've ever been able to do — and I've helicoptered over the Grand Canyon!
Judging by the landscape of Tahiti that I did get to see, I'd bet that a helicopter tour of Tahiti is just as impressive, if not more so, than a helicopter tour of the Na Pali coastline of Kauai.
There are 10-minute, 20-minute, and 30-minute helicopter tour options available — I recommend at least the 20-minute version so you can see the Papeno'o Valley and Orohena Mountain.
Go jetskiing in beautiful turquoise waters.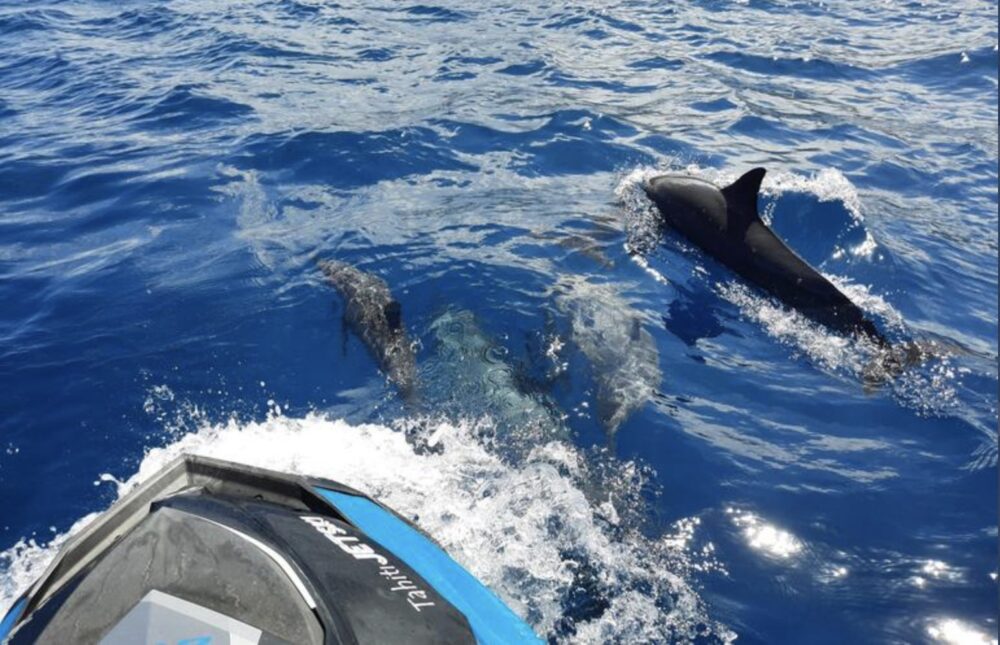 If you prefer your adrenaline to take place on the water, jet skiing in Tahiti may be the perfect activity for you!
Personally, I've never tried jet skiing and it's never called to me — I prefer to be under the water than on it! — but it's definitely a popular thing to do in Tahiti.
There are 30-minute, 1-hour, and 2-hour day tours as well as a 1.5-hour sunset tour to pick from.
You may even get the chance to see dolphins and jet ski alongside a pod of them during your trip!
Watch the epic waves of Teapuhoo.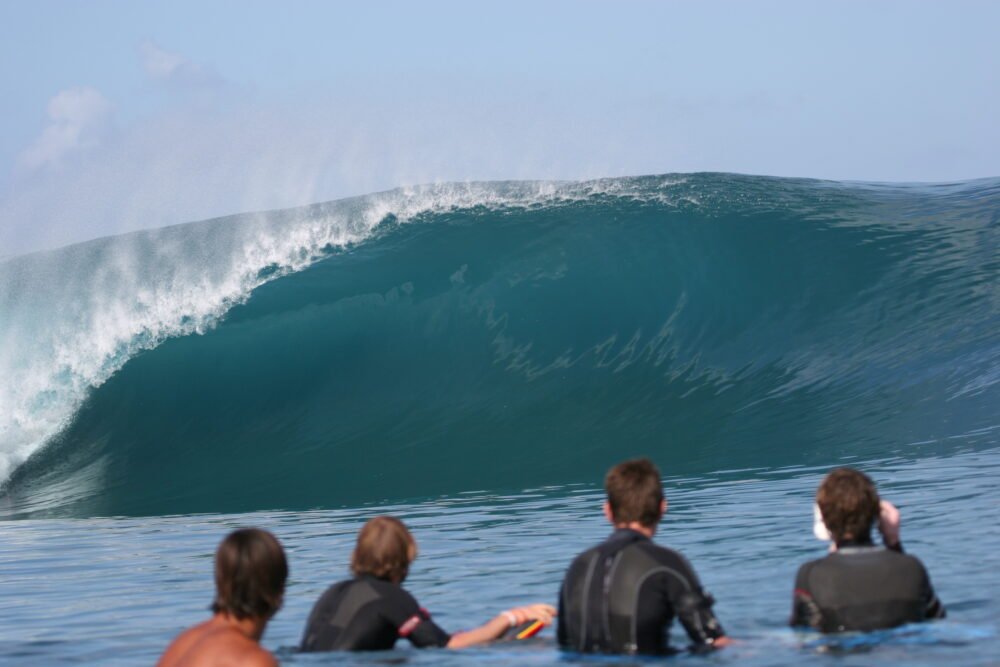 Teahupo'o literally means "to sever the head" or "place of skulls" in Tahitian — a macabre name befitting one of the deadliest waves in the world.
The waves of Teapuho'o are no joke and are only meant for advanced surfers. While they only measure 7-10 feet on average, they can surge up to 20+ feet during storms.
But that's not the only reason the waves are so dangerous — they're located above a shallow reef, which creates consistent "hollow" waves that are particularly precarious, despite having that beautiful barrel look.
That said, your average traveler to Tahiti can still enjoy seeing the waves of Teapuho'o, located at the western edge of Tahiti Iti.
You can drive there in your own rental car or you can also take a guided boat tour to see the waves of Teapuho'o from a safe distance.
Take a surf lesson and try out Tahiti's waves.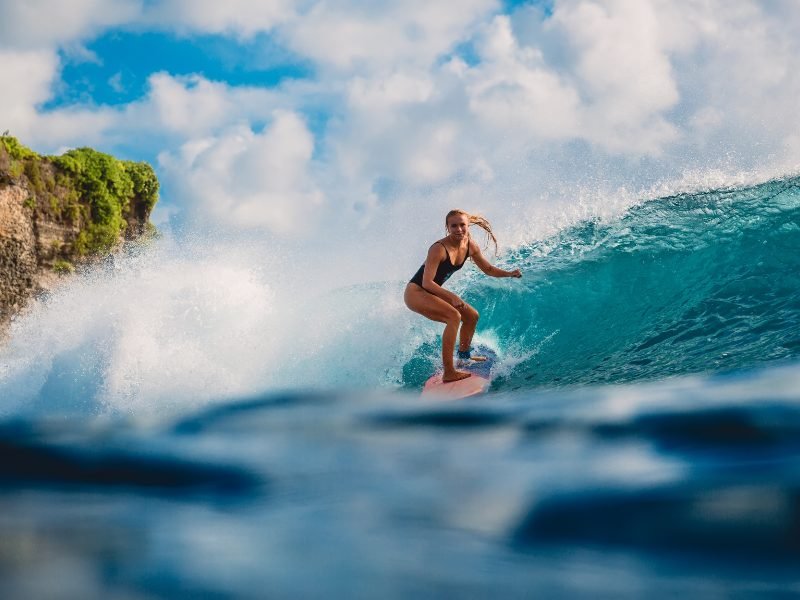 That said, there are plenty of safer waves in Tahiti for beginner and intermediate surfers!
You can take a 2-hour private lesson for about $55 — quite a bargain!
All the materials will be included except a rashguard, which you should bring from home.
If you're already an experienced surfer, here's a list of surf spots recommended by the Tahiti Tourism Board.
Where to Stay in Tahiti
We stayed at two places in Tahiti and can recommend them both highly.
Which one you should choose depends whether you prefer a guesthouse experience or a resort experience!
Guesthouse Pick: Fare Rearea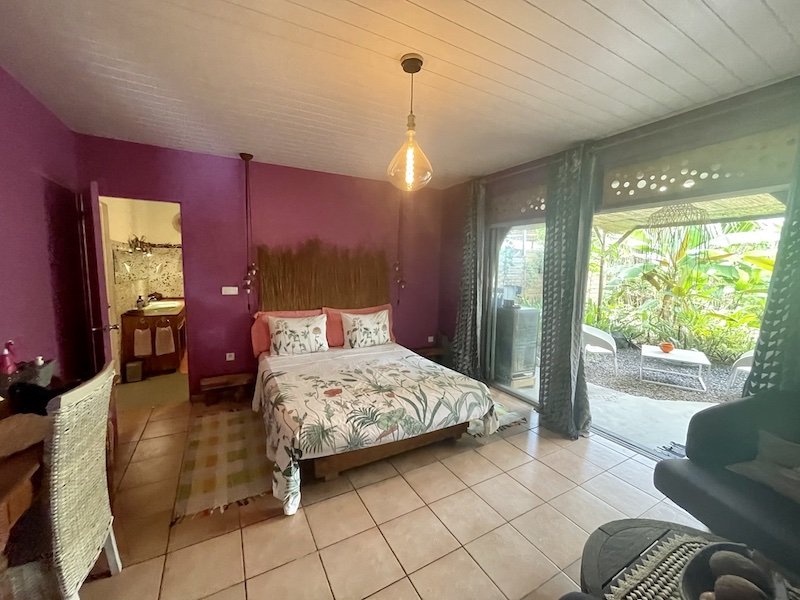 I loved Fare Rearea in Papeete — the location was so central that we could walk to many places we wanted to eat at, though parking at the guesthouse was easy when we needed it.
The lush garden and pool and kitchen area were great to relax in, and our private studio room was incredible, with our own private terrace with an outdoor kitchen and garden.
And the included daily breakfast was incredible!
Resort Pick: Intercontinental Tahiti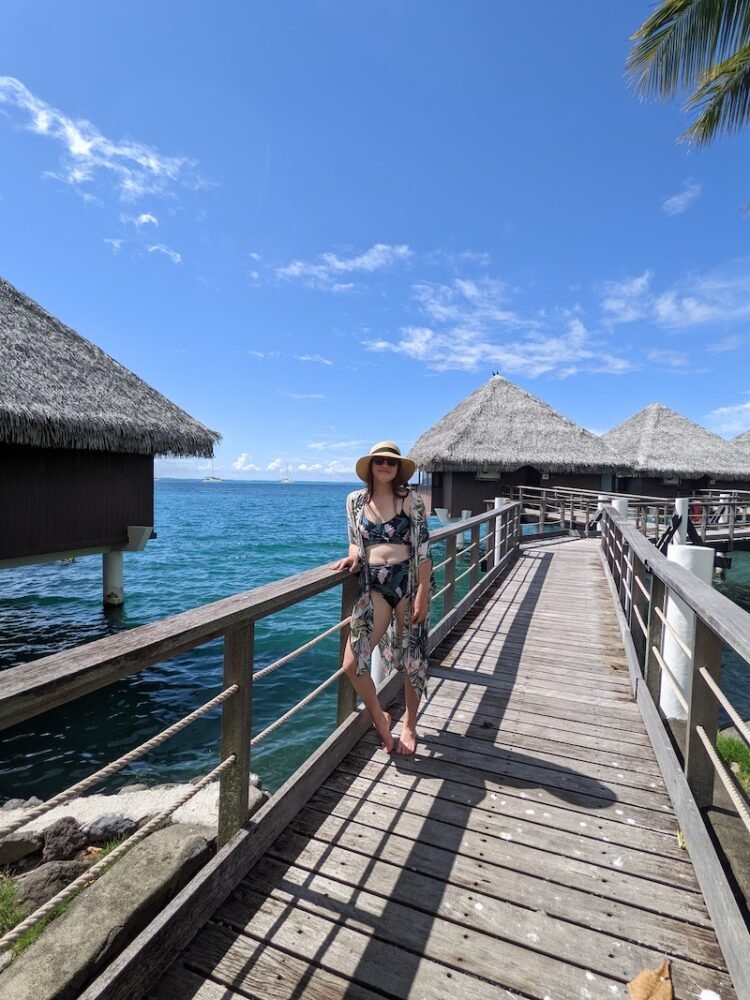 While we didn't stay in an overwater bungalow this trip, we wanted a little taste of the resort experience and chose to stay in the Intercontinental Tahiti in Faa'a.
We stayed in a deluxe room with a view of Moorea and it was stunning and spacious, with a beautiful balcony perfect for taking in the sunset.
The hotel's amenities were great — we loved the hotel restaurant, the infinity pool, the house reef you could snorkel at, and the lagoonarium where you could snorkel with colorful fish in an enclosed area.
What to Pack for Tahiti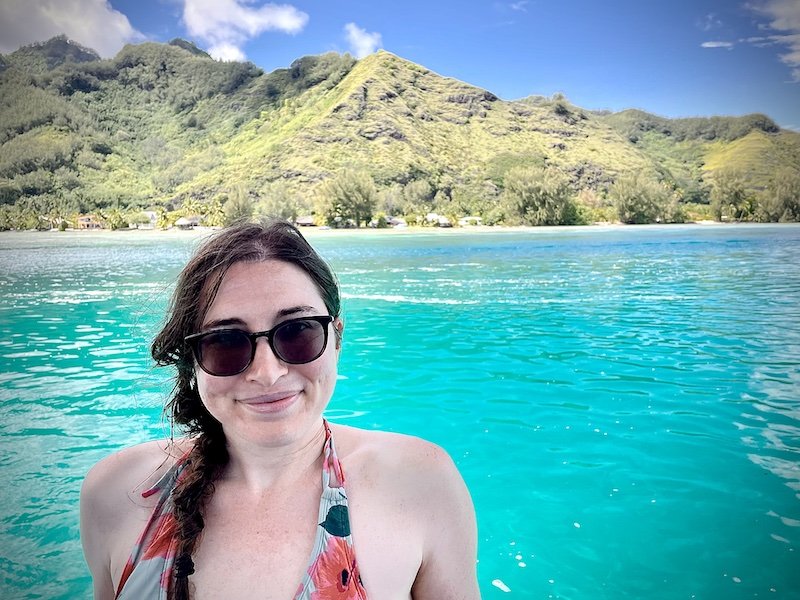 I have a full Tahiti packing list here — but here are 10 quick essentials!
Allison Green is a former educator turned travel blogger. She holds a Masters in Teaching and a B.A. in English and Creative Writing. Her blog posts merge her educational background and her experience traveling to 60+ countries to encourage thoughtful travel experiences that both educate and entertain. She has been a speaker at the World Travel Writers Conference and her writing, photography, and podcasting work has appeared in National Geographic, CNN Arabic, CBC Canada, and Forbes, amongst others. Now based in the San Francisco Bay Area where she grew up, she has also lived in Prague, Sofia, and New York City.