From snorkeling to the sound of whale songs to diving in electric-colored coral gardens to relaxing on white sand beaches, Moorea is a true delight.
A laid-back island just a 30-minute ferry ride from Tahiti, staying in Moorea offers you a chance to slow down and truly experience island time.
Whether it's dining alongside locals at one of the local roulettes (food trucks), taking on an epic hike, exploring the lagoon of Moorea with its whiprays and reef sharks, there's no shortage of fun things to do in Moorea.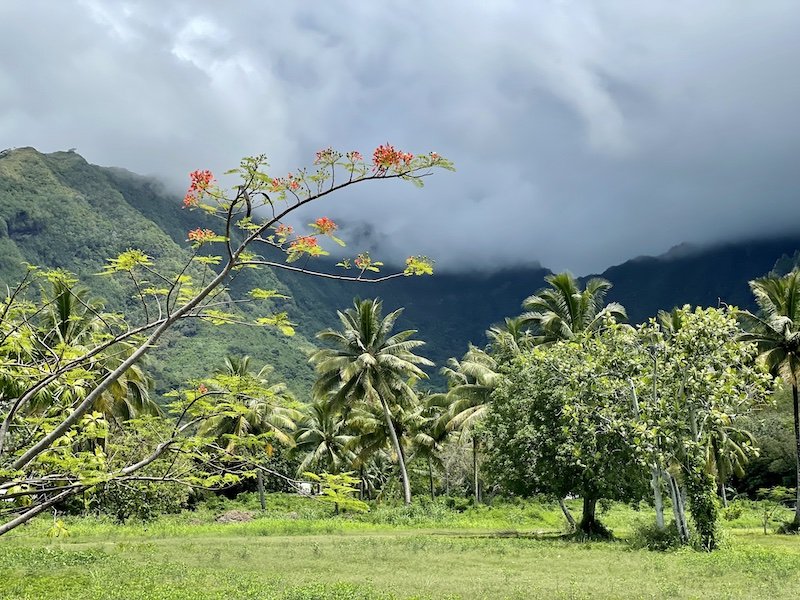 Note: This post contains affiliate links, which means I may receive a small commission if you purchase something through one of these links. Thank you for supporting the free content on this site! For more information on affiliate links and cookies, see my disclosure page for more details.
I've broken down this guide to what to do in Moorea into multiple sections, suitable for every kind of traveler: from aquatic adventurers to nature lovers to foodies, you'll all find something worth falling in love with Moorea over in this post.
If you're visiting Moorea for multiple days and want to see how I would lay out a Moorea itinerary, you can check out this 3 to 5 day Moorea itinerary here.
You can supplement that itinerary with some of the ideas for things to do in Moorea here to mix and match and create the perfect trip catered exactly to you!
Best Things to Do in Moorea: Aquatic Adventures
Snorkel with humpback whales.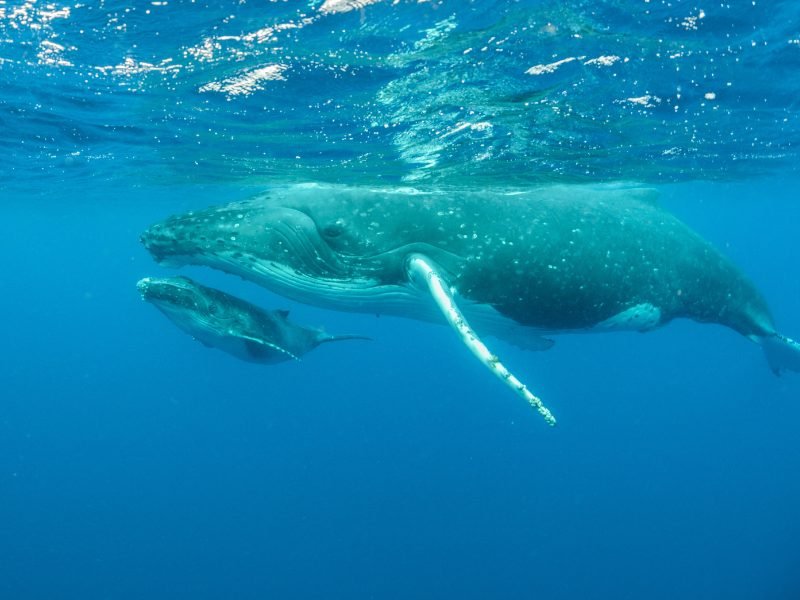 From mid-July to mid-November every year, migratory humpback whales bask in the warm waters around Moorea and Tahiti for a balmy pit stop along their unimaginably long journey.
Moorea is one of the few places in the world where you can get up close and personal with humpback whales in the wild. Snorkeling with humpback whales is permitted and carefully regulated in French Polynesia.
On this half-day boat tour, you'll try to find humpback whales and if the water conditions are right, you can even snorkel with them.
On the boat ride, you may even spot some curious dolphins trying to keep up with the wake: look at these ones we saw!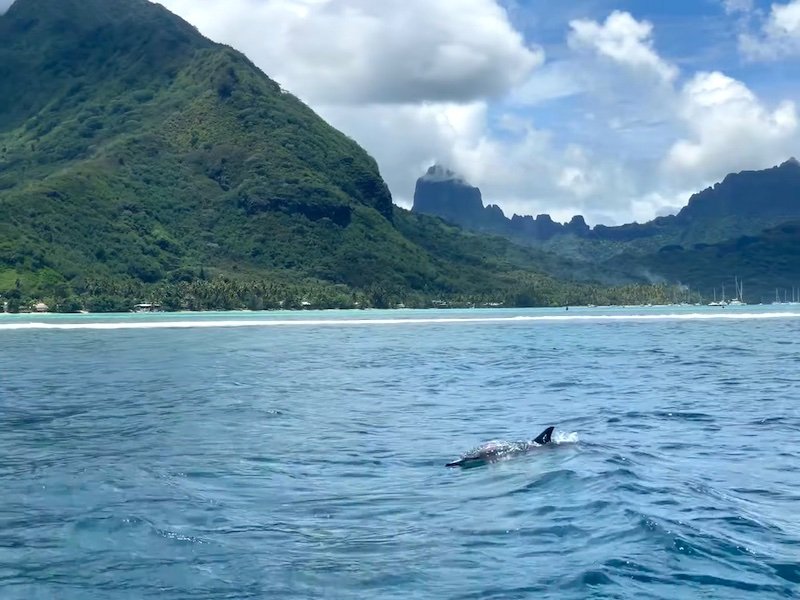 But besides that, you'll also be visiting the lagoon where blacktip reef sharks and pink whiprays congregate in massive numbers.
There are morning and afternoon departures; generally, morning departures tend to have calmer waters, so that's something to keep in mind.
These groups are purposefully kept small, capped at eight people so that the humpback whales never feel crowded.
This highly-rated whale snorkel tour includes a guide, snorkel equipment, hotel pick-up and drop-off (a rarity, we came to find!), as well as fresh fruit and beverages.
Go fun diving with marine life in the incredible coral reefs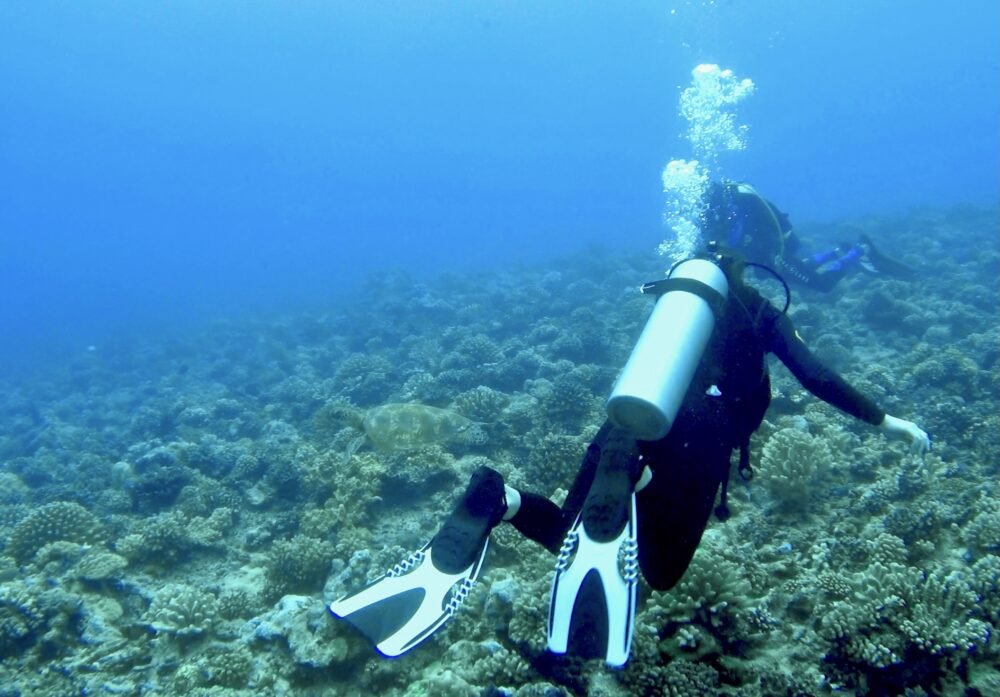 Diving in Moorea is an incredible experience, one that everyone who is scuba certified should experience.
Despite having experienced some bleaching in the mass bleaching of 2019, the reefs around Moorea are still pretty vibrant, and you can rest assured there is plenty to see.
We did four dives in Moorea (purchasing a dive package) and saw an uncountable number of turtles, perhaps a dozen reef sharks, schools upon schools of fish, and gorgeous underwater marine landscapes that are imprinted on my mind forever.
Lucky divers may even get to spot the island's famous lemon sharks (we unfortunately never did!), or even hear the peaceful harmonies of humpback whales singing in the distance!
The scuba diving conditions in Moorea are great for all levels of divers, with mild current, warm waters, and relatively shallow depths at which you can see quite a bit.
We dove all our dives with Moorea Blue Diving, which is the on-site dive shop at the Manava Beach Resort… and we absolutely loved our experience there.
We visited four great dive sites: Rotui, Mamaru, Taotoi, and the Mur de Corail (The Coral Wall).
Each were spectacular in their own right! Read all about diving in Moorea here.
Our divemaster was professional and fun, showing us lots of cool sights, and the boat crew was excellent, keeping us fed with delicious cookies and hot tea and coffee.
You can count on the French to make sure your surface interval snacks are incredible!
Overall, diving in Moorea was an incredible experience I'd happily repeat time and again, and with 15 sites to choose from — 14 of which are available to beginner and intermediate divers — there's plenty to choose from.
Stay in an overwater bungalow.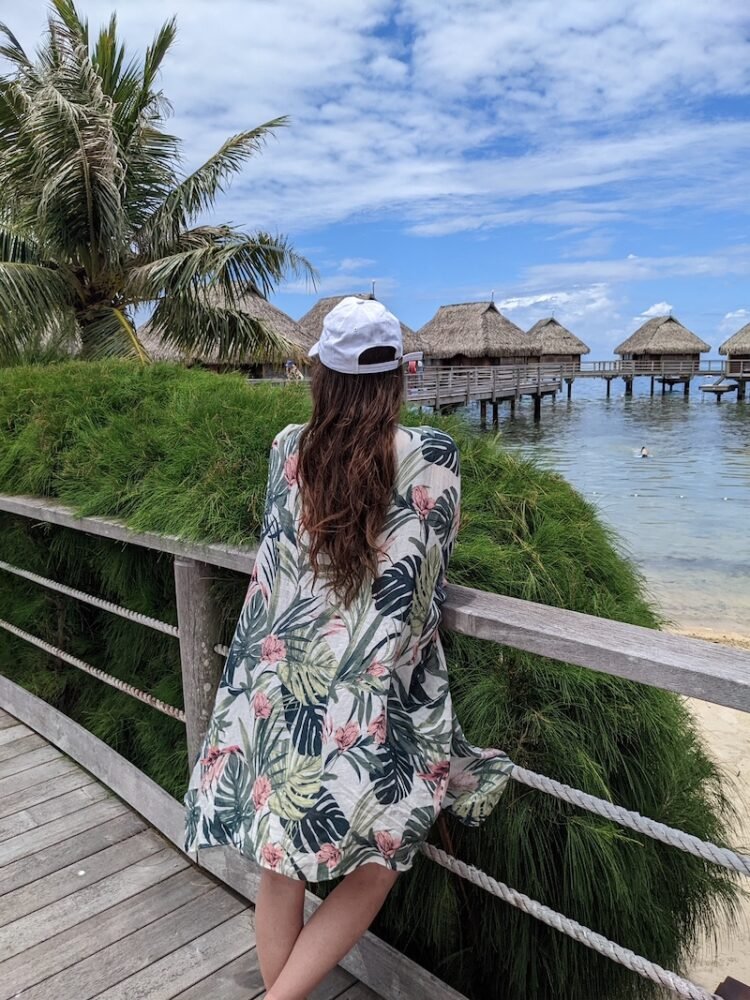 Waking up in an overwater bungalow in Moorea is a surreal experience!
While I didn't have the chance to do it on my recent trip to Moorea, I've stayed at overwater bungalows in the Maldives and I can confirm, it's an amazing bucket list experience.
Wake up to a stunning lagoon view right out your windows — something out of a dream — and have coffee or even room-service breakfast on your own private deck before lowering yourself on your own private ladder down to the waters.
Strap on your snorkel gear and admire the reef all to yourself, all without ever having to leave your hotel room!
Some bungalows even have a glass panel in the floor, allowing you to admire the colorful marine life swimming beneath you!
Moorea has three resorts with overwater bungalows to choose from in Moorea: Manava Beach Resort, the Hilton, and the Sofitel, each with their unique offerings and charm.
🛖 Recommended Resorts with Overwater Bungalows:

#1: The Sofitel Kia Ora has the most spectacular house reef and some of the best overwater bungalows in all of Moorea
#2: The Hilton Moorea Lagoon also has a wonderful house reef, but isn't quite as spectacular as the offerings at Sofitel, which has some of the larger bungalows on the island.
#3: Manava Beach Resort is an excellent option, and cheaper on the budget than other offerings. Despite not having as exciting of a house reef as the others, it's still quite nice and has a great location.
Snorkel with tropical fish at Temae Beach.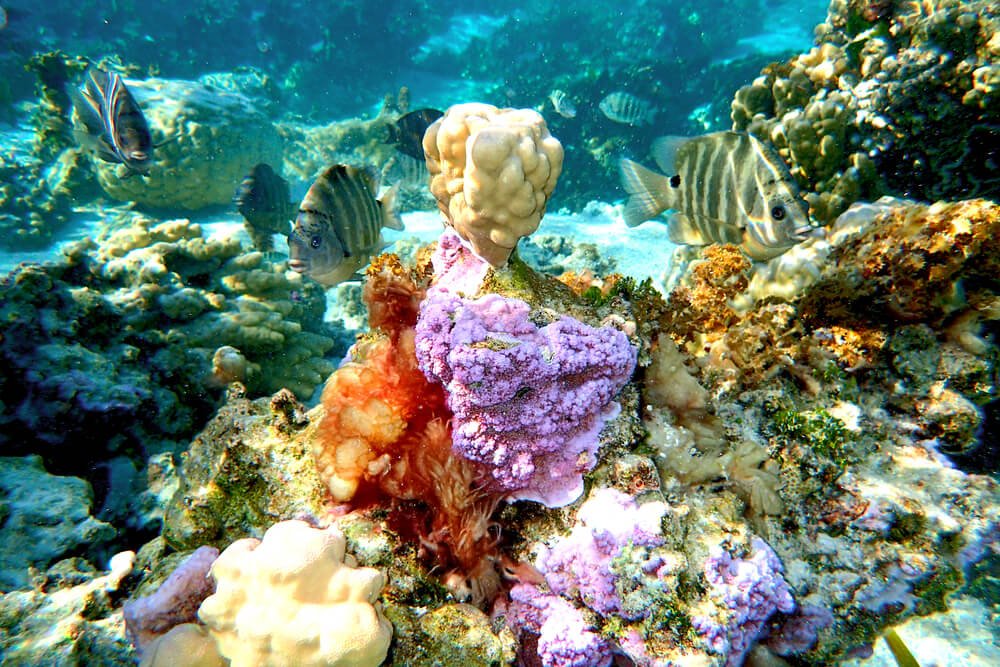 Imagine fields of staghorn coral, interspersed with neon giant clams that wouldn't look out of place in Alice's Wonderland.
And let's not forget the incredible variety of reef fish species that call this place home – although I couldn't possibly begin to name them all (though god knows I'm trying — I'm now obsessed with fish ID!)
Snorkeling at Temae Beach, one of the best beaches in all of Moorea and definitely the best place in Moorea for snorkeling off the beach, is an incredible experience.
Bring your own fins, masks, and snorkels and get ready for one of the best places to snorkel independently in Moorea.
Stay on the public beach of Temae, or wander down towards the house reef at Sofitel (with its iconic overwater bungalows) for some more reef life.
And who knows what kinds of colorful marine life you'll encounter along the way – perhaps blue damselfish, clownfish, surgeonfish, or even the brilliant blue-green chromis?
… or take a night snorkel in these same waters!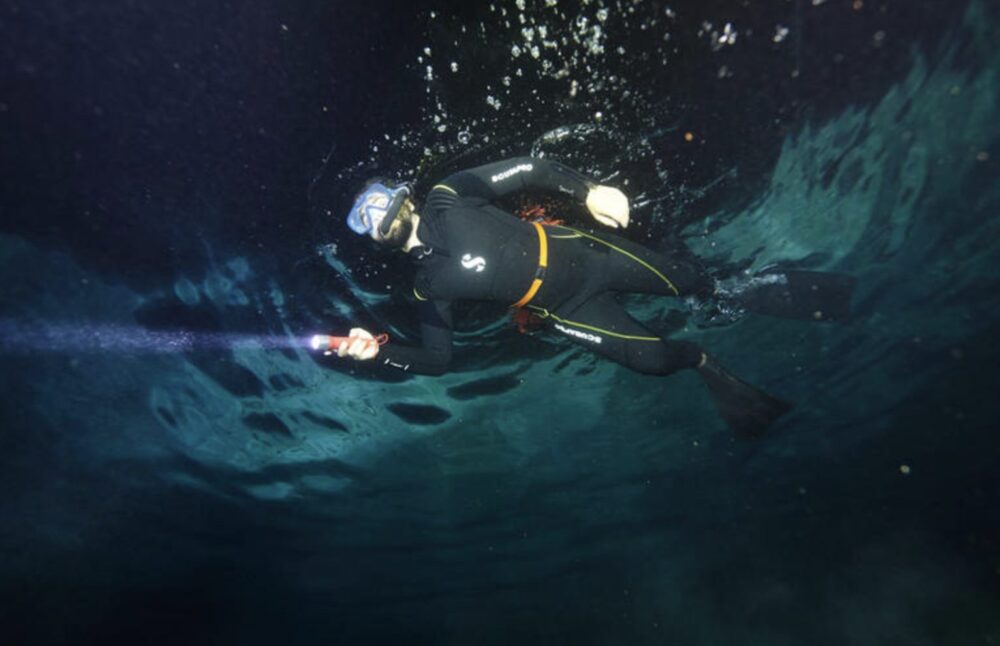 If you thought Temae's reef was bustling by day, just wait until you see it by night.
All sorts of normally shy creatures — crabs, lobsters, shrimp, octopi, etc. — all come out and do their nocturnal thing, protected by the shield of darkness.
You'll get to experience a side of the underwater world you're not used to when you do a night snorkeling tour!
Led by a guided and armed with a flashlight and wetsuit, you'll get to enjoy the stunning dark waters of Moorea's reef and see a totally different side of the reef.
Suggested Tour: Night Snorkeling Tour of Temae Beach

If you don't mind the dark, this guided snorkeling tour of Temae's reef by night is sure to be one of your favorite experiences.

Night dives are one of my favorite things like, ever (what can I say, I love seeing the eyes of crustaceans light up and the rainbow-colored octopus out and about hunting as opposed to hiding).

I imagine night snorkeling to be just as fun!

➜ Book your night snorkel experience here!
Admire the turquoise waters of Moorea by transparent kayak.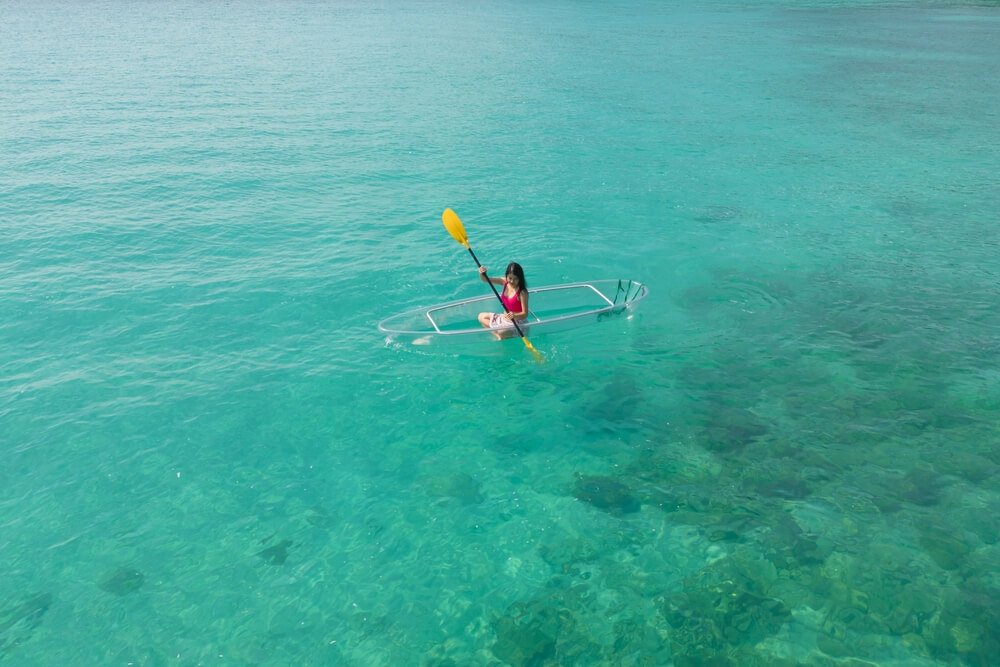 Embark on a mesmerizing journey through the crystal-clear waters of Moorea's lagoon with on a transparent kayak lagoon tour!
Glide through the stunning underwater world in a transparent kayak that can fit two people per kayak — a perfect romantic thing to do in Moorea! — all led by an experienced guide.
As you peer through the bottom of the clear kayak, the visibility is amazing: it's like looking through a window into the sea below.
The lagoon is positively teeming with marine life, including sea turtles, majestic pink whiprays, and even blacktip reef sharks.
Admire the vibrant coral reef below you and watch as fish dart around you in a dazzling display of color!
While many accommodations include kayak rentals, this tour is special because it's the only place on the island that has these unique transparent kayaks, plus you'll enjoy the direction of a guide.
Your tour includes all the necessary equipment, including the kayak rental, lifejackets, and a waterproof bag for your personal belongings if requested.
Note that pick-up and drop-off aren't included, so you'll have to request that for an additional fee, or get yourself there independently (either by taxi or by rental car).
… or by transparent paddleboard!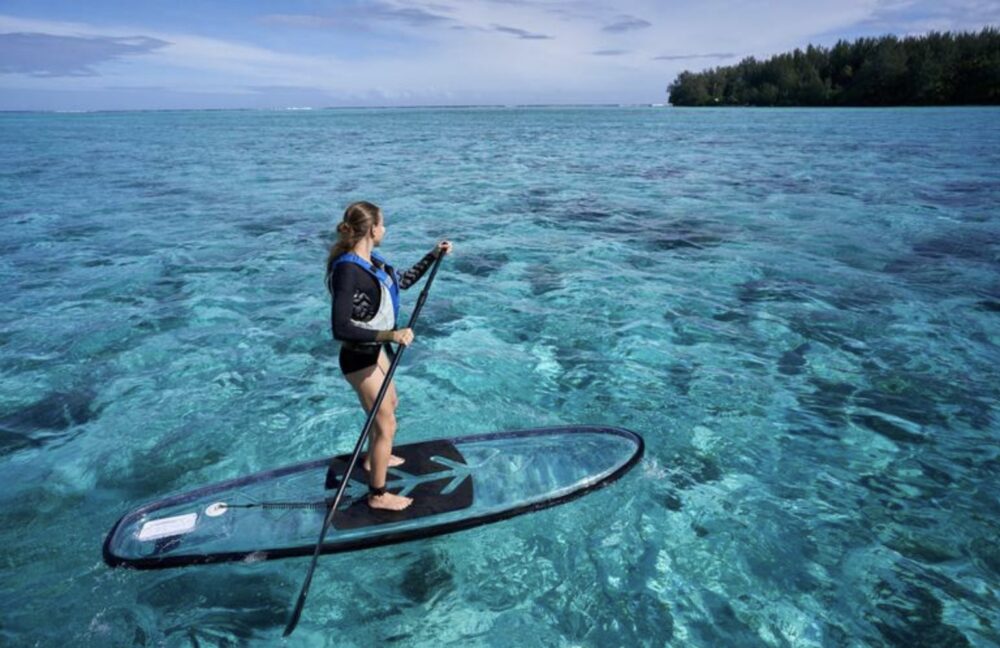 If you prefer paddle boarding over kayaking, the transparent SUP tour of Moorea's lagoon is the perfect adventure for you!
Starting from the picturesque beach in Tiahura, you will be immersed in the stunning turquoise waters of Moorea immediately: it'll literally be underneath your feet the whole time!
With a transparent stand-up paddle board, you can see the sandbanks beneath you, teeming with pink whiprays and blacktip reef sharks, as well as the vibrant coral reefs in the shallow channel between the two motus.
A guide will accompany you and provide insights into the area's marine life, as well as the best spots to paddle around.
This is the only transparent SUP tour on the island, so it's the only way to enjoy the beauty of the lagoon in this unique manner!
When your arms want a break from paddling, there are the motus of Fareone and Tiahura that you can reach and relax on the islets.
Choose from three different tour durations: a 3.5-hour morning tour, a 2-hour afternoon tour, or a full-day 7-hour tour.
No matter which you choose, it's a unique and incredible way to see Moorea's lagoon.
Take a sailing and snorkeling catamaran cruise.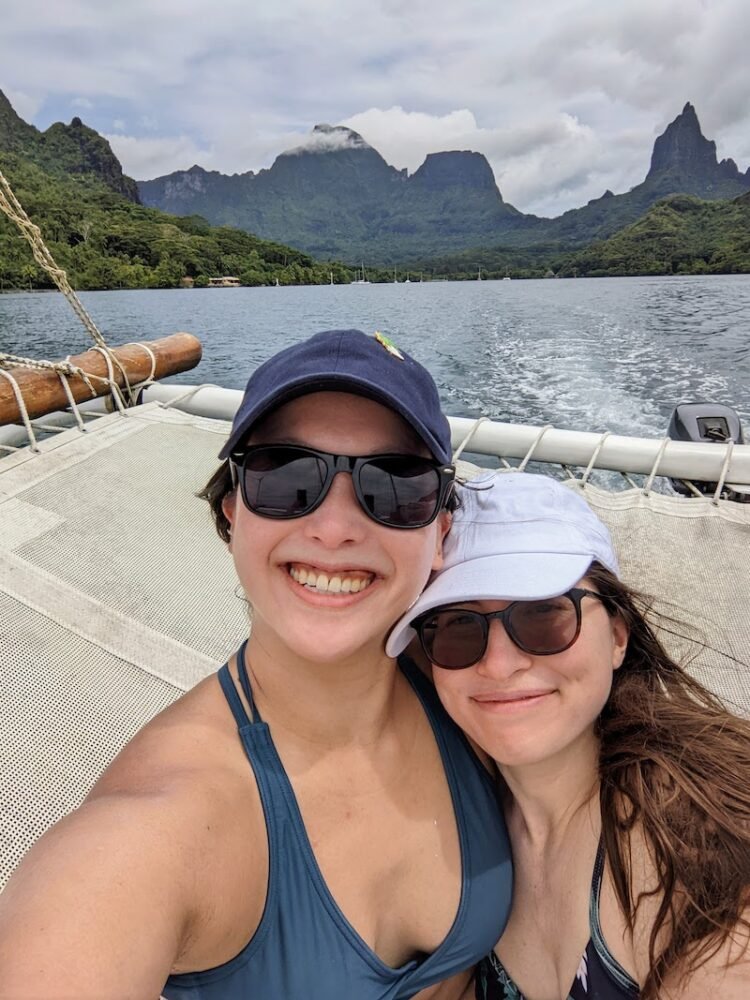 If you want to spend the day on a catamaran in Moorea, loafing on the nets as the salt air whips your face, then jumping into the crystal clear waters to snorkel… this is an obvious thing to do in Moorea.
This fun snorkeling catamaran cruise departs twice daily, though I recommend the afternoon tour at 1 PM — the water color is even more brilliant at this time of day vs. the morning.
The boat tour (private or small group — we got lucky and were the only two on our tour!) takes you to two snorkeling spots: one with pink whiprays and blacktip reef sharks in abudance, and the other packed with coral gardens teeming with fish.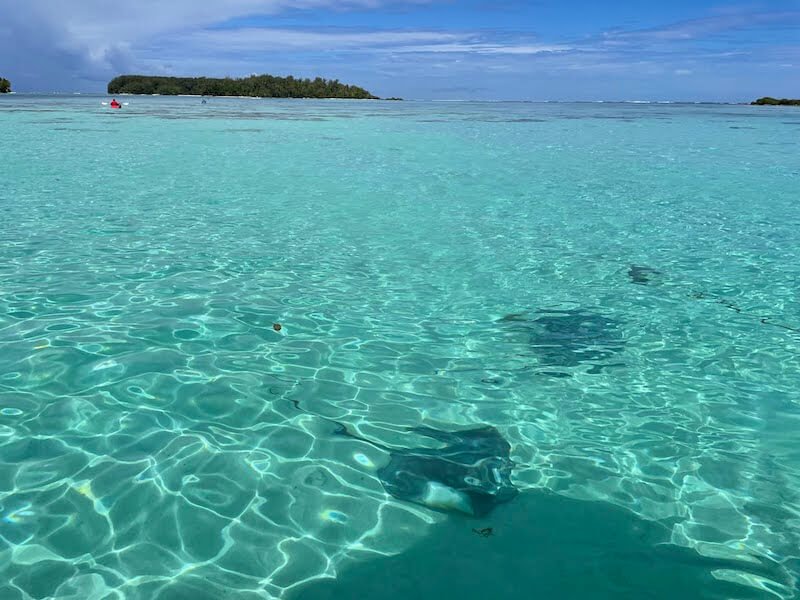 The first snorkeling spot, Banc de Sable Raies et Requins, is located in front of the now-closed Intercontinental Moorea.
The second snorkeling spot, Coral Garden Tiara, is situated between Motu Fareone and Motu Tiahura and has an abundance of vibrant marine life and healthy coral.
Between snorkeling, enjoy locally-made fresh pineapple juice from the Rotui factory (spiked with some rum if you choose!) and nibble on some delicious fresh fruit.
Try "jet snorkeling" to add a little adrenaline to your day.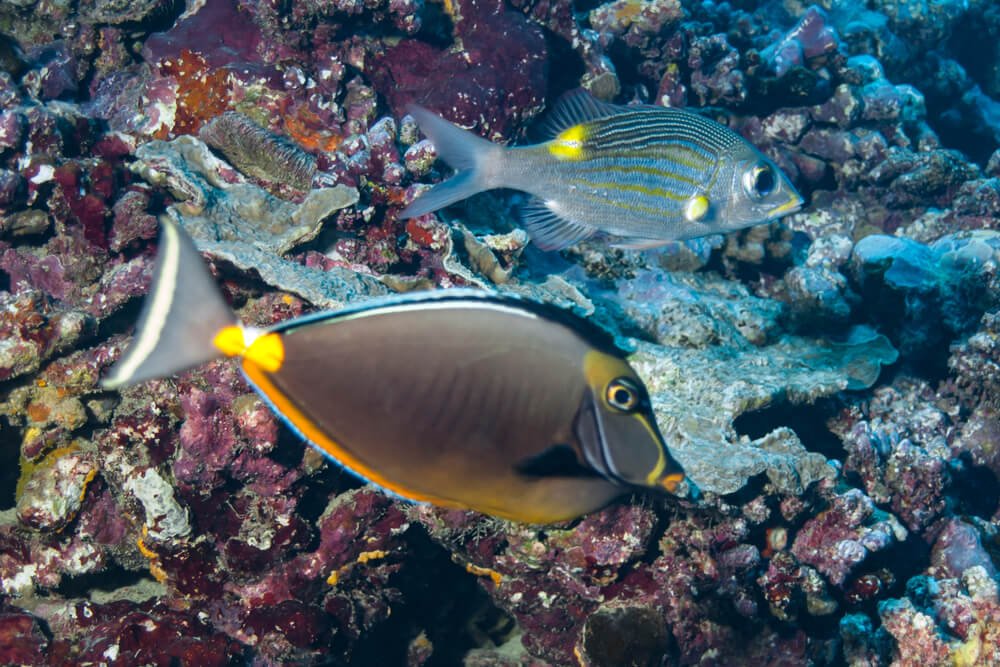 Experience the ultimate snorkeling experience with the 4-Hour Jet Snorkeling Tour in Moorea!
This unique tour gives you a full-face snorkel mask and your very own "sea scooter", a hand-held scooter that propels you through the water at around 4 miles per hour.
It may seem slow, but once you're in the water, it feels incredibly fast — this is way faster than people swim, and you won't expend nearly any energy doing so.
Effortlessly glide through the coral gardens of Moorea island while marveling at the incredible marine life, admiring some of the best snorkeling spots on the island, from Temae Beach to Turtle Town to the lagoon with its rays and sharks.
Plus, with the addition of a professional underwater photographer and videographer, you'll be able to capture stunning memories of your adventure through Moorea's brilliant reefs.
Relax and snorkel off of Tiahura Beach.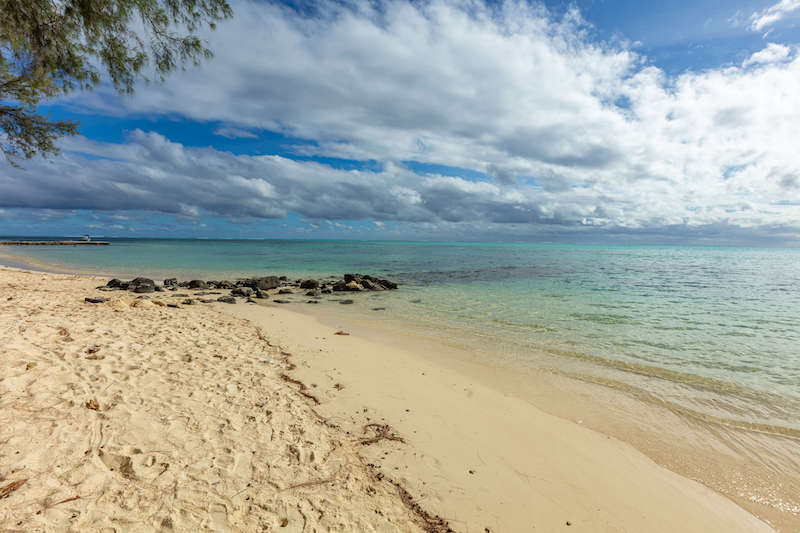 For a quiet and secluded beach in Moorea, check out Tiahura Beach on the more isolated western coast of the island.
Relatively small for a beach, there's nonetheless enough white sand for people to enjoy, with clear, inviting turquoise water with plenty of shallows to wade in, making it rather family-friendly.
Don't expect any beach clubs or amenities, like showers or bathrooms.
What you can find, however, is a great snorkeling spot complete with a coral garden teeming with colorful tropical fish and marine life.
Snorkelers can easily explore the underwater world right from the shore!
Tiahura is also a great pick for sunset, as its the westernmost public beach on the island.

Take a sunset sailing cruise.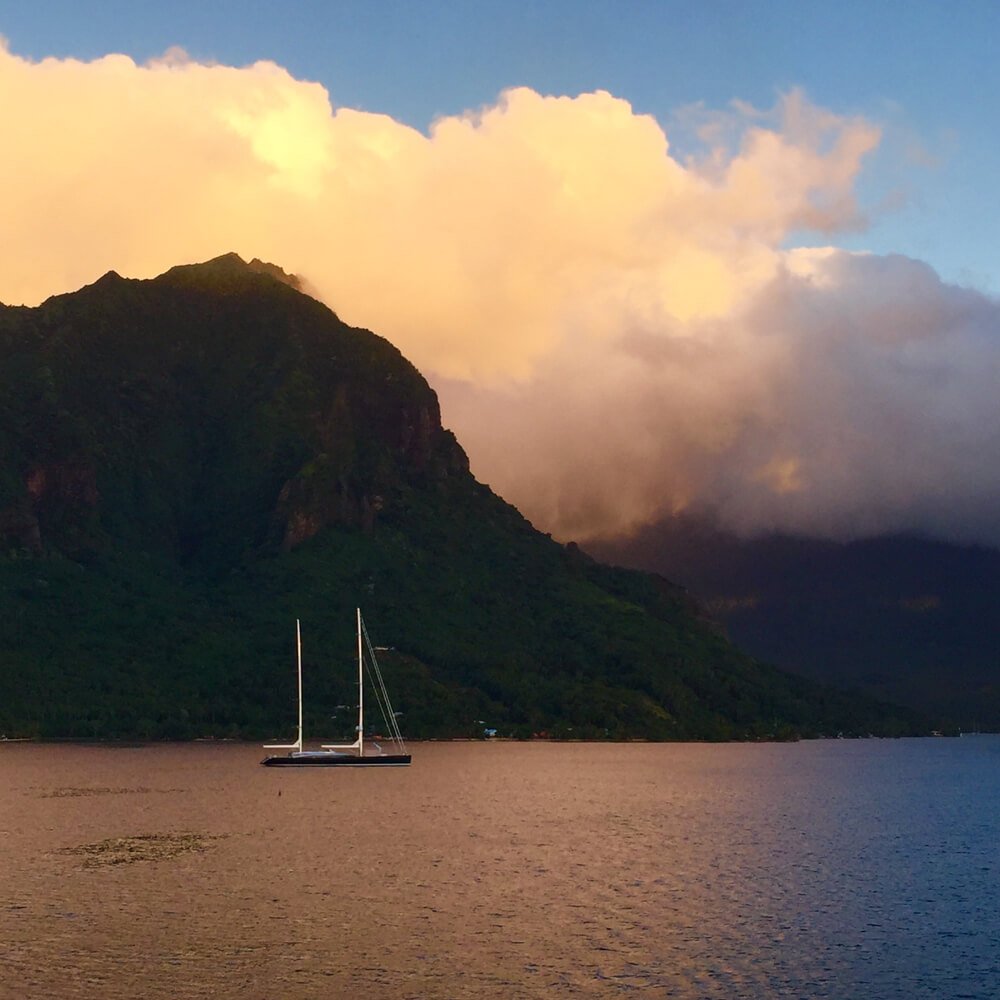 As the sun sets over Moorea, there's no better way to unwind and relax than aboard the Taboo catamaran sailboat on a sunset cruise!
Departing from Mareto Public Beach, you'll be treated to breathtaking views of Cook's Bay and beyond, as the warm late-evening breeze accompanies the brilliant colors of the sun setting on the horizon.
Sip on refreshing cocktails or local juice as the light slowly fades, painting the sky with hues of pink, orange, and purple.
With the Taboo's spacious deck and comfortable seating, you can sit back and enjoy the moment with your loved ones — or new friends made on the tour.
The sunset catamaran cruise is the perfect way to experience the beauty of Moorea and make unforgettable memories.
Explore the waters of Moorea on a jet ski tour.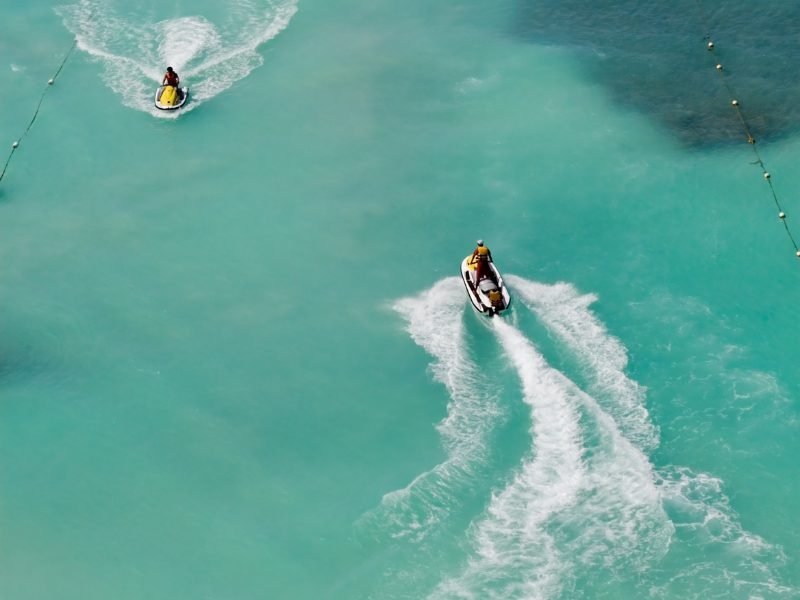 ​Experience the thrill of zipping across the turquoise waters of Cook's Bay and Opunohu Bay on a Moorea jet ski tour!
With the option of a solo or twin jet ski, this 3 hour tour takes you on an exciting adventure through some of the most picturesque scenery the island has to offer.
Enjoy the salty ocean air blowing through your hair as you speed past lush foliage and volcanic mountains, with the possibility of seeing dolphins, turtles, and even whales in the distance (if you visit during their season).
But the real highlight of the tour is the opportunity to swim with stingrays and sharks in their natural habitat.
Don your snorkel gear and jump into the clear waters for an up-close encounter with these fascinating creatures!
And after your adrenaline-fueled jet ski excursion, relax with the convenience of hotel pickup and drop off.
Watch the sunset at Ta'ahiamanu Beach.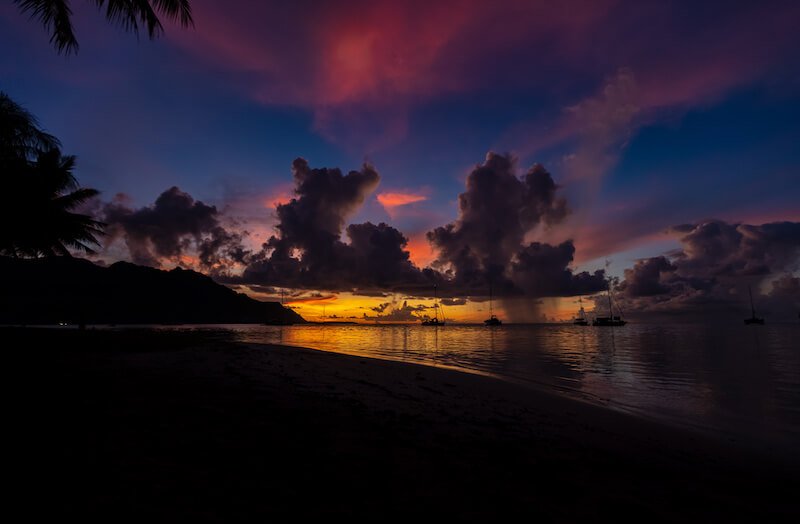 Ta'ahiamanu Beach in Moorea is a breathtaking destination that features a long stretch of white sand and crystal clear waters. Like Tiahura, there aren't any public amenities (bathrooms, showers, etc.), but it's still worth the visit.
The beach is relatively small, but with its soft white sand and stunning views of Opunohu Bay, who can argue with that?
Plus, it's an ideal spot for those seeking solitude and privacy, away from the more touristy beaches of the resorts.
Plus, you can go snorkeling in the waters of Ta'ahiamanu Beach, home to colorful tropical fish, sea turtles, and other marine life.
The sunset at Ta'ahiamanu Beach is truly a sight to behold.
Of course, you'll get all the beauty of your average tropical sunset, but because it's located right on Opunohu Bay, you also get a view of the rugged edge of the island, the silhouette of the boats in the bay, and the sun setting behind everything: it's extremely photo-worthy!
Best Things to Do in Moorea: Nature Experiences
Take a 4×4 tour of Moorea by Jeep.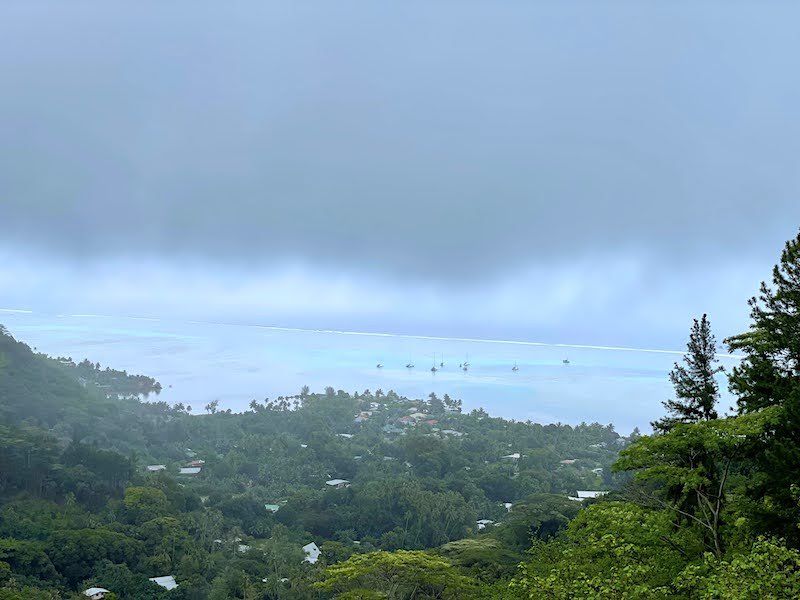 One of the best attractions in Moorea is a 4×4 Jeep Safari Tour, which will quite literally take you off the beaten path and into the heart of the island.
Our tour started by making the treacherous trek up to Magic Mountain, for which I was very grateful to be in a 4×4!
There's no way your standard rental car could make it up (and I would probably have a heart attack trying even in a 4×4).
Unfortunately, the day we did this was very rainy — while we stayed nice and dry inside the 4×4 because it was sealed in with plastic sheeting for windows, the views from Magic Mountain weren't as spectacular as they could have been.
That said, the tiny glimpse we did get of the bay from up high was pretty spectacular!
After visiting Magic Mountain, we went to a local farmer's shop, where they showed us how vanilla is cultivated (did you know it comes from an orchid?) and let us try all their delicious jams!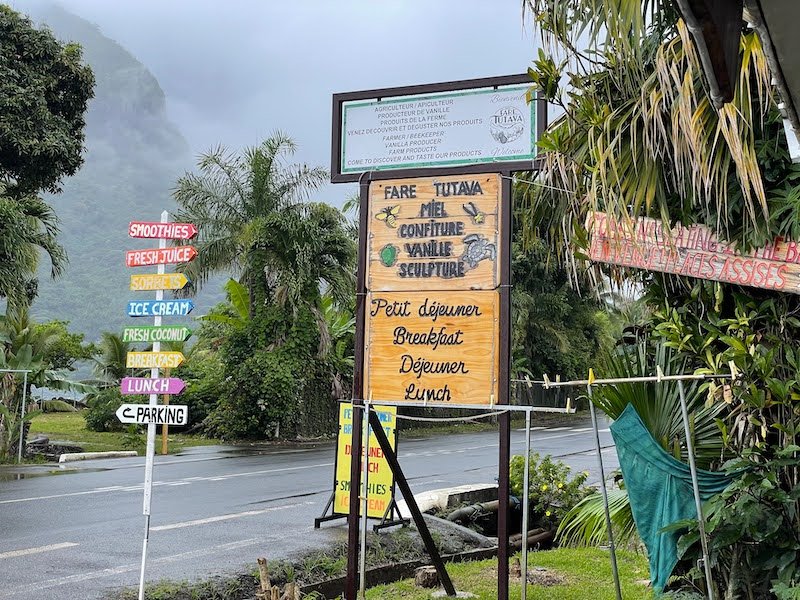 We then stopped at the Belvedere for another rainy but beautiful view before heading into the interior of Moorea to explore the pineapple fields that belong to Rotui, the island's juice factory.
We then stopped by the Rotui gift shop, which was far less a tourist trap than I expected — they had all sorts of excellent edible souvenirs, like delicious local chocolates and all sorts of liqueurs.
Finally, we ended the day at a pearl shop, where we got a pretty heavy discount.
This is where my girlfriend ended up buying her pearl earrings, and I think she got a good deal compared to the shop in town!
Admire the views from the Belvedere.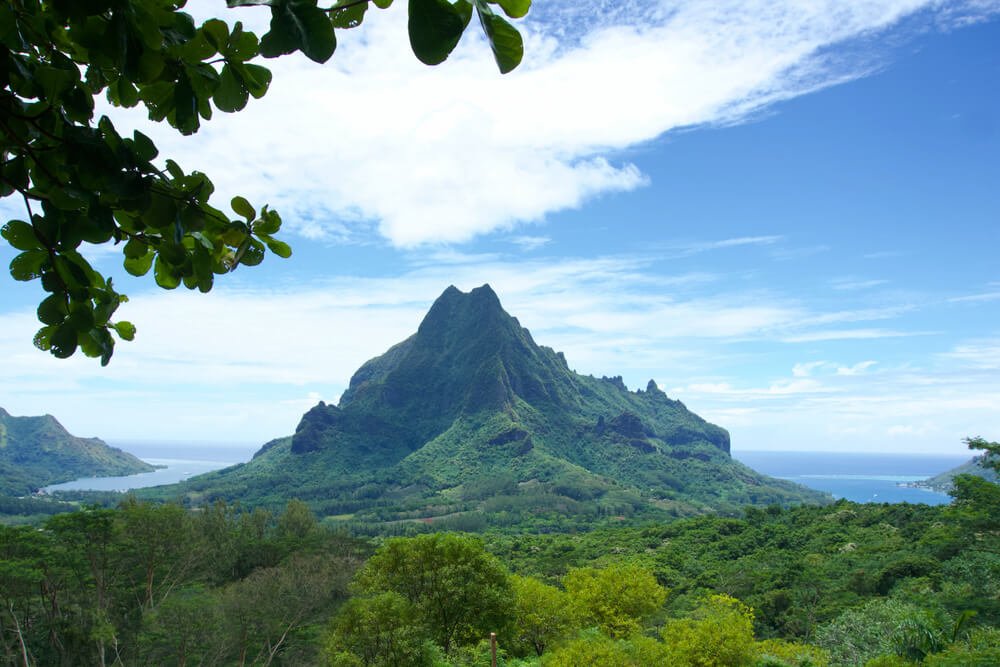 Taking in the views at Belvedere Lookout is one of the most popular things to do in Moorea, and for good reason.
​Most 4×4 Jeep tours like the one I mentioned above include it as a stop, but in case you're not doing a Jeep tour and are only exploring Moorea independently with your own car, I've included it here.
This amazing lookout offers panoramic views of the entire island, including the stunning twin inlets of Cook's Bay and Opunohu Bay.
To get to the lookout, visitors can either drive up the winding road or hike up a nearby trail.
If you have a car, the drive itself is a scenic one, with lush vegetation all along the road.
Admission to the lookout is free, so it's a great free thing to do in Moorea if you're trying to save on your trip budget.
To continue with the free theme, there are several hiking trails in the area for those who want to explore this part of Moorea further.
Admire the view at the Toatea Lookout.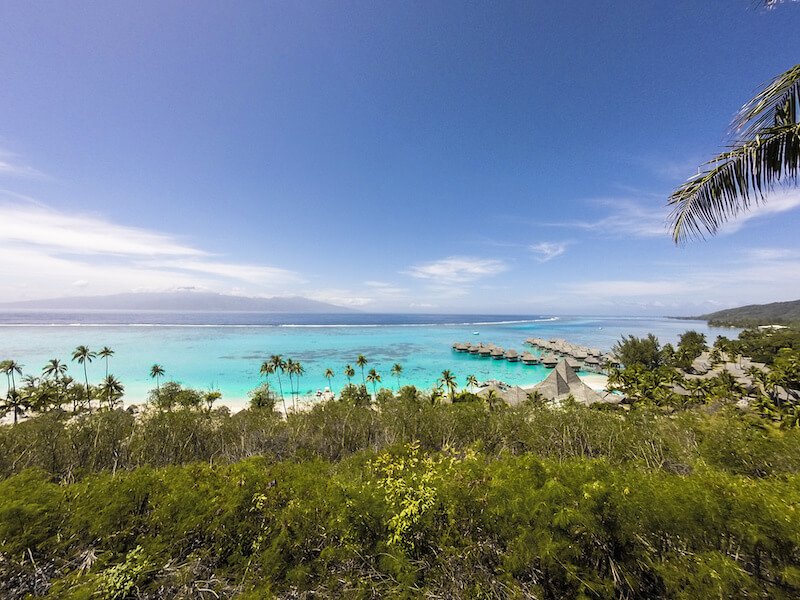 Another great lookout point on the island is the Toatea Lookout, which has stunning views of the overwater bungalows of the Sofitel Kia Ora, the lagoon and reef, and even Tahiti off in the distance.
It's located in between the Moorea ferry terminal and the airport of Moorea, not far from Temae Beach.
If you're driving to Temae Beach, I definitely recommend stopping here for this viewpoint (or if you're taking a taxi, ask them to stop here so you can snap some photos!).
It's also a good destination for an e-bike ride — more info on that below!
Take an e-bike ride around the island.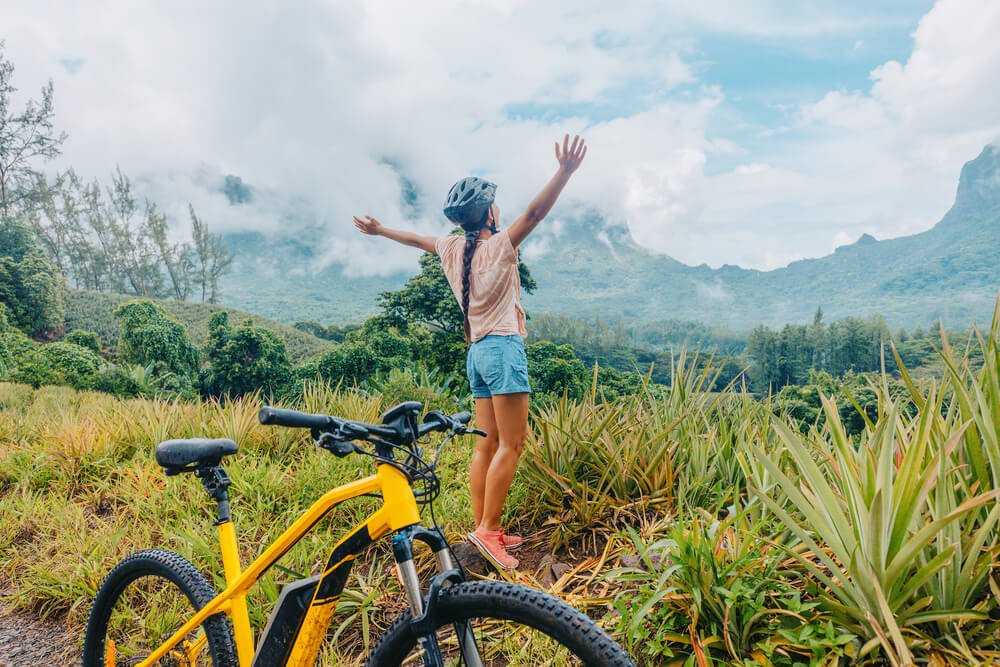 Moorea is a larger island than you'd expect — getting around on foot is not really very feasible.
Renting an e-bike for the day is a great way to explore the more remote parts of Moorea, like the pineapple fields in the interior of the island.
The e-bike will do some, but not all, of the hard work for you!
You can rent an e-bike for a day and go on your own self-guided adventure, pulling over whenever you want to snap photos and enjoy the scenery.
Explore the island by rental car.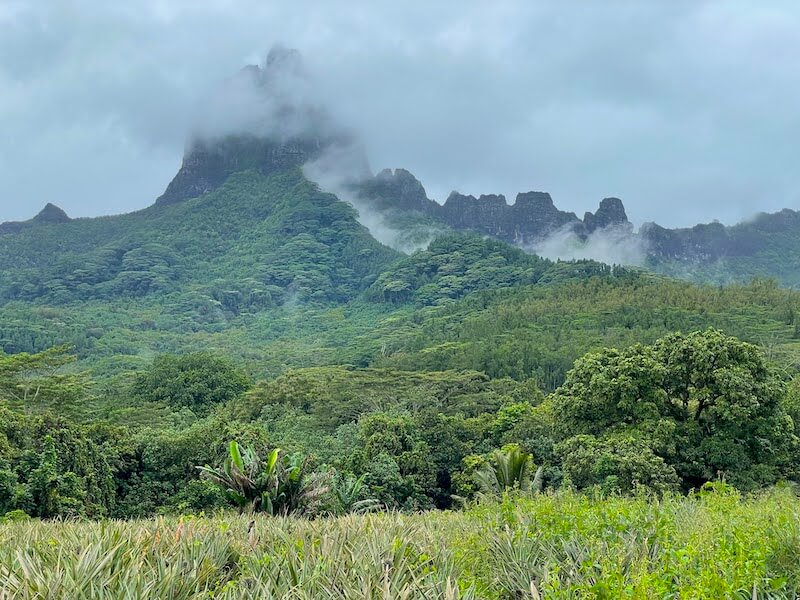 To make the most out of your road trip around Moorea, start off by heading towards Cook's Bay, a large and stunning bay surrounded by lush green mountains.
From there, continue along the coast to Opunohu Bay, another beautiful bay with calm waters, perfect for swimming and snorkeling: Ta'ahiamanu Beach is a great public beach to enjoy the bay at.
You can also take a drive up the winding road to Belvedere Lookout, a scenic overlook with panoramic views of Cook's Bay, Opunohu Bay, and Mount Rotui.
You could also visit the pineapple plantations, the ancient marae (Polynesian ruins), or the Moorea Tropical Garden, the island's beautiful botanical garden.
You can rent a car at the Temae Airport or you can also rent a car in downtown Maharepa at Albert's Car Rental.
Hike the Three Coconut Pass trail.
If you're looking for the most popular hike in Moorea, look no further than the Three Coconuts Pass, or Col de Trois Cocotiers.
This hike will take you on a journey through an ancient volcanic landscape that has been reclaimed by nature, giving it a Jurassic Park vibe.
The pass goes between Mount Mou'aroa and Mount Tohive'a, providing stunning views over the Opunohu Valley as you hike.
Don't be intimidated by the 260 meters of elevation gain and 4-mile out and back trail – this hike is relatively easy and can be completed in two to four hours, depending on your speed.
The hike starts at Belvedere lookout point and takes you through a variety of beautiful endemic flora as you admire the views over the stunning valley.
Keep in mind seasonality when planning these Moorea hikes: the best time to hike is during the dry season (May-October), as the wet season can make the trail slippery.
You can do this hike independently or you can hire a local guide, who will take you on further trails past the Three Coconuts Pass.
Hike to the Afareaitu Waterfall.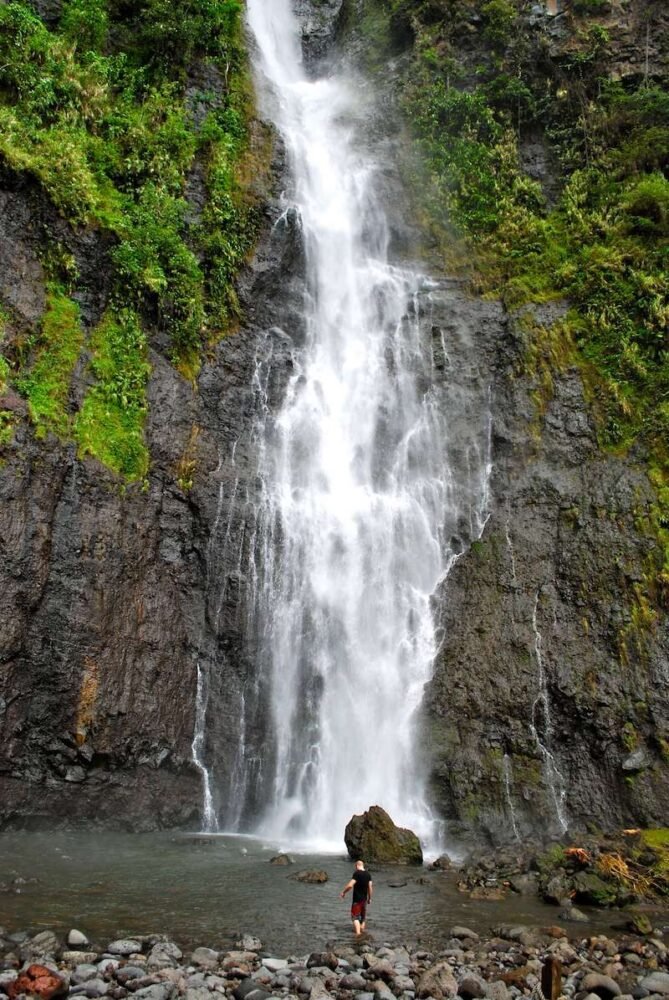 The Afareaitu Waterfalls hike may be short, but it's a challenge with its steep ascent of over 500 feet in just half-a-mile (and then remember, what goes up must go down!).
The trail can be completed in an hour, but because of its quick-paced elevation gain, be prepared for it to be a heart-pumper!
The trailhead is at the end of a very bumpy road, which isn't suitable for all rental cars. It's suggested to park before the hill and walk the extra distance, as the road can be challenging for vehicles.
It's also a residential area, so parking without blocking driveways or in a way that disrupts the residents who live here is essential.
What the trail and waterfall are like will change a lot depending on the season — in rainy season, the waterfall will be roaring strong, and you'll encounter a few water crossings (so make sure your hiking boots are waterproof, or that you're wearing something like hiking sandals).
On the other hand, during the dry season, the hike may be a little easier without the water crossings, but the water level may be too low to enjoy the little natural pool that the waterfall forms.
Despite the obstacles, the picturesque views of the waterfall and lush flora along the trail make this hike worth the effort.
Hike to the summit of Mt. Rotui.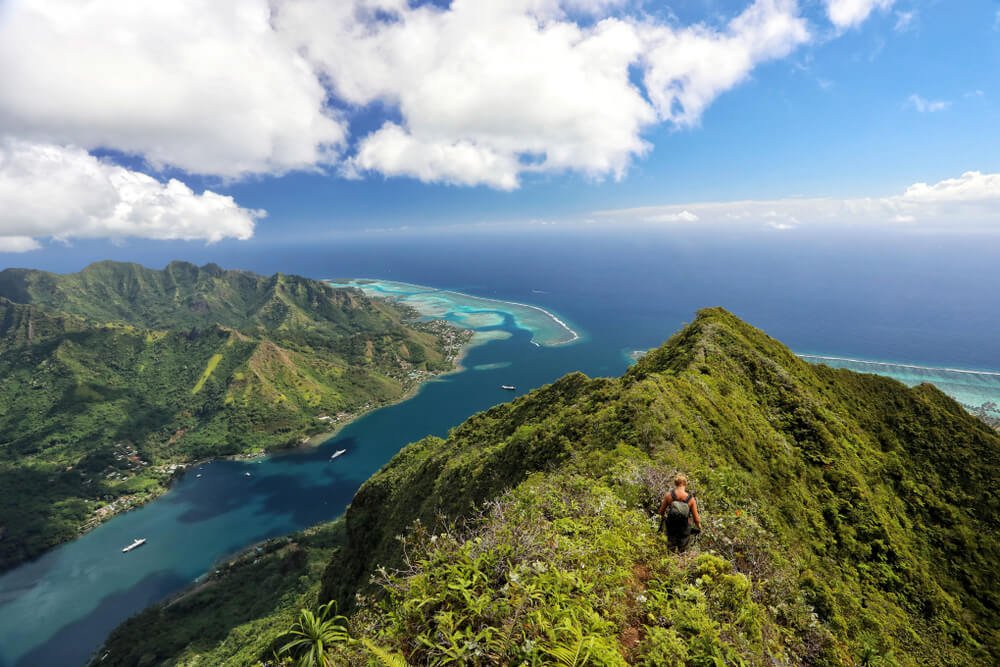 With nearly 3,000 feet of elevation gain, the hike up Mt. Rotui is certainly a challenging one: while only 5 miles out-and-back, this trek is as strenuous as it gets.
Be prepared to scramble across rocks and face steep drop-offs — this hike is definitely not recommended for those afraid of heights.
The hike takes around 4-6 hours to complete (roundtrip). It's highly recommended to start as early in the morning as possible to avoid as much sun and heat as you can.
Also, the trail is almost completely exposed, so bring plenty of water and sun protection.
And only attempt the hike in the best weather conditions and in dry season — there shouldn't have been any significant recent rainfall, as this would make the already-dangerous hike even tougher.
But for those who are up to the challenge, the view at the top is worth it: you'll see all of the bays and lagoons of Moorea laid before you, shimmering in brilliant glints of turquoise and deep blue, and the other jagged peaks of Moorea behind you.
The trailhead is located just west of the Hilton Moorea, so keep an eye out for a dirt path with a coconut tree that says "Rotui" and follow the signs.
If you reach the Lilikoi Garden Cafe, you've gone too far. If you're up for the challenge, the Mt. Rotui hike is a must-do experience on Moorea.
Best Things to Do in Moorea: Foodie Fun
Try poisson cru, the national dish.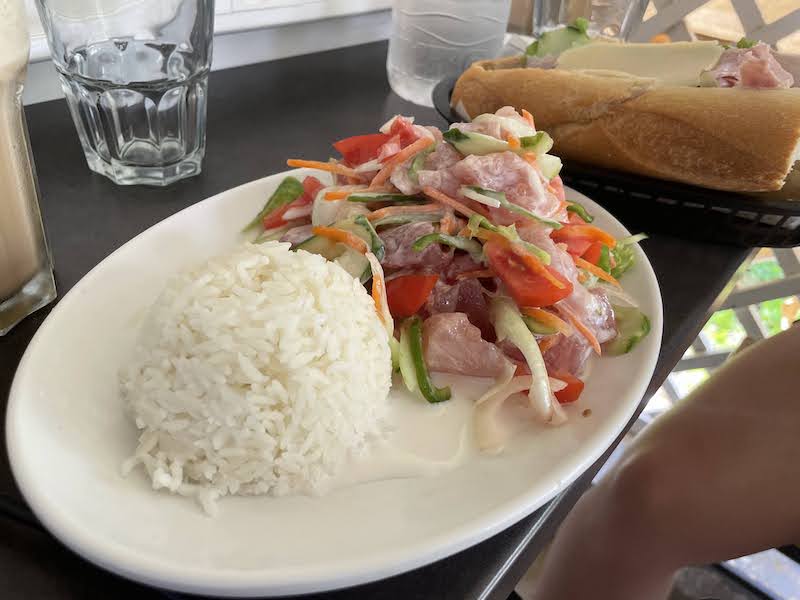 Poisson cru, the national dish of French Polynesia, is a culinary gem that captures the interplay of land and sea in the Polynesian diet.
Imagine the freshest raw tuna you've ever tried, topped with coconut milk, lime juice, onions, and other crunchy vegetables like bell peppers, cucumbers, or tomatoes — every place makes it a little bit different.
This full-bodied flavor profile is rich with fatty goodness from the coconut milk to the tuna, and the lime juice and onion bring tartness and crunch to the delicious dish to balance everything out with an acidic punch.
When it comes to trying poisson cru, there's no better place to do it than in Moorea. Virtually every roulotte (food truck) and local restaurant will have their spin on poisson cru.
And when the fish and ingredients are this fresh, they're all winners.
Personally, I thought the best poisson cru was at Chez Ke'iki, but if you're staying in the Tiahura area, Snack Mahana is supposed to also have some of the best on the island!
Eat at one of Moorea's food trucks.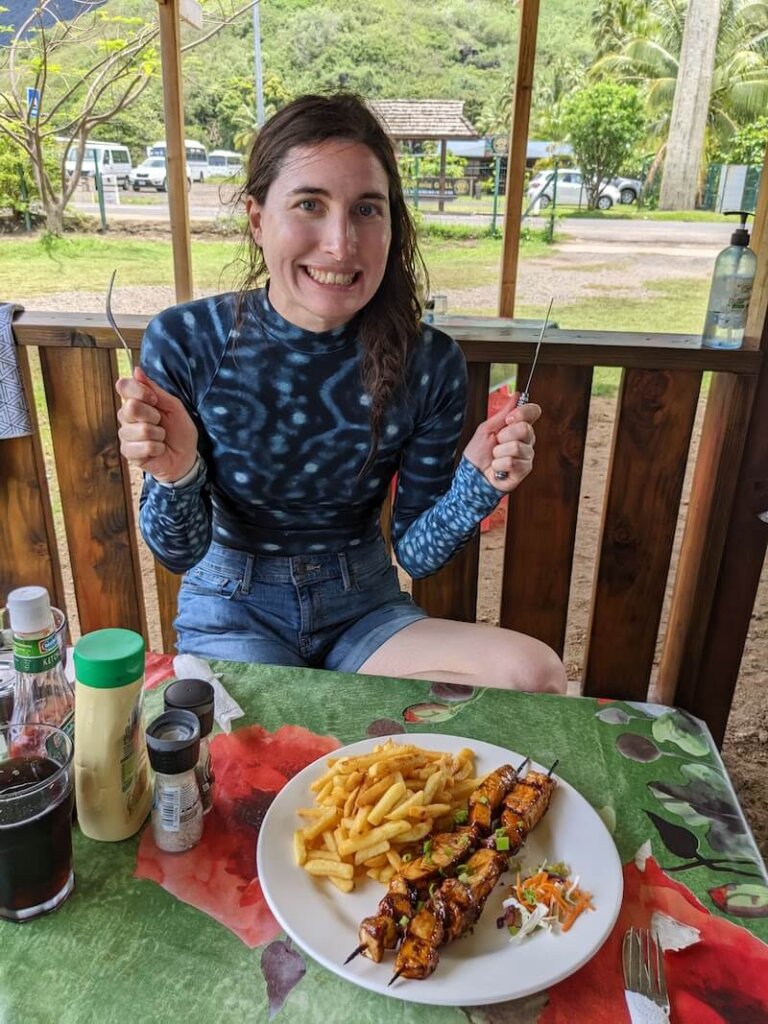 While French Polynesia may conjure up visions of ultra-luxury, the reality is that outside of the resorts of Bora Bora (and to a lesser extent, Moorea), the island vibe is very casual.
Eating at Moorea's food trucks (roulottes or snacks) is one of the top things to do in Moorea for any foodie.
Found all throughout the island, these little trucks pack a powerful punch for their size.
A few of my favorite food trucks were the poke bowl food truck at Temae Beach (better than it had any right to be!), as well as the scattered food trucks around Maharepa, one of the livelier parts of the island.
We've talked about poisson cru already, and that's definitely something you shouldn't miss.
These food trucks will often also serve raw fish in two other ways: ceviche style (no coconut milk, lots of acid) and carpaccio style (dripping in delicious olive oil!).
Other must-tries are the brochettes (skewers) with fish like mahi-mahi, grilled swordfish, fish sandwiches, etc. — you get the point. If it's fish, it's probably delicious.
Eat delicious French pastries.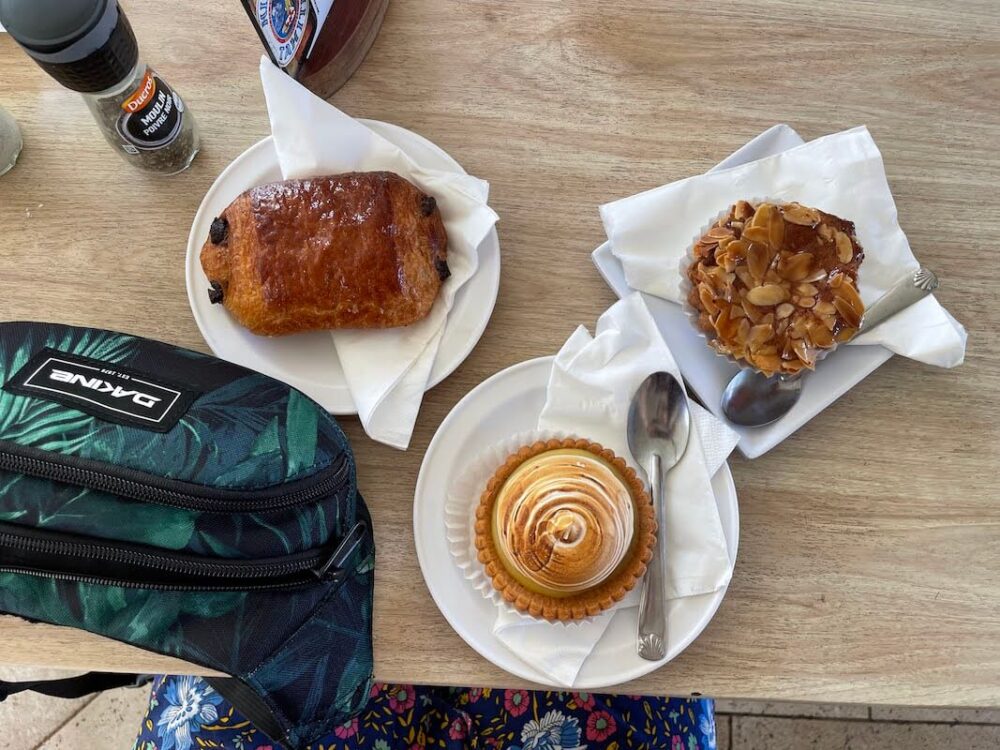 One of the best things about being in French Polynesia is, well, all the French influence on the cuisine!
And of course, that means French pastries!
While Tahiti (and in particular Papeete) has a number of excellent patisseries, Moorea is a small island with fewer choices.
But that doesn't mean you won't find some delicious pastries. The French wouldn't leave you hanging like that, would they?
Enter Caraméline, the small bakery in Maharepa with an outsized amount of delicious pastries, including lemon meringue tarts, almond tarts, mille feuille, flaky croissants… ok, I'm drooling now.
Grab all you need for a sunset picnic at its local grocery stores.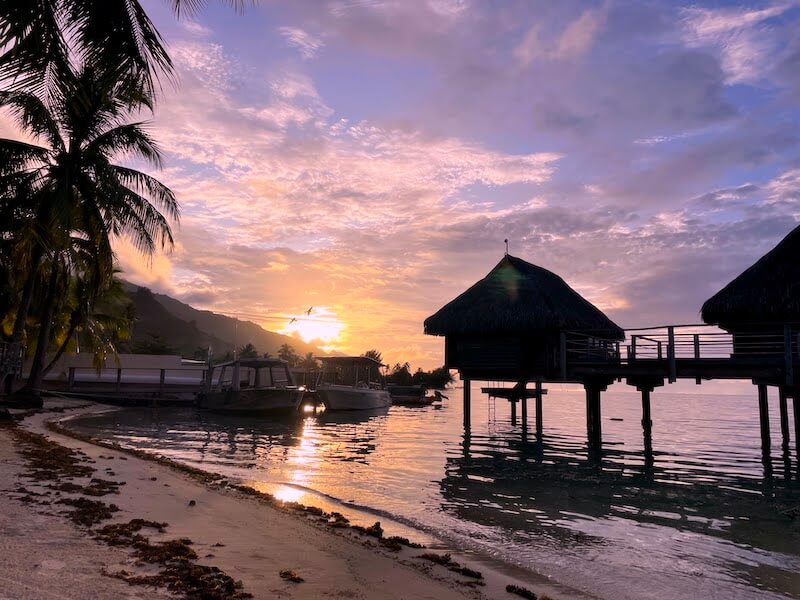 I've been to France a number of times… so I was delighted to see that French grocery stores like Super U abound here.
While French people will probably raised-eyebrow emoji me for this, I was ecstatic. I love Super U!
When you've seen what I've seen (read: janky all-night Brooklyn bodegas and Bulgarian supermarkets), Super U is basically a Michelin-starred restaurant.
Definitely be sure to pop into the Super U in Moorea and delight in all its wonderful French products.
We went overboard with our picnic provisions — duck terrine, several kinds of French cheeses including goat's cheese, raclette, and other ones I can't begin tor recall, fresh pineapple jam with vanilla bean, locally-made ice creams, French sablé butter biscuits…
It was absolutely worth it. Bring your picnic to somewhere special — like the little stretch of publicly accessible beach in front of the overwater bungalows at Manava — and have a stunning sunset picnic.
Eat a meal at Chez Keiki.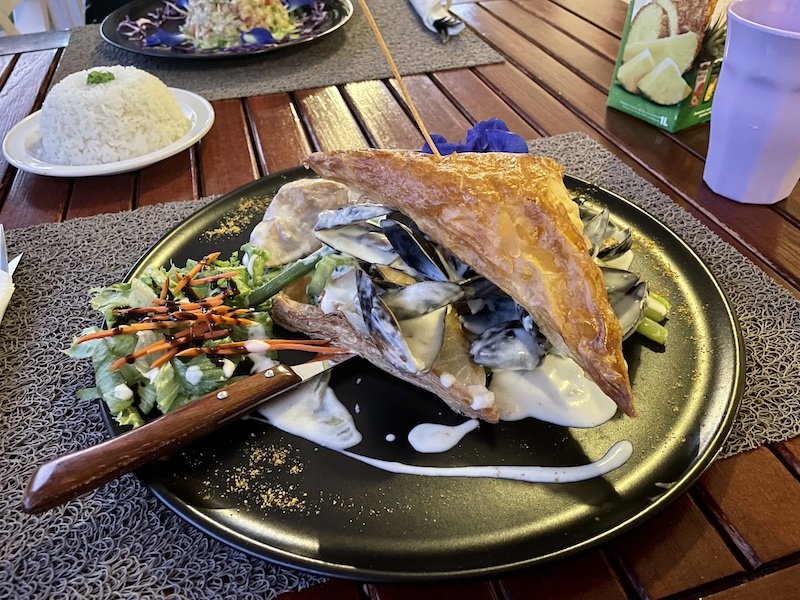 I'll be honest: the menus at Moorea restaurants can get a little repetitive.
I'm not sure why, but it's like everyone got together and decided communally on virtually identical menus.
Most of these restaurants give you a main course, like grilled swordfish, some sort of brochettes (skewers), etc. with the same choice of four sauces (BBQ, herb butter, teriyaki, and Roquefort) and the same four sides (rice, green beans, fries, salad).
So eating at Keiki was such a breath of fresh air because while yes, they do have a menu that largely follows that same pattern, they also have excellent specials that change fairly often.
We loved our meals there so much that even though we wanted to try a spread of restaurants around the island, we double-dipped here.
We tried several different specials — a shrimp and gnocchi in a cream sauce, a curry sauce ceviche, and this mahi mahi and mussels with puff pastry and cream sauce — and the latter, pictured above, was the clear winner.
Enjoy a poke bowl at Temae Beach.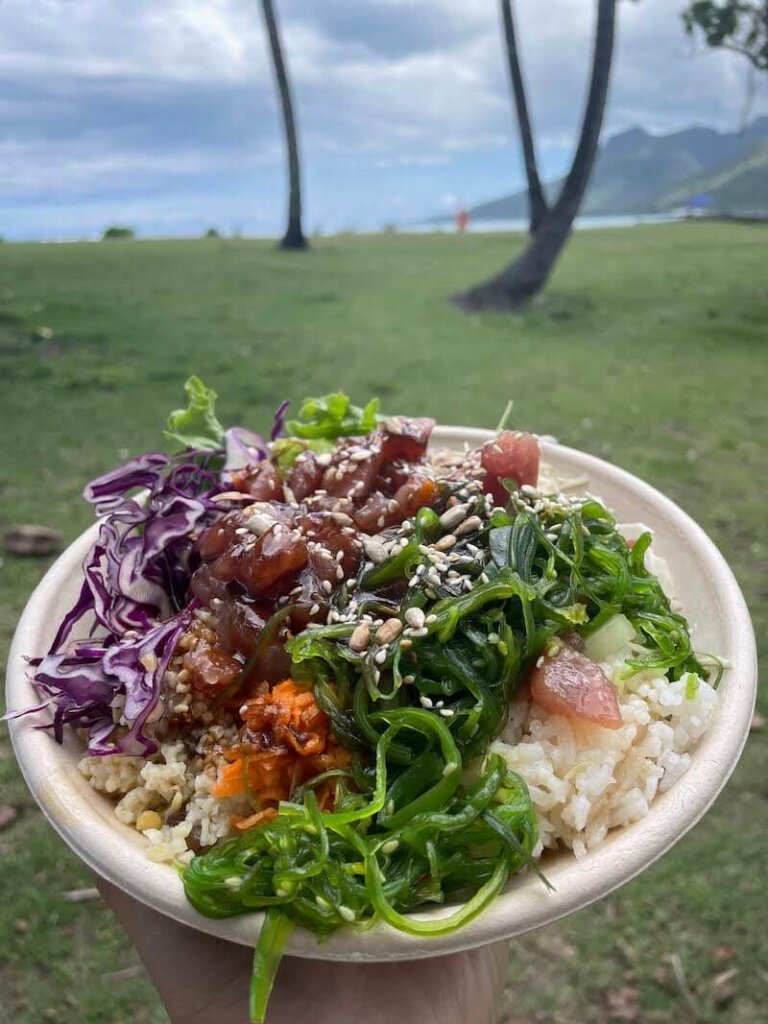 Surprisingly, one of the best meals I'd eat on Moorea came from a humble little food truck powered by a generator next to Temae Beach.
They sold delicious poke bowls complete with fresh tuna, wakame salad, mixed greens, and shredded carrot and lettuce.
Combined with a delicious Polynesian sweet soy glaze, it was a purely decadent way to enjoy lunch on what came to be my favorite beach in Moorea.
Enjoy delicious brochettes at Manua Grill.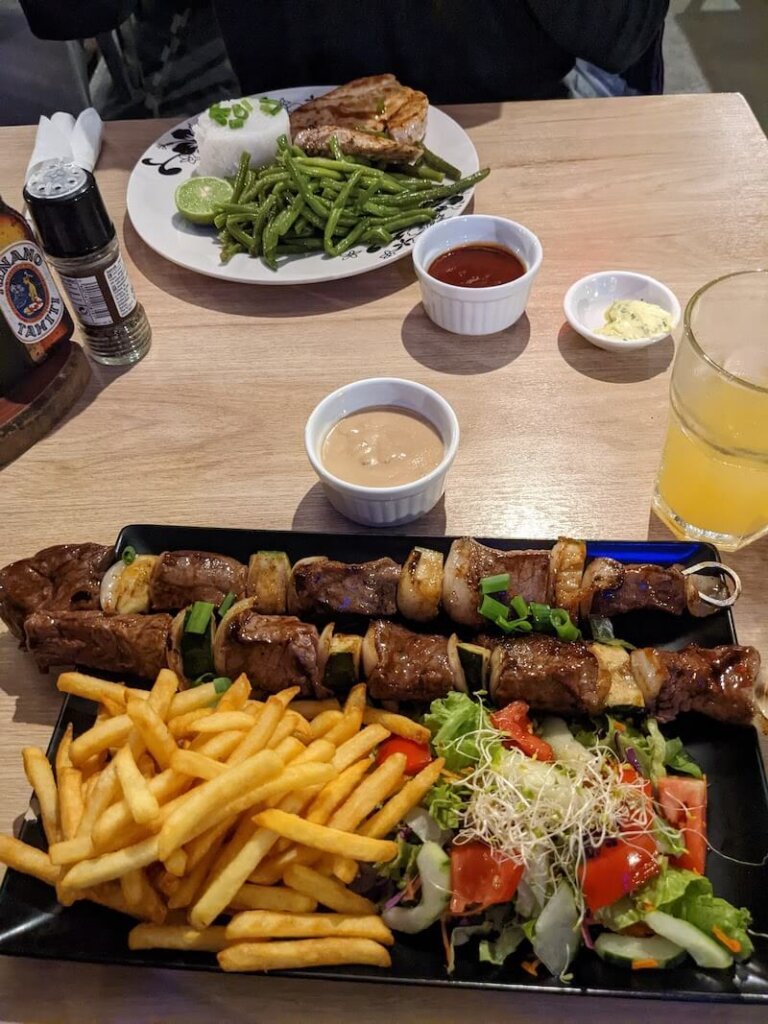 Yes, brochettes are basically everywhere on Moorea… but one place does them just a bit better than the others, in my book, and that's Manua Grill in Maharepa.
The beef brochette with Roquefort sauce was absolutely delicious.
I also loved my grilled swordfish with herbed butter and BBQ, and that would have been delicious in fish brochette form as well.
Try the local fruits — on their own or in smoothies.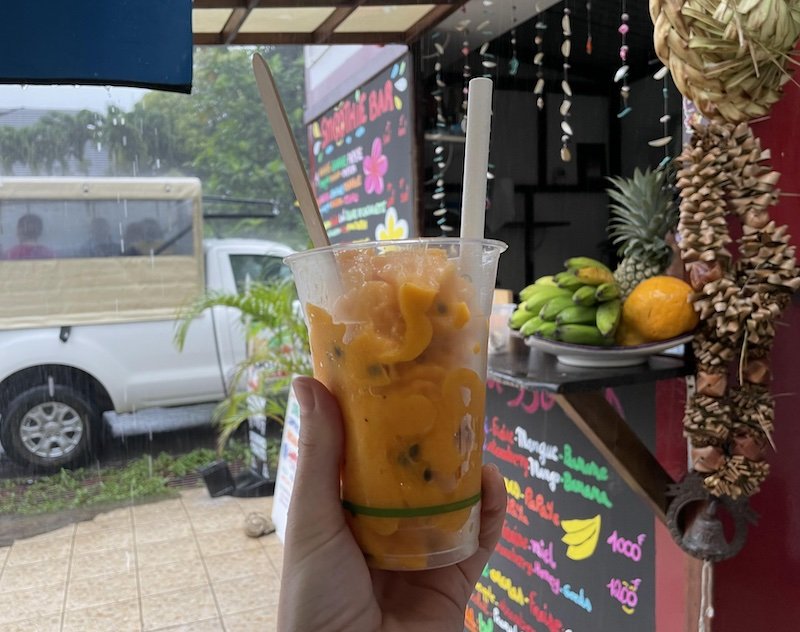 Moorea is known for its many tropical fruits, mostly its pineapple (hence it being home to the Rotui juice factory, which basically powers French Polynesia on its fructose).
But Moorea also produces all sorts of fruit — from more familiar offerings like papaya to mango to bananas — to more unusual fruits, like passionfruit, starfruit, wax apples, breadfruit, and noni (which is said to have quite the horrific smell, though I never got the chance to try it!).
Try those flavors blended together from one of the many smoothie stands around the island, or go to a market and pick up some local produce yourself!
Other Things to Do in Moorea
Admire the Eglise de la Sainte Famille.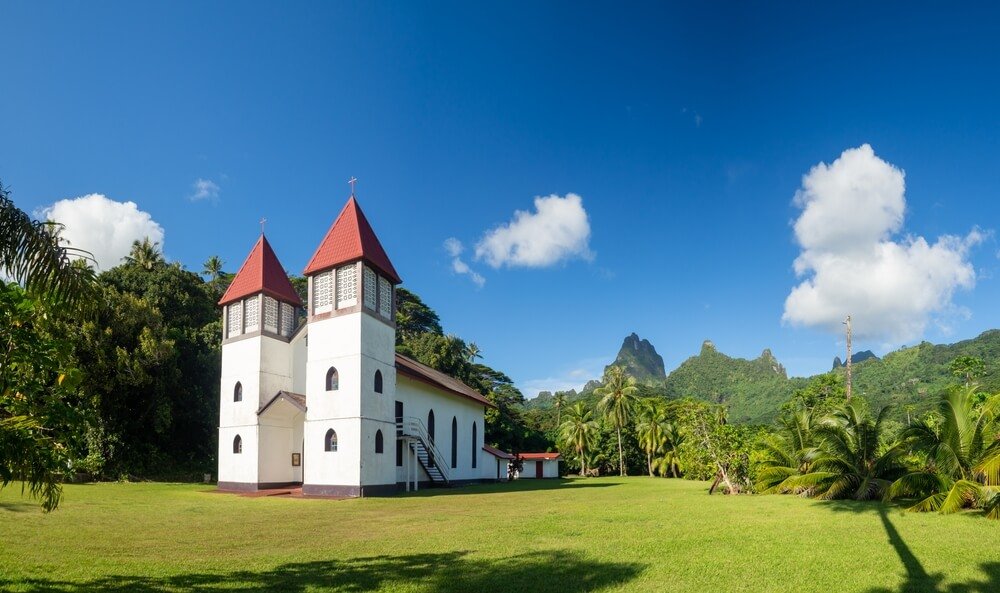 In a little-visited part of Moorea on its southwestern edge, Eglise de la Sainte Famille (French for Church of the Holy Family is worth a visit, especially for lovers of photography.
The church is a lovely example of French Polynesian architecture, with a no-nonsense white facade, a red roof, and twin steeples that draw your attention instead to all the lush beauty that surrounds it on all sides.
Visitors can attend mass at the Eglise de la Sainte Famille on Sundays, or simply stop by to admire the stunning architecture and peaceful surroundings.
Whether you're religious or not, the church is a must-see destination in Moorea.
It's one of its two Catholic churches, showing how the French culture and Polynesian culture have influenced each other, and also admire the natural beauty of the island.
Shop for Tahitian pearls.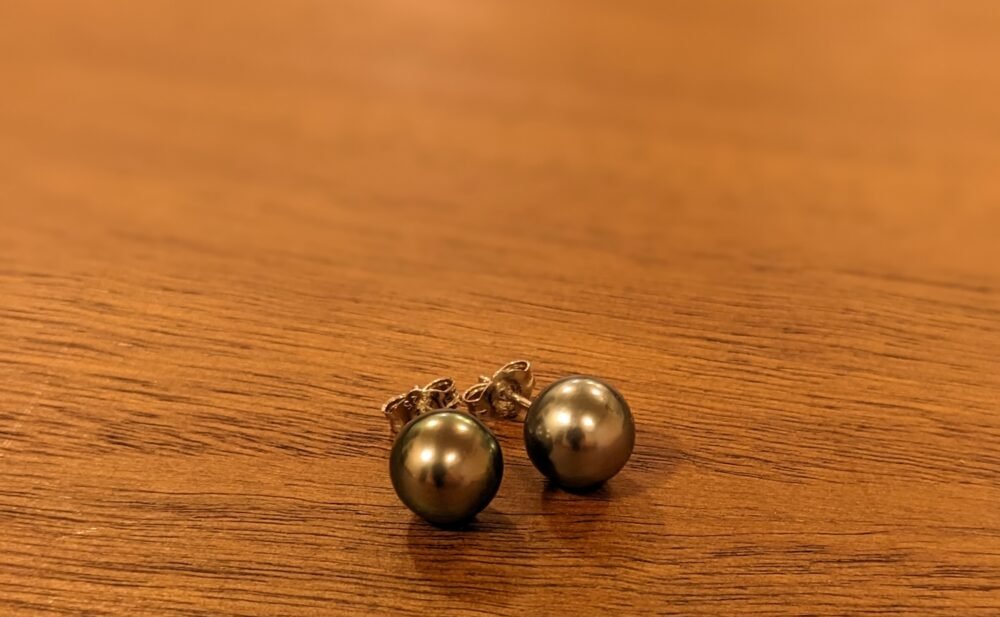 Don't miss one of the best Moorea souvenirs: the Tahitian pearls!
This South Pacific island is known for its stunning, lustrous pearls and jewelry lovers will absolutely love to take home some sort of jewelry incorporating Tahitian pearl.
These gorgeous pearls are famous for their lustrous, iridescent quality: like an ocean-made opal, with colors reflecting back in the light.
Despite being called Tahitian black pearls, these pearls don't actually come from the island of Tahiti, but further afield in French Polynesia.
Tahiti's famous black pearls don't actually come from Moorea or Tahiti: generally, they come from pearl farms in the Tuamotu Archipelago and the Gambier Islands, which have the exact conditions needed to grow beautiful pearls.
Tahitian pearls are graded according to several factors — size, flaws, luster, etc. — and then set in jewelry such as necklaces, pendants, earrings, etc.
Tahitian pearls are rather pricy — expect to spend about $150 USD at a minimum for a pair of grade B stud earrings.
Definitely factor this into your Tahiti budget if this is something you want to buy in Tahiti!
Grade B is a great value to buy because while it's not technically grade A, they have to be free of major imperfections.
The imperfections can be hidden by jewelry mountings, so they're perfect for earrings, etc. where a portion of the pearl is obscured.
Some of the best pearl shops in Moorea include pearls & more and Paimoana Pearls.
These stores offer a range of options, from simple pendants and earrings to more elaborate pieces.
Get a relaxing massage.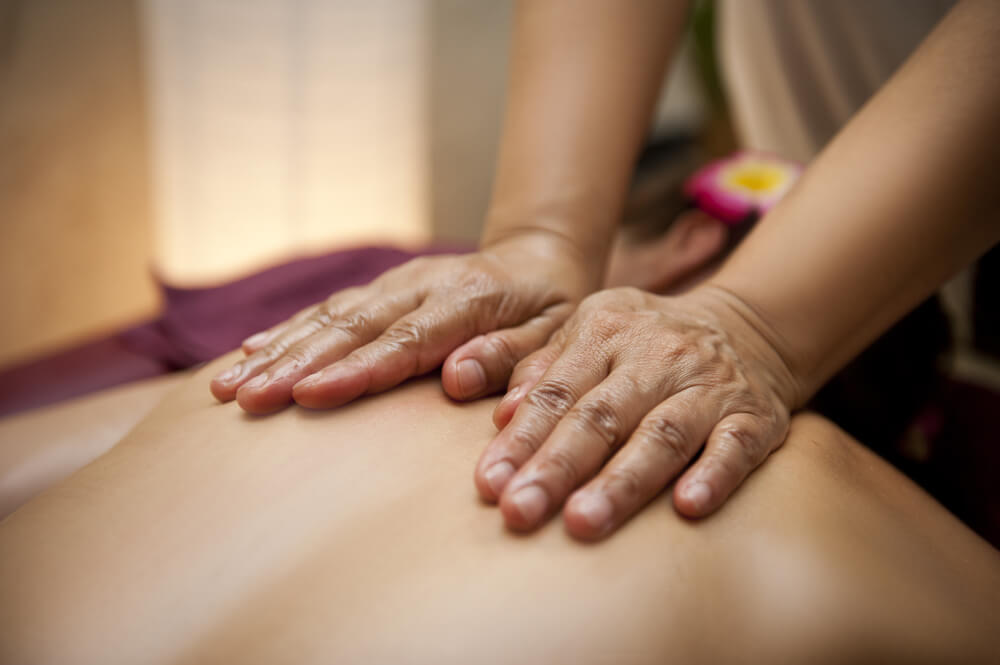 While staying in a tropical paradise, what better way to relax than with a massage? It's a beach vacation cliché for a reason.
There are a variety of options — from going to the day spas at the Moorea resorts for a more upscale option to an authentic, no-holds-barred deep-tissue massage.
Since we were traveling on a mid-range budget, we opted out of the higher-tier spas and instead went to a local spa, Frangipanier Bali.
And holy hell, I'm so glad we did — both my girlfriend and I agreed that it was one of the best massages we'd ever gotten, and we felt like entirely new people as we emerged from our massage semi-comas.
Both of our masseuses were excellent! We asked for and received deeper pressure, so keep in mind that if you ask for it, you will receive it (so be sure you actually like deep pressure!)
Where to Stay in Moorea
I have a full Moorea accommodation guide here, but here's a quick overview:
Budget: Haere Mai I Te Fare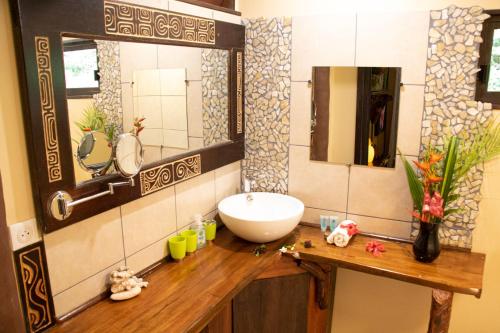 Price Range: Rooms start at $122 to $188 per night
One of the most charming guest houses on the island, Haere Mai I Te Fare is just over a mile from Temae Beach, the best beach in Moorea for relaxing on white sand (with Tahiti views) and also for snorkeling from the shore.
It's also conveniently close to both the ferry and the airport, perfect if you have any early departures planned.
Its traditional rooms use Polynesian decor like thatched detailing, pretty canopy mosquito nets, and traditional Polynesian handiwork and crafts like tifaifai quilts and hand-made pillows.
There's also a little lush garden area, and you can add on a delicious breakfast — though it costs about $20 a day to do so, which is not so budget-friendly.
That said, it's one of the best options in Moorea, though note it is a little bit isolated (the more happening areas are around Maharepa and Tiahura).
Poerani Moorea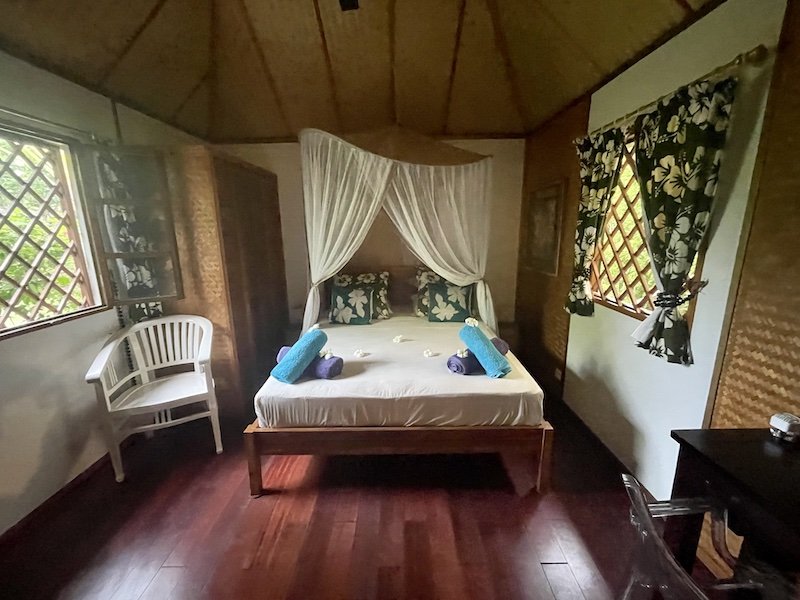 Price Range: Rooms start at $214 to $315 per night
This is where we chose to stay in Moorea: it offered excellent value for the money (we paid less than the price above because we were in the off-season) and we truly enjoyed our stay here.
The location just outside of Maharepa was great — just a 10-minute stroll from all the great restaurants in town.
There was a beautiful communal garden area for all to enjoy, as well as free kayaks that we could use to explore the beautiful waters right in front of the property!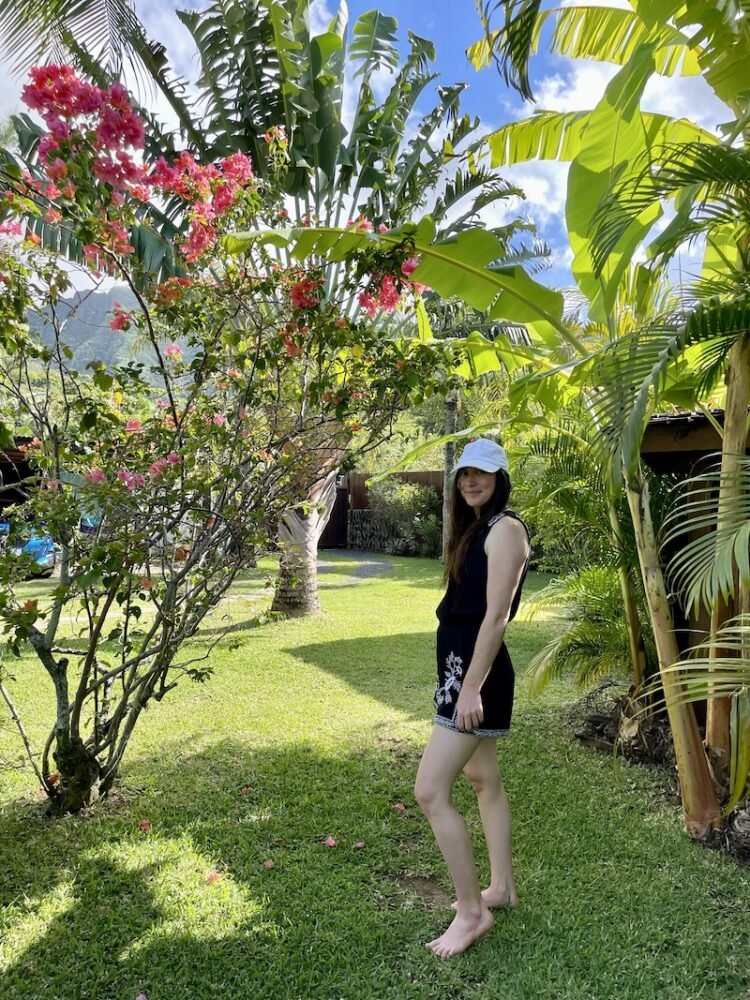 The bungalow was was very spacious with three rooms: a sealed off bedroom with A/C, a beautiful bathroom worthy of a spa, and a well-equipped kitchenette (including a stove, fridge, microwave, and espresso maker).
One thing to note is that only the bedroom is sealed off and air-conditioned, which meant that mosquitos were able to get into our living room and bathroom area.
It wasn't a big problem for me, but if you're extremely prone to or troubled by mosquito bites, it may be a pain for you!
Sofitel Moorea Kia Ora Resort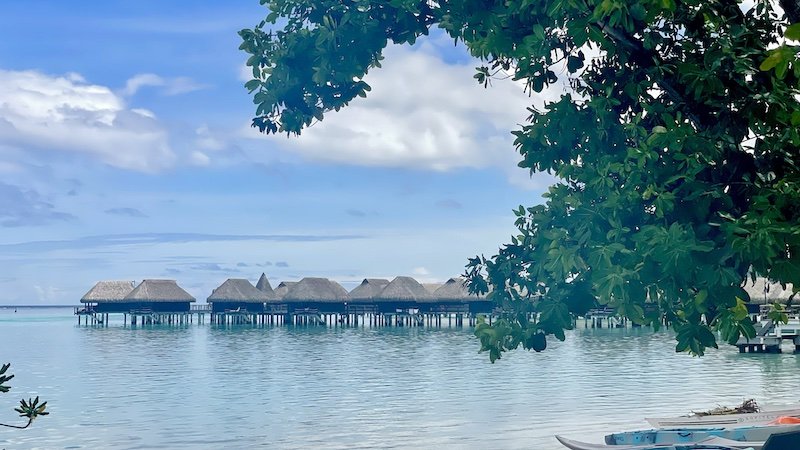 Price Range: Beach and garden bungalows from $645 per night and overwater bungalows from $836 per night
While there are three stellar places offering overwater bungalows in Moorea, I'd say top honors go to the Sofitel Beach Resort.
Though we didn't stay at the Sofitel, we did explore the grounds after we visited Temae Beach for snorkeling; the reef here is extremely well-preserved because it's a protected marine area, and the same goes for Sofitel's house reef.
These overwater bungalows are located in one of the best locations in Moorea, thanks to the beautiful coral gardens that surround them — plus, you have views of Tahiti in the distance on a clear day!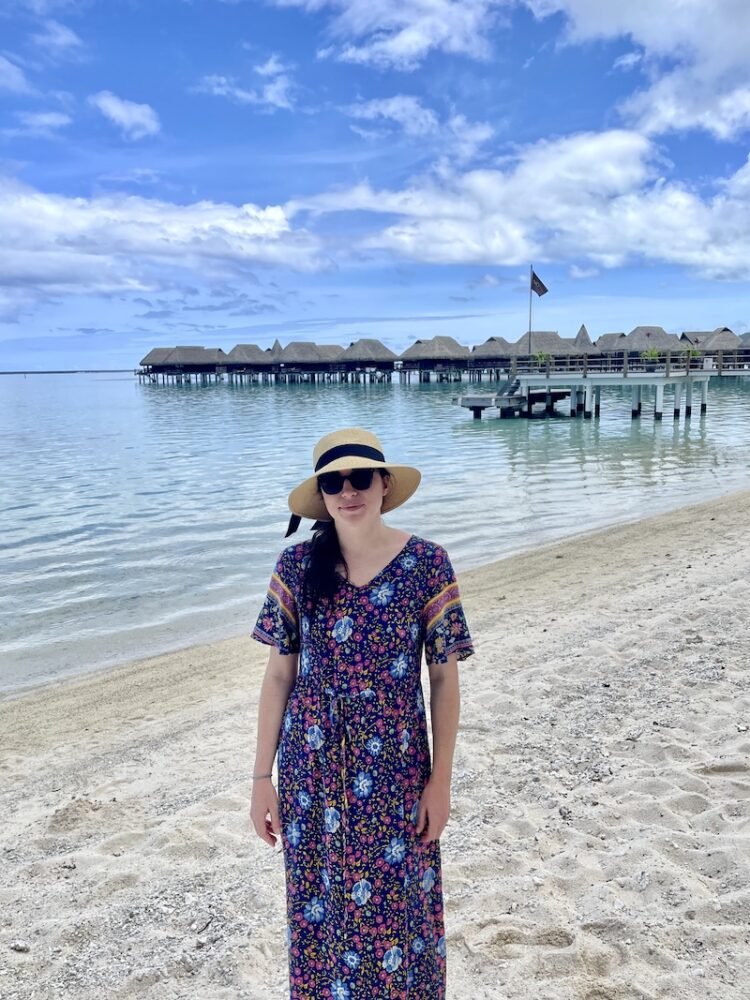 The property has beach and garden bungalows for a lower price as well as overwater bungalows.
If you're trying to mind your budget but do want the bucket list experience of an overwater bungalow, you can mix and match: stay in a garden bungalow your first night then upgrade to an overwater bungalow for your final night!
There are two sizes of overwater bungalows — luxury bungalows clocking in at nearly 900 square feet and superior bungalows at about 450 square feet.
The main difference is the size and location (namely, the view and the better part of the lagoon).
Besides that, all bungalows have A/C, free WiFi, glass panels in the floor, direct water access from your private terrace, and complimentary minibar refills.
Allison Green is a former educator turned travel blogger. She holds a Masters in Teaching and a B.A. in English and Creative Writing. Her blog posts merge her educational background and her experience traveling to 60+ countries to encourage thoughtful travel experiences that both educate and entertain. She has been a speaker at the World Travel Writers Conference and her writing, photography, and podcasting work has appeared in National Geographic, CNN Arabic, CBC Canada, and Forbes, amongst others. Now based in the San Francisco Bay Area where she grew up, she has also lived in Prague, Sofia, and New York City.