Off the coast of Morocco, strewn in the Atlantic Ocean, you'll find the Portuguese island of Madeira.
A diverse landscape — laurel forests, sheer cliff faces, towering waterfalls, and stunning beaches — makes the volcanic island of Madeira is the perfect destination to visit any time of the year!
I spent an incredible week doing a Madeira road trip in 2020, driving along the coast, hiking in the mountains, swimming in natural pools, and exploring delightful fishing villages.
The Madeira itinerary below is my condensed itinerary, designed for those who have a shorter time in Madeira, whether that's 3, 4, or 5 days on the island.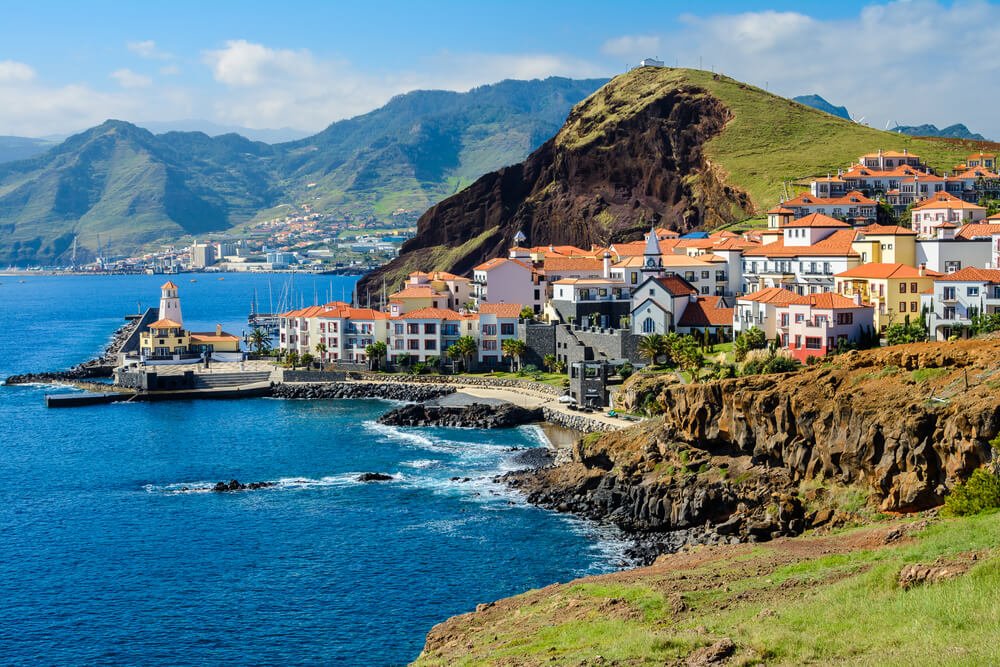 Note: This post contains affiliate links, which means I may receive a small commission if you purchase something through one of these links. Thank you for supporting the free content on this site! For more information on affiliate links and cookies, see my disclosure page for more details.
But you could easily spend two weeks in Madeira exploring the hiking trails and visiting charming towns.
Personally, I recommend spending at least four days on the island to see all the highlights and best things to do. However, if you're short on time, three days are fine too.
I've included the absolute musts of a Madeira road trip route in the first three days of this itinerary.
The other two days of this Madeira itinerary allow you to explore a bit more of the island and try some really cool activities — if you can spare the time!
Luckily, the island is small, so you won't need to drive long distances to see as much as possible (but you will want to rent a car — more on that here!)
Getting Around For This Madeira Road Trip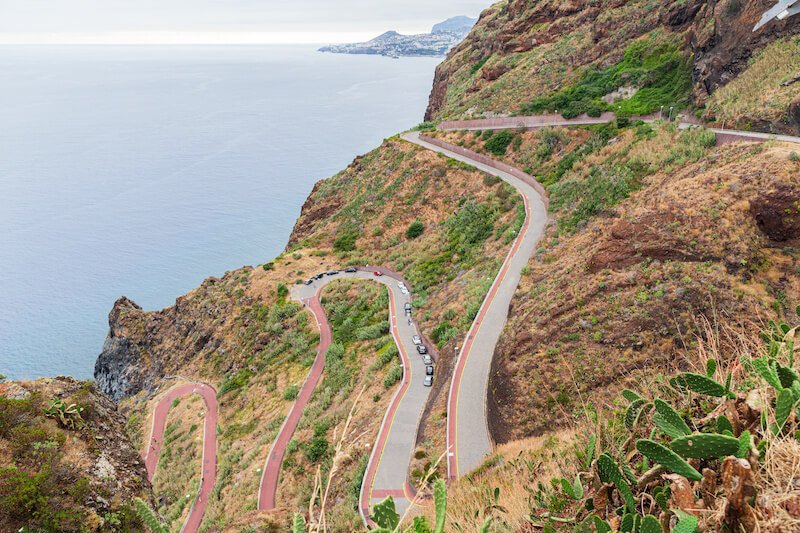 To be able to follow this itinerary for Madeira, you'll need to rent a car.
The island is just not very accessible by public transportation, at least not in the short timeframes we're dealing with, when we're talking about 3 to 5 days in Madeira.
Luckily, driving in Madeira isn't too difficult, but you'll want to be sure you reserve your rental car in advance, especially during high season. Island inventories are always limited!
When looking for a rental car, I always use Discover Cars to search for the best deal for multiple reasons: namely, its larger inventory, its clear pricing, its cheap full coverage insurance, and its free cancellation policy.
🚗 Best Madeira Rental Car Prices: Discover Cars

This search engine not only looks at the typical rental car agencies (which can be $$$), it also looks at local, small Portuguese rental agencies that may offer better deals. Their pricing is straightforward (no bait-and-switches) and they offer free cancellation if you need it.

➜ Check rental prices in Madeira with Discover Cars here!
Tip: Make sure you book your car rental with full coverage insurance for peace of mind — it starts at only $7 per day, cheaper than you'd get at a rental agency!
Day 1 of Your Madeira Itinerary: Explore Funchal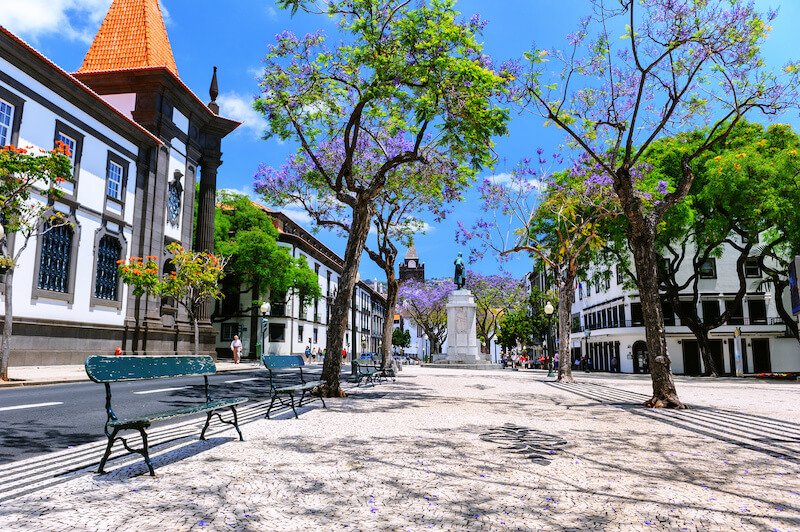 The airport in Madeira is close to the island's capital, Funchal.
The city is an ideal base to explore the whole island, as it's perfectly located almost halfway along the southern coast.
You can dedicate your first day after landing to exploring the city, then go on day trips around the island.
Discover Funchal's historic center.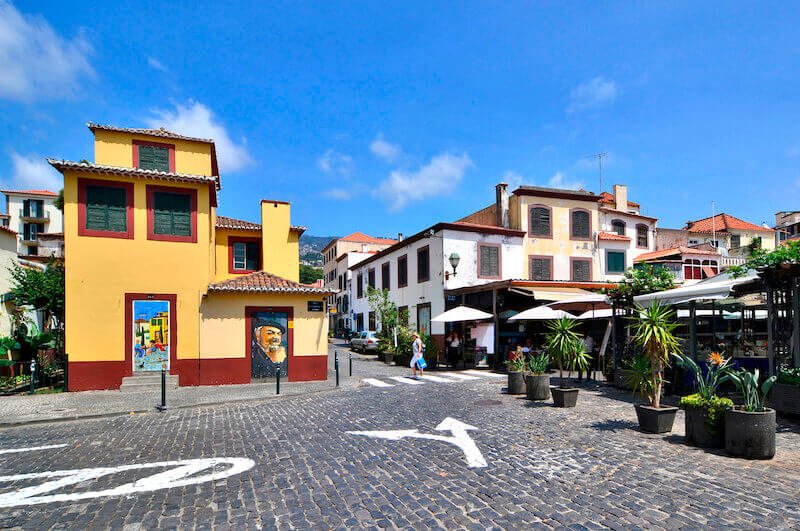 Start by heading to the historical center of Funchal, where you can wander around the charming streets, visit beautiful churches, and stroll through lovely parks.
The city center is small and easy to explore on foot so you don't need a car for this part of your Madeira itinerary.
First up is a visit to the Funchal Cathedral, a 15th-century Gothic church and one of the few buildings dating back to the period of the island's colonization.
The cathedral features three naves and a decorated Mudéjar ceiling.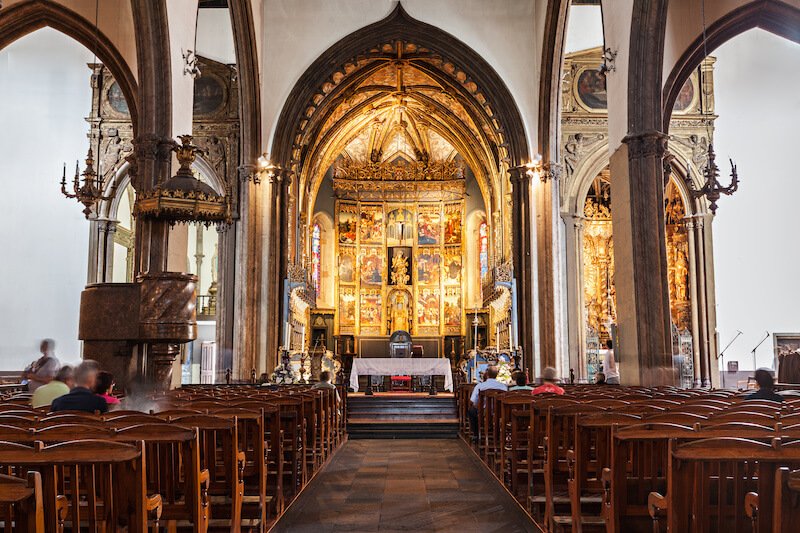 The ceiling, beautifully restored in 2021, is illuminated during visiting hours, allowing you to appreciate its intricate details.
After visiting the cathedral, you can explore the surrounding area!
Stroll along the streets covered in the typical calçada portuguesa (decorative sidewalks) and check out the colonial architecture.
Not far from the cathedral, you can go shopping for local products at the Mercado dos Lavradores.
At the far east of Funchal Old Town, you can check out Forte de São Tiago, a seaside fortress painted in a bright yellow, once used to protect the city from pirate attacks.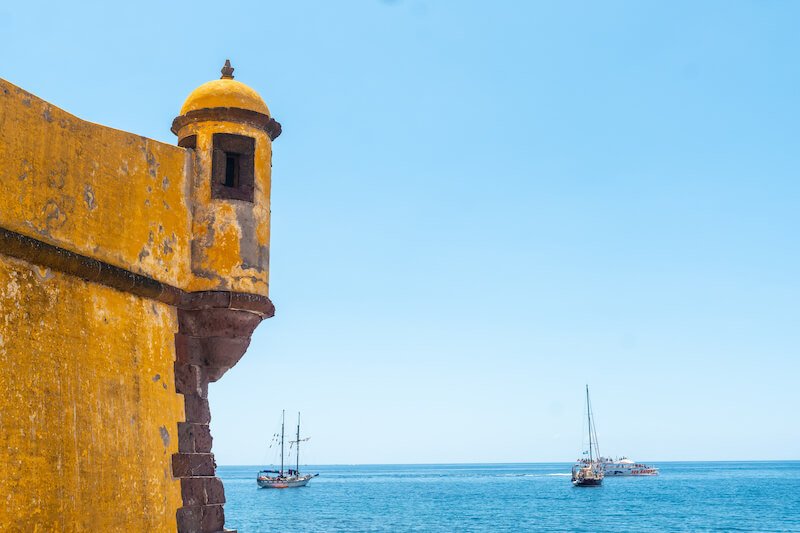 While you can't access the interior of the fortress, you can wander around and even relax on the concrete beach right by it, where you can also go swimming.
Walk around Funchal's Marina and head to the beautiful Santa Catarina Park.
The park looks more like a landscaped garden, with sculptures, colorful flower beds, curated walkways, and even a lovely little lake with swans and ducks.
Have lunch in Funchal's Old Town.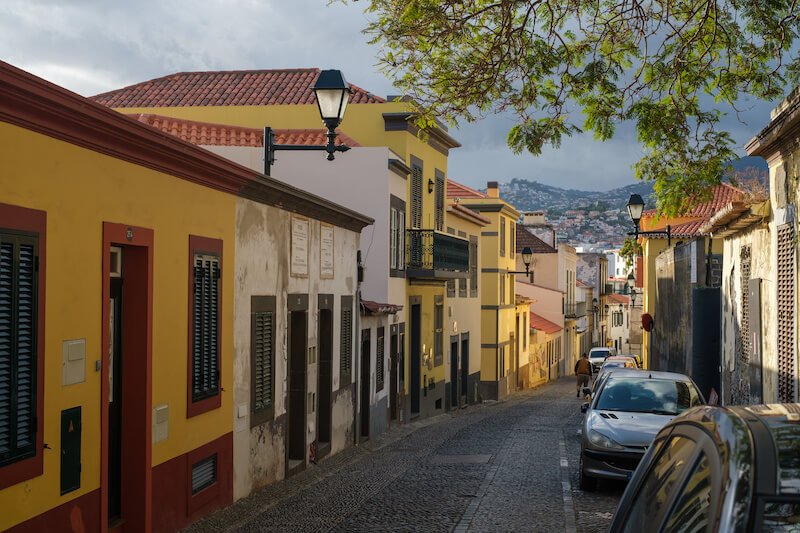 Before you continue exploring the city, stop for lunch at one of the many restaurants in the Old Town for a delicious chance to refuel.
Regional Flavours is a lively restaurant serving traditional Madeirense food, particularly delicious seafood dishes.
Be sure to try the tasty local bread, bolo do caco, and especially the swordfish with banana and passion fruit sauce!
Catch the cable car to Monte.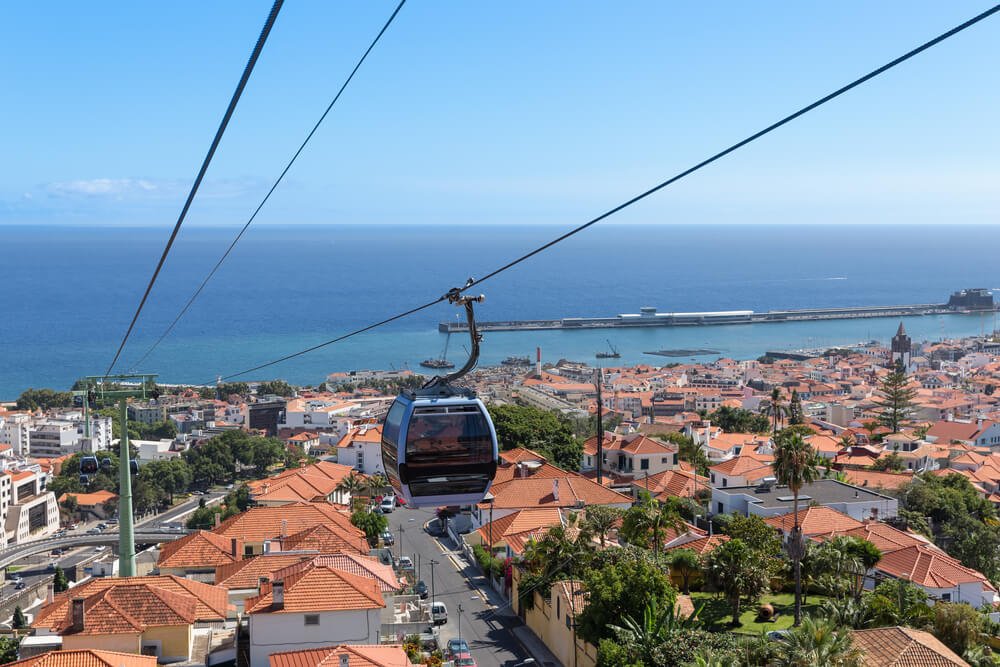 After lunch, it's time to enjoy a panoramic view of Funchal from above.
Catch the Funchal cable car and head up to Monte, a hilltop area known for its hiking trails, viewpoints, and beautiful gardens.
The ride up will already reward you with stunning city views, but the wonders of this experience are just beginning!
Note: The Monte cable car costs €12.50 for an adult ticket
Explore the Monte Palace Tropical Garden.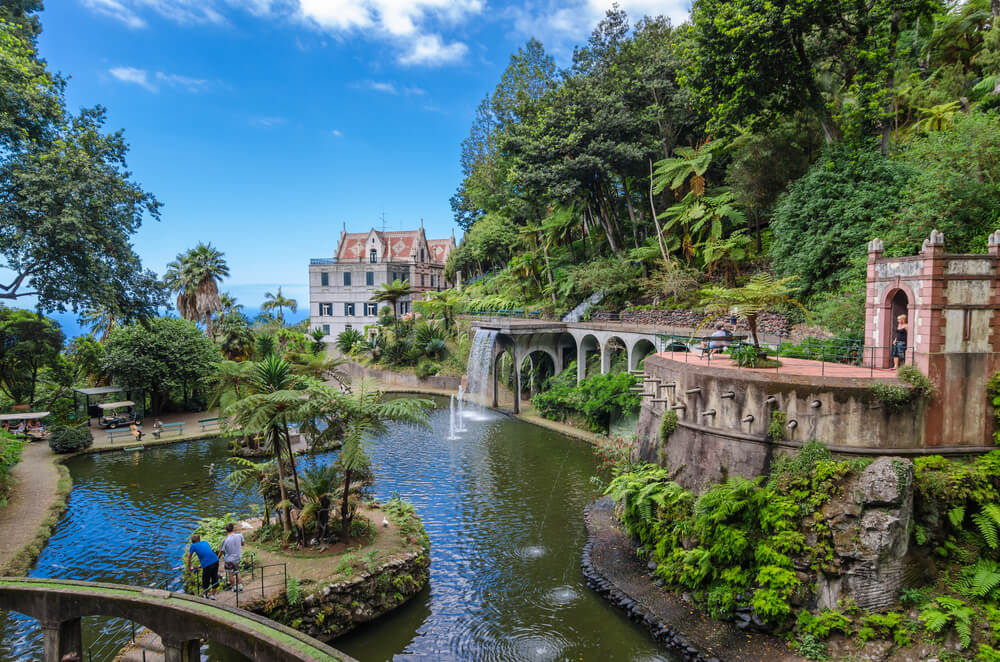 One of the main sights in the area is the Monte Palace Tropical Garden, a gorgeous garden with multiple levels.
It houses a rich collection of tropical plants along with koi ponds and a lake with swans and ducks.
You can also admire beautiful peacocks and other birds roaming the garden.
Inside the garden, visit the Monte Palace Madeira Museum to check out beautiful sculptures and a collection of minerals from all over the world.
The entrance to the garden is €12.50 for adults, and it's open daily except for Christmas Day.
Explore more of Monte.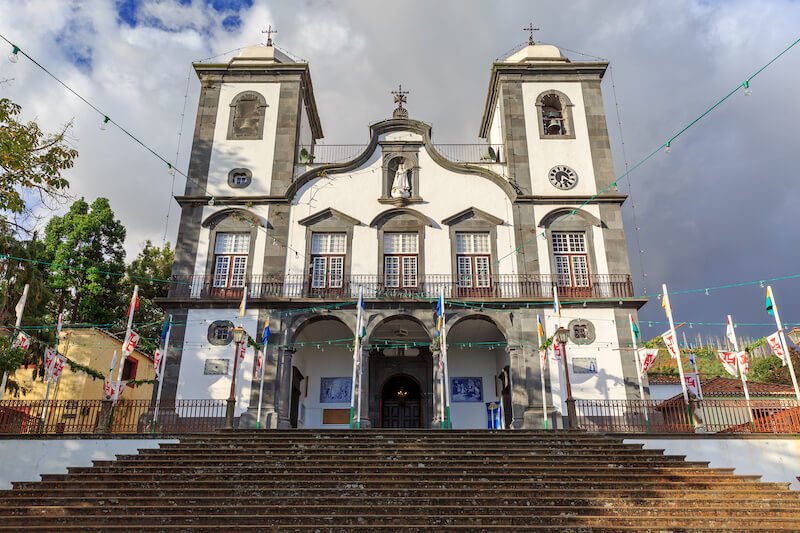 There's plenty of other things to see and do in the Monte area!
I highly recommend visiting the beautiful Igreja de Nossa Senhora do Monte and exploring the hiking trails.
The City Levada leads down to the beautiful Madeira Botanical Garden, another gorgeous garden worth visiting.
Head back to Funchal center in the quirkiest way possible.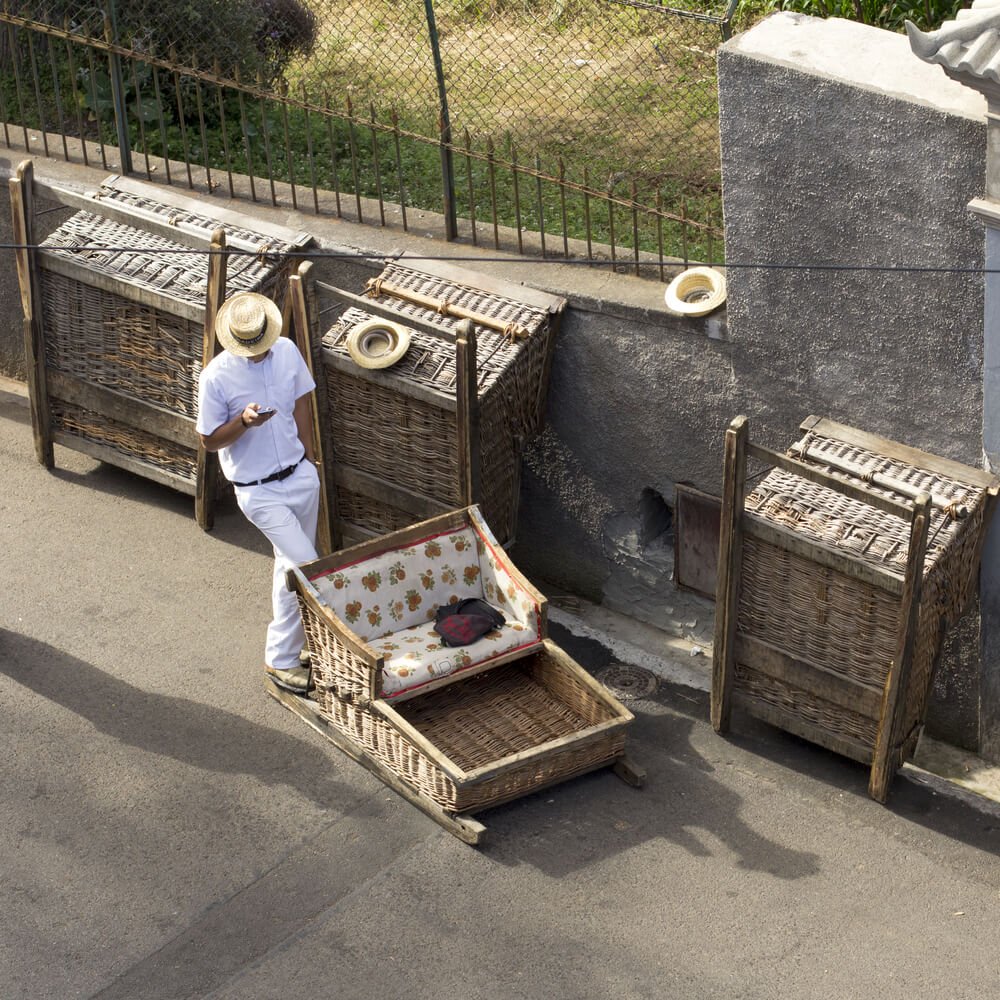 A unique way to descend back to Funchal center is in a wicker basket!
That's right, Madeira has a century-old tradition, that of the Monte toboggans or sledges, born as a quick way to reach Funchal from Monte.
This unique public transportation means originated in the early 19th century, but later became a tourist attraction for obvious reasons!
Two toboggan drivers, usually wearing white uniforms and straw hats, transport people downhill from the Monte church to the Livramento area in Funchal.
Try it for a fun and adrenaline-filled ride back to Funchal!
Go on a dolphin and whale watching tour.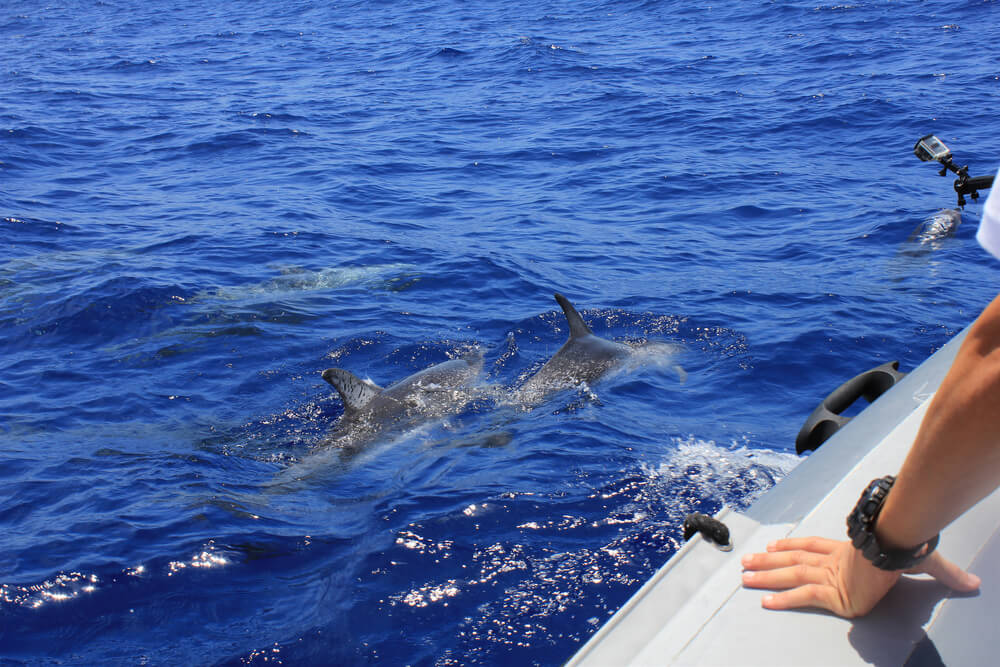 The perfect way to end your first day in Madeira is with a dolphin and whale-watching tour!
You'll find plenty of options in Funchal (here's a guide to our favorite choices!), but be sure to book in advance, especially during the peak summer months.
If you visit Madeira between May and late September, you can join this 3-hour Sunset Dolphin and Whale Watching Tour starting at 6:30 PM.
You'll head out to Cabo Girão where you can admire the dramatic coastline from the boat or even go swimming.
While wildlife sightings are not a guarantee, with a bit of luck, you'll spot dolphins, whales, and sea turtles in their natural habitat!
You also get a complimentary drink to sip as you watch the sunset from the boat for a perfectly relaxing evening.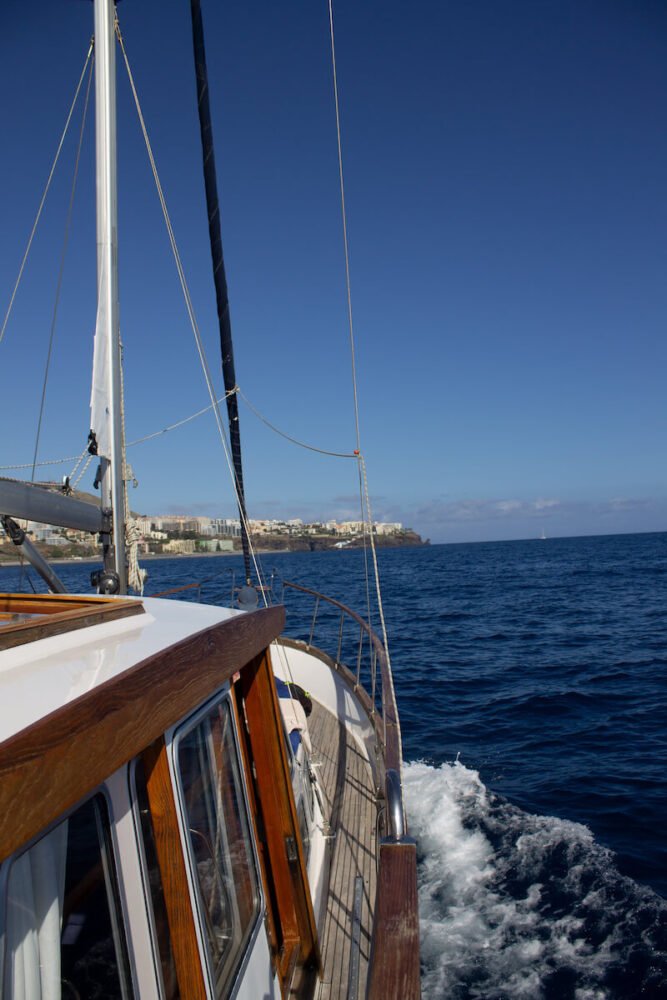 In winter, you may want to join an afternoon tour, like this 3-hour Dolphin and Whale Watching Catamaran Cruise, starting at 3 PM.
The cruise allows you to admire the beautiful coastline of Madeira and have a chance to spot dolphins, whales, and turtles.
If you choose this option, you may want to switch things around and visit Monte earlier, possibly before lunchtime, since you can't go up by cable car after 6 PM.
Book your afternoon dolphin and whale watching catamaran cruise here!
Day 2 of Your Madeira Itinerary: Hiking in the Mountains
Madeira is famous for its spectacular hiking trails, and the best area is between Pico do Arieiro and Pico Ruivo, two of the highest peaks on the island.
Luckily, Pico do Arieiro is easy to reach from Funchal, with just a 40-minute drive!
Hike from Pico do Arieiro to Pico Ruivo.
Pico do Arieiro is the third-highest peak on Madeira. Looking out from 1,818 meters, the mountain peak offers spectacular views over the clouds.
The great thing about this place is that you can drive nearly all the way up. From the parking lot, it's just a short walk to the spectacular viewpoints.
For the best views, head up to the peak right before sunrise.
You'll have to wake up very early, but watching the sun rising from the clouds is a sight you won't soon forget.
There's no reason you can't do it on your own (except hitting the snooze button), but you can also do a guided sunrise hiking tour if you prefer transportation and a guide sorted for you, especially if you're not a morning person.
Bring warm clothes even in summer as it can get very cold and windy at the top!
From Pico do Arieiro, you can follow a walking trail to the highest peak in Madeira, Pico Ruivo.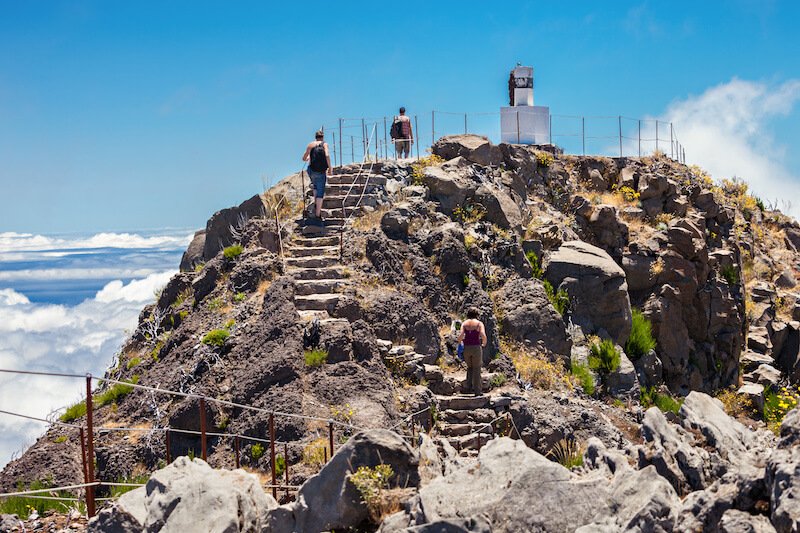 The trail, PR1 Vereda do Areeiro, can be a bit challenging, but if you're even moderately fit, you should be able to do it.
Along the way, you'll also come across Madeira's second-highest peak, Pico das Torres.
The trail is around 7 km one way, which takes roughly 3.5 hours due to the changes in elevation.
Shortly after the trailhead, the path separates into two trails, one passing through Pico das Torres (east trail) and the other going straight to Pico Ruivo (west trail).
The west trail is the most recent, and despite being slightly shorter, it has steeper climbs.
Note that as of spring 2023, the east trail passing by Pico das Torres was closed.
If that's still the case when you visit, you'll have to return along the same trail.
Overall, the return hike will take between 7 and 8 hours, so plan accordingly.
If you get to Pico do Arieiro by sunrise, you'll finish the hike by the early afternoon.
Oh, and remember: In any case, bring water and food to stay fueled on your hike!
Visit the charming Santana.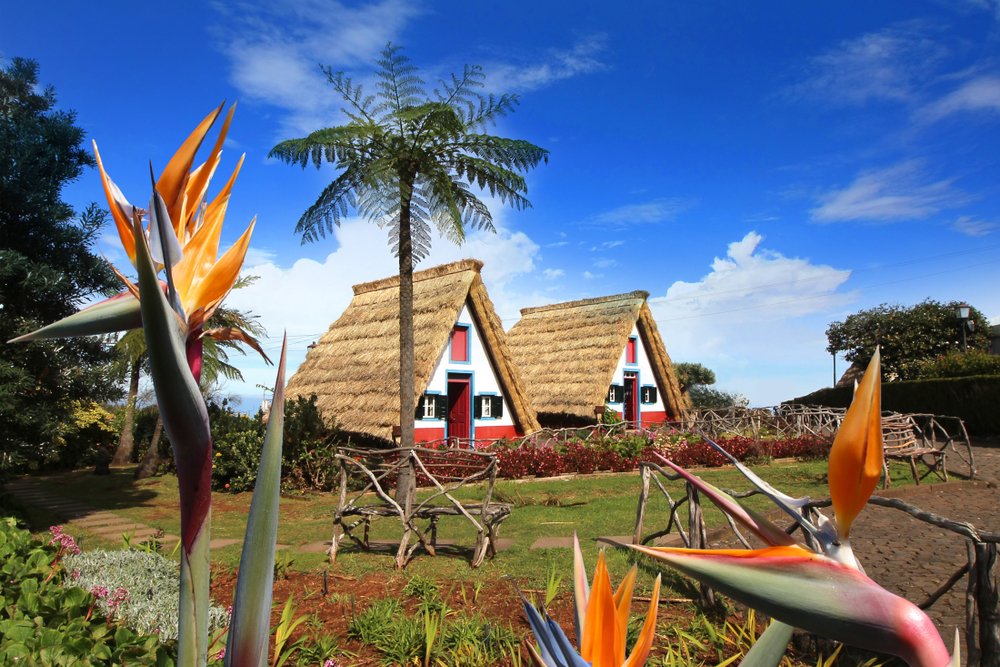 If you have time and energy left after the hike, you can drive from Pico do Arieiro to Santana, Madeira's most iconic village (and one of Portugal's cutest villages, period!)
The drive only takes around 45 minutes and passes through the lush greenery of Parque Natural do Ribeiro Frio and along a portion of the northern coast.
The main reason to visit Santana is to admire the charming traditional houses.
The triangular houses with straw roofs look like something out of a fairytale, with the doors and windows painted beautifully in bright colors.
You can find these traditional houses surrounded by charming little gardens right in the center of Santana.
Before reaching Santana, you can stop to check out the lovely beach Praia do Faial and the nearby coastal viewpoint Miradouro do Guindaste.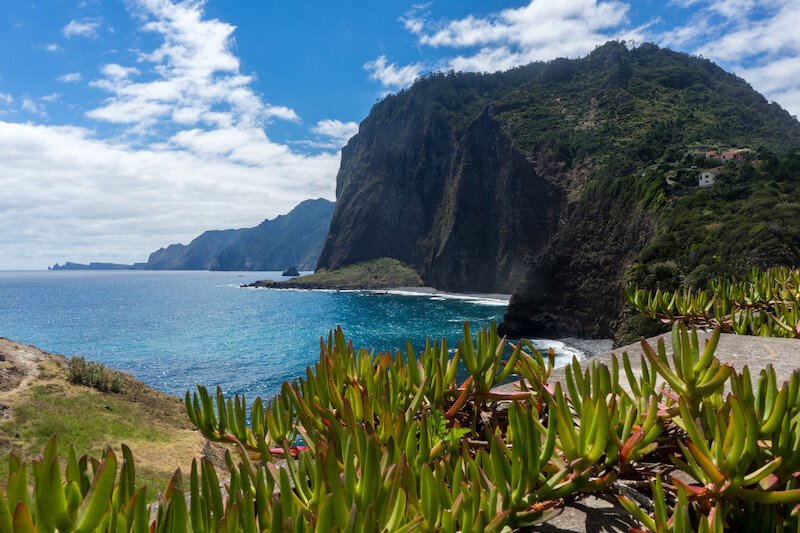 If you need a break or a pick-me-up, stop by Delicias da Bia for coffee and tasty baked goods.
Just south of Santana, you can explore the Aguage Waterfall.
If you're looking for less touristy places to visit in Madeira, this is one of them.
Just park at the end of the road and follow the short trail to the waterfall — it's half-mile roundtrip hike, with only about 90 feet of elevation change.
Certainly easier than the previous hike!
Have dinner in Funchal.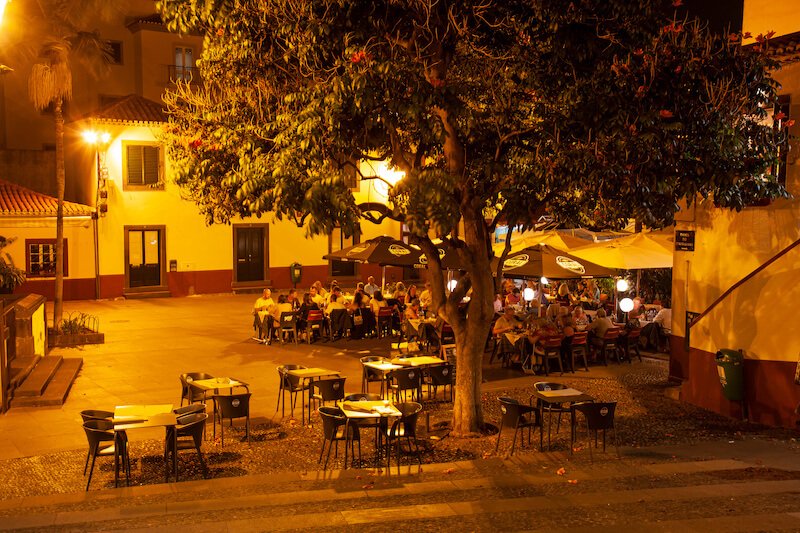 Drive back to Funchal in time for dinner.
If you eat meat, La Vaca Negra is a great spot for delicious steaks.
If you prefer fish or international dishes like pasta or risotto, head to Leeno's Bar & Restaurant.
They also have a few vegetarian options.
Day 3 of Your Madeira Itinerary: Explore Madeira's Coastline
After hiking in the mountains, it's time to enjoy Madeira's beautiful coast!
If the weather is good enough, we'll also go for a relaxing swim in some natural pools.
Visit Seixal.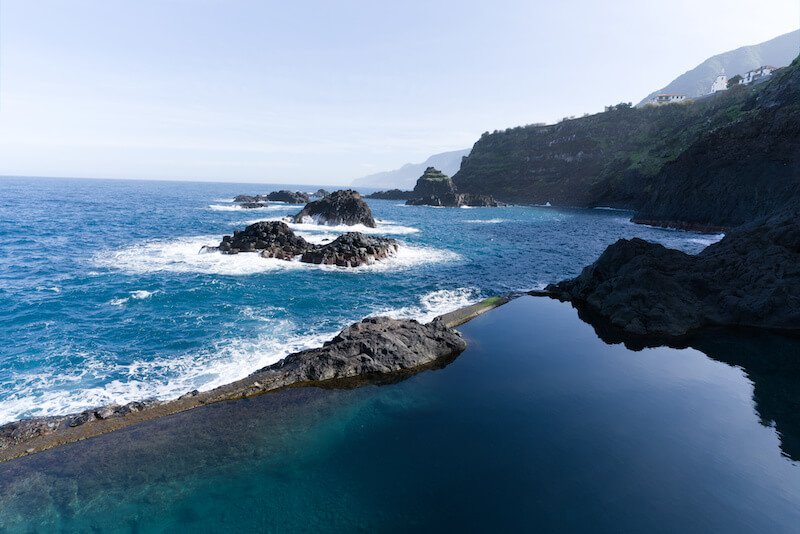 Continue your Madeira road trip by driving around 50 minutes from Funchal to Seixal, a small coastal town in northwestern Madeira.
The town features a beautiful promenade offering sweeping coastal views, but it's better known for its gorgeous natural pools.
The best thing about Seixal's natural pools is that they are free to access!
Park your car at the parking lot of Poça do Mata Sete and check out the various pools all around.
Depending on the season of your visit, you may be lucky enough to have the place all to yourself.
Stop by Ribeira da Janela.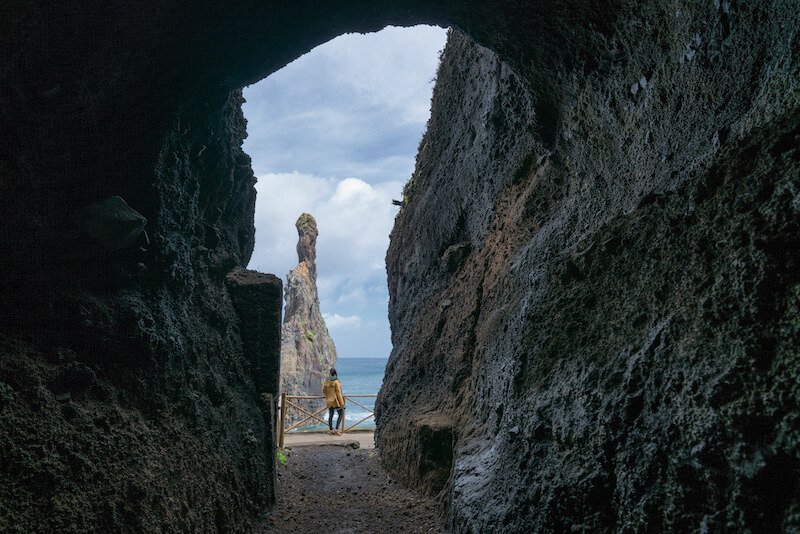 Driving farther west toward Porto Moniz, you'll pass by the small town of Ribeira da Janela.
In the upper part of town, stop by Miradouro da Eira da Achada to enjoy the coastal view.
The town overlooks a set of sea stacks just off the coast, jutting up from the sea like a hand jutting up from the sea.
Drive down to the coast and be sure to enjoy the lovely view from Miradouro Ilheus da Ribeira da Janela.
Swim in the natural pools of Porto Moniz.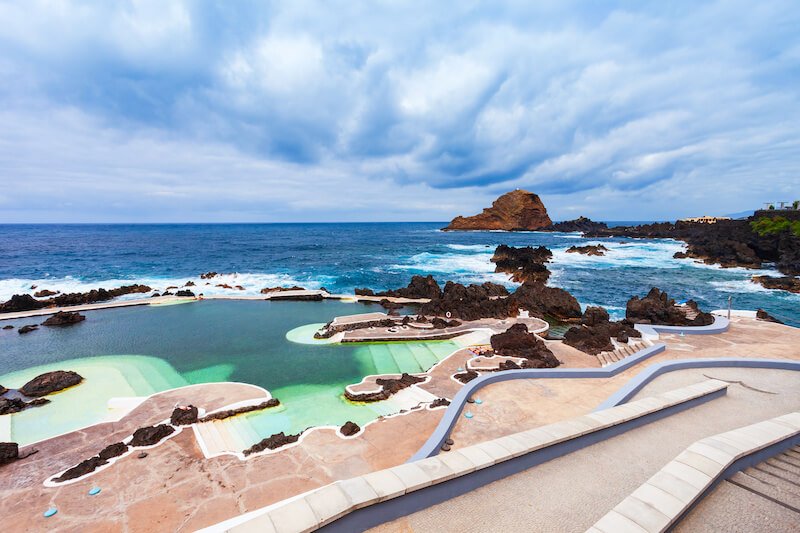 After Ribeira da Janela, drive for 10 minutes to Porto Moniz.
The main attraction in town is the complex of natural pools formed within the volcanic rock formations, made more accessible with paved access and stair entries into the pools.
Unlike those in Seixal, the natural pools in Porto Moniz have a small entry fee of €3.
However, the pools are much bigger and better maintained than those in Seixal and the volcanic rocks around the pools create a truly marvelous scenic view!
You can spend a couple of hours sunbathing and swimming in the refreshing waters of the natural pools, then go for lunch.
Sea View Restaurante is conveniently located right by the pools, serving delicious seafood dishes with a beautiful view.
Another option, Conchinha, is a great alternative for tasty sandwiches, salads, and tapas.
Catch the Achadas da Cruz cable car.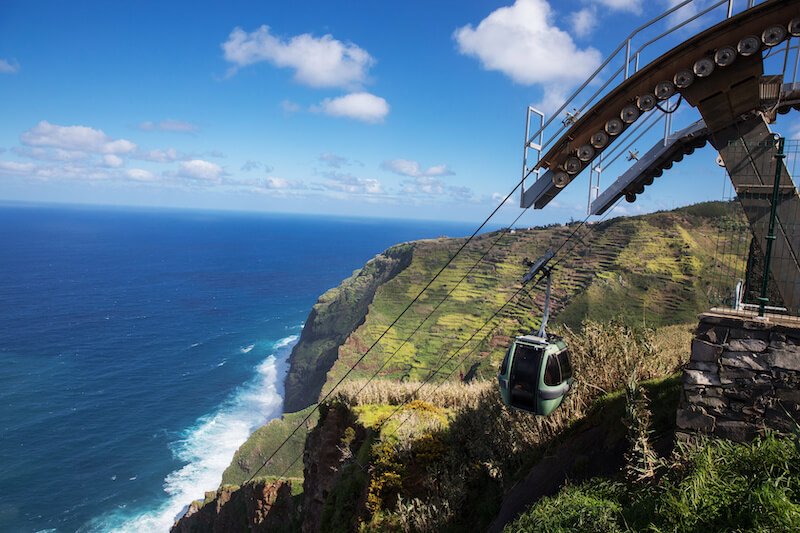 After lunch, drive for around 20 minutes to Achadas da Cruz.
The small town is best known for the spectacular cable car connecting the upper town to the coastal hamlet Fajã da Quebrada Nova.
The cable car ride goes down an extremely steep cliff and provides stunning views.
Once you get down, you can enjoy a pleasant ride along the coast and through the tranquil little hamlet.
Just note that the cable car may not run if it's very windy, so check the weather before you go!
It's also a great deal compared to the Monte cable car — a return ride is only €5!
Drive along the southern coast, stopping at Ponta do Pargo.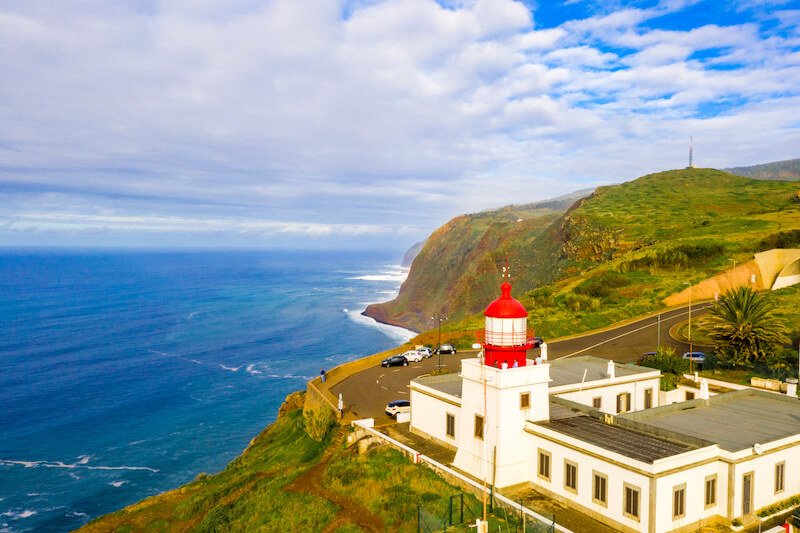 From Achadas da Cruz, drive along the southern coast toward Funchal.
Depending on how much time you have, you can stop at several places along the way.
However, I recommend planning this so you can reach Cabo Girão in time for a beautiful sunset.
The drive from Achadas da Cruz to Cabo Girão takes around one hour without stopping.
The first stop is Ponta do Pargo, where you can check out the lighthouse and some truly spectacular views from Farol da Ponta do Pargo.
Continue on to Jardim do Mar.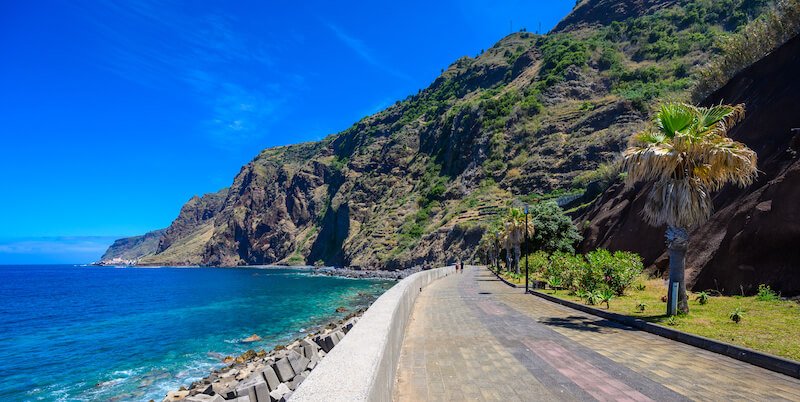 Next, drive by the quaint fishing village of Paul do Mar (stopping if you want to) and further along the coast to Jardim do Mar.
In Jardim do Mar, you can walk along the beautiful seaside promenade and wander through the narrow alleyways lined with beautiful flowers.
If you have time for a little break, check out the delightful Maktub Guest House and have a refreshing drink or a tasty dessert in their lovely garden.
See one of Madeira's prettiest waterfalls.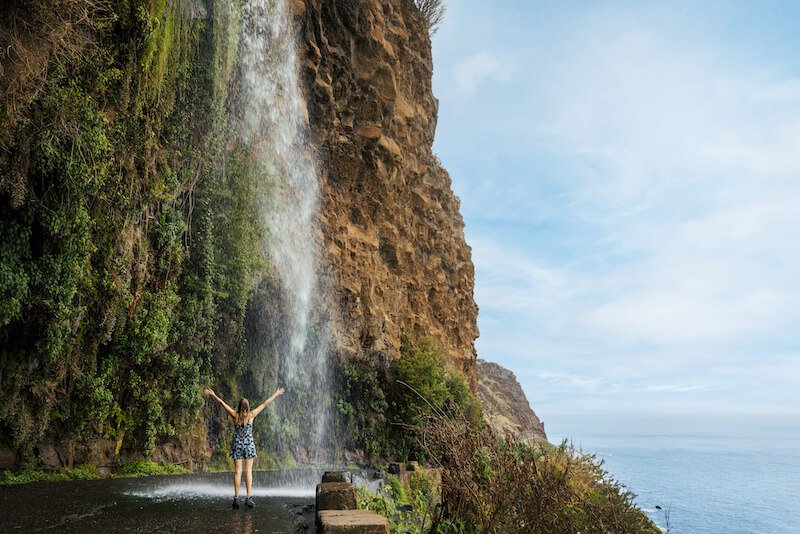 Keep driving east along the coast, and you'll pass by one of the most spectacular sights in Madeira.
Roughly 15 minutes from Jardim do Mar, you'll come across Cascata dos Anjos, a waterfall cascading off the cliff directly onto the road.
When I visited this place, you could literally drive through the waterfall!
However, the popularity of the place and the danger of falling rocks have since led to the closure of the road to vehicles.
Pedestrian access is still allowed, but you should prepare for crowds of people.
Watch the sunset from Cabo Girão.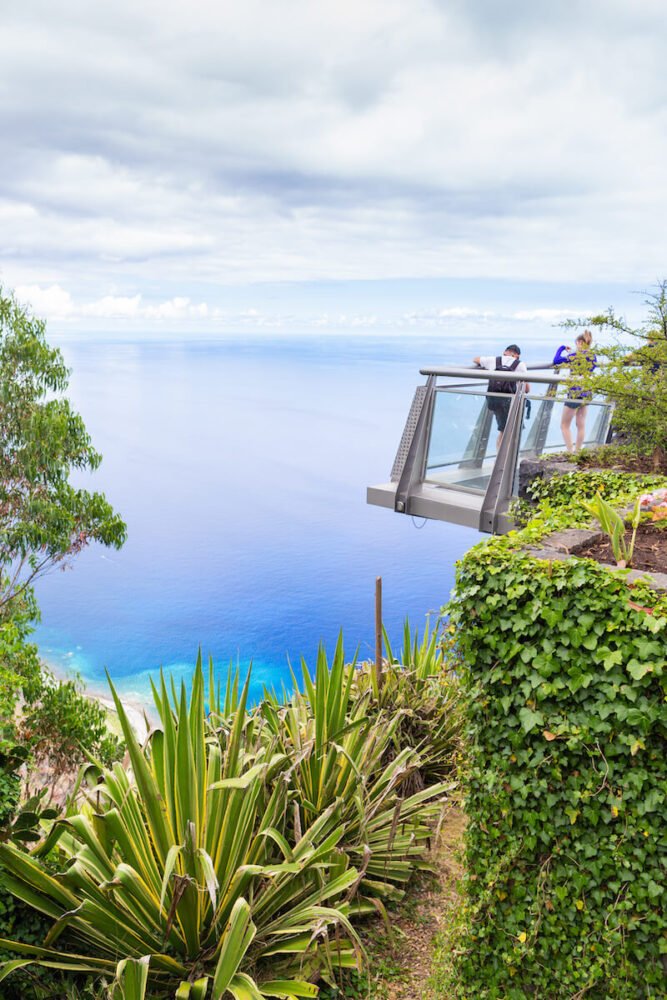 Cabo Girão is a great spot to watch the sunset in Madeira, both for its location and for its epic viewing platform!
The Cabo Girão Skywalk is a modern observation deck with a glass platform overlooking the ocean.
This is one of the best coastal views in Madeira and is easily accessible by car!
Note that there's a small fee, €2, to access the Skywalk.
Have dinner in Câmara de Lobos.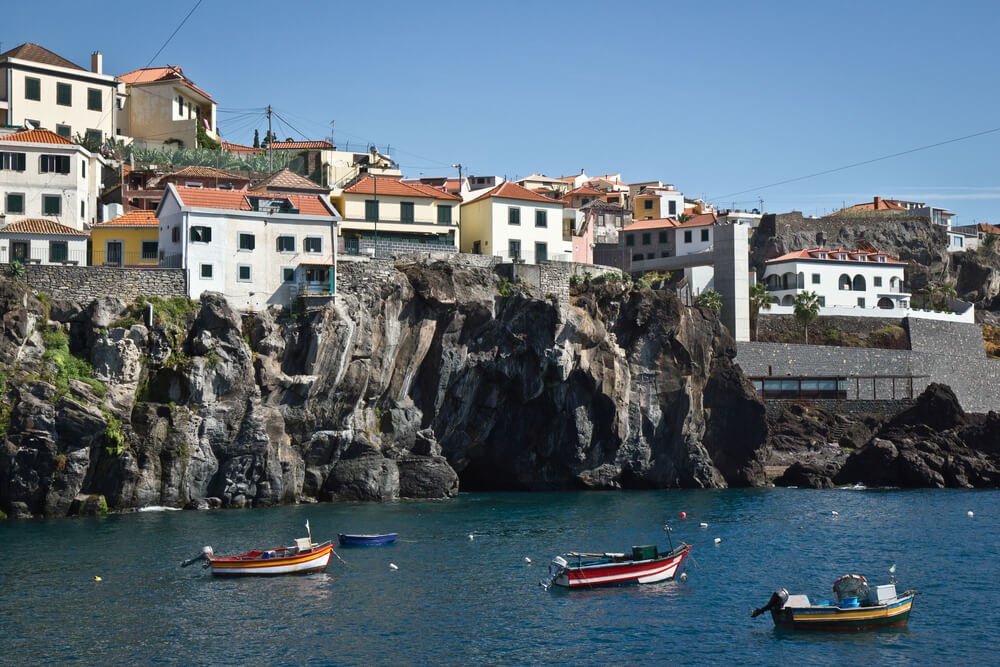 For a change of scenery, you can stop off for dinner in Câmara de Lobos, a small town just 10 minutes before Funchal.
The charming seaside town was the landing place of João Gonçalves Zarco, the Portuguese explorer who discovered Madeira.
The town is also known for a life-size statue of Winston Churchill, who visited Madeira in 1950.
In the bay area, close to Churchill's statue, you can find many wonderful restaurants where you can stop for dinner.
Minerva is a great spot offering all kinds of dishes, including vegetarian options.
Day 4 of Your Madeira Itinerary: Coastal Walks
If you only have one more day to spend in Madeira, you can explore the eastern coastline.
In particular, we'll focus on the beautiful Ponta de São Lourenço!
Walk the Vereda da Ponta de São Lourenço.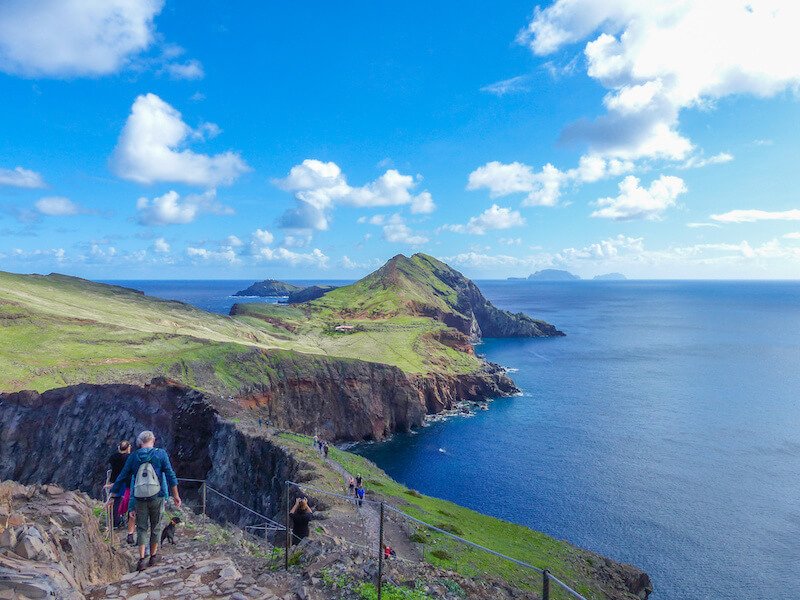 From Funchal, drive for around 40 minutes until you reach the roundabout where you can park your car and begin the Ponta de São Lourenço trail.
The hiking trail is easy to walk and easy to follow, with clear signs as well as many portions of walkways and stairs.
The return hike takes around two hours without stops, but you'll come across many gorgeous viewpoints that you'll just have to stop for!
So ignore the 2-hour guideline and basically plan on spending the entire morning here.
At Miradouro de São Lourenço you can check out spectacular rock formations emerging from the deep blue water, and maybe descend to the wild São Lourenço Beach.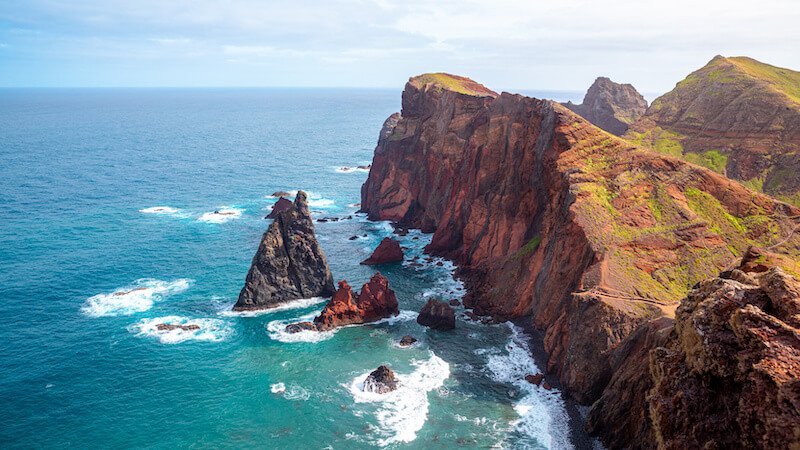 Before the last portion, which is the steepest, you'll come across a small café, Casa do Sardinha.
This is the only café around, so expect the food to be overpriced.
However, you can have a coffee or a drink before you continue the hike. Personally, I'd recommend bringing a few snacks instead of buying food here.
The last climb will lead you to Miradouro Ponta do Furado, where you can enjoy sweeping views of Madeira's dramatic coastline. In front of you, the deserted Ilhéu da Cevada stretches into the Atlantic Ocean.
After taking some time to check out the view, walk back to the car and drive to your next destination.
Have lunch in Caniçal.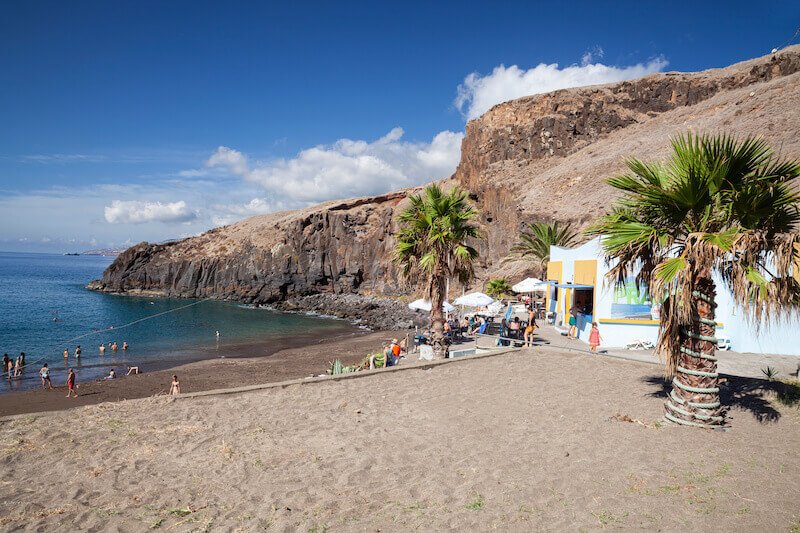 The charming Caniçal is a small coastal village 10 minutes from Ponta de São Lourenço.
The fishing village is maybe best known for the Whale Museum, an innovative museum dedicated to the history of whaling, which was once the village's core activity.
The museum now promotes scientific research and conservation projects to protect marine life in Madeira.
You can visit the museum or explore the fishing village and stop for lunch.
Try the fish dishes at Tasquinha do Pescador or grab a quick bite at Tasca do Samão.
Relax by the pool or go hiking in Porto da Cruz.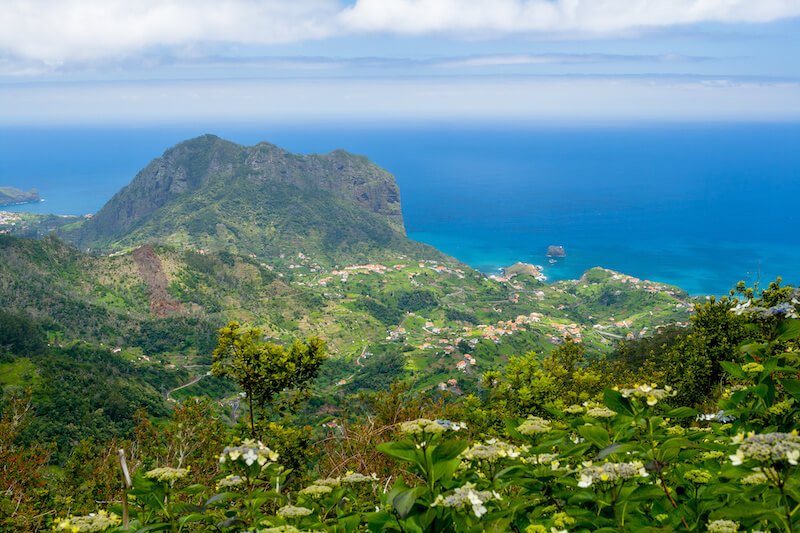 From Caniçal, drive north to Porto da Cruz.
Here, you can choose between relaxing at the beautiful public swimming pool or hiking up the impressive mountain peak Penha de Águia.
The hike is quite steep and challenging, but it rewards visitors with awe-inspiring views.
The full hike is quite intense — only 4 miles long return but gaining 5,000 feet of altitude in that period — so it's only for expert hikers.
You can also just go as far as you want and stop and turn around after you've had enough!
If you prefer spending a few hours soaking in the sun, check out the Piscina do Porto da Cruz.
There is a small entry fee (about one euro), but you can stay as long as you want and swim in lovely pools overlooking the little bay.
If you want to enjoy a lovely view from above without hiking Penha de Águia, head to Cabeço do Cerrado viewpoint, just a 5-minute drive from the center of Porto da Cruz.
Another lovely viewpoint is Pico do Fortim, which you can easily reach on foot from the public pool.
Visit the Cristo Rei and have dinner in Caniço.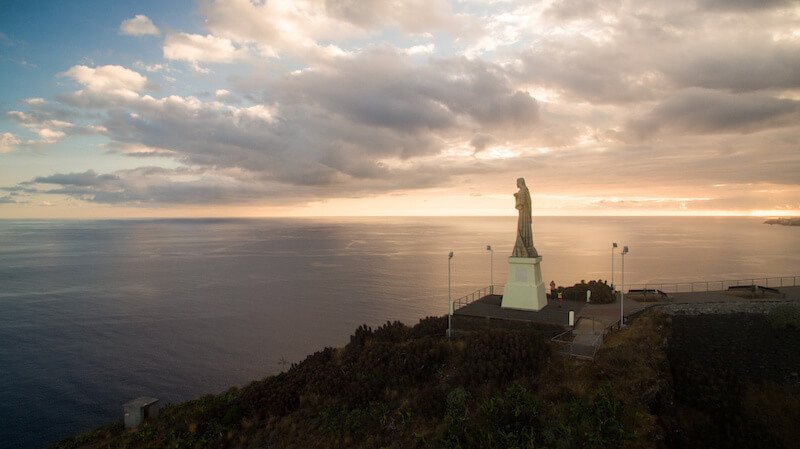 Before returning to Funchal, head to Caniço to enjoy the sunset from the Cristo Rei.
Like Lisbon, Madeira has its own statue of "Christ the King".
The statue was built in 1927, four years before the ultra-famous Christ the Redeemer in Rio de Janeiro.
After enjoying the beautiful coastal views in the soft sunset light, head to the center of Caniço for dinner.
Go to A Traineira for a great choice of delightful seafood, or try the cozy La Terraça for traditional dishes, from seafood and meat to tasty vegetarian tapas.
Day 5 of Your Madeira Itinerary: Choose Your Adventure!
For your fifth and final day in Madeira, you've got your choice between nature, culture, and wine!
Whether you want to explore more natural sights, check out museums and parks in Funchal, or go on a wine tasting tour, here are 3 ideas for your final day of this Madeira itinerary.
Discover Madeira's waterfalls.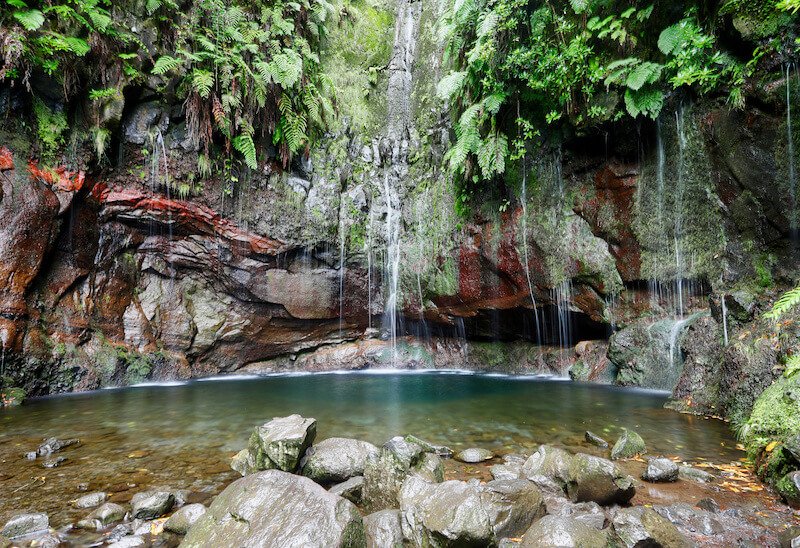 If you want to explore more natural sights and check out some of the most impressive waterfalls in Madeira, drive west and inland.
Prepare for some spectacular hikes immersed in the lush vegetation of the Valley of Rabaçal!
The two main trails are Levada das 25 Fontes and Levada do Risco.
The first trail is just over 4 km long and takes around three hours out and back.
You'll walk through the impressive Laurissilva Forest along beautiful trails until you reach the stunning lagoon and waterfall.
After admiring, and maybe bathing in, the Lagoa das 25 Fontes, head back along the same trail until you find the fork and take the path to the Risco Waterfall.
This trail is shorter and easier. You'll walk through a similar landscape and reach the spectacular waterfall in under one hour.
These trails are both quite popular, so be prepared for crowds, especially if you visit during peak season.
Since you'll be spending several hours in nature, bring plenty of water and some food.
Spend the day in Funchal.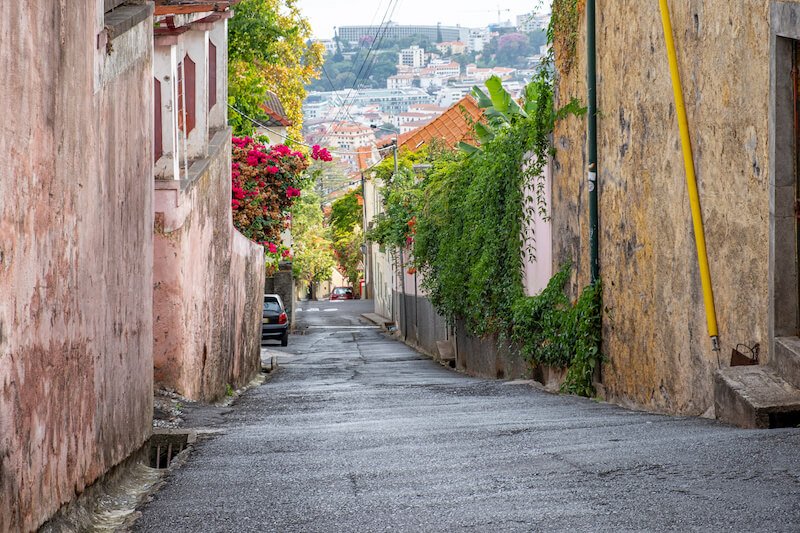 An alternative to exploring the waterfalls is to spend the day in Funchal and check out some museums and any parks or gardens you didn't manage to visit on the first day.
This is a great option if the weather is not ideal for walking around or you're too tired for more hiking.
To learn about Madeira's history, visit the interactive museum Madeira Story Centre.
If you like art, check out the beautiful collection at the Sacred Art Museum of Funchal.
If you have a passion for soccer, there's an entire museum dedicated to Cristiano Ronaldo.
Madeira is Ronaldo's birthplace, and you can see how much pride locals take in this fact from the big statue outside the museum!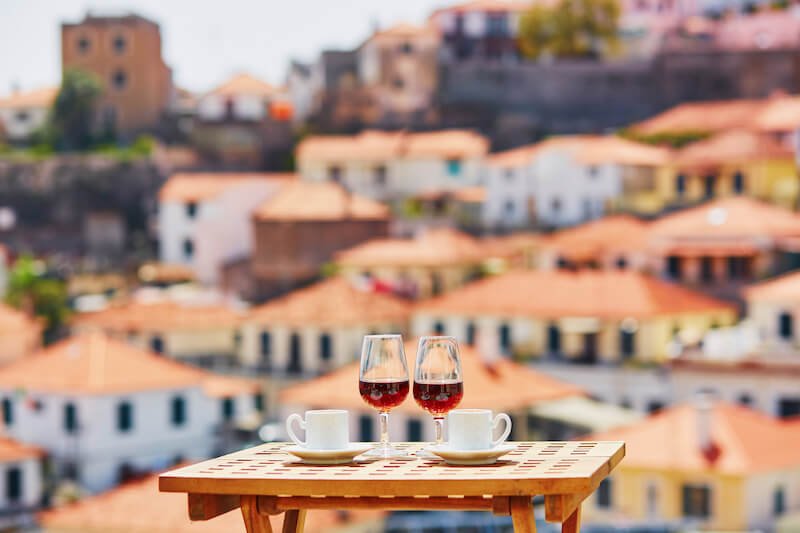 Another great way to get to know Funchal is to join a guided tour like this Food and Wine Walking Tour.
During the 3-hour activity, you'll learn about Funchal's history and admire its architecture while stopping along the way for 11 food and 6 drink tastings, including seafood, sweets, wine, and the local drink, poncha!
Join a full-day wine tour.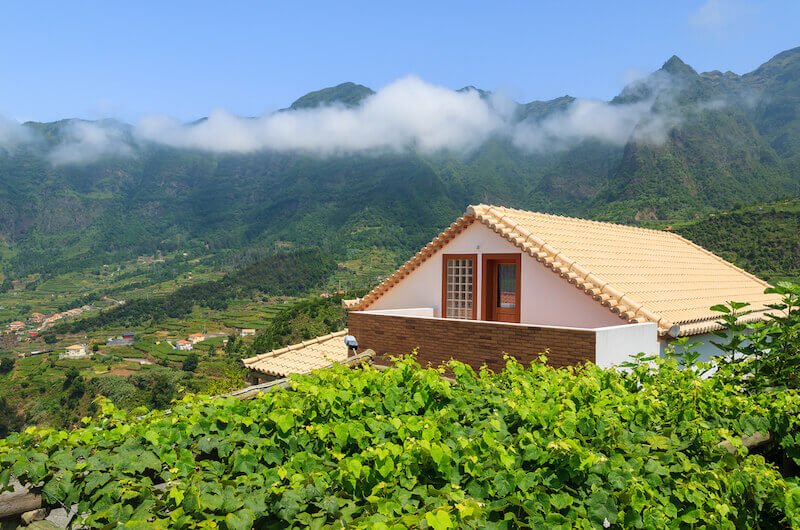 You can find many full-day wine tours departing from Funchal, perfect for an easy day exploring Madeira's wineries!
This 8-hour Wine Tour with Lunch takes you on a culinary excursion of western Madeira, starting from Câmara de Lobos and passing through São Vicente and Porto Moniz.
You get to visit vineyards, enjoy tasty local products, appreciate stunning coastal views, and learn about local wine production.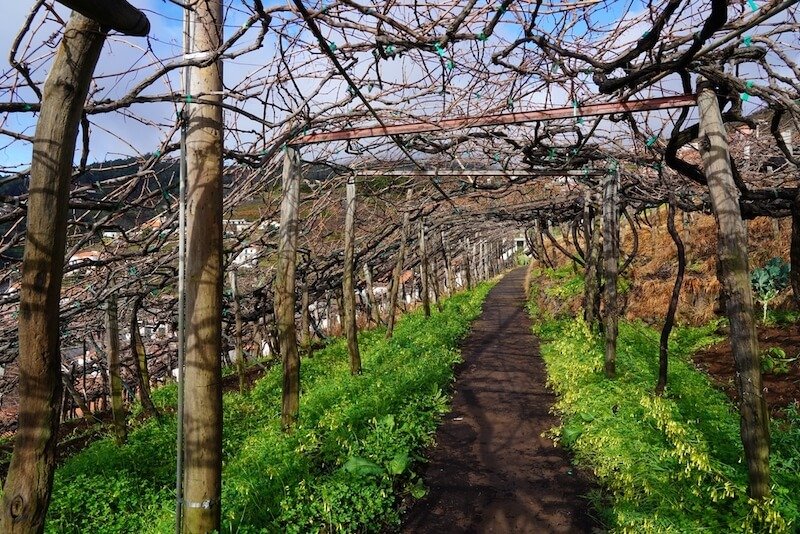 This Skywalk & Madeira Wine Tasting Tour is a great alternative and includes stops in the beautiful Serra d'Água, Paúl da Serra, Porto Moniz, and São Vicente.
The tour also includes a stop at Cabo Girão, in case you didn't see it on the third day.
This tour includes plenty of wine and local product tastings as well!
Where to Stay in Madeira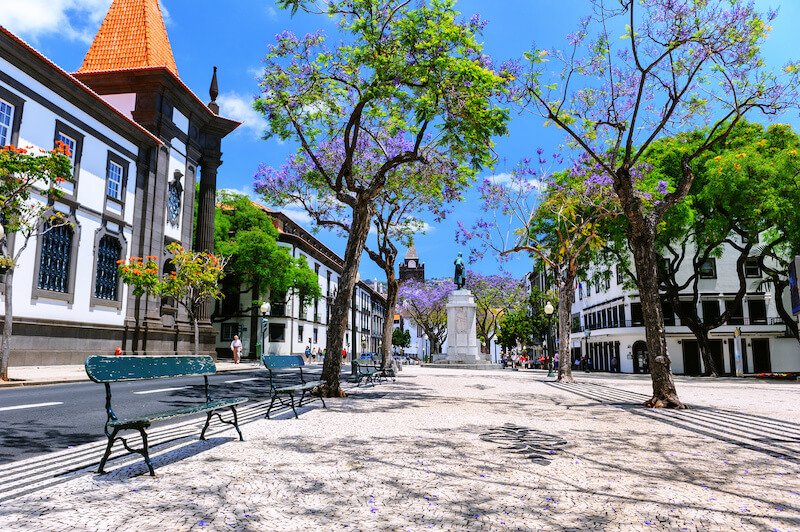 This Madeira itinerary has you staying in Funchal for the duration of your trip.
Even if you're doing a Madeira road trip, Funchal's central location means that it's more convenient to return there each night instead of moving location every night or every other night.
Hotel Madeira is surprisingly budget-friendly given its amenities and location!
Situated just a bit outside of the city center (but not too far a walk), the hotel provides a peaceful and relaxed environment.
Even though it's a fairly affordable hotel, you can still enjoy a small rooftop pool complete with sun loungers offer a refreshing escape, the perfect place to relax after a busy day.
The rooms at Hotel Madeira have been recently given a refresh, designed with a funky and colorful touch.
Despite their size, the rooms are thoughtfully decorated, with little colorful details that add a touch of personality.
Perfect for those who want to get up and go, Hotel Madeira offers a free breakfast that provides you with the fuel you need to tackle this Madeira itinerary!
Barceló Funchal Oldtown offers a delightful mid-range place to stay in Funchal with all the amenities you'd need.
The best part is its outdoor rooftop swimming pool, complete with comfortable beds for lounging, sun chairs, and a bar, where guests can sip cocktails and admire the city views.
The hotel's lobby area has a funky, contemporary design, with modern furniture and an artistic chandelier, which extends into another bar area.
The rooms at Barceló Funchal Oldtown are spacious and minimalist, featuring working areas, flat-screen TVs, and some even have balconies.
The modern, marble bathrooms are equipped with step-in rain showers and modern vanities for a spa-like home experience.
Additionally, breakfast is included, for a delicious and easy start to each day!
The Savoy Palace is the perfect Funchal luxury hotel, as it's part of the Leading Hotels of the World brand, which guarantees a world-class experience for its guests.
The hotel has several outdoor swimming pools to choose from — some heated for year-round enjoyment!
The clear highlight is the rooftop infinity pool, where guests can swim while enjoying breathtaking views of the Atlantic, creating the perfect backdrop for capturing epic photos and unforgettable memories.
The hotel also features a vast rooftop terrace with panoramic views of Funchal city.
For those seeking even more relaxation than a pool can offer, the spa area offers a range of amenities for an extra charge, including an indoor plunge pool, hot tub, hammam, sauna, and massage rooms.
Other amenities include on-site parking and a complimentary breakfast.
The rooms at the Savoy are gorgeous, with huge spacious rooms and luxurious furnishings that don't feel overdone.
Mostly, the focus is on the windows and the beautiful views just outside them: some even have floor-to-ceiling windows that reveal sea views.
The bathrooms are also are designed to provide a spa-like experience, complete with two sinks, spacious showers, and some even offering soaking tubs for ultimate relaxation.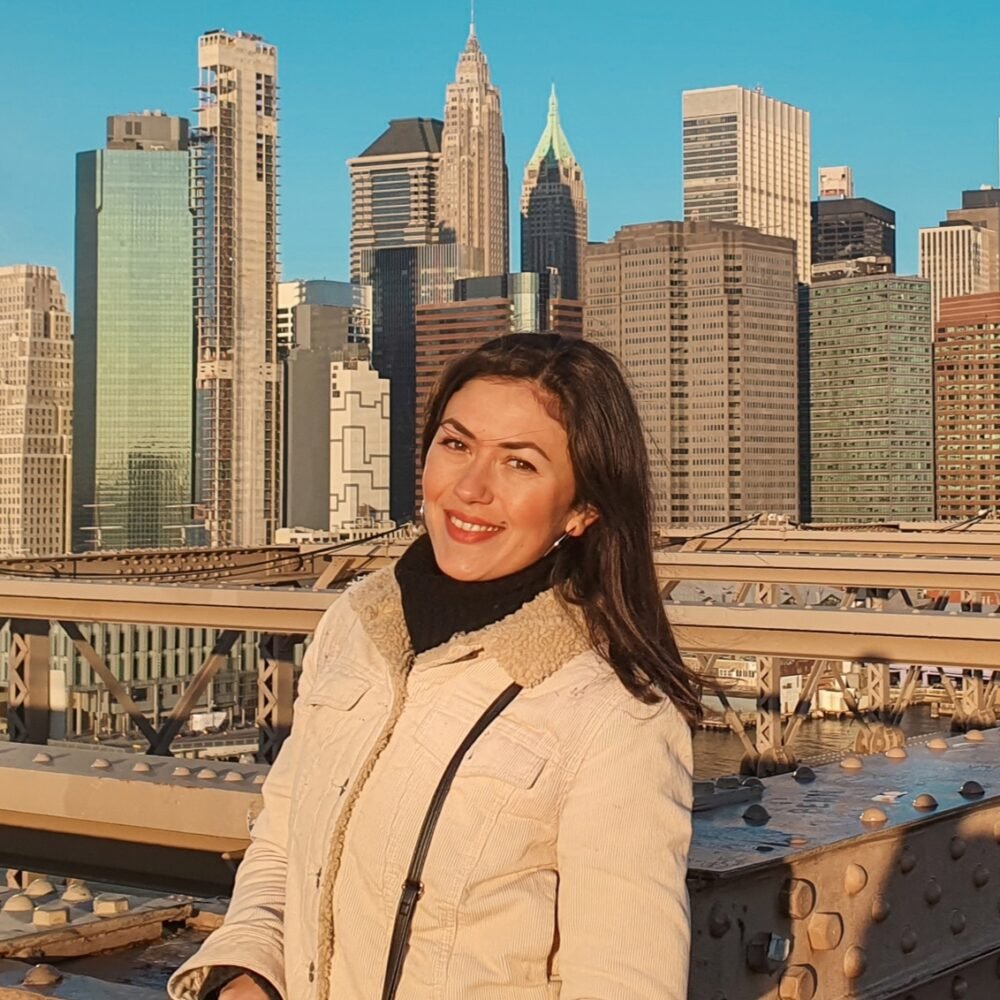 Roxana is a Romanian-born freelance travel writer who has lived in Italy for over 15 years. She has a Master's in Journalism and a Bachelor's in Film Studies, and she studied at Università degli Studi di Roma Tre. Besides her native Romania, Roxana has lived in Rome, Lisbon, and Berlin, and she has traveled through much of Europe in search of hidden gems, history, and culture.