Portugal doesn't sit in the shadows of more famous European countries anymore. The country's beautiful cities draw millions of tourists each year.
But, you don't have to put up with the crowds in Porto and Lisbon if you want to enjoy Portugal's fantastic cuisine, historic architecture, and multicultural vibes.
The Portuguese countryside is a paradise dotted with quaint villages and towns.
These 17 cutest Portuguese towns and villages represent the real insight into the Portuguese culture.
Note: These towns, small as they are, are often hard to reach with public transportation… they're ideal if you are renting a car while in Portugal!
Marvão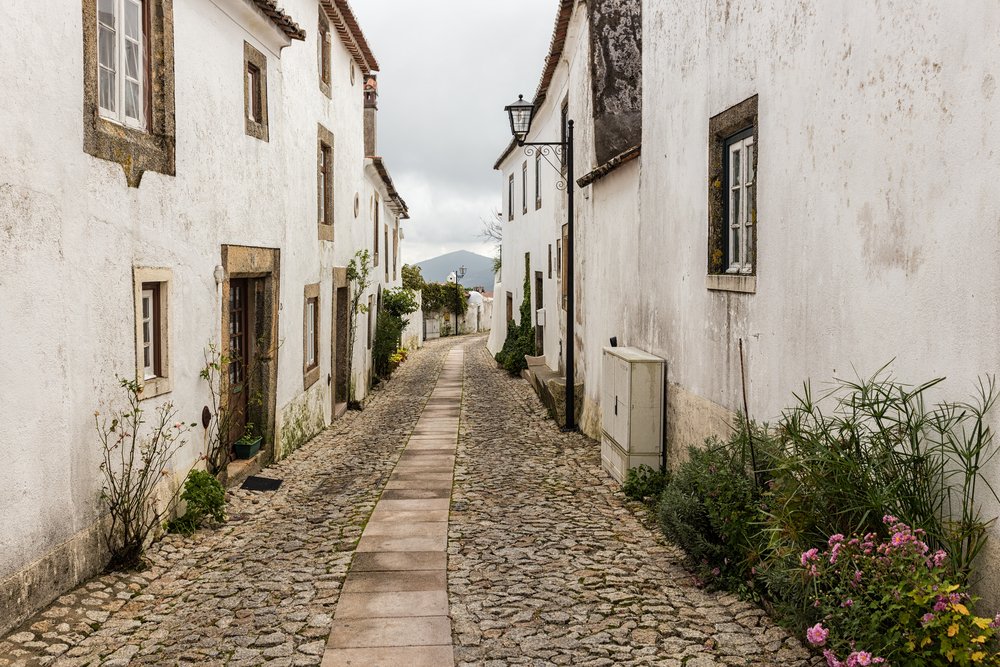 Note: This post contains affiliate links, which means I may receive a small commission if you purchase something through one of these links. Thank you for supporting the free content on this site! For more information on affiliate links and cookies, see my disclosure page for more details.
Up high in the Serra de São Mamede Mountains lies a small medieval village called Marvão.
It is located near the Spanish border and has been shaped by Jewish, Moorish, and Spanish influence.
It rests on a medieval 13th-century fortress. Aside from rustic religious architecture, Marvão is adorned with immaculate, white-washed houses.
It's historic relevance and beauty have earned it a spot on the New York Times' "1,000 Places to See Before You Die" list.
Walking in the cobblestoned streets of Marvão will allow you to peek into the country's glorious military past.
If you get tired of exploring Marvão, you can always walk to one of the castle walls and enjoy the enchanting scenery and top-of-the-world view from one of Portugal's prettiest castles.
Monsanto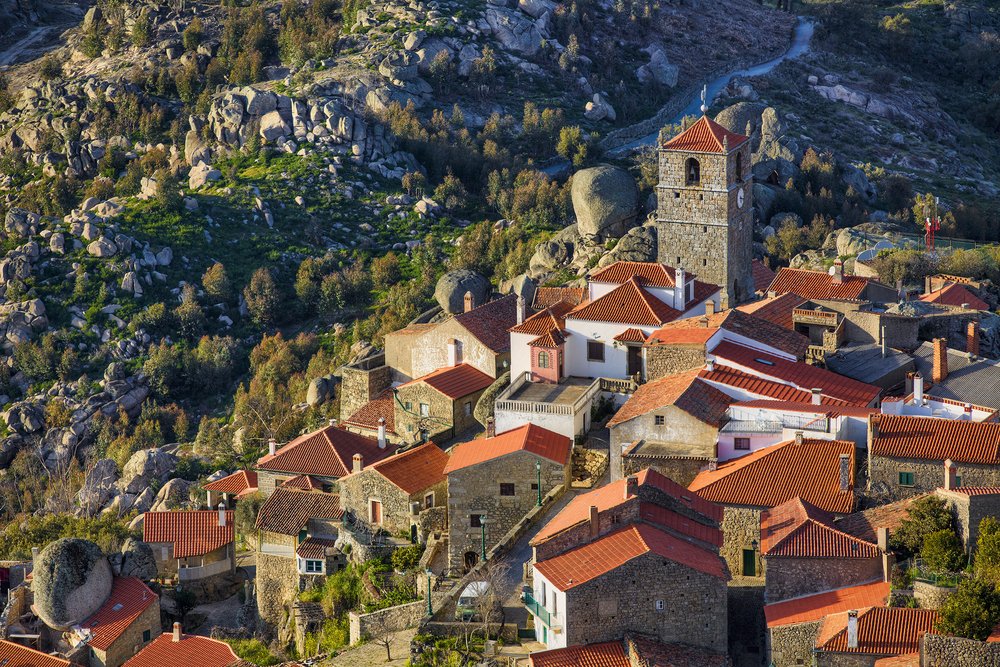 Villagers are proud to call Monsanto "the most Portuguese village in Portugal."
It's hard for visitors to tell whether that's true or not, but every visitor can tell that Monsanto is without a doubt one of the most extraordinary places in the world.
The village literally lies on a huge pile of moss-covered boulders.
The picturesque traditional stone and red-roofed houses nicely contrast the town's unique bedrock.
Monsanto's streets and houses curve around the giant rocks. Some of the behemoth boulders form parts of buildings, such as doorways, walls, and ceilings.
Getting to Monsanto from Lisbon or Porto is roughly a 3-hour drive. It's an ideal destination for a day trip.
But having dinner on one of the scenic terraces and staying at one of the cozy bed-and-breakfasts are good enough reasons to extend your stay!
Ponte de Lima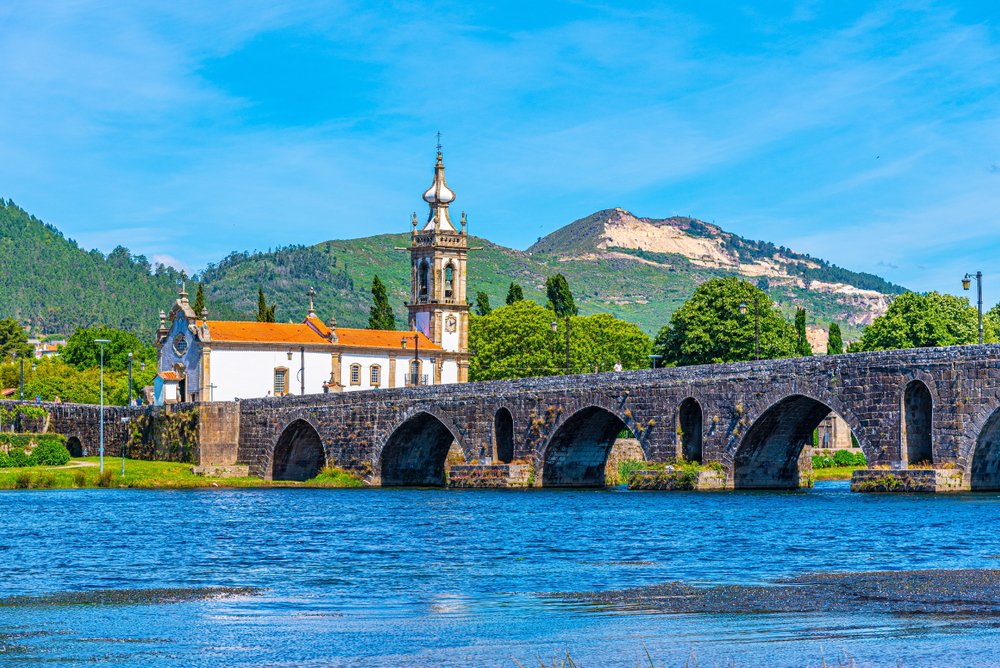 Ponte de Lima is the oldest town in the country. It's also home to Portugal's oldest villa!
For this reason — and many others — this charming and characterful small town in Portugal is no ordinary tourist destination.
If you visit the town, you may encounter a wave of pilgrims headed to the Santiago de Compostela Cathedral in Spain, a famous and ancient pilgrimage site.
Ponte de Lima lies along one of the trails that make the Portuguese Way to Santiago de Compostela.
The pilgrimage is known as Camino de Santiago.
Walking the Camino is another great way to explore the towns and villages of the Portuguese countryside, and Ponte de Lima is a great example of that.
Twice a month, the town hosts a huge market. The Monday market has been held since 1125!
Walking the town's cobblestone streets is a delight. You are sure to encounter many intriguing points of interest, such as the famous prison tower that's been turned into a library.
Piódão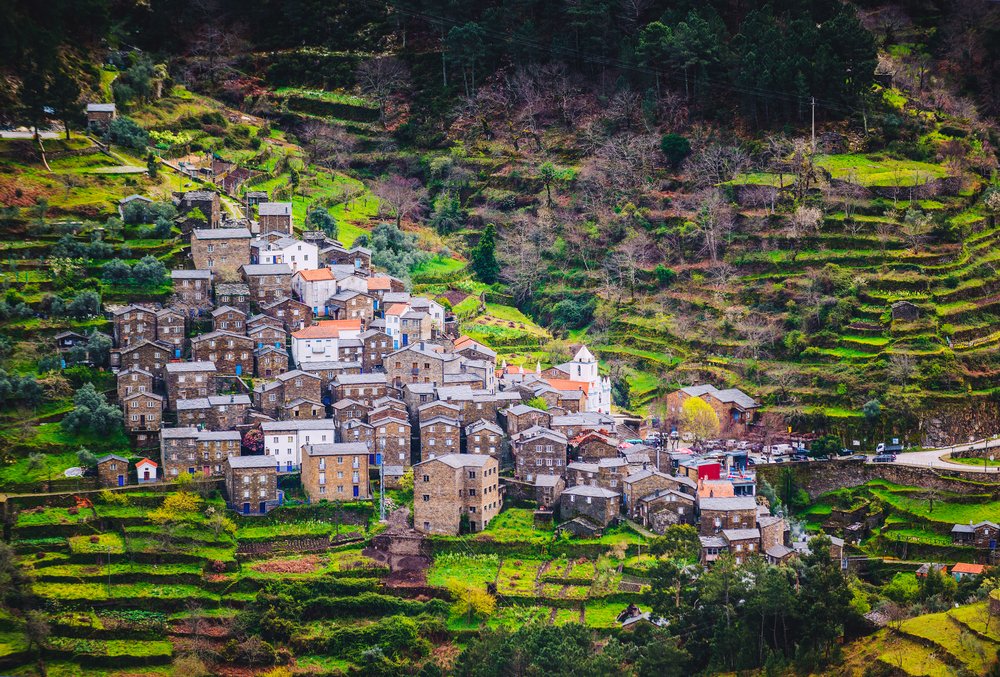 Piódão looks like a village that has never come in touch with the outside world.
This isolated village lies in a natural amphitheater of a terraced hillside. Its tightly-clustered houses made from schist have stood there for centuries.
Schist is a type of dark-grey stone that is typical of the Portuguese countryside.
To get to this remote village, you have to travel deep into the mountains of Serra do Açor, one of the thirty protected areas in Portugal.
Up until fifty years ago, the only way to reach this isolated village was by foot or on horseback!
Since then, it has become a popular tourist attraction, but stills remains an incredibly atmospheric spot.
Óbidos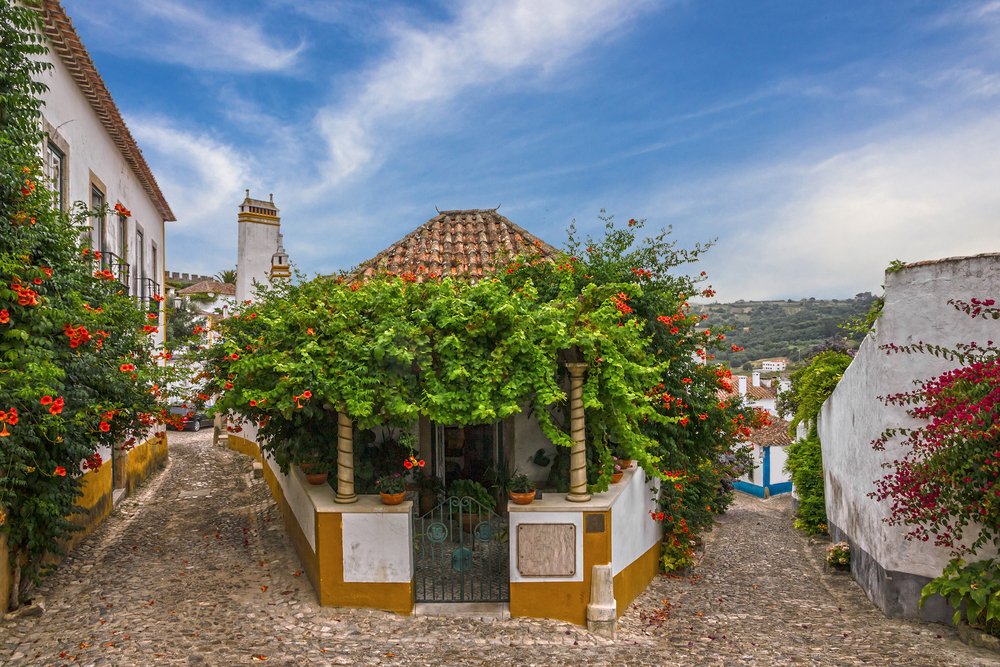 If you grow tired of walking the streets of Lisbon, Óbidos is just an hour away. However, you can expect to encounter a fair deal of day-trippers!
So, it's best to stay a bit longer if you want to properly experience the lit-up lanes, the calm sunrise, and the magical silent nights of Óbidos.
The town is also a great spot to enjoy the melancholic melodies of Fado, a form of Portuguese singing that can often be heard in cafes, restaurants, and pubs.
The town is filled with quaint historic churches and sumptuous dwellings. From the 12th century until the fall of the Portuguese monarchy, generations of Portuguese royals have funded their construction.
On your way to Óbidos, you can enjoy the idyllic countryside landscape comprised of vineyards and cherry orchards.
Sortelha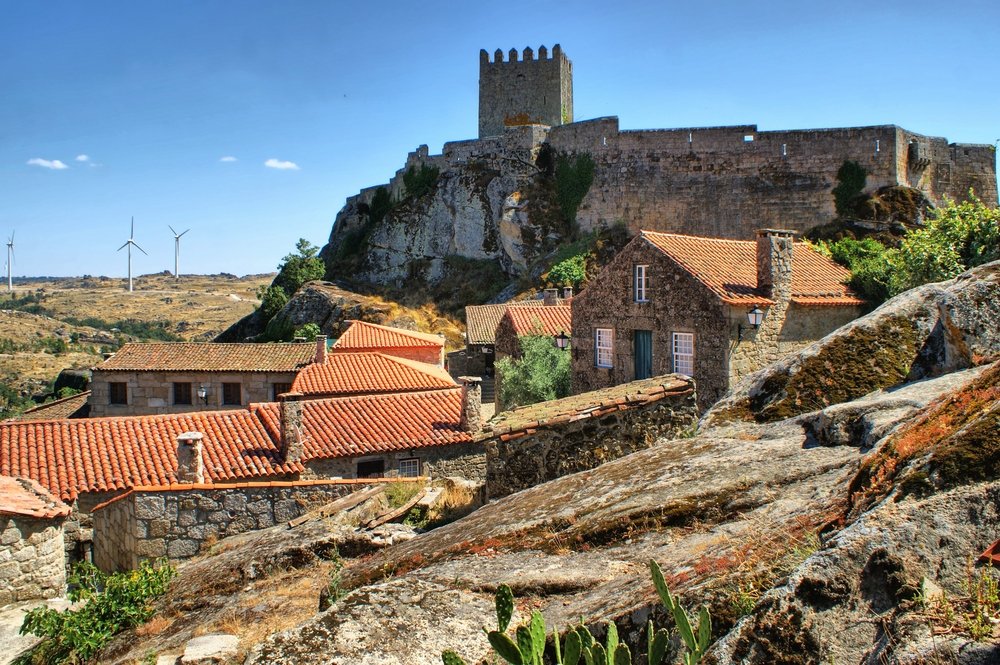 This charming place will bring you back in time, as the inhabitants of Sortelha have done a great job of keeping the village's rich historical legacy.
It's famous for granite houses built into giant boulders!
There's also the 14th-century parish church adorned with Spanish-Arab ornaments and the age-old Gothic gateway.
Like many other Portuguese towns and villages, Sortelha draws most of its charm from its medieval atmosphere.
The village is located on top of a formidable crag. Sitting at an altitude of 2500 ft, Sortelha offers a breathtaking view of chestnut groves and granite boulders.
The top of the castle tower may be the best place to enjoy the mesmerizing landscape, but you'll have to climb it at your own risk.
Elvas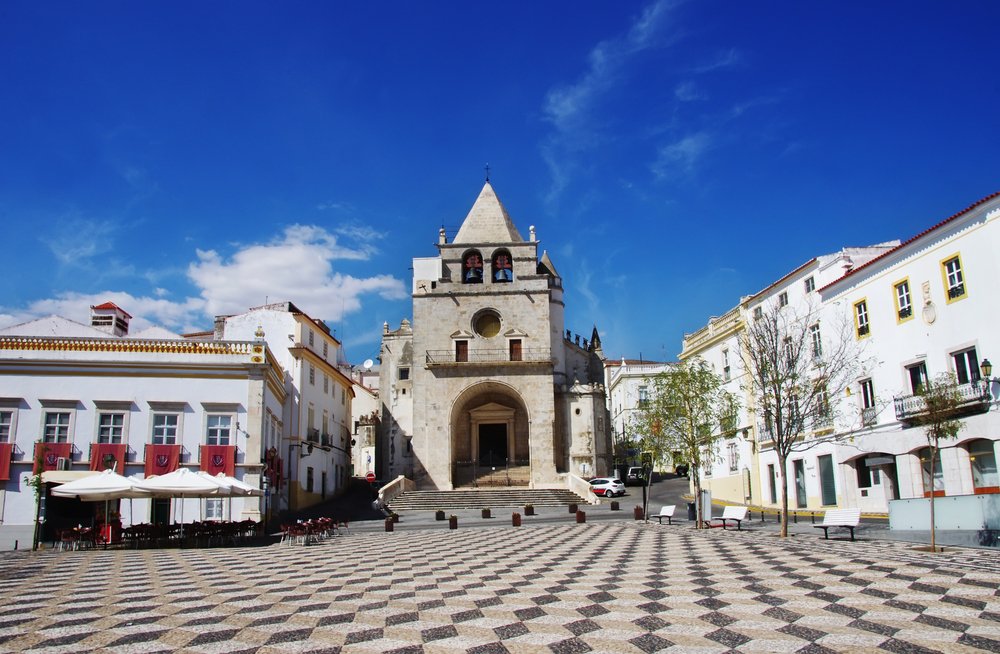 Elvas is a small town in Portugal that's nestled in a star-shaped fortification.
The town was once tasked with guarding an important crossroads between Spain and Portugal.
It's unique shape allowed defenders to repel the advance of enemy attackers. Perhaps that explains why the fortification is still standing today.
The exuberant staff guarding the fortification is always happy to illustrate the town's glorious past.
If you are up for an adventure, you may get a chance to explore some of the fort's hidden passages (make sure to check with the staff).
The inhabitants still use the town's ancient aqueducts for freshwater.
The beautiful cathedral in the Praca de Republica is another wonderful gem Elvas has to offer.
But many visitors say the best thing about this town is how quiet it is!
Not many tourists visit Elvas. If you want to avoid crowds and enjoy the city at the leisurely pace of the locals, Elvas is the place to be.
Castelo Rodrigo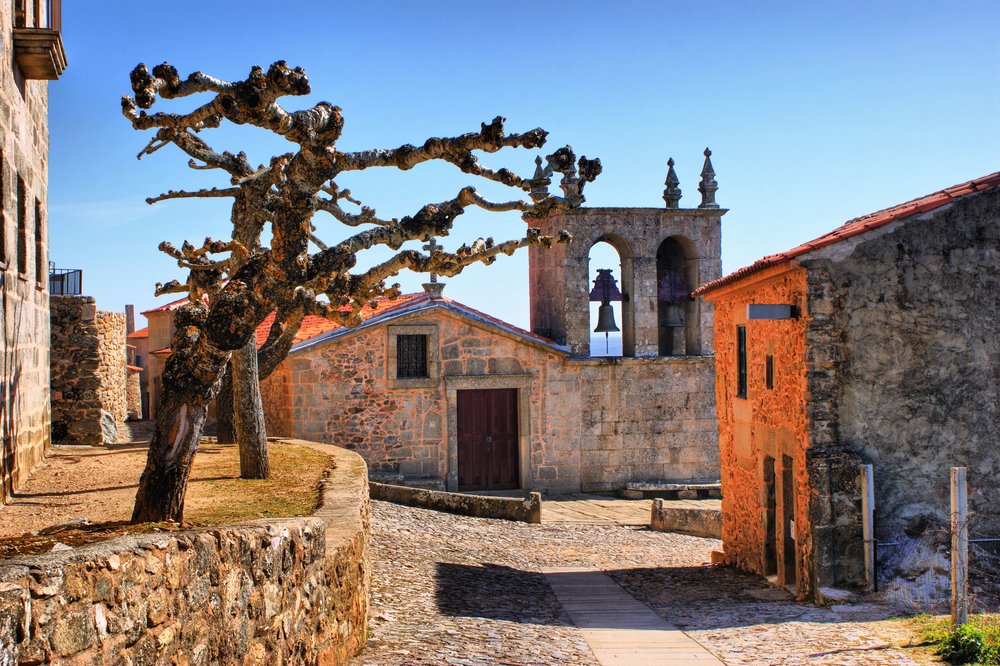 Castelo Rodrigo is another small Portuguese town that has many historic stories to tell.
And, like many other Portuguese small town gems, the town is nestled on top of a hill.
The town castle wears many scars from countless battles that took place over the centuries.
Castelo Rodrigo is a much more peaceful place now, but it has retained its medieval charm.
Like Ponte de Lima, Castelo Rodrigo lies along one of the Camino de Santiago routes.
Monsaraz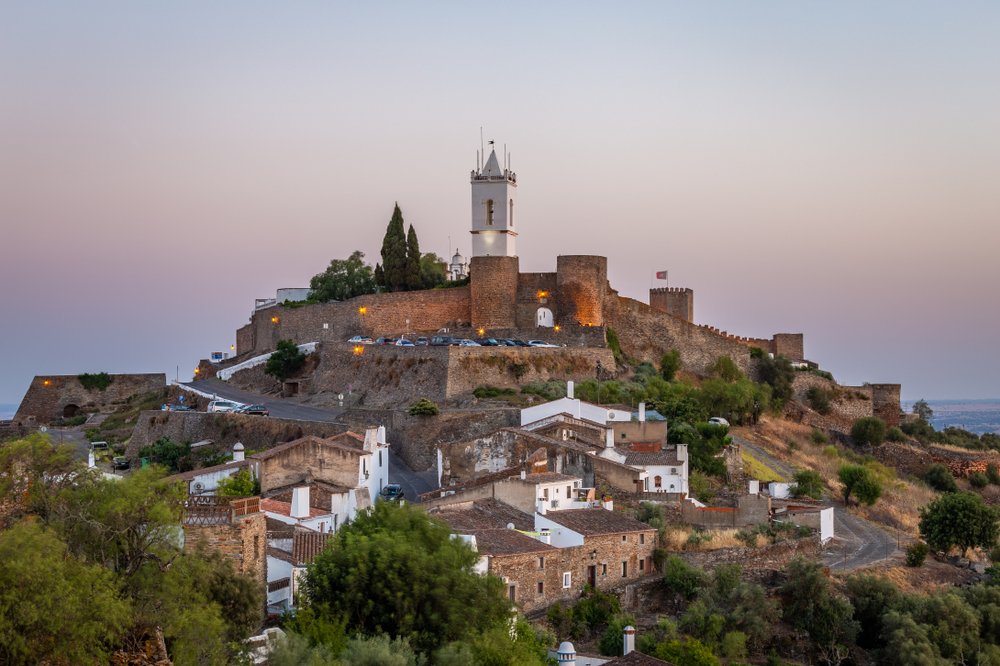 Along the main street of Monsaraz, Rua Direita, there are dozens of 16th and 17th century whitewashed houses that retain the town's ancient atmosphere.
The streets of the Monsaraz are perfect for those looking for tranquility reminiscent of days long gone.
But, if you want to enjoy a lively atmosphere, it's best to visit in July.
Then Monsaraz becomes an open-air museum when visitors have a chance to get better acquainted with the habits and culture of the townspeople!
Lamego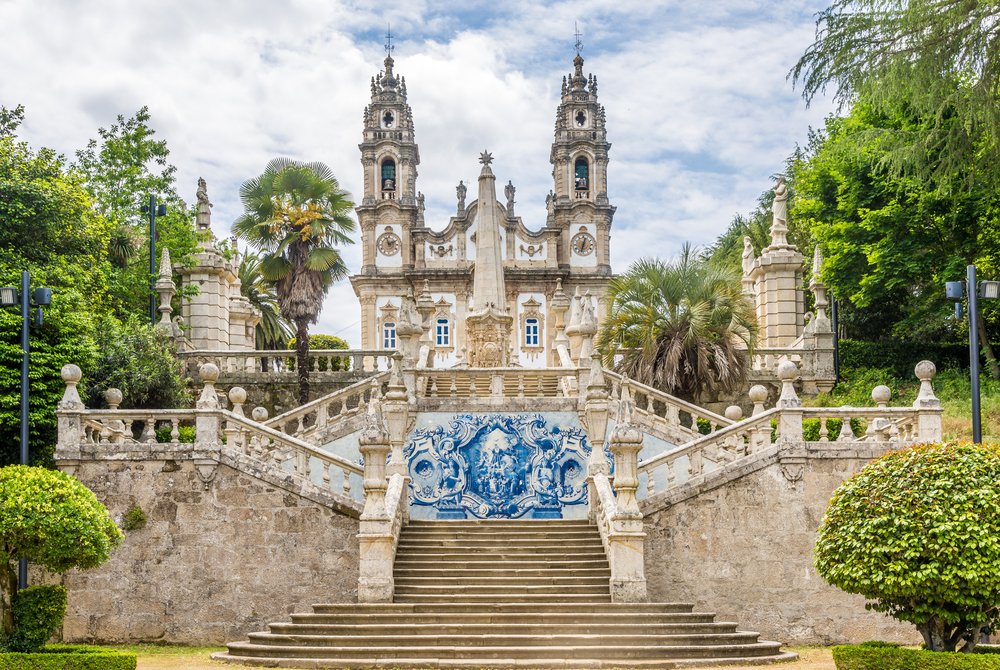 Lamego is a Portuguese town wreathed in farms and picturesque vineyards, close to the Douro Valley.
It's sometimes included on wine tours from Porto, but it's worth a visit all on its own.
Its fine wine and Baroque architecture won't leave you unimpressed!
Of all the riches the town has to offer, the locals will tell you that Lamego's sparkling wine is one of its biggest points of pride.
But, most visitors come to see the breathtaking Sanctuary of Nossa Senhora dos Remédios.
And, to get to the church, you need to climb the 700-step centuries-old Baroque staircase. So it may be best to save the wine tasting for later!
Aside from its world-famous wine, the town is known for its rustic and meaty cuisine.
Castelo de Vide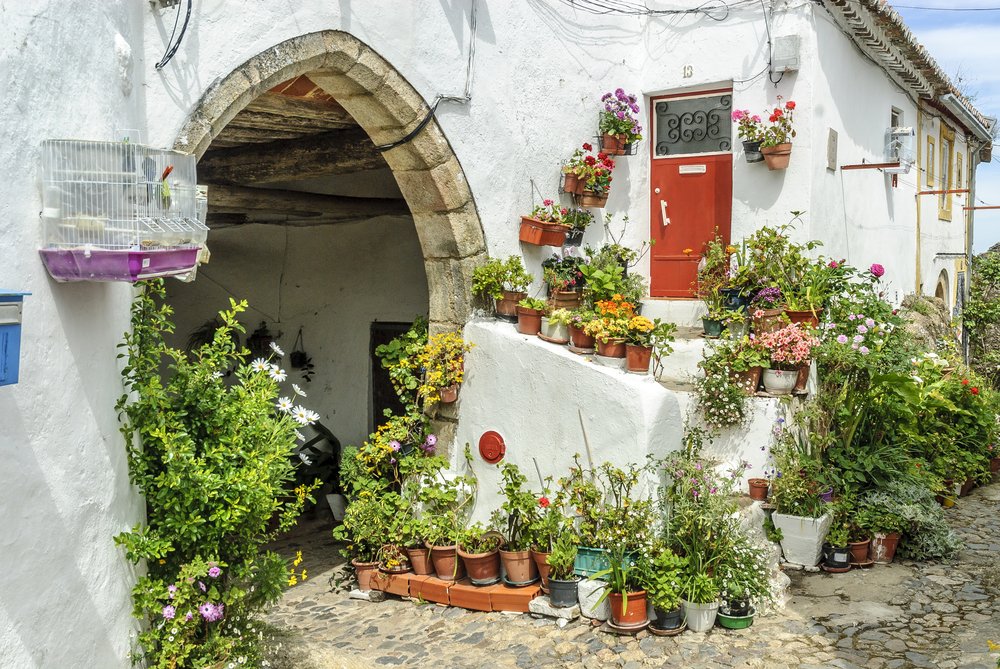 Castelo de Vide home to one of the best-preserved and most important Jewish Quarters in the whole of Portugal.
Since the town is located near the Spanish border, many Jews fleeing persecution found refuge in Castelo de Vide.
The town is also famous for its archeological treasures and hot springs with reputed healing powers.
Many of its antique buildings date back to the 13th century. Its cobblestone streets are packed with red-roofed and white-walled dwellings.
Lovers of the Portuguese countryside are sure to have a field day in this charming town!
Azenhas do Mar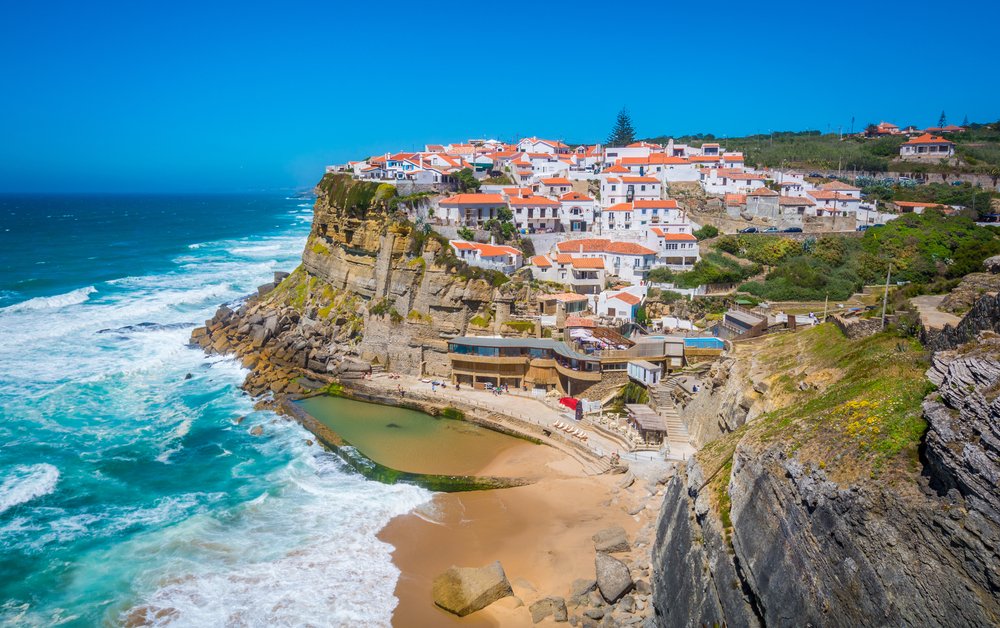 Perched on the rugged Atlantic coastline, this clifftop village in Portugal is perfect for a beach getaway if you can't make it to the Algarve.
Aside from swimming and enjoying the lovely view from one of Azenhas's terraces, there is not much to do in the village itself.
However, the surrounding region of Sintra has plenty to offer.
One can spend days exploring the fantastic castles and astonishing buildings in the neighborhood.
The intricate architecture of Quinta de Regalia, Monserrate Palace, and Pena Palace is sure to leave a long-lasting impression on every visitor.
Europe's westernmost point, Cabo da Roca, is just a stone's throw away from Azenhas.
Ferragudo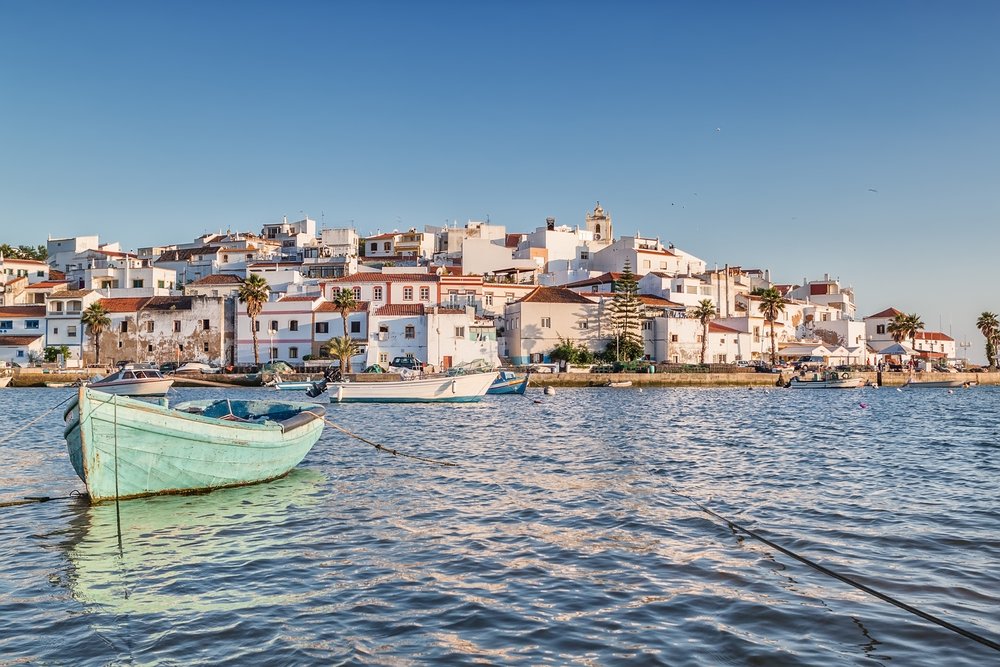 Ferragudo used to be a quiet fishing village in Portugal.
While it's not so quiet anymore, it's still a great place for those who'd like to take a relaxing walk along the mesmerizing bayside dotted with Portuguese fisherman's cottages.
Even though the town has shifted its focus from fishing to accommodating visitors, it still hasn't seen the worst part of tourism.
You won't see any high-rise or neon hotels in Ferragudo. Instead, you'll see a handful of local restaurants, cute cafés, and an ice-cream parlor.
Most are located near the town square, Praça Rainha Dona Leonor, which is the liveliest part of Ferragudo.
Santana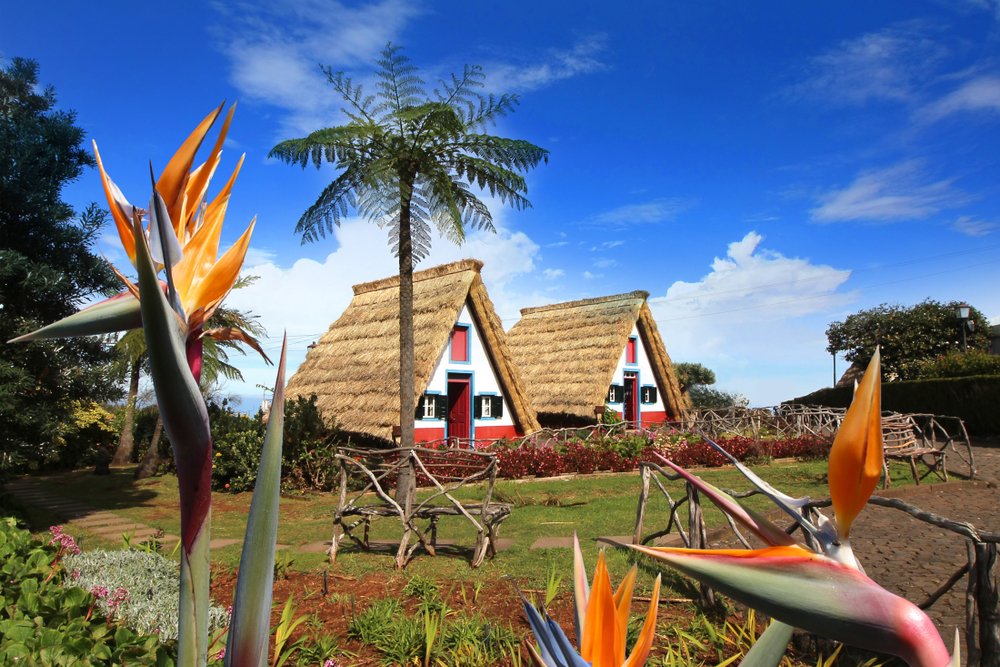 By now, you're probably thinking that every Portuguese village is packed with white-washed houses with red-tiled roofs.
But this quaint little town on the coast of Madeira Island offers something different.
The traditional architecture of Santana is represented by the village's triangular-shaped houses with thatched roofs.
Almost all of them look exactly the same, almost every house has a front door surrounded by three tiny windows.
Each traditional house is painted with blue or red trim on the windows and doors. Tourists are free to visit most of them!
If you want to get better acquainted with the culture and history of the island, you can also visit the Madeira Theme Park.
Nazaré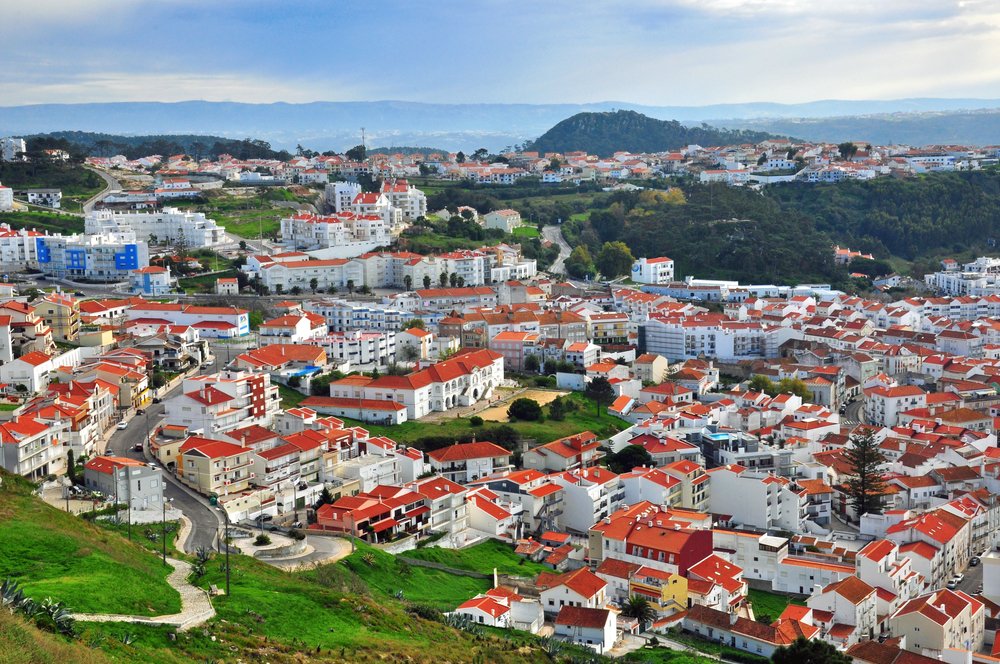 The lovely coastal town of Nazaré on the Atlantic has the best beaches in Portugal, according to the locals.
If you have your doubts, do know that many surfers and spectators from all over the globe agree with them.
This little fishermen's town has become famous for the gigantic waves that hit the coast every winter. In summer, the place is packed with beach-goers.
But in spring and fall, Nazaré becomes a quiet fishing village where time stands still.
Nazaré is halfway between Porto and Lisbon (and a great stop on a road trip between the two!).
The main town is located on top of the clip. When the beach is crowded in summer, this is where locals spend most of their time.
So, even if you visit in summer, you'll be able to enjoy a quiet cup of coffee or glass of Vinho Verde.
Almeida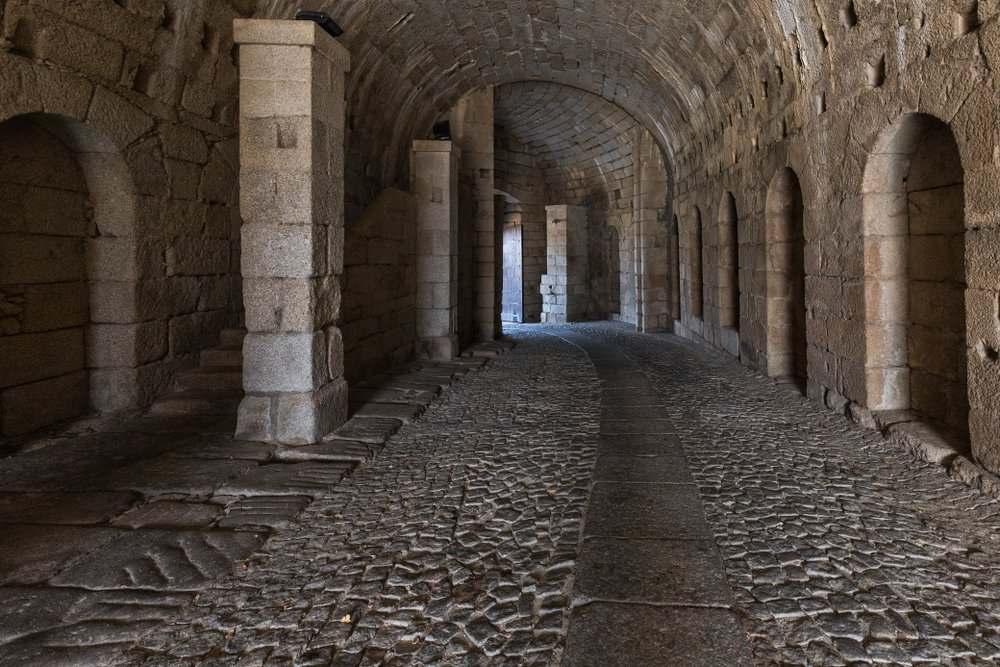 Almeida and Elvas have many things in common.
This extraordinary example of a frontier town is located 10 miles from the Spanish border.
And similarly to Elvas, it sits in a monumental, star-shaped fortress, and this tiny settlement is home to about 2,000 villagers.
The whole place is classified as a national monument.
An underground labyrinth sprawls underneath the fortress. The villagers have turned it into a nice historic museum.
But, even above ground, there's enough history in the air to make you feel like you have traveled back in time a few centuries in this scenic small town in Portugal.
Cerdeira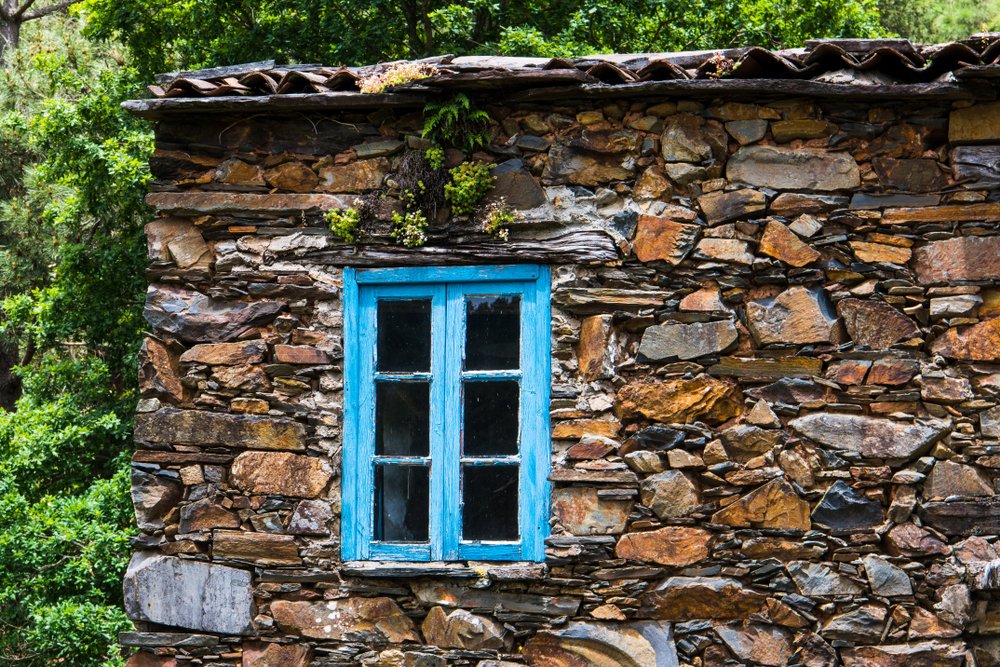 Cerdeira is an isolated art village located in the heart of Portugal.
This tiny remote village had been completely abandoned for decades, but in 1988, it was rediscovered by a hiker.
Soon after, Kerstin Thomas, the hiker that stumbled upon Cerdeira, spearheaded efforts to bring the village back to life.
Today, this cute Portuguese village has a small number of permanent inhabitants. It's a great place for those who want to unleash their creativity far away from smartphones, computers, and other gadgets.
Cerdeira has just 9 guesthouses and one art and crafts center, Casa das Artes, where you can try your hand at ceramics or wood-carving in an authentic schist house.
About the Author: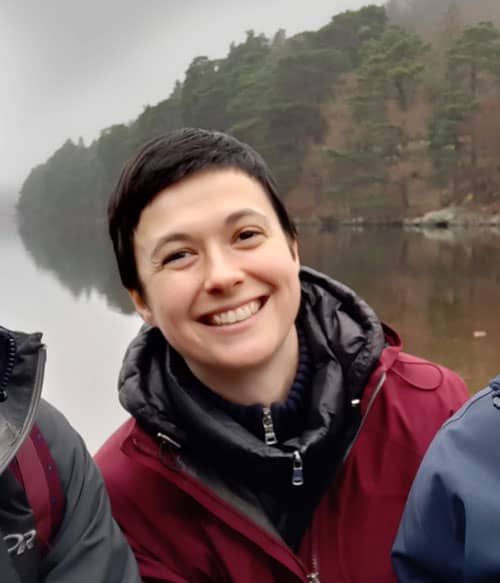 Anna loves hiking during the weekend and has completed a few long multi-day hikes, including twice on the Camino de Santiago for 4 weeks and then a Camino route in France for 2 weeks. She also had the pleasure of hiking up Ben Nevis, all over Ireland, and her favorite hike was 3 weeks in the Canadian Rockies.
Allison Green is a former educator turned travel blogger. She holds a Masters in Teaching and a B.A. in English and Creative Writing. Her blog posts merge her educational background and her experience traveling to 60+ countries to encourage thoughtful travel experiences that both educate and entertain. She has been a speaker at the World Travel Writers Conference and her writing, photography, and podcasting work has appeared in National Geographic, CNN Arabic, CBC Canada, and Forbes, amongst others. Now based in the San Francisco Bay Area where she grew up, she has also lived in Prague, Sofia, and New York City.