If your travels happen to bring you to Tuscany, don't just stick to Florence!
As you explore, you'll soon see that Siena is a beautiful city worth adding to your Tuscany itinerary.
Note: This post contains affiliate links, which means I may receive a small commission if you purchase something through one of these links. Thank you for supporting the free content on this site! For more information on affiliate links and cookies, see my disclosure page for more details.
This medieval Tuscan city south of Florence is surrounded by scenic countryside landscapes and vineyards, making it the perfect destination for both culinary and cultural exploration.
While many visitors will simply travel to Siena on a day trip, spending a couple of days in the city is a fantastically rewarding experience.
With the extra time on your side, you can visit beautiful landmarks, check out the museums, sample delicious Tuscan food, and maybe even join a wine tour!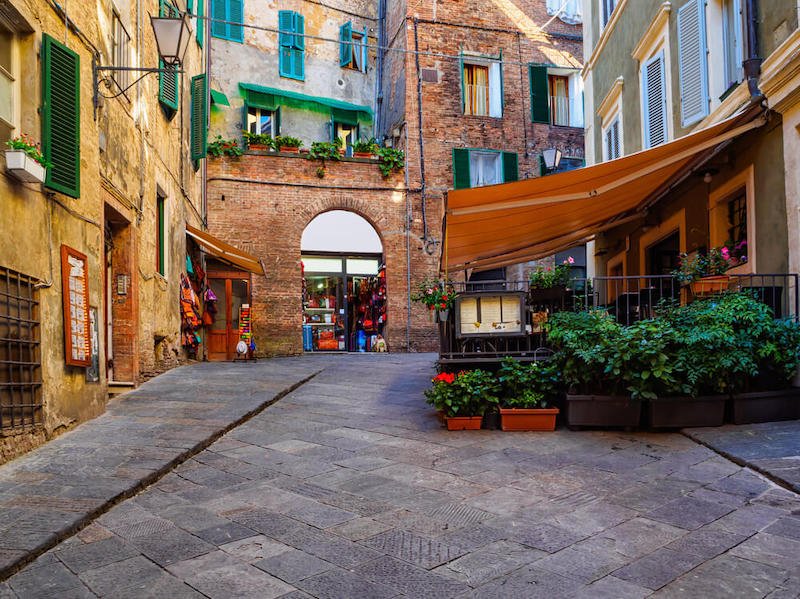 I traveled to Siena while living in Italy, and I was truly amazed by the stunning medieval architecture, the imposing Piazza del Campo, and the beautiful Duomo.
This two-day Siena itinerary is perfect if you want to visit the city's main attractions, enjoy great food at Tuscan restaurants, and explore the surrounding countryside.
Getting to Siena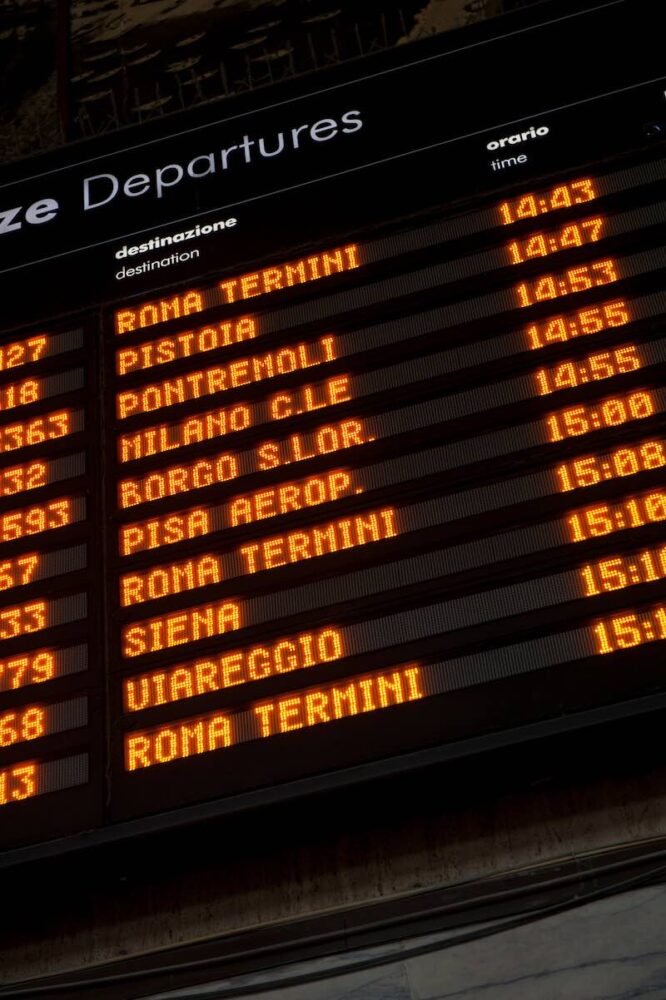 There are a few ways to get to Siena, depending on where you're starting from.
Most people will either take a train to Florence or fly into the airport in Florence first before visiting Siena.
From Florence, the train to Siena takes about 1.5 hours via fast train. You can book train tickets via Omio to get a better price in advance.
Florence Airport is also a good place to pick up your car rental if you're planning on road tripping through Tuscany.
If you're renting a car during your time in Siena, I recommend looking for the best rental car deals on Discover Cars.
They search over 500 agencies (including small local ones other car rental search engines skip over) and make pricing clear and easy, with no bait and switches.
Taxis from Florence Airport are possible, but expensive — around 190 Euros. If you go that rote, I recommend booking an airport transfer through Welcome Pickups.
Day 1 of Your Siena Itinerary: Siena's Main Landmarks
Explore Siena's historical center.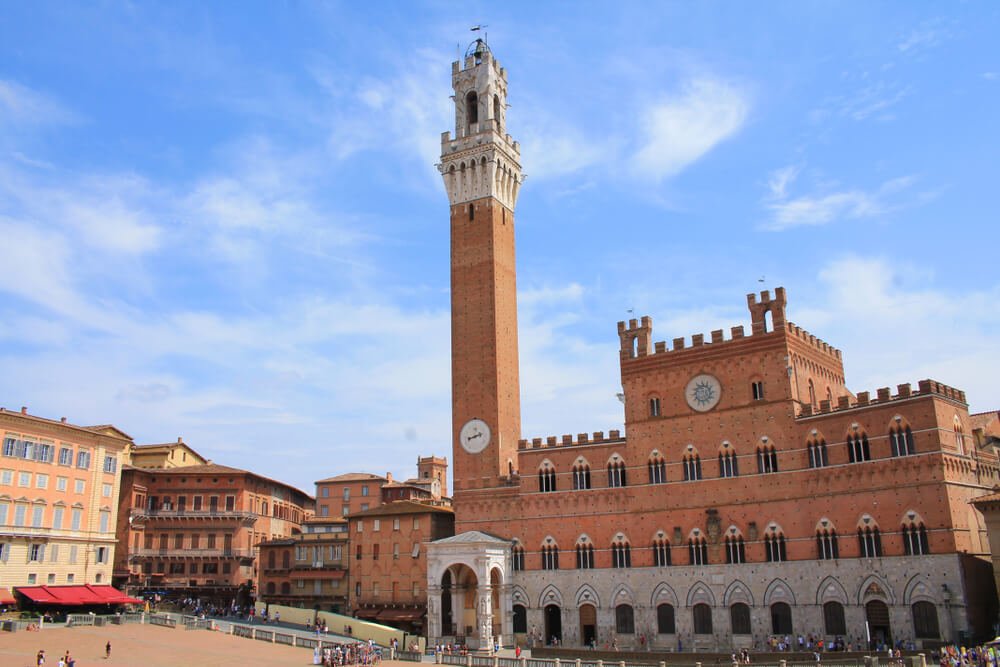 Begin your day by exploring Siena's historical center with its iconic squares and landmarks.
You can fuel up with a delicious breakfast at one of the many bars in the city center, like Torrefazione Fiorella or Caffè 19zero3.
Ready to start seeing the sights? It's time to admire one of Italy's most iconic squares, Piazza del Campo.
The wide, shell-shaped square is among Europe's most notable medieval squares.
It's surrounded by beautiful and well-preserved medieval buildings, from the iconic Torre del Mangia to several noble buildings.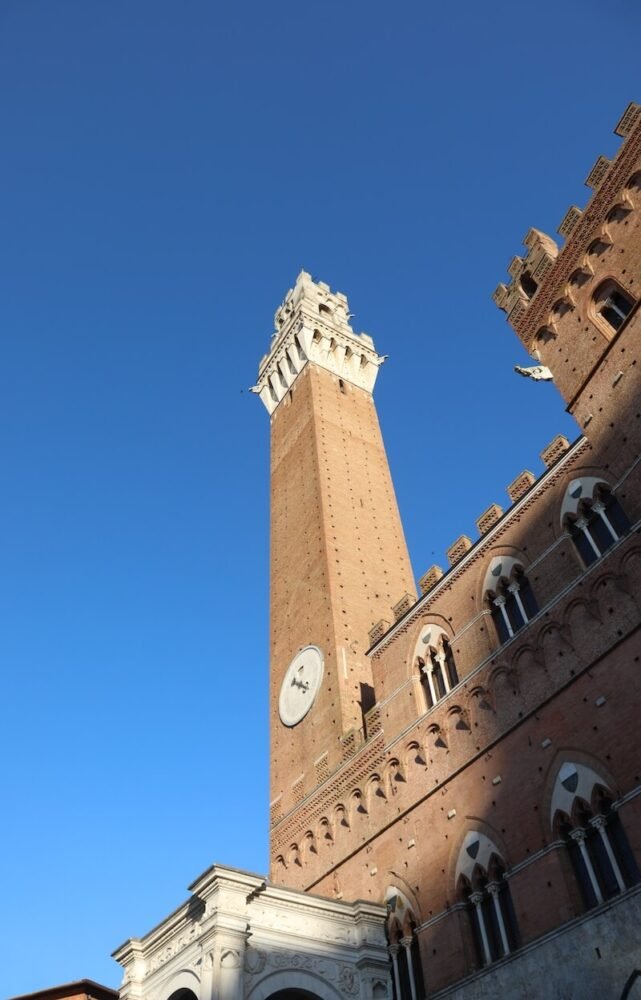 Piazza del Campo famously hosts the twice-annual historical horse race, Palio di Siena.
The racers represent ten of the 17 contrade or city wards of Siena, each wearing the colors of their ward.
The Palio takes place on July 2nd and August 16th, so plan accordingly if you want to witness this unforgettable event.
Be sure to take some time to wander around Piazza del Campo and explore the nearby streets, checking out Siena's beautiful architecture.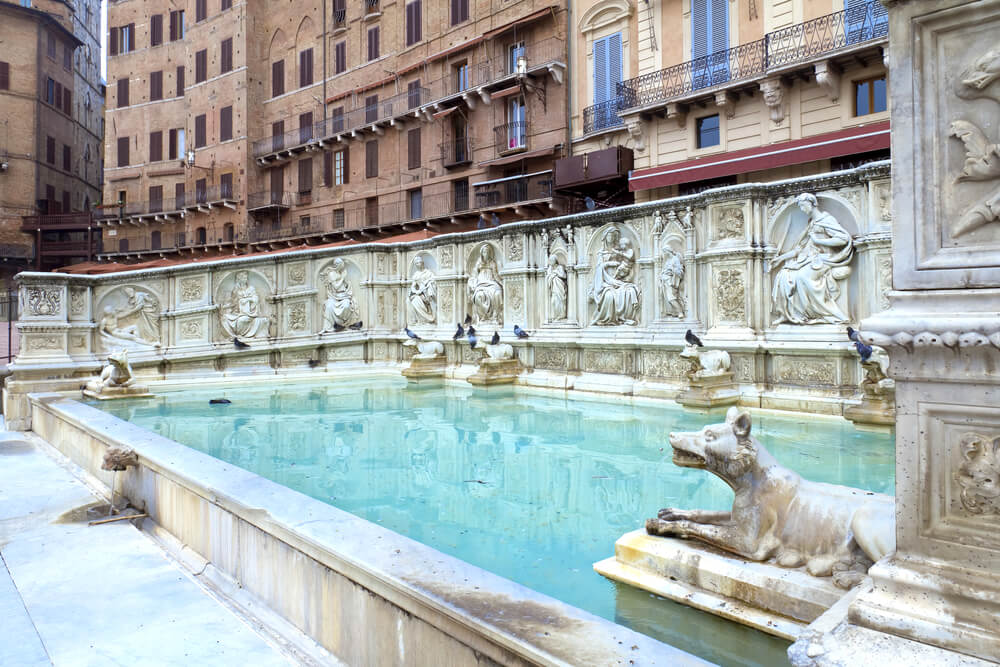 Admire the iconic Palazzo Pubblico with its imposing tower and the beautiful Fonte Gaia.
While you're in the area, stop by the 15th-century arcade Loggia del Papa erected by Pope Pius II, and check out the decorated arches at Loggia della Mercanzia.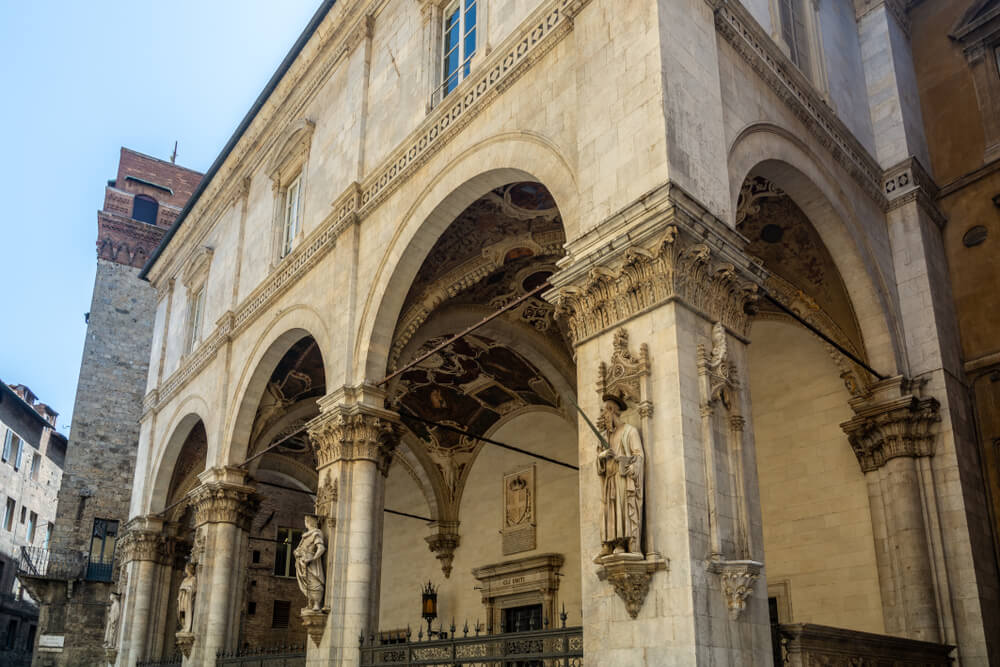 If you're up for a bit of a walk, you can explore more of the historical center and check out Siena's old city gates.
Each gate is just a 10-15 minute walk from Piazza del Campo. If you ask me, Porta Camollia, Porta Ovile, and Porta Pispini are the most beautiful gates.
Enjoy the view from Torre del Mangia.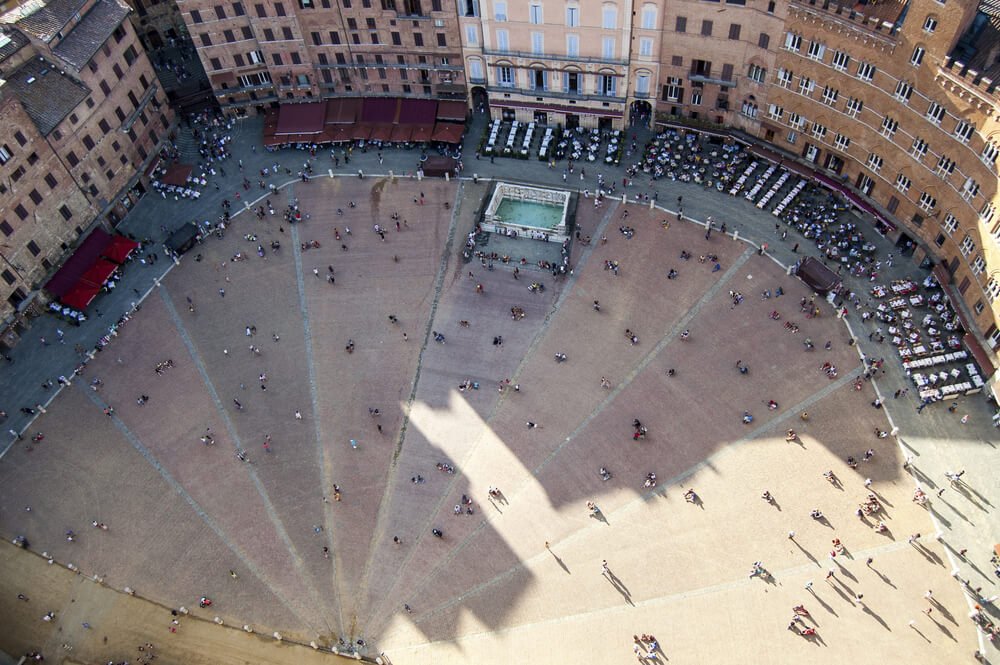 While in Piazza del Campo, you shouldn't miss climbing the Torre del Mangia to enjoy a panoramic view of Siena.
The 87-meter-tall tower dates all the way back to the early 14th century and is part of the Palazzo Pubblico, the former seat of the Republic of Siena's government.
The height of the Mangia Tower is the same as the cathedral's bell tower, a cunning design decision intended to symbolize the equal importance of the church and the government.
Technically, the church bell tower is actually only 77 meters high, but it sits in a higher position on the hill, so both towers reach the same height.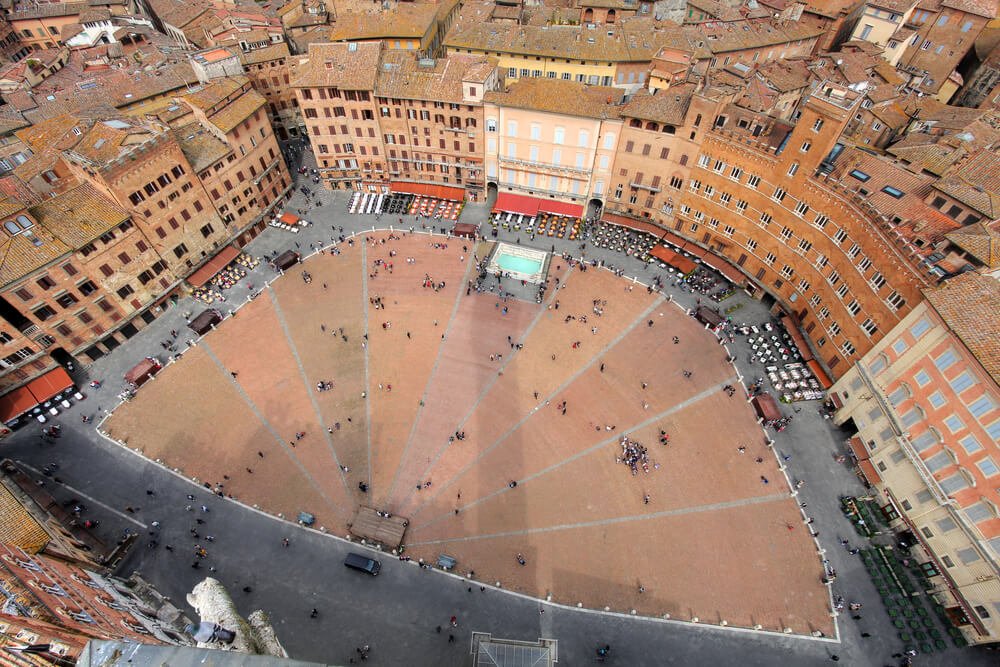 The tower's name, Mangia, comes from the first bellringer, whose nickname was Mangiaguadagni (Italian for "profit eater") or simply Mangia for recklessly spending his money.
In 1360, he was replaced by a mechanical clock, but locals kept calling the tower Torre del Mangia.
You can visit the tower daily from 10 AM, but closing hours vary with the seasons.
Visits are scheduled in 45-minute shifts, so you may want to buy your tickets in advance since you may not find slots right when you arrive. Tickets are 10€.
Visit the Duomo di Siena.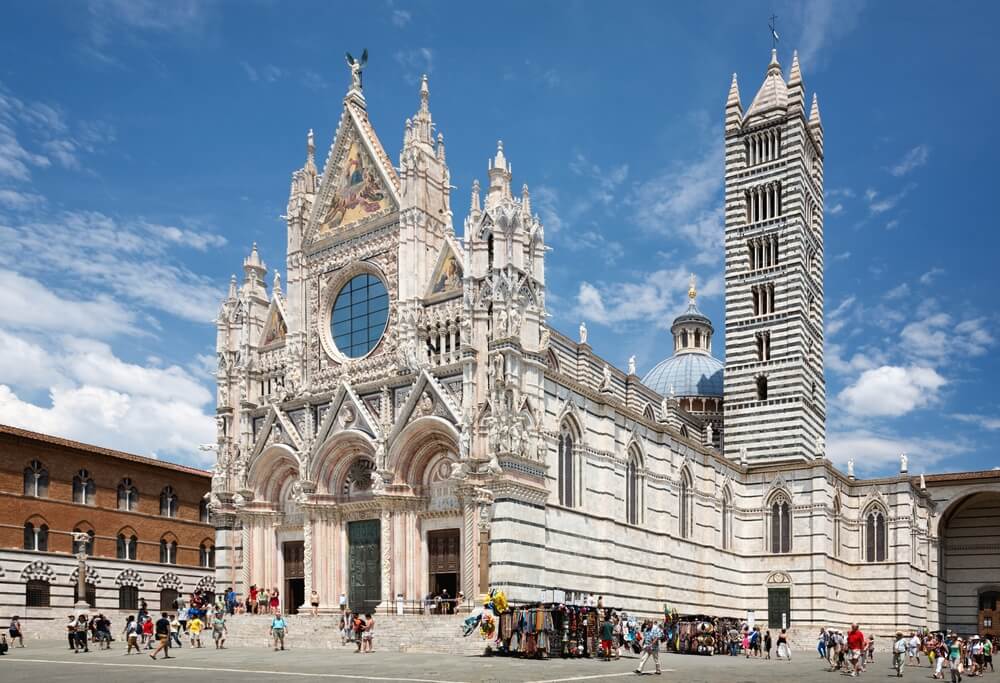 Another must-see landmark in Siena is the cathedral, or Duomo di Siena.
The monumental complex of the cathedral includes the Duomo, the Piccolomini Library, the Panorama and New Cathedral, the Crypt, the Baptistry of San Giovanni Battista, the Oratory of San Bernardino, and the Museo dell'Opera.
The Duomo di Siena, or Cathedral of Santa Maria Assunta, is among Italy's most significant cathedrals, featuring Romanesque and Gothic architectural elements.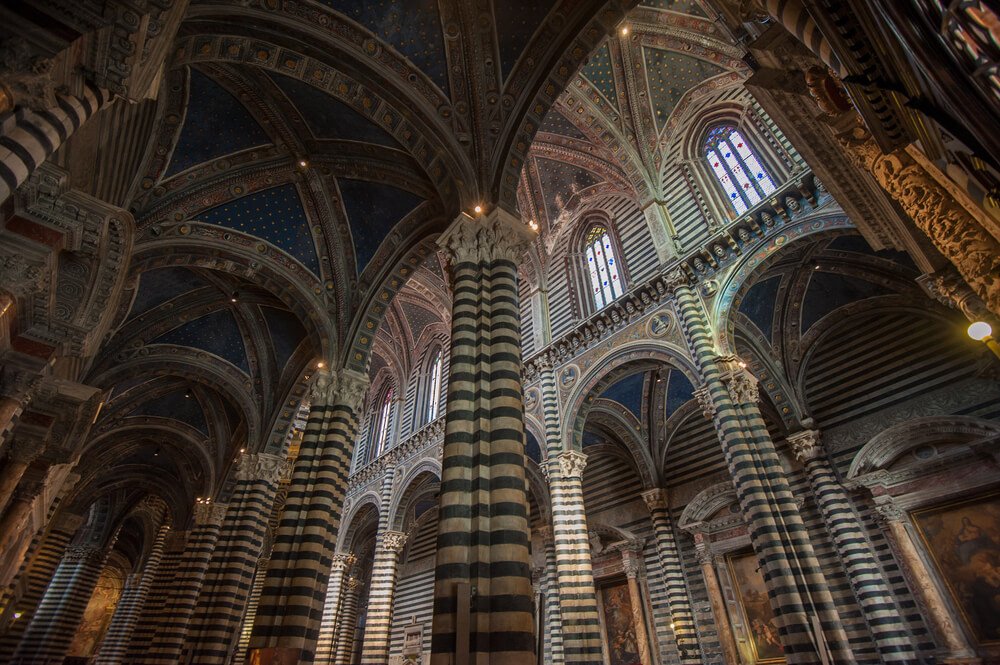 The 13th-century cathedral is known for its rich decorations, along with the iconic striped façade and bell tower.
The cathedral is home to several masterpieces, ranging from Pinturicchio's paintings to sculptures by Donatello, Michelangelo, and Bernini.
However, the cathedral interior's most distinctive feature is the graffito and mosaic marble inlay floor.
The Piccolomini Library, dedicated to Pope Pius II (formerly known as Aeneas Silvius Piccolomini), features a cycle of colorful frescoes by Pinturicchio illustrating episodes from the pope's life.
The frescoes, painted between 1503 and 1508 in grotesque style, are incredibly vivid and well-preserved.
The Panorama is a stunning viewpoint on top of what was originally intended to be the façade of the New Cathedral.
Projects to expand the Siena Cathedral began in the early 14th century but were later abandoned due to the Black Death, the infamous bubonic plague epidemic that decimated Siena's population in 1348.
The Unfinished Façade, also known as Facciatone, was kept standing alongside a few walls. Today, you can now walk on top of the Unfinished Façade for a stunning view of Siena's historical center.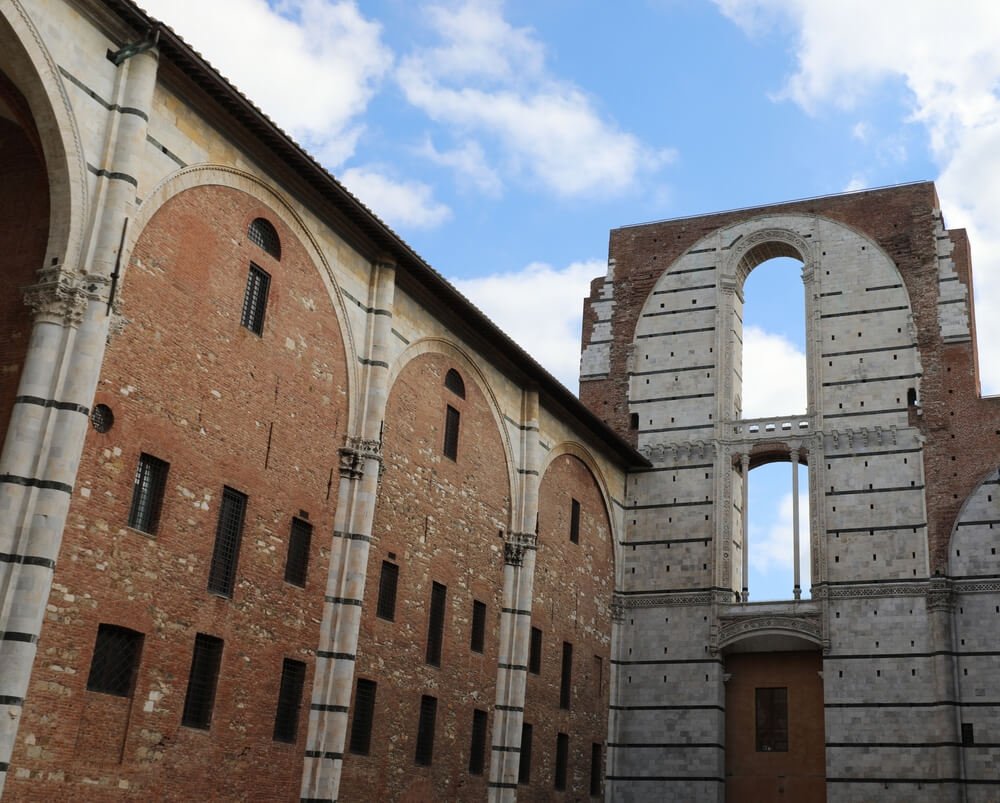 In case you're looking for even more magnificent art, there's plenty more to admire.
The cathedral's Crypt houses beautiful 13th-century frescoes by Sienese artists.
Additionally, the Baptistry of San Giovanni Battista houses 15th-century frescoes, while also having a stunning building and facade.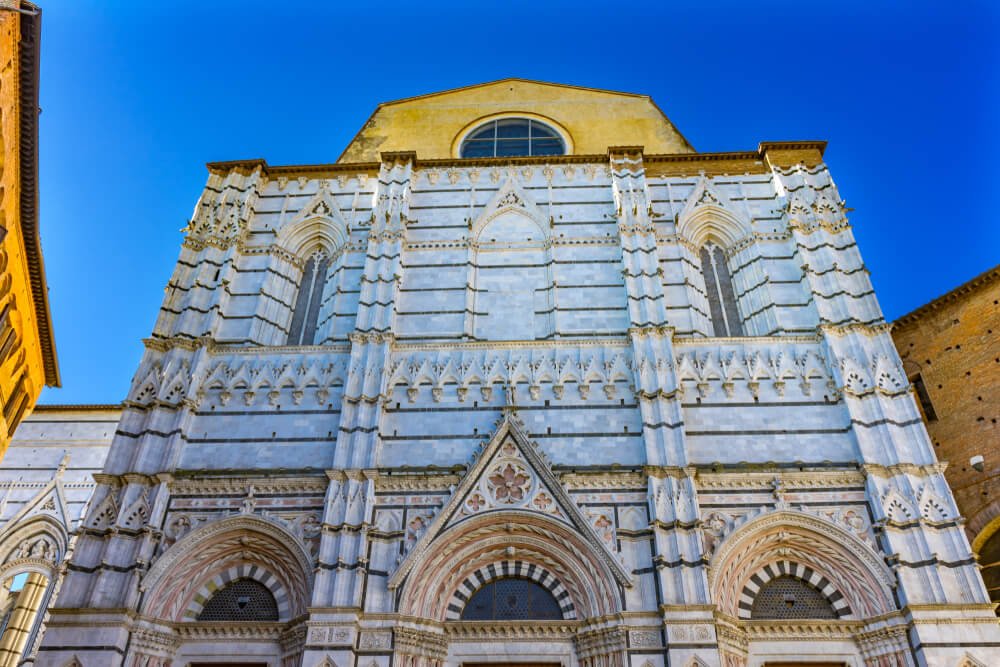 As well, the Oratory of San Bernardino displays Sienese paintings from the 13th to the 18th centuries.
Last, but certainly not least, the Cathedral Museum houses a collection of statues from the cathedral façade.
It features a 14th-century altarpiece, several paintings, and other objects and decorative elements from the Duomo di Siena.
Duomo di Siena Ticket Options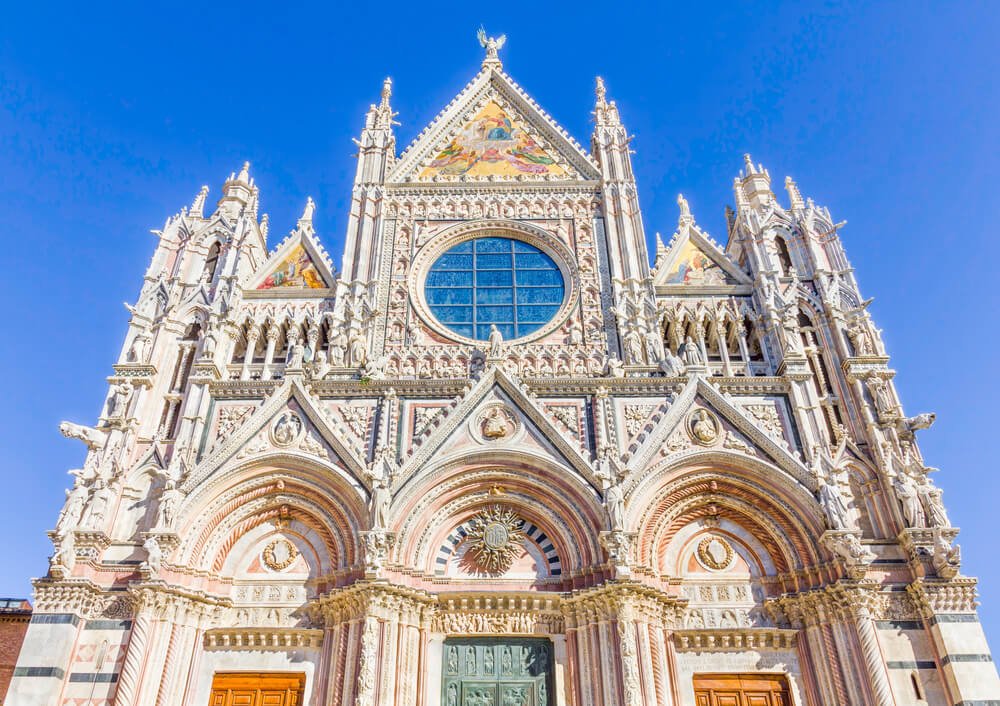 You can buy a ticket that includes just the Duomo for about $10 or one that includes access to all the structures of the cathedral's monumental complex for about $19 USD with the Opa Si Pass.
The cathedral's floor remains covered most of the time, except for brief periods when it is revealed to allow visitors to see the stunning decorations.
You can buy skip-the-line tickets online here (or here if you want the full Opa Si pass that includes all the sights).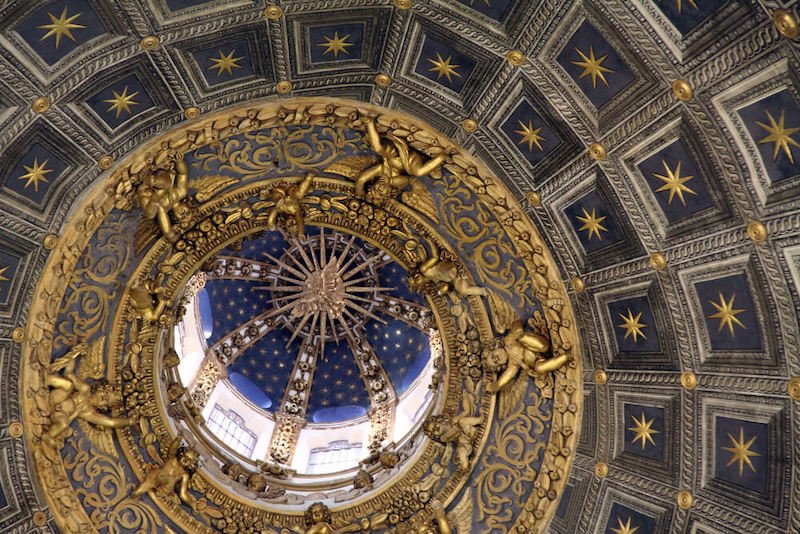 Furthermore, you can add on Gate of Heaven tickets to access a series of rooms and areas just below the cathedral's roof, offering stunning panoramic views of the cathedral's interior and exterior.
That costs an extra fee and isn't incldued in the ticket price.
You can buy all ticket types for the cathedral complex online. Alternatively, you can book this 2-hour Siena tour which includes a guided walking tour of the city center and skip-the-line tickets for the Duomo.
The cathedral visit can take several hours, so you may want to split it between the morning and afternoon.
However, tickets are valid for three consecutive days, so you could even leave some areas for your second day in Siena.
Have a traditional Tuscan lunch.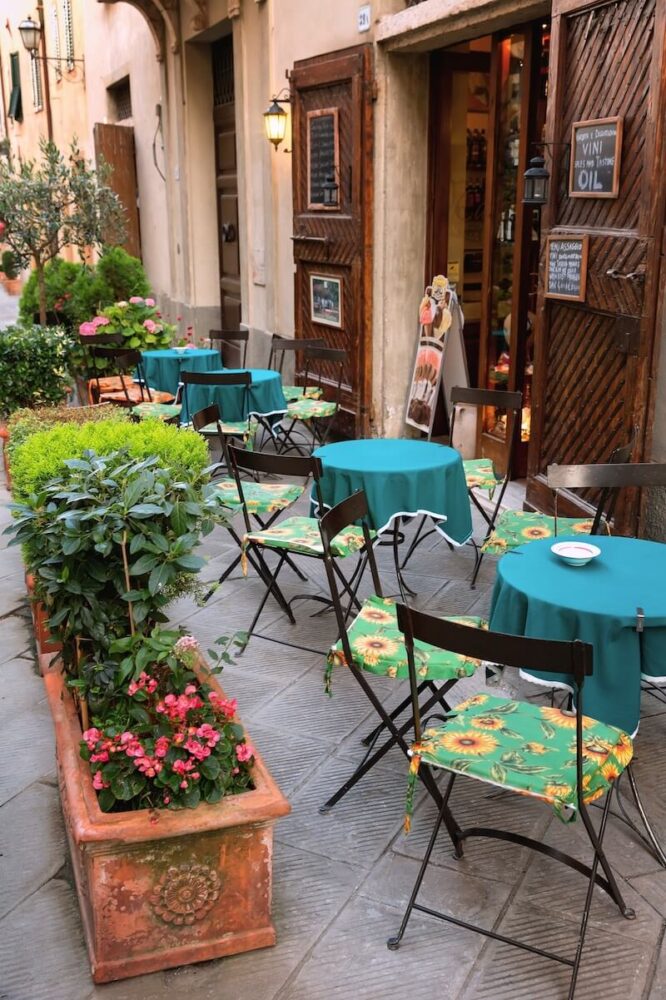 After exploring the Duomo di Siena, or part of it, it's time for a lunch break.
Thankfully, Siena offers a variety of traditional restaurants where you can sample tasty Tuscan dishes and local wines.
Osteria degli Svitati and Osteria Il Carroccio are both great options, serving delicious pasta and traditional meat dishes.
Visit more landmarks in Siena.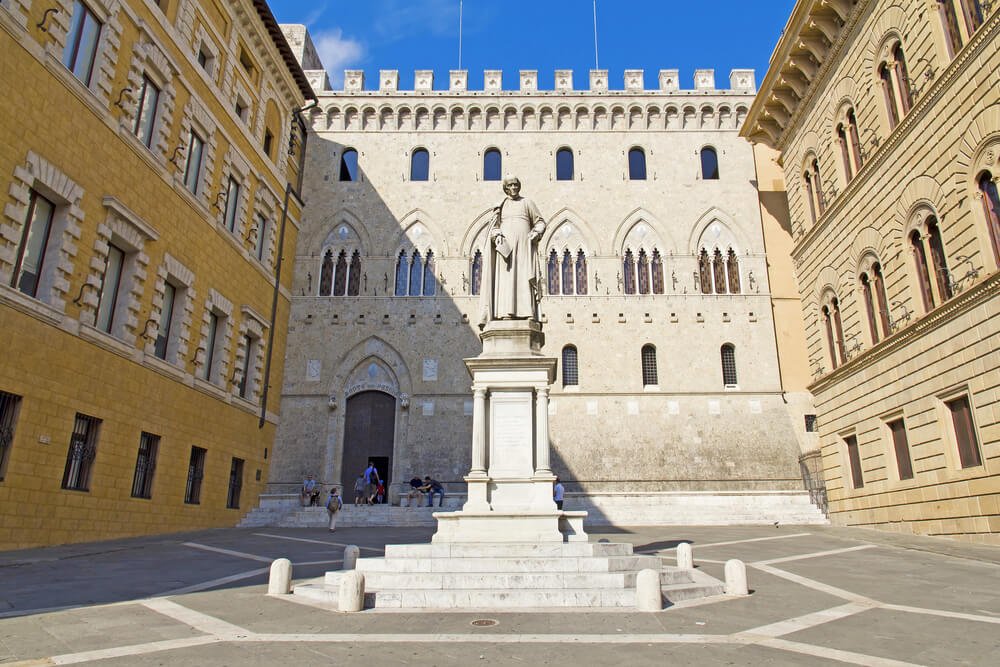 Spend the afternoon visiting more landmarks in Siena's historical center.
You can check out more structures of the cathedral's monumental complex or discover other historical buildings.
Palazzo Salimbeni is a 14th-century Gothic palace that houses the Banca Monte dei Paschi di Siena, the world's oldest bank.
Two other historical palaces, Palazzo Tantucci and Palazzo Spannocchi, enclose Salimbeni Square, one of the most iconic in Siena.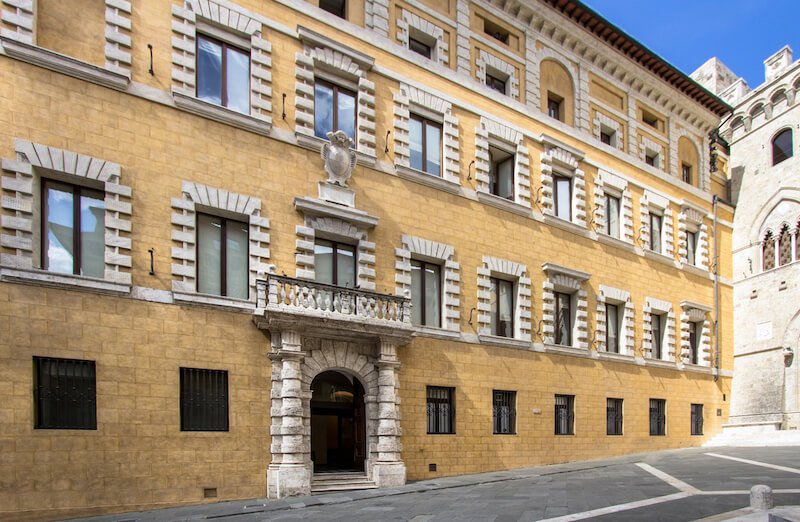 At its center is the statue of Sallustio Bandini, a Sienese politician and economist.
Another structure worth visiting is the Fontebranda, a 13th-century fountain featuring Gothic arches providing access to the interior.
The fountain is famously mentioned by Dante Alighieri in his Divine Comedy. The tank is fed by water through underground canals from outside of Siena.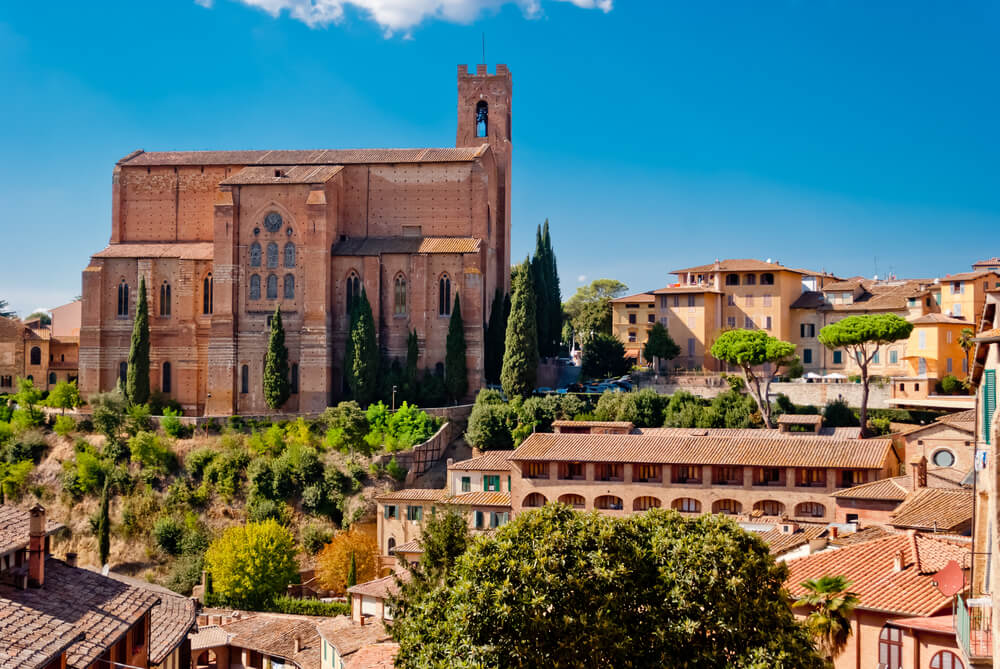 Lastly, visit the Basilica Cateriniana di San Domenico, one of Siena's most important churches.
The church is dedicated to Saint Catherine of Siena, Italy's patron saint together with St. Francis of Assisi and a co-patron saint of Europe.
The church is a national monument and houses several relics of St. Catherine of Siena, including her mummified head (yup, really!)
Enjoy the sunset from Fortezza Medicea.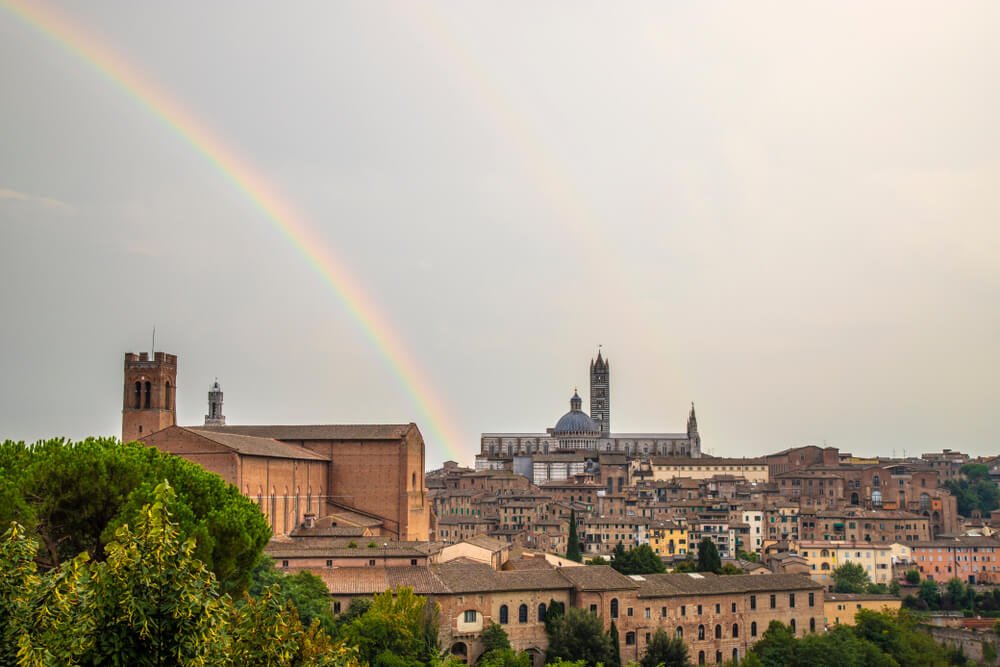 As the day comes to an end, head to the Medici Fortress for a pleasant stroll and to enjoy stunning views of Siena.
You can walk around the fortress walls and then head to the nearby viewpoint, Vista Panoramica di Siena, for a sweeping sunset view of the city, with the Duomo and the Mangia Tower dominating the skyline.
Have dinner and stroll around Siena at night.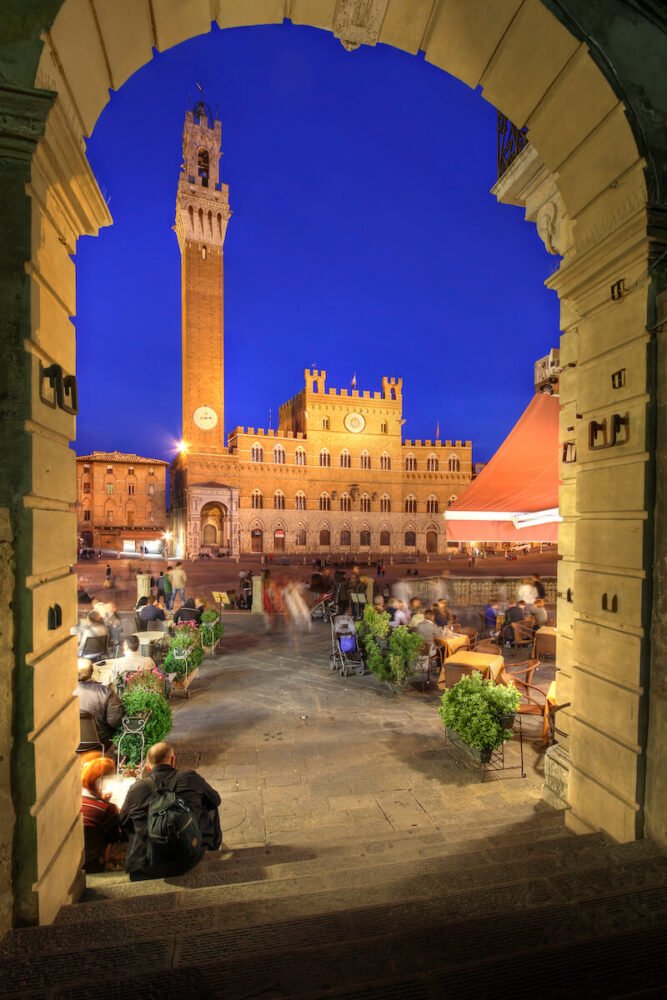 End your day with a walk back to Siena's old town for dinner and a peaceful stroll around the charming city at night.
Check out to La Taverna di San Giuseppe for refined Tuscan dishes in a charming setting inside an ancient Etruscan cellar, or head to Pizzeria Alle Scalette for delicious pizza.
After dinner, you can enjoy a pleasant walk with fewer crowds or stop for a glass of wine or a cocktail.
Trefilari Wine Bar is a great spot for wine tasting, while Caffè Le Logge is perfect for cocktails.
Protect your travel investment!

Travel insurance coverage helps you recoup your losses in case of emergency, accident, illness, or theft.

I rely on SafetyWing for coverage when it comes to trip interruptions and cancellations as well as accidents and medical emergencies.

It offers great rates starting around $12/week with clear, easy-to-read coverage.
Day 2 of Your Siena Itinerary: Wine Tours and Museums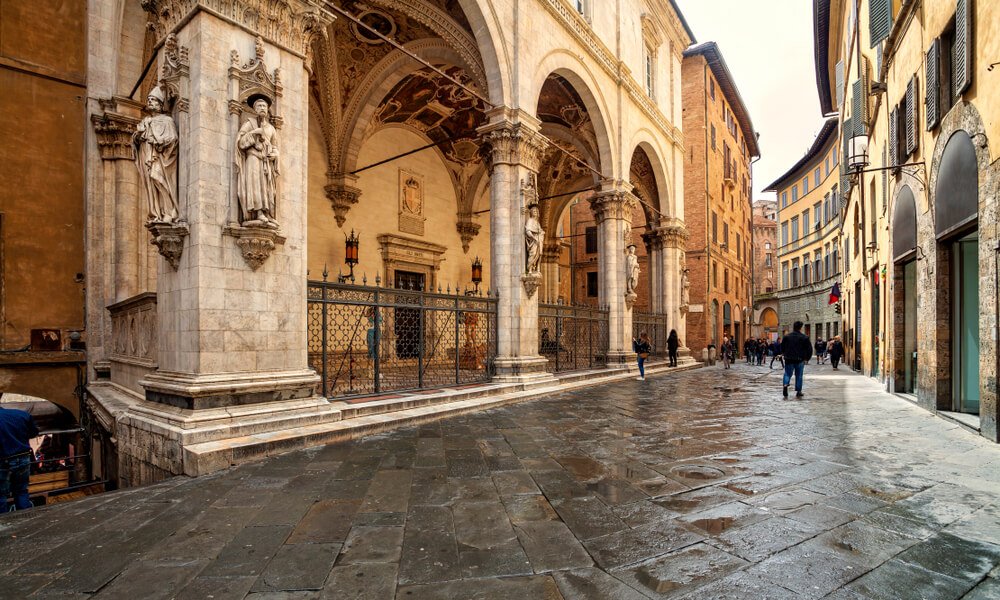 For your second day in Siena, you have two options.
First, you can join a full-day tour of the countryside to visit a few picturesque villages while sampling local wines.
Alternately, you can divide your day in two, half to visit other sights in Siena and the other half for a short wine tour.
If you choose to join a full-day tour, here are some great options.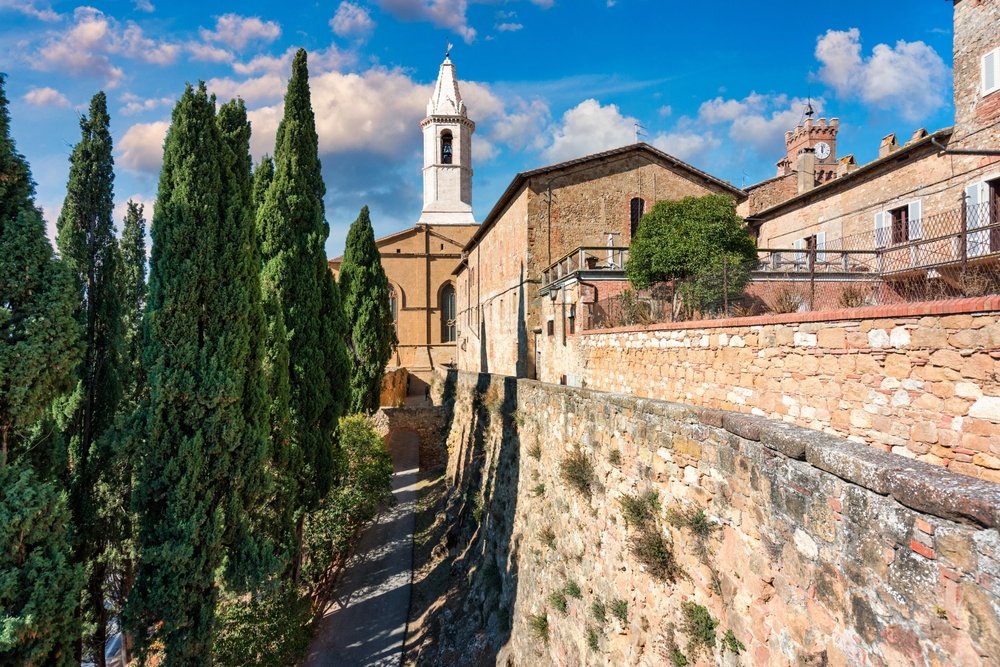 This 8-hour Tuscan wine tour will guide you along picturesque countryside roads to the charming towns of Pienza and Montepulciano.
From Siena, you'll first head to Pienza, a town commissioned by Pope Pius II, who wanted to renovate his hometown.
After exploring the lovely medieval Pienza, you'll have a delicious lunch at a delightful local farm, where you can also learn about pecorino cheese making.
After lunch, you'll visit Montepulciano, one of Tuscany's most famous hilltop towns, famous for the wine of the same name produced locally.
You'll tour one of the wineries and stroll around town on your own.
After the tour, you'll get back to Siena in the late afternoon.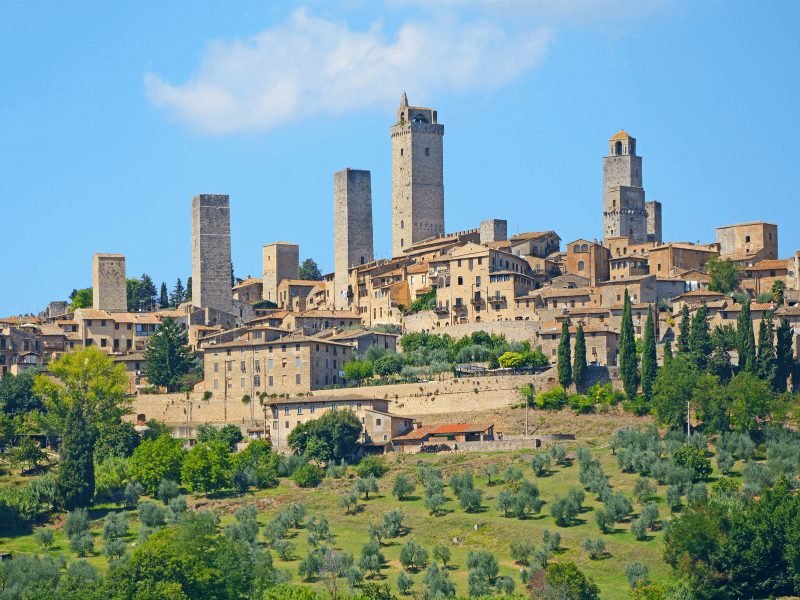 This small group wine and Tuscany tour lasts roughly 11 hours, so be prepared for a packed itinerary.
First, you'll visit the beautiful town of San Gimignano, known for its many medieval towers.
After getting a few tips and useful info from your guide, you'll have some free time to explore the town by yourself.
Following San Gimignano, you'll head off for lunch and wine tasting at a farm in the Chianti region, famous for Chianti wine production.
You'll sample local products and taste delicious wine before driving around the beautiful Val d'Orcia, another popular wine region.
In the afternoon, you'll visit the hilltop town of Montalcino, where you can shop for exclusive Brunello di Montalcino wines.
Be sure to save some room, since you'll have another Tuscan wine tasting and sample more Tuscan food before heading back to Siena in the evening.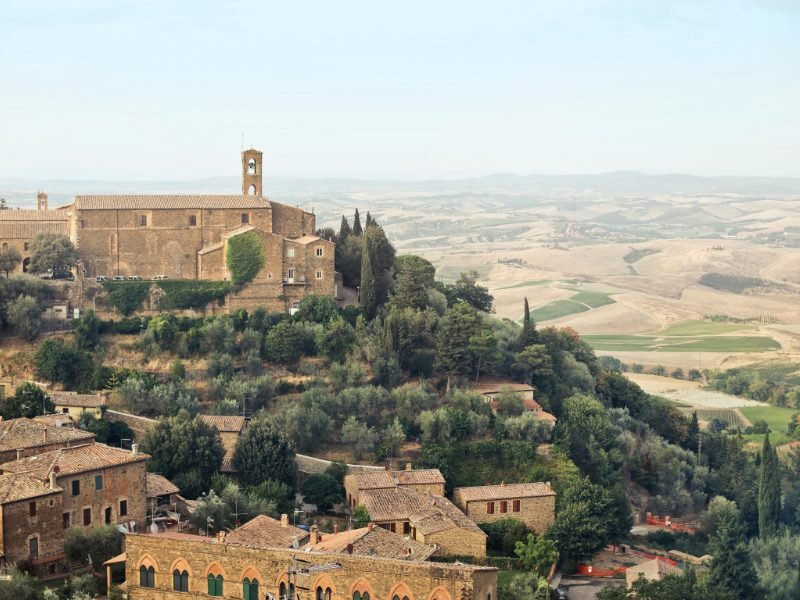 This 9-hour wine tour focuses on the Montalcino wine hill.
After a scenic drive through the beautiful rolling hills of the Tuscan countryside, you'll reach Montalcino to learn how the local wine, Brunello di Montalcino, is made and have a tasty traditional lunch at a family-run winery.
You'll have time to explore Montalcino, visit its medieval fortress, and go shopping for local products and wines.
In the afternoon, you'll visit the ancient Benedictine Abbey of Sant'Antimo, a Romanesque abbey set in the peaceful countryside south of Montalcino.
Lastly, you'll get to visit another winery to learn more about wine production and the aging process and visit the cellars.
After the last wine tasting, you'll be driven back to Siena.
Alternately: First, visit one of the city's many museums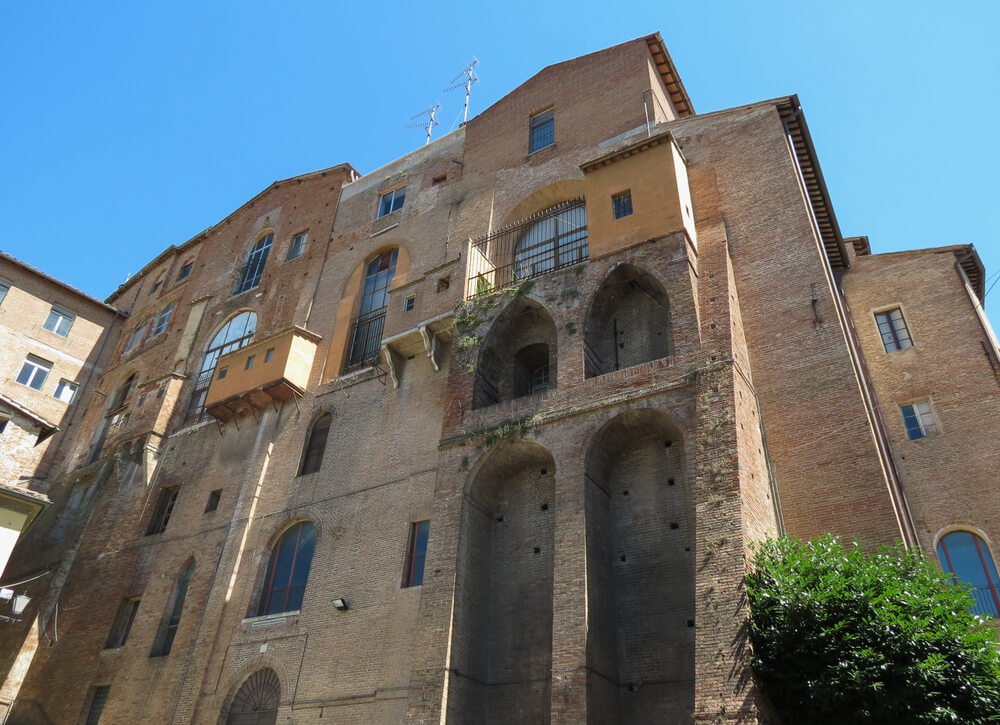 If you want to spend more time in Siena visiting one or more museums, you can do so in the morning.
First, take the chance to visit any areas of the cathedral complex you didn't get to see on the first day.
Then, head to another museum, like Santa Maria della Scala or the Pinacoteca Nazionale di Siena.
Santa Maria della Scala used to be a hospital, one of the first in Europe, dedicated mainly to caring for abandoned children, pilgrims, and the poor.
The hospital's name refers to its position facing the steps leading to the cathedral (la Scala).
In 1995, the Hospital, as it is still commonly called, was reopened as a museum.
Santa Maria della Scala houses the National Archaeological Museum, the Piccolomini Spannocchi paintings collection, and the Fonte Gaia.
This is an epic 15th-century marble layout of Jacopo della Quercia's fountain that used to be in Piazza del Campo, later replaced by a Carrara marble copy.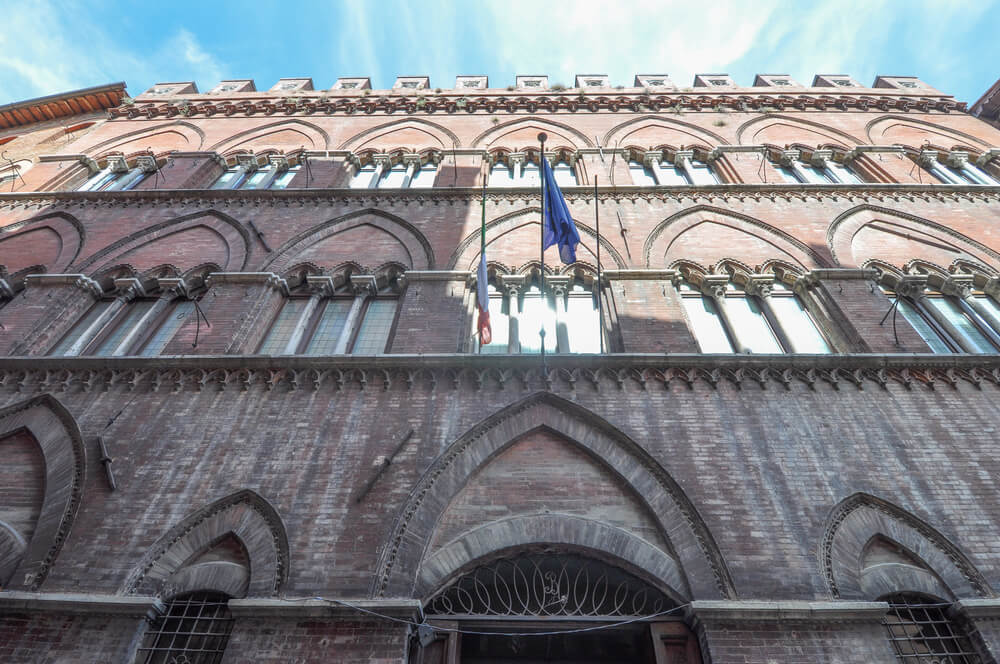 The Pinacoteca Nazionale di Siena, on the other hand, is an art gallery housing masterpieces by Sienese artists ranging from the late medieval era to the Renaissance.
The small gallery is less popular than other tourist attractions in Siena, so you can take some time to admire the paintings without crowds.
Next: join a short wine-tasting tour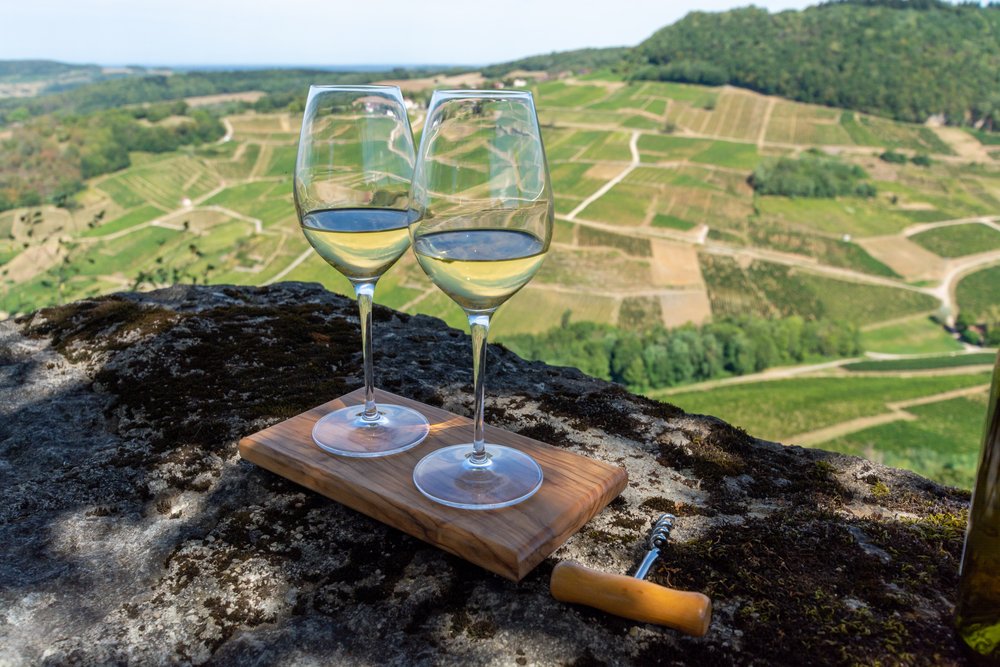 No trip to a Tuscan city would be complete without some wine tasting. These shorter tours are ideal if you don't want to spend the entire day out.
The first two activities include food too, so they are great alternatives to a typical lunch.
Option One: Half-Day Educational Wine Tour and Tasting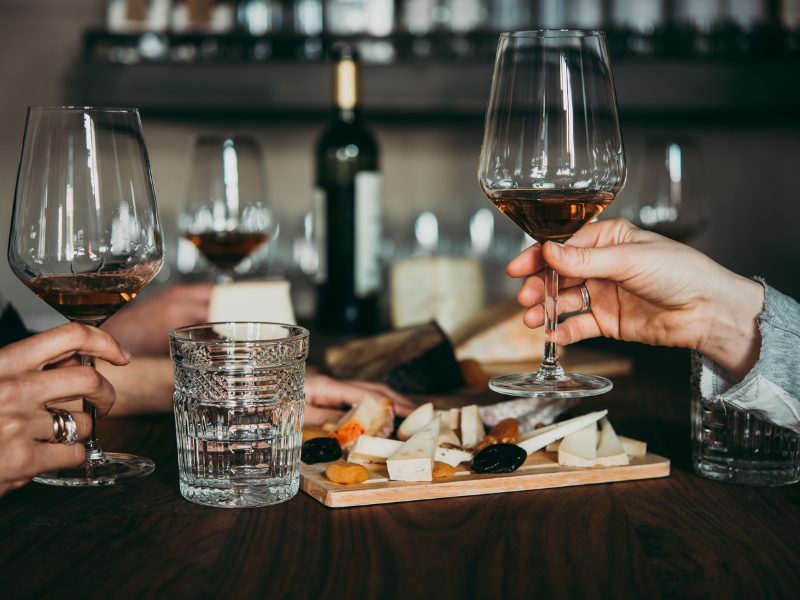 This short wine tour takes place in an organic winery on the outskirts of Siena.
After visiting the vineyards, you'll check out the cellars to learn about the process of winemaking and taste four different organic wines, followed by a light lunch with Tuscan specialties.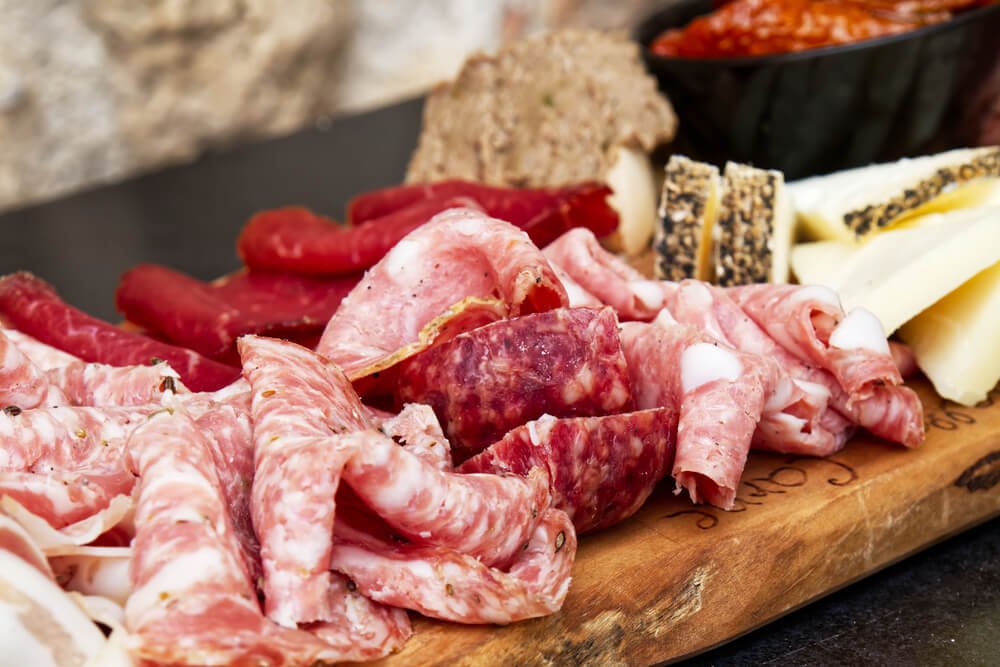 If you want to stay in the heart of Siena and combine lunch with a guided walking tour, this is the perfect activity for you!
Your guide will take you to at least four eateries where you'll learn about the dishes you will try and the local culture.
Option Three: Chianti and Castles Tour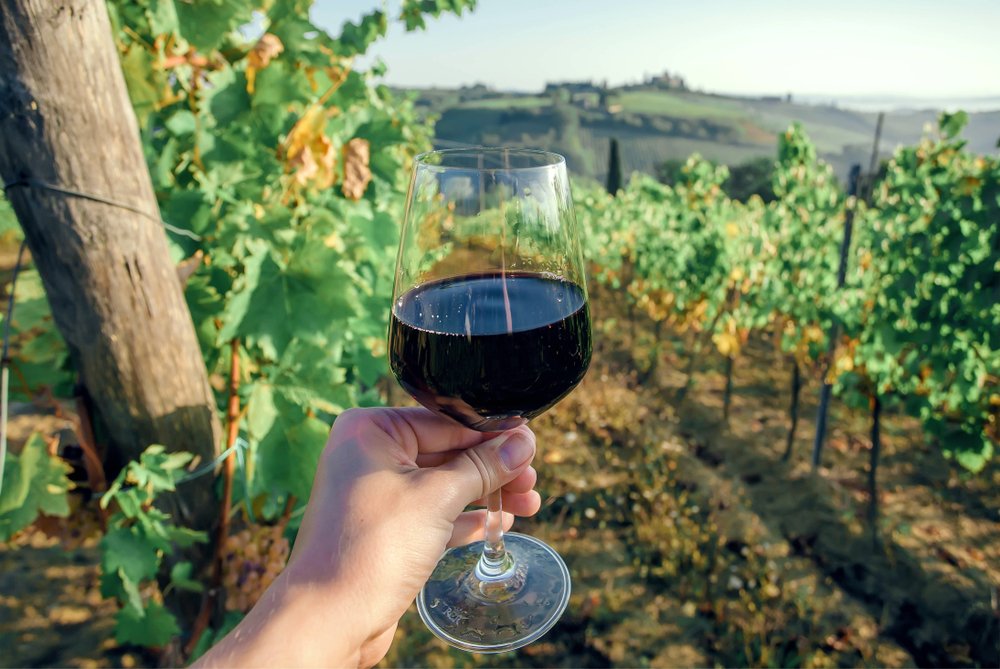 This is a longer activity starting right after lunch that allows you to explore the Chianti region and sample delicious wines at local wineries.
The five-hour tour includes two stops at Chianti wineries, one wine tasting, and an olive oil tasting.
Plus, you'll drive through the scenic Tuscan countryside, passing medieval castles and small villages.
If you have time: Visit Santuario Casa di Santa Caterina and/or Basilica di San Francesco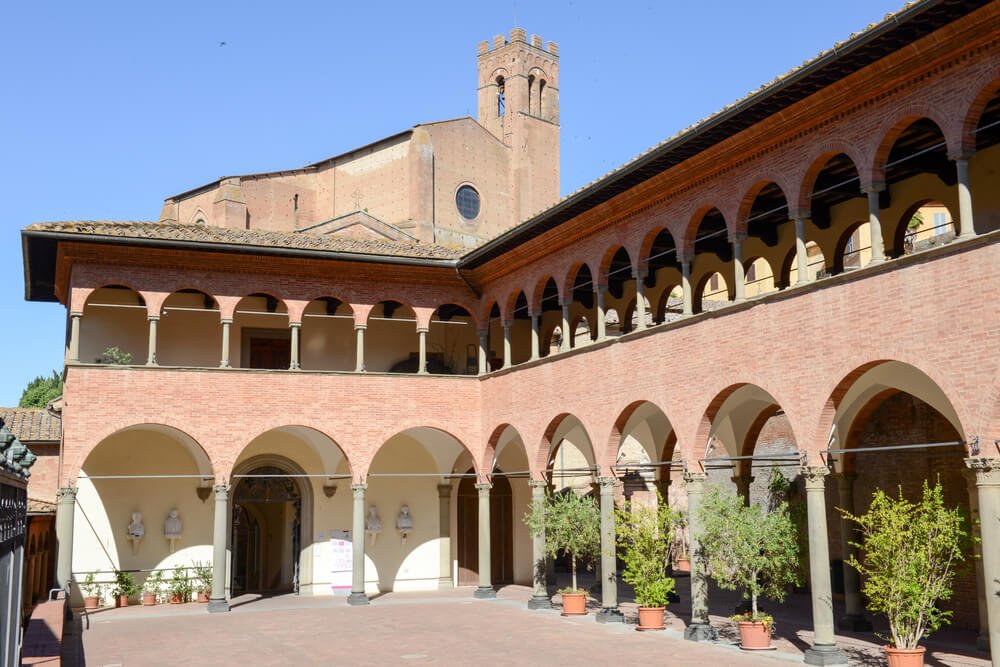 If you have extra time in the afternoon, you can visit one or two more churches.
It should come as no surprise that Italian cities are renowned for their beautiful churches, and Siena is no exception.
The Shrine of the House of Saint Catherine features a set of buildings built around Saint Catherine's old family house, including a beautiful arcade courtyard.
On-site, there's also the Kitchen Oratory, the Oratory of the Bedroom, and the Church of the Crucifix. In the shrine, you can also see several paintings depicting the saint.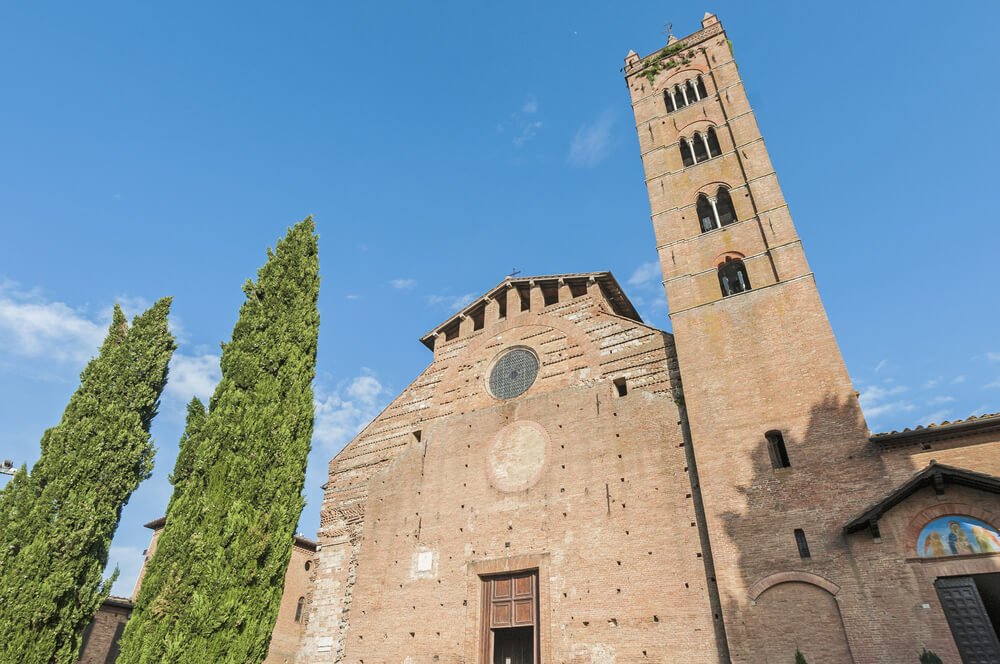 Lastly, Basilica di San Francesco houses fragments of frescoes that used to cover two of Siena's city gates, Porta Romana and Porta Pispini.
Furthermore, the church has some absolutely gorgeous stained glass windows!
Have one last dinner in Siena.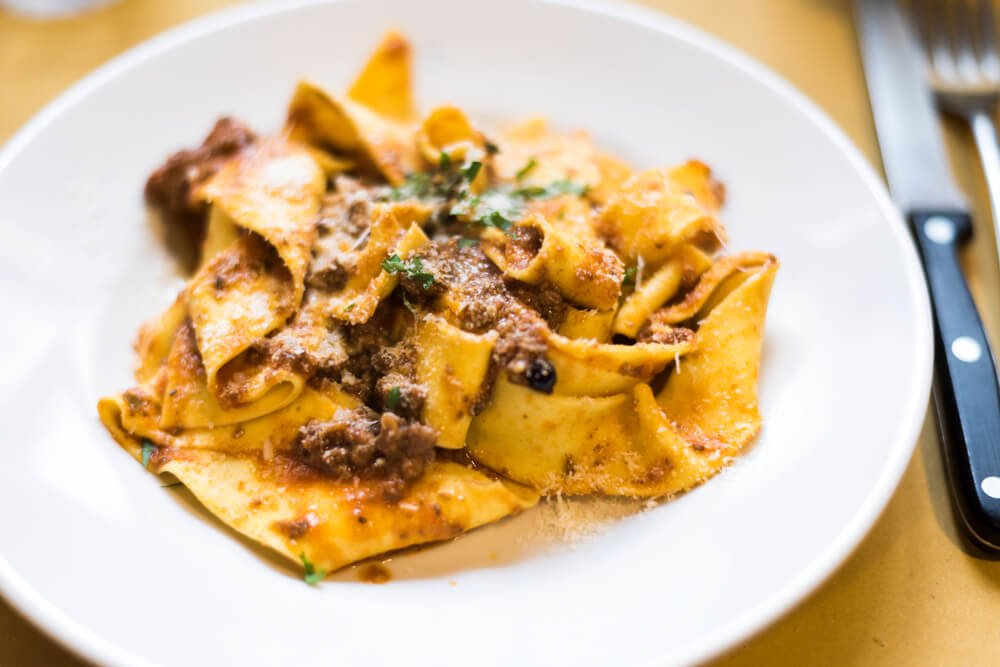 Wrap up your second day in Siena with one more delicious dinner. Osteria Permalico is another charming restaurant worth checking out.
Try some traditional pasta like the pappardelle with wild boar meat or buttera di cinta Senese (steak from a domestic pig from Siena).
Vegetarians, don't worry, there's options available for you too!
Where to Stay in Siena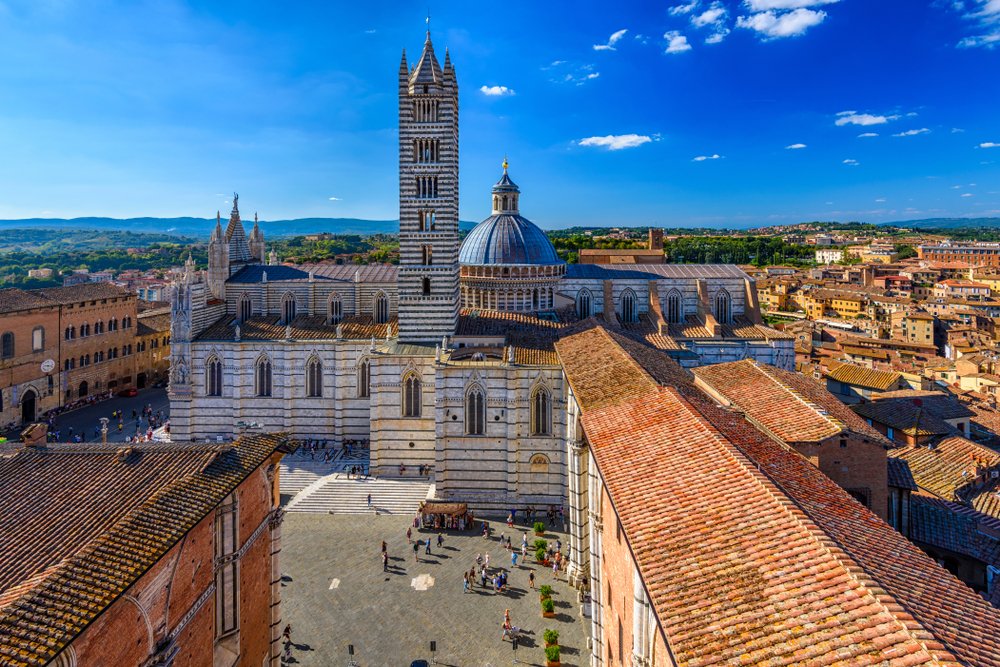 What could be more incredible than staying out in the Tuscan countryside? Staying in this former monastery converted into a luxury hotel, of course!
Its courtyard has been turned into a gorgeous terrace overlooking a beautiful pool, and every room in the place is dripping with history. The on-site restaurant is delicious, and yet you're just over a mile from Siena's Piazza del Campo.
In a historic palazzo, this funky art hotel has been given a modern face-lift while enjoying some of the best Siena Old Town views — some rooms even have a bathtub that faces famous church domes!
The room style is geometrical and modern meets rustic (think elements like exposed brick and wooden beams). It's eclectic, delightful, and full of personality!
This converted 19th century villa hosts several charming rooms in a B&B style setup, a 10-minute walk from Piazza del Campo.
There's an on-site garden to relax in, where breakfast (additional charge) is served during the warmer months.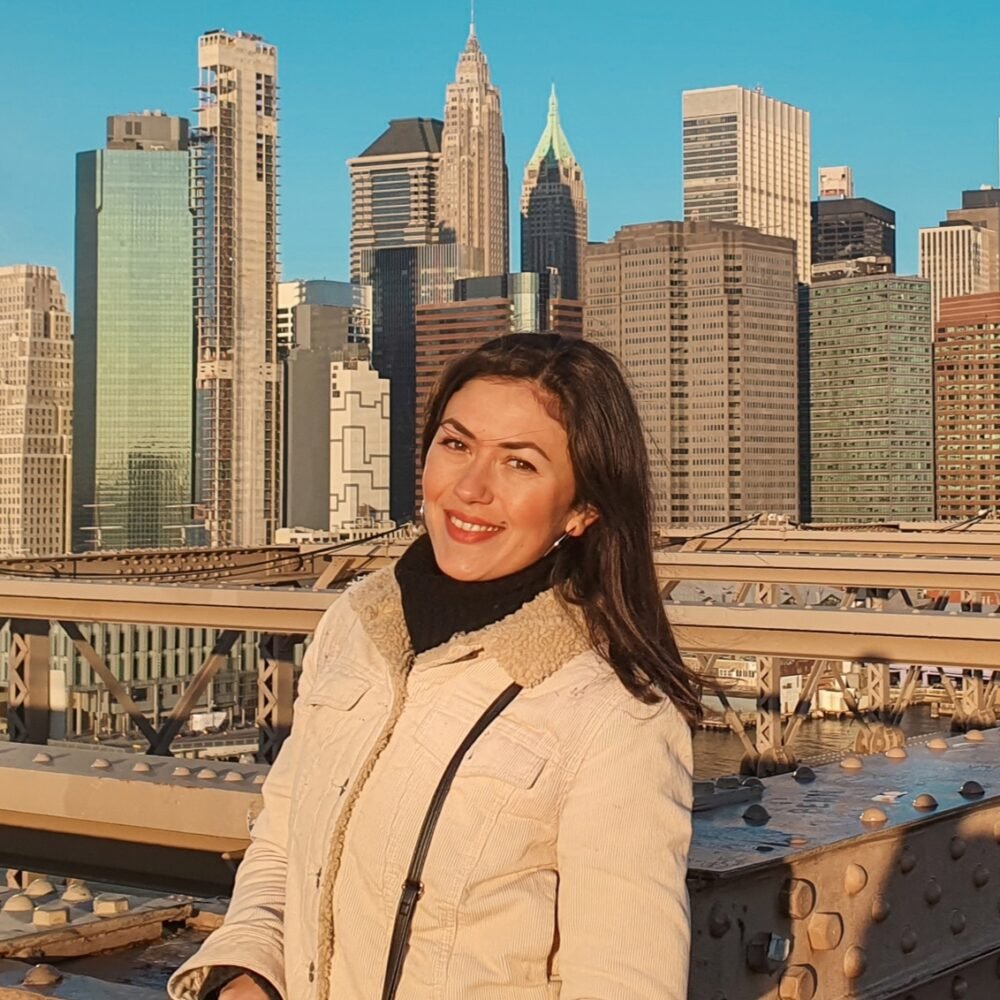 Roxana is a Romanian-born freelance travel writer who has lived in Italy for over 15 years. She has a Master's in Journalism and a Bachelor's in Film Studies, and she studied at Università degli Studi di Roma Tre. Besides her native Romania, Roxana has lived in Rome, Lisbon, and Berlin, and she has traveled through much of Europe in search of hidden gems, history, and culture.