Remarkable capital of the arts, Florence is among the most important cultural centers in Italy.
It's also the capital of the Italian region of Tuscany, one of the most important centers in the country when it comes to phenomenal gastronomy and stunning wines!
Note: This post contains affiliate links, which means I may receive a small commission if you purchase something through one of these links. Thank you for supporting the free content on this site! For more information on affiliate links and cookies, see my disclosure page for more details.
Florence can be a great day trip from nearby cities, such as Rome and Milan, but it is even better as destination on its own with plenty of places to visit.
When planning your Italy itinerary, you really ought to devote at least two days to Florence and its many landmarks and attractions and one extra day to the gorgeous, verdant landscapes of Tuscany and some of its medieval towns!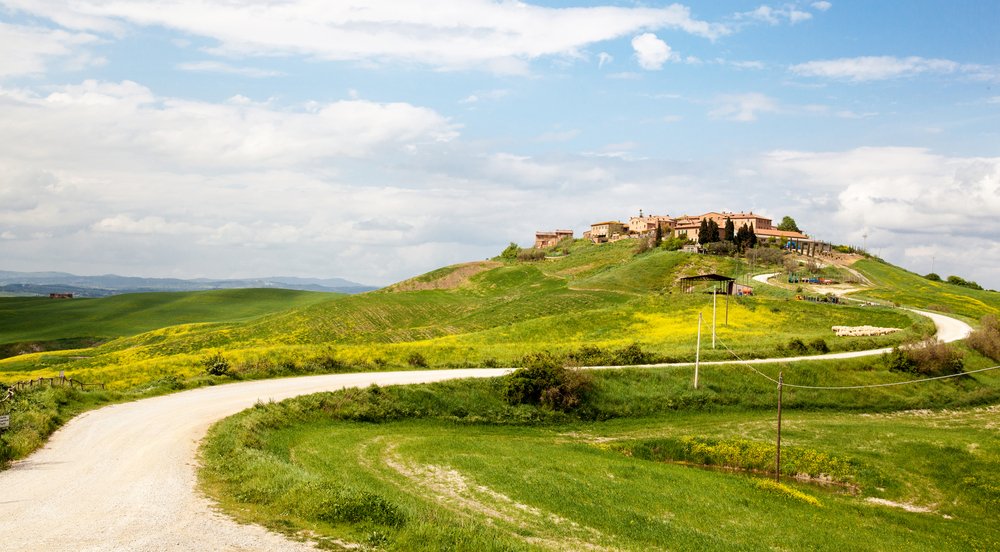 With this Florence itinerary, you will be able to combine seeing some of the richest artistic heritage in the country with tasting the incredible wine and culinary scene Tuscany has to offer.
In this Florence travel guide, I've written out all the unmissable things you can do in Florence and Tuscany in 3 days… let's go!
What to Know Before You Visit Florence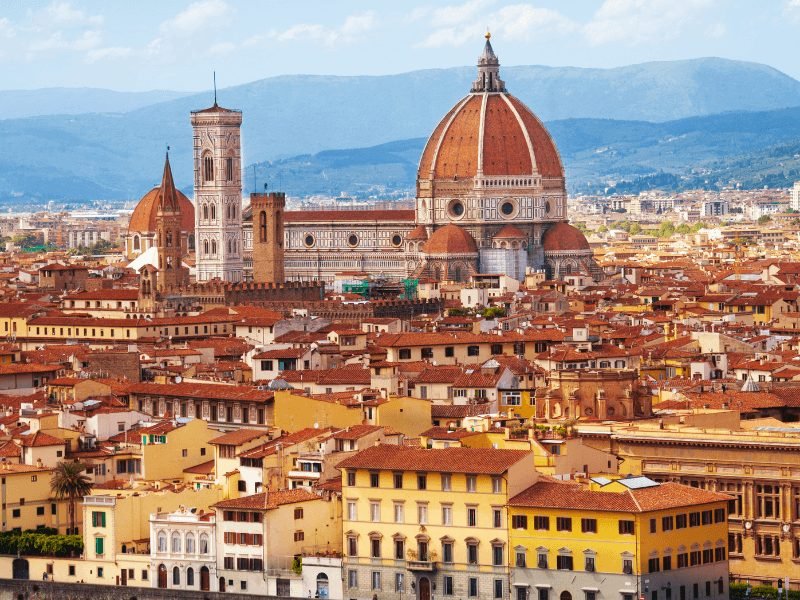 Florence, known as Firenze in Italian, is one of the most spectacular cities in all of Italy, especially when it comes to culture!
Florence has been home to several of the most important figures of Italian art and culture, including Dante, Donatello, Michelangelo, and many other famous Renaissance-era artists.
This gorgeous Renaissance Italian city is situated in the central part of Italy, about two hours from Rome by train, and at about the same distance from Venice and Milan, making it easy to reach from virtually anywhere in the country.
Florence is compact, small, and quite pedestrian-friendly for those who enjoy discovering new places on foot.
However, that doesn't mean you will be short of things to do. On the contrary! There never seems to be enough time to get bored in Florence.
The city is populated with stunning buildings, some of them really impressive, such as the Santa Maria del Fiore Duomo, or the many medieval stone bridges that cross the Arno River.
Florence proudly houses some of the most perfect examples of Renaissance art in Europe, including Michelangelo's David, the numerous paintings inside the Uffizi Gallery, as well as many picturesque churches, gardens, and piazzi.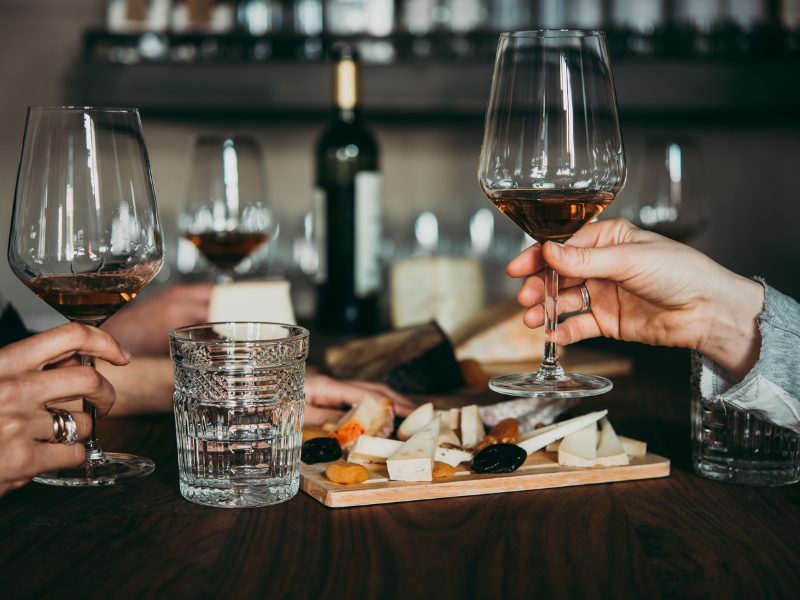 The city is also the capital of the Tuscany region, a worldwide known wine-making area in the country (and you should definitely do a Tuscany wine tour from Florence during your visit!)
Tuscany also hosts other famous and beautiful small towns within a short train ride from Florence, which you can easily visit in a day, as well as larger cities nearby such as Pisa, Bologna, and Siena.
If you have more time in the region, follow this 5 to 6 day Tuscany road trip itinerary.
You could even stay at one of these gorgeous villas in Tuscany with a private pool!
Getting to Florence, Italy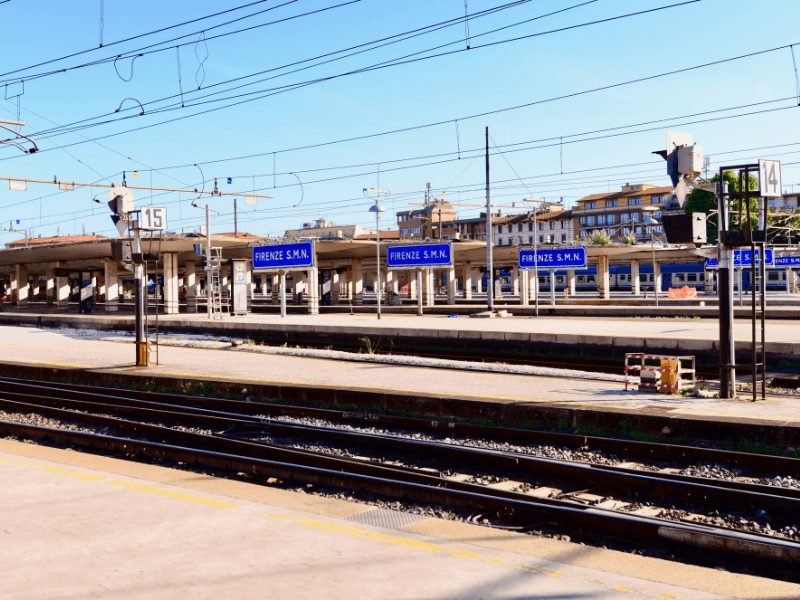 It is quite easy to reach Florence by train from any other city in the country. Rome is a 2-hour train ride away, while the train journey from either Milan or Venice lasts about two hours and a half.
Florence International Airport is well-connected to several European capitals through many low-cost companies.
However, if coming from overseas, note that Florence does not receive flights from non-European countries.
In that case, flying to Rome or Milan and then connecting to Florence by train or by bus are the best solutions.
Best Time to Visit Florence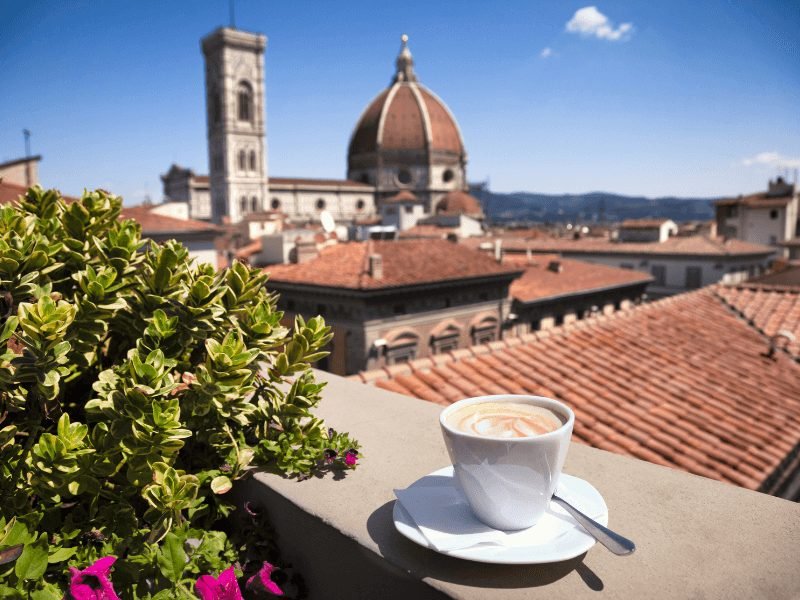 Florence welcomes tens of thousands, if not more, visitors every month of the year!
As is usual in most Mediterranean countries, visiting is most pleasant in spring, when you won't have to battle high temperatures and attractions are not overcrowded.
Late April and May offer plenty of sunny days, almost no rain, and mild temperatures.
If you have to come in summer, June is best, followed by July. I suggest avoiding August, as summers are very hot in Italy.
Also, most Europeans choose to tour Italy during their August summer vacation…. and many Italians choose to go on vacation in August as well, leading to lots of shut restaurants and more!
Autumn is also a good alternative, especially from mid-September and all throughout October.
Winters can be quite cold and drizzly, but there is rarely snow in this area of Italy, so it can be a good time to take advantage of reduced fees for accommodation and many attractions, especially if you don't mind some cold weather!
Where to Stay in Florence: Best Areas and Suggested Hotels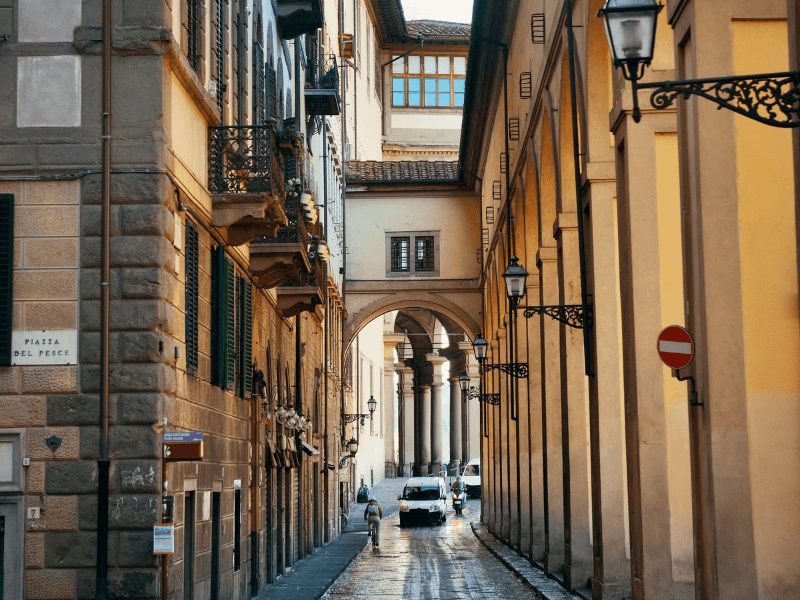 It won't be difficult to find a good accommodation to stay in Florence, as there are many hotels, guest houses, and rental homes available in town!
However, booking in advance is always a wise thing to do. Florence is one of the most visited cities in the country all year round, so booking well in advance will guarantee you the possibility to choose better rooms at more affordable rates.
For a city with such a large international reputation, Florence is small and easy to navigate — you'll get the lay of the land of Florence in 2 days quite easily.
It's divided in two by the River Arno which creates two main areas where to stay: the old historic district and Oltrarno (which, in Italian, means "on the other side of the Arno River").
The first area, the historic part of town, is often more crowded and touristic since it hosts some of the most visited landmarks in Florence.
Despite being a busy spot in town, it is in a great central location allowing you to comfortably access every corner of the city. The area also has many hotels for every budget.
For instance, Cicerone is a comfortable guest house with great reviews, in the heart of the city center, perfect for solo travelers and small groups!
The Oltrarno district, instead, is quieter and has a more local vibe. It hosts a few hotels but also several rental homes and vacation apartments, perfect for a longer stay or simply a more relaxed kind of stay.
Piccolo Borgo Antico is a small but cozy apartment in the Santo Spirito district of Oltrarno offering easy access on foot to the gorgeous Boboli Gardens.
The area near the train station, known as Santa Maria Novella can also be a good place to stay. It is not as crowded as the train station in Rome or Milan, and certainly, it is not as a dangerous place.
Budget travelers can find plenty of accommodation choices in the area, for example, Hotel Unicorno, a 3-star hotel set in a building dating back to the seventeenth century, is only steps from many of Florence's celebrated attractions.
Day Trips Worth Taking from Florence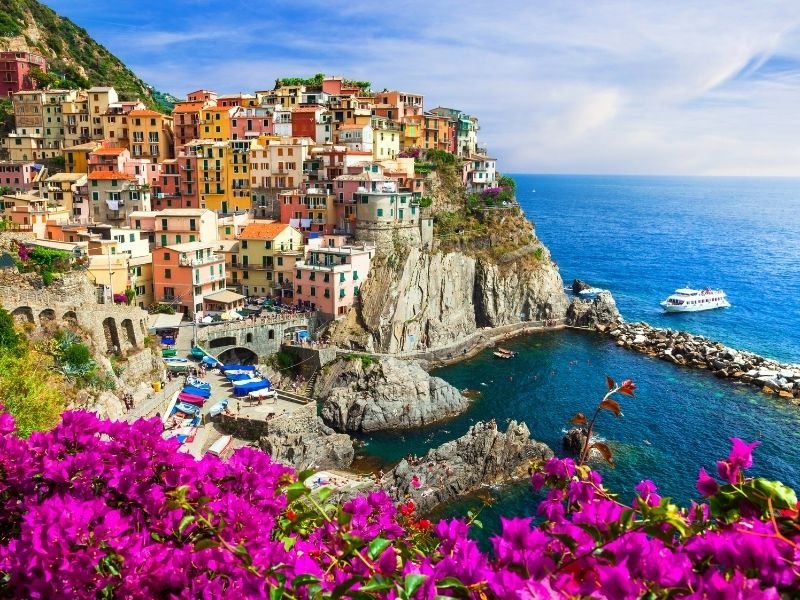 Being in such a central position in the Italian peninsula, Florence offers plenty of opportunities for day trips not just to the Tuscany region but also to other neighboring areas of the country, making it easy to escape to Rome, the Cinque Terre, or even Venice for the day.
Popular places to visit around Florence include Pisa, with its magnificent leaning tower and basilica, as well as the medieval cities of Siena and San Gimignano.
Additionally, in nearby Liguria, Genoa and the glorious Cinque Terre can also be reached by train in a little more than an hour.
In this 3-day Florence itinerary, I've included a day trip on the last day to the winemaking region of Tuscany with stops in some of the above-mentioned medieval towns.
There are plenty of organized trips to discover the Tuscan wine country, visit farms and wineries, and taste some authentic food from the region — this is the best way to do it, unless you prefer to rent a car and explore Italy independently.
Driving in Italy can be… well, chaotic, especially with via controllati (I once had to pay 150 euros in fines and another 150 euro in "administrative fees" for driving on the wrong road in Bologna).
If you're just needing a car for one day, I'd suggest taking a guided tour. If you plan to drive around more of the region on a longer trip, I recommend renting a car in Tuscany.
🚗 Best Tuscany Rental Car Prices: Discover Cars

This search engine not only looks at the typical rental car agencies (which can be $$$), it also looks at local, small Italian agencies that may offer better deals. Their pricing is straightforward (no bait-and-switches) and they offer free cancellation if you need it.

➜ Check rental prices in Tuscany with Discover Cars here!
Things You Shouldn't Miss in Florence
Florence attracts tons of tourists every year that flock to this beautiful city, thanks to its impressive cultural heritage that offers so many wonderful sightseeing opportunities.
Among the things you should visit in the heart of Florence are the imposing cathedral (the Duomo) with one of the most stunning cupolas in the world, but also smaller churches, like San Lorenzo and Sant Croce, two churches located just a few steps from the center of town.
Likewise, do not miss the public market, the art galleries, such as the Uffizi and the Accademia, the Ponte Vecchio Bridge, and the gorgeous Piazza Della Signoria, one of the most charming squares in the country.
This 3 day Florence itinerary features some of the highlights you really cannot miss in town, so let's get started!
If you only have one day in Florence and need an abbreviated itinerary, you can find that here.
3 Day Florence Itinerary: Day One
Start the day at the Duomo, the Santa Maria del Fiore.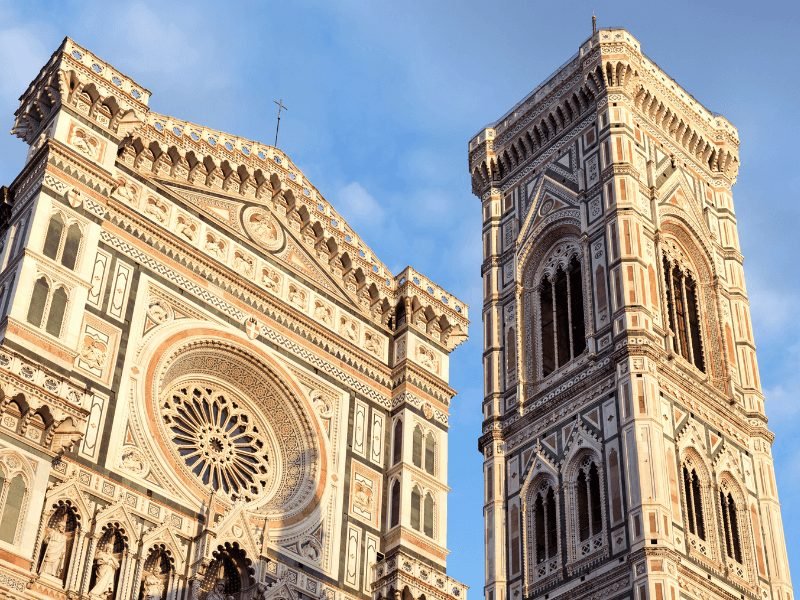 If you've just arrived in town, no matter what time it is, head directly to the heart of the historic center, Piazza del Duomo, to start your first day exploring Florence.
Your first stop is the fantastic Cathedral of Santa Maria del Fiore (also known as the Duomo), probably the most-visited place in the city, easy to recognize due to its pristine white marble facade.
Santa Maria del Fiore is considered a perfect example of Renaissance art, as well as one of the most remarkable religious buildings in Italy. The construction of the church took about four hundred years to complete — so no wonder it's so impressive!
Among the most notable features is its famous red-tiled cupola, an architectonic masterpiece created by world-famous Renaissance architect and painter, Filippo Brunelleschi.
On the inner side of the cupola, you can admire a unique series of frescoes of the Last Judgement.
Check out the other important buildings in the area.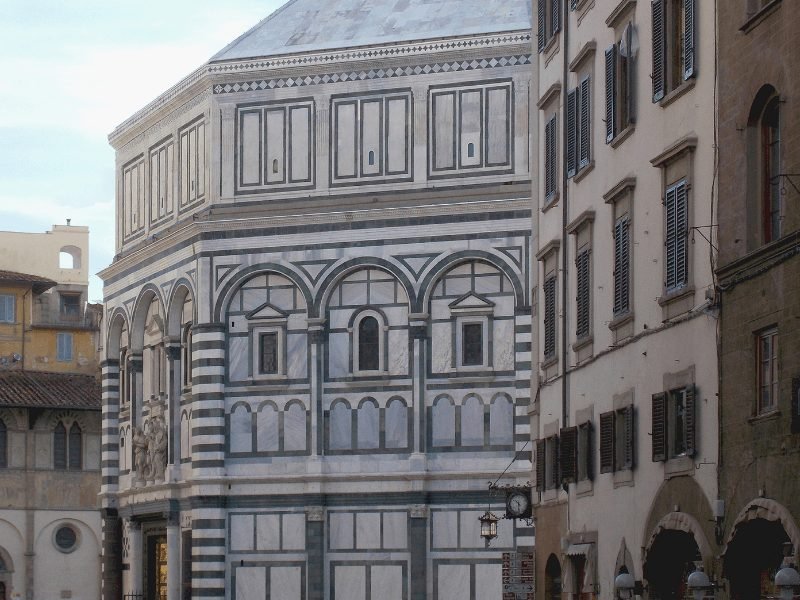 When visiting the cathedral, don't miss the other two important buildings that stand just meters away, Saint John's Baptistery and Giotto's Campanile, all a part of the same religious complex.
Saint John's Baptistery is, in fact, a minor basilica that features an original octagonal plant and impressive iron gates.
The gates facing the East side were conceived by Michelangelo; they are known as the Gates of Paradise and are well-known for their intricate decorations and unique attention to detail.
Not everybody is aware that the baptistery is one of the oldest constructions in all of Florence, dating back to 1128!
Steps from the cathedral and the baptistery, don't miss the campanile, locally known as Giotto's Campanile.
Depicting a completely different style from the cathedral and the baptistery, the campanile was built in perfect Gothic style and it can be easily seen from any point in town!
If you're not afraid of the heights and are eager to see a different perspective of Florence, then you can climb more than 400 steps that lead you to the top of the tower. These are some of the best views over all of Florence!
Have an espresso in Florence's most traditional cafeteria.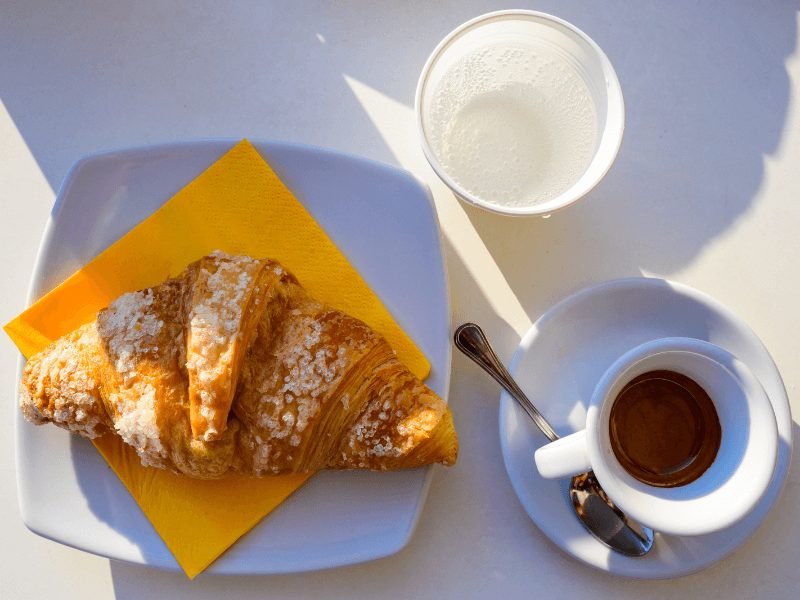 Since visiting Santa Maria del Fiore can take up to about two hours, after the visit is a good time for a short break and a cup of authentic Italian espresso, perhaps with a cornetto if you're hungry for breakfast!
If you're eager to discover Florence's pace of life, stop for a cup of coffee at Café Scudieri, an elegant cafeteria that first opened its doors back in 1939.
This is the perfect place for coffee and traditional pastries that boasts a spectacular terrace with unique views of the Duomo.
Check out the Piazza della Signoria and Palazzo Vecchio.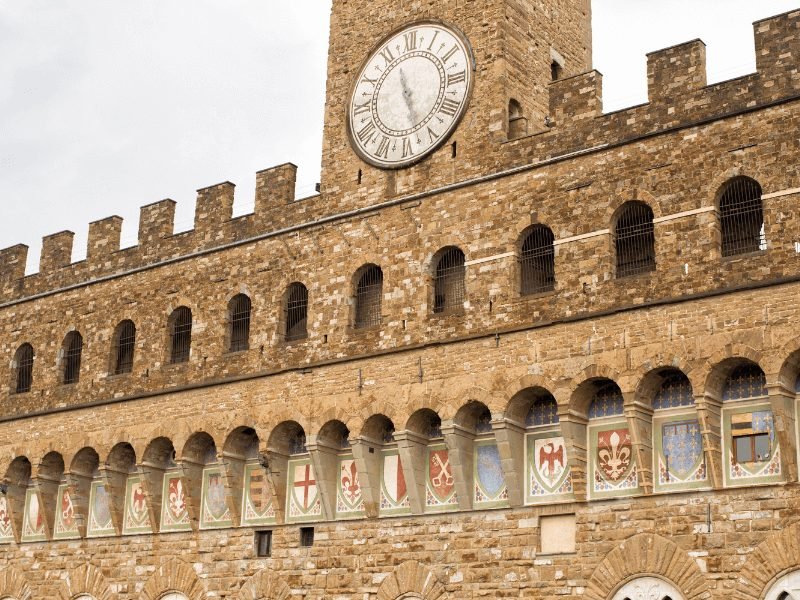 Just a short distance from the cathedral, another important Florence landmark is the huge square known as Piazza Della Signoria, a place that hosts several important buildings.
One of them, Palazzo Vecchio, was once the main administrative center in Florence, home to the ruling power of Florence for centuries.
Although everyone knows the place simply as Palazzo Vecchio, its formal name is Palace of the Signoria of the Republic of Florence.
The structure dates back to 1299 and it is constructed like a small castle.
The building is better-known for its important access gate where there is a fantastic replica of Michelangelo's David (the original masterpiece is in another point in town, Galleria dell'Accademia) as well as a statue of Hercules.
Located on one side of the palace, you can spot a wonderful fountain known as the Fountain of Neptune.
Check out the statues in the Loggia dei Lanzi.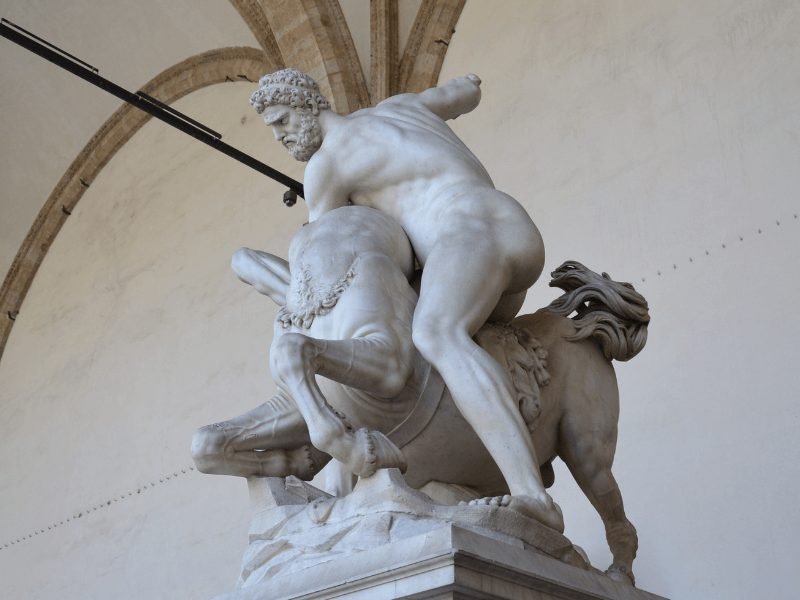 Also in Piazza Della Signoria on the opposite side of the Neptune Fountain, a curious selection of Renaissance sculptures give life to the Loggia Dei Lanzi, also known as the Loggia Della Signoria.
This open-air gallery located adjacent to the piazza features impressive arches and Corinthian columns, and is conveniently located right next to our next stop, the Uffizi Gallery.
On the steps of the Loggia there are the marble statues of the Medici Lions which were historically the heraldic symbols of the city.
Meanwhile inside the Loggia, other statues include the bronze of Perseus and the head of Medusa and the Rape of the Sabine Women made from a block of white marble — the largest block ever transported to Florence!
Since our next stop, the Uffizi Gallery can take quite a few long hours to explore, pick a bar around Piazza Della Signoria for a quick lunch and move on to the Uffizi.
Spend some time in the Uffizi Gallery.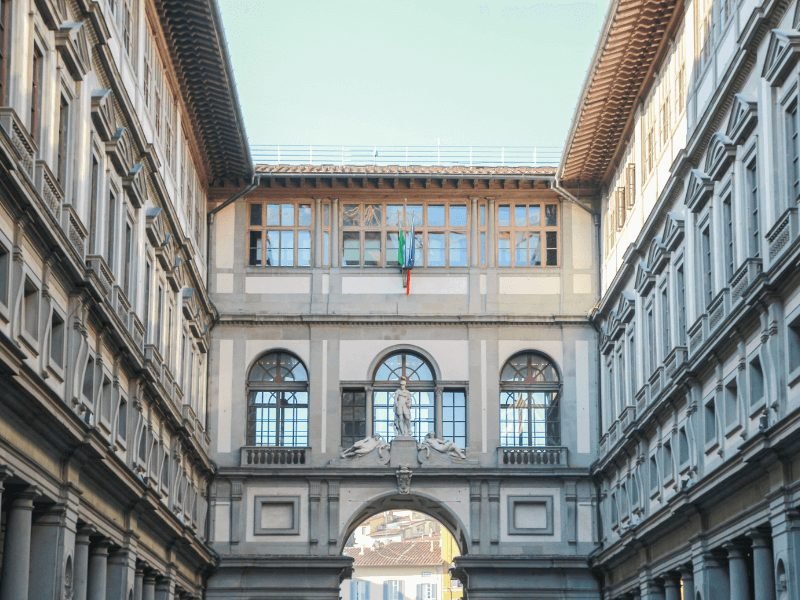 The most important art gallery in the city is the worldwide famous Uffizi Gallery which you should book tickets for way in advance to visit if you want to avoid the crowds and even bypass the long lines with a skip-the-line ticket.
This notable art gallery is located a few steps from the Arno River, as soon as you leave the Piazza Della Signoria behind you.
The gallery entirely occupies the first and second floors of the Vasari building, which was built between 1560 and 1580.
The Uffizi hosts one of the most magnificent art collections in Europe, and certainly the most remarkable Renaissance art exhibition in the world, with masterpieces by artists such as Botticelli, Tiziano, Da Vinci, Raphael, and Caravaggio.
There are also paintings from the 14th century by artists such as Giotto, Piero Della Francesca, Botticelli, Mantegna, Correggio, Leonardo, and Raffaello, in addition to many precious works by German, Dutch and Flemish painters.
Such a massive art exhibition could take days to explore, but if you only want to have a glimpse at the most important works of art, then a guided tour with a licensed guide is the best way to visit.
Book your timed entry ticket or a guided tour online here!
Cross the Ponte Vecchio and spend the rest of the day in Oltrarno.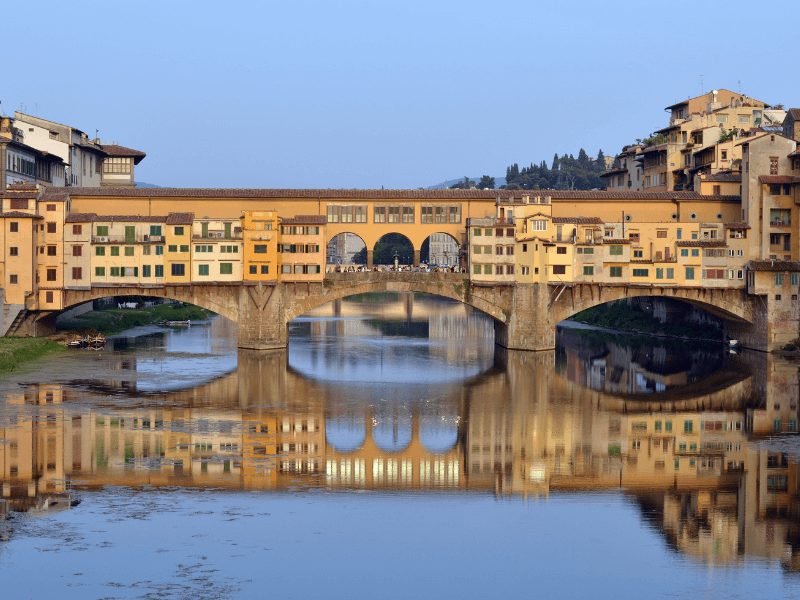 Our first day in Florence has been packed with visits to interesting sites such as the Duomo and the impressive Uffizi Gallery.
It is a good idea to leave other historic buildings for the following day while devoting the rest of the first afternoon to a relaxing walk in a more tranquil part of town, Oltrarno.
Walk along the river until you reach the spectacular Ponte Vecchio.
Although it is a very crowded place, it's also an ideal stop for an iconic photo of Florence. Crossing this old stone bridge is certainly part of any Florence itinerary.
The Arno River divides the city in half. It is crossed by numerous medieval bridges, but none of them are as remarkable and famous as Ponte Vecchio (which translates as Old Bridge).
This stone arch bridge hosts dozens of shops built along its whole length!
In the past, butchers, tanners, and farmers occupied the shops, but it currently houses some of the finest art and jewelry shops in town and it is exclusively pedestrian.
Ponte Vecchio leads you to this other side of Florence, where life can take a more relaxed pace and where you won't find as many tourists.
Depending on how much time available you still have after the Uffizi, you can choose to visit all the premises of Pitti Palace, or devote some time only to its green area, the incredibly beautiful Boboli Gardens.
Check out the Palazzo Pitti and Boboli Gardens.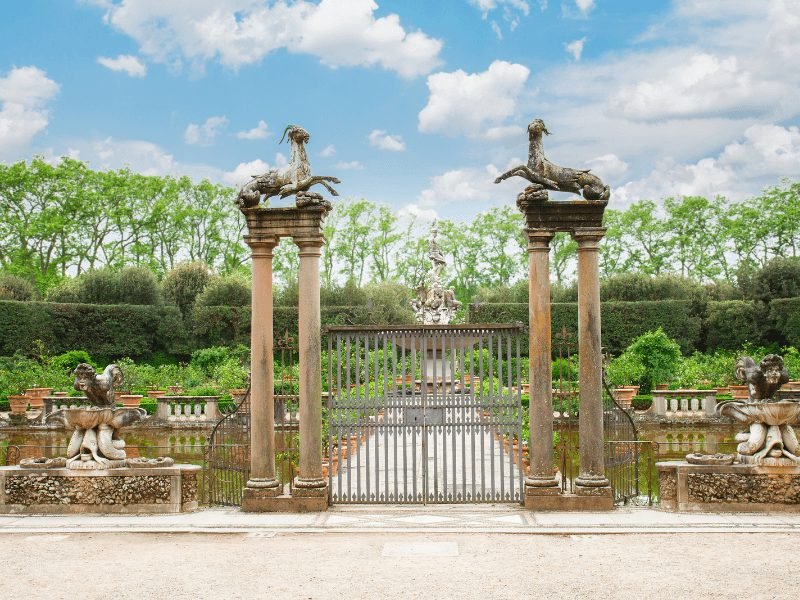 Oltrarno is a beautiful area where you can enjoy small eateries, artisan shops with unique souvenirs, and a wonderfully romantic atmosphere.
One of the places that you should check out in the area is Palazzo Pitti and its incredible Boboli Gardens.
Depending on your interests, you can visit both the palace and the gardens, although most tourists just opt for a relaxing walk and skip the palace.
Palazzo Pitti is extremely important to the history of the city. The huge building used to be the home of the important Medici Family, the most important and powerful political dynasty in Florence.
This palace now hosts an important museum complex, with exhibitions and art galleries and endless impressive examples of Renaissance art. If you're not filled up on art after checking out the Uffizi Gallery, head into the palace museum for even more art!
At the back of the palace, the Boboli Gardens are one of the most interesting places to visit in Florence and make a great change of pace after seeing so much architecture and artwork.
The 16th century Baroque-style gardens are massive, occupying over 45,000 square meters!
The green landscapes are decorated extravagantly, featuring bizarre sculptures, incredible fountains and ponds, and hundreds of plants and trees from all over the world.
Have dinner by the bridge.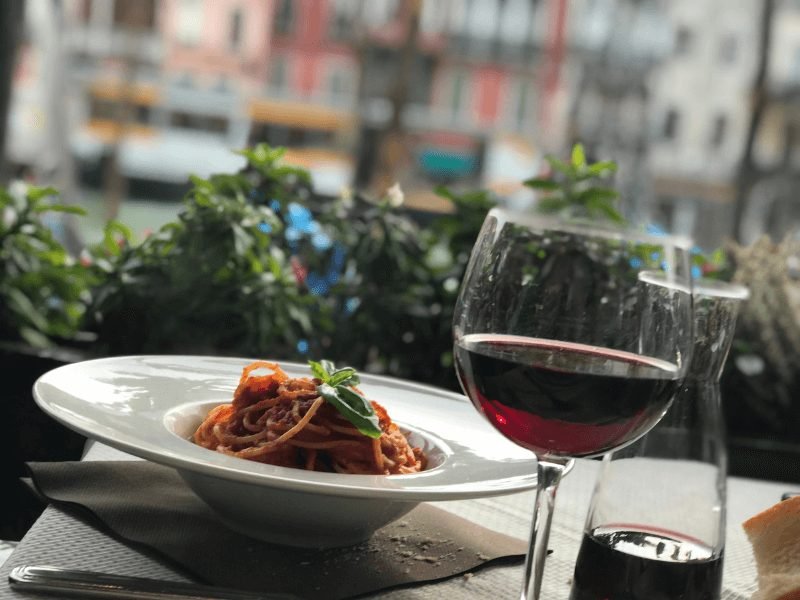 Finally, head back to the bridge area for dinner.
I have several recommended restaurants in Oltrarno: Cavalieri Ponte Vecchio Ristò, Osteria Ponte Vecchio, and Amici di Ponte Vecchio.
All of them are traditional trattorias offering delicious and time-tested Florentine menus.
Admire the spectacular view from Piazzale Michelangelo.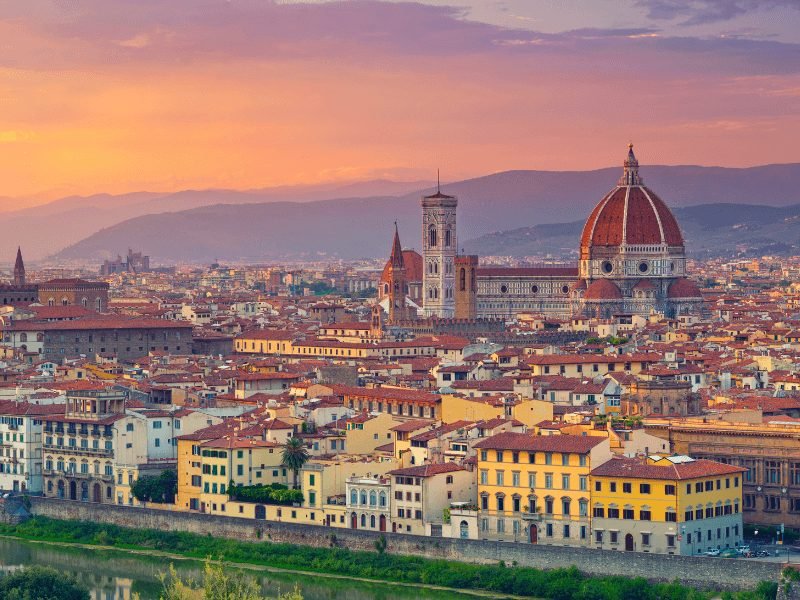 Finally, walk over to the Piazzale Michelangelo for the most incredible view of the historic district of Florence as seen from a hilltop vista on the other side of the Arno River.
This place is a really popular sunset spot, but it's also lovely after the sun has set, when all the lights come on in Florence.
There's also a bronze replica of David here, but you really come for the best views over Florence.
3 Day Florence Itinerary: Day Two
Start the morning at the Galleria dell'Accademia to see the Statue of David.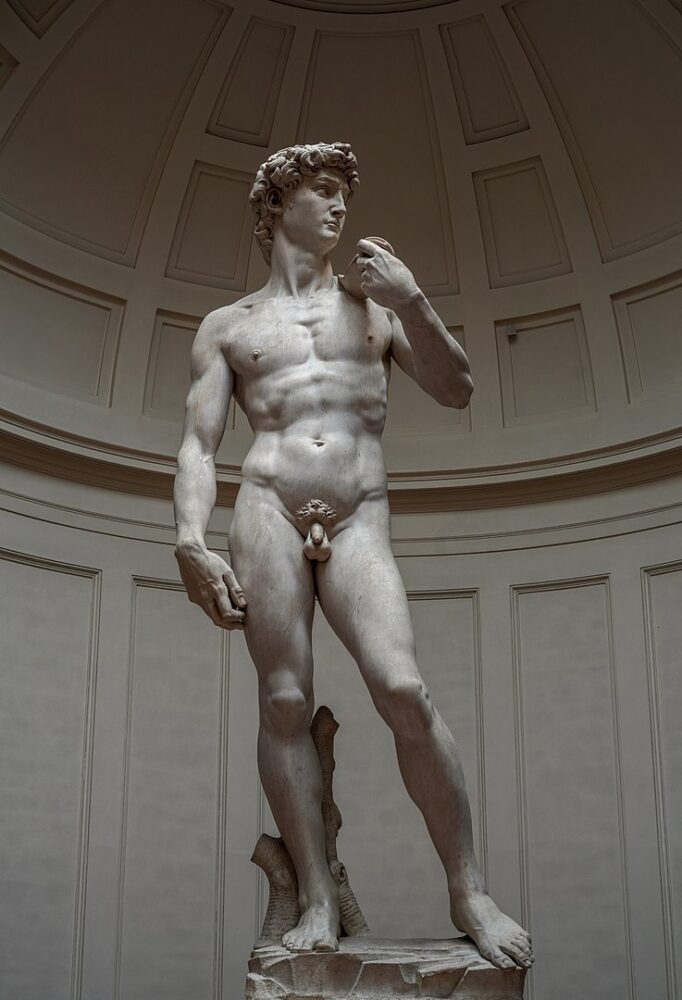 Start your second day with a visit to the Galleria dell'Accademia. This is another popular place that often gets packed with tourists, so it is always better to visit early in the day.
The main reason to visit is that the gallery is the place where you can admire the original David sculpture, Michelangelo's masterpiece.
You'll need a timed entry ticket to see the Statue of David without the hectic lines, otherwise visiting this attraction can be quite a headache.
In the venue, there are displays of other pieces of Michelangelo's art, such as test sculptures and even drawings.
The Accademia is also home to a tiny museum of musical instruments and music-related inventions.
Book your timed entry ticket to see the Statue of David and Galleria dell'Accademia here!
Grab something to eat at the Mercato Centrale.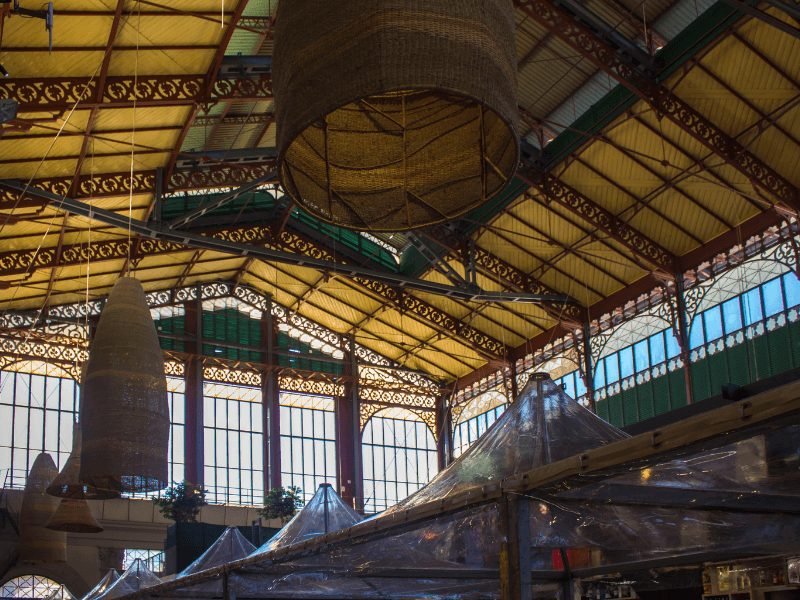 Located near the Galleria dell'Accademia, the Mercato Centrale is one of the most beloved marketplaces in Florence.
You'll find pastries, sandwiches, and all sorts of other quick bites that will help fuel you up for the rest of this day's walking tour of Florence.
Check out the charming San Lorenzo and Santa Croce churches.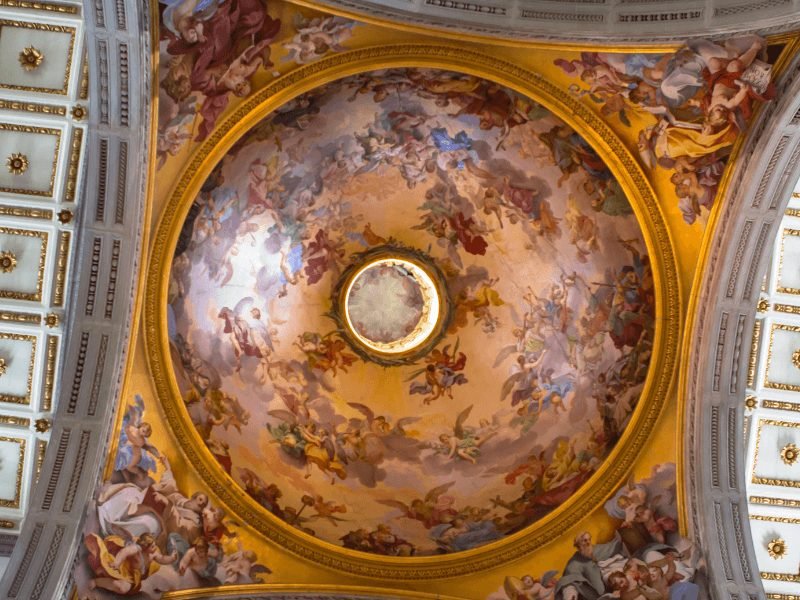 There are many fantastic churches to visit in this beauty other than the Duomo!
San Lorenzo Basilica is one of them. Although it features a structure and architectural style much simpler than the spectacular marble Duomo, this big structure impresses with its imposing dome and terra cotta roof.
The church was built by the powerful Medici family during the Renaissance, and it is the final resting place of some of the most prominent Medici figures inside the Medici Chapels (Cappelle Medicee).
The church is a great place to admire unique works of art including exquisite examples of funerary art and tombs as well as frescoes and other paintings from the same period.
Another interesting church also in the area of the Duomo is Basilica Santa Croce, which was built around the same time as the Duomo and which shares a few characteristics with Florence's main church.
Just like Santa Maria delle Grazie, the Church of Santa Croce features a dazzling white marble facade with details in green and pink marble and white stone.
Inside the religious building, you can visit the tombs of some of the most important figures of the Renaissance, such as Michelangelo and Galileo.
Taste the local cuisine.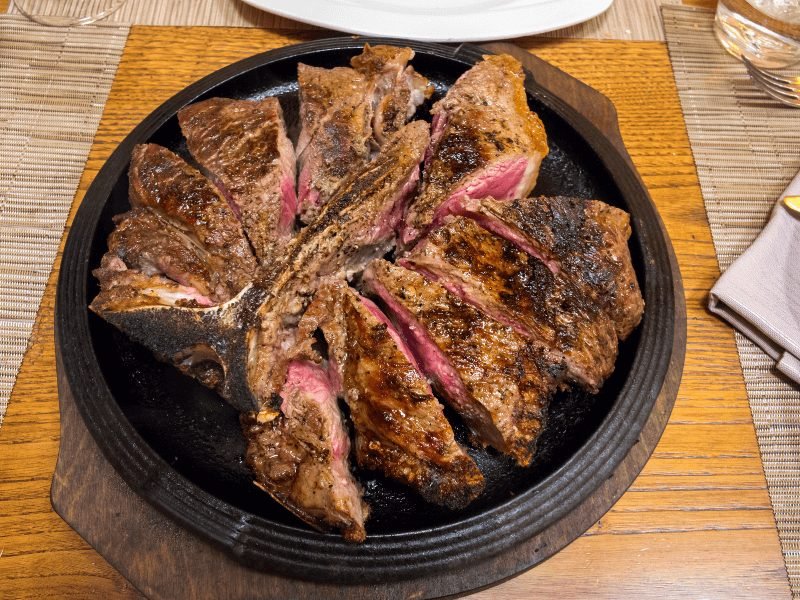 It is not possible to visit Florence and skip the most famous dish in town, the world-famous Fiorentina steak!
Although it can be a fairly expensive experience, the Fiorentina is adelicious meat cut served by the kilo and is worth every single cent you'll pay for it.
It is often served with some of the local red wines that have made the whole region famous — Supertuscans and Chiantis, both of which are absolutely delicious!
If you're on a budget and a Fiorentina is out of your league, don't be discouraged!
The city has other staple dishes that will be equally rewarding: lampredotto is one of them, and can be a good thing to taste if you're an adventurous eater.
This typical dish of the region is traditionally made from the fourth and final stomach of a cow.
This is then slow-cooked with plenty of herbs in a thick vegetable broth, seasoned with spices, chopped, and served in a hot bun with a variety of sauces or a small portion of fried onions.
Sample a cone of Florentine gelato.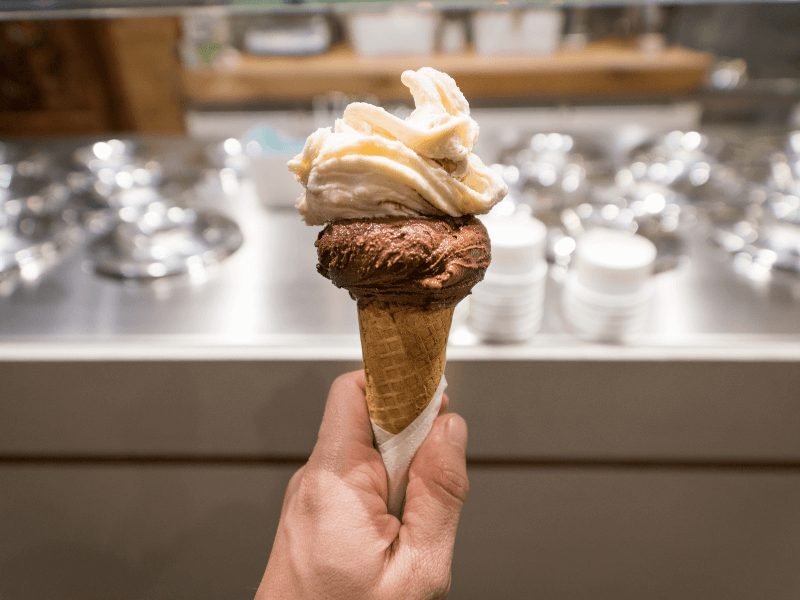 After lunch, take an afternoon break with a delicious taste of gelato!
They say that the modern version of gelato, as we know it today, was created in Florence, so what better place in Italy to sample the country's favorite afternoon treat?
The story goes that this creamy treat was first produced by the local alchemist Cosimo Ruggieri to please the Medici court back in the 16th century. It seems to have worked — gelato is now everywhere in Italy!
This unique form of ice cream is made using a higher percentage of milk than cream. It is also whipped only for a short amount of time, thus avoiding an excess of air in the gelato.
This, combined with the warmer serving temperature than ice cream, makes its flavor more pronounced and rich!
As expected, there are several gelaterias in town.
They not only serve typical gelati, but also fruit sorbets without any milk, which are both vegan and gluten-free.
Some of the best gelaterie in town are My Sugar close to theAccademia Gallery, Dei Neri, near the Uffizi Gallery, and Vivoli, the oldest gelateria in Florence, dating back from 1929, near Santa Croce church.
Shop for fine leather products.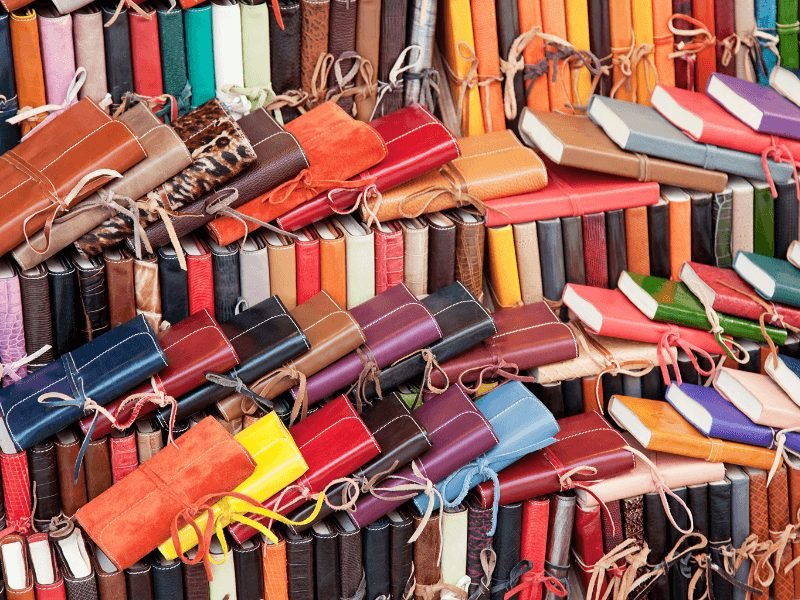 Florence is a perfect Italian destination to purchase refined leather bags, jackets, and shoes!
The region of Tuscany and Florence in particular, are known all over the world for their millennial leather tradition and craftsmanship.
In the area of Santa Croce Church, you will find several artisan leather shops and workshops where you can purchase fine quality leather products at affordable prices, especially considering the level of workmanship.
You can also find them at the outside stalls of the San Lorenzo Market.
These products are some of the best souvenirs from Florence that you can take home with you!
3 Day Florence Itinerary: Day 3 (Tuscany Day Trip)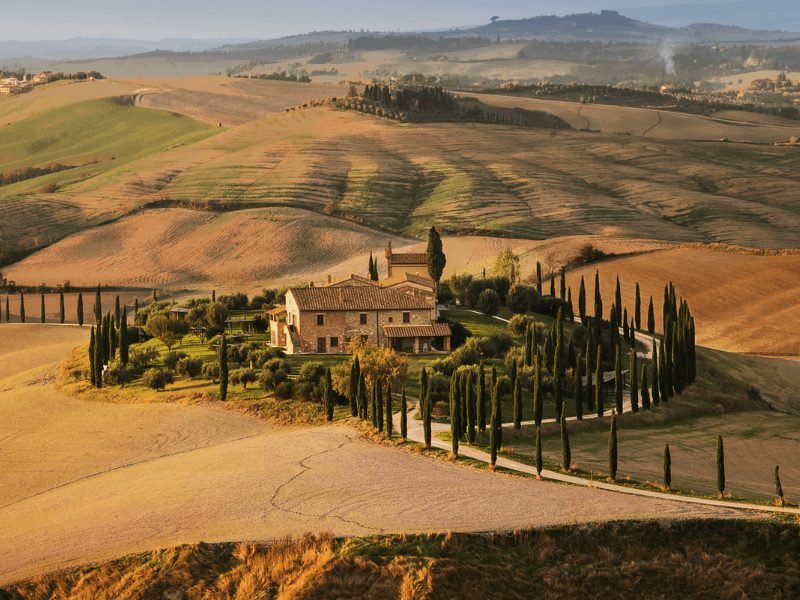 As we have mentioned before, you should devote the third day of your Florence itinerary to taking a Tuscany day trip.
Spend the day visiting the amazing vineyards in Tuscany, enjoying the local landscape, tasting delicious wines and learning about the local winemaking tradition.
You can also sample other Florentine delicacies as you move around the magnificent verdant fields of the region — eating well is never a challenge in Italy, after all, and this goes even more so for Florence!
I will suggest a Tuscany itinerary that you can either self-drive or take a guided tour of. If it's your first time driving in Italy or you plan to drink, a guided tour is the better option.
When planning your day trip to Tuscany, bear in mind that driving in the Tuscan countryside surrounding Florence is not as stressful as it can be to drive in Milan or Rome.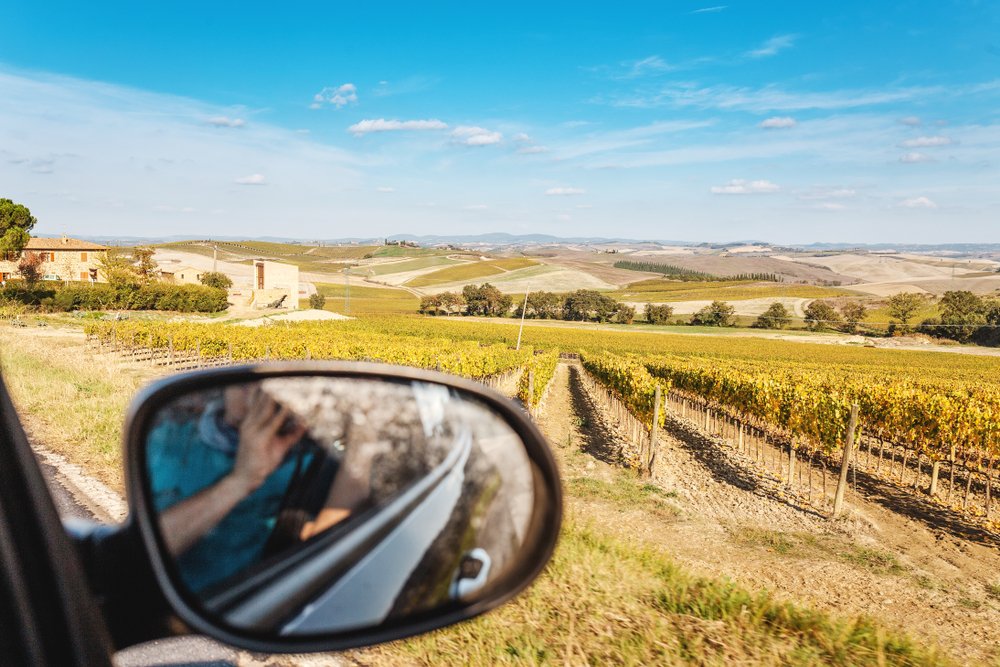 However, since the most important thing you will be doing today is sampling Florentine wines, joining an organized tour is a smart move to avoid the dangers of driving under the influence — as well as expensive fines on the road.
Remember that drinking and driving are heavily fined in Italy, so having someone else do the driving while you enjoy the delicious Tuscan wines is nothing but the right thing to do.
If you agree with me, I highly recommend checking out this tour,which offers an excellent opportunity to visit some of the highlights in the region and to taste some of the most delicious Tuscan wines!
Book a guided tour bringing you on a day trip to Tuscany here!
First Stop: Siena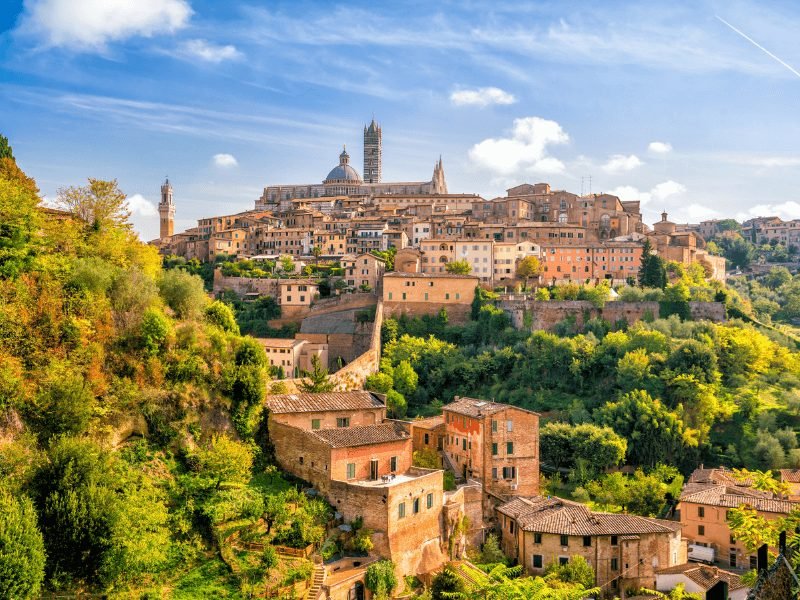 The best way to start the day is to head directly to Siena, an important medieval city in Italy where you can spend some time walking in the old district where a myriad of ancient terracotta roofs adds a pop of color to the whole landscape.
In Siena, take some time to discover the Cathedral of Siena (Duomo di Siena). The medieval church was built between 1215 and 1263 featuring an imposing dome and a bell tower.
The dome, completed in 1264, has a famous lantern made by the artist Bernini. Inside the bell tower, there are some iron bells, the oldest of which dates back to 1149.
Some of the finest Italian artists of those times completed works in the black and white cathedral, which proudly features the colors of the city!
Second Stop: San Gimignano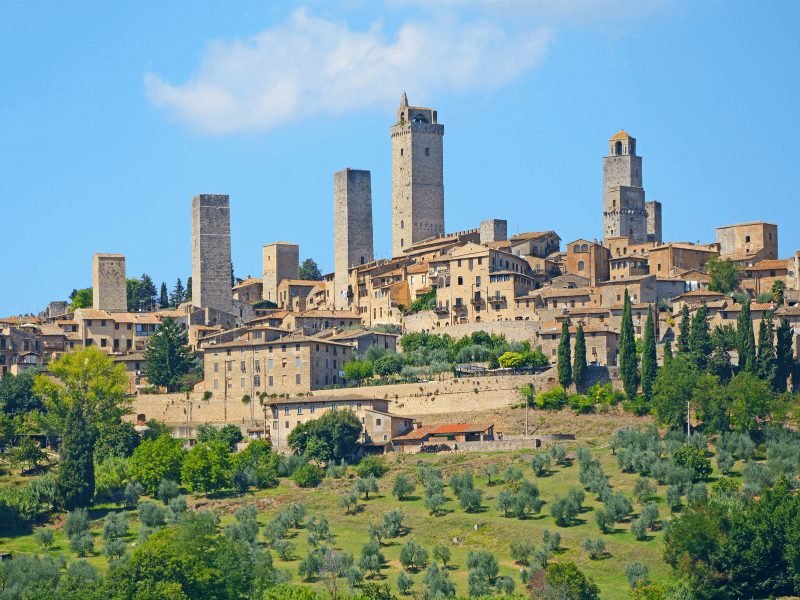 Located atop a low hill, San Gimignano is one of the most representative Tuscan towns dating back to the Middle Ages.
It's home to some unique tower houses from that same period which have earned this town the status of being a UNESCO World Heritage Site.
In San Gimignano, you can take some time to visit its traditional squares and ancient palaces, as well as the famous medieval skyscrapers.
The town hosts about a dozen of these tower houses as well as protective encircling walls, that shelter incredible churches and public buildings constructed both in Romanesque and Gothic styles.
When in San Gimignano, it is a good idea to taste its distinctive white wine, the Vernaccia di San Gimignano, which is produced from the Vernaccia grape variety, an ancient grape that is grown on the sandstone hillsides of the town!
Before heading to the last stop of this day trip, you can make a stop to explore a local wine state in the world-famous Chianti wine region.
Most wineries in the area offer wine tasting sessions paired with an informal lunch. This gives you the chance to sample some authentic farmhouse dishes that are so beloved in Tuscan cuisine.
Last Stop: Pisa
Fairly close to Florence, it is only fair to end this day trip to the Tuscany region by visiting Pisa and, of course, the fantastic Leaning Tower of Pisa located in the heart of Piazza dei Miracoli.
Here, it is also a good idea to spend some time exploring the Cathedral of Pisa, devoted to the Assumption of the Virgin Mary, not far from the Pisa Baptistry and Leaning Tower, which is — in fact — the campanile of this basilica.
The cathedral was built in the so-called Pisan Romanesque Architecture and it was completed in 1092, making it one of the older cathedrals in Italy.
Where to Go After Florence & Tuscany
If you have time to extend your trip, it's quite easy, as Florence enjoys such a central location in Italy.
You can add on a few days in Rome before heading down to Naples and the Amalfi Coast, or you can go a bit off the beaten path to explore some of the charming towns of Umbria that are less-visited.
Alternately, you can head north to Milan, the Cinque Terre, and the Liguria region of Italy.
Gabi Ancarola is a full-time travel blogger, tour guide, and freelance writer currently living in Crete, Greece. She spent decade of her life living and traveling Italy, and she shares her knowledge of Italy in her writings as an Italy expert on Eternal Arrival. She also shares her knowledge of Crete and Greece on her blog, TheTinyBook.com, where she has also published several digital travel guides.