While Florence has a lot to offer and even a month wouldn't be enough to see all the masterpieces that the local museums house, one day in Florence can easily offer you a well-rounded view of the most iconic places in town.
The historic center is small and compact, making it easy to walk from one attraction to another in no time, something that will work in your favor to make the most of your day in Florence.
Note: This post contains affiliate links, which means I may receive a small commission if you purchase something through one of these links. Thank you for supporting the free content on this site! For more information on affiliate links and cookies, see my disclosure page for more details.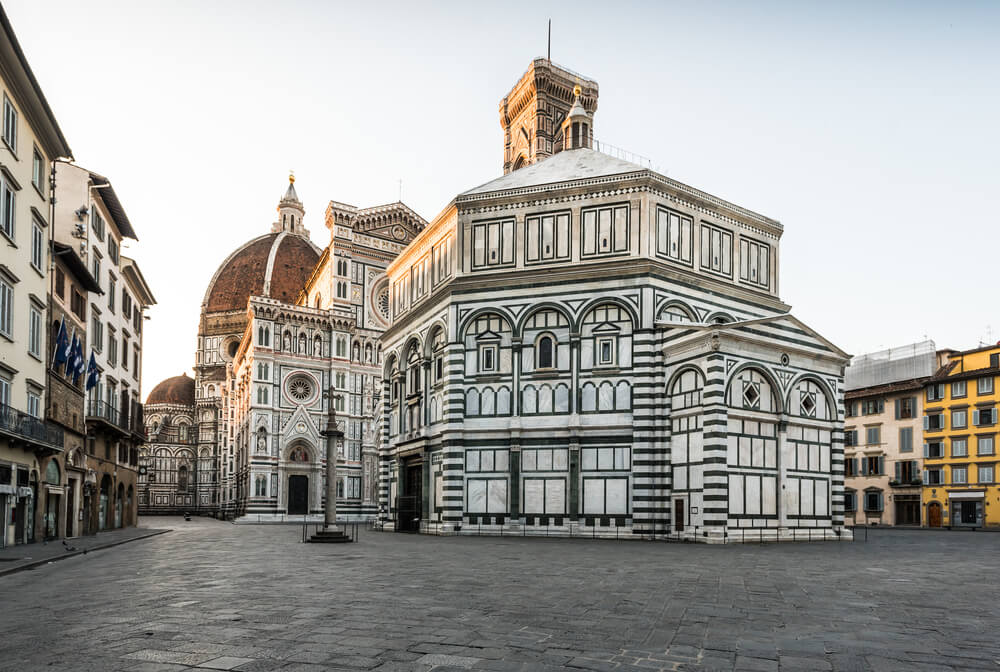 While living in Italy for nearly a decade, Milan was home, but I visited Florence frequently, and I know how to maximize a short stint in Florence like a pro.
Ready to go? Keep this one day itinerary handy to better plan your Florence adventure!
And if you find yourself wanting more time in Florence, read this guide to spending 3 days in the city.
How to Get to Florence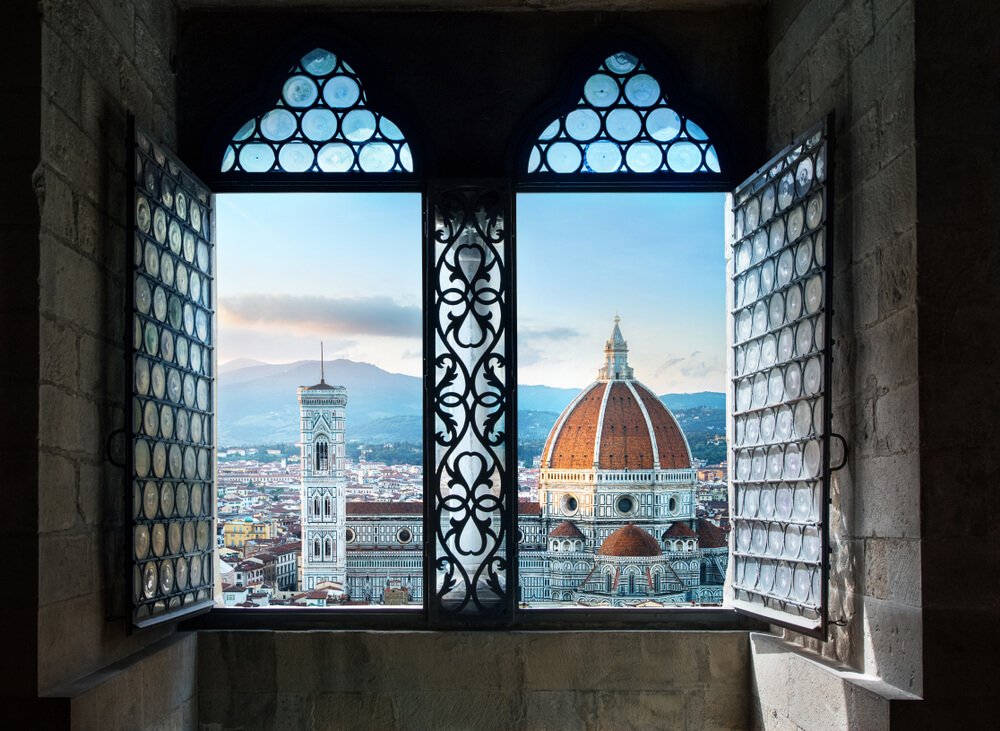 Often considered part of the northern region in Italy, Florence is easy to reach from the most important cities in the country.
It's a comfortable 2-hour ride from Rome or Milan, and no more than 3 hours from Venice or Naples.
Although there are different flights arriving from other Italian cities, both to Florence's airport, train travel is often cheaper and even faster, once you factor in the waiting time you need to spend at the airport.
Arriving from the rest of Europe is also easy. In addition to having its own airport, the Amerigo Vespucci Airport, there's also the nearby Pisa Airport.
Only about an hour from Florence by train (and a common day trip from Florence), Pisa receives dozens of daily flights from most European capitals, typically from budget airlines.
If you come to Italy directly from another country in Europe, you'll probably land in Rome or Milan. From there, you can get to Florence by train, bus, and plane too.
Moving Around in Florence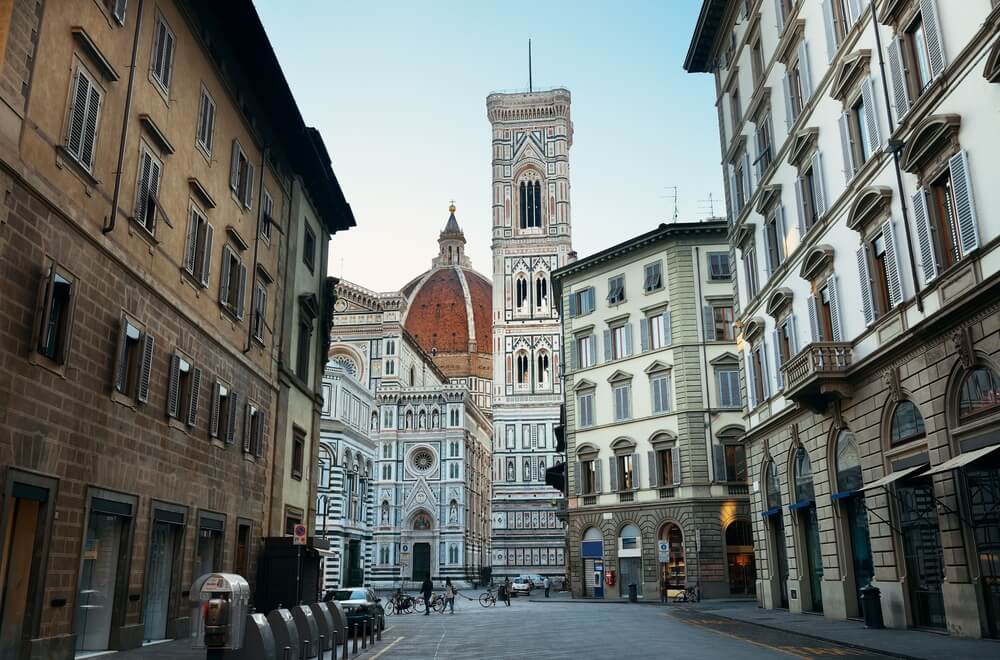 The most enchanting quality of Florence is just how pedestrian-friendly the city is!
You'll love discovering how easy is to get around without even needing to use public transport.
Everything is within a short walk, making it a great one-day destination or even a good a day trip from other Italian cities like Rome or Milan, which are each 2 hours away by train.
Arriving to Florence early in the morning and leaving from the main station by the evening is a totally realistic plan.
Even just that short amount of time will allow you to see and visit a lot of what the city has to offer, and you won't leave disappointed!
Gateway to Tuscany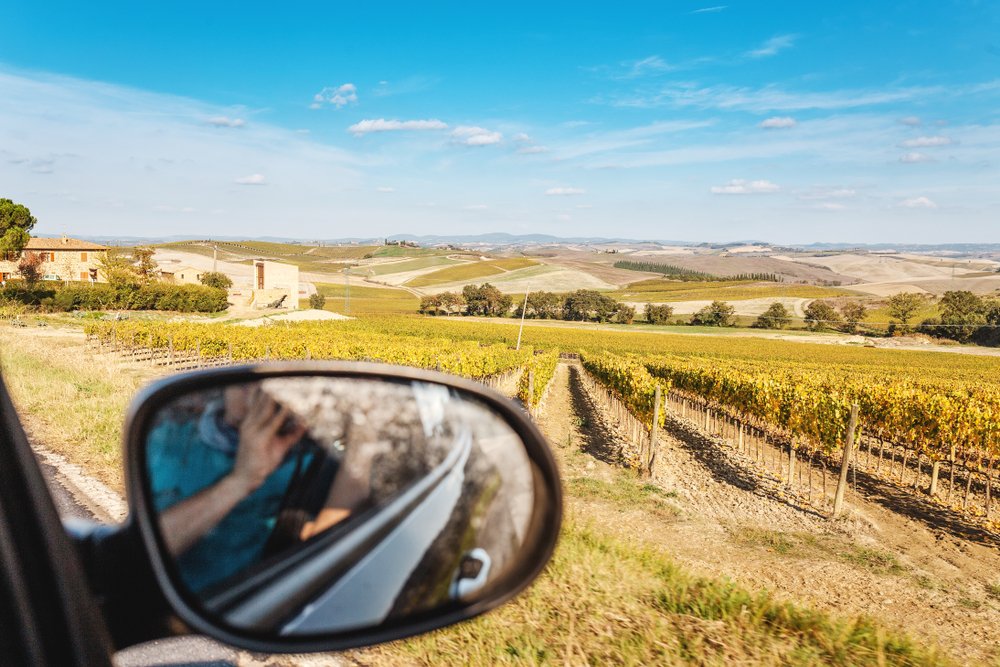 As the capital of Tuscany, Florence is also a great gateway to exploring the charming towns and wineries of Tuscany, the most famous Italian wine-making region.
In Tuscany, there are several famous towns to visit, most of them located just a short train ride from Florence, including Pisa, San Gimignano, and Siena.
That said, Tuscany isn't always the easiest region to get around by train, especially to smaller towns like Monteriggioni and Montepulciano.
Renting a car in Tuscany (that you pick up in Florence) will allow you to see the best of Italy's rural side and its most charming hilltop Tuscan towns!
When to Visit Florence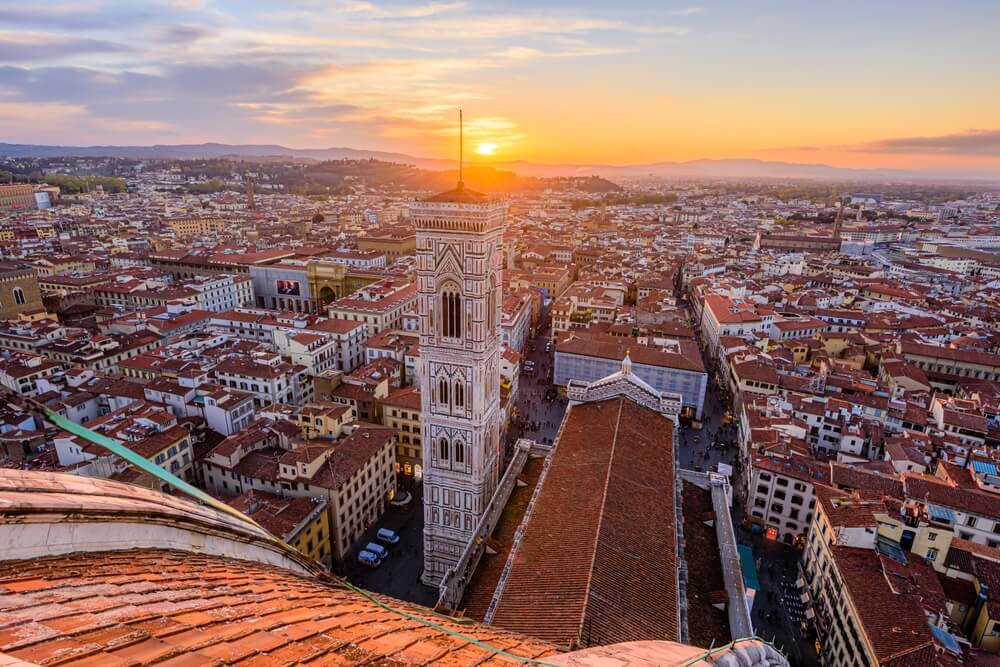 Florence is one of those Italian cities that never gets a break from tourists. It's a favorite destination, receiving millions of visitors all year round.
So whether it is winter, summer, or any season in between, finding accommodation isn't easy and prices tend to be on the higher side.
If you're planning to stay longer than just a day, and would like to book a hotel, try to do so in advance. Last minute accommodation is often impossible to find, even if you're willing to pay a high fee.
The weather is also a factor to consider.
Summers are hot in this part of Italy, and obviously, the city will be more crowded with visitors on summer vacation.
Winters can be cold, but it doesn't often snow, and since you'll probably spend a lot of time inside museums or art galleries, it will be easier to put up with the low temperatures of winter.
As usual, shoulder seasons (fall and spring) offer much pleasant temperatures and better weather conditions in general to walk around town.
Know Before You Go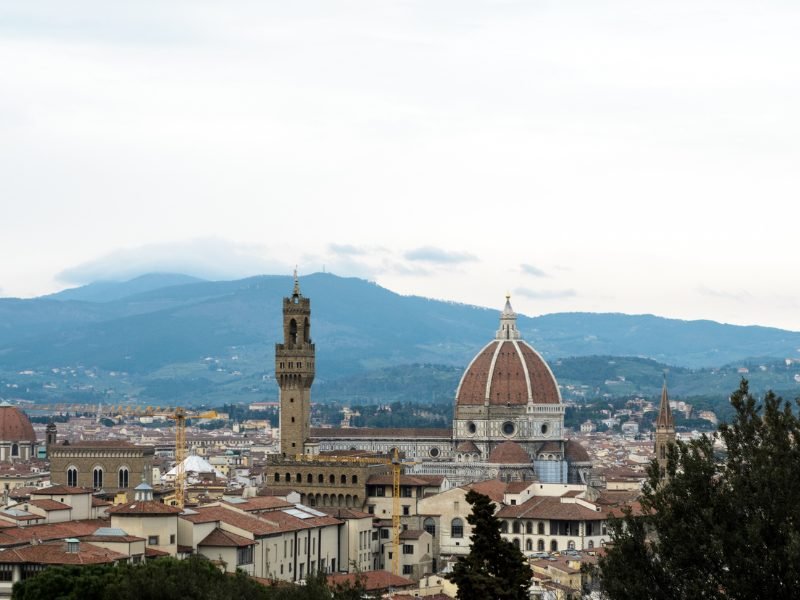 The best way to make the most of a single day in such an incredible city that so much to see is a lot of planning — and planning in advance, no less.
As I've said above, the city is among Italy's most visited, so you're bound to find crowds pretty much everywhere you go.
Tickets can often sell out weeks in advance, and you can be disappointed if you turn up to any attraction without having booked your entrance ticket ahead of time.
This doesn't apply just to museums and art galleries! The same rules apply if you want to visit Florence's Duomo, see the Statue of David, or do a city walking tour, which also book up quickly.
Wherever possible, I've indicated how you can book something in advance, so you can be sure you don't miss anything on your day in Florence.
Florence in a Day: What to See and Do
Start the day at Santa Maria del Fiore, aka the Florence Duomo.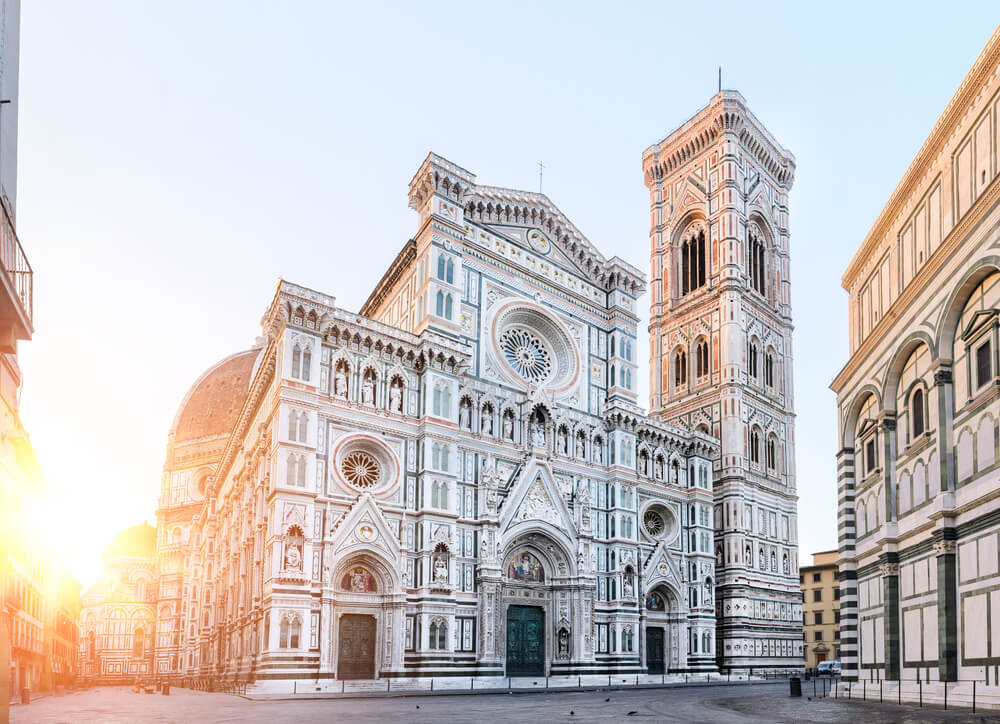 The first place you should visit upon your arrival in town is the Florence Duomo (aka the Cathedral), and the earlier the better in order to avoid huge crowds.
This attraction is quite close to Santa Maria Novella train station, so you can easily walk from the station if you took the train in for a day trip.
It won't take you more than 15 minutes to get to the heart of the historic center, the Duomo Square, where you can not only visit the Florence Cathedral (aka the Duomo), but also its Baptistery and the impressive Bell Tower.
Start by exploring the church, which is thought to be a fantastic example of Renaissance architecture in the country.
The most remarkable feature is its well-known red-tiled dome, conceived by the genius mind of Filippo Brunelleschi back in 1436!
It's one of the largest domes in the world and you can even climb it in order to enjoy a breathtaking view of the rest of Florence.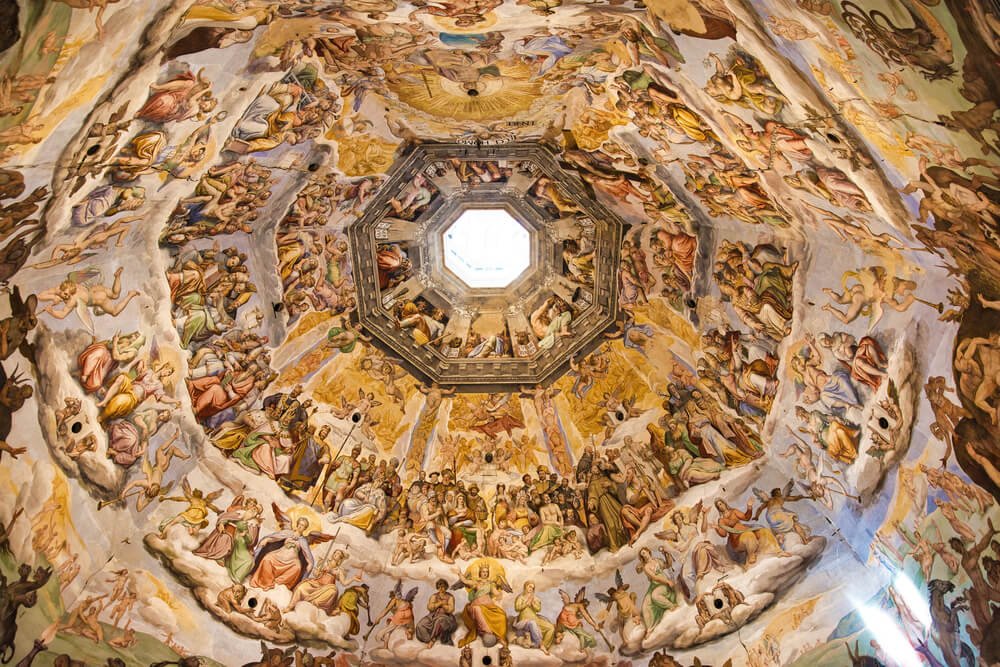 This skip-the-line ticket bundle offers excellent value for money, offering access to the whole Duomo complex all in one bundle.
It includes access to the Dome, the Crypt of Santa Reparata, Saint John's Baptistery, Giotto's Bell Tower and the Cathedral, all in one package.
If you're not afraid of heights and are eager to see a different perspective of Florence, be sure to climb the 400 steps that lead you to the top of the tower.
It's incredible to admire the intricate masonry work that was needed to create the cupola for which this church is so famous.
If you just want to tour the cathedral and learn about the complex area without seeing every bit of it, you can book this Express Cathedral Tour with Skip-the-Line Entry.
Visit the Uffizi or the Accademia… or maybe both?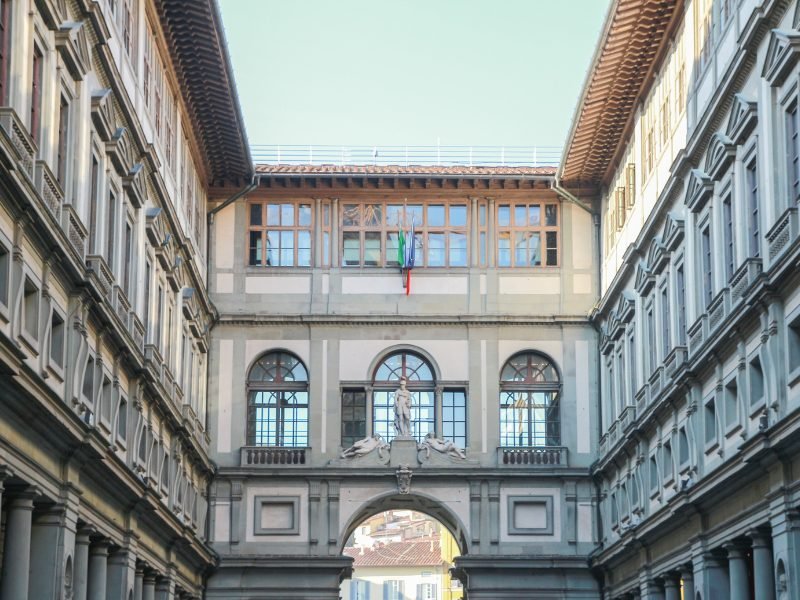 If you have one day in Florence, that's enough time to allow you to check out at least one of the many museums in the city.
Since visiting all of them could take considerable time, you'll have to choose carefully.
If I had to pick, I'd say that it's hard to go wrong with the impressive Galleria degli Uffizi, as it houses perhaps the most impressive collections of Renaissance paintings in all of Europe — it's one of most iconic Florence landmarks for a reason.
The art gallery takes up the first and second floors of Palazzo Vasari, a fitting setting for its beautiful art, and features works by Botticelli, Caravaggio, Da Vinci, Raphael, and more.
If you prefer, you can choose to focus on the works of just one artist, Michelangelo and one of his best known masterpieces: the David.
This Accademia ticket includes a timed entry slot, so it's a good way to plan a quick visit to this iconic work of art and then move on with your day in Florence.
There are a few combined tours that include a visit to both premises, and if you ask me, that's the best option for those really wanting to squeeze these two visits in a day.
This 4-hour art walking tour focuses on the main pieces of art exhibited in the Uffizi as well as seeing the works like David in the Accademia.
Alternately, you can choose to visit just the Uffizi and enjoy a real-size copy of Michelangelo's David when you visit the Signoria Square (our next stop).
In that case, I recommend booking this fast-track ticket, since it's a priority entrance ticket with a reserved time slot, offering you the chance to spend as much time as you want inside the gallery
Admire free art in the Piazza Della Signoria.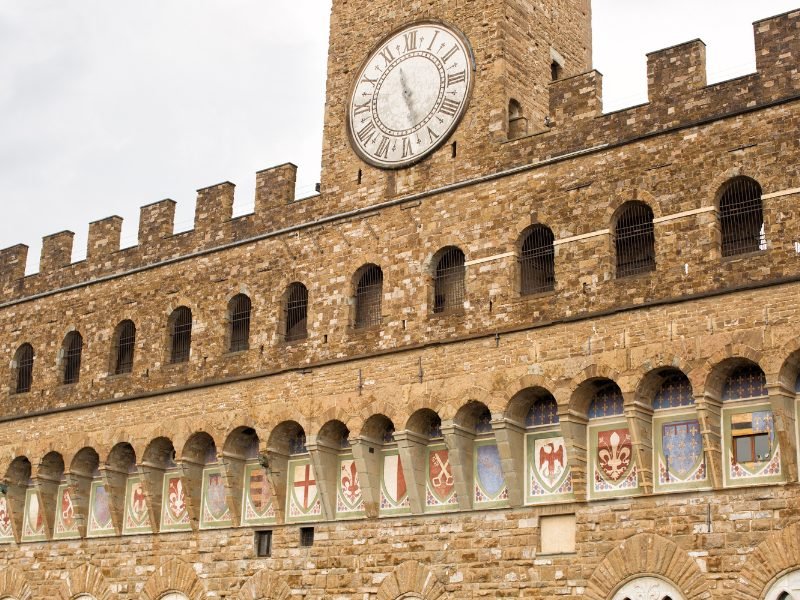 No more than 5 minutes from the Duomo, right next to the Uffizi Gallery, lies the beating heart and political soul of Florence.
For those whose wallets are hurting from all these entry tickets, you can exhale: the best thing about this part of this piazza is that you can enjoy several unique art exhibitions without spending a dime!
Immediately, your eye will be drawn to the crowning feature of the square is the medieval Palazzo Vecchio (or Palazzo della Signoria).
This old brick structure houses a distinctive tower with a storied past, as it was once the seat of power and ruling body of the former Republic of Florence.
At the entrance, there is a magnificent copy of Michelangelo's David (the copy dates back to 1873), but that's not all.
Don't miss the lesser-celebrated but equally beautiful Hercules and Cacus, which a Renaissance sculpture made in marble by the Florentine artist Bandinelli, completed in 1534.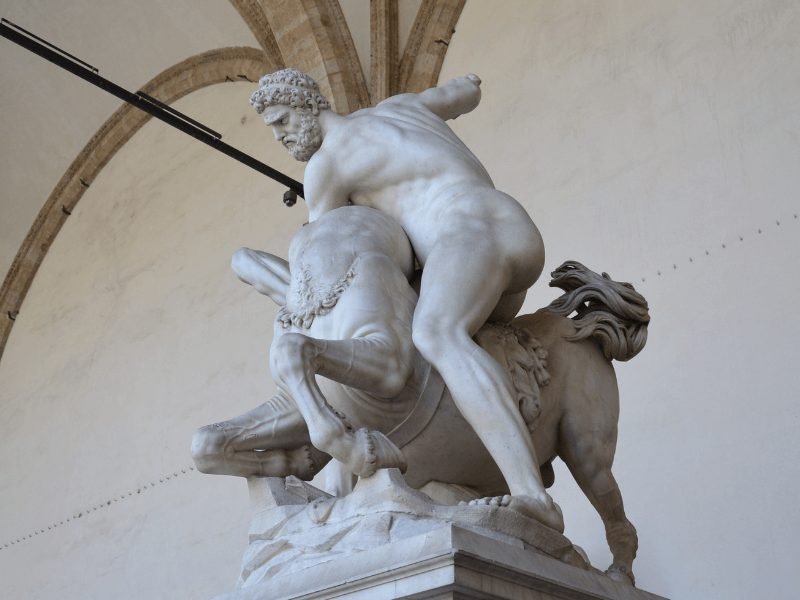 On one side of the square, don't miss the Loggia dei Lanzi, an open-air gallery featuring antique and Renaissance statues, including the famous pair of Medici lions, also in marble (Florence loves its marble, what can I say?).
In the center of the square, you can admire the Fountain of Neptune (dating from 1575), made of bronze and marble as well as an equestrian bronze facing Palazzo Vecchio.
If you are also interested in the past of Florence, you'll be happy to know that it's also possible to tour the Palazzo Vecchio for a fee.
Here, you can learn all about the families that ruled and decided the destiny of the city, including the so-called Godfathers of the Renaissance, the House of Medici.
You can book your tickets here if you wish to explore the inside of the Palazzo Vecchio, but keep in mind that it will take up some time, so you may have to cut one of the art museums above if you choose to tour the Palazzo Vecchio.
Cross the famous Ponte Vecchio.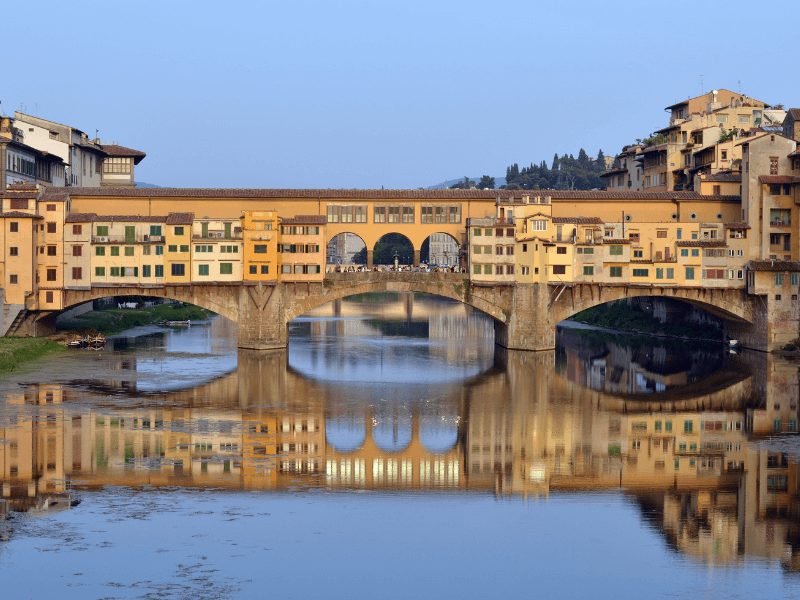 Another place you can't skip when exploring Florence is the outstanding ancient bridge that crosses the River Arno.
Known as Ponte Vecchio (which literally means old bridge) this is Florence's most iconic landmark, often full of tourists trying to cross to the other side of the river or visiting the many jewelry shops located on top of the bridge.
The bridge was originally a medieval construction made of wood which was at a later point replaced by stone.
Although in the past it used to be the place where butchers were concentrated, it's been polished up quite a bit now (literally!).
You'll now find tons of souvenir shops as well as several workshops where local goldsmiths create unique and refined gold and silver pieces.
Explore the other side of the river, Oltrarno.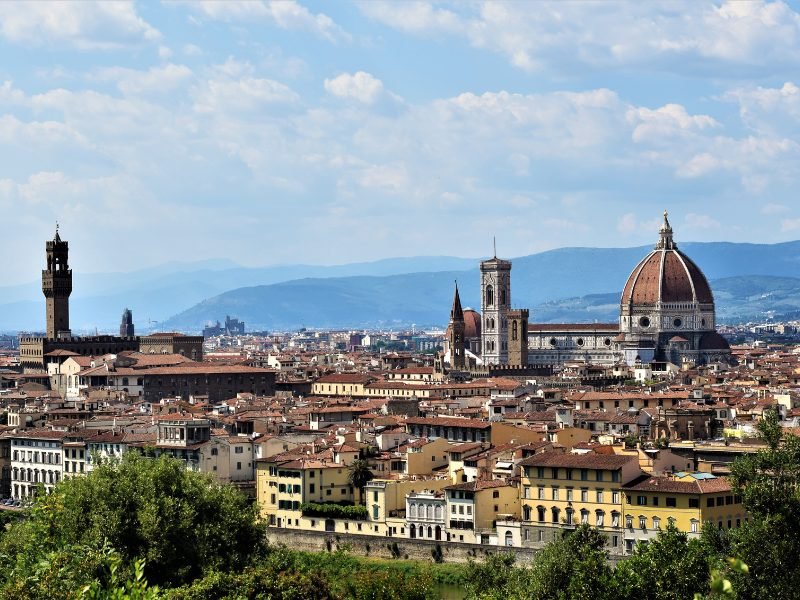 After crossing the bridge, you'll be stepping into a different neighborhood, the lovely Oltrarno, with a more relaxing vibe that is often less crowded than the historic center.
The best thing to do on this side of the river is to walk through the streets and enjoy the food in one of the many small restaurants and trattorias that you'll find in the district.
While in Oltrarno, don't miss stopping off at the best viewpoint in the city, Piazzale Michelangelo, but that might be a better stop after the Boboli Gardens and Pitti Palace, as this viewpoint is located a little further down the Arno River.
If you have time, it's a great sunset spot
Wander through the majestic Boboli Gardens and/or Palazzo Pitti.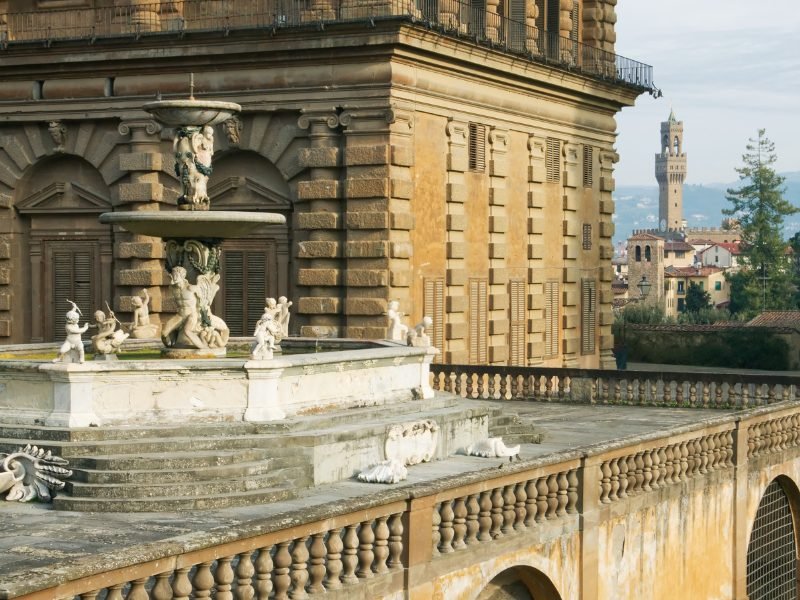 Perhaps the most remarkable place you can visit when in the Oltrarno district is Pitti Palace.
The building was constructed for the important Pitti family but later became home of the powerful Medici family.
It was designed by Brunelleschi (the same creator of the Duomo's iconic dome) and completed around 1457.
Today, inside the palace, you can spend some time admiring two important art exhibitions, one that focuses on Renaissance artists and a modern art collection.
You can book your tickets to the interior of the Pitti Palace here.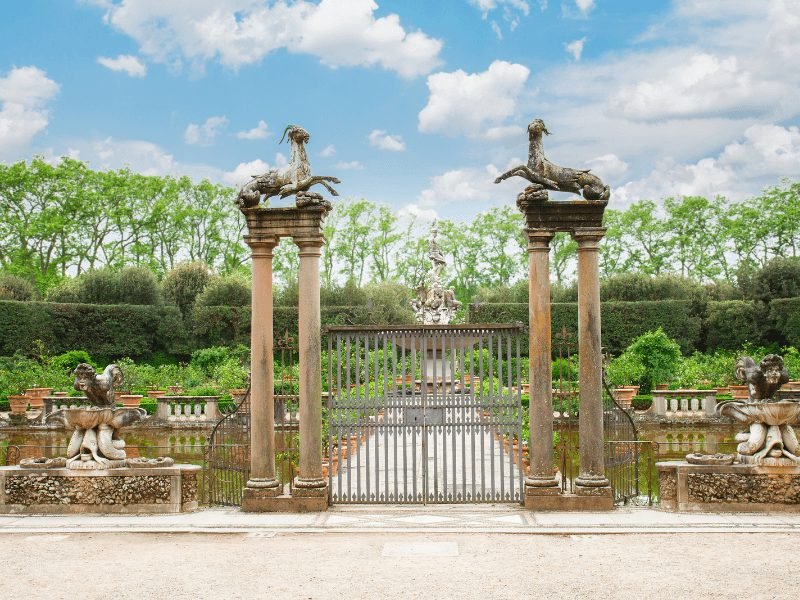 If, instead, you've had enough art galleries with the Uffizi or the Accademia galleries, then focus on the gorgeous gardens of the Palace that you can book with a different ticket.
Modeled after the symmetry of French gardens, this incredible green area can be a fantastic oasis to rest your tired feet after all that walking.
However, the beautiful surroundings will be begging to be explored, so you won't be able to sit for long!
Inside Boboli, you can admire Baroque sculptures, delicate fountains, and marvel at one of the most amazing views of the city's skyline, featuring the most important cupolas, towers, and buildings in the historic center.
Shop for memories at Florence's San Lorenzo Market.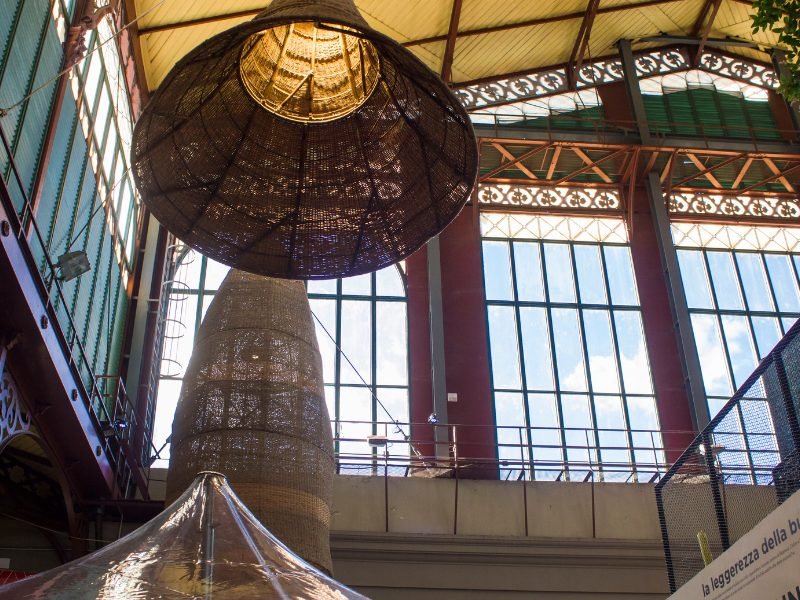 Since you probably don't want to spend your day carrying souvenirs in your daypack, it's a good idea to leave a visit to Florence's most important market for the end of the day.
Not only is it comfortably close to the main train station, but trust me, you're going to want to buy everything!
The market is famous for selling bags, jackets, boots, and even luggage made from superior quality Tuscan leather.
You can also purchase more modest souvenirs, including old books, magnets for your fridge and postcards, and incredible Tuscan wines.
The market is also an affordable place for a bite before boarding the train as most bars in the train station are quite ugly and most definitely overpriced.
At San Lorenzo market, instead, you can even try some of Florence's best street food, such as porchetta (a delicious local cold cut), cheeses, and fresh fruit cultivated in the region.
Even if one day in Florence isn't enough to see all that the city has on offer, this 24-hour itinerary of Florence includes the most precious landmarks.
Remember, if you organize your day well in advance, you'll be able to find the right tickets to visit the different attractions and museums and visit it all in a day.
Be sure to leave some free time to walk the lesser-known alleys of the city, try a Fiorentina steak, or enjoy a huge gelato cone in this incredible Italian destination!
Protect your travel investment!

Travel insurance coverage helps you recoup your losses in case of emergency, accident, illness, or theft.

I rely on SafetyWing for coverage when it comes to trip interruptions and cancellations as well as accidents and medical emergencies.

It offers great rates starting around $12/week with clear, easy-to-read coverage.
Gabi Ancarola is a full-time travel blogger, tour guide, and freelance writer currently living in Crete, Greece. She spent decade of her life living and traveling Italy, and she shares her knowledge of Italy in her writings as an Italy expert on Eternal Arrival. She also shares her knowledge of Crete and Greece on her blog, TheTinyBook.com, where she has also published several digital travel guides.