Rolling hills with perfect rows of manicured vineyards, hilltop towns with medieval architecture, and some of the best food you'll find in all of Italy: these are just three of the reasons to take a Tuscany road trip.
While you can go on day trips to Tuscany from Florence, the best way to explore the scenic Tuscan countryside is to rent a car and drive through it yourself!
A Tuscany road trip will take you through some of the most beautiful villages and medieval towns in Italy, with lovely historical centers, beautiful churches, and spectacular castles.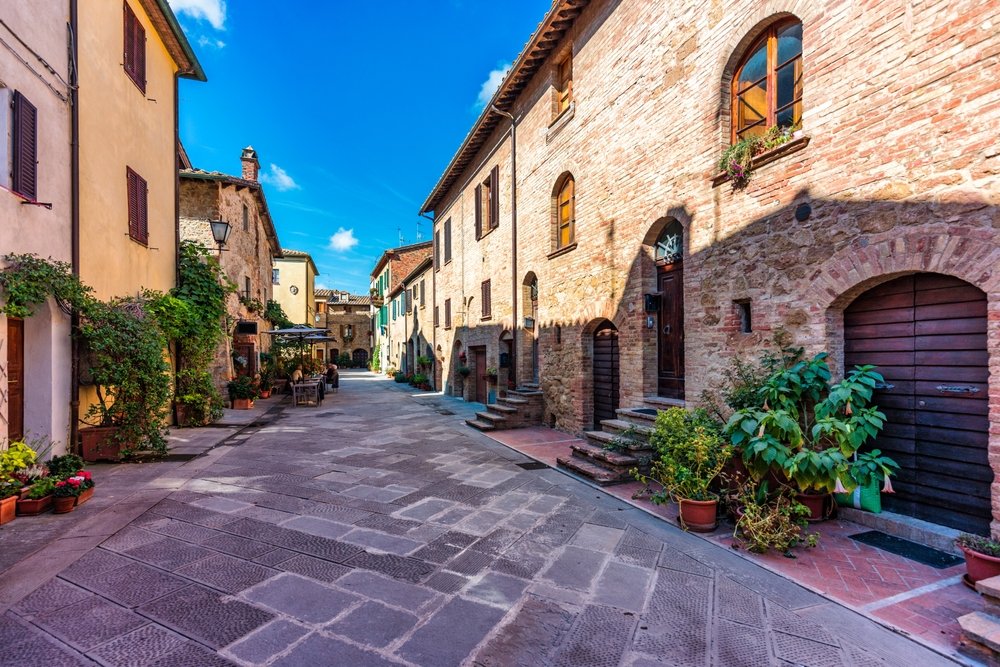 Note: This post contains affiliate links, which means I may receive a small commission if you purchase something through one of these links. Thank you for supporting the free content on this site! For more information on affiliate links and cookies, see my disclosure page for more details.
Whatever season you visit Tuscany in, this picturesque region will reward you with spectacular views and unforgettable experiences.
To help you ensure you won't miss any must-see sights, I put together an itinerary with some of the best spots to visit on this road trip through Tuscany.
In just 5 days in Tuscany, you'll be driving through the region's most beautiful cities and villages, tasting great local wines, and — perhaps most importantly — enjoying delicious food!
All you need to do is book your flights and rent your car, and you're ready to fall in love with Italy's most charming region — I've done all the legwork for you!
What to Know Before Planning your Tuscany Road Trip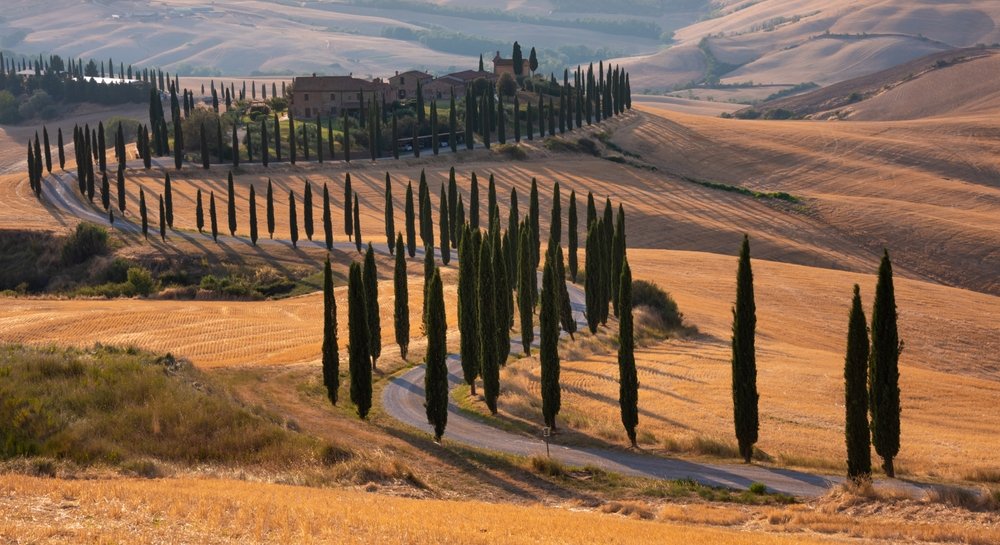 Before getting into this Tuscany road trip itinerary, it's worth covering a few practical details you should be aware of.
Driving in Italy is not without its quirks, so here are the most important things to keep in mind before driving through Tuscany!
Hopefully, these tips will help you plan the Tuscan road trip of your dreams.
We also suggest reading this guide to renting a car in Tuscany before your trip, as it gives helpful driving tips for the region.
Best Time for a Tuscany Road Trip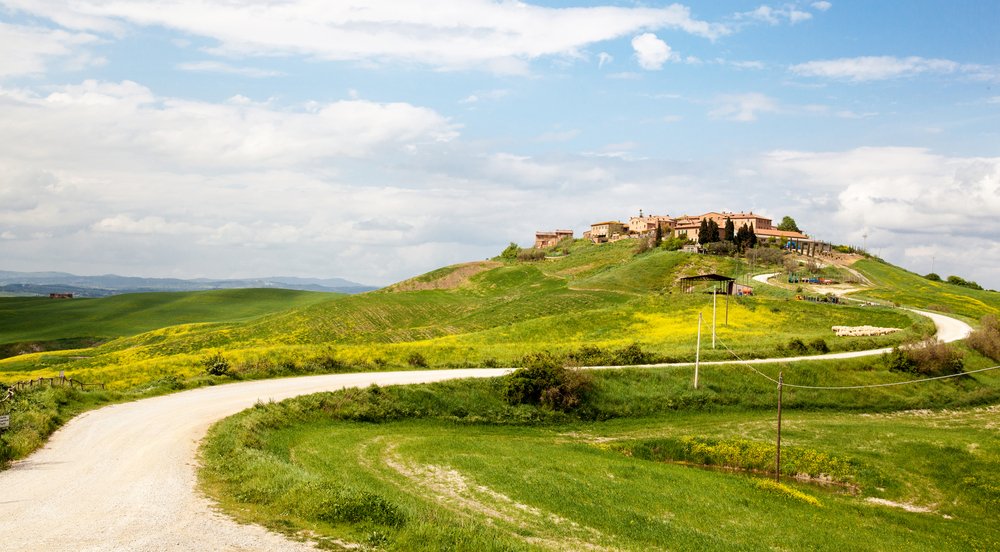 Tuscany is beautiful any time of the year but the ideal time for a road trip is either late spring or autumn.
Although in summer the region is also beautiful, the months of July and August are also the busiest, so you'll risk finding many places crowded and everything pricier.
Plus, everything is hot, hot, hot, and most of the joys of a trip in Tuscany is spending time outdoors.
Whether it's sitting on patios that overlook vineyards sipping local Chianti or wandering through an ancient city street…. none of that is fun when the temperatures are so high you feel like you're melting!
Spring is a great season to enjoy beautiful landscapes, with flowers blooming and the typical Tuscan hills covered in all shades of green.
The temperatures are also pleasant if you visit in late April and May, and as long as you prioritize the early part of June, June is still a good month to visit.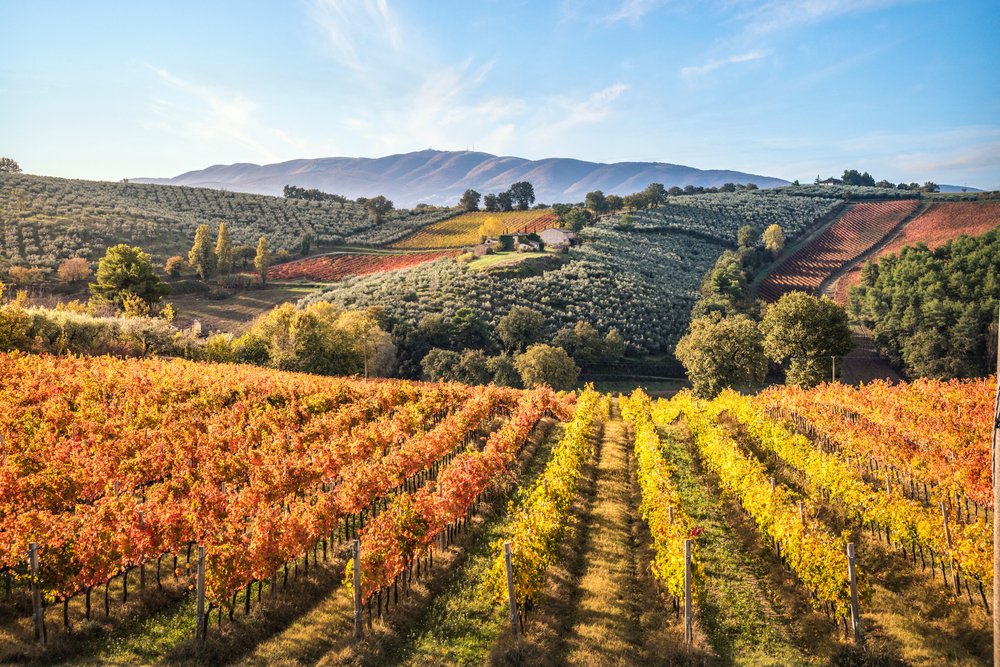 Since Tuscany is famous for its wines, autumn is also a great time to visit the countryside and enjoy wine tasting in Tuscany while admiring the hard work that goes into getting ready for the harvest season.
Best of all, the temperatures are still pleasant from mid-September to late October, and the crowds get smaller, so the season is perfect for a road trip!
If you're wondering whether you could do a road trip in winter, the answer is yes.
However, it can get quite cold, the landscape is not nearly as pretty, and you'll also find some restaurants and museums closed for the season.
On the bright side, you'll find lower prices and no crowds — it may be worth it, but I don't think it's the best time of year.
Driving in Tuscany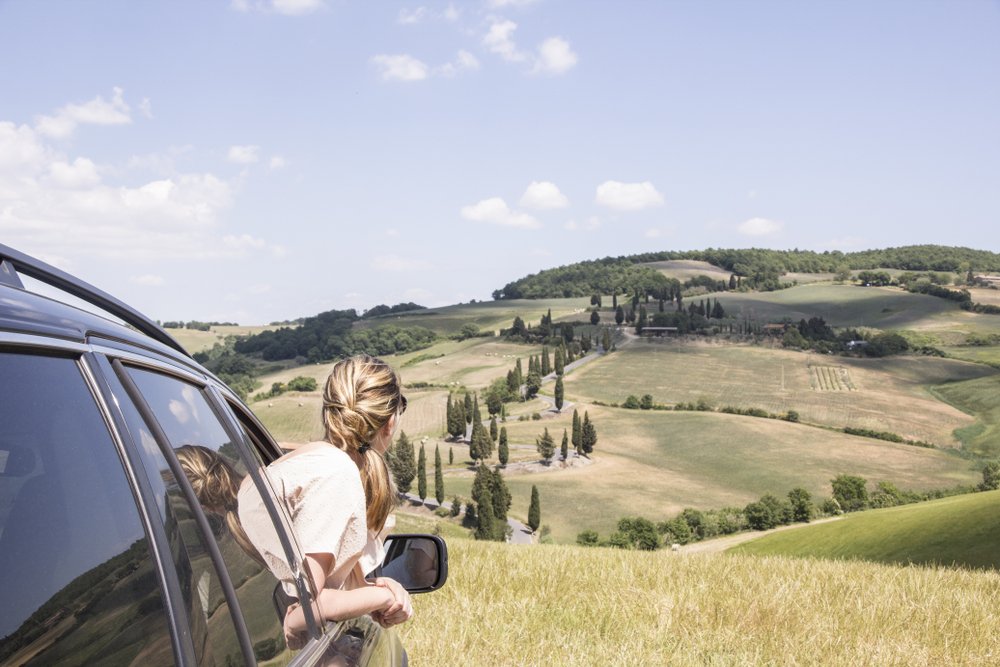 Driving through the Tuscan countryside doesn't pose any particular issue.
Even as a foreigner, you should have no problem getting around — as long as you have an international driving permit (IDP).
You'll mostly be driving along regional roads, but from time to time, you may take the highway, which has tolls.
You shouldn't expect to pay much, but having some coins always with you can be handy.
Most tollbooths take credit or debit cards too, but sometimes you may not have this option, so don't get caught off guard!
Even if you visit Tuscany in winter, which is not a popular season for road trips, you shouldn't worry.
Temperatures rarely go below 0°C (32°F), and snowfall is uncommon, so there are no particular hazards when it comes to driving in Tuscany in winter.
Wine Tasting and Driving in Tuscany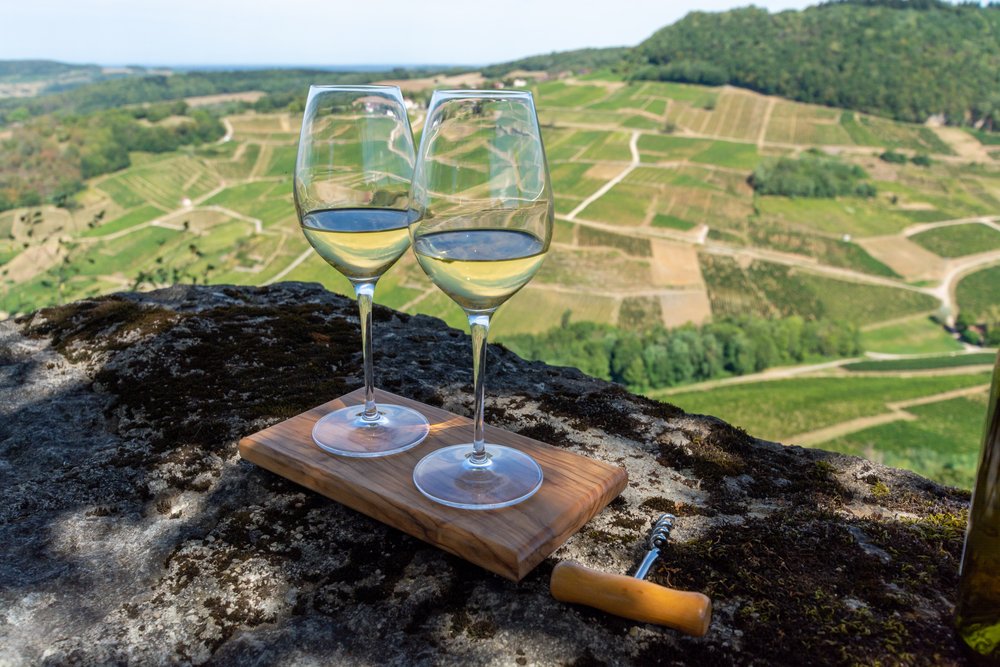 No trip to Tuscany would be complete without some wine tasting, of course!
But if you're road tripping in Tuscany, you need to be aware of both laws regarding alcohol consumption and driving and, of course, your safety (and the safety of others on the road with you!)
According to Italian law, you can drive with a maximum blood alcohol content (BAC) of 0.05% if you are over 21. Younger drivers are not allowed any alcohol if driving.
While the BAC depends on various factors, from your gender to your weight and whether you drink on a full or empty stomach, a good rule of thumb is to minimize your alcohol consumption as much as possible.
Here are some charts that help you calculate your BAC, so you can know how many glasses of wine you can safely consume before driving.
The bottom line is, while alcohol is always better avoided before driving, by law, you can have a glass or two of wine with your meal and drive, depending on a variety of factors.
If you're traveling with a partner or group of friends, this is ideal as you can take turns for who can wine taste and who is the designated driver throughout the trip.
Where to Begin Your Tuscany Road Trip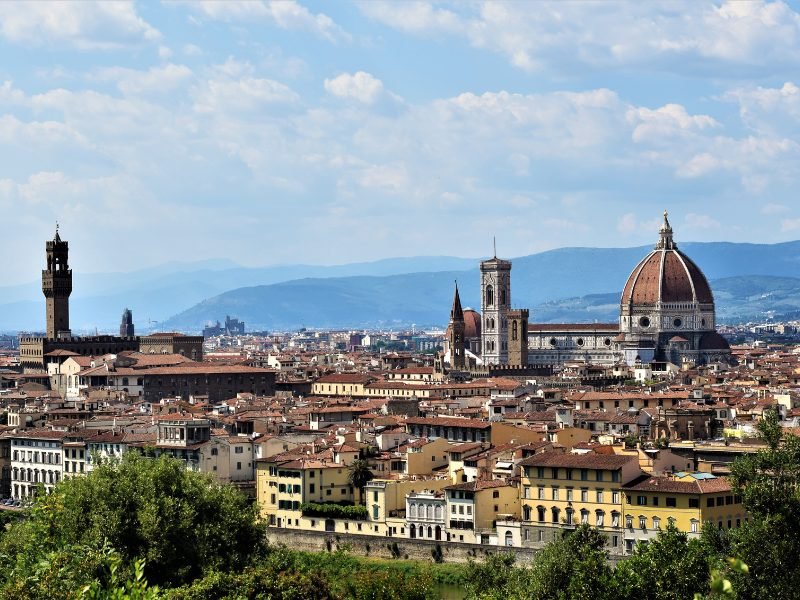 The best place to start your road trip around Tuscany is the region's capital and biggest city, Florence — plus, it's just a marvelous city to visit as well, home to sites like the Statue of David and the Florence Duomo.
The international airport Firenze-Peretola has flights to and from many European cities, making it a great place to start your road trip.
Furthermore, you'll find plenty of high-speed trains going to Florence from all the other big cities in Italy.
A train ride from Milan only takes two hours, while Rome is just over one hour and a half away.
While you could base yourself in Florence and just do several day trips, a Tuscany road trip allows for far more freedom and way less back-and-forth trips.
How Many Days for a Tuscany Road Trip?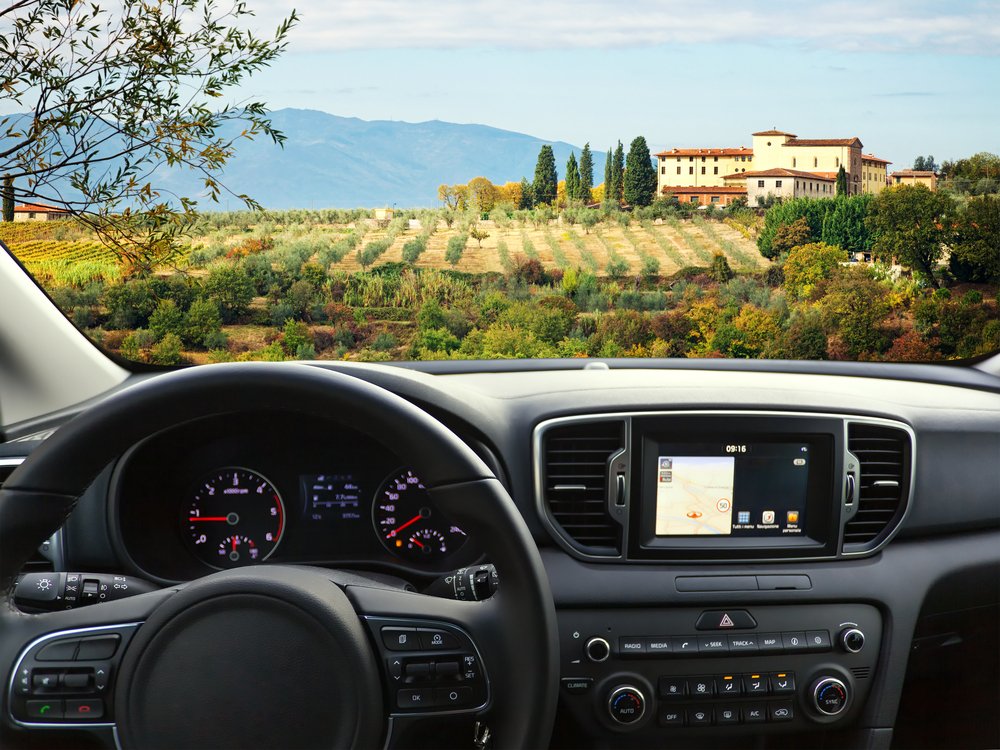 You could easily spend two weeks driving around Tuscany, and you'll still come across new, wonderful places — that's the marvel of this region.
On the other hand, you could potentially cut this road trip significantly, and you could even condense this itinerary down to a three-day road trip to see some of the main sights.
However, anywhere between five and seven days for a Tuscany road trip is a good option.
This way, you don't have to rush and you still get to see the most important places.
As written, this Tuscany itinerary takes five or six days, depending on whether you spend one or two nights in Siena — a city so marvelous it deserves a little extra time.
You can combine this itinerary with a two or three-night stay in Florence before or after the road trip.
I won't cover any attractions or activities in Florence in this article, but you can find a dedicated post about the best landmarks in Florence and a three-day itinerary to discover the Tuscan capital.
You can combine them in any way that makes sense for your trip!
Day 1 of Your Tuscany Itinerary: Florence to San Gimignano
Leave Florence, with an optional stop at Castello di Poppiano.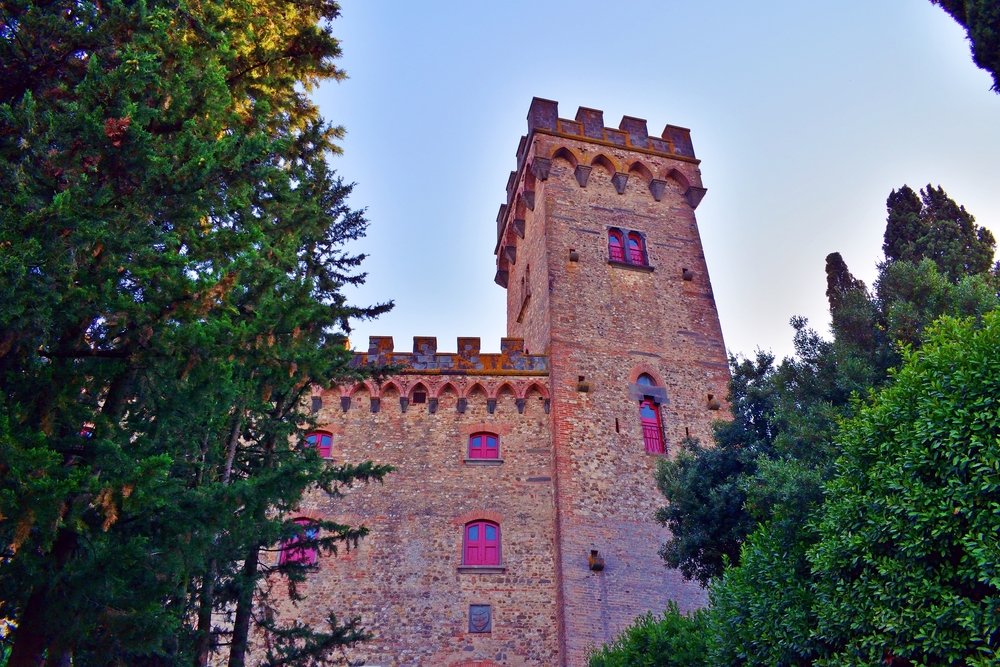 Start your trip around the gorgeous Tuscan countryside in the morning, bright and early so that you don't miss out on any of this trip's glory!
The first day of your road trip in Tuscany is dedicated to exploring the picturesque Via Chiantigiana.
This scenic road unfolds through the undulating hills and vineyards known for producing the grapes for the famous Chianti wine, and it's an exquisite start to your road trip.
As you drive out of Florence, you can have an optional stop, but it requires a prior reservation, so be sure to look into it before starting your trip. Check the website here.
Roughly 45 minutes from the center of Florence, Castello di Poppiano is a medieval castle belonging to the Guicciardini family since the late 12th century.
Amazingly, the family still owns the castle, passed down through the generations, and now they run guided tours with wine and olive oil tastings — delicious.
If you wish to join a tour of Castello di Poppiano, make a reservation at least two days before.
You can choose between a shorter one-hour tour and a longer two-hour one that includes access to the tower terrace and a bigger tasting with wine, oil, and food.
I do suggest the two-hour tour if you can make it work, but if you don't have time, one hour is okay, or you can skip this stop entirely.
Head to Greve in Chianti.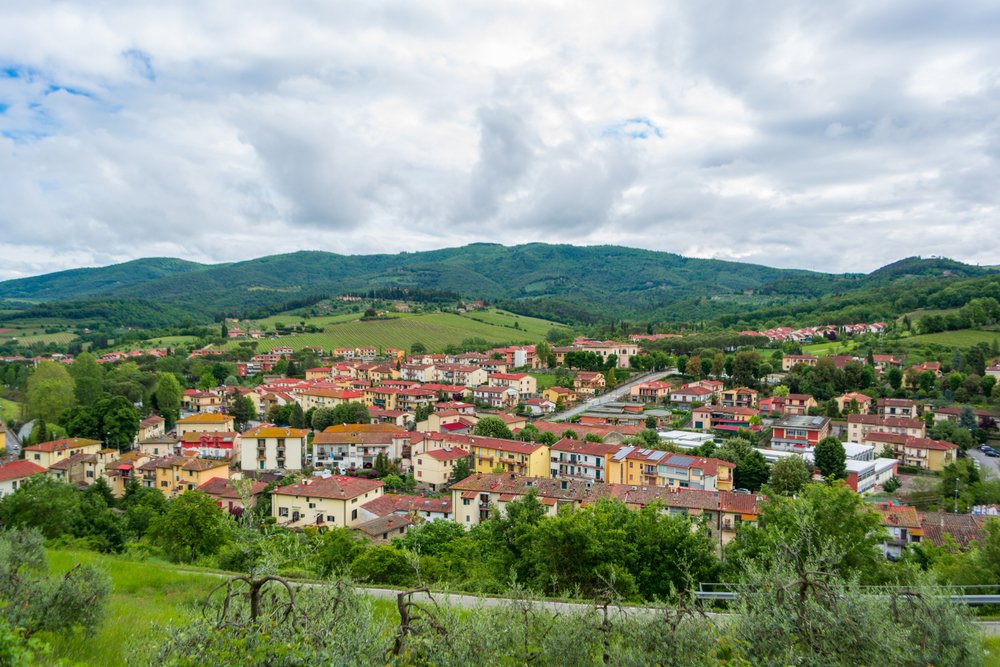 After your visit to Castello di Poppiano, make your way to Strada in Chianti, where you'll join the Via Chiantigiana (SR222).
Drive south along the picturesque road for about 15 minutes to reach your next stop, Greve in Chianti.
A popular stop along the Via Chiantigiana, Greve in Chianti is a cute town where you can stop for a walk around, and enjoy a delicious lunch.
Where do I recommend? Depends on what you want, but Ristorante Pizzeria La Cantina is a popular stop for tasty pizza or traditional Tuscan dishes served with a glass of Chianti.
Move on to Castellina in Chianti.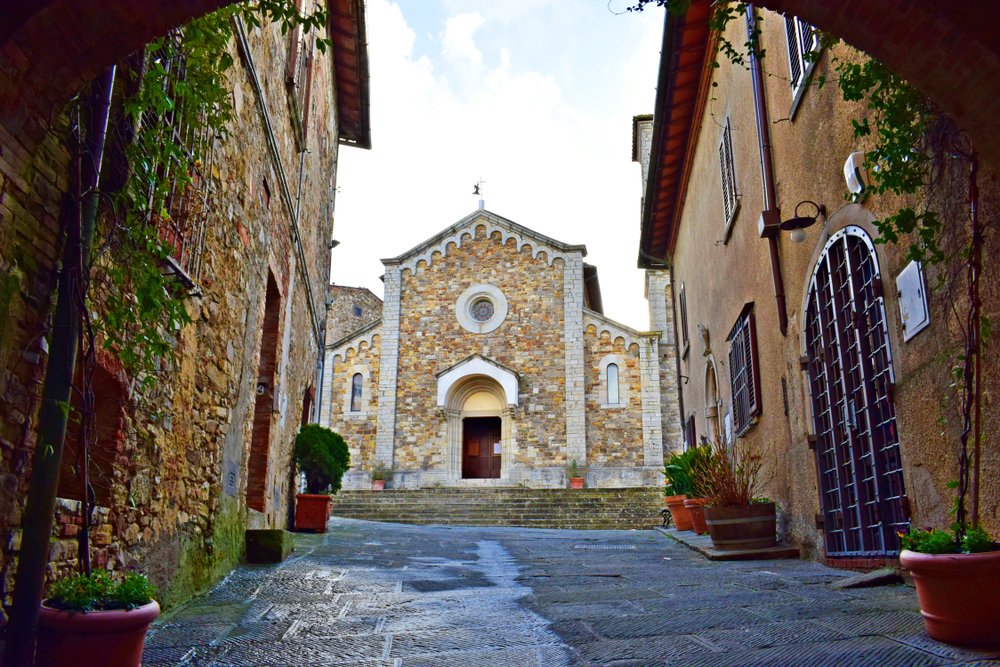 After lunch, continue driving south to the next town on Via Chiantigiana, Castellina in Chianti.
In the small historic center, visit the lovely Church of Saint Salvador and the Archaeological Museum of the Chianti Area.
Note that the museum is closed between January and March and only opens on certain days in November and December.
The area around Florence in winter does shut down a bit, so keep that in mind if planning an off-season road trip to Tuscany.
Make a brief stop in charming Poggibonsi.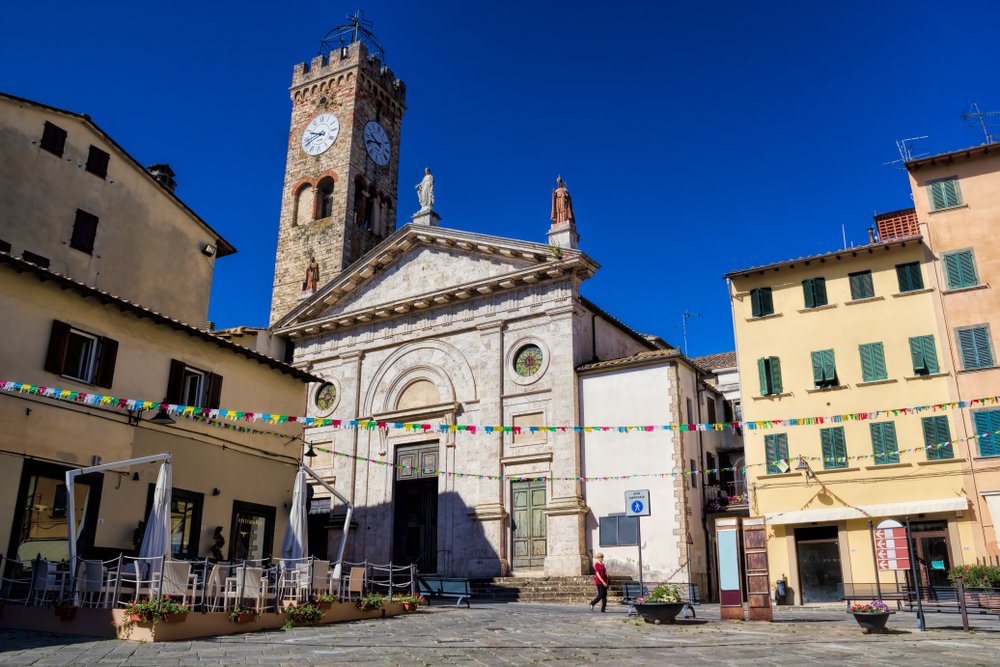 Your next stop before your final destination for the day is the town of Poggibonsi, less than half an hour from Castellina in Chianti.
The town is an important stop along the Via Francigena pilgrimage route and has a rich history dating back to the Neolithic period.
Stroll around the old town, check out the medieval Castello della Magione, and visit the Fortezza di Poggio Imperiale.
The town is small but charming, so you only need about one hour — that's enough to check out the main sights before moving on to your final destination of the day, and settling in for some well-deserved rest at your hotel.
End the day in lovely San Gimignano.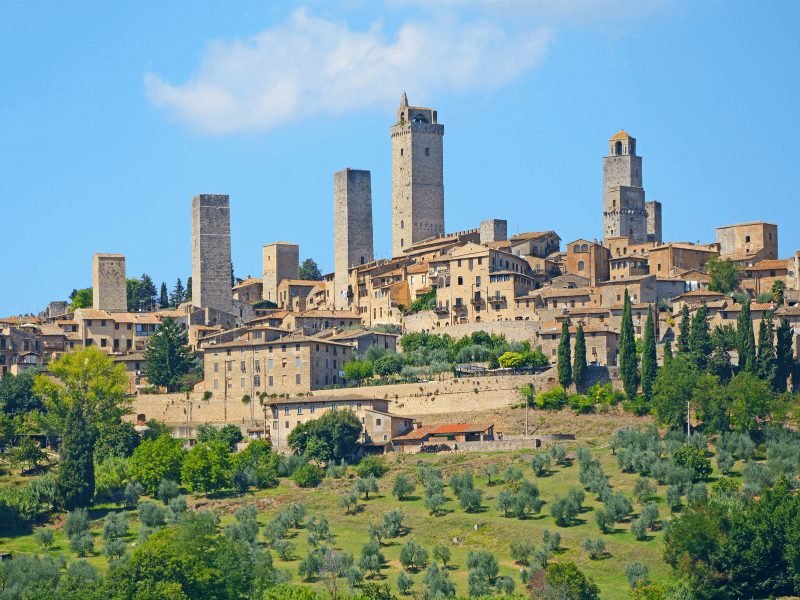 Finally, drive to San Gimignano, one of the most picturesque towns in Tuscany.
This town is known for its wine production and charming streets, but it's even better known for its many towers — 72, if I want to be precise.
Aim to arrive before sunset so you can climb one of the towers and enjoy a spectacular view from above!
Torre Grossa is the tallest in the town, but the effort to climb its many stairs will reward you with the best views.
For a different, less crowded option, you could alternately pay a visit to the twin towers, Torri dei Salvucci.
Other popular landmarks in San Gimignano are the iconic squares Piazza della Cisterna and Piazza del Duomo, great people watching spots in town.
In terms of landmarks, make time to visit the Duomo Collegiata di Santa Maria Assunta as well as the history museum, Tower and Casa Campatelli.
Visit all the attractions you can in the afternoon before heading for dinner: I recommend Ristorante Bel Soggiorno or Ristorante San Martino 26.
Since you'll be sleeping in San Gimignano, you may leave some things for the following morning, before continuing your road trip.
Day 2 of Your Tuscany Itinerary: San Gimignano to Siena
Finish up in San Gimignano and (optionally) make a visit to Certaldo.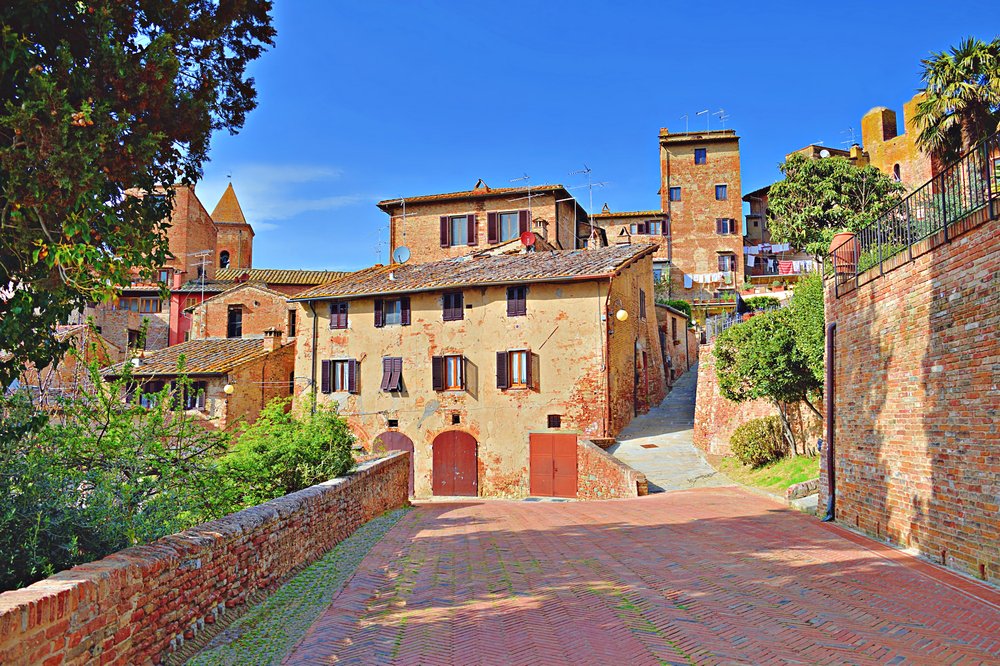 Spend the morning of your second day exploring the sights you didn't get to see in San Gimignano.
However, be sure you leave a few hours before lunchtime so that you'll have enough time for this jam-packed day ahead.
For the first stop of the day, the town of Certaldo, you'll need to backtrack north for roughly 20 minutes… but I promise it's worth it!
If you'd rather spend more time in San Gimignano, you can skip this stage and start driving later to the next attraction, Volterra.
If you choose to visit Certaldo, you'll be rewarded with the picturesque sights of its medieval center, located in the upper town.
Catch the funicular to reach the upper town, and visit the main landmarks, including Palazzo Pretorio and Chiesa dei Santi Jacopo e Filippo.
The medieval town of Certaldo is also home to Boccaccio's house, the birthplace of Giovanni Boccaccio, famed author of the Decameron.
The house is now a museum and offers lovely views of the Tuscan countryside.
Head to Volterra for lunch.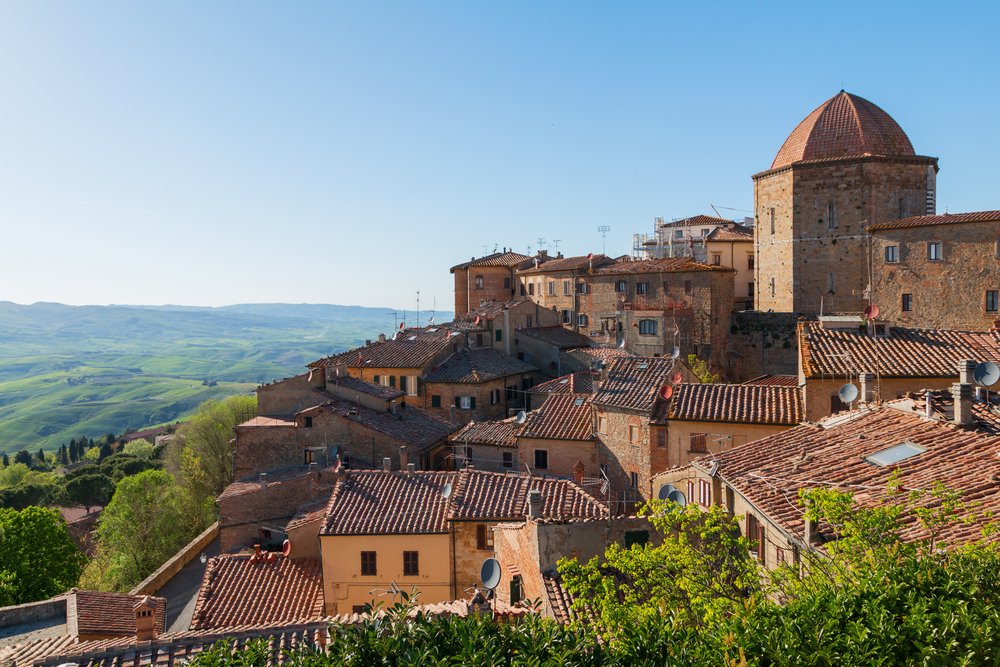 Whether you visited Certaldo or chose to spend extra time in San Gimignano, either way, next we'll head to the town of Volterra.
The hilltop Tuscan town features well-preserved Etruscan walls around its gorgeous medieval center.
The landmarks you shouldn't miss are the Cathedral of Santa Maria Assunta, the 13th-century Palazzo dei Priori, and the Roman Theatre.
Wander around Volterra's picturesque alleys and charming squares and stop for lunch.
Try delicious sandwiches at La Sosta del Priore or enjoy a traditional Tuscan meal at La Taverna della Terra di Mezzo.
Head to Chiusdino and its famous abbey.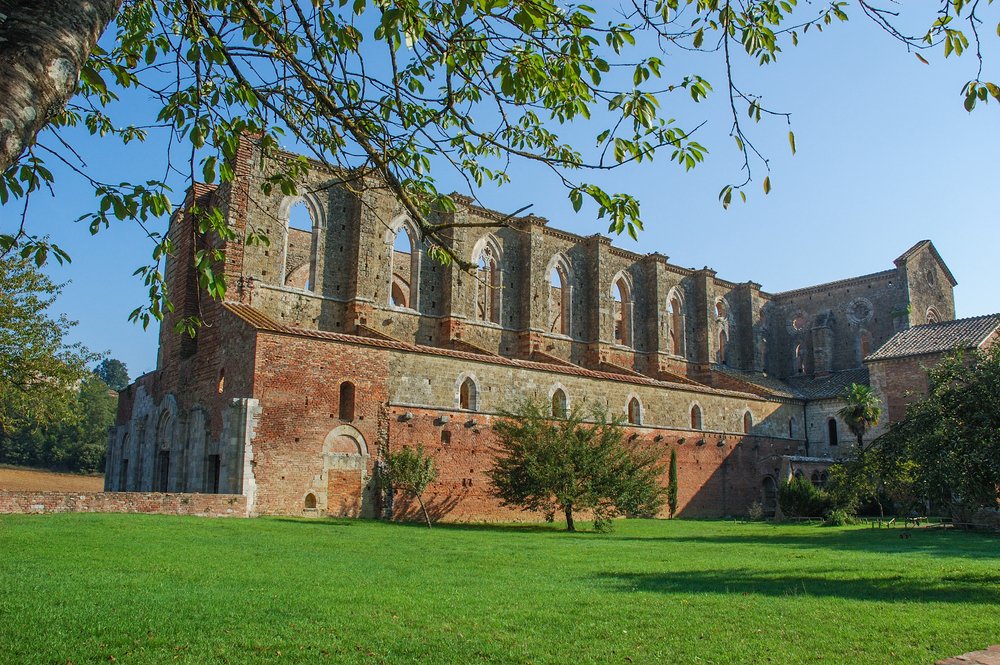 After lunch, drive to Chiusdino, another delightful Tuscan village with a compact but beautiful medieval town.
Explore the small village and visit the Church of San Michele before continuing your drive toward Siena.
An optional stop just outside Chiusdino is the Abbey of Saint Galgano.
This Gothic-style 13th-century abbey stands roofless in the middle of the Tuscan countryside. The abbey is close to the road, so it's easy to stop by for a short visit.
Head to Siena to end the day.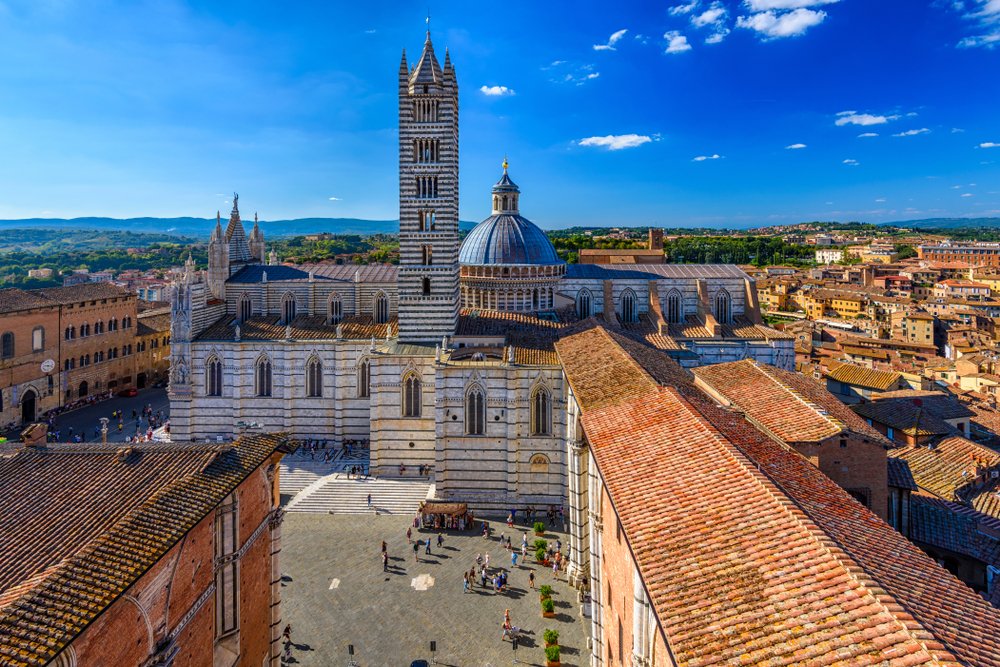 Finally, drive to Siena, where you can spend one or two nights, depending on how much time you have reserved for this Tuscany itinerary.
The city is full of amazing landmarks, so you can easily spend more than one day exploring its main sights.
Nevertheless, if you're short on time, you can check out the most important landmarks in just half a day, if you have to.
Keeping this as just a half-day stop would keep this as a 5-day Tuscany itinerary, but if you spend another day in Siena, that will make this a 6-day road trip.
If time is short, spend the rest of your afternoon and evening exploring the historic center of Siena, revolving around the iconic Piazza del Campo.
The imposing Gothic-style Palazzo Pubblico and the iconic Torre del Mangia tower over Piazza del Campo, and both are must-visits even if you have a short time in Siena.
Just a few minutes away, in Piazza del Duomo, you'll find the Romanesque-Gothic Duomo di Siena known for its striped marble façade — one of the most beautiful churches in Italy, which is high praise.
End your evening in Siena with a traditional dinner at Osteria Il Carroccio or Osteria degli Svitati, both serving delicious Tuscan dishes.
(Optional) Additional Day of Your Tuscany Itinerary: Siena
Explore the town of Siena, on your own or with a tour.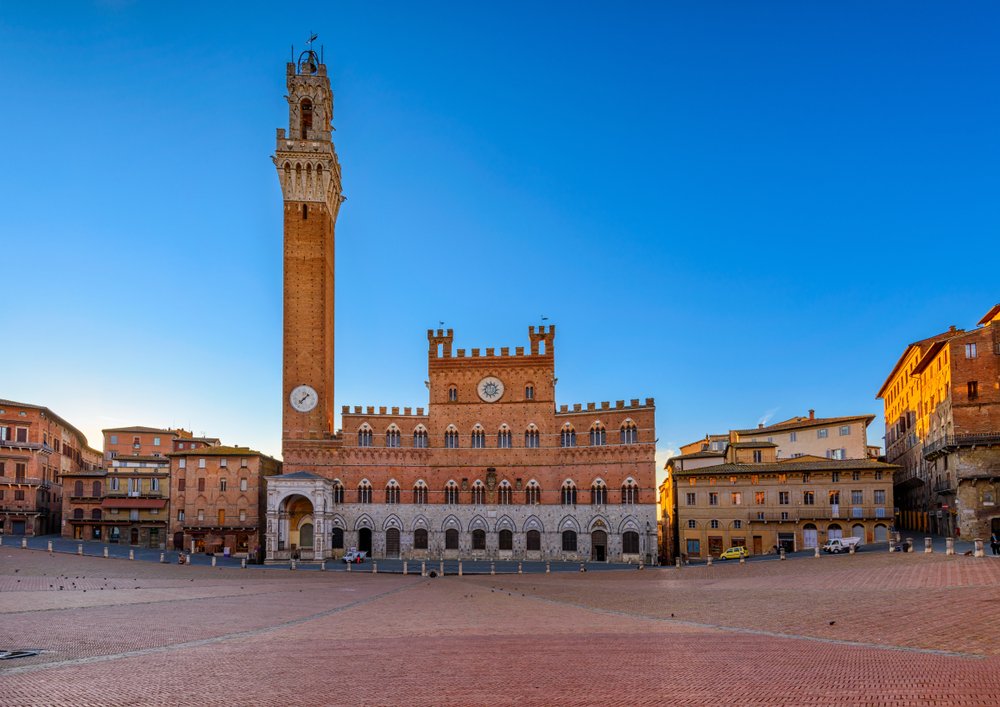 If you decide to spend a second day in Siena, there are plenty of landmarks to explore and activities to do.
You can take advantage of the fact that you won't be driving and go on a wine-tasting tour.
Choose between staying in Siena and joiniing a local tour like this Siena: Food and Wine Walking Tour or exploring the nearby countryside on this half-day Educational "Vine, Wine, & Life" Tour & Tasting.
Spend the rest of the day exploring Siena and visiting more beautiful landmarks.
In Piazza del Campo, climb to the top of the Tower of Mangia for sweeping views of Siena's historic center.
The climb up the 87-meter tower can be challenging, but the view is one of the best in town.
Another cool observation point is the so-called Facciatone.
You'll climb on top of the façade of what was supposed to be an additional nave to the Duomo di Siena but was never completed.
The incomplete project is now known by its literal term, Facciatone, meaning big façade.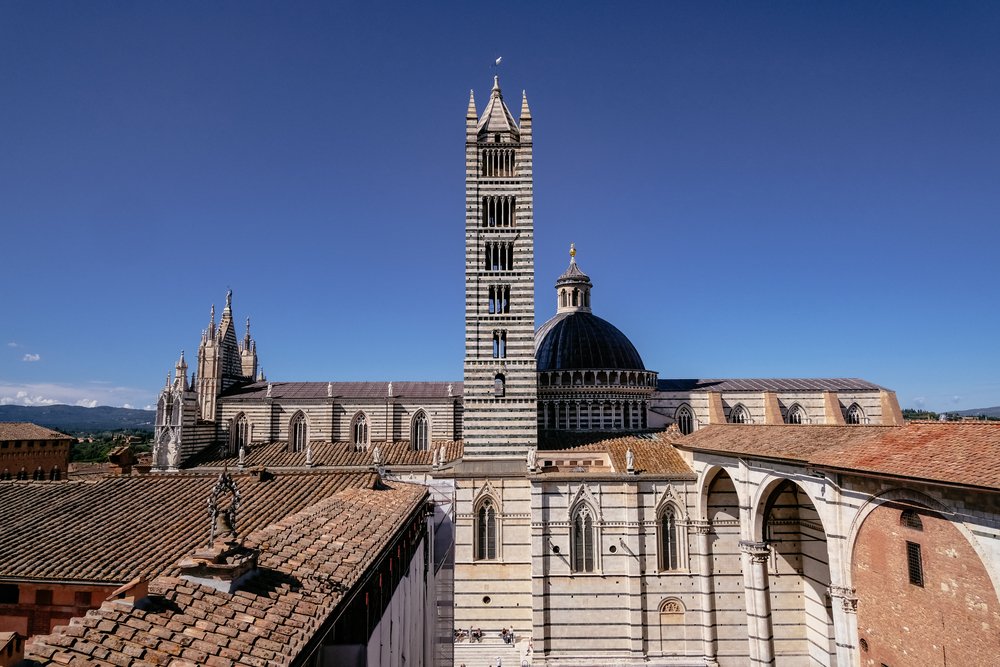 Outside the historic center, visit the 16th-century Fortezza Medicea to enjoy the view of Siena from a distance.
Not far from the fortress, the Basilica Cateriniana San Domenico houses several relics of Saint Catherine of Siena, the patron saint of Italy, together with Francis of Assisi.
The most important relic is the saint's mummified head — creepy but very cool, as long as you don't mind a little macabre sightseeing!
These landmarks and activities should keep you busy for a whole day in Siena, but if you have extra time and you enjoy visiting museums, you can check out the museum of Santa Maria della Scala, housed in a former hospital.
For your last dinner in Siena, check out the scenic SaporDivino Restaurant or the beautiful terrace of Ristorante Tar-Tufo.
Spend one more night in Siena before you continue your Tuscany road trip.
Day 3 of Your Tuscany Itinerary: Montalcino to Montepulciano
Make your way to Montalcino.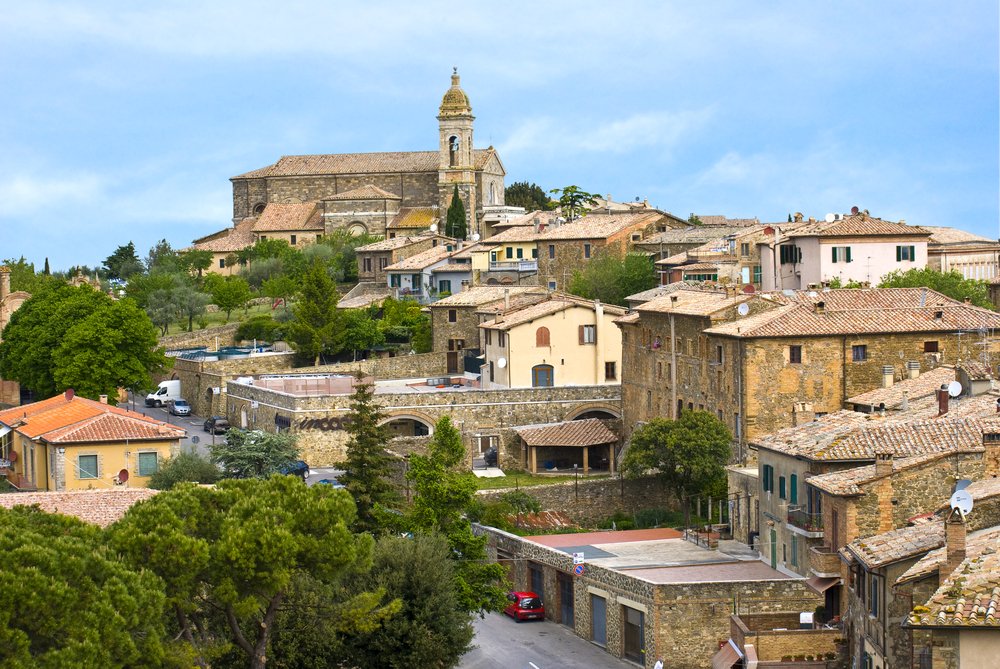 From Siena, start driving south toward the small town of Montalcino, better known for its signature wine, Brunello di Montalcino.
On the way, you'll pass through Buonconvento, another lovely town with a small but charming historic center.
Park the car and go for a short walk along the few narrow streets that make up the little town.
Roughly 20 minutes south of Buonconvento, you'll reach Montalcino.
The hilltop town offers panoramic views of the surrounding Tuscan countryside, one of the best views you'll see on this Tuscany road trip.
The best views are from the Fortress of Montalcino, a 14th-century fortress at the highest point in town.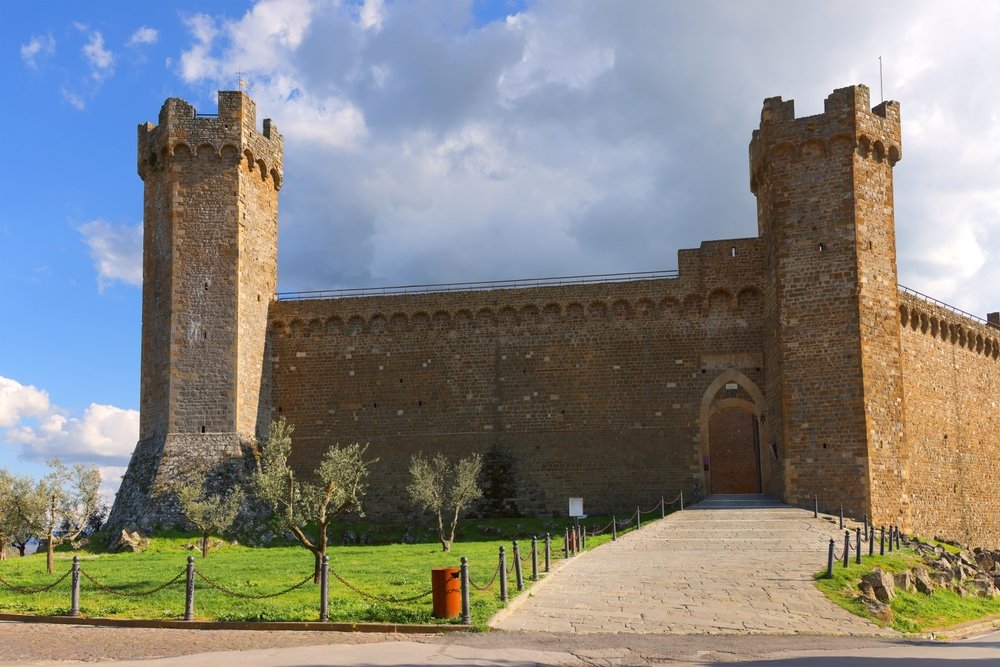 You can walk all around the fortress walls for a small fee and even check out a wine shop inside.
The small medieval center of Montalcino has other beautiful viewpoints and a few more landmarks worth visiting, including the Palazzo dei Priori and the Cathedral of the Holy Savior.
If you're looking to buy a bottle of Brunello di Montalcino, you'll find many wineries and wine shops in town to bring home this delicious Tuscan souvenir!
Make a stop at the Val d'Orcia Scenic Spot.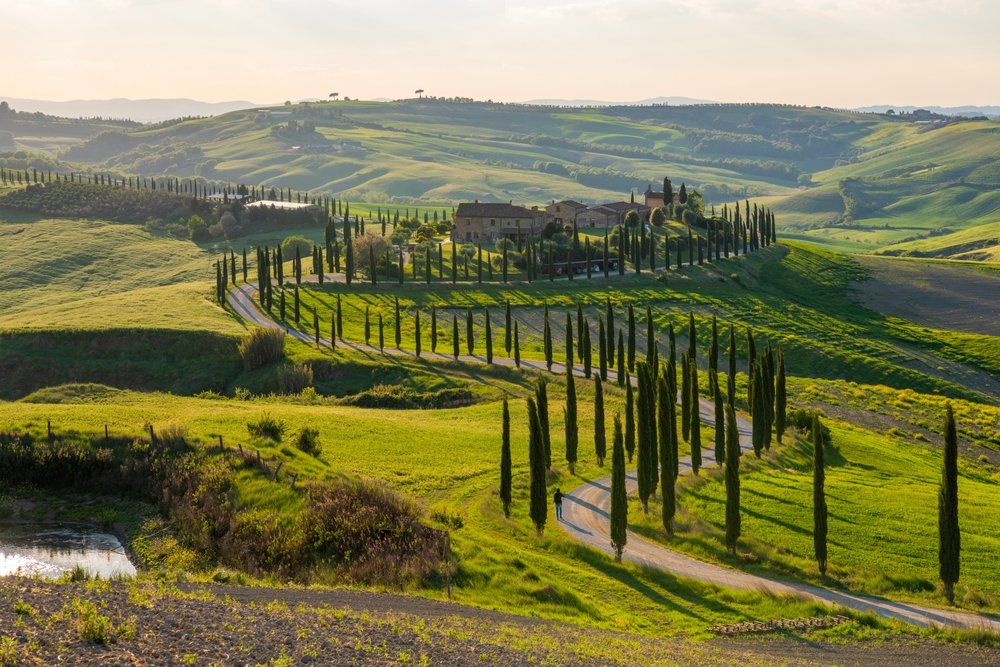 From Montalcino, you'll head to Pienza… but not without making a stop at one of the most famous photo spots of Tuscany!
You'll need to drive for about half an hour to the east to reach Pienza, one of the most beautiful towns of the Val d'Orcia, and your stop for lunch.
But first, plug in Val d'Orcia Scenic Spot to your Maps app or navigation device — this is where you'll want to stop for that iconic photo of Tuscany that may have inspired this trip in the first place!
Head onwards to Pienza.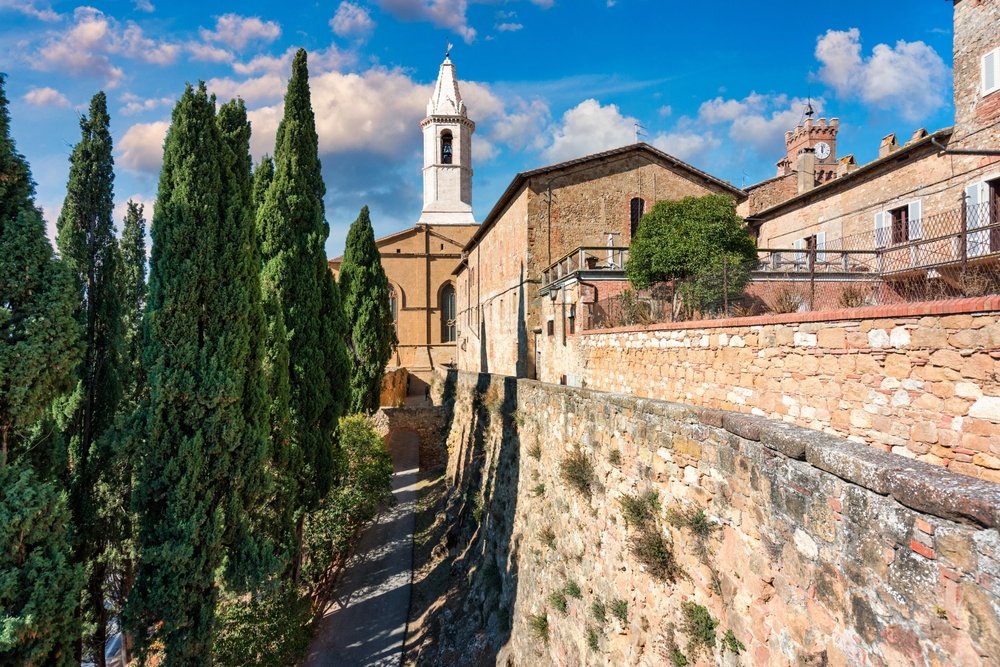 Once you reach Pienza, it's time for lunch — your stomach is probably growling at this point.
In the charming Piazza di Spagna, the cozy osteria Sette Di Vino serves heartwarming dishes in an old-fashioned setting.
After lunch, explore the small historic center of Pienza and visit the Pienza Cathedral (Duomo di Santa Maria Assunta) and the beautiful Palazzo Piccolomini.
Near the cathedral, you'll also find a few viewpoints to admire the rolling Tuscan hills stretching in the distance.
End the day in Montepulciano.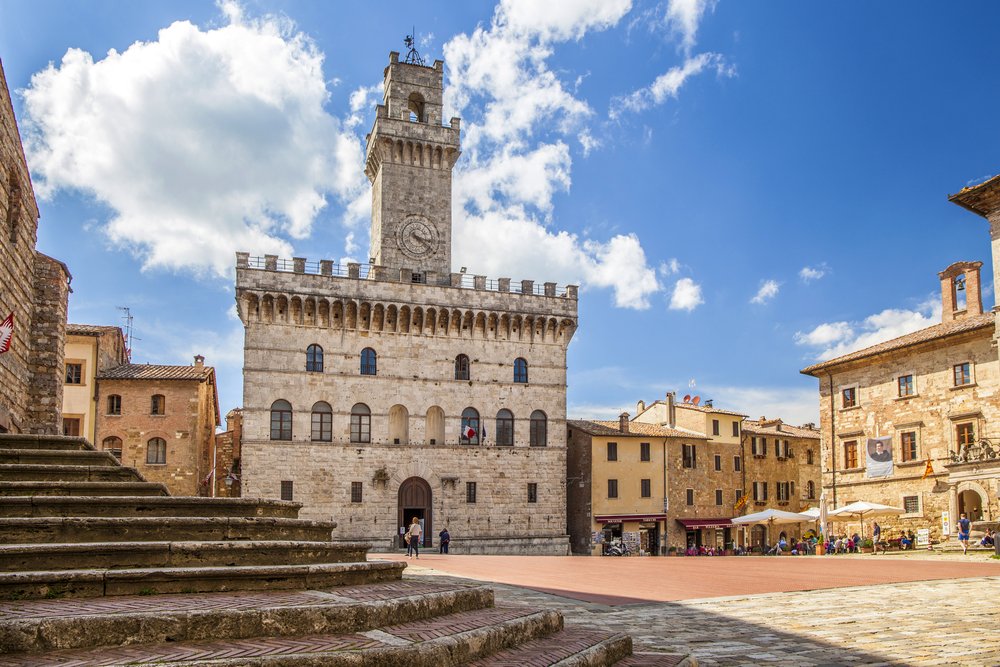 Finally, drive to your last stop for the day, Montepulciano.
Like many towns in the region, Montepulciano also gives its name to a wine variety, so a wine tasting is in order!
Once you reach Montepulciano, you'll be done driving for the day, so you can relax, explore the town, and check out one of the many wineries.
De' Ricci Cantine Storiche is smack in the historic center of Montepulciano and offers great tours of their cave cellars, along with wine tasting. You can join the wine tasting before or after exploring the town.
A few sights you shouldn't miss are the gorgeous Fortezza Medicea and the Piazza Grande.
The famous piazza is encircled by impressive buildings like the Palazzo Nobili-Tarugi, Palazzo del Capitano del Popolo, and the Cathedral Saint Mary of The Assumption — all worthy of a stop!
End the day with a delicious dinner in Montepulciano before heading to your hotel for a good night's sleep.
I recommend Rosso Rubino Trattoria and La Pentolaccia: two great options for genuine local dishes that use the flavors and ingredients of the region.
Day 4 of Your Tuscany Itinerary: Chianciano Terme to Arezzo
Make a brief stop at the Sanctuary of the Madonna.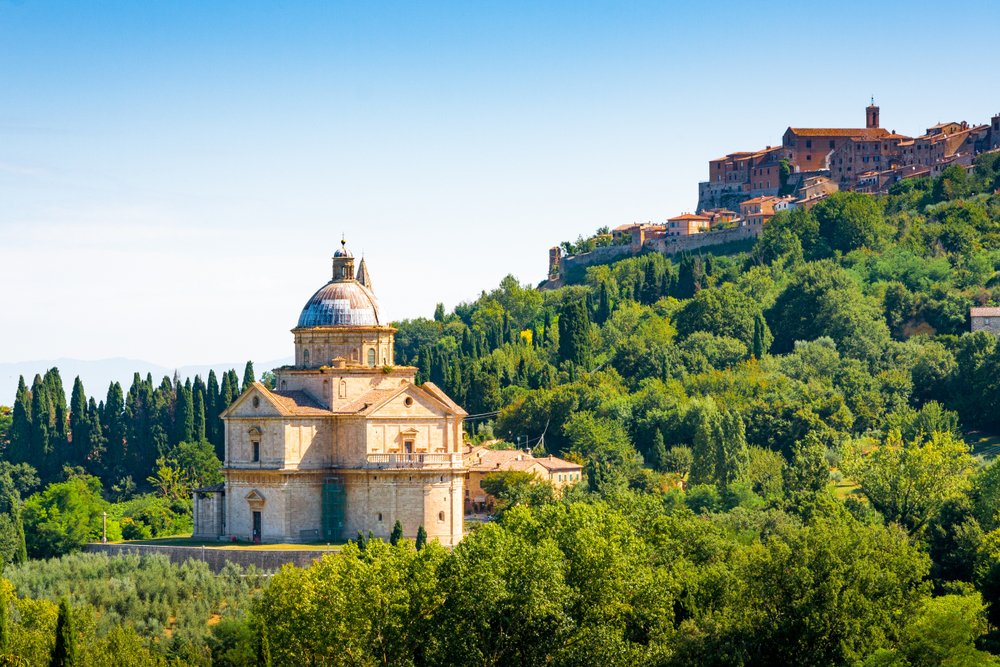 Start your second to last day of the Tuscany road trip by visiting the Sanctuary of the Madonna di San Biagio, just outside Montepulciano.
A gorgeous example of Renaissance art, the sanctuary is a must-see for anyone passing by Montepulciano.
For a small fee, you can admire the beautiful artwork inside the church and get an audio guide.
Head to Tuscany's beloved thermal baths.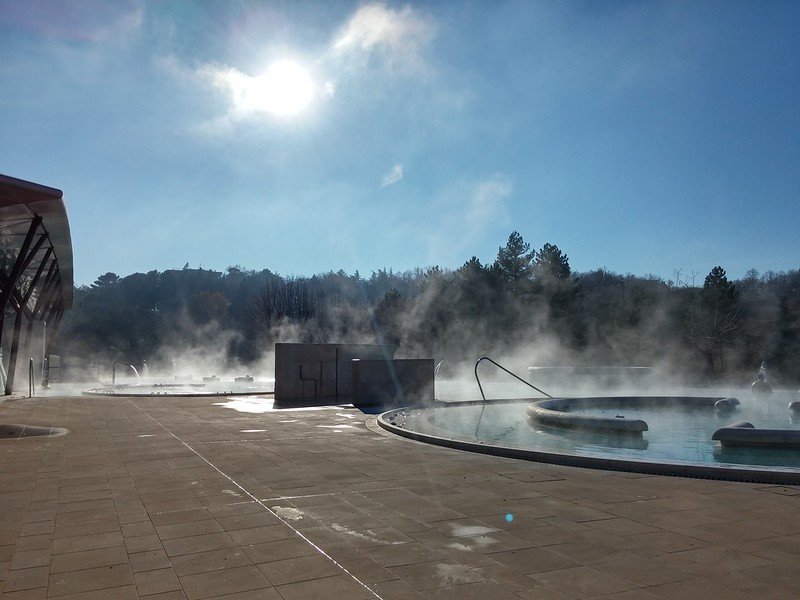 Next, drive to Chianciano Terme for a relaxing time at the stunning thermal baths in town.
The Theia Thermal Baths feature four outdoor pools and three indoor ones with thermal water coming from the Sillene spring, so long known for its beneficial properties that it's been used since the Etruscan times!
Reserve your access to the thermal baths in advance and enjoy a few hours in the pools overlooking the Tuscan countryside, relax in the sauna, and maybe get a massage in the wellness center.
You can stay for lunch at the on-site restaurant or drive to your next destination.
Make your next stop in Cortona.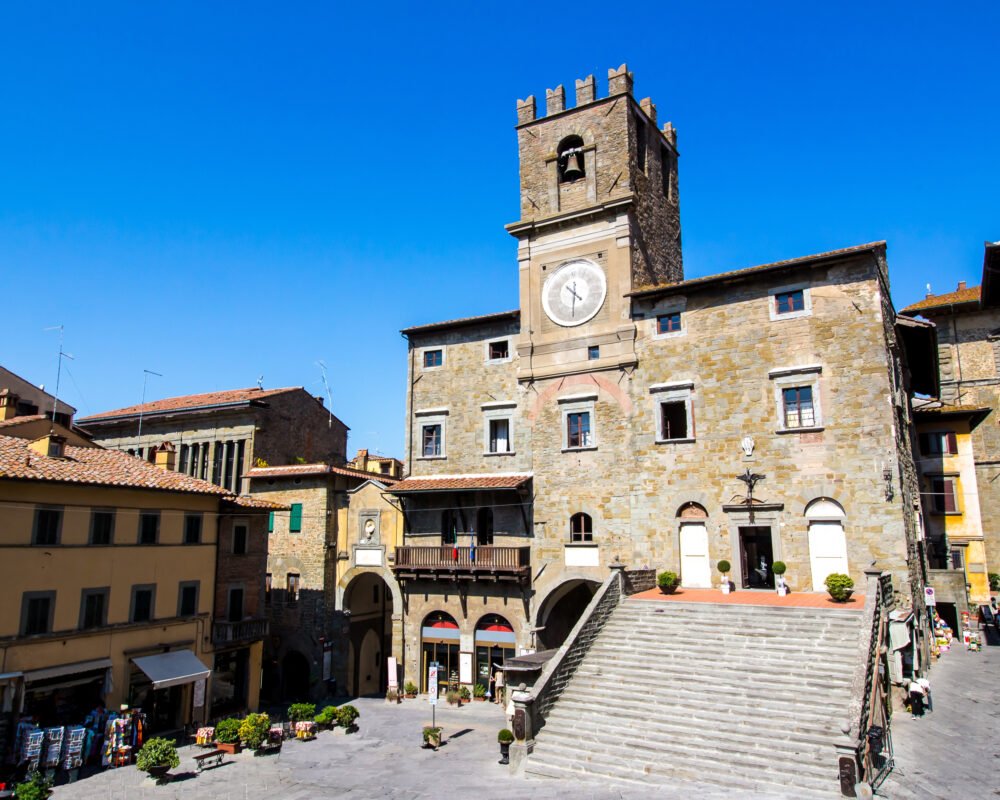 Less than one hour north of Chianciano Terme, Cortona is another delightful town known for its Etruscan heritage.
If you're a history geek, the Accademia Etrusca is a great spot to learn about the town's history and admire Etruscan artifacts.
The historic town of Cortona is full of beautiful churches, including the Cortona Cathedral and the small Church of St. Nicholas, jam-packed with beautiful paintings.
Around the main town square, Piazza della Repubblica, you'll find charming historic buildings and many restaurants.
If you didn't eat at the springs, you can stop here for lunch at the cozy Osteria del Teatro, a place I highly recommend.
End the day in Arezzo.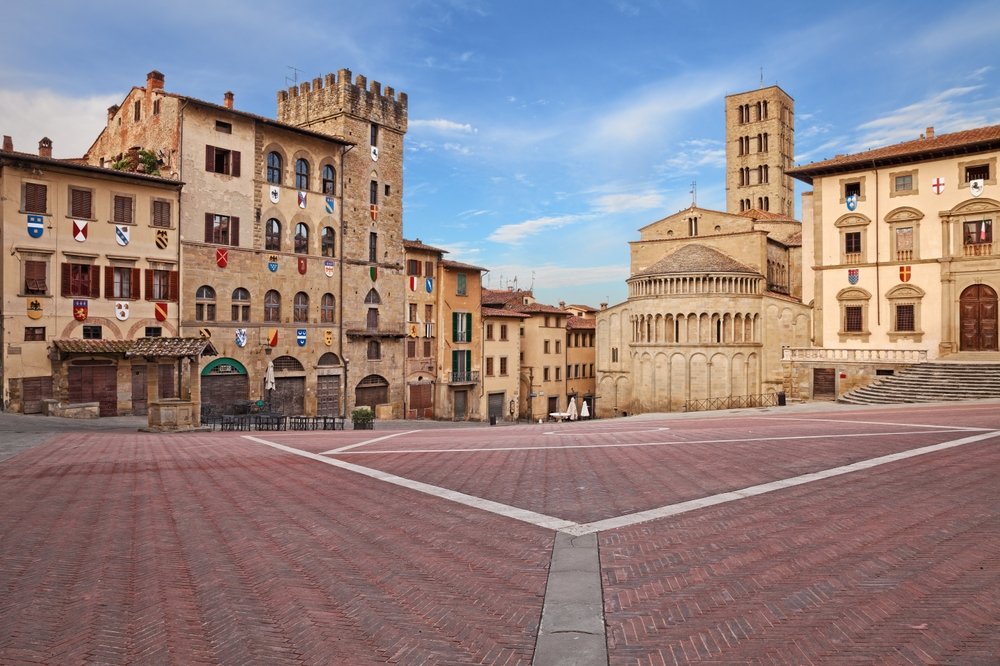 After exploring Cortona, it's time to drive to Arezzo, where you'll be spending the last night of your road trip around Tuscany.
On a hill in the eastern part of Tuscany close to its neighboring region of Umbria, Arezzo was an important city for the Etruscan civilizatio, until it was later conquered by the Romans.
The city is best-known for its medieval churches and buildings and the ever-present Medicean Fortress.
The top sights in Arezzo are the medieval Arezzo Cathedral and San Francesco Basilica, two must-visit religious sites.
If you want to keep exploring, visit the National Museum of Medieval and Modern Art, people-watch on the gorgeous Piazza Grande, and of course spend some time enjoying the Fortezza Medicea with its surrounding park.
To end a full day of activities and exploring, enjoy a tasty dinner at Teorema del Gusto or Il Covo dei Briganti, then spend the night in Arezzo.
Day 5 of Your Tuscany Itinerary: Arezzo to Florence
Stop at the little town of Anghiari.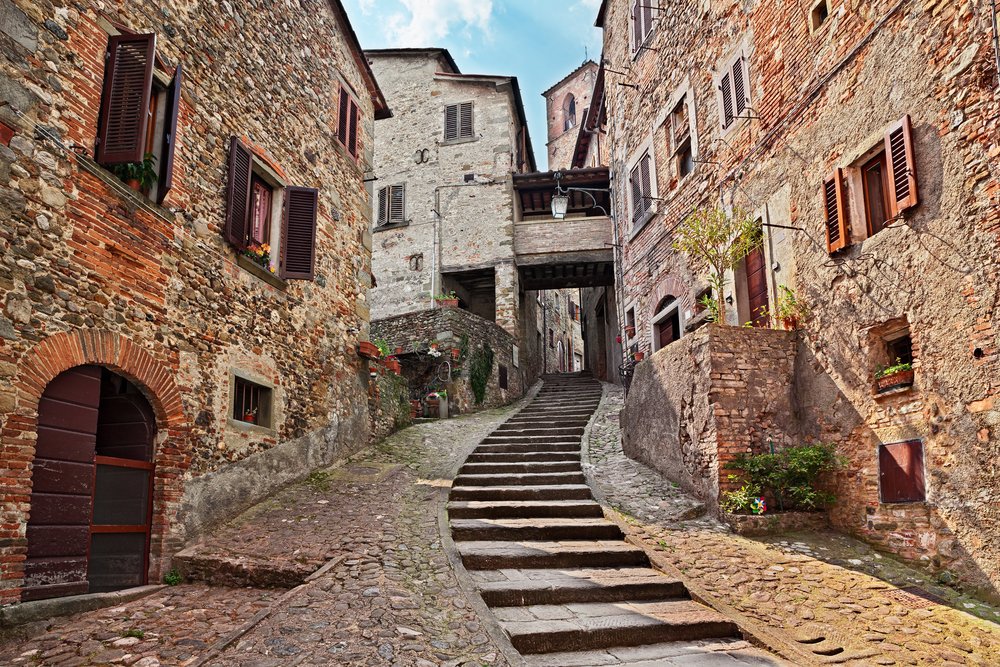 On your last day exploring Tuscany, it's time to drive back to Florence, but not before exploring two more gorgeous Tuscan towns on the way.
Your first stop is the charming town of Anghiari, only half an hour from Arezzo.
Anghiari is famous for being the location of an important battle between Florentine and Milanese troops in 1440, back when Italy was divided into several states.
The battle was later meant to be depicted on a mural in the Palazzo Vecchio in Florence by Leonardo da Vinci, but he never completed it.
You can learn more about the battle and the town's history at the local museum, Museo della Battaglia e di Anghiari.
Wander for a while around the small medieval center and along the old town walls (N'tra Le Mura D'Anghiari) to enjoy beautiful views and check out the charming squares, medieval buildings, and beautiful little churches.
Make a final stop in Poppi before returning to Florence.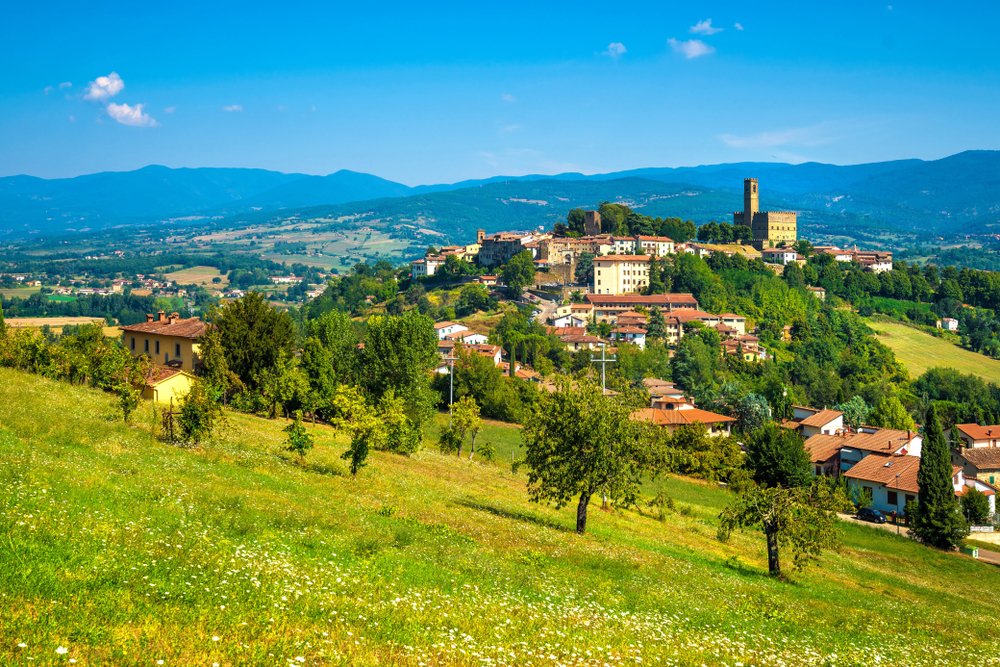 After visiting Anghiari, drive for around one hour north to reach the last town on this Tuscany itinerary, the picturesque Poppi.
The town is home to the medieval Castle of the Earls Guidi, the beautiful Church of San Fedele, and the Monastery of Camaldoli.
If you choose to have lunch in Poppi, you should try the delicious, heartwarming cuisine of La Taverna del Castello, right in the town center.
After lunch, start driving back to Florence, roughly one hour and a half from Poppi.
In Florence, you can leave your rental car and, if you have extra time, spend a few more days visiting the many landmarks and museums of the Tuscan capital.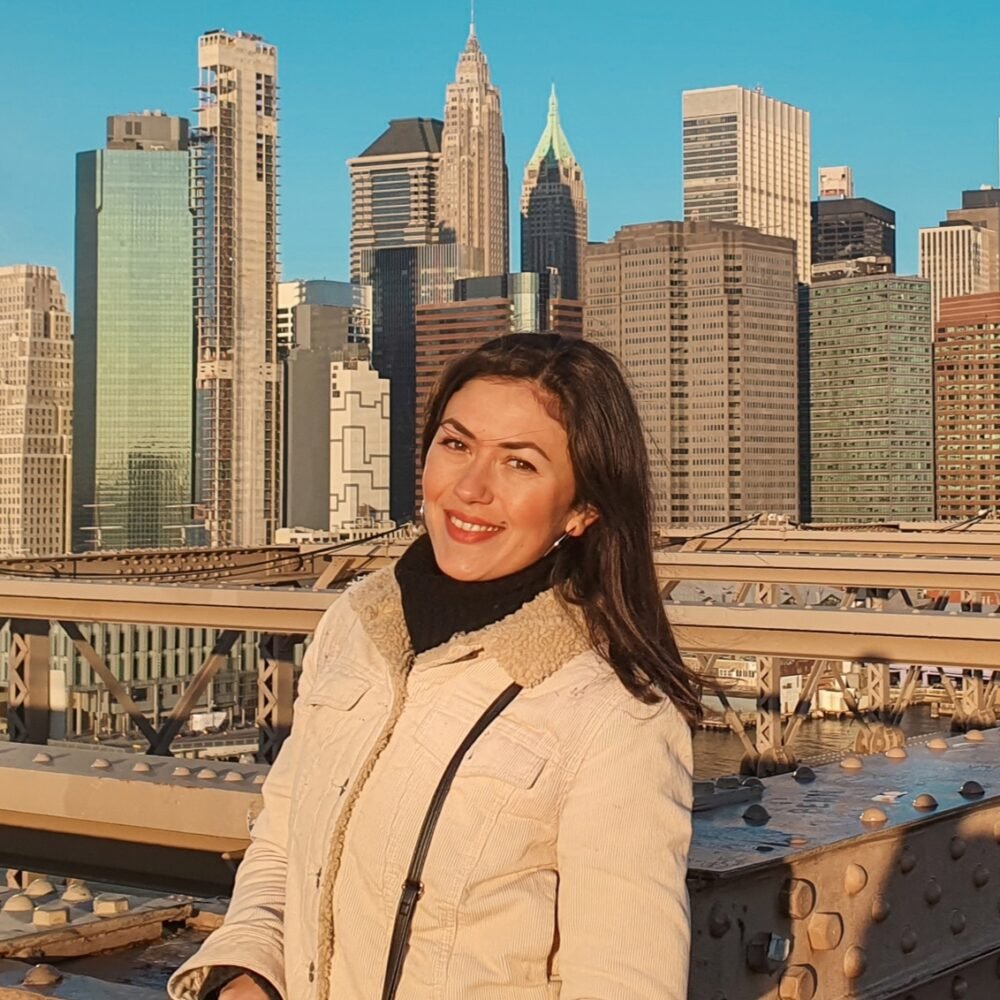 Roxana is a Romanian-born freelance travel writer who has lived in Italy for over 15 years. She has a Master's in Journalism and a Bachelor's in Film Studies. Her mission is to find hidden gems, even in the most popular travel destinations, and to inspire people to explore new places and cultures with the same curiosity! When she is not traveling, writing, or planning her next trip, she is either binge-watching TV shows or reading books.