I think I found the most relaxing island in the Caribbean.
An island where day drinking is the local sport, and aspirations of sitting in an inner tube while working your way through a bucket of beer are considered 100% valid.
An island where locals chastize you for walking too fast, where the smoky smell of pimento wood being burned for jerk chicken permeates the air, where golf carts have right of way.
Note: This post contains affiliate links, which means I may receive a small commission if you purchase something through one of these links. Thank you for supporting the free content on this site! For more information on affiliate links and cookies, see my disclosure page for more details.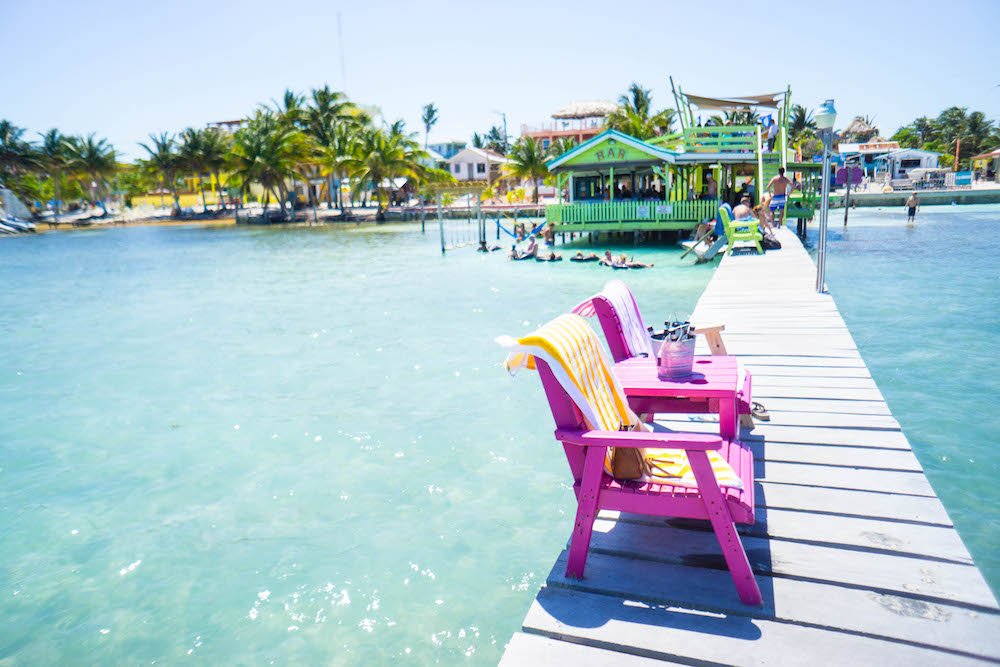 Yes, Caye Caulker, you can stop blushing — I'm talking about you.
If you want to know what my favorite things to do in Caye Caulker are, keep reading!
Though, to be honest, "doing nothing" is a perfectly respectable answer on this island.
Top Things to Do in Caye Caulker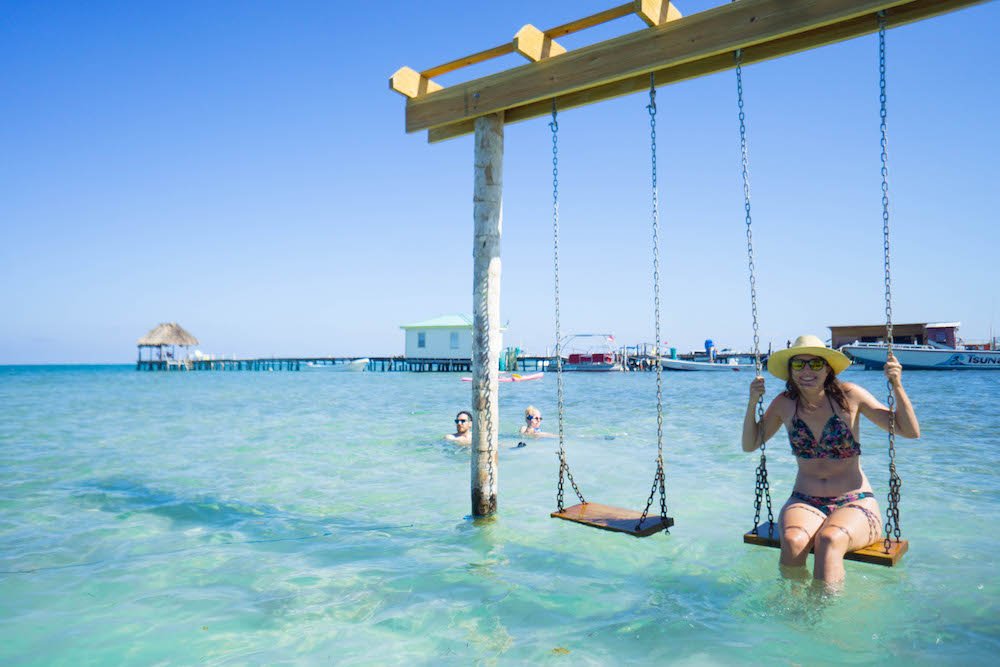 If you go to Caye Caulker with a strict, itemized checklist, you're doing it wrong.
While there aren't that many things to do in Caye Caulker per se, the days still manage to slink by a little too easily.
Caye Caulker is a place that's easy to get sucked into… and you should let it.
You'll rise as your room gets warm in the morning sun, eat breakfast with a beach view, amble along the colorful buildings, and sunbathe — all before the nightly ritual of watching the sun sink into the sea.
Yup, that's a grind I can get behind.
That said, you're reading this post for a reason: you want to know the best activities in Caye Caulker.
And I'm here to serve! Just treat it as a suggestion, not a checklist.
Meet nurse sharks and rays at Shark Ray Alley.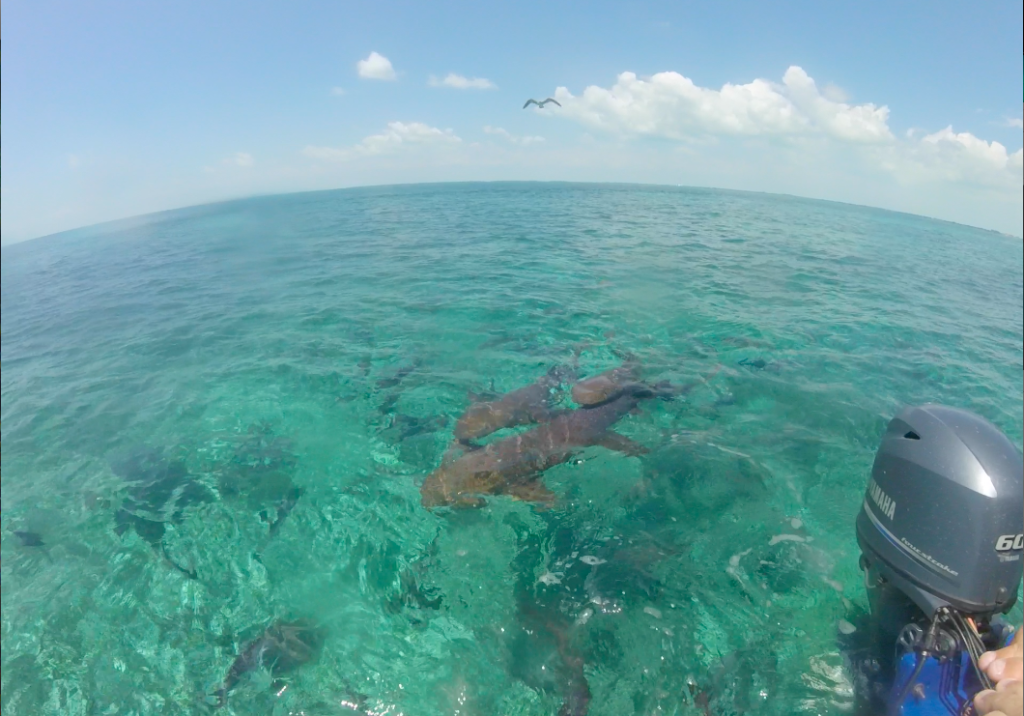 Among the myriad of thrilling things to do Caye Caulker offers, snorkeling alongside sharks and rays at Shark Ray Alley is undoubtedly a standout!
To partake, you'll need to book a day tour, because direct reef access from the shore isn't possible.
The waters around Caye Caulker remain shallow for quite a distance, thus you need a boat to reach prime snorkeling spots like Shark Ray Alley.
Shark Ray Alley has evolved into a hotspot where numerous snorkeling outfits from Caye Caulker and Ambergris Caye gather to feed sharks and rays, offering tourists an unparalleled underwater experience.
However, the debate around "chumming" (baiting the waters) to attract these marine creatures remains controversial.
One expert, Mar Alliance, supports the practice, saying that it fosters a better understanding between humans and marine life.
It helps to break down fears and promoting shark conservation — a very important thing, as sharks are apex predators essential to the health of the ocean.
On the flip side, some argue that chumming might condition sharks to rely on human-provided food, which can be problematic.
In my opinion after doing research, the science hasn't borne this out to be true, as most sharks do enjoy the food but still continue their other natural behaviors at all other hours of the day.
So, what about safety? Well, the sharks frequenting Shark Ray Alley are nurse sharks, well known for their placid nature, often nicknamed 'sea puppies'.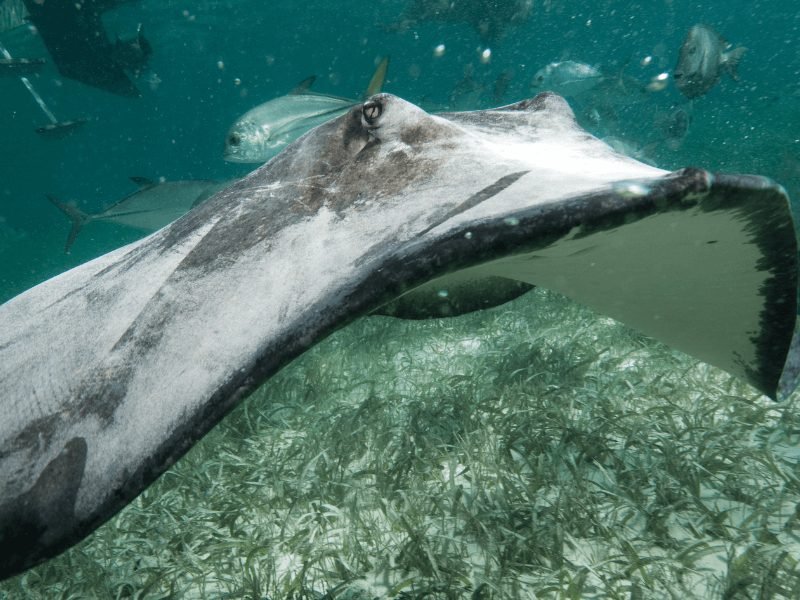 Incidents involving nurse shark bites are extremely rare and have never been fatal.
From personal experience, the true risk here? You might get hooked on the exhilaration of swimming with sharks!
I've embarked on this tour every Belize visit and even dived with far-more-fear-inducing bull sharks in Fiji.
But rest assured, the nurse sharks in Belize are entirely benign and nothing short of enchanting, and the rays are just as sweet.
Almost all snorkeling tours will include a stop at Shark Ray Alley — I recommend this one, which also includes the next thing to do in Caye Caulker: try to meet the manatees!
Snorkel with manatees!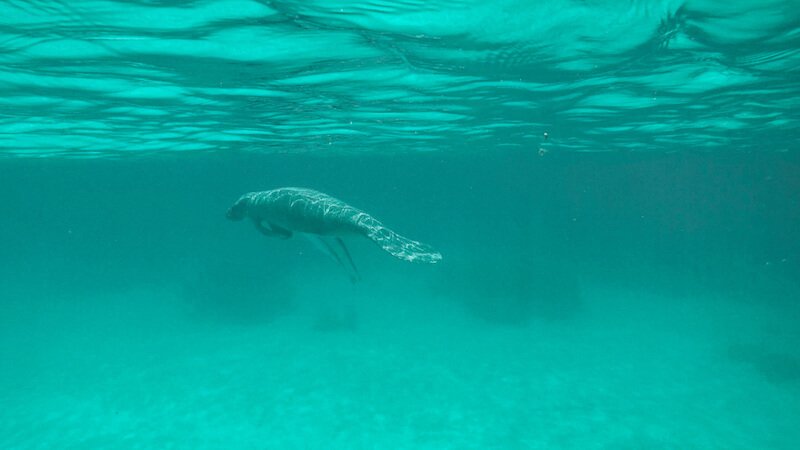 One of the best reasons to visit Caye Caulker and top things to do there is swim with the manatees north of Caye Caulker.
To do so, you'll have to book a tour as the manatees don't swim that close to Caye Caulker but in a deeper, more protected area.
Not all tours include a stop with manatees, but this one does (and also includes a visit to Shark Ray Alley, above).
Check out this small group, 7-stop snorkeling tour that includes a stop to hopefully see the manatees!
I mean, manatees are truly the elephants of the sea. Freaking adorable.
Please note: never touch animals in the wild, even if they seem docile and gentle. You can do serious damage.
Give them a comfortable distance – at least 5 meters if not more – and observe quietly and respectfully so that others in the future can also enjoy the presence of these gentle sea giants.
Spend the day in the sun at Sip N Dip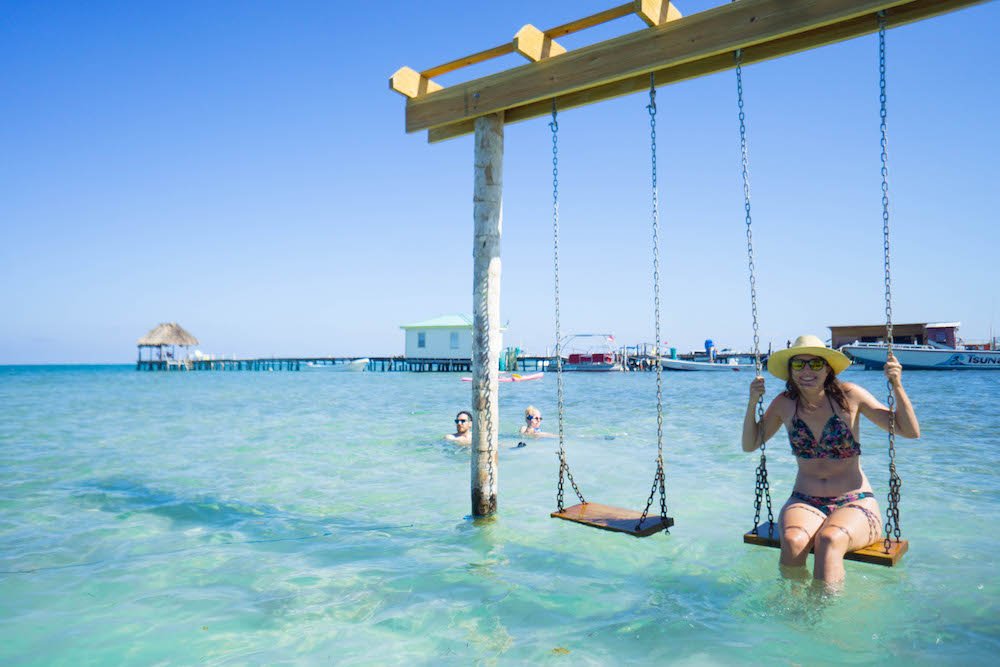 But really: how to while away your days in lovely Caye Caulker? Make your way to my favorite beach bar, Sip N Dip.
Where else can you sit on a swing in the Caribbean sea, relax in a hammock over the water, or just chill in an inner tube with a bucket of beer floating alongside you?
Located just before The Split on the north end of the island, day drinking at the Sip N Dip is my number one can't-miss thing to do in Caye Caulker.
Happy hour is from 3 to 5 PM and offers specials on rum punch, Cuba libres, and other house drinks — get two for $7 BZD ($3.50 US).
The food actually isn't bad, either!
Drink a local Belikin.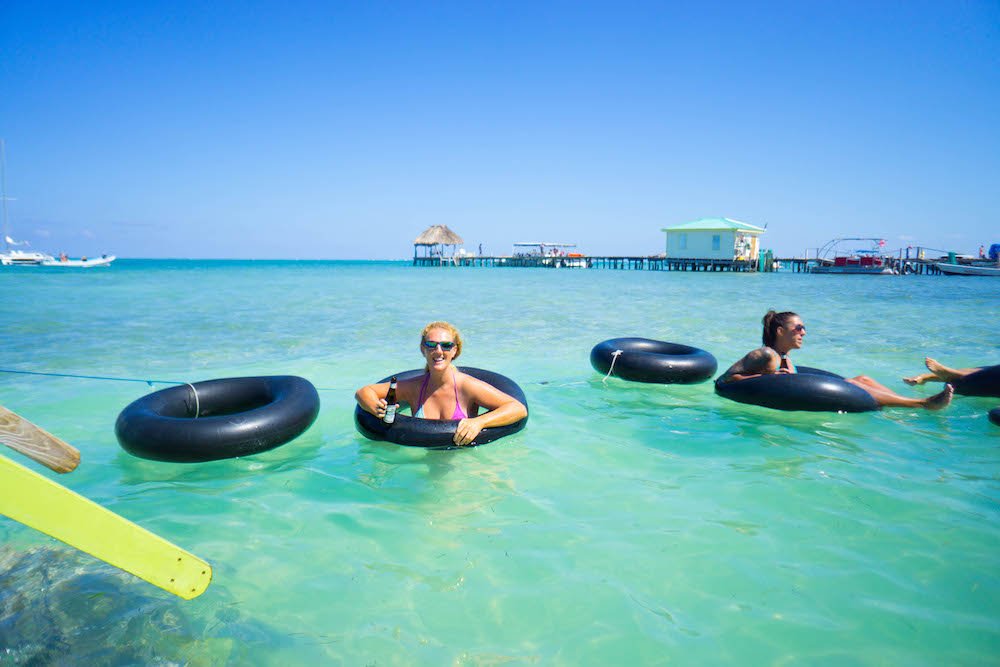 Belikin is the beer of choice in Belize, and it goes down so easily that they often sell it by the bucket!
At Sip N Dip, a bucket of beer will set you back $25-30 BZD ($12.50-15 USD since the Belize dollar is pegged at a 2-to-1 exchange rate with the dollar) for 6 beers — one of the best deals on the island!
Many other places on the island offer similar deals on buckets of Belikins, although of course, you could just get one… why get one when you can get a bucket?
Go on a sunset tiki cruise.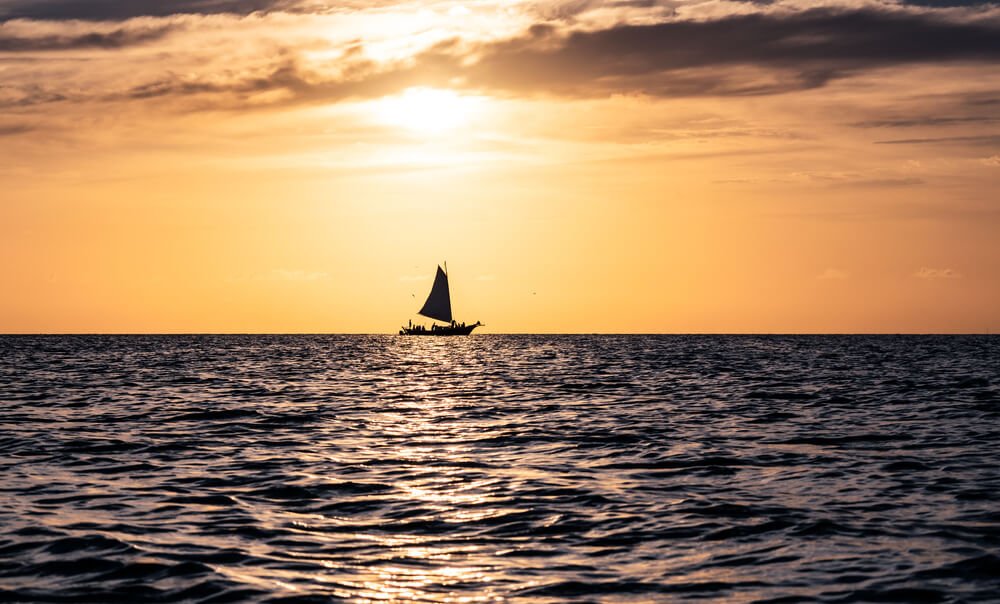 Since Caye Caulker is such a popular backpacker and party island, perhaps it's not surprising that one of the top Caye Caulker activities is a sunset booze cruise.
This affordably priced sunset tour includes alcoholic drinks and a 1.5-hour cruise around Caye Caulker, with the chance to see dolphins, manatees, and turtles.
You'll also definitely get to see all the mangroves around Caye Caulker and the unique birdlife that calls this ecosystem home.
Visit the sweet animals at the Caye Caulker Animal Shelter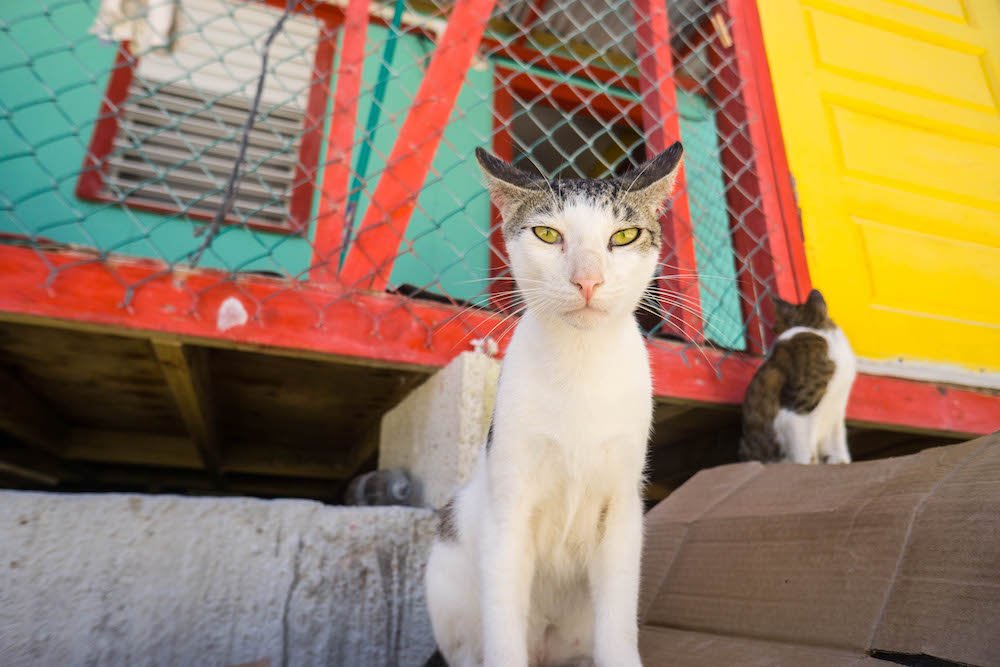 Another one of my favorite things to do in Caye Caulker is visit the lovely dogs at the Caye Caulker Animal Shelter!
This non-profit animal shelter cares for dogs and cats in need of homes. They welcome visitors to come by and love on the animals.
With these faces, how could you walk on by?
Meet the local dogs.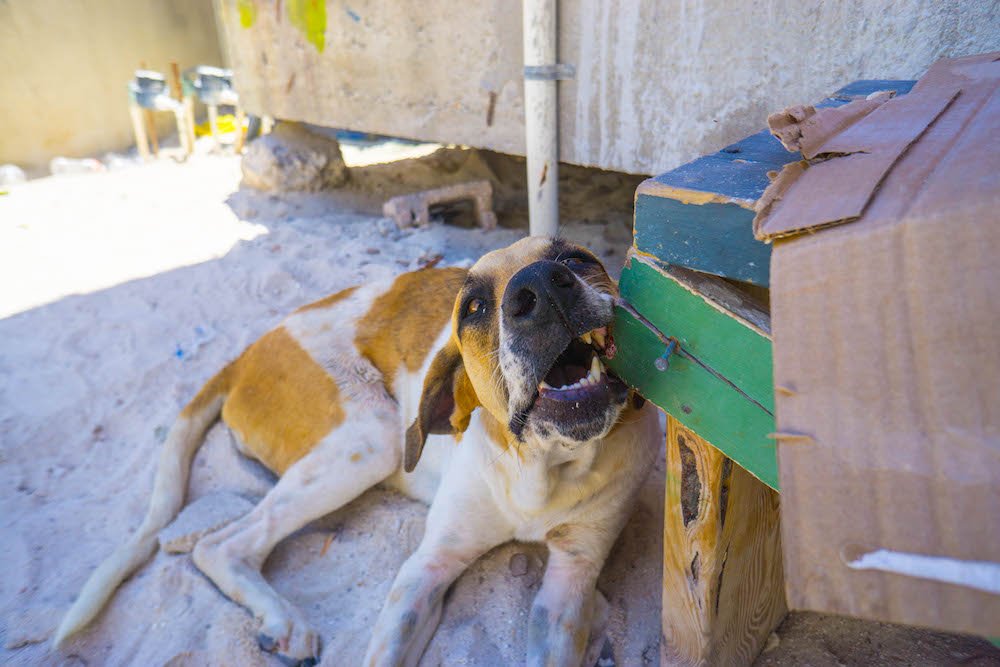 If you're a dog lover, you'll love Caye Caulker.
Because it's a small island with no cars, many people allow their dogs to hang out on the island during the day, running about and making friends.
Most aren't strays – they're well-behaved, well-loved pets who get to call the streets of the island their playground.
Needless to say, I was in heaven!
Join the Sunday Funday nonsense.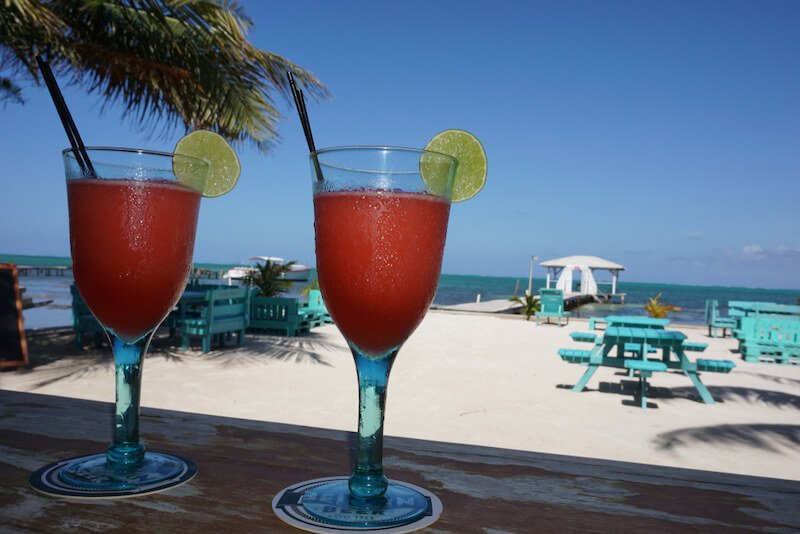 It's become a institution in lots of Central American backpacker hotspots: a weekly boozy day party.
Bocas del Toro has Filthy Fridays, San Juan del Sur has Sunday Funday, and Caye Caulker has its own spin on Sunday Funday with their signature 5-hour beach parties once a week.
Starting at Bella's Backpackers, one of the top hostels on the island, their backyard becomes an all-out boozefest (think: unlimited rum punch) with lots of games to play to get to know your fellow travelers better.
Beer pong, giant jenga, beach volleyball, water balloon toss, cornhole: there's all sorts of fun games that will only get more amusing the more rum punch you consume.
But better yet, in the evening you all get on board a sunset cruise, where you can continue the fun and partying.
After you've finished, you can keep the party going at one of the island's late night hot spots… or get yourself to bed, because you're probably tuckered out after 5 hours of partying in the sun.
Snorkel more of the Belize Barrier Reef.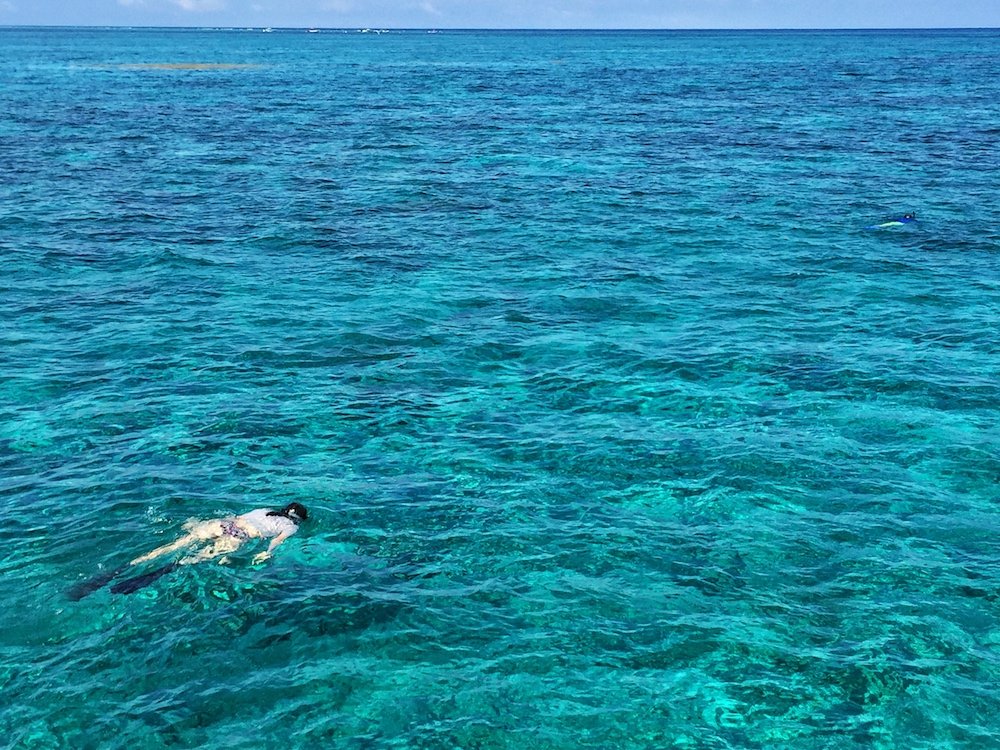 Belize is home to the second-largest reef system after the Great Barrier Reef, the Meso-American Barrier Reef (of which Belize's section is called the Belize Barrier Reef)!
So if you're a lover of marine life, take full advantage of Caye Caulker's amazing location and make sure you don't miss snorkeling while on Caye Caulker.
Look for a tour that includes Hol Chan Marine Reserve — it's where the best snorkeling in Caye Caulker is.
I have a post that compares the different snorkeling tours on Caye Caulker if you need help picking one — but this one is my favorite.
Go diving on the reefs!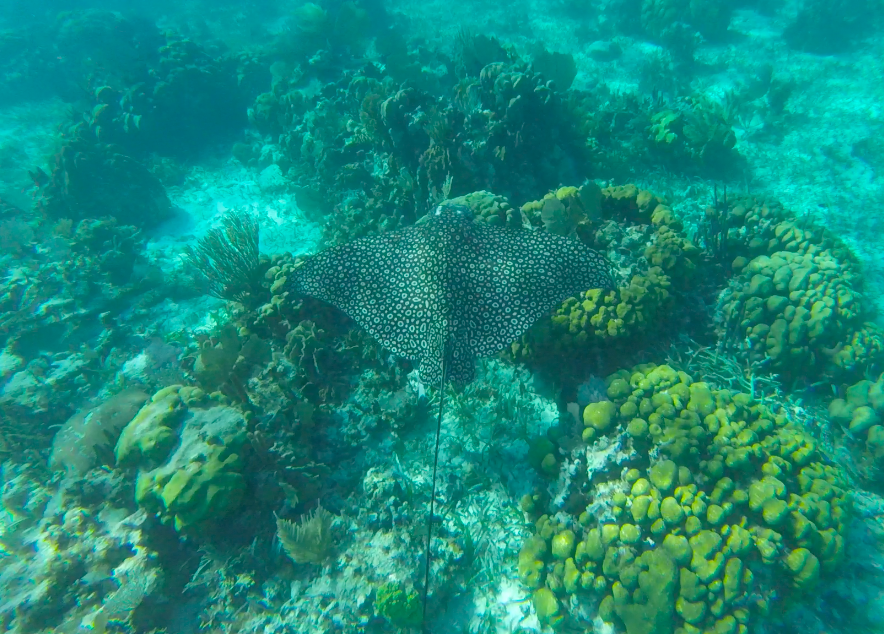 If you're scuba-certified while you visit Caye Caulker, you simply must do a dive to get an even more up-close-and-personal look at the stunning reefs.
The best-rated dive shop on the island is Scuba Sensation, on Playa Asuncion (near Lazy Lizard, Sip N Dip, etc.)
They offers tours of the Caye Caulker marine reserve area for $110 USD for a two-tank dive and $150 USD if you want to dive in the Esmeralda area closer to San Pedro.
They also offer dives further afield in epic places like the Turneffe Atoll ($195 USD) or Spanish Bay ($185 USD). I've heard Turneffe Atoll has some of Belize's best diving!
And if you love night dives like I do, you can add on an individual one-tank night dive for $85 USD.
It's pricier than places like Cozumel, Utila, and Roatan, but it's still worth it if you like to dive and will be in Caye Caulker!
… or deep dive at the Great Blue Hole.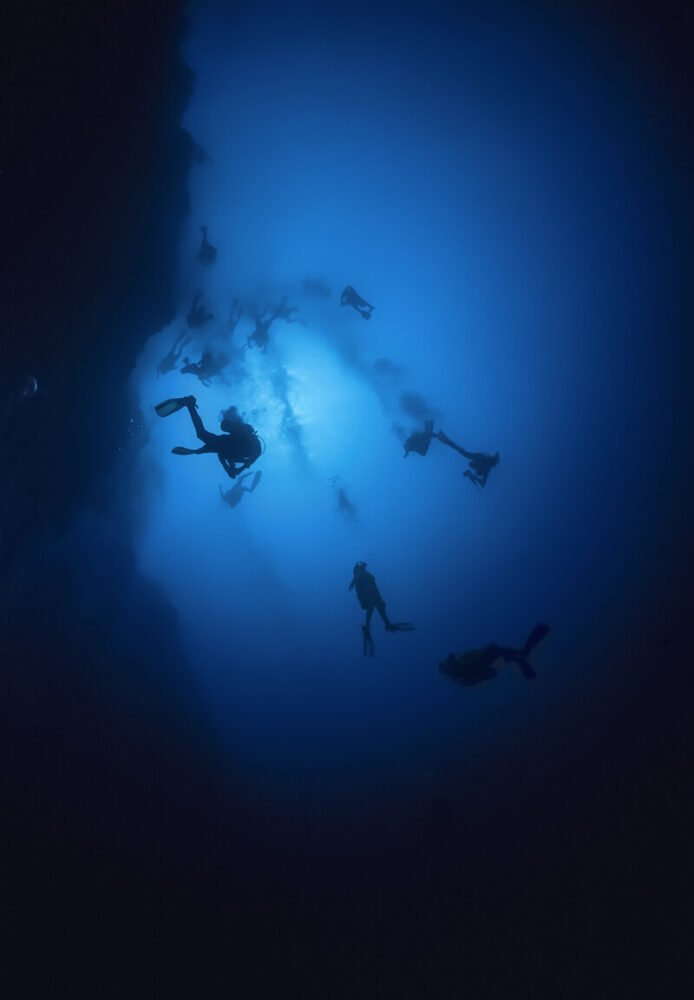 Requiring a full day and an advanced open water certification, diving the Blue Hole is a huge bucket list item that you can tick off while in Caye Caulker!
It requires an early wake-up call (earlier than most dives!) — 5:15 AM, you have to meet for check in. By 6 AM, the boat departs for an epic day out on a 3-tank dive.
Don't worry — breakfast and lunch will be provided, as well as fruits and water for surface interval snacking.
It takes about a 2-3 hour boat ride to get to the Great Blue Hole, so that's part of why you leave so early. But it's worth the long haul!
This dive is a 3-tank dive that starts with the deepest dive at the Great Blue Hole, where you'll dive for about 30 minutes, reaching a maximum depth of 130 feet or 40 meters!
Nitrogen narcosis is a definite possibility at this depth, so be sure you have done a deep dive before and know what to expect (basically, feeling drunk or euphoric)
On your way down, it's more about the incredible scenery of this massive sinkhole, with stalactite-like formations visible in caverns of the sinkhole and scroll corals on the wall.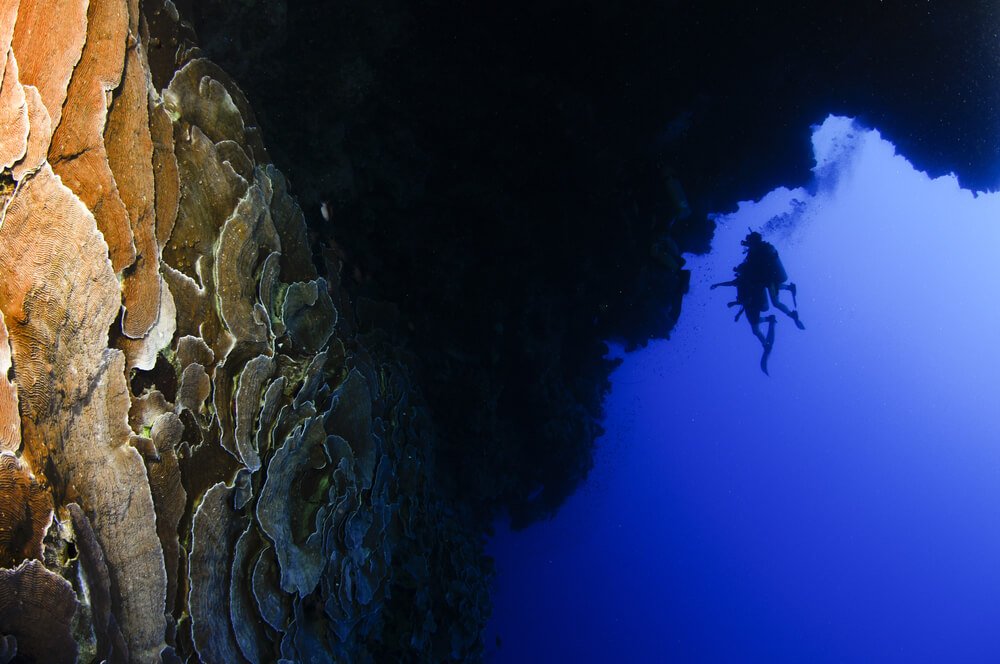 This isn't so much about reef life, though along the way, you'll see Caribbean reef sharks around 60 feet deep. Hammerhead sightings are possible, but very rare.
As a deep dive, you'll need to be very aware of your buoyancy control and very familiar with a dive computer (preferably using your own, so you're familiar with how it works).
While equipment rentals are provided in the cost of the excursion, it's really better to have your own computer (here are my suggestions) here.
The tour also includes two more stops, which will prove more epic in terms of sea life than the Blue Hole: Half Moon Caye Wall (a 45-50 minute dive) and the Long Caye Aquarium dive (another 45-50 minute dive).
On the latter two dives, expect to see enormous groupers, reef sharks aplenty, eels, all sorts of colorful tropical fish, and maybe even hammerheads if you're lucky.
This tour is definitely pricy, at $340 per person for a full-day 3 tank dive, but given the travel time required and how bucket-list-worthy the Blue Hole is amongst divers, it's worth it for the serious divers amongst us.
Do sunset yoga.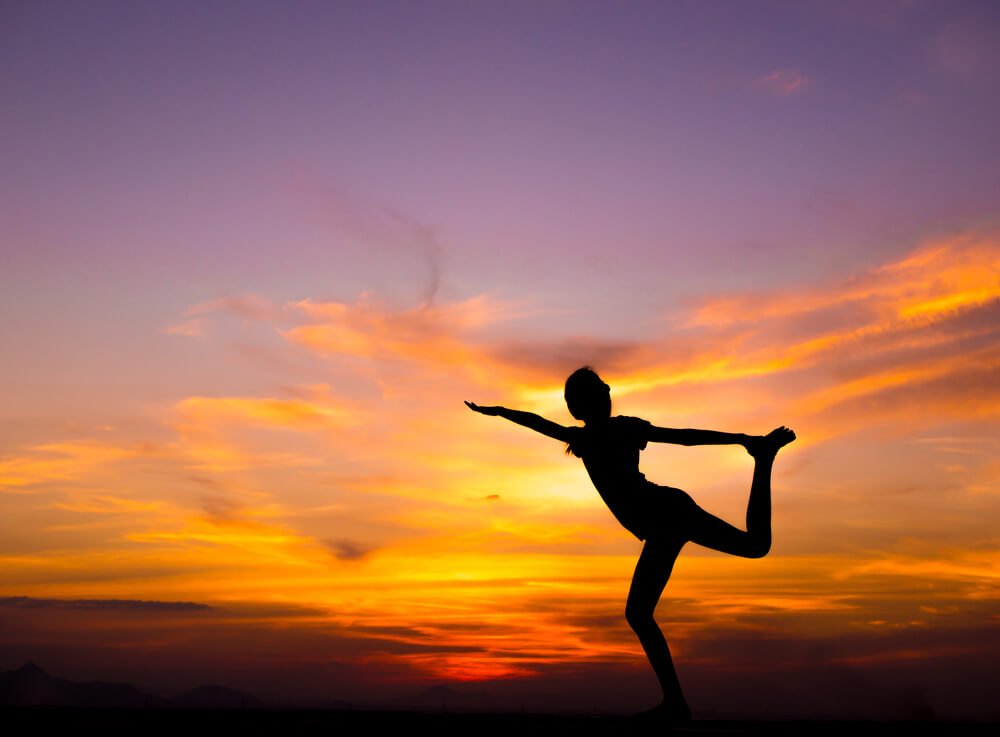 I'll readily admit that I was never stayed sober long enough on Caye Caulker to make it to sunset yoga.
However, if you're more responsible than me, Namaste Yoga (formerly RandOM Yoga) offers donation-based sunset yoga classes.
You can take these classes on the roof of Namaste Café with a great sunset view and ocean breeze!
Rent a stand-up paddleboard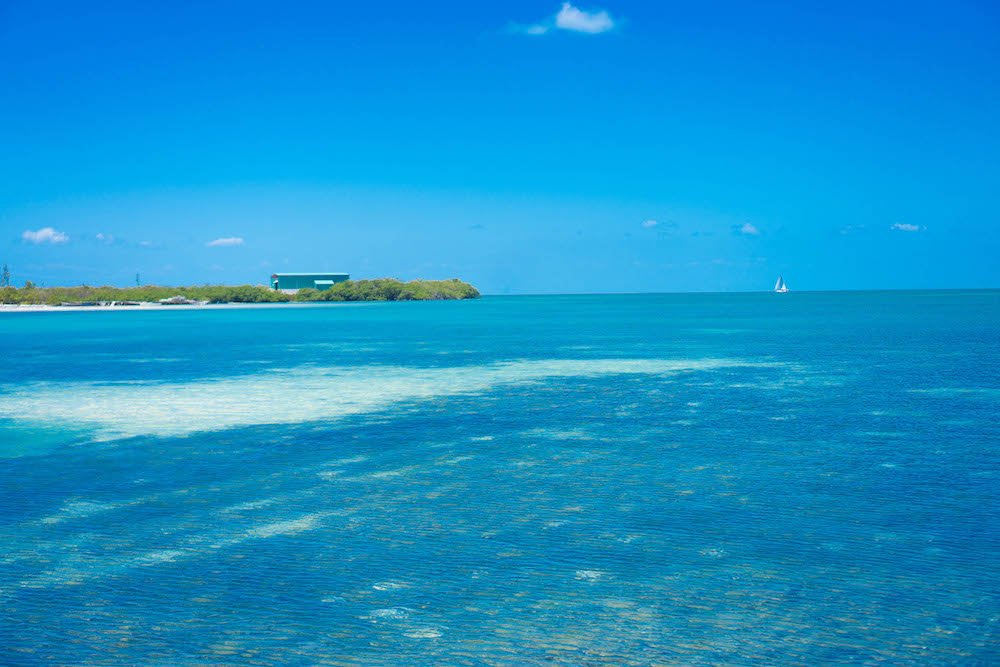 Caye Caulker is a small island and it's easy to stand-up paddleboard around it in just a few hours.
There are several places on the island that rent stand-up paddleboards and also kayaks.
It's one of the best things to do in Caye Caulker because the water is super flat and glassy, making it easier than normal.
You don't need to circle the whole island, either — it can be fun to just go along the island's east side and up to the Split, and then check out a bit of the other side of the island that you normally aren't on.
Rent a kayak at sunset.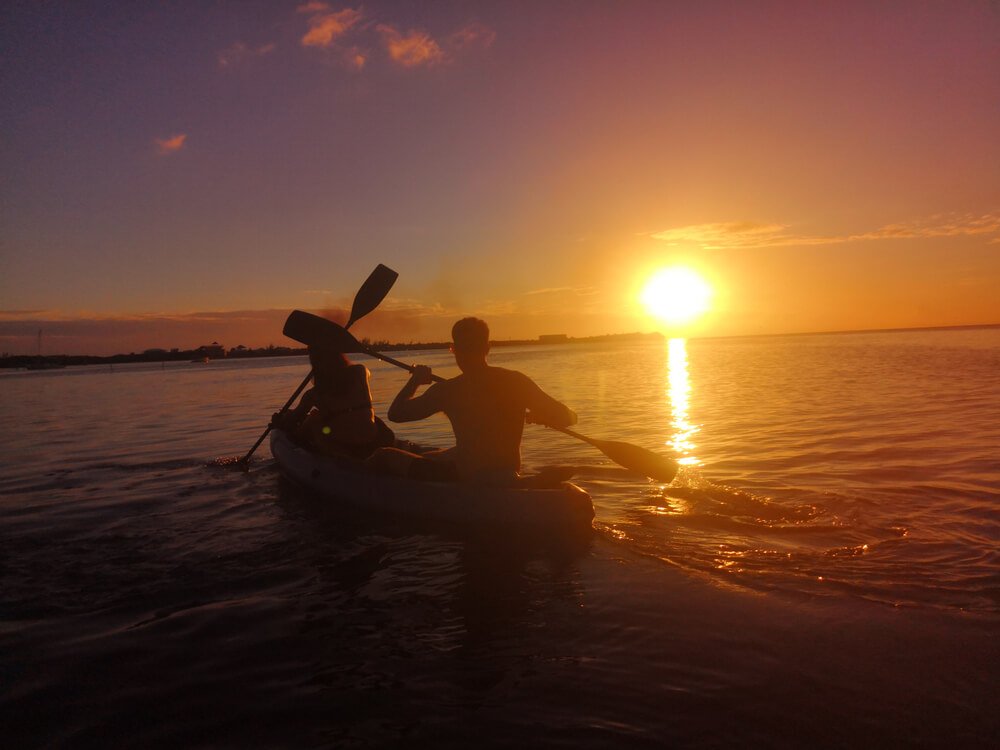 You can easily grab a kayak rental at Lazy Lizard Bar & Grill and go out for a few hours.
A double kayak is $45 USD for two hours ($35 for a single kayak).
Two hours is just enough time to paddle out before sunset and check out the Split and the other side of what used to be Caye Caulker.
Then, paddle out into the sea to enjoy watching the sun sink into the ocean horizon, and paddle back before it gets dark!
Enjoy a photo walk through colorful Caye Caulker.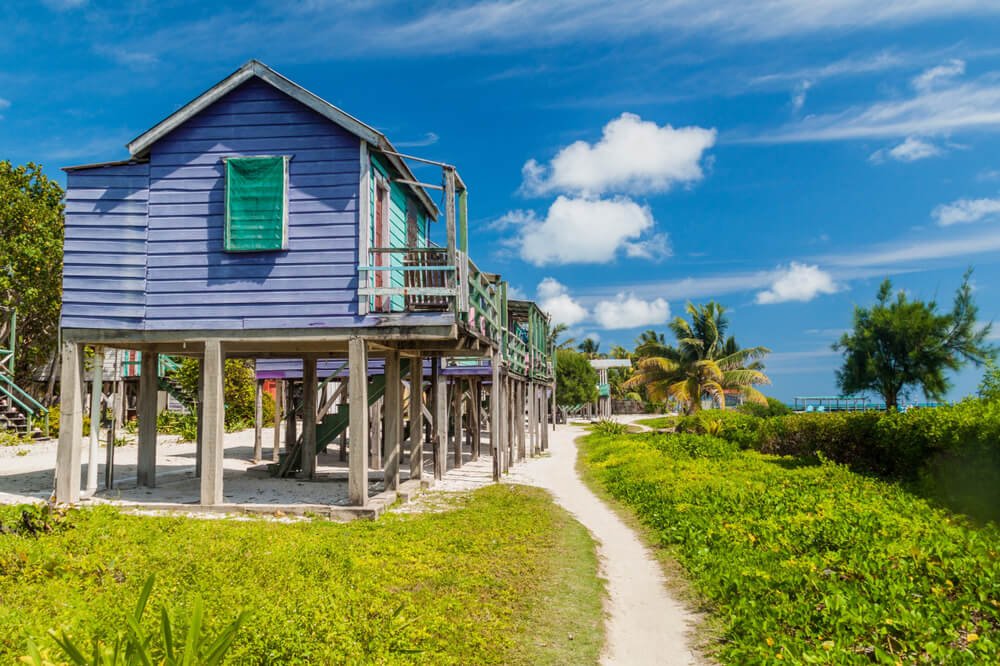 With streets made of sand and brilliantly-colored houses in all shades of the rainbow, a walk through Caye Caulker is almost an activity in and of itself.
One of the coolest things to see in Caye Caulker are all the houses built on stilts — helpful on a low-lying island where hurricanes and tropical storms have increasingly been passing through.
This is also a fun way to flex your photography skills and get some different photos that aren't just you at a beach bar.
Eat delicious jerk chicken.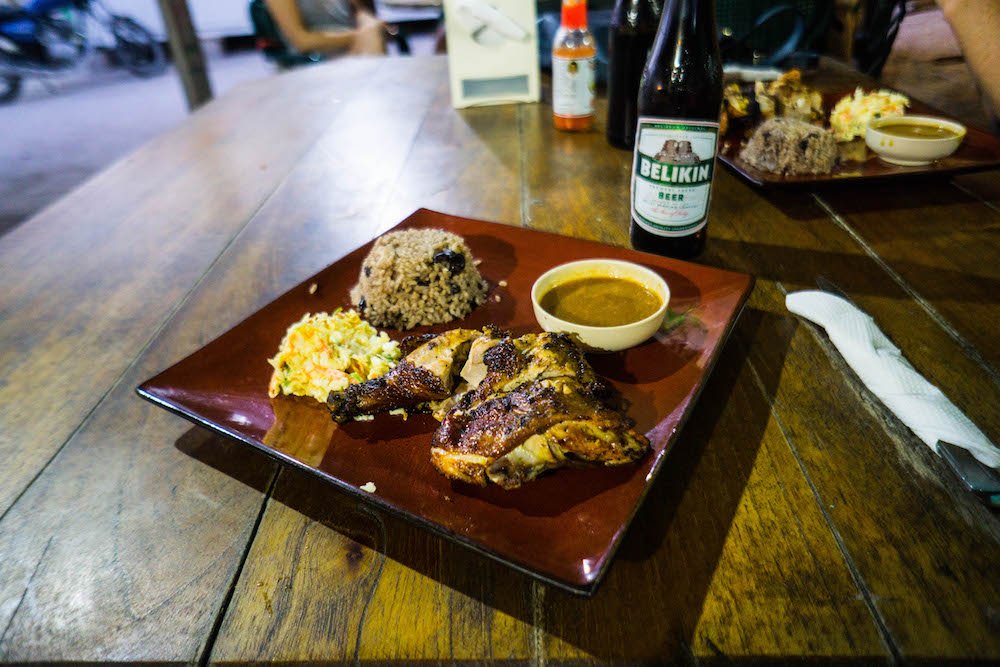 On Caye Caulker, you'll see — and smell — barbecues going all day and night long. You can't go wrong with the island's most popular dish – jerk chicken!
A plate of jerk chicken will set you back about $15-20 BZD ($7.50-10 US) in a restaurant.
Plus, it usually will come with your choice of sides and anywhere from one to three glasses of rum punch included!
Quality across the board was about the same everywhere, so no place really sticks out – just order the jerk chicken and you can't go wrong!
On the street, a takeaway portion of jerk chicken and coconut rice will cost you about $10 BZD, or $5 US.
My favorite street stall was located on the north side just before Sip N Dip.
Try other delicious food on Caye Caulker.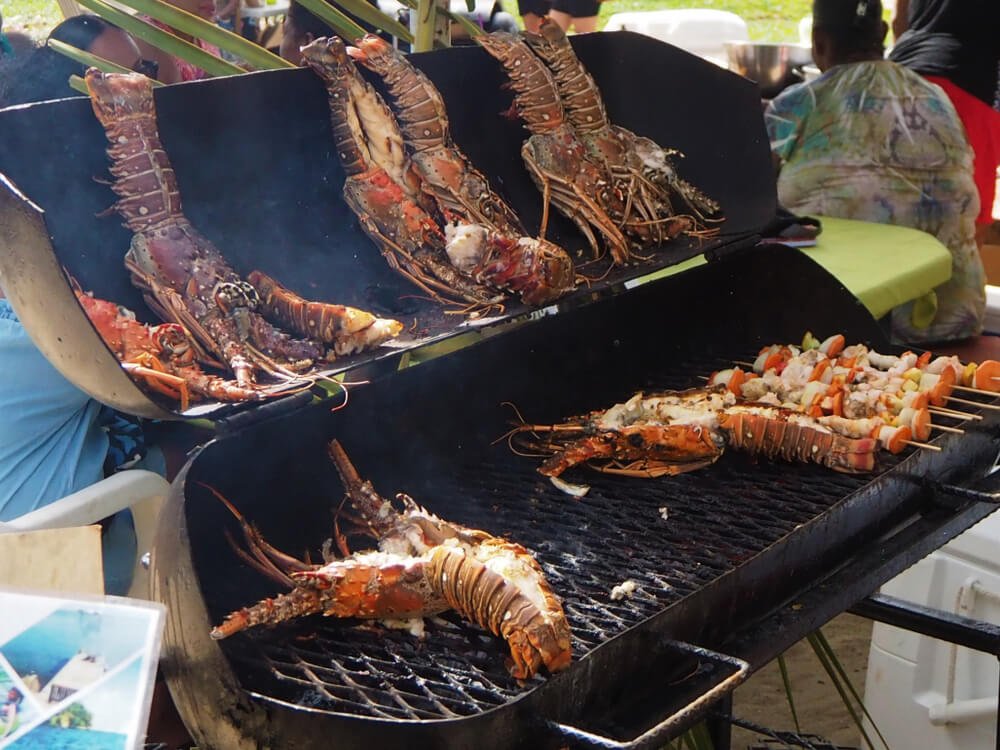 Had a little too much jerk chicken for your taste?
For seafood, try the grilled lobsters or shrimp skewers at Chef Kareem's UnBelizeable Lunch [not open for dinner].
There is also delicious Chinese food on the island thanks to the influence of Chinese immigrants who run many of the local shops and grocery stores.
My favorite was a small little shop in a turquoise-painted bungalow, Yummy Yummy.
The chow mein was delicious, only about $7 BZD ($3.50 US), and big enough for two!
For pasta, try Pasta Per Caso Anna & Armando for a change of pace with some delicious Italian food.
Dig into a Belizean breakfast.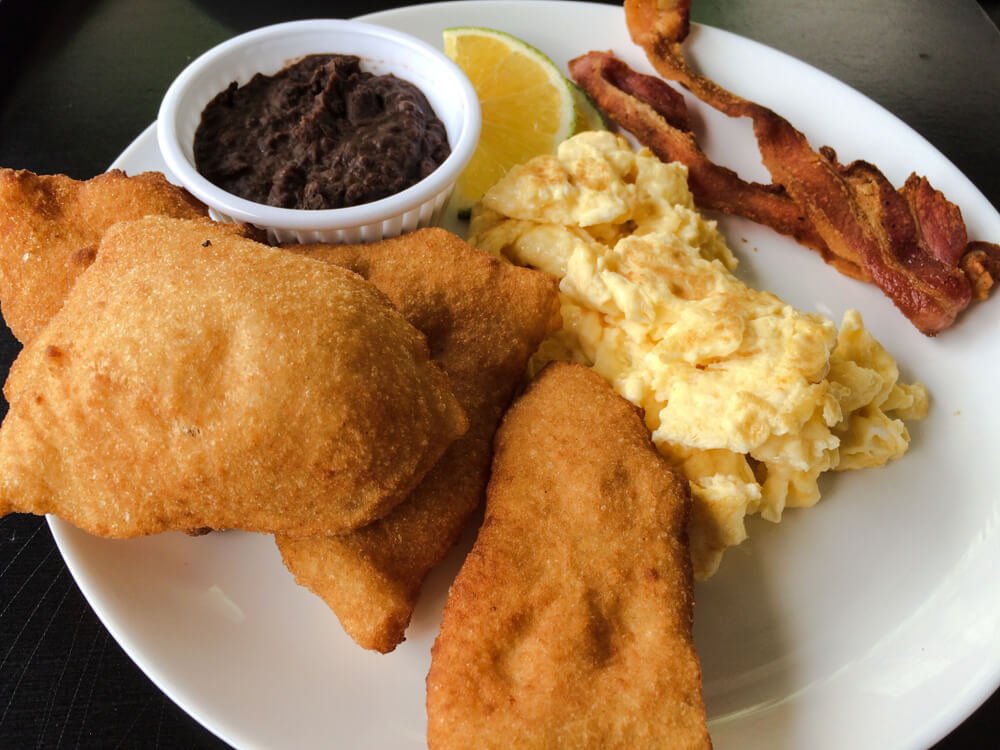 My favorite Belize breakfast is fry jacks – fried dough pockets stuffed with your choice of filling. My favorite was meat, cheese, and egg.
Get them at Errolyns House of Fry Jacks for a mere $2.50 BZD each!
If you prefer a more traditional breakfast, or you're really missing bagels, Ice 'N Beans is another one of my favorite places on Caye Caulker for breakfast.
Grab a (rum-filled) coconut.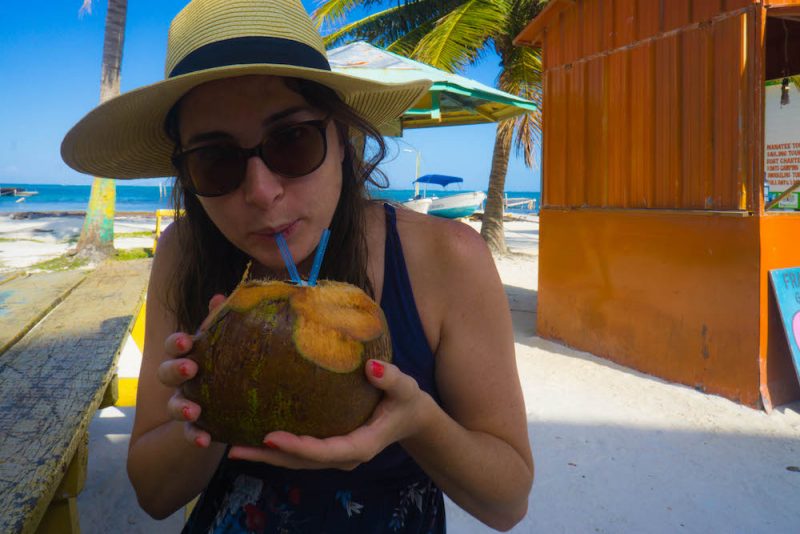 One of the most ubiquitous things you'll hear when walking through Caye Caulker — besides locals admonishing you to 'go slow' — is people selling coconuts, fresh or spiked!
With coconuts for $5 BZD / $2.50 USD (more for a spiked version with rum — strong rum!), you can't help but stop a few times for a fresh coconut.
Are you really on a Caribbean island if you don't?
Sip on a swing at Margarita Mike's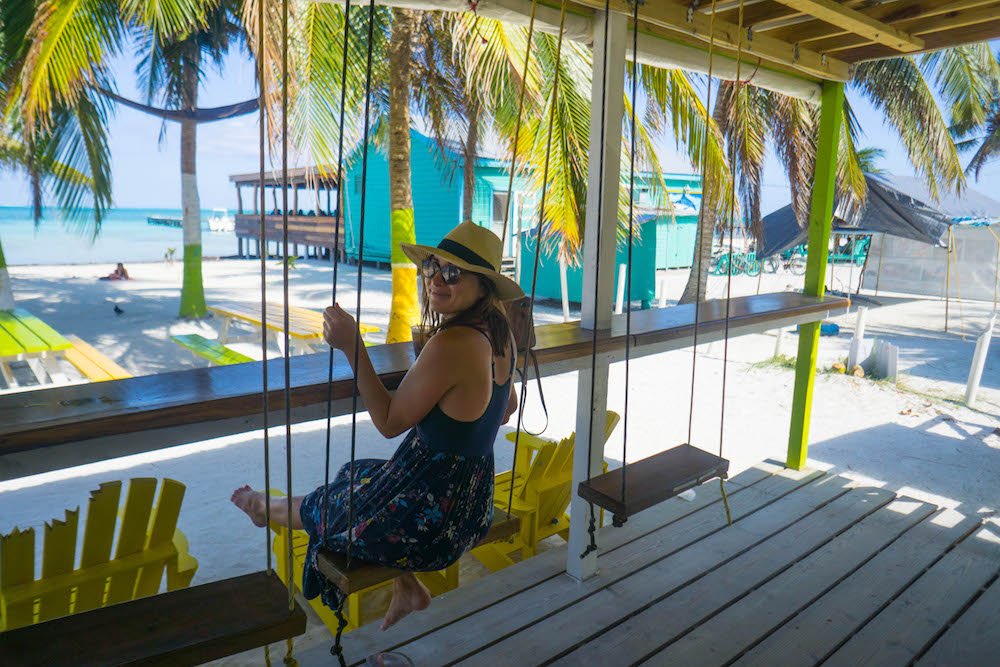 I've already rhapsodized about Sip N Dip. Another place I loved for day drinking was Margarita Mike's.
What can I say? I love a good bar swing! And also day drinking. Go figure.
Of course, they're known for their frozen margaritas, which are strong and delicious. You can also get a bucket of Belikins here.
Chill at the Split.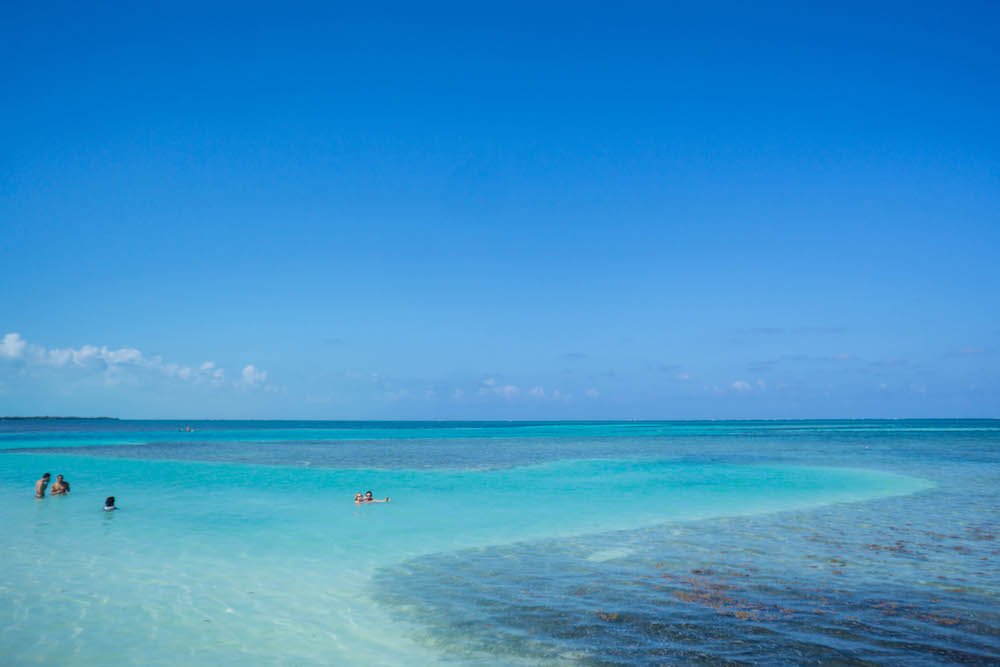 I loved spending my days at the "The Split" – the northern tip of Caye Caulker.
Apparently, Caye Caulker used to be one island until a hurricane hit in 1961, breaking the island in two.
The channel that divides them now is called "The Split" and, absent any white sand beaches, is Caye Caulker's unofficial watering hole.
The Lazy Lizard is often cited as a favorite, but when I went it was under construction — which killed its beachy vibe.
Still, a day at the Split is never spent poorly. I mean: look at those blue, blue waters!
Unwind with a peaceful day at Ix'Chel Day Spa.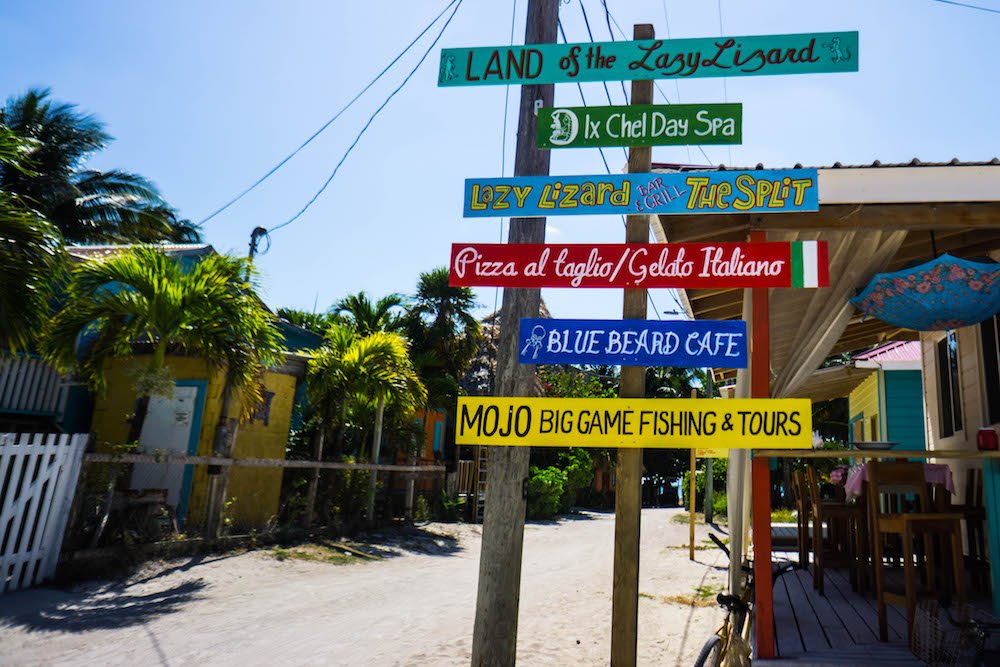 If you're looking to take the relaxation on Caye Caulker a step further, head to Ix'Chel Day Spa for some massages.
100% Belizean-owned and operated, this local shop run by two sisters offers great massages for excellent prices.
Deep tissue massages are only $35 USD for 30 minutes or $60 USD for an hour.
They also offer aromatherapy massages, reflexology, Swedish massages, and all sorts of treatments like facials, scrubs, and mani-pedis.
On a budget? They offer a lower-priced option of relaxation massages ($25 USD for 30 minutes or $50 USD for an hour).
Take in the sunset on the beach.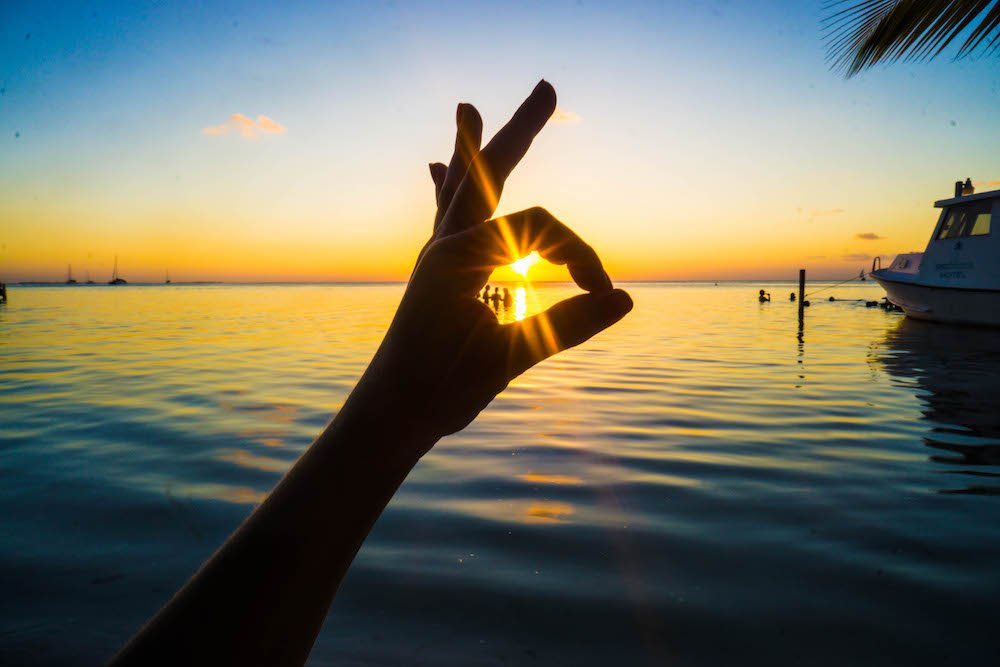 When comparing Caye Caulker vs. Ambergris Caye, one big advantage that Caye Caulker has is just how easy it is to see the sunset.
There are many great spots to take in the sunset on the island's west side, which is easily accessible since the island is super narrow.
The best areas for sunset views are around Dee N D's Waterside Grill and Wish Willy Bar & Grill.
You can get the sunset at either of these places, or you can just walk a few more blocks and enjoy it for free on the beach, BYOB (Bring Your Own Belikin) style!
Drink after hours at The Sports Bar or the Reggae Bar.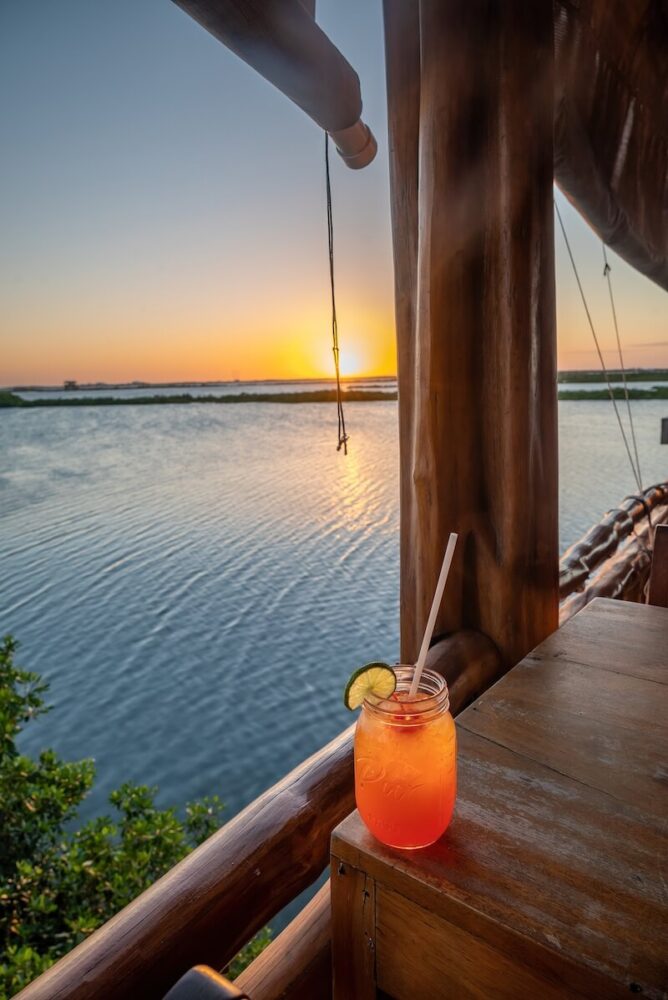 If you're somehow managed to make it to sunset without getting drunk… congrats!
You now have two options: The Sports Bar and The Reggae Bar. Though neither of those are their real names.
Basically everyone on the island goes to The Sports Bar (Barrier Reef Sports Bar) first and then Reggae Bar (I & I) if they're still standing.
Take a day trip to San Pedro.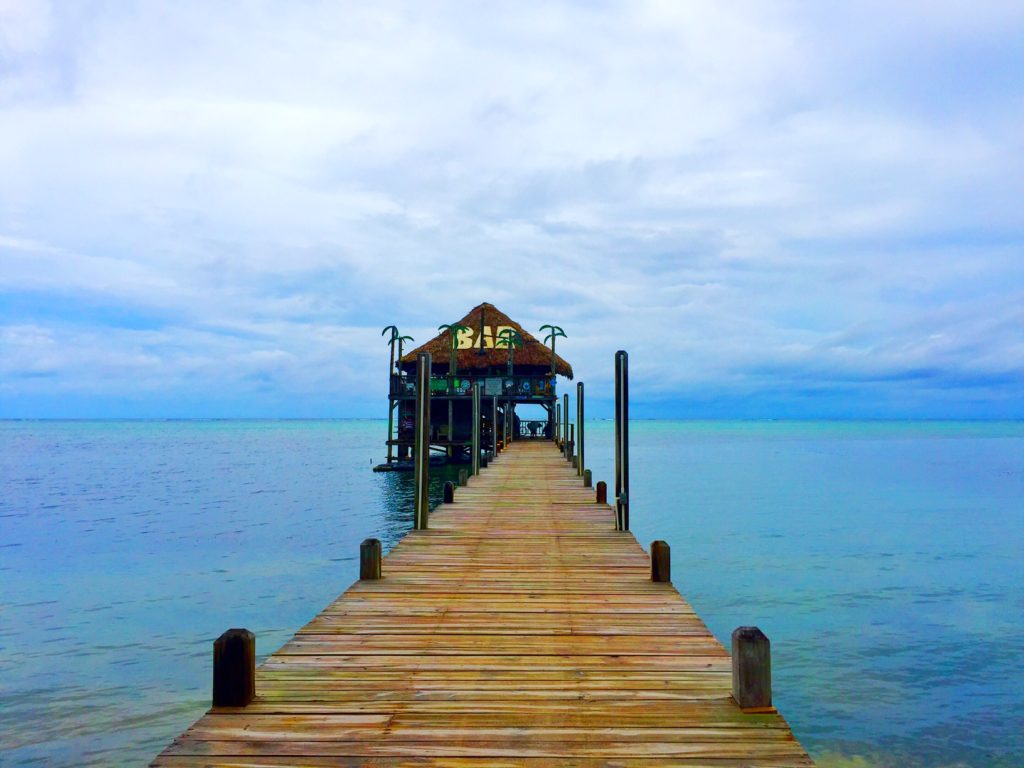 If you want to visit a larger island for a day, head to San Pedro, the main city on Ambergris Caye.
This gorgeous island will feel like a shock to the system after the 'go slow' vibes of Caye Caulker, but it's a great option if you're feeling stir-crazy and want some new restaurant and bar options (my favorite is Palapa Bar).
In terms of activities, there's not too much that San Pedro has that Caye Caulker doesn't, except for a chocolate factory/boutique and a few more shops.
That said, it's still a fun change of pace, so I do recommend visiting if you have sufficient time on Caye Caulker and don't plan to spend any overnights on San Pedro.
Where to Stay in Caye Caulker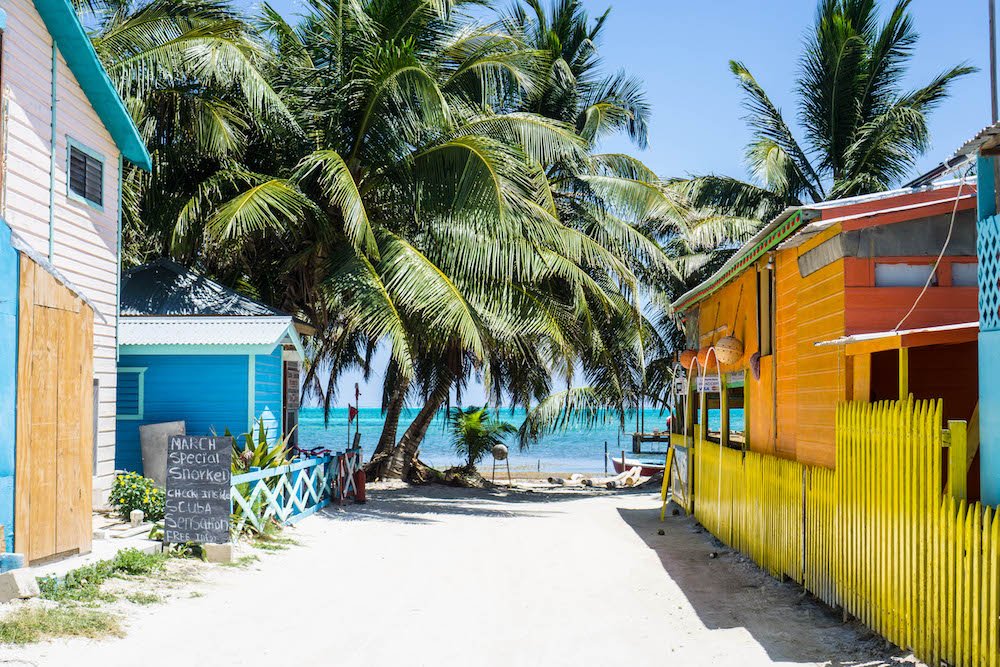 You won't find luxury resorts here — Caye Caulker is stubbornly down to earth, especially compared with its more upscale cousin, Ambergris Caye, which has its share of luxury boutique hotels.
What Caye Caulker lacks in resorts it makes up for in cheap and cheerful guesthouses. If you're traveling in a group of two, it often is about as cheap as staying in a hostel.
Budget: Caye Caulker is one of the most budget-friendly places in Belize! People on a tight budget will want to pick one of the island's hostels or small guesthouses.
I recommend the excellently-rated Go Slow Guesthouse, which is a colorful, friendly hostel located in the heart of Caye Caulker not far from the main road.
There are fan rooms for a cheap price or AC rooms for a slightly higher cost. It's got a friendly vibe that's also perfect for solo travelers.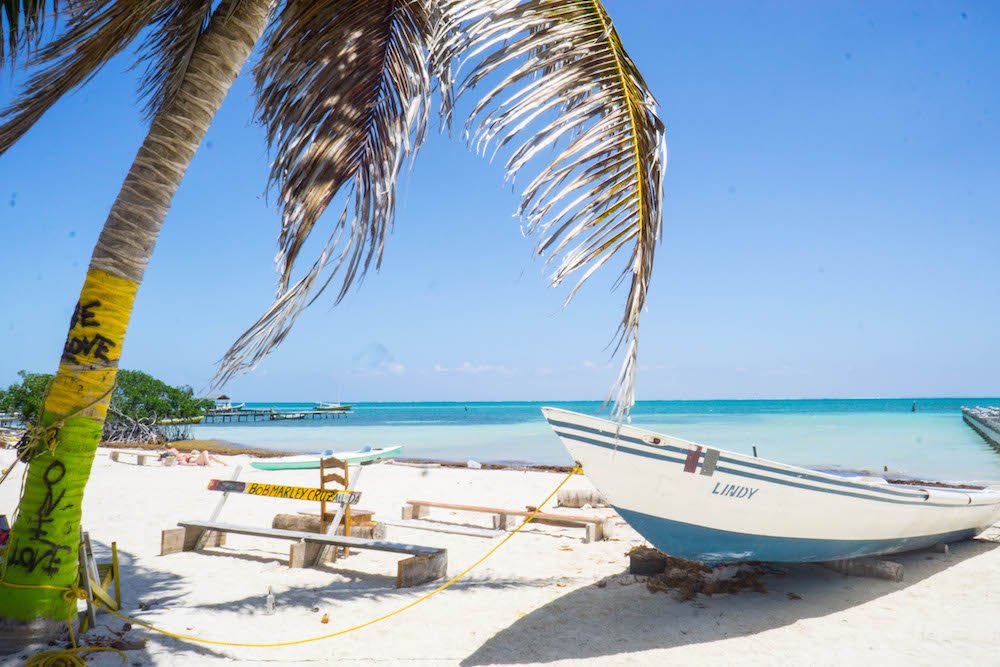 Mid-range: If you want the privacy of your own cabana without paying an insane price, Colinda Cabanas is an excellent mid-range choice. Stay in a joyful yellow and turquoise cabana just a minute walk from the sea!
Free bike and kayak rental, free coffee in the mornings, and other perks will help you feel welcomed and at ease here in Caye Caulker.
Luxury: While San Pedro definitely has more luxury options than Caye Caulker, you can still enjoy a bit of luxury on this more budget-conscious island. The nicest hotel in town is Weezie's Oceanfront Hotel.
With spacious studios and one-bedroom cottages, a lovely pool, friendly staff, and balconies with amazing sweeping Caribbean views, you'll never want to check out of paradise.
FAQs About Caye Caulker
When is the best time to visit Caye Caulker?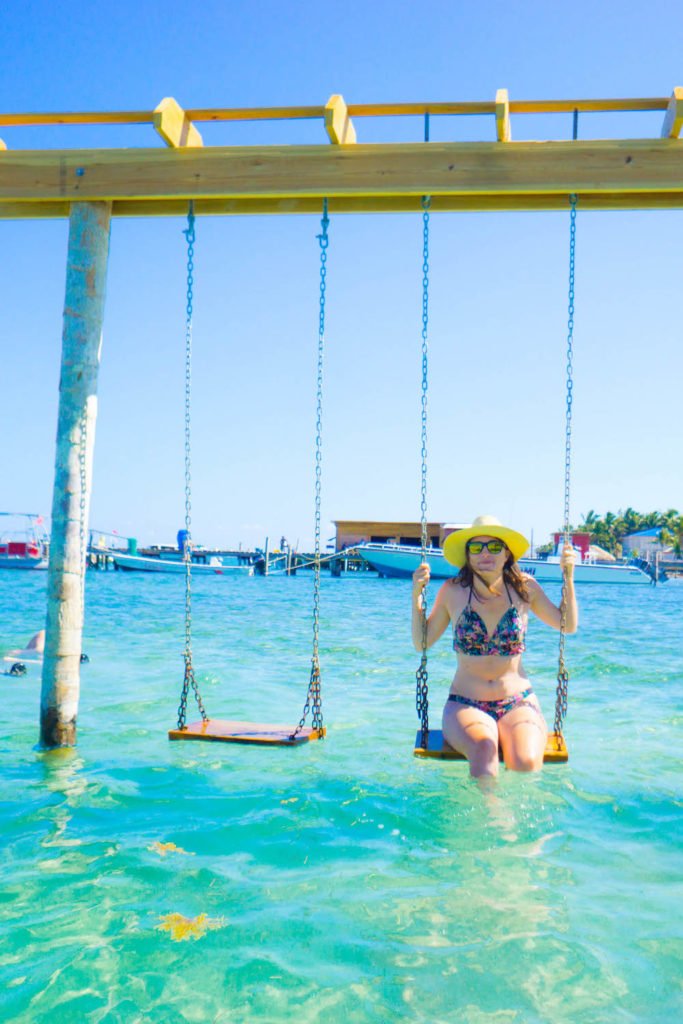 In Belize, a tropical country, you'll find they have two seasons: a rainy and dry season.
From May to October, it's the wet season. During this period, anticipate rain on many days and intensely hot weather.
Traveling to Belize in the wet season might not be the best idea. The frequent rainfall can be inconvenient and often hampers various activities.
Tours like snorkeling and diving can be cancelled due to adverse conditions. Additionally, hurricanes are a possibility during these months.
Plus, it's just super hot and humid.
On the other hand, the dry season spans from November to April, which aligns with Belize's peak tourist season.
While occasional rain showers might occur, they are generally brief and less intrusive to your Belize itinerary.
However, be aware that visiting Belize around Christmas and New Year's can be both crowded and pricey.
For an ideal combination of pleasant weather and reasonable costs, consider visiting between January and April.
How do you get to Caye Caulker?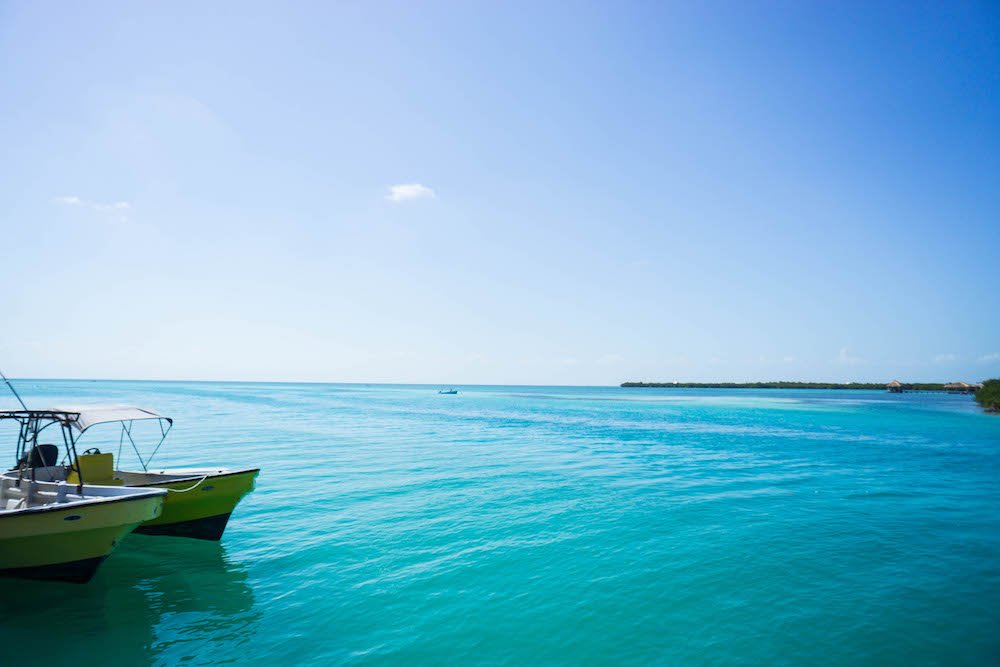 It's quite easy to get to Caye Caulker from Belize City. There are ferries about every hour or two.
Caribbean Sprinter Water Taxi offers fery rides (check out the most recent schedule here) at $30 USD one way or $35 roundtrip.
The other option, San Pedro Belize Express Water Taxi, is a touch more expensive but has more options (schedule here) at $21 USD one way or $37 roundtrip.
The priciest but fastest option is by taking a flight with Maya Island Air (check flights here), for $84 between Belize City Airport and $71 on the way back ($155 USD roundtrip).
There are only 3 flights per day, so it's not always the most convenient, but if it lines up with your flight well, it can save you some time, and the flight is gorgeous (I have done it to neighboring San Pedro twice!)
How do you get to Belize City?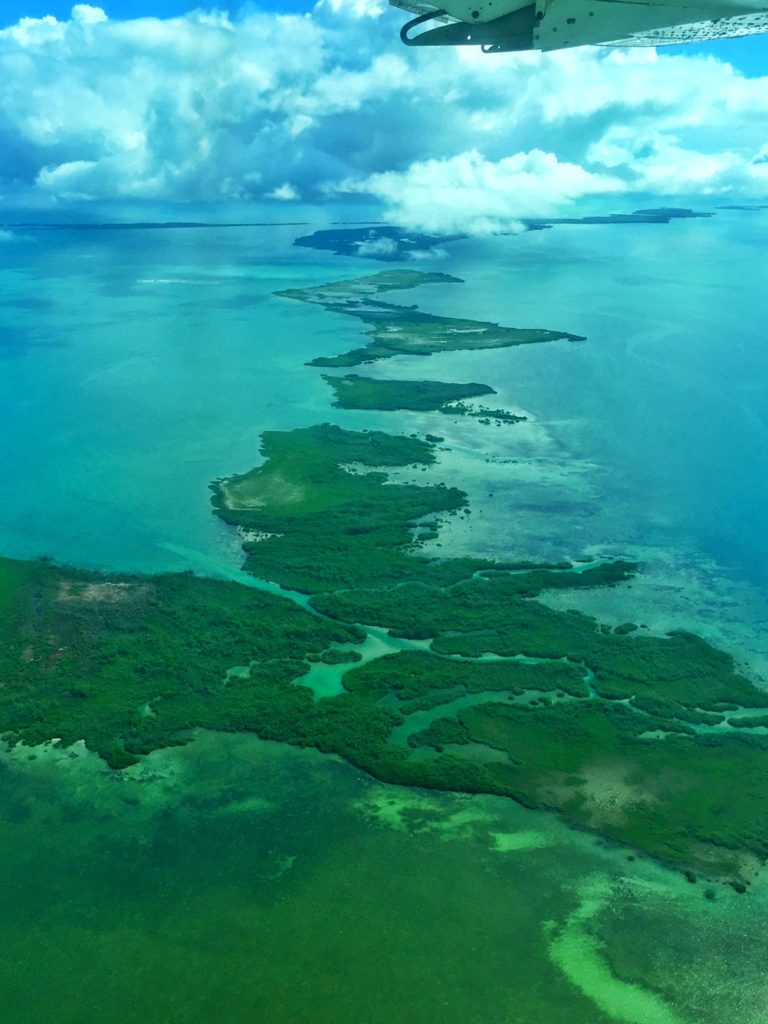 If you're flying into Belize… that solves that! It's the only international airport in the country.
If you're traveling from other parts of Central America, you can get to Belize City easily via chicken bus from San Ignacio, Belize ($8 BZD/$4 USD) or Chetumal, Mexico (180 pesos/$10 USD).
If coming from the bus station, I recommend taking a taxi, not walking. The bus station is in a dodgy neighborhood of Belize City, and I wouldn't want to walk through it with all my belongings on me!
Water taxis from Chetumal, Mexico are available every other day, but they are a little — over $50 USD one way.
You can also take private shuttles from within Belize or to neighboring Guatemala or Mexico if you prefer to travel in a little more comfort, but I love Belize's chicken buses.
The fun reggae music and people-watching opportunities make the hundreds of stops you'll make along the way less painful somehow!
Protect your travel investment!

Travel insurance coverage helps you recoup your losses in case of emergency, accident, illness, or theft.

I rely on SafetyWing for coverage when it comes to trip interruptions and cancellations as well as accidents and medical emergencies.

It offers great rates starting around $12/week with clear, easy-to-read coverage.
Allison Green is a former educator turned travel blogger. She holds a Masters in Teaching and a B.A. in English and Creative Writing. Her blog posts merge her educational background and her experience traveling to 60+ countries to encourage thoughtful travel experiences that both educate and entertain. She has been a speaker at the World Travel Writers Conference and her writing, photography, and podcasting work has appeared in National Geographic, CNN Arabic, CBC Canada, and Forbes, amongst others. Now based in the San Francisco Bay Area where she grew up, she has also lived in Prague, Sofia, and New York City.