I think I found my spirit island.
An island where day drinking is the local sport, and aspirations of sitting in an inner tube while working your way through a bucket of beer are considered 100% valid.
An island where locals chastize you for walking too fast, where the smoky smell of pimento wood being burned for jerk chicken permeates the air, where golf carts have right of way.
Yes, Caye Caulker, you can stop blushing — I'm talking about you.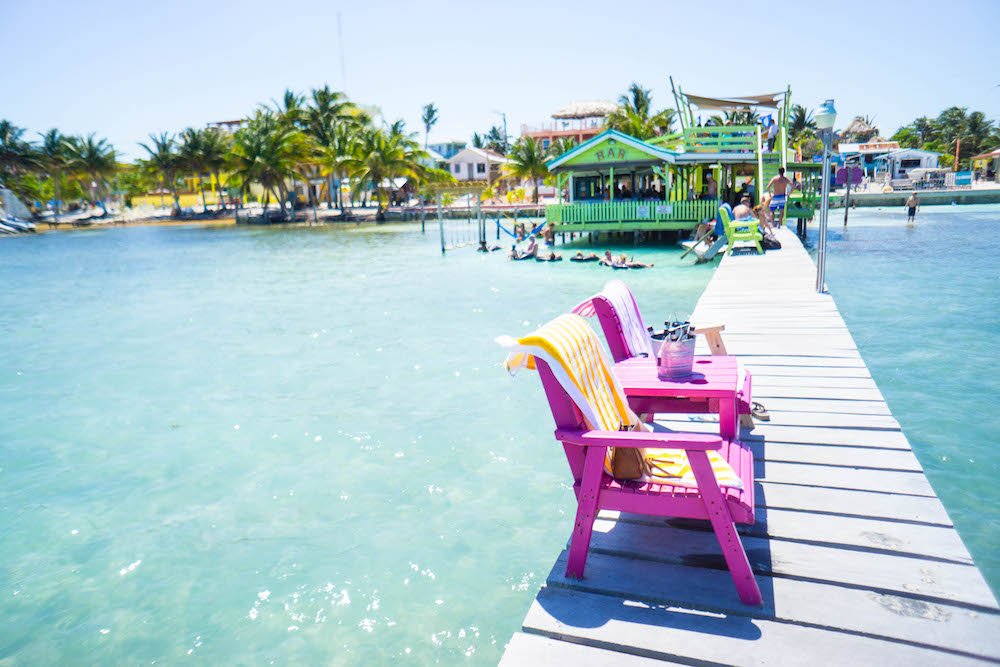 Note: This post contains affiliate links, which means I may receive a small commission if you purchase something through one of these links. Thank you for supporting the free content on this site! For more information on affiliate links and cookies, see my disclosure page for more details.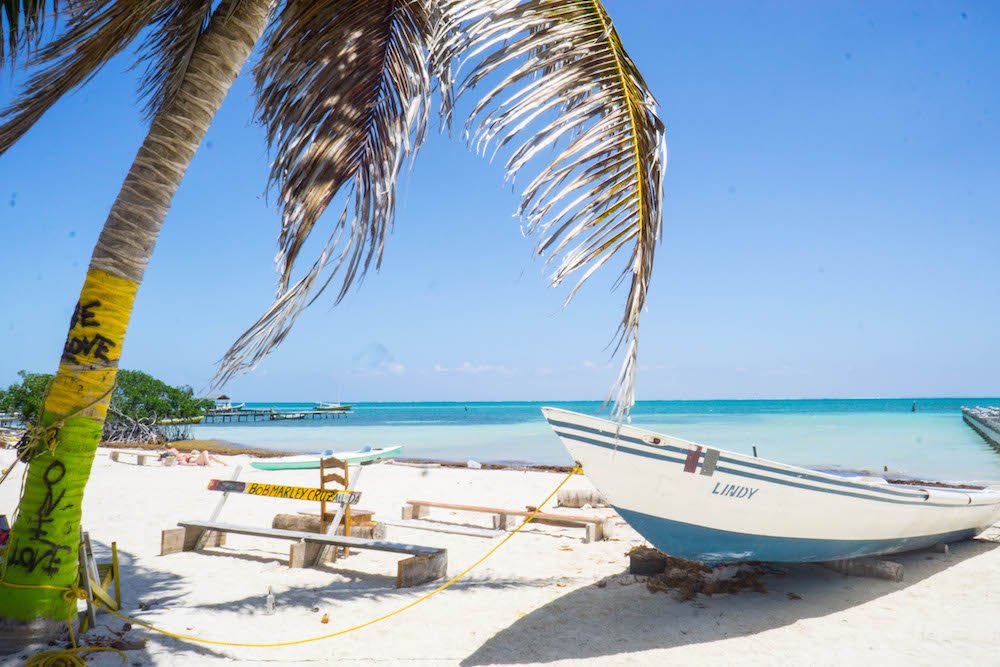 But before I get into going into all the great things to do in Caye Caulker, let's quickly review a bit about getting there.
After all, the world has changed quite a bit, and you can't just hop on a plane without a thought anymore.
Here are the requirements for visiting Belize as of May 2022.
Visiting Belize Requirements in 2022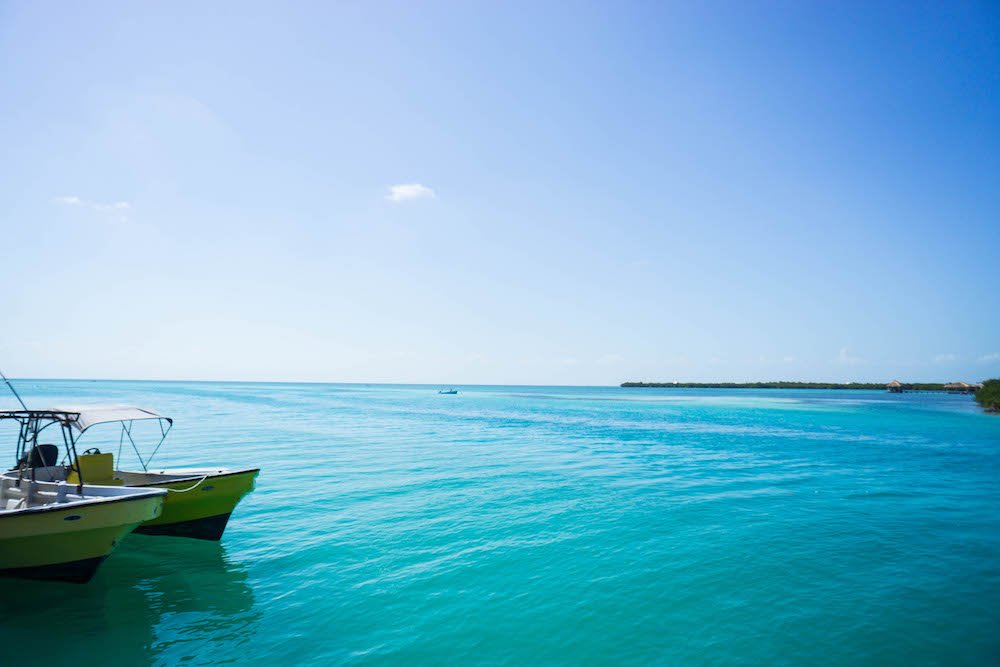 This post was updated May 23, 2022 and is up-to-date as of that day. However, policies may change in the future, so always check with the official Belize website.
Here are the current requirements:
Fully vaccinated travelers do not need to show a negative test to enter Belize, but they must show proof of vaccination.
Unvaccinated travelers must show a negative PCR result from a test taken within 72 hours of arrival or a negative antigen result from a test taken within 48 hours of arrival.
Tests can be administered upon arrival for $50 USD cash — but if you test positive, you will have to enter mandatory quarantine in Belize.
All travelers must purchase Belize travel insurance which you can do so here. It costs $18 USD for 21 days of coverage.
Follow all Belize laws, such as masking in public and adhering to the curfew
Follow any requirements that your home country requires for reentry
Best Time to Visit Belize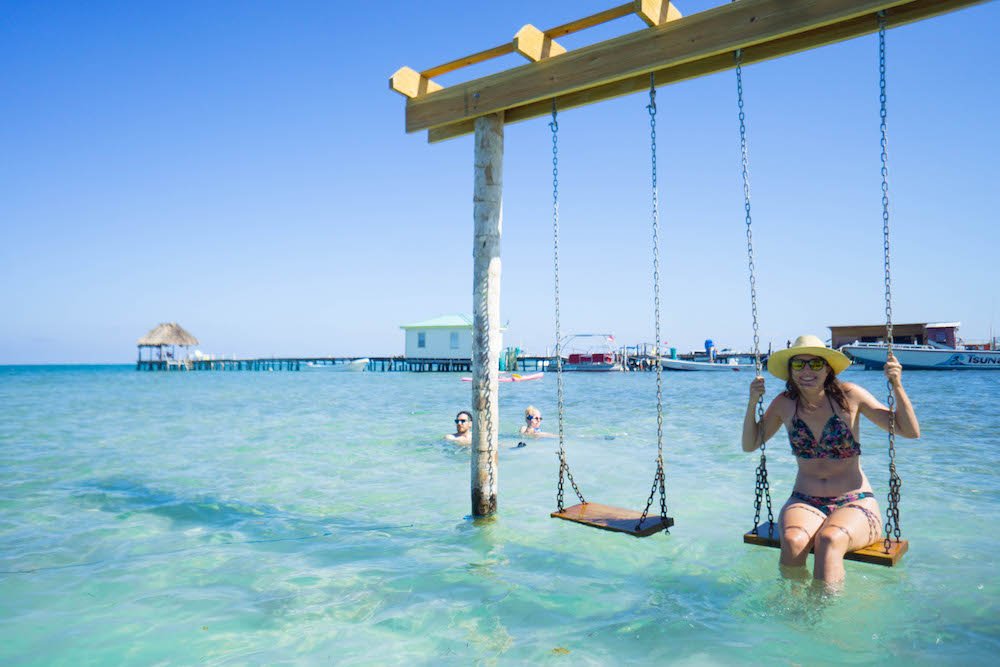 Being a tropical country, Belize has a rainy season and a dry season as opposed to the typical "4 season" model of non-tropical countries.
The wet season is between May and October, where you can expect rain about half the days and scorchingly hot temperatures.
I really don't really recommend traveling Belize during the wet season!
Not only can the rain be a pain, it can also disrupt a lot of tours and activities, such as snorkeling/diving tours and cave tours, due to unfavorable conditions.
Hurricanes can also happen during this time of the year.
Between November and April, it is the dry season in Belize. This coincides with much of Belize's peak travel season.
While there will still be occasional rainfall, storms will be much more dispersed, plus you'll experience shorter periods of rain that are less disruptive to your plans.
Note that Belize can be incredibly popular (and expensive) over Christmas and New Years.
I suggest going during January through March for a better balance between good weather and good prices.
Top Things to Do in Caye Caulker
If you go to Caye Caulker with a checklist, you're doing it wrong.
Caye Caulker is a place that's easy to get sucked into. While there aren't that many things to do in Caye Caulker per se, the days still manage to slink by a little too easily.
You'll rise as your room gets warm in the morning sun, eat breakfast with a beach view, amble along the colorful buildings, and sunbathe — all before the nightly ritual of watching the sun sink into the sea.
Yup, that's a grind I can get behind.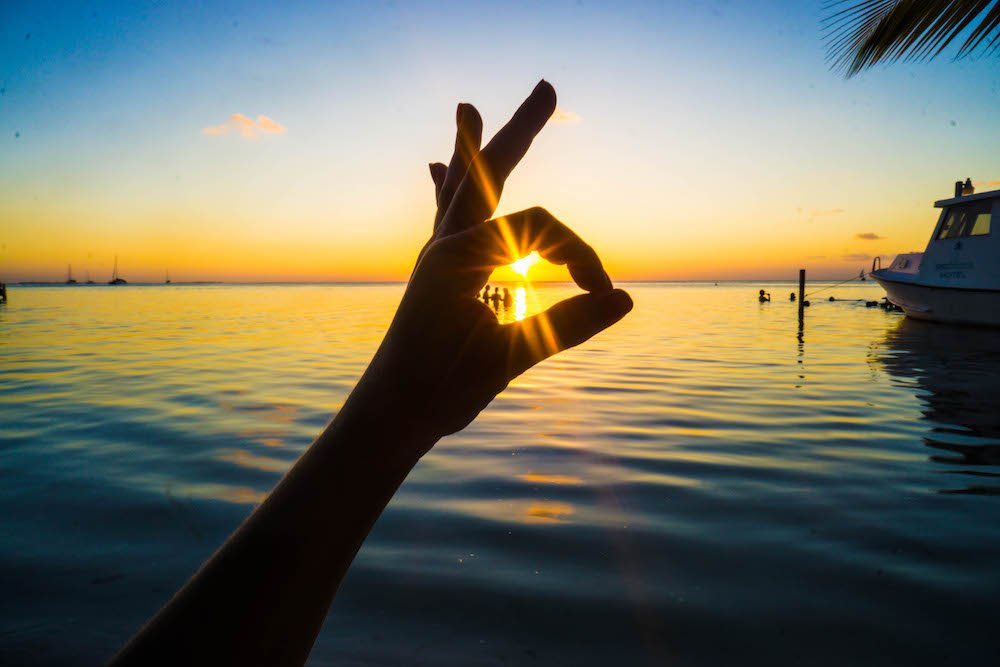 Spend the day in the sun at Sip N Dip
But really: how to while away your days in lovely Caye Caulker? Make your way to my favorite beach bar, Sip N Dip.
Where else can you sit on a swing in the Caribbean sea, relax in a hammock over the water, or just chill in an inner tube with a bucket of beer floating alongside you?
Located just before The Split on the north end of the island, day drinking at the Sip N Dip is my number one can't-miss thing to do in Caye Caulker.
A bucket of beer will set you back $25 BZD ($12.50 US since the Belize dollar is pegged at a 2-to-1 exchange rate with the dollar) for 6 — one of the best deals on the island! Happy hour is from 3 to 5 and offers specials on rum punch, Cuba libres, and other house drinks — get two for $7 BZD ($3.50 US).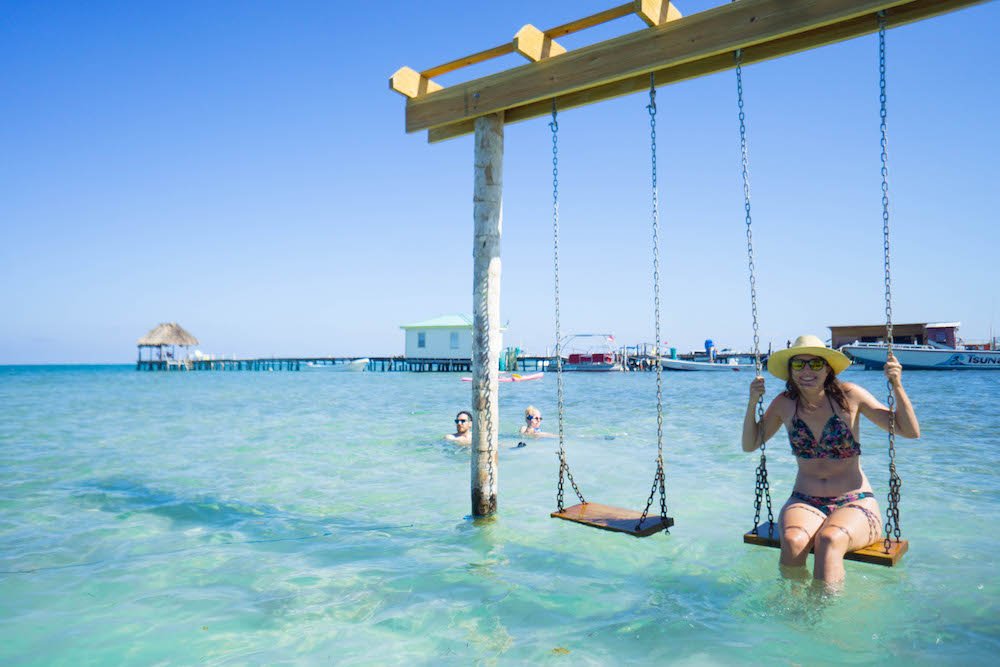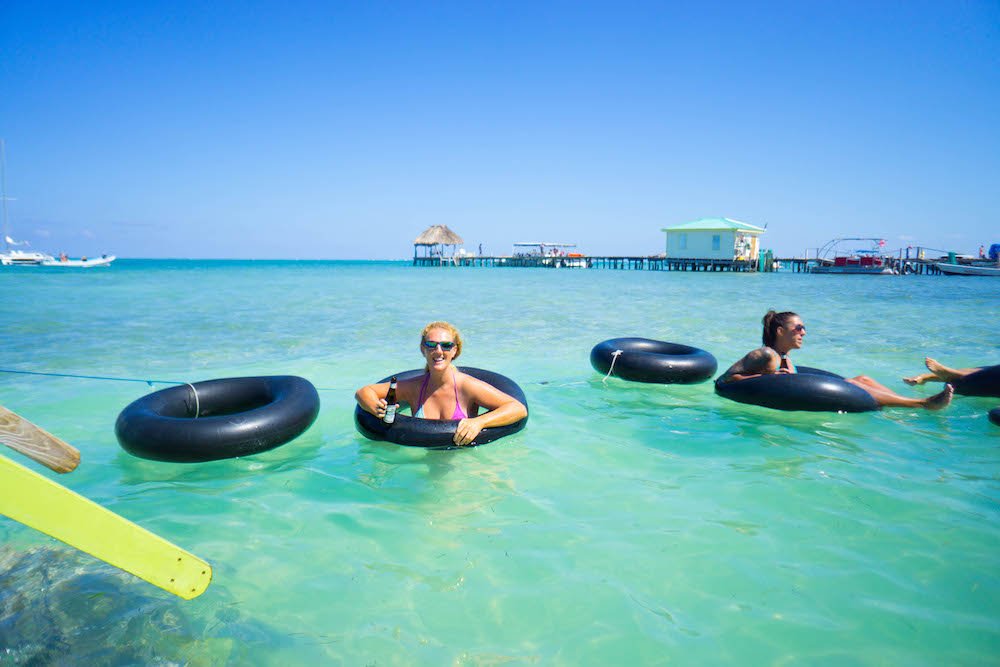 Visit the sweet animals at the Caye Caulker Animal Shelter
Another one of my favorite things to do in Caye Caulker is visit the lovely dogs at the Caye Caulker Animal Shelter!
This non-profit animal shelter cares for dogs and cats in need of homes. They welcome visitors to come by and love on the animals.
With these faces, how could you walk on by?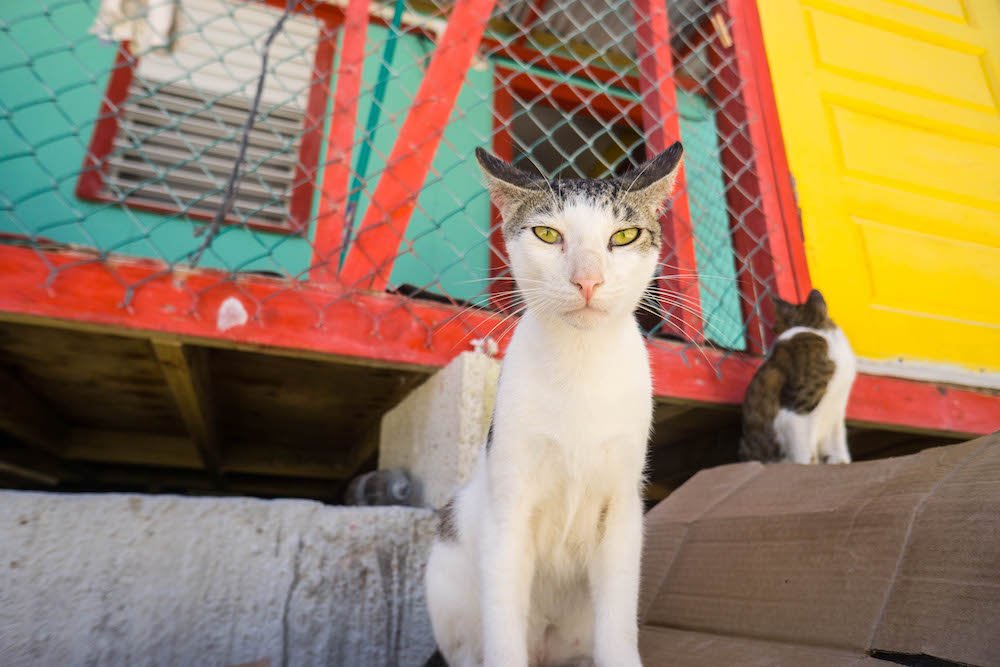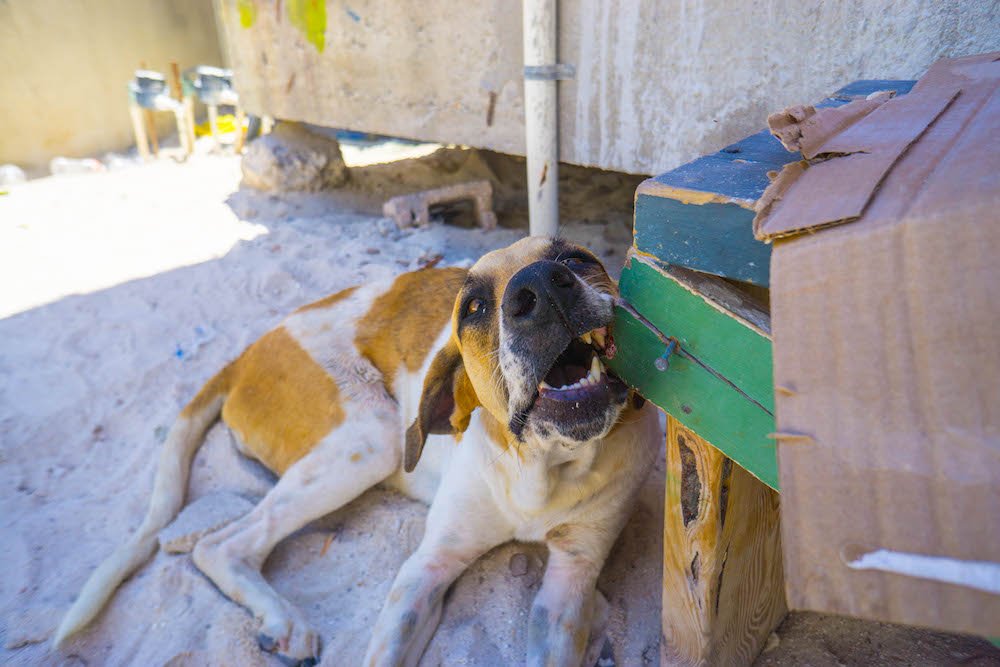 If you're a dog lover, you'll love Caye Caulker.
Because it's a small island with no cars, many people allow their dogs to hang out on the island during the day, running about and making friends.
Most aren't strays – they're well-behaved, well-loved pets who get to call the streets of the island their playground.
Needless to say, I was in heaven. Janet and I loved the dogs so much we even spent a whole day filming them!
Swim with manatees
One of the best reasons to visit Caye Caulker and top things to do there is swim with the manatees north of Caye Caulker.
To do so, you'll have to book a tour as the manatees don't swim that close to Caye Caulker but in a deeper, more protected area.
Check out this small group, 7-stop snorkeling tour that includes a stop to hopefully see the manatees!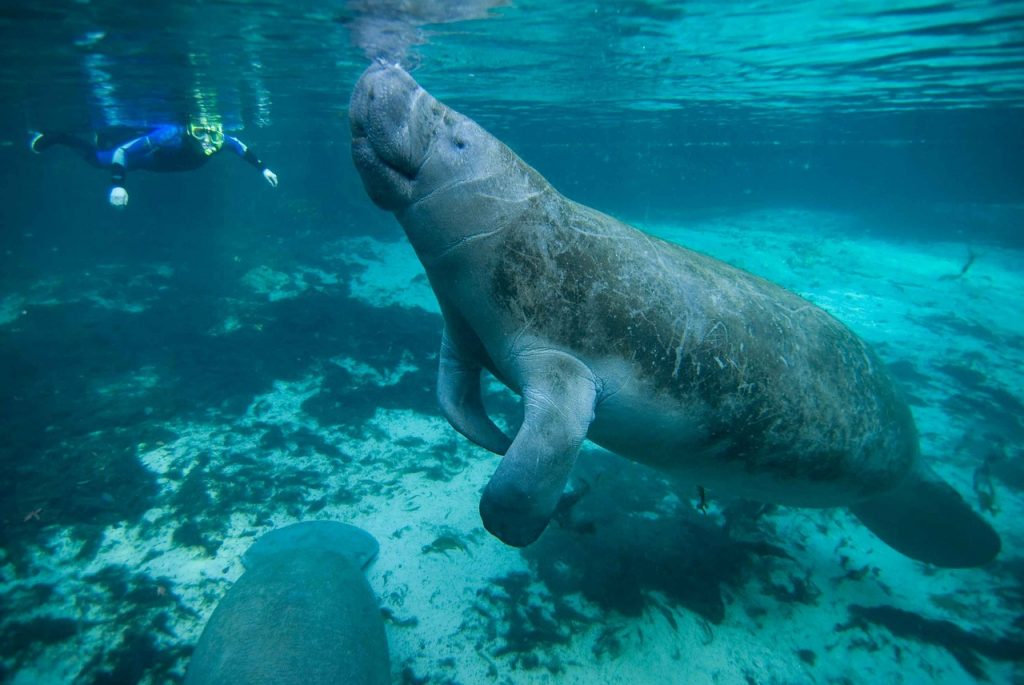 It's a bit expensive and I was on a backpacker's budget in Caye Caulker so I didn't indulge but it's on my list of top things to do on Caye Caulker when I return to this magical island.
I mean, manatees are truly the elephants of the sea. Freaking adorable.
Please note: never touch animals in the wild, even if they seem docile and gentle. You can do serious damage.
Give them a comfortable distance – at least 5 meters if not more – and observe quietly and respectfully so that others in the future can also enjoy the presence of these gentle sea giants.
Snorkel or dive in the Belize Barrier Reef.
Belize is home to the second-largest reef system after the Great Barrier Reef!
So if you're a lover of marine life, take full advantage of Caye Caulker's amazing location and make sure you don't miss snorkeling (or diving, if you're certified) while on Caye Caulker.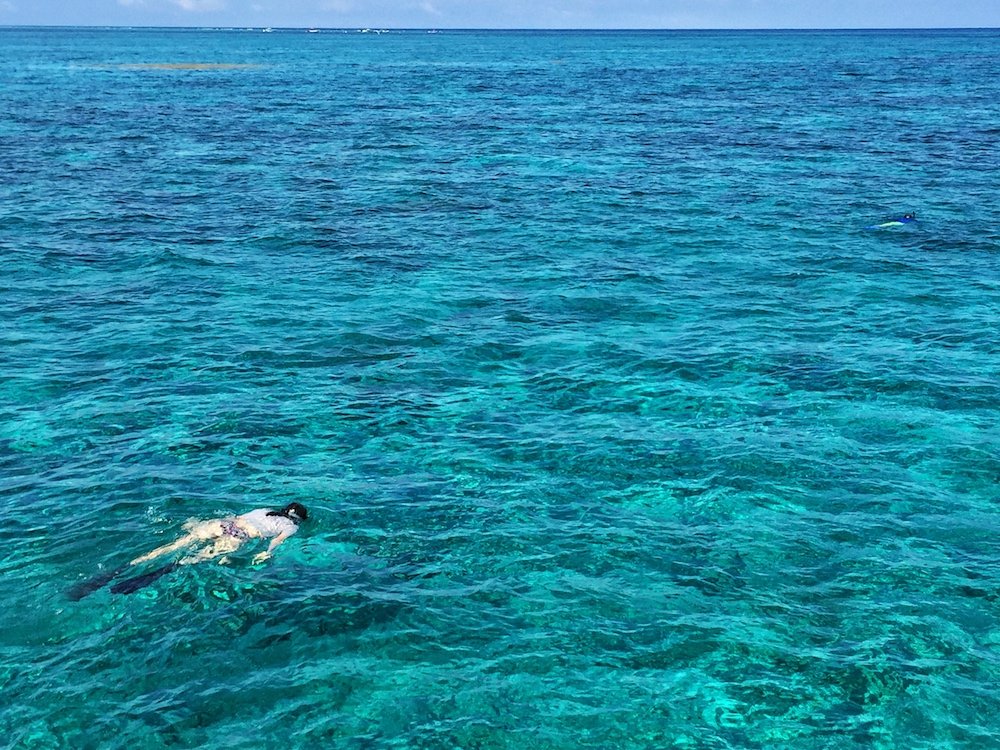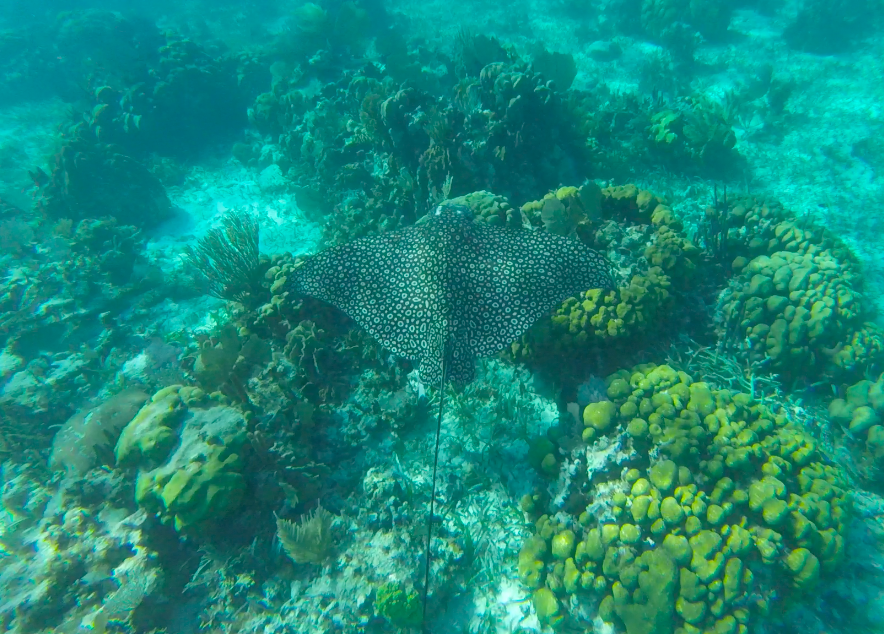 Do sunset yoga
I'll readily admit that I was never stayed sober long enough on Caye Caulker to make it to sunset yoga.
However, if you're more responsible than me, RandOM Yoga offers donation-based sunset yoga classes on the roof of Namaste Café with a great sunset view and ocean breeze.
Rent a kayak or stand-up paddleboard
Caye Caulker is a small island and it's easy to kayak around in just a few hours.
There are several places on the island that rent stand-up paddleboards and kayaks, and it's one of the best things to do in Caye Caulker because the water is super flat and glassy, making both sports easier than normal.
If you're into something more adventurous – learn to kite surf, go scuba diving, or try deep sea fishing!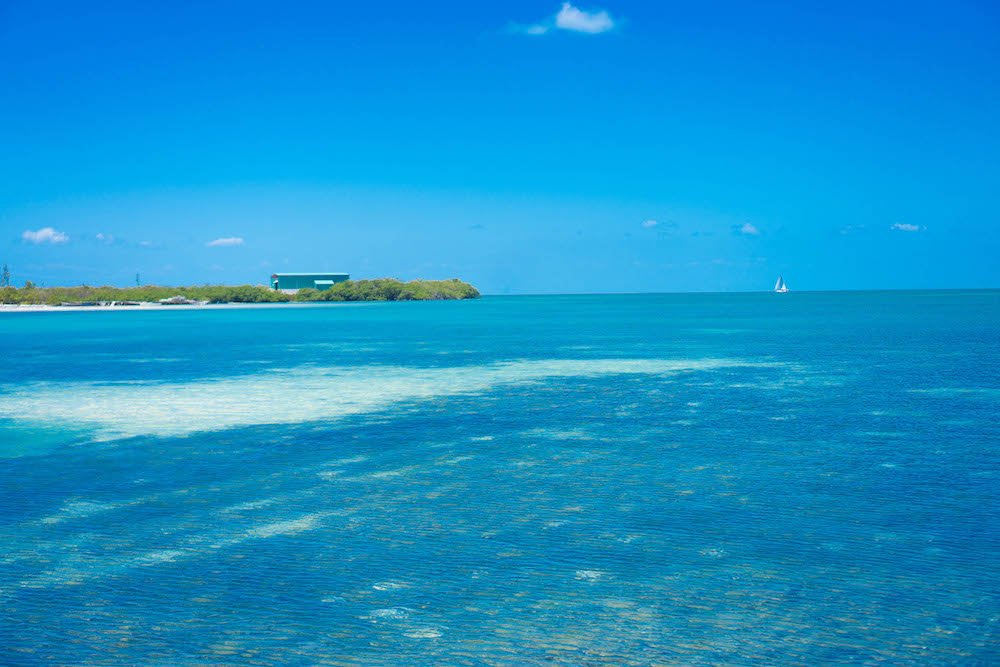 Eat delicious barbecue
On Caye Caulker, you'll see — and smell — barbecues going all day and night long. You can't go wrong with the island's most popular dish – jerk chicken!
A plate of jerk chicken will set you back about $15-20 BZD ($7.50-10 US) in a restaurant and usually will come with your choice of sides and anywhere from one to three glasses of rum punch included!
Quality across the board was about the same everywhere, so no place really sticks out – just order the jerk chicken and you can't go wrong!
On the street, a takeaway portion of jerk chicken and coconut rice will cost you about $10 BZD, or $5 US. My favorite street stall was located on the north side just before Sip N Dip.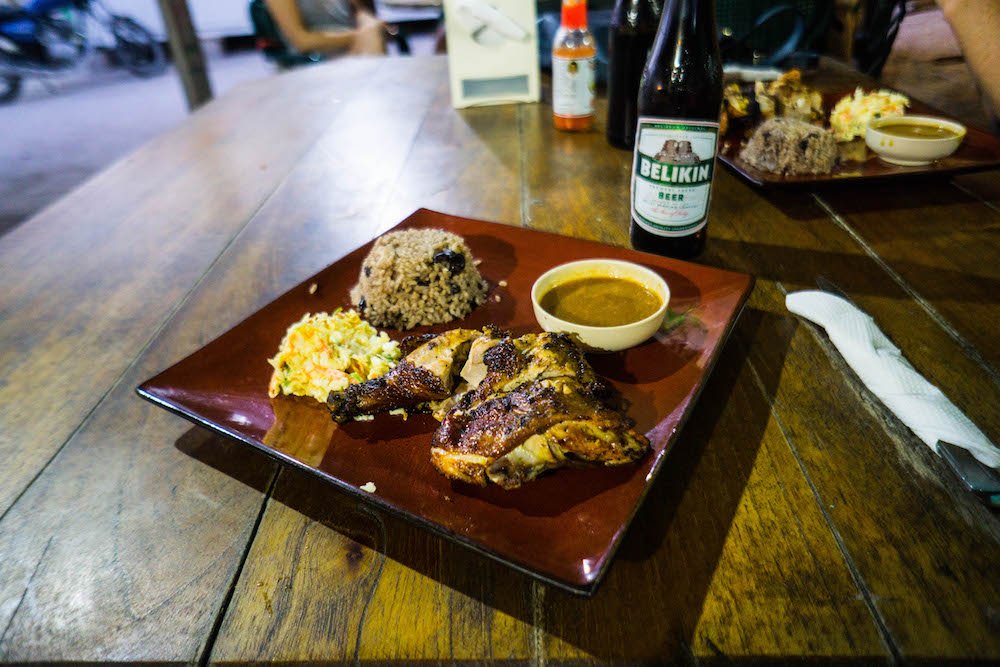 There is also delicious Chinese food on the island thanks to the influence of Chinese immigrants who run many of the local shops and grocery stores.
My favorite was located across the street from La Cubana, and the chow mein was delicious, only about $7 BZD ($3.50 US), and big enough for two!
Try a Belizean breakfast
My favorite Belize breakfast is fry jacks – fried dough pockets stuffed with your choice of filling. My favorite was meat, cheese, and egg.
Get them at Errolyns House of Fry Jacks for a mere $2.50 BZD each!
If you prefer a more traditional breakfast, or you're really missing bagels, Ice 'N Beans is another one of my favorite places on Caye Caulker for breakfast.
Sip on a swing at Margarita Mike's
I've already rhapsodized about Sip N Dip. Another place I loved for day drinking was Margarita Mike's.
What can I say? I love a good bar swing! And also day drinking. Go figure.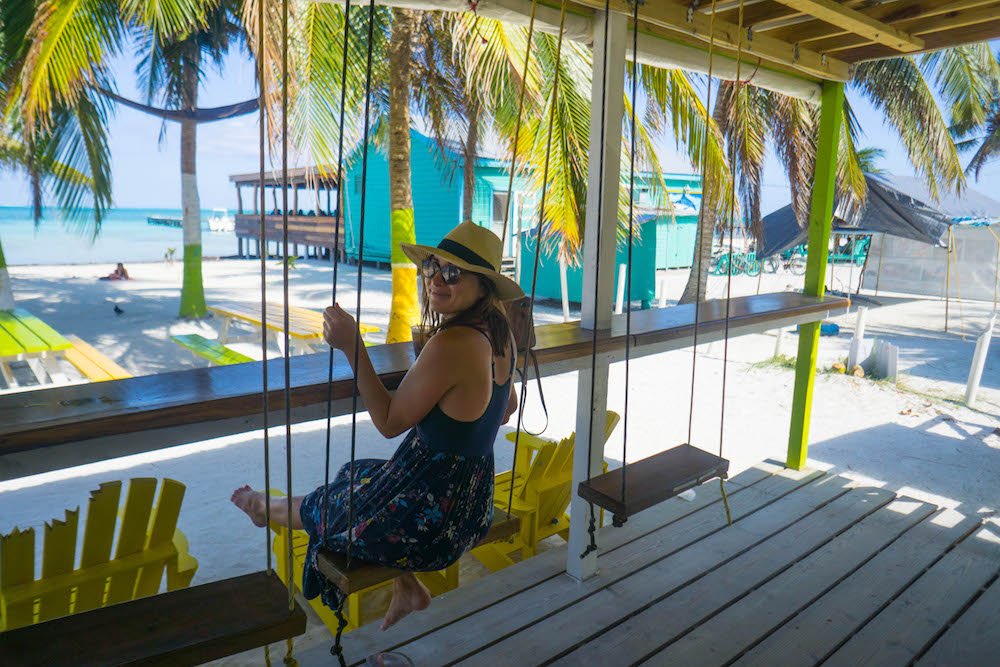 Chill at the Split
I loved spending my days at the "The Split" – the northern tip of Caye Caulker.
Apparently, Caye Caulker used to be one island until a hurricane hit in 1961, breaking the island in two.
The channel that divides them now is called "The Split" and, absent any white sand beaches, is Caye Caulker's unofficial watering hole.
The Lazy Lizard is often cited as a favorite, but when I went it was under construction — which killed its beachy vibe.
Still, a day at the Split is never spent poorly. I mean: look at those blue, blue waters!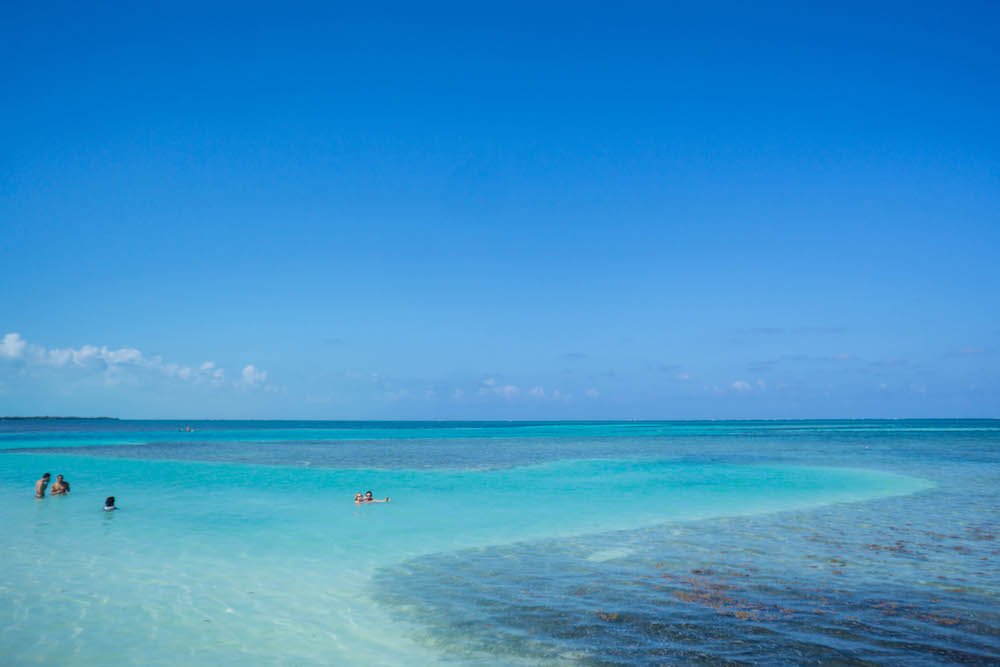 Drink after hours at The Sports Bar or the Reggae Bar
If you're somehow managed to make it to sunset without getting drunk… congrats!
You now have two options: The Sports Bar and The Reggae Bar. Though neither of those are their real names.
Basically everyone on the island goes to The Sports Bar (Barrier Reef Sports Bar) first and then Reggae Bar (I & I) if they're still standing.
Where to Stay in Caye Caulker
You won't find luxury resorts here — Caye Caulker is stubbornly down to earth, especially compared with its more upscale cousin, Ambergris Caye, which has its share of luxury boutique hotels.
What Caye Caulker lacks in resorts it makes up for in cheap and cheerful guesthouses. If you're traveling in a group of two, it often is about as cheap as staying in a hostel.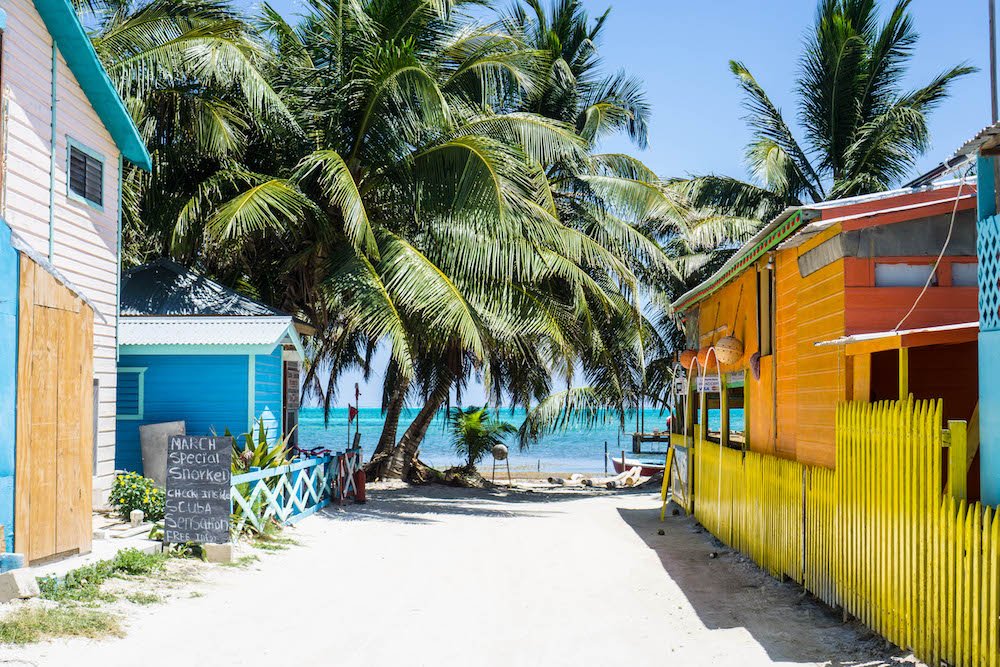 Budget: Caye Caulker is one of the most budget-friendly places in Belize! People on a tight budget will want to pick one of the island's hostels.
I recommend the excellently-rated Go Slow Guesthouse, which is a colorful, friendly hostel located in the heart of Caye Caulker not far from the main road. There are fan rooms for a cheap price or AC rooms for a slightly higher cost. Solo travelers enjoy the friendly vibe.
>> Check prices, ratings, and availability here.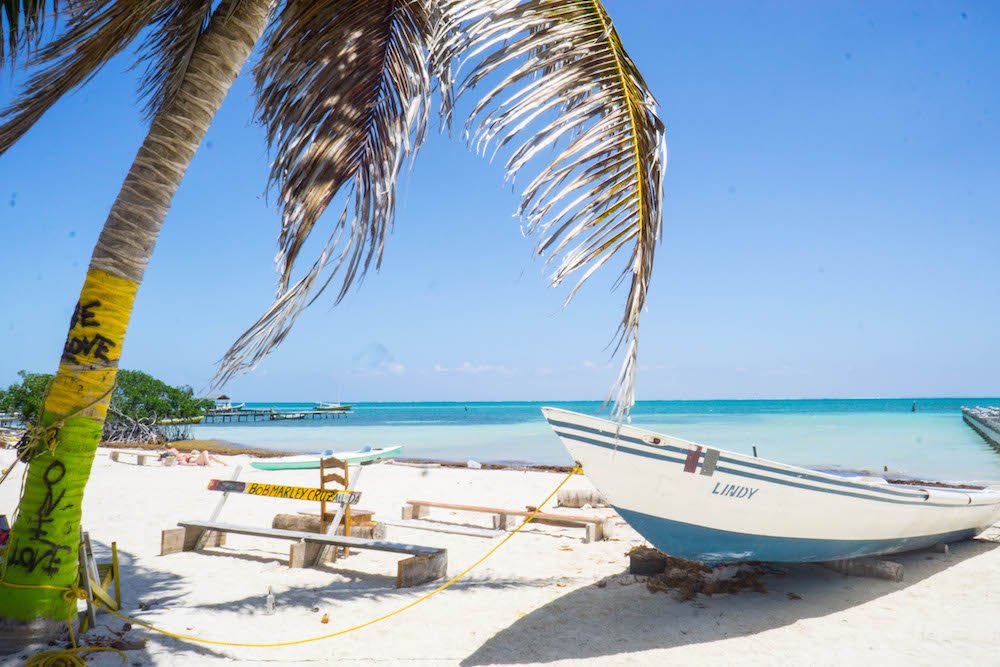 Mid-range: If you want the privacy of your own cabana without paying an insane price, Colinda Cabanas is an excellent mid-range choice. Stay in a joyful yellow and turquoise cabana just a minute walk from the sea!
Free bike and kayak rental, free coffee in the mornings, and other perks will help you feel welcomed and at ease here in Caye Caulker.
>> Check prices, ratings, and availability here!
Luxury: While San Pedro definitely has more luxury options than Caye Caulker, you can still enjoy a bit of luxury on this more budget-conscious island. The nicest hotel in town is Weezie's Oceanfront Hotel.
With spacious studios and one-bedroom cottages, a lovely pool, friendly staff, and balconies with amazing sweeping Caribbean views, you'll never want to check out of paradise. And with relatively affordable prices, it'd be easy to overstay!
>> Check prices, ratings, and availability here.
How to Get to Caye Caulker
It's quite easy to get to Caye Caulker from Belize City. There are shuttles about every hour or two.
Ocean Ferry Belize is the cheaper of two ferry options (check out the most recent schedule here) at $12 USD one way or $22 roundtrip. The other option, Belize Water Taxi, is a touch more expensive but has more options (schedule here) at $15 USD one way or $25 roundtrip.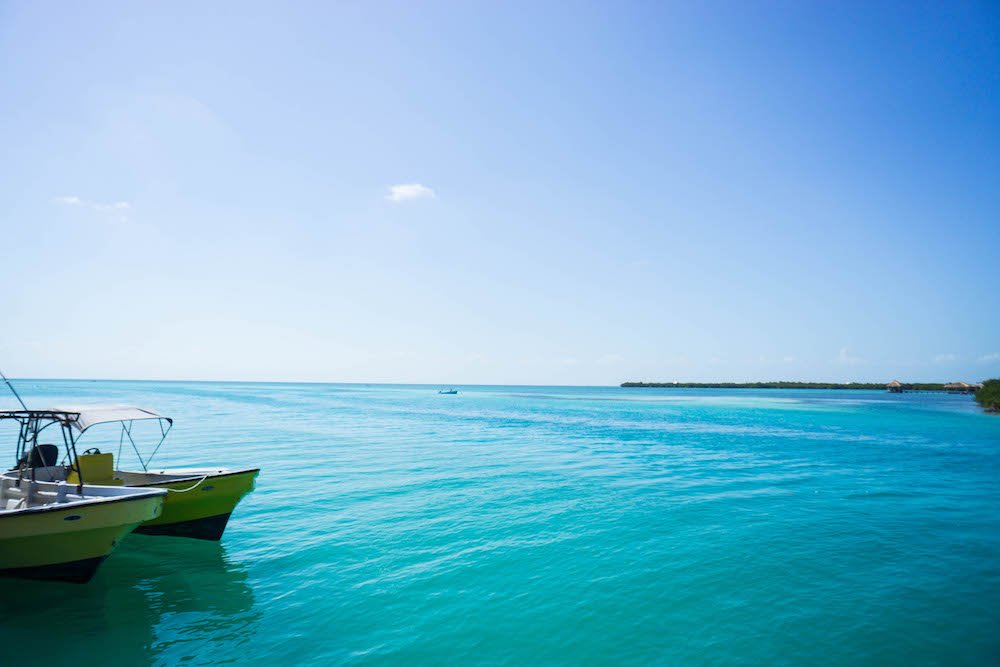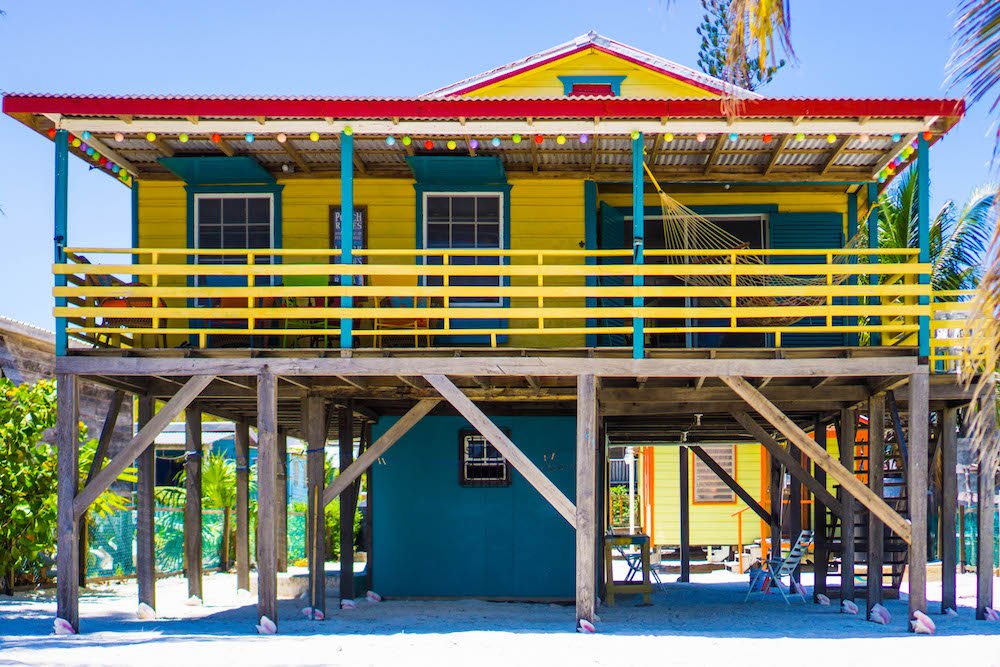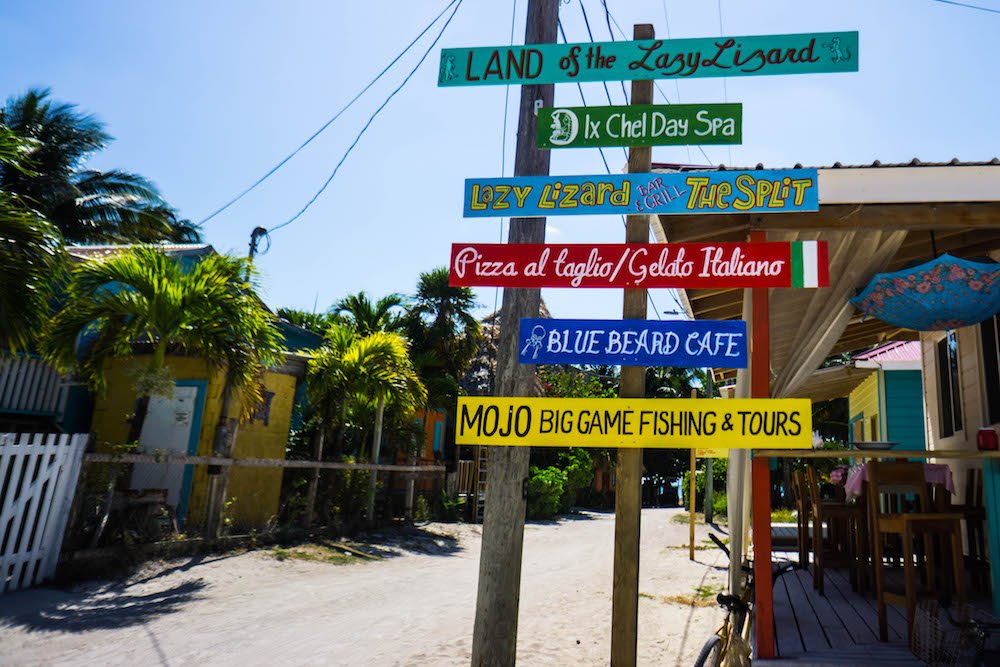 You can get to Belize City easily via chicken bus from San Ignacio, Belize ($8 BZD/$4 USD) or Chetumal, Mexico (180 pesos/$9 USD). If coming from the bus station, I recommend taking a taxi, not walking. The bus station is in a dodgy neighborhood, and I wouldn't want to walk through it with all my belongings on me!
Water taxis from Chetumal, Mexico are available every other day, but they are expensive — over $50 USD one way.
You can also take private shuttles from within Belize or to neighboring Guatemala or Mexico if you prefer to travel in a little more comfort, but I love Belize's chicken buses. The reggae music and people watching opportunities make the hundreds of stops you'll make along the way less painful somehow.
7 Things You Must Pack for Caye Caulker
I've written an entire Belize packing list but if you just want the essentials, here's what I think are the absolute essentials.
Mosquito repellent & after-care: Belize has a tropical climate with mosquitos year-round, particularly in the rainy season. Zika, dengue fever, malaria, and chikungunya have all been reported there. While there's no reason to cancel your trip on account of it, protect yourself with mosquito repellent (as a back-up, I carry around a few mosquito repellent wipes with me in my purse in case I forget to apply spray before leaving or that I can apply after swimming). It's also inevitable that you won't leave without a few bites, so bring some after-bite relief too (this is hard to find in Belize).
Full-size travel towel: This travel towel is full-size so it's big enough to use as a beach towel, thin enough to pack up super small for your luggage, and it dries super quickly in Belize's humid climate.
A guidebook: I use travel blogs a lot when I'm on the road but I also love having a guidebook to give me more specific, thoroughly researched information. Lonely Planet is my go-to guidebook and Lonely Planet Belize is no exception. I usually buy the Kindle version, but paper versions are also great fun to peruse.
Reef-safe sunscreen: If you are planning to do any water activities, such as diving or snorkeling or even swimming, please use a reef-safe sunscreen like this one. The active ingredients in sunscreen are killing off coral in huge numbers. The Belize Barrier Reef is the second largest in the world and is under threat. So please don't use normal, chemical-laden sunscreen in Belize's fragile ocean ecosystem!
Filter water bottle or Steripen: Belize's tap water is not drinkable anywhere in the country. I recommend traveling with a water bottle with a built-in filter that filters out nasty bacteria and viruses like this awesome LifeStraw bottle so you can reduce your plastic waste. Alternately, you can use a Steripen which sterilizes water using UV light. A great investment if you travel frequently and want to reduce your plastic bottle consumption!
GoPro: If you go snorkeling or swimming with manatees or kayaking, you're going to want a way to capture all of that action! A GoPro Hero 6 is currently the highest-quality option, but if you're on a budget, the GoPro Session is also an excellent choice. Be aware that you need to buy protective casing if you want to take either of these cameras diving. They are only waterproof to 10 meters, and you'll exceed that if you dive (most dives are at least 15 meters or so).
Finally, don't forget travel insurance! Whether you're scuba diving, caving, zip lining through the jungle or just relaxing on the beach, don't forget to purchase travel insurance for Belize! It'll protect you in case of accident, injury, lost luggage, theft, or any other disaster that could befall your trip. I have been a paying customer of World Nomads for two years and recommend them highly. I've included a way to get a free quote below.
So, Why Visit Caye Caulker?
There's no denying there's something special about this little island off the coast of Belize.
The views are stunning, the vibe is perfect, and somehow the days just melt one into the other. I found myself spending 4 days here and easily could have spent two weeks or a month here, that's how much I loved it!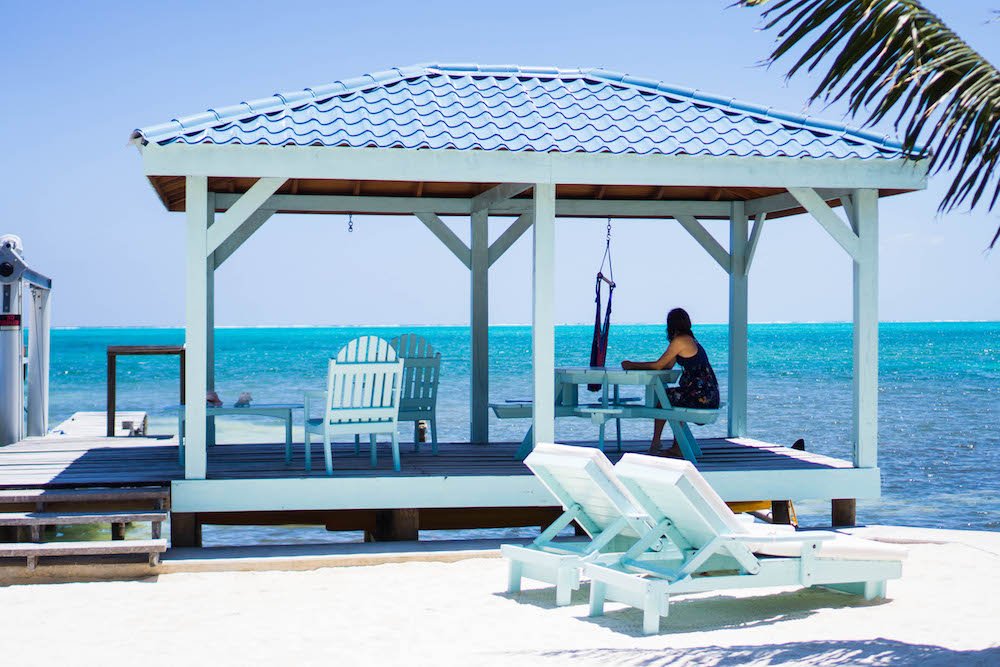 You know a place is special when it actually kind of hurts you to leave it. I know I'll come back to Belize for a third time, and likely a fourth or fifth… and when I do, Caye Caulker, I hope you won't have changed.
Stay slow.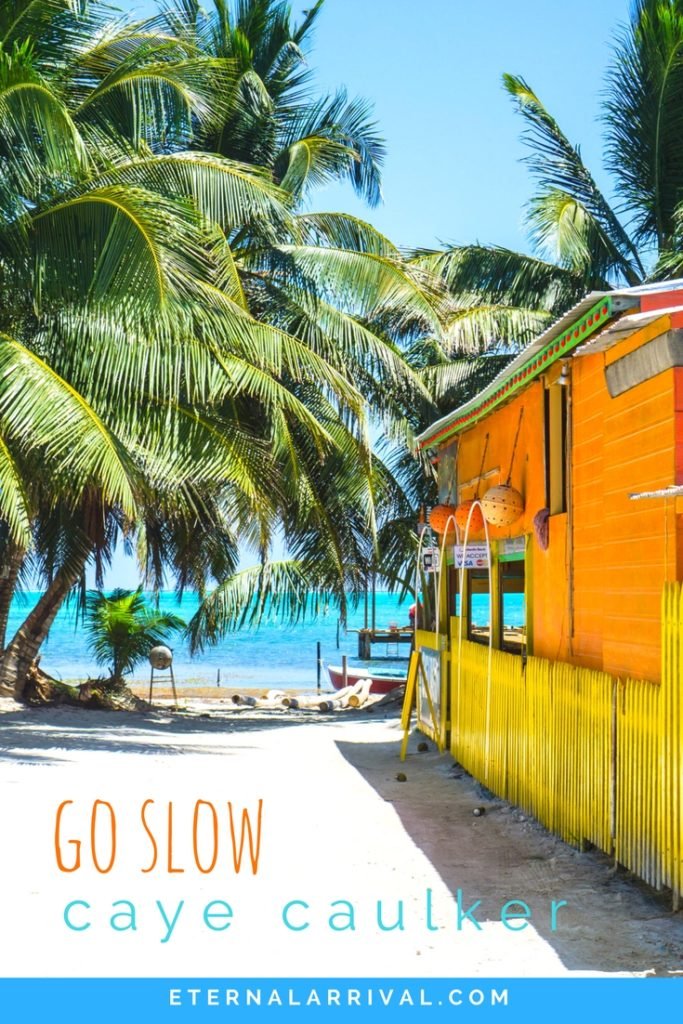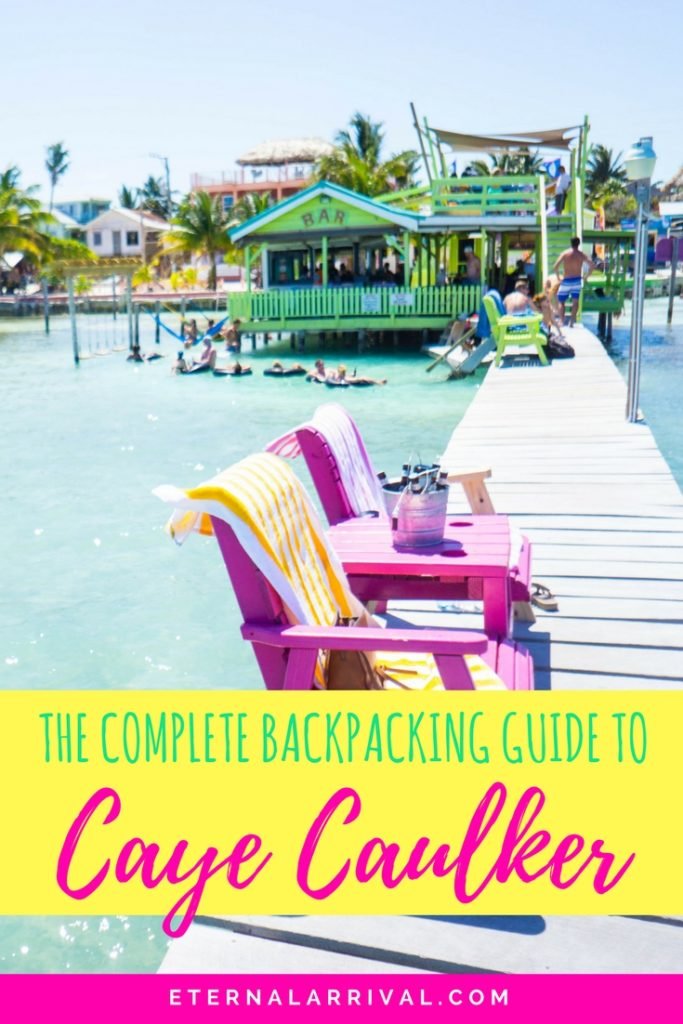 Allison Green is a former educator turned travel blogger. She holds a Masters in Teaching and a B.A. in English and Creative Writing. Her blog posts merge her educational background and her experience traveling to 60+ countries to encourage thoughtful travel experiences that both educate and entertain. She has been a speaker at the World Travel Writers Conference and her writing, photography, and podcasting work has appeared in National Geographic, CNN Arabic, CBC Canada, and Forbes, amongst others. Now based in the San Francisco Bay Area where she grew up, she has also lived in Prague, Sofia, and New York City.