Not many people know Tampere, Finland's third-largest city (and really second-largest, as Espoo is essentially a suburb of Helsinki).
I suspect that will change soon. The city is undergoing an immensely cool revival — craft breweries multiplying rapidly, a modernizing downtown, a delicious food culture that plays to Nordic strengths and ingredients, and a thriving urban sauna culture.
In fact, Tampere is considered the Sauna Capital of Finland (and thus the world, essentially) for its record-setting 55 public saunas — adding 20 saunas since my last visit, when the number was 35!
From old-school historic public saunas to new-wave trendy sauna-bar-restaurants for the millennial generation, there's a sauna for every type of traveler.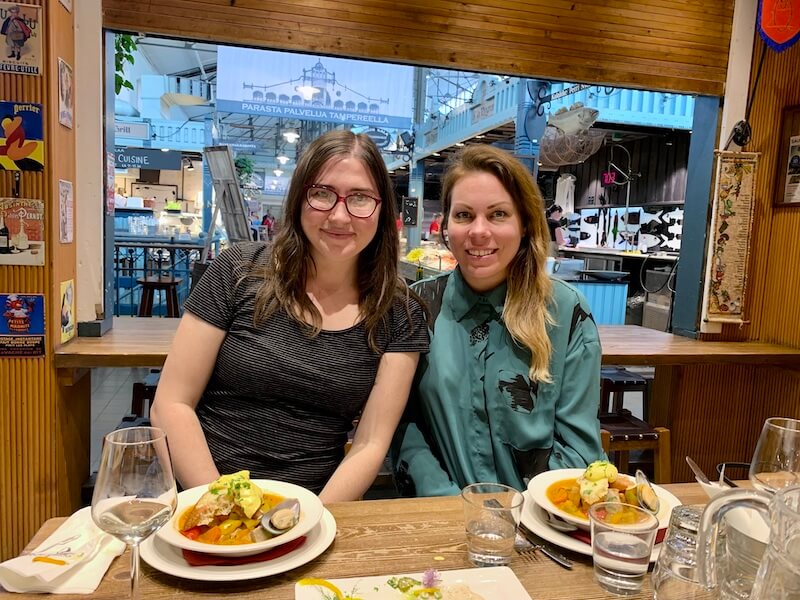 Note: This post contains affiliate links, which means I may receive a small commission if you purchase something through one of these links. Thank you for supporting the free content on this site! For more information on affiliate links and cookies, see my disclosure page for more details.
For that reason alone it deserves a spot on your Finland travels!
Tampere is the largest inland city in the entire Nordic region – though it doesn't feel that way as it's in the heart of Finnish Lakeland, sandwiched between Näsijärvi Lake and Pyhäjärvi Lake.
Water is at the heart of the city, and like every other city I've visited in Finland, nature and urban culture meet beautifully everywhere around you.
And if you crave an even deeper nature escape, the pristine boreal forest is never far away.
While Finland is often known mostly for Helsinki's city vibes and Rovaniemi's winter activities that bring the best of Lapland, the other cities of Finland like Lahti and Turku and Tampere deserve love, too!
My close friend Megan and I spent two days with Visit Tampere this June exploring all that Tampere had to offer.
After exploring the city, here are my favorite things to do in Tampere, all of which you can easily replicate for yourself on a trip.
The Best Things to Do in Tampere, Finland
Visit the palace of former tsars.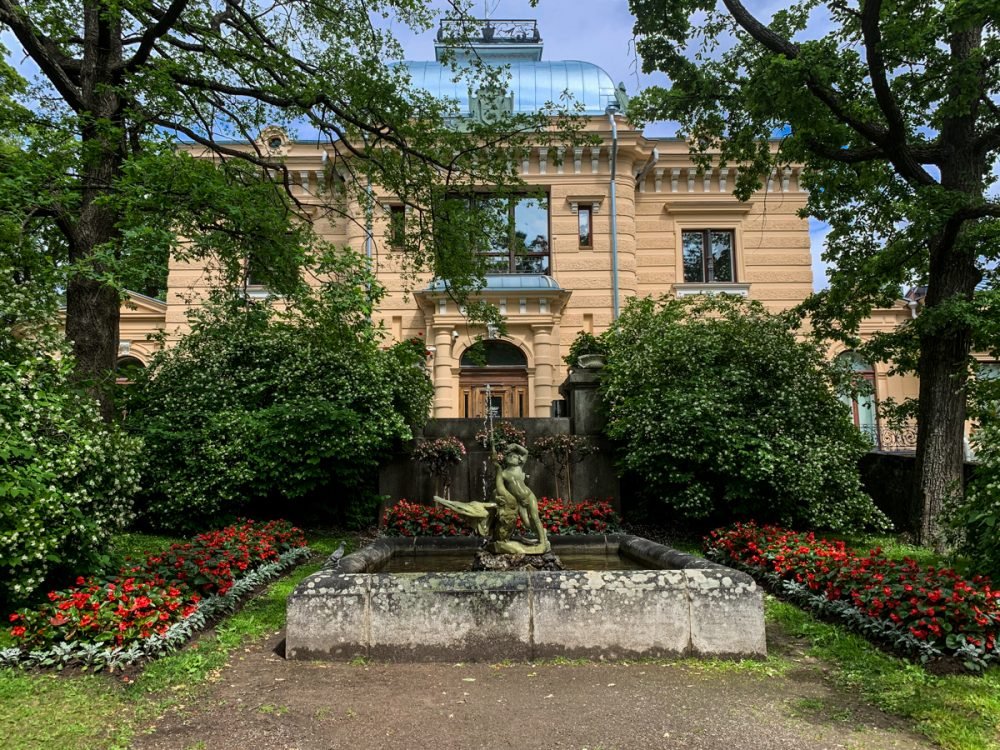 Several times in this post, you'll see the connection between Finland and Russia, as Finland was ruled over by Russia between 1809 and 1917.
Pikkupalatsi (literally Little Palace in Finnish) is one such historical remnant of this time.
Built in 1898, the palace was originally used as a residence for Russian tsars.
After Finland won independence from Russia, the building changed hands a number of times.
It is now an events venue and there is a small restaurant in front where you can enjoy a nice lunch!
Location: Hämeenpuisto 7
Stroll and shop around the historic stable yards area.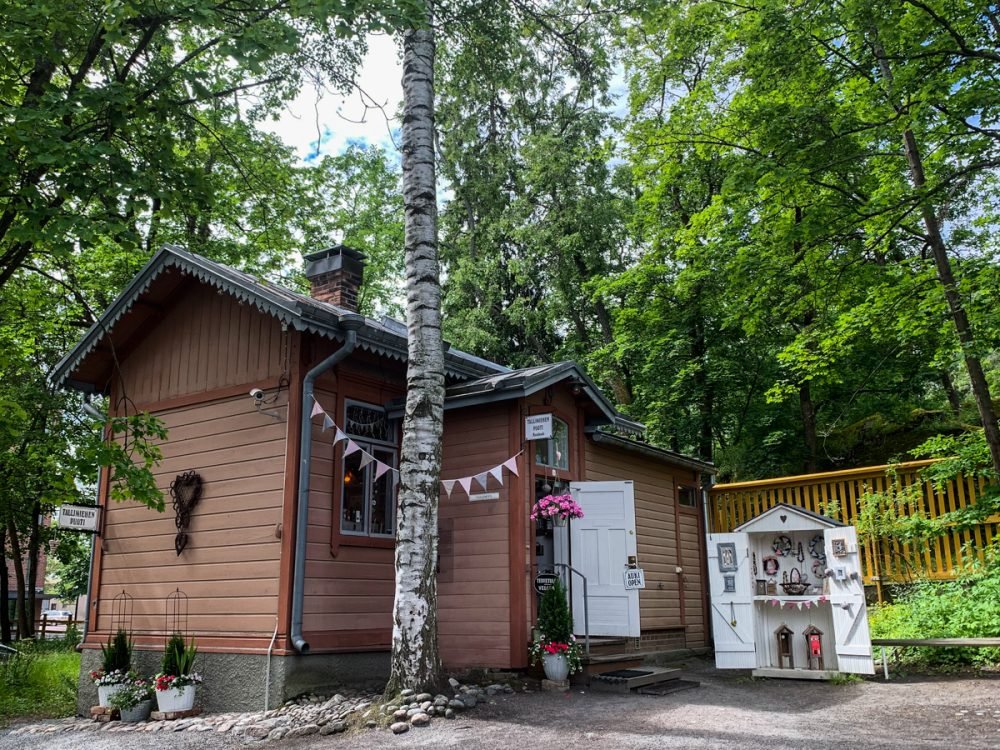 The Tallipiha Stable Yards were first built for the horses and coachmen of the owner of the Finlayson factory, Wilhelm von Nettbeck, in the 1880s.
These adorable wooden houses have been renovated and repurposed for the modern age.
Now, these small houses and gardens are home to one of Tampere's cutest shopping districts, where you can find an artisan chocolatier and small boutiques.
There's also a lovely café where you can sit with a coffee and enjoy the quiet vibe of Tallipiha.
Location: Kuninkaankatu 4
Stop at Tampere's cutest chocolate shop.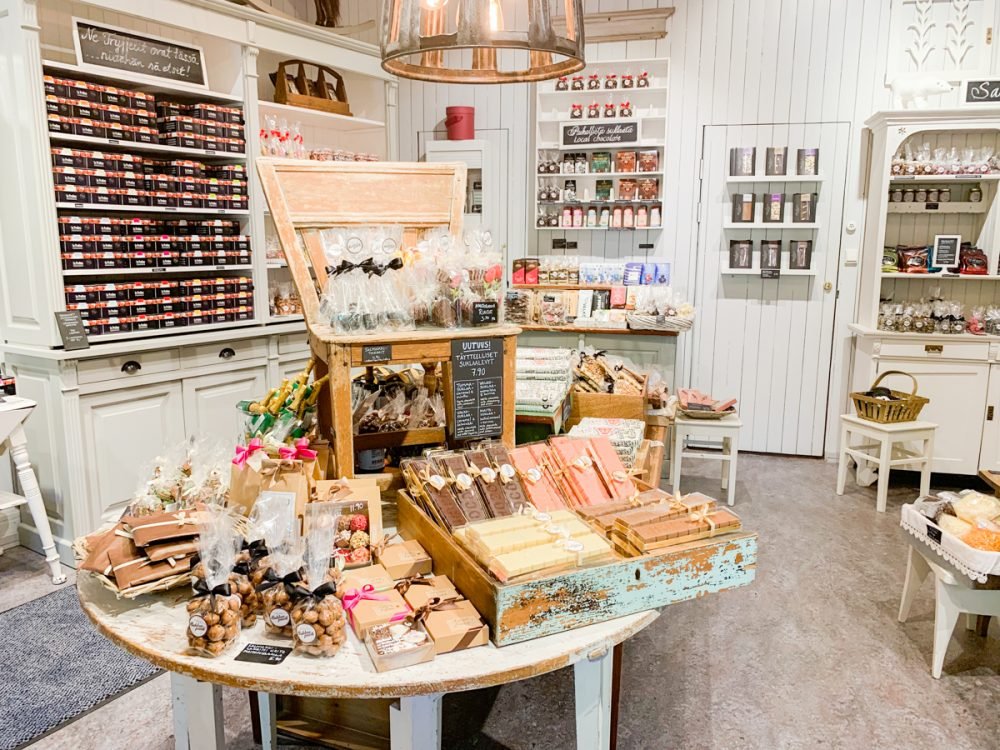 While in the cute Tallipiha shopping district, be sure to make a quick pit stop at Tallipihan Suklaapuoti for some delicious artisan chocolates!
Housed in a gingerbread-perfect wooden house, you'll find all sorts of chocolates, colorful truffles, wonderful edible gifts, and other treats that make the perfect souvenir or mid-day treat.
It's the sweetest thing to do in Tampere!
Location: Kuninkaankatu 4
Visit the beautiful yellow church.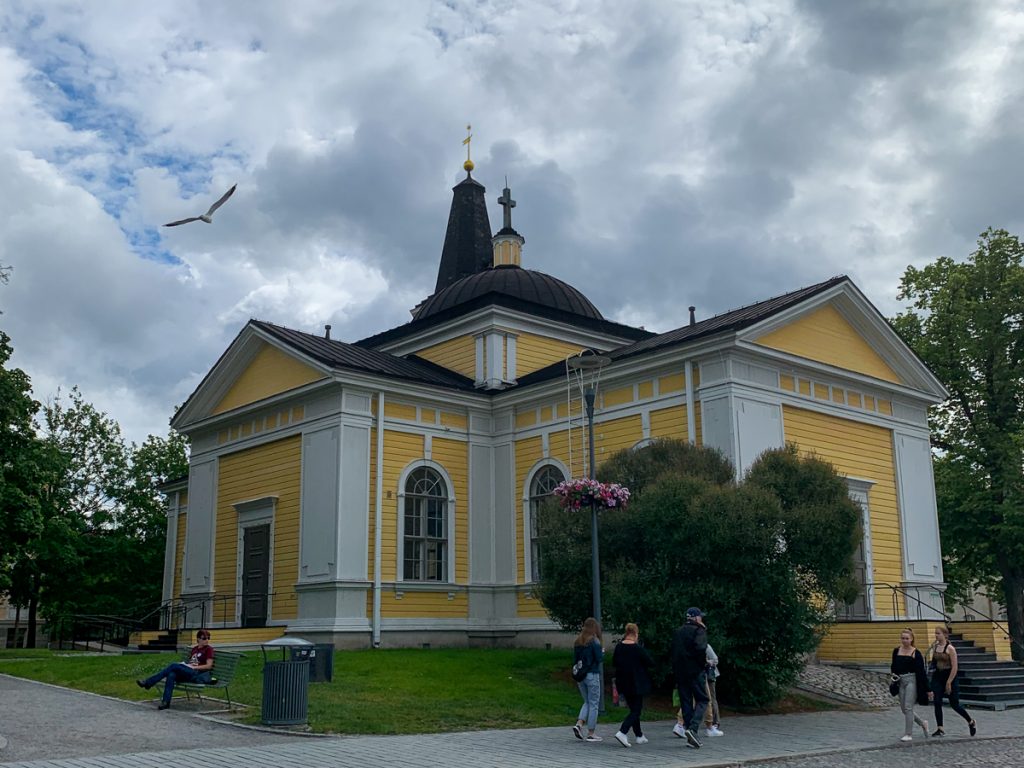 Who doesn't love a bit of color in their life?
This sunny yellow church in the heart of Tampere's downtown area is one of the best photo spots in Tampere.
It's called Tampere Old Church (Vanha Kirkko), although in the grand scheme of churches it is rather new, having been built in 1824.
It's interesting for its wood construction and its brilliant color, as well as its cross-like (cruciform, in architectural terms) shape.
Location: Puutarhakatu 4
Explore Tampere Central Square.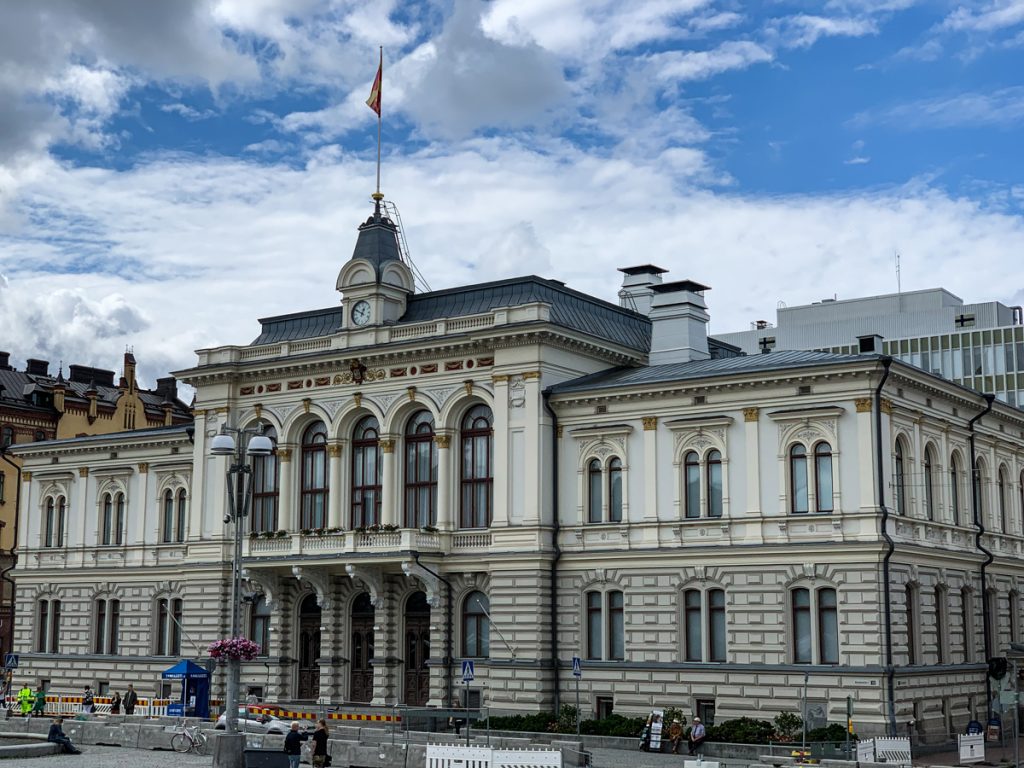 When I visited Tampere, much of the city center was under construction due to the development of a tram line.
Eventually, it will ease up transit within the city and address the growing city's needs.
Despite the chaos of construction, Tampere Central Square (Keskustori) was still a really beautiful place to visit!
It's also a good place to get an idea of what the rest of the city will look like when the construction stops.
Since it's right next to the yellow church, it's really easy to combine a stop there with a stroll around Central Square.
Location: Keskustori 1
Explore the revitalized Finlayson area.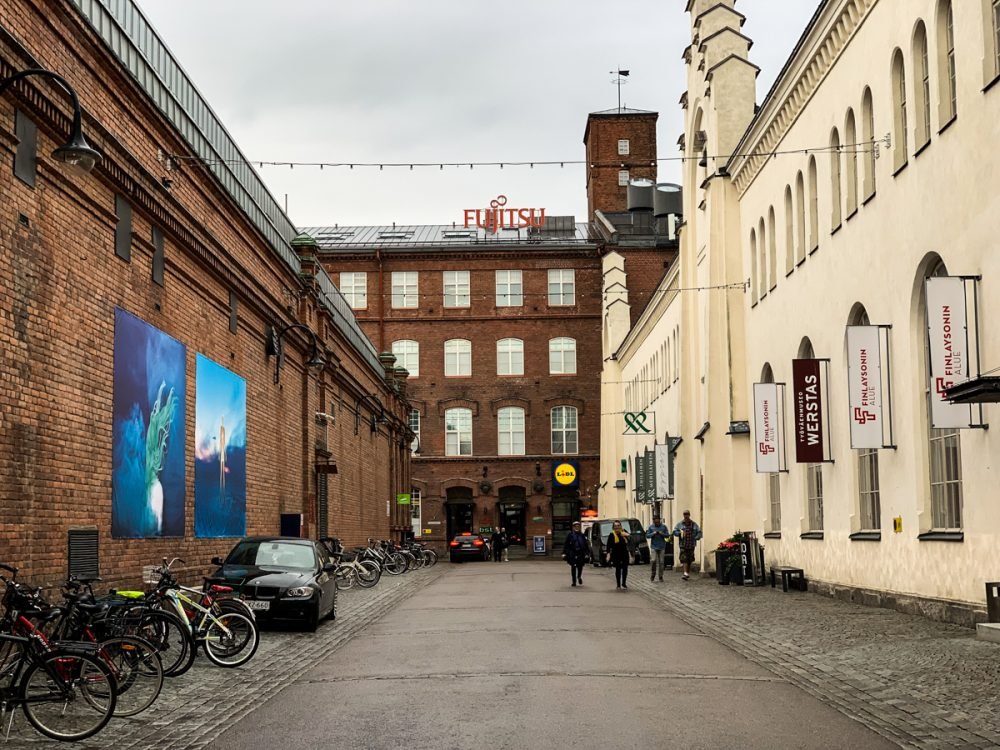 Similar to Lahti, Tampere's story has an industrial beginning.
What is now Tampere used to be centered around the factory of Finlayson, a giant cotton mill and textile manufacturing center.
It was founded in 1820 by a Scottish engineer and quickly grew to be one of the largest factories in the Nordics.
It was the largest factory in Finland up until the 1920s, when manufacturing began to decline and eventually shut operations completely in the 1980s.
Now, the Finlayson area has been completely turned over back to the city which grew around it!
It's now home to offices, shops, restaurants, cafés, museums, as well as a cinema.
One of Tampere's most beloved brewery-restaurants, Plevna, is also right in the heart of Finlayson factory area.
Location: Finlaysoninkatu
See Tampere's fairytale cathedral (and intriguing murals).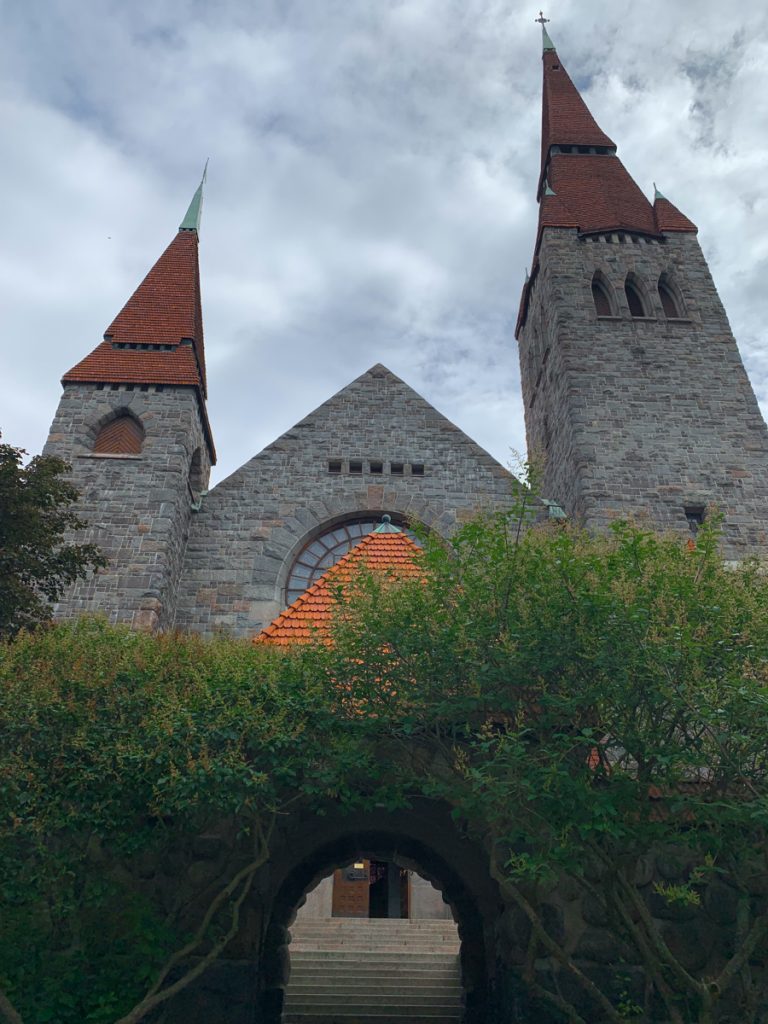 Even though I'm not religious, I love visiting churches and cathedrals on my travels and seeing how each country interprets their religious structures differently.
Churches in the Nordics are extremely different from churches in Western European countries like France and Italy.
For one, they're generally a lot newer and more pared-down, with more modern interiors.
The Tampere Cathedral is a Lutheran Church in the National Romantic style, completed in 1907.
While the exterior is beautiful, as if from a fairytale, the cathedral is actually best known for its slightly controversial frescoes inside.
The interior frescoes were painted by Hugo Simberg, who was commissioned to create versions of two of his most famous symbolist works, The Wounded Angel and The Garden of Death.
The frescoes received criticism for their frank depictions of teenage nudity, as well as the winged serpent painted at the ceiling's highest point.
Location: Tuomiokirkonkatu
Visit Tamperetalo for its Philharmonic or Moomin Museum.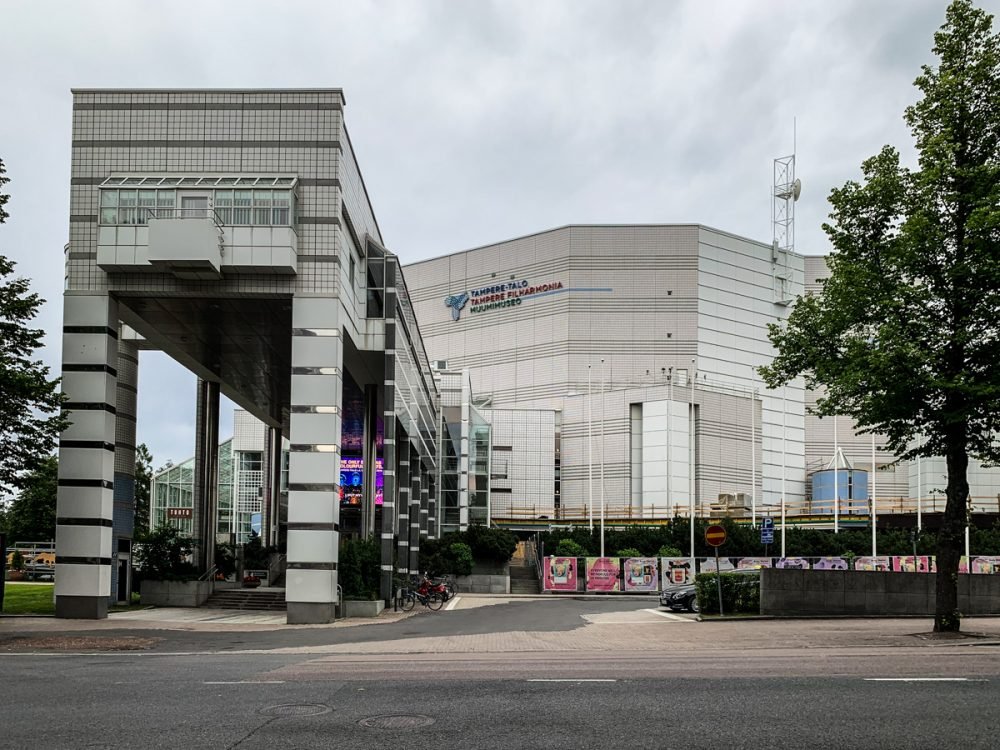 Unfortunately, I didn't have a chance to visit either on my trip to Tampere — even though I stayed only a block away from it!
However, for many people visiting the Moomin Museum is one of the main things to do in Tampere.
This is especially true for Japanese tourists, who are particularly enamored with all things Moomin – so that's why I'm including it on this list!
The Moomin Museum contains original illustrations and miniatures created by Tove Jansson, the creator of the Moomin books and comics which took much of Europe by storm.
America seems to have bypassed Moomin-mania, which I never learned about until I stepped foot into Finland for the second time this recent trip.
Meanwhile, the Tampere Philharmonic (Tamperetalo) is another extremely famous place to visit in Tampere, and it's right next to the Moomin Museum as part of the same complex.
If you're a fan of classical museum, be sure to catch a show here at the largest conference and concert hall in the Nordics!
The complex is also home to restaurant, Ravintola Tuhto.
Location: Yliopistonkatu 55
Check out the Lenin Museum.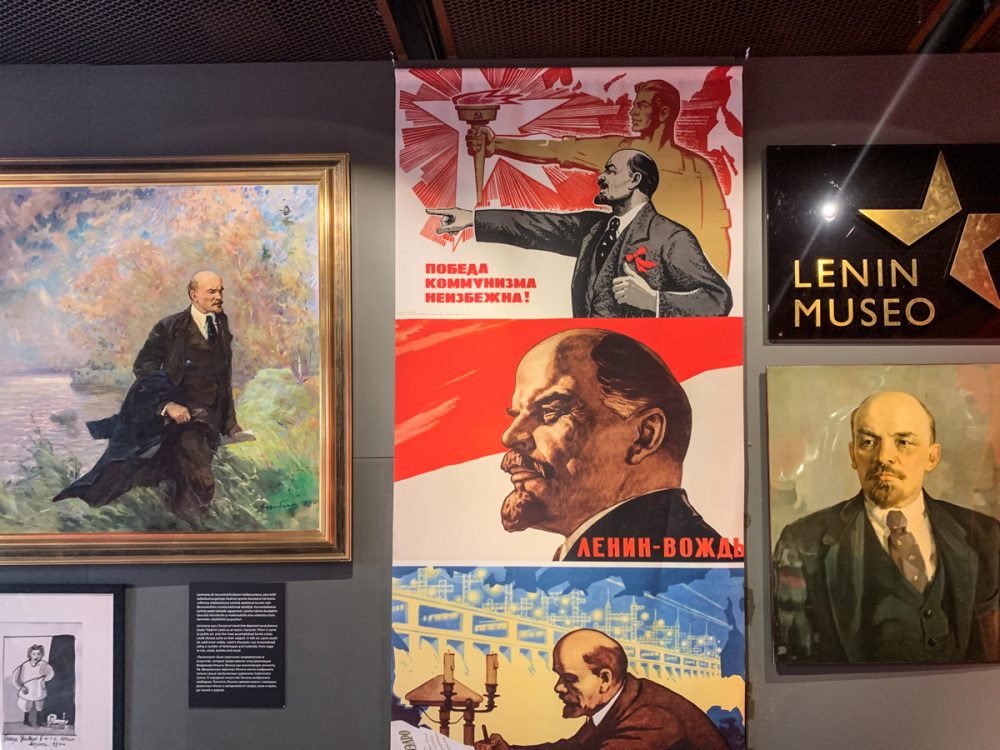 I'm a huge history geek for everything communist- and USSR-related (I mean, I did end up moving to Sofia for several years).
I was incredibly surprised to learn that Tampere was home to one of the Soviet Union's most critical historical inflection points: the meeting of Lenin and Stalin!
These two incredibly important historical figures first met at the Tampere Conference of 1905, the very first conference of the Russian Social Democratic Labour Party, which took place at the Tampere Workers' Hall.
The primary outcome of the 1905 Tampere Conference was the decision to rebel against the legislative branch (Duma) of the Russian Empire and refuse to participate in elections.
This eventually led to the uprising against the empire and the October Revolution of 1917 that would usher in the years of the Soviet Union.
The former Tampere Workers' Hall was converted into the Tampere Lenin Museum in 1949 and was the first museum dedicated to Lenin outside the Soviet Union.
Many such Lenin museums once existed throughout Europe, but it's now the last remaining one outside of Russia.
The museum focuses on Lenin's life, the rise and fall of the U.S.S.R., and the shared history that connects Finland and Russia.
I didn't have much time to explore the museum in-depth as I was on a city tour, but it seems like it'd be well worth a few hours to fully explore.
Location: Hämeenpuisto 28
Relax at a local sauna.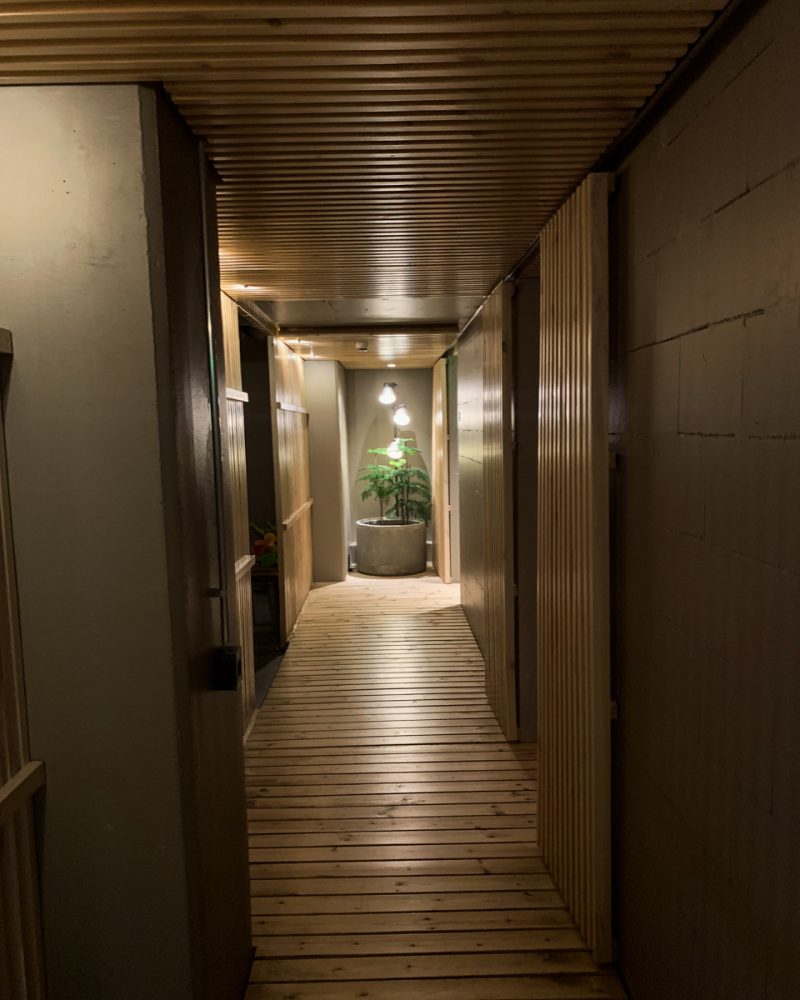 Tampere has a record-shattering 35 public saunas, ranging from Rajaportti, the oldest continually-working public sauna in Finland to the traditional Rauhaniemi sauna to the brand new hip sauna-restaurant Kuuma.
Kuuma has quickly become one of the hottest places to hang out in Tampere (both literally and figuratively)!
Depending on whether you want a more traditional sauna experience or a more funky one (such as a private beer sauna at Pyynikin brewery – yes, that's a thing!) — there's a sauna for everyone at in the duly-deserved Sauna Capital of Finland.
Not sure how to sauna? Read this guide to sauna etiquette.
Location: All over Tampere
Explore the scenic neighborhood of Pispala.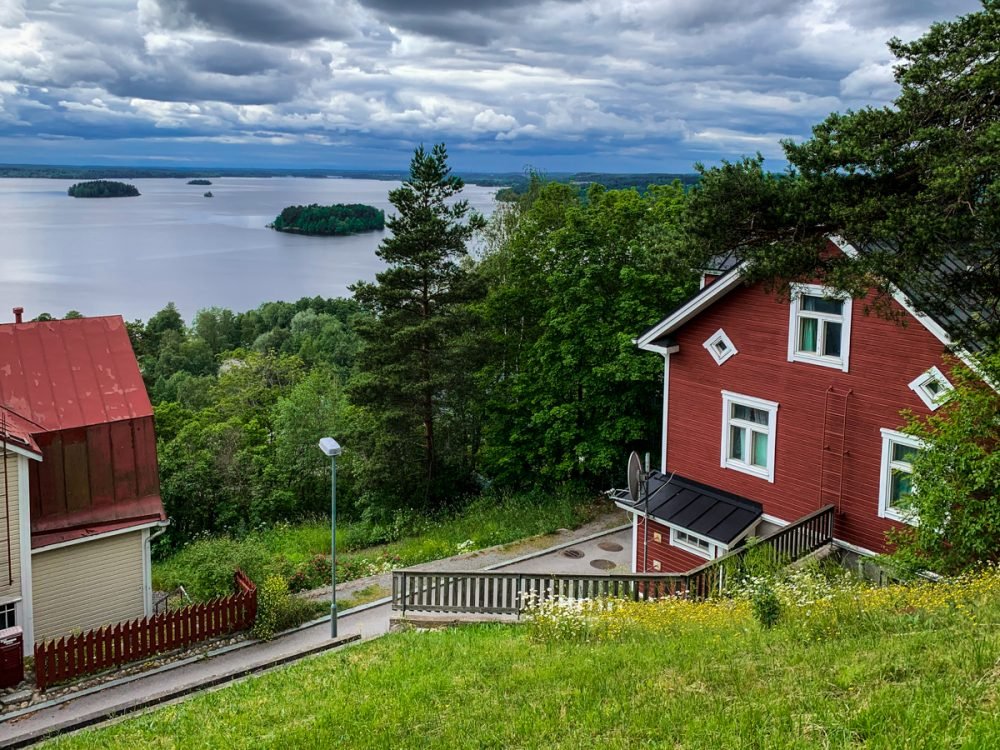 While Pispala used to be a poor neighborhood populated by the Finlayson working class, it's now one of the hippest places to visit in Tampere.
Pispala was one of my favorite neighborhoods I explored in Tampere, both for its beautiful wooden architecture and its quiet yet alternative vibe.
Of course, its gorgeous views over the lake and tiny islets dotting the water don't hurt either!
And stop for a delicious, world-inspired brunch!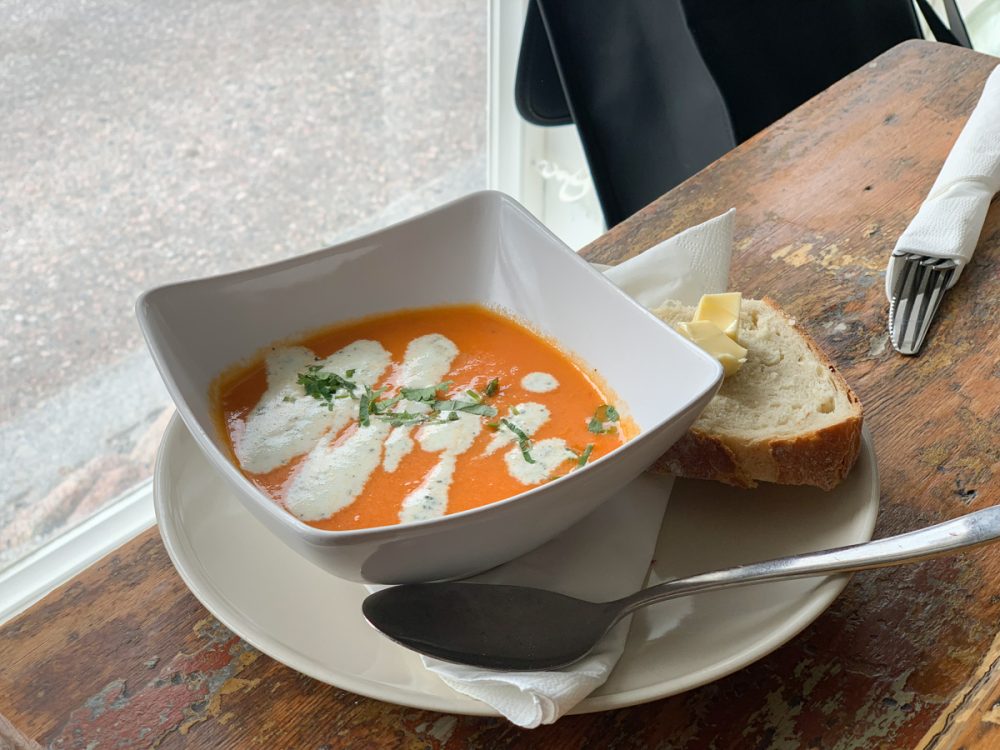 Café Pispala was a delicious place to stop for brunch while exploring the neighborhood, and I was thrilled with our meal there.
The concept at Café Pispala is a seasonally-appropriate yet world-inspired menu.
We enjoyed an affordable combination lunch with soup and a main course for a mere 14 euros (including free tea or coffee) – a great deal in normally-pricy Finland!
Note that Café Pispala is closed on Mondays and Tuesdays.
Location: Pispankatu 30
Immerse yourself in the forest.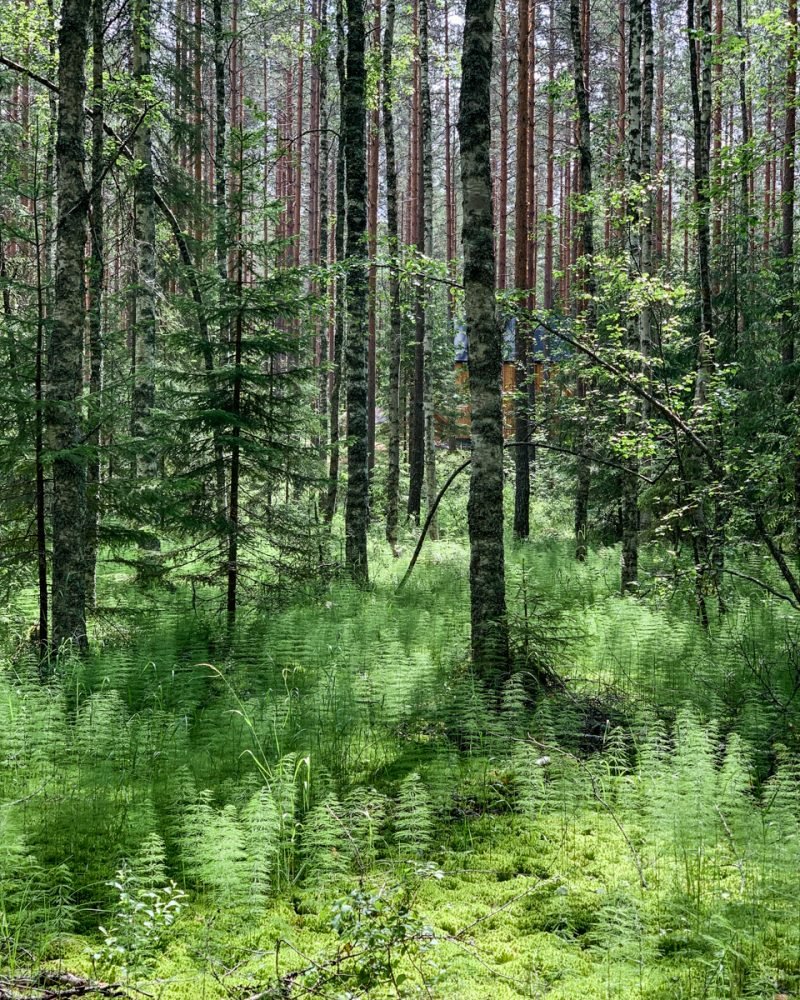 One of the best things to do in Tampere is to get outside of it a bit!
We headed to Kintulammi Nature Reserve for a relaxing nature walk and forest experience with our awesome and hilarious wilderness guide, Markus of Boreal Quest.
We battled with mosquitos, started our own fire, ate tasty game meat over an open flame, and learned to chop wood with an ax without losing a limb.
But mostly, we relaxed in the serenity of the Finnish boreal forest overlooking one of the many, many lakes from our wilderness shelter.
It was unreal and I could have happily spent the whole day out there (barring those vicious Finnish mosquitos!).
Location: Kintulammin Retkeilyalue
Explore the Tampere Market Hall.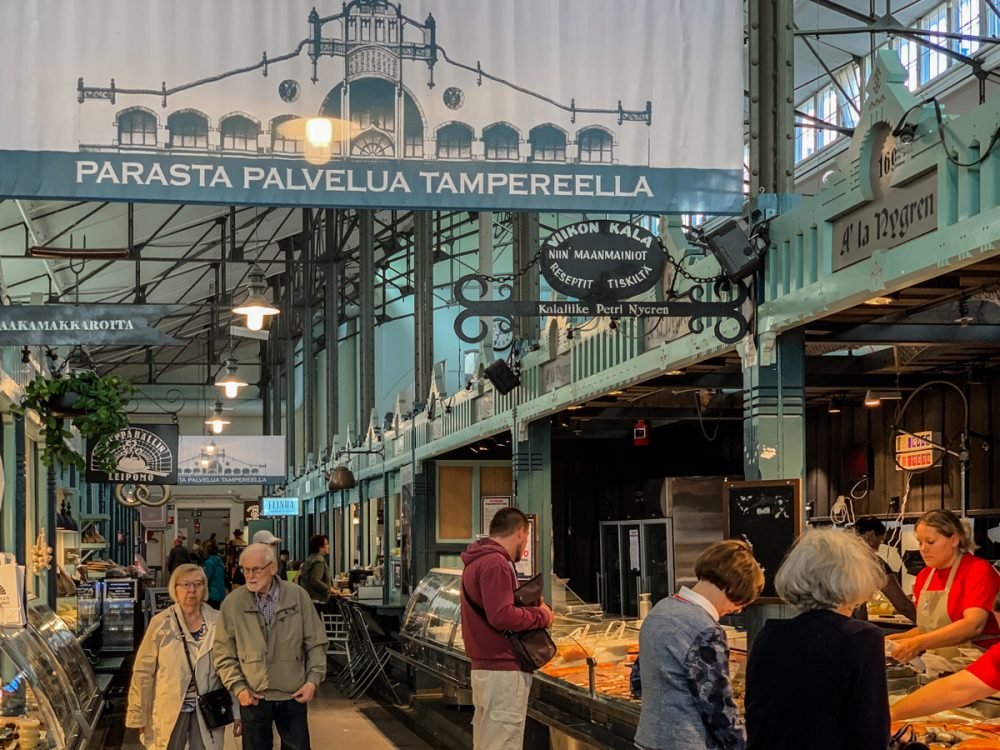 Like many Finnish cities, Tampere has its own delightful market hall (one of the oldest in Finland, in fact).
The Tampere Market Hall is chock-full of fresh produce, butcher shops, fish shops, and bakeries.
It even houses a craft beer shop which stocks a delicious selection of Nordic brews!
Eat a delicious French-inspired meal at 4vuodenaikaa.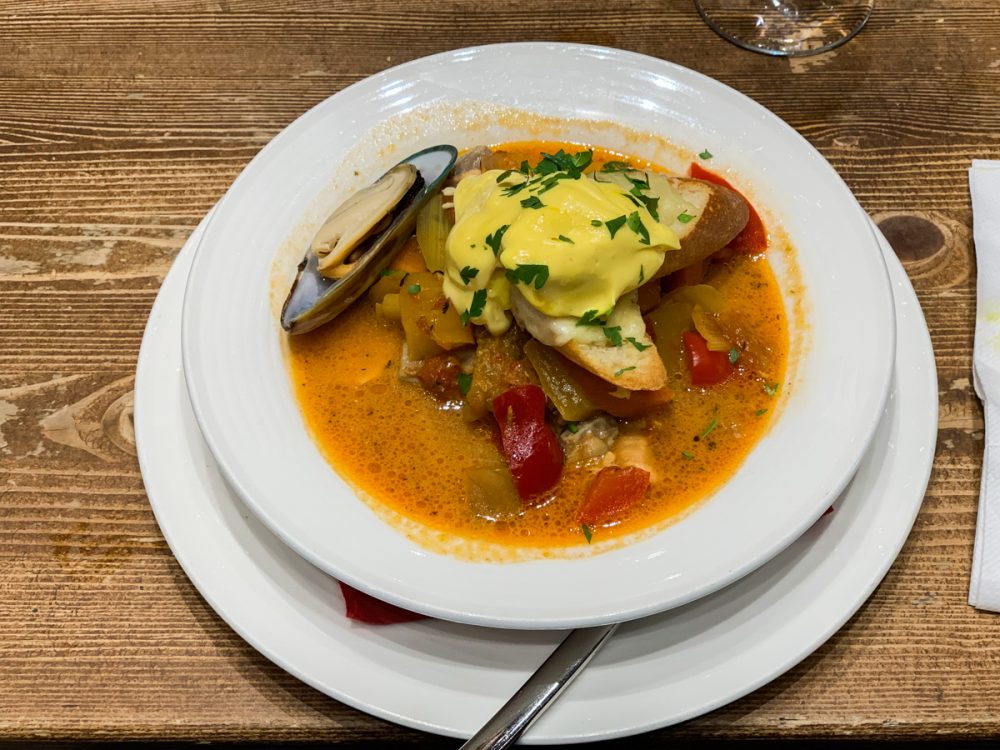 Right near the fish section of the market hall, you can't miss having a delicious meal at 4 Seasons (4vuodenaikaa), which specializes in seafood with a French twist.
It's one of the local favorite places to eat and has even won a spot in the White Guide to the best restaurants in the Nordics!
We enjoyed a starter of an array of different fish preparations, from cured salmon to a creamy shrimp salad.
For a main, I enjoyed an insanely tasty bouillabaisse (French fish stew) with crusty toast and garlic aioli, all polished off with some fantastic Sancerre wine.
Spend some time on one of Tampere's two lakes.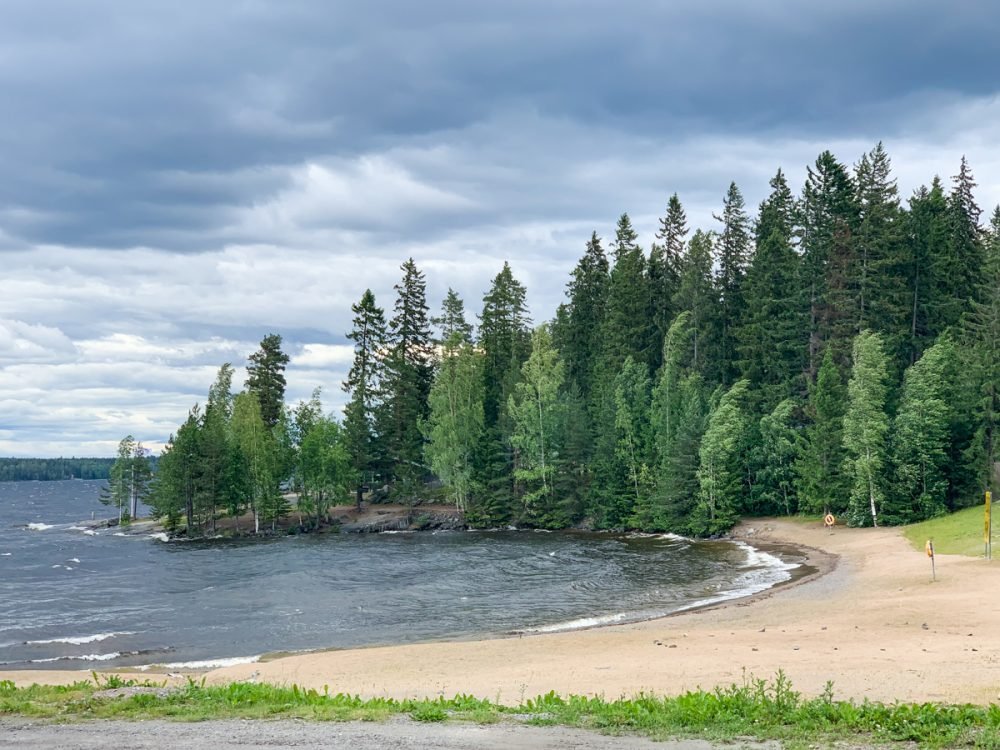 We had hoped to go for a canoe out on Lake Näsijärvi with the team at Hiking Travel HIT.
Unfortunately, when we arrived, the weather had other plans and the wind coming from the north was so strong that our canoe blew over before we even got it in the water!
The waves were too strong for us to feel comfortable out on the water, so instead we sat inside and chatted over a coffee with the staff at Hiking Travel HIT to learn about all the different water and ice activities there are to do on the lakes.
I was impressed by what a large variety of outdoor things to do in Tampere exist, without ever leaving the confines of one of the largest cities in Finland.
From snowshoeing to Nordic skating in winter to canoeing and paddleboarding and kayaking in summer, there are countless ways to get active in Tampere.
If you're itching to get out on the lakes (and you have a bit more luck with the weather than we do!) the team at Hiking Travel HIT are the people to speak to.
Location: Kaupinpuistokatu 4 (right by the Kaupinojan Sauna – a perfect match!)
Walk around Tampere's cool channel area.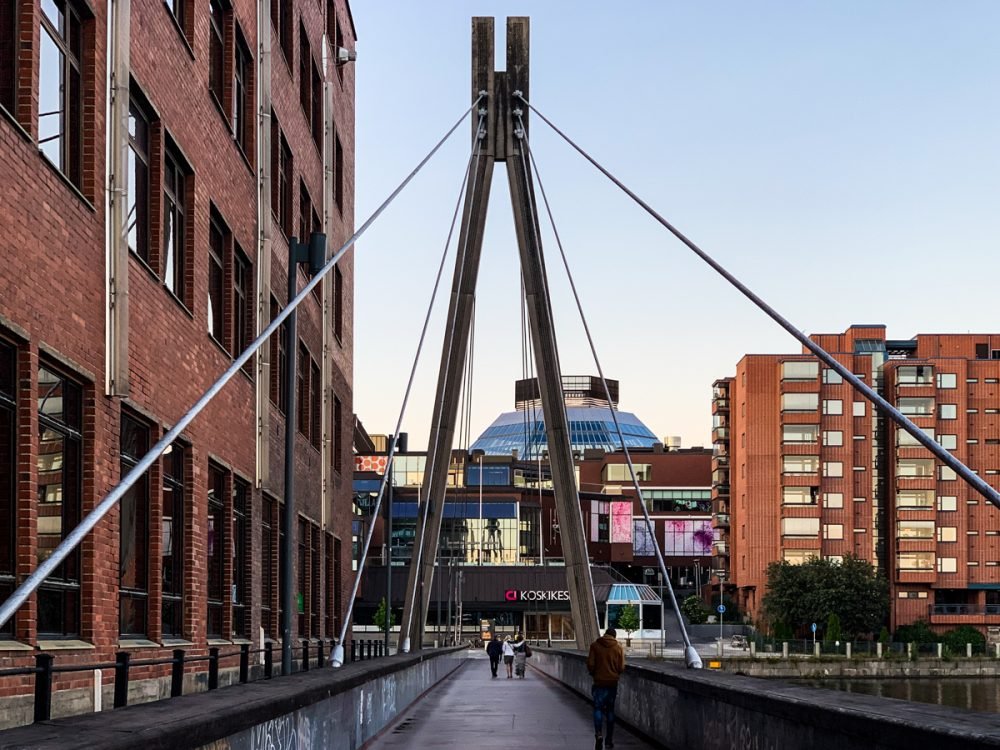 Tampere is situated between two lakes, and there is quite an altitude difference between the two (18 meters!).
There is a large channel of rapids between the two called Tammerkoski.
That specific area along the channel is one of the coolest places to walk in Tampere, as there are plenty of cool restaurants and bars around here!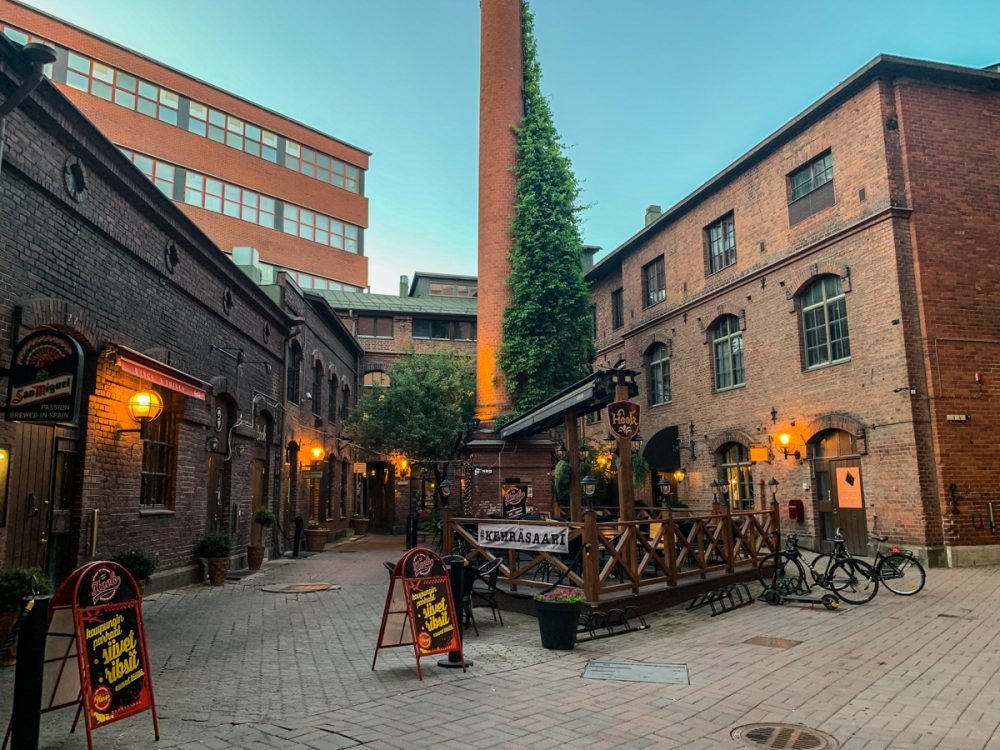 A few to note are Saunaravintola Kuuma, the Pyynikin Brewhouse, and Hook.
The latter is one of Tampere's favorite chicken wing joints (apparently that's a big thing here – who knew?).
Location: Laukontori
Go for a sauna and a swim at Saunaravintola Kuuma.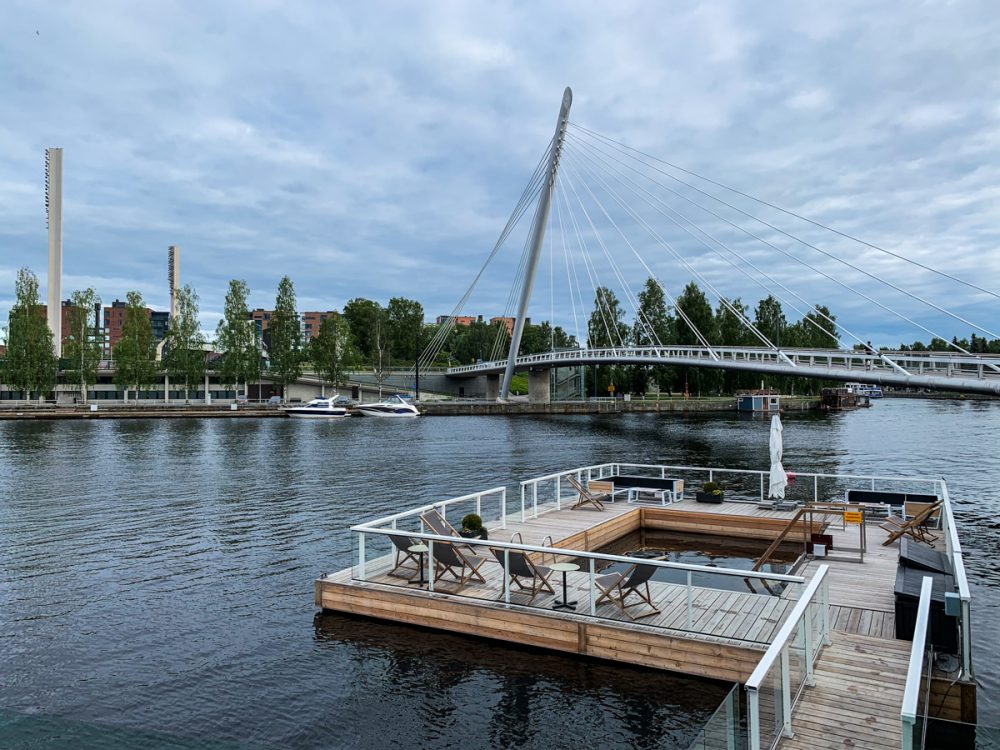 The newest sauna in Tampere, Saunaravintola Kuuma is a new concept, reinventing the public sauna to also be a restaurant and nightlife center as well.
There is a smoke sauna and a stone-heated sauna, and if you fancy a cool down, there's a wonderful outdoor dipping pool where you can dunk yourself in the Tammerkoski channel.
Depending on when you visit, it'll either be cold or positively icy!
Location: Laukontori 21
Then have a fantastic meal afterwards!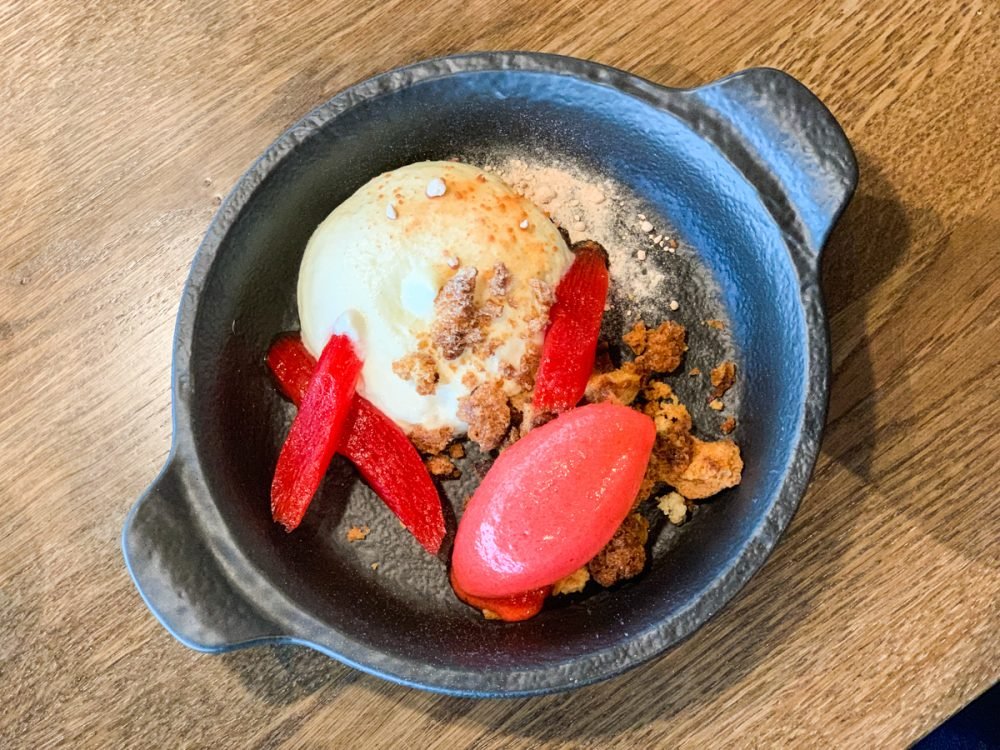 Saunaravintola Kuuma is the first sauna-restaurant in Tampere, and our meal there was phenomenal!
They are creating delicious and creative cuisine with Nordic ingredients.
We had two phenomenal starters, a tasty fried cauliflower and an artfully-plated marinated herring, egg, and leek dish.
We then each had the beef entrecote with nettle butter (yum) and finished our meal off with a delicious honey yogurt with rhubarb sorbet and honeycomb.
Location: Laukontori 21
Go for a beer at Pyynikin Brewhouse.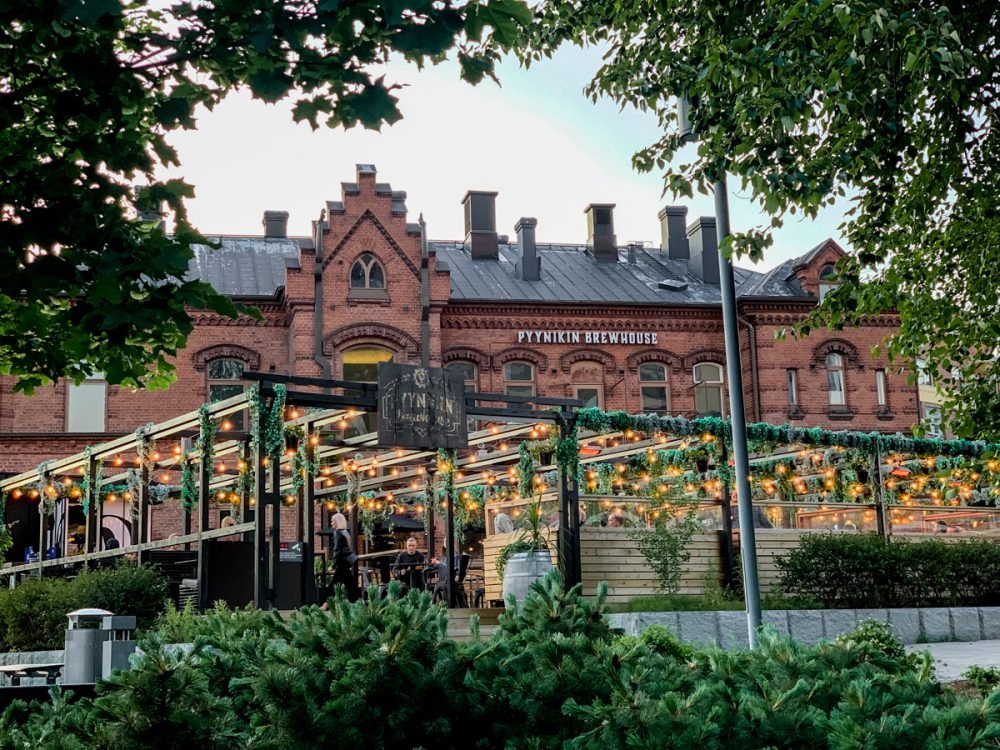 Not far from Saunaravintola Kuuma in the hip harbor area, you'll find the downtown outpost of Pyynikin Brewery, the largest brewery in the Tampere area.
Here, you can try their delicious beer produced just a few kilometers away – my favorites were the cloudberry saison and the red ale!
Location: Verkatehtaankatu 2
… or visit the Pyynikin Brewery for an immersive beer experience.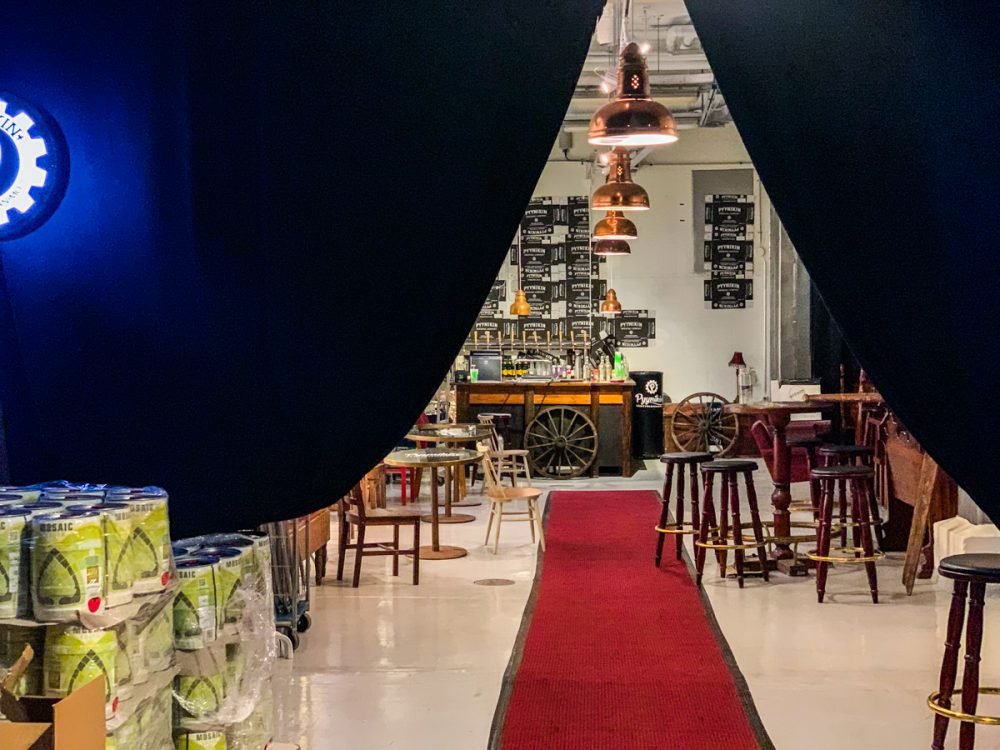 If you're a real craft beer geek, book a tour of the Pyynikin Brewery!
There are a number of beer experiences you can book there, ranging from your standard brewery tour to a tasting to even a beer sauna or spa!
We had a delightful time exploring the brewery and learning about its short but rapidly-growing history, starting in 2013 and quickly becoming the fastest-growing brewery in Finland.
The brewmasters here are clearly ambitious and innovative, and the result is some of the most delicious beers – and by far the most fun brewery tour – I've tasted and taken in my life.
Location: Kolismaankatu 1
Other Bars & Breweries of Note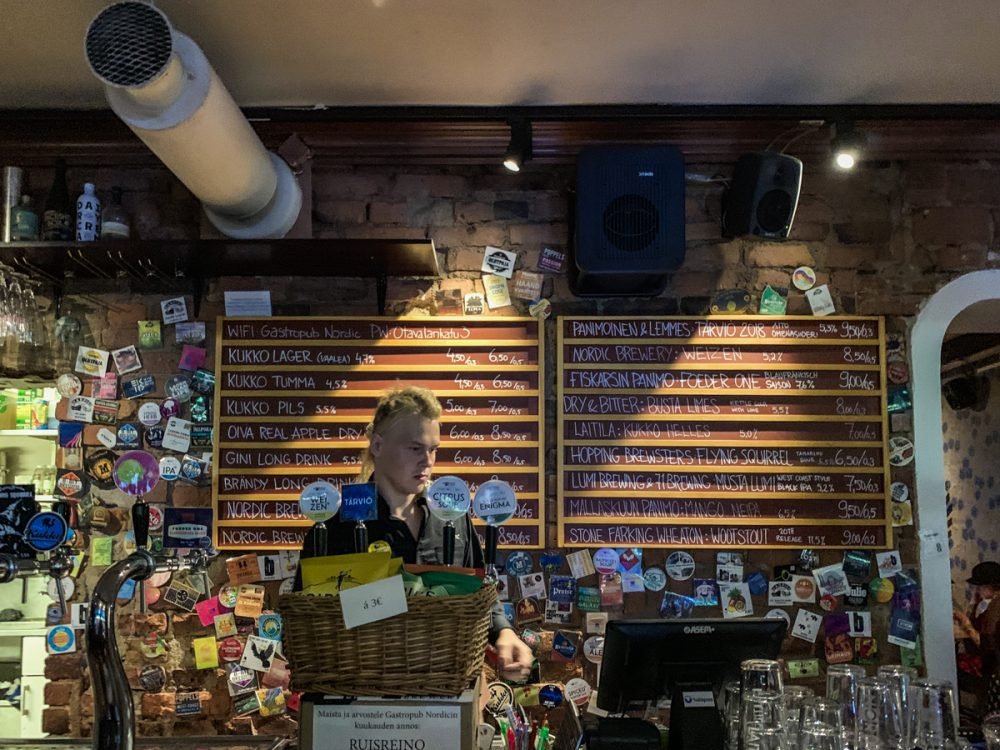 If you're a craft beer geek, be sure to also check out Gastropub Tuulensuu and their beers from Nordic Brewery, Plevna Brewery Restaurant, or Gastropub Nordic!
You can also do a craft beer tour of the city.
Where to Stay in Tampere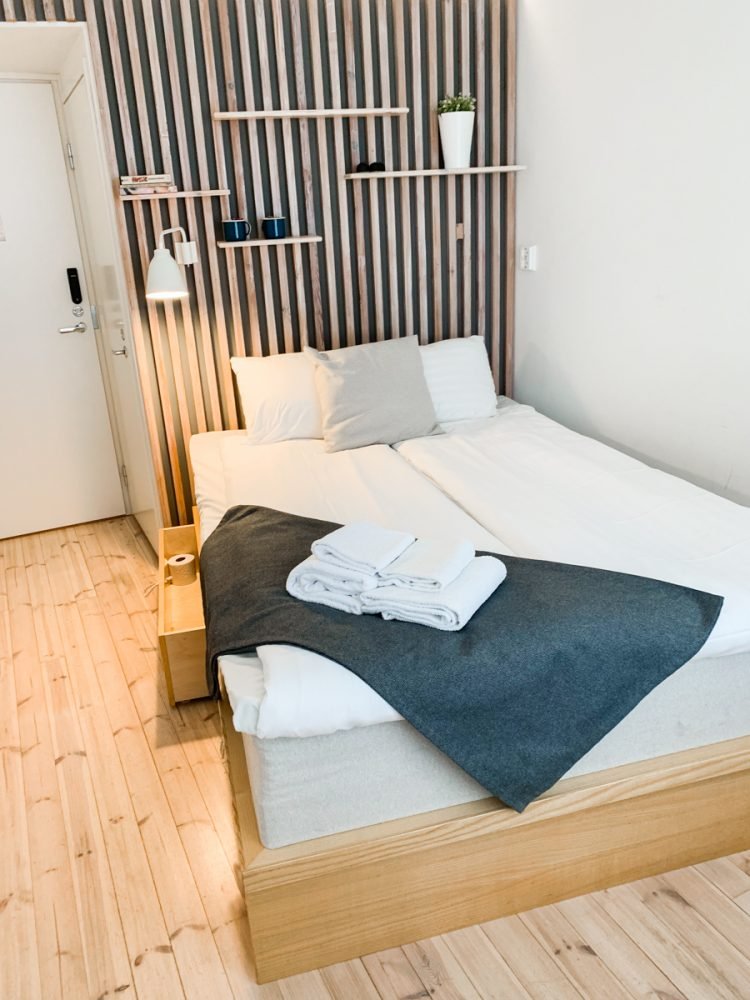 We stayed at the lovely Dream Hostel & Hotel in the hotel part of the building.
It's a fantastic value accommodation in the heart of Tampere's downtown, just one block from the Moomin Museum and a 20-minute walk from the hip harbor area.
Dream Hostel has been voted several times as the best hostel in Finland and it's evident why.
From the beautiful Nordic design to the friendly staff who are insanely keen to share their local knowledge, the vibe of Dream Hostel is above and beyond.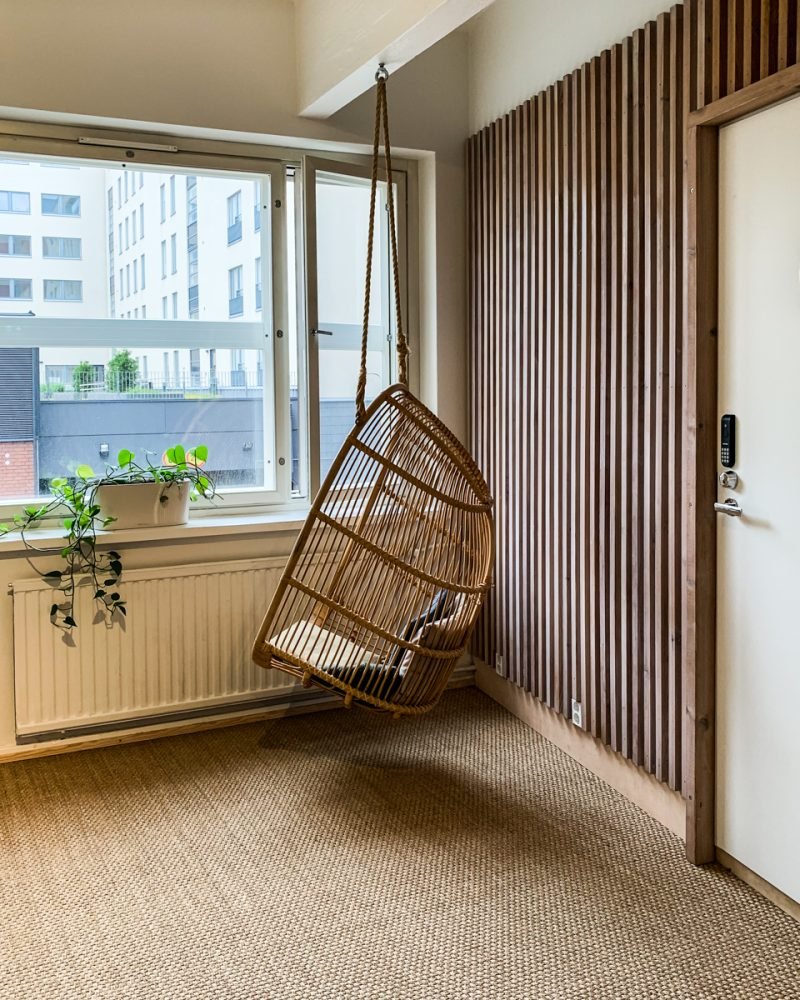 While my hostel days are more or less behind me (I value a good night's sleep far more than saving money), I'd happily stay at Dream Hotel again.
The staff, design, and tasty included breakfast all made my stay really unforgettable.
Check prices, reviews, and availability of Dream Hostel & Hotel here.
NOTE: A huge thank you to the team at Visit Tampere and all of our media partners for organizing a great time in Tampere!
All opinions and unbridled enthusiasm for eating and drinking my way around the city are entirely my own.
Allison Green is a former educator turned travel blogger. She holds a Masters in Teaching and a B.A. in English and Creative Writing. Her blog posts merge her educational background and her experience traveling to 70+ countries to encourage responsible, enriching travel. She has been a speaker at the World Travel Writers Conference and her writing, photography, and podcasting work has appeared in National Geographic, CNN Arabic, CBC Canada, and Forbes, amongst others. Now a full-time traveler, she has lived in Prague, Sofia, New York City, and the San Francisco Bay Area.