Note: This post may contain affiliate links. Please see my disclosure page for more details.
Prague will always hold a special place in my heart, since I lived in Prague for six months while studying abroad in my junior year of college. I dove enthusiastically into life in Prague, learning (slash butchering) Czech, eating ridiculous amounts of česnečka, and confirming the propaganda that Prague is, indeed, a place where beer is cheaper than water.
I didn't know it at the time, but living in Prague that semester would change my life. It was the kernel that brought me to Europe, time and again, and sparked my love in particular for post-communist Central and Eastern European countries. It got me deeply interested in Slavic languages, which would later be convenient when I moved to Bulgaria eight years later.
Still, it wasn't all roses. I fell in love with summer beer gardens and fall young wine harvests, but winter took me a while to come around on. While I loved living in Prague, I was taken aback by how insanely cold Prague was in winter, even after having survived my first two winters in New York. If it weren't for svařák (hot mulled wine) sold on the street corners, I likely never would have left my Prague dorm in winter.
While I think Prague is a magical city any time of year, I eventually came to think of Prague in winter as Prague at its best, despite being a pansy Californian who reaches for a thick jacket any time the mercury dips below 50°F / 10°C.
Gone were the hordes of tourists who clustered around the Astronomical Clock like –  well, clockwork – at the turning of every hour. The tour groups that clustered in the Old Town and around Charles Bridge magically got smaller day by day as the temperature dropped. And the snow that once captivated me and quickly became abhorred in New York (you'd understand if you ever saw the horror that is a NYC slush puddle on the first warm day after a blizzard) was actually magical again in Prague.
Note: While I know the Czech Republic has officially adopted the name Czechia, I've been told by Czechs that calling the country the Czech Republic is still very much acceptable. In fact, many Czechs feel lukewarm or even don't like the name change to Czechia and still call their country Česká republika when speaking. I've chosen to call it the Czech Republic, as that's how I think of the country having lived there during a time when that was its unequivocal name. In terms of how I think of it in the future, only time will tell whether the Czechia name catches on! 
My Favorite Things to Do in Prague in Winter
Browse the Prague Christmas Markets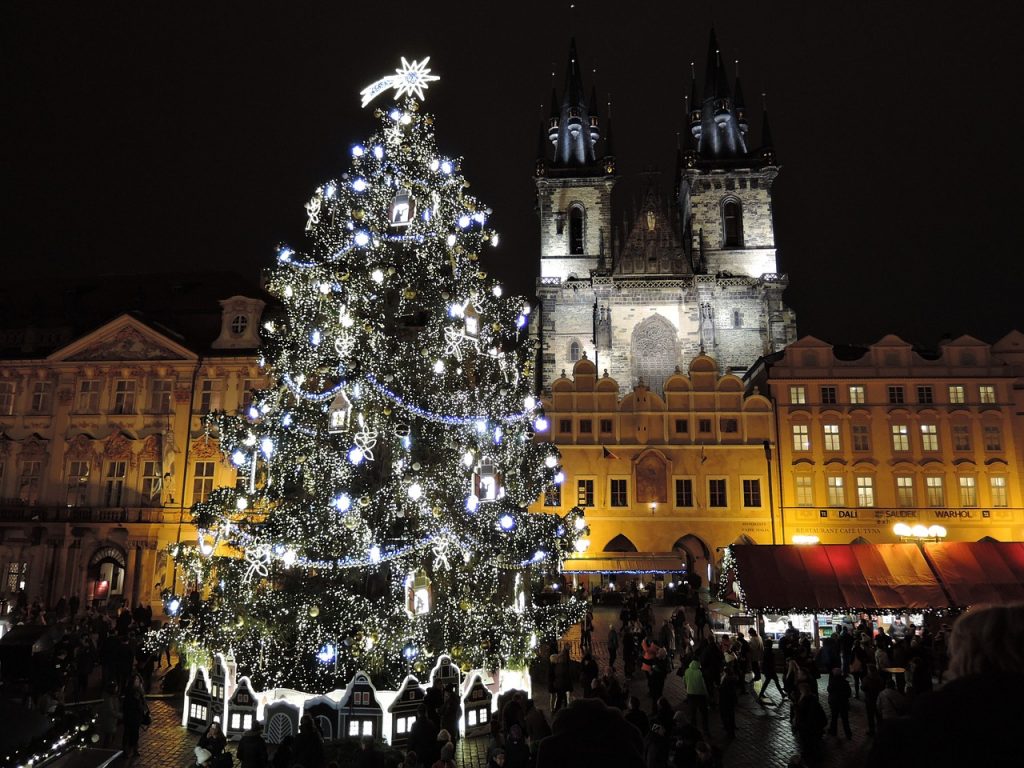 If your Prague winter trip happens to overlap with the Christmas markets, you're in luck! You'll also be among several thousand of your closest tourist friends, as Prague is December is peak winter season (Prague empties out again in January and Feburary). However, visiting the Prague Christmas markets is entirely worth it!
The time right before Christmas in Prague is one of the best times of year to stroll the Old Town, browsing the markets springing up in the city. Yes, it's touristy as all get-out, but while I love getting off the beaten path in cities, I also fully believe there's no reason to be a snob about things that are touristy. Oftentimes, they are beloved by tourists for a reason!
The city's atmosphere – already charming and lovely – becomes even more festive as Czech meals and drinks are doled out by market vendors and craftspeople sell their Christmas-themed ornaments and trinkets, clustered around an enormous, insanely blinged-out Christmas tree.
Another bonus about the Prague Christmas markets is that they have one of the longer opening times of all the Christmas markets in Europe, staying open weeks after Christmas and well into the New Year in order to coincide with Eastern Orthodox Christmas, which falls on January 7th.
Location: The main Christmas market is in Old Town Square (Staroměstské náměstí). There are also smaller markets in Wenceslas Square (Václavské náměstí), Republic Square (Náměstí Republiky), and Peace Square (Náměstí Míru), as well as a few others around the city. Fun fact – the escalator at Náměstí Míru is the longest escalator in Europe, and takes a whopping 3 minutes to go up, even though the elevator goes crazy-fast. Definitely worth a visit!
Opening Times: November 20, 2018 – January 6, 2019, 10 AM to 10 PM (food stands open until midnight) for the markets in Staroměstské náměstí and Václavské náměstí. The other markets around Prague have slightly different hours and operating days, so check before heading to one of the smaller markets.
Note: The trdelník you see everywhere on Instagram is not traditional to Prague, but rather an import from Hungary, where they are called kürtőskalács– and ice cream is definitely not traditionally served with either! If you'd like to taste a true Czech dessert, be sure to try fruit-filled dumplings, called ovocné knedlíky. It's one of my favorite Czech treats and it's ultra-traditional!
Explore the magical Prague Castle
Ahh, Prague Castle. This place is a straight up fairy tale every day of the year, even despite the insane crush of tourists, but in the winter Prague Castle is even more ridiculously gorgeous. One of the biggest and most-loved castles in the world, Prague Castle is home to an enormous amount of history, secrets, and treasures.
While visiting Prague Castle, you can't miss the St. Vitus Cathedral, which is considered to be one of the most beautiful in the world, with gorgeous paintings and stained glass windows. The Old Palace Hall and Vladislav Hall with its cheery yellow facade are both lovely to visit.
Finally, don't miss Golden Lane, a 16th century row of houses owned by goldsmiths back several centuries ago. Around 70 years ago they were painted in colorful hues, making it a much-loved photo spot now. Fun fact: house number 22 used to be the home of Franz Kafka's sister, and he lived and wrote here for two years!
Pro tip: The Prague Castle has insane lines pretty much all day long! Save time by booking a skip-the-line ticket for just a few dollars more, which you can present on your mobile.
Location: Pražský hrad
Opening Hours: 9 AM to 4 PM
See some of the city's best museums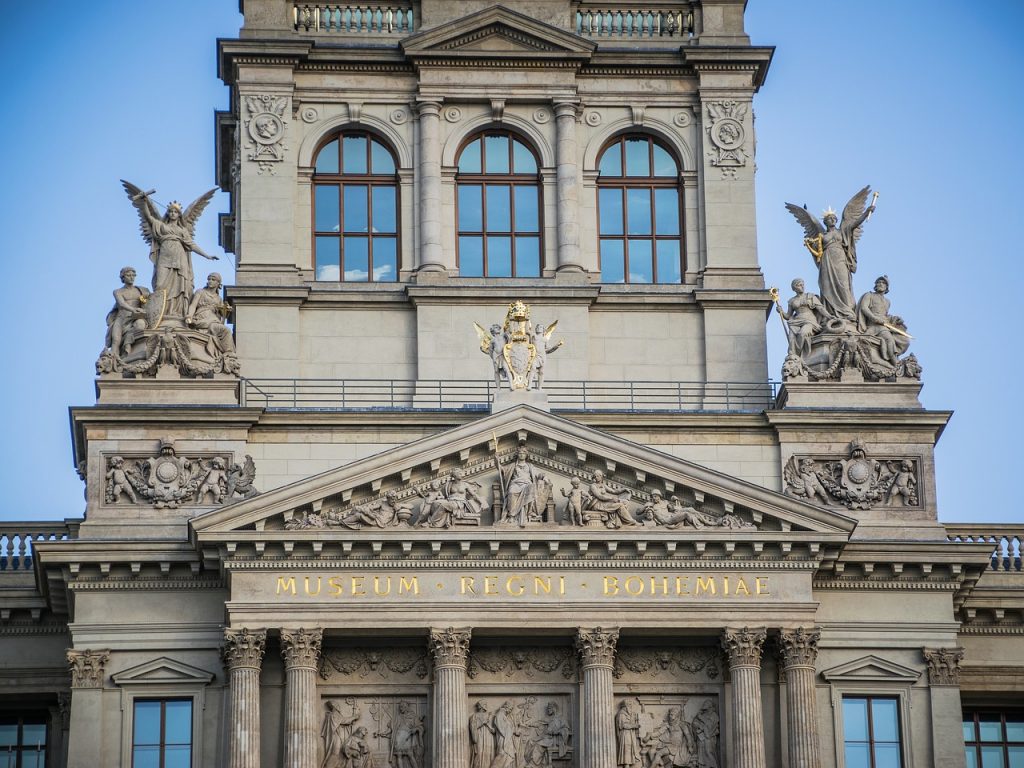 While in summer it's hard for me to drag myself to museums, in the winter it's a whole different story! I love visiting museums in the winter because I am a wimp in the cold and don't like to go more than an hour walking around in the freezing weather.
The National Museum ((Národní muzeum) in upper Wenceslas Square partially re-opened after a 7-year-long closure literally just a few days ago (October 2018), so it';s well-worth checking out the museum now that it's back in action. Another one of my favorite museums in Prague, and a must for any literature enthusiast, is the Franz Kafka Museum in Malá Strana.
Finally, if you're into weird and quirky museums, Prague seems to specialize in them. There's a Museum of Alchemists and Magicians, a Museum of Historical Chamber Pots and Toilets, and an Apple Museum – for whatever reason. If you're into finding the weirder side of a city, I recommend checking out the Atlas Obscura for Prague, which does not disappoint.
Catch a surprisingly affordable show
Note: The Prague State Opera (pictured above) is currently closed for renovations, but you can still see an opera at the Karlin in Prague! I haven't visited this theater personally, but it is the second largest in Prague and over 100 years old and is supposed to be beautifully done in the traditional Baroque style.
If you had told 17-year-old me that 19-year-old me would be going to the opera in Prague, I'd definitely have snort-laughed in your face.
The reality is that going to an opera in Prague feels like going to an insanely luxe event that you're definitely underdressed for, when in fact it is perfectly affordable, even on a student budget. While I'd reckon a guess that the opera has gotten a bit pricier since I attended a performance of Carmen a decade ago, it's not by much (and I paid less than $10 USD for my floor-level ticket).
While I'm not necessarily an opera enthusiast, there's no denying that it's a magical atmosphere, both in terms of the wonder in the air that accompanies every live performance but also the adornments of the opera house that surround you. The Prague Opera House is truly stunning, ornate with the kind of grandeur that made my American self go slack-jawed taking in all the traditionally grand European details and flourishes.
If you're worried about not understanding the opera, don't worry – even back in 2009, the Prague Opera was ridiculously modern and had subtitles in three different languages (I believe English, Czech, and German, though I could be wrong – the last decade hasn't' been kind on my memory) so that you could follow along. The Karlin theater also has subtitles for their performances.
Since Prague is so cold in the winter, it's great to have affordable (indoors) arts at your fingertips. Finally, I should mention that an opera isn't the only performance worth visiting in Prague to escape the winter weather. Here are a few other recommendations:
The Lobkowicz Palace in Prague Castle has a 1-hour classical museum performance every day at noon. Pre-book tickets here as availability is limited.
The Hybernia Theater has several performances of Swan Lake a week from November through March. Be sure to book in advance as days have already started selling out this winter.
You can pair a 1-hour opera performance with a 3-course dinner at the Boccaccio Ballroom, part of the Grand Hotel Bohemia. Again, I recommend pre-booking your ticket as it is a popular option.
Location: Křižíkova 283/10, 186 00 Karlín, Prague
Hours: Performance times vary but most days there is usually a show at 7 PM.
Warm up at the Czech Beer Museum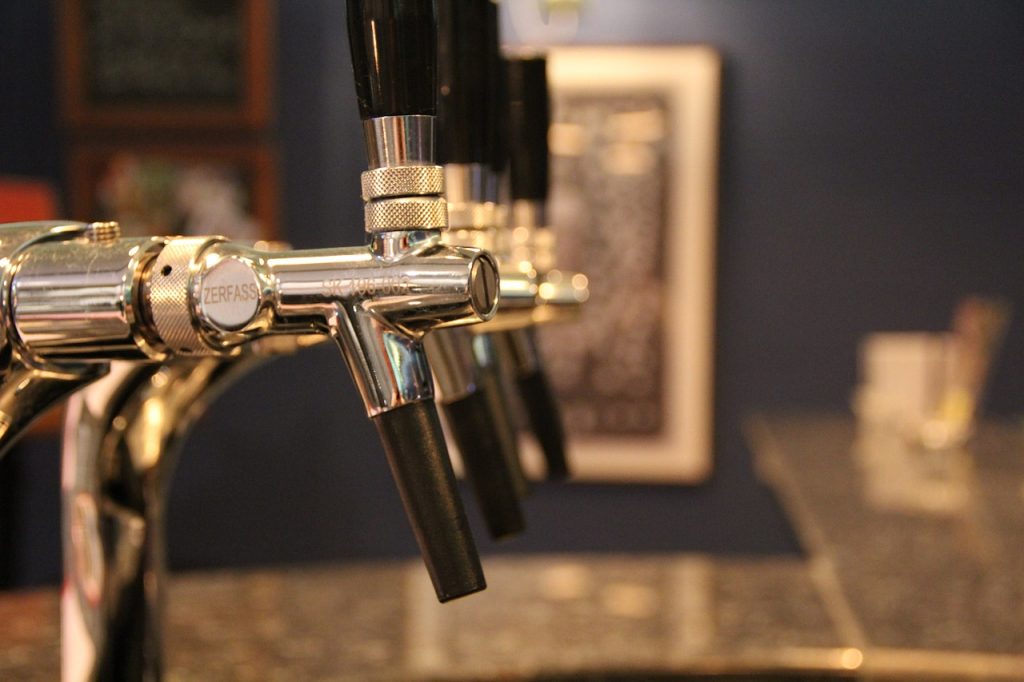 While in the summer, you'll find Prague locals practically glued to their seats in the outdoor beer gardens throughout the city, Prague in winter is definitely more indoor-oriented — though generally with just as much beer.
Yes, for better or worse, the Czech Republic is synonymous with beer. While this brings an abundance of the infamous "lads on tour" who just want a cheap drinking holiday, beer is also an inextricable part of most Czechs daily lives, so indulge away – it's just part of getting cultured, right?
While there are countless places you can go to learn about Czech beer, including several breweries in Prague, the Czech Beer Museum is probably the best place to start for beer enthusiasts who want to learn more about the beer that the Czech Republic is so famous for.
The museum covers the history of the creation of the best Czech beers, and naturally, you can guzzle down some free samples along the way, for research, of course. And for the truly extra amongst us, you can actually leave the museum with your own personally customized beer bottle – which also makes a great souvenir for a beer fan back home.
This tour includes museum entry, a guided tour, 4 samples, and your own custom bottle to take home. Book your online ticket here (no need to print – you can present it on mobile!)
Location: Husova 7, Staré Město, Prague
Hours: 11 AM to 8 PM every day
Taste Czech whites at a local wine bar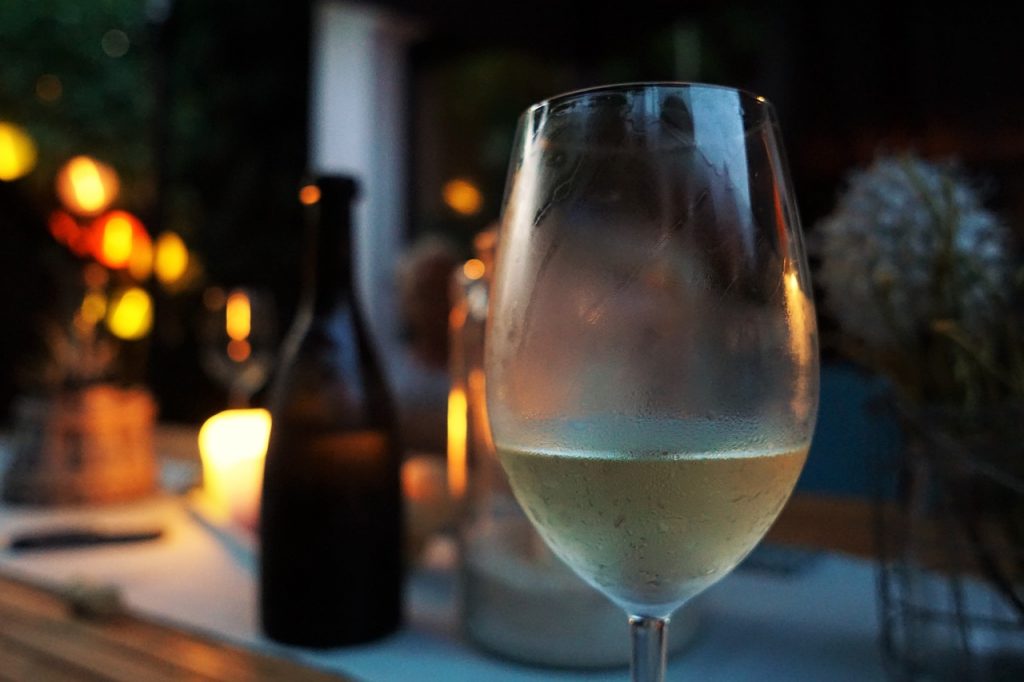 Yes, I'm aware that putting two alcohol-related things so close to each other on this guide may make me out to be a bit of an alcoholic, but I truly can't help myself in Prague – the beer and wine is just so good!
While many people know about the vibrant Czech beer scene, few people know just how delicious Czech wine is. Even fewer people know that a huge swath of central Prague used to be vineyards – Vinohrady, the neighborhood I lived in when I lived in Prague.
While I have a huge soft spot for burčák, the Czech young wine that tastes almost like apple cider and according to local lore, continues to ferment in your stomach (resulting in surprise hangovers), unfortunately you won't be able to find this in winter. It is, however, 100% worth planning a return fall trip for.
Still, in the winter, Prague still has a ton of wine options that are better suited for the season. While the Czech Republic is best known for its excellent white wines, you can find some great red wines as well, if that is more your speed. There are several wine bars in Prague worth visiting, and luckily, wine by the glass – while not as cheap as beer – is extremely affordable in Prague as it's not considered a "luxury" to have a good glass of wine!
My favorite neighborhoods to drink in are lovely Vinohrady and trendy Žižkov, which are a nice blend of catering to their local communities while still being centrally located. Prices are more affordable here than in the area around Old Town, and it's a lot less touristic!
Scale the Petřín Lookout Tower
There are several places you can go in Prague to get fairytale-worthy views over the entire city but I have a soft spot for Petřín Hill and its lookout tower as it's a little quieter than some of the other popular lookout spots, like the Old Town Bridge Tower which is swarmed with people wanting that Instagram-perfect shot over Prague.
More than a hundred years ago, the Petřín Lookout Tower was conceived to be a replica of the Eiffel Tower, only smaller, at 63.5 meters tall. It's one step shy of 300 steps to the lookout point, but it's well worth it (though I definitely don't recommend going to Petrin right after a lot of beer, as those 299 steps will feel like quite a bit more… not that I speak from experience…)
You can walk to the Petřín Lookout Tower from the Castle, which takes about half an hour, but it's more popular to take the Petřín funicular. At the top, you're immediately rewarded with some of the most impressive sweeping views of Prague over the Castle District, Malá Strana, and the Old Town.
Location: Petřínské sady 633, Malá Strana, Prague
Hours: 10 AM to 10 PM
Stay warm while you sightsee in a vintage car tour
While there is no shortage of affordable or even free walking tours in Prague, in winter you probably want to be indoors as much as possible. So, compromise on a city tour of Prague with a specialized tour by a vintage car (don't worry, the cars have heating in the winter!)
You can ride around the city in classic vintage cars, which fit up a group up to five people, in cozy comfort – all the while getting insight from a local on their city on a your 1.5 hour drive through the city. If the car tour is for a special occasion, you can even add certain romantic touches like roses and champagne – fancy. Book a private tour here.
Stroll the Charles' Bridge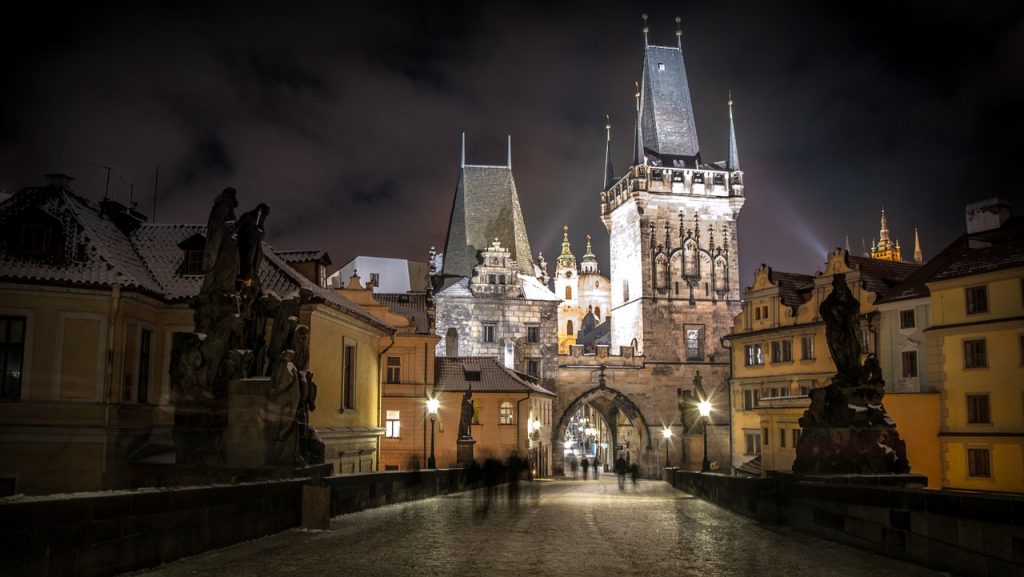 From the Old Town side of Charles' Bridge to Prague Castle is a quick 30-minute walk among some of the most charming buildings in the city, making the Charles Bridge an indispensable part of any Prague winter itinerary.
I have a soft spot for the Charles' Bridge as it made quite an impact on my life – literally, as my boat captain (who I assume must had a few too many Staropramens) rammed into this historic bridge not once but twice while on a tour. Luckily, the bridge seems to have taken this hit in stride as it's still standing, still as beautiful as ever.
Also known by its local name (Karlov Most), this medieval bridge is one of Prague's most unique landmarks and has seen a lot throughout the centuries. Its central position connecting Prague's Old Town with the castle district means that Charles' Bridge is nearly impossible to avoid during your stay and given how beautiful it is, why would you want to avoid it? Yes, it's crowded, and yes, it's touristy, but it's also one of the most beautiful places in Prague, in winter or summer.
My top tip for seeing Charles' Bridge in winter is to walk across it after having picked up a steaming hot cup of mulled wine, called svařák, and holding it in your be-gloved hands as you gaze over the unparalleled Vltava River. Merely crossing this bridge over the Vltava River among all the statues covered in snow was so magical I barely even noticed the cold. Though that might have been the svařák.
Eat traditional Czech food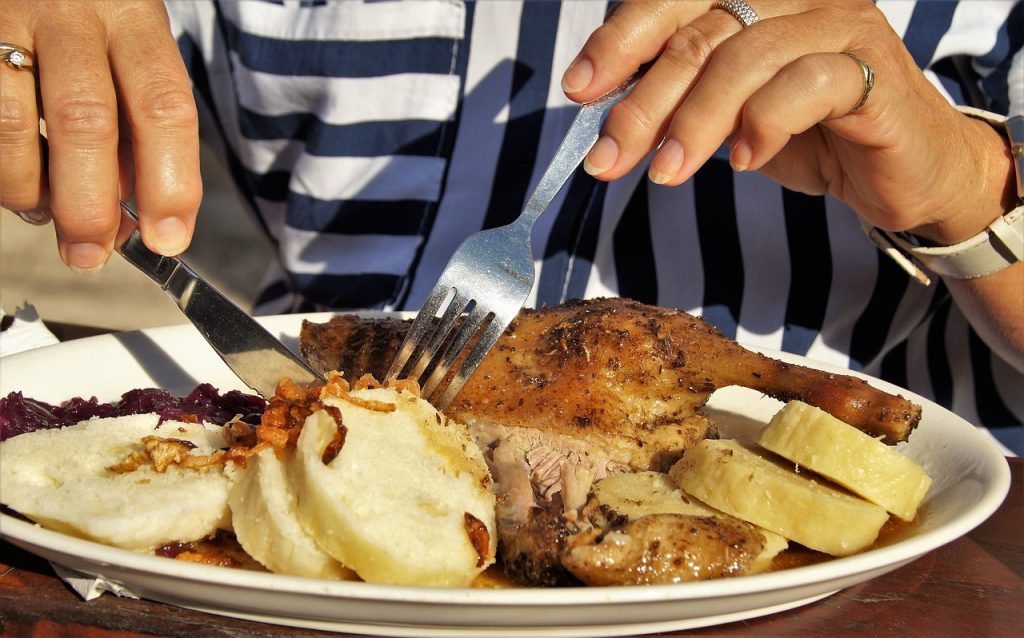 Czech food is often written off as heavy and dull, and I'm here with an impassioned plea to reconsider! I absolutely adore Czech food, although I will readily admit that it is not the healthiest nor the most vegetarian or vegan-friendly cuisine.
A few of my favorite traditional Czech dishes include guláš s knedlíky (Czech-style goulash stew with handmade sliced bread dumplings), vepřo-knedlo-zelo (roast pork with cabbage and bread dumplings), and česnečka, a delicious garlicky broth laced with carraway seeds and topped with rye bread croutons.
My favorite restaurant for traditional food is U Provaznice, which is often also called "The Ropemaker's Wife," located just a tiny bit away from the Old Town near Wenceslas Square. Local lore say it's haunted and the space supposedly has a grim history. Let's just say the Ropemaker's Wife met her end in an unsavory way, and there's a noose in the bar as a reminder. While I never saw anything supernatural, I am still haunted by memories of česnečka and bramborák (Czech potato pancakes), so I guess the locals are half-right.
Location: Provaznicka 385/3
Hours: 11 AM to midnight daily
Go ice skating in Ovocný  Trh
Is it even a European winter trip if you don't go ice skating? Ice skating is one of the most-loved winter pasttimes, and when you combine it with the historic spot of Ovocný Trh it becomes even better.
This ice rink is found behind the Czech Estates, and even though it's open for a relatively short time, it's free for everyone during that time – though in practice, since you will likely have to rent skates unless you're the kind of person that has ice skates in their suitcase (weird flex, but okay). However, even skate rental is rather affordable – about 100 CZK per hour, less than $5 USD.
Location: Ovocný Trh, between Celetna and Rytířska streets
Operating Hours:
Take a cruise on the Vltava River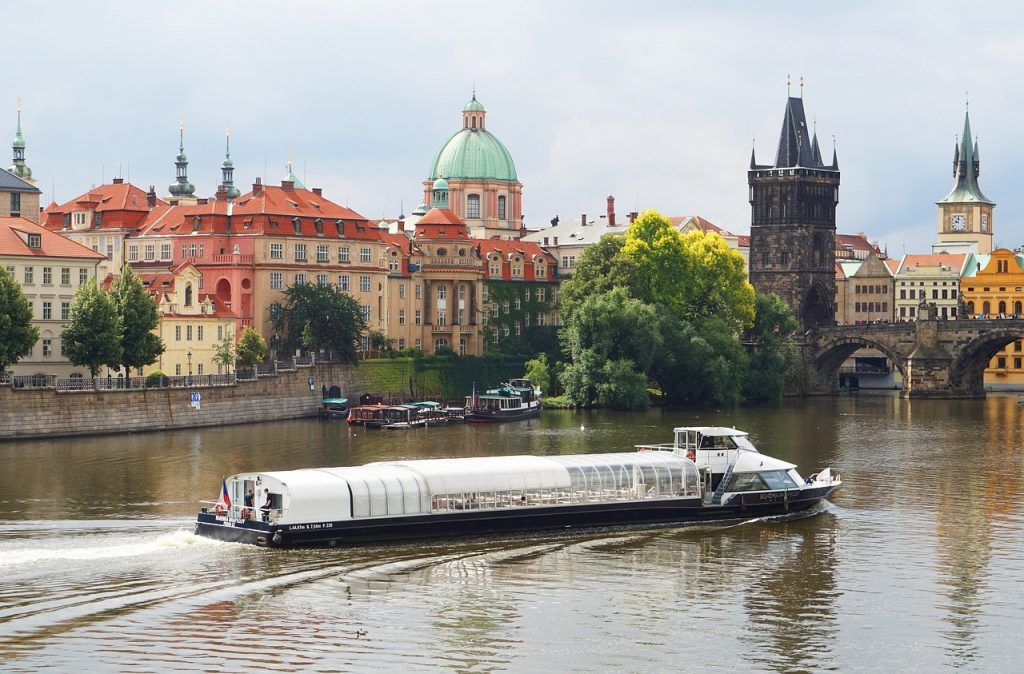 In general, I'm a huge fan of doing river cruises, as touristy as they are. There's something magical about cities built on water and seeing it from water level adds a new dimension to a place you've traversed several times on foot. Just as my boat trip on the Danube was a highlight of my Budapest trip, a cruise on the Vltava river is a must on any Prague winter trip.
The boats are fitted with glass so you don't have to worry about being too cold as you zip up and down the Vltava river, passing views such as the Prague Castle and passing underneath (and hopefully not into) the Charles Bridge. If you're cold, you can warm up while holding a drink and taking in the information presented by your guide, who will explain the current function of the historic buildings as well as their unique pasts.
You can opt for a 3-hour cruise including a buffet dinner and live music (check out availability here) or you can opt for a 45-minute cruise if you are crunched for time or money (check it out here)
Location: Meeting points vary depending on the tour
Hours: Several departures a day, so check the tour pages for exact times
Admire the absurd Žižkov Tv Tower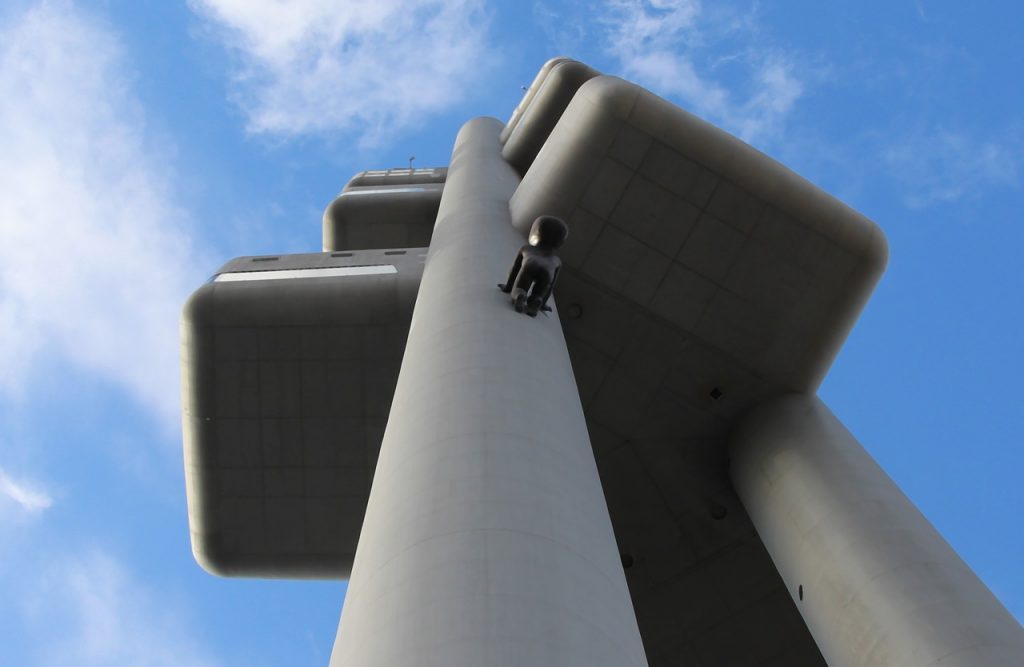 I have a soft spot for the Žižkov TV Tower as I lived just a short distance away from it in the nearby neighborhood of Vinohrady. With a space age look, the Žižkov TV tower was constructed in the 1980s as part of the communist-bloc-wide TV tower fervor and only functioned for a handful of years before communism died and thus the TV towers fell out of fashion.
Since TV towers fell by the wayside, the Žižkov TV tower has endured its fair share of name-calling, being named one of the ugliest buildings in the world. I think that that's a bit much, and maybe it's my Eastern-Europe-fever, but I find it oddly charming – especially now that infamous Czech artist David Černý has had his way with it.
Černý is known for his irreverence, and you'll see some of his statues throughout Prague – including "Piss", the statue of two men peeing into a fountain the shape of the Czech Republic, or the hanging body of Sigmund Freud over a popular street near the Old Town.
Have you visited Prague in winter? Do you have any more recommendations for what to see in the colder months?