Sweden's climate is by no means tropical, but winter in Sweden doesn't have to be as bad as you think. Swedish winters can be downright enjoyable and magical, granted you pack the appropriate winter clothing. Stockholm's average winter temperature hovers right around freezing, but in Northern Sweden, you'll see more extremes, ranging from freezing to -30 C!
Even with the cold weather, there's still so many things to do in Stockholm, so just pack warm and enjoy the beauty of the city without the summer crowds.  With preparation and the right mindset, Sweden in winter is absolutely lovely — read on to learn why!
The obvious — the Northern lights are the most amazing thing you'll ever see
The Northern lights are only visible from September to the end of March. In Abisko, which is considered by many scientists to be the best place in the world to see the Northern lights, we saw the lights 3 out of 3 nights — a definite must-add to your Sweden winter itinerary.
Granted, 2 of the 3 nights were rather cloudy, so we saw a few green streaks of aurora that quickly got covered by the clouds. However, our final night we had a cloudless night, and the lights were even more vibrant, magical, and amazing than I could have imagined.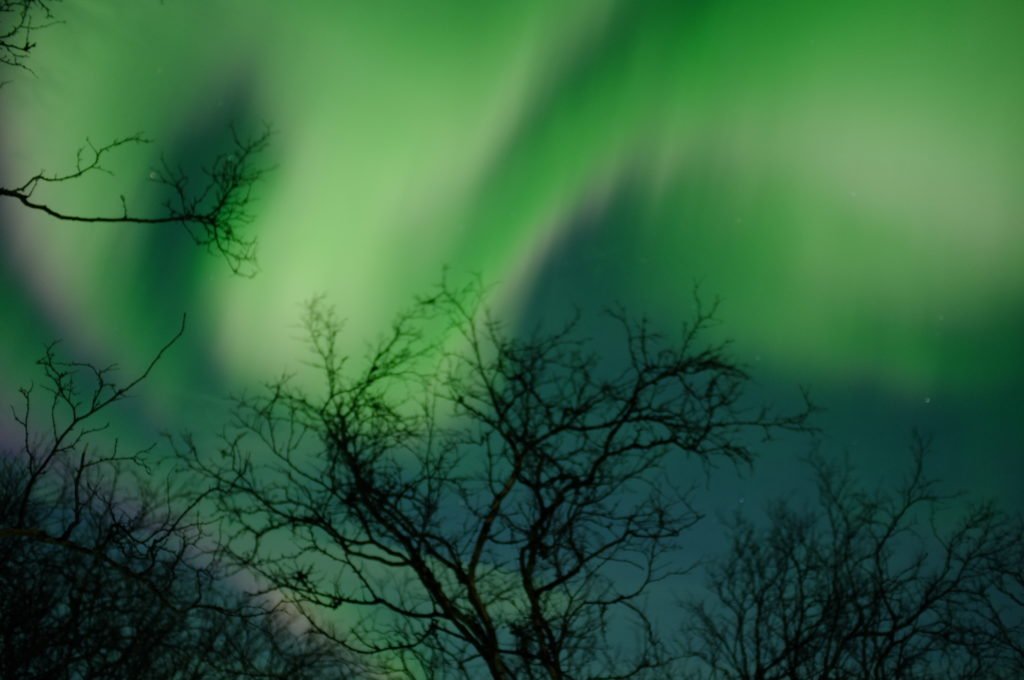 Seeing the Northern lights is completely free once you get there. Just walk as far away as you can from the light pollution and stare up at the sky. Don't think you have to spend hundreds of dollars at the Aurora Sky Station or on a photography tour. With the proper weather conditions, you should be able to see the lights as soon as you walk outside and let your eyes adjust to the darkness.
I do recommend using the Sky Station's live camera and running outside as soon as you see a flash of green. I thought that February was the perfect time to go, as you're not subject to the "Polar Night," where the sun does not fully rise for 28 straight days, right around the winter solstice. When I went in mid-February, the sun rose just before 8 and set a little before 4, almost a solid 8 hours of sunlight.
Pro Tip: I highly recommend staying somewhere in Abisko where you can easily get away from light pollution – STF Turiststation is where I stayed. Abisko Mountain Lodge also comes highly recommended, but I can't speak for it personally.
It's not as cold as you think
Stockholm's average high in February is about 30F, or -1C. On average, it's a bit colder than other popular winter destinations, like New York or Paris, but not quite as cold as Montreal or Vermont, some popular North American destinations. The cold is no reason not to visit Sweden in winter!
Hotels in Stockholm are super cozy and many even have their own saunas to warm you up in the winter. In fact, even some Stockholm hostels (like City Backpackers!) have their own private saunas!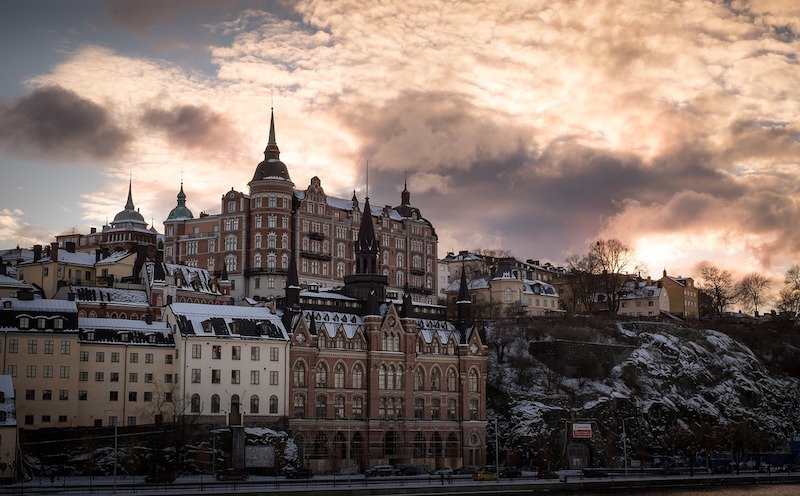 Northern Sweden's winter, however, can be a totally different story. We were lucky and it was about 25F (-4C) during the day, and as low as 9F (-13C) at night. However, it can easily get down to -22F (-30C) at some points during the winter.
Luckily, if you're staying in Abisko, one of the best places to visit in Sweden in winter, many hostels and hotels offer warm clothing rentals. These are often free if you book an activity with them. When I did dogsledding, I borrowed a super warm waterproof jumpsuit from the tour company, but I was fine in my regular layers all other times, even at night. The key to staying warm?
Three words: FLEECE. LINED. LEGGINGS. Worn as a layer under jeans or a second pair of leggings, these are amazing. Fleece lined leggings saved my California pansy ass many a time in NYC and stood up well in winter in Sweden. Also, don't underestimate the power of some woolly socks and an ultra-thin down jacket for layering under your standard winter jacket – the second layer of down really helps. Also, make sure you have waterproof shoes or snow boots, as nothing will make you feel colder faster than wet feet.
As they say — there's no such thing as bad weather, just bad clothing. For the record, I totally disagree, but I also do know that packing well can be the difference between being cold and being miserable. I've included a recommended packing list at the end of the post so if you're wondering what to wear in Sweden in winter I've got you covered!
Flying to Sweden in winter is cheap. Really cheap.
Sweden winter vacations are actually surprisingly affordable. Flying from New York? On Norwegian, you can find cheap flights as low as $315 roundtrip to Stockholm, regular price – no error fares needed. From Oakland or LA, as low as $342 – again, roundtrip! With flights that cheap, I didn't even bother using my airline miles from travel hacking.
Plus, since winter is the off-season in Stockholm, you'll find that accommodations will be a tad cheaper (with the exception of right around Christmas-time).
Pro tip for Abisko: While Sweden is not as popular in winter as it is in summer, Abisko still books up quickly, so be sure to book well in advance. Be sure to book all Abisko lodgings well in advance – use a booking service with free cancellation like Booking.com to ensure your holiday runs smoothly, as places tend to book up literally months prior.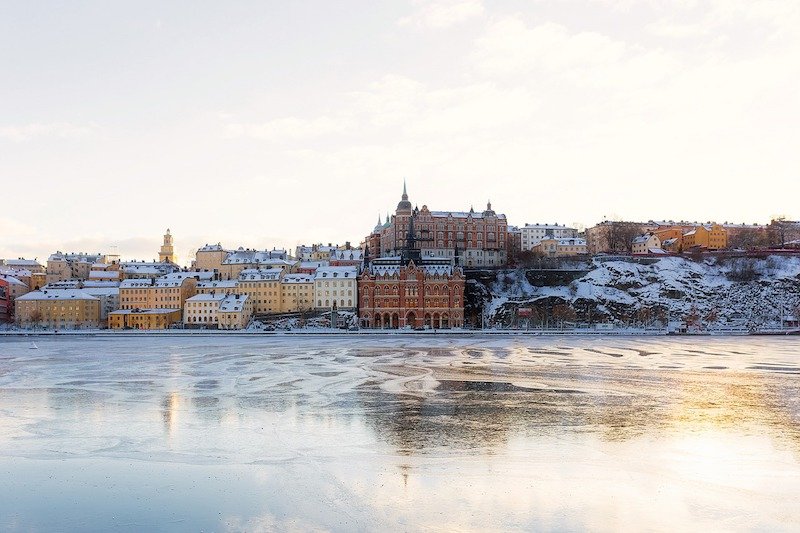 Sweden really knows how to do winter activities
Dog-sledding through Abisko is one of the most amazing experiences I've ever had. Although it was a bit pricy (my two-hour tour through abisko.net was 1200 SEK, about $144 USD, and included snowsuit, snowshoes, and cross-country ski rental for 3 days), I highly recommend it if you can make room in your budget for it —it's a once-in-a-lifetime experience.
Even if you don't do a dog-sledding tour, you can rent snowshoes and cross-country skis from most hotels and hostels for a very reasonable fee.
For the more adventurous, there are also numerous ski resorts — Björkliden is another famous one, just a few kilometers away from Abisko — where you can ski or snowboard. You can even ski just outside of Stockholm at Hammarbybacken! If you're up North, ice-climbing and snowmobiling are two other popular winter sports, but you're going to have to pony up quite a bit of cash to partake.
A traditional Swedish sauna is an amazing reward for a day braving the cold
Many hotels and hostels in Northern Sweden, and even some in Stockholm, have free sauna access included — Winterday Hostel has a sauna and STF Turiststation does as well.
It's especially fun to run from the sauna into the cold night air — splash a bit of snow on yourself or dive in if you're brave. Even more amazing? When you run from the sauna into the snow and look up to see the Northern lights undulating above you.
Stockholm, Sweden in the winter is beautiful – even to this winter-hating New Yorker
In Stockholm, they don't salt the living hell out of their sidewalks the way we do in the overly litigious United States. New Yorkers will rejoice to know that there are no giant slush puddles lurking at every corner! The snow is packed down well, so it isn't really that difficult to walk on, but do be careful as it can get a bit icy from time to time. Snow shoes with decent grip will help.
There's so much to do in Stockholm in the winter, it's hard to get bored – from excellent museums to cozy coffee shops and tempting food halls, it's a fantastic winter city.
Pro Tip: Stockholm has a well-deserved reputation for being an expensive city, but making some smart moves like buying a Stockholm Pass for museums and transit can save you a ton of money.
Snowy days in Abisko National Park are magical
With snow-covered mountains everywhere, the landscape almost looks like a black and white photograph.
Black trees jut up from the snow — and that's pretty much it, except for a wink of blue sky from time to time. The Kingsleden is a beautiful hike in the summer, but we loved walking to the frozen waterfall about 2 kilometers away from STF Abisko Turiststation.
Fika is amazing, but it's even better when it's cold outside
Fika is the Swedish institution of dropping everything to sit with a friend and socialize for an afternoon coffee and pastry. There was nothing more satisfying than warming up our cold bodies in a coffee shop with a delicious espresso drink and a kanelbullar (Swedish cinnamon bun), chokladboll (cocoa pastry ball coated in coconut) or prinsesstårta (Swedish "princess cake" composed of marzipan, sponge cake, pastry cream, and jam).
If you go between New Years and Easter, you'll find semla, which are soft spiced buns filled with marzipan and whipped cream. Delicious!
You'll miss the crowds if you travel to Sweden in winter
Stockholm was so quiet during our time there that it was hard to believe almost 2 million people live in and around the city. It wasn't uncommon for us to walk for miles without encountering a crowd, even on the weekends.
As a bonus, hotel prices are much lower (with the exception of the period right around Christmas), meaning you can get some insanely good deals if you book ahead.
More "golden hour" for beautiful pictures
Skilled photographers eagerly seek out the golden hours — the hours right before sunset and right after sunrise — when the sun low on the horizon casts a beautiful, magical glow on your pictures.
In Sweden during winter, the sun never rises that high in the sky for long, meaning that you have even more time during the day to capture the magic of golden hour. Also, it's easy to catch the sunrise without having to wake up at the asscrack of dawn — something that my lazy self enjoys.
Finally — Don't forget travel insurance! Be sure you're insured when traveling in Sweden in winter, especially if you're doing any outdoor sports. I use and recommend World Nomads – they'll cover you if you get unexpectedly sick, slip on ice, hurt yourself during a wintry activity, or have winter weather interfere with your travel plans. Get a free quote here.
What to Pack for Sweden in Winter
Even though Sweden in winter is not nearly as cold as you likely think, you should still pack smartly and bring all the necessary cold-weather clothes from home, as buying them in Sweden will be outlandishly expensive. Below, I've listed my top essentials and my recommended products. If you want a complete packing list, refer to the winter section of my two weeks in Europe packing list which will cover all your other packing needs.
Waterproof boots. I just brought my [easyazon_link identifier="B01015NC1W" locale="US" tag="eternarriv-20″]waterproof leather Blondo boots[/easyazon_link] that I have legit owned for 8 years (I did get them re-soled once). If you're looking for a proper snow boot, [easyazon_link identifier="B000BRJBXY" locale="US" tag="eternarriv-20″]Sorel[/easyazon_link] and [easyazon_link identifier="B01MSN8HIU" locale="US" tag="eternarriv-20″]Keen[/easyazon_link] are the two brands I hear recommended most often. I'm planning on buying a proper pair of snow boots this year now that I live in Bulgaria so I'll update this with my recommendation once I've invested in a proper pair of boots. But what matters most of all is that the boots are waterproof; unfortunately, using a mere waterproofing spray on other shoes isn't enough.
A knit hat. Honestly, any beanie will do as long as the knit is fairly tight, but a [easyazon_link identifier="B076S5W82F" locale="US" tag="eternarriv-20″]fleece-lined knit hat[/easyazon_link] will give you a bit of extra warmth (and the pompom will look cute on Instagram).
Thermal base layers. I personally can't tolerate wool as it makes me feel like my skin is on fire, but if you know you can wear wool without issues, merino wool base layers are the standard recommendation for cold weather. However, fleece-lined layers work great for me. I have these [easyazon_link identifier="B016XKE18W" locale="US" tag="eternarriv-20″]90 Degree by Reflex fleece-lined leggings[/easyazon_link] for my bottom base layer and I wear a UNIQLO [easyazon_link identifier="B075J5P42Q" locale="US" tag="eternarriv-20″]32 Degrees thermal layer[/easyazon_link] for my top base layer. I bought my 32 Degrees thermal top at Costco, by the way, and it was even cheaper than on Amazon. If you can tolerate wool, [easyazon_link identifier="B01N2R3H3W" locale="US" tag="eternarriv-20″]merino wool leggings from SmartWool[/easyazon_link] are the gold standard.
Wool socks. Despite my previous screed against woolen clothing, I actually can tolerate wool if it's just on my feet. I bought two pairs of [easyazon_link identifier="B00KVVBBRE" locale="US" tag="eternarriv-20″]SmartWool socks[/easyazon_link] for this trip and was quite pleased with them! I recommend bringing three pairs though because it's nice to have socks to rotate out during the day, as they often get wet from snow.
Waterproof snow pants (if you go to the Arctic Circle or go skiing/snowboarding) I didn't have these, but I was really jealous of my friend who brought her snowboarding pants. These [easyazon_link identifier="B002V2ZMEO" locale="US" tag="eternarriv-20″]snow pants[/easyazon_link] are well-reviewed but I haven't personally tried them. I was okay with the combo of thermals and jeans but would have been way drier with some snow pants. Get a size larger than you think so that you can wear jeans and leggings underneath for maximum warmth. You don't need these if you just go to Stockholm or stay in the south of Sweden, though.
Waterproof gloves. [easyazon_link identifier="B00WDWB6PG" locale="US" tag="eternarriv-20″]Gore-Tex waterproof gloves[/easyazon_link] the gold standard and got me through many a winter bike rides in NYC. I also have a cheap thin pair of [easyazon_link identifier="B01JVRVOQ6″ locale="US" tag="eternarriv-20″]gloves[/easyazon_link] I used during the daytime that could work with my smartphone. I got mine from Target but this pair is similar.
An ultrawarm parka and also a thin ultra-light down jacket. Yes, I'm a total baby when it comes to the cold (it happens when you grow up in California). I live in my [easyazon_link identifier="B017UX9ZDW" locale="US" tag="eternarriv-20″]North Face parka[/easyazon_link] every winter and consider it an excellent investment. There are cheaper down jackets you can buy for sure; just make it goes down to at least mid-thigh, trust me. I also layer my Uniqlo ultra-light down jacket underneath. You can buy yours at Uniqlo but [easyazon_link identifier="B074QQQQDL" locale="US" tag="eternarriv-20″]this jacket[/easyazon_link] is really similar and cheaper on Amazon. They roll up really small so it's not a pain to bring two jackets. Just wear your heavier one on the plane.
Camera + tripod for capturing the Northern lights: I use and swear by my [easyazon_link identifier="B00I8BICB2″ locale="US" tag="eternarriv-20″]Sony A6000[/easyazon_link], which is an excellent and affordable option if you're looking for professional-quality photos. If you're going to try to photograph the Northern lights or take lots of sunset and sunrise photos, I recommend bringing a tripod as you'll need it to stabilize your camera for long-exposures. Tripods can be very expensive but I just used a [easyazon_link identifier="B00XI87KV8″ locale="US" tag="eternarriv-20″]cheap-o Amazon tripod[/easyazon_link] and it suited my purposes for this trip.
Want more winter travel inspiration?
Note: This post contains affiliate links. That means that if you purchase something using one of these links, I will receive a small commission at no added cost to you. All products, services, and accommodations are things I personally believe in.