Note: This post may contain affiliate links. Please see my disclosure page for more details.
I'm sold on the virtues of packing light, having done a five-month trip spanning three distinct seasons. I started off in Southern France, Spain, and Morocco in the summer, made my way through the Balkans in the fall, and ended in snowy Denmark. I did that all in a carry-on, and I've since adapted that original Europe packing list for shorter trips. So if you're wondering what to pack for two weeks in Europe, I've got you covered, no matter the time of year.
From this, I've mastered the art of packing a carry on — from everything from a months-long backpacking adventure to a short jaunt through Europe. As a result, this packing list for 2 weeks in Europe can be your guide to packing light, no matter what the season, or even for longer trips. Just do laundry every 1-2 weeks as you would at home, and you're golden.
I've created two separate clothing packing lists for Europe, one for spring/summer/fall and the other for winter. Spring and fall aren't too harsh in Europe, so you can mostly bring the same things as you'd bring for summer, just with a few more layers. Winter, however, can be downright brutal, so I'm coming at you with some tips that helped me out even when I was north of the Arctic Circle (and nope, I'm not joking!). Don't worry even if you're packing for Europe the first time – this list is comprehensive and tested and filled with only products I actually use, not just ones I've heard about or stolen from other packing lists.
Packing List for 2 Weeks in Europe
Backpack and Related Gear
While you certainly can travel with a suitcase, I prefer traveling around Europe with a carry-on sized backpack. 
I chose a Tortuga 44L Backpack because they're compact, carry-on friendly, and don't scream "backpacker" as loudly as other bags. They have lots of pockets and storage options that make them, in my opinion, superior to your typical hiking backpack. Plus, it's side-zipping like a carry-on suitcase would be, so it's easy to find whatever you have in there. The hip belt has pockets and takes the weight off your shoulders, so it's a great travel backpack for moving between cities in Europe.
I also carry a smaller personal item-sized daypack as well where I stash my odds and ends. I also swear by a cross-body bag for day to day travels since I hate carrying a backpack everywhere.
I absolutely love love love my eBags Pack-it-Flat Toiletry Kit. It takes up so little space and it actually fits perfectly in the outer pocket of my Tortuga so they pair really well together. Although it's flat and compact, it fits quite a bit – virtually all my toiletries, which as a bit of an admitted girly-girl I have a lot of! An absolute must-have for your sanity when on two week trip through Europe.
I keep everything sorted and tidy with my eBags Packing Cubes. I use my large packing cube for bottoms and dresses, my medium packing cube for tops, and my small packing cube for socks and undies. I also keep a few spare reusable tote bags like you would for grocery shopping for dirty laundry so it doesn't all mix together and make my clean clothes smell funky.
Essential Clothing to Pack for Europe (Spring, Summer, Fall)
Wondering what to pack for Europe for two weeks? Here's all the things you should cram in your travel backpack (with cubes, naturally) – with girly girl travelers who love shoes and dresses and not checking luggage in mind.
3 lightweight tank tops in different colors
1 chambray or other button-up shirt to wear as a light jacket or shirt
1 medium-weight jacket for cool nights (a denim or leather jacket would be perfect here) — you can leave this off if you're traveling in peak summer, though
2 linen or airy cotton V-necks
1 pair lightweight linen or cotton shorts in black or neutral
1 large but lightweight scarf (great for too much AC, surprise church visits, or just for varying outfits)
1 light sweater
1 pair black leggings or ponte pants
1 pair skinny jeans
1 or 2 midi skirts, which are surprisingly good in hot weather
1 black mini skirt
2-5 lightweight dresses
1 maxi dress
1 lightweight scarf
5-7 pairs of socks
7 pairs of underwear (or 14, if you're determined to make it without doing laundry)
1-2 bikinis/swimsuits
pajamas or nightgown
flipflops or Birkenstocks
1 pair running shoes
1 pair comfortable ankle boots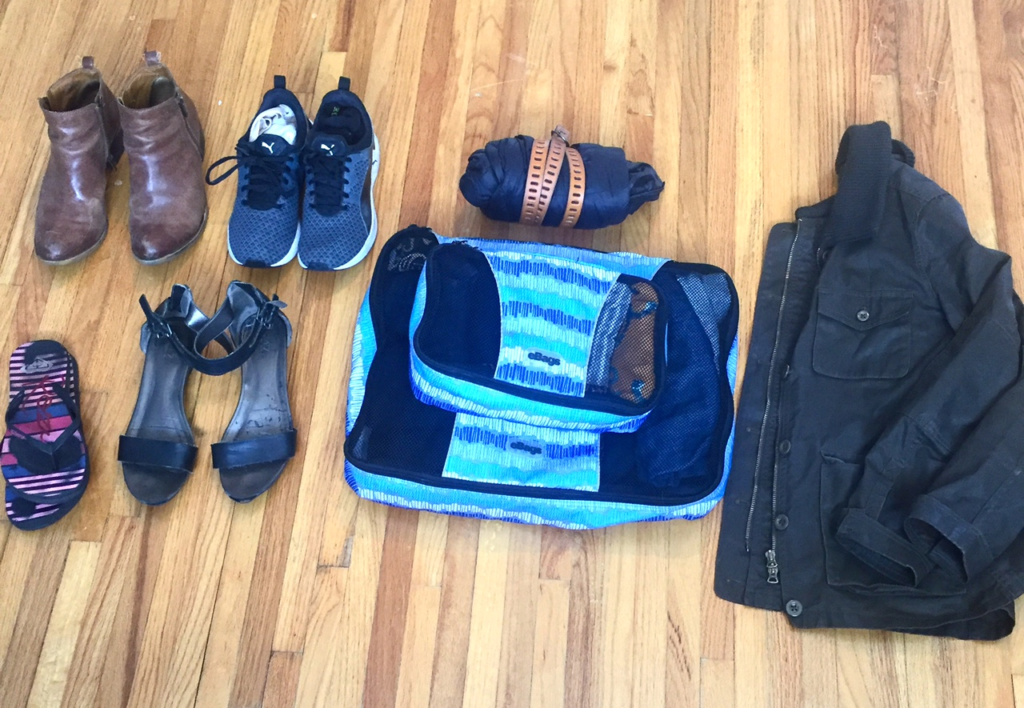 This sounds like a lot — it is! But it all managed to fit into two packing cubes (I actually didn't even need to use the third one, as I kept all my underwear, socks, and sleepwear in pockets that come with my backpack).
Depending on how much you pack and how attached you are to your clothes, it's always an option to send some of your belongings or souvenirs you bought on the road. You can use an international shipping service like Shiply to compare rates and send home items cheaply.
Packing List for 2 Weeks in Europe in Winter
Packing for winter in a carry-on isn't that hard — just think smart, wear your heaviest clothes on the plane, and think about layering as much as you can. This will work for even super cold weather, but not for something extreme like a ski holiday.
2-3 pairs jeans
2-3 pairs warm leggings leggings (I love these fleece-lined leggings since I'm sensitive to wool and can't wear it)
1 warm sweater dress
1 super warm, big wrap scarf
1 hat that covers your ears
1 pair gloves or mittens (mittens are usually a bit warmer but more annoying to use, so I'd bring gloves if it's kind of cold and mittens if its f*#!ing miserable)
2-3 thermal tops (I love the ones Costco sells and stock up on them when back in the States)
2-3 warm sweaters (wool if you can stand them)
1 pair waterproof knee-high boots
1 pair flat ankle boots
6-7 pairs warm socks
7-14 pairs underwear, depending on whether or not you want to do laundry
1 super warm parka-type jacket
1 medium-warm jacket, like a UNIQLO Ultra Light Down (great for layering under your other jacket in case of extreme cold)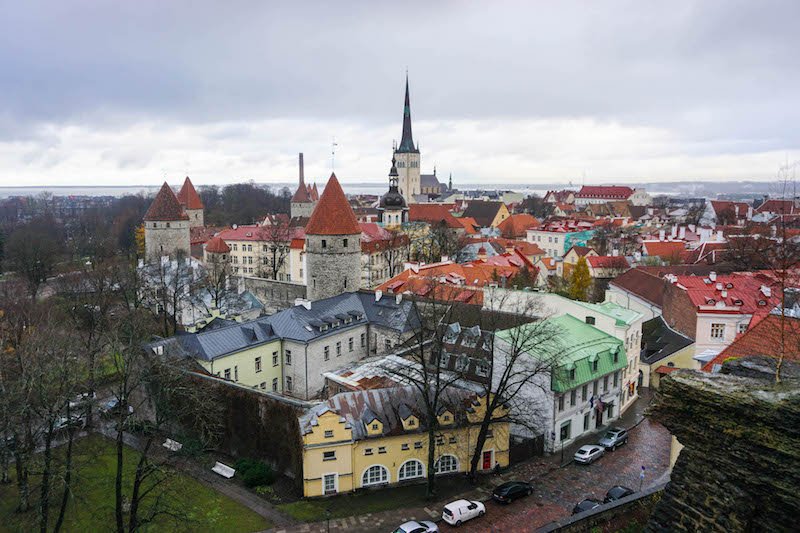 Smart Toiletries & Hygiene Supplies
1 Diva Cup (for people with periods): better for the Earth, better for your luggage — the Diva cup is reusable, hygienic, and actually way more convenient than tampons or pads as they need to be changed less frequently. They're really comfortable once you get used to them and carry a lower risk of TSS or leaking.
1 pack of GoToobs: These reusable, easy-squeeze bottles are great for filling with your need-to-have toiletries that are hard to source on the road.
1 folding toothbrush: I love this so much because those stupid clip-on toothbrush protectors always get lost or broken in my bag!
1 bar Lush solid shampoo with a metal carrying case: I love the Seanik shampoo bar, as it breathes life into my easily greasy, thin hair!
1 dry shampoo: For days when showering is just too hard
1 pack hair ties: For days when getting out dry shampoo is just too hard
1 small hairbrush: The folding hairbrushes always break for me, so I go for a small, sturdy mini hairbush
1 pair Tweezers: Because god forbid I go more than a few days without plucking those random chin hairs that love to pop up overnight.
1 Neutrogena solid sunscreen: Who doesn't love a good solid for liquid swap? Great to keep in your bag without worrying about sunscreen explosions
1 razor and pack of favorite razor heads: It can be hard to find my favorite brand abroad sometimes, so I always bring them with me
1 anti-friction stick: Because if you got thick thighs like I do, this is a godsend against fighting the devil that is chub rub. Vaseline also works in a pinch.
All your makeup and can't-live-without toiletries (moisturizer, face wash, etc) — make sure they are travel-sized (less than 100 milliliters/3.3 ounces). If not, put them in a GoToob in a size suitable for a two week trip to Europe.

Travel Medicines & First Aid

Random Odds & Ends That Make Life Less Terrible

Electronics & Camera Equipment
Laptop, if necessary: I bring my Macbook Air everywhere but other people may prefer a tablet or an inexpensive netbook. I work on the road so a user-friendly, lightweight laptop is a must.
Kindle Paperwhite: English-language bookstores are few and far between outside of expat-haven Granada. I love the Kindle Paperwhite because the screen is glare-free, making it easy to read at the beach or in direct sunlight.
Travel camera: I use a Sony A6000 because it's lightweight for a professional caliber camera, inexpensive, and a HUGE step up from a smartphone. You may want to replace this or add a GoPro too, especially good for adventure activities like volcano boarding and diving (just check to see if you also need an underwater house for your GoPro if you dive, as many of the newer models are only good to 10m — not nearly enough for divers)
Portable charger: As an electronics-addict, I'm always running out of juice. Bring a portable charger to save yourself many headaches! Anker is a reliable brand and what I personally use.
Adaptor, if necessary: Nicaragua uses the same plugs as America and Canada, so if you're coming from Europe or the UK, you will need an adaptor.

Disclaimer: No items were sent to me for this Europe packing list for two weeks; all are products I've purchased independently or something as close to it as possible as I could find. This post contains affiliate links. That means that if you purchase something using one of these links, I will receive a small commission at no added cost to you. No BS – I only recommend accommodations, services, and products I truly believe in. 

Further reading: 
Want more ideas on what essentials to bring on your trip to Europe? Check out this guide to travel gear and resources from Europe Up Close