For my 26th birthday, I took myself to Belize for a short 4-day trip after finding a $300 return ticket on a whim. Since I didn't have much time in Belize, I decided to stay in one place and make the most of it. After some Googling, the most idyllic place to spend a weekend quickly emerged: Ambergris Caye. Since I was trying to save money for
Since I was trying to save money for my escape from New York City, I then focused on how to travel Ambergris Caye on a budget, with only four days to spare. Although Belize is an expensive destination, there are ways to travel Belize on a budget – and the Cayes are some of the best places to do so!
I justified the expenditure as being educational, having the "opportunity to practice my Spanish" — little did I know that it's the only country in all of Latin America with English as its official language (Creole and Spanish are also widely spoken, especially by the large Salvadorean population)
Note: This post contains affiliate links, which means I may receive a small commission if you purchase something through one of these links. Thank you for supporting the free content on this site! For more information on affiliate links and cookies, see my disclosure page for more details.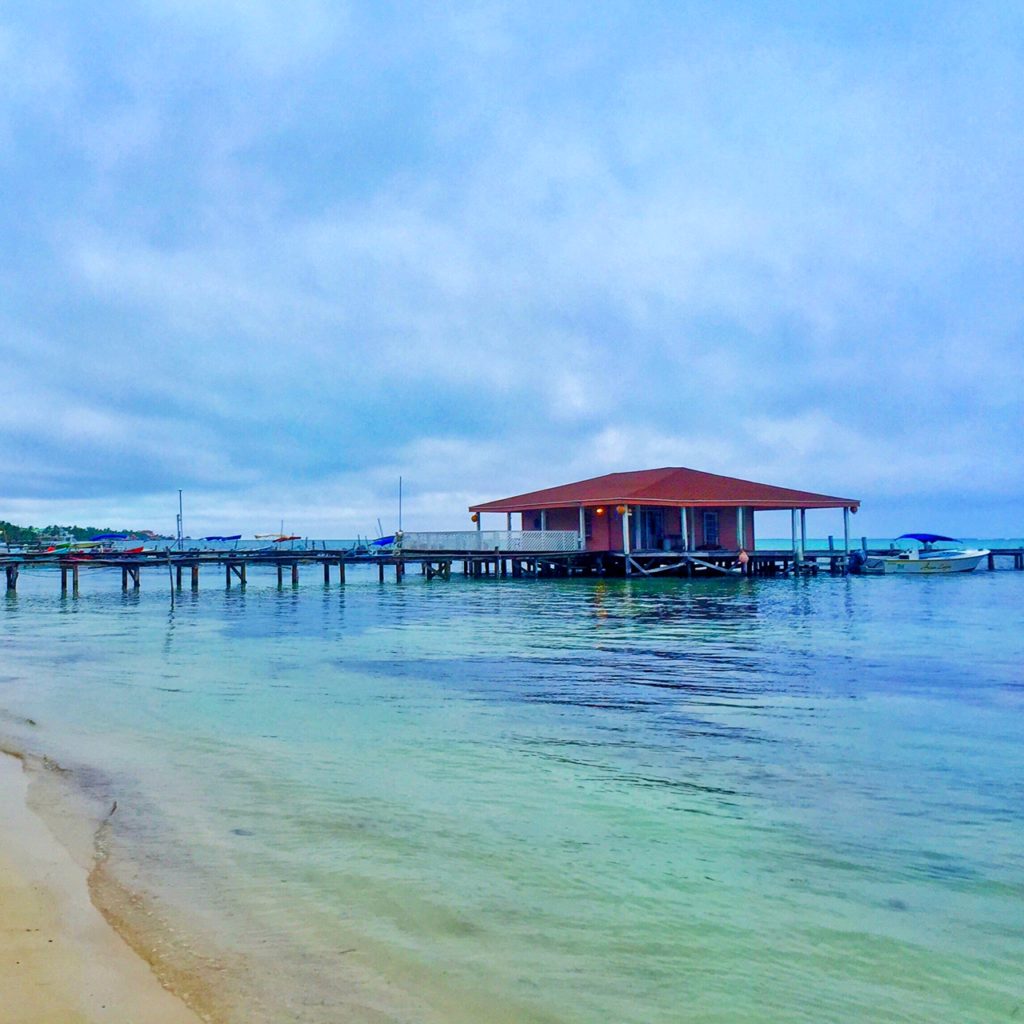 I decided to spend my time in the small town of San Pedro, located on Ambergris Caye, which I presumed was an island… although in yet another reproach to my geographical confidence, is actually a peninsula attached to mainland Mexico!
Where to Stay in Ambergris Caye on a Budget
I stayed at the absolutely wonderful Sandbar Hostel for $15 per night for a single bed in a 10-person dorm. I don't think I've ever been more pleasantly surprised by a hostel experience. It had all the little details which make a good hostel great, including privacy screens, outlets and small shelves next to each bed, and personal luggage lockers beneath each bunk bed. The cleaning staff seemed to come in almost hourly to sweep up any sand on the ground, always with a friendly smile. The bathrooms and showers were clean, and — a real bonus in this part of the world — had excellent water pressure.
The hostel had its own bar and restaurant, which was a great way to socialize and meet other travelers. Luckily, it never got too rowdy to make it hard to sleep. The location was also perfect – less than twenty minutes walk to the airport (yes, San Pedro is so small that you can walk to the airport!) and about ten minutes from the ferry terminal.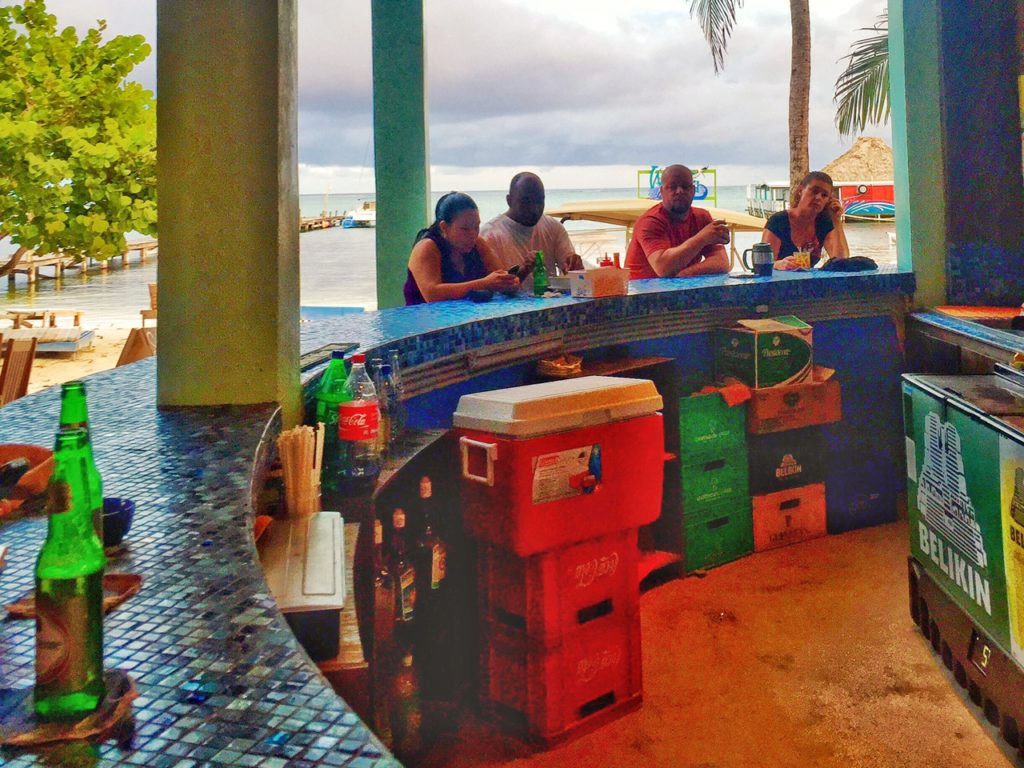 How to Get To Ambergris Caye on a Budget
I flew into Belize City and took a taxi into the city followed by the boat, which all together ended up being about $50 USD since I was flying solo. On the way back, I knew I was a bit crunched for time so I decided to take the plane back to Belize City for about $75, and I was so glad that I did – the views are absolutely stunning. So if you're planning on heading straight to Ambergris Caye from the Belize City airport, you need to tack on a minimum of $100 extra to your airfare, because the water taxi is super expensive!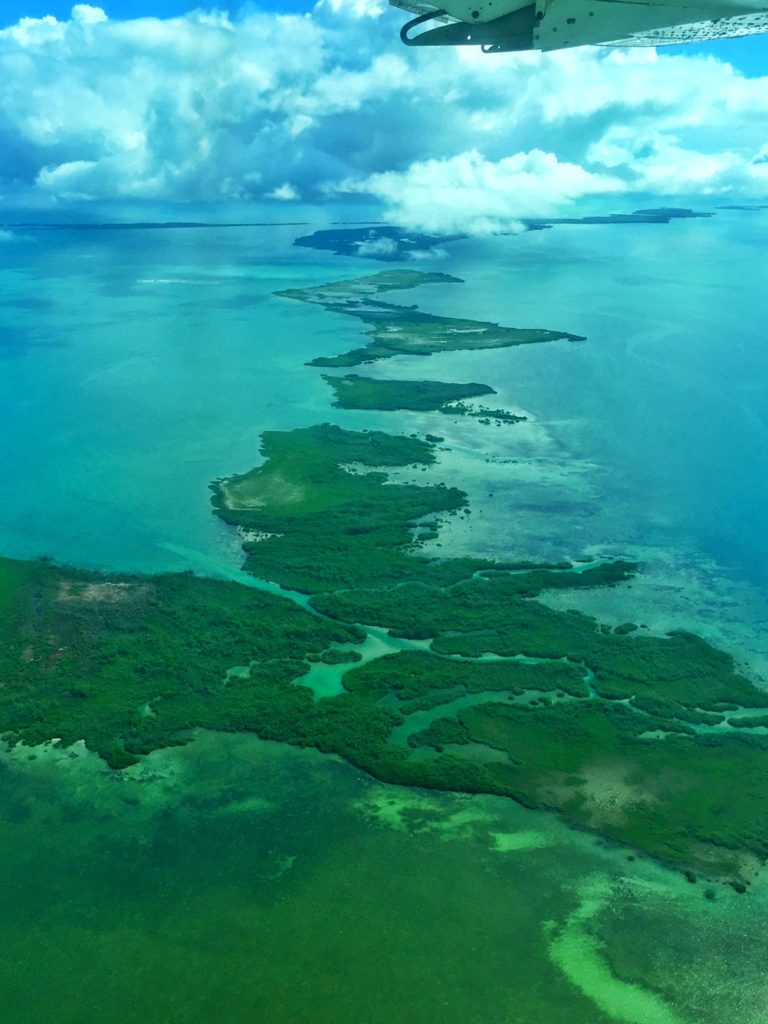 What to Eat in Ambergris Caye on a Budget
The food at Sandbar was a tiny bit expensive – as most food in Belize is – but it was so convenient I couldn't help eating breakfast there almost every day – and dinner once as well.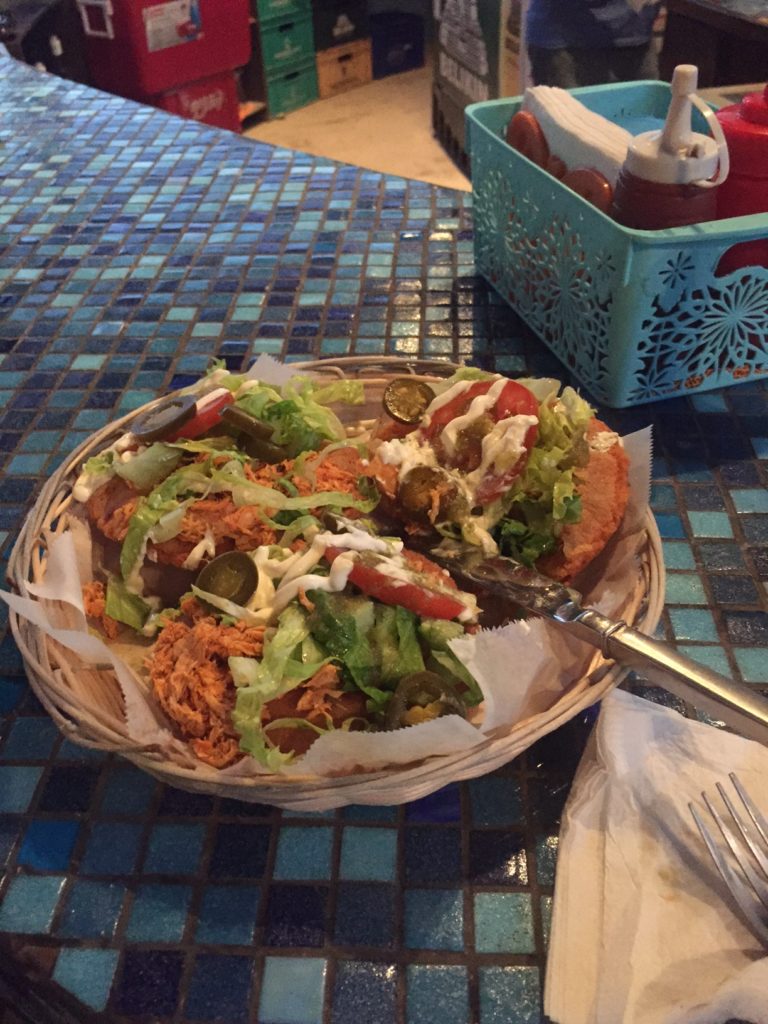 I had these delicious salbutes, which I would compare to shredded chicken tostadas, topped with tomatoes, guacamole, sour cream, and lettuce. And at only $14 Belizean dollars (the Belizean dollar is pegged exactly at two Belizean dollars to one U.S. dollar, so half everything – making it $7 USD), it was probably the best deal on the menu.
In the main town, I took advantage of Belize's proximity to El Salvador by indulging in one of my favorite Latin American foods of all time: the humble pupusa. Made of masa and stuffed with delicious bits like pork, beans, chicken, cheese, squash, you name it… pupusas are then topped with a pickled cabbage slaw, a mild tomato sauce, and as much Marie Sharp's habanero hot sauce as you can stand. Each pupusa was 2.50 Belizean dollars each. 3 plus a drink made a delicious meal for approximately $5 USD.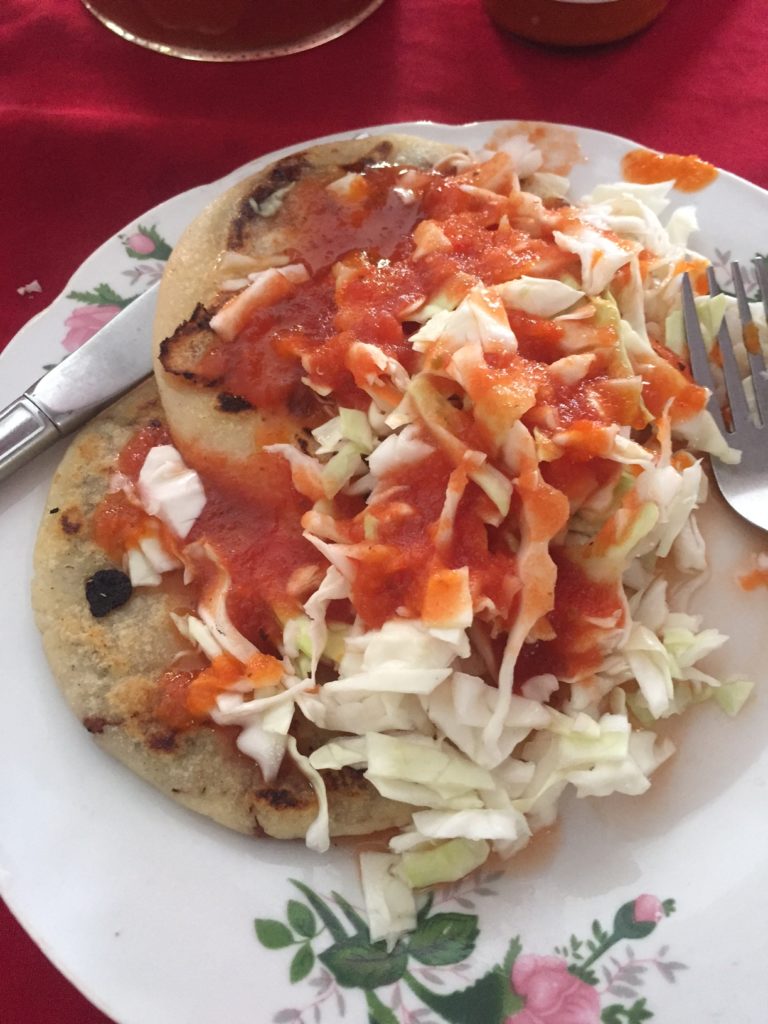 What to Do in Ambergris Caye on a Budget
There's plenty of adventure activities in Belize. If you like snorkeling and/or diving, the Belize Barrier Reef's Hol Chan Marine Park and Shark Ray Alley are musts. You can go on a half-day snorkeling tour for about $35 USD. Be sure to ask for the 10% Sandbar discount if you choose to book your trip through Amigos Del Mar.
You do have to take a tour, because unfortunately you can't just swim out to a reef. You do have to go out in a boat a fair amount for to get to the snorkeling destinations. But oh, was it ever worth it! Hol Chan is probably one of the best places to snorkel in all of the Americas. It's teeming with brilliant color, which luckily isn't dying off at a such a high rate as some other reefs in the world. I'm terrible with identifying fish (which is something I actually really want to work on, because I'm a nerd like that) but they really ran the gamut from electric blue tiny fish to your more standard Nemos and Dorys.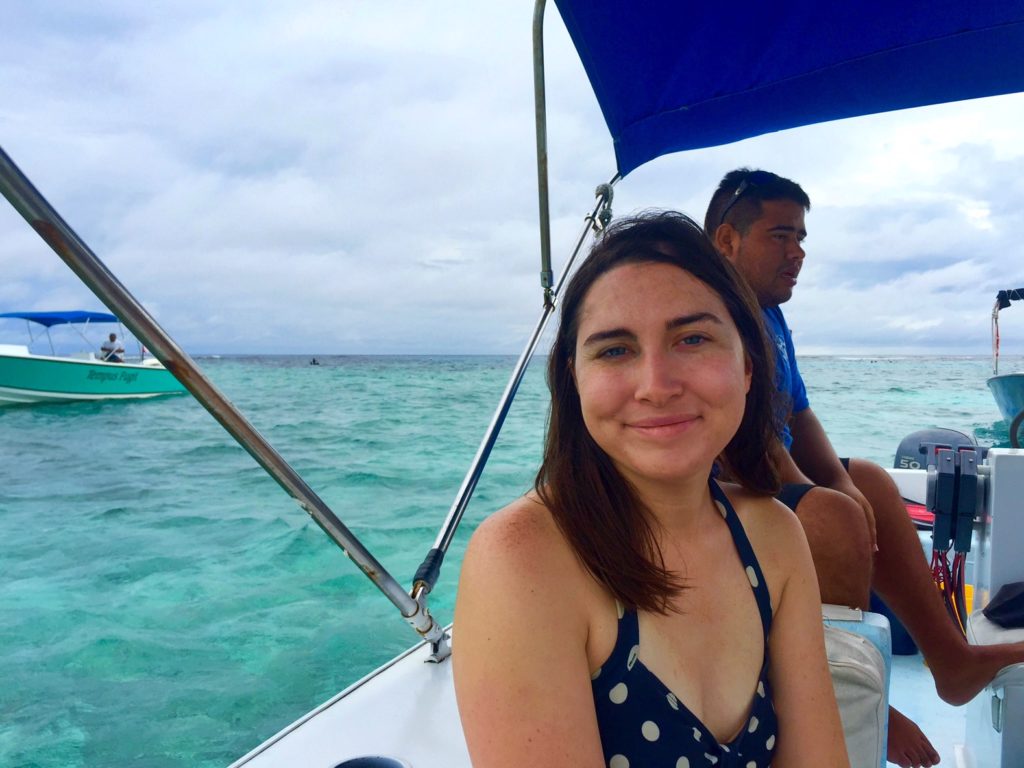 Honestly, I've been to the Great Barrier Reef back in 2012 and I found Hol Chan to be just as exciting and colorful in terms of marine diversity.
Shark Ray Alley is basically a place where all the snorkeling companies in Ambergris Caye have decided to feed sharks and rays off the side of the boat so tourists can snorkel alongside them. It was exhilarating and only slightly scary to be 10 feet in the water, completely uncaged, from huge sharks about 10 feet in length — but I kept myself calm by telling myself I was much more difficult prey than the fishes being fed to them off the side of the boat. Huge manta rays undulated alongside the sharks, trying to get their fill too. My guide even seemed to be dancing underwater with one, who he claimed he "knew", and asked if I wanted to as well, but my memory of Steve Irwin is too fresh to want to take that chance #neverforget
If snorkeling or diving isn't your jam, and you'd rather just take in a beer and enjoy the scenery, Palapa is a great place to enjoy a beer over the water and relax. You can imagine you're in your own private overwater bungalow for a fraction of the cost (suck it, Maldives honeymoon I'll probably never have!). Belikin beers – the local beer of Belize – are about $2 USD and go down a little too easily. Part of that is because they're the thickest bottles I've ever drank out of. Seriously, they're practically weaponized. Each presumptive "bottle" is probably actually half glass, half beer. Still, when in Belize, you gotta at least try a Belikin.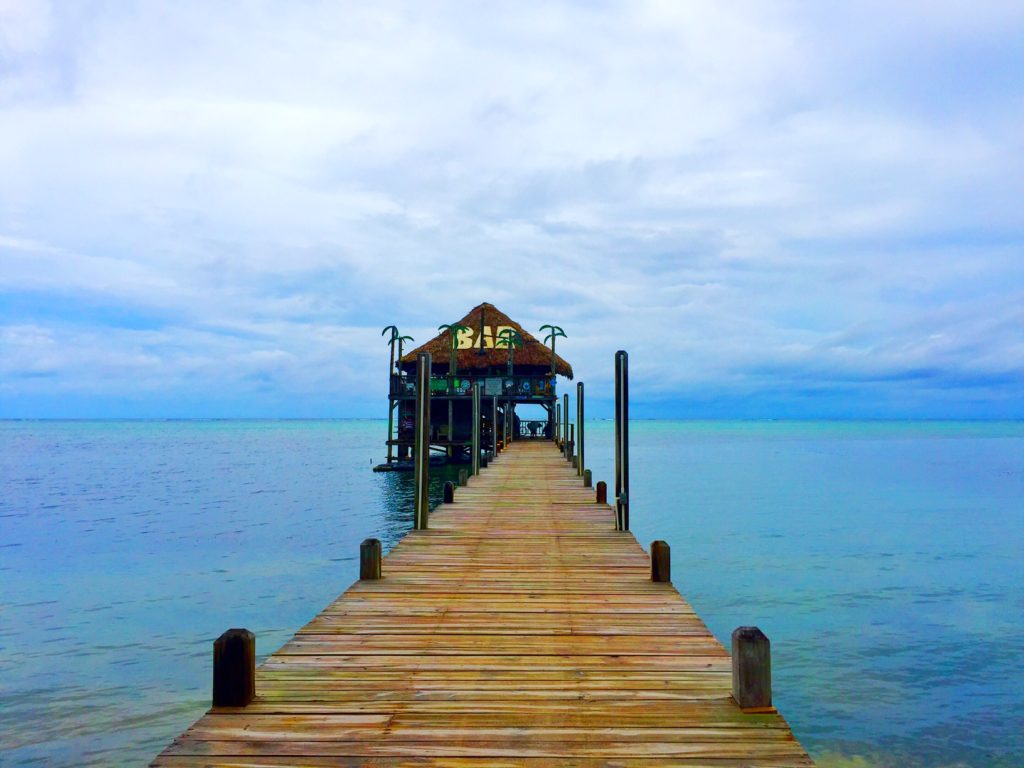 If the weather's nice and you fancy a spin on a bike, you can rent a bike from Joe's for the day for $15 (to be honest, I don't remember if this is in Belizean dollars or regular dollars!) which is a fun way to see more of San Pedro. It's all pretty walkable, and you really get to seeing how small it is on a bike. I enjoyed biking towards the northern peninsula, close to mainland Mexico, and seeing just how off the beaten path I could get in such a short amount of time.
And of course, the best thing you can in Ambergris Caye on a budget is relax on the beach and take in the sunset. San Pedro's beaches aren't your typical ocean beach. There aren't really any waves to speak of, and the water is very shallow – you could probably walk a hundred meters out and still be standing, not treading water, so it's not the best for swimming. But it's beautiful for relaxing by and wading in, and for watching the sun set around you with a beer in hand – one of the most classic things to do in Belize.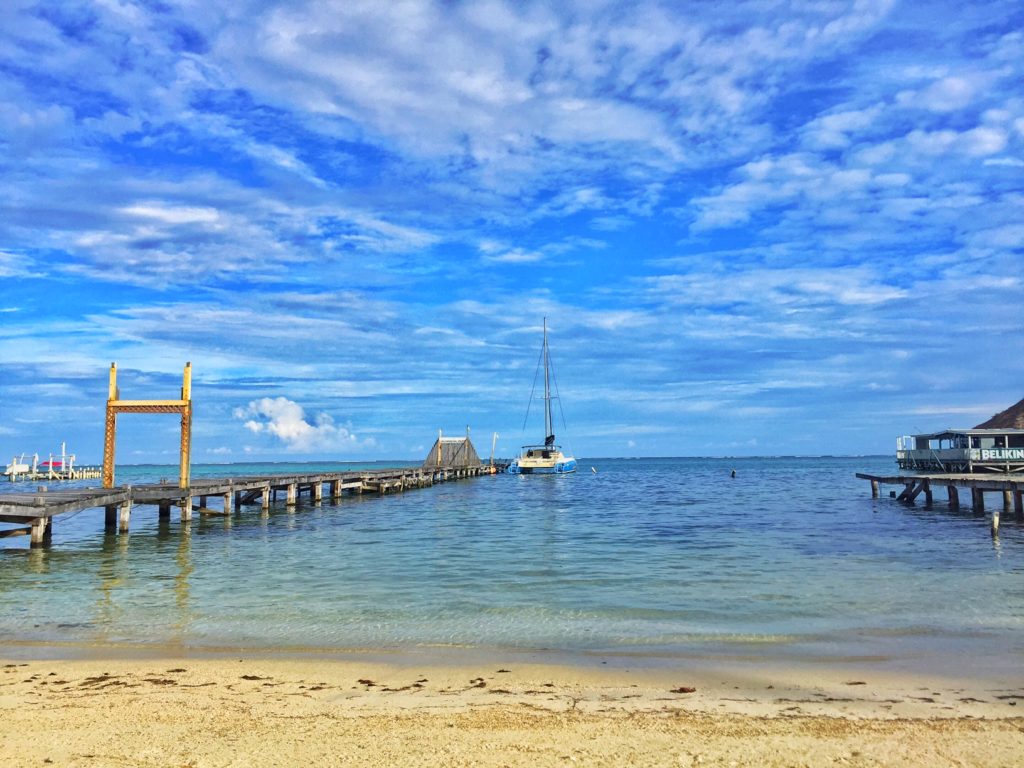 By day…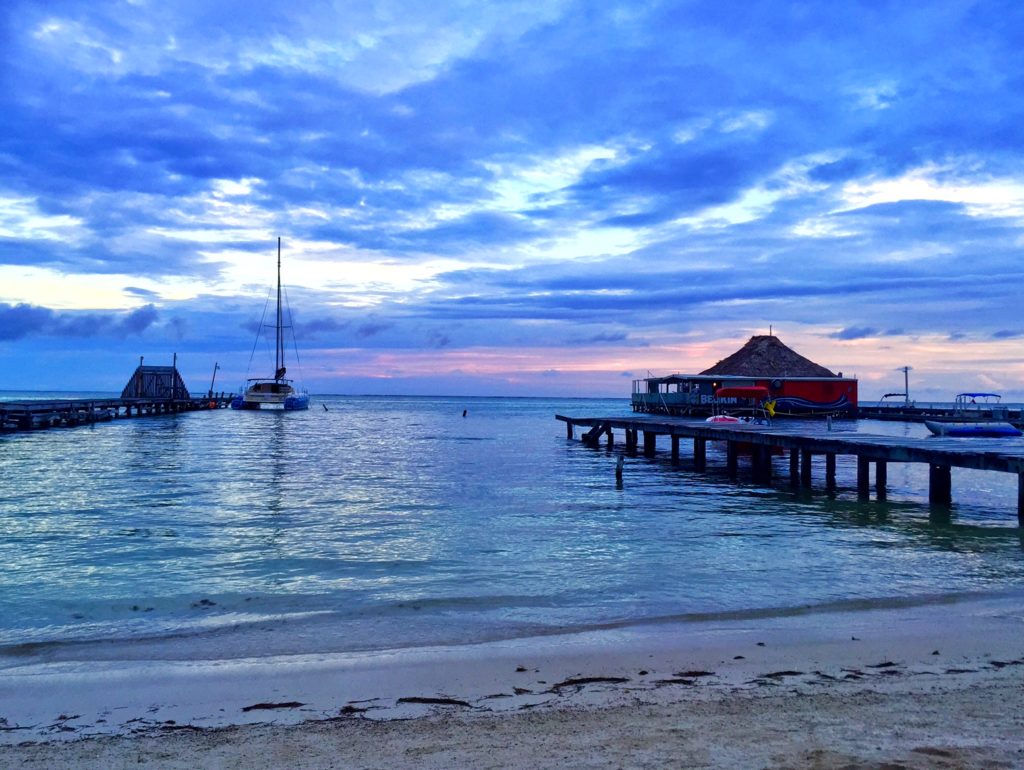 7 Things You Must Pack for Belize
I've written an entire Belize packing list but if you just want the essentials, here's what I think you must pack!
Mosquito repellent & after-care: Belize has a tropical climate with mosquitos year-round, particularly in the rainy season. Zika, dengue fever, malaria, and chikungunya have all been reported there. While there's no reason to cancel your trip on account of it, protect yourself with mosquito repellent (as a back-up, I carry around a few mosquito repellent wipes with me in my purse in case I forget to apply spray before leaving or that I can apply after swimming). It's also inevitable that you won't leave without a few bites, so bring some after-bite relief too (this is hard to find in Belize).
Full-size travel towel: This travel towel is full-size so it's big enough to use as a beach towel, thin enough to pack up super small for your luggage, and it dries super quickly in Belize's humid climate.
A guidebook: I use travel blogs a lot when I'm on the road but I also love having a guidebook to give me more specific, thoroughly researched information. Lonely Planet is my go-to guidebook and Lonely Planet Belize is no exception. I usually buy the Kindle version, but paper versions are also great fun to peruse.
Reef-safe sunscreen: If you are planning to do any water activities, such as diving or snorkeling or even swimming, please use a reef-safe sunscreen like this one. The active ingredients in sunscreen are killing off coral in huge numbers. The Belize Barrier Reef is the second largest in the world and is under threat. So please don't use normal, chemical-laden sunscreen in Belize's fragile ocean ecosystem!
Filter water bottle or Steripen: Belize's tap water is not drinkable anywhere in the country. I recommend traveling with a water bottle with a built-in filter that filters out nasty bacteria and viruses like this awesome LifeStraw bottle so you can reduce your plastic waste. Alternately, you can use a Steripen which sterilizes water using UV light. A great investment if you travel frequently and want to reduce your plastic bottle consumption!
GoPro: If you go snorkeling or cave tubing or ziplining, you're going to want a way to capture all of that action! A GoPro Hero 6 is currently the highest-quality option, but if you're on a budget, the GoPro Session is also an excellent choice. Be aware that you need to buy protective casing if you want to take either of these cameras diving. They are only waterproof to 10 meters, and you'll exceed that if you dive (most dives are at least 15 meters or so).
Finally, don't forget travel insurance! Whether you're scuba diving, caving, ziplining through the jungle or just relaxing on the beach, don't forget to purchase travel insurance! It'll protect you in case of accident, injury, lost luggage, theft, or any other disaster that could befall your trip. I have been a paying customer of World Nomads for two years and recommend them highly. I've included a way to get a free quote below.
Like this post? Pin it or share it!