I've always wanted to visit Guatemala. The coffee, the picturesque landscapes, the beautiful handwoven textiles, the ongoing Mayan culture… the list of fun things to do in Guatemala just goes on and on.
I spent three weeks exploring this beautiful country, which is not nearly enough — you need at least 4 to 6 weeks to see all the top places to visit in Guatemala. Partly, this is because the transportation situation means that you'll be spending lots of long days on cramped shuttle buses in transit. If you have a short amount of time, check out this 2-week itinerary for Guatemala to best help you maximize your time.
But it's worth every moment in transit to see natural wonders like the emerald pools of Semuc Champey, the manmade wonders of Tikal, and the beautiful colonial cities that dot the map of Guatemala. Come see for yourself and you'll understand just how much there is to do in Guatemala.
1. Visit the natural pools of Semuc Champey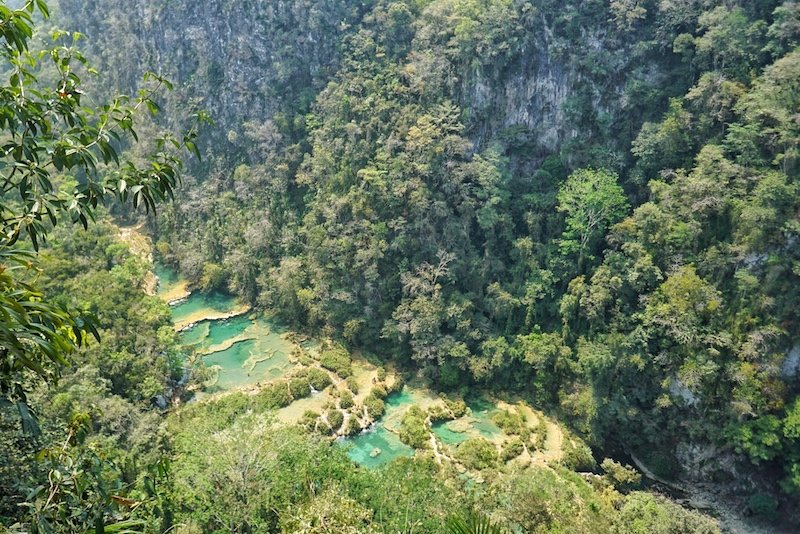 If you've ever spent any time on Instagram or Pinterest, visiting Semuc Champey is undoubtedly one of your top things to do in Guatemala. It's popular for a reason:  the bloggers aren't lying wrong. It's one of the most beautiful places I've been in my lifetime, and for me, the #1 must do in Guatemala.
That said, getting there is quite a hassle and had me questioning if it was worth it many times over. Even taking a direct tourist shuttle will take you upwards of 8 hours from Flores or Antigua, the two closest popular tourist destinations. Cobán is closer, but doesn't offer much to tourists.
You essentially have to spend two full days on a cramped bus in order to get to Lanquín. Once you're there, all that transit-induced rage will float away as you behold the most beautiful turquoise pools you can imagine. No filter needed, y'all: this is truly the best of Guatemala.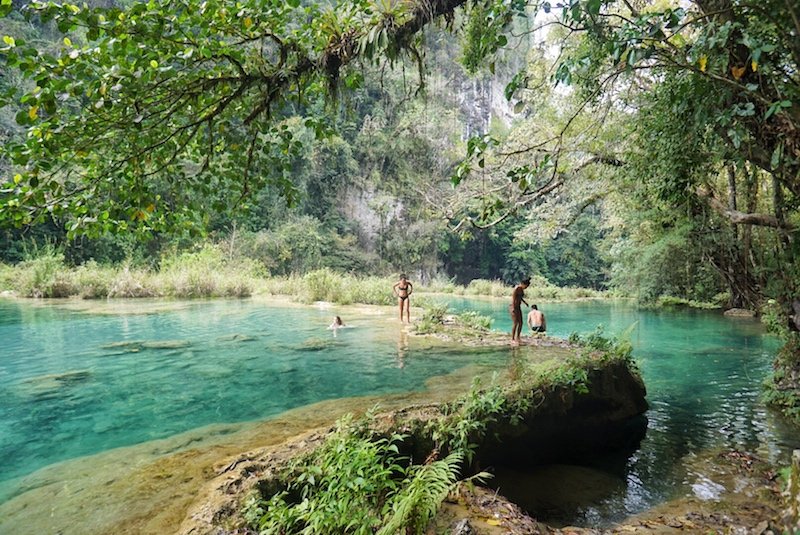 Where NOT to Stay: DO NOT stay at Zephyr Lodge, even if it comes highly recommended by others on the road. I got horrible food poisoning there, and I wasn't alone. At least 10 other travelers I spoke to had food poisoning there, and at separate times than I did — meaning it's likely an ongoing hygiene issue. I rarely ever get sick, so something was seriously amiss here.
Where to Stay Instead: I've heard great things about Hostal Vista Verde and it's actually owned by locals instead of expats who just want to force you to eat and drink at their overpriced, unhygienic restaurant (no I'm not bitter) or you can check out local Airbnbs (use my link for up to $40 off for first-timers).
2. Visit the Mayan market in Chichicastenango
Mayan culture is alive and well in Guatemala, and nowhere is this more obvious than in Chichicastenango's twice weekly markets. Chichicastenango (mercifully abbreviated to Chichi) is one of the most popular market towns, as it is only a 2 hour bus ride from Antigua. It's a frequent choice for day trips and for tourists interested in culture it's one of the best things to do in Guatemala.
You can typically arrange for a roundtrip shuttle on Thursdays or Sundays, or you can take local transportation – a chicken bus – if you don't value your life are brave and don't mind being squished three to a seat while the driver swerves wildly around curves.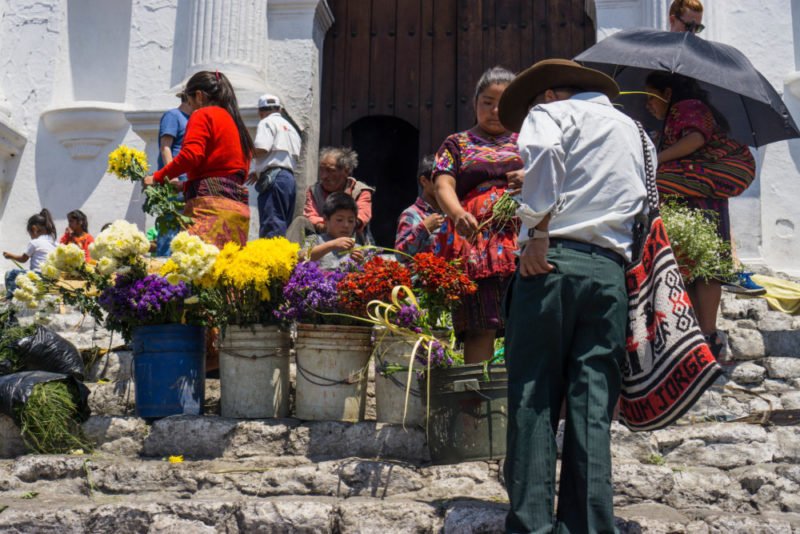 Seeing a Mayan market is one of the best ways to fully appreciate the craftsmanship and tradition that have been passed down from generation to generation. It's also a great way to peek into the life of locals who eke out a living by farming, weaving, collecting honey, and more.
Try learning a little Spanish before you go — English is not widely spoken here — and be sure to bargain (respectfully, that is). If you want an authentic cultural experience, this is one of the top places to go in Guatemala.
I spent one night in Chichicastenango and was glad I did versus just doing a day trip – it was great to get off the tourist trail a bit, as most people don't stay overnight here. We visited a small museum, Museo de Mascaras Ceremoniales, where we received a guided tour from the owner and taught about so many facets of Mayan life. Later, we had a meal with our next door neighbors at our Airbnb who were opening up a hotel/restaurant — a great experience with locals who rarely get to interact with visitors outside the market.
Where to Stay: I stayed in an Airbnb and recommend that as there really aren't many options for hotels. You can also visit as a day trip from San Pedro, Panajachel, or Antigua (more recommendations to follow)
3. Climb Acatanenango and witness a live volcano erupting
Climbing Acatenango is not for the faint of heart. To be honest, I didn't attempt it because I'm extremely prone to altitude sickness and have failed to climb mountains of similar height.  Everyone I spoke to who did the Acatanenago hike said it was one of the most amazing sights they've ever seen — and also that it was supremely difficult and very cold sleeping overnight there at the top. Research your guide wisely, as they can make or break your trip.
That said, if you're better at handling altitude than I am, Acatanenango is one of the can't-miss things to do in Guatemala. My friends over at Our Escape Clause did it and have a great guide about hiking Acatanenango if you're curious for more information.
Where to Stay: For those on a budget, I recommend staying at Cucuruchos Boutique Hostel – fantastic design, chilled out vibe (I'm far beyond the age of party hostels), delicious breakfasts, friendly local staff… You can't beat it in Antigua. If you have a mid-range budget, I'd recommend Maison Bougainvillea where double rooms go for around $30 per night. For a luxury option under $100 per night, check out La Catedral
4. Take classes at a Spanish school
Guatemala is one of the cheapest places to learn Spanish. Prices vary wildly, so don't be afraid to ask around and get a good idea of what's on offer.Wondering where to go in Guatemala to learn Spanish? Antigua is definitely one of the prettiest cities in Central America, making it a popular spot to settle down for a few weeks and take Spanish lessons. It has the most Western restaurants and amenities as well due to the large expat community, making it pricier but perhaps a little more comfortable.
If you want a more local experience while you learn Spanish, Xela is well-known for being a Spanish language hub, and supposedly it's one of the cheapest and most interesting places in the country to learn the language. San Pedro La Laguna is another popular destination for Spanish learners, and has a fun party scene and lake views to boot, truly giving you the best of Guatemala.
Where to Stay: If you really want the best language learning experience, I recommend doing a homestay — it's usually quite affordable, provides total immersion, and connects you with locals.
5. Kayak in a volcanic crater in Lake Atitlan
Lake Atitlan is simply stunning, and there's no better way to enjoy the serenity of the lake than by going for a kayak ride surrounded by water and volcanoes all around you.
The water tends to get really rough and choppy in the afternoons, and clouds and rain have a tendency of settling in after 3 PM. Make the most of your morning and go for a morning kayak, then stop by for a 5 quetzal (less than $1) fresh juice afterward!
Where to Stay: I stayed at Casa Felipe for a week and enjoyed it just fine, although the beds are ridiculously hard. Better yet might be a cheap room at Playa Linda (doubles around $20) or Cabaña del Arco (doubles around $40).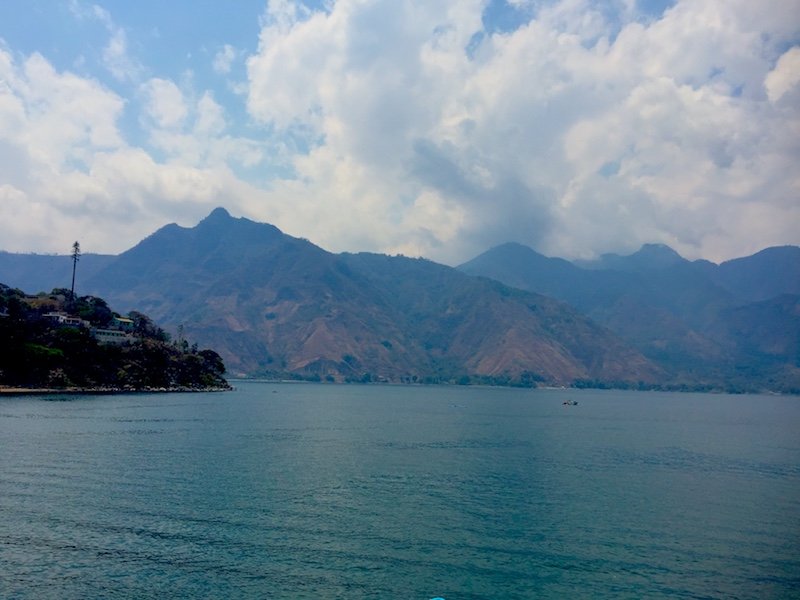 6. Climb the pyramids of Tikal
This is easily the most well-known of the Guatemala tourist attractions, and with good reason. Star Wars nerds will immediately recognize the lush jungle setting of Tikal. Tikal is a UNESCO world heritage site and is one of the largest sets of ruins in the former Mayan empire, and it's in remarkably good shape. Some of the pyramids you can climb; others, you can only gaze upon from afar due to the need to preserve them.
The best option is to go either at sunrise or just after sunrise (sunrise shuttles leave at 3 AM; "early bird" leave at 4:30 AM). If you do the sunrise or sunset tour, you'll have to pay an extra 100 quetzales ($14) fee, but you will pay the normal price if you do the early bird or any other daytime tour. It gets incredibly hot during the daytime though, so I recommend forcing yourself out of bed early and giving it a go — it's up there on my list of favorite things to see in Guatemala!
Where to Stay: I recommend staying in Flores (or possibly El Retiro). For those looking for a hostel, Casa de Gretel is the best reviewed option (I stayed at Amigos and was not a big fan — too loud and stuffy). For mid-range options, check out Casa Itzayana (doubles around $25). For those looking for crazy luxury, Las Lagunas looks absolutely amazing, but comes at quite a price (we're talking around $250 a night, which is nuts for Guatemala).
7. Stroll the colorful streets of Flores
Flores is a teeny tiny island in Lake Peten, and it's been painted so colorfully that it's hard to walk anywhere without stopping to take a ton of photos.
Of all the tourist places in Guatemala, Flores is probably the least authentic in terms of culture. But it's a great base for Guatemala points of interest like Tikal, and the lake is perfect for sunsets and quick dips in the water.
8. Get spiritual in San Marcos La Laguna
San Marcos is the hippie hub of Atitlan, and one of the more backpacker-filled places in Guatemala. People say that Lake Atitlan holds mystical powers, swearing that they have more intense dreams while they're there. While that may well be the altitude, the hippies are undeterred and have colonized the little town of San Marcos. There are tons of yoga classes on offer with lake views, or you can sign up for a longer-term yoga or meditation retreat. There are also plenty of vegan and vegetarian food options here.
It's not a place I'd stay for that long, personally, as I'm allergic to hippie nonsense. That said, it's definitely a nice place to relax when in Lake Atitlan, which in my opinion is one of the best places to visit in Guatemala.
Where to Stay: I didn't stay overnight in San Marcos (went as a visit from San Pedro), but there are lots of retreat options.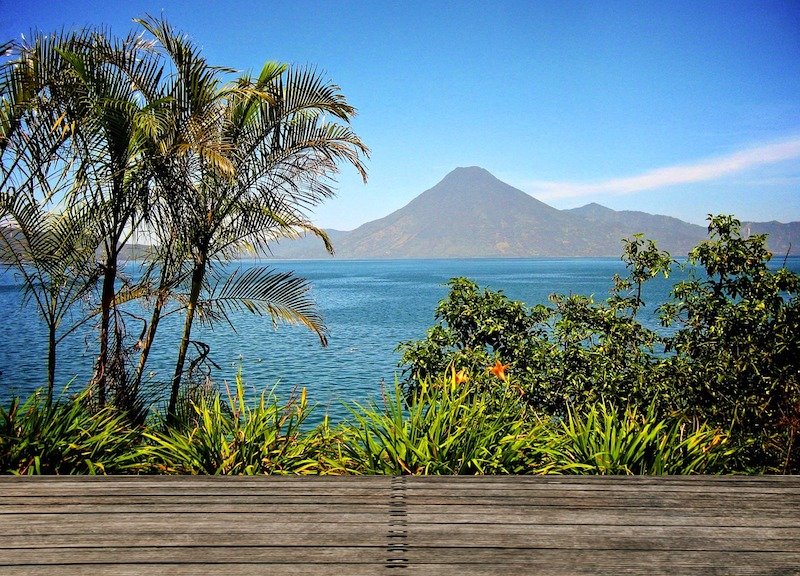 9. Party (or just relax) in San Pedro
If you're a party person, San Pedro La Laguna is your spot on Atitlan. There's one main "backpacker street" with plenty of restaurants, bars, and party hostels if that's the vibe you're after. Hostal Fe is the big party hostel, with a lakeside lounge area just a stone's throw from Bar Sublime, the late night spot in Atitlan.
I'm not a big party hostel person (read: party hostels are the bane of my socially anxious existence) so I stayed at a hostel called Casa Felipe, which is pretty low key.
Despite the party scene in San Pedro, there are also lots of opportunities to interact with locals. I went to the market on the top of the hill nearly every day, and stopped to buy tortillas from different vendors who worked out of their houses. San Pedro really has a mix of both experiences, so it's a nice place to base yourself when in Atitlan. Personally, I think San Pedro is one of the best places to go in Guatemala if you want to relax and unwind.
Where to Stay: Like I said before, Casa Felipe is a great option & there are also some good mid-range options like Playa Linda (doubles around $20) or Cabaña del Arco (doubles around $40).
10. Check out the smaller towns of Atitlan
The most popular touristic towns ringing Lake Atitlan are Panajachel, San Pedro, and San Marcos. But make sure to take a day trip or even stay a few nights at one of the other less visited towns in Atitlan, like Santiago Atitlan, Santa Clara, or San Jose. You'll get a more complete picture of Mayan life in this special part of the world that truly offers the best of Guatemala.
Where to Stay: Check out Airbnb for options in the smaller towns of Atitlan.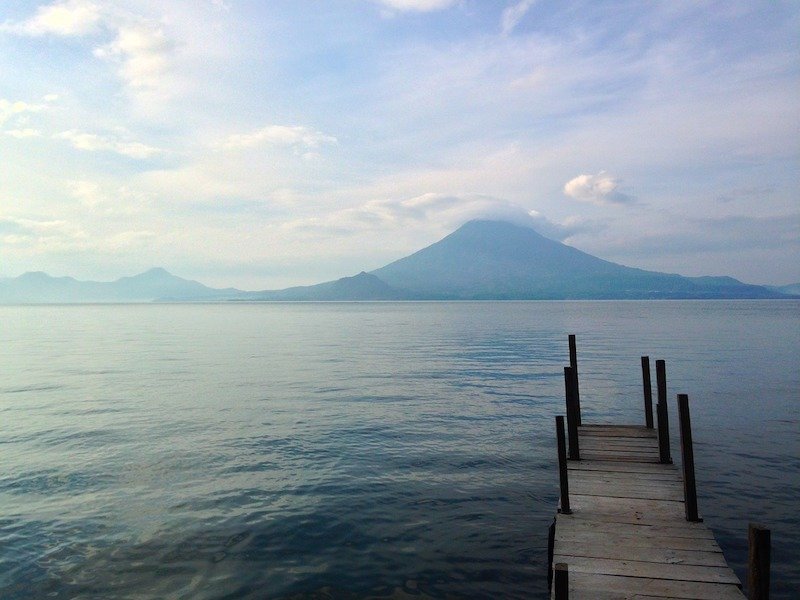 12.  Wake up before sunrise to hike Indian Nose
Want to do a quick, rewarding hike in one of of the most beautiful places in Guatemala? Indian Nose is the non-politically correct name for a nearby mountain flanking Lake Atitlan, a short distance from San Pedro. Tour companies will offer a transfer and guided tour for a reasonable 100 quetzales ($14). I recommend going with a guide as I have heard stories of people being robbed walking independently to Indian Nose; this should not happen if you have a guide.
If you have a few days in San Pedro, this is one of the best things to do in Guatemala!
Where to Stay: Check out my suggestions above for San Pedro La Laguna.

13. Give back to the local community
There's no denying that Guatemala is a developing country. The poverty rate hovers around 50%, with indigenous peoples typically far more impoverished than non-indigenous. If you're planning on spending a significant amount of time in Guatemala, volunteering in Guatemala is a great way to give back to a community that you've enjoyed traveling in. Definitely one of the most meaningful things you can do in Guatemala.
Where to Stay: Varies, depending on what project you want to work on!

14. Roast marshmallows on an active volcano
Because s'mores always taste better when roasted over lava, am I right? It's one of the more blatantly touristy things to do in Guatemala, but how can you resist? There's no better story than roasting marshmallows on an active volcano. Marshmallows come included on most tours leaving Antigua to visit Pacaya, so join the fun!
15. Go caving by candlelight in Lanquín
Lanquín is one of the best places in Guatemala if you fancy a bit of adventure. If you go on one of the popular tours of Semuc Champey, you'll get a chance to visit Las Grutas de Lanquín, a series of caves which you navigate in the dark — while holding a lit candle in one hand! There's a rope you can use to keep yourself afloat – and your candle lit – as your guides bring you into the center of the cave where the brave can do a small cliff jump into a deep pool of water.
This is definitely not for the claustrophobic or the faint of heart. Being a bit of both, I managed, though climbing up a slippery ladder with candle wax dripping down my arm is not an experience I think I'll repeat!
Where to Stay: Remember my caution against Zephyr Lodge – I'd choose Hostal Vista Verde instead. Money in local hands + no food poisoning = win.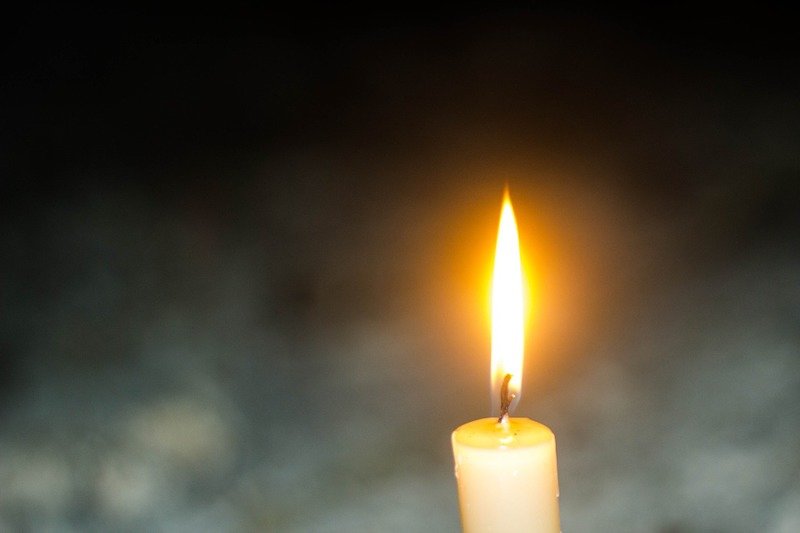 16. Visit the colorful cemetery of Chichicastenango
If you think you've seen all the Guatemala tourist attractions, here's one that's a bit off the beaten path. A short walk away from the hustle and bustle of the Chichi market, you can find one of the most colorful cemeteries on Earth. When I stumbled across it, at first I was puzzled at what I was seeing. Closer inspection revealed that it was indeed a cemetery, painted in a swath of rainbow colors. According to Atlas Obscura,
Steeped in Mayan tradition, the vibrant rainbow of pigments celebrates the afterlife, and can symbolize different family roles, like a color-coded clue to the puzzle of the dead.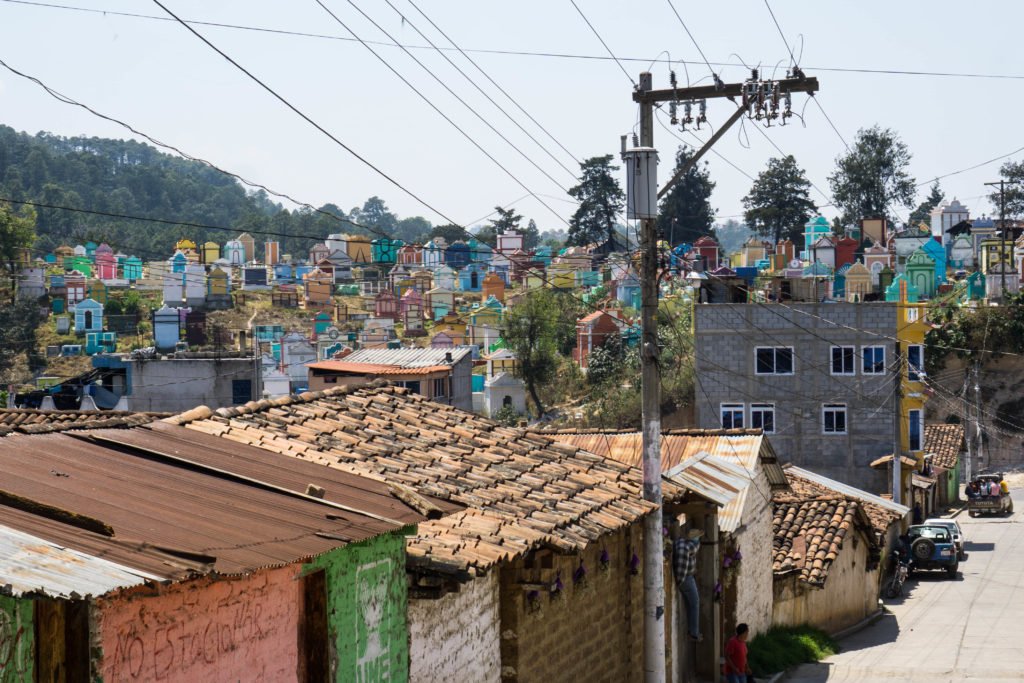 Where to Stay: Again recommending Airbnb as hotel options here are limited – or come as a day trip from Antigua or Lake Atitlan
17. Experience Semana Santa in Antigua
Wondering where to go in Guatemala to celebrate Easter? Semana Santa, or Holy Week, is the weeklong festivities in many Catholic countries in which they celebrate the life and death of Christ. Nowhere do they take this more seriously than Antigua, Guatemala. Many roads are shut down for a week for alfombras (rugs), which are made of colored sawdust and placed on the ground in extravagant designs each night — only to be trampled upon by the parades the following day.
Self-flagellation (that's the fancy term for whipping yourself until you bleed) is also on display, as are fits of open weeping, women carrying enormous floats while tottering down the streets in high heels, loud music, fireworks, the works. Truly an experience like no other and a thing you must do if in Guatemala around Eastertime.
Where to Stay: Easter in Antigua is a BIG DEAL and I can promise you that unless you book in advance you will have basically no options during Semana Santa. As before, I recommended Cucuruchos Boutique Hostel for a hostel, Maison Bougainvillea for mid-range, and La Catedral for luxury. Prices will fluctuate greatly during this time and increase as Semana Santa grows closer.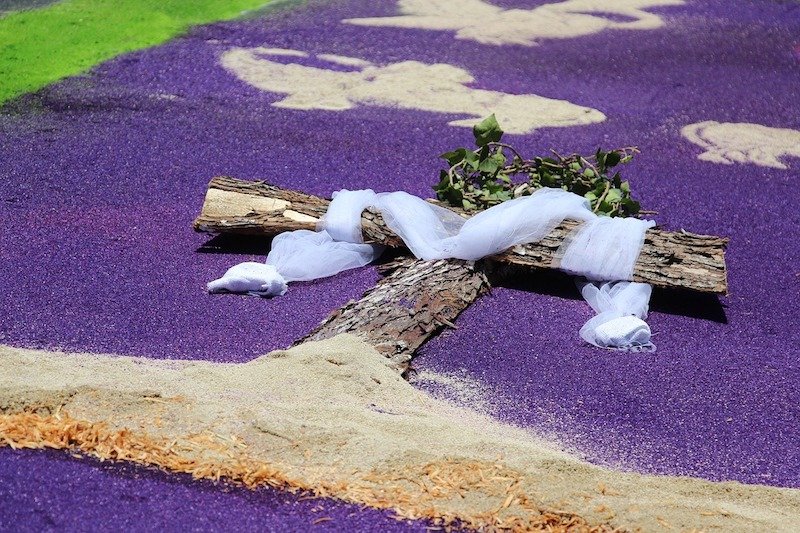 18. Explore the ruins of Old Antigua
Well, old Antigua is a bit redundant — as the word Antigua means old. But Antigua is short for Antigua Guatemala (whereas signs that just say Guatemala, in fact refer to Guatemala City), as Antigua Guatemala used to be the capital of Guatemala.
A major earthquake in 1773 reduced nearly the whole city to rubble, and aftershocks continued for nearly six months. Rather than rebuild in Antigua, they relocated the capital to what is now Guatemala City. It's a bit eerie to explore what remains of the former capital, but in my opinion it's a Guatemala must see.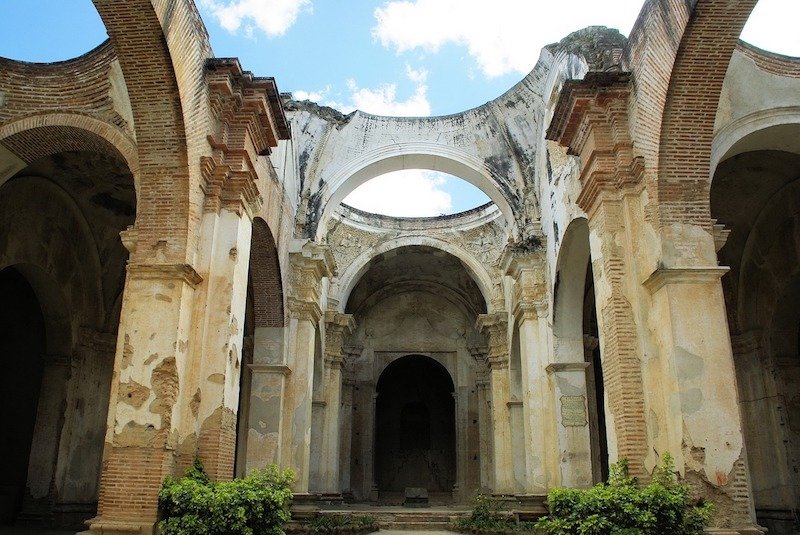 19. Explore the cathedrals of Antigua
Wondering what to see in Guatemala's former capital of Antigua? You've got to check out the ornate churches and cathedrals dotting this beautiful colonial city. Catholicism is deeply important to Guatemalans, and even many Mayans have incorporated aspects of Catholicism into their religious practices.
The churches in Guatemala are beautiful, just as ornate on the exterior as they are in the interior. Some of the country's most stunning churches are located in Antigua, but you'll find lovely ones in Xela as well.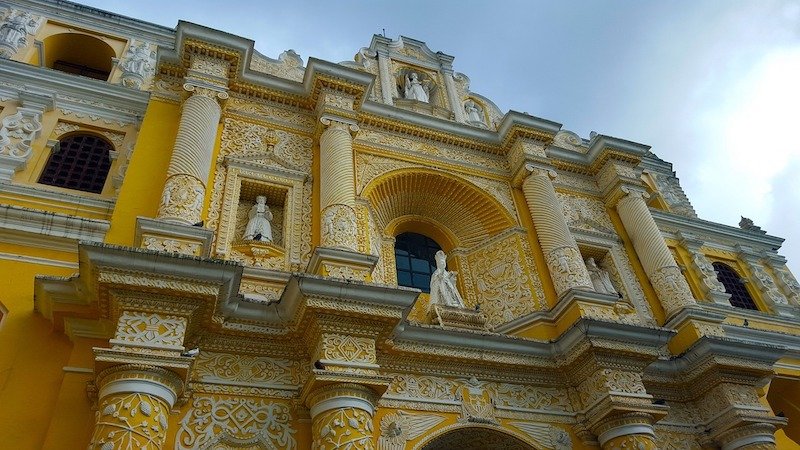 20. Explore the Rio Dulce and Livingston region
I have to admit – I didn't make it to Rio Dulce, not for lack of wanting but for lack of time. As my flight back home quickly approached, I kicked myself for spending so much time relaxing in San Pedro and not making it all the way north to Rio Dulce which is supposed to be one of the most beautiful places in Guatemala. However, I know I'll be back in the region to visit Honduras and El Salvador, and Rio Dulce is right on the way to Honduras.
Rio Dulce is supposed to be incredibly lush and scenic and rather off the typical tourist trail. So if you're tired of Antigua and want something a little more off the beaten path — head to Rio Dulce or the beaches of Livingston for something truly different.
Where to Stay: I didn't make it to this region, but Casa Escondida is a great mid-range option. Villa Caribe is the closest thing to a luxury option in Livingston.
21. Admire Antigua's colonial grandeur
Once you arrive in Antigua, you'll quickly see why this is one of the best places in Guatemala for photography. Antigua reminded me a lot of one of my other favorite cities in Central America, Granada. Only Antigua is a bit more understated in its colorfulness – but only by comparison to Granada.
The shopfronts are painted in all sorts of beautiful vibrant hues, making it the perfect spot for an impromptu photoshoot when you find a wall that matches your outfit perfectly. The cobblestoned streets do nothing but add to the charm!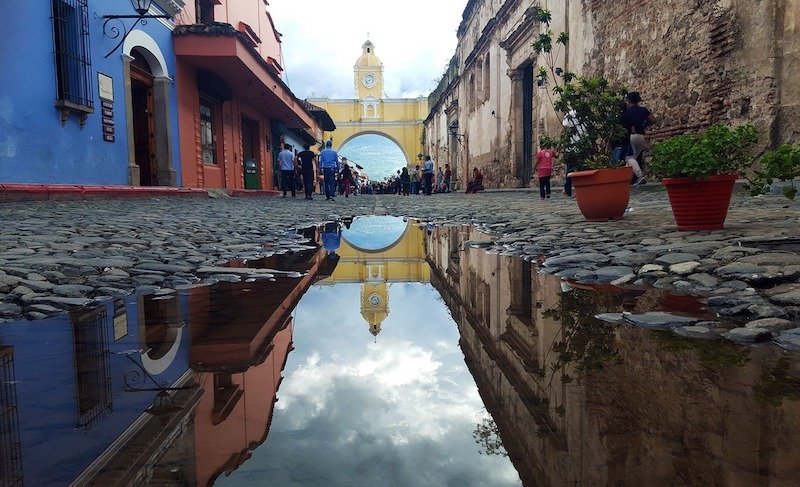 Pin it!