Many visitors end up visiting the lakeside city of Como, especially as a day trip from nearby Milan or Venice.
However, many travelers fall in love with the tranquil atmosphere of the Como area overall, deciding to spend 2 or even 3 days in Lake Como.
And it's no wonder — Lake Como is one of the most scenic lakes in all of Europe, with crystalline blue waters framed by the towering snow-capped Alps behind them.
As if the natural beauty wasn't enough, Lake Como is fringed on all sides with beautiful colorful houses that cascade down the hillsides towards the lake, creating an even more beautiful sight.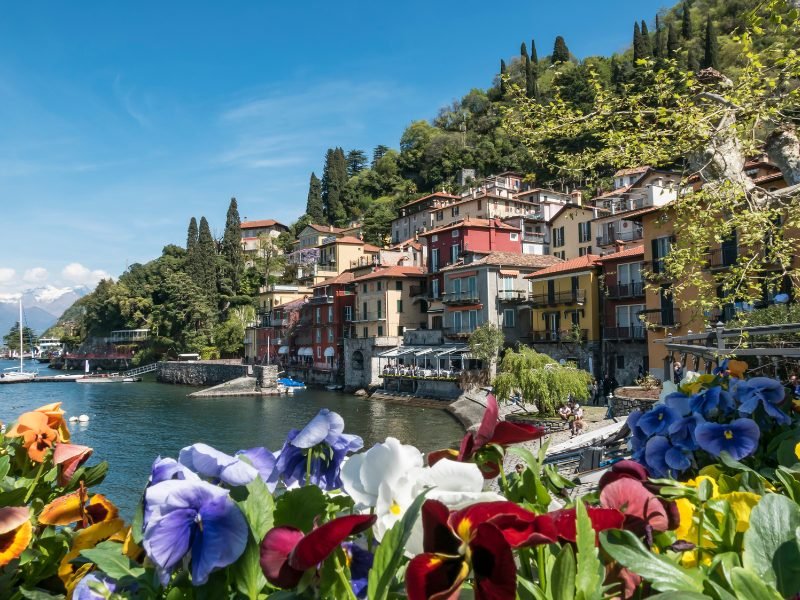 Note: This post contains affiliate links, which means I may receive a small commission if you purchase something through one of these links. Thank you for supporting the free content on this site! For more information on affiliate links and cookies, see my disclosure page for more details.
No wonder Lake Como is so beloved by big-name celebrities that even the likes of George Clooney have settled down here!
If you find yourself among these more transfixed travelers, then bookmark this in-depth 3 day Lake Como itinerary to make the most of your time!
I wrote this Lake Como travel guide as someone who lived in Milan for nearly a decade, making many trips to lakeside towns alongside Lake Como and Lake Garda during my many years living in Italy.
How to Get to Lake Como
Getting to Lake Como By Train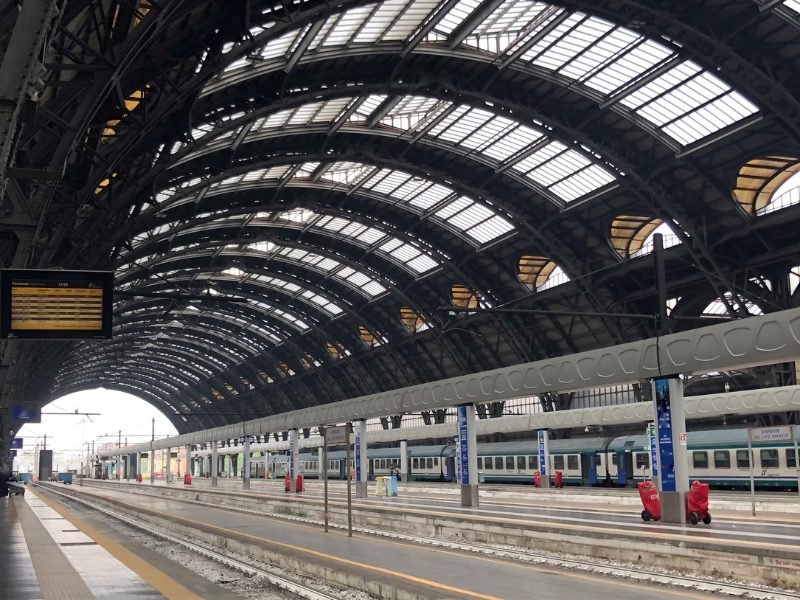 Located near the Italian-Swiss border, about 50 kilometers from the cosmopolitan city of Milan, the city of Como is an important centerpiece of the Lombardy region.
Milan is the typical departure point for Como since it's so close. Plus, Milan has a ton of interesting landmarks worth spending a day or two exploring, especially the Milan Duomo.
Departing from Milan is also the easiest way to reach Como, with a train ride that takes less than an hour.
Once you're in the city of Como itself, you can continue to use public transport to visit nearby villages.
There's a public ferry service, Navigazione del Lago di Como, that together with the regional and local train systems will cover all your needs.
Here's a short list of how long it takes to reach Lake Como by train from other popular Italian destinations:
Getting to Lake Como by Car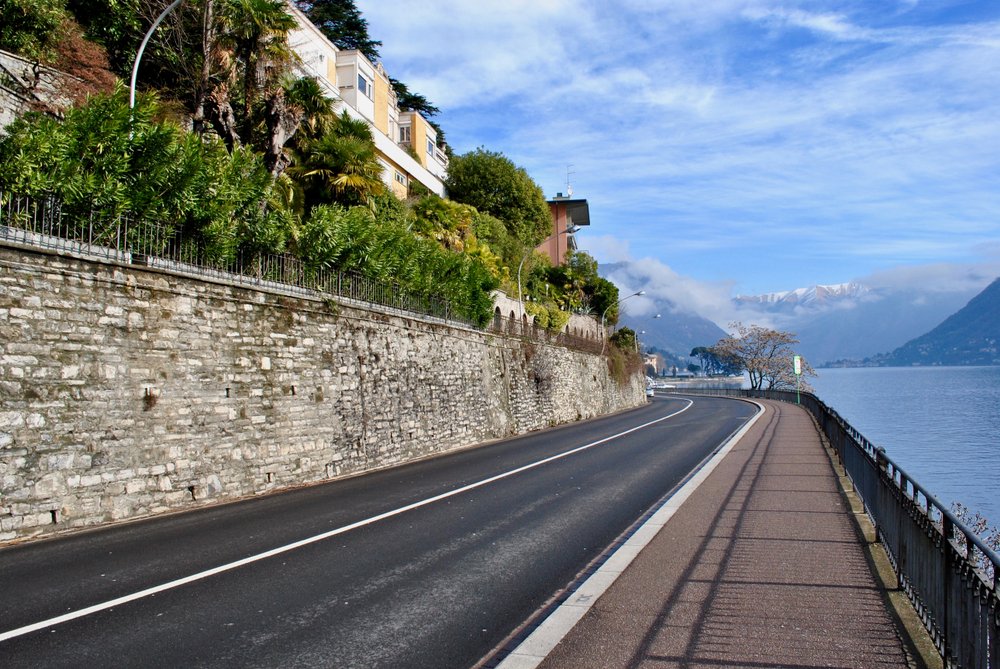 Driving to Como from Milan is also an option, and the roads are certainly scenic once you reach the Como area.
However, be forewarned that both Milan and the region between Milan and Como are important industrial centers with heavy traffic at all hours.
Additionally, the Bergamo Airport on the main route between Milan and Como has become a popular hub for low-cost European flights and that adds significant delays to the area's heavy car traffic.
I wouldn't rent a car in Italy specifically to go from Milan to Lake Como.
However, if Lake Como is part of a larger Italy road trip, such as one that includes the Dolomites, then it makes sense to continue having a car for the entirety of the trip.
Not sure which company to rent with? I always pick Discover Cars to search for the best deal for car rentals in Italy for multiple reasons.
In short, it has the widest selection, the clearest prices, the best cancellation policy, and the most affordable full coverage insurance (starting at $7/day — way better than you'll get at the counter!).
🚗 Best Italy Rental Car Prices: Discover Cars

This search engine not only looks at the typical international rental car agencies (which can be $$$), it also looks at local, small Italian agencies that may offer better deals.

Their pricing is straightforward (no bait-and-switches), their full coverage insurance is the cheapest around, and they offer free cancellation if you need it.

➜ Check rental prices with Discover Cars here!
Getting to Lake Como by Bus
You can also get to Lake Como by bus. There are a few long-distance buses connecting Milan and Como, such as FlixBus.
However, with those facing the same high traffic mentioned above, nothing beats the train when it comes to short and long distance travel in the Milan and Lake Como area.
The Best Time of Year to Visit Lake Como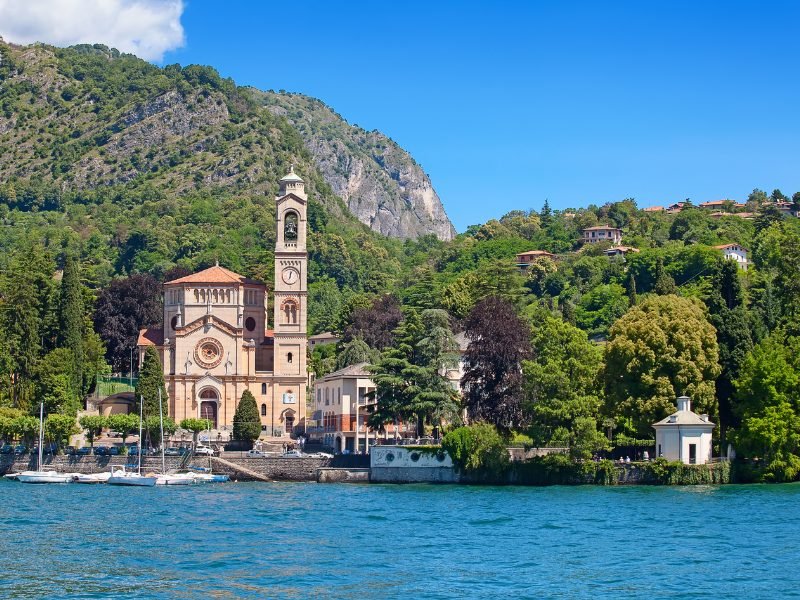 Winter tends to be very cold in the north of Italy, which makes it the right season for beating the crowds and finding slightly cheaper accommodation prices.
However, unless you're a masochist (or a Finn), you likely won't find yourself jumping in the cold lake waters anytime in the winter!
For those traveling on a budget, fall is the second best option. Weather is milder, although it can be rainy, and prices in tourist-centric areas remain on the lower side.
Although summers tend to be quite hot even in northern Italy, the nearby presence of the lake mitigates high temperatures.
There are a few beaches on the shores of the lake which offer umbrellas, loungers, and other shady space and provisions for cooling down.
However, this is when Como is at its most crowded and touristy, and high prices match the high demand.
Spring is undoubtedly the best time to explore the streets and alleyways of the villages near Como, navigate the lake, and take in the magnificently blossoming landscapes and amazing views.
Although both summer and spring tend to feature higher price tags even in budget hotels, booking at least six months in advance can help guarantee better prices, especially in terms of accommodations.
Your 3 Day Itinerary for Lake Como
Day One of this Lake Como Itinerary: Como's Historic Center
Explore the historic center of Como.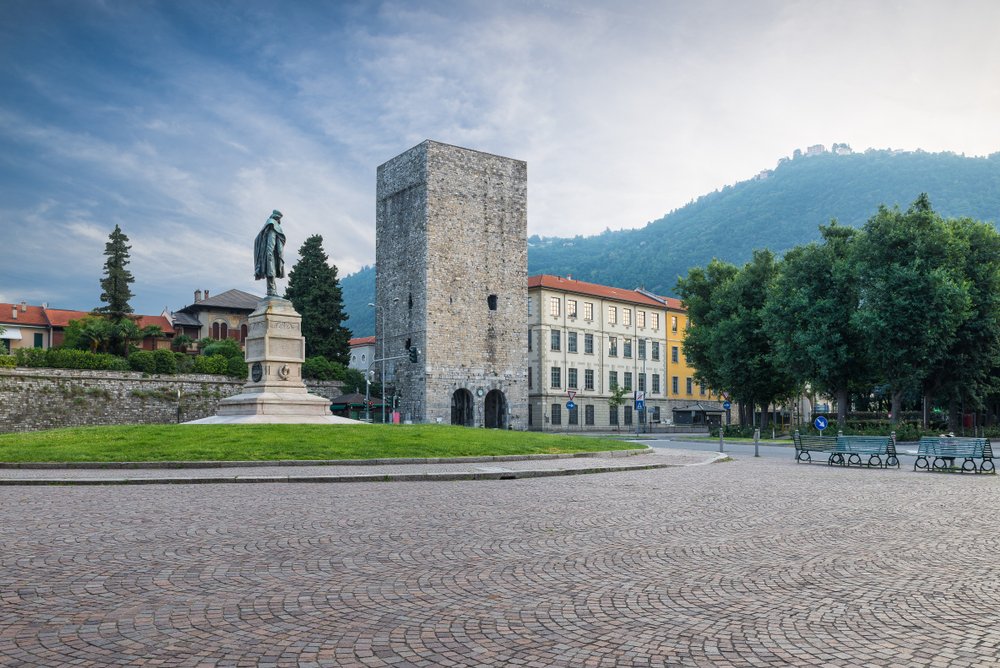 The best thing to do during your first day in Como is to get acquainted with the city center of Como, particularly its pedestrian areas and shops.
As you start to explore Como, you'll soon find its laid-back vibe encompasses the whole region.
Head directly to Piazza Vittoria, where you can admire the Monument to Giuseppe Garibaldi and marvel at the imposing city walls surrounding the center of the town; they date back to the Middle Ages!
In the same area, you'll find one of the main accesses to the city's old district, through the gorgeous Porta Torre.
Once through the gate, you can spend an entire morning wandering the historic district's alleys and squares.
Start the day by enjoying traditional Italian cappuccino with a cornetto in the main square (a classic Italian breakfast!) before continuing further.
The city of Como is known, in fact, for its plethora of cafés, bars, and traditional ristorantes, and not just by the lakeshore!
There are interesting boutiques that are great not only for souvenirs but also for unique artisan goods and high-end Italian fashion brands.
It's a great shopping spot for people toting wallets of any weight; whether your budget is more Fendi or Forever 21, you'll be able to find beautiful items for you if you hunt for it!
Explore the area around Piazza San Fedele and Piazza del Duomo.
Not far from Porta Torre, you can easily find your way towards Piazza San Fedele, which may be the most picturesque square in Como – a high distinction in a city full of beautiful piazzi.
This trendy meeting point was once a humble market for buyers and sellers of wheat; now, it's where young locals meet up before heading out for a night on the town.
Here is one of Como's best-known landmarks, the Basilica of San Fedele, which is an impressive Romanesque church dating back to 1120.
After a visit to this church (allocate about half an hour), continue walking to Como's main square, Piazza del Duomo.
Here, you will be amazed by the beauty of the city's cathedral, Cattedrale di Santa Maria Assuma, also known as the Duomo di Como.
You'll be amazed at its beauty and its balanced mixture of architectural styles, ranging from Romanesque to Gothic.
The main place of worship in town, the cathedral is dedicated to the Assumption of the Virgin.
The building itself was constructed between the 14th and 17th centuries and it has been described as one of the most important religious structures in northern Italy.
Its unique facade has an impressive rose window and an elaborate portal.
Back outside in the same square, take a look at the gorgeous Old Town hall known as Broletto di Como with its picturesque facade.
Walk the lakeside promenade.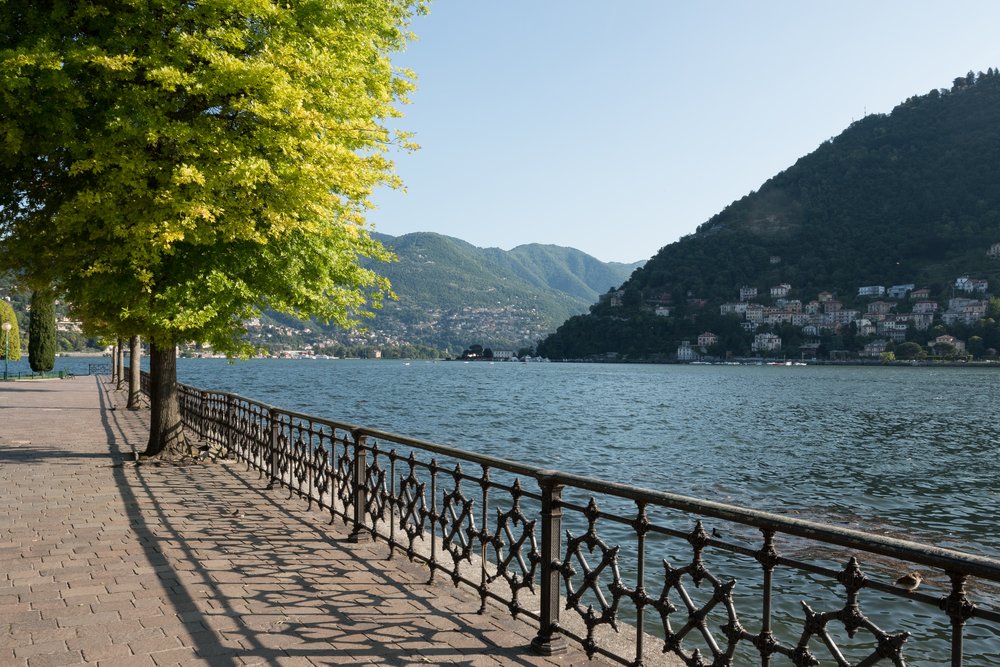 Next, you can head to the lungolago, or lake promenade, for a stroll along the waterfront where magnificent yachts, catamarans, and fishing boats are all docked.
It's a beautiful place to walk, relax, and take advantage of the area's ample photo opportunities. It's where you'll find the best view of the lake in Como.
Grabbing lunch, gelato, or an Aperol spritz by the lake is also a must, but once you've fueled up, it's time for other afternoon exploration!
Spend the afternoon checking out historic villas and museums.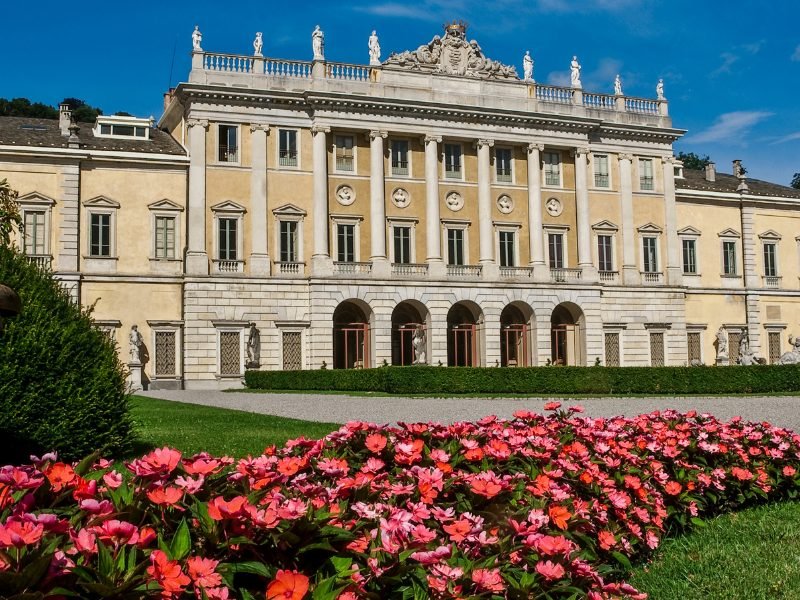 Venture into the outskirts of the city of Como where you can visit Villa Olmo, an interesting residence dating back to the 18th century.
Checking out the historic villas of Como offer both incredible views of the lake and insight into the opulent lifestyles of wealthy families who once lived there.
There are many residences to visit, and most of them feature art exhibitions as well as breathtaking botanical gardens.
Keep in mind that the villas are not always open in autumn months and remain closed in the winter.
Some of the once-famous residences are today off-limits to the public, as they have been transformed into private hotels.
There are also a few museums in Como that are rather interesting.
One option is to check out the Paolo Giovio Archaeological Museum.
It's situated inside a medieval palace that once belonged to a local noble family.
Here you can see a collection featuring Egyptian and Greek artifacts as well as local archaeological findings dating as far back as the Paleolithic era.
The Giuseppe Garibaldi Historical Museum is connected to the archaeological museum and both can be visited within the same afternoon.
Check out the views above Como via the Brunate funicular.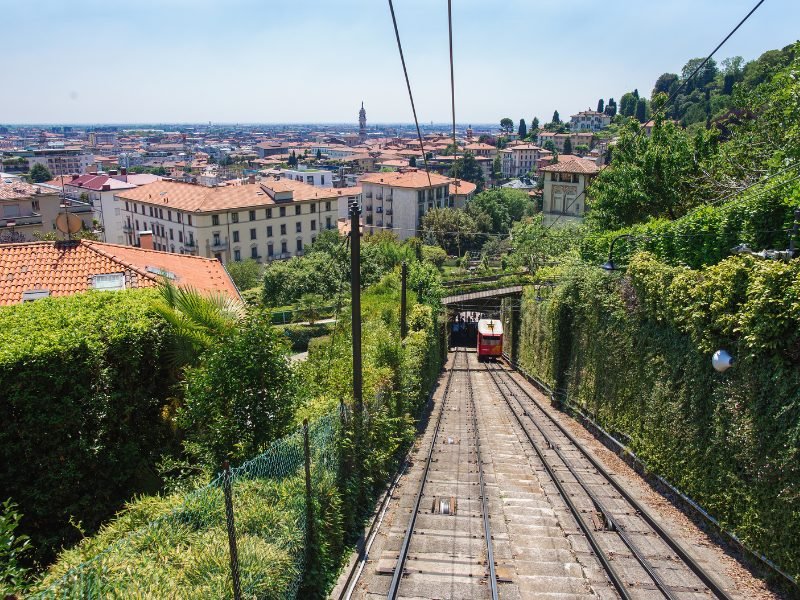 Finally, you can take the funicular up to the small village of Brunate to enjoy some of the most stunning views in the area.
Departures are every 30 minutes and take about 7 minutes to reach the village of Brunate via an extremely steep track — we're talking a 55% gradient!
In Brunate, you'll find all sorts of stunning Art Nouveau villas in this charming village over 700 meters above sea level, all with stunning views of the Alps and lake behind you.
End the day with a food tour or cooking class.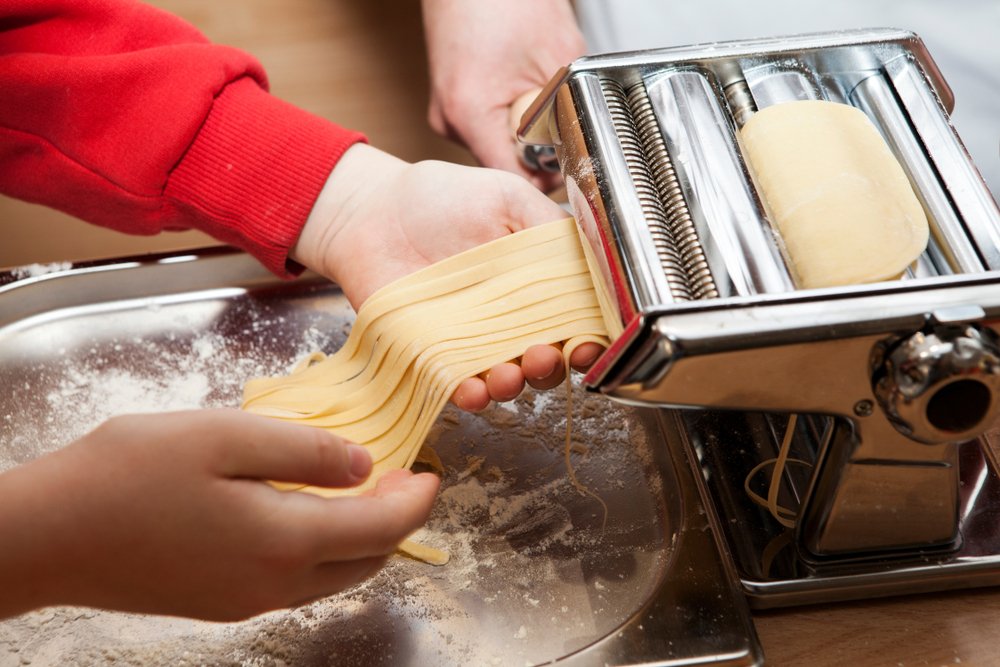 If you'd like to learn how to make your own Italian dinners, why not try your hand at making pasta and tiramisu?
This cooking class starts at 5 PM, giving you plenty of time to cook up an Italian feast (enjoyed with wine, naturally)
Prefer to leave the cooking to the experts?
Try this evening food and walking tour that departs at 6 PM during high season (lunch only during low season).
This mouthwatering tour includes staples of Lombardy cuisine, like pizza, polenta, sciat (a local savory cheesy street food), nuvola (a sweet, soft fruit cake stuffed with apricot jam), and more.
Day Two of this Lake Como Itinerary: Nearby Lakeside Villages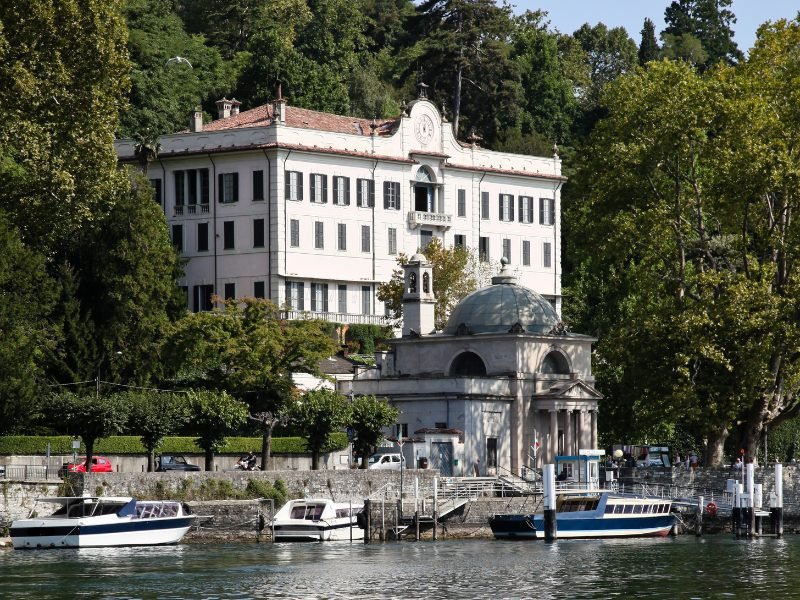 I'll give you two options for the second day of this Como itinerary.
The first way is a self-guided tour through Varenna, Bellagio, and Menaggio, three charming, easy-to-reach towns connected via ferry on Lake Como.
The second way is a guided day tour that takes you across the Swiss border to Lugano for a chocolate tasting, before visiting the lakeside villages of Cadenabbia and Bellagio and then taking a panoramic lake cruise.
Whichever you pick, you're in for a treat! I'll outline the self-guided itinerary first, then after, I'll detail what the day trip alternative offers.
Start the day in Varenna.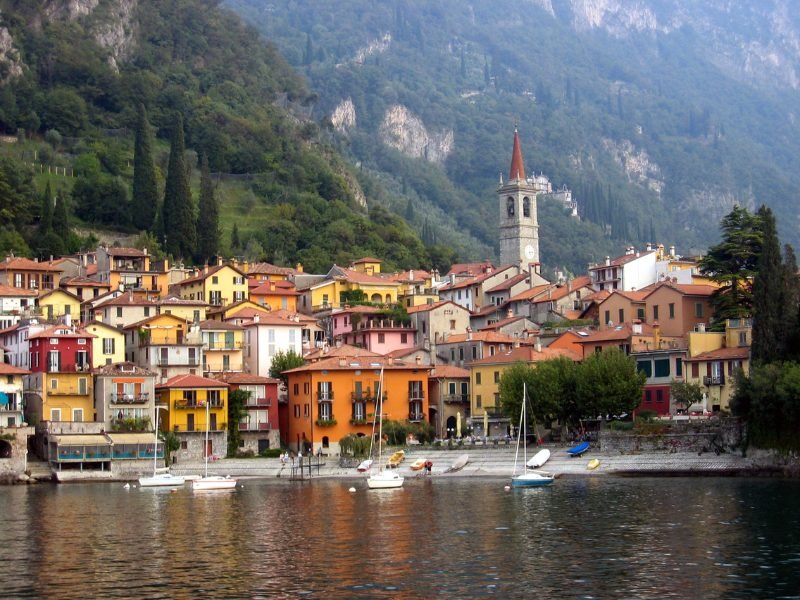 While not as opulent as Como nor as photogenic as nearby Bellagio, Varenna has a gorgeous lakeside promenade or Riva Grande lined with traditional houses, small cafeterias and ice cream parlors.
Most importantly, it's connected to the city of Como, as well as to Milan, Lecco, and other nearby villages by just a short train ride.
Varenna may appear like there's not much to do; however, you can explore steep, cobbled paths and narrow streets, some of which offer remarkable views of the lake and mountains.
You might also take some time to visit the local church built in the fourteenth century in honor of Saint George.
Another interesting point in town is Castello di Vezio, although getting there requires a bit of a hike. The views of the lake are worth the effort!
From Varenna, you can take a short day trip to gorgeous Piona Abbey, a priory built in French Gothic style that dates back to the seventh century, located on the Lecco bank of Lake Como.
Spend some time in the stunning village of Bellagio.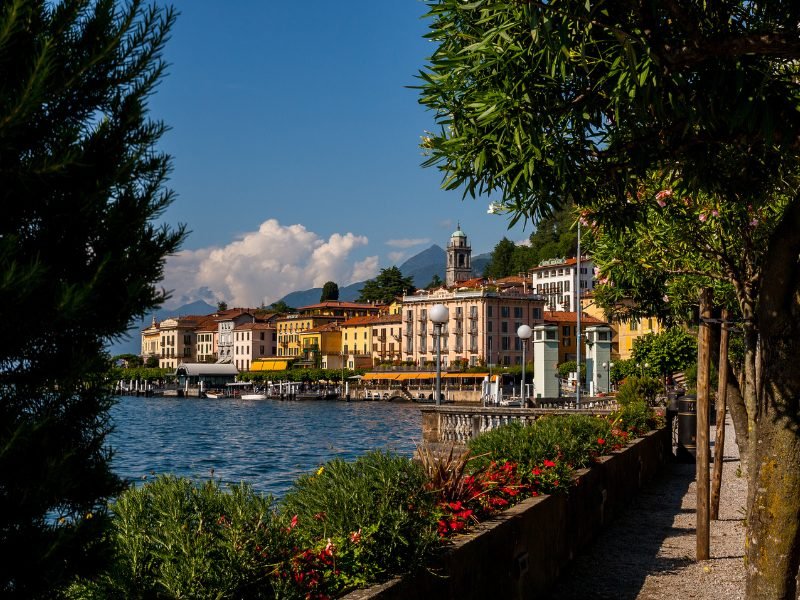 The next logical stop when exploring the area is Bellagio, arguably the most aristocratic village in the area.
(Keep the word "aristocratic" in mind if you're on a budget and intend to buy souvenirs there.)
To reach Bellagio from Varenna, board the ferry at the lakefront. The ferry also carries cars, so if you're driving around Lake Como, this won't be a problem.
Keep in mind, though, that Bellagio is small and dense, so you don't actually need a car to visit.
The steeply cobblestoned alleys of Bellagio wind past ornate villas and through tree-lined neighborhoods with artisan shops at every corner.
There are also incredibly beautiful small houses with pastel-colored facades, as well as historic villas like the 19th-century Villa Melzi (with its stunning gardens).
Do wear comfortable shoes, as the passages and roads of Bellagio are steep with well-worn stones which are especially slippery!
Pay a visit to the charming village of Menaggio.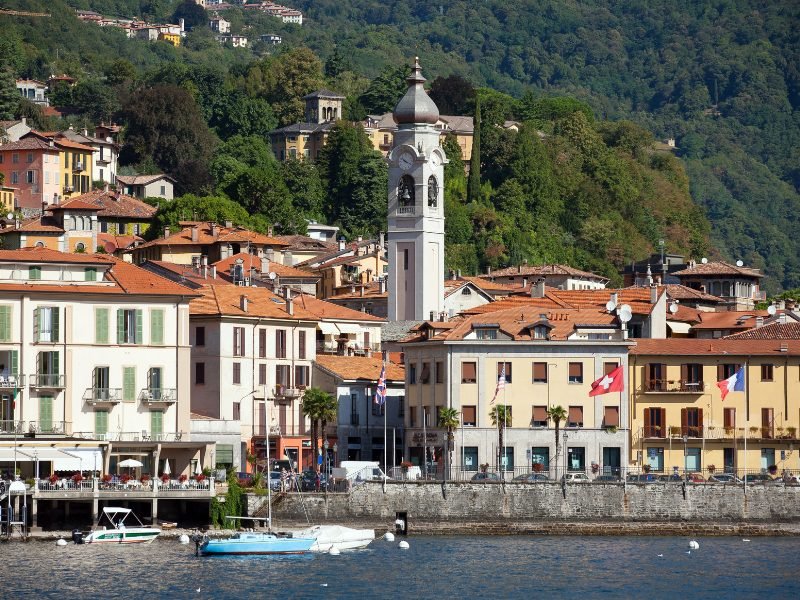 Take a ferry ride once again to discover the last village of the day: Menaggio, a tranquil town directly across Lake Como from Varenna.
Menaggio is another tranquil but spendy settlement by the lake, and while it's bigger than the previous two scenic villages, it's a picturesque area with a wider range of dining options.
Why not splurge by booking a table next to the lake, for a delicious pasta meal and a glass of fine Italian wine?
Alternate Day Two Itinerary: Guided Lake Tour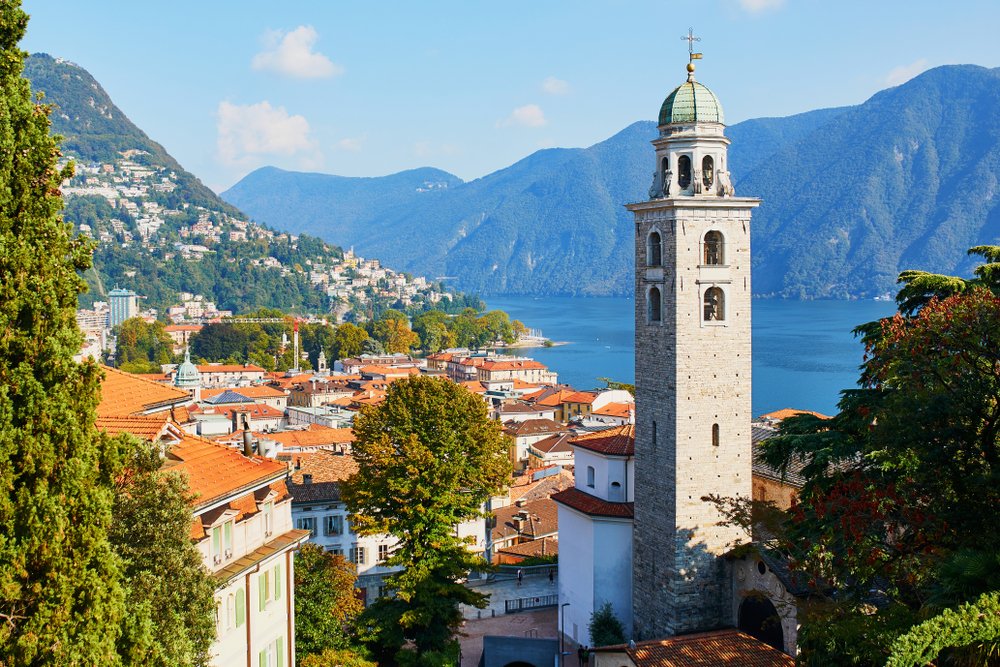 Another good way to visit the area is a guided cruise around Lake Como cruise, where you can take in panoramic views of Lake Como while enjoying the stunning scenery around you.
This boat tour includes the nearby Swiss city of Lugano in its itinerary. That's right, you can pop over to Switzerland for a day — how cool is that?
If you don't like to DIY, this day trip will take all the stress out of figuring out transport for you with a stunning boat cruise meets guided tour.
This day trip will bring you to two countries (!!) and three gorgeous lakeside settlements: Bellagio and Cadenabbia in Italy and Lugano in Switzerland.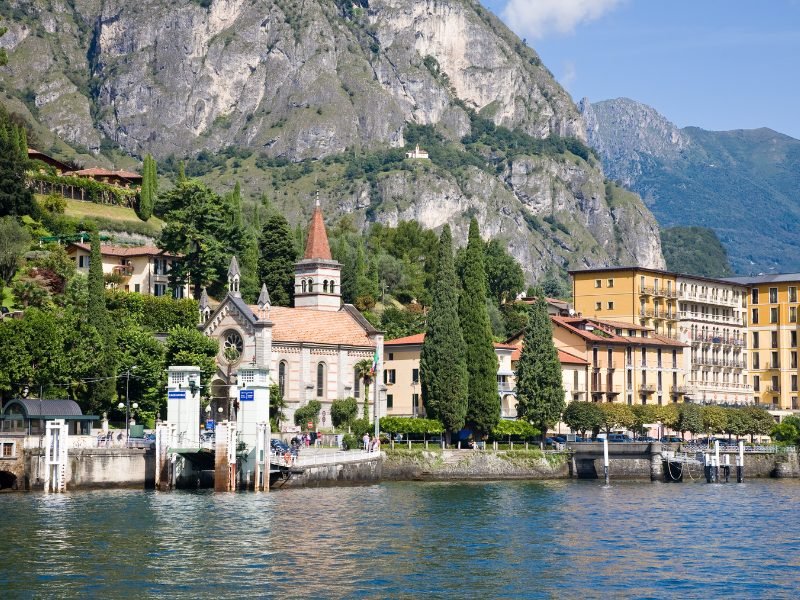 This tour starts with a comfortable bus ride along the lake perimeter to the Swiss city of Lugano, where you'll enjoy Swiss chocolate tasting and a walking tour of the stunning city center.
Afterwards, you'll stop in the village of Cadenabbia, a favorite amongst international royals, including English queens and Russian tsars!
Next, board a boat to reach Bellagio, where you'll have free time to enjoy this scenic town (perhaps the most scenic in the Como region!).
Finally, you'll take a panoramic cruise on the lake, seeing the lakefront historic Art Nouveau villas and their landscaped gardens along the way.
Day Three of this Lake Como Itinerary: Lecco
Explore Lecco's literary history.
Although not as internationally famous as Como, Lecco is well known for being an important setting in one of Italy's most important books, The Betrothed (or I Promessi Sposi in Italian).
This magnificent novel by Alessandro Manzoni is mandatory reading in Italian high schools and universities.
As a consequence, one of the most popular places in Lecco is Villa Manzoni and its Manzonian Museum.
Both properties once belonged to the famous author's family, and they now exhibit manuscripts, furniture, and other interesting objects related to the author's life.
Wander along the lungolago.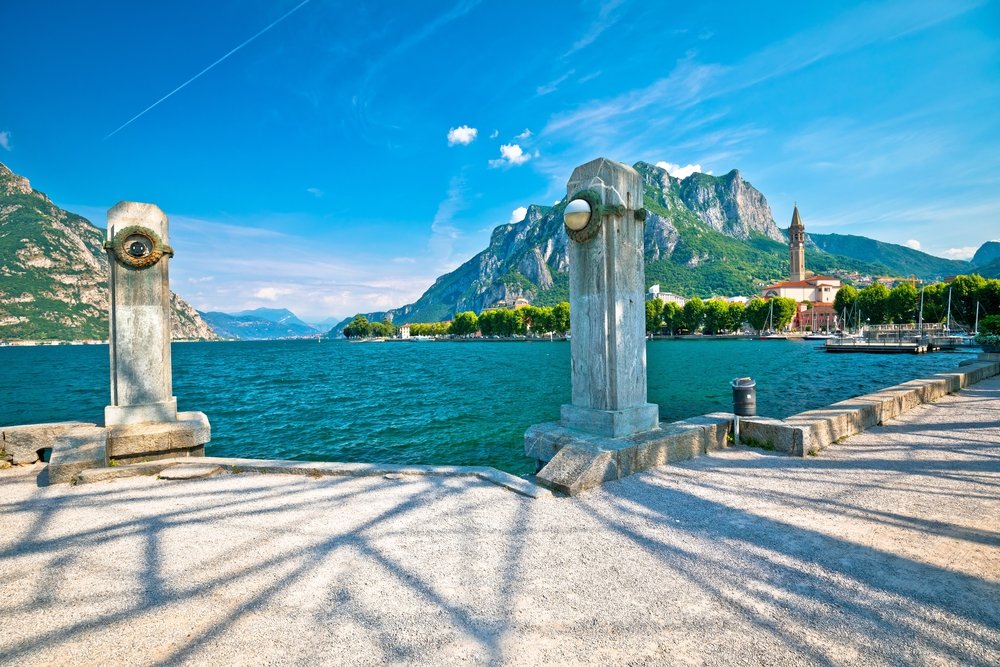 Also in Lecco, you can enjoy a fantastic waterfront (lungolago) lined with wooden seating.
Several bars and restaurants are perfect for lunch or dinner, but there are also interesting piazzas, unique statues, and traditional alleyways to explore.
Don't forget to look around at the fantastic historic villas which have been lovingly restored and transformed into gorgeous, modern homes.
Check out the Torre Viscontea.
Lecco is not only about its important literary history!
Another important town landmark is the Torre Viscontea. It once belonged to the Visconti family, which ruled the Lombardy region for centuries.
The tower is part of an impressive fortress dating back to the fourteenth century. It was built under the orders of Azzone Visconti, who intended to make a fortified village out of Lecco.
Although most of the fortified walls were demolished by occupying Austrian forces in the late 1700s, the tower remains standing.
It was recently transformed into a museum and exhibition center that hosts temporary collections of local artists.
Ancient stone cannon balls are still displayed at the building's entrance, a reminder of the museum's origins as a fortress.
Where to Stay in Como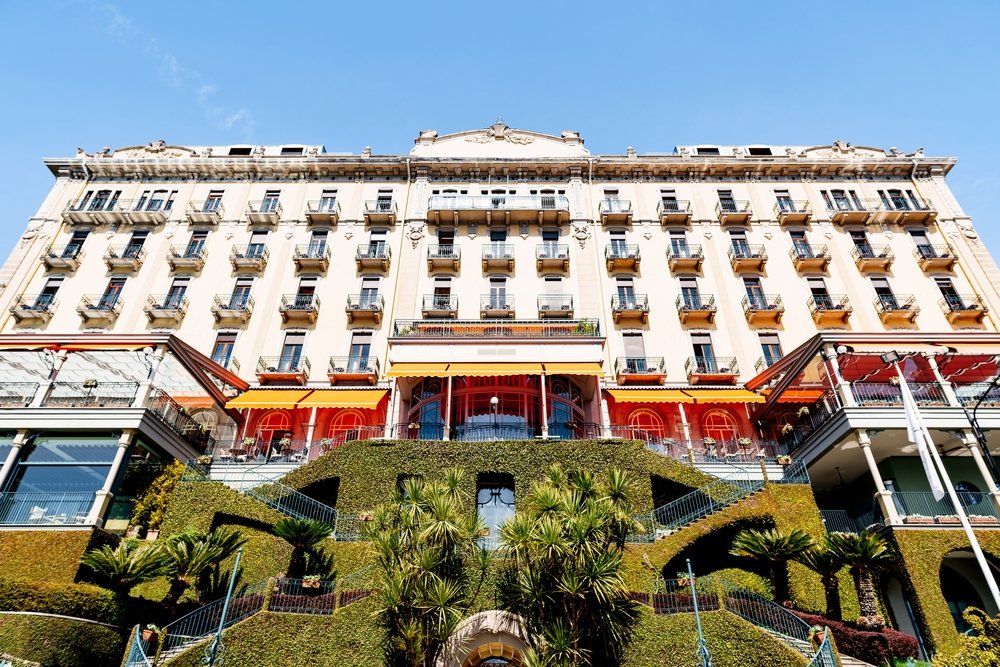 This is where you'll find the most stunning luxury hotel in the entire Como area: Grand Hotel Tremezzo.
Tremezzo is located across the lake from Bellagio and down the road from other charming Como villages like Lenno with its stunning Villa Balbianello (you may recognize it from Casino Royale!)
Indulgent in every sense of the word, Grand Hotel Tremezzo features spacious rooms with spa-quality marble baths (including marble soaking tubs!).
But it also has its very own gorgeous hammam-style spa complete with sauna, Turkish steam baths, spa treatments, and a solarium.
There's an outdoor pool on the terrace with sun loungers, but then there's also another pool located on a dock right on the lake. Talk about a pool with a view!
Hotel Borgo Antico is a gorgeous mid-range 3-star hotel only ten minutes on foot from the center of Como and just steps from the lake's harbor.
The property features elegant rooms with air conditioning (essential in Italian summers, yet not a given!), as well as a delicious Italian-style breakfast buffet.
Best of all, it's so close to the Como San Giovanni Train Station, making it a fantastic home base for any Como itinerary.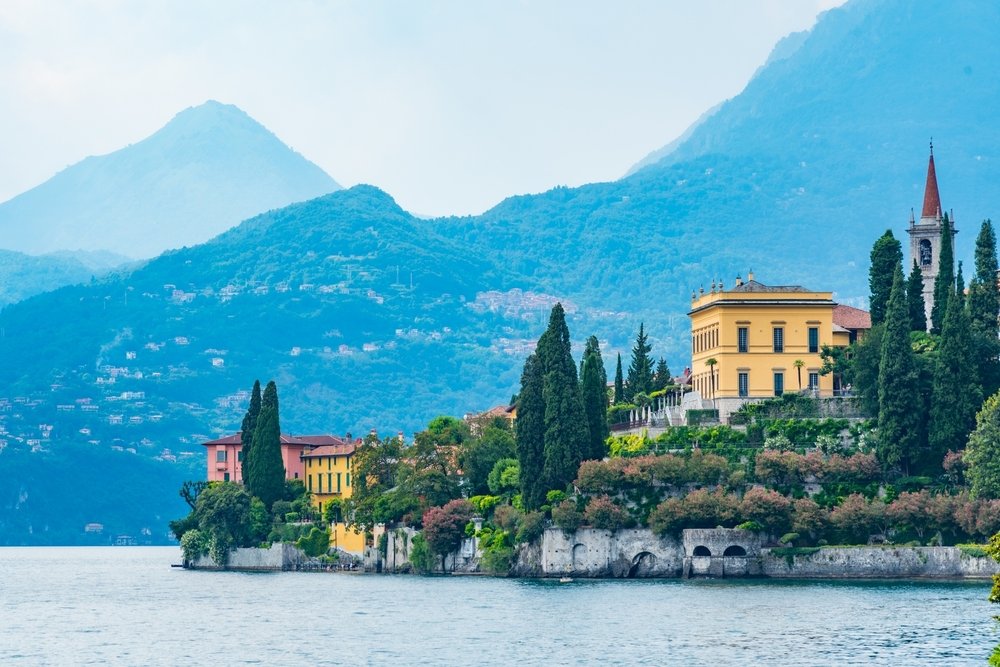 While it's the best area to stay when visiting Lake Como, because of easy access to the train station and ferry, Varenna has more limited accommodation options.
One of the best places to stay is Hotel Villa Cipressi— a stunning boutique hotel located in a historic Como villa, maintaining its aristocratic charms and gorgeously manicured gardens.
Just adjacent (literally, a 50 meter walk!) to another historic mansion, Villa Monastero, Hotel Villa Cipressi enjoys one of the best locations in town, central and with stunning lake views.
The hotel has maintained many of its original details — ornate inlaid ceilings, exquisite floor tiling, decorative archways and pillars.
Its rooms maintain some of those details, particularly the stunning original ceilings, but with relevant updates for modern comforts, like luxe-minimalist furnishings, A/C and heat, and spa-quality bathrooms.
Also less crowded than the city of Como, Lecco is a relaxing and quiet place to stay.
The charming hotel NH Lecco Pontevecchio features gorgeous mountain and lake views just a 5-minute walk from Lecco's historic center and close to Lecco's train station.
Rooms are elegant and spacious and best of all, they all come with air conditioning (again, not a given anywhere in Italy!).
Guests also have access to amenities such as a delicious buffet breakfast and electric bike rental.
‼️ DON'T FORGET TRAVEL INSURANCE ‼️

While exploring Como, you'll want to be sure you're covered against any incident that may happen during your stay.

I always cover my trips with SafetyWing Nomad Insurance because it's affordable (starting around $11/week).

It covers both medical emergencies (illness, accident, injury, etc., including Covid) and travel interruptions (delays, cancellations, lost baggage, etc.)

➤ Check out policies on SafetyWing here
Gabi Ancarola is a full-time travel blogger, tour guide, and freelance writer currently living in Crete, Greece. She spent decade of her life living and traveling Italy, and she shares her knowledge of Italy in her writings as an Italy expert on Eternal Arrival. She also shares her knowledge of Crete and Greece on her blog, TheTinyBook.com, where she has also published several digital travel guides.