Beloved for its marvelous architecture, captivating history, rich culture and world-famous wine, Bordeaux is the perfect destination in France for a weekend getaway.
Though to be honest, you could easily spend a week or more in Bordeaux — once you've visited, it keeps calling you back again and again, because it captures your heart easily.
However, if your time is limited, we've got the perfect 2 day Bordeaux itinerary for you (tailored especially for those who are looking to indulge in some wine tourism while they're here!)
Bordeaux, with its many beautiful old castles and vineyards overlooking the river Garonne, is the wine capital of France — so don't worry, we wouldn't let you go astray without a little wine-focused guidance.
But Bordeaux offers way more than just wine. Bordeaux is a great alternative to Paris, offering a more relaxed vibe, plus it's closer to the ocean and the countryside.
After years of neglect in the shadow of France's other big cities, Bordeaux has recently had its turn in the sun, bringing it back to its well-deserved glory.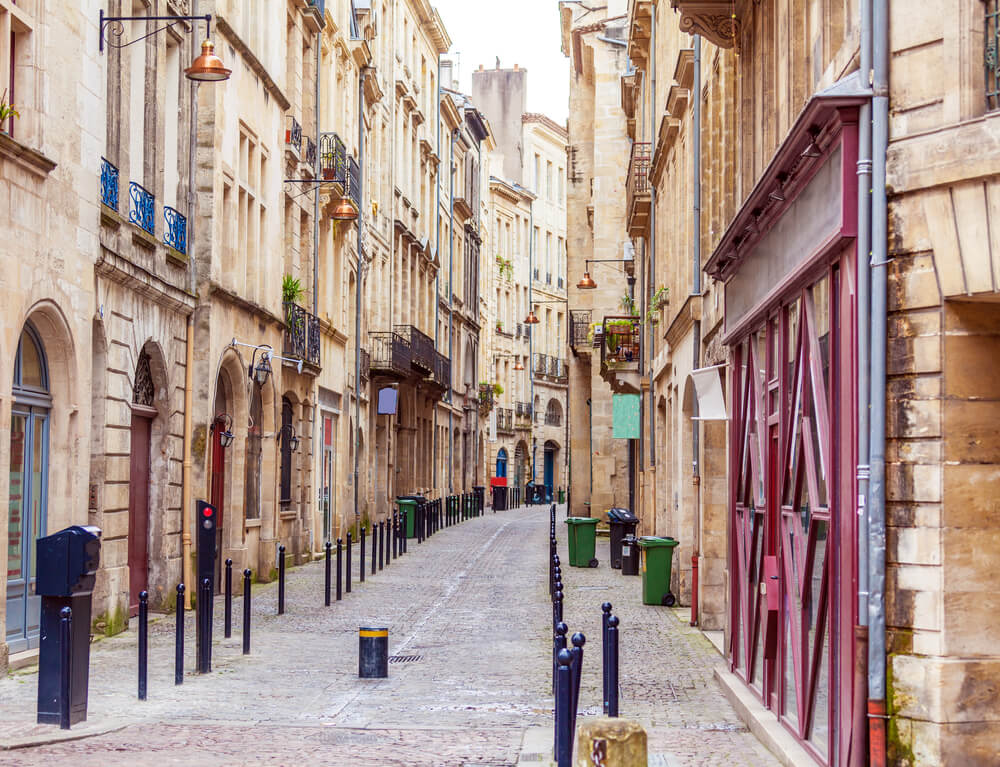 Note: This post contains affiliate links, which means I may receive a small commission if you purchase something through one of these links. Thank you for supporting the free content on this site! For more information on affiliate links and cookies, see my disclosure page for more details.
Extensive restorations, a modernization of the transport system and a boom in trendy cafés, new shops and galleries; in short, everything you could ask for has come together to put Bordeaux back on the tourist map.
We'll start your Bordeaux itinerary off right with a trek through the historic center to take in the city's rich past.
Next up, we'll give you a glimpse into the amazing food and booming art scene before finally bringing you Bordeaux's finest: le vin.
After all, when you visit Bordeaux, taking a wine tour can't be missed, so we're here to give you an overview of the best wine tours in the region.
Bienvenue à Bordeaux!
Day One of Your Weekend in Bordeaux Itinerary
Wander around the historic center.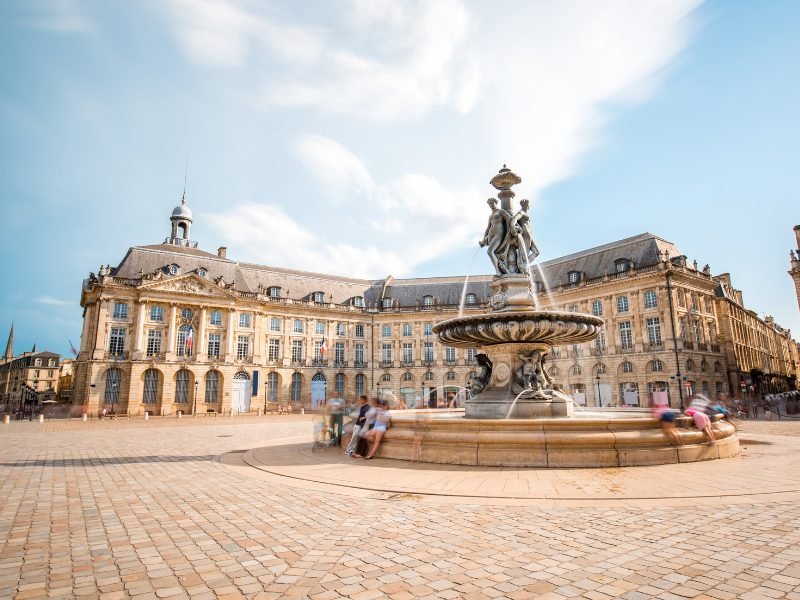 Bordeaux's historic center is a UNESCO world heritage site, which gives you some idea why it's an absolute must-see for anyone traveling to Bordeaux.
Built in the 18th century, the centre historique is full of marvelous architecture and culture.
Just going by numbers, Bordeaux is second only to Paris, with a staggering 362 historic monuments, so there's plenty to see!
Start your day off right with a coffee in the (incredibly Instagrammable) L'Alchimiste Café.
This little gem is located on a quiet street and a favorite amongst locals. The service is lovely and their cappuccino is simply perfection!
Now that you're caffeinated and ready to go, the Saint-Pierre area is the ideal place to start your exploration.
First up on your list of historic places on this Bordeaux itinerary is the Place de la Bourse: one of Bordeaux's most iconic landmarks.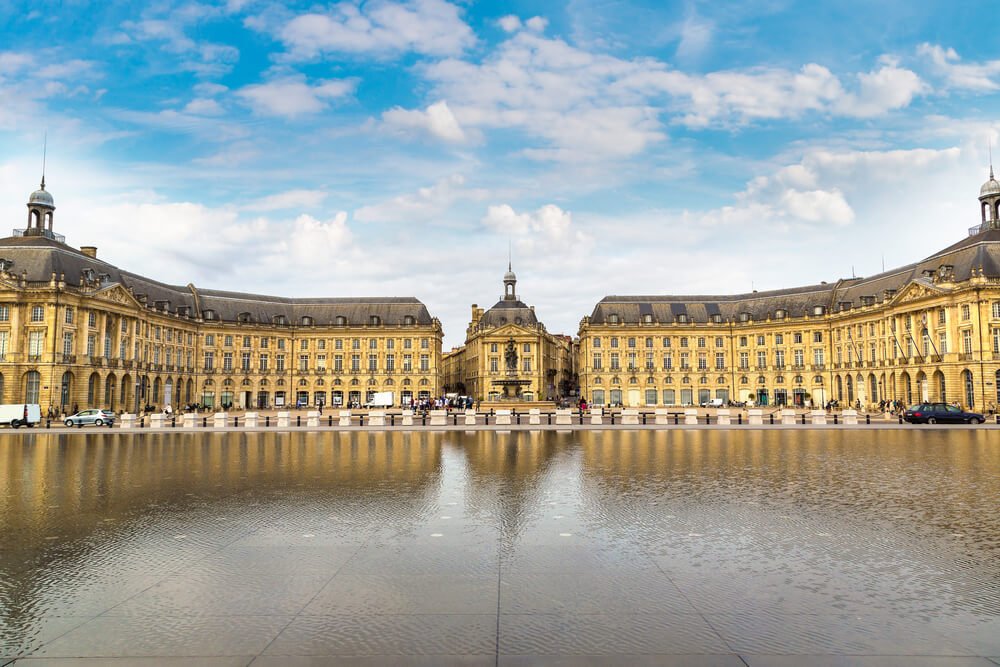 Built in the 18th century under King Louis XV's reign, this plaza (place in French) centers around the main palace building, the Palais de la Bourse.
Another important feature not to miss in this square is the Miroir d'Eau, or Water Mirror.
Built in 2006, this shallow pool of water is the largest reflecting pool in the world — plus, its surface reflects a strikingly incredible view of the surrounding buildings (offering an incredible photo opportunity!)
Once you've explored Place de la Bourse, we've got another historic square to visit: the Place du Parlement, lined with adorable shops, cafés and restaurants.
While you're there, don't miss the beautiful Porte Cailhau, a city gate built in the 15th century to honor King Charles VIII.
As you admire its architectural beauty, you'd be forgiven for thinking this monument was taken straight from the pages of a fairy tale.
If you've worked up a bit of an appetite with all this walking and sightseeing, L'autre Petit Bois is a great brasserie for a local lunch in a classic "old-school' setting.
For a more modern touch, head to La Douce Parenthèse for a healthy brunch or light meal.
Visit Bordeaux's oldest cathedral with a killer view.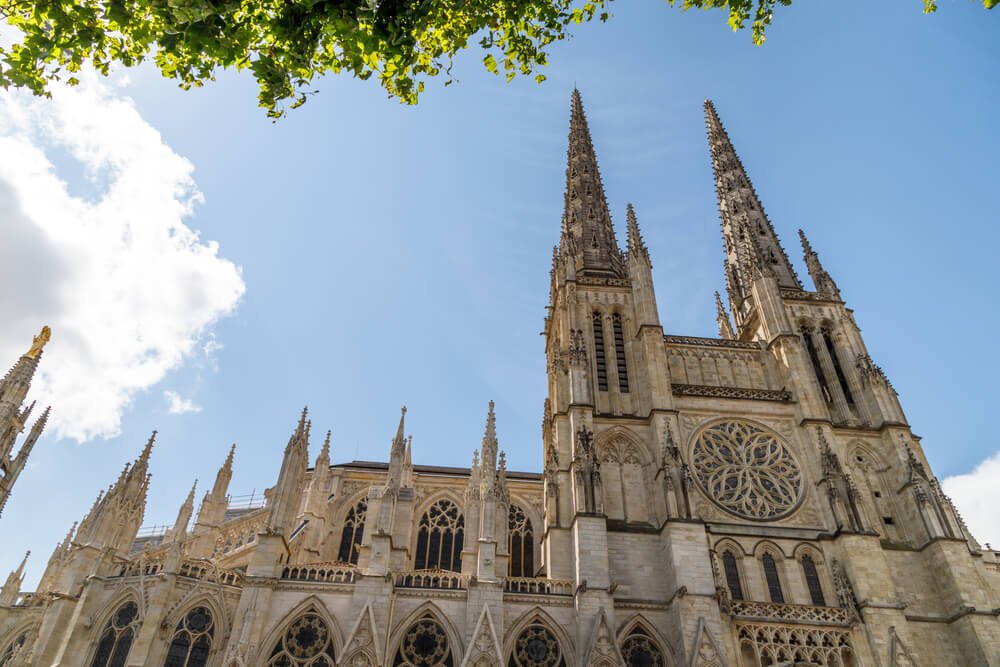 The Cathédral Saint-André is Bordeaux's primary cathedral, as well as the seat of the Archbishop of Bordeaux.
It first rose to prominence in the 9th century, and its fame only grew throughout the Middle Ages.
It became notorious when the young Princess Eleanor married the future King of France in Saint-André — before scandalously divorcing him to marry the King of England!
Sordid history aside, a visit to Saint-André is well worth your time.
In its beautiful halls, you'll find fascinating statues and religious artifacts surrounded by beautiful stained-glass windows.
During the evening, the church often hosts concerts and choirs, so plan your visit for one of these if you want a truly memorable experience.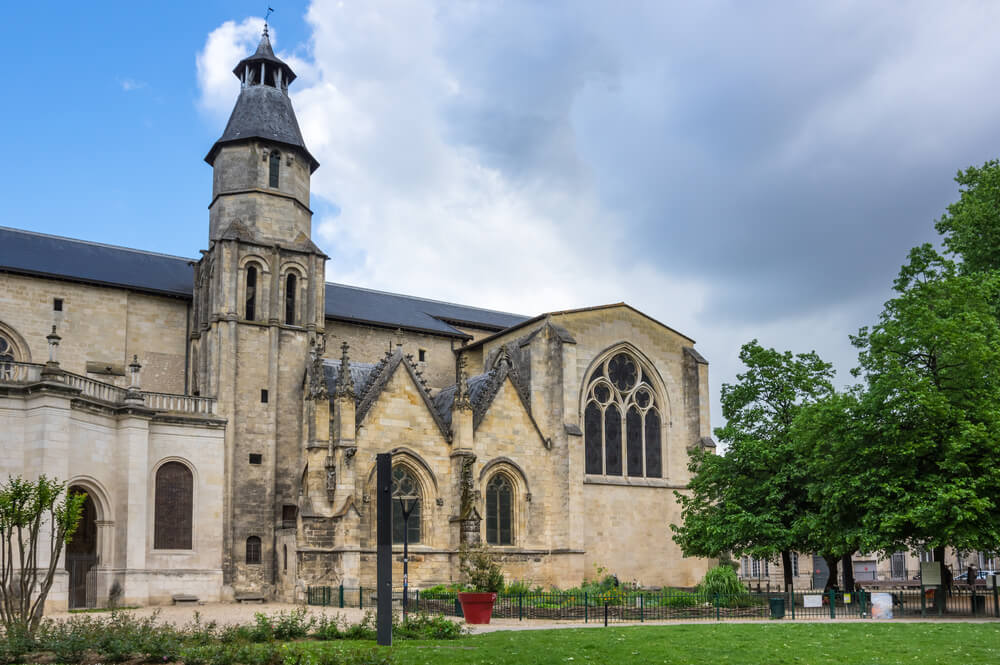 If you want to visit a few more cathedrals during your stay in Bordeaux, head to Saint-Seurin and Saint-Michel.
Just next to Saint-André, you'll find the famous bell tower, built in the 15th century: La Tour Pey Berland.
If you're up for a bit of a cardio challenge, go ahead and climb the 231 steps to the top of the tower for a magical view of the city!
Don't bother going up if the weather is bad though; you won't see anything.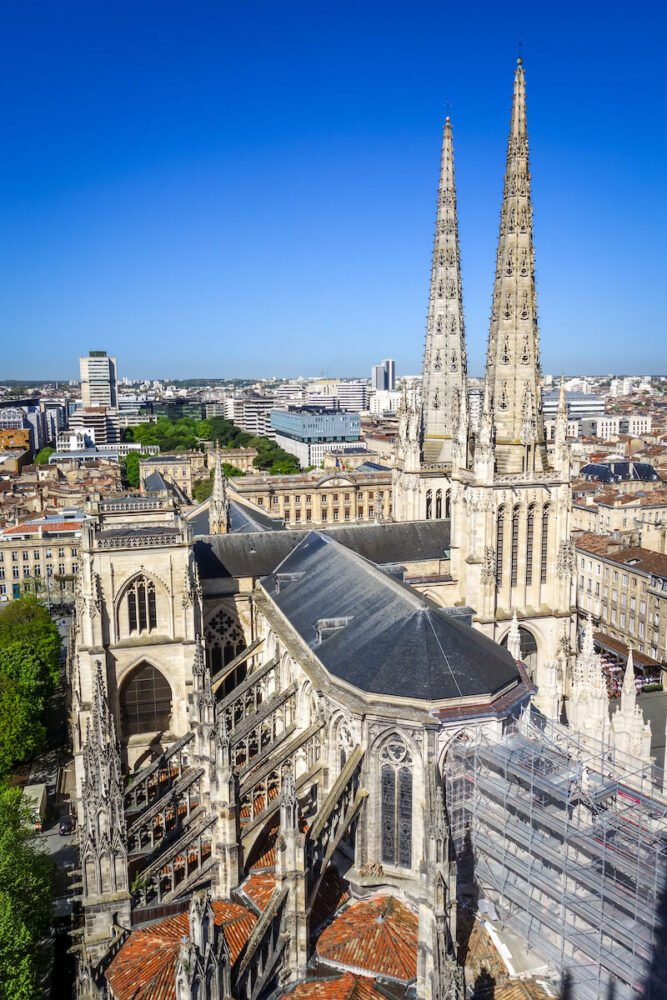 Just a few steps further along, you'll find the Grosse Cloche, a former security gate to the city protecting the Hôtel de Ville.
While the gate is an impressive monument in itself, the clock is what makes it one of the city's main attractions.
This impressive piece of art weighs an astonishing 7.7 tons!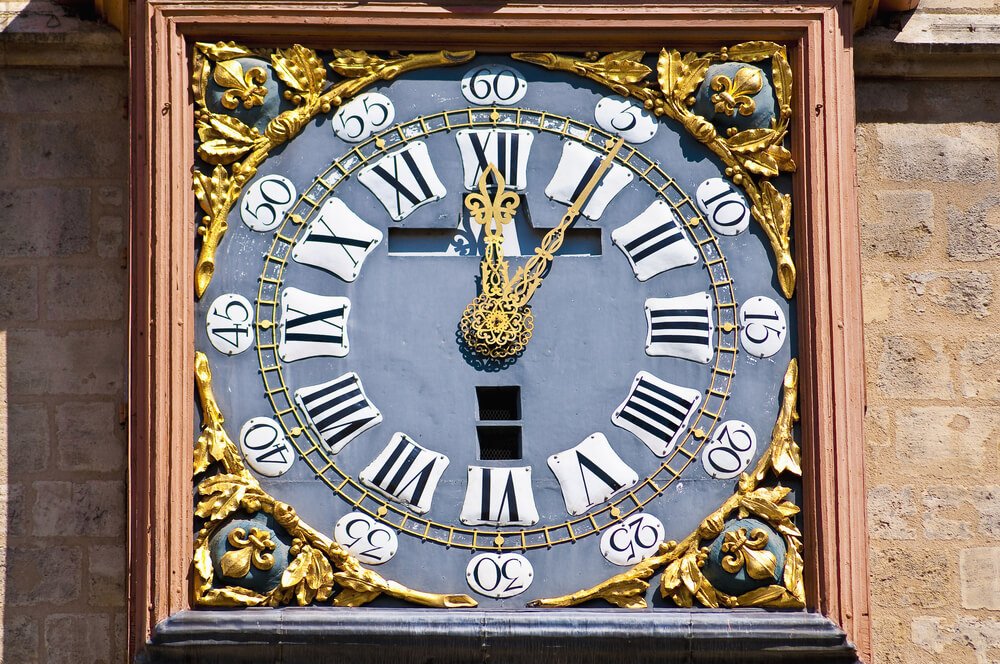 After passing through the gate, you'll enter Rue Saint James, one of Bordeaux's most charming streets lined with boutiques and cafés.
Books & Coffee is a favorite among the locals for its home-made pastries and seasonal dishes in a cozy setting.
Dive into Bordeaux's wine culture at Cité du Vin.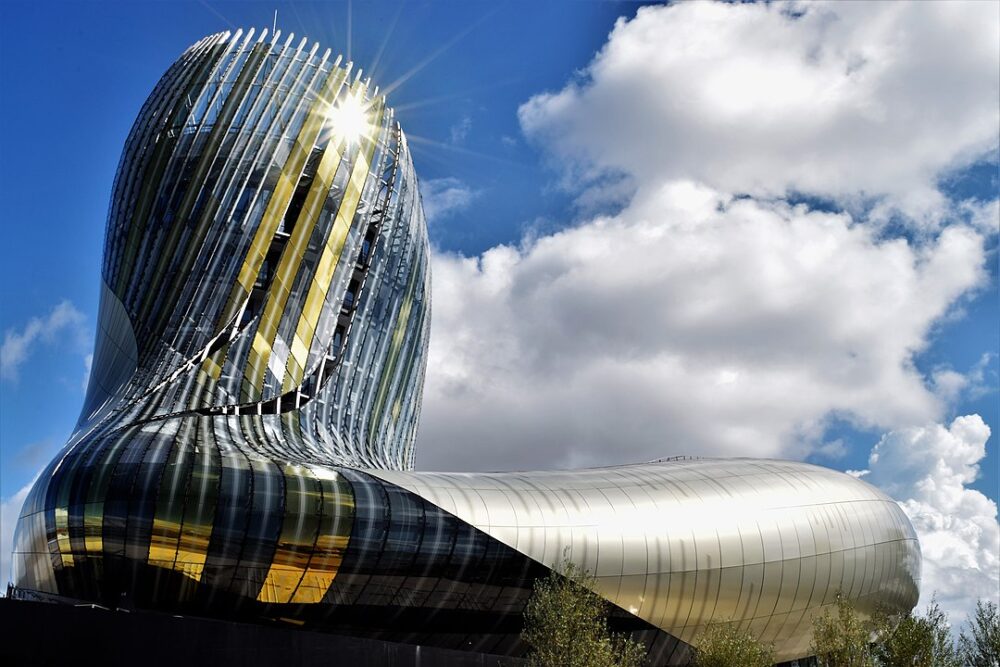 You just know a city takes its wine seriously when there's an entire museum dedicated to it!
Inaugurated in 2016, the Cité du Vin museum offers an immersive exploration of wine and the cultural heritage attached to Bordeaux's most iconic liquid.
The exhibits take a broad approach, offering detailed information about cultural and symbolic dimensions of wine across civilizations.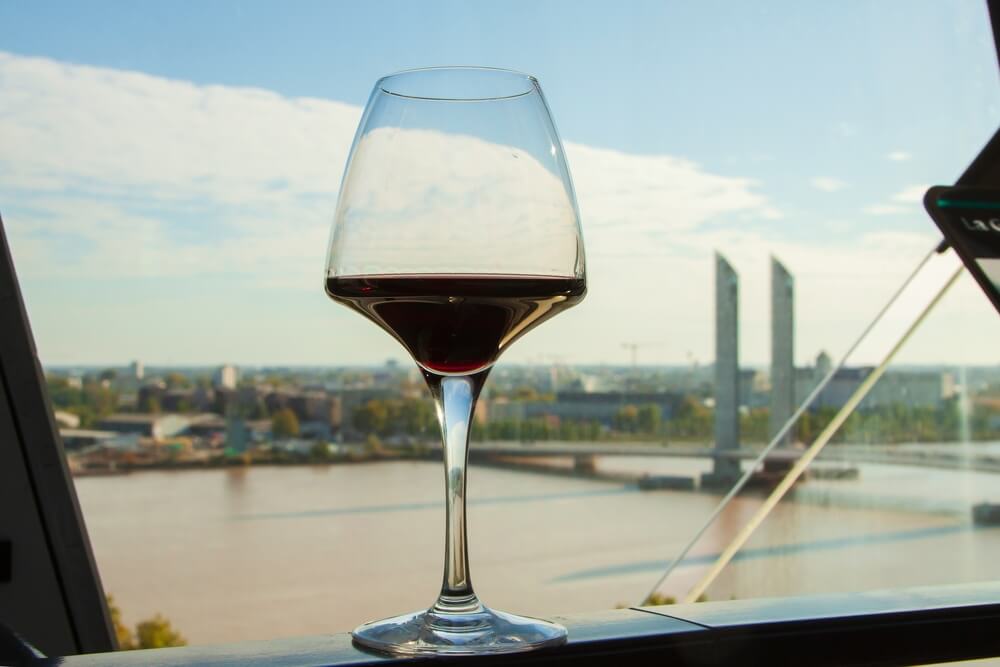 As the popular museum gets quite busy, you definitely want to get your ticket in advance.
We recommend booking your visit through GetYourGuide; the ticket will let you skip the line to head straight in without losing any time waiting.
You'll have access to all the exhibits, a panoramic view on the 8th floor, and of course, an exquisite wine tasting.
Book your skip-the-line access ticket to Cité du Vin (+ included wine tasting!) here
Even though it's literally called the Cité du Vin, the museum is well worth a visit for more than just the wine history, but also for its architectural significance.
The facade rises proudly from the Garonne river, reflecting the city's modern ambitions with its gleaming glass exterior.
Admire Bordeaux from a yacht while enjoying a glass of wine.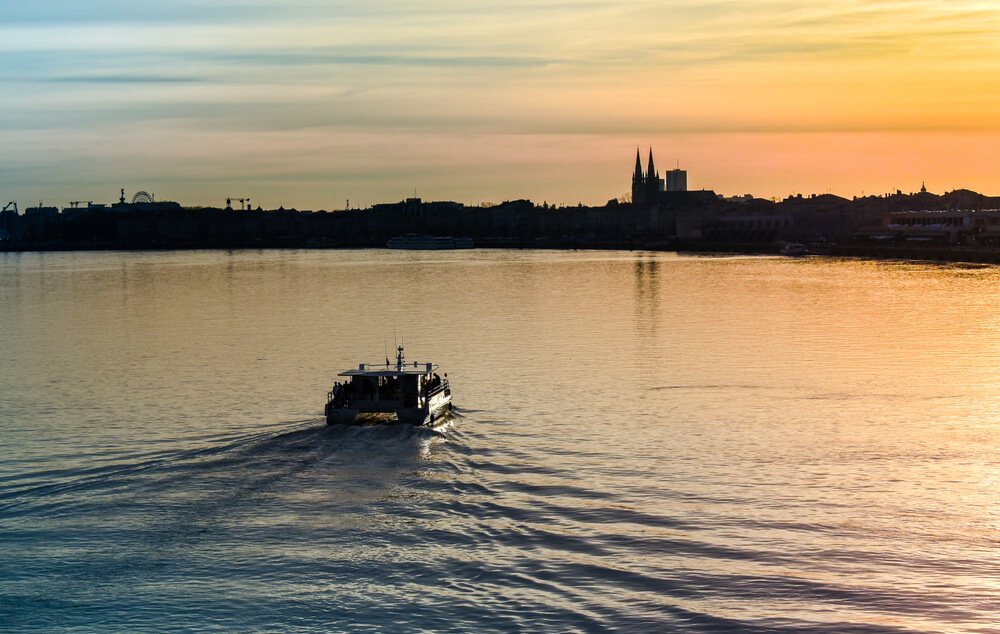 If you'd rather just enjoy a glass of wine without all the fuss of learning about it, why not enjoy an exquisite red on a boat?
Since Bordeaux is conveniently located on a river, there's plenty of wine-themed river cruises for you to choose from.
We recommend this cruise for your trip: at 90 minutes, it'll fit perfectly in your 2-day Bordeaux itinerary.
On this tour, a knowledgeable local guide will share valuable insight on the city's monuments while you sit back and relax on a vintage yacht.
It's the perfect way to see the city while you enjoy a glass of local wine (and, for those with a sweet tooth, the local treat, the canelé!)
The departure point is located near the Miroir d'Eau, which makes this tour super convenient to combine with your afternoon in the historic center.
Check departures and availability of this River Garonne yacht cruise here!
Treat yourself to a special night out at the Opera.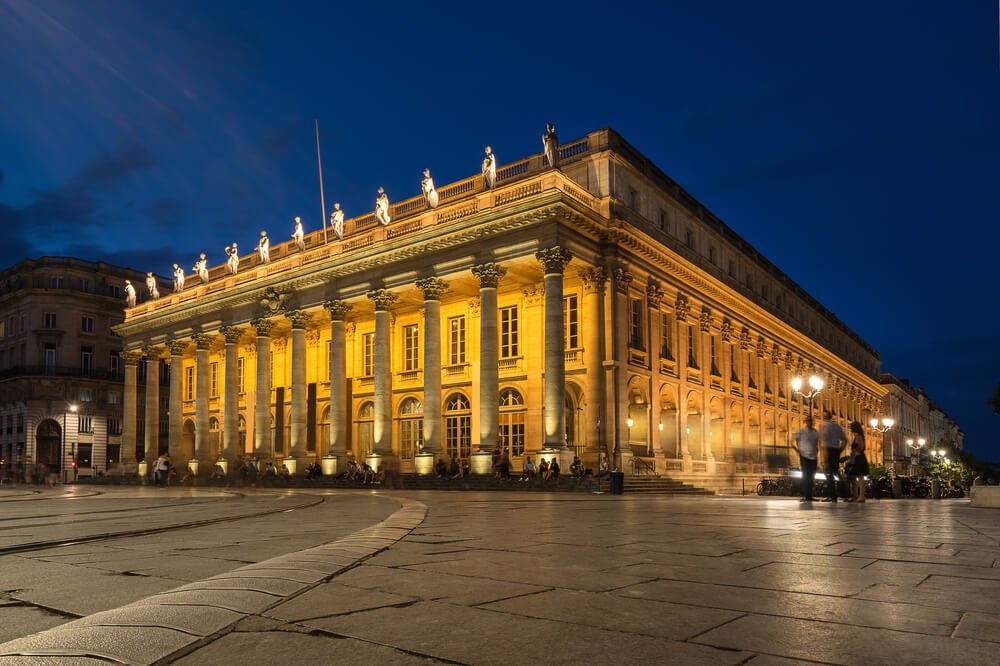 The Grand Théâtre on the Place de la Comédie is a beautiful 18th-century monument located in the heart of Bordeaux.
A magnificent structure, this landmark is home to the National Opera of Bordeaux as well as the Ballet.
If you're hoping to take in a performance, be sure to book your tickets in advance as these popular events sell out quite fast!
The opera house also houses one of Bordeaux's best restaurants, Le Quatrième Mur, owned by famous French chef Philippe Etchebest.
If you can't get a table, don't worry, though, because just a short distance from the opera house is Le Mably, where locals recommend trying the fish and seafood.
Bordeaux is quite a lively city at night, so you'll have no problem finding a cozy bar in the winter, and in the summer, the terraces are full of locals from all generations enjoying wine and beer or a late dinner.
CanCan is a great, retro inspired speakeasy for a cocktail, maybe even with some live music if you're lucky.
Day Two of Your Weekend in Bordeaux Itinerary
Discover the region's gastronomy at the local market.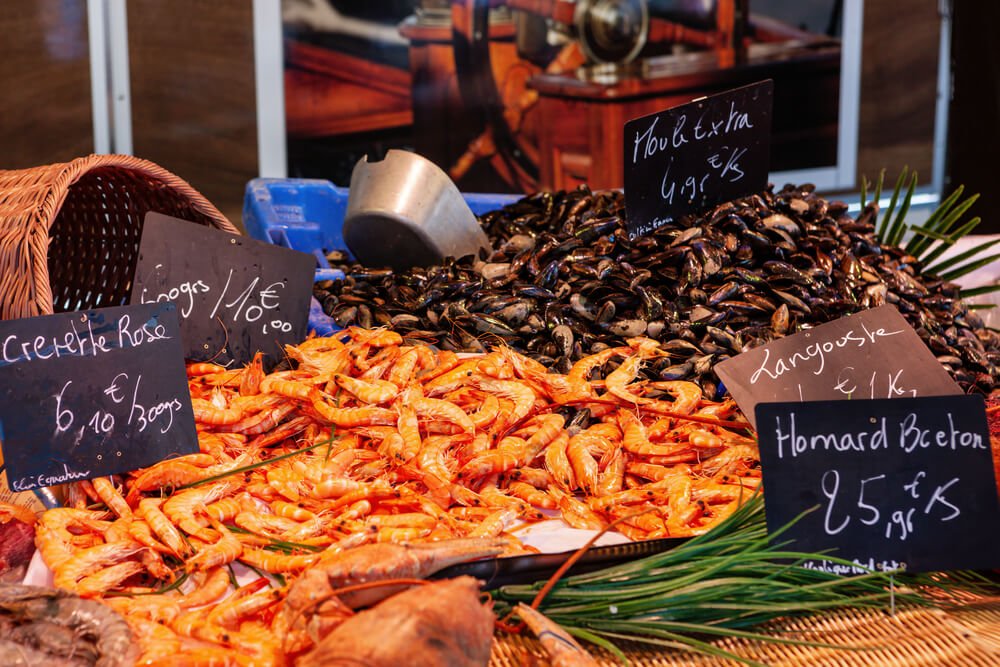 The Capucins Market is the largest daily market in the city, and it fully deserves its nickname, "The Belly of Bordeaux"!
Here, you'll find a dizzying array of vendors selling everything from fresh fruits and veggies to fresh seafood to spices, as well as vibrant cafés and restaurants.
It's a prime location to sample the local delicacies of the region, including salty-fresh oysters and rich duck-based products, along with lots (and lots) of cheese.
Since the Capucins Market is covered, it's an ideal spot to explore any time of the year, even on rainy or wintery days in the city.
If the weather's nice for your stay, many of the cafés and restaurants have outdoor seating options where you can enjoy a cup of coffee or a brunch/early lunch.
On weekends, the market is bustling with locals who come together to savor oysters paired with white wine.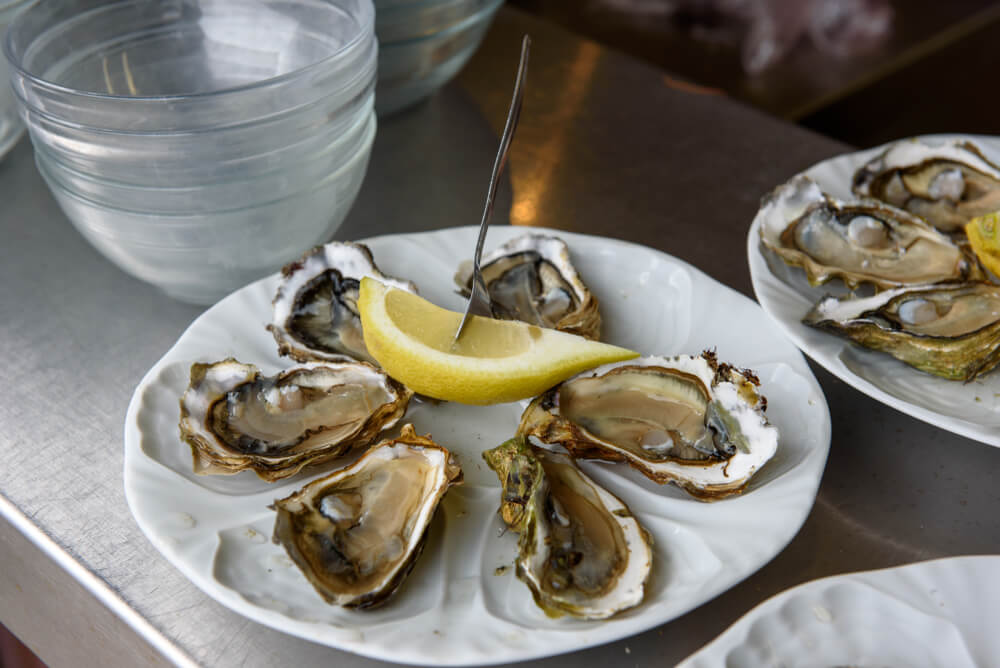 If you're hoping to secure a table, you'll absolutely want to arrive early.
To savor fresh oysters from Arcachon Bay, Chez Jean-Mi, is a great spot. If you prefer mussels, head to Bistro Poulette.
For a breakfast with delicious coffee, Café Laiton is a local's favorite while Les Puits d'Amour has desserts to die for.
In the evenings, Pata Negra has the best tapas which you can enjoy with (what else?) a glass of wine.
Be aware that the market is a lot quieter on Mondays and Tuesdays, while it's unbelievably full on the weekends.
Locals don't only do their shopping here, but also come for a meal, their daily morning coffee or a drink with friends in the evening.
Skip the tourist crowds in Saint Michel.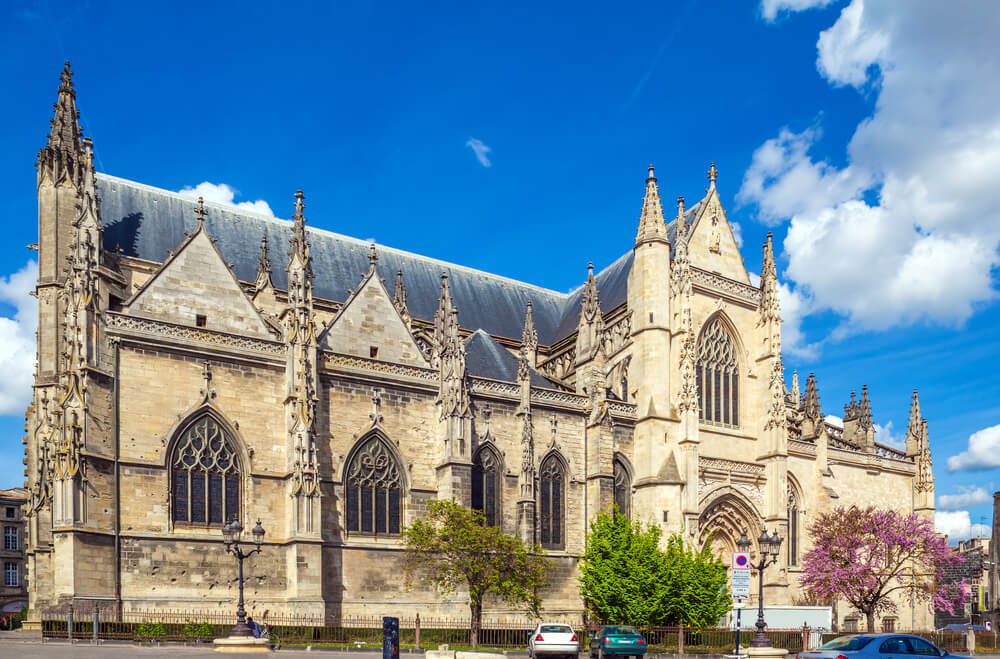 Just across from the Capucins Market is Saint Michel, a vibrant yet often overlooked area of the city that's well worth your time.
Head over to get a more authentic feel of local life, wander around the charming streets and stop for a delicious coffee in a trendy café in this up-and-coming neighborhood.
Plus, the Saint Michel Cathedral is just as beautiful as its historic rival Saint-André.
You can climb up La Flèche, the cathedral's 114-meter-tall tower for a view of the city fit for a postcard!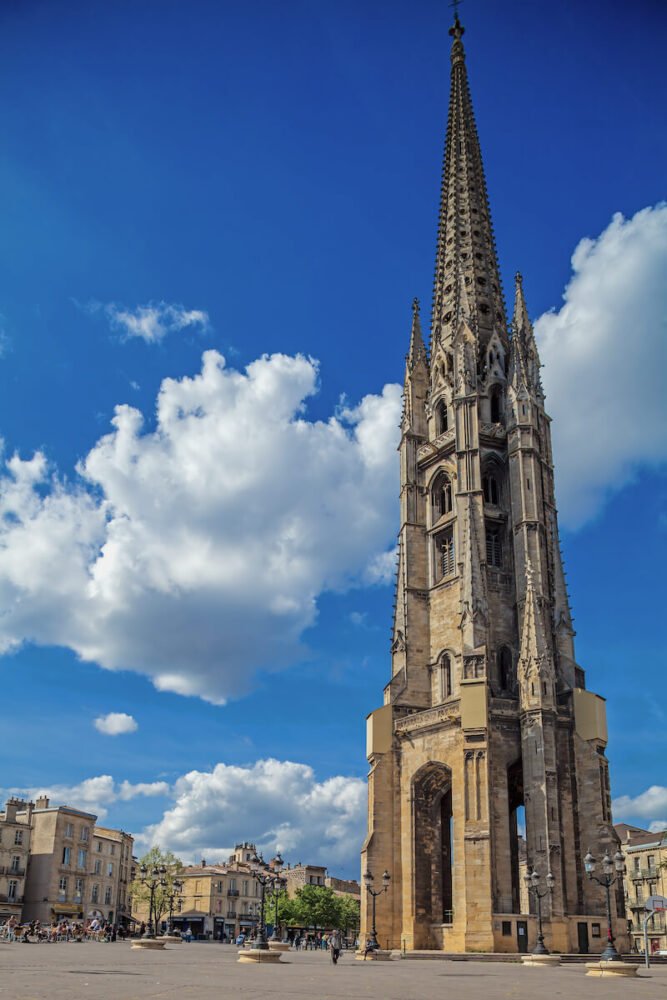 If you're in town on a Saturday, you can explore the open-air market Marché Royal surrounding the church.
On Mondays, Marché Neuf takes place around Saint Michel, a local market for books, clothing, home goods, and so much more.
If you are into antiques, this area is a treasure trove. Saint Michel is home to many antique shops and markets open year-round!
Le Passage assembles around 20 sellers while the Sunday Brocante is a weekly market for vintage and antique objects, furniture and clothes.
Finish off your Bordeaux trip with a wine tour.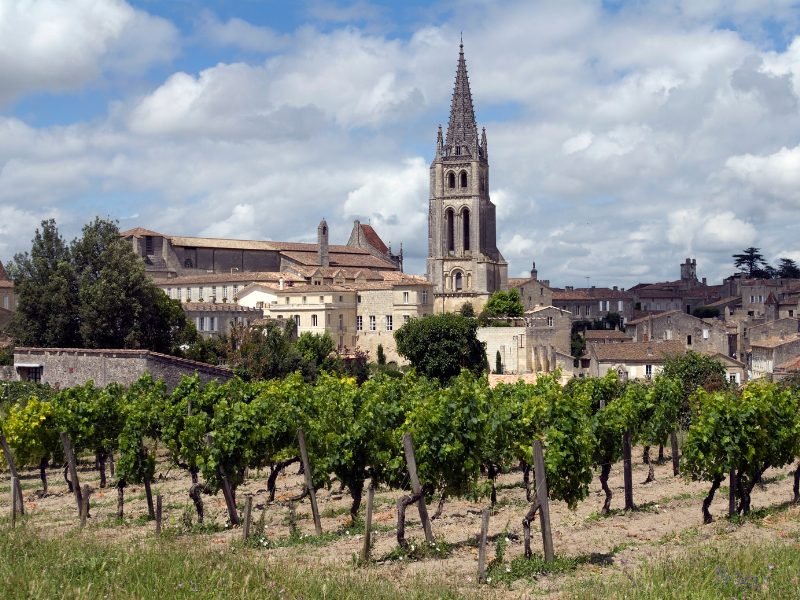 Red, white, or rosé, wine is the currency of love in Bordeaux.
As such, no visit could possibly be complete without a guided wine tour from Bordeaux through the beautiful countryside.
There's a wide range of options available when it comes to wine tours in the region.
You'll find below an overview of three great tours to choose from depending on your time and priorities.
Option One: Chateaux + St.-Emilion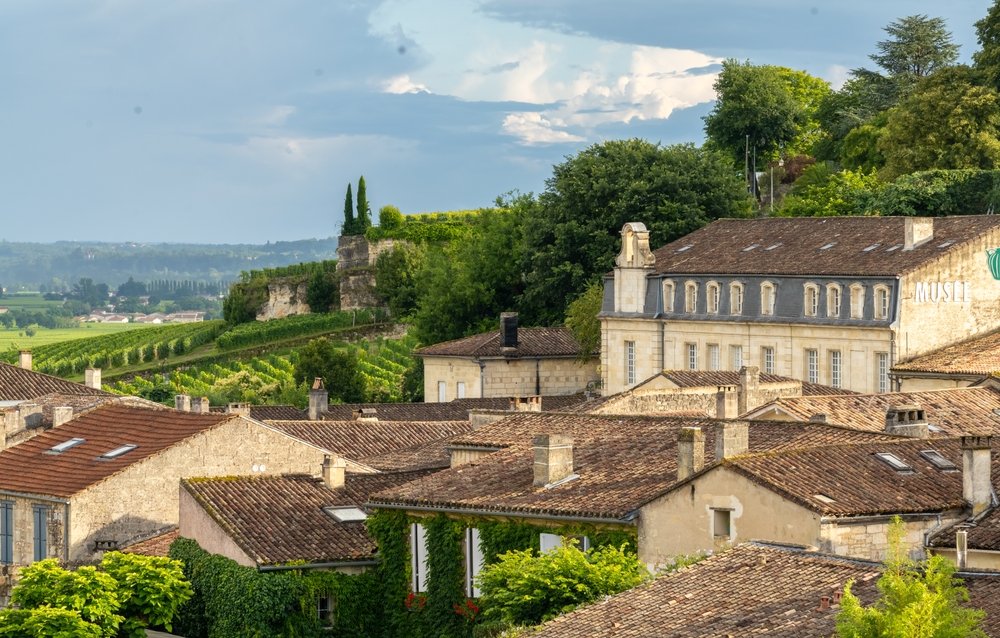 The first tour takes you to two beautiful chateaux in Saint-Emilion.
Immersed in the intimate setting of a family-run wine estate, you will get a tasting class after touring the private chateau.
The tour then continues to another prestigious wine estate where you'll learn about wine production while enjoying a traditional cheese platter.
And along the way, you'll sample around four to five tastings of delicious Bordeaux wine!
You'll receive a guided tour of Saint-Emilion before heading back to Bordeaux.
Check availability of this wine tour of St.-Emilion from Bordeaux here!
Option Two: Historic Walking Tour + St. Emilion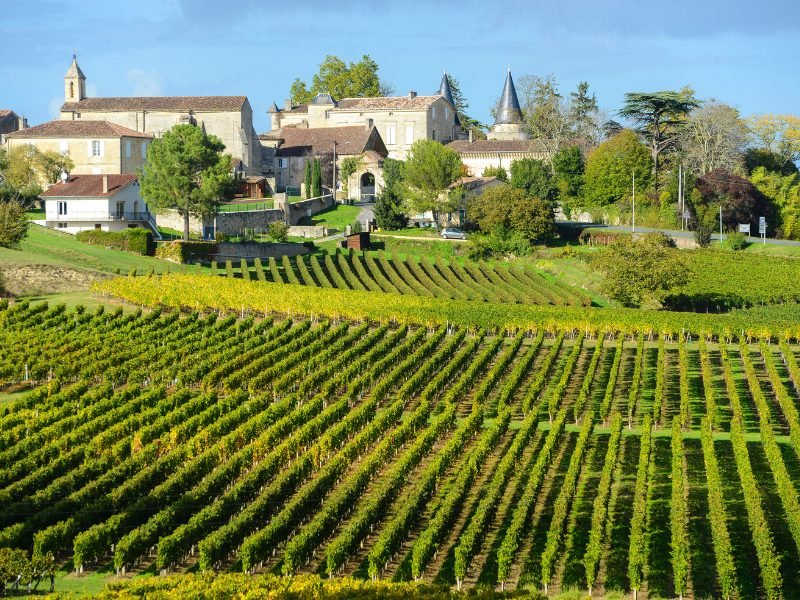 The second tour starts with a guided walking tour around the medieval village of Saint-Emilion.
You'll learn about the town's Roman past, including Roman techniques of grape planting.
The tour then continues to a chateau in Saint Emilion where you'll learn about wine production and enjoy a wine tasting.
While both these tours take you to Saint-Emilion, the second tour will give you a more historic approach to grape cultivation, with a heavier focus on the town itself.
Meanwhile, the first tour is more focused on wine tasting in different chateaux.
Check availability of this wine tasting + St.-Emilion tour here!
Option Three: The Chateaux Route + the Médoc Region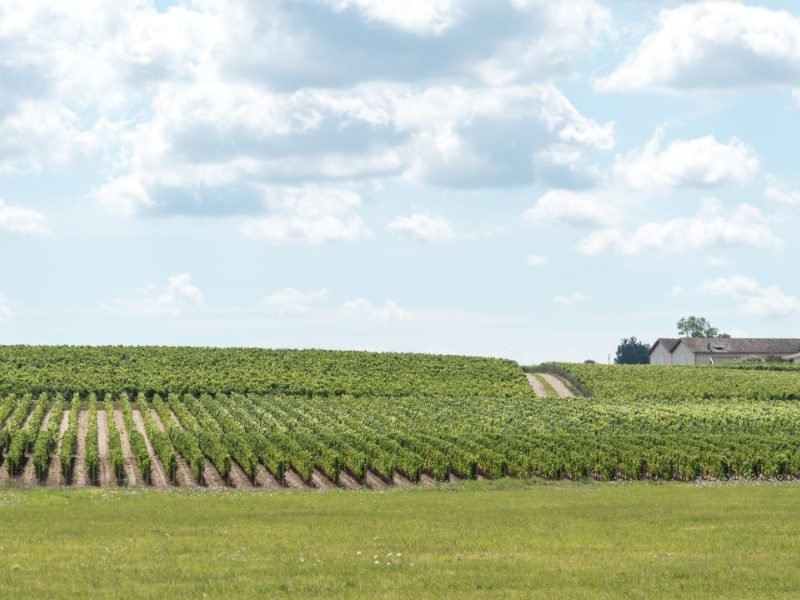 The third tour on our list takes you to the Médoc region along the famous Chateaux Route.
You'll receive a tour of a family-owned vineyard and a tasting class in the private chateau before heading to a 1855 Great Classified Growth wine estate.
There, you'll learn about wine production and end the afternoon with a tasting accompanied by a cheese and charcuterie selection with fresh bread.
All three tour options offer roundtrip transport from Bordeaux, roughly starting around 2 PM.
If you want to invert your itinerary to do a wine tour in the morning instead, the second tour also has an available morning departure at 9 AM.
WHERE TO STAY IN BORDEAUX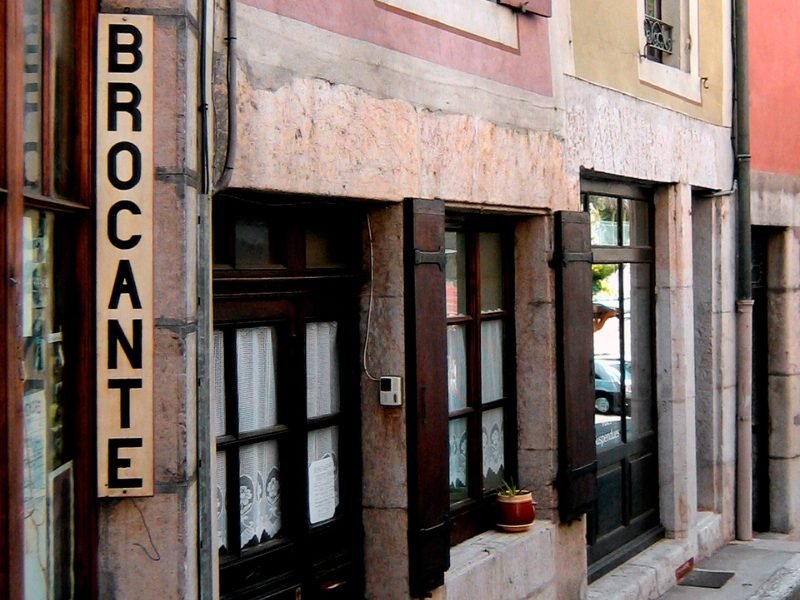 For a simple, no-frills place to stay in Bordeaux in a convenient location, ibis hotels never disappoint for the price – and the ibis in Gare Saint Jean is no exception.
Located near the Saint-John train station, it's easy to zip around to all parts of Bordeaux from this location.
The rooms are small but functional, with all you'd need — WiFi, A/C, a 24-hour desk, and aesthetically pleasing design — for the great price that the ibis chain has become known for.
➤ Check availability, prices, and reviews here!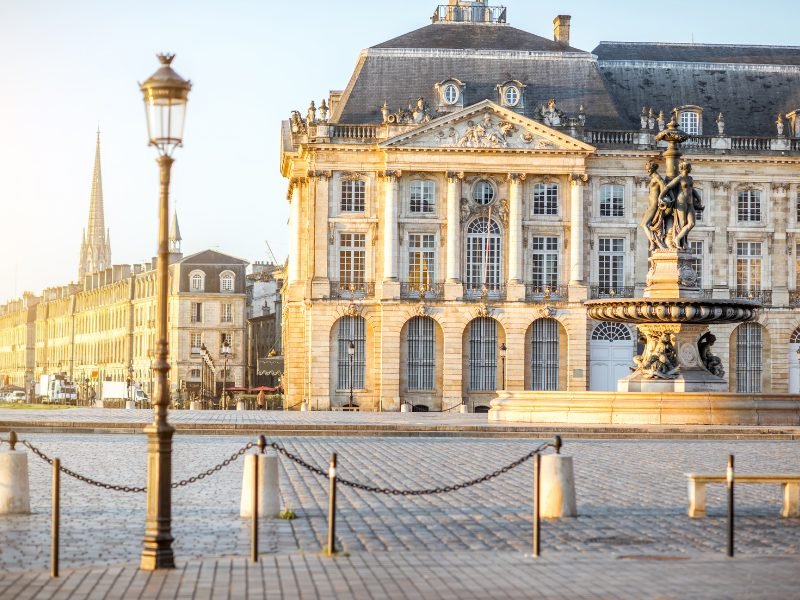 For a perfectly-located boutique hotel option, Hôtel Madame will surely fit the ticket!
It's got beautiful aesthetics in all the rooms, as you'd expect of a boutique hotel — but it also has a perfect location in the pedestrian zone of Bordeaux and stunning views from the rooms.
The rooms are modern and updated — some even feature bathrooms with a delightful soaking tub!
➤ Check availability, prices, and reviews here!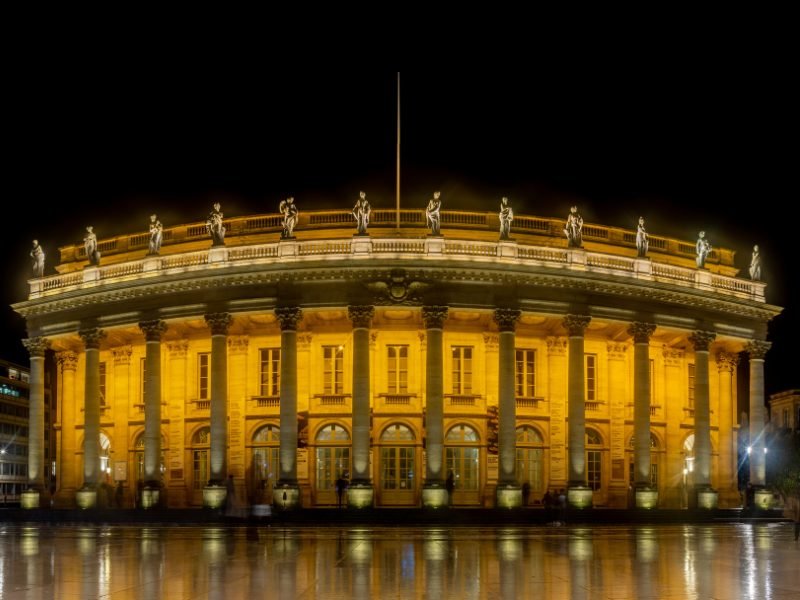 For a hotel stay dripping in old-world luxury, the InterContinental Bordeaux Le Grand Hotel is the perfect choice in Bordeaux.
The rooms feel like the design was lifted from a Hapsburg-era palace, with elegant beard boards, striking carpets and wallpaper, and vintage details. Best of all, some rooms enjoy a view of the Opera House!
Their spa is especially next-level: you'll feel transported back in time, with a stunning pool that looks like a Roman bath and other spa amenities like a traditional dry sauna.
➤ Check availability, prices, and reviews here!