Vibrantly-hued coral gardens, swimming with the peaceful melodies of whale song, the lush jungle landscape juxtaposed against a brilliant aquamarine lagoon teaming with reef sharks and pink whiprays: these are the charms you'll immerse yourself in on a trip to Moorea.
This picturesque island just a short 30-minute ferry journey from Tahiti beckons you to embrace its slower pace and experience the true essence of South Pacific island life.
This slow-paced 3 to 5 day Moorea itinerary will show you exactly how, without missing a thing!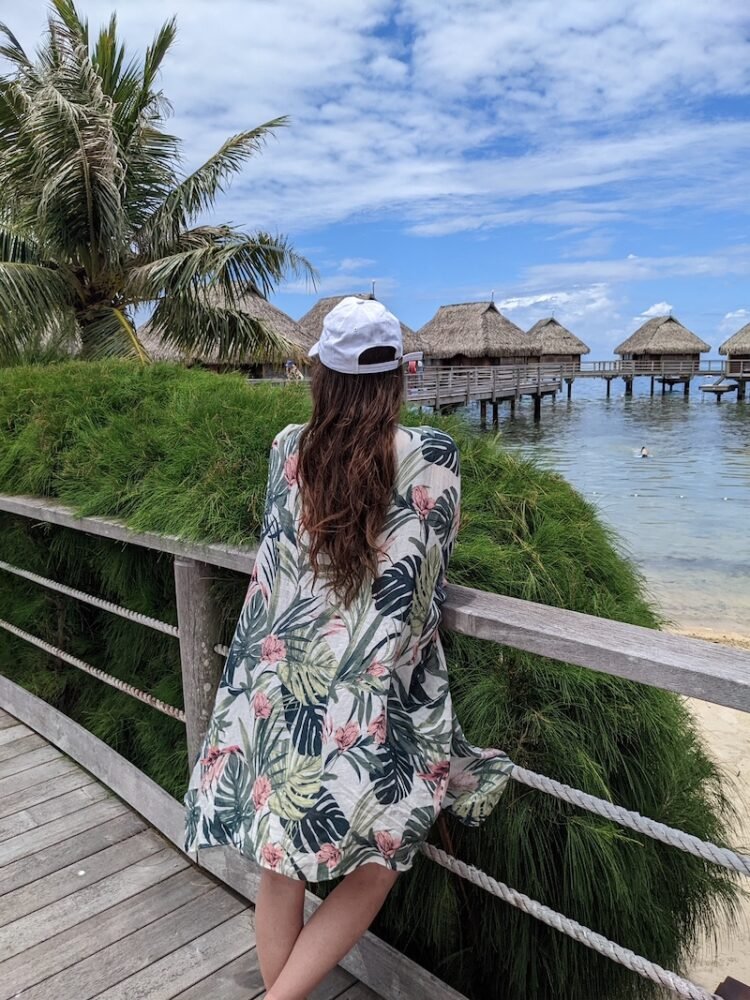 Note: This post contains affiliate links, which means I may receive a small commission if you purchase something through one of these links. Thank you for supporting the free content on this site! For more information on affiliate links and cookies, see my disclosure page for more details.
Moorea offers a little bit of everything: from nature to cuisine to adventure.
Take in the lush pineapple fields, dine with the locals at the traditional roulettes, and snorkel the Moorea lagoon with its sharks and rays (or go diving to get even deeper!)
This Moorea itinerary will show you all the very best things to do in Moorea — but laid out in a logical, easy-to-follow order so that all the stress of planning your trip to Moorea is gone, and you can simply follow this guide.
How This Moorea Itinerary Works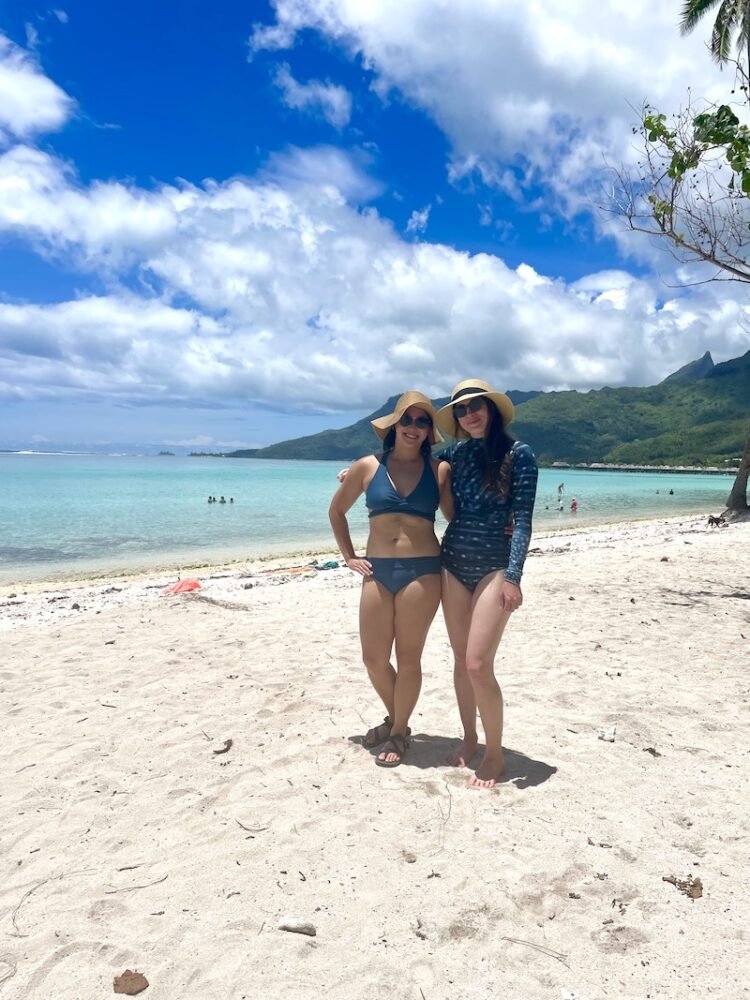 This Moorea travel itinerary outlines the perfect activities that cover a span of anywhere from 3, 4, or 5 days on the island.
I've organized this itinerary for Moorea by including all the must-do activities at the beginning, ensuring that even if your visit is limited to 3 days, you'll still experience the best the island has to offer!
If your stay extends beyond 3 days (like my visit, which was for 5 days in Moorea), you have the opportunity to include even more memorable experiences!
Day One of Your Moorea Itinerary
Arrive in Tahiti and take the ferry to Moorea.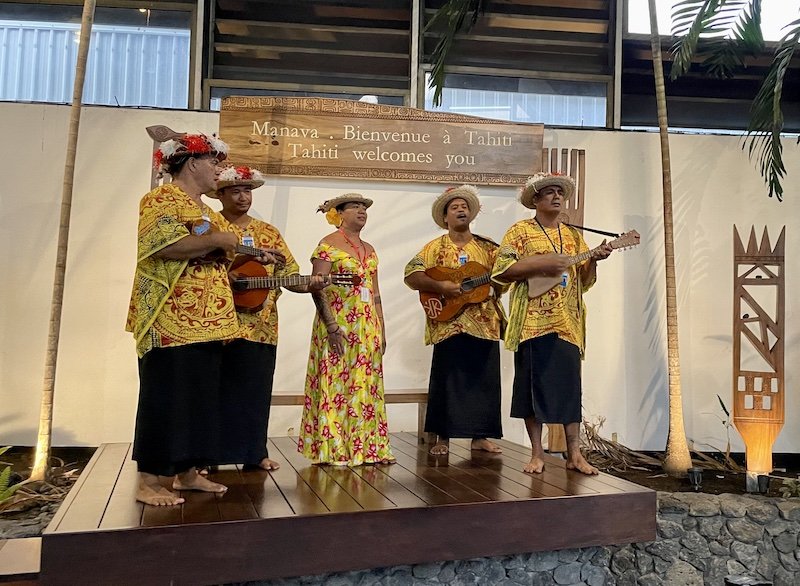 There's only one international airport in all of French Polynesia and that's Faa'a International Airport on the main island of Tahiti.
While it is possible to take a flight to Moorea from Tahiti, I don't recommend it for a few reasons: primarily, it's extremely carbon-emission unfriendly when there's a simple, painless 30-minute ferry you can take.
Plus, it's a good deal more expensive to fly to Moorea (as it should be!) and you won't really save any time.
Once you arrive in Tahiti, you'll want to take out some cash (as taxis only take cash) and then catch a taxi to the Gare Maritime, aka the ferry terminal.
(This is, of course, assuming you're not spending time on a Tahiti itinerary or exploring the things to do in Tahiti first; we personally did Moorea first and ended in Tahiti due to our flight schedule)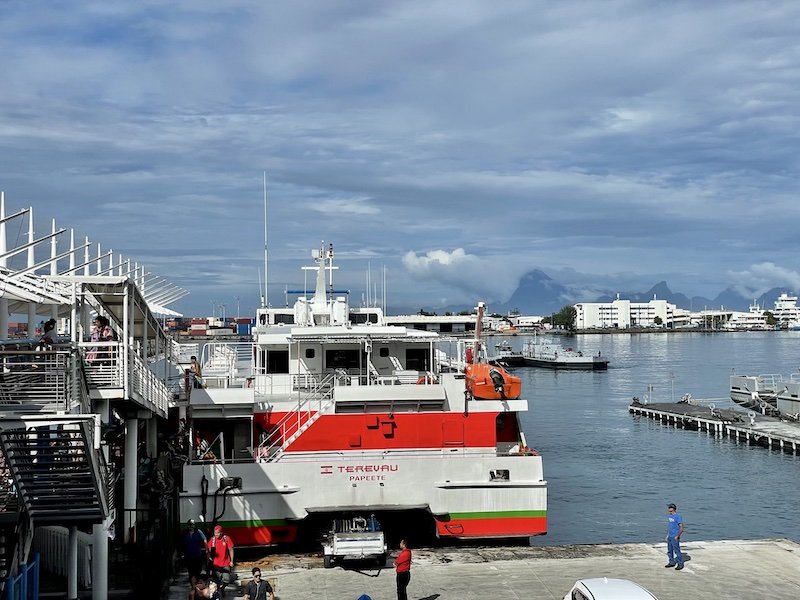 We paid about $25 USD for this journey, which factored in having a bit of traffic; without any traffic, expect to pay around $20 USD.
There are two ferry companies: Aremiti and Terevau. I've taken both, and there is no appreciable difference between the two except that the boats of Aremiti are bigger, and there is a very slight (perhaps $2 USD) price difference.
I would simply arrive and book a ticket on whatever the next ferry departure is. The two companies typically trade off departures, with one ferry leaving approximately once an hour.
The journey is simple and painless, even for people like me who tend to get seasick — and it only takes about 30 minutes, so it's over in the blink of the eye.
Once you arrive in Moorea, you can either pick up a rental car if you plan to drive while on the island, or catch a taxi to bring you to your hotel to drop off your belongings, even if you can't check in yet.
If you're not sure where to stay in Moorea, I've written a guide to the best hotels on the island!
Settle in and grab breakfast or lunch.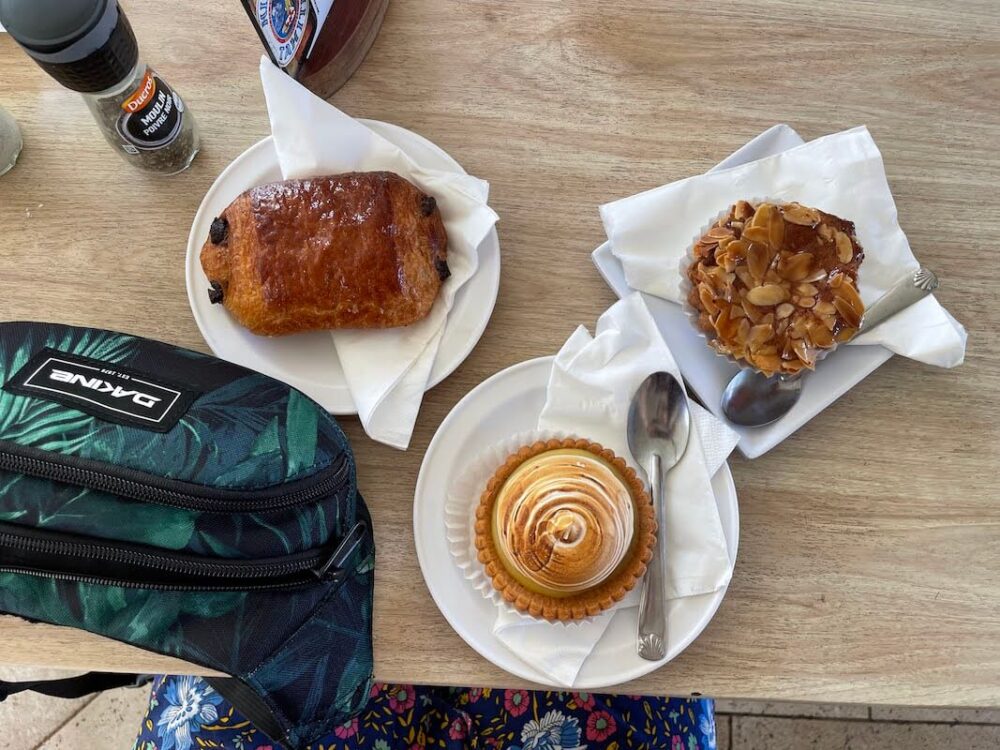 The majority of arrivals into Tahiti take place in the early morning hours, which means you'll likely arrive in Moorea on the early side… probably before 10 AM or so.
If you can't yet check into your hotel, you can at least drop off your bags and then go root around for something to eat.
I recommend the area around Maharepa, which has the widest variety of restaurants and dining options, although the area around Tiahura also has some options as well.
We had our first meal at Caraméline — the French pastries, baguette sandwich, and poisson cru were a slightly chaotic combination, but it was a delicious introduction to the flavors or the island!
Take a catamaran cruise with snorkeling stops.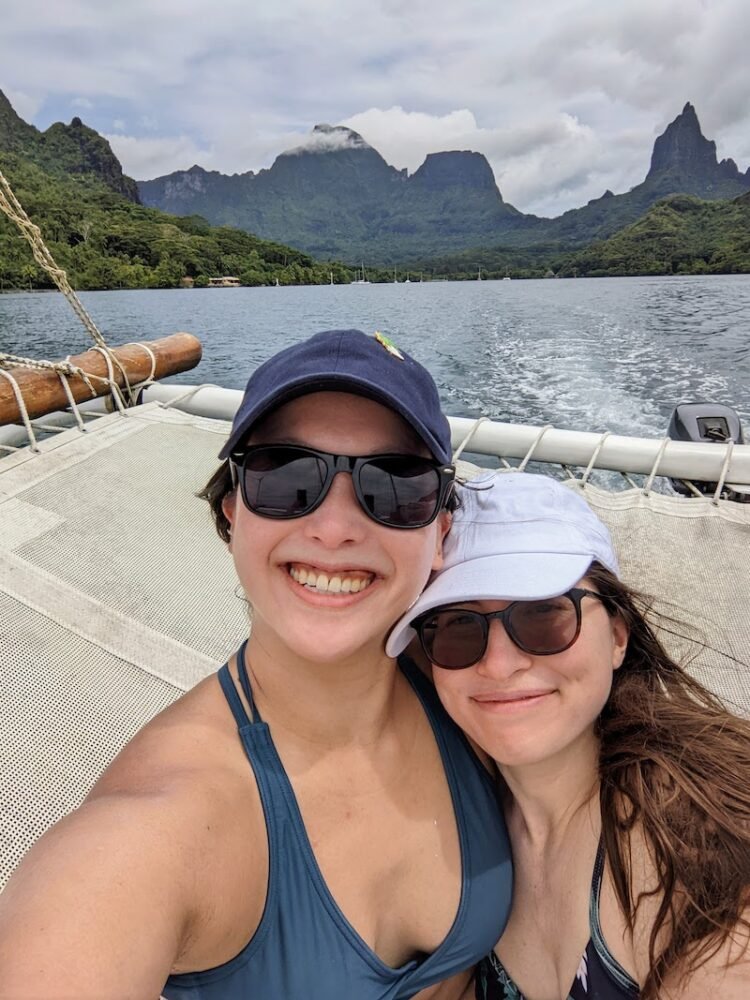 If the idea of basking on the net of a catamaran while letting the South Pacific air hits your face sounds like the best wake-up call after a long journey to the South Pacific… I agree.
That sailing journey will wake you up even more when you stop at two excellent snorkeling spots, plunging into the sparkling clear waters to admire the beauty of Moorea's underground marine life and coral gardens.
This catamaran snorkeling cruise sets off twice a day, although I'd suggest the 1 PM afternoon trip so that you can make your way over to the pier in a leisurely way (having lunch first).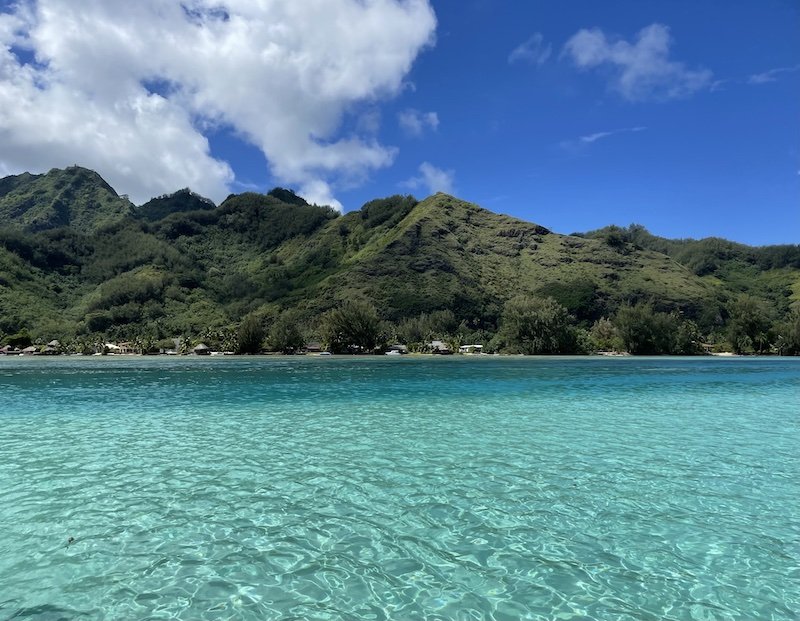 Plus, during the afternoon, the water has an even more dazzling hue compared to the morning.
Early on, the water can look a little darker because the sun isn't high enough in the sky just yet to show off just how clear and blue it is!
This boat tour – we were fortunate to be the only two people on our catamaran, so it was virtually private! – takes you to two amazing snorkeling sites in Moorea.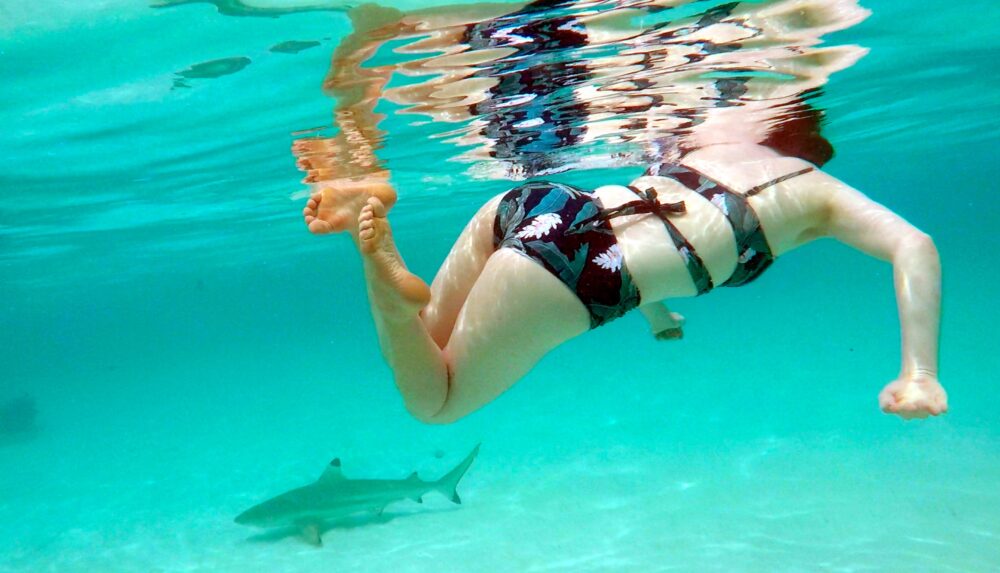 The first site was brimming with pink whiprays and blacktip reef sharks.
It was a fun way to get up close and personal with these animals (no feeding necessary — these sharks and rays love this sandy patch of the lagoon, and frequent it often).
Don't worry — these animals are quite habituated to humans and won't feel threatened by your presence.
Moorea's lagoon is so clear that you can spot the rays and sharks just by looking down from the water's surface!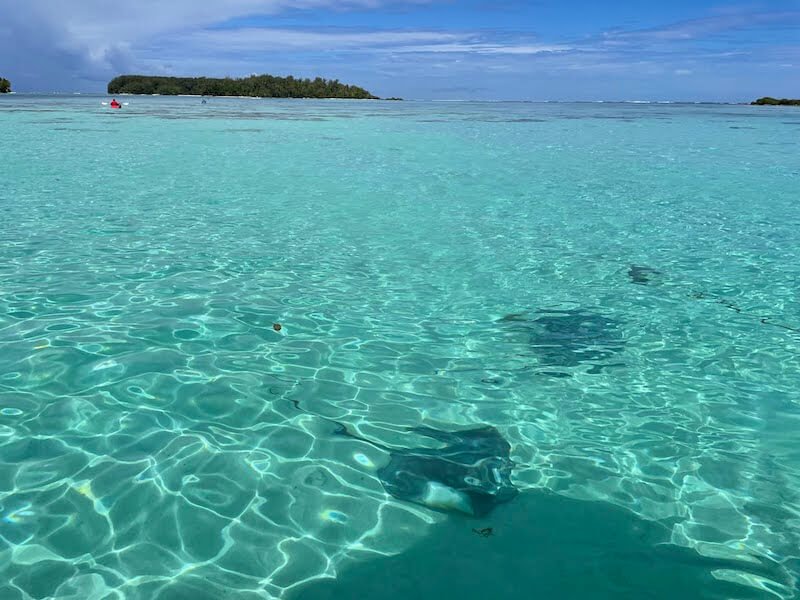 The first snorkeling location, Banc de Sable Raies et Requins, lies just off the shore of the now-closed Intercontinental Moorea.
The second, Coral Garden Tiara, nestled between Motu Fareone and Motu Tiahura, boasts a rich diversity of marine creatures and vibrant coral species.
In between snorkeling, your captain and guide will pour you some locally produced fresh pineapple juice from the Rotui factory, even spicing it up with a splash of rum if you wish — with some fresh fruit on the side, in case you didn't get enough fructose!
Have a deliciously filling meal to end your first day in Moorea.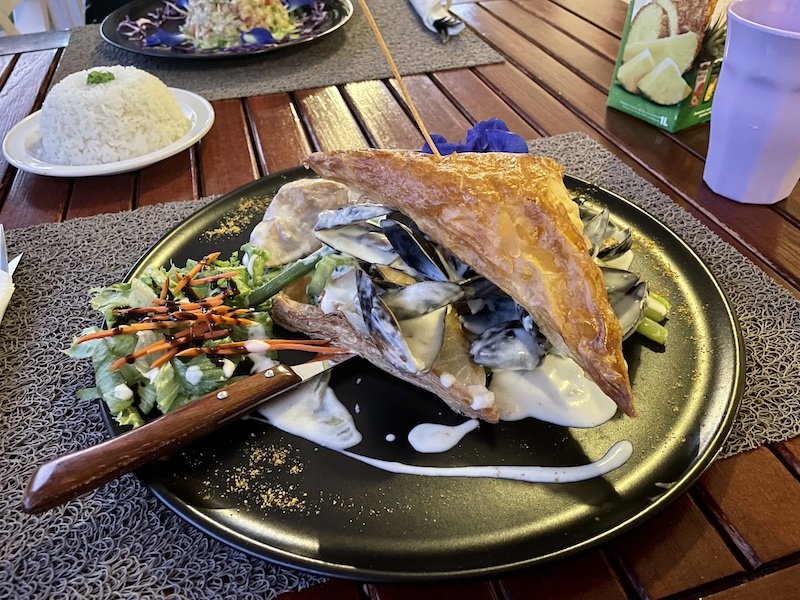 You're likely a little jet-lagged, and I wouldn't want to jam-pack this Moorea itinerary to the point of being downright unenjoyable.
So after your snorkeling and catamaran excursion, I recommend going back to your hotel, taking a nice shower, resisting the urge to take a nap… and then getting back out there for an early dinner.
I thought the food scene in Maharepa was excellent. For a first dinner, I'd suggest Chez Keiki — it's appropriately celebratory feeling and absolutely delicious.
Definitely order off their specials menu — their typical menu is similar to that of almost every restaurant on Moorea, but their specials are something truly… well… special!
Day Two of Your Moorea Itinerary
Snorkel with humpback whales (if it's the season!).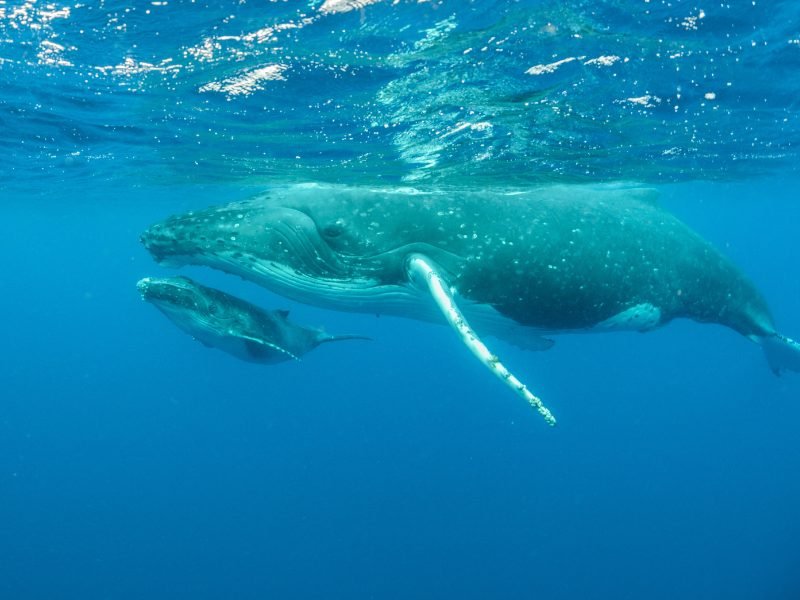 Each year, from mid-July to mid-November, migratory humpback whales grace the warm waters surrounding Moorea and Tahiti, taking a pause in their extraordinarily lengthy journey to birth and nurse their young.
Moorea is among the few locations in the entire world where you can experience a close encounter with humpback whales in their natural habitat!
French Polynesia permits and tightly regulates snorkeling with these magnificent creatures (diving with them is not permitted, though of course, if you came across one while diving, that would be incredibly lucky!)
In this half-day boat excursion, you will seek out humpback whales — and if you have favorable water conditions, you can even snorkel alongside them, maintaining a respectful distance and not crowding the whales.
Plus, during the boat trip, it's not uncommon to see playful dolphins racing alongside the boat's wake: just like the ones we observed!
In addition, you'll get to explore the lagoon (the same one you visited on day one, but come on — there's no such thing as visiting this lagoon too many times) with huge numbers of sharks and rays.
There are both morning and afternoon departures; usually, the morning departures are associated with calmer waters, a factor worth considering.
To prevent overwhelming the humpback whales, these groups are intentionally kept small, limited to eight participants.
This highly acclaimed whale snorkel tour includes a guide, snorkeling gear, hotel pick-up and drop-off (a seldom-found convenience), and refreshments including fresh fruit and drinks.
Get a great view at Toatea Lookout.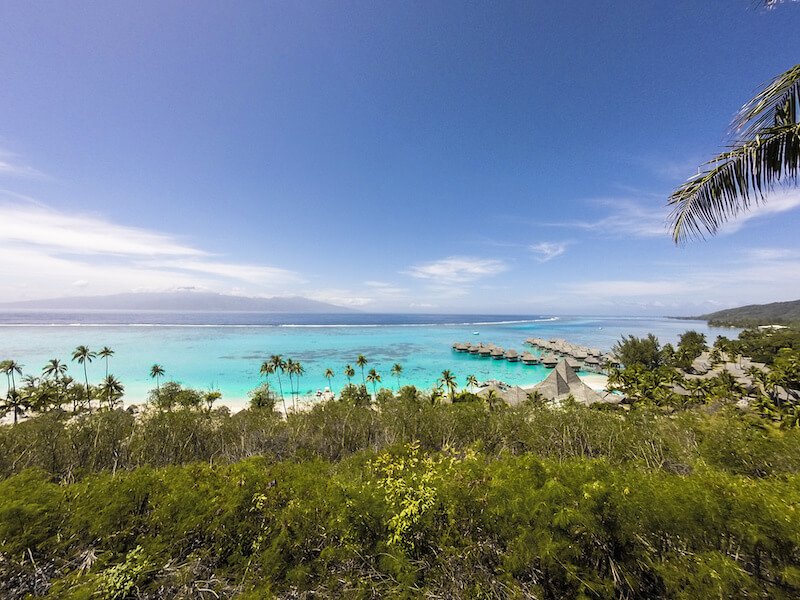 Toatea Lookout is another superb viewpoint on the island, offering breathtaking views of the overwater bungalows of Sofitel Kia Ora, the lagoon facing Tahiti and the reef structures, and even Tahiti visible in the distance!
This scenic spot is conveniently situated between the Moorea ferry terminal and Moorea's airport, but best of all, it's close to Temae Beach — our next stop on this Moorea itinerary.
Since you're en route to Temae Beach, it's certainly worth making a stop at this viewpoint!
If you're traveling by taxi, don't hesitate to request a brief stop here to capture some memorable photographs — it shouldn't cost you much extra, as you'll just have to pay for your taxi's wait time!
Have lunch on the beach at Temae Beach.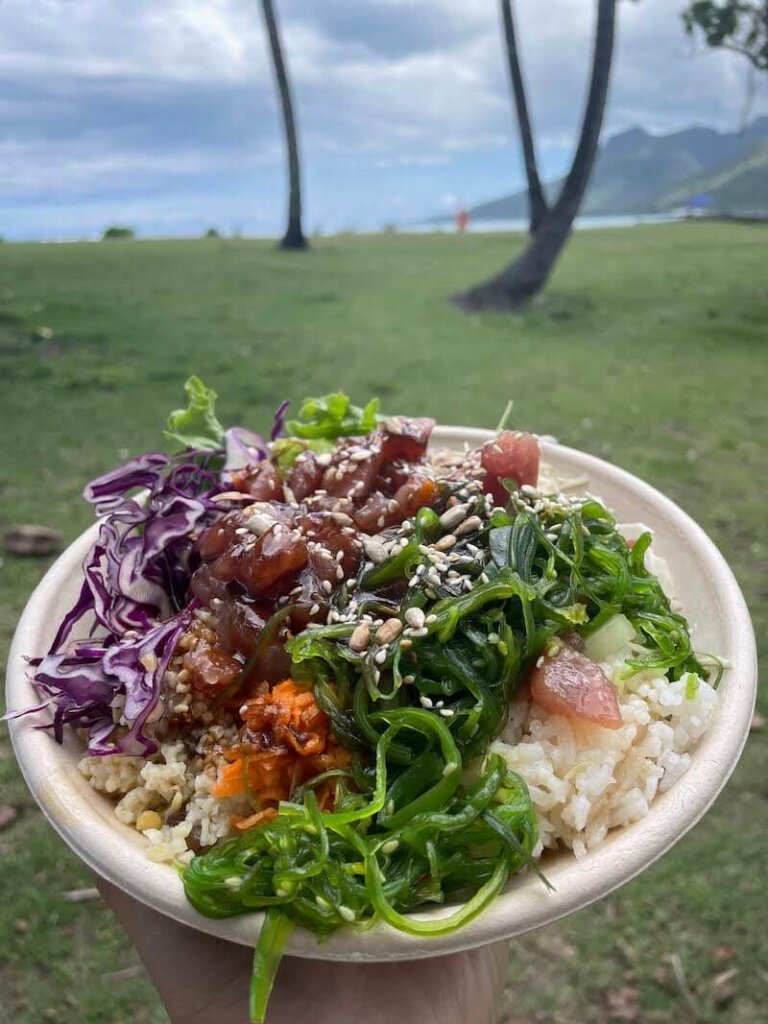 Time for some beach time — but first, lunch!
There's a small food truck near Temae Beach that has no right being as good as it is… but it's absolutely delicious.
Get their fresh poke bowls — ideally with tuna and wakame salad — and delight in some fresh fish with an epic view of Moorea and even Tahiti in the background!
Spend the day enjoying Temae Beach's white sand (or go for a snorkel!).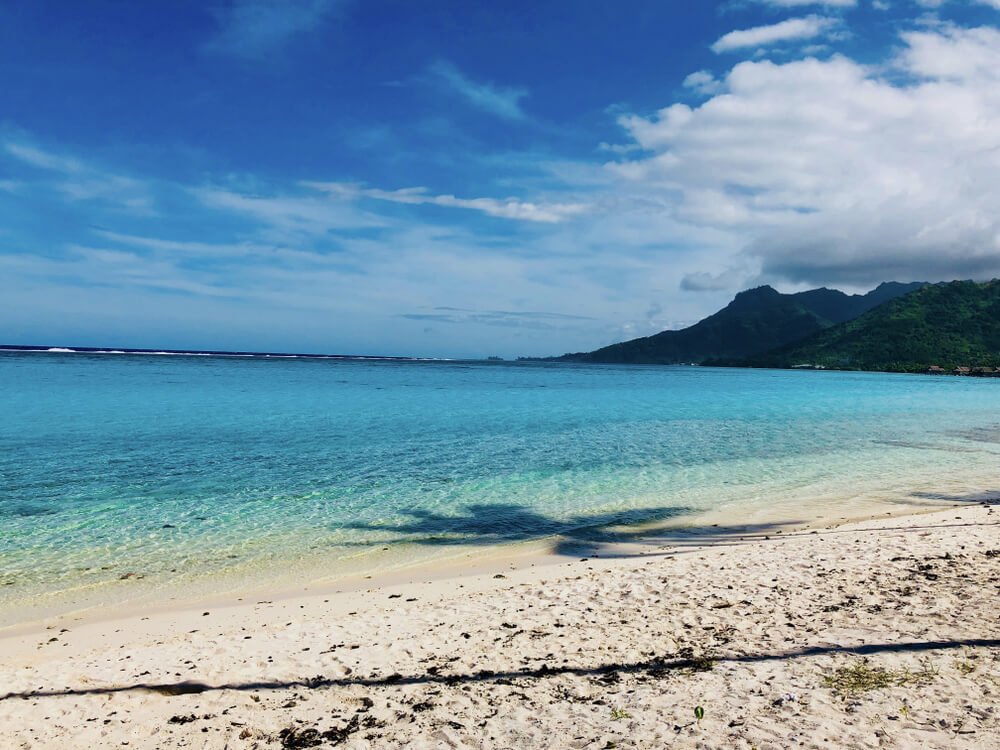 While you may think of all of French Polynesia as a white-sand paradise, that's actually not quite true — especially for the Leeward Isles of Tahiti and Moorea, which are mostly volcanic islands instead of the coral atolls you'll find elsewhere in the archipelago.
That said, there are still some patches of white sand beach to be found on Moorea: and that best patch of beach is open to the public, Temae Beach.
This is a great place to just lay out a towel and enjoy soaking in the views — you'll see Tahiti right in front of you (with a blanket of turquoise-cerulean water between you, naturally) and to your right, the breathtaking overwater bungalows of the Sofitel.
For a truly spectacular day out, bring your own fins, masks, and snorkels (as there is nowhere to rent them at the beach) and prepare to explore one of the premier locations for independent snorkeling in Moorea!
Picture fields of staghorn coral and brain coral, punctuated by brightly colored giant clams that seem straight out some psychadelic Wonderland
Plus, there's an extraordinary diversity of reef fish species that inhabit this reef – I could hardly attempt to list them all, despite my fish ID obsession.
Expect to find all sorts of territorial damselfish, quirky clownfish darting in and out of anemones, stoic-looking surgeonfish, the rascal-like raccoon butterflyfish, or all colors of spectacular chromis.
Wander and admire the Sofitel overwater bungalows.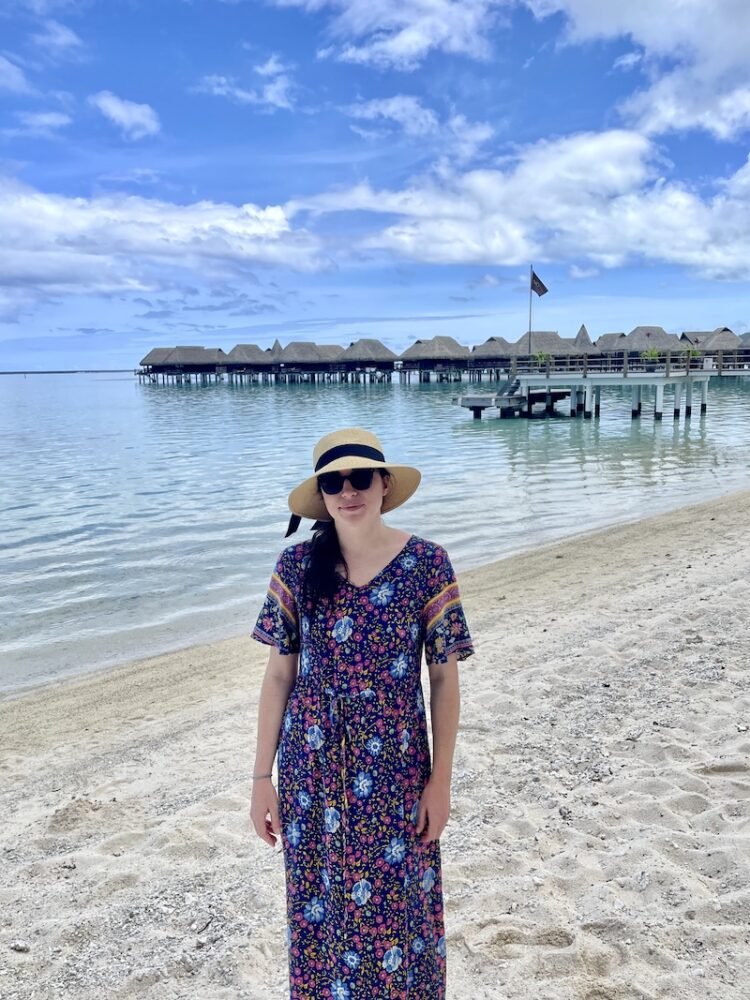 While on Temae Beach, you're very close to the Sofitel.
And since the Sofitel is on a public beach, there's nothing stopping you from (politely) stopping by to visit and admire the property, even if you're not staying there officially.
You can certainly get something to eat at the Sofitel and make a dinner out of the experience, or you can simply admire the bungalows in the distance or even go for a snorkel in this part of the reef.
Just remember that guests here are paying a premium for the privacy of the overwater bungalows, so don't be a jerk.
You can take photos with them in the background, but don't mess with anyone's private space or climb on anyone's ladder or deck.
Optional: Night snorkeling on Temae Beach!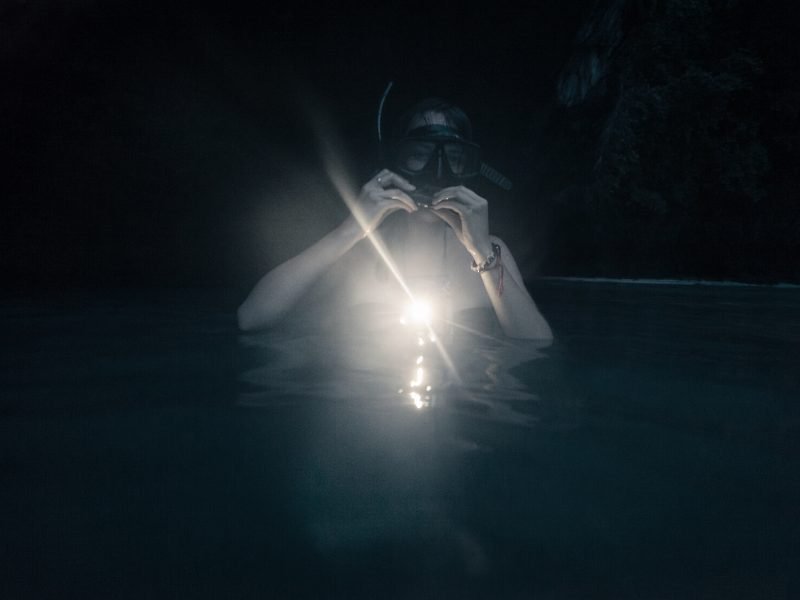 More snorkeling? If you're groaning, move along — but if you're intrigued, keep reading!
I didn't go night snorkeling while I was in Moorea, but I'm a huge fan of night dives… and let me tell you, the sea life that you see at night is unmatched compared to what you see by day!
Think octopus out-and-about, hunting and changing color dramatically right in front of your eyes in vibrant hues of pale blue and lavender.
Think lobster, eyes glinty and visible with your dive torch, with their claws outstretched, feeding by night.
Think normally-shy moray eels occasionally leaving their favorite dens to go out and hunt for fish at night, undulating beautifully under the water.
These are all the things you can see on a night snorkel experience and it's pretty breathtaking!
You'll get to experience a side of the underwater world you're not used to when you do a night snorkeling tour!
Led by a guided and armed with a flashlight and wetsuit, you'll get to enjoy the stunning dark waters of Moorea's reef and see a totally different side of the reef.
Suggested Tour: Night Snorkeling Tour of Temae Beach

If you don't mind the dark, this guided snorkeling tour of Temae's reef by night is sure to be one of your favorite experiences.

Night dives are one of my favorite things like, ever (what can I say, I love seeing the eyes of crustaceans light up and the rainbow-colored octopus out and about hunting as opposed to hiding).

I imagine night snorkeling to be just as fun!

➜ Book your night snorkel experience here!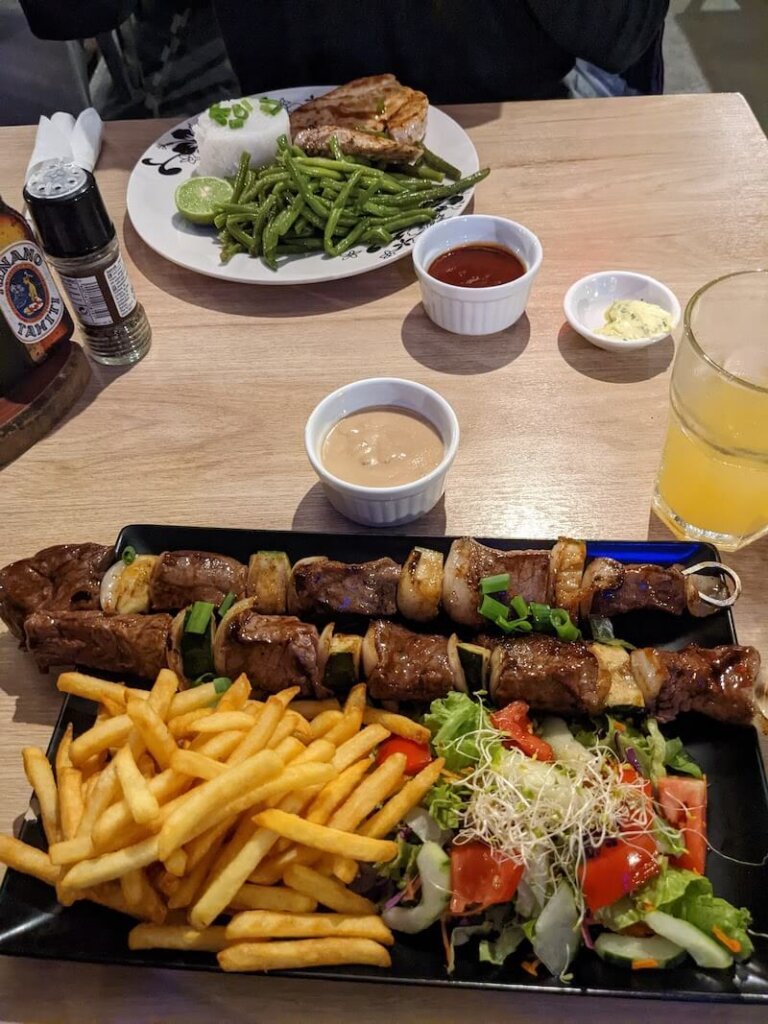 If you don't want to go snorkeling for the third time today (fair), head back to your accommodation area for some dinner.
I suggest a meal at Manua Grill if you're in Maharepa — their brochettes are so good, especially their steak brochettes with Roquefort sauce!
Day Three of Your Moorea Itinerary
Explore the island on a guided 4×4 tour.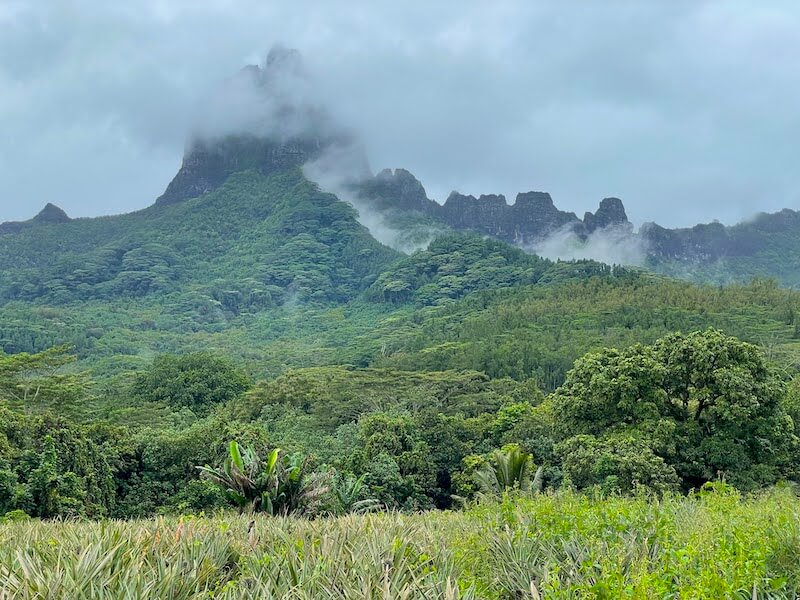 The next fun thing on our Moorea itinerary is a staple of any trip to the island: a 4×4 Jeep Safari Tour, a unique way of traversing the island's most impassable routes in pursuit of some of the most epic views.
First, we started with an exhilarating journey up to Magic Mountain, a task for which I was exceedingly thankful for our 4×4.
Trust me, your average rental vehicle would not manage this road (and personally, even attempting it in a 4×4 would likely cause me some heart palpitations).
While normally this is quite an epic view, we were a bit unlucky with the weather and had a downpour all day.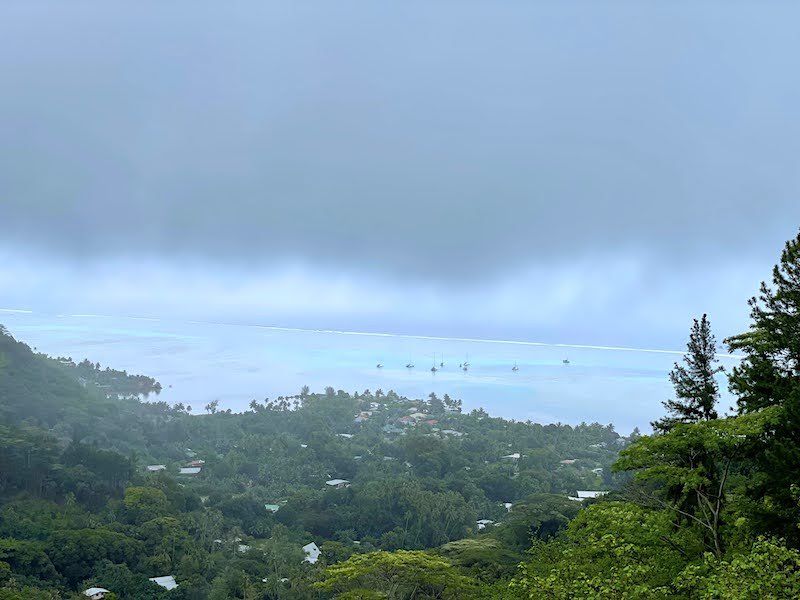 Though we were comfortably dry inside the plastic-sheeted 'windows' of the 4×4, the vistas from Magic Mountain were somewhat obscured by the bad weather.
Still, the brief glimpse we managed of the bay from our vantage point on Magic Mountain was undoubtedly breathtaking (until it disappeared completely into a storm).
After visiting Magic Mountain, we visited a local farmer's stand, where we learned about vanilla cultivation (did you know it's the only fruit that grows from an orchid?) and sampled their delightful array of jams!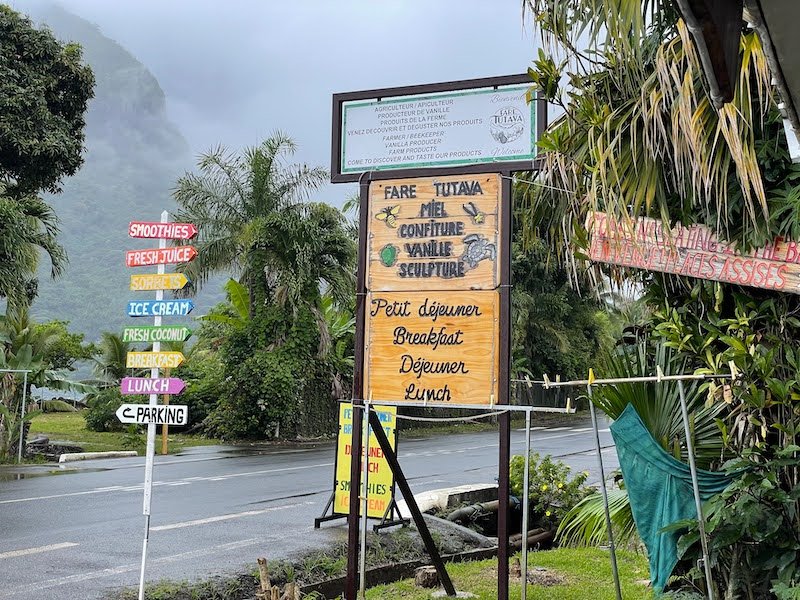 The local shop, called Fare Tutava, was a great place to pick up souvenirs from Moorea or tasty snacks.
We did a jam tasting and I ordered a coffee to perk up and warm up from the downpour. You could also get a juice or a smoothie, or even a meal.
Next, we paused at the Belvedere, for another rainy yet striking view — I can only imagine how beautiful it would be in the sun!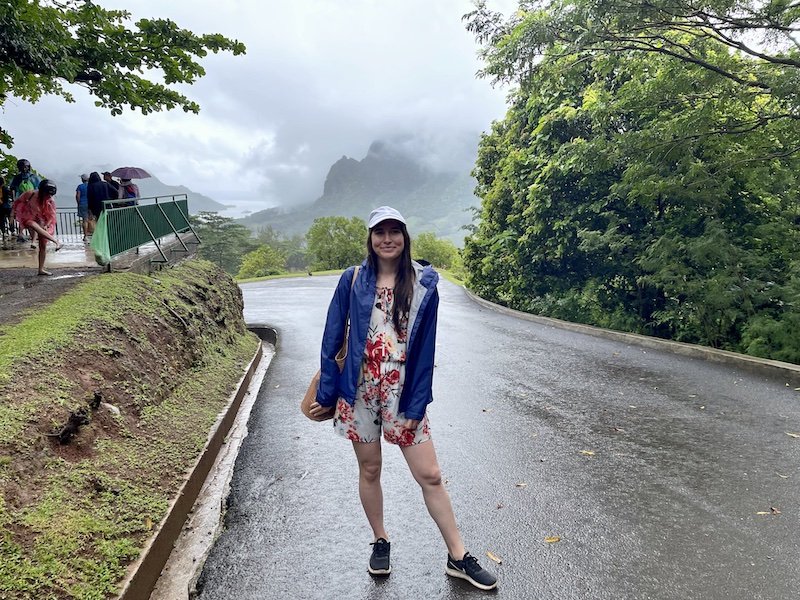 After that, we ventured into Moorea's island core to witness the pineapple plantations owned by Rotui, the island's huge-name juice factory.
We also made a stop at the Rotui gift shop, surprisingly devoid of the usual tourist trap nonsense.
Instead, they sold a delicious array of consumable souvenirs, including incredible local chocolates and various fruit-based liqueurs.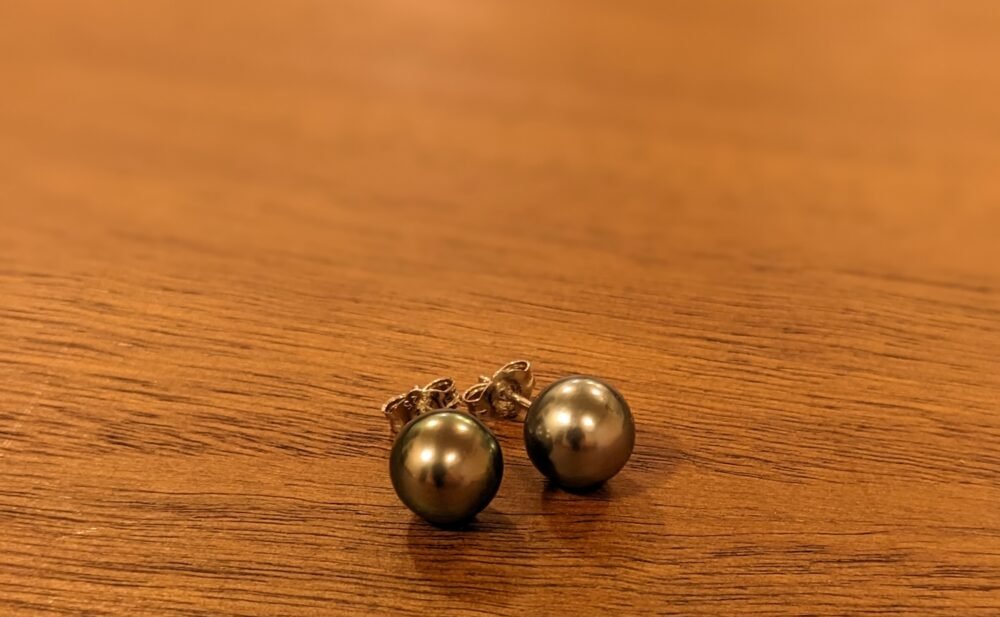 Finally, we concluded the day at a jewelry store specializing in Tahitian pearls, where we learned about the pearl cultivation process in Tahiti and learned why Tahitian black pearls are so rare and prized.
As part of the tour, we received a generous discount. This is where my girlfriend bought her pearl earrings — for a far better deal than she would have gotten in town, as we had already stopped by a pearl shop the previous day to comparison shop!
Have lunch at a roulotte.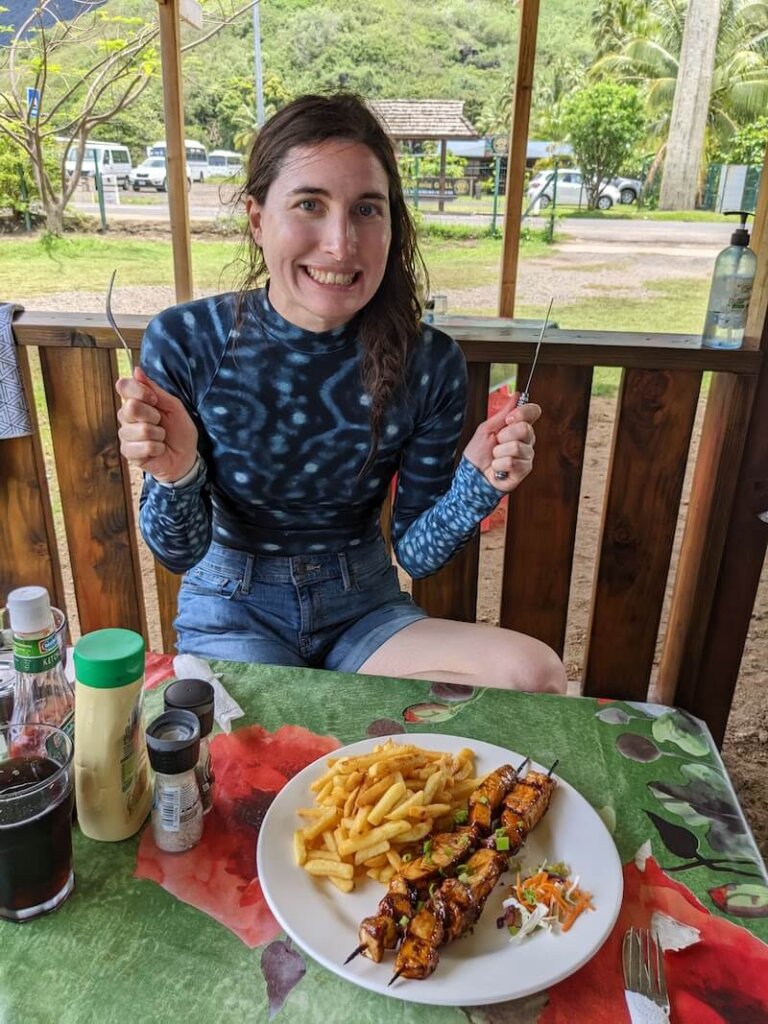 While French Polynesia often invokes images of high-end luxury, the fact is, away from the resorts in Bora Bora, Moorea's island ambiance is wonderfully laid-back.
In fact, Tahiti and Moorea trip costs can be far less than you expect!
I spent about half of what I did in Hawaii vs. when I visited Tahiti and Moorea.
Sampling the local cuisine from Moorea's food trucks (also known as roulottes or snacks) is a top recommendation for any foodie in Moorea.
These humble little food hubs, scattered all around the island, offer an unexpectedly rich dining experience!
There's the national dish, poisson cru, a dish of raw fish served with coconut milk, lime, and crunchy raw veggies — you certainly shouldn't miss this!
These food trucks also often serve raw fish in two additional styles: ceviche (sans coconut milk, high on acidity) and carpaccio (drizzled in exquisite olive oil!).
Other must-try delicacies include brochettes (skewers) with fish varieties like mahi-mahi, grilled swordfish, fish sandwiches… I think you get it.
Basically, if it's fish, it's locally-caught, fresh, and bound to be mouthwatering!
Spend the afternoon going for a kayak in Moorea's clear waters.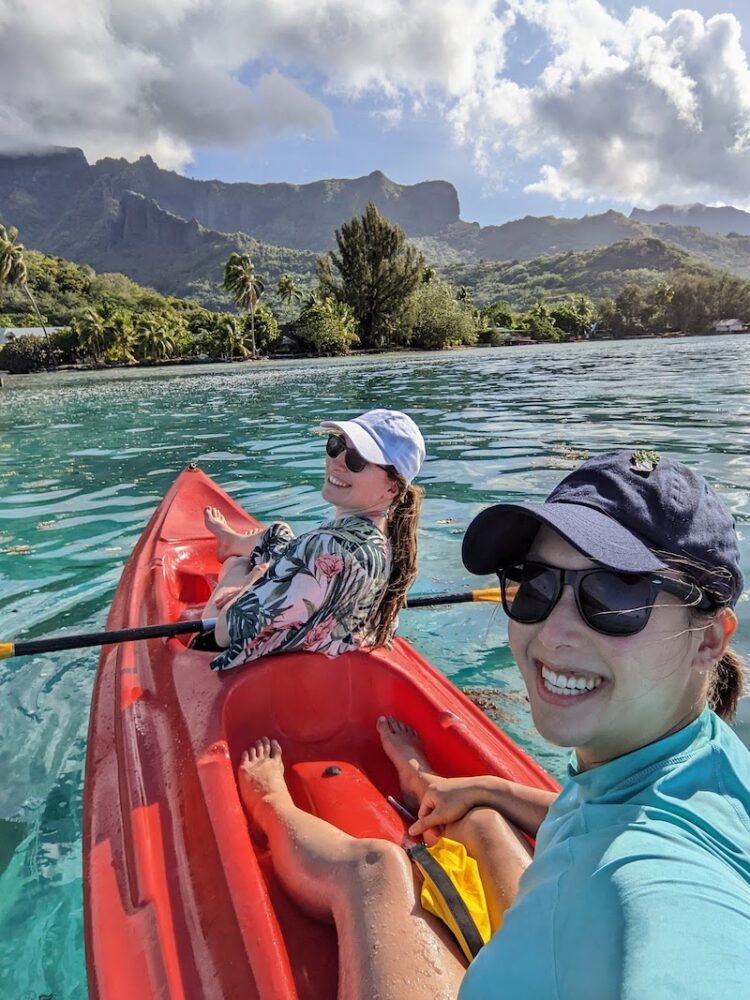 Many hotels (like ours) include free kayak rental as part of their accommodations, so this can be a great free activity to cap off your day.
We simply covered up so we wouldn't scorch in the hot Tahitian sun, grabbed our kayak, and went for a little paddle around the Maharepa coastline!
If you want a special experience, you can also try going in a transparent kayak — yes, your own personal glass bottom boat!
For a more unique way to experience kayaking — and capture some incredible photos while doing so — you can take a one-of-a-kind transparent kayak lagoon tour!
On this tour, you can journey through the lagoon in Moorea in a see-through kayak that can fit two people, led by a local guide.
As you gaze through the clear kayak's bottom, the underwater clarity is simply phenomenal, like a window into an undersea world ruled by shy sea turtles, graceful pink whiprays, and darting blacktip reef sharks.
While many lodgings offer kayak rentals (usually included in the cost of your stay), this tour stands out as the only one on the island that features these distinctive transparent kayaks, alongside the benefit of a guide!
The tour comes with all essential equipment, comprising kayak rental, life vests, and a waterproof bag for your personal items upon request.
Please note that transportation to and from the kayak departure site is not included, but it's available for an extra charge.
Day Four of Your Moorea Itinerary
Go fun diving (or try discover diving!).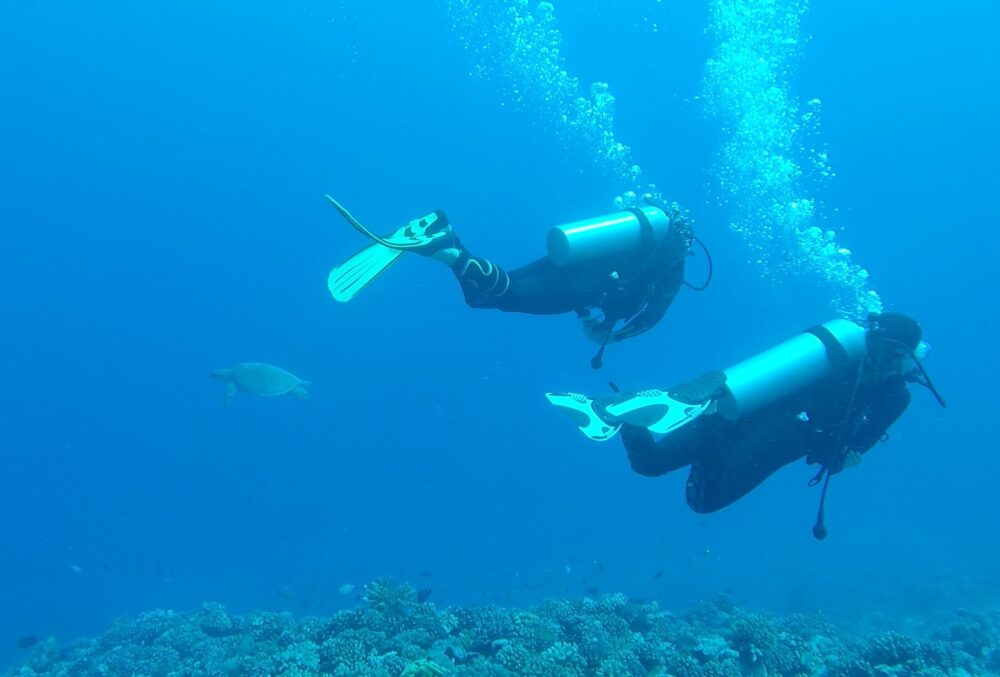 Experiencing scuba diving in Moorea is an extraordinary adventure that all sea lovers — whether you're a certified diver or not! — should seize.
Luckily, even if you're not yet certified, you can take a discovery dive, aided by an instructor with more close instruction, and sticking to a shallower maximum depth.
Although the reefs around Moorea did experience some bleaching during the mass coral bleaching event in the South Pacific back in 2019, they are rebounding and look quite vibrant, and there's an abundance of marine life to admire — especially turtles!
We did four dives in Moorea and encountered far too many turtles to count, a slew of reef sharks (both blacktip and gray-tip), huge schools of fish, and magnificent underwater landscapes that I'll forever remember!
The luckiest divers may even get a glimpse of the island's renowned lemon sharks (sadly, we did not), or possibly hear the serene melodies of humpback whales echoing in the distance!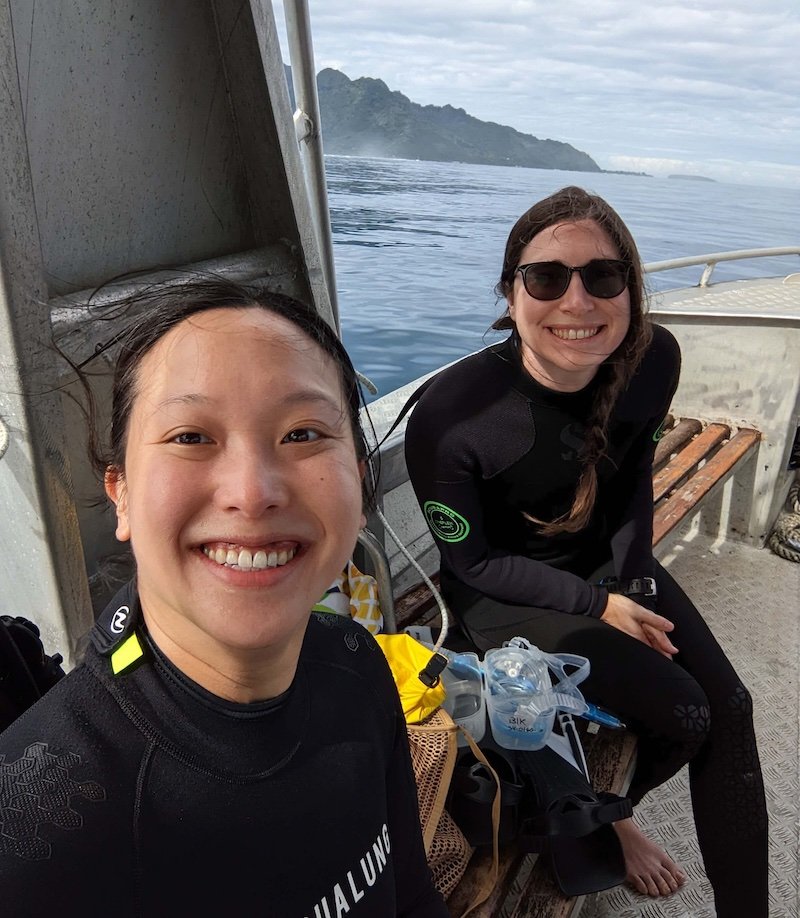 Moorea's scuba diving conditions are suitable for all skill levels, with mild to virtually no currents, warm waters all year round, and dives that only go down to relatively shallow depths where a lot can be seen (perfect for those who only have their open water, or are doing a discovery dive).
We booked all our dives with Moorea Blue Diving, the dive center at the Manava Beach Resort, and our experience was nothing short of delightful.
We explored four fantastic dive sites: Rotui, Mamaru, Taotoi, and the Mur de Corail (The Coral Wall).
Our divemaster was both professional and engaging, pointing out all sorts of animals underwater.
The boat crew was also exceptional, keeping us nourished and happy between dive intervals with delicious cookies and hot beverages, and pointing our wild dolphins and even humpback whales spouting in the distance.
🤿 Recommended Dive Shop: Moorea Blue Diving

We did all our dives with Moorea Blue diving and loved it! You can save a bundle by booking a package tour here.

They offer several different 2-tank packages; from single day to 3-day (6 tanks) to 5-day (10 tanks) and 6-day (12 tanks) — each dive gets more affordable as you go!

They also do discovery dives if it's your first time — or you can even get scuba certified here!

➜ Check dive packages and more information here!
Relax with a tasty lunch and a massage.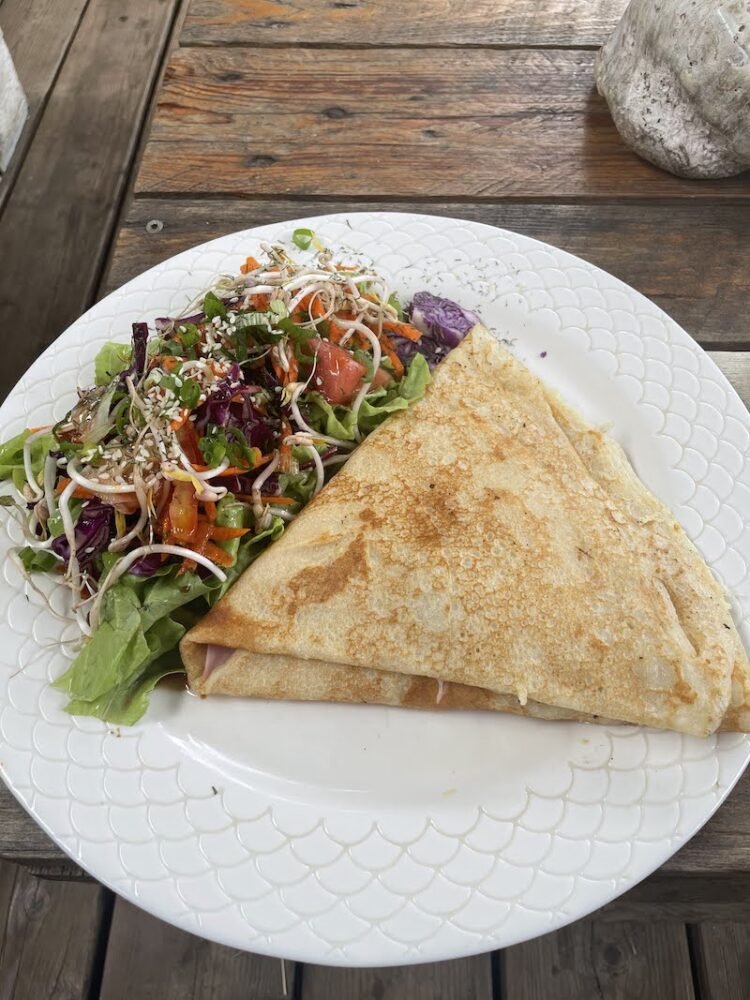 After your dives, go for a delicious lunch and treat yourself to a massage — because diving is tiring, hard work, even if it is so much fun!
We loved the crepes at Restaurant La Grand Voile, and thought it was a delicious way to refuel after a dive.
After that, we had massages at Frangipanier Bali SPA Moorea in the same little mini "strip mall" of sorts.
Our massages were some of the best I've ever had, with deep pressure that unworked some of my toughest knots, for about $65 USD for an hour-long massage.
Watch an epic sunset.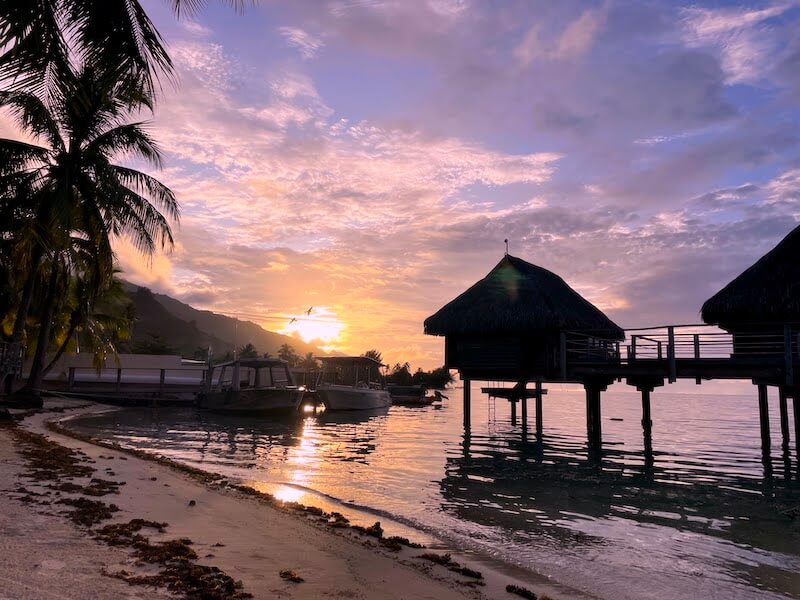 One little-known thing about Moorea is that many of the hotels with overwater bungalows welcome guests without needing to pay a full-on day pass (the exception is the Hilton).
Manava Beach Resort has a small public patch of beach that all can enjoy, to the left of the pool area.
You can also dine at one of the restaurants at the resort, but the menus didn't look particularly appealing to me.
That said, this is a great spot for a sunset appreciation pause before dining either at the resort or at one of the other great restaurants in the area, like Rudy's.
Day Five of Your Moorea Itinerary
Choose your own adventure!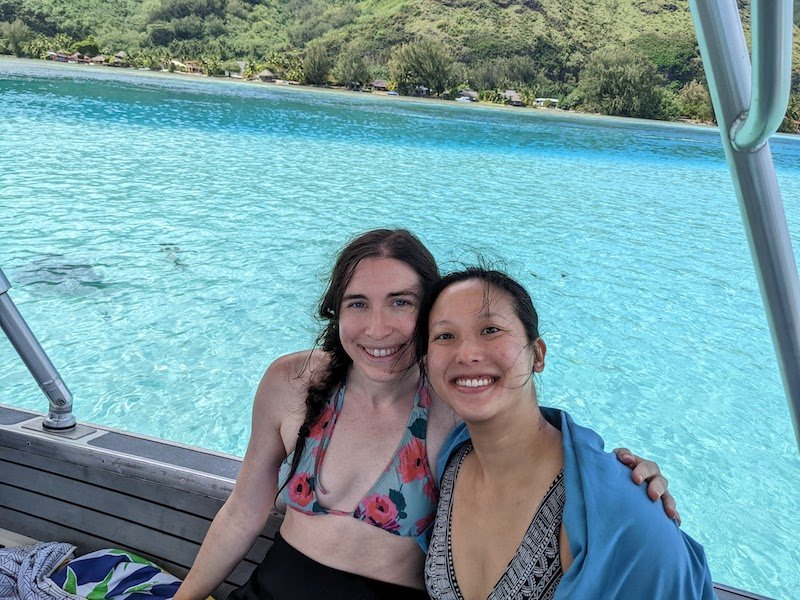 On your final day of your itinerary for Moorea, you can do any number of things.
You can do as we did, and do another morning of fun dives (or go all-out and do four dives in a day, a two-tank dive in the morning and a two-tank dive in the afternoon!)
Alternately, you could visit some of Moorea's other public free beaches, like Tiahura Beach or Ta'ahiamanu Beach.
Both have no public amenities like showers, restrooms, etc. but do have a lot in the area so you can easily find food and make a day out at the beach.
Both beaches also have small snorkeling areas, although Temae Beach still has the best off-shore snorkeling on the island.
Another option could be going for a hike! There are a number of hikes that depart from the Belvedere lookout, which you visited on your 4×4 tour.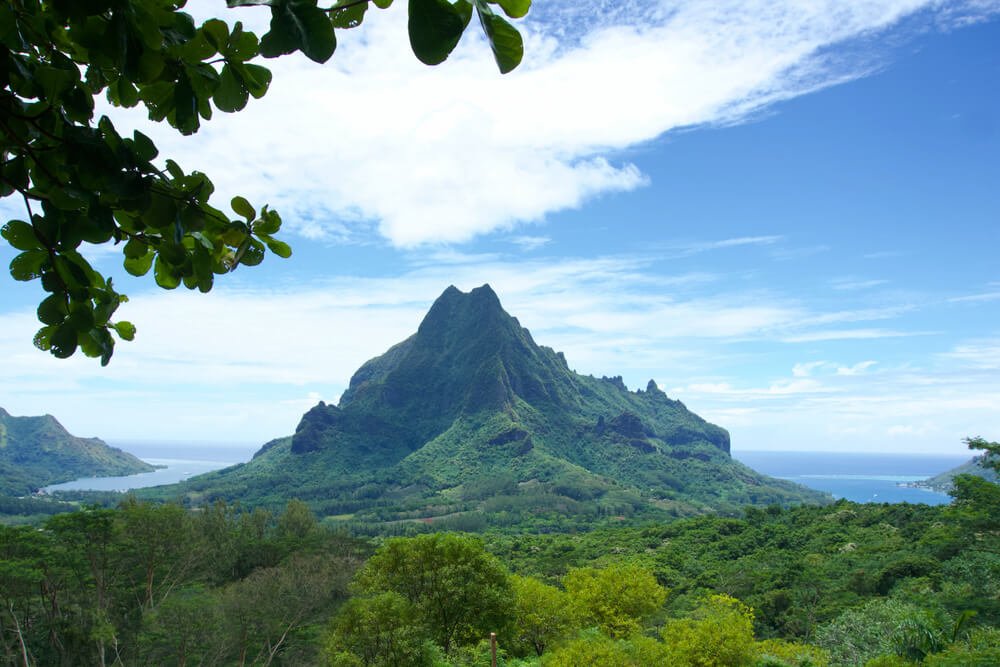 The easiest hike is the Three Coconut Pass (Col de Trois Cocotiers) — passing through Jurassic Park-looking landscapes as you traverse a hiking trail between two mountains, with the Opunohu Valley below you as you hike.
There's only 260 meters of elevation gain during this 4-mile out-and-back hiking trail, so it is a bit of an effort, but nothing back-breaking. It should take 2-4 hours, depending on your speed.
You can do this hike independently or you can hire a local guide, who will take you on further trails past the Three Coconuts Pass.
Where to Stay in Moorea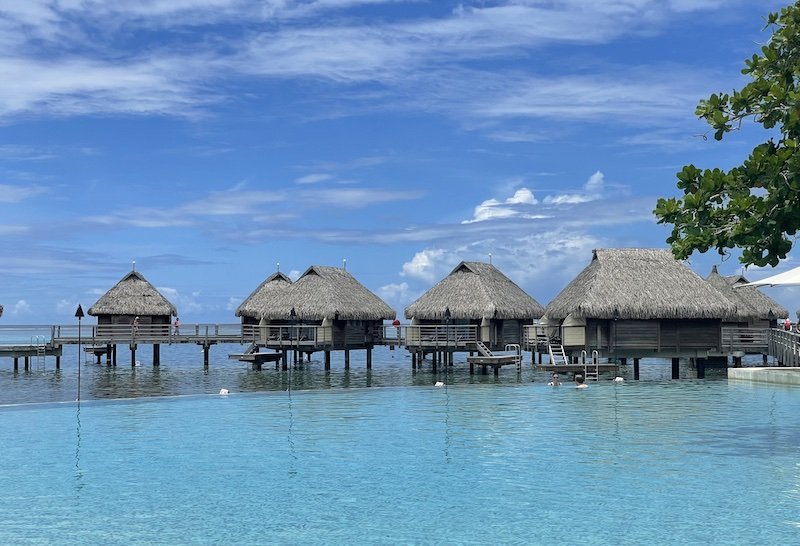 I do have a full guide to where to stay in Moorea here – but if you just want a few quick recommendations, here they are!
Budget Option: Haere Mai I Te Fare
Price Range: Rates range from $122 to $188 per night
Haere Mai I Te Fare stands out as one of the most enchanting guest houses on the island.
It's located just over a mile from Temae Beach, which is Moorea's finest beach for lounging on white sand (with views of Tahiti) and shore-based snorkeling.
The rooms have that traditional aesthetic, Polynesian thatched details, elegant canopy mosquito nets, and indigenous local arts and Tahitian crafts such as tifaifai quilts and handmade cushions.
Guests can also opt for a tasty breakfast add-on, though at about $20 a day, this part of the stay isn't exactly budget-friendly.
Even so, it's one of the top choices in Moorea, though be aware that it is somewhat secluded (the more vibrant areas are situated around Maharepa and Tiahura).
Mid-Range Option: Poerani Moorea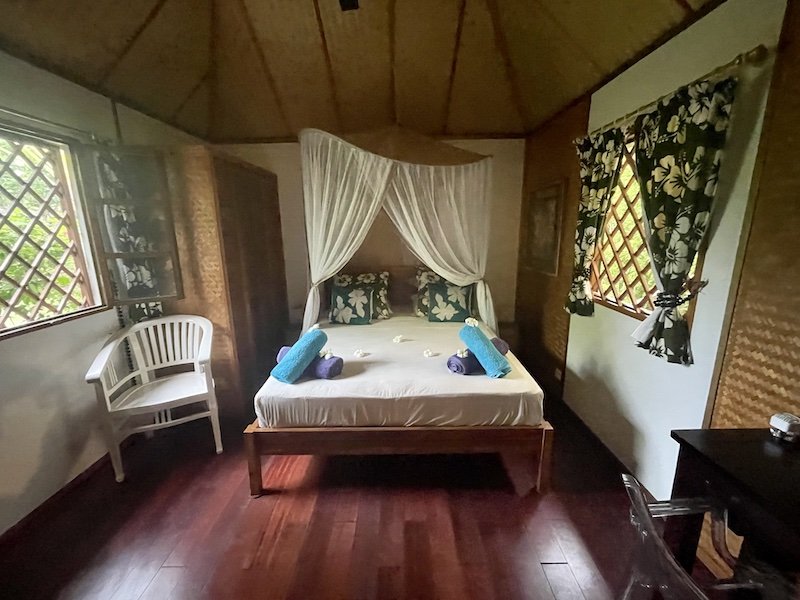 Price Range: Room rates range from $214 to $315 per night
This was our chosen accommodation in Moorea, providing excellent value for what we spent (we paid less than the quoted price due to our visit during the off-season), and we were thoroughly pleased with our stay.
The location, just on the outskirts of Maharepa, was fantastic, with a short 10-minute walk to all the superb restaurants in the town.
The property had a lush shared garden space for all to enjoy, in addition to complimentary kayaks for guests to use (which we made use of!)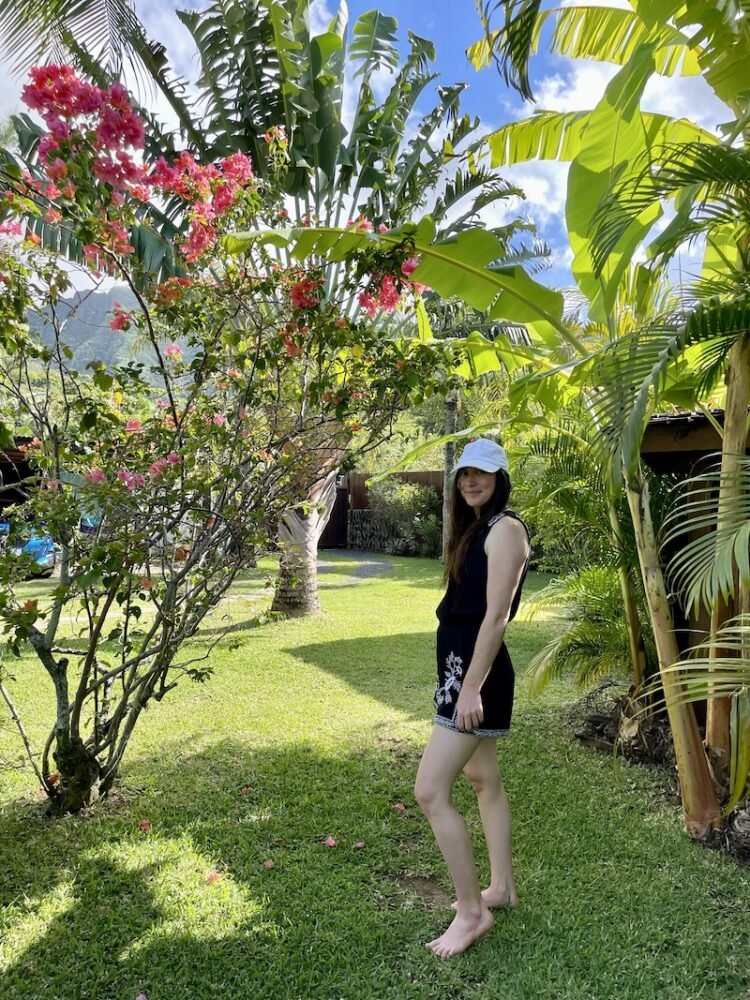 Our bungalow offered ample space and consisted of three rooms: a separate air-conditioned bedroom, a luxurious spa-like bathroom, and a fully equipped kitchenette complete with a stove, fridge, microwave, and an espresso maker.
However, it's important to note that only the bedroom was sealed and air-conditioned, which meant that mosquitos could (and did) access the living room and bathroom areas.
It wasn't a significant concern for me since I actually don't react much to mosquito bites, but if you are especially susceptible to or bothered by bites, it may be a hassle for you!
It is also possible that this was only a problem because we visited at the start of the rainy season and stayed in the garden bungalow vs. an oceanfront bungalow.
I know that I would stay here again, but my girlfriend — whose bites swell up like golfballs — probably would not!
Luxury: Sofitel Kia Ora Beach Resort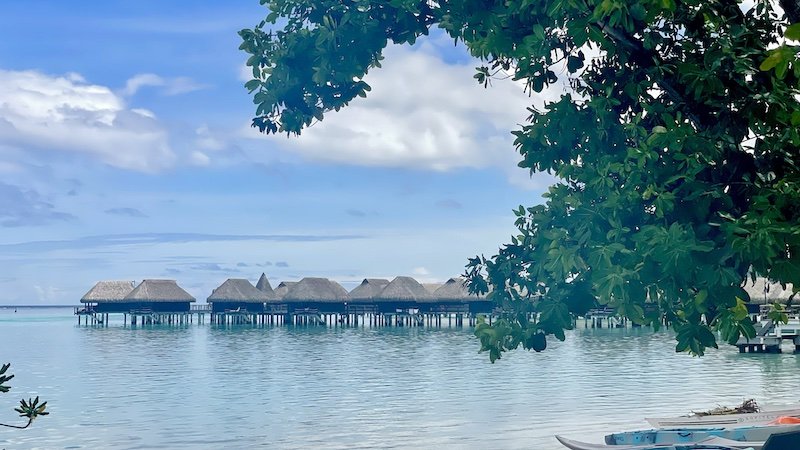 Price Range: Beach and garden bungalows starting from $645 per night and overwater bungalows starting from $836 per night
The Sofitel Kia Ora Beach Resort arguably takes the crown amongst the three exceptional hotels offering overwater bungalows in Moorea!
Although we didn't stay at the Sofitel, we took the opportunity to explore its premises after snorkeling at Temae Beach.
Like the beach, the house reef at the Sofitel is remarkably preserved as it's also part of the protected marine area.
The overwater bungalows at Sofitel are situated in one of the finest locations in Moorea: surrounded by stunning coral gardens all around — and on a clear day, there's breathtaking views of Tahiti in the distance!
The property provides more affordable beach and garden bungalows alongside its famed overwater bungalows.
If you're trying to manage your budget while still seeking the quintessential experience of an overwater bungalow, you can use a mix-and-match approach.
You could always begin your stay in a garden bungalow and then switch to an overwater bungalow for your last night!
The overwater bungalows come in two sizes — luxury bungalows offering nearly 900 square feet of space and superior bungalows with about 450 square feet.
The primary distinction between the two lies in their size and location, specifically the view they have and which part of the lagoon they're on (the better the location and reef, the higher the price!)
Regardless, all bungalows (both luxury and superior) are equipped with air conditioning, complimentary WiFi, glass panels in the floor to see marine life below you, direct lagoon access from your private terrace, and a minibar offering free refills!
Allison Green is a former educator turned travel blogger. She holds a Masters in Teaching and a B.A. in English and Creative Writing. Her blog posts merge her educational background and her experience traveling to 60+ countries to encourage thoughtful travel experiences that both educate and entertain. She has been a speaker at the World Travel Writers Conference and her writing, photography, and podcasting work has appeared in National Geographic, CNN Arabic, CBC Canada, and Forbes, amongst others. Now based in the San Francisco Bay Area where she grew up, she has also lived in Prague, Sofia, and New York City.