Preparing for a hike can take some effort, from picking a trailhead that is the appropriate difficulty, to deciding how to dress and how to pack, to figuring out key safety information before your hike.
Luckily, there is a wide variety of hiking apps out there that aim to make every part of the hiking process less intimidating!
From picking trails and tracking your route and progress to identifying plants and peaks in the distance, these apps for hikers go the distance when it comes to making sure you have a good, safe time on the trails.
I asked 15 fellow trail-loving travel bloggers from around the world to recommend the apps they find indispensable as they travel, hike, and camp their way around the planet.
As a result, this post features a wide variety of hiking apps that work well in destinations all over the world, including the US, Canada, Australia, New Zealand, the UK, and Europe, amongst others!
Here are their top picks for hiking apps.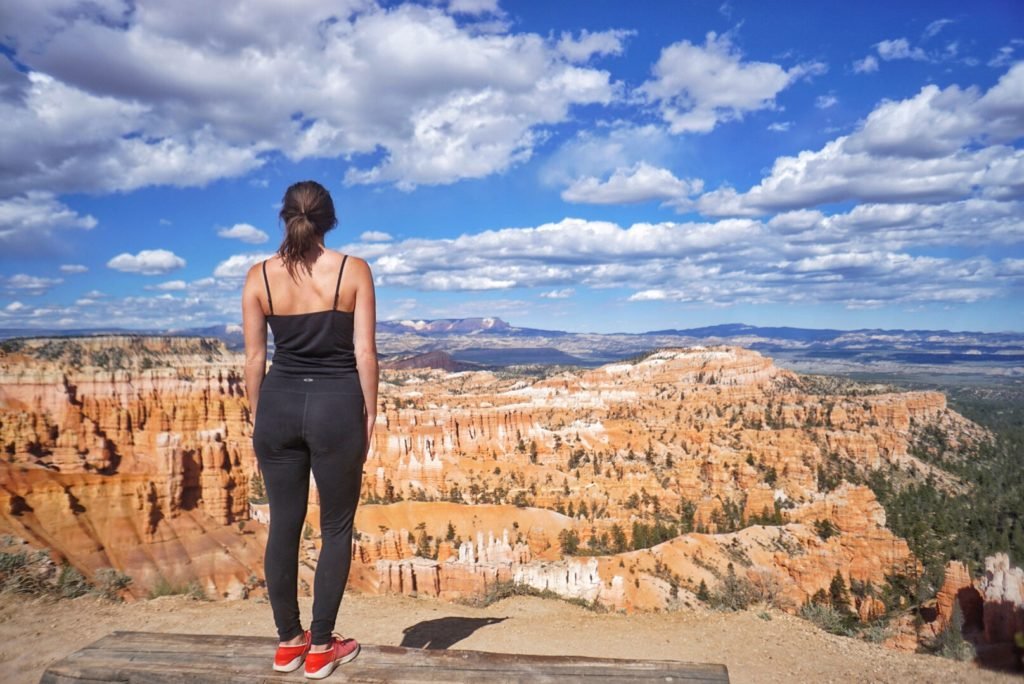 Note: This post contains affiliate links, which means I may receive a small commission if you purchase something through one of these links. Thank you for supporting the free content on this site! For more information on affiliate links and cookies, see my disclosure page for more details.
Inspired to take a hike? Here are some posts to get you started!

- Best Hikes in Glacier National Park
- Best Hikes in Grand Teton National Park
- Best Hikes in Yellowstone National Park
- Best Hikes in North Cascades National Park 
- Best Hikes in Zion National Park
- Best Hikes on Hawaii's Big Island
Hiking Apps for Picking Trails & Tracking Routes
AllTrails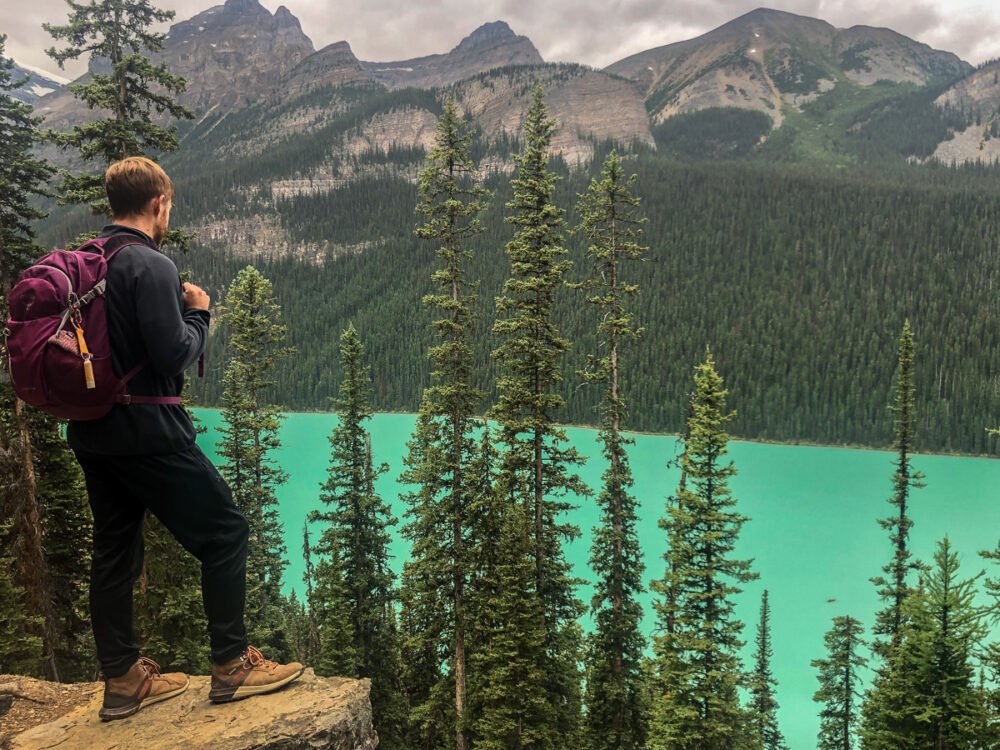 Recommended by Ben from Ticket 4 Two Please
Undoubtedly one of the best apps for hikers, AllTrails is an essential app for anybody that enjoys spending time outdoors. 
Originally created back in 2010, AllTrails now features hiking trails from over 100+ different countries around the world and has in excess of 10 million members – making it one of the most popular hiking apps in the world. 
The main function of the AllTrails app is to provide information on hiking trails in a given location.
This information includes the length of the trail, the difficulty, elevation gain, popularity etc. 
For example, when hiking in Lake Louise, you could use the AllTrails app to determine that Devil's Thumb is a 'difficult' hike with an elevation gain of roughly 883 m, whereas the Lake Louise Lakeshore Trail is categorized as 'easy' due to no elevation gain along the trail. 
AllTrails offers two subscription packages – the first, and most popular, is the basic membership that is completely free.
You simply download the app, make an account and you're free to use all of the basic features on the app like searching for trails, accessing the trails maps online and adding photos and reviews on trails you have completed. 
The second subscription option, AllTrails Pro, costs $29.99 for an entire year and features all the perks of the basic subscription package, as well as advanced features such as accessing trails maps offline, notifications to alert you when you go off the trail and use of the app without any ads.
AllTrails also offers a 14-day free trial of AllTrials Pro, which gives you the peace of mind of being able to trial-run the subscription package without having to commit money towards it.
All in all, whether you decide to pay for AllTrails Pro or not, the AllTrails app itself is an essential app for outdoor enthusiasts and certainly one of the best apps for hikers.
Wikiloc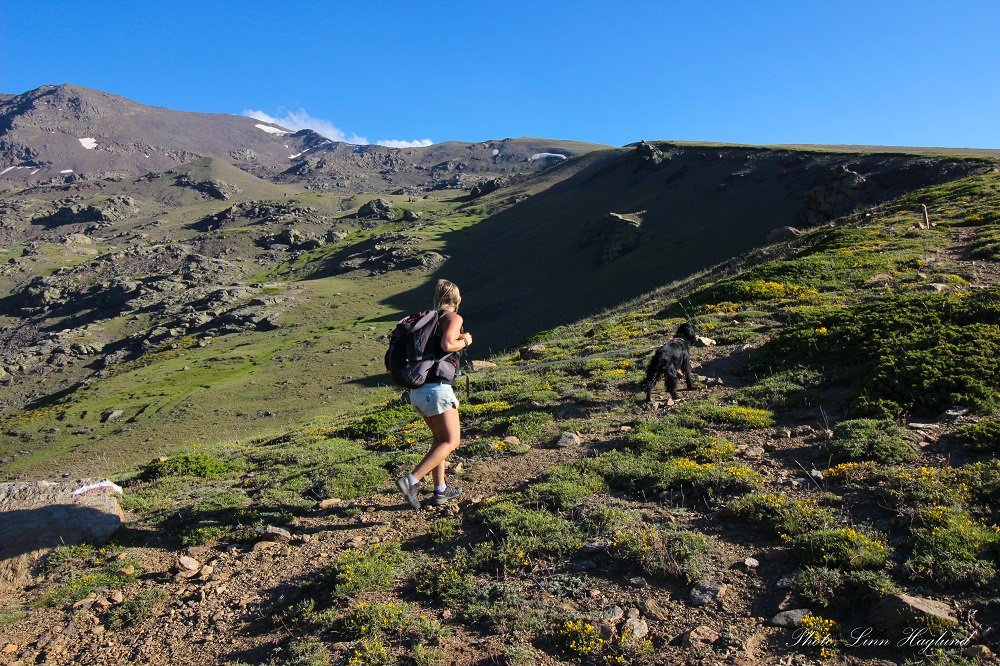 Contributed by Linn Haglund of Andalucia Hiking
One of the best apps for tracking, finding, and following hiking routes is Wikiloc.
They have a free version where you can track your own route and make them accessible for others with the app to follow.
You can add pictures, waypoints, and information on the route so that it is easier for others to follow the same track without getting lost.
If you want to follow another person's hiking track, you will have to get the paid version.
It is very economical at only 9.99 for a year and I highly recommend it.
With the premium version, you can download as many hiking trails as you want and follow them at the same time as you record your own trail.
This gives you the kilometers/miles you have walked, the average speed, elevation gain/loss, moving time, and total hiking time.
It is a great way to stay safe on the trail, especially when you go hiking solo or in places where the path is hard to distinguish.
The app will let you know if you are walking away from the trail and when you get back on it.
It is also easy to backtrack where you come from. Sometimes it can be hard to find the way back, but with Wikiloc recording, you see where you came from!
Hiking Project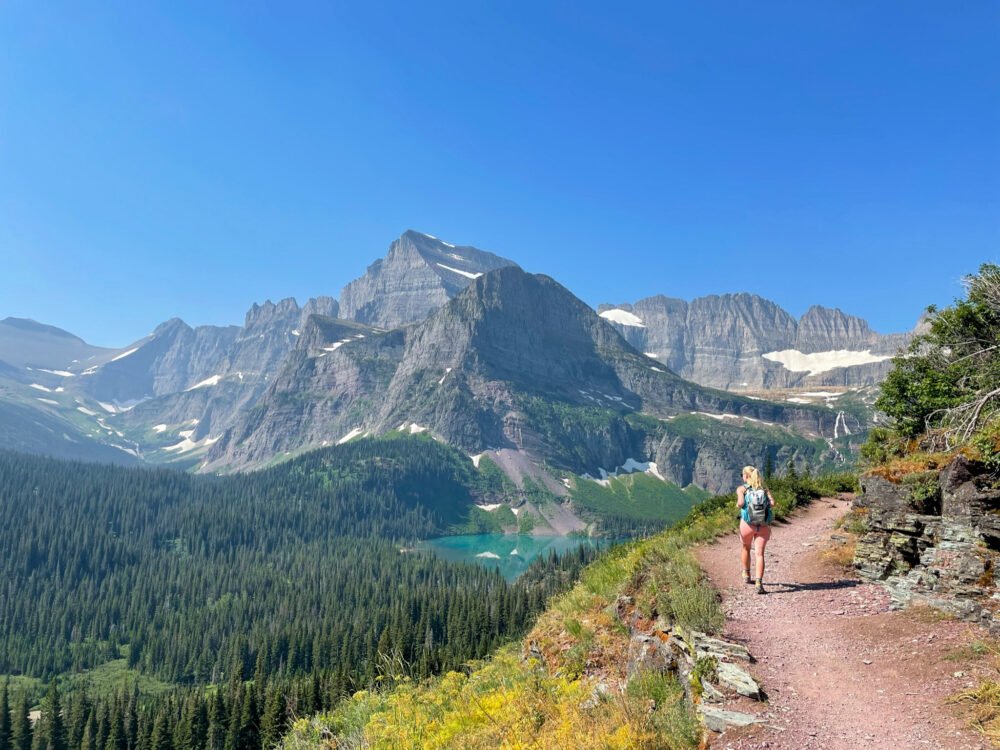 Contributed by Kassidy of The Hiking Helper
When it comes to hiking apps, Hiking Project is one of the best.
Hiking Project is a free app that is available for iOS and Android users.
It's the perfect place for hikers to find inspiration for new hikes in their area, or around the world.
When you open the app, you're immediately brought to a map of your location.
Within that map, you'll see hundreds of hikes that are ready to be explored.
You're able to zoom in on certain areas on the map and see where there are hikes in that location.
Click on a hike, and Hiking Project will tell you the difficulty, distance, elevation gain, and trail highlights.
If you know how difficult of a hike you'd like to go on, you can also filter by difficulty.
You can also use the app to search for a hike if you already have one in mind that you're interested in.
One of the best features of Hiking Project is that you're able to download a map of an entire state or country and use that map offline.
If you find yourself somewhere with no service, you'll still be able to find awesome trails!
Using Hiking Project, you're able to find hidden gems that otherwise may have been difficult to find.
Once you've found one of these epic hikes, you can favorite it and save it for later.
Hiking Project is definitely one of the best hiking apps out there!
Trailforks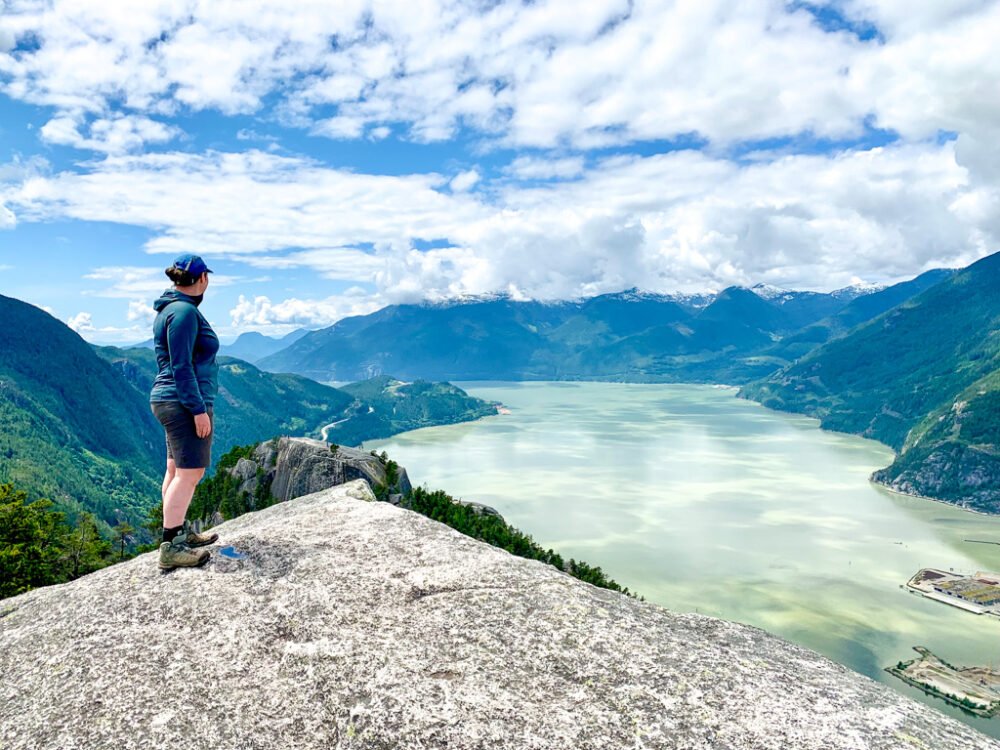 Contributed by Taryn of Happiest Outside
The Trailforks App was originally developed for mountain bikers, but they have branched out and now offer support for other sports like hiking, horseback riding, and skiing.
It's a GPS app that uses a crowd-sourced database of trails and shows your current position.
I like to use Trailforks when I'm hiking in confusing multi-use trail networks that include a mix of hiking and biking trails.
I use it all the time on the trails near my home in Squamish, an outdoorsy town on the way to Whistler, Canada. 
Trailforks has a few features that set it apart from other trail apps.
Most importantly, they partner with local trail associations around the world to ensure that the people who build and maintain the trails can help provide the most updated info about trail status and conditions.
You can also submit conditions reports while you are out hiking.
Another features I like is that each trail has a built-in clickable elevation profile that shows your current location.
That way, you can tell how much more climbing or descending you have to do.
The app also allows you to track your hike, check off trails you've completed, and build routes that use multiple trails.
You can access all of the Trailforks features for free on their website, which I like to use as a planning tool.
The app is available in both a free version and Trailforks Pro, which costs $2.99/month.
The free version has all the features, but a limited geographic area – when you install the app you'll need to pick a home area that is roughly 35 miles by 35 miles.
If you want to use the app elsewhere, you need to sign up for the paid version. Both versions also have prompts to encourage you to donate to local trail associations to support maintenance on the trails you are using.
FarOut Guides (formerly Guthook Guides)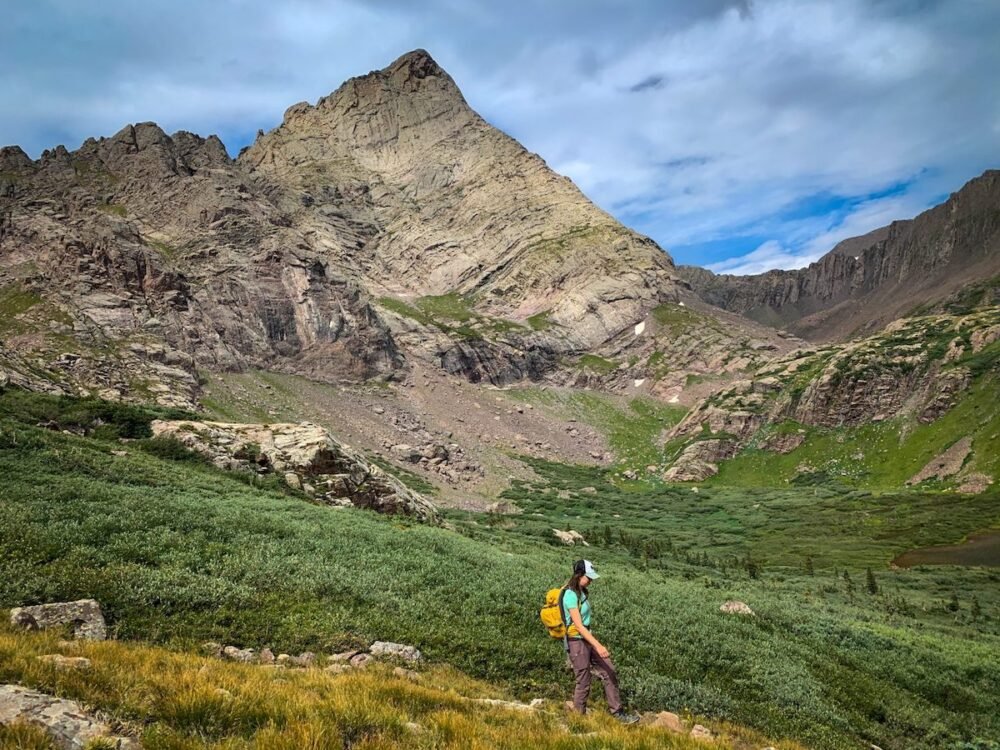 Contributed by Meg of Fox in the Forest

Recently rebranded from Guthook Guides to FarOut Guides, this amazing app is still one of the best hiking apps on the market today. 

In fact, it features over 35,000 miles of trails in its database and can be used offline as you get detailed information about wayward points and enjoy comprehensive routes that are specifically tailored to suit your personal needs. 
So, if you're a long-distance hiker or backpacker who is looking to thru-hike some of the best national parks for hiking then this is the ideal app for you. 
All you have to do is complete the initial app setup prior to starting your hike and then FarOut Guides will take care of the rest, allowing you to seamlessly use any guides you purchase offline. 
Therefore, while you can install the app for free, you will have to pay anywhere between $4.99 and $59.99 per guide depending on the length of the trail. 
However, the price is totally worth it since the date provided is super comprehensive, can be used offline, and is regularly updated to give you the best info possible. 
Plus, in addition to getting valuable info on water sources, campsites, elevation, and distance, the app will actually track your progress and location, ensuring that you'll never get lost during your next long-distance trek.
Komoot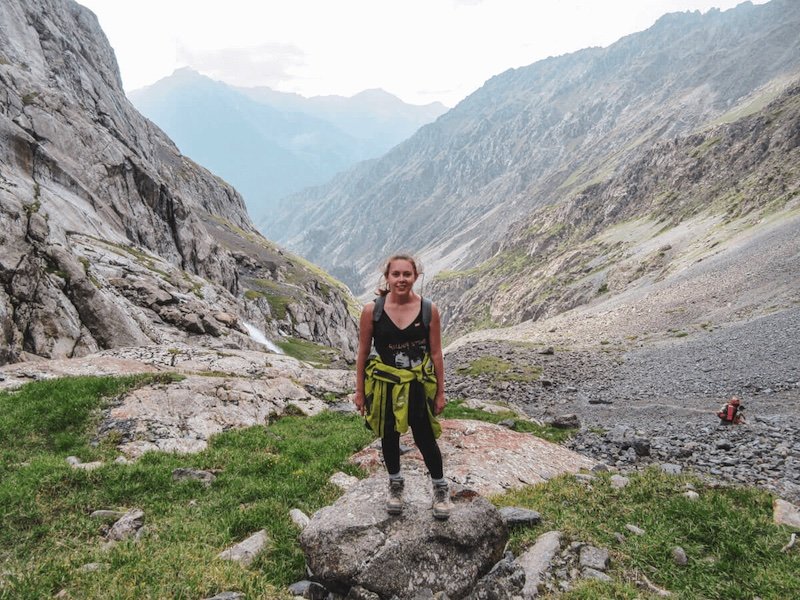 Contributed by Lauren of The Planet Edit
One of my favourite hiking apps is Komoot, which allows you to plan and navigate hiking trails, as well as connect with other hikers and find inspiration.
In terms of navigation, Komoot is one of the best I've found!
The Route Planner feature is able to calculate the optimal route to a destination and will provide the elevation profile and terrain details, as well as flag up any "hiking highlights" you can expect to see along the way.
It also has turn-by-turn voice navigation (premium version only) which is really useful when out on a trail with lots of crossroads, etc.
You can simply put your phone in your pocket and be alerted when you need to make a turn.
The Discover tab is really great for finding hiking inspiration as it features "collections" such as "Hiking on the Derbyshire Dales."
Collections contain a series of hikes with photos, information and maps which you can follow on the app.
Komoot also has a strong community focus. Not only can you connect with other hikers from around the world, but the app will flag up highlights and points of interest that other users have enjoyed along your route.
This can be anything from a nice café to a stunning viewpoint!
Komoot is free to use, but there is a premium upgrade which costs £4.99 per month.
The Premium version has a few added benefits, such as the ability to download maps for offline use, plan multi-day hikes and add camp stops, and share your live location while out on a hike.
Overall, Komoot is a very useful hiking app with the ability to see detailed topographical maps, keep track of your activities, find inspiration and connect with other hikers.
OS Maps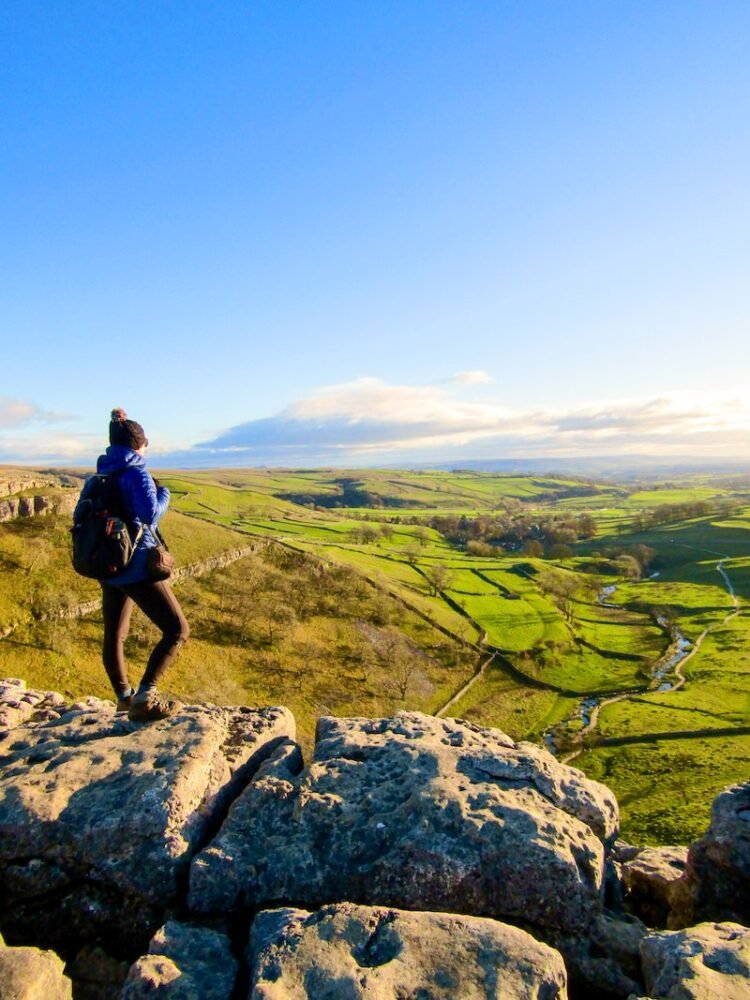 Contributed by Maja of Away with Maja
OS Maps is one of my favorite hiking apps, which uses Ordnance Survey maps at a scale of 1:25,000 for Great Britain.
The incredibly detailed maps on the app are perfect for plotting a route in advance or navigating while you're out hiking – having the app is much more convenient (and cheaper) than buying the individual maps for each area you're visiting.
The app was a lifesaver when I hiked Hadrian's Wall, as it meant I didn't need to carry bulky maps with me on the trail.
The OS Maps app is a paid app, which costs £23.99/year, but they do offer a free seven-day trial so you can test it out before you commit to spending any money.
If you're wanting to use the app for less than a year but more than seven days, they offer a monthly subscription for £2.99/month.
The app is great for creating your own routes, as you can plot out hikes and can easily see the public footpaths and rights of way on the map.
You are also able to download the maps, so even if you don't have signal you'll still be able to use the app and access the maps.
I always recommend making sure your phone is charged before a hike and bringing a portable charger with you, in case you run out of battery.
Researching your planned route and printing out a hard copy of your map (which you can do from the desktop version) is always a good idea, too.
Garmin Connect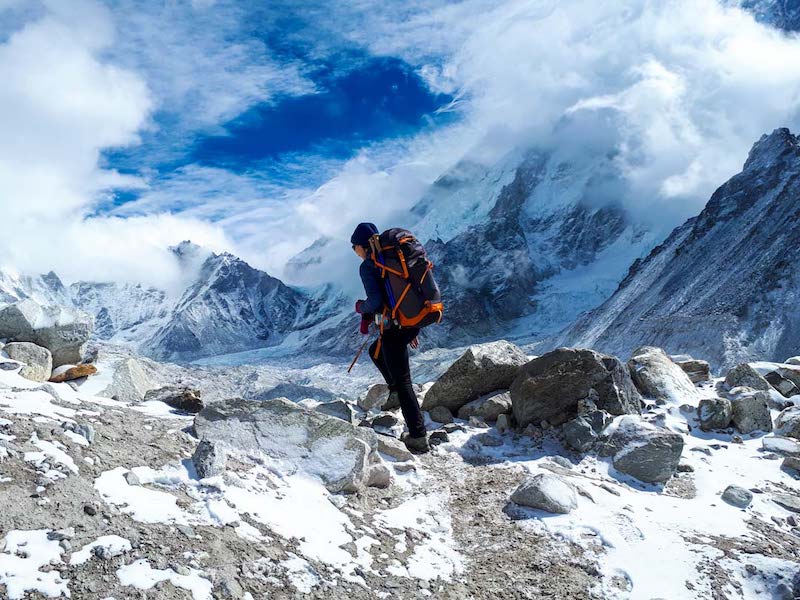 Contributed by Campbell of Stingy Nomads
Garmin Connect is an amazing application used to analyse and plan every hiking detail you can imagine, from routes and maps to physical features such as oxygen saturation, VO2 max and heart rate.
This platform works with the Garmin Fenix watch series that can analyse and track an unbelievably wide range of information!
The Garmin Fenix 7 watch adds routes, tracks points of interest and waymarks with Glonass and GPS satellites, and has a barometric altimeter to accurately measure elevation gain or loss.
These features are great on high altitude hikes such as the Everest Base Camp Trek, pictured above!
The Garmin Connect platform can be opened on a phone or PC which connects to the watch by USB or bluetooth.
You can use Garmin Connect to plan hiking routes, mark important points of interest and send these maps to your watch to follow while on route.
Following the hike, Garmin connect is a great tool, logging your time, distance, elevation, heart rate, and calories. It is easy to compare all this information on the map at any point of your hike.
Using the hiking app with your watch, it has important safety features that can help you stay on route and at high altitude the oxygen saturation feature can help to prevent altitude sickness.
To improve hiking fitness, tracking  the most important parameters like distance, speed, pace and time with high sensitivity GPS is extremely helpful.
All your hikes are recorded by your Fenix watch as GPX files that are easy to follow in the future with most GPS devices.
Your hiking route can thus easily be replicated and shared with others wanting to follow the same route.
Garmin Connect is free to use if you own an appropriate Garmin device.
Strava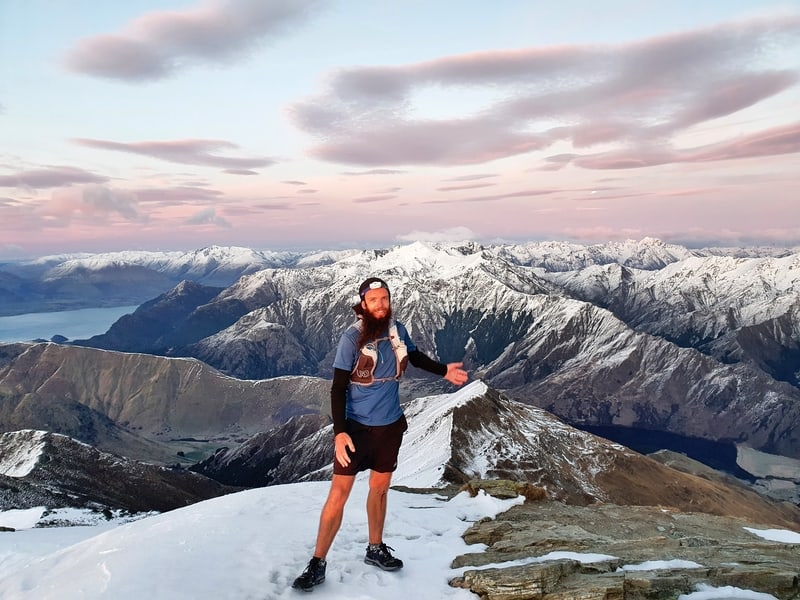 Contributed by Jub of Chur New Zealand
Strava is one of the most-used apps on my phone.
Not only do I like it to track my own hikes, but it's fun to follow adventures my friends have been on as I seek new ideas for hikes in Queenstown and further afield.
It's this last part that makes Strava also helpful to plan your next hike.
If you saw that I hiked up Ben Lomond, you can head to my Strava recording and that'll give you an idea of the elevation profile, distance, and time it took.
And I will usually include a few photos to show off as well — all useful information so you can plan your hike!
If it's a harder hike where navigation is an issue, you can even get the GPX file from my hike via Strava on a desktop computer.
I like using the app in real-time (on the rare occasion I don't have my watch) so I can see how far I've hiked so far.
Ideally, you'll know the total distance of the hike and can start counting down the distance to go.
The free version of the app gives you most of the details you will want, and you can use the Safety Beacon feature on the app for free.
But for Strava nerds like me looking for extra features, like a heatmap of all the trails you've been on, you'll need to pay the yearly subscription of $94.99.
Gaia GPS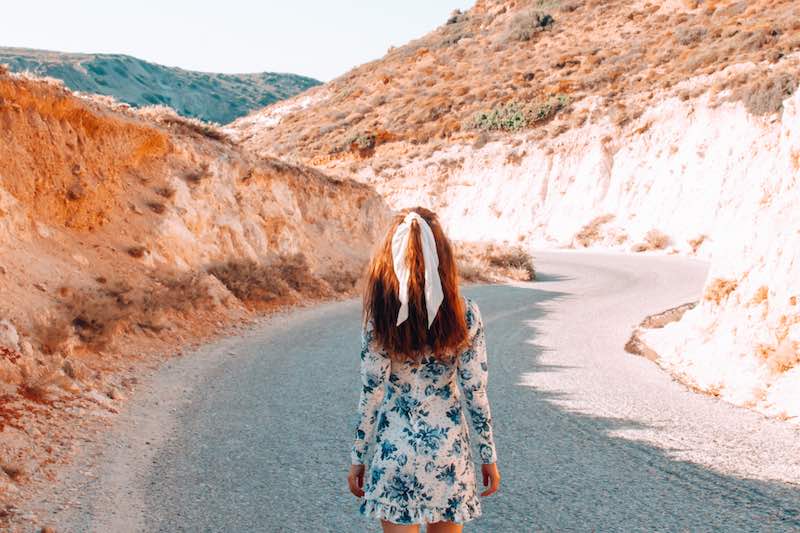 Contributed by Dymphe of Dymabroad
One of the best hiking apps is Gaia GPS, an app by the company Outside. With this app, you can find lots of hiking routes all around the world!
What's great is that you can type in a location and then look for hikes at that place.
On a map, you can get an overview of the route, such that you can see where you go when choosing that hike. You can then select a hike and use the app to guide you.
Also, you can find the most popular hikes near you through the app, which is very convenient as well.
Another useful feature of the app is the ability to track your hikes. For example, you can track your speed.
The app is free to use, but there is a premium version that offers more features. The price for this starts at $39.99 per year.
For this, you get access to more hiking routes and maps, including weather maps. Also, you'll be able to use the app while being offline, which is convenient when hiking at a place with bad internet coverage.
Besides that, there is a plan that costs $99 per year. This gives access to online courses, extra content, and much more.
Hiking Apps for Camping
The Dyrt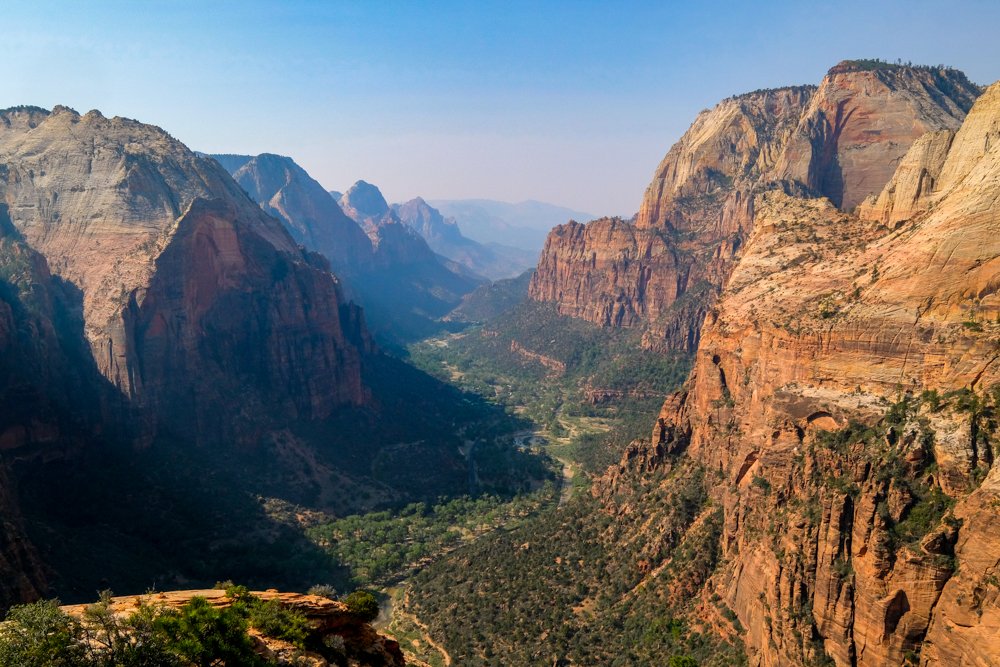 Contributed by David & Intan at The World Travel Guy
One of our favorite apps for road tripping and hiking is The Dyrt, which is a camping app with more than 44,000 campgrounds in the US for tents, RVs, trailers, glamping, and more.
The app has lots of photos and reviews from other campers, as well as a bunch of information about each campground's amenities like toilets, showers, drinking water, picnic tables, trash disposal, cell reception, WiFi, and more.
In our experience, one of the most handy features is the map and filter of all nearby campgrounds, making it easy to find somewhere to stay in the area where you're traveling.
We used this app extensively on a summer road trip this past year, and it was just what we needed!
It took a lot of headache and stress out of our trip planning so we could focus on finding good hikes to do.
The app is free, but there's also a paid version for $35.99 per year.
The paid version has a Trip Planner and Offline Search, plus discounts at 1,000 campgrounds across the US.
If you're not sure about the paid version, they also offer a 7 day free trial so you can check it out before buying!
WikiCamps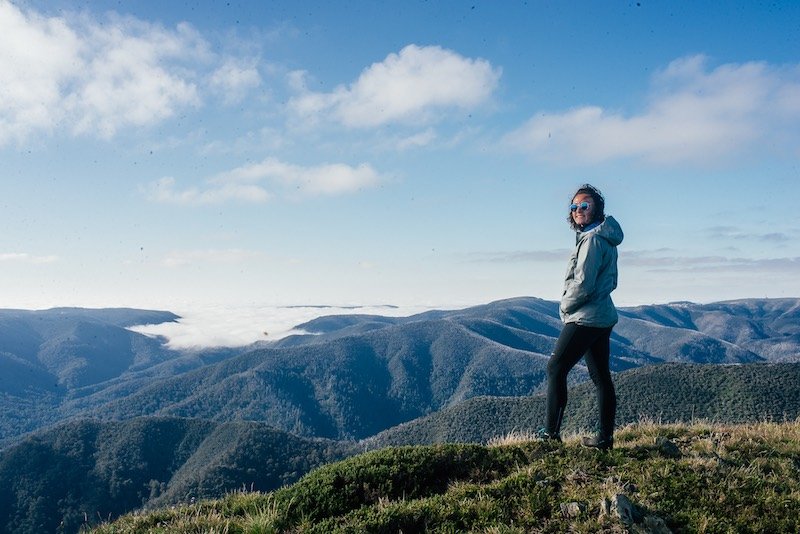 Contributed by Tammy of Travelling Tam
Whenever I plan to tackle one of the best hikes in Australia as an overnight trip and need a great campground to pitch my tent, WikiCamps is my go-to resource. 
From caravan parks to day stops, dedicated camping sites to free bush camps, this handy app tells me everything I need to know before I go.
The app conveniently lists the cost, facilities, features, water situation, accessibility, photos, reviews and more of popular and lesser-known camp spots, all laid out within a user-friendly interface.
If, like me, you love camping and getting out into nature, you'll soon end up with a whole heap of bookmarked spots for future adventures!
WikiCamps is available to download from the Google Play or Apple App Store in Australia, New Zealand, Canada, the UK & US.
Although the free version is actually only a 14 day trial, the small one-off purchase fee is great value and certainly does not break the bank.
$7.99AUD gives me access to thousands of site listings across the country and definitely beats wasting time scouring campgrounds on Google Maps. 
Before you plan your next big hike, I would highly recommend trialling WikiCamps.
It's also an extremely useful resource to have in your pocket in case of an emergency or simply when plans change, to help you find somewhere safe to sleep.
Campermate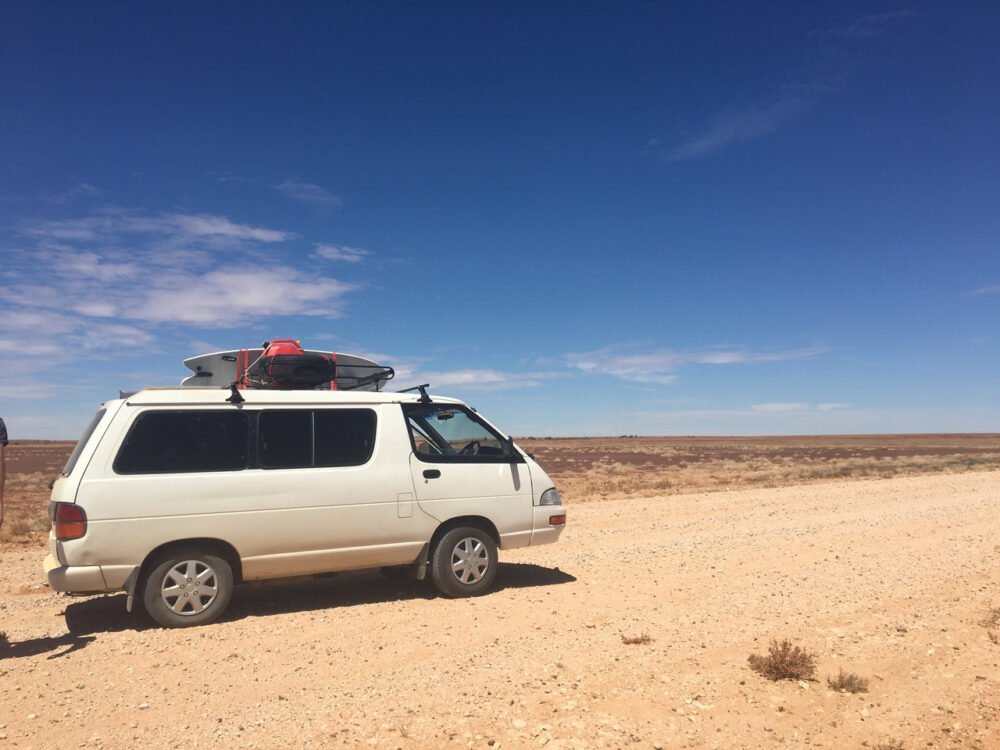 Contributed by Victoria of Guide Your Travel
One of the best hiking apps you could have on your phone if you're planning on camping in Australia is CamperMate.
This free app shows you exactly where to find free and paid campsites, public showers, ATMs and a lot more.
Whether you're travelling through the country in a van and going on occasional hikes or hiking for longer distances you'll love this app and the security it provides.
Instead of googling campsites and never knowing how much they cost every night you could simply look them up on Campermate to get an immediate overview on the facilities that are available and the prices.
While it can be tricky to find free campsites in Australia it's not impossible and CamperMate will show them to you.
Camping illegally can result in very high fines so the risk is usually not worth it — use this camping app instead!
Plant, Landscape & Wildlife Identification Apps
PeakVisor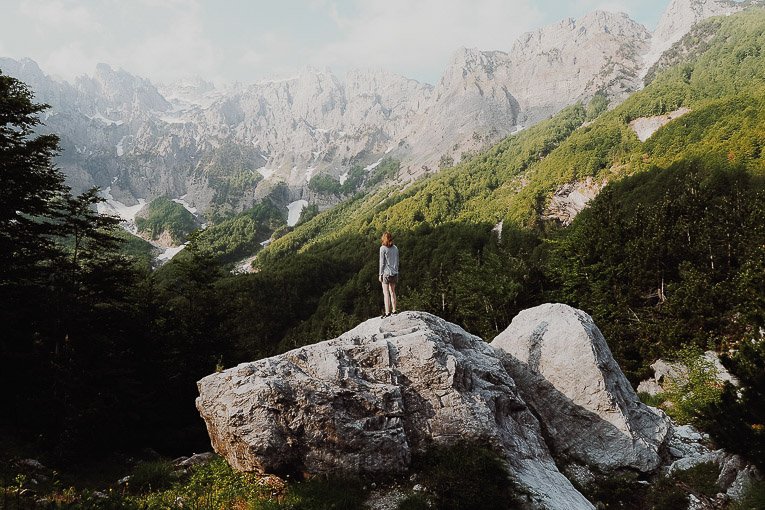 Contributed by Emily of Wander-Lush
If you're one of those hikers who constantly finds themselves asking, 'What mountain is that?', then PeakVisor is a must-download.
As the name suggests, this ingenious app uses GPS and photo technology to help you identify mountains.
Any time you're unfamiliar with your surroundings, you can simply point your camera at the horizon and PeakVisor will automatically label any peaks in view.
As well as telling you the name of the mountain, the app gives you a snapshot of important data including elevation, GPS coordinates, and a blurb from Wikipedia. This is done using a 3D compass and an altimeter.
There are more than one million summits catalogued in the PeakVisor database, from Pakistan to Portugal.
The app works both in real-time (the free version requires an internet connection) and retrospectively, so you can also use it to identify mountains in old photos.
The app has 3D maps with hiking trails, passes, cable cars and mountain huts marked out, so you can also use it to explore the landscape in augmented reality and map out a future route.
Another cool feature of this hiking app is the sun and moon trails. Tap a few buttons to see a visualization of the sun or moon's path as it tracks through the sky.
You can use this data to calibrate your compass or snap the perfect photo when the light is just right.
PeakVisor is available on both Android and Apple. The paid version, PeakVisor Premium (priced at $3.49/month), has all the same features but also works offline and allows you to import GPX trail maps.
Seek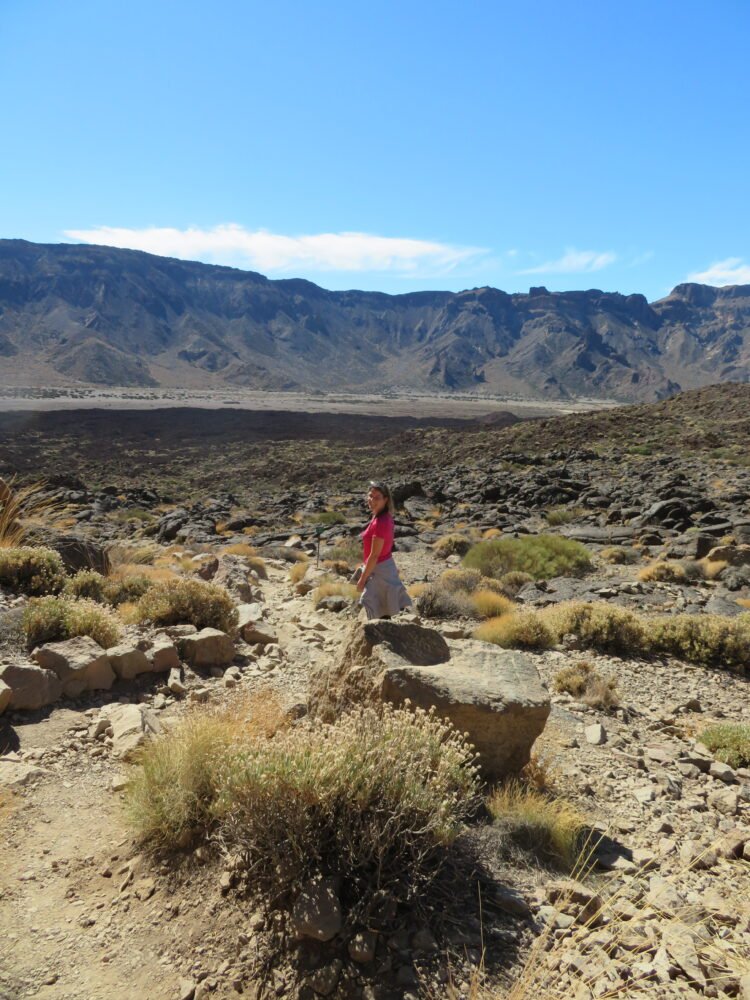 Contributed by Lara Hartog of The Best Travel Gifts
My absolute favorite hiking app is Seek, an app to help you identify whatever organism you come across during your hike.
Seek was developed by iNaturalist in collaboration with National Geographic and the California Academy of Sciences.  
It uses your phone's camera to identify which plant or animal you are looking at. All you have to do is aim your camera at whatever you're trying to identify!
The app will then tell you the name of the plant or animal along with some interesting information about the organism.  
Sometimes you need to get different angles before it's able to tell the exact species name, but it will always give you parts of the taxonomic rank, such as the genus, family, or order, so you'll have some information.  
If you want, you can take photos of the organisms too and keep a collection of all your observations in the app. However, it's not necessary for identification.
 The best part of Seek is the fact that it's completely free, it doesn't require any data, or GPS location (so you can save some phone battery for other things)!
If you turn on your GPS location, it will then also tell you which species you can find in your area.  
This app literally changed my hiking experience for life.!
I've always loved walking around nature and admiring its beauty, but I never knew anything about the organisms I saw.
With Seek, I've learned so many new names, which makes hiking even more exciting. 
Weather & Safety Apps for Hiking
Accuweather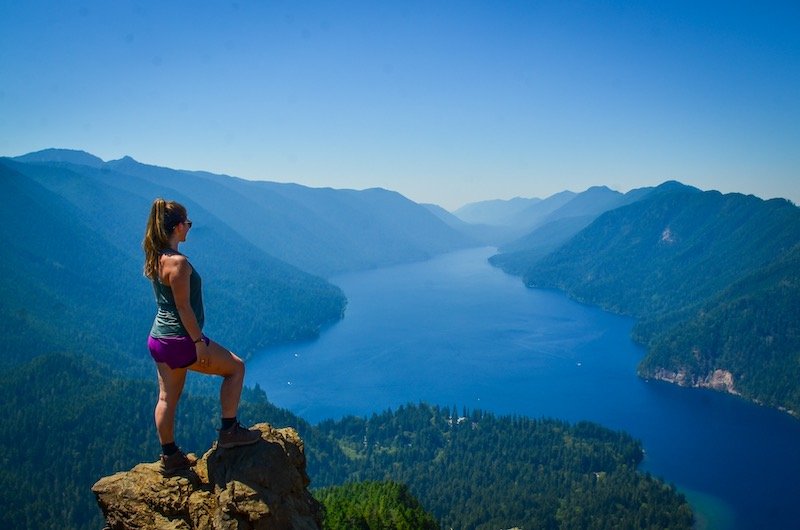 Contributed by Katie Diederichs from Go Wander Wild
One of the most important things to do before a hike is to check the weather forecast.
If you're in the mountains, it's even more important to consult more than just a "general" weather app as there are many microclimates and the weather can be varied even a short distance away.
AccuWeather has different "layers" that you can select to view different weather patterns, like snowfall, fog and smoke, rain, and storms.
Overall, it's really user-friendly and has a lot of different data points, providing you with a really comprehensive forecast before you set off on a hike.
I love that it not only has the actual temperature, but it has a "ReelFeel" temperature, which is really helpful when deciding what to wear hiking.
However, even if the weather is predicted to be clear, we like to bring layers and rain gear just in case as predictions are never guaranteed.  
This app is free, but you can upgrade to the ad-free version for 99 cents per month. 
Cairn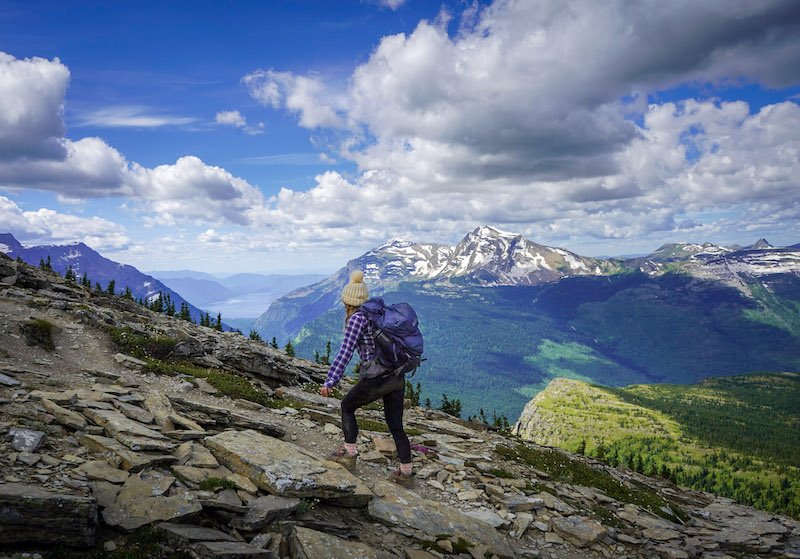 Contributed by Jessica of Uprooted Traveler
As a frequent hiker and backpacker, I'm often exploring trails and areas, like Death Valley National Park or the backcountry of the Cascade Mountains, that have extremely limited cell service.
While it's nice to be disconnected every once and while, this also comes with risks when you're adventuring outdoors — if you're hurt or get lost along the trail, you won't have a means of contacting someone for help, unless you have an expensive (and usually subscription-based) personal locator beacon.
The awesome app, Cairn, helps with that with a couple different bits of functionality!
For one, you're able to share, via text and email, with loved ones your hiking itinerary before you take off, including things like where you're going, your starting and ending location, and when you should be back.
Even better, the app will automatically send an alert to those contacts if you don't return as expected, so that search and rescue can be contacted, if necessary.
It also uses crowd-sourced data to create a map of where certain cell carriers get service along a trail, which you can download before you head out (which may, again, be super handy if you run into any trouble along the trail… or if you simply want to download a Netflix movie to watch during a particularly rainy afternoon while backpacking!).
While nothing replaces having first aid and basic navigation skills, it makes me feel much more secure to know that someone knows that I'm out in the wilderness- and more importantly, when I return safely back to my car.
And best of all? It's totally free!
Allison Green is a former educator turned travel blogger. She holds a Masters in Teaching and a B.A. in English and Creative Writing. Her blog posts merge her educational background and her experience traveling to 60+ countries to encourage thoughtful travel experiences that both educate and entertain. She has been a speaker at the World Travel Writers Conference and her writing, photography, and podcasting work has appeared in National Geographic, CNN Arabic, CBC Canada, and Forbes, amongst others. Now based in the San Francisco Bay Area where she grew up, she has also lived in Prague, Sofia, and New York City.