I went to the Azores at the end of March this year, and I'm still reeling about my trip.
In a matter of just three days, the Azores quickly shot up to one of my favorite places in the world.
But packing for the Azores can be a bit of a challenge, as these windswept Portuguese islands located in the middle of the Atlantic Ocean 1000 miles from the nearest continent experience some extreme weather.
Wind, fog, and rain are your constant companions (though luckily, you can usually avoid snow, as it's so rare it literally makes the news when it happens).
I visited in March and had pretty fantastic weather for two of the three days I was on São Miguel.
The temperatures were generally around 15 °C/60 °F. My first day was quite stormy and rainy with some occasional downpours; my next two days were pretty sunny with occasional clouds and warmer days.
The reason why the Azores are so warm in March is pretty cool. The Gulf Stream which moves from west to east across the United States, giving planes crossing west-east a little boost, also passes by the Azores.
This moderates the temperatures quite a bit (a similar effect happens in Iceland and coastal Norway, but their higher latitudes make the overall temperatures much colder).
Generally, because of the Gulf Stream, the temperatures don't change too dramatically between winter and summer.
However, winter is quite rainy and prone to Atlantic storms (including the remnants of hurricanes during the Atlantic hurricane season, though the Azores are rarely directly hit).
If you travel to the Azores in the winter, expect average highs of 17 °C (62 °F) and lows of 12 °C (54 °F), with the unlikely potential of getting close to freezing at night. In the summer, it won't be too hot: think average highs of 25°C (77 °F) and average lows of 19 °C (66 °F), with the potential for scorchers or super soaked rainy days.
Basically – prepare for the worst and hope for the best is my motto when it comes time to deciding what to pack for the Azores.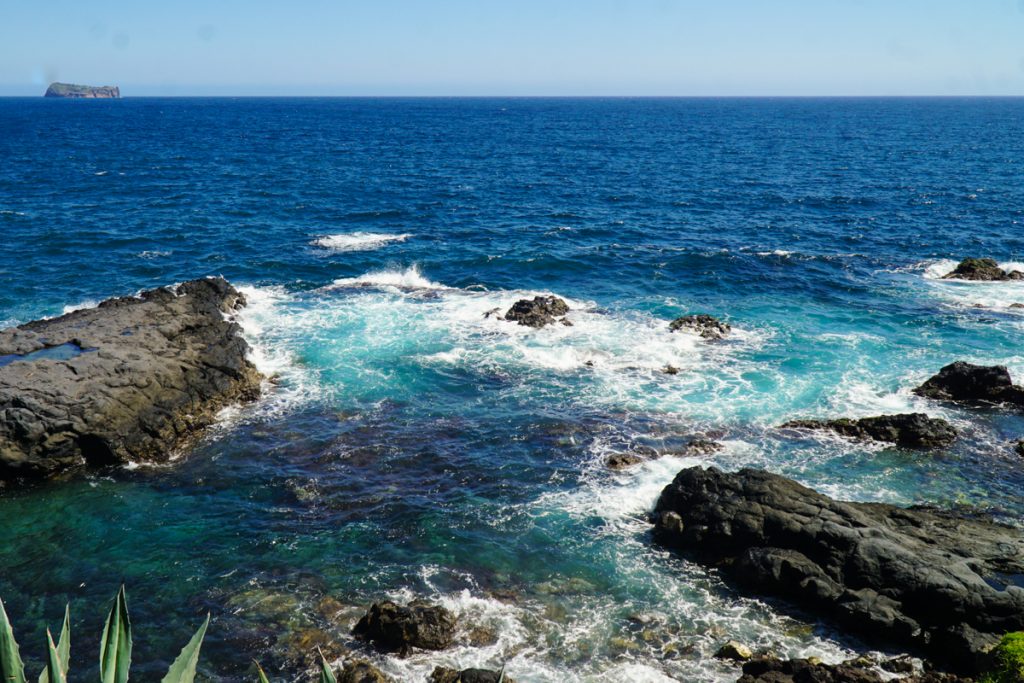 Note: This post contains affiliate links, which means I may receive a small commission if you purchase something through one of these links. Thank you for supporting the free content on this site! For more information on affiliate links and cookies, see my disclosure page for more details.
Azores Packing List: What to Bring to the Azores
I'll break this Azores packing list into a few sections to make it easier to digest. Since the weather isn't so dramatically different between summer and winter, and the chances of rain and wind are high no matter what, there actually won't be too much variance in the list depending on season.
For this reason, I won't create two separate packing lists for the Azores based on season, but rather indicate additions or substitutions on a master list of what to pack for the Azores.
Not sure where to get the best deal on your rental? I've rented cars dozens of times through various search engines and have settled on Discover Cars as the best car rental search engine – it searches over 500 trusted rental companies to find the cheapest price for your rental! Compare prices for car rental in the Azores here.
Packing Essentials for the Azores
Travel Backpack (carry on size or check-in size): As many people end up visiting the Azores using one of the budget airlines that serve Ponta Delgada, such as Ryanair, it may be useful for use a carry on size bag to reduce baggage fees. I purchased priority boarding so I could bring my Tortuga Backpack for this trip.
Why do I recommend Tortuga so much? Here's why: this bag is 45L and has got three main compartments: one for a laptop and other flat objects, one giant rectangular compartment perfect for packing cubes stuffed with clothing, and one smaller compartment with pockets for passports, pens, odds and ends, etc. that I stash all my extras in – plus one small outer zipper pocket for anything you want quick access to. It also has a water bottle holder on the outside as well as buckles so that you can strap something like a yoga mat to the outside. Plus, it's quite comfortable to wear, with a padded hip belt and comfort-molding shoulder straps complete with a chest strap so that you can distribute weight perfectly across your body in the event that you need to wear your backpack for longer than usual. Check out more specs and details here.
Packing Cubes: Packing cubes are an essential for travel for me, as I often move around quite a bit and my bag can easily get disorganized. Investing in some decent packing cubes is crucial for managing my luggage.
It helps me easily find what I need without the stress or mess! I use these packing cubes on every trip I take.
Laundry bag: In addition to packing cubes, I like having a separate laundry bag to keep my dirty stuff separate.
I do like having a cute one like this travel-themed bag from Kikkerland though, because I'm impractical and like cute stuff. A spare plastic bag or reusable tote bag would do the trick, too.
Hanging Toiletry Bag: If you're moving around a lot as you travel the Azores, you'll want a way to keep your toiletries organized and tidy. I like to keep my toiletries in a simple hanging toiletry bag.
This toiletry organizer can fit a ton of stuff while keeping it ultra-orderly: perfect for the organizationally obsessed packers amongst us *raises hand*. It fits a ton without taking up space – I swear I feel like it manages to compress things.
The flat shape is crucial for travel because it's so easy to squeeze into an outer pocket of your backpack or lay it on top of your clothes in your suitcase – something that other toiletry bags often get wrong.
Comfortable daypack : My everyday backpack is this awesome PacSafe Citysafe backpack – it has a lot of awesome security features that make it insanely useful for city travel.
While the Azores are quite safe, if you're also visiting Lisbon or Porto where pickpocketing is more of a problem, I love the locking zippers and slash-proof construction for peace of mind.
Even when I don't need the security features, I just love this bag because it's great at fitting all the things I need for my day (mine can fit my camera and lenses, my drone, a bottle of water, some snacks, and a few other odds and ends).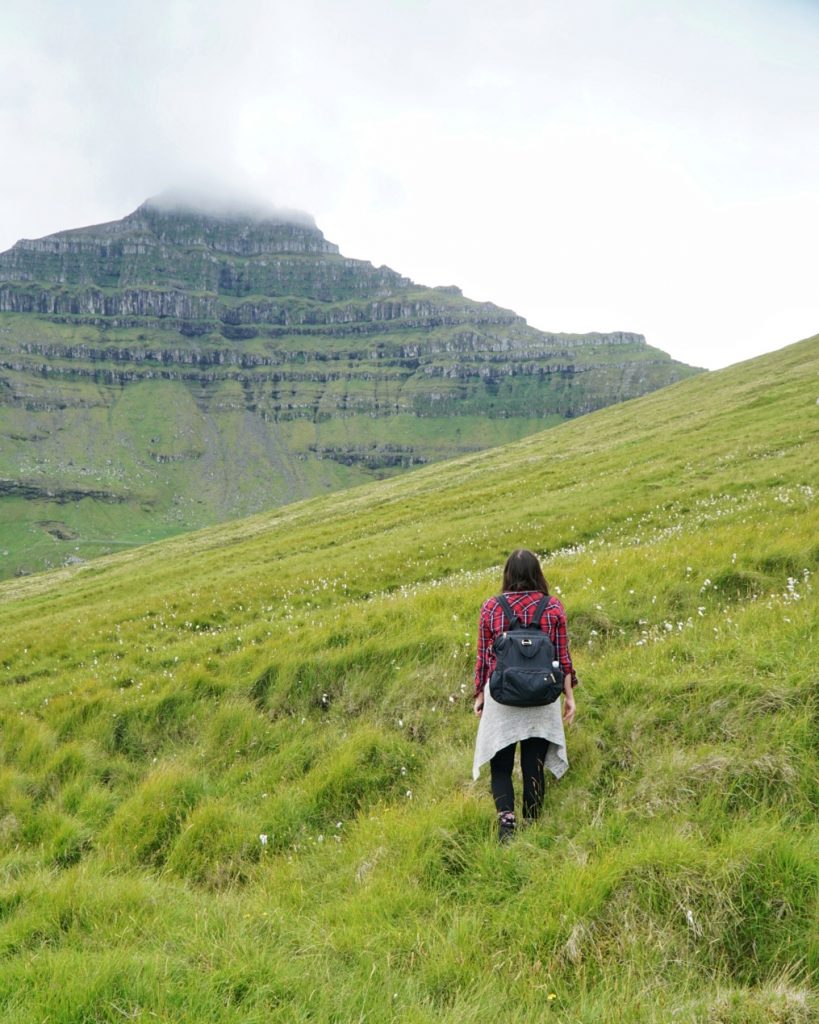 The Top 10 Things to Pack for the Azores
First, travel insurance. While this isn't something you pack, it is indispensable and should be part of the packing and planning process. The Azores are an unpredictable place: weather can change quickly and dramatically, and the likelihood of Atlantic storms and foggy weather delaying flights is not to be understated. Travel insurance covers both flight delays and cancellation, as well as personal travel safety against incidents, theft, and illness. Basically, it's just ultra-important. I have been a paying customer of World Nomads for years and recommend them highly for travel in the Azores. The contract is very clear as to what it covers, the prices are affordable, and the deductible is low if you find yourself needing to make a claim.
Reusable water bottle: The tap water in the Azores is drinkable everywhere. If you don't carry a reusable bottle, you will spend a ton of unnecessary money on bottled water, and you'll waste a lot of plastic in the process as well. While in the past I've carried a water bottle with a filtration system, for traveling in the Azores where the tap water is drinkable, I like a simple streamlined metal bottle, like this one from Klean Kanteen.
Basic medicine: I like having a few basic medicines on hand because I hate having to deal with pharmacies abroad. I carry Pepto-Bismol tablets for standard stomach troubles as I find it can be difficult to find in some countries. I also carry painkillers like ibuprofen for headaches and minor pains, and also some sort of cold medicine as the wet and windy weather can really wreak havoc on your immune system.
Motion sickness tablets: These get a special shoutout because of the likelihood of motion sickness, especially if you're doing a whale watching excursion, have a turbulent plane landing as I did, or are a passenger in someone's car on windy roads. I love having motion sickness tablets on hand as I am prone to travel sickness.
Travel towel: You'll want a lightweight, packable microfiber travel towel for impromptu hot springs dips! Just make sure to pick a dark color if you're worried about it staining in the iron-rich waters.
A dark colored bathing suit: For aforementioned hot springs dips, be sure to pick a dark color as the hot springs at Terra Nostra, Poca de Dona Beija, Calheira Velha, etc. are all rich with minerals that will stain the crap out of your bathing suit. .
Waterproof and warm layers: I'll go into more detail on this in the section below, but make sure you pack for the worst and hope for the best!
Binoculars: If you're into birding or whale watching, you'll likely be happy you have a pair of binoculars with you to spot all the wonderful marine and bird life that make these islands so unique!
Hiking boots: If you plan to do any hiking or long walks around the Azores these would definitely be advisable and the wet weather can mean muddy puddles that are not really great for tennis shoes. I didn't bring my hiking boots and I regretted it; my friend was very happy she had hers! You can go with a leather pair or a lovely vegan hiking boot alternative.
A smartphone, unlocked if possible: For navigating, snapping quick photos, and any on-the-fly translations you need, a smartphone is a must-have.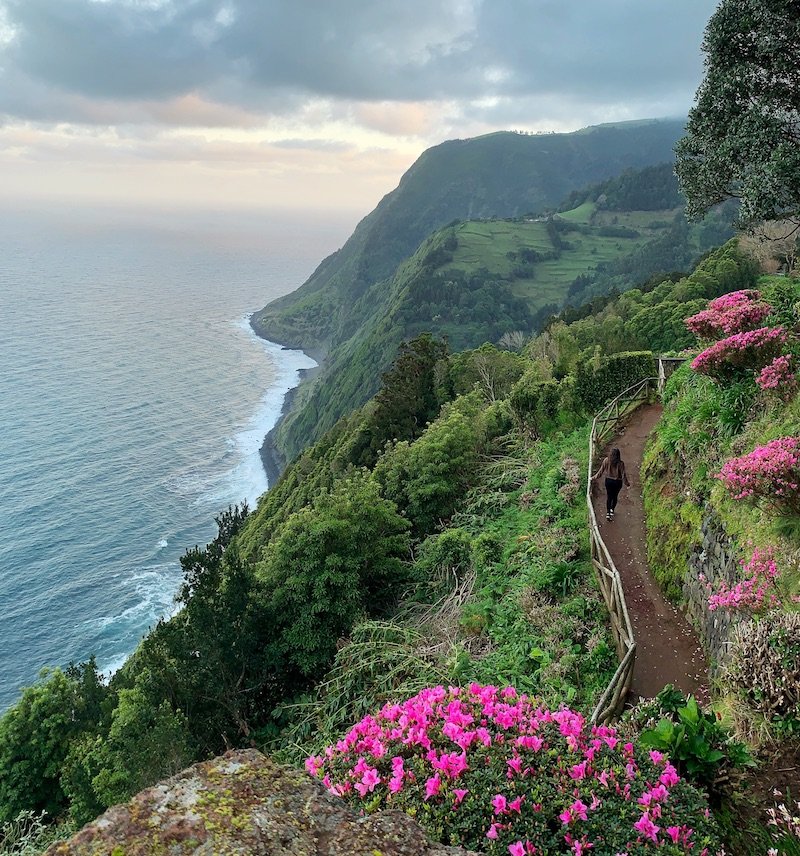 What to Wear in the Azores (For Women)
One word: layers, layers, layers!
No matter when you visit the Azores or what you end up doing, whether it's whale watching, hiking, or road tripping, you'll want the ability to quickly change to clothes to match the fast-changing whims of the weather.
Here's what I recommend as a baseline packing list. I'll be sure to note when something is summer-specific or winter-specific.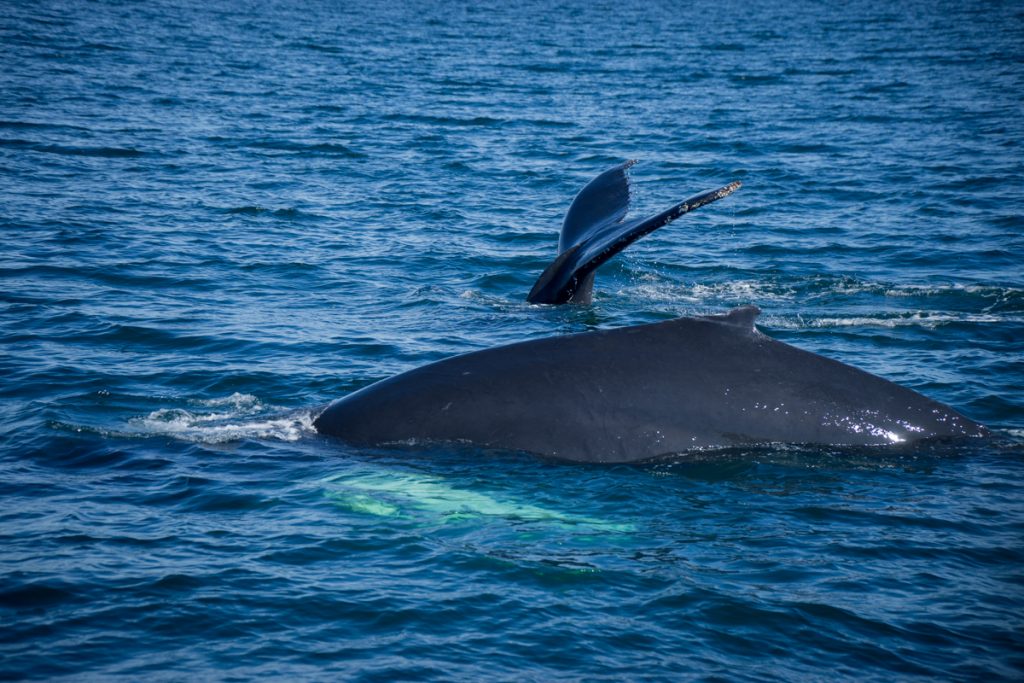 1 rain and windproof jacket: Trust me, if there is one thing you simply can't forget for Azores travel, it's a durable jacket that will keep you warm against wind and dry against rain. I love my Marmot PreCip rain jacket and wear it all the time, and it's great in summer because it has zips under the armpits to 'vent' it out and keep you dry while not overheating you. For the winter, make sure you wear a thin sweater or fleece layer underneath, as it isn't exactly super warm on its own
1 knit hat: While you won't always need a knit hat, they are small and easy to pack and add some flair to photos. I found myself using one in March because the wind was so severe, and I wouldn't be surprised if I needed a hand on windy or rainy days even in the summer. Here's a cute choice!
1 pair of thin, touch-screen friendly gloves: In case it's cold out, but you still want to be able to touch your phone and use your camera. Skip this in summer.
3 sweaters: Thin but warm is your best bet. Pullover style acrylic or wool sweaters would be ideal. You don't need anything too thick as you can easily layer. Pack these even in summer because they'd be handy at night or on rainy days.
3-5 tees: I often layer a thin cotton T-shirt under my sweater so that I could wear the same pullover multiple times before it gets funky. #fashion
1 hoodie or fleeces: Having a hoodie or fleece as an additional layer between your sweater/long-sleeve and your rain jacket or outer layer will come in handy no matter what season and can replace your rain jacket on a summer day that's cool but not wet. This simple fleece jacket would be a good addition.
2-3 pair jeans: No matter what the season, jeans are almost always appropriate in the Azores
2-3 pairs leggings: Great as a backup if you need to layer leggings under your jeans if it's cold in winter, or you can wear with dresses or longer T-shirts in summer. I tend to bring one thin pair for wearing under dresses, and another thicker, more structured "jegging"-like leggings as pants. (The horror!)
1 pair hiking boots: Hiking boots will serve you well in the Azores. I didn't bring mine but I wished I had as I was jealous of my friend who lived in hers. I love my Ahnu boots (my friend had the same brand but a different color) but if you have a pair at home already bring those so you don't have to break them in. Sneakers were okay for me since we didn't do too much hiking, but ultimately, I much prefer boots for the added warmth and ankle stability as the ground can often be wet and slippy.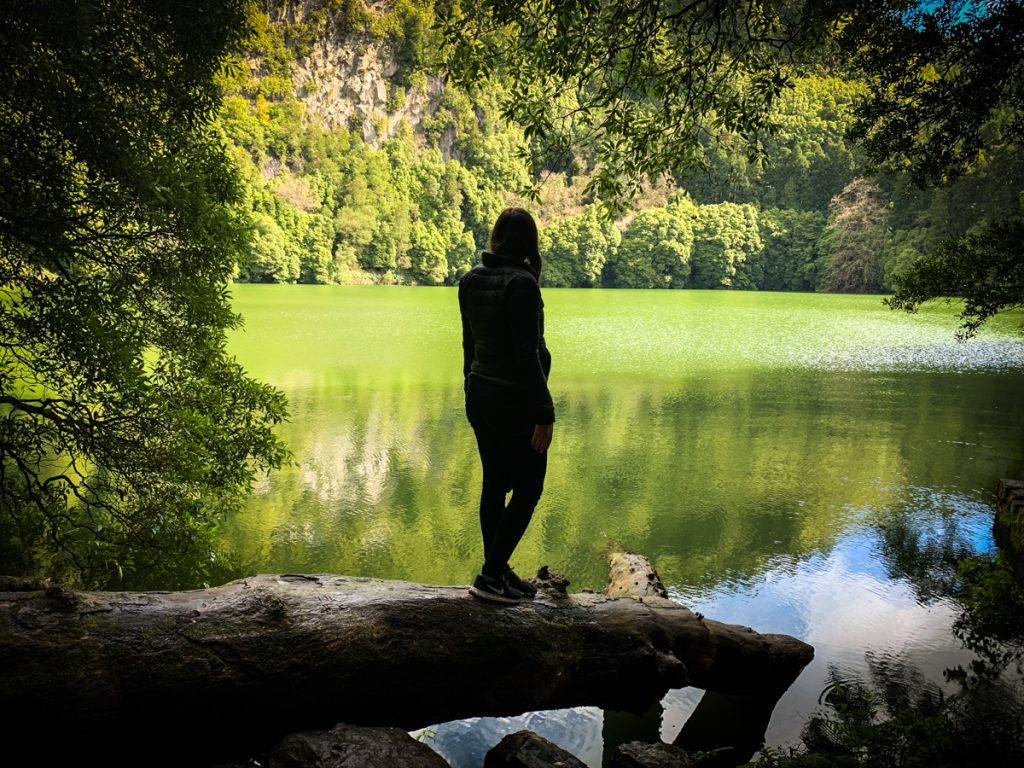 1 pair sneakers: I wore these while hiking and they were great but not perfect. I usually wear a pair of black Nikes but beware on wet days as they have small holes for ventilation and aren't the warmest; on those days, hiking boots would definitely be better.
1 pair flip flops or sandals: Great for hot springs any time of year or as your primary shoe in the summer. I'm obsessed with my Birkenstocks but rubber flip flops will do, especially if you are staying in a hostel and need to use communal showers.
1 thin down jacket (winter only): Nights can get cold in winter, so a small packable down like the UNIQLO ultra-light down (cheaper knockoff available here) would be a great but tiny addition to your Azores packing list.
1-2 bras: I trust you're all big girls and you know what you need when it comes to bras! I had one regular bra and one sports bra.
1 pair of underwear for each day of travel: Bring one for every day you'll be on the road, so you can avoid laundry.
Dark colored bathing suit: Visiting a hot spring in the Azores is a must, but the water is full of iron that will stain your suit, so don't forget a dark bathing suit!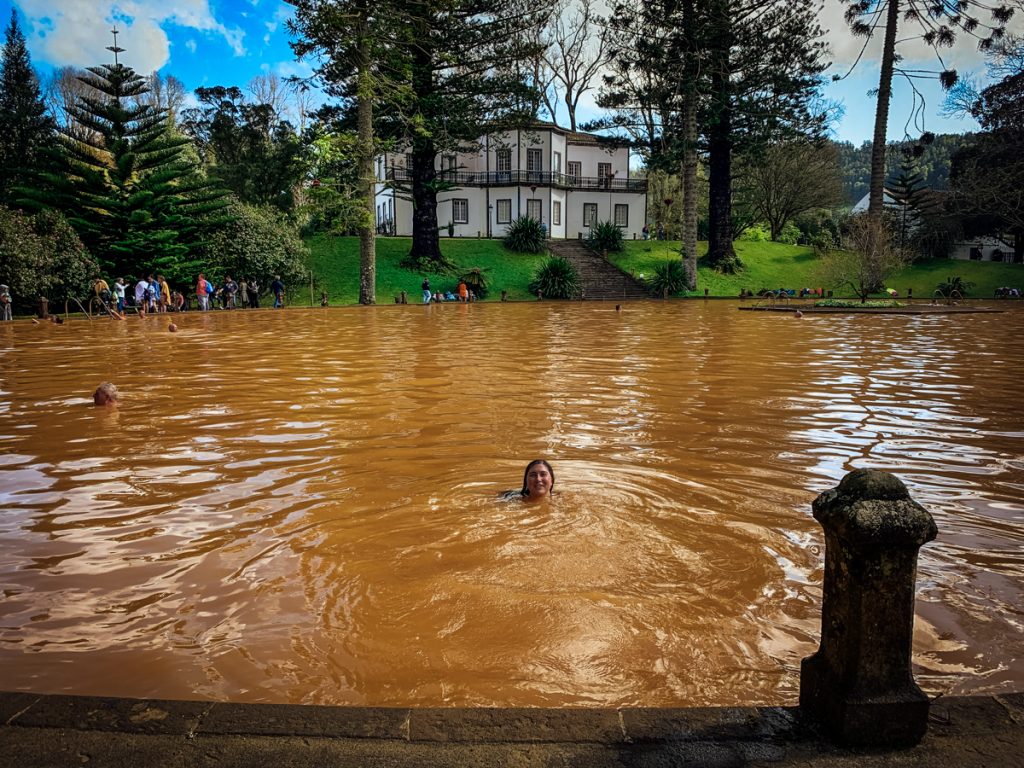 What to Wear in the Azores (For Men)
I have zero firsthand experience packing as a man, but here's what I'd imagine you'd want to bring based off the weather in the Azores.
5 short sleeve Ts (fewer in winter)
3-5 long sleeve Ts or light sweaters (fewer in summer)
2-3 pair jeans and pants
2 pairs shorts (summer only)
1 pair for each day of your trip
flip flops or comfortable walking sandals
sneakers
hiking boots
waterproof rain jacket
swim trunks
2 thicker-weight sweaters
ultra-light down jacket (winter only)
5+ pairs of socks
thin knit hat
touch screen gloves (winter only)
Random Things to Pack for the Azores
Some things in here are women-specific, so obviously use your judgment to decide whether or not these things belong on your Azores packing list.
This is what I bring on almost every trip, but don't consider everything on here a must if it's not applicable to you.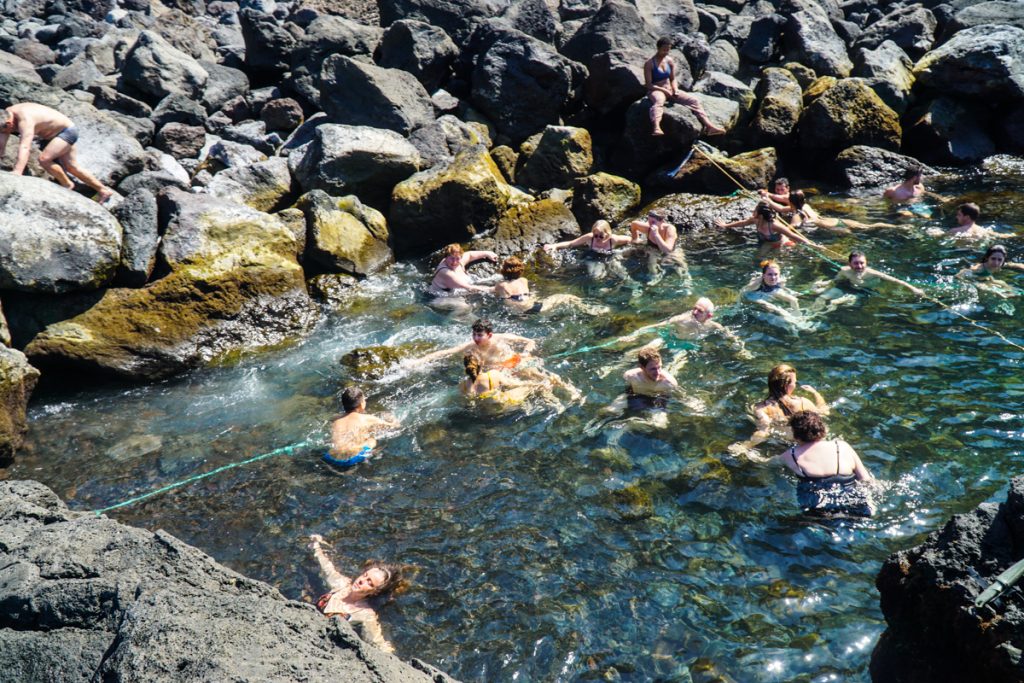 Travel towel: Great for quick hot spring dips as it doesn't take up a lot of space and it dries quickly. Again, pick a dark color as it can stain.
Some earplugs: I bring Hearos ear plugs everywhere. I didn't need them in the Azores, but just in case, they're good to have.
Sunscreen: My skin is really sensitive on my face, so I use this fancy Japanese sunscreen to prevent acne on my face.
Moisturizer: The wind did a number on my skin in the Azores, despite the humidity, and I felt like my skin was always insanely dry there.
Do your skin a favor and pack something ultra-moisturizing. I love a moisturizer with SPF for day like this one from Aveeno and then I use a thicker moisturizer like this Olay night cream for replenishing moisture overnight.
Hand sanitizer: In case of a lack of soap in gas stations or restaurant bathrooms, I like having hand sanitizer just in case.
Kleenex packets: In case of a surprise cold or lack of toilet paper in public restrooms.
LUSH solid shampoo: Life-changing. Just trust me. Buy online or in store from LUSH and you'll save serious money over Amazon, but you can also source it on Amazon for convenience. My favorite is the Seanik seaweed shampoo – it makes my hair gorgeous and it also doesn't take up any space in my liquid toiletry allowance.
Face wipes: Great for nights when you're too exhausted to take your make-up off properly or for a quick face clean up after a dusty hike.
Menstrual cup or your favorite tampon/pad brand (if applicable): If you have a specific brand allegiance, you may not find it in the Azores. I switched to a Diva Cup for travel a few years ago and I love it!
Deodorant: I can't rant enough about how much European deodorant sucks, plus I absolutely hate the smell of the aerosol deodorants that are so popular in Europe.
Do yourself, everyone around you, and the planet a favor and buy some decent deodorant from home. I love Secret Clinical Strength and stash up on it every time I'm home in the US, but then again, I am sweatier than most people are.
Travel-sized liquid toiletries: If you want to bring your favorite toiletries from home, I recommend these awesome reusable silicone GoToobs.
Razor
Lip balm with SPF
What Electronics to Pack for the Azores
Obviously, you're going to want to bring plenty of photography gear because these islands are gorgeous!
I highly recommend having a professional-grade camera as opposed to your smartphone if you are serious about getting the best photos.
A tripod and some ND filters will also come in handy if you want to step up your photography and get good waterfall photos, high-quality selfies, and sunset/sunrise shots.
Of course, what you will want to bring on your trip will depend on how seriously you take photography and how much you want to "unplug" on your trip.
As a travel blogger, I bring my entire life with me on the road, which includes a laptop, camera, multiple lenses, smartphone, and more.
For pretty streaky waterfall photos, you should bring a tripod + ND filters!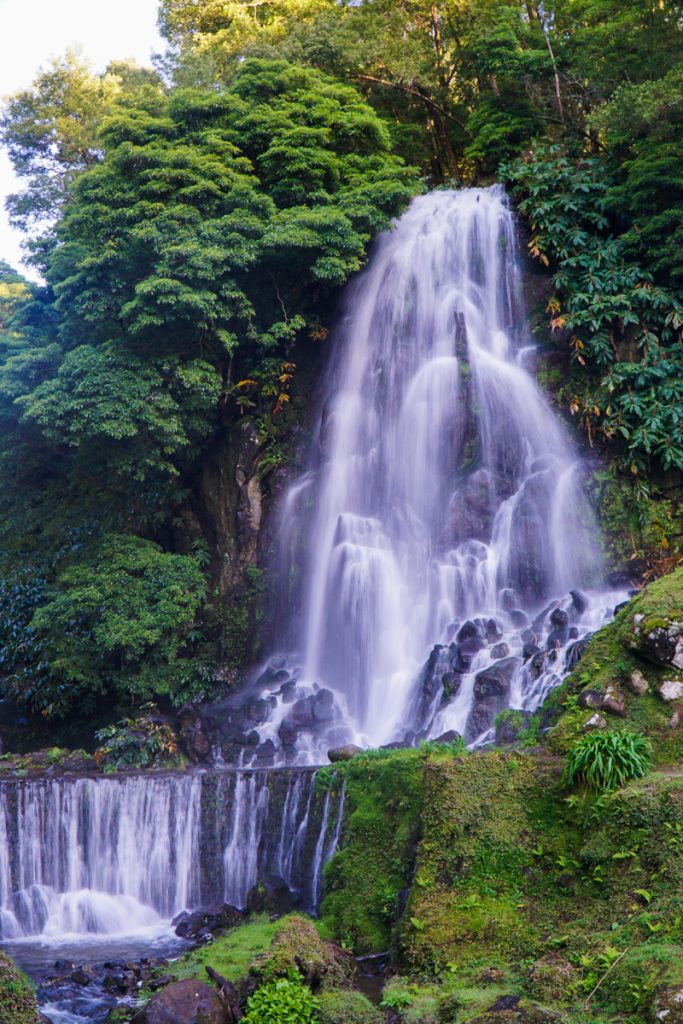 Laptop, if necessary: I bring my 13″ MacBook Air everywhere but other people may prefer a tablet or an inexpensive netbook. I work on the road so a user-friendly, lightweight laptop is a must for me.
Kindle Paperwhite: I love having a Kindle for travel but if you don't think you'll be doing much reading on your Azores trip or your flight over, then you can give this a pass.
Travel camera: I use a Sony A6000 because it's lightweight for a professional caliber camera, inexpensive, and a HUGE step up from a smartphone. I like having a zoom lens and a wide angle lens to maximize what I can capture, but if you have to pick just one, I'd pick a zoom lens and use your smartphone as a wide angle. You may also want to pack it in a travel camera backpack.
Extra camera batteries: Trust me, you'll use plenty of battery taking photos in the Azores!
Portable hard drive: You'll want to back up your photos to keep your memory cards uncluttered and protect your precious photos. After my previous hard drive failed even though I never damaged it (never rely on WD My Passport) I am extra paranoid with my hard drives. I recommend Transcend hard drives instead – they are drop resistant and super sturdy.
Travel tripod: If you are serious about your photography, you should invest in a sturdier tripod, as wind in the Azores is no joke. I actually didn't use my tripod because it didn't feel steady enough to handle the windy weather. I have a cheap tripod from Amazon but a sturdy tripod with a hook so that you can use that to hang your camera bag on and balance the camera would be your friend on windy days.
ND filters: The size of ND filter you will need depends on the size of the lens you'll be using so check it before buying. I use these ND filters.
GoPro or similar camera for video: If you plan on doing anything adventurous or if you want to capture video of your trip, then I recommend bringing something like a GoPro which is rugged and designed for the challenge.
Portable charger: You'll use your phone battery more than you thought in the Azores – whether it's using it to take photos or videos, or to navigate as you drive around the country. Bring a portable charger to save yourself many headaches! Anker is a reliable brand and what I personally use – make sure you get one that can hold several charges at once so you don't have to charge it every single night.
Adaptor, if necessary: The Azores uses the standard EU adaptor so purchase an adaptor beforehand if necessary.
***
While this sounds like a lot, I was able to fit it everything on this Azores packing list into my 44L Tortuga backpack and my daypack – mostly because of packing cubes, picking multi-purpose clothing, and wearing my heaviest layers on the plane!
And all that despite this being at the tail end of a 6-week trip where I was also bringing approximately a dozen bags of chilis back from Mexico too because European grocery stores are sad.
So if I can do it, you can do it too! Or, you can just bring a bigger bag and make sure you have all you want for your Azores trip, since you'll likely just toss your suitcase in your rental car, anyway.
Is there anything I've forgotten? Is there anything else you're wondering if you should bring? Let me know in the comments!
Allison Green is a former educator turned travel blogger. She holds a Masters in Teaching and a B.A. in English and Creative Writing. Her blog posts merge her educational background and her experience traveling to 60+ countries to encourage thoughtful travel experiences that both educate and entertain. She has been a speaker at the World Travel Writers Conference and her writing, photography, and podcasting work has appeared in National Geographic, CNN Arabic, CBC Canada, and Forbes, amongst others. Now based in the San Francisco Bay Area where she grew up, she has also lived in Prague, Sofia, and New York City.