Note: This post may contain affiliate links. Please see my disclosure page for more details.
Riding camels in the Sahara Desert was a big bucket list item of mine. Perhaps I watched Aladdin far too many times as a kid (sorry Mom). Or maybe because after riding horses and going dogsledding, this seemed like the logical next step? Whatever the reason, when I was in Morocco I spent nearly two days of my life in a van for the Sahara Desert tour. Was it worth it? As the kids say… it's complicated.
Unfortunately, like with much of my Moroccan experience, I felt like the colorful, whimsical Instagram girls lied to me.
Morocco is hard as a female traveler (if you're unaccompanied by a man), and while everyone's experience will vary, I had a hard time ever letting my guard down enough to have a good time. And it's a good thing I didn't let my guard down, as my Sahara Desert tour experience would later show.
While you can probably guess from the title that I didn't enjoy my Sahara Desert tour from Marrakech, I won't slag the whole thing off. There were a few good things about it, which I've outlined below. I've broken this Sahara Desert tour review into pros and cons, so you can assess for yourself whether a tour is worth it.
Here's the biggest problem, though: I don't remember what the exact name of the tour company I went with. I know it was called something incredibly generic, but I did this tour before I was planning on being a blogger and reviewing the tour. I just went to Marrakech and booked it in person from one of the men selling tours, as I was told it was the best (read: cheapest) way to book a Sahara desert tour by other backpackers. Turns out, that is not the way I would recommend you do it. While sure, it was cheaper, I ended up having a pretty horrible experience with my guides sexually harassing me, and no way to review it or report things to. Whereas if I had booked it online, it would have been much easier to report the bad behavior I experienced on this tour and to ensure it wouldn't happen to other female travelers down the line.
What does a Sahara Desert Tour include?
My tour included round-trip transportation to and from Merzouga and the Sahara Desert. The shuttle bus was comfortable enough, but they kept insisting that the AC was broken after the first day, which was annoying, as I was overheating with only the fan on. It included two nights accommodation, one in a hotel on the way to the desert and one in the desert camp itself. The accommodations at both were of decent quality, better than I expected for the price, to be fair. It included the camel ride as well.
It did not include lunch on any of the days, so add on another $10 USD or so for each meal since they force you to eat at expensive, crappy restaurants where they get a kickback. It doesn't include any beverages, water, personal expenses, etc. If you choose to not return to Marrakech and instead go onwards to Fez from Merzouga, that transportation is not included, either.
What does a Sahara Desert Tour cost?
Honestly, the range is insane. There's another blog post I've seen that says that their tour cost $700, which is insanely overpriced in my opinion. I spent the very low end, around $70 USD for my 3 day, 2 night trip, not including what I spent on lunches, drinks, and incidentals. Most tours cost somewhere in the ballpark of $100-150 USD for a 3 day, 2 night Sahara tour, and that's a fair price. The tour that I recommend is a little more expensive than I paid, costing around $130 USD, or about $43 per day, but it's well-reviewed and doesn't employ perverts the way mine did (more on that later).
Sahara Desert Tour: The Pros
The price was right
For three solid days of transit to and from the Sahara Desert – including stops by various villages, two nights of accommodations, two breakfasts, and two dinners – I thought the price of about $70 USD for a Sahara Desert tour from Marrakech was a steal. Note that this doesn't include the price I added on for a taxi hire onwards to Fes, which most tours will let you do if you want to save time. That was about another $20 USD for my spot in a shared taxi.
Honestly, we didn't even try to bargain down the vendors in Marrakech much when they started at $75, since it was such a good price to begin with. Perhaps we could have gotten it for as little as $60, but I thought the price was quite fair, as I don't have the world's strongest stomach for bargaining. In fact, I usually don't bargain that much at all (unless the price is clearly ridiculously inflated), but I only did because I know it's standard practice in Morocco.
While I didn't end up having a good experience on my Sahara tour, the one thing I can't say is that I overpaid.
However, I went in July, aka the stupidest time in the world to go to Morocco. It was 115 F (46 C) in the desert the day we arrived… so that may have had something to do with why the prices were so low. Still, I'll say that 115 F in Morocco isn't nearly as bad as 90 F and humid in NYC, so to me, the desert heat wasn't a deal breaker. And at night, it cooled down to a nice  75 F or so, making the tents like an oven but outside downright pleasant.
If I did it again, though, I would book online with a company whose reviews I could read in advance, as I experienced some really unpleasant sexual harassment bordering on a foiled assault, when I woke up to a guide a few inches away from my face as I was asleep as if he were about to grope me, on the tour. If you're a male traveler or part of a male-female couple, you have less to worry about on this front.
I've scoured the reviews of this tour and while it is admittedly more expensive than the tour I took, it's not as outrageously overpriced as Viator tours are and even solo female travelers have rated the trip very highly. The only bad reviews come from people who said that there's too much driving — which is true no matter what company you go with. The Sahara desert is basically on the border of Algeria, and you have to cross through the Atlas Mountains, so there is simply no avoiding the drive. Any shorter tour will not take you to the Sahara, but instead to far less impressive rocky deserts closer to Marrakech.
The desert itself is amazing
However disgusting the behavior of the guides was, I've still never seen anything quite as beautiful as the Sahara Desert. There was something otherworldly about the contrast between the orange sand and the blue sky, and the way the sand rippled in perfect formations.
As sunset fell, I almost wanted to pinch myself to confirm that it was real. But if it was a dream, I didn't want to wake up.
Sahara Desert Tour: The Cons
The drive is long
It's about two long days in a van from Marrakech to the Sahara desert (not including the way back). If you have 2 or 3 weeks in Morocco, that's fine – but if you have a really limited amount of time for your trip, it's a lot of time in a car.
Besides stopping at the UNESCO site of Ait Ben Haddou (where some scenes of Game of Thrones were filmed) and a pretty gorge, most of the stops are pretty uninteresting and often aimed at getting as much money out of you as possible. I will say that they did give us a lot of bathroom stops, which as someone with a clinically small bladder, I really appreciated.
I get motion sickness quite easily, so I lulled myself into a state of near-constant semi-slumber for the two days. They'll also take you to expensive and uninspiring restaurants, though since I wasn't a big fan of Moroccan food to begin with, that wasn't a huge loss in terms of flavor (cost, however, is usually about $10 USD per meal, about 3 times the price of a meal elsewhere in Morocco). This is pretty standard for every tour and is part of the reason why the price of your Sahara Desert tour is so low – clearly, the tours are getting a kickback for bringing people here.
It's rushed
Pretty much every stop we made along the way to the desert was rushed and not that interesting, and pretty much everywhere seemed designed for us to spend extra money, such as the stop at the rug store, the gift shops at Ait Ben Haddou, and the completely unnecessary stops to encourage us to buy specific scarves to wrap around our heads for the desert tour, which I didn't buy.
I understand this is how they make up for their slim margins, but I just wish the tour cost a bit more and we didn't spend so much time making weird souvenir stops and instead spent more time at the few stops that were interesting, like Ait Ben Haddou and Ourzazete and the Gorge. But anyway, that's how organized tours go, I guess.
Oh, about that rug store
In a moment of weakness, I splurged on a gorgeous hand-woven Berber rug, paying about $35 USD for a small lambswool rug. Mind you, when I took this Sahara desert tour, I didn't even have a home — so why I needed a rug was beyond me.
Anyway, when I unwrapped it, I discovered they had swapped it out for another one entirely – it was completely and totally falling apart at the edges, and I ended up trashing it rather than lugging around a fraying rug for the rest of my trip. Nice one, friendly-seeming rug guy. Nice one indeed.
Camel riding is uncomfortable AF
If you've romanticized a camel ride in the desert, let me demystify that for you. This is no pleasant horse ride through a field. Riding a camel is among the least comfortable things I've done, and I'm amazed that people actually even trained camels to be ridden after feeling how freaking uncomfortable it can be. My thighs were sore by the end of the first hour and I could barely feel my butt when I got off the camel. The camel slid in the sand quite a bit, leaving me lurching and clutching on for dear life (camels are even taller than they look).
Anyway, the next day, I was given the option to ride on the roof of their ATV or get back on a camel – you better believe I chose the roof.
The guides' behavior was completely unacceptable
Here's the main reason I advise you be cautious when booking your Sahara desert tour, especially if you are a woman. I ended up being sexually harassed by one of the guides on my Sahara desert tour and nearly assaulted in my sleep by another.
It all started innocently enough, sitting after dinning chatting with a guide trying to learn more about Berber culture. Without victim blaming myself, I must say that I need to remind myself that North American friendliness is not always the smartest move with people from other cultures, as some men take talkativeness as an invitation.
After a while, this guide got progressively creepier and creepier as the night got darker, angling closer to me as we talked. Then he asked me if I wanted to go somewhere alone with him to see the stars better (um, they're plainly overhead, but k), despite my repeated insistence that I just wanted to sit and enjoy by myself.
Eventually, I had to tell him quite directly that he was bothering me and needed to leave me alone, and he went away. It may sound simple enough, but for a nonconfrontational girl like me who hates conflict, it was excruciating. Luckily, he left without much protest, and I enjoyed the next few hours more
Later that night, choosing to sleep outside where there was a breeze instead of the stuffy, impossible to breathe in tents, a different guide set up his sleeping site about five feet from me. He placed a large pillow as a buffer between us, which I took comfort in, and I fell asleep. I honestly remember feeling glad that I had a benevolent guardian to keep me away from the creep who was hitting on me earlier.
I woke up maybe an hour later to him staring at me, saying "shhhhh," just a few inches away from my face, the pillow he had placed between us nowhere to be seen. It was terrifying. He tried to tell me to go back to sleep, but you better believe my ass was up and in my hot stuffy tent as quickly as I could manage in my sleep-drunk state. I didn't sleep much the rest of the night, obviously.
Sadly, this kind of behavior is not that uncommon for Morocco. Other women have had similar experiences with their guides in the desert (read Lauren of Never Ending Footsteps' experience here and my friend Kiona's experience with Morocco here) I've also, of course, heard positive stories as well, though these usually come from men or people who traveled as a couple. I hate to generalize about a country, but after spending nearly two weeks in Morocco, I can't say I can think of another country where I faced so much blatant harassment and disrespect for being a woman.
I wish I could tell you which company I used to advise others to avoid them, but all companies are virtually all the same with extremely generic names, so unfortunately, I can't be of much help in telling what tour I took so you can know what to avoid.
I can tell you though that it's better to spend the extra money and book a tour in advance so you can read all the reviews. I vetted this tour's reviews, and it looks to be the best, safest option for solo female travelers; however, I'd check again before you book as things may have changed since when I wrote this.
No matter what, if you're a woman traveling alone in Morocco, it's best to not get too friendly with the guides (or any man, really). Find other people on the tour group to be your buddies in case things start to get weird. While certainly, you can find Moroccan men that will be respectful, friendliness can sometimes be construed as flirtation or an invitation for more, especially given stereotypes of Western women being "easy" in much of the world.
In my opinion, I still had a good time visiting the Sahara desert, as it was a huge bucket list item. However, if I could do it again, I would have researched what tour I took, and not have just gone with the cheapest desert tour option that a tout offered me on the streets of Marrakech. My safety is worth more than a few dollars.
I don't want to scare you from taking a Sahara desert tour: thousands of solo female travelers take them, and take them safely.
But in the spirit of full transparency, I want to share my experience with you so you can be prepared should any shadiness occur in the Sahara. Traveling Morocco can be frustrating as a woman. Adjust yourself accordingly: be courteous, but distant; not rude, but not friendly, and you'll likely have a more positive experience than I did.
Is a Sahara desert tour right for you?
I'm of the belief that you shouldn't let fear dictate what you do or take away from your dreams. Even though I had a bad experience on my Sahara desert tour, there are a few things I could have done differently – I could have stuck closer to female traveler companions rather than chatting with the guides. I could have vetted the tours more carefully and picked one with better reviews rather than the lowest price.
To be clear, this is not to victim blame myself, nor to victim blame anyone who has had something similar happen to them – it is solely upon the predator to not be a predator, and not on the victim. However, just like there are measures to can take to avoid theft, there are a few things you can do to make yourself slightly safer against harassment from men. I hate that I have to write this here, but my experience is so not out of the ordinary that I feel compelled to share these tips. Sadly, these are just facts of life for traveling alone in a country as unfriendly to solo women as Morocco is.
If you don't like the idea of a Sahara desert tour, you could take the badass alternative and rent a car and driving out to the Sahara Desert, like my friends at Along Dusty Roads did.  But again, if you're solo, this may not be the best course of action – road trips are always best enjoyed with a travel buddy.
Ultimately, you'll have to make the call, but in my gut and despite what happened to me, I say go for it – the Sahara desert is something that must be seen to be believed. Even with all the crap I dealt with on my 3 day Sahara tour — I wouldn't take it back. I'd just go with another company, obviously.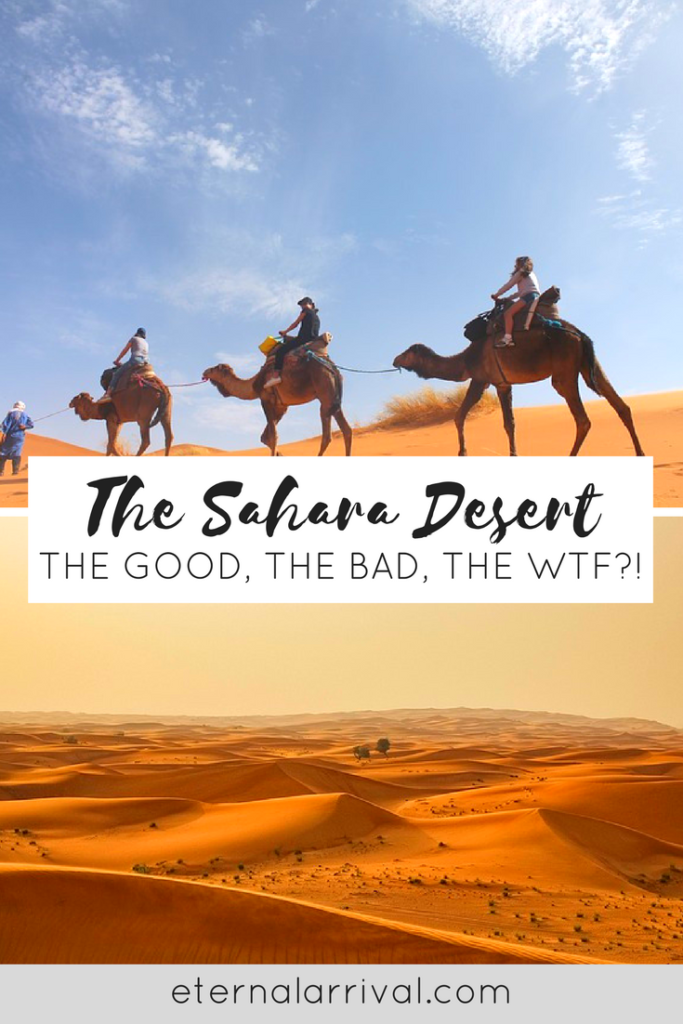 Note: This post contains affiliate links, which means I may make a small commission at no added charge to you if you make a booking using one of these links.