Marrakech is a shock to every sense you have.
The loud warblings of the call to prayer and the persistent beckonings of the men who run shops in the souks constantly strike your ears.
The pungent smell of incenses cover up a lingering smell of leather bags and the donkeys who dutifully pull carts through the medina day and night.
Artfully stacked olives almost beg you to take one away and destroy the whole pile. The leather looks so soft you can't help but reach out and touch it.
Marrakech is, to put it lightly, a place you experience with every one of your senses, and this Marrakech itinerary will walk you through the best way to do so without the overwhelm.
It's a city that will confuse you, frustrate you, and delight you. It's a city of highs and lows, and I think 3 days in Marrakech is perfect to get a sense of its energy, see what you need to see…. and get out before the chaos consumes you.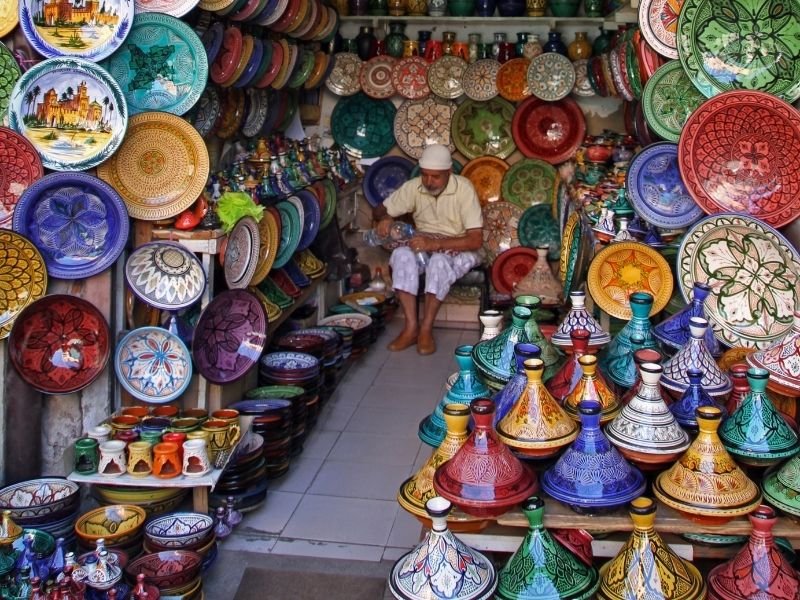 Note: This post contains affiliate links, which means I may receive a small commission if you purchase something through one of these links. Thank you for supporting the free content on this site! For more information on affiliate links and cookies, see my disclosure page for more details.
Don't let the pretty, girl-twirling-in-dress photos on Instagram lie to you – Morocco is intense, and Marrakech is especially so as it is the touristic capital of Morocco with the most flights.
While Marrakech is safe enough in terms of physical safety, traveling there requires being "on" all the time, your attention being pulled in several directions at once.
I found Marrakech tiring but ultimately worth all the memories; however, it's certainly not all floaty dresses and ornate walls like the Instagram girls would have you believe!
I'll also note that I was traveling mostly solo in Marrakech as a young female traveler, so my experiences may differ from people traveling as couples or families.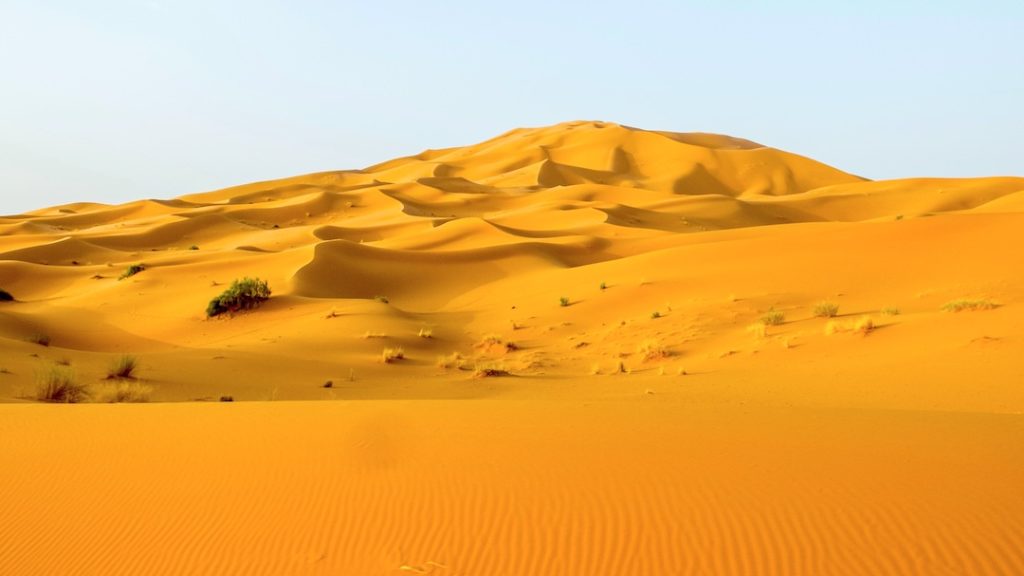 This Marrakech itinerary covers quite a bit in a short amount of time and is meant to be a standalone post for if you're planning a long weekend in Marrakech.
If you just have 3 days in Morocco, I'd advise spending them all in Marrakech with one or two half-day outings to tick off a bucket list item — whether that's a hot air balloon or a camel ride through the desert at sunset.
If you have a longer time allocated for Morocco, I'd recommend doing a 3-day Sahara Tour (read this post for details on planning one!) or spending timeat a desert camp in the Sahara, and then continuing onto Fes and Chefchaouen, or wherever else is on your Morocco itinerary.
If you have more time planned in Morocco, you can continue onward to this 10-day Morocco itinerary.
This post was first written in 2019. It was updated twice in 2022 and last updated on March 28, 2023 to reflect changes to attractions, etc.
3 Days in Marrakech Itinerary: Day One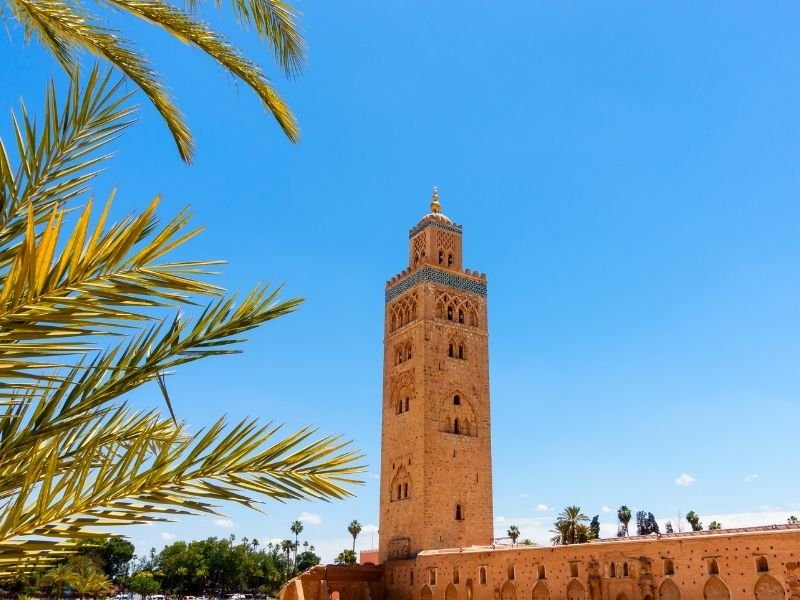 Overview:
Check into your riad
Visit the Koutoubia Mosque area
Walk around and admire Jemma El-Fna
Shop in the Marrakech Souks
Finish your evening with a sunset camel ride
🚖 Morocco Travel Tip: Book a Transfer Service
(4.5/5 stars with 2,900+ reviews)

Morocco is notorious for scams and nowhere are scams more ubiquitous than at the Marrakech airport.

One of my top Marrakech tips is that I highly recommend pre-booking a private transfer from the airport — it's less than $20 and it'll save you a lot of headache.

Plus, they will help you find your riad, which is easier said than done given that Google Maps is virtually useless in the medinas of Marrakech (following my blue dot led me into a brick wall seemingly infinite times).

Pre-book your Marrakech transfer here!
Check into your riad.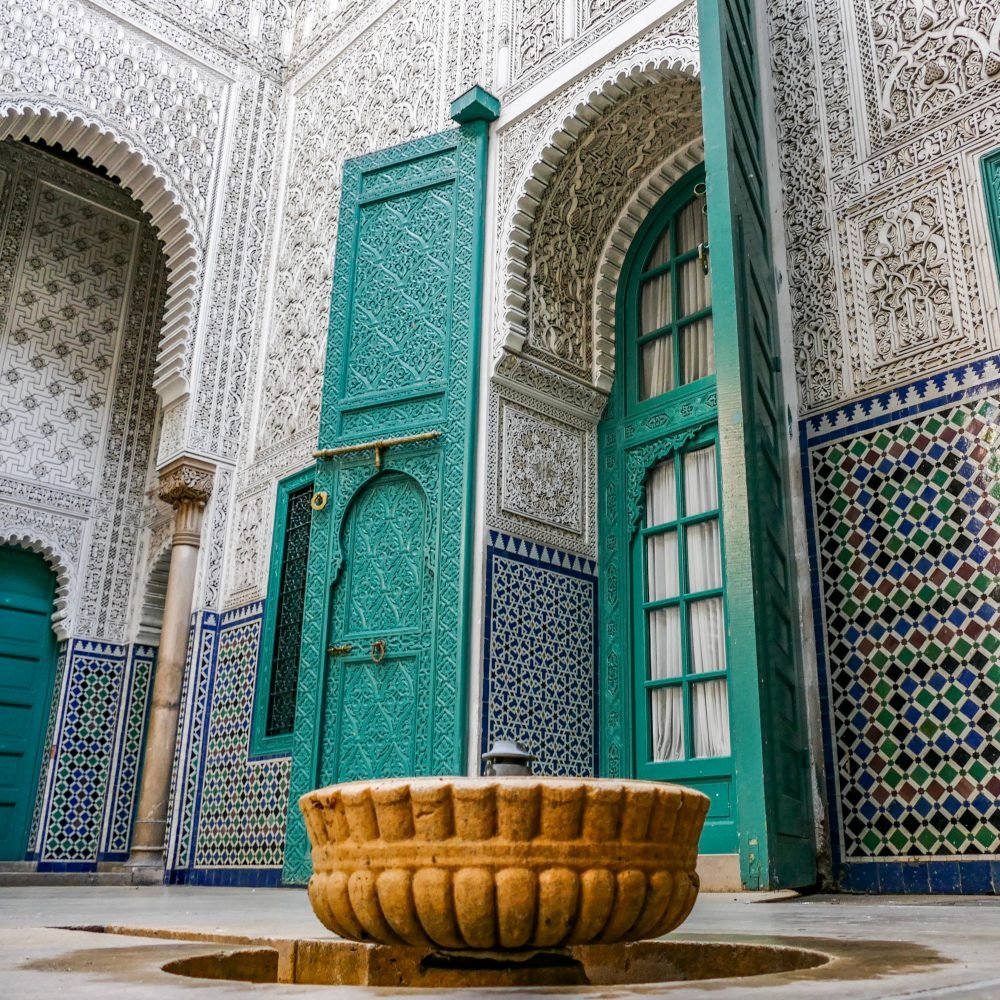 One of the best things about visiting Marrakech is that the price to quality ratio is in your favor.
A nice but not fancy riad will cost a mere $20 or $25 a night, great for travelers on a budget (as I was at the time of my visit)!
However, if you're visiting Marrakech with a bit more money to spend, you'll be spoiled for choice after beautiful choice.
A few of the most Instagram-famous riads are extremely pricy, such as Riad Yasmine and La Mamounia. However, you really don't need to pay that much to have a beautiful stay.
Here are my riad recommendations broken down by budget. I'll list my three top picks for a short stay in Marrakech, but I also have a full guide to Marrakech riads here.
For reference, I view budget as under $50 per night for a private room, mid-range as $50-100 per night, and luxury as $200+ per night.
Prices generally follow these lines but may go up or down due on time of year, availability, etc.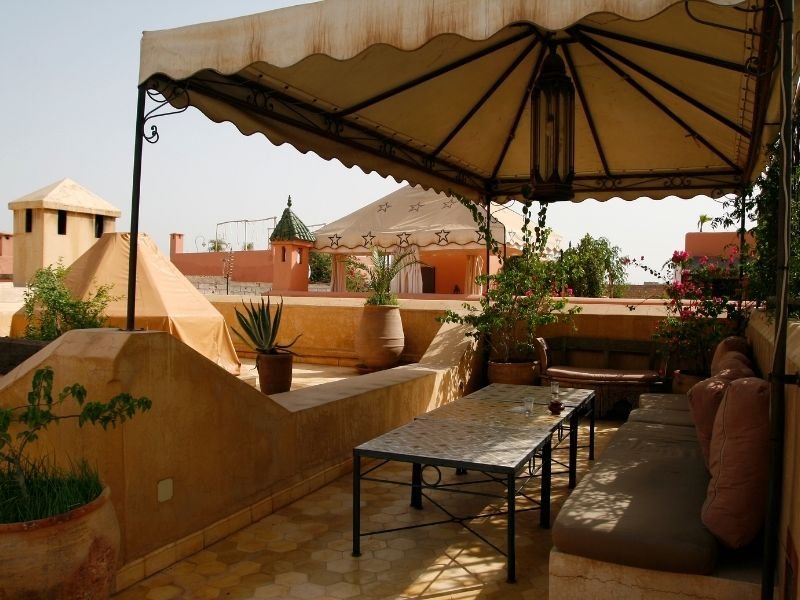 Budget: Nondescript on the outside, Riad Dar Maria is gorgeous and cozy on the inside.
Updated design makes the indoor courtyard a lovely place to relax, and comfortable private rooms with AC offer excellent value for the price. The riad is family-run and treats you like one of their own.
It comes highly recommended by fellow travelers with a 9.5 average rating on Booking.com.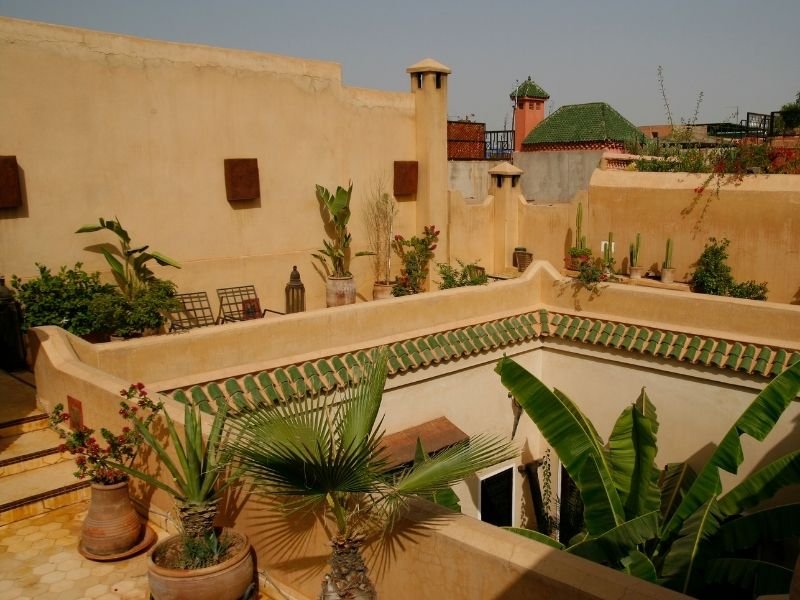 Mid-range: The lovely Riad Enchanté lives up to its name – it will truly delight and enchant you.
With stunning tilework, a rooftop terrace (with jacuzzi!), large rooms with AC, and amazing attention to detail (check out those lovely wooden doors), it's hard to find a better spot for the price.
You'll probably never want to leave this homey, delightful riad in Marrakech!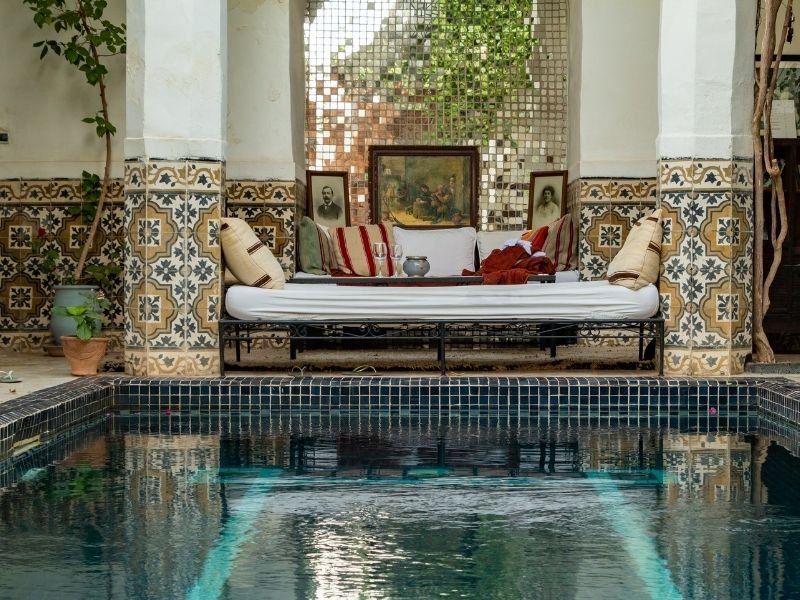 Luxury: For five-star comfort at not insanely outrageous prices you can't do much better than Villa Lavande!
This is a traditional riad with a comfortable in-house hammam, a gorgeous pool, air conditioning (a must if you travel in summer), and helpful staff.
Cooking lessons are available on-site in case you fancy learning how to make your own tajine… or you can simply eat at the in-house restaurant beloved by guests. It's located in the medina but away from the hustle and bustle, the best of both worlds.
Not enough? I have 21 more suggestions for riads in Marrakech for all budgets here.
Meander over to Koutoubia Mosque.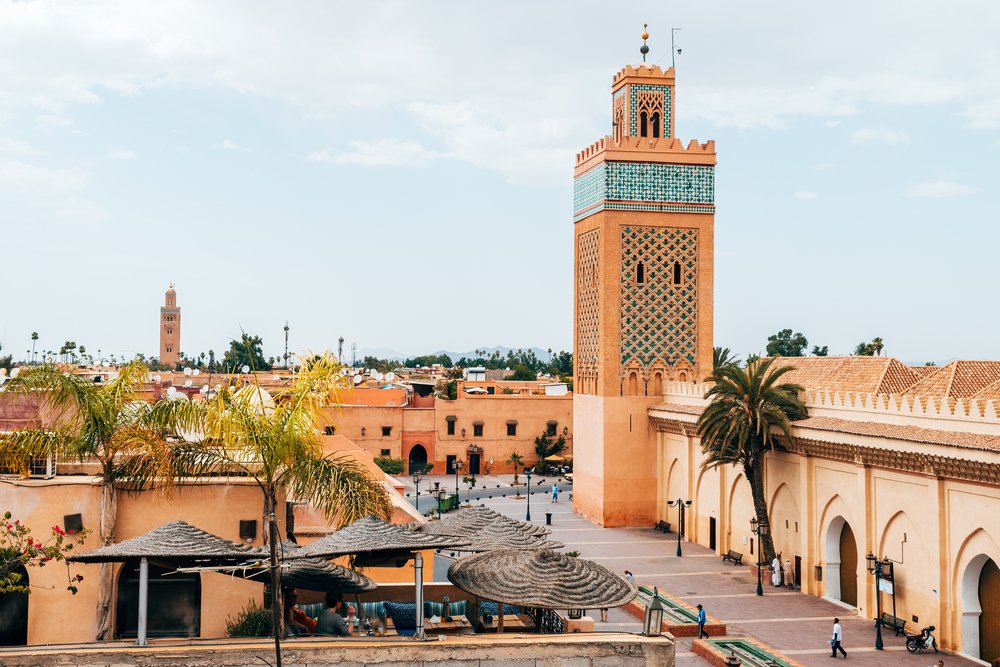 Unfortunately, unlike in other Muslim-majority countries I've been to like Turkey, Bosnia, Azerbaijan, Albania, and Kosovo, non-Muslims are not permitted to enter mosques in Morocco.
And honestly, given the way that Instagram has kind of ruined Morocco, I don't really blame them for excluding non-Muslims from the mosques.
(Instagrammers twirling around in revealing dresses inside holy sites isn't exactly halal, and judging by the way tourists treat the rest of the country, I get it.)
However, that doesn't mean you can't admire the gorgeous mosque from the outside!
Built at the height of the Islamic Golden Age, the wonderfully ornate Koutoubia Mosque is an architectural achievement, especially considering its age (nearly a millennium old).
Originally, there was a different mosque in its place that preceded the current one, but it was leveled because it was found that it wasn't properly aligned with Mecca.
After Koutoubia Mosque was built, hundreds of booksellers gathered around its base – giving the mosque its name as "koutoubia" means booksellers in Arabic.
The height of the minaret, 69 meters high, is quite an achievement as well, making it the tallest building in Marrakech.
Due to an ancient law that nothing can be taller than a palm tree, the Koutoubia Mosque continues to stick out as an exception to the rule, an important monument… and a much-needed point of reference in the winding alleyways of the medina.
Gawk in awe at Jemaa el-Fnaa… from a distance.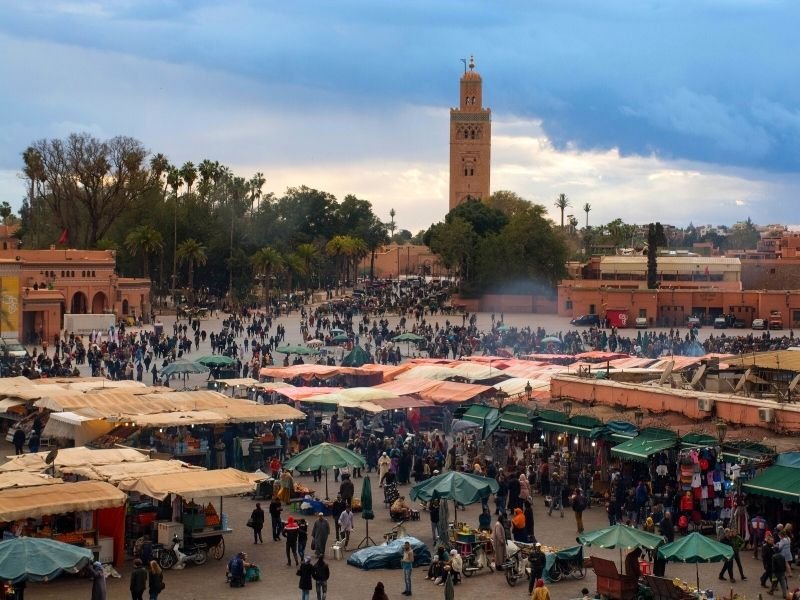 Jemaa el-Fnaa is where you'll find the best and worst of Marrakech. And as such, it's a must on any Marrakech itinerary… with some caveats.
It's a must-visit as it's been hailed as a Masterpiece of World Heritage by UNESCO since 2001, and the folks at UNESCO are rarely wrong.
You'll find the freshest, most delicious orange juice at a mere 50 cents (5 dirhams) a cup, the lively sizzle of grilling meat…
… And you'll also find snake charmers who have abusively de-fanged their cobras, monkeys who have been snatched from the wild in order to pay tricks, and women grabbing your hand to try to give you a henna tattoo at an exorbitant price.
To save yourself a headache, do not take any photos of the snake charmers, henna artists, etc. and do not allow anyone to hand you their monkey or put any henna on you as you undoubtedly will be hounded to pay. Just ignore or say no to people and move on (welcome to Morocco).
I don't mean to dissuade you from visiting Jemaa el-Fnaa; I just want you to know what to expect. It's the center of the medina, so it really is the perfect place to start exploring the wonderful yet utterly chaotic city that is Marrakech.
Its many food stalls and grills constantly operate and offer freshly grilled kebabs – follow my rule of thumb to look for locals queuing up, as I've always found that the best food to be had is right where you can see the locals eating.
On the busy streets leading up to Jemaa el-Fnaa, you can find horse-drawn carriages who are happy to take you around for a short ride around Marrakech. Be sure to bargain to get a fair price as they will certainly inflate the rates.
While I don't suggest shopping in Jemaa el-Fna proper, and saving your shopping for the souks just beyond it, you can't deny the chaotic main square has an ambiance like no other.
At this point on the Marrakech itinerary, you'll be visiting by day, I highly recommend also coming back at night to see the square in an entirely new light (literally).
Shop in the souks.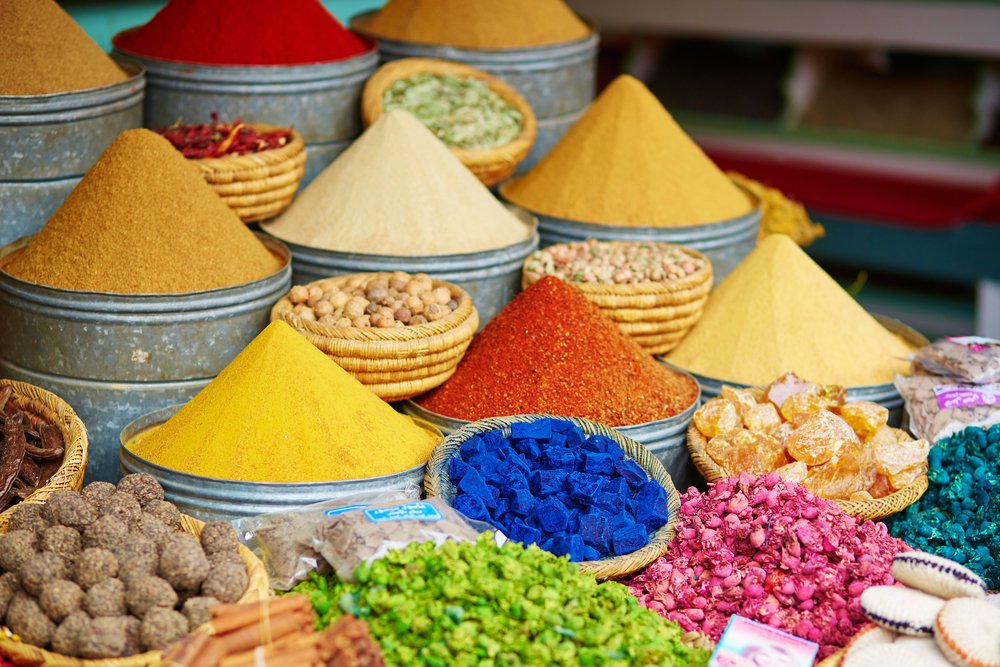 Let's be real: if you didn't come to Morocco to shop, why did you even come at all?
I had mixed feelings about my 3 days in Marrakech but there is one thing I cannot deny: the shopping is unreal.
Unfortunately I visited Morocco when I was still living nomadically (I've since settled down and have a proper home base) so I wasn't able to buy much.
However, if you're visiting Marrakech and then returning home after… seriously, bring a spare suitcase because the shopping here is amazing.
So, what exactly are the souks? Put simply, souks are North African marketplaces and bazaars that sell a variety of good.
In the case of Marrakech, the souks are entire streets built like mazes that stretch in every direction and are filled with shops of all types and sizes, primarily selling leather accessories, clothing, jewelry, and home decor goods.
Due to the nature of the souks, prices vary wildly and you are expected to haggle (you'll be considered a fool if you don't).
Luckily, no matter where you shop, generally the goods are at least of decent quality and they are often handmade in nearby factories and shops rather than being sent in from China as in much of the world.
Be aware that accepting tea in a shop will likely embolden the vendor to demand you make a purchase (unlike the Grand Bazaar in Istanbul where accepting a cup of tea is much less fraught).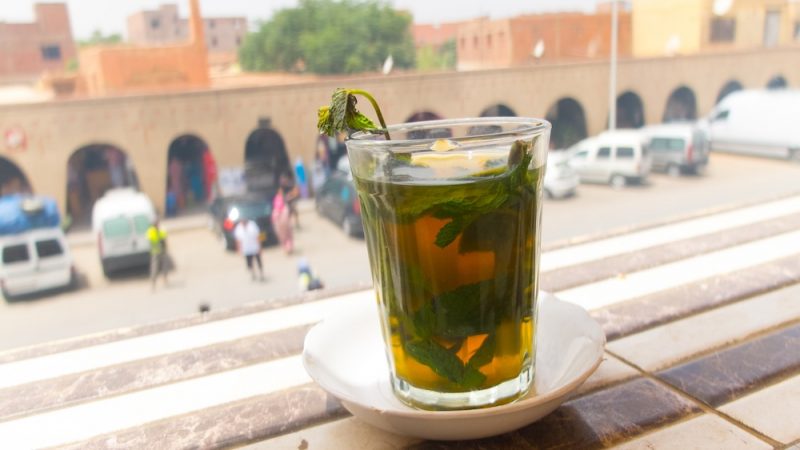 Always remember that you are under no obligation to pay for an item if you do not like the price, and feel free to walk away. In fact, walking away will often get you the best price you can get.
Don't show too much enthusiasm (but don't be rude) and mention that you are shopping around if you want to get the best price.
All vendors speak English as well as a variety of other languages very fluently so language barriers, for better or worse, are not an excuse to not buy!
A few things I recommend buying, if you're interested: leather bags, leather shoes, leather poofs (they come un-filled so they are easy to transport), plates, bowls, tajines, and lamps.
The clothing is rather gimmicky and doesn't actually appear to be traditional, so it's not my style.
If you're a frequent traveler like I am with little space in your bag, I'd settle on just spices and the delicious, delicious olives that can be had for about two dollars per kilo so you can consume them before you leave!
End the day with a sunset camel ride.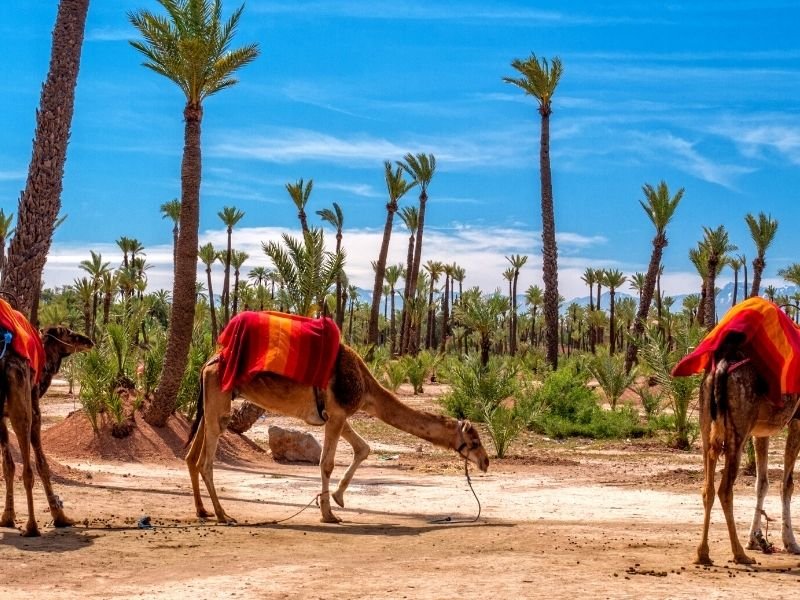 The ethics of using animals in tourism is something that concerns me a lot, as an animal lover and as someone who tries to be a responsible traveler.
It's complicated, and I've covered in detail on certain posts of mine, such as my posts on dog sledding and reindeer sledding in Arctic Norway.
Riding elephants is never okay (mostly due to the horrors they endure to become domesticated enough to tolerate a human on its back) yet riding horses is fine.
So where exactly does riding a camel fall into that?
I rode camels through the Sahara Desert in 2016 and loved my experience without really thinking much of it.
However, as I wrote this post in 2018 and updated it in 2022, the landscape of ethical animal tourism has changed. Thankfully, we are paying much more attention to animal welfare these days.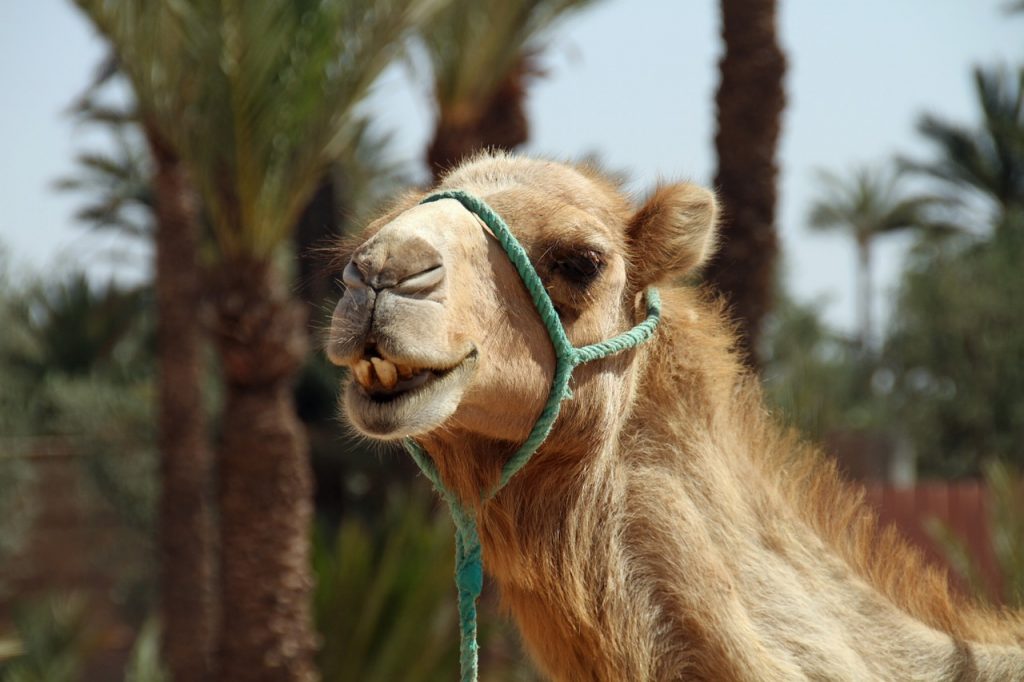 Before I could decided whether or not you should do a camel ride, I looked into it and did some research specifically on the ethics and history of camel riding.
Basically, the same rules apply to horses and donkeys as camels. Camels require adequate food, water, shelter, access to medical care when necessary, and freedom from abuse or overwork.
If an operator can provide all that, there is nothing unethical about riding camels (this article has great insight into camel riding in Morocco specifically, and mentions an important note that you should always pay a fair price for your camel ride as not paying enough may lead to camels not being fed or cared for properly).
I did some research into reputable companies and while I can't find any sort of animal welfare certification system in Morocco, this sunset camel tour has excellent ratings with several reviewers remarking that the camels seemed well-looked after.
Additionally, the price is fair enough to ensure the animal's welfare is being taken care of, without being outrageous for the consumer. If you use them, please comment back with your feedback so we can know how it was!
Tip: Please be aware that with 3 days in Marrakech, you can't actually get out to the proper Sahara sand dunes (those are about a two days' drive west to the Sahara) but rather the Palm Grove, which is an oasis outside of Marrakech.
If you do have enough time for a Sahara desert tour because you're planning to continue your trip beyond Marrakech, please read my review of my Sahara desert tour as I had a really unpleasant experience with my guides I don't want anyone to experience.
The TL;DR of it is that I woke up with my guide in my face about 10 seconds away from groping me — so do your research to find a reputable tour company before you book.
3 Days in Marrakech Itinerary: Day Two
Overview:
Start with the Ben Youssef Madrassa
Visit the ruins of the El Badi Palace
Marvel at the ornate Bahia Palace
Check out the Jewish Cemetery
Admire the Saadian Tombs
Do an evening souk and food tour
Visit the newly-renovated Ben Youssef Madrasa.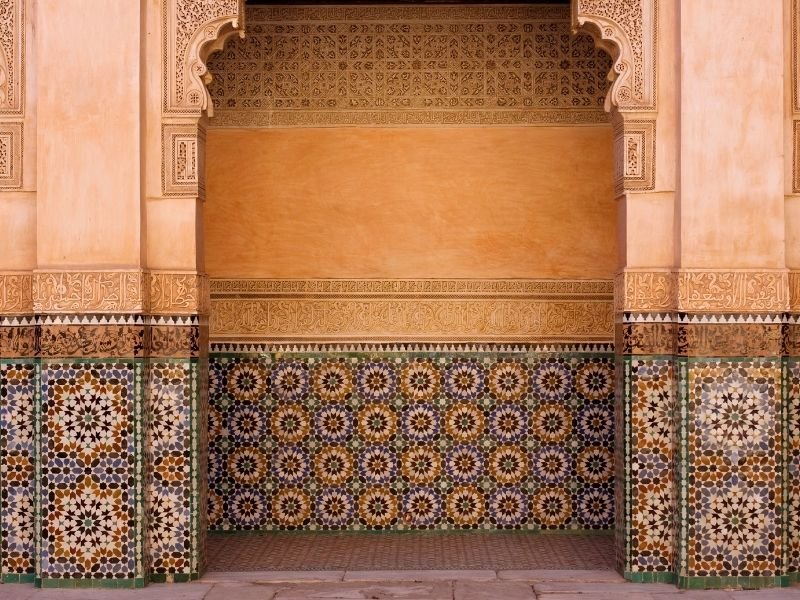 Since mosques are closed to non-Muslims, madrasas (Islamic schools) and palaces are the only places you can really see Islamic tilework in their full glory.
And nowhere else in Marrakech can you find tilework quite as impressive as at the Ben Youssef Madrasa!
For that reason, the Ben Youssef Madrasa is an absolute must-visit on this Marrakech itinerary.
The madrasa's work is finally finished after being shut down for a few years for renovation work, so the mosaic tilework should be even more spectacular now.
As of the last update on June 3rd, 2022, the madrassa is reopened to the public!
Entrance costs 20 dirhams or about $5.50 USD.
Marvel at the history of El Badi Palace.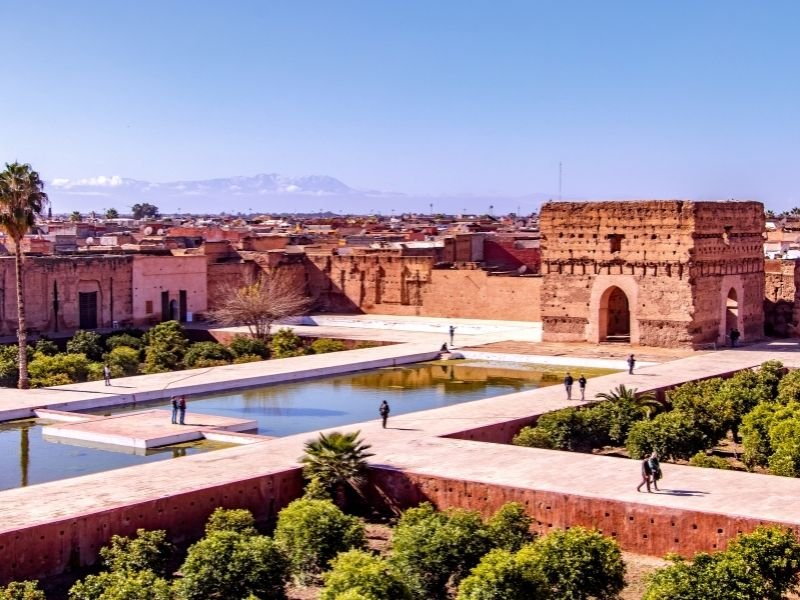 El Badi Palace literally translates to "the incomparable palace."
Perhaps that was true at the time, but a lot has happened in the nearly five centuries since its construction!
It's a bit worse for wear, but at the same time, you can see spots of the former beauty of this ruined palace.
It took 15 years to build, demonstrating the best craftsmanship of the Saadian era. At the height of its grandeur, the palace had 360 rooms, decorated to the nines with handcrafted furniture, as well as a courtyard complex with a pool.
Rich with gold, onyx, Italian marble, and exquisite tilework, the Palace was an ostentatious display of the Saadians wealth.
While much of the original palace is in a state of disrepair, there are still several gorgeously preserved parts of the palace with excellent tile mosaics, ornate stained glass windows, and beautiful courtyards.
There is still plenty to photograph and visit, all while you imagine the former beauty of it in its heyday.
Continue your sightseeing at Bahia Palace.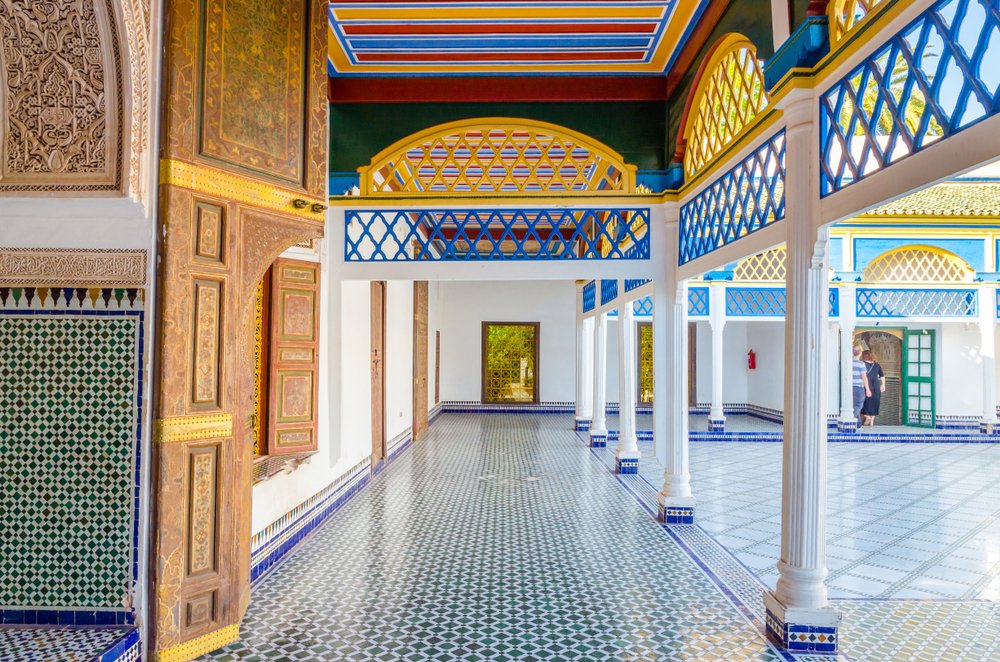 Whereas the El Badi Palace is a bit worse for wear after centuries of disuse, Bahia Palace is in remarkable condition!
Built in the second half of the 19th century, Bahia Palace is arguably the most well-preserved historic monument in Marrakech, and its simple color scheme of white, wood and understated tilework is gorgeous.
It's a glorious palace, one that was built over the course of 14 years, across an area of two acres, sporting around 150 rooms.
To say that it's beautiful would be doing it an injustice: it's mindblowing.
Its many ornaments, lavishly-decorated doors, breathtaking fireplaces, floors and ceilings of the finest wood: every single detail adds up together to achieve something that is truly spectacular.
Visiting Bahia Palace is an unforgettable experience for any visitor and a must-do whether you have 24 hours or three days in Marrakech.
🕌 Tour Suggestion: Bahia & El Badi Palace Tour
(4.6/5 stars, 150+ reviews)

While you can visit each site individually, you may get more enjoyment seeing it as part of a guided tour and understanding the context and history behind these beautiful buildings.

This guided tour lasts 3 hours and includes El Badi Palace, the Bahia Palace, and the Saadian Tombs (optional).

Note that this tour only includes a guide — entry fees are not included. However, you will get skip-the-line entry with your guide.

Book this tour of Marrakesh's palaces here!
Explore the Saadian Tombs.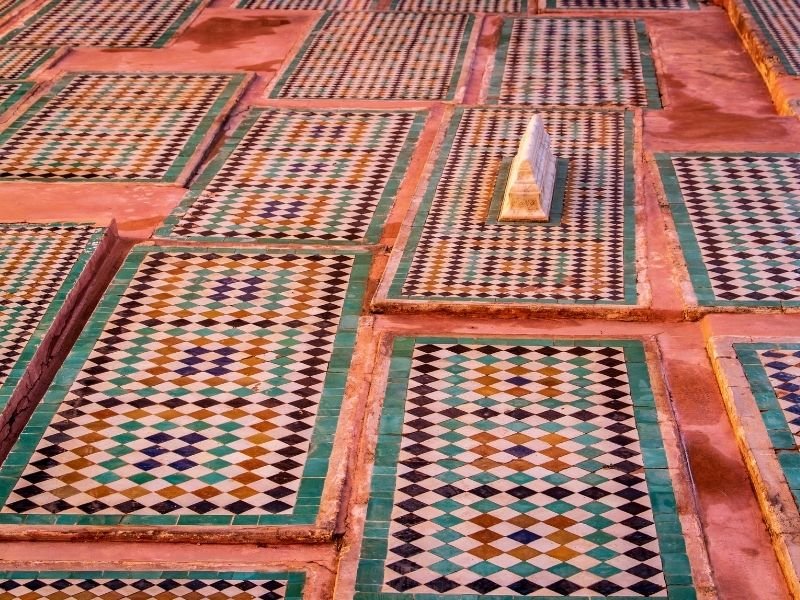 The Saadian dynasty was an important part of Moroccan history, when Morocco flourished and grew as an important power: hence, their presence in much of the architecture and monuments of modern-day Marrakech.
The tombs of the Saadian dynasty, built by Sultan Al Mansour in the 16th century, contain marvelous tombs and mausoleums built to commemorate his family.
His successors have since walled off the Saadian Tombs, but they're still accessible by a small passage through the Kasbah mosque.
The Sultan's own tomb is quite intricate and ornate, and it's surrounded by the tombs of his favorite counselors and princes.
Still, even the Sultan's resting grounds is overshadowed by his mother's mausoleum!
It's a resting place made for maximum splendor, truly fit for a queen, with many plaques and carvings offering poetic blessings.
Visit the Jewish Cemetery.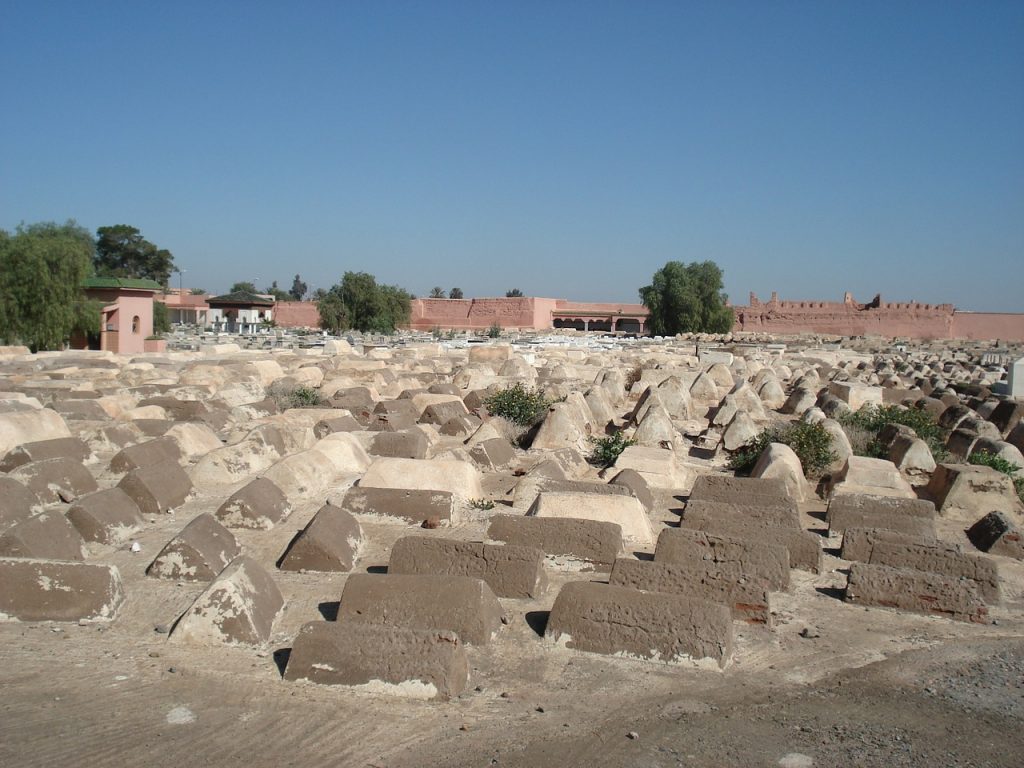 While today, Morocco is synonymous with its majority Muslim population, it has historically been an important site for Jews for centuries.
You can see that history at the Jewish Cemetery nearby Bahia Palace, but its simplicity and bareness will be quite a contrast to the ornateness of Bahia Palace.
The Jewish Cemetery in Marrakech is the largest of its kind in Morocco and has been in continual use since the 16th century.
Today, the Jewish population of Marrakech is quite small – a mere 200 or so Jews – as much of Morocco's Jewish population moved after the founding of Israel.
In fact, Moroccan Jews make up the second largest Jewish community, numbering about 500,000 in a country of around 9 million.
Despite the mass exodus of Moroccan Jews since the founding of Israel, the area around Marrakech is still important to Jewish history, with several important Jewish pilgrimage sites located in the outskirts.
While Morocco's population is 99% Muslim, the country has done an excellent job of protecting its Jewish citizens and Jewish history.
After the Jews were expelled from Spain, many Sephardic Jews fled to nearby Morocco by crossing the straight of Gibraltar, and subsequently, they became integrated into Moroccan society.
During World War II, King Mohammed V protected the Moroccan Jews from being shipped to Europe to be exterminated in the Holocaust, defying Hitler's orders by saying "in Morocco we don't have Jews, we only have Moroccan citizens."
This is emblematic of the religious tolerance that Morocco has exhibited for centuries, proudly 99% Muslim yet allowing Christian, Jewish, and to a lesser extent Baha'i communities to maintain places of worship.
End the night with a food and souk tour.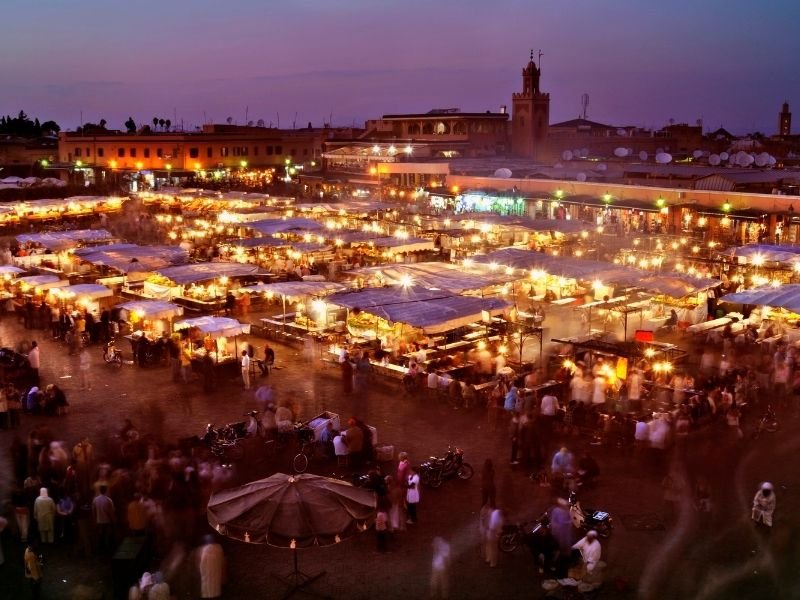 Walking through Marrakech's souks can be a bit stressful for first-timers to Morocco and the socially anxious amongst us – at least it was for me.
Taking a guided tour of the souks is definitely a way to reduce the stress factor.
It's something I learned by the time I got to Fes and it made my time there so much more rewarding.
Alternate Ideas for your Day Two in Marrakech Itinerary
If hopping from palace to palace is too on the tourist trail for you, there are ways to get a bit more local.
You could start the morning with a tagine cooking class, learning hands-on how to make Morocco's most famous dish with the assistance of a local!
Afterwards, you could check out the excellent photography museum, Maison de la Photographie, to see some work from Moroccan artists, or relax in the not-so-secret Le Jardin Secret.
Cap off your evening with either an evening food tour or visit the hip, artsy Café Clock for a meal and drinks (no alcohol available) with the locals.
3 Days in Marrakech Itinerary: Day Three
For here, we have two options: A hot air balloon followed by a wander through a colorful garden, some last-minute shopping, and a hammam treatment before you leave.
If you prefer to get out and explore more of Morocco, I suggest taking a day trip out into the Atlas Mountains and the Agafay Desert.
Overview Option One:
Take a hot air balloon ride over the desert
Explore the beautiful colors of the Jardin Marjorelle
Finish any last-minute shopping in the souks
Relax in a hammam
Overview Option Two: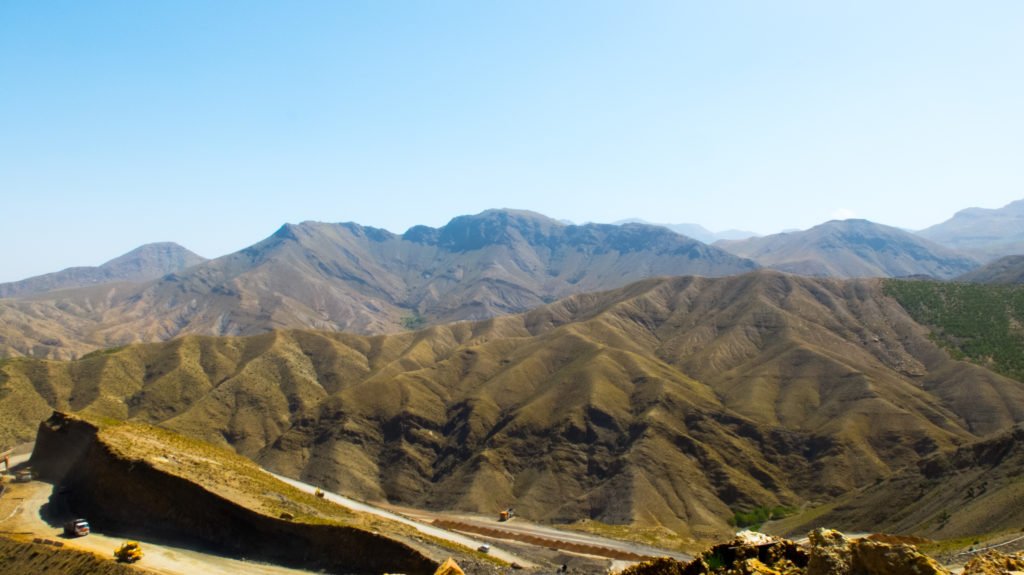 Take a full-day day trip to the Atlas Mountains and Agafay Desert, which includes the following:
Photo stop at Tahnaout
Visit to an argan oil factory
Explore the charming towns of Asni, Imlil (a great spot for a short hike), and Tamatert
Have lunch with a Berber family in Ait Souka
Stop at two beautiful viewpoints
Have a camel ride and tea in the Agafay Desert.
Book your day tour of the Atlas Mountains, Imlil Valley, and Agafay Desert here!
Wake up early for a hot air balloon ride over the desert
If you have the time and the funds for a hot air balloon ride in Morocco, I think it's the best way to cap off three days in Marrakech.
I wasn't able to afford it when I visited Morocco many years ago, fresh off of quitting my job to start this blog.
However, I rode a hot air balloon in Cappadocia in Turkey and just. wow. It's one of the most magical experiences I can remember.
As when I went with Voyager Balloons in Cappadocia, it's always crucial to pick a reputable hot air balloon company with pilots with thousands of hours of flight time under their belt.
Admire the colorful grounds of Jardin Marjorelle.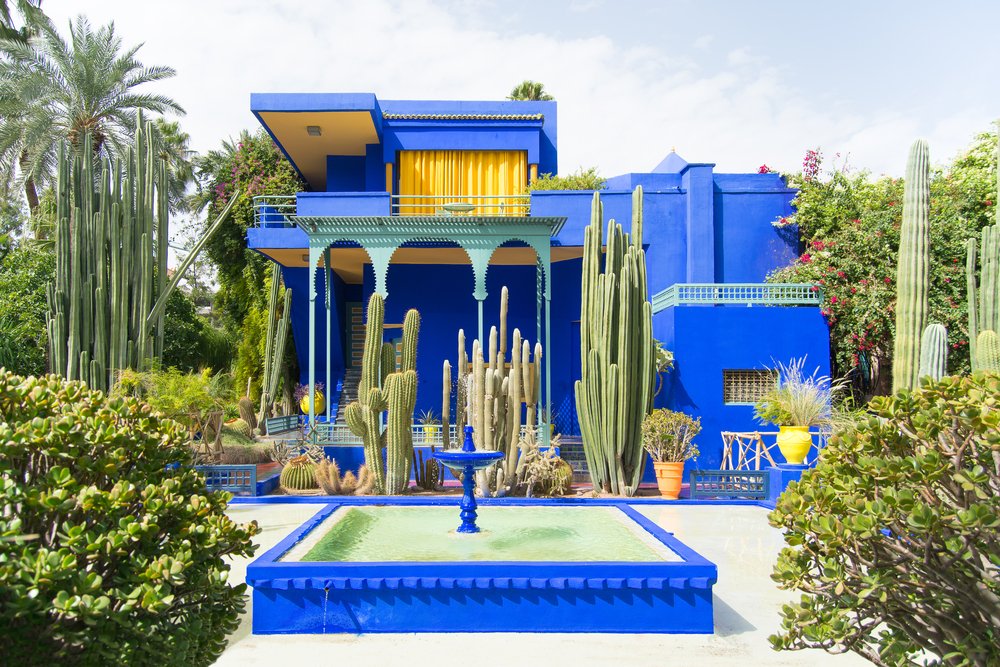 After a hot air balloon ride, you'll probably be a bit beat from the early morning wake-up and excitement.
And what better way to relax than in one of Marrakech's most gorgeous gardens?
Amidst all the hustle and bustle of the busy streets of Marrakech lies the gorgeous Jardin Majorelle.
It's a quiet and calm reprieve that's surrounded by a chaotic and active lifestyle, so this garden is truly an oasis in the desert.
It was originally created by Art Deco painter Jacques Majorelle – who ended being more known for the garden rather than his paintings – around 1920, and it was later bought and renovated by fashion designer Yves St. Laurent.
While the garden itself is lovely, with cacti and gorgeous blossoming flowers, it's most famous for the hue of its walls, an intensely vibrant cobalt blue that's now called Majorelle blue.
Today, Jardin Majorelle open every day of the year, and it's remained a visitor favorite for quite a long time. It's one of those places where you can sit back, relax, and just enjoy the scenery.
Enjoy a hammam experience.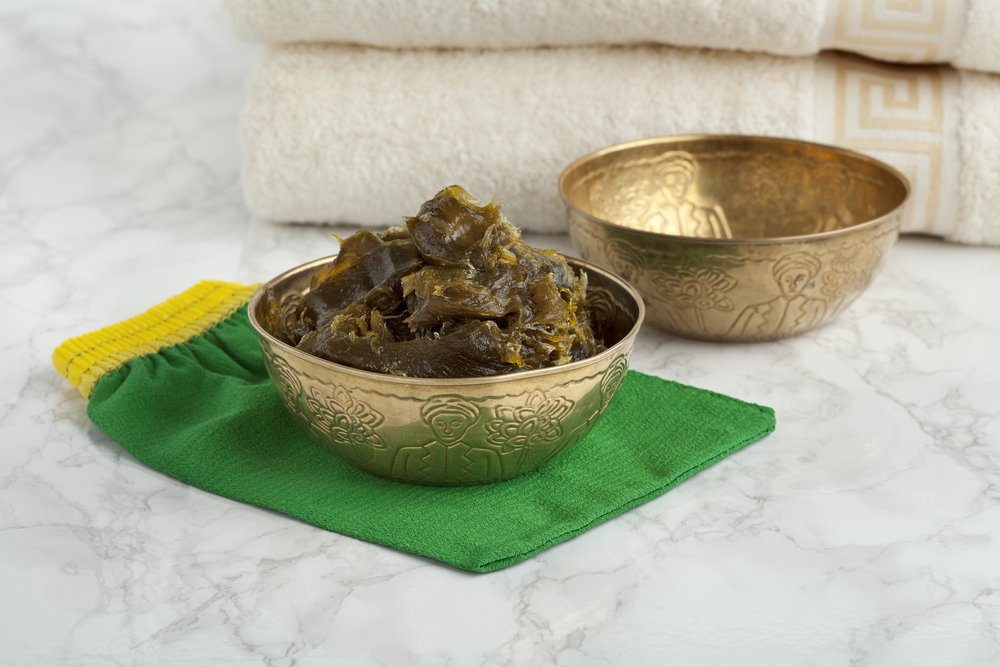 Hammams are common throughout North Africa and the Middle East, a tradition dating back from when private bathrooms with running water weren't that common.
Over the years, hammams became more about relaxation and socializing than getting clean.
You can't miss trying a traditional scrub in Morocco – you'll literally feel brand new after, as they'll slough off roughly half a human's worth of a dead skin.
There are several kinds of hammam experiences you can have, from ultra local to ultra luxurious. I recommend going somewhere in the middle.
My friend I was with in Morocco went to the spa at Riad Laârouss and found it to be a great experience, as they gave her tea when she got in and explained the whole procedure to her!
Meanwhile, I went to some random hole-in-the-wall because I was trying to save money and stumbled (naked, I should add) through the whole experience with my very rudimentary French.
The way a Moroccan scrub works is that first they use a eucalyptus-scented black soap, applying it to your whole body while you are fully nude. Don't worry, if you're a woman, you'll have a female attendant!
I've been told by male visitors that they were still attended on by women, but they were asked to keep their shorts on (for obvious reasons!).
After they'll apply argan oil and then scrub – hard – using a rough glove to exfoliate off the dead skin. You can just get a steam and scrub or finish up with a lovely massage afterwards.
Learn from my mistakes: don't cheap out and run into a random hammam.
I recommend booking with a tour company that caters to English-speaking clientele (I use GetYourGuide for all my travels) and allows you to pre-book online to avoid communication issues as I had!
This tour has generally positive reviews and is inexpensive.
If You Have More than 3 Days in Marrakech…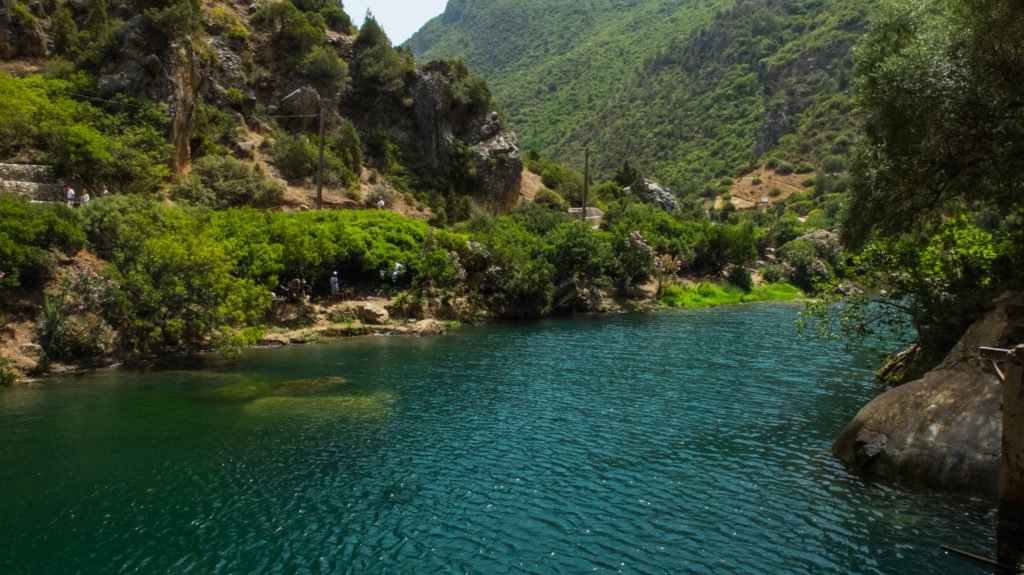 Have more time in Morocco? I suggest getting out of Marrakech!
Next up, I highly recommend doing a Sahara desert tour – just be sure to read my guide beforehand, as there's a lot you should know before booking.
If you're planning a day trip outside of Marrakech, there are a few options. Essaouira is a coastal city that has starred in Game of Thrones.
It's an excellent day trip from Marrakech if you want to squeeze in some time at the sea on your trip.
Want to freshen up in some waterfalls?
Spend a day chasing waterfalls in the nearby oasis of Ouzoud Waterfalls in the middle of the stunning Atlas Mountains.
Want to get active?
Check out this small group trek through remote Berber villages, combining nature and culture on a hiking trip.
3 Top-Rated Marrakech Experiences
What to Pack for a Weekend in Marrakech Itinerary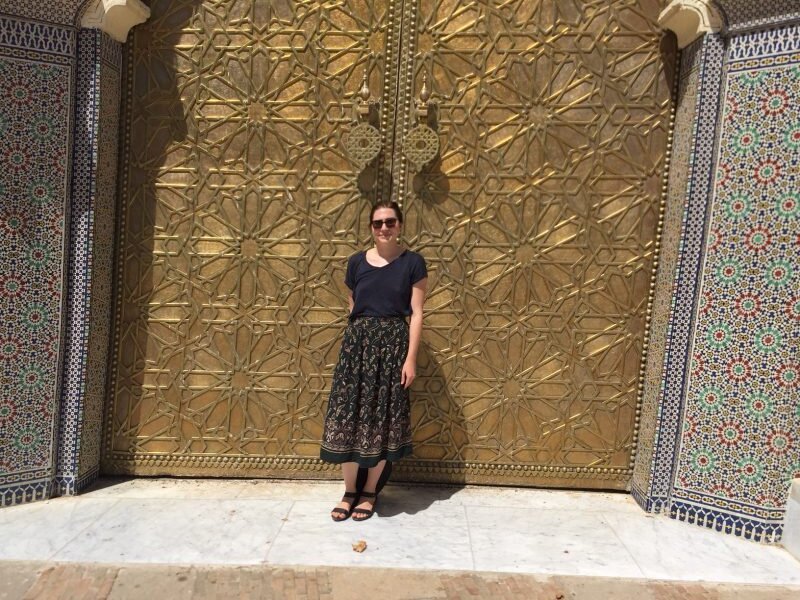 I have a full Morocco packing list here — here's the quick version of it, with a few essential things highlighted you shouldn't miss!
Appropriate clothing: Morocco is a conservative country, and it's both the most respectful and the most comfortable thing for you to do to blend in in terms of dress when you visit. For all genders, this means shoulders and knees covered; however, women who don't adhere to clothing norms will attract more attention than men. As a woman visiting in the summer, this meant loose, linen-blend T-shirts and long skirts with sandals.
Some earplugs or good noise-canceling headphones: If you've never visited a Muslim country before, you're in for a treat the first time you hear your pre-dawn call to prayer! I personally love hearing the call to prayer… at all times except that first one in the morning, before the sun even rises. I love Hearos — they're the best ear plugs I've used.
Adapter: Morocco uses C and E plugs, the same as most of Europe (save the UK and Malta). Pack an adapter if you need it!
Travel medications: I keep a medicine kit on me at all times — there's nothing worse then feeling sick on the road and knowing you have to stumble through a pharmacy interaction. I carry Pepto-Bismol for standard stomach troubles, Imodium as a nuclear option, some sort of painkiller like ibuprofen for headaches and minor pains, and some sort of motion sickness tablets. Plus any prescription medications you may have as well!
Travel insurance: In this day and age, you can't be too careful. I always protect my trips with trip insurance, in case of illness, accident, cancellations, or delays. I personally use and recommend World Nomads!
More Morocco Travel Resources
I've written quite a bit to help you plan the perfect trip to Morocco! First, start with my Morocco travel planning checklist – it walks you through every step of the planning process.
Next, check out my Morocco packing list with specific advice for what women should wear in Morocco.
If you need more advice on where to stay in Morocco, I have a guide to the best riads in Marrakech on any budget, as well as a guide to riads in Fes!
Did I leave anything out? What else would you recommend to see in Marrakech in 3 days?
Allison Green is a former educator turned travel blogger. She holds a Masters in Teaching and a B.A. in English and Creative Writing. Her blog posts merge her educational background and her experience traveling to 60+ countries to encourage thoughtful travel experiences that both educate and entertain. She has been a speaker at the World Travel Writers Conference and her writing, photography, and podcasting work has appeared in National Geographic, CNN Arabic, CBC Canada, and Forbes, amongst others. Now based in the San Francisco Bay Area where she grew up, she has also lived in Prague, Sofia, and New York City.