A trip to the Dolomites is one of the most spectacular road trips you can do in Italy.
Few other places on Earth can equal the beauty of the natural landscapes in this area!
Drive along serpentine roads in the Dolomites' valleys, stop by picture-perfect lakes, explore charming mountain villages, and admire the fascinating, craggy mountain peaks around you.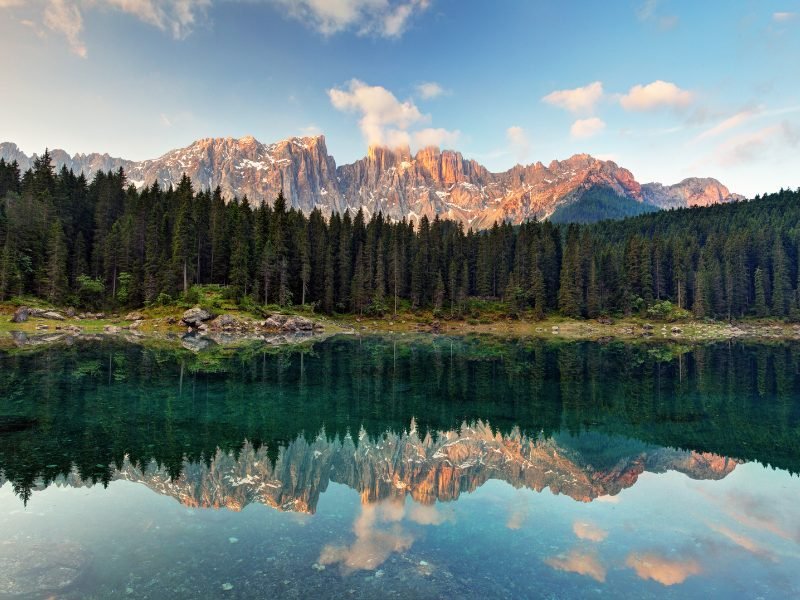 Note: This post contains affiliate links, which means I may receive a small commission if you purchase something through one of these links. Thank you for supporting the free content on this site! For more information on affiliate links and cookies, see my disclosure page for more details.
Driving to the Dolomites will be an unforgettable experience, no matter the time of year.
However, choosing the best Dolomites itinerary can be challenging: there are so many spectacular locations that it can be hard to know which ones to choose.
This 7-day Dolomites road trip itinerary will guide you through some of the most scenic spots to help you experience a memorable road trip.
What to Know Before Planning Your Dolomites Road Trip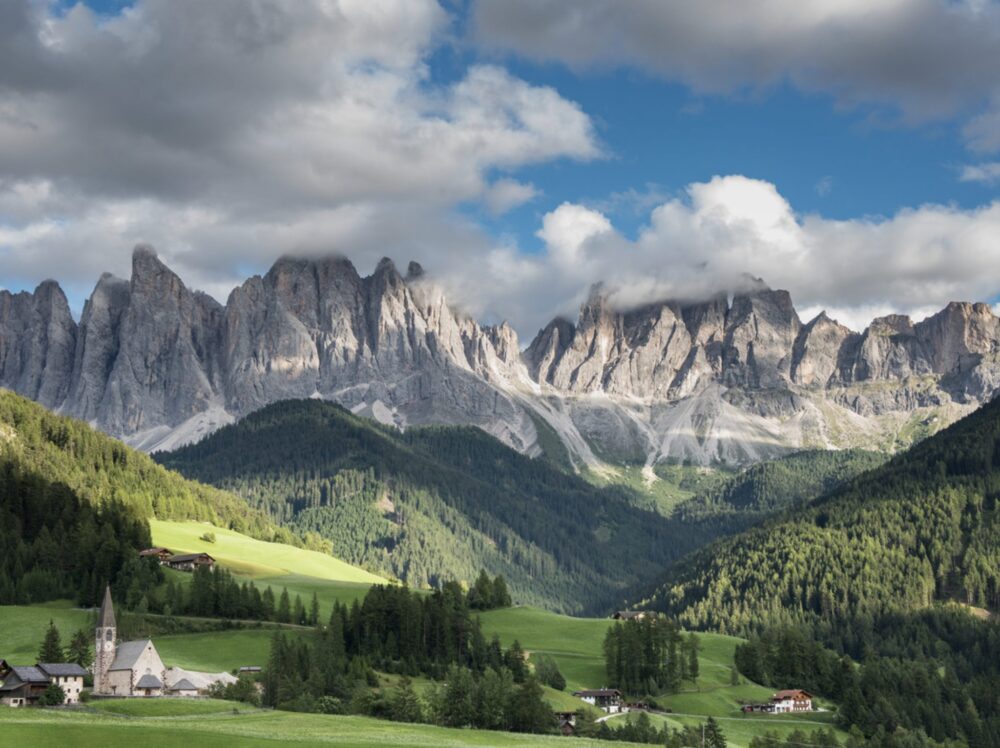 Unlike other road trips in Italy, a Dolomites road trip can be a bit trickier, depending on the season you choose to do it.
Furthermore, a part of the trip consists of hiking along mountain trails, so you should be well prepared for these activities.
However, this Dolomites itinerary only includes hikes that are accessible to most people: we won't feature any particularly rugged or difficult hikes here.
Before diving into the road trip itinerary, let's go over a few tips to ensure you have a seamless trip and are prepared for different circumstances!
The Best Season for a Dolomites Road Trip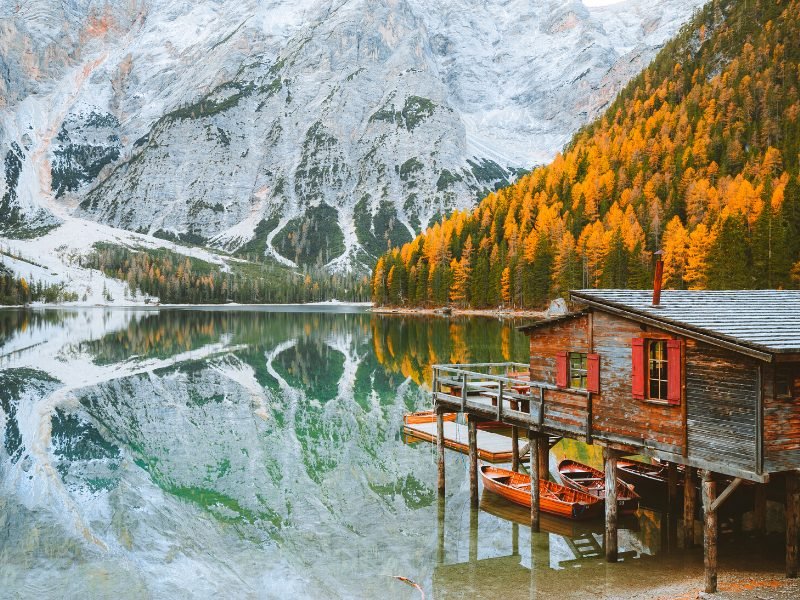 The Dolomites are stunning in both winter and summer. However, warmer months are ideal to explore the many hiking paths.
To enjoy nice weather, plan your Dolomites road trip in June, early July, or the second half of September.
August tends to be the most popular month — many Italians are on vacation and traveling domestically, plus an influx of international European tourists — so you may find many places too crowded.
If you choose to visit the Dolomites in winter, you should expect very low temperatures and lots of snow — and potentially difficult driving conditions!
While this makes for beautiful landscapes, it also means that many hiking paths and attractions are not accessible, so you may be slightly limited in visiting certain spots.
Driving in the Dolomites
A great thing about the Dolomites is that many roads are accessible year-round, and you can drive around quite easily.
However, even though the roads are paved, you may want to pay a little extra to ensure you have winter tires on your Italy rental car if you visit between November and April.
The last thing you want is to have car troubles on a snowy mountain pass!
Another thing to note is that some portions of the roads have tolls.
While you'll be mostly driving on small mountain roads, you'll take the highway from time to time.
The portions are usually small, so tolls are quite cheap, but you should always have some change, just in case the tollbooth doesn't accept cards.
Furthermore, some areas are only accessible by paying a fee, which can be significantly higher.
One such area is Tre Cime di Lavaredo, which costs a whopping 30 euro per car!
What to Wear in the Dolomites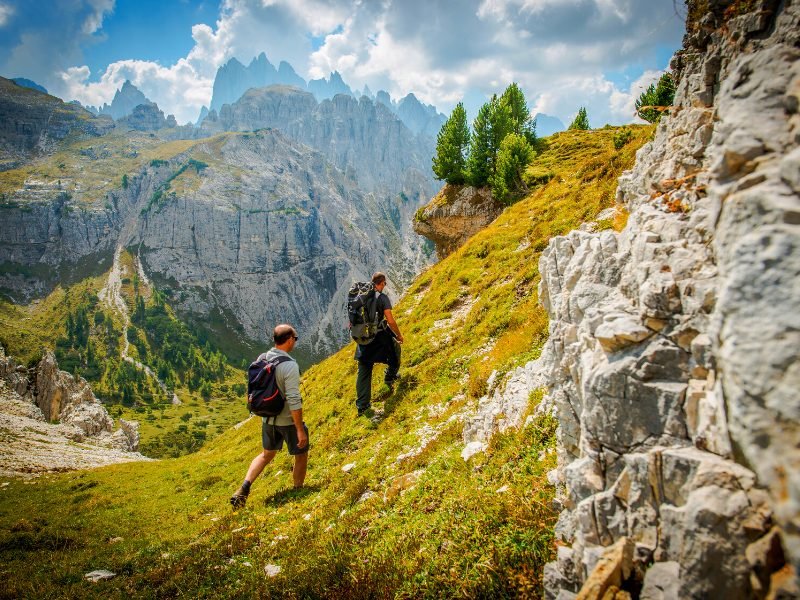 If you plan to do any hikes, you should wear proper hiking shoes that support your ankle and have proper traction.
Although the hikes in this Dolomites itinerary are fairly easy, you'll still be walking along mountain trails, so proper shoes are a must, even in summer.
Where to Start Your Road Trip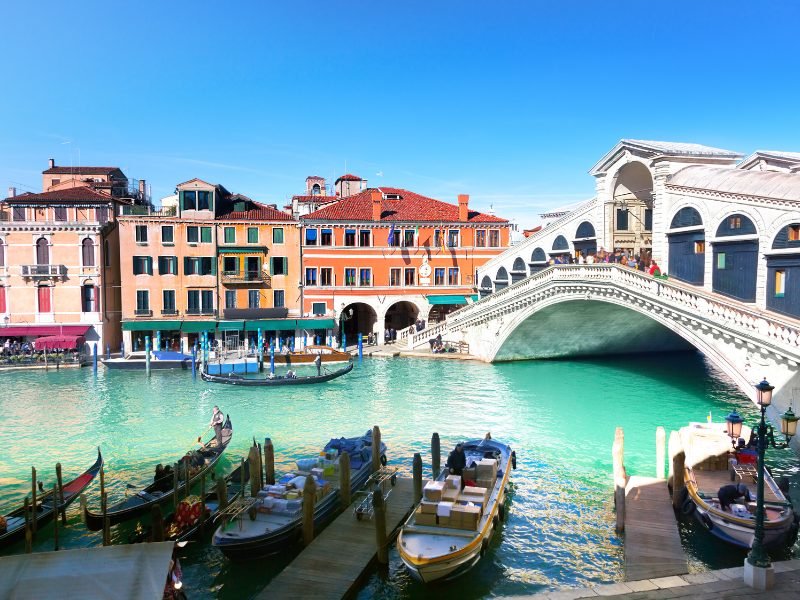 The best city to start your Dolomites road trip in Italy is Venice, which is served by the international airport Venice Marco Polo.
This is the closest large international airport to the Dolomites, though you may also fly to Bolzano, Verona, or Bergamo (this is a budget airline hub, so you may actually find good deals here!).
Venice is so close to the Dolomites, in fact, that you can even do a day trip from Venice to certain parts of the Dolomites… but trust us, one day won't be enough.
Another option is to fly to Innsbruck and cross the Austrian-Italian border.
If you do so and plan on renting a car, check whether there's an additional fee for crossing the border.
For the purposes of this post's Dolomites itinerary, we will be starting and ending in Venice.
How Much Time Do You Need for a Dolomites Road trip?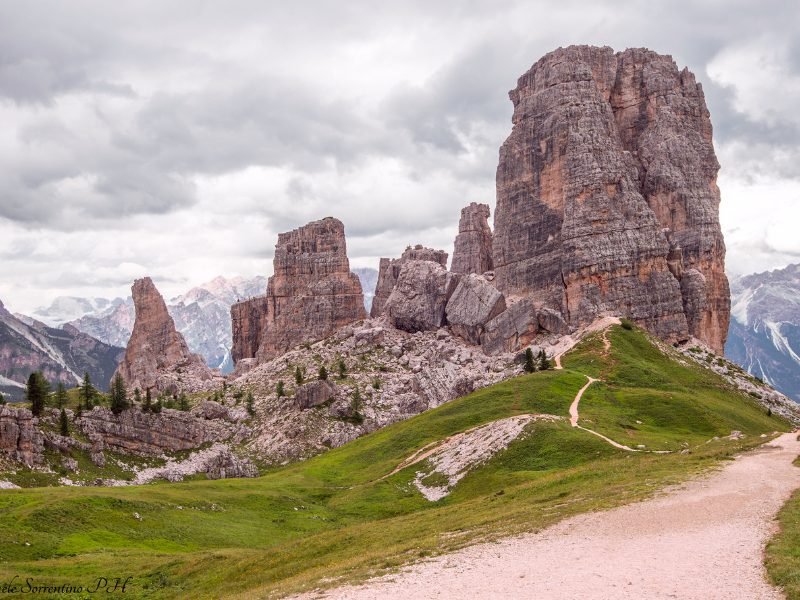 You could easily spend between one and two weeks driving around the Dolomites, since there is so much to see and do.
However, a fast-paced but comprehensive Dolomites itinerary, allowing you to see the main sights, can take between five and seven days.
The itinerary you find here takes seven days, but you'll find a few options to shorten it to six or five days if you wish.
This itinerary will start and end in Venice, but you can adapt it if you want to start somewhere else.
We won't cover Venice here, but if you're looking for ideas on what to do in the city, you can find them in this article on the best landmarks in Venice or this 3-day Venice itinerary.
Now it's time to get into the nitty gritty of your road trip to the Dolomite Mountains!
Renting a Car for the Dolomites
If you are flying into Italy specifically to do a Dolomites road trip, you will likely be flying into either Venice's or Bergamo's International Airport.
In that case, it makes the most sense to rent a car in Venice or Bergamo when you arrive and start your journey from there.
If you're starting from another point in Italy and heading there, I'd recommend picking up your rental car at the airport where you'll get the best prices.
When searching for rental cars in Europe, I always use DiscoverCars because they compare 500+ agencies, including small local ones, to scout out the lowest price for your rental.
Day 1 of Your Dolomites Itinerary: Drive from Venice to Belluno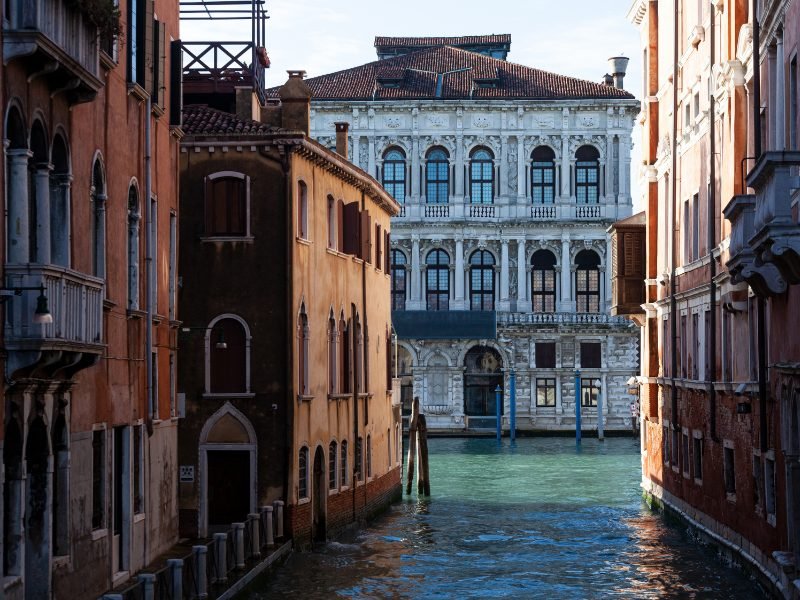 Start your Dolomites road trip in Venice in the morning.
If you arrive in Venice in the evening or late afternoon, it's best to stay overnight so you can get an early start the next morning.
Depending on how long you have to travel and whether or not you've been to Venice before, you may opt to spend a few days in Venice before beginning your trip.
If you want to do that, add some of this Venice itinerary to your Dolomites itinerary.
From Venice, you'll drive straight to Belluno, the gateway to the Dolomites. You could make a stop in the Veneto wine country along the way, but unless you have a designated driver, this isn't a great idea.
The drive takes roughly one hour and a half, with an optional stop in the small town of Santa Croce… though we definitely don't recommend you skip it.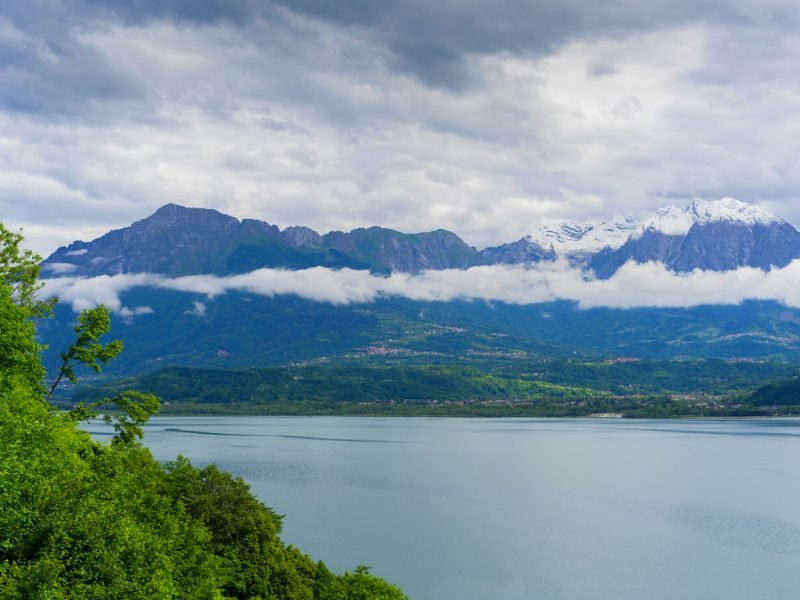 Here, you can admire the beautiful Lago di Santa Croce, the second-largest lake in the Italian region of Veneto, the largest being Lake Garda.
Aim to get to Belluno before lunchtime, so you can find a parking spot and go for a walk in the historical center.
Check out the Minor Basilica of San Martino, Palazzo dei Rettori, and the historical Porta Rugo.
The old town is quite small, so you'll be done exploring it in half an hour, or perhaps an hour if you are really taking it slow.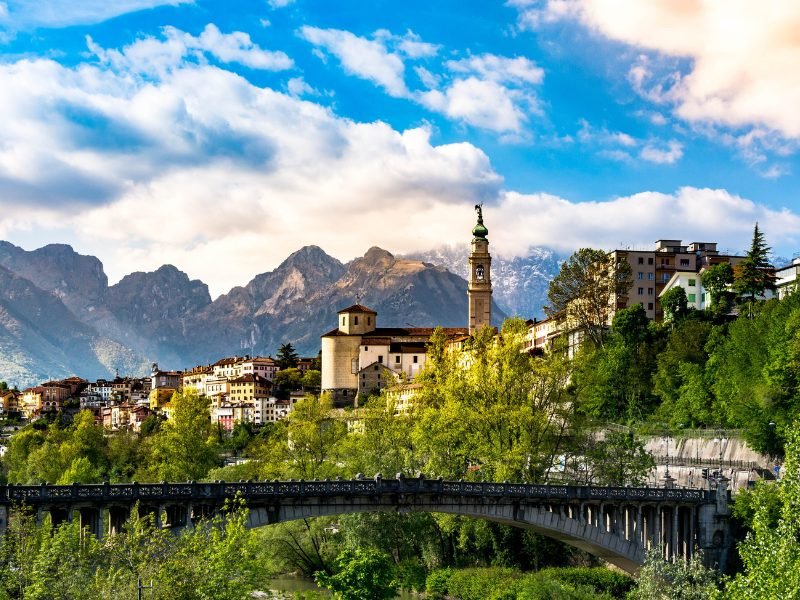 If you can already check in at your hotel, this may be a good time to do so!
The afternoon of your first day of this Dolomites itinerary is dedicated to a short hike on a portion of the Alta Via delle Dolomiti n. 1.
The trail connects Belluno to Lago di Braies, a 125 kilometers trail across the National Park of the Belluno Dolomites.
Drive to Locanda Case Bortot, where you can have lunch with a gorgeous view before your hike.
From Case Bortot, you can choose between two hikes, depending on the time you have and your physical fitness.
If you're looking for something short and easy, do the 1.5-hour hike to Bus del Buson, a canyon excavated by the Ardo River during the ice ages.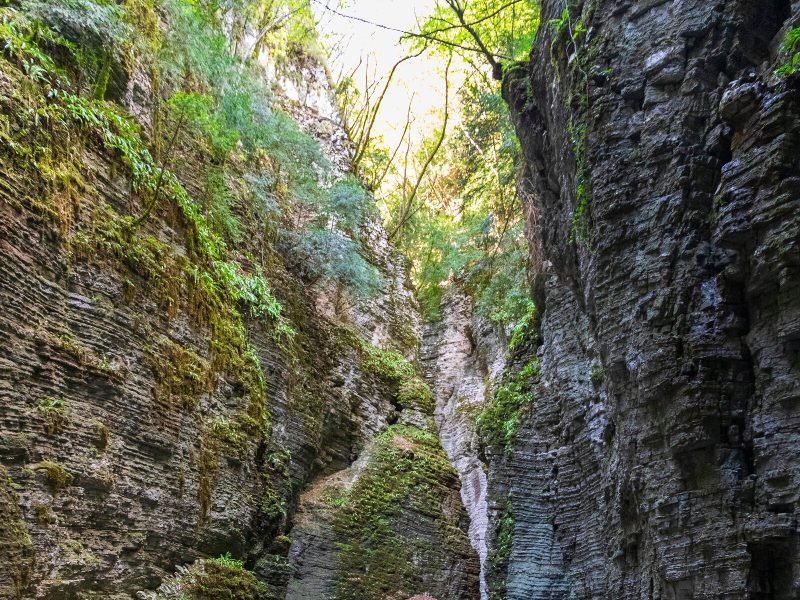 If you're up for a more challenging hike, you can do the 6-hour out-and-back hike to Rifugio 7° Alpini.
This hike, though more difficult, will reward you with impressive views of Monte Schiara.
If you choose to do this tougher hike, get started no later than 1 PM in summer, and be sure to bring a headlamp in case it gets dark on your return.
Back in Belluno, it's time to reward yourself with a nice dinner at Taverna, a cozy trattoria serving heartwarming traditional food.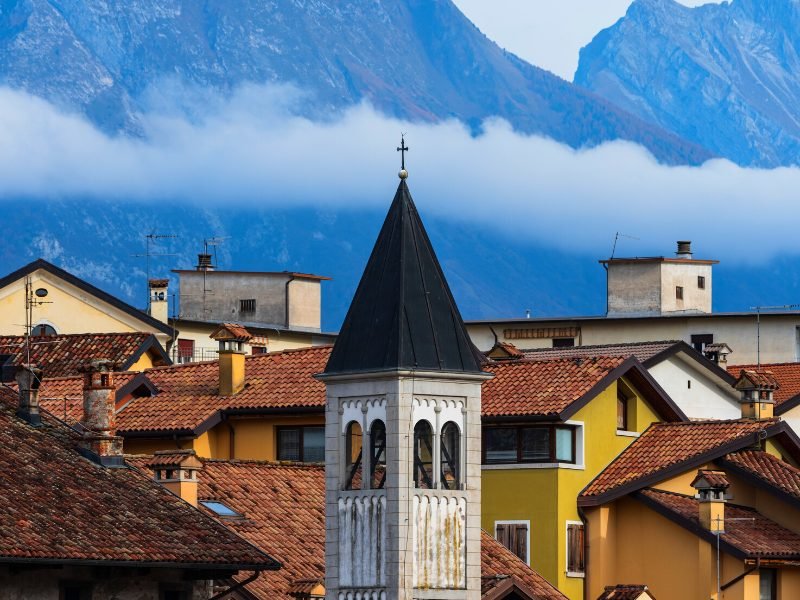 One of their most popular dishes is the pastin schiz e polenta con funghi.
Pastin is a traditional Belluno specialty made with minced pork and beef, while the schiz is local cheese.
This dish comes with a side of polenta and mushrooms and is absolutely delicious, and the perfect way to refuel after a hike!
Enjoy an evening stroll around Belluno and spend the night in the city to have a nice rest before your second day on the road.
Day 2 of Your Dolomites Itinerary: From Belluno to Cortina d'Ampezzo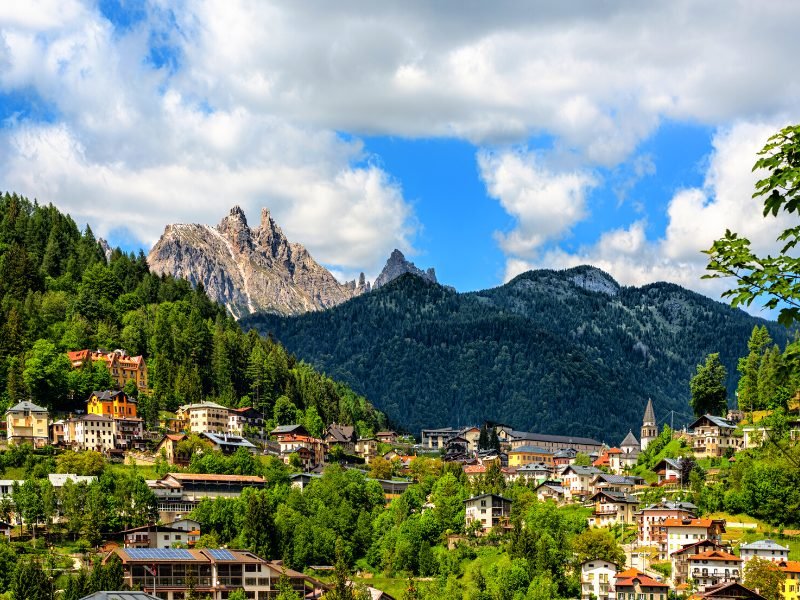 Start driving north from Belluno toward your first stop of the morning, the small town of Pieve di Cadore.
Park your car and make your way to the panoramic terrace offering sweeping views of Lago di Cadore.
Fun fact: This unassuming town is the birthplace of one of the most renowned Italian Renaissance painters, Titian.
The house where he was born is right in the town center and is now a museum!
From Pieve di Cadore, keep driving north to reach Auronzo, another gorgeous little town on the shore of Santa Caterina Lake.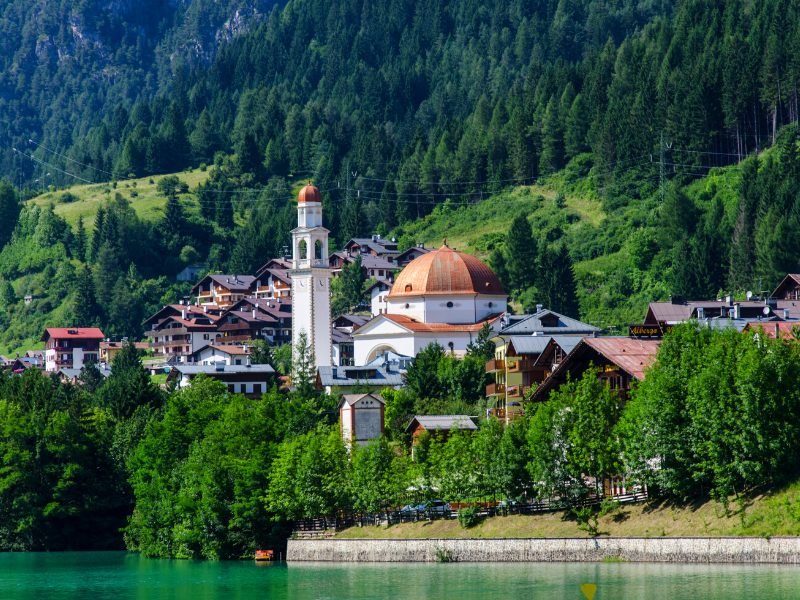 The Auronzo Footbridge and Ponte Transacqua offer some of the best lake views with the backdrop of the rugged Dolomites peaks.
After enjoying picturesque lake views in Auronzo, drive to Lake Misurina.
Stroll along the lake shore to take in the lovely views, then head for lunch at one of the restaurants around the lake.
Both Malga Misurina and Pizzeria Edelweiss offer delicious comfort dishes with beautiful lake views.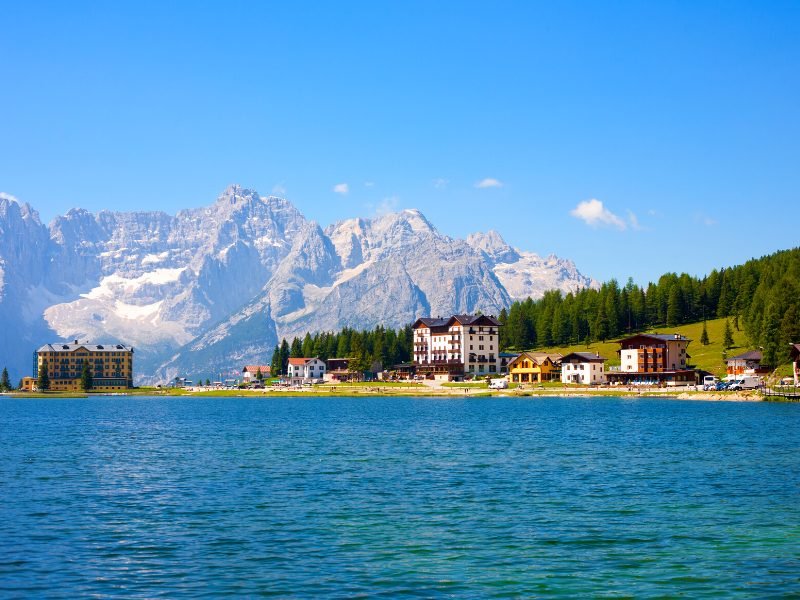 After lunch, drive to one of the most famous and charming locations in the Dolomites, Tre Cime di Lavaredo.
The parking spot is near Rifugio Auronzo, only a 20-minute drive from Lake Misurina.
From the refuge, go on a stunning hike toward the famous mountain peaks.
Hiking to the scenic spot of Forcella Lavaredo takes less than one hour.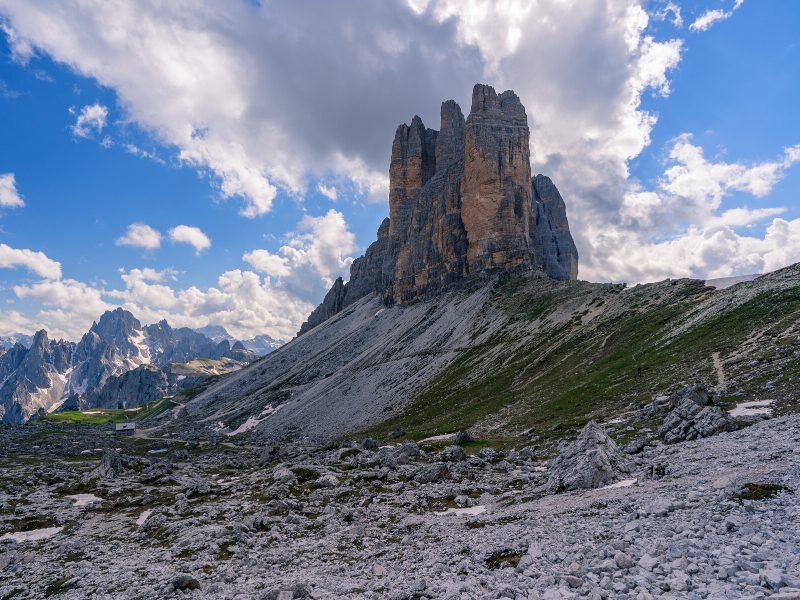 Note that you need to pay to access the road to Tre Cime di Lavaredo!
There's a toll booth where you'll need to pay a fee depending on the means of transportation.
As of 2022, the car access fee is 30€ — definitely steep, but we think it's worth it!
You should also note that the road is only open in summer and autumn, roughly between May and early November.
However, the exact opening dates can vary depending on weather conditions.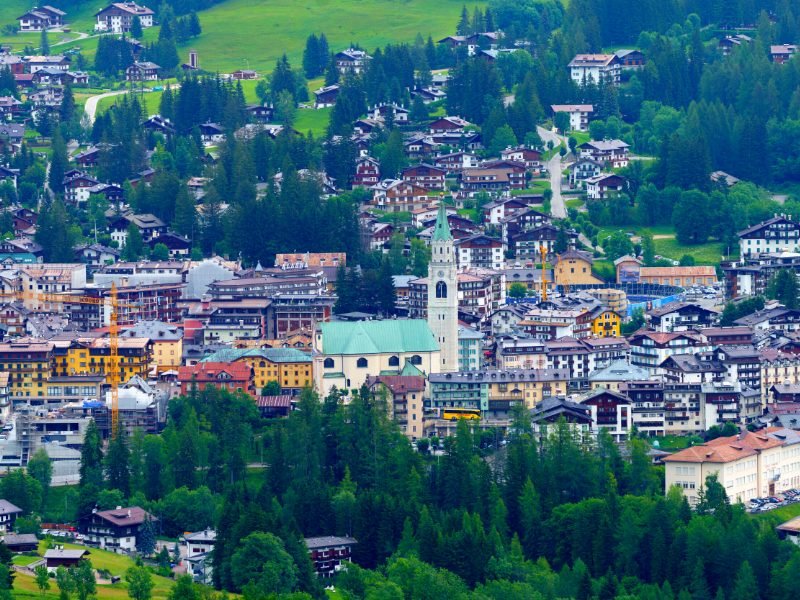 After a short hike around Tre Cime di Lavaredo, make your way back towards Lake Misurina and onward to Passo Tre Croci.
From the parking lot, you can go on another short hike to Lago Son Forca, at the foot of Monte Cristallo.
The hike out and back takes roughly one hour and a half.
Finally, get back to your car and drive to your final destination for the day, the resort town of Cortina d'Ampezzo.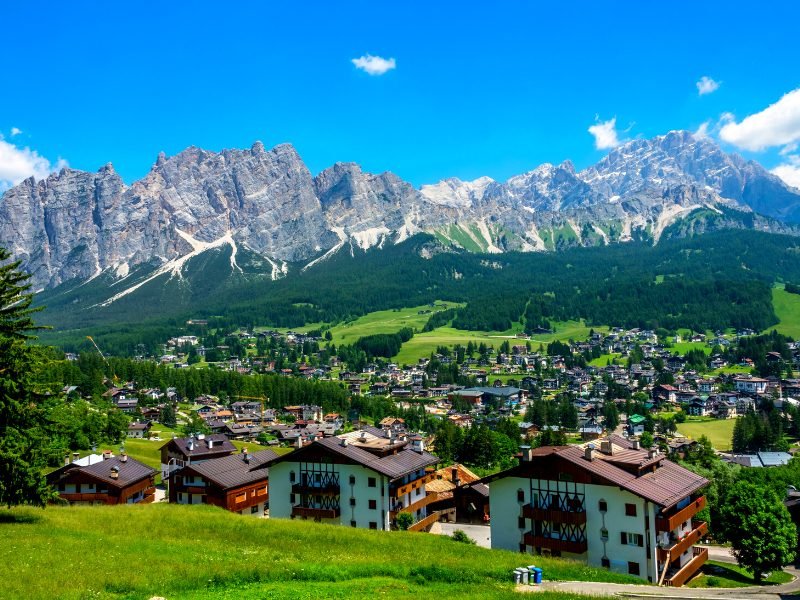 Spend the rest of the afternoon resting or exploring the town.
In the evening, have dinner at Il Vizietto di Cortina or Al Camin if you feel like getting a bit out of town.
You can spend one or two nights in Cortina, depending on how much time you have for the entire trip.
If you can only spend one night, you can continue the itinerary from day four. Otherwise, check out the activities on day three, all near Cortina.
You may also try to combine your favorite activities from days two and three into one day, as they are all nearby, though you may need to cut a hike or two.
Day 3 of Your Dolomites Itinerary: Cortina d'Ampezzo and Surroundings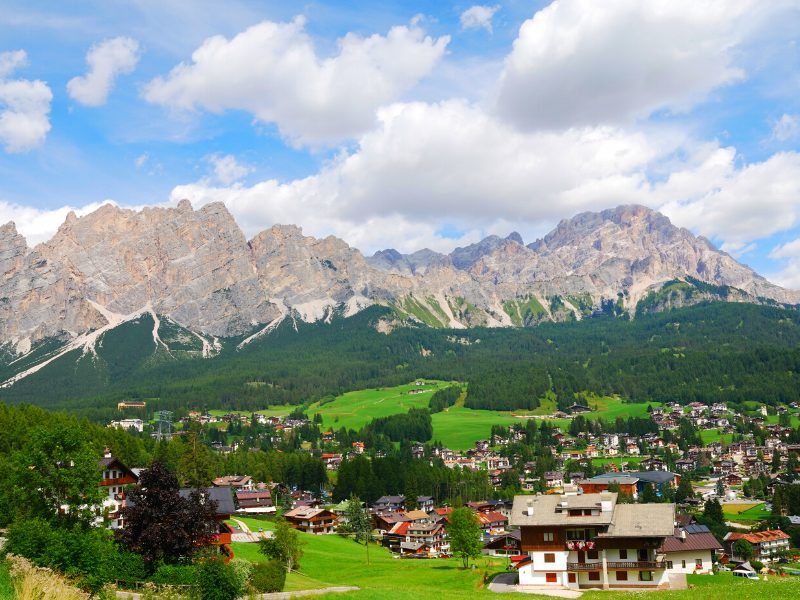 On your second day in Cortina d'Ampezzo, you can explore a few more natural landscapes and hikes in the surroundings.
Another must-see spot is Lake Sorapis.
The easiest way to reach the lake is to drive back to the parking spot in Passo Tre Croci and hike for about two hours on Trail 215.
The hike has a few difficult sections, so it's not exactly a walk in the park!
However, the more exposed parts have steel cables to hold on to…. that said, for those with fears of heights may struggle here, even with the cables.
The path will take you to Rifugio Vandelli, where you can have lunch with a breathtaking view.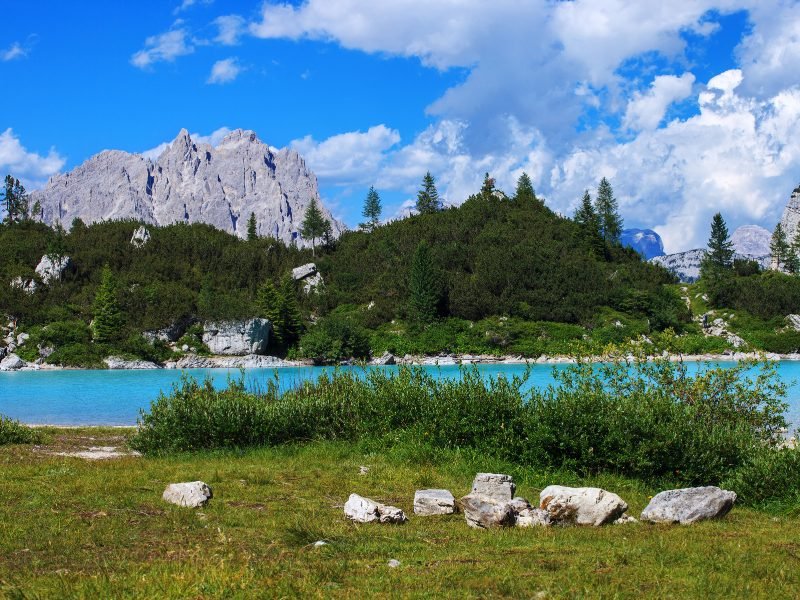 The turquoise Lake Sorapis surrounded by the peaks of the Sorapis mountain range is a wonderful sight.
While the hike may be a bit challenging, the view will pay off your efforts!
Another activity you can do on your second day in Cortina is the hike to Croda da Lago.
This hike allows you to admire dramatic mountain peaks reflecting in the small Lago Federa. The hike starts and ends from Ponte de Ru Curto.
You can do a circuit hike around Croda da Lago which, though easy, takes roughly six hours.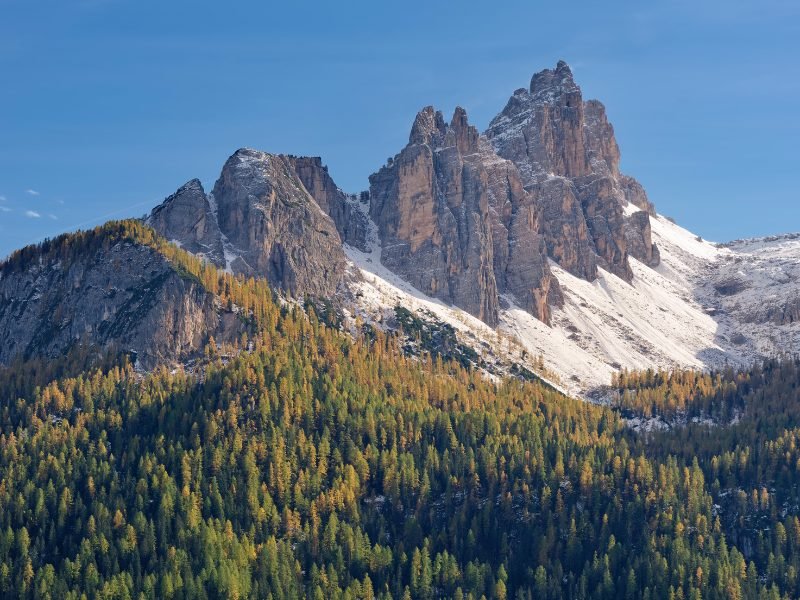 This means you may need to choose whether you do this hike or the one to Lake Sorapis.
Alternatively, simply drive through the picturesque mountain pass of Passo Giau, along the SP638.
You'll find many beautiful spots to stop at and enjoy the view without needing to commit to a long hike.
End your day by having dinner in Cortina d'Ampezzo and resting before another day full of activities.
Day 4 of Your Dolomites Itinerary: Lago di Braies (Pragser Wildsee)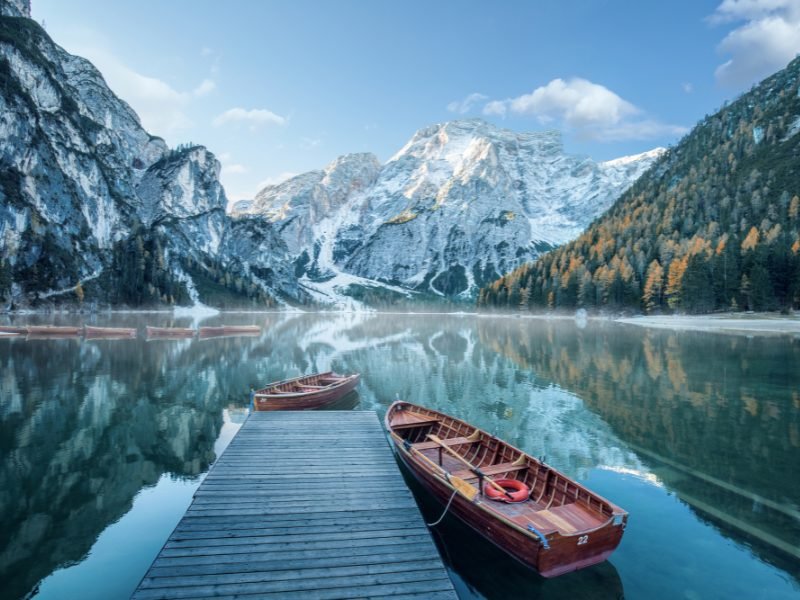 The main attraction of your fourth day on this Dolomites itinerary is the iconic Lago di Braies (Pragser Wildsee) — one of the most beautiful lakes in Italy.
But before getting there, you can make a few other stops!
From Cortina d'Ampezzo, drive to the charming village of San Candido, where you can take the chairlift to Rifugio Gigante Baranci and ride the fun bob downhill.
Like many attractions, the fun bob is only open between May and October.
From San Candido, make your way to Dobbiaco, where you can stop for lunch before heading to Lago di Braies.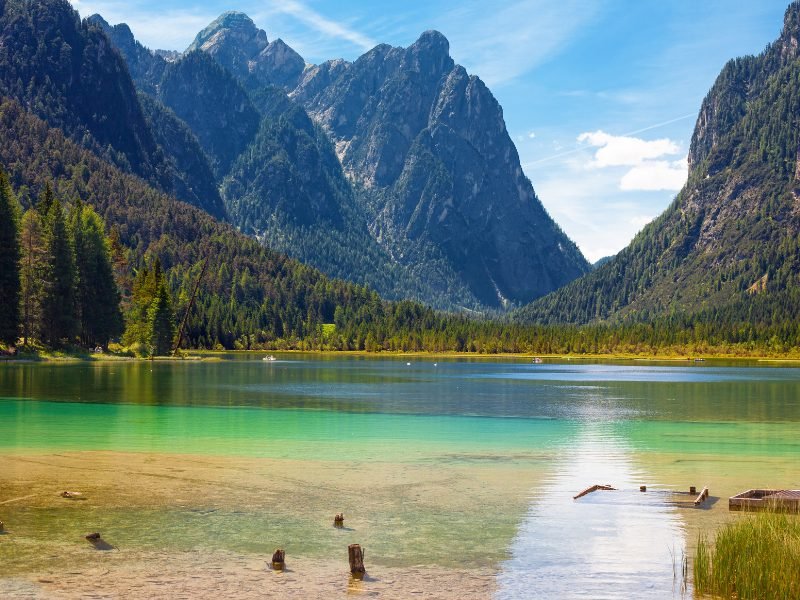 Schlosskeller and Kugler Speckstube are both great options for lunch.
You'll also be spending the night in the area, either at the hotel on Lago di Braies or in Dobbiaco, so you may take advantage of the lunch break to check in and even have a short rest.
If you decide to stay at Lago di Braies, head there after lunch to check in and explore the area.
The emerald water and snow-covered mountains in the background create a breathtaking natural sight that you won't soon forget, especially if the lake is still and you get a beautiful reflection!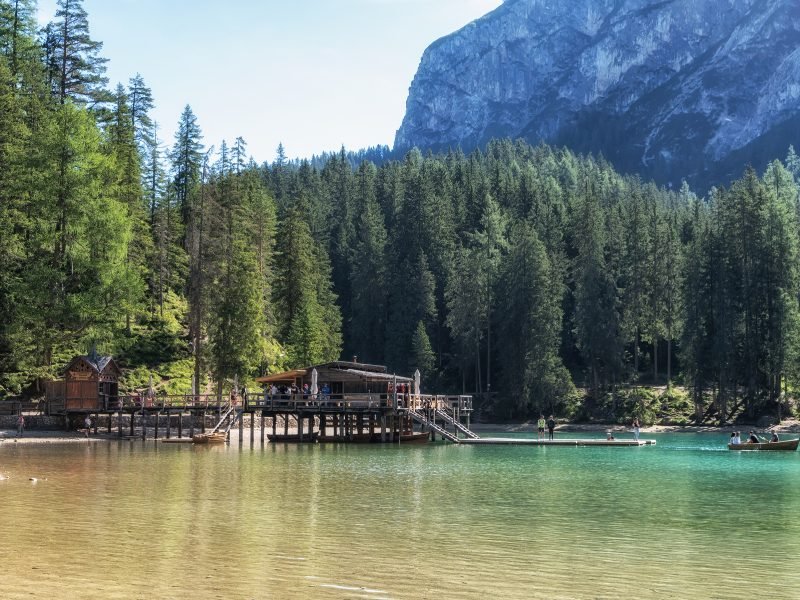 At Lago di Braies, you can walk all around the lake and even do an easy hike to Malga Foresta.
The return hike lasts a couple of hours and will take you through gorgeous landscapes to the restaurant Malga Foresta.
Once you're done exploring the area surrounding Lago di Braies, you can make your way to your accommodation.
If you have some time left, you can also check out Lake Dobbiaco, just a 10-minute car ride from the town of Dobbiaco.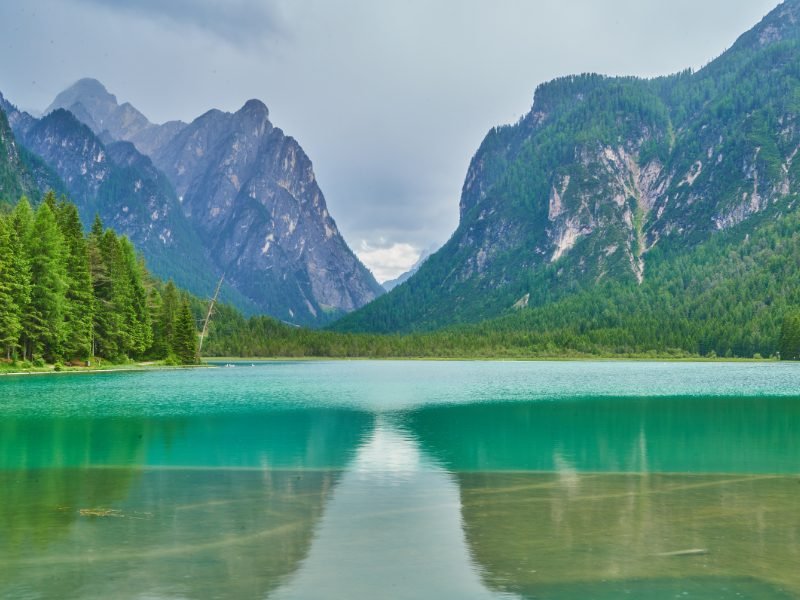 For dinner, if you're looking for a fancier place to enjoy a special dinner, check out Ristorante Tilia.
For a cozier location and a heartwarming meal, head to Gasthaus Weber.
Get some sleep — the next day on this Dolomites itinerary is a jam-packed one!
Day 5 of Your Dolomites Itinerary: Val di Funes, Ortisei, and Bolzano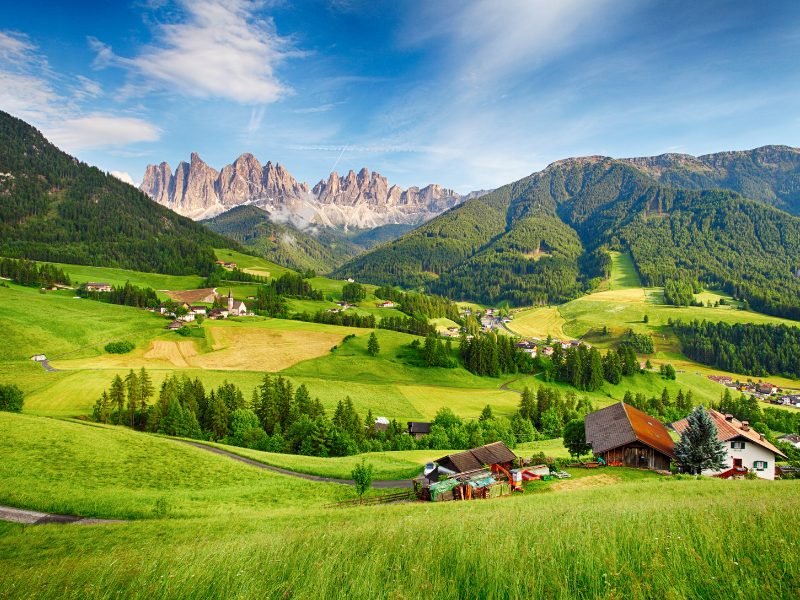 Start the fifth day of your road trip by heading to the picture-perfect Val di Funes.
This beautiful valley is dotted with small villages that look almost like miniatures juxtaposed against the majestic landscape dominated by tall mountain peaks.
Head to Santa Maddalena, passing through the little town of San Pietro, where you can stop to admire the landscape.
The two towns are only five minutes apart by car, so it's definitely worth seeing both!
Santa Maddalena is better known for the gorgeous viewpoints over the valley, particularly the one over the Church of St. John (Chiesetta di San Giovanni in Ranui).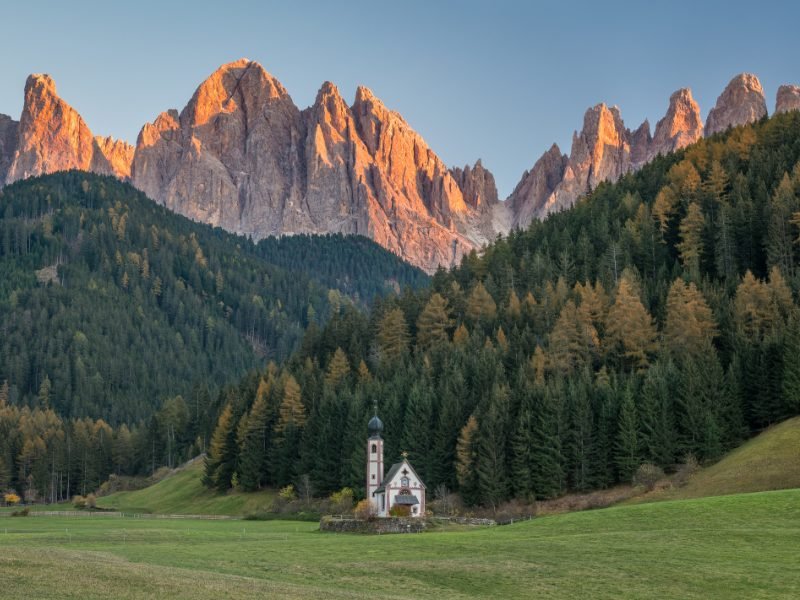 The tiny church stands alone on the edge of the forest, with the rugged mountain peaks looking even taller in the background.
The spot will provide you with the perfect Dolomites postcard picture — one of the quintessential shots of the Dolomites region!
Another must-see spot is Santa Maddalena Viewpoint, uphill from the church of Santa Maddalena. Walk around the area for a while to take in the natural beauty all around you.
After exploring Val di Funes, it's time to head to the town of Ortisei, in Val Gardena.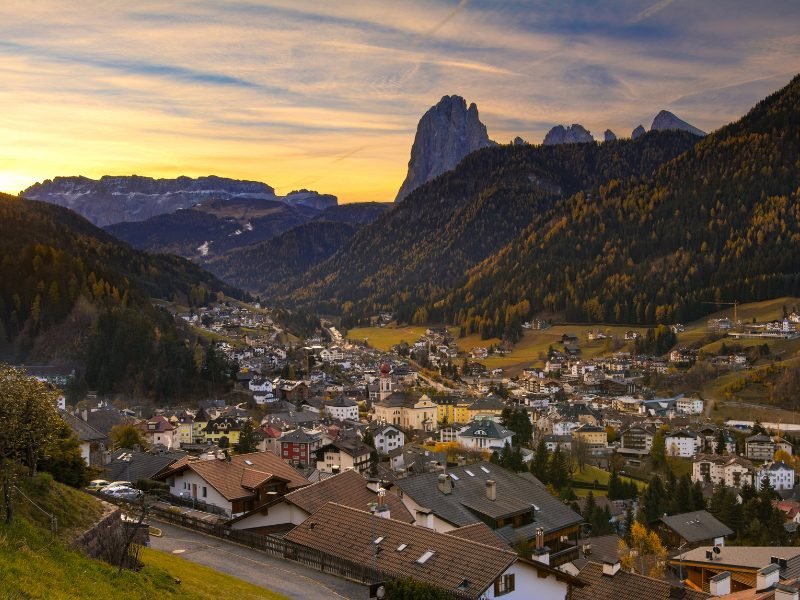 Explore the colorful and picturesque center of Ortisei and walk along the Passeggiata Luis Trenker or Via del Dialogo for beautiful views.
Just outside Ortisei, visit the lovely St. Jakobs Kirche (Chiesa di San Giacomo).
The isolated church outside the hamlet of San Giacomo is the oldest one in Val Gardena. The trail all around will reward you with gorgeous views!
Before your next activity for the day, you may want to refuel with a traditional meal.
Snetonstube serves delicious local dishes such as goulash, spaetzle, and polenta with melted cheese!
Ortisei is also the departure point of the Seceda cable car.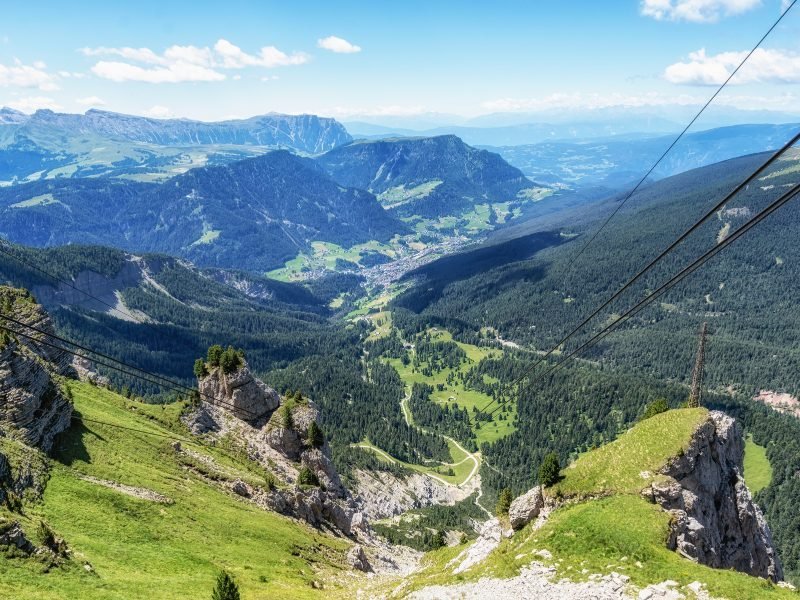 Seceda is an iconic mountain in the Dolomites, part of the Dolomites UNESCO World Heritage Site.
The cable car ride up will already give you those awe-inspiring views in spades, but for the best panoramic view, walk around 10 minutes to the Seceda Ridgeline Viewpoint.
Once you've made your way down from Seceda, it's time to drive to Bolzano, less than one hour away.
The city is the biggest in all of the Dolomites and features a beautiful medieval center.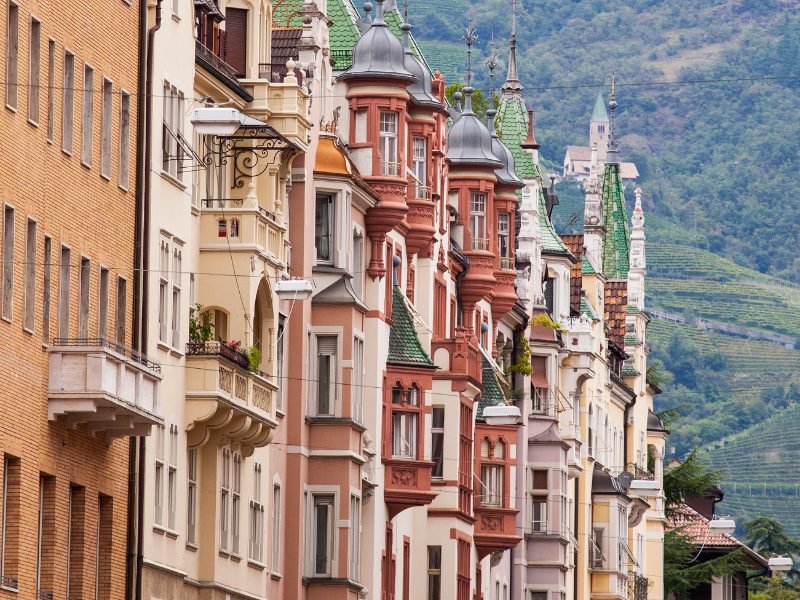 Spend the rest of the afternoon exploring Bolzano: a few highlights are the Gothic architecture of the Bolzano Cathedral and the 13th-century Maretsch Castle.
Some great dinner spots in Bolzano are Franziskanerstuben and Wirtshaus Vögele, both serving delicious Tyrolean dishes.
After dinner, enjoy the old town of Bolzano at night and head to your accommodation.
Day 6 of Your Dolomites Itinerary: Lago di Carezza, Trento, and Verona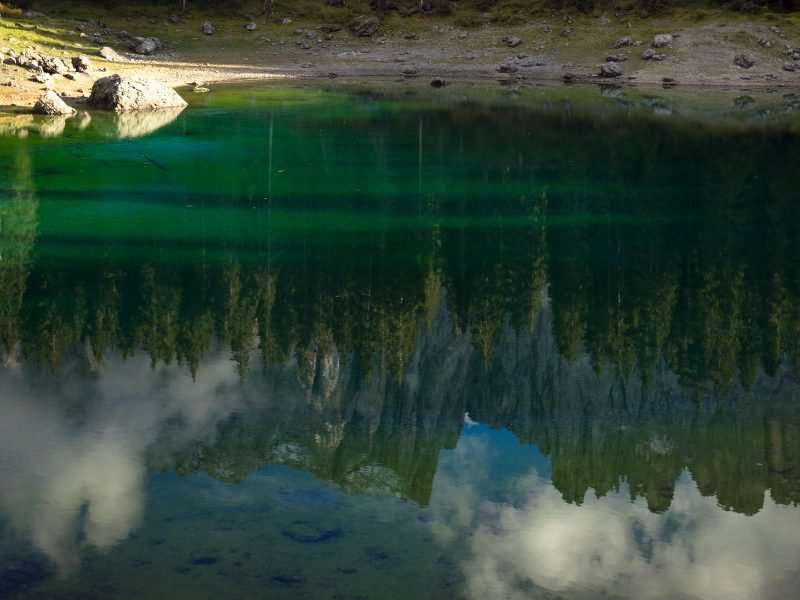 Before leaving Bolzano, if you're interested in museums, you may want to visit the South Tyrol Museum of Archaeology, where you can see the body of Ötzi the Iceman!
After the visit, drive to yet another gorgeous mountain lake, Lago di Carezza (also known as Karersee).
Due to the many colors, Lago di Carezza is also known as the Rainbow Lake!
In the background, you can admire Latemarwald Forest and the peaks of Latemar Mountain.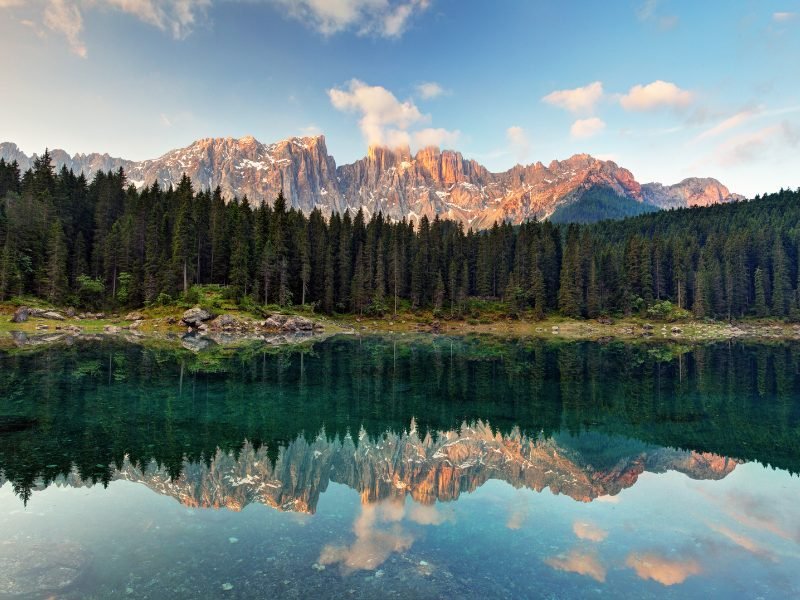 The main road passes right by the lake, and you can conveniently park nearby.
From Lake Carezza, drive south toward Verona. The fastest road will take you back to Bolzano and then south on the highway, but it has tolls.
The toll-free road (SS612) takes roughly 40 minutes more, but it's more scenic than the highway!
You can choose to stop for lunch and a short visit in Trento, roughly halfway between Bolzano and Verona.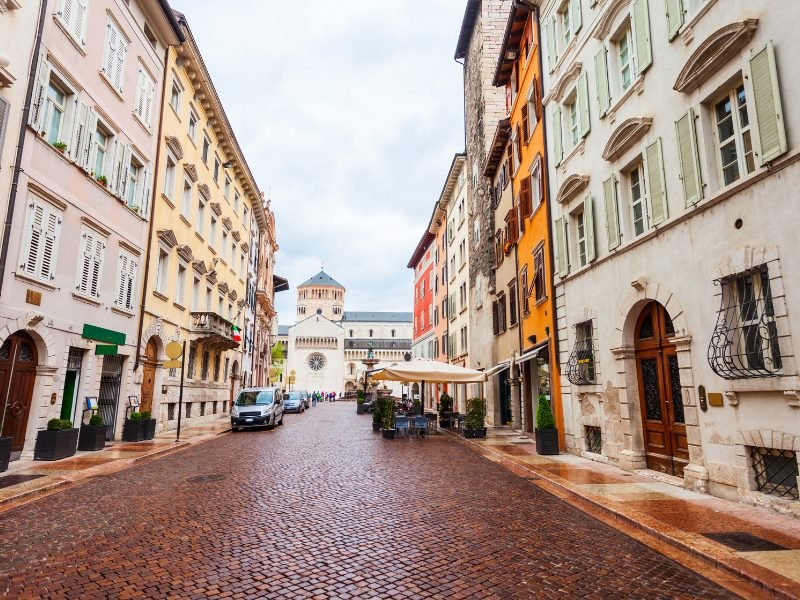 If you do, check out the traditional family-run Al Vò restaurant for local Trentino dishes.
If you want to explore the historic center of Trento, stop by Piazza del Duomo, where you'll find San Vigilio Cathedral, Palazzo Pretorio, and Fontana del Nettuno.
If you're a fan of art museums, Buonconsiglio Castle houses an art gallery and offers panoramic city views.
Finally, drive to Verona, your last stop on this Dolomites road trip.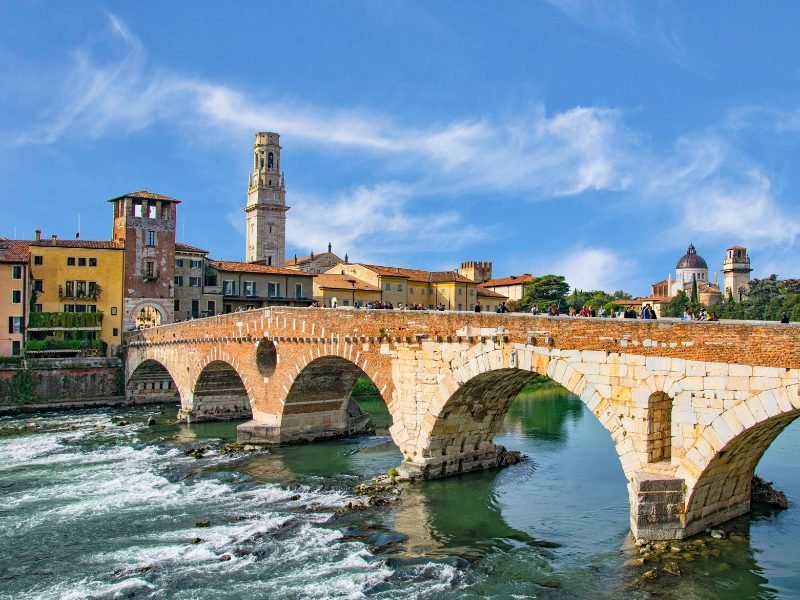 While Verona is not a part of the Dolomites, it's a natural stop on your way back.
If you are looking for a shorter trip, you can also drive straight back to Venice.
If you decide to stop in Verona, there are quite a few landmarks you shouldn't miss.
The most popular spot in the city is, of course, Juliet's House!
The Verona Arena, the Romanesque Verona Cathedral, and the buzzing Piazza delle Erbe are other iconic landmarks.
For sweeping views of Verona, climb the stairs or take the cable car to Castel San Pietro, on a hilltop along the Adige River.
Aim to get there before sunset and stay until nightfall to enjoy the view!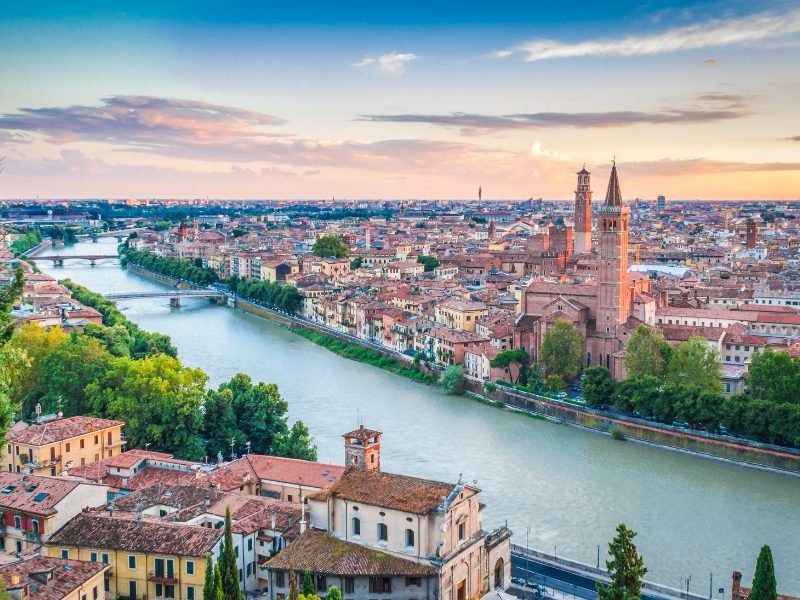 Verona has many restaurant choices for a delicious dinner. Osteria Il Bertoldo and Trattoria al Pompiere are both great choices for local dishes.
Spend the last night of your road trip in Verona before driving back to Venice the following day.
Day 7 of Your Dolomites Itinerary: Drive from Verona to Venice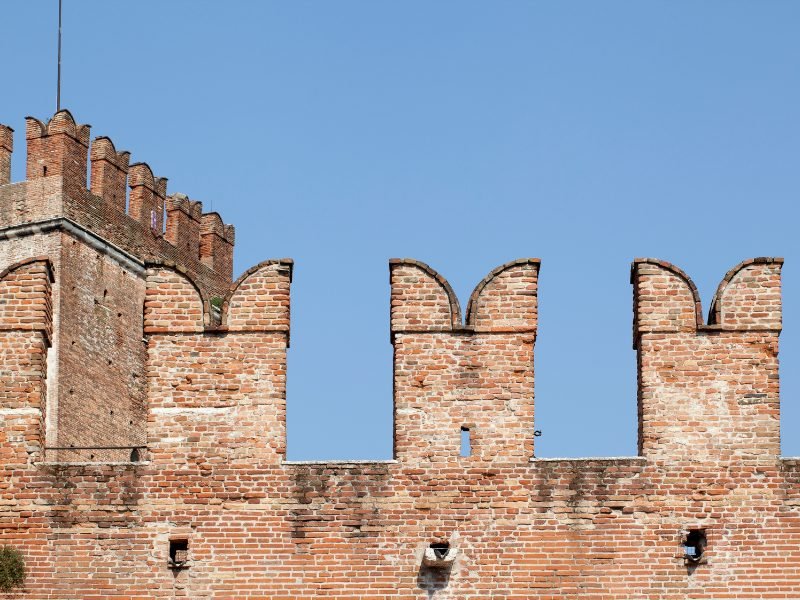 Your Dolomites road trip has come to an end!
You can choose between spending the morning exploring more sights in Verona and driving back to Venice before lunchtime.
If you want to discover more places in Verona, check out Castelvecchio Museum and climb Torre dei Lamberti for spectacular views.
Once you finished exploring Verona, head back to Venice.
The drive from Verona only takes around an hour and a half, but there are places to stop along the way.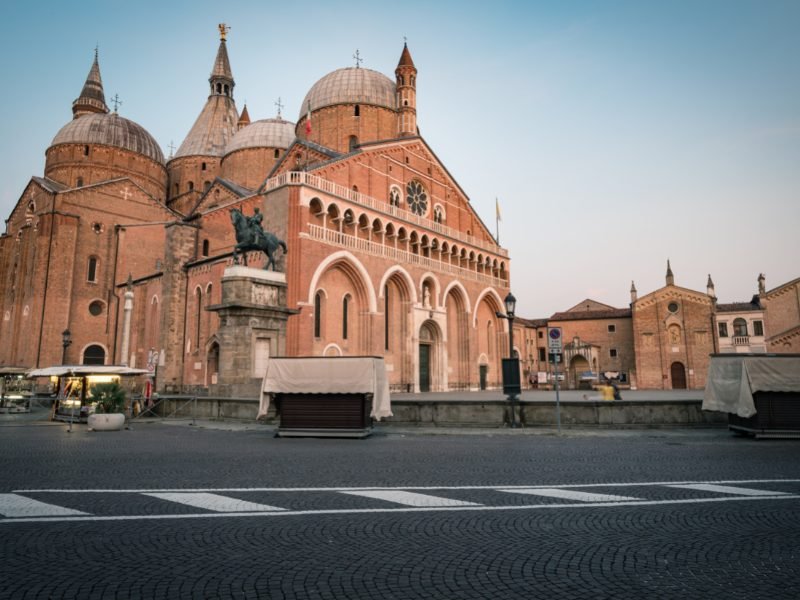 Halfway to Venice, you can stop in Padua to check out the massive Prato della Valle, Padua Cathedral, and the Scrovegni Chapel with Giotto's frescoes.
Your Dolomites trip ends in Venice, where you can return your rental car and spend a few more days exploring the city if you choose, or move on to other parts of Italy!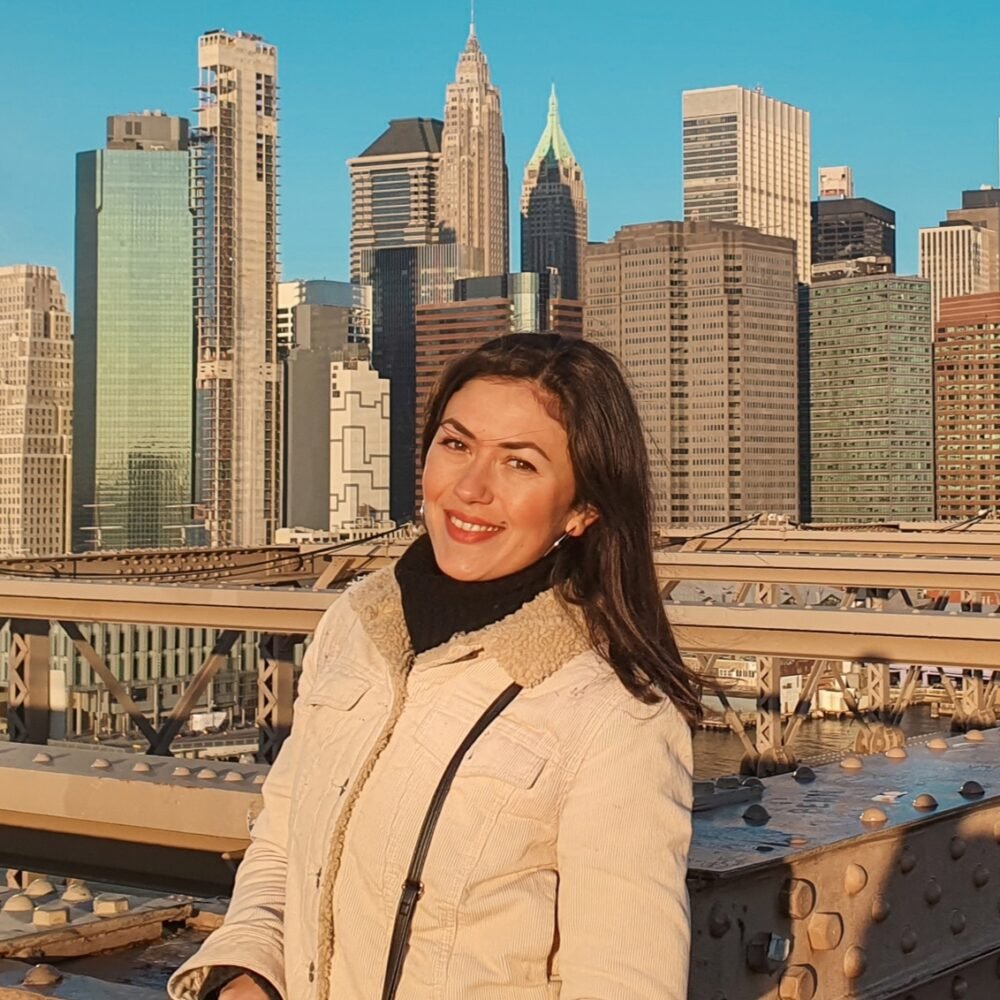 Roxana is a Romanian-born freelance travel writer who has lived in Italy for over 15 years. She has a Master's in Journalism and a Bachelor's in Film Studies, and she studied at Università degli Studi di Roma Tre. Besides her native Romania, Roxana has lived in Rome, Lisbon, and Berlin, and she has traveled through much of Europe in search of hidden gems, history, and culture.