If you're one of those people who love to get the best view of a city, this is the guide for you!
Dubai is an incredibly modern and built-up city, with one of the most awe-inspiring skylines in the world — all the more impressive for being built in the middle of the desert (and doing a desert safari is another can't-miss Dubai activity!).
This guide to the best views in Dubai was written by Alyaziah, a UAE local who spent 16 years calling this city home — needless to say, she knows where to find amazing views of Dubai, including some places that only in-the-know people are aware of!
Here we go!
The Best Views in Dubai
The Burj Khalifa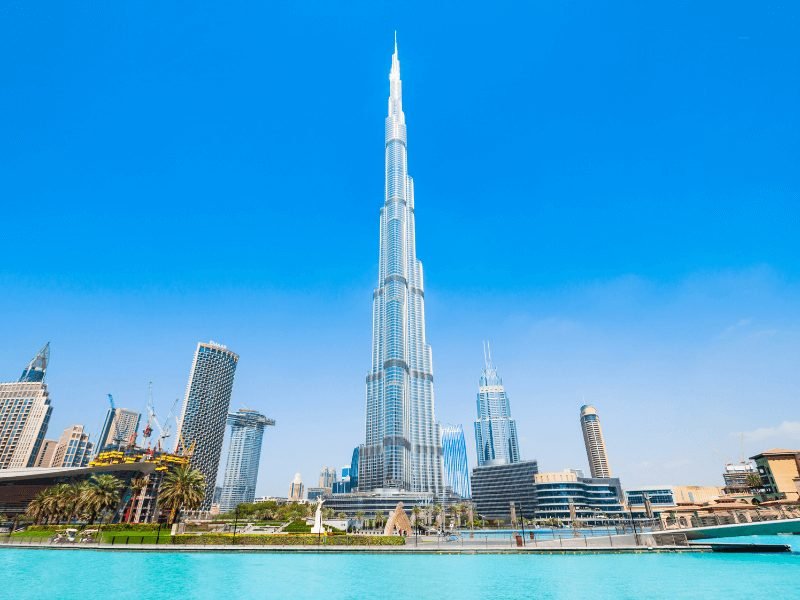 Note: This post contains affiliate links, which means I may receive a small commission if you purchase something through one of these links. Thank you for supporting the free content on this site! For more information on affiliate links and cookies, see my disclosure page for more details.
It only makes sense to start off this list with the tallest building in the world: the Burj Khalifa! This building is the pride and joy of the United Arab Emirates, and your Dubai itinerary wouldn't be complete without seeing it.
The absolutely stunning Burj Khalifa is located in the heart of Dubai and right beside one of the biggest malls in the area, the Dubai Mall.
There are two ways to enjoy views of the Burj Khalifa. You can either be outside and view the majestic building in all its glory, framed by the Dubai fountain, or you could be inside it on one of the highest floors and enjoy the breathtaking view of Dubai!
Once in the Burj Khalifa, you have quite a few options to get a good view. Atmosphere Lounge is located on the 122nd floor and is ideal for a weekend hangout with friends.
However, I recommend visiting it for brunch in order to get the perfect light for pictures with the incredible views!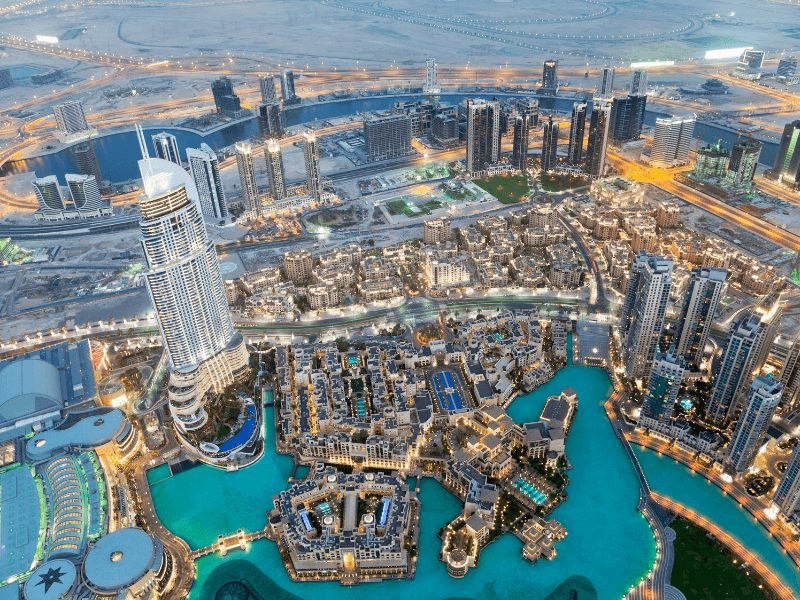 The Burj Khalifa has 148 floors. To get to the 124th and 125th floors, you can buy a ticket for around $45 USD.
These aren't skip-the-line tickets so there may be some waiting involved, as this is quite a popular attraction as you get the best possible view of the Dubai skyline from here!
There's also a premium option that includes skip-the-line privileges as well as bringing you up to the 148th floor, the tallest part of the observation deck. This comes at a price, though — you have to pay around $150 USD for this skip-the-line ticket!
I find this to be really pricy, but honestly, if you can afford it, it's so worth it for a once-in-a-lifetime experience. If you'll only be in Dubai once, you might as well go all the way up!
You can visit by day for epic views that stretch out as far as the eye can see, but there's also something special about going at sunset and seeing Dubai at night come to life!
Book your skip the line tickets to the 124th, 125th & 148th floors here!
Address: 1 Sheikh Mohammed bin Rashid Blvd
The Highest View Lounge at Gevora Hotel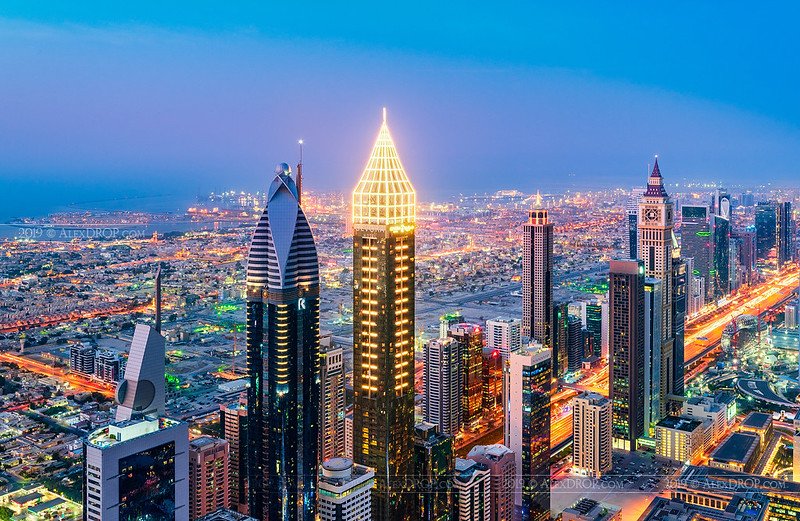 Did you know that Dubai is also home to the tallest hotel in the world? Dubai really likes to go big or go home with its architecture, so at this point, you shouldn't even be surprised!
The Gevora Hotel is the tallest hotel in Dubai, reaching heights of 356 meters, or just about 1167 feet.
The hotel features hundreds of rooms and suites, along with a couple of restaurants and other amenities. If you want to stay at this hotel, make sure you request to stay on one of the highest floors!
Since the hotel is located at one of the busiest spots in Dubai, right on Sheikh Zayed Road, you'll get a great view of the city life in all its glory.
Also located in the Gevora Hotel is the Highest View Lounge, which is the highest restaurant and bar in this hotel!
The lounge is located 280 meters (920 feet) up off the ground and provides you with a 360-degree view of the Dubai skyline!
If you happen to pop by this lounge, I highly recommend trying out their seafood, as I have found it to be one of the best in the area — and this is coming from both a local and a foodie!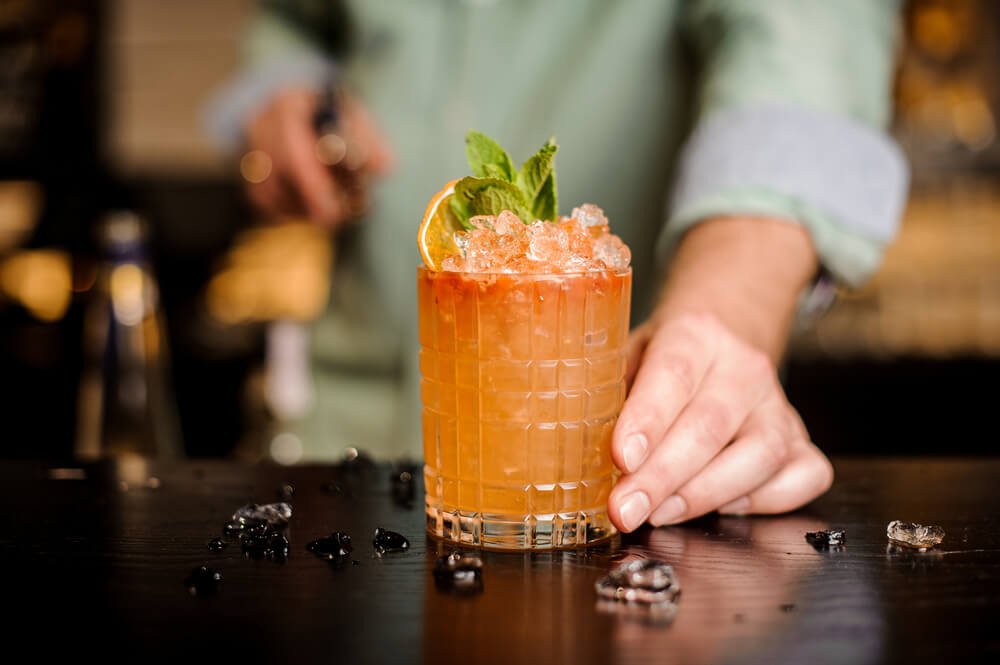 They also have a couple of signature mocktails which shouldn't be missed out on.
From this lounge, you'll be able to see a couple of top Dubai attractions like Burj Khalifa and the Royal Palaces as well.
Tip: Be aware that they charge a 150 AED ($40) cover fee during booking and reservation — and this is on top of what you'll be charged for the food and drinks you order!
Address: 101 Sheikh Zayed Road
The Dubai Frame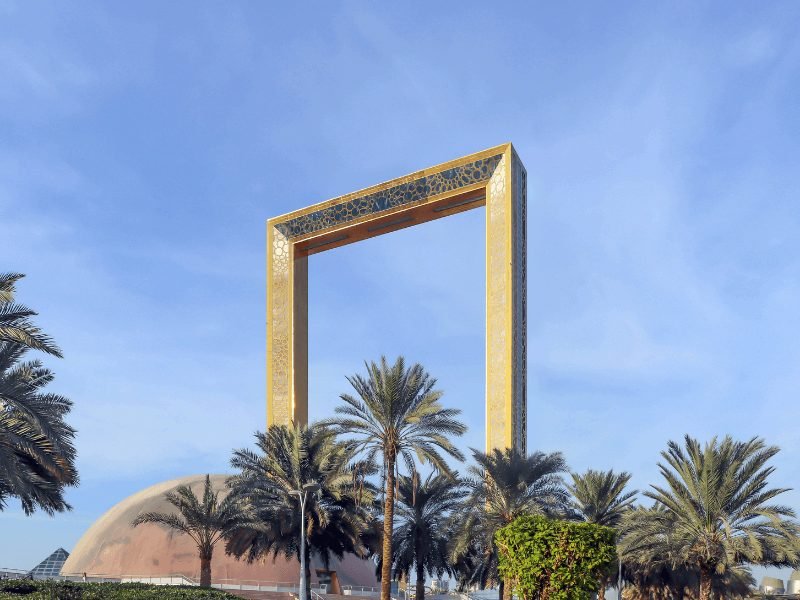 The Dubai Frame is located right between old Dubai and new Dubai and serves as a symbol to connect both these regions into one.
The Dubai Frame was constructed to signify that no matter how famous or popular you become, you should never forget where you started from.
Not only can you view the frame but the outside, but you can actually go up into the frame (which is yet another superlative — the largest picture frame in the world!) and have a tour that shows you Dubai's origins and how it evolved into one of the top tourist destinations in the world.
The elevators in the Dubai Frame will take you right to the 48th floor where you get a jaw-dropping view of new Dubai on one side and old Dubai on the other.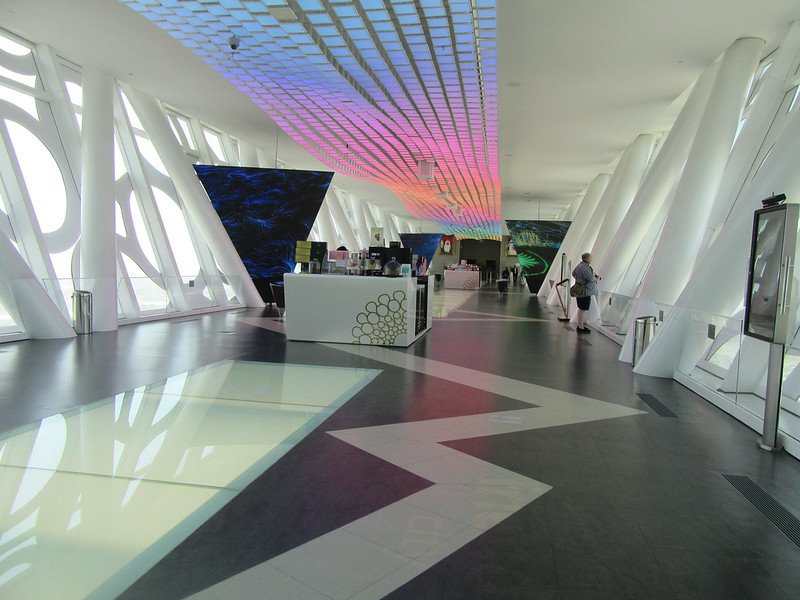 While the 48th floor is not extremely high compared to other places on the list, its prime location gives you a spectacular view of quite a few popular spots like the Dubai Creek on one end and the Burj Khalifa on the other.
Aside from the amazing backdrop this frame creates in pictures from the outside, you can also get great photos from the 48th floor with the Dubai skyline in the background.
A little surprise that you probably wouldn't know of until you actually get all the way to the top is that this frame also has a little coffee shop where you have a mini coffee break after your photo session!
Admission is 50 AED for adults and 20 AED for children ($14 USD and $5.50 USD, respectively).
Address: Zubeel Park
Address Sky View
The Address Sky View features some of the most thrilling and unique ways to get great views of Dubai in the heart of Business Bay… though we warn you, some of these are not for the faint of heart!
Let's start off with their observatory deck, which has some of the best views in the city.
The Sky View Observatory is located on the 52nd and 53rd floors of the Sky View luxury hotel, and it allows you to get a 360-degree view of Downtown Dubai.
Book your entrance ticket to the Sky View Observatory here, with the option to add on the Sky Edge Walk!
Perhaps coolest of all, you get to ride on the glass elevator which also allows you to view Dubai until you get to your floor!
This hotel even features an edge walk! The Sky View's Edge Walk is one of the most thrilling adventures in Dubai and is definitely something that you need to try at least once in your lifetime.
This is the highest full circle hands-free walk on a ledge in Dubai. You get to walk on a ledge along this skyscraper with no protective barriers — just your harness!
Finally, we can't talk about this hotel and not mention the glass slide! The Sky View's Slide is a transparent tube that wraps around this building by taking you from the 53rd floor to the 52nd floor.
If you're an adrenaline junkie, this is the perfect activity for you!
You can also stay at the Address Sky View for some 5-star hotel luxury, complete with a private infinity pool for guests only with some of the best views of the city!
Address: Emaar Square Area
Level 43 Sky Lounge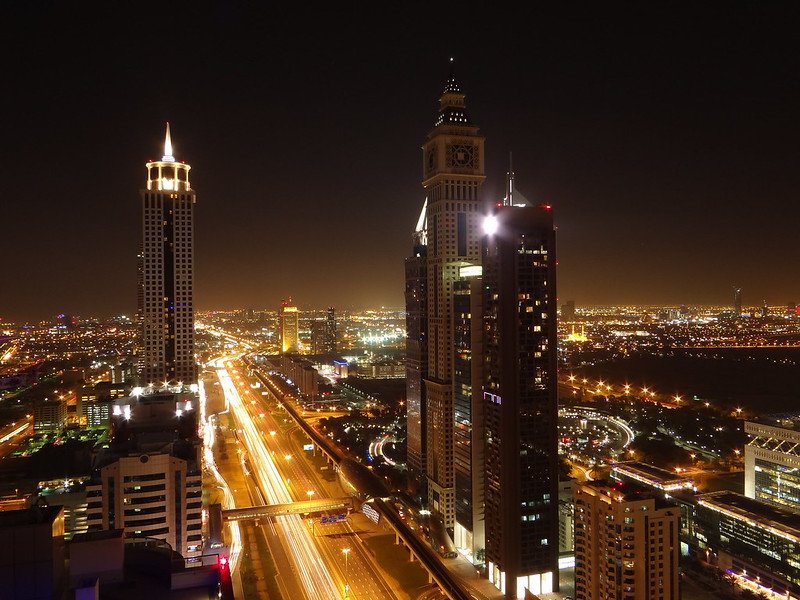 The Level 43 Sky Lounge is a fun rooftop bar located in the Four Points by Sheraton Hotel!
There is always something fun going on at this lounge — whether it's a Geisha Night where you get to bring all your girlfriends for a fun ladies' night featuring a DJ, or a night of Cocktail Dreams where you will get to taste some of their signature cocktails.
All this while enjoying good music, great vibes, and a stunning view to top it all off!
This is just one of those places where you have to go both during the day and the night in order to get the full experience.
During the day is when you'll be able to see a panoramic view of everything from the Burj Khalifa to even Burj al Arab and Jumeirah Beach!
If you go during the day, you can enjoy their afternoon tea offerings.
If you go at night, I really recommend asking the waiter what's the best drink that's available today and have them bring you one of their signature cocktails or mocktails that are to die for!
Address: Sheikh Zayed Road, Trade Center Area
The View At The Palm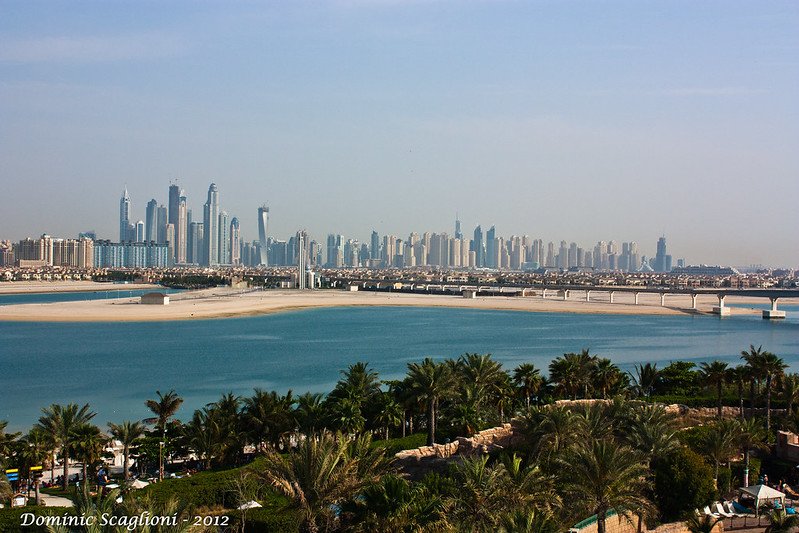 There is absolutely no way we're allowing you to leave Dubai without seeing the Palm at least once… and what better place to do so than at the Palm Tower!
The View At The Palm Observatory is located on the 52nd floor of this tower which is about 240 meters high.
It offers a panoramic 360-degree view of the entire Palm Jumeirah with bonus views of the Arabian Gulf as well.
Spoiler alert — the Palm is equally as breathtaking in real life as it is in all the pictures you've seen of it!
You'll also be able to travel through time with the View Exhibition, which is an interactive aquatic tunnel that allows you to explore the history behind this popular landmark!
If you're planning a special event with friends, family, or loved ones, you can even book The Lounge which is located at the very top of this tower.
The best part is that you can even customize the menu and the entertainment to match the theme of your event!
Treehouse
Now this is a hidden gem that you probably wouldn't have found unless you got yourself an extrovert local to show you around… or this blog post!
The Treehouse Lounge & Bar is located on the rooftop of the Taj Hotel which is a 5-minute drive from Burj Khalifa.
This is the business district of Dubai, and so Treehouse is that one spot where everyone likes to hang out on their lunch break on Fridays as they look forward to the weekend.
If you're a lover of the arts, you'll absolutely fall in love with the ambiance of this place! It has a rich Renaissance-inspired décor and is the perfect getaway after a long and busy day at work… or sightseeing!
What most people don't want you to know is that every Friday, Treehouse hosts a special hidden brunch after-party.
This runs from 4 PM to 9 PM and if you're lucky, you may find yourself attending a party with either a celebrity or a famous local!
Zipline Through Dubai Marina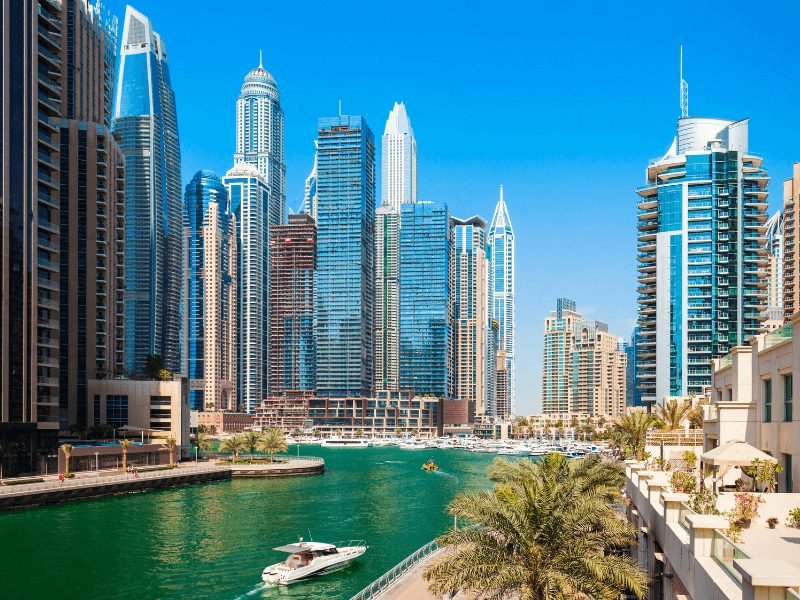 What better way to get a crystal clear view of Dubai's skyline than ziplining through it?!
XLine Dubai is the world's longest urban zip line (Dubai and superlatives just go hand-in-hand) that spans across the Dubai Marina skyline.
It is about 170 meters high (560 feet) and a full kilometer long (3,280 feet)!
You will be going super-fast at speeds reaching 80 kilometers per hour (50 MPH) so it is definitely not for the faint of heart!
This is just one another one of those once-in-a-lifetime experiences that you will never forget — and if you do, luckily you'll also have the ability to capture it all on video!
XLine Dubai provides these zipline rides 6 days a week and you'll be able to get your tickets from the XLine Booth in Dubai Marina Mall on Level P.
Once you get your tickets, you'll also be weighed here to make sure you meet the safety criteria to ride the zipline.
Once you pass, you'll be taken to your take-off point which is the Amwaj Towers right next door. From here, you'll come ziplining back to the Dubai Marina Mall, which is your landing point.
The Dubai Marina is also a great departure point for lots of fun Dubai water sports, so you can get two different views – and adrenaline rushes – all in one convenient location!
Address: Dubai Marina Mall, Level P
SoBe
SoBe is the only rooftop bar on Palm Jumeirah that gives you a panoramic 360-degree view of the stunning Dubai coastline.
It is located at the W Dubai – The Palm and is a place you must visit if you're into getting that perfect sunset snap for the 'gram.
This is the perfect romantic getaway with your significant other, especially with the heart-shaped seating between palm trees and opening up to a breathtaking view of the Arabian Sea ahead.
SoBe's theme is inspired by South Beach Miami, and it features creative, funky décor and neon lights which definitely set the mood during the nighttime!
Since most people come here just for the views and end up not spending much at the actual bar, SoBe has set a minimum spend limit if you want to dine at the bar with the views.
This minimum limit depends on what day of the week you're planning on visiting and will be disclosed when you book a reservation.
Address: W Dubai – The Palm
Skydive Dubai – The Palm & Desert Dropzone
There's no better way to get the full view of the Palm Jumeirah than quite literally free-falling right onto the island!
Skydive Dubai will give you an experience of a lifetime that you'll never forget. Although this is probably one of the most expensive things to do in Dubai, it is so worth it and is definitely something you should try if you've ever had the urge to skydive.
If you're feeling anxious about the experience, just know that Skydive Dubai gives you an hour-long training course before you actually jump just to mentally and physically prepare you for what's about to happen.
At the end of the training course, you'll be eager to finally have a go at it on your turn!
If you're done skydiving at The Palm and you'd still like a second go, Skydive Dubai also has a second location in the outskirts of Dubai which is their Desert Dropzone.
This will drop you in the middle of the desert to give you the full experience of seeing both sides of Dubai!
Skyview Bar at the 7-Star Hotel, Burj al Arab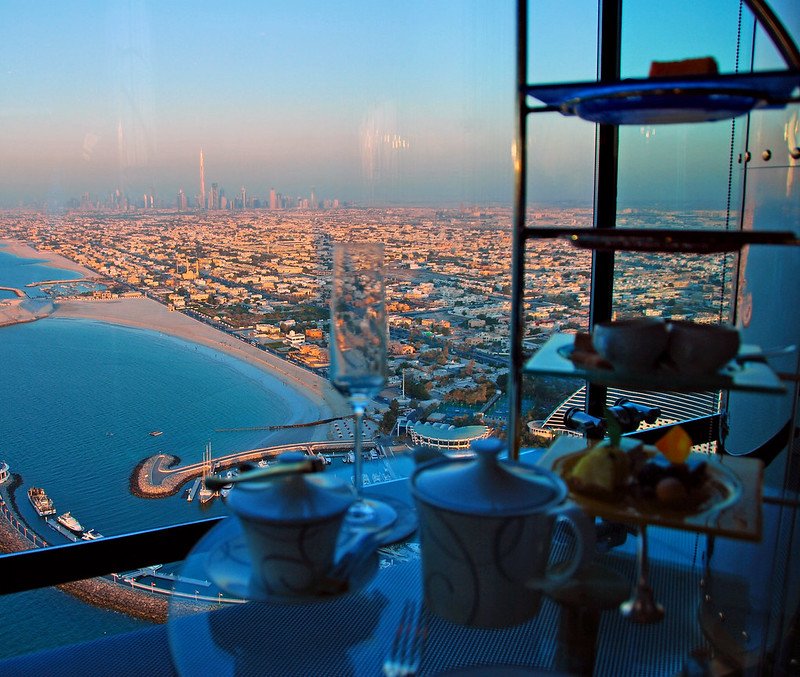 Quench your thirst in a luxurious retreat at the top of the city!
The stunning Skyview Bar at the Burj al Arab does things differently on the 27th floor, located 200 meters (660 feet) above sea level.
This is a great romantic spot in Dubai for couples, but it's also great for friends and even solo travelers looking for an epic view!
From contemporary classics to inventive cocktails, their skilled mixologists go to great lengths to find inspiration from the most unexpected locations.
As a result, their drinks selection is unique, utilizing unusual ingredients and imaginative techniques to create your beverage, with each recipe highly guarded to ensure their menu is one-of-a-kind.
But of course, the beautiful views are no less spectacular than the drinks, as you enjoy this unique vantage point in the city.
Capture your reflection in the shimmering lights of the Dubai cityscape as you stare out the floor-to-ceiling windows that encircle the bar.
The inside of Skyview has been created for intimate interactions, and an ever-changing lineup of live music guarantees that the sights and sounds are as remarkable as the drinks they serve.
Cocktail making is a true art form at this bar, as befits a 7-star hotel that is commonly listed as one of the best hotels in the world.
HeliDubai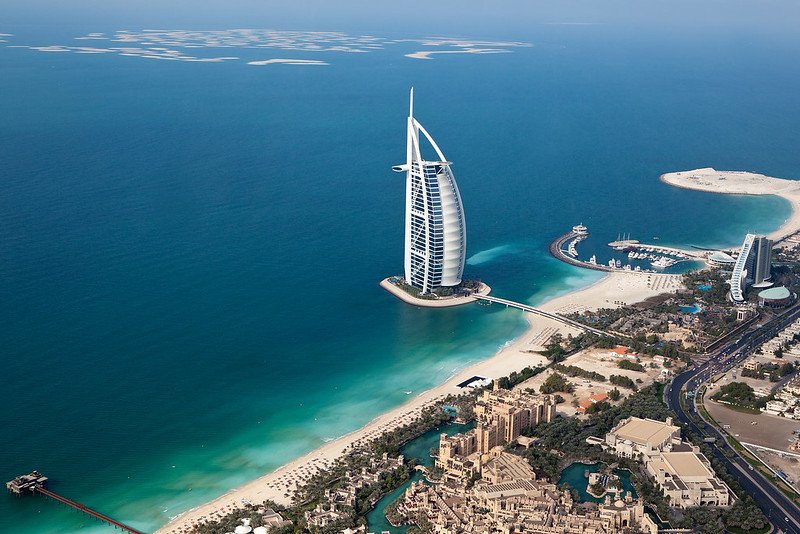 When you think of Dubai, you likely think of sports cars and luxurious vehicles, but what probably doesn't cross your mind is the fact that Dubai can also be traveled by helicopter!
HeliDubai is the largest and oldest helicopter service in Dubai. They've been operating since 2005 and have so far hosted well over 200,000 travelers worldwide!
Therefore, you can rest assured that you'll be in safe hands during the course of the flight.
HeliDubai features a couple of different packages you can choose from.
They range from a 12-minute tour which costs about $175 per passenger, to a 22-minute tour which costs about $320 USD per passenger.
No matter what package you choose, you'll definitely get to see views of Burj Khalifa, The Palm, Burj Al Arab, Gevora Hotel, and more!
Book your 12-minute helicopter tour or your 22-minute tour here!

Or, ball out like crazy with this private helicopter tour for groups of up to 5 people!
Atelier M
Atelier M is the perfect all-in-one retreat to experience the Dubai nightlife scene!
If you want to meet new people and experience the luxurious after-hours of the city, this is the place to be.
Atelier M is located in the Pier 7 Complex in Dubai and takes up the top three floors of this prestigious building.
The third-highest floor is taken up by the Restaurant, the second-highest holds the Lounge, while the top-most is the Rooftop Bar.
Atelier M is a popular hangout spot for the top elites all around the Middle East, especially during their special event nights.
Atelier M hosts different events throughout the week including Ladies Night, R&B night, and Funky Flava Brunch.
They also have Happy Hours in the Lounge for the majority of the week if you're looking to experience the breathtaking views and glamourous parties while still remaining budget-friendly.
The menus are pretty diverse with a mix of both the Mediterranean and Asian dishes with a touch of Arabic flavor.
Hot Air Balloon Ride over the Dubai Desert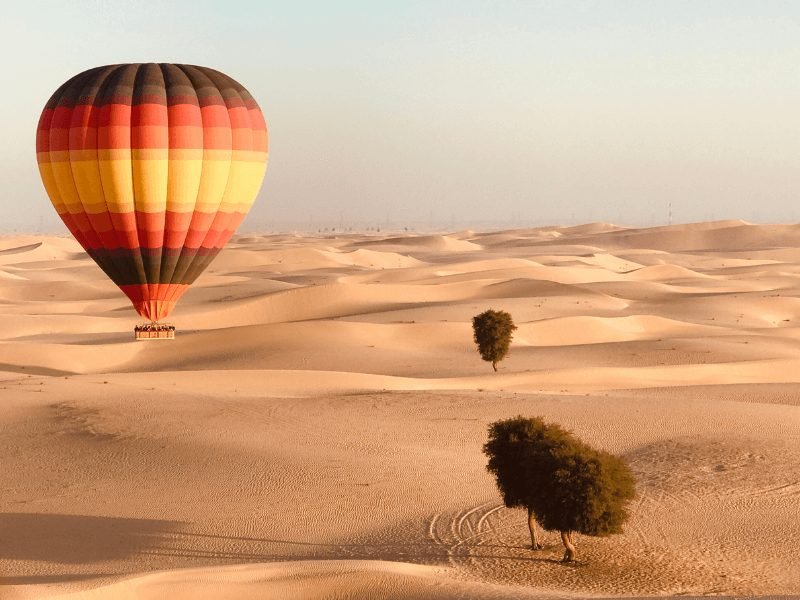 When I ask people who visited Dubai as a tourist if they managed to try a hot air balloon ride, most of them admitted to not knowing this was even a thing!
This was quite surprising since I find this to be one of the top things that should be on your bucket list if you visit this city.
The hot air balloon ride takes off from the Dubai Desert Conservation Reserve, which is a bit on the outskirts of Dubai which is probably why many people haven't heard about it.
In order to ride the hot air balloon, you need to have made a booking and reservation.
Once this is confirmed, you need to be prepared to wake up early in the morning as you will get a private ride that will pick you up from your hotel at 4:30 am to take you to your take-off spot in time for sunrise.
Once at the spot, you'll first go through an hour-long safety briefing and instructions to follow during take-off and landing.
Prices start at around $300 USD for the Standard Package or $330 for the package that includes a camel ride and opportunity to learn about falconry in the UAE.
Book your standard hot air balloon flight here or your luxury balloon flight with a camel ride and falcon experience!
Tomo – Japanese Restaurant at Raffles Hotel
Tomo is a Japanese restaurant that is located on the 17th floor of the Raffles Hotel in Dubai.
This Dubai hotel is a popular landmark due to its unique structure, particularly when compared to the rest of the buildings surrounding it.
If you're in Oud Metha and you're looking for the Raffles Hotel, just scan the area for the pyramid-shaped building and you'll be at your destination!
I've always had trouble finding a same-day reservation, so you definitely need to book in advance to stay here.
Tomo is a Japanese word that literally translates to a long-time friend. The restaurant has a very homey vibe to it and you'll definitely feel comfortable like you're just at home!
The chefs are Japanese and so you'll get a very authentic Japanese flavor with your meals while you enjoy the stunning backdrop of the Dubai skyline which will also feature Burj Khalifa.
If the heat is killing you, you also have the option of indoor seating where you'll still get a birds-eye view of the skyline ahead with the benefit of air conditioning!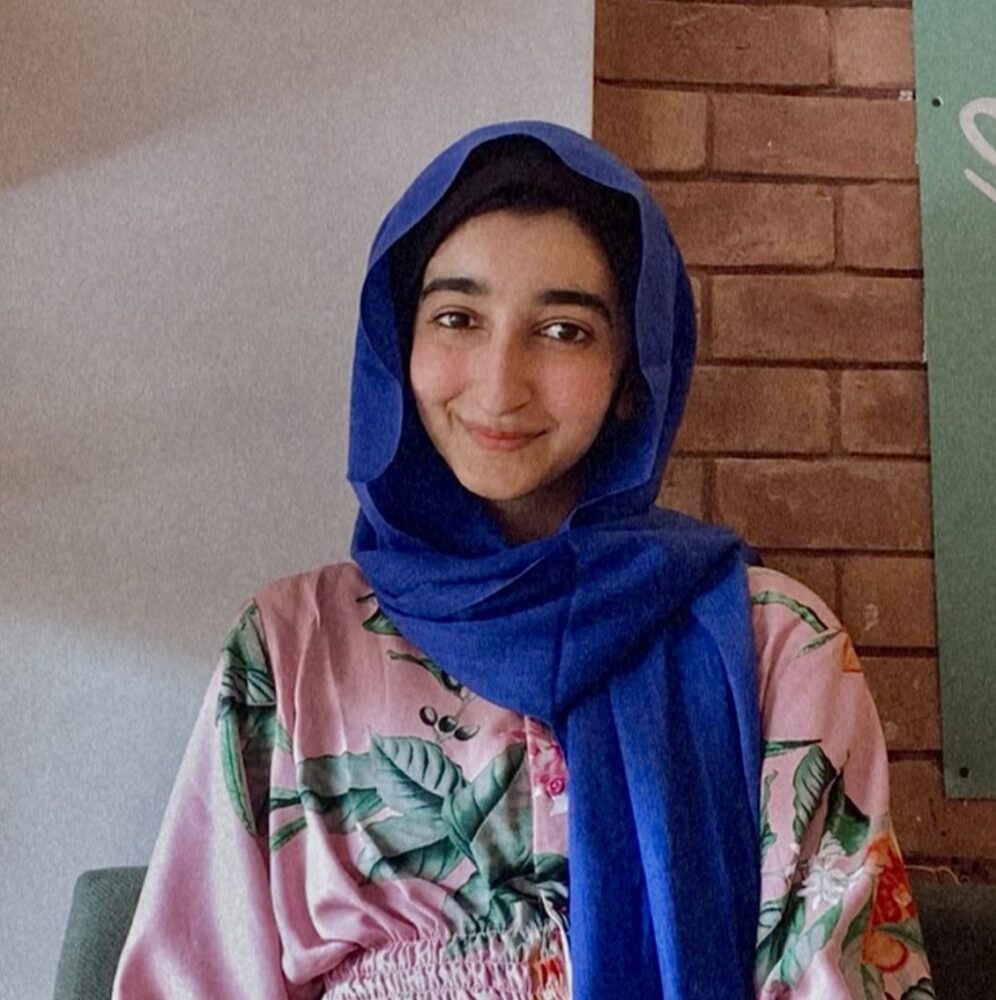 Alyaziah is a professional content writer and an accounting student. She grew up in the UAE and lived there for about 16 years before moving back to Pakistan to pursue her degree. She often travels back to the UAE and loves exploring new eateries and amusement parks in the area.