Want the best souvenir from a trip to Bali? Why not take an Ubud cooking class, where you learn all your favorite dishes from your trip!
A Balinese cooking class is the ultimate way to bring memories of your vacation home, time and again, every time you pick up a knife.
When you take a cooking class in Ubud, it's a chance to go beyond the Instagrammable cafes, picturesque rice fields, and get a taste (literally) of the real Bali!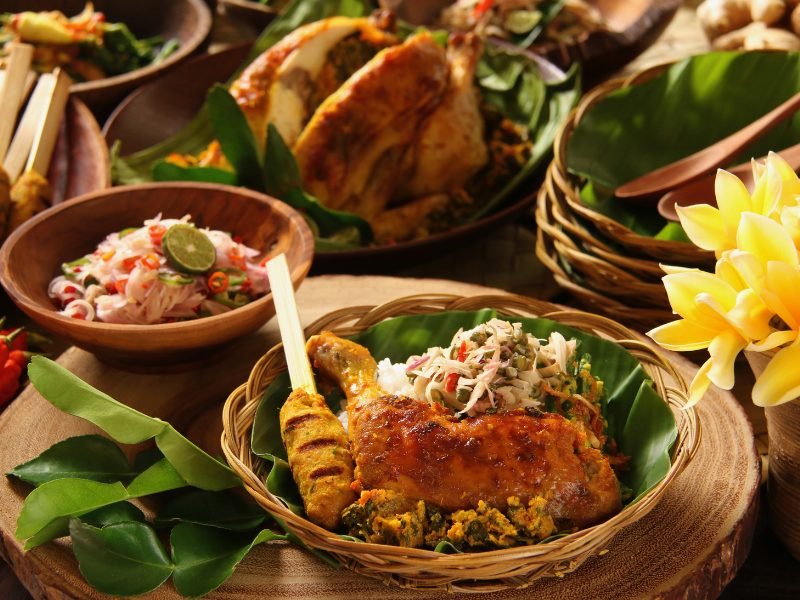 Note: This post contains affiliate links, which means I may receive a small commission if you purchase something through one of these links. Thank you for supporting the free content on this site! For more information on affiliate links and cookies, see my disclosure page for more details.
Also learning to cook your favorite Balinese dishes at home is a fun and hands-on way to bring you closer to Balinese culture.
Plus, it's a nice flex to impress your favorite people (or perhaps a new date you're wooing) back home!
The Top 7 Ubud Cooking Classes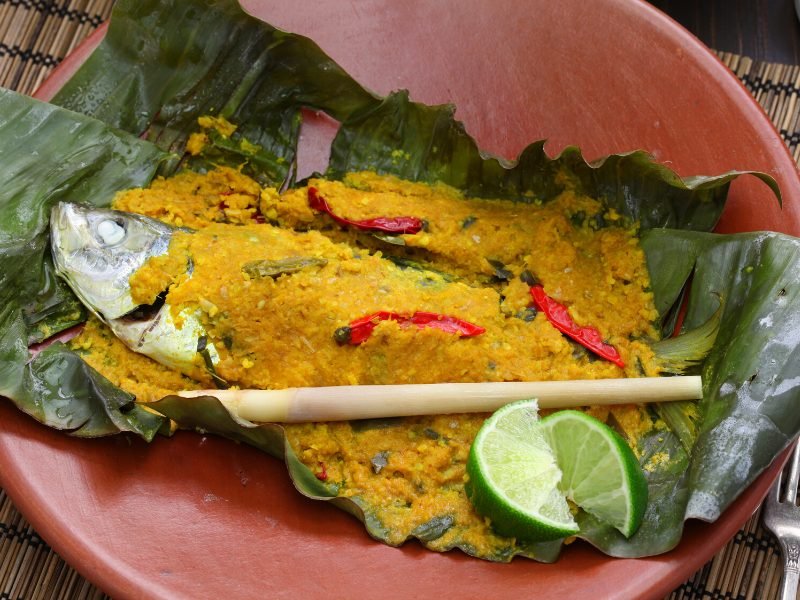 🕰️ Tour Length: 4 hours | 🌟 Rating: 5/5 stars (125+ reviews) | 🥣 Book Now
Sample Dishes You'll Learn:
– Pepes ikan (fish steamed in banana leaves)
– Bumbu kuning (turmeric and coconut milk braised chicken)
– Bregedel (hand-ground fried corn fritters)

➜ Check class availability and rates here
This private Balinese cooking class is my top pick because you simply can't beat the one-on-one attention a private class offers you.
If you are really serious about learning to cook Balinese food, this is the perfect tour for you!
The tour includes pick-up and drop-off from Ubud hotels, where you'll be whisked away to Dewa and Jero's charming traditional Balinese walled compound.
Seeing inside a Balinese compound is a special privilege not every tourist gets to see, as you must be invited to do so. These are people's homes, after all!
Luckily, on this tour you'll be treated like one of the family, as Dewa, Jero, and their family help teach you some of their favorite Balinese dishes in a traditional wood-fired oven.
"What an incredible experience. This was so much more than a cooking class. We began with an extensive tour of Dewa's village, lifestyle and culture… We cooked 5 dishes and have the entire recipes to take home. I would say this was one of the top highlights to our two week trip to Bali." – Woodward M.

Read more reviews here!
You'll also get to visit their garden and see what spices and herbs are grown in their compound, including galangal, cacao, cloves, and nutmeg.
The family stresses that this is not a professional cooking class, but rather an athentic learning experience where you can meet a local family — who happen to be excellent cooks — and learn about Balinese culture and food with them.
🕰️ Tour Length: 5 hours | 🌟 Rating: 5/5 stars (300+ reviews) | 🥣 Book Now
If you want to learn to cook as many different types of Balinese food as possible, this is the cooking class for you!
This cooking class boasts the largest number of dishes they'll teach you in a single class: an impressive nine dishes per class!
With so many dishes, you're certain to find your new favorite Indonesian dish!
If you want to also learn a little more about Balinese culture, opt for the morning cooking class because it includes a market visit.
The afternoon class is still worthwhile, but the market is closed, so it's impossible to combine a cooking class and a market visit in this way.
"Best experience ever. I really recommend doing the class in the morning youll never get to experience the local market like this without the tour" – Marina C.

Read more reviews here!
Note that since you learn to make so many dishes, this is a pretty jam-packed half-day cooking class.
It's perfect for those really dedicated to learning Balinese cuisine and wanting to hone their cooking skills!
However, if you're more of a casual cook and just want to learn a handful of traditional dishes, you may want to opt for a shorter cooking class in Bali.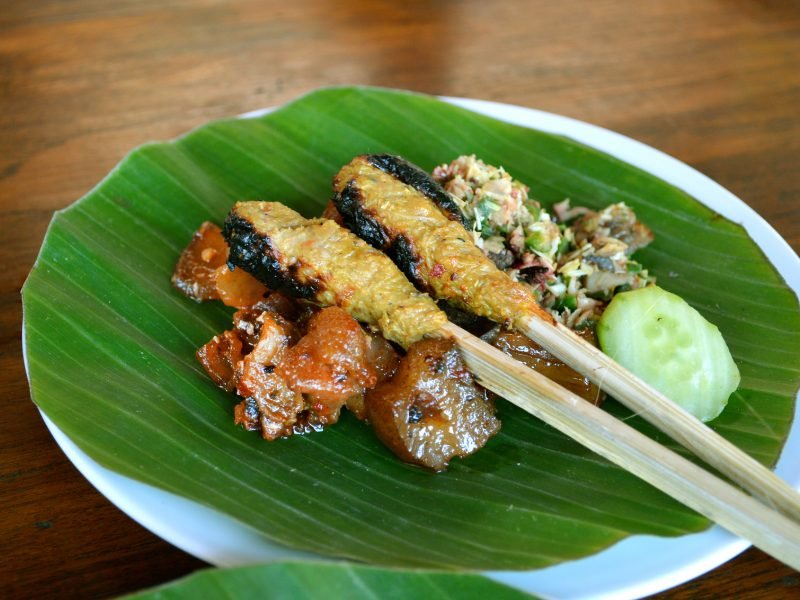 🕰️ Tour Length: 5 hours | 🌟 Rating: 5/5 stars (70+ reviews) | 🥣 Book Now
Sample Dishes You'll Learn:
– Opor ayam (chicken in coconut curry)
– Pepes ikan (steamed fish with spicy paste in banana leaves)
– Sate lilit Bali (minced chicken meat satay)


➜ Check class availability and rates here!
For a more affordable Ubud cooking class, look for a group Balinese cooking class like this one.
You'll learn to recreate all your Bali favorites while also visiting a local market to shop for the freshest ingredients (morning classes only).
While it's not as intimate a setting as the private class on the family compound in the first tour listed, you'll still get a chance to see a traditional Balinese home.
"I really enjoyed this experience, it was one of the favourite things I did on my visit to Bali. Visiting the market to understand the ingredients, and then going to a traditional Balinese house to cook in, which is set up in a class structure for cooking. The food we cooked was exceptional and I enjoy every part of this tour." – Constance M.

Read more reviews here!
Mama Puspa, the host of this group Ubud cooking class, is jovial and welcoming, and she'll quickly have you learning as much as you can in this half-day class.
That said, the downside of a larger group like this one is that you may not get to individually prepare each dish, since the dishes tend to be divvied up amongst the group.
However, for a fun group atmosphere perfect for solo travelers looking to meet other like-minded tourists, you'll likely find that this is the ideal Ubud cooking class!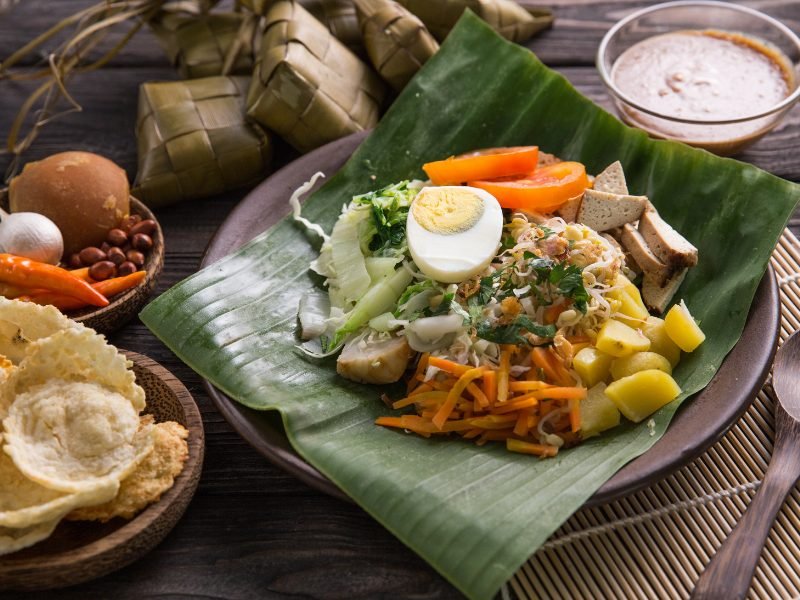 🕰️ Tour Length: 6 hours | 🌟 Rating: 5/5 stars (30+ reviews) | 🥣 Book Now
All of these Ubud cooking classes offer fresh, delicious Balinese dishes you'll drool over long after your class ends.
But nothing is fresher then when the produce from its own organic farm is used for your cooking class in Ubud!
Plus, the farm is community-run, ensuring that the entirety of a local community gets to benefit from tourism.
Plus, this is one of the more vegetarian- and vegan-friendly Ubud cooking classes — you'll be split into vegetarian and non-vegetarian groups, and even the veggie groups will have vegan adaptations.
"My husband and I are vegan and were a little apprehensive about doing this class, where some people might be cooking meat, over one that was fully vegan. However, the class was extremely vegan friendly – the group was split at the beginning into vegetarians and non-veg (about 2 thirds of the group of 12 were vegetarian), all meat prep was done in a different room before being cooked in a different part of the open air kitchen, and all vegetarian recipes had a vegan version!" – Louise B.

Read more reviews here!
This is the perfect cooking class if organic food and sustainable farming practices are just as interesting to you as learning to cook delicious meals.
You'll get to pick your very own vegetables, plucked fresh from the garden, before learning to make six Indonesian dishes which vary by what's fresh and in season.
You'll even get to take home your very own recipe book so you can easily recreate the magic at home — a very thoughtful touch!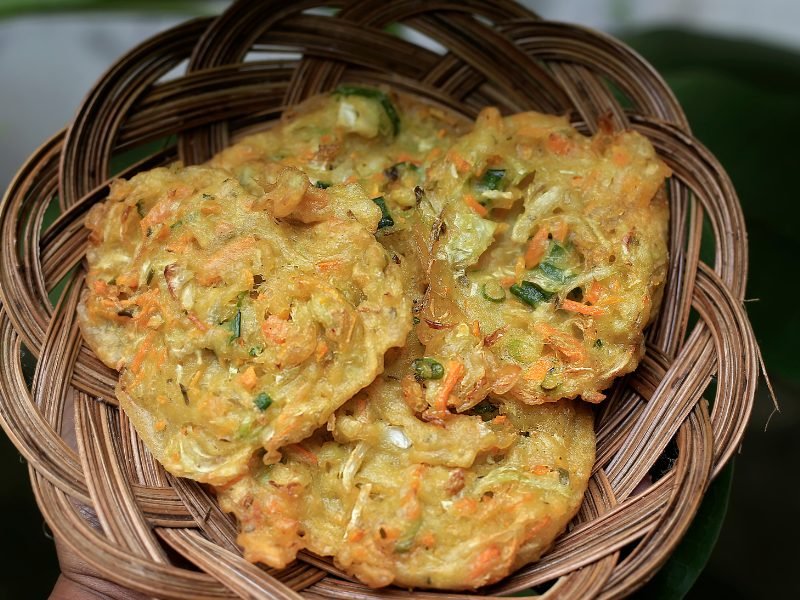 🕰️ Tour Length: 5 hours | 🌟 Rating: 5/5 stars (80+ reviews) | 🥣 Book Now
Sample Dishes You'll Make:
– Satay ayam (chicken skewers roasted over an open fire)
– Gado gado (freshly cooked veggies with peanut sauce)
– Bakwan sayur (fried mixed vegetable fritters)

➜ Check class availability and prices here!
This tour is similar to other Ubud cooking classes that start with a market tour before bringing you into a family home to learn some Balinese classics.
However, this is a completely private class experience, making the cost a little higher than some other cooking classes, but not dramatically so.
The individualized attention and customization you can request is a great value-add for a minimalistic price increase.
Your host, Putu, will warmly welcome you and show you the ins and outs of a Balinese market, allowing you ample time to not only shop but stop and snap pictures of the market if you like.
"Putu was an wonderful, gracious host! Her family immediately made us feel welcome… The market tour was fascinating, trying new fruits, experiencing new scents, and watching daily Balinese life unfold. Both Putu and her cousin who helped with the cooking had good English and were able to easily communicate things about their culture and way of life." – Kyle S.

Read more reviews here!
You and Putu will cook about 2-3 main dishes, so it's more about in-detail quality education as opposed to churning out as many dishes as possible.
It's a great choice to start small if longer, more intensive Ubud cooking classes are intimidating.
It's also shorter than other tours, with the cooking portion lasting a little under 2 hours.
If you're looking for a starter, private cooking class in Ubud, this class should be your pick!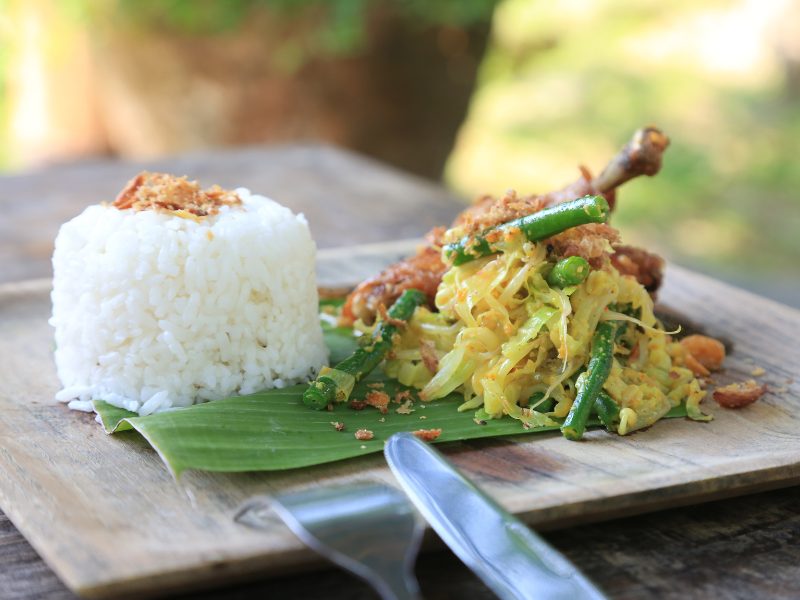 🕰️ Tour Length: 3 hours | 🌟 Rating: 5/5 stars (220+ reviews) | 🥣 Book Now
Feel truly like part of a Balinese family when you join this Ubud cooking class in a multi-generational compound.
Compounds are a uniquely Balinese way of living, intertwined with culture and religion, and it's not something every tourist gets to experience.
Mixing a private visit to a family compound with a private cooking class is an excellent way to see a different side to Bali that many people miss.
In between cooking, you can also tour the family temple and compound, seeing where they grow jackfruit, cacao, coffee, bananas, and more, as well as keeping their pigs, ducks, chickens, and cows.
"We had a wonderful night cooking with Putu in her home. Not only did we learn about traditional Balinese food, we learned about her family's religion and Balinese culture… They were extremely welcoming and spoke great English. Our family of four had a private cooking lesson and we made five traditional Balinese dishes, followed by a huge dinner and local beers." – Lori M.

Read more reviews here!
You'll appreciate that everything is prepped and chopped for you before your arrival, so you can just focus on the fun cooking part and none of the prep work!
Once you make a meal — typically at least 5 dishes — your host, Putu and her husband Pasta, their children, and her grandparents, will all join you for a delicious lunch or dinner in the compound.
You'll also get to learn about traditional Balinese medicine that Putu makes called jamu, local alcohol made in Bali, and about her grandparents' local rice farm nearby.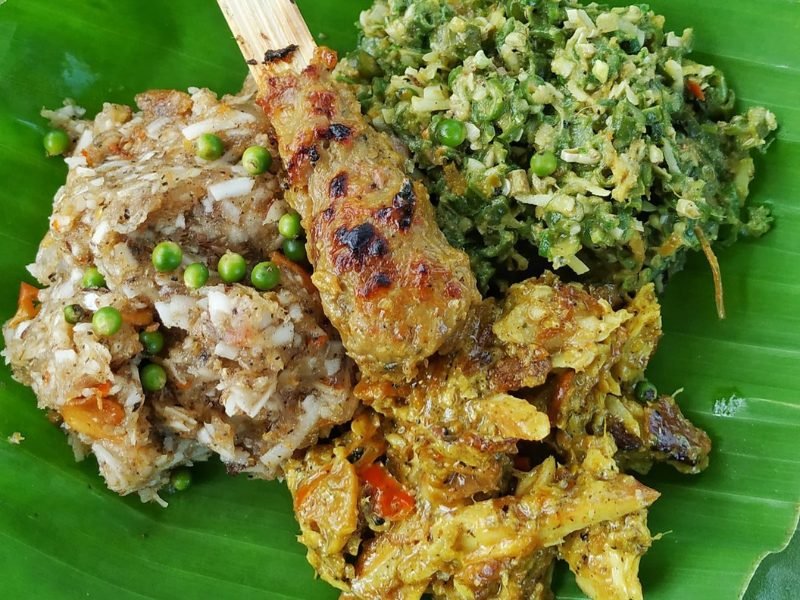 🕰️ Tour Length: 8 hours | 🌟 Rating: 5/5 stars (30+ reviews) | 🥣 Book Now
Running short on time in Bali and you want to combine an Ubud cooking class with some sightseeing? This cooking class and tour combo is made for you!
This full-day 8-hour tour encompasses a morning market tour, a Balinese cooking class with veggie options available, and then some sightseeing.
You'll cook Balinese classics ranging from sate lilit to ayam jamur soup to pepes tuna, depending on what's fresh that day!
"Could not have been better!! Everything was spectacular including the driver and tour guides. Very knowledgeable and interactive." – Richard C.

Read more reviews here!
After your cooking class, you'll get to visit two of Ubud's highlights: the Tegalalang Rice Terrace (Insta-famous) and the Monkey Force (infamous).
This is the perfect tour for people with limited time in Bali who want to tackle as much as they can in a single, convenient outing.
Allison Green is a former educator turned travel blogger. She holds a Masters in Teaching and a B.A. in English and Creative Writing. Her blog posts merge her educational background and her experience traveling to 60+ countries to encourage thoughtful  travel experiences that both educate and entertain. She has been a speaker at the World Travel Writers Conference and her writing, photography, and podcasting work has appeared in National Geographic, CNN Arabic, CBC Canada, and Forbes, amongst others. Now based in the San Francisco Bay Area where she grew up, she has also lived in Prague, Sofia, and New York City.