Towering stature, symmetrical features, impeccably carved marble: these are the key features of the Statue of David that makes this work of art almost mythical when it comes to art history.
A key landmark of Florence, you can't miss the chance to see Michelangelo's David when you visit Florence.
Note: This post contains affiliate links, which means I may receive a small commission if you purchase something through one of these links. Thank you for supporting the free content on this site! For more information on affiliate links and cookies, see my disclosure page for more details.
This guide details exactly how to see the Statue of David in Florence, with tips on the best-value tickets and tours to maximize your time in Florence.
While some say David is the most beautiful artwork in the world, art is subjective and we can't quite proclaim that — but it's undeniable that David is one of the most famous sculptures in the world!
Many visitors assume that the Statue of David is located in the Uffizi Gallery, since it's the most famous museum in Florence.
But not so! Rather, the Statue of David is actually located in a much smaller museum called the Galleria dell'Accademia.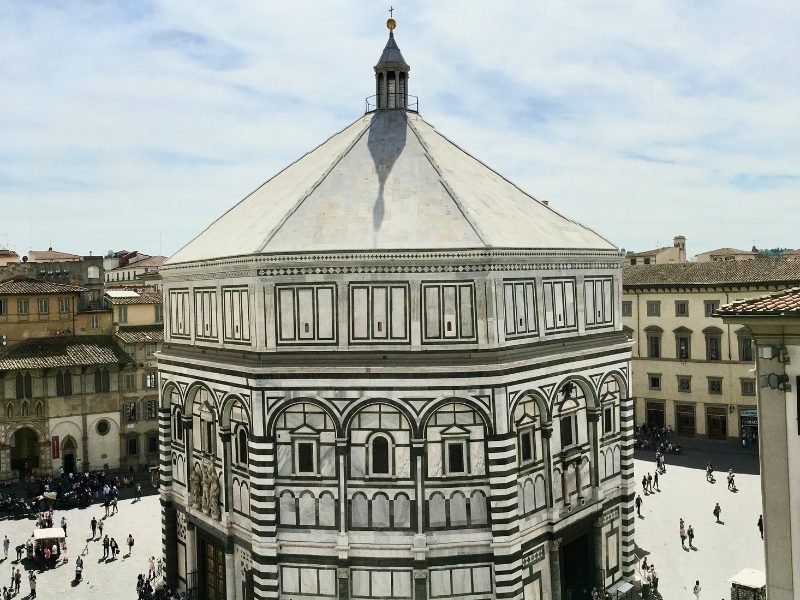 Despite its small size, the Accademia Gallery is still worth a visit, both for Michelangelo's world-renowned artworks and works by other artists.
Be sure you include the Accademia Gallery in your Florence itinerary, whether you have one day or several days, not just for David but also for the rest of its rich art collection!
Don't want to read the full article? You can just go ahead and book a time slot to see the Statue of David at the Accademia here.
Tip: If you still have time after visiting Florence, I suggest making time for this Tuscany itinerary or some of these Florence day trips
About Michelangelo's David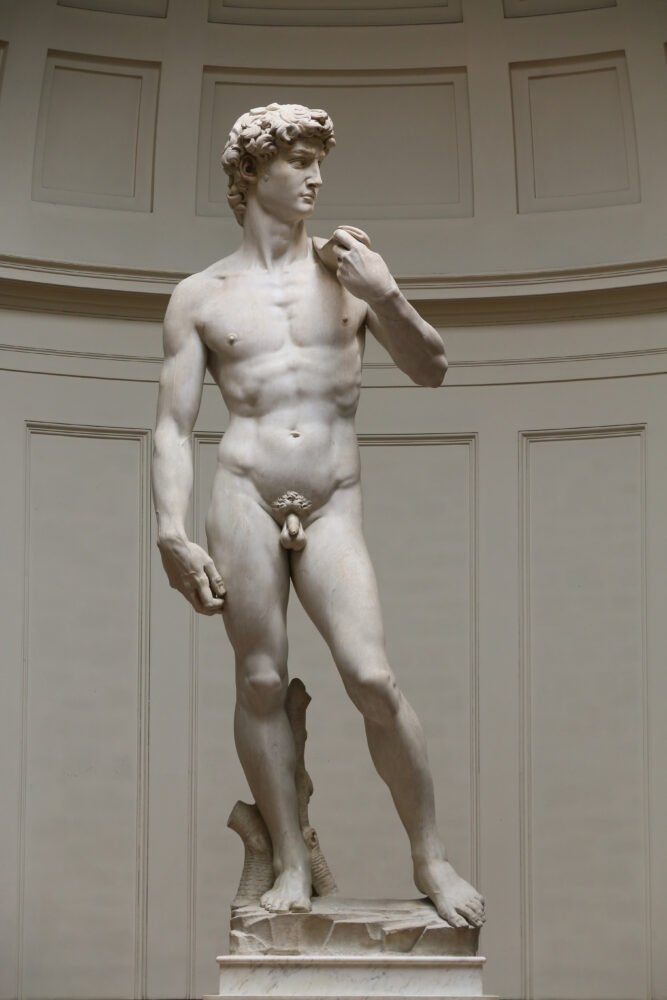 Since its creation, Michelangelo's David has been considered the ideal of male beauty in art.
But who is this mythical David being immortalized?
The statue represents King David of Israel, famous for slaying the giant Goliath.
Unlike other sculptures of the same character, Michelangelo's David does not feature the head of Goliath at David's feet.
In fact, in Michelangelo's interpretation, David had not yet defeated the giant, but he was preparing for the fight, hence the warning glare!
You can also see the sling across David's back, signaling that he's preparing to approach Goliath.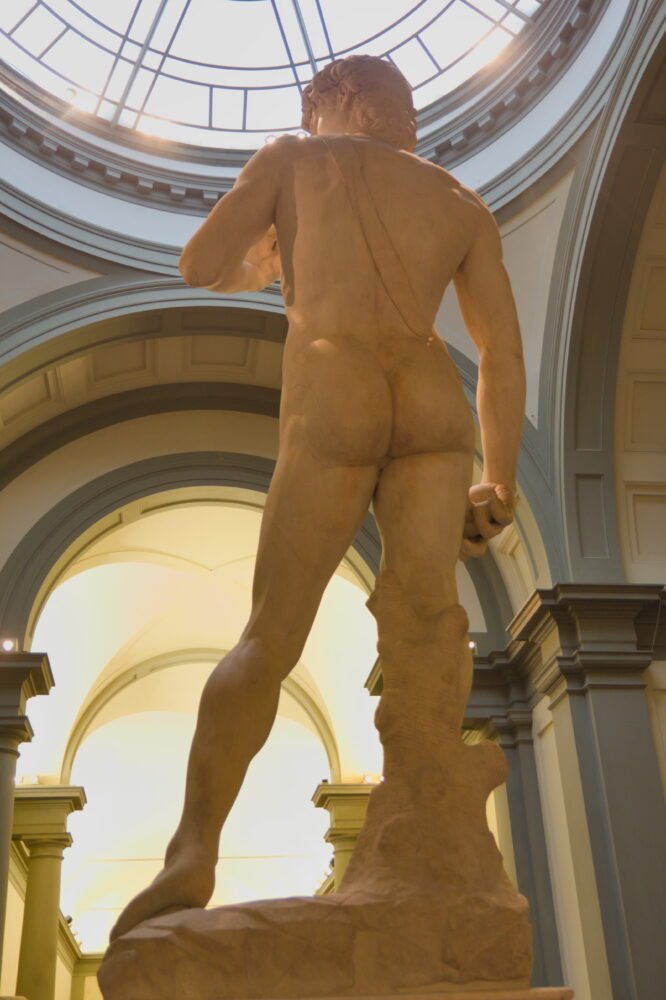 Michelangelo created the sculpture between 1501 and 1504, though not without its challenges.
The block of marble destined for the sculpture presented several practical difficulties — particularly due to the crumbly consistency of the material and its tall and narrow shape that allowed little margin for error.
According to sources, Florentines called the block of marble that would later become David Il Gigante ("the Giant").
Other artists attempted to sculpt from this material but quickly gave up, discouraged by the challenging material.
Despite the roadblocks, Michelangelo — then only 25 years old — accepted the commission and started working on the statue of David on September 13th, 1501.
Michelangelo was already known for his previous works in Rome, so the location (the current courtyard of the Opera del Duomo Museum) immediately drew many curious eyes.
In fact, Michelangelo had a temporary wall built around his workspace so he wouldn't be bothered by passers-by peeking at his work!
A few months before its completion in June 1503, he opened up the wall for everyone to admire the nearly complete artwork.
When the piece was finished, the statue measured 17 feet high (more than 5 meters), weighing roughly 6 tons.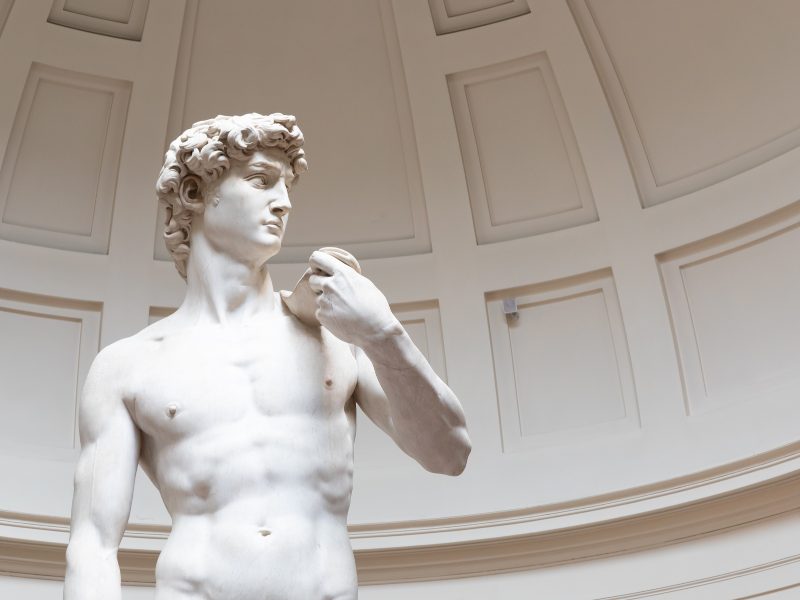 For a more visual idea, David is the size of an adult giraffe!
Although David was initially supposed to be one of many sculptures adorning the buttresses of the Duomo of Florence, it was immediately clear that Michelangelo's masterpiece should have a more prominent location for everyone to admire.
In 1504, a commission of many prominent artists, including Leonardo da Vinci, decided on a new location for the statue.
David quickly went from being a religious figure to a political one, embodying the ideal of righteousness due to his ability to defeat an unfairly strong rival, armed with just a sling and his faith.
These characteristics soon became those of an ideal government that Florence aimed to establish, particularly following the exile of the Medici family in 1494.
After a long debate, the commission finally decided on the statue's location.
David was to be placed in Piazza della Signoria, in front of Palazzo Vecchio, the town hall of Florence.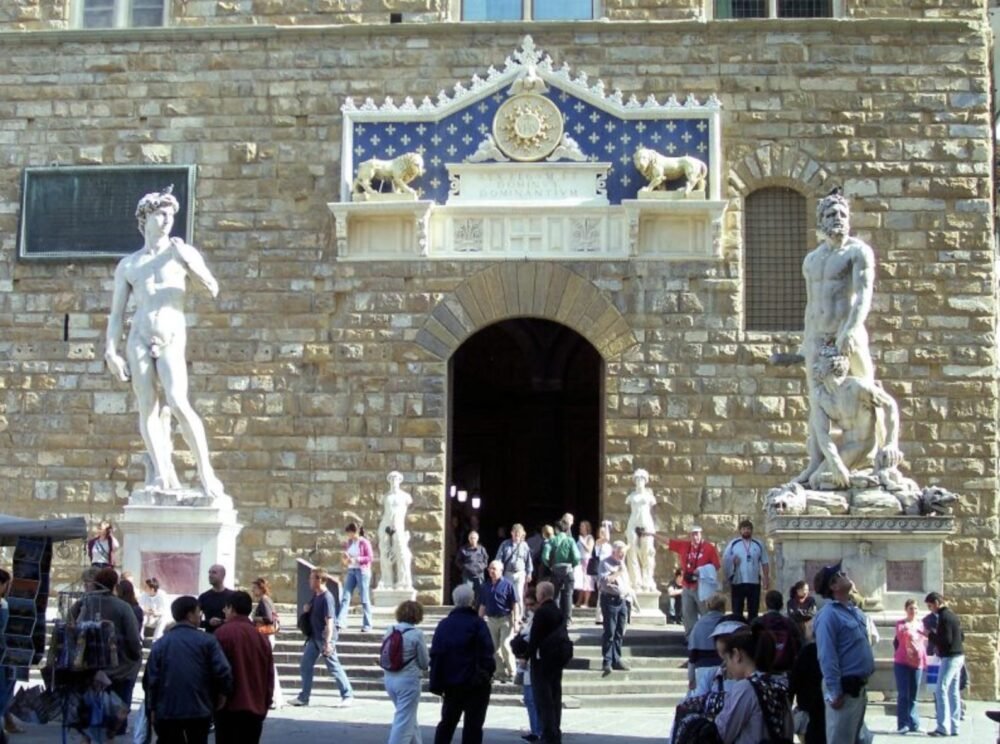 The transportation of the statue to its new spot took four days, given its size and weight!
Once finally moved into its new home, David took the place of Donatello's sculpture of Judith and Holofernes.
Over nearly four centuries, David kept its outdoor location, with the inevitable damages caused by both man and nature.
In fact, during its transportation, a group of Medici supporters threw stones at the statue, portending the damage it'd see over the years.
In the following years, it was struck by lightning and later damaged during protests due to yet another exile of the Medici.
On this occasion, David's left arm was broken into three pieces, requiring significant repair.
It was only in 1873 that the statue, which was showing significant damage, was removed from the square, waiting for its new spot inside the Accademia Gallery to be ready.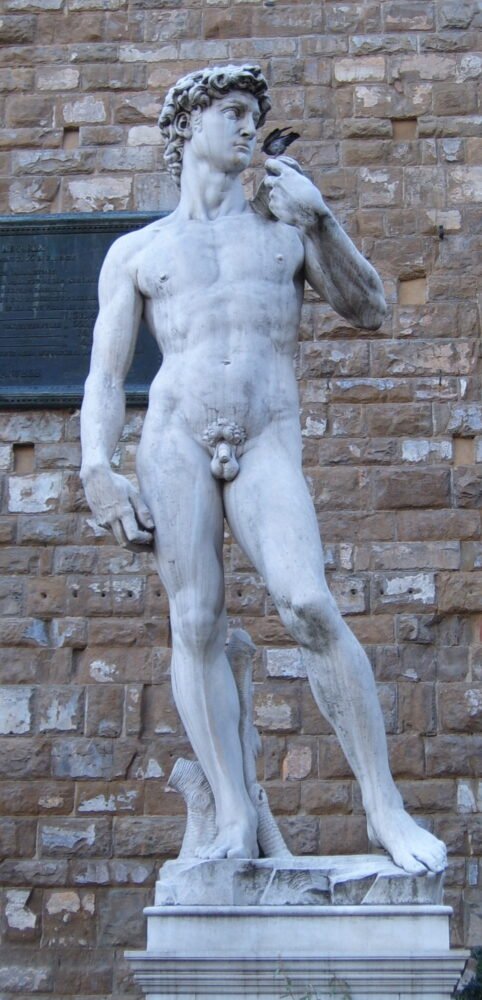 Since 1882, David has kept his current place, safe in the Accademia Gallery.
Meanwhile, a replica was placed in its original location in Piazza della Signoria in 1910 — so don't be fooled, that's not the original David!
However, being indoors didn't entirely protect David from damage. In 1991, a man entered the Accademia Gallery with a hammer and damaged David's toe.
Luckily, it was not hard to rebuild the damaged parts using one of the many existing molds of the statue.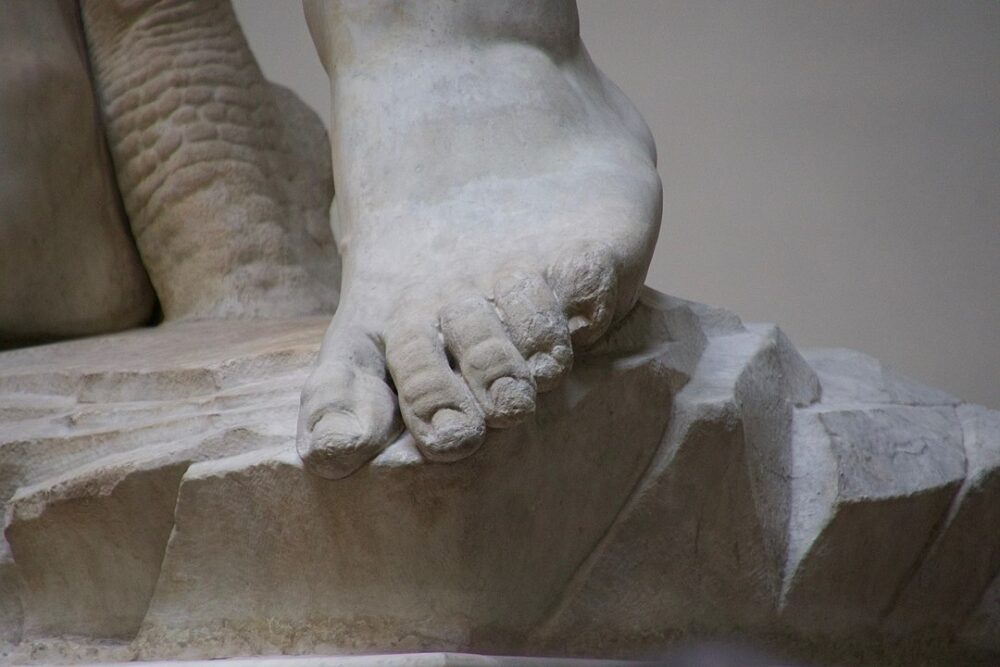 David saw a significant restoration in 2004 to celebrate 500 years from its completion. Since then, it has been examined regularly to verify its integrity.
Many full-size replicas of Michelangelo's David were created over the centuries and placed in locations worldwide.
You'll find replicas all over, including London, Copenhagen, Buffalo, Buena Park in California, Montevideo, Jerusalem, and many others.
About the Accademia Gallery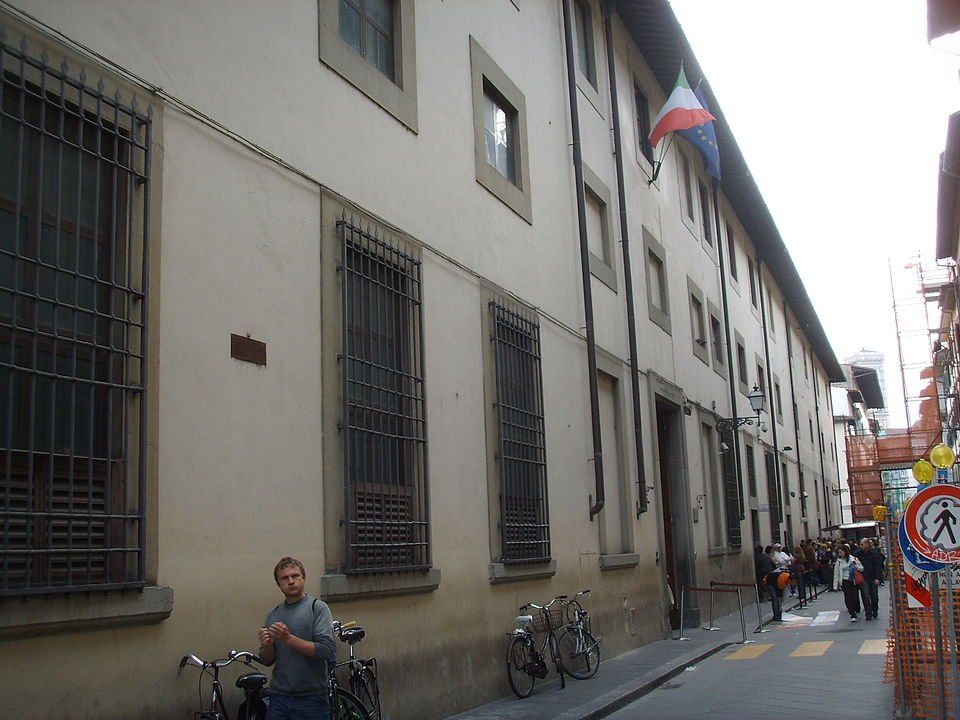 The founding of the Accademia Gallery dates back to 1784 when the Grand Duke of Tuscany Leopold II decided to move the Fine Arts Academy (founded in 1563) to a new location inside the San Matteo Hospital and the Convent of San Niccolò di Cafaggio.
Back then, the gallery was a space for students to observe and study works of art as a source of inspiration.
The Accademia Gallery was soon filled with paintings and other works of art from convents, monasteries, and other religious institutions.
At the time, many sacred sites were being suppressed by Leopold II, then subsequently by Napoleon.
For this reason, there is a significant collection of religious art to admire in the gallery nowadays, as this is how it was protected.
The Accademia Gallery suffered from the Napoleonic looting of art until the Congress of Vienna proclaimed that all works of art had to be returned to their original owners.
Even so, only some works of art made it back to Italy. In fact, a few of the stolen pieces are still on display in the Louvre.
The most crucial event in the history of the Accademia Gallery is the placement of the original David sculpture, determined in 1873.
Nevertheless, the sculpture was kept in a wooden box for nine years before being placed in the newly built space especially designed by architect Emilio De Fabris.
The new Accademia gallery, as you see it today, was inaugurated in 1882… when Michelangelo's most famous sculpture took its current spot, becoming the museum's masterpiece.
Ticket Options for the Accademia Gallery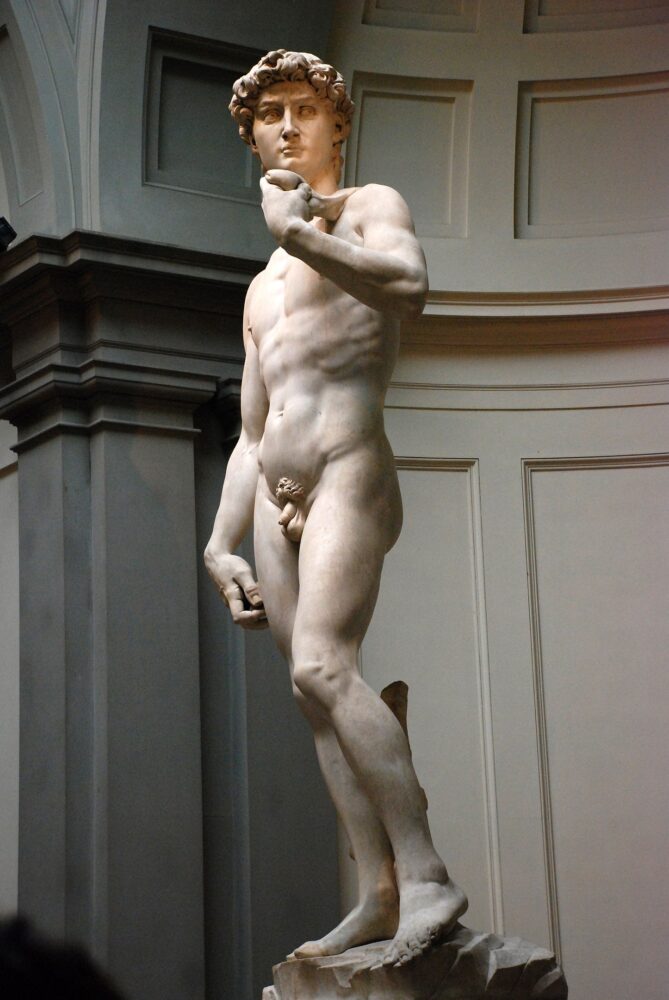 You have a few options to visit the Accademia Gallery.
If you want to visit on your own, you can buy your tickets to the Accademia Gallery online or in person.
Depending on the season you visit Florence, you may need to book several days in advance — especially in high season.
If you visit in summer, chances are that online tickets will get sold out a few days before.
This also means you may need to stand in long lines to buy tickets at the on-site ticket office… and risk not being able to see the statue of David if there is no availability.
To avoid this, buy your tickets online in advance. The sooner you book, the more time slots you will find available that are suitable for your schedule!
The 3 Best Tours to See the Statue of David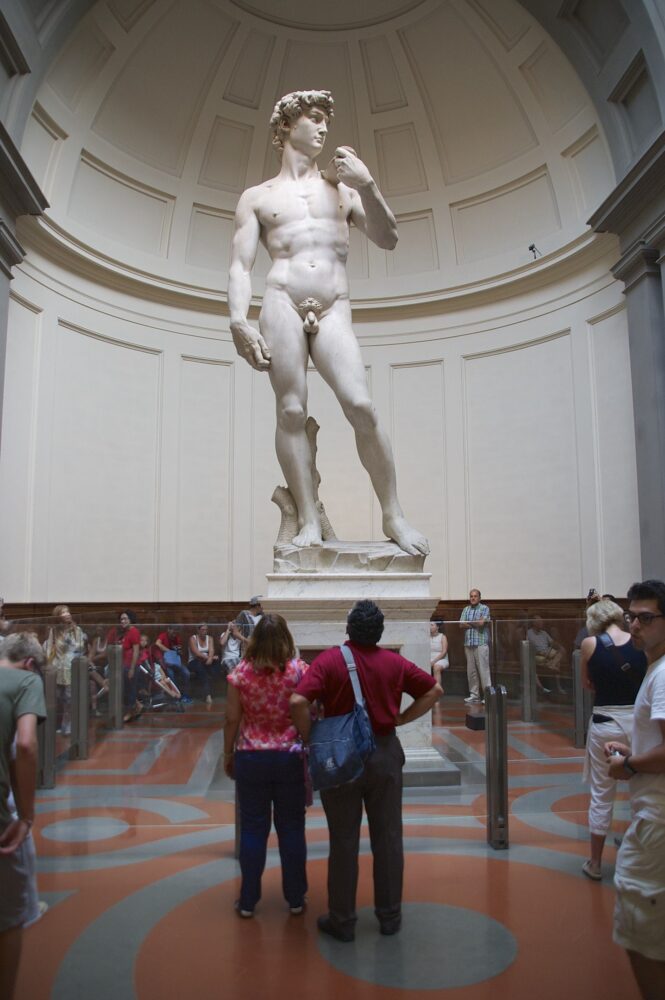 One option to avoid lines is to get a Timed Entrance Ticket to Michelangelo's David.
This entry ticket is not a tour but rather a pre-purchased admission ticket, which grants you priority entry.
Plus, it gives you a time slot that ensures you'll get a chance to see the famous statue.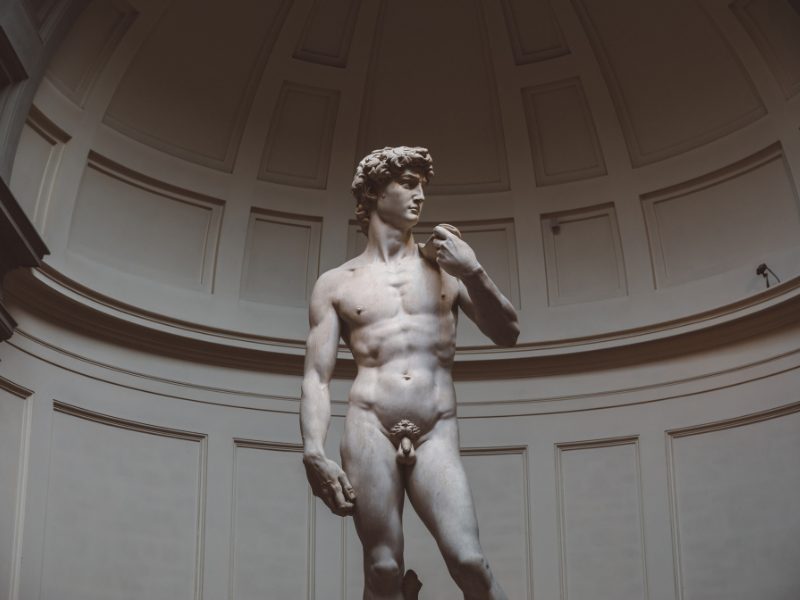 If you prefer to take a guided tour instead, this Accademia Gallery Guided Tour includes skip-the-line tickets and a live tour guide for one to two hours.
You can choose between several languages, including English, Italian, Spanish, and French.
This is your best option if you want to learn more cool about the other famous artists featured in the gallery, as well as Michelangelo's David, how it was constructed, and how it became so famous!
Money Saver: Accademia + Uffizi Gallery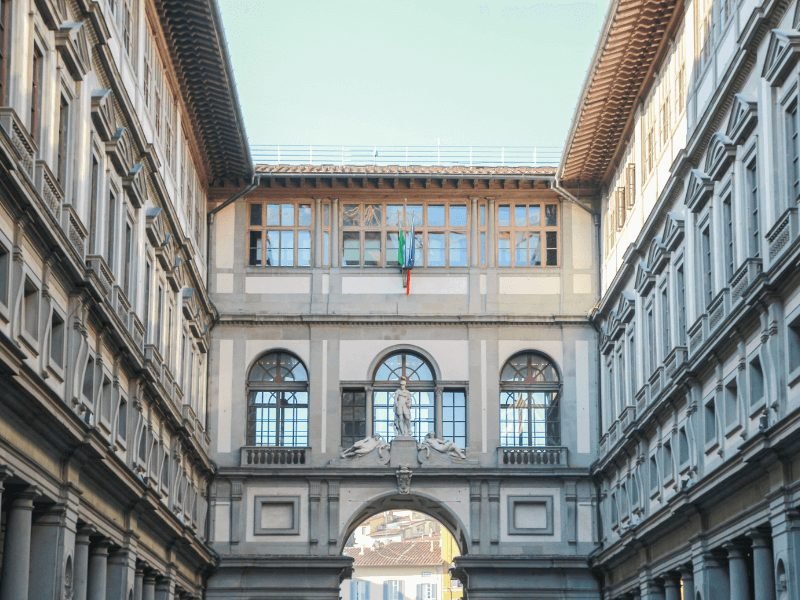 Another option is to combine your visit to the Accademia Gallery with the Uffizi Gallery by getting an Accademia and Uffizi Tour.
This ticket includes priority entry to both museums and offers excellent value, with a discount off both attractions (which can save you a pretty penny… er, euro).
Free Option for Seeing the Statue of David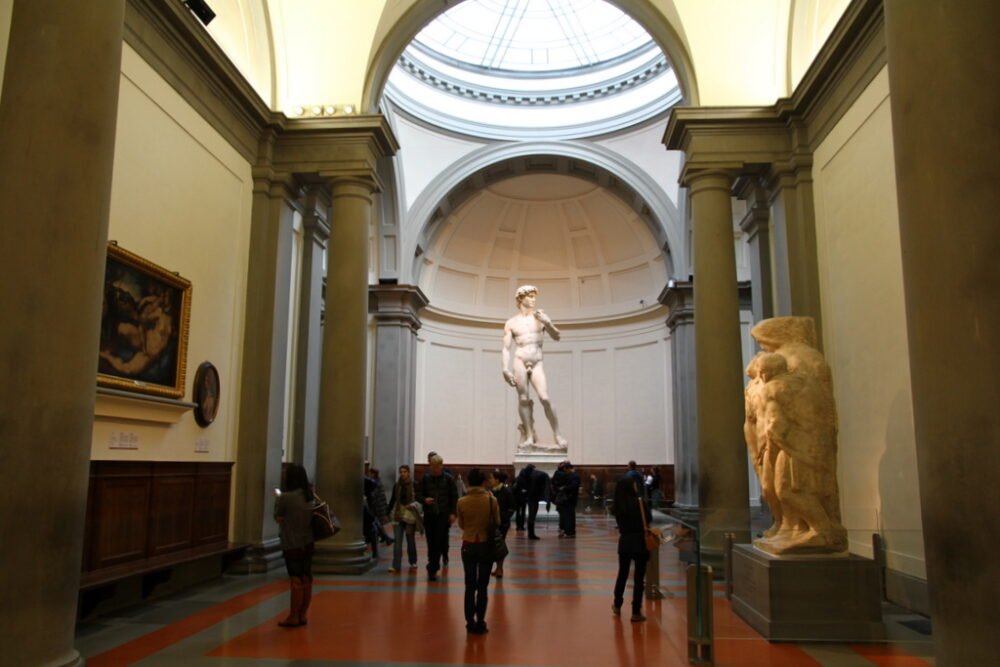 Finally, if you're traveling on a budget, you should take advantage of the free entry on the first Sunday of the month.
However, this option has its pros and cons. While you get to enter for free, you must prepare for huge crowds of people who also want to take advantage of this opportunity.
That said, you can book your free entry online in advance (only on the official site, and only on the first Sunday of the month) to avoid long lines at the ticket office.
You may be able to avoid a line at the ticket office, but you won't be able to avoid the crowds.
If you do this go, go as early as possible to reduce the crowds (though it will definitely still be quite busy).
What Else Can You See at the Accademia Gallery?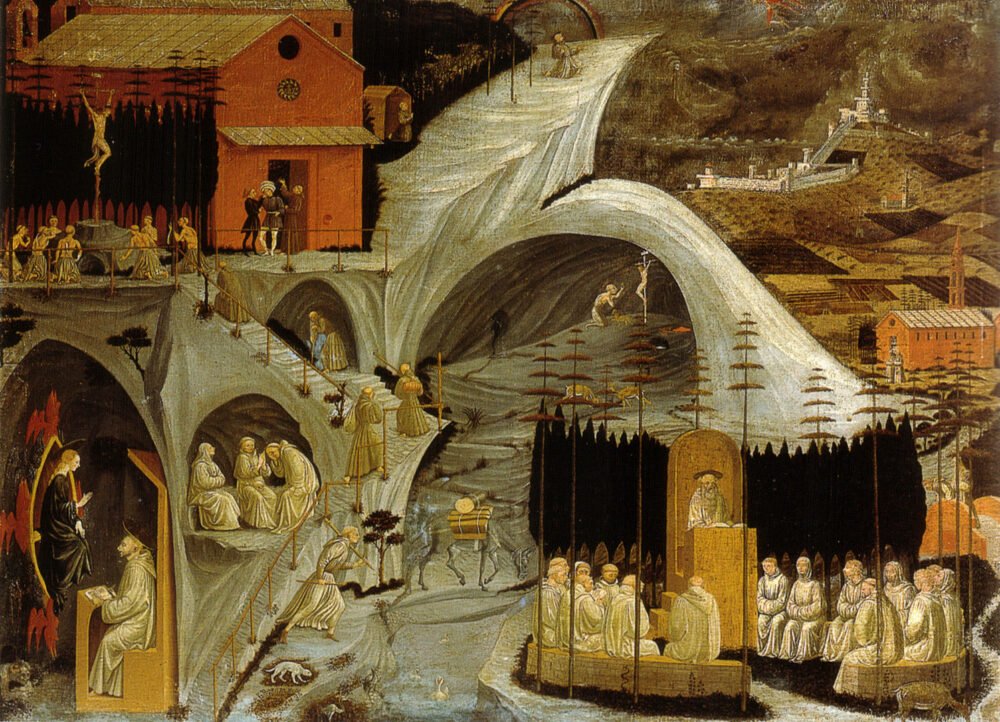 While Michelangelo's David draws most visitors to the Accademia Gallery, that's not the only reason to visit.
The museum houses a vast collection of sculptures, paintings, and musical instruments from the 13th to the 18th centuries.
The gallery features a prestigious collection of gold-ground paintings from the 13th to the early 15th centuries, including works by Giotto, Maestro della Maddalena, and Taddeo Gaddi.
You'll see other stunning paintings in the gallery by Renaissance artists like Sandro Botticelli, Pietro Perugino, Domenico Ghirlandaio, and Filippo Lippi.
Aside from Michelangelo's David, sculptures you'll see the renowned Rape of the Sabine Women by Giambologna, along with unfinished sculptures by Michelangelo and casts by Lorenzo Bartolini and Luigi Pampaloni.
Finally, the newest area is the Musical Instruments Department, inaugurated in 2001.
This intriguing gallery houses musical instruments that belonged to the Grand Dukes of Tuscany from the Medici and Lorraine families.
The collection highlights are the viola and cello by Antonio Stradivari made for Ferdinando de Medici.
In this area, you can also check out the interactive multimedia stations where you can listen to the sounds of the instruments on display!
Finally, the gallery has a space dedicated to temporary exhibitions. These change regularly, so check what's on when you visit!
Tips for Seeing the Statue of David in Florence
Book your ticket in advance!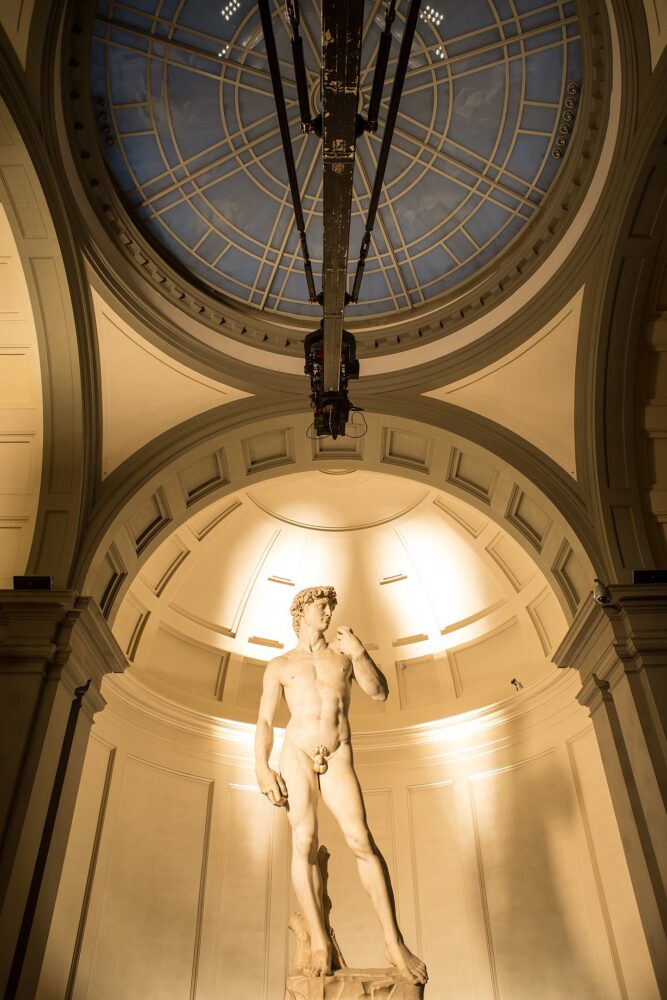 Avoid spending time in line at the ticket office by booking your ticket online ahead of time.
This will save precious time you can use otherwise, but you'll also be sure tickets don't sell out, leaving you without a chance to visit the museum.
This advice is valid year-round but even more critical during peak months, namely from June to September.
Summer is the season with the highest influx of visitors, so make sure you book several days in advance to choose your desired time slot.
Avoid peak days and times.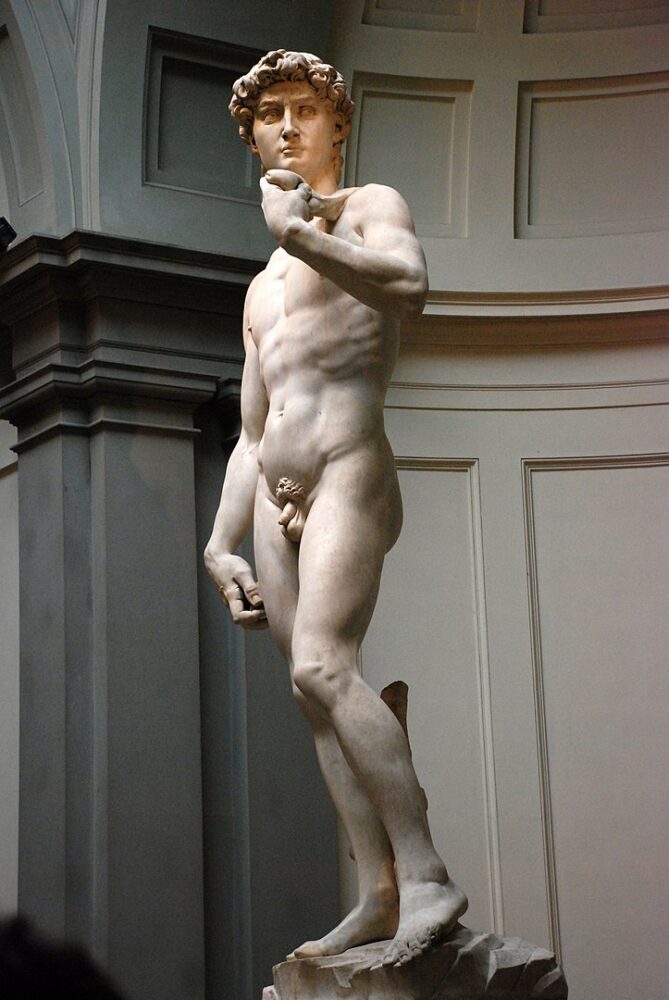 As you can imagine, visiting during the weekend, especially in the high season, means dealing with big crowds — and having poor views of the statue of David that you came all this way to see.
To avoid the crowds, schedule your visit in the middle of the week, especially in the high season.
An even better option is to visit Florence in winter or during the shoulder seasons.
Shoulder season (particularly April-May and September-October) offers both good weather and lower crowds.
Meanwhile, the low season in winter is almost guaranteed to reward you with fewer crowds so you can enjoy the sight of David without being overwhelmed by vast waves of visitors.
Finally, try to book the earliest entry possible or the latest!
The museum tends to fill up mid-morning, so that's a time better avoided.
If you are among the first to enter, you'll only share the gallery with a few other visitors.
If you choose to visit right before closing time, be mindful of how you spend your time, so you can experience everything you want to.
Don't bring big backpacks or suitcases.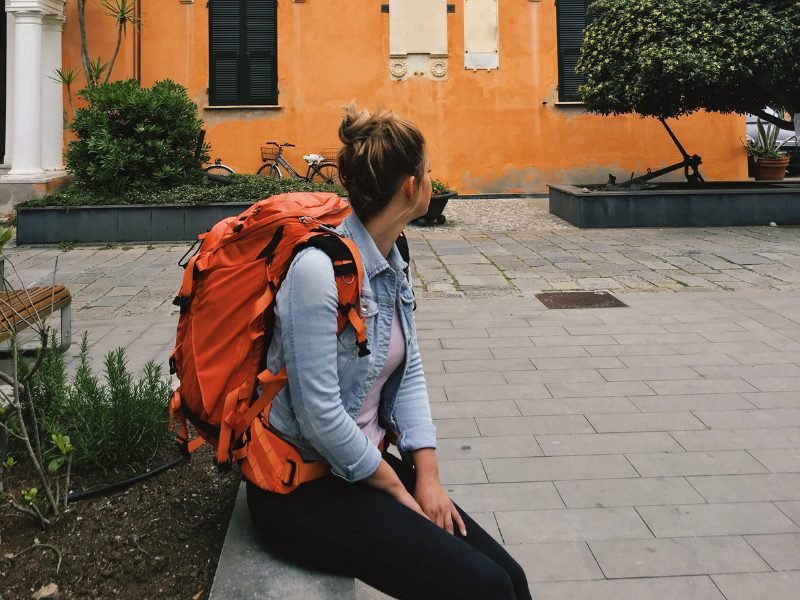 The museum does not have a cloakroom, so there is no space for you to leave big luggage.
If you have luggage, find storage before you visit the museum to avoid the inconvenience of being denied entry and having to find a last-minute solution…
Worst of all, you will likely lose your time-entry slot!
Protect your travel investment!

Travel insurance coverage helps you recoup your losses in case of emergency, accident, illness, or theft.

I rely on SafetyWing for coverage when it comes to trip interruptions and cancellations as well as accidents and medical emergencies.

It offers great rates starting around $12/week with clear, easy-to-read coverage.
Don't bring forbidden items.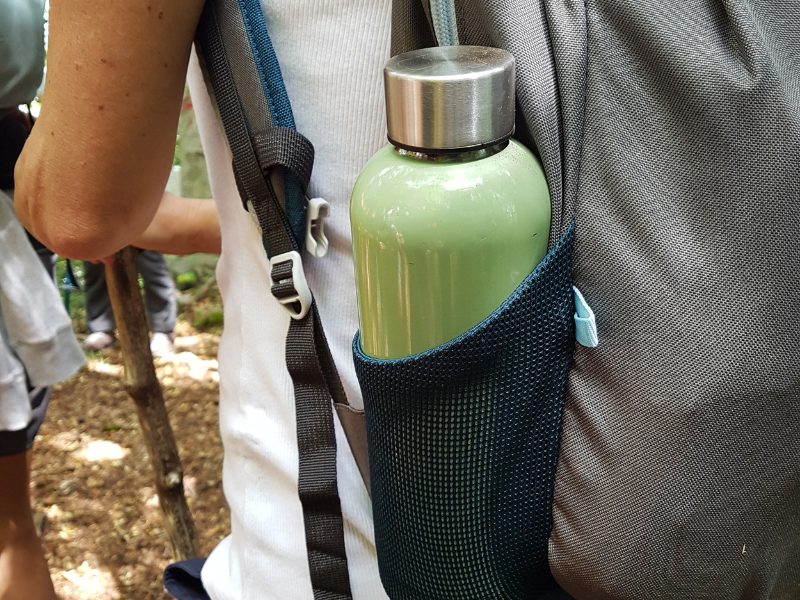 To enter the museum, you must go through airport-like security checks.
Of course, that means no forbidden items like knives, sharp objects, or weapons.
If you do have a forbidden item, you will be asked to leave it at the metal detectors and can retrieve them at the end of the visit.
You can enter the museum with a water bottle of a maximum of 0.5 liters (17 oz). Bigger bottles are not allowed!
Furthermore, to protect the art, you should refrain from consuming any food inside the museum.
Be aware of the days that the museum is closed.
Note that the Accademia Gallery is closed every Monday, as well as January 1st and December 25th.
Make sure to keep this in mind when planning your visit, especially if you visit Florence in winter, around Christmas!
However, the museum may stay open on a Monday if it's a public holiday, so check the schedules on the website in advance!
Get an audio guide.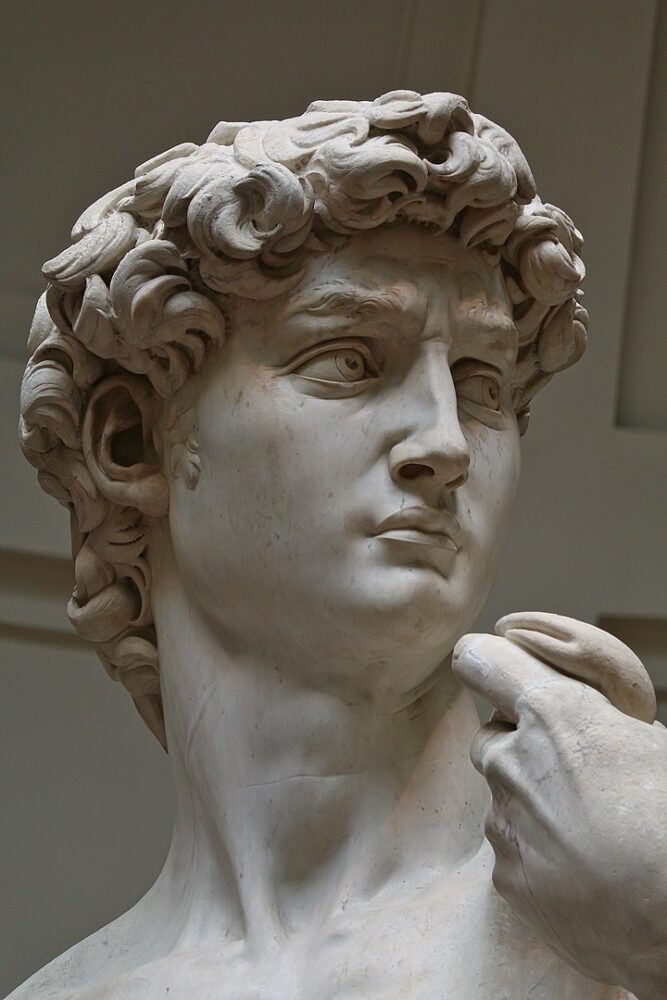 You may want to get an audio guide if you want to learn more about the artwork but don't feel like taking a guided tour.
This option allows you to listen to the story of the works you are more interested in, so you don't just pass them by, while being able to skip what you are less intrigued by.
You can get an audio guide when booking your ticket online or when you arrive by stopping by the on-site bookshop.
Don't forget to explore the rest of the gallery!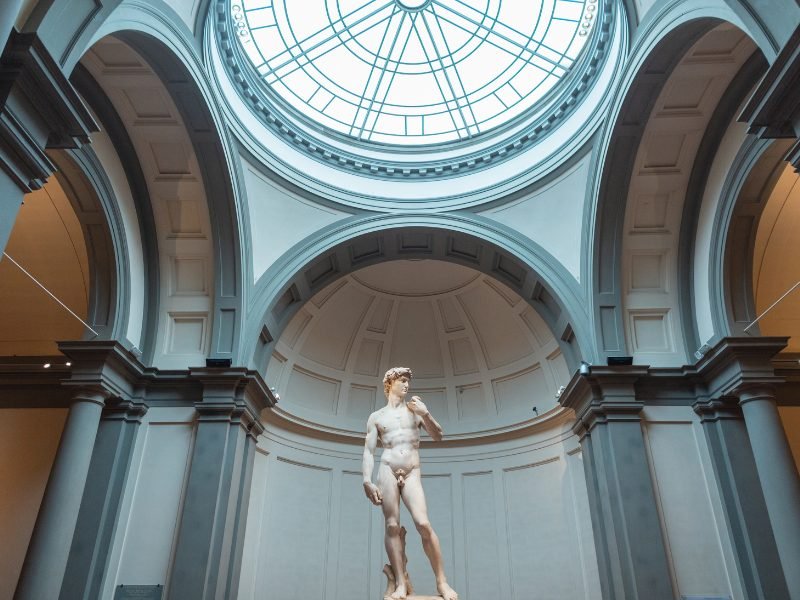 Though other museums in Florence are larger, be sure to dedicate the appropriate amount of time to seeing the Statue of David.
Yes, David is the highlight of this gallery — so definitely spend time admiring the stunning details of this masterpiece!
However, don't rush through the rest just to see it!
The rest of the museum — paintings, sculptures, casts, and musical instruments — all truly deserve your attention.
Here are a few other styles and periods of art in the Accademia you can choose between seeing:
More of Michelangelo's work, including Prisoners, a statue of Saint Matthew, and Palestrina Pietà (though the latter may not belong to him)
Paintings from Florentine artists like Paolo Uccello, Sandro Boticelli, and Domenico Ghirlandaio
High Renaissance art like the full-size plaster for Giambologna's R*pe of the Sabine Women
Russian iconography collected by former Grand Dukes
Florentine Gothic artwork pieces
Pick and choose which areas to spend the most time in, but be sure to include at least a few of the other sections of the museum.
All said, it shouldn't take you more than two hours to visit the entire gallery… and that's without leaving anything out.
Depending on your pace and interest in various works, you can visit the gallery, including seeing the Statue of David, in around one hour.
Guides to Other Popular Attractions in Italy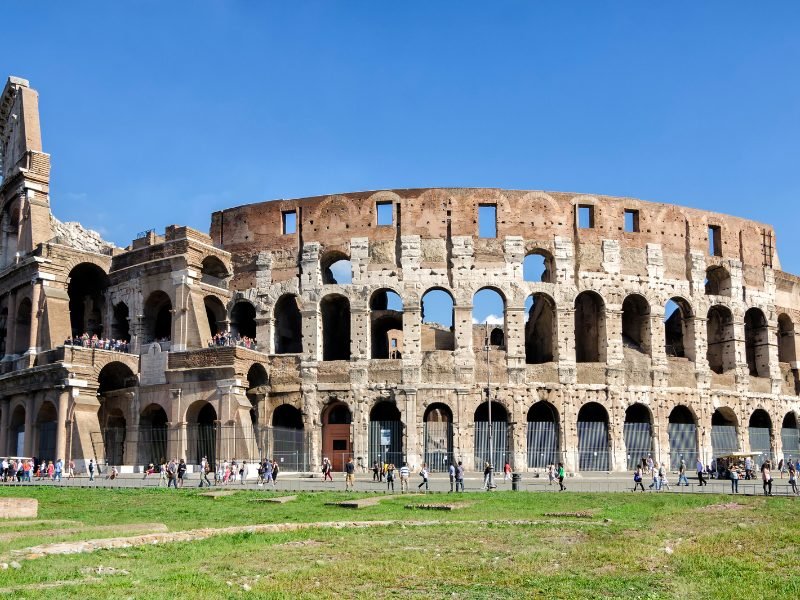 If you're hoping to tick off Italy's most famous attractions and sights, here is what we think you can't miss… with full guides to each of Italy's most iconic attractions on the way!
The Vatican Museums in Rome (well, technically Vatican City)
The Uffizi Gallery in Florence
St. Peter's Cathedral in Venice
Doge's Palace in Venice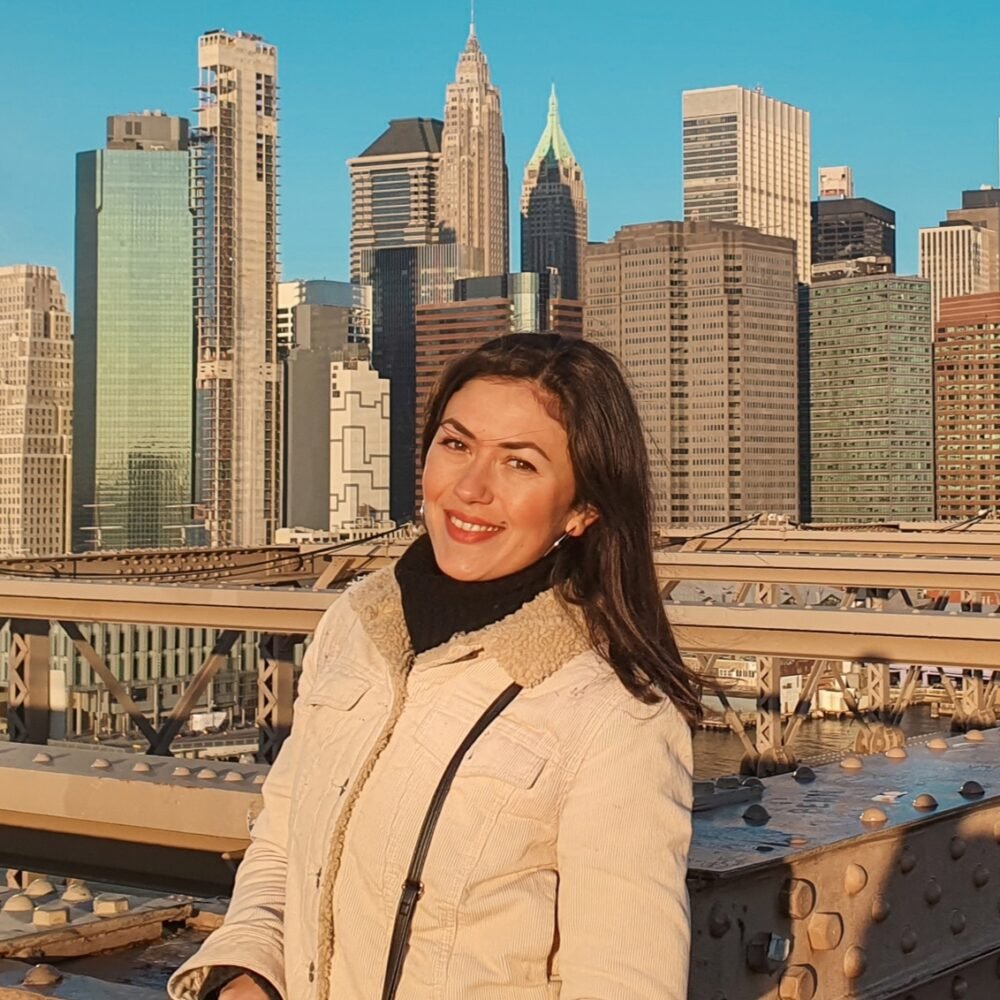 Roxana is a Romanian-born freelance travel writer who has lived in Italy for over 15 years. She has a Master's in Journalism and a Bachelor's in Film Studies. Her mission is to find hidden gems, even in the most popular travel destinations, and to inspire people to explore new places and cultures with the same curiosity! When she is not traveling, writing, or planning her next trip, she is either binge-watching TV shows or reading books.