Portugal is known for many things: from its dramatic coastline to its decadent castles and its dreamy azulejos, it's become a fan favorite in Europe for many reasons.
But there's another big draw to Portugal for those in-the-know… its wines!
Just how good Portugal's wine scene really is is a well-kept secret amongst wine geeks… mostly because Portuguese wine is still rather affordable, but it might not be once word gets out!
However, there is one wine that Portugal produces that practically everyone knows: port, designated officially as Vinho do Porto.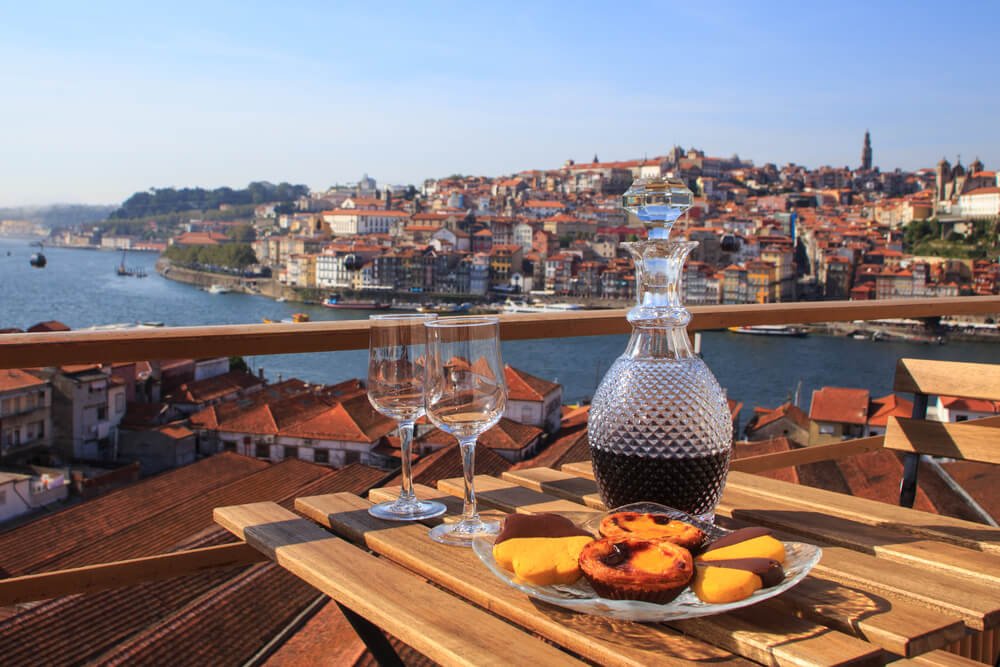 Note: This post contains affiliate links, which means I may receive a small commission if you purchase something through one of these links. Thank you for supporting the free content on this site! For more information on affiliate links and cookies, see my disclosure page for more details.
Port is produced in the Douro Valley region, close to the lively tourist hub of Porto, Portugal's second-most famous city…
While Porto is a great city to spend one day or two days in, it's also a great launching off pad for adventures to the Northern Portugal wine region.
So it should come as no surprise that there are so many Douro Valley wine tours from Porto (and tons of great day trips from Porto, generally).
While you could rent a car and tour the Douro Valley independently… that would mean you'd have to cut back on your tastings, and who wants to do that?
Especially when there's so much tasty port to be had!
Port is a delicious and complex fortified dessert wine that will have even avowed "anything-but-sweet" wine lovers eating – rather, drinking – their words.
There are many sweet and fortified wines out there in the world, but there's a reason port is practically synonymous with dessert wine: it's iconic for a reason.
Generally, Port is made from red wine grapes, but if you explore the wine scene in Porto, you'll also find some delicious white port that rarely makes it overseas!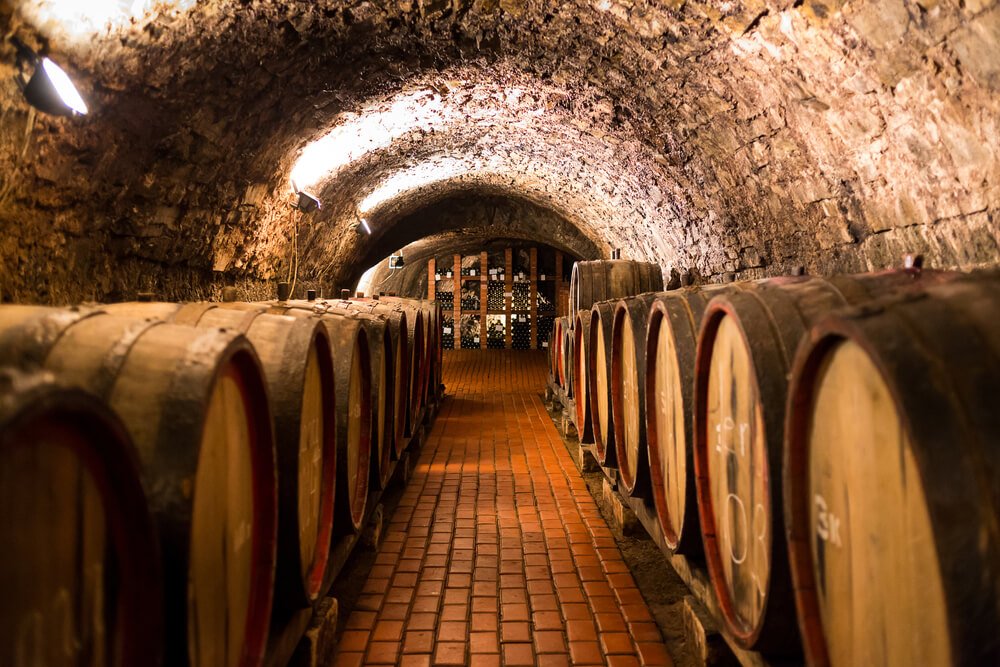 And if you're not a fan of sweet wine, fret not – Porto is also close to the Minho region, where the ever-so-slightly effervescent Vinho Verde white wine is produced.
I've poured through (get it?) all the wine tours from Porto because trust me: there's a lot out there and it's quite overwhelming.
I've distilled it down (sorry, I can't stop making port puns) to the ones that truly stand out amongst the crowd, either for being the most highly-rated favorites or for offering a unique experience that other Porto wine tours don't.
Here we go!
My Top 3 Picks: Douro Wine Tours from Porto
No time to read the full article about these wine tours and just want my top 3 picks and the highlights of each?
The 13 Top Wine Tours From Porto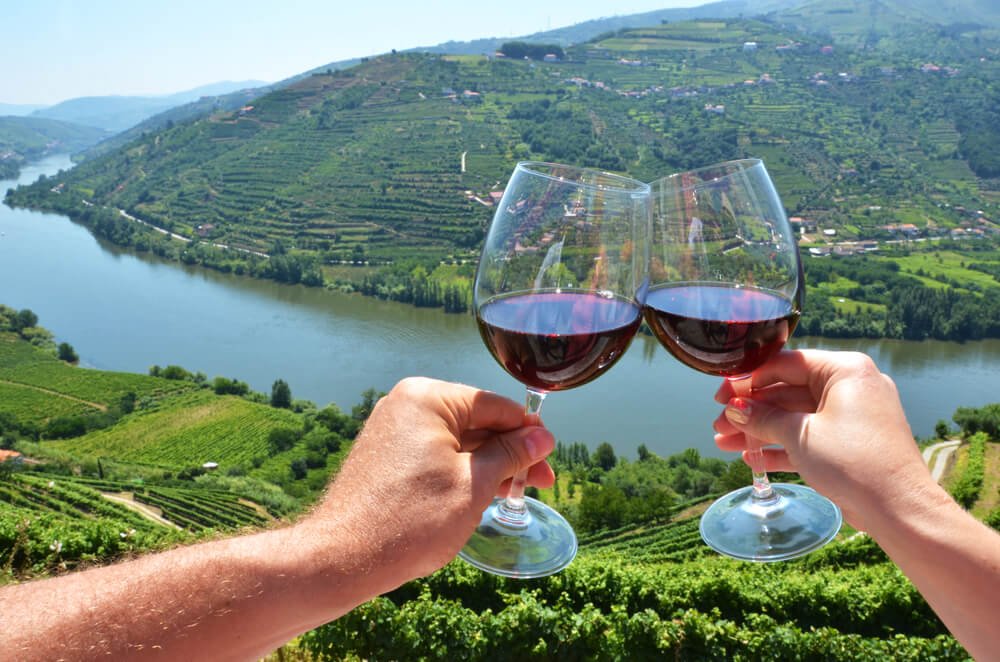 ⌛ Tour Length: 9.5 hours | 🌟 Rating: 4.7/5 stars (1250+ reviews) | 🍷 Book Now
This full-day Douro Valley wine tour from Porto pampers you for a full day, driving and cruising through the most scenic parts of Northern Portugal (while plying you with delicious port tastings to boot).
With well over a thousand ratings, this wine tour is one of the most popular Douro Valley day trips from Porto, and when you look at all that's included, it's not hard to see why!
Your day wine tasting in the Douro Valley starts with a trip to Peso da Régua, a charming town right in the heart of the winemaking region.
"This is a trip to definitely take. We had a great day in a small group and our guide Pedro was excellent. The different vineyards we visited gave a good learning experience of how Port wine is produced. The cruise was also really nice and relaxing. Everything fit so well, the views, the wine tastings and were not too overwhelming."

Read more reviews here!
You'll have a quick coffee pick-me-up in town to perk you up after the drive, and then it's time to get to tasting!
On the tour, you'll get the chance to sample a variety of delicious ports at two port houses (quintas) while enjoying spectacular views of the vineyards.
And you'll need something to soak up all that port, so don't worry – lunch is also included in the tour. Fish, meat, and vegetarian options are all available.
After that, it's time to get back to Porto. But the fun doesn't stop there, because this tour saved the best views for last!
You can enjoy a one-hour cruise along the Douro River, the perfect chance to sightsee and get to know some of the other people on your tour!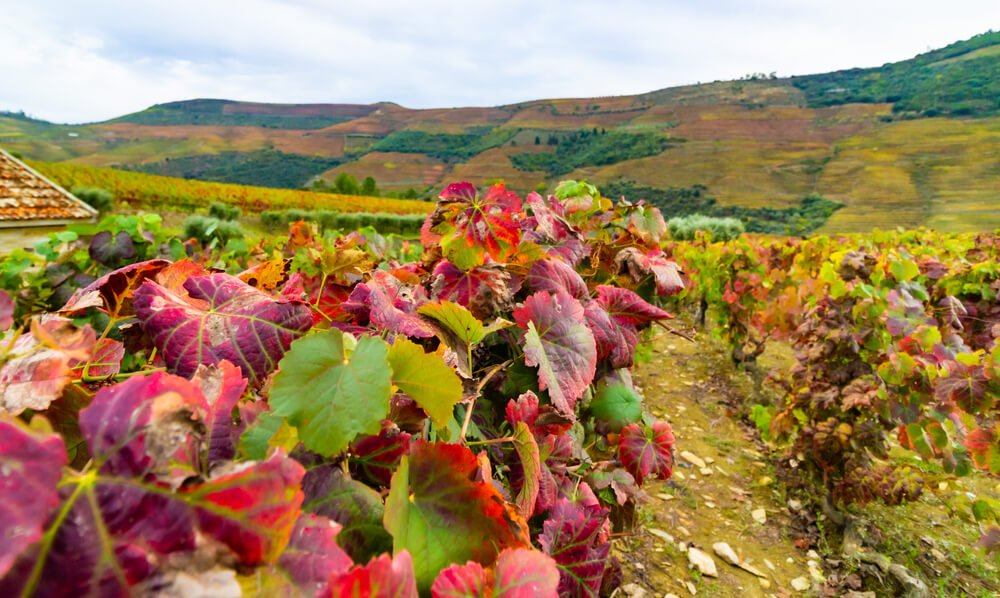 ⌛ Tour Length: 9 hours | 🌟 Rating: 4.8/5 stars (645+ reviews) |🍷 Book Now
This is another popular Douro wine tour from Porto that comes highly recommended with over 600 reviews and a near-perfect rating.
Your first stop is Croft Vineyards, where you'll learn the intricacies of producing quality port wine.
But of course, you learn best by doing, right? So obviously, you'll need to do a little port wine tasting.
Plus, it sure doesn't hurt to have an array of Portuguese cheeses accompanying your port wine tasting!
After your first tasting has gotten you feeling all warm and fuzzy, Next up is Pinhão, a scenic village in the heart of the Douro wine region.
"The vinyards were well chosen, lots to taste (including cheese, honey and olive oil) and great lunch. We were a small group of 5 and were never rushed, it didn't feel like a typical organised tour! Pedro was a wonderful guide and driver: funny, knowledgeable and overall a great guy!"

Read more reviews here!
This Porto wine tour differs from the first in that you do a scenic boat cruise between the two winery visits rather than on the way home.
It's a nice way to sober up between tastings, and the light in the valley is beautiful at this time of day too!
After a classic Portuguese lunch (vegetarian options included), it's time to hit another local winery for some more tastings – this time, you'll visit a small local producer who specializes in everyday table wines.
After learning about these regional wines, you'll end the tour with some olive oil tastings for good measure!
P.S.: The drive back home as your day trip from Porto to the Douro Valley comes to an end is as scenic as it gets!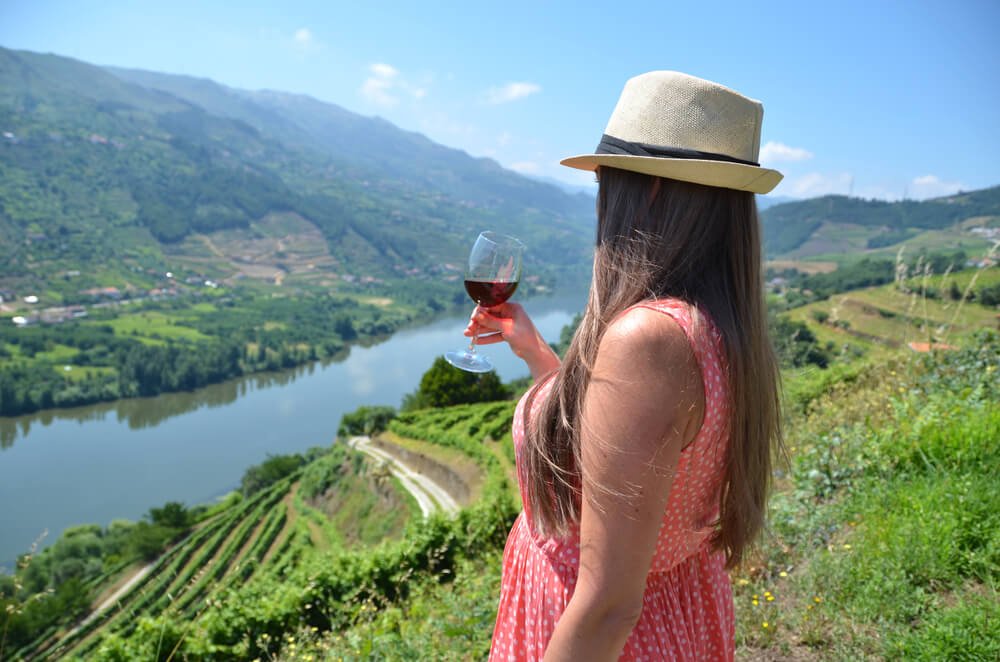 ⌛ Tour Length: 9 hours | 🌟 Rating: 4.9/5 stars (340+ reviews) | 🍷 Book Now
Unique Features:
–Visit three different wineries, more than other tours
-Opportunity to compare family-run wineries and larger producers
-Local-style lunch in a vineyard setting

➜ Read more about this wine tour here!
This Douro Valley tour from Porto is for the wine overachievers: here, you'll visit not two wineries like most Porto wine tours, but actually three!
With three tastings scheduled, here's a lot of ground to cover in 9 hours, and your guide will help you make the most of every moment of your port wine tasting day trip!
The tour covers three premier wineries in the Douro Valley region, ensuring that you'll get to experience the best wine tasting Porto has to offer.
Besides the unforgettable DOC and port wine, the first winery offers a thorough tour of its cellars too.
"Fantastic experience!!! The landscape of the Douro Valley is breathtaking and we tasted a lot of wines!!! The lunch was delicious and they accomodated for food intolerances. Steve was a great guide and not only was he full of information but quite the entertainer, so we were constantly laughing. I really enjoyed this full day experience."

Read more reviews here!
On your visit to the second winery, you'll get to try even more wines – but not before you also fill your belly, since this winery is where you'll enjoy a delicious Portuguese lunch!
Your last winery is a big-name port producer, and it offers another cellar tour along with some prime countryside views.
By seeing all three vineyards, you'll get to compare the differences between smaller, family-run quintas and larger-scale wine producers.
Before heading back to Porto, there's an unforgettable drive along Route 222. It's the perfect ending for photographers and sightseers!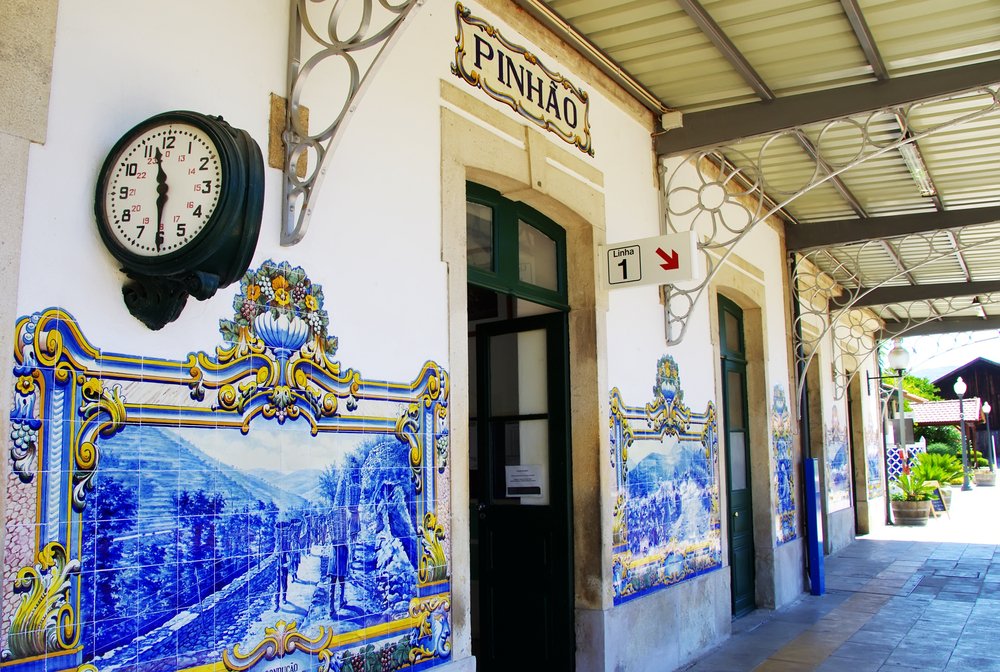 ⌛ Tour Length: 10 hours | 🌟 Rating: 4.9/5 stars (10+ reviews) | 🍷 Book Now
You'll need a pair of sturdy shoes for this wine tour from Porto, since it also includes a hike in the Douro Valley!
If you prefer to be out and active rather than sitting in a van all day being shuttled from location to location, this is the perfect day trip to the Douro Valley for you.
You'll be hiking through the countryside and its vineyard-covered rolling hills to reach your first winery in Pinhão – and your reward is definitely worth it.
"I expected something harder as it was mentioned in other reviews, however for a hiker is easy, for a beginner might be a bit harder but super doable. Even expecting something more challenging, I have to say I really loved the day and the picnic was the highlight."

Read more reviews here!
What better way to take a break from your hike than with a picnic? You'll taste three wines – both red and white – alongside a selection of charcuterie, bread, and cakes.
You have 10 hours to work with and nobody to rush you, so feel free to explore the surrounding nature after the picnic!
And that's not even in Pinhão! Once you actually reach the scenic village, you get to walk around at your leisure.
If you pay a little extra, you can even do a boat tour and immerse yourself in the heart of the river that gives the Douro Valley its name.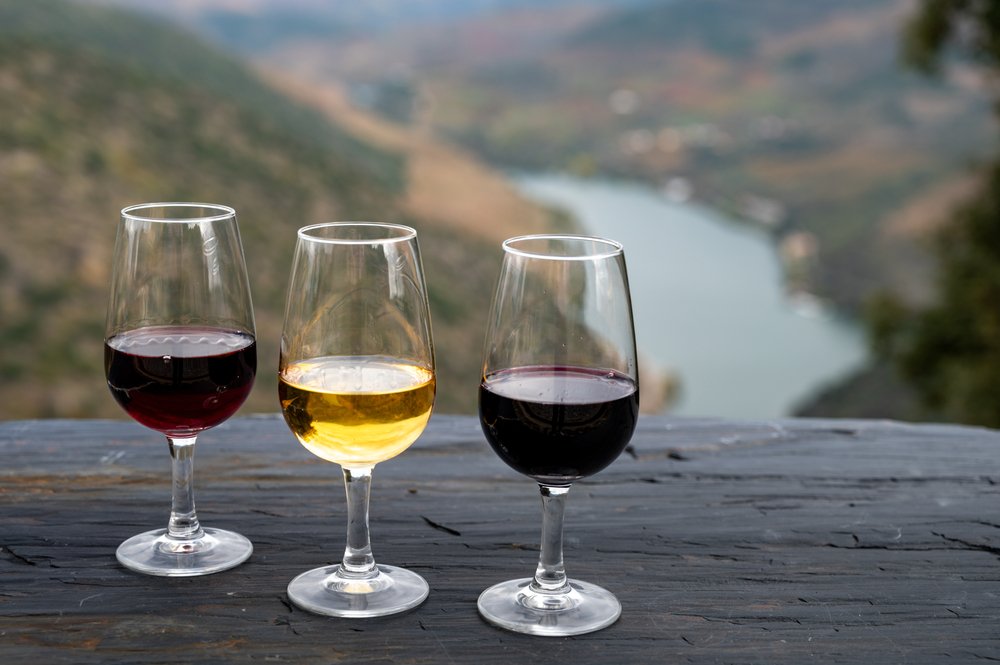 ⌛ Tour Length: 9 hours | 🌟 Rating: 4.9/5 stars (85+ reviews) | 🍷 Book Now
Often, we forget about all the hard work it takes to make the delicious wines we drink – but this tour focuses on the people behind the small family-run wineries in the Douro Valley.
This tour focuses only on small wineries, so you'll get a more intimate experience than you would at larger wine producers.
Besides red and white wines, your first winery includes olive oil tastings, as well as local bread, cheese, and jam.
Andre was an excellent guide! Shared lots of fun facts with us and had great energy. He ensured everything flowed smoothly and was an enjoyable day for all. Couldn't recommend this trip enough!

Read more reviews here!
That's not all you'll be eating, though – the gorgeous village of Pinhão is home to a lovely local tasca, where you can enjoy a two-course lunch.
Next up is the centerpiece, the boat tour of Douro Valley. It's hard to resist a wine tour from Porto that includes a one-hour boat cruise!
One more scenic drive and winery visit later, you can head back to Porto with your heart and belly full!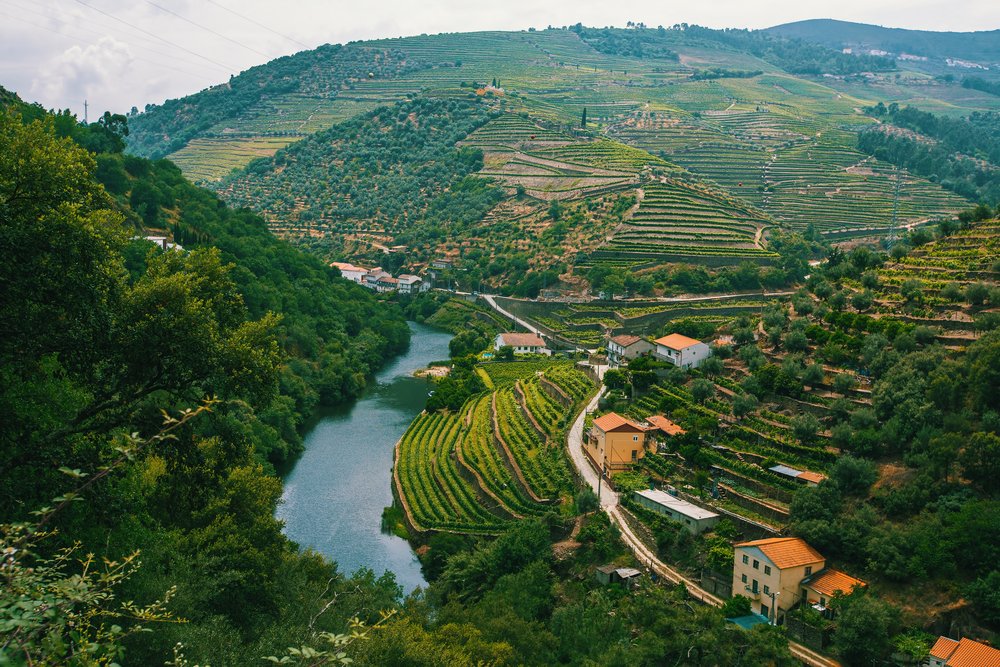 ⌛ Tour Length: 10 hours | 🌟 Rating: 4.9/5 stars (10+ reviews) | 🍷 Book Now
This private wine tour of the Douro Valley takes you off the beaten path – literally! – to explore the Douro Valley via 4WD.
As you make your way through the mountains, marvel at the gorgeous landscape and pass a series of charming wineries.
"Our guides, Diogo and Rue, were funny, entertaining and well-informed about not only the history of Douro Valley and port wine, but about the history of Portugal. My friends and I had an incredible time off-roading with these two, learning about the area, and sampling Croft port."

Read more reviews here!
You're in for a smooth ride despite the bumpy terrain, and your guides will share all kinds of interesting knowledge about Portugal and the Douro Valley.
After a small picnic at a scenic spot, you get to the main course – the delicious port wines over at a classic quinta!
The ride there is absolutely unforgettable, but wait until you've seen the Valley at sunset on your return trip!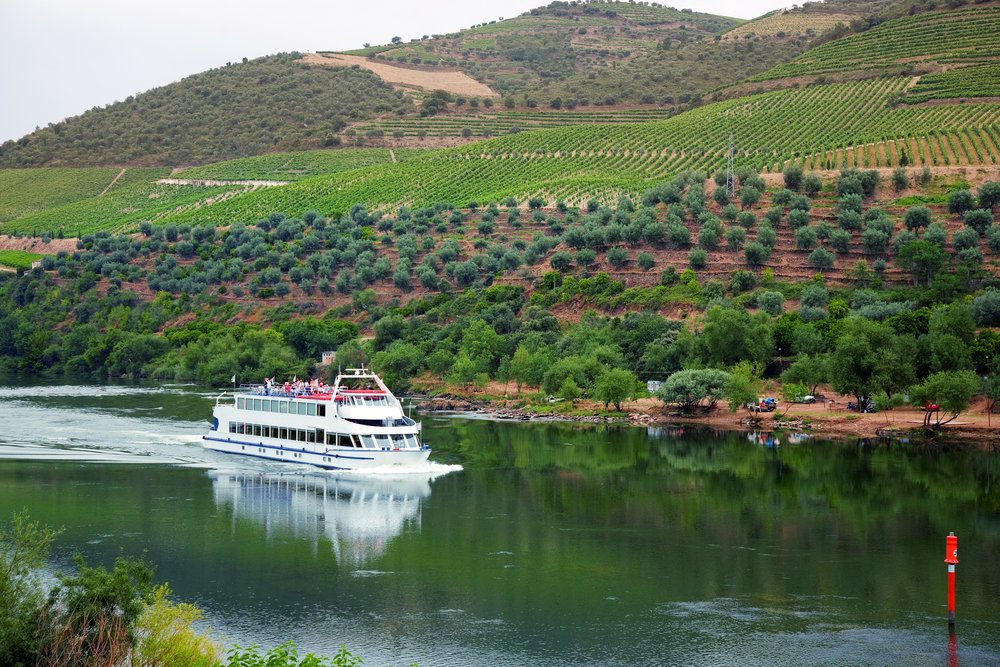 ⌛ Tour Length: 8 hours | 🌟 Rating: New! | 🍷 Book Now
If any private wine tour from Porto deserves to be called premium, it's this one! I mean, how many wine tours also include a yacht cruise?
But let's not get ahead of ourselves – first you'll get picked up at your hotel and brought to a prestigious Douro Valley winery, where you'll get to try both regional DOC varietals as well as the star of the show, port wine.
That said, things really pick up when you hop onto the yacht and sail the Douro River!
Unlike other wine tours on this list, this is a two-hour cruise – meaning you have at least twice as much time on the water than any of the other tours!
The two-hour cruise includes food, wine, and countless fascinating stories about one of Portugal's most distinguished regions.
"Terrific trip to Douro Valley. Antonio was an excellent guide and driver. He was accommodating, knowledgeable, and polite."

Read more reviews here!
The Douro River played a big part in transporting wine from the Douro Valley to Porto back in the day, and having this knowledge in your pocket will definitely enrich your appreciation of the next tastings!
Before that, next up is a full-on lunch at a restaurant overlooking the river. Even more marvelous views for you to take in!
Topping things off is another winery visit for one last taste of DOC wines and delicious port before returning back to Porto.
Note that this is a private wine tour and there is a minimum of four participants in order to book the tour.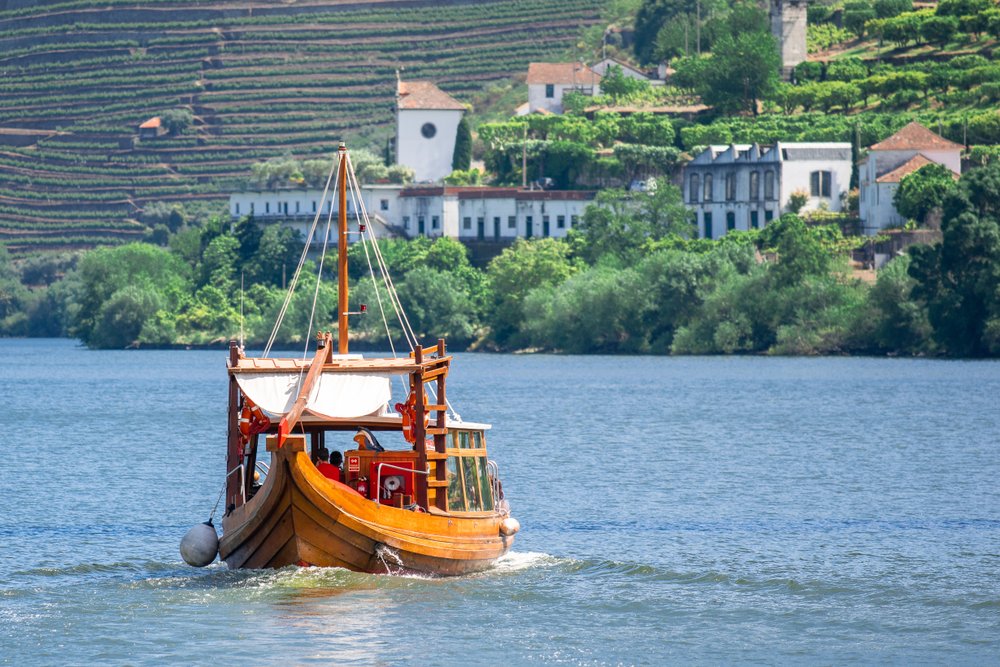 ⌛ Tour Length: 9 hours | 🌟 Rating: 4.5/5 stars (10+ reviews) | 🍷 Book Now
Unique Features:
-Boat tour in a rabelo, a traditional boat of Porto
-A private walking tour of a typical Douro Valley village
-Trying different varietals other tours don't cover such as Moscatel
➜ Read more about this premium tour here!
If you want an intimate look into the Douro Valley, it doesn't get any better than this private full-day Porto to Douro Valley day trip!
Once you've oohed and aahed your way through the scenic drive into the Douro Valley, you'll arrive at the first vineyard, where a local producer will proudly have you sample some of his finest work!
After that, you'll get some fresh air as you take a walk through a local Douro Valley village that's begging to be explored.
All that drinking and sightseeing will make you hungry, but this tour takes care of that with a feast at an 18th-century manor house!
"João is an exceptional tour guide. He has a deep knowledge of subject matter for his tours; food, history, culture, You ask a question and get ready for a very interesting and factual explanation. I highly recommend any of his excursionS and plan to use him again"

Read more reviews here!
If that wasn't enough, there's also a one-hour boat ride you'll remember for the rest of your life.
Because this is such an intimate tour, you'll get the chance to ride on a traditional rabelo boat that was historically used to transport wine.
Most tours have you go on a larger river cruising boat, but this is the real deal.
Rabelos are to the Douro River as much as gondolas are to Venice, so it's a truly iconic experience.
And since there's no such thing as a bad view in the Douro Valley, you'll admire the sunlight changing the colors of the hills as your driver takes the panoramic Route 222 back to Porto.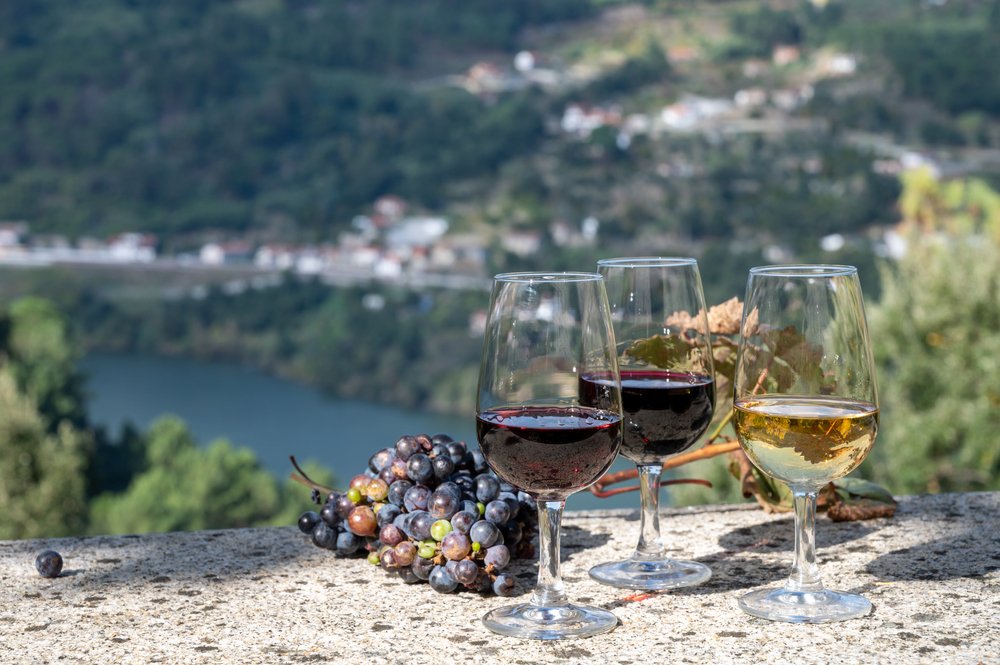 ⌛ Tour Length: 9 hours | 🌟 Rating: 4.8/5 stars (30+ reviews) | 🍷 Book Now
Unique Features:
–Private tour bookable for individuals or groups
-Two fantastic tastings including port & a generous lunch
-A 1-hour boat tour before going back to Porto

➜ Read more about this full-day tour here!
Here's a private wine tour from Porto you can enjoy totally by yourself or just with your own group!
During your lovely drive to the Douro Valley, you'll kick things off with some information on the region's winemaking history.
"We were picked up at our apartment. Traveled to Duro Valley where we toured 2 Vineyards, took a boat ride on the Duro river and had a great lunch before we were brought back to our apartment. A tour worth taking!"

Read more reviews here!
You get to try wine from two incredible wineries, including port wine samples. You'll be hard pressed to decide which one is better!
Naturally, a Portuguese lunch goes great with wine, and you definitely won't be leaving the tour hungry!
After a full day of wining and dining, the cherry on top is getting to do some sightseeing on the Douro River via a one-hour river cruise.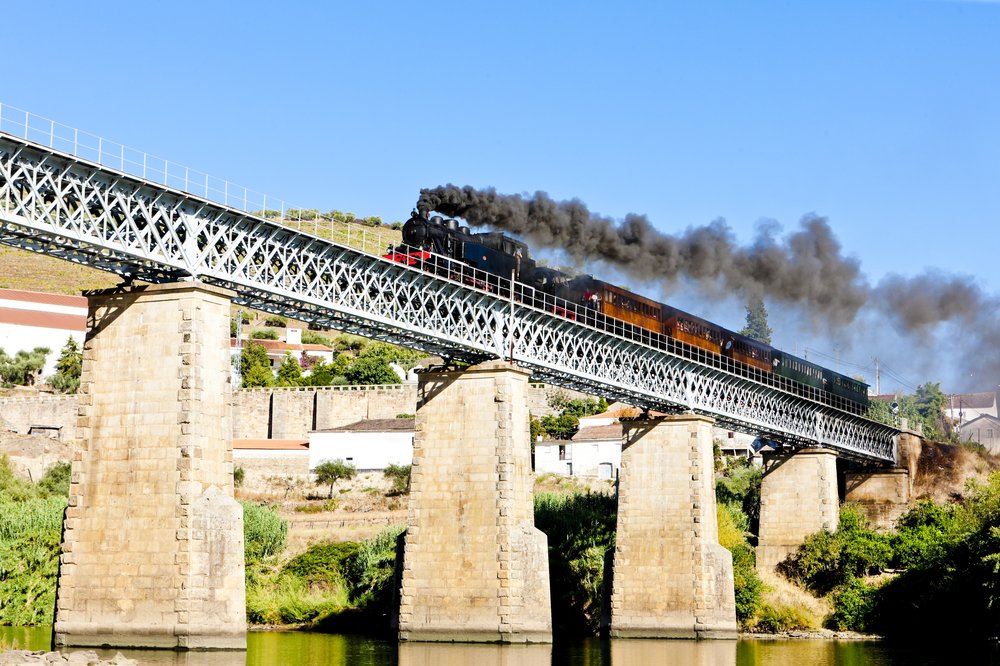 ⌛ Tour Length: 8 hours | 🌟 Rating: 4.4/5 stars (15+ reviews) | 🍷 Book Now
Yeah, yeah, a lot of these day trips to the Douro Valley from Porto also include a boat cruise.
But this tour takes it up a notch: if boat rides aren't enough, this wine tour from Porto throws a scenic train ride into the mix!

The routes you'll be traveling (both by river and rail) were once used to transport wine barrels from the Douro to Porto. Talk about an immersive tour!
"This is the best way to experience the Douro Valley. It is a journey through one of the most beautiful valleys of the world by boat and train. The local food and wine is superb while enjoying a stunning view. Our guide Pedro was extremely professional and gave us a lot more than expected. He loves his job and was the key for a perfect vacation day at the Douro Valley in Portugal. We will return!"

Read more reviews here!
After reaching Foz do Tua from Pinhão, you'll take a short walk to a restaurant and have a local lunch.
Nearly everyone you meet is in the winemaking business, so you're guaranteed to meet some interesting people!
The wine tasting comes at the end of the tour, and you'll really be in the spirit of things by then!
Not to mention, the unique landscape of the Valley is a sight you'll never forget.
What could be better than admiring nature with friends on a private tour?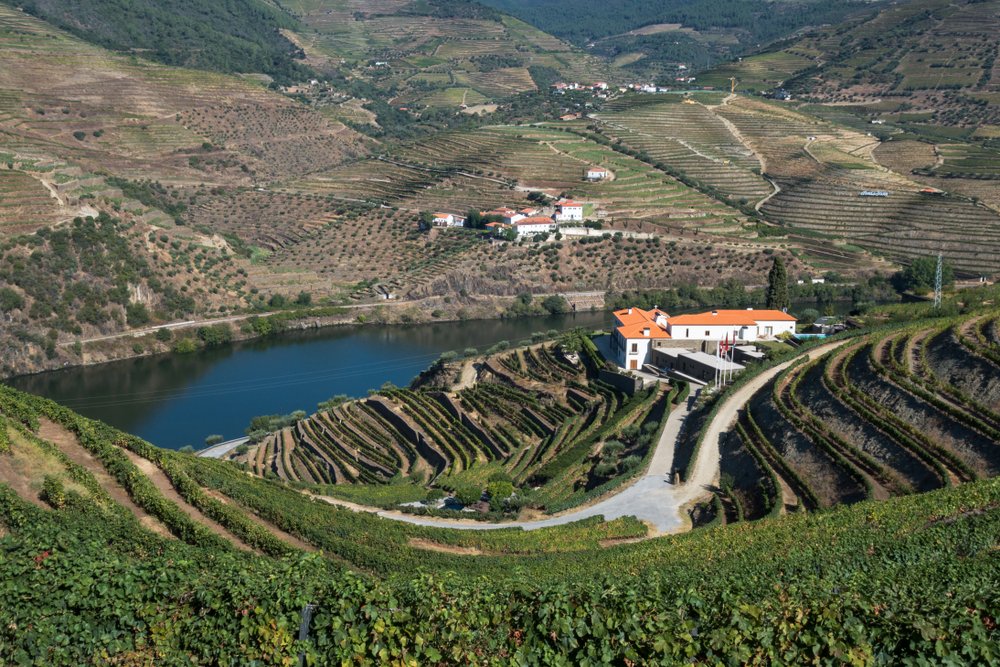 ⌛ Tour Length: 8.5 hours | 🌟 Rating: 5/5 stars (85+ reviews) | 🍷 Book Now
This wine tour from Porto will show you a side of the Douro Valley you never knew existed!
Following the Douro River, you'll make your way to a boutique winery in Sabrosa to start things off.
Peso Da Régua is next up with another great tasting, and you can even grab some lunch here at a local tasca, though it's not included in the cost of the tour.
"So very enjoyable, relaxing, beautiful ride out to Douro Valley, great tastings, Joao was so very nice and very informative."

Read more reviews here!
The alheira (a special kind of Portuguese sausage) is exquisite, but there's also chocolate cake served with pistachio ice cream if you have a sweet tooth.
Lamego is your last stop, where you can check out a family-run winery and taste some of their best stuff.
Also, your guide is the person to take you through the region. Feel free to ask anything about these lesser-known parts of the Valley!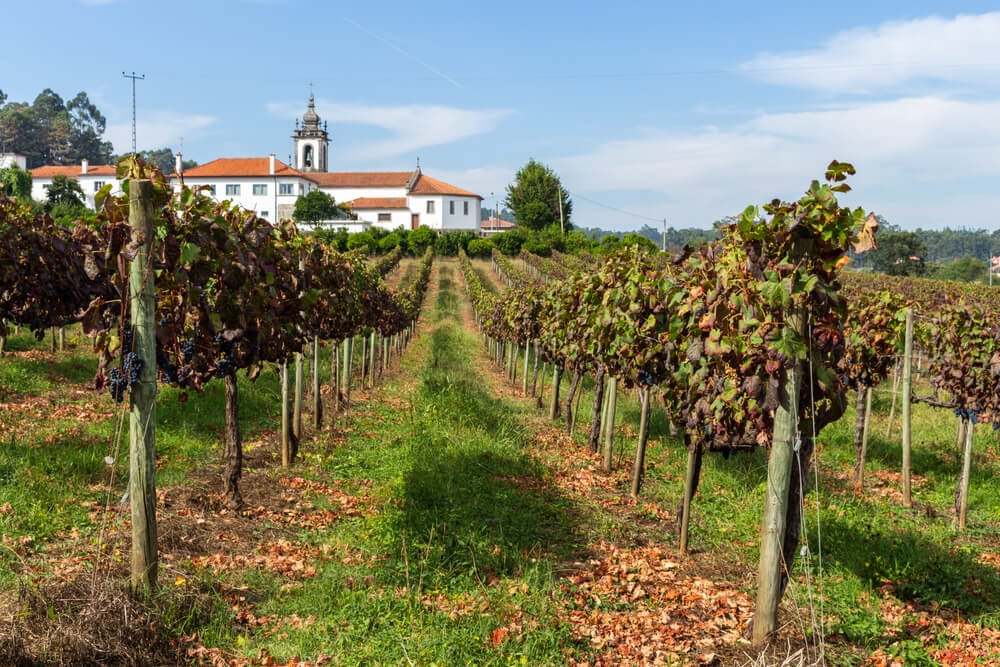 ⌛ Tour Length: 8 hours | 🌟 Rating: New! | 🍷 Book Now
OK, so we've focused a lot on red wines and port so far.
But let's not forget that Northern Portugal is also where some of the country's most popular white wines are produced!
This is a must-try wine tour from Porto if you want to taste some Vinho Verde, which is Portuguese for "green wine."
This "green wine" is named so more for its youthfulness than its color, as it's a young wine meant to be drank quickly after harvest rather than saved for posterity and aging.
On the tour, you start your tastings at a centuries-old manor, where you get to try Vinho Verde as well as Alvarinho, another delicious white wine varietal.
"Amazing day with our guide Hugo. Informative and entertaining with much food and great wine. We visited 2 excellent small vineyards with knowledgeable hosts and generous amounts of wine. We then had a lovely lunch in Guimaraes and Hugo guided us around this great town. Do not miss this."

Read more reviews here!
You'll also get a tour of the property, and there sure is a lot to see!
Next, another winemaker will welcome you to their lovely home and teach you about the production process.
Finally, there's some culture to throw into the mix on this tour, as you'll also pay a visit to the charming city of Guimarães.
Guimarães is the old capital of Portugal, and it's a prime setting for a hearty lunch and even more wine before some sightseeing around this beautiful city to let the food and drinks settle before returning to Portugal!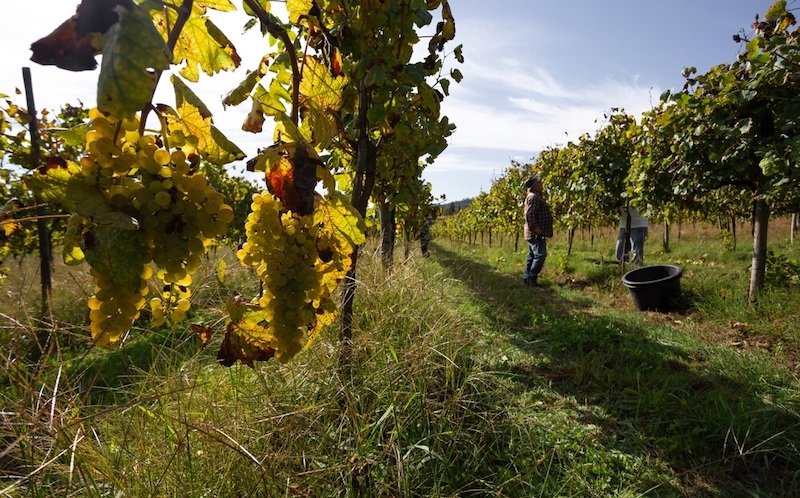 ⌛ Tour Length: 10 hours | 🌟 Rating: 5/5 stars (10+ reviews) | 🍷 Book Now
If you like the idea of trying lots of Vinho Verde, here's another great choice for a wine tour from Porto for you!
The tour covers the historic Minho region, of which Vinho Verde is a subregion.
This area is renowned for its quality wine, but in particular, its white wine shines the brightest.
This is an entirely private tour, so the whole experience feels very intimate and personalized.
"Our guide was amazing – picked us up at our hotel for a beautiful drive to Vinho Verde region. we visited two wineries, the first including lunch with a wonderful host."

Read more reviews here!
The tour includes the chance to try Vinho Verde of the highest quality from two premier wineries and learn about its unique production method.
After some drinks, you'll enjoy a mouthwatering Portuguese lunch as you listen to stories about what makes this region so special.
The tour is pretty long, but since it starts early in the morning, you'll probably still have time for an evening out in Porto!
Allison Green is a former educator turned travel blogger. She holds a Masters in Teaching and a B.A. in English and Creative Writing. Her blog posts merge her educational background and her experience traveling to 60+ countries to encourage thoughtful travel experiences that both educate and entertain. She has been a speaker at the World Travel Writers Conference and her writing, photography, and podcasting work has appeared in National Geographic, CNN Arabic, CBC Canada, and Forbes, amongst others. Now based in the San Francisco Bay Area where she grew up, she has also lived in Prague, Sofia, and New York City.