Lisbon is one of the most beautiful cities in Europe.
With so many incredible museums, miradouros, markets, and meals, it's nearly impossible to get your fill of Lisbon.
I've been lucky enough to spend over three weeks in Lisbon over the last two years and have never gotten bored, and I know it's a city I'll return to time and again.
But I know that many people travel with a limited amount of time, so this Lisbon itinerary is for people who only have a limited amount of time.
If you only have allocated 2 days in Lisbon and want to maximize your time to have an unforgettable first trip to Lisbon, this post is for you!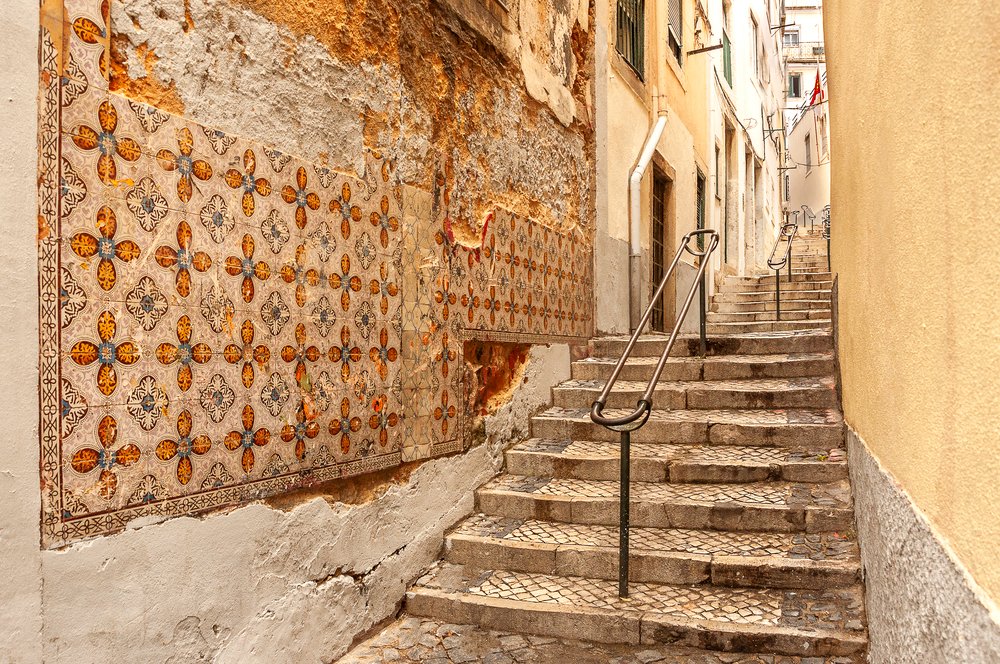 Note: This post contains affiliate links, which means I may receive a small commission if you purchase something through one of these links. Thank you for supporting the free content on this site! For more information on affiliate links and cookies, see my disclosure page for more details.
Note that I've packed in as much as possible to these two days in Lisbon. I want you to have the best time possible!
However, depending on your travel style, how you get around (metro/bus vs. Uber), what time you wake up, tours/activities you book, etc., you may want to cut a few things from this Lisbon itinerary as it is rather ambitious!
If you want to visit Sintra, you can do that as a day trip and then follow this one-day Lisbon itinerary instead.
Where to Stay in Lisbon
Depending on what your travel style is and your budget, there are plenty of great neighborhoods to choose from in Lisbon.
I detail all my favorite neighborhoods and top recommendations for each neighborhood in my comprehensive Lisbon neighborhood and hotel guide, which you can read here. However, I'll also sum it up here!
I've mostly picked hotels in the hip Baixa-Chiado area, which is easy to get to all points on your Lisbon itinerary from.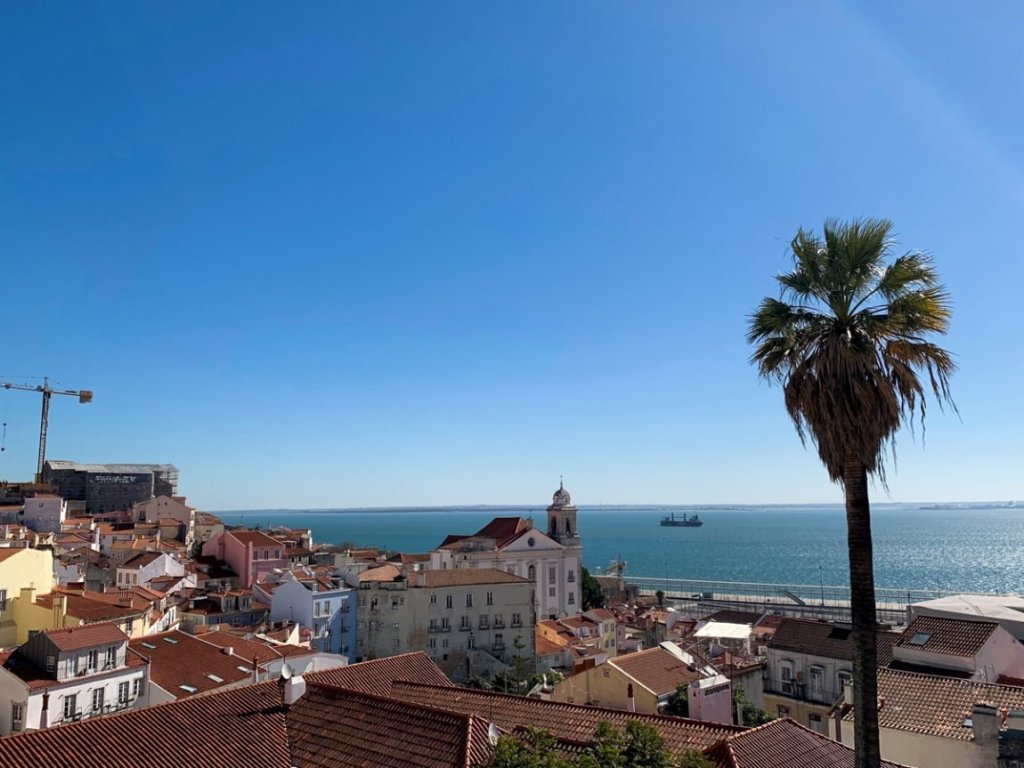 Budget: Home Lisbon Hotel
Even if you are on vacation in Lisbon, the feeling and comfort of being home is something that Home Lisbon Hotel wants you to experience!
This hostel gives you a choice of private or shared rooms. The private rooms are quite small, but the amount of space is good enough for backpackers looking for a good private room in Lisbon on a budget.
The décor game is strong here at Home Lisbon, despite the budget prices: perfect for people who want a place to stay in Lisbon that has personality. There are vintage black and white photos as well as colorful prints hung on the wall, which add a retro vibe.
In the shared rooms, the bunk beds have curtains that you can close to ensure privacy when you're sleeping — something that I always enjoy, especially when an inconsiderate dorm-mate turns on the lights upon arriving late at night.
You can also choose a mixed-sex room or an all-female room, as well as rooms as large as quadruples with private bathrooms if you're traveling with friends.
Check out guest reviews, prices, and availability at Home Lisbon Hotel here
Mid-Range: My Story Hotel Rossio
My Story Hotel Rossio wants just that: to tell you a story in every area of the hotel!
It is a four-story building with 46 rooms, which originally dates back to the 18th century.
The hotel makes use of modern and very artistic décor – it is a play between modern and classic pieces, which works in perfect harmony.
They only have soundproofed double rooms, but there is one room where you can have a view of beautiful Rossio Square.
The private bathrooms also feature a hairdryer, a separate shower area, towels, and free Rituals shower gels and shampoos.
The restaurant, Café Portugal, is considered as one of the historic places in the area where you can best taste traditional Portuguese cuisine.
The restaurant also has a very romantic appeal, perfect for a date or special occasion. A must-try is their grilled octopus: tender, charred in all the right places, and so fresh!
Check out guest reviews, prices, and availability at My Story Hotel Rossio here
Luxury: Pousada de Lisboa
The word "pousada" literally means an inn, but this 5-star hotel, Pousada de Lisboa, offers way more than that with its 90 fully decorated rooms!
From afar, the building stands out because of its bright yellow color, but the gorgeous design inside is nothing to sneeze at either!
Their private rooms have ensuite bathrooms with designer toiletries and bathtubs, high-speed WiFi internet, and well-stocked minibars.
The floors are made from hardwood, and the headboards are decorated with embossing, flourished with intricately detailed wall panels that scream luxury.
If you're traveling with a larger group or family, they also have a family room that's very extravagant and spacious, which is perfectly lit by a ritzy chandelier and some chicly dim lamps.
On-site dining is definitely a must at Pousada de Lisboa. Their Rib Restaurant specializes in meat dishes – their steaks are a must-try!
They also have other luxury amenities like an indoor and heated pool, a spa with all the amenities you can think of, and a fitness center.
Check out guest reviews, prices, and availability at Pousada de Lisboa here
2 Days in Lisbon: Itinerary Day 1
Start your day at Pastéis de Belém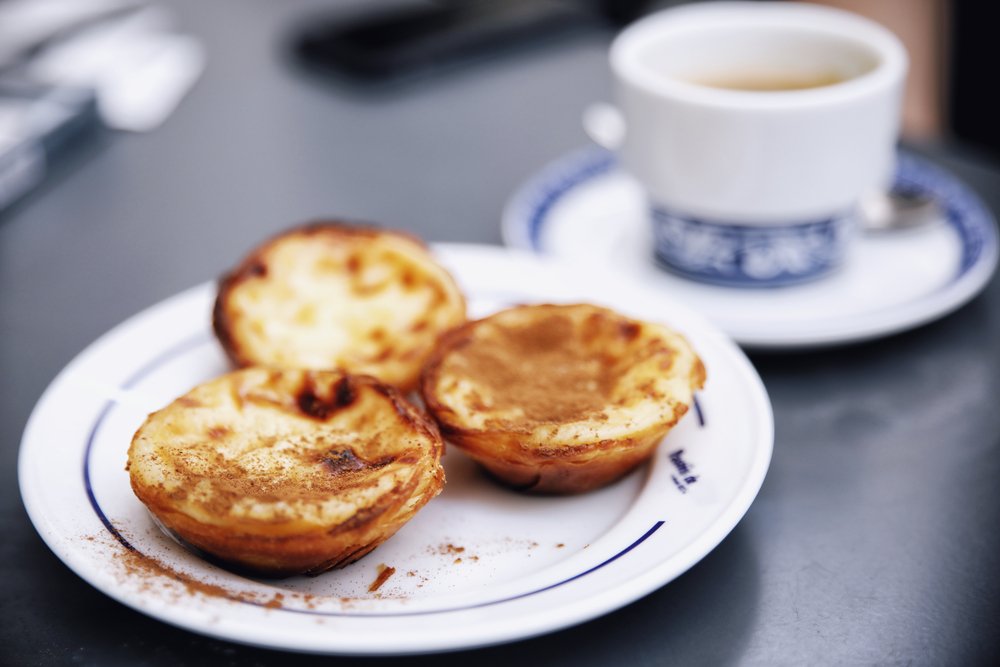 You'll find pastel de nata on virtually every other corner in Lisbon, but the real best thing is so transcendent that it's actually worth waiting in line for.
And this comes from someone who's basically allergic to lines — a byproduct of many years in New York where I'd watch people mindlessly line up for whatever rainbow or unicorn Instagram food trend was currently booming.
I never thought Pastéis de Belém would be worth the hype, but I happened to walk past it one day when the line looked rather short and decided to try one.
I ordered two, doused them in cinnamon, and ate them just out of the oven, when the custard was barely set and the pastry was so crispy it splintered into my mouth in an explosion of delicious butteriness. I immediately wanted to get back in line, they were that amazing.
Even if the line is long, it moves rather quickly, but by beginning your day here you'll beat much of the crowds.
While Belém is definitely a bit out of the way, there's so much to see here that it's definitely worth starting your first day in Lisbon here — and that pastel de nata is an incredible reward for getting yourself out to Belém. Trust me, it's a must when you visit Lisbon!
Hours: 8 AM to 11 PM daily.
Cost: About 1.20 euro per pastel de nata if taken to go, slightly more expensive eaten sitting down.
Check out the outrageous Padrão dos Descobrimentos monument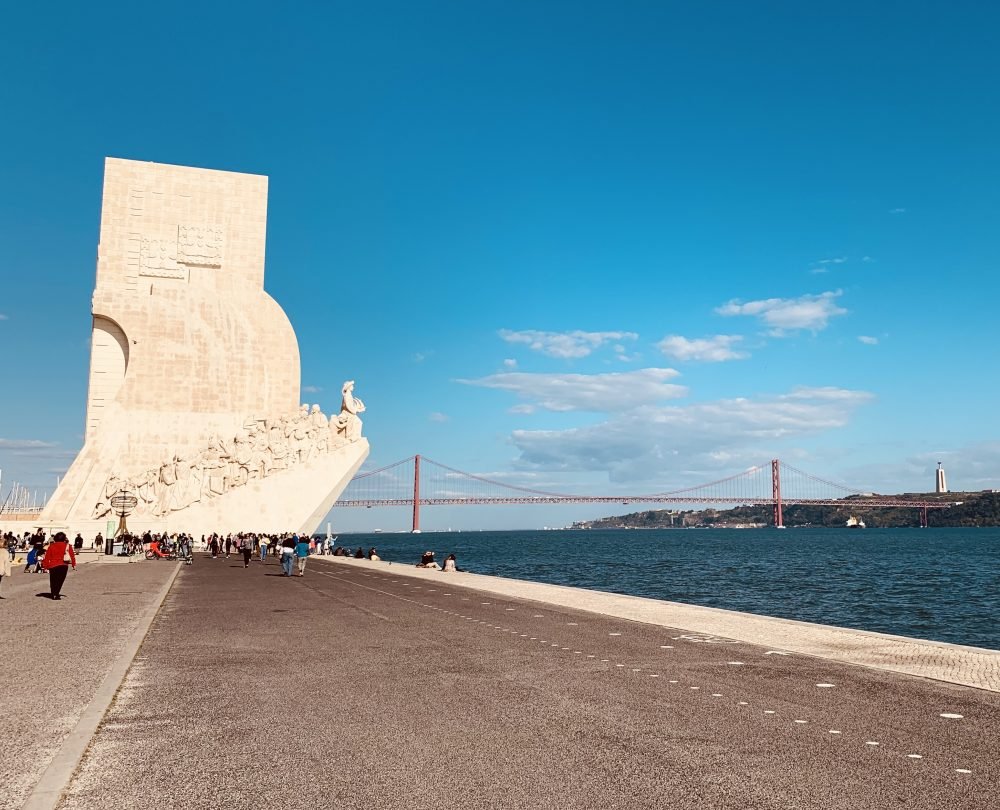 Portugal is a rather small and humble country now, and it's hard to believe that at one time, Portugal was the first and one of the largest colonial empires that has ever existed.
The Padrão dos Descobrimentos is an homage to the many Portuguese explorers who left their home to explore the unknown.
The monument is extremely large and interesting to check out, though I don't think it's necessary to buy a ticket to go inside unless you specifically want to see the view of the monastery from the miradouro.
The monument is quite fascinating to see from the outside and my inner geography geek enjoyed nerding out on the map of Portugal's explorations and sea routes.
I don't want to whitewash the awful human cost of Portugal's colonialism (or any colonial empire, for that matter).
Colonialism decimated entire Indigenous populations, stole immense wealth from Black and Brown peoples, and created generational trauma and poverty that is still felt to this day.
At the same time, there is something extremely impressive about the feats of daring and engineering that led this small country on the Atlantic Ocean to the far reaches of what is now Brazil, South Africa, Mozambique, India, and beyond, not knowing what was out there.
It's a complicated history that is hard to write about, and to be honest, the Portuguese don't do nearly as much as they should in acknowledging the staggering human cost of their explorations.
And considering that Portugal only ceded its last colony about two decades ago (Macau in 1999), perhaps it's still too fresh for the appropriate acknowledgment of the cost of their explorations.
Nonetheless, it's an important part of Portuguese history and culture and it's well worth seeing while in Lisbon — albeit with a critical eye.
Hours: The inside museum and miradouro are open daily from 10 AM to 7 PM in summer and until 6 PM in winter (closed Mondays in winter).
Cost: 6 euros to enter the interior and viewing platform; free to see from the outside. 4.80 euros with the discount from the Lisbon Card.
See the magnificent Torre de Belém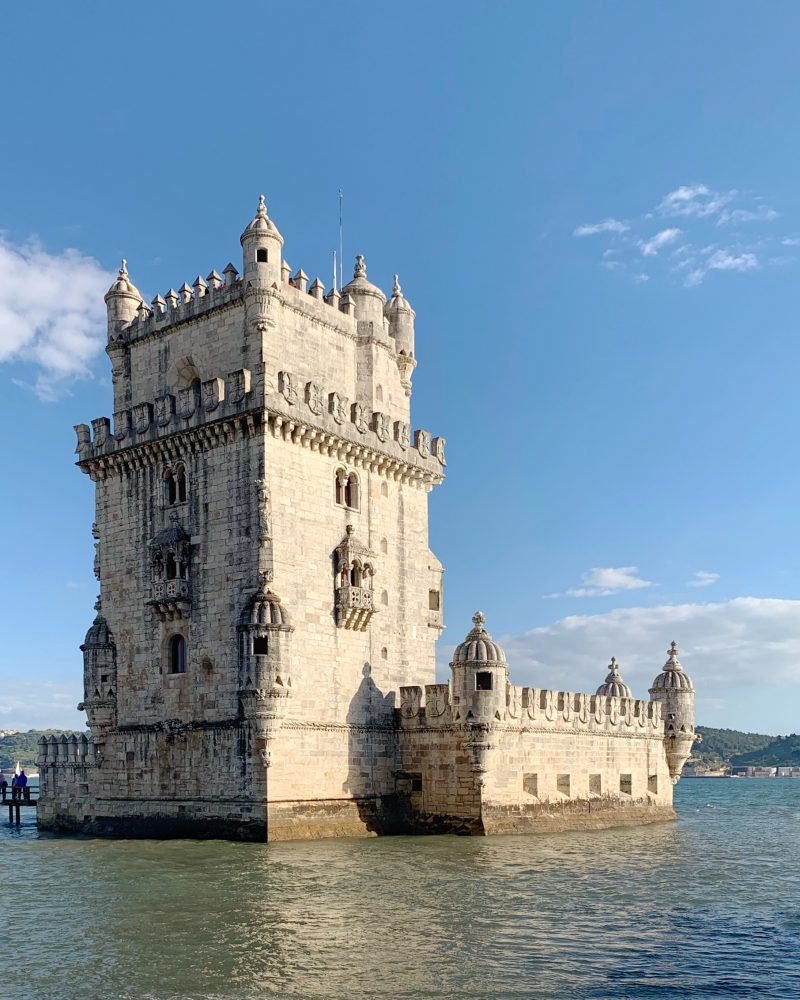 A must-see on many a Lisbon itinerary, the Torre de Belém is one of the most important icons of the city.
This 16th-century fortification survived Lisbon's catastrophic 1755 earthquake and is a UNESCO World Heritage Site (along with the Jerónimos Monastery, next on this itinerary).
It's done in the traditional Manueline (Portuguese late Gothic) architectural style that is so unique to Portugal.
You can go inside to see the museum and have a nice view, but frankly, the lines are so long that I don't think it's worth it. I've only ever looked at it from the exterior and found that perfectly worth the time!
However, if you won't feel like your Lisbon trip will be complete unless you visit, I suggest pre-purchasing a Torre de Belém ticket or a Lisbon Card (which is also valid for public transit within the city).
You won't be able to skip the lines entirely, as only 150 people can enter at once to control the crowding inside, but it'll significantly cut down waiting time as opposed to buying a ticket on-site.
Hours: 10 AM to 6:30 PM May through September, closing at 5:30 PM October through April. Closed entirely on Mondays.
Cost: Bought on-site, 6 euros or 12 euros if bought in conjunction with Jerónimos Monastery.
If you plan to see a lot of Lisbon sites, including this one, I recommend buying a Lisbon Card.
Explore the magnificent Jerónimos Monastery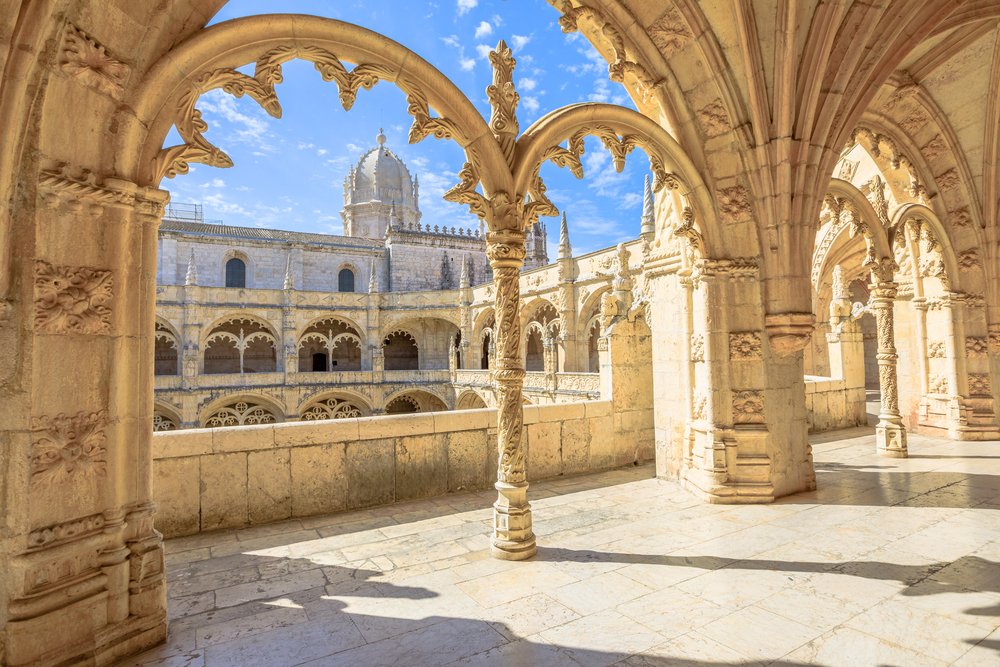 One of the most interesting sites in Belém is the gorgeous Manueline monastery, Mosteiro dos Jerónimos, which is well worth a visit during your stay in Lisbon.
The monastery is over 500 years old and is a UNESCO World Heritage Site!
The cloister is absolutely beautiful and one of the most photogenic spots in Lisbon. It can get rather crowded as this is one of the most popular spots in Lisbon but it doesn't take away from the beauty.
Hours: 10 AM to 6:30 PM in summer and 5:30 PM in winter; closed on Sundays
Cost: 10 euros or 12 euros if bought in conjunction with Torre de Belém on site; free with your Lisbon Card.
Pro tip: If you're on a budget, you can skip the monastery and just visit the church, which is stunning and totally free to enter.
The Church of Santa Maria is a sepulcher for several national heroes and poets, and you'll find the tombs of the beloved Vasco da Gama and Luís de Camões here.
Marvel at the quirky Museu dos Coches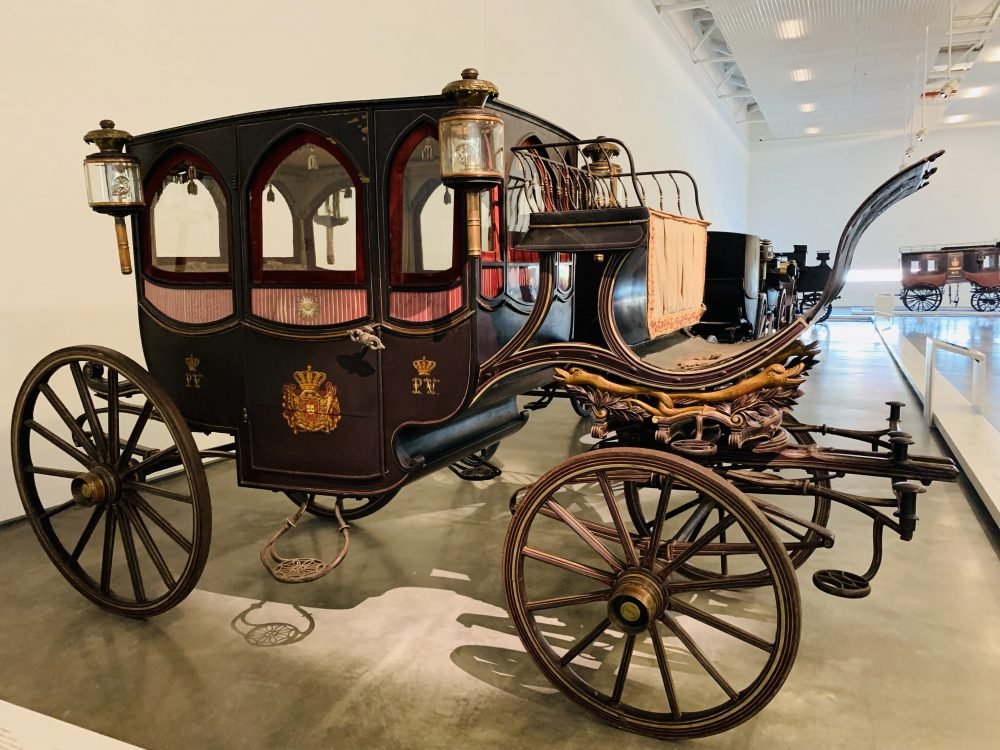 One of my favorite off the beaten path things to do in Lisbon is checking out the insanely opulent and interesting Museu dos Coches.
This museum features beautifully restored horse-drawn coaches, litters, and carriages from the 16th century onwards.
This is one of my favorite spots in Lisbon, and it far exceeded my expectations for how incredible it would be.
It was well-curated, informative, and entirely unique: everything I love in a museum. Even if you're not usually a museum person, I strongly recommend a visit.
Hours: 10 AM to 6 PM Tuesday through Sunday, closed on Mondays.
Cost: 8 euros, or 10 if you want to visit the riding school as well. Free with the Lisbon Card.
Head to Praça do Comercio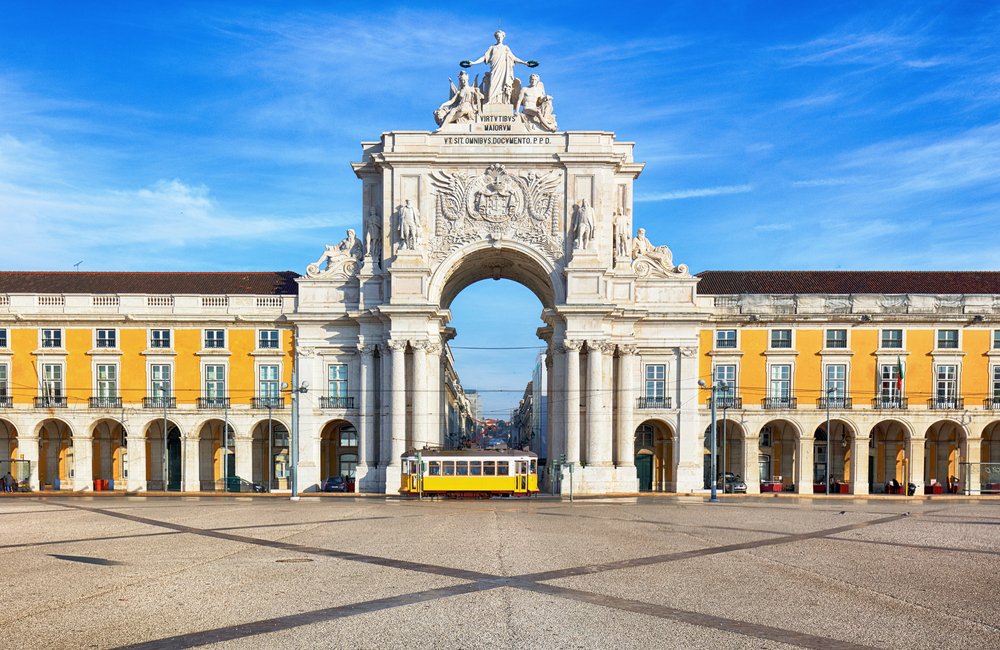 After having your morning in Belém, make your way back to the center of Lisbon: the area around Praça do Comercio is a great place to start your downtown Lisbon adventures as it's pretty much in the heart of everything.
It's also just plain beautiful with its incredible archway and its gorgeous yellow-facade walls surrounding the plaza.
If you want to grab a meal around now, I recommend Café Martinho da Arcada – decent prices, great location, and good food!
Marvel at the Elevador de Santa Justa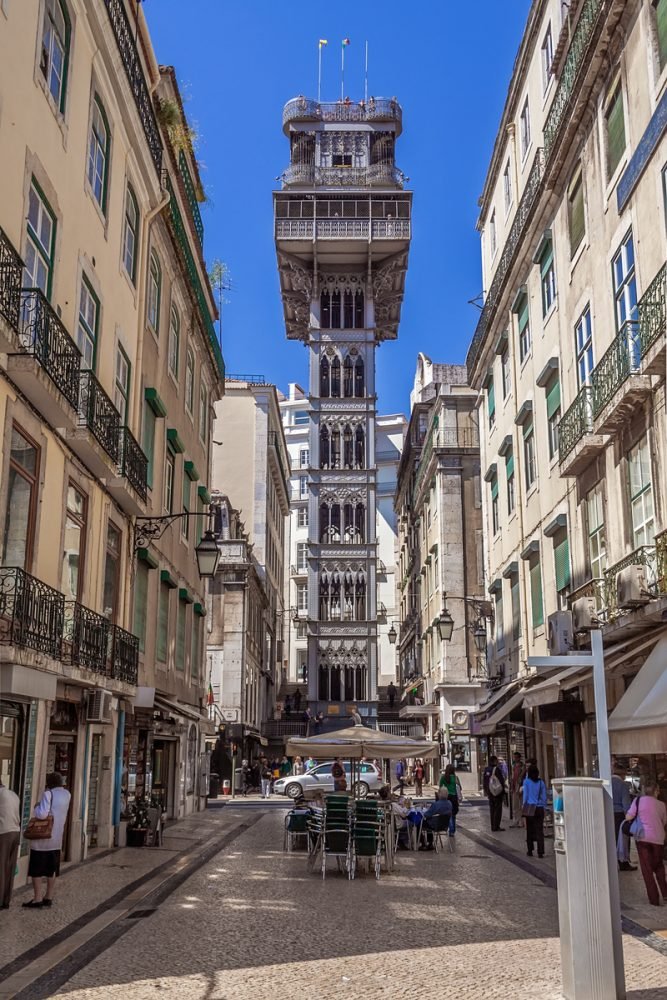 One of the coolest quirks of Lisbon is all the elevators and street cars that traverse the cities many hills.
It's great for the lazy, tired, elderly, or clumsy people like me who fall and roll their ankle while boarding their plane on the way to visiting one of the hilliest cities in the world… but I digress.
The Elevador de Santa Justa is an art nouveau engineering marvel which connects Baixa ('low') to Bairro Alto ('high neighborhood').
It also conveniently lets you out right by your next stop: Convento do Carmo!
However, the elevator lines are always absurdly long and I don't actually recommend riding it unless you have a reason too.
Even I, with my busted ankle, thought the line was too long and hobbled up the streets up to the Carmo Convent instead!
But still, it's definitely worth seeing, as it's one of the most unique aspects of the Lisbon cityscape.
Hours: Daily from 7AM–10:45PM
Cost: Around 5 euros for a ticket, cheaper if you have a Lisbon transit card; free to look (I don't necessarily recommend riding unless you really want to!)
Visit the marvelous ruins of the Carmo Convent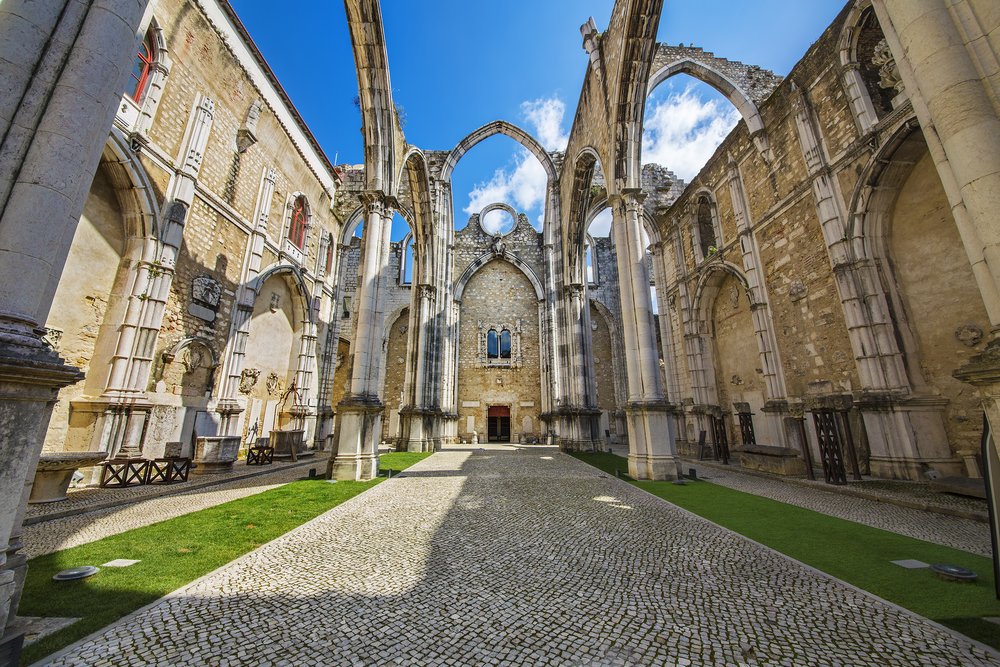 One of the many victims of the devastating 18th-century earthquake that shook Lisbon to its core, the former Carmo Convent is now in ruins and has been converted into an excellent archaeology museum.
While the archaeology museum is cool, and you can even see mummies here, what I found most interesting was the amazing beauty of the building despite the destruction.
I loved the negative space caused by the roof's collapse and the general sense of the power of Mother Nature and the temporary nature of man in the face of nature's whims.
Hours: 10 AM to 7 PM daily except Sundays. Closes earlier in the off-season, either at 5 or 6 PM.
Cost: 4 euros entrance; audio guide is extra
Enjoy a fado show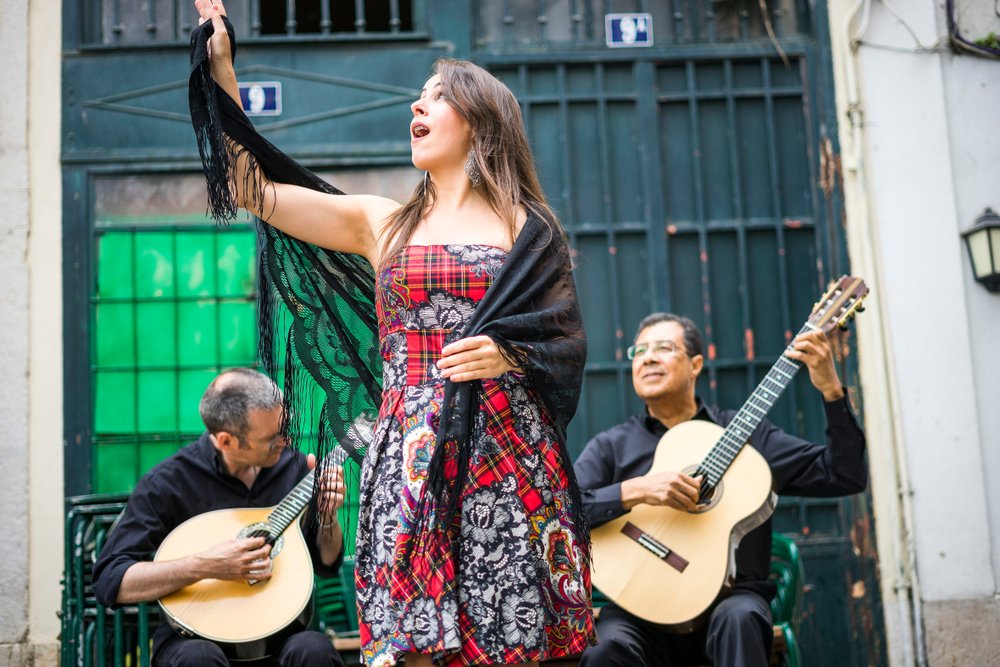 Portugal is known for its fado music, which is beautifully sung and performed with emotion and melancholy.
It's one of the more unique aspects of Portuguese culture: so unique, in fact, that it has been inscribed on UNESCO's Intangible Cultural Heritage list.
Unfortunately, with the tourism boom in Lisbon, the art of fado has lost a bit of its original democratic and revolutionary roots.
Many restaurants which promote their fado shows are tourist traps, offering crappy quality food at sky-high prices, while just having a few rounds of fado during the meal.
The best way to enjoy a fado show is certainly either going on a tour or to a restaurant which specializes in it. Neither are cheap options, but you'll have a far better experience than otherwise.
I can definitely recommend this fado tour, which covers a sunset walking tour, dinner, wine, sampling the delicious cherry-flavored Portuguese liqueur called ginjinha, and of course — a fado show!
It's run by one of my favorite tour companies in Europe, Urban Adventures, and while I haven't gone on this specific tour I've been on enough Urban Adventures tours (and checked the reviews of this specific tour) to feel confident in the excellent quality of the tour.
If you don't want to go on a tour, then I suggest splashing out on a nice meal at one of the premier fado houses in Lisbon!
The suggestion I hear most often from friends who have lived in Lisbon is Sr. Fado, but note that it has a rather steep set menu price of around 45 euros per person.
If you want a cheaper evening enjoying fado, you're going to have to make some sacrifices.
I had a decent time at Retiro dos Sentidos (the alheira was good; the bacalhau a bras was decidedly not) and we only paid about 20 euro each for a meal and a glass of wine and the fado show.
However, other guest reviews' of this place are quite scathing, so take my recommendation with a grain of salt. We had a fine time, but our expectations were low.
The best place to enjoy fado on a budget is supposedly right across the street at Tasca do Chico, but you'll have to arrive extremely early (about 7 PM for a show that begins at 8) or wait in line outside for an hour or so.
It's often standing room only, so keep that in mind, but supposedly the artists there are the real deal!
This fado show is also rather affordable and has over a thousand positive reviews, but note that it's just a 50-minute show and does not include dinner or drinks.
2 Days in Lisbon: Itinerary Day 2
Start your day strolling the streets of Alfama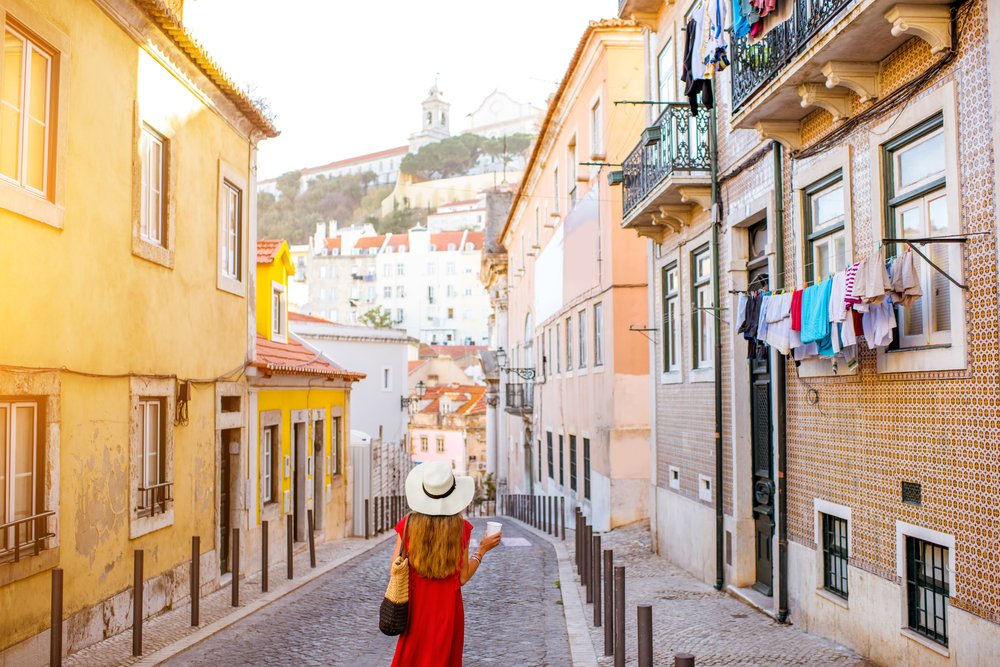 Alfama is my favorite neighborhood in Lisbon by a long shot: it's one of the best-preserved and oldest neighborhoods in the city!
It was largely untouched by the earthquake which destroyed much of Lisbon in 1755.
The streets wind and meander beautifully, so allow yourself some time to get lost in these streets.
For breakfast, I recommend Augusto — it's absolutely delicious, the interior is super funky and Instagrammable, and the prices are good for the excellent quality of food, especially the brunch combinations.
A few places to visit in Alfama and the surrounding area are: Miradouro da Graca (which is lovely but sooo crowded), the Lisbon History Arch beneath the miradouro, the Miradouro de Santa Luzia, which has beautiful azulejos and views, and the Lisbon Cathedral.
Enjoy the best views of Lisbon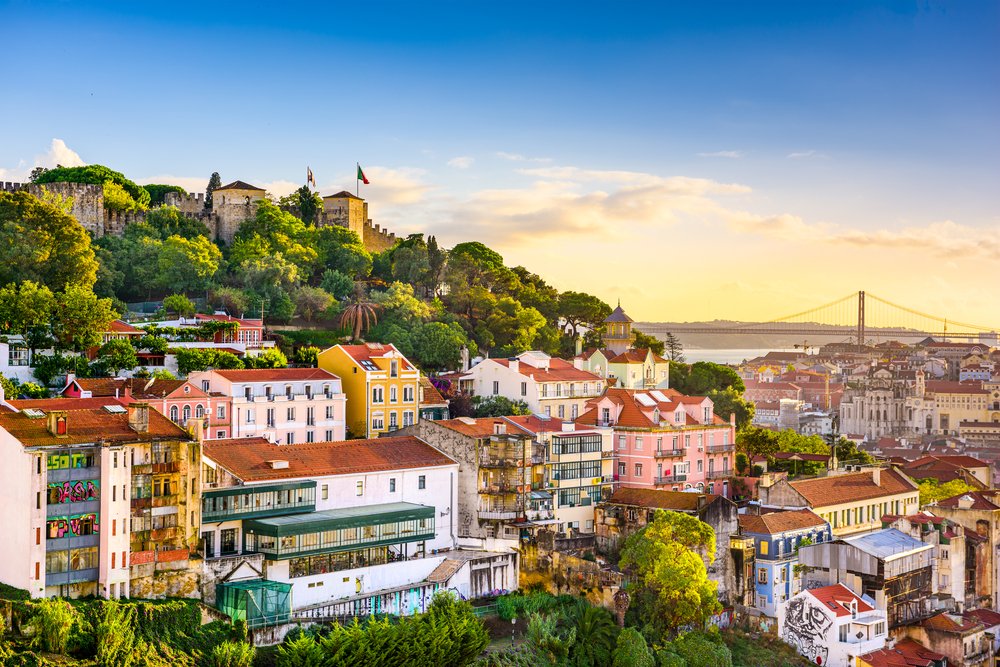 Lisbon is known for its many hills and viewpoints, and two places are said to be the best places for a great view over the city of Lisbon: Castelo de Sao Jorge and the Miradouro da Senhora do Monte.
Of all the miradouros in the city, Miradouro da Senhora do Monte is one of the best in my book.
It's the highest hill in Lisbon, and you get a beautiful view of the Castelo de Sao Jorge. It's also far less crowded and well-known than most other miradouros.
For many people, a visit to Castelo de Sao Jorge is an essential part of their trip to Lisbon.
Frankly, for me, I'm not a huge fan of castles (even more-so the ruins of old ones).
Even though I've spent about three weeks in Lisbon I've never actually gone to the castle because the lines are always really long to enter and it's really crowded!
If you do go, I strongly suggest booking a skip-the-line ticket as I usually see lines that look to be over an hour's wait to enter.
This may not be necessary in the low, low season but when I was in Lisbon in March the lines were still crazy!
However, for free, you can get a view of the castle AND Lisbon from Miradouro da Senhora do Monte: all this without the crowds, without the lines, and without the entry fee! It's up to you what you choose to do (and you can very easily do both).
Cost: Free for the miradouro, 10 euros to enter Sao Jorge if you buy the ticket on-site, though I recommend the guided tour to skip the massive line.
Hours: The miradouro is 24/7; Castelo de Sao Jorge from 9 AM to 6 PM daily.
Lunch and shop at the LX Factory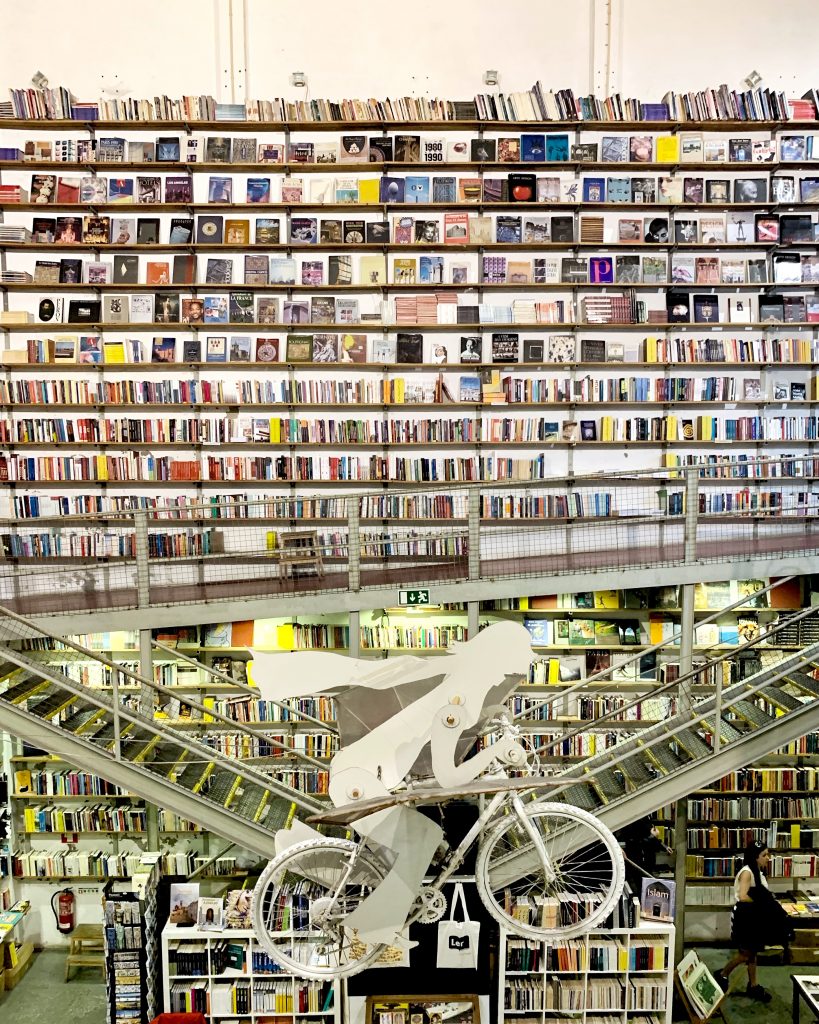 After thoroughly exploring Alfama, I expect you'll have worked up quite an appetite!
Now is the perfect time to explore LX Factory, a quirky and modern side of Lisbon that is quite different to the historic neighborhoods you've been exploring like Alfama and Belém.
Set in a 19th-century textile factory, once the heart of Lisbon's manufacturing scene, LX Factory is now one of the hot spots in Lisbon for dining, shopping, and street art.
You can try a variety of cuisines here; Sushi Factory has creative sushi combinations, Rio Maravilha has Portuguese and Brazilian food with a fantastic view (of the imitation Cristo Redentor statue, naturally!) and 1300 Taberna has creative fine dining takes on Portuguese classics.
We ate a meal at 1300 Taberna and it was a little pricy but fantastic (we had wanted to check out Rio Maravilha but it was closed for a private event).
While there, be sure to visit Ler Devagar (Portuguese for "read slowly"), one of the most interesting and beautiful bookstores in Lisbon, if not all of Portugal.
It's entirely Instagrammable yet far less hellishly crowded than Livraria Lello in Porto, which I don't even recommend people visit…
Cost: Free to enter LX Factory though you'll hardly be able to leave without finding something worth buying!
Hours: Depends on each venue
Wander down the Tejo waterfront to Cais do Sodre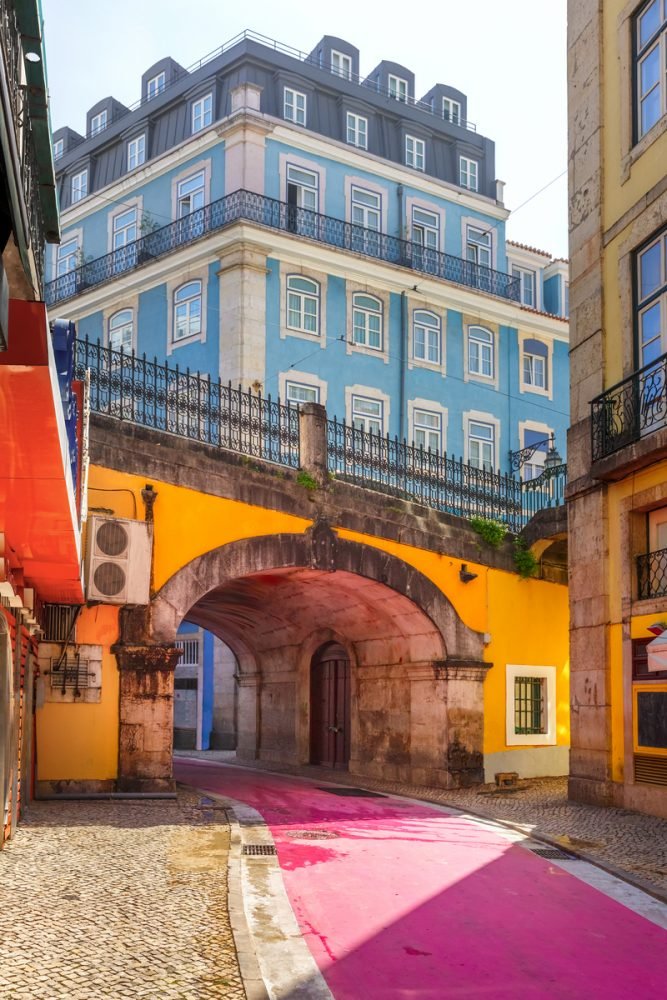 After your lunch at LX Factory, take a long and leisurely walk down the waterfront down to Cais do Sodre to digest and unwind.
You'll pass several interesting things along the way, like the imitation Golden Gate Bridge and Christ the Redeemer, plus the river views of neighboring Almada is lovely.
If you want the see the famous Lisbon "pink street," it's right by Cais do Sodre, at Rua Nova do Carvalho.
Take a boat cruise down the Tejo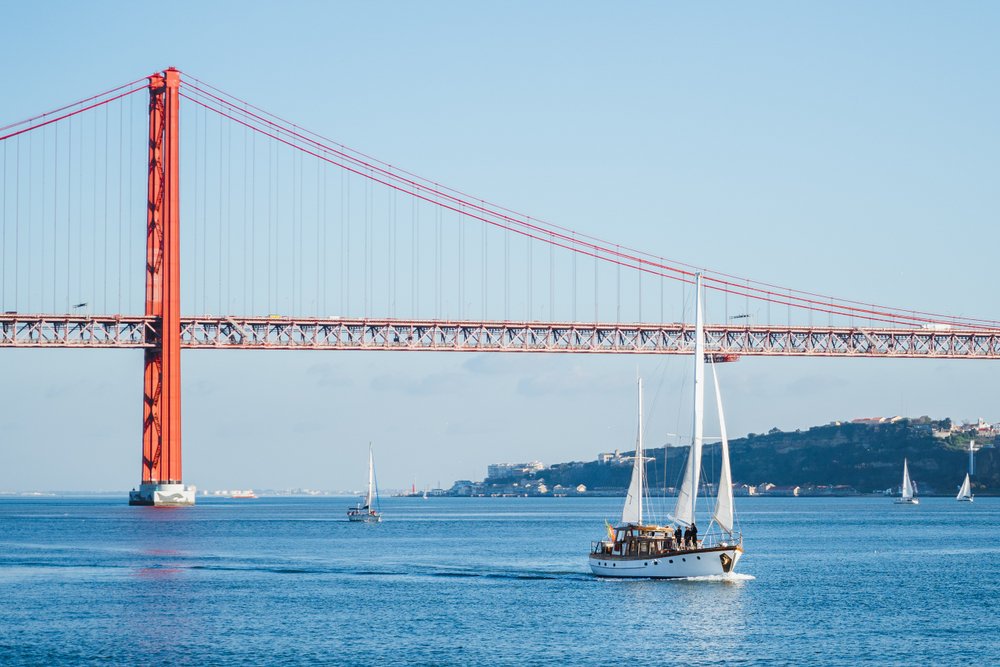 Lisbon is defined by its gorgeous river, the Tejo, which flows between the city of Lisbon and the city across the water, Almada.
You may also heard it called the Tagus River, which is its name in English.
While people always talk about the views of Lisbon from its many miradouros — and they should, because they're beautiful! — it's also a great idea to see the city from sea level.
Here, you can see the beautiful houses stacked like a gorgeous array of colorful dominos against a backdrop of hills, castles, and trees.
Taking a boat cruise down the Tejo is one of the best ways to get an alternate view of Lisbon (and rest your feet a bit from the relentless sightseeing of this two day Lisbon itinerary!).
I recommend this affordable and unique 45-minute river cruise which will bring you past Praca do Comercio, Sao Jorge Castle, the gorgeous neighborhood of Alfama, the Panteon Nacional, and the train station of Santa Apolonia.
The reason why I recommend this specific boat cruise is the boat itself, which is a piece of living history.
The cruise is done in a 50-person capacity hand-painted traditional boat which dates back to 1947, which is one of only about 75 such boats left in existence (of the thousands which used to exist). It's actually part of the Portuguese Navy Museum but is used for cruises!
In the high season there are several cruises a day, leaving at 1:30, 2:30, 3:30, 5:00, and 6:00 PM; however, in the low season, there are only a few in the early afternoon and the tours stop entirely mid-October.
If this tour is unavailable or doesn't fit into your Lisbon itinerary, I suggest this tour instead, or this sailing and champagne cruise.
Cost & Hours: Depends on which tour
Stop in Time Out Market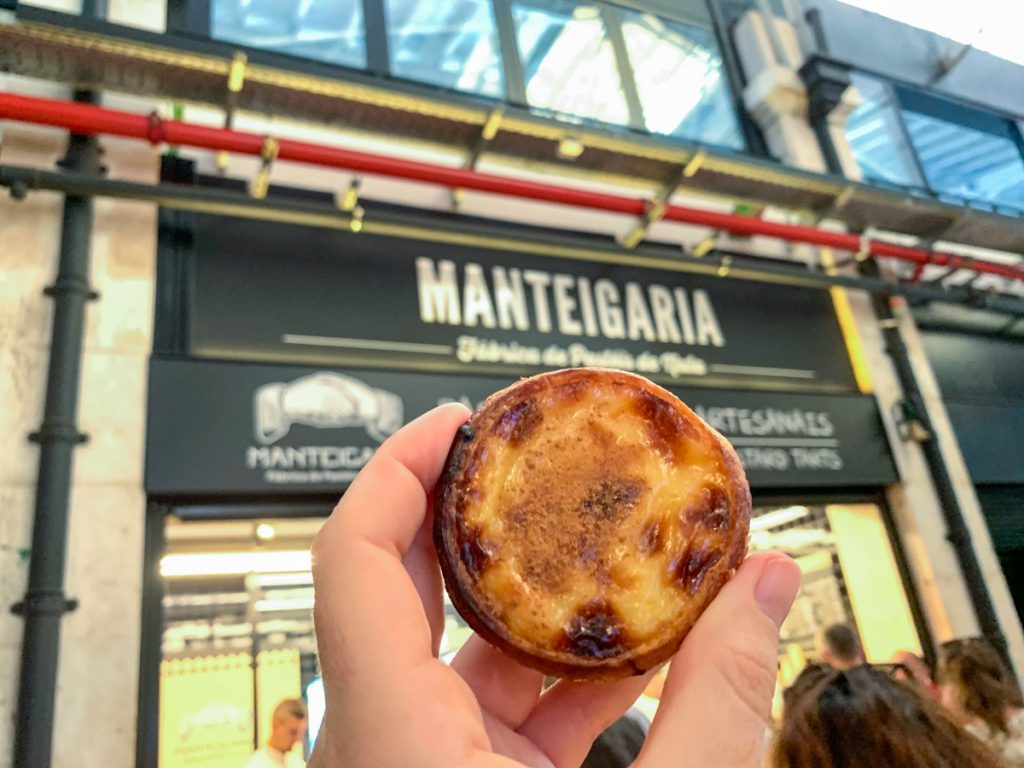 Right by Cais do Sodre is the Time Out Market, which has collected some of Lisbon's best eateries all under one roof! It's one of my favorite places to snack in Lisbon.
If you ate at LX Factory, you probably won't be hungry for a full meal here, but I suggest at least grabbing a pastel de nata (or two) at Manteigaria.
It's often considered to be one of the best pasteis de nata in the city, and you might as well get one so you can compare it to Pasteis de Belem… for research purposes, of course.
Don't eat too much, though, as I recommend a food tour later on in the evening!
Cost: Free to enter, though you'll hardly be able to leave without a taste of something
Hours: 10 AM to midnight daily (open until 2 AM Thursday, Friday, Saturday).
Ascend with the Ascensor da Bica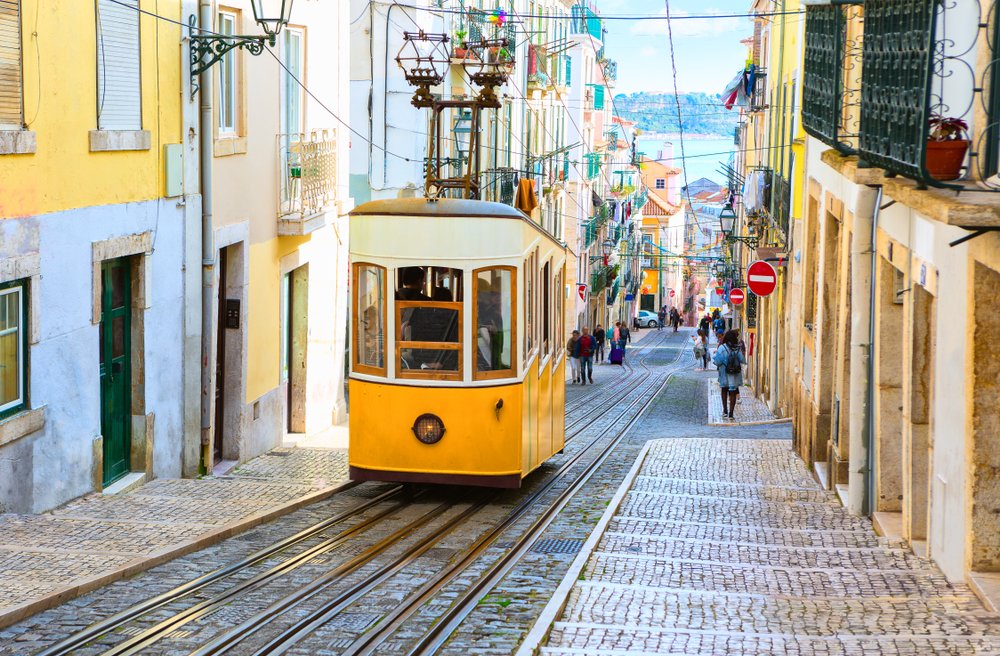 If you have time to kill before dinner, I suggest either taking the Ascensor da Bica (free with a Lisbon card) or snapping a photo of it as it runs!
The area around Palácio de Xabregas (look it up on Google Maps) should be a good place to get a good snap.
I saw a lot of thirsty Instagrammers around this intersection when I was taking the ascensor up the hill!
Check the views from the Miradouro de São Pedro de Alcântara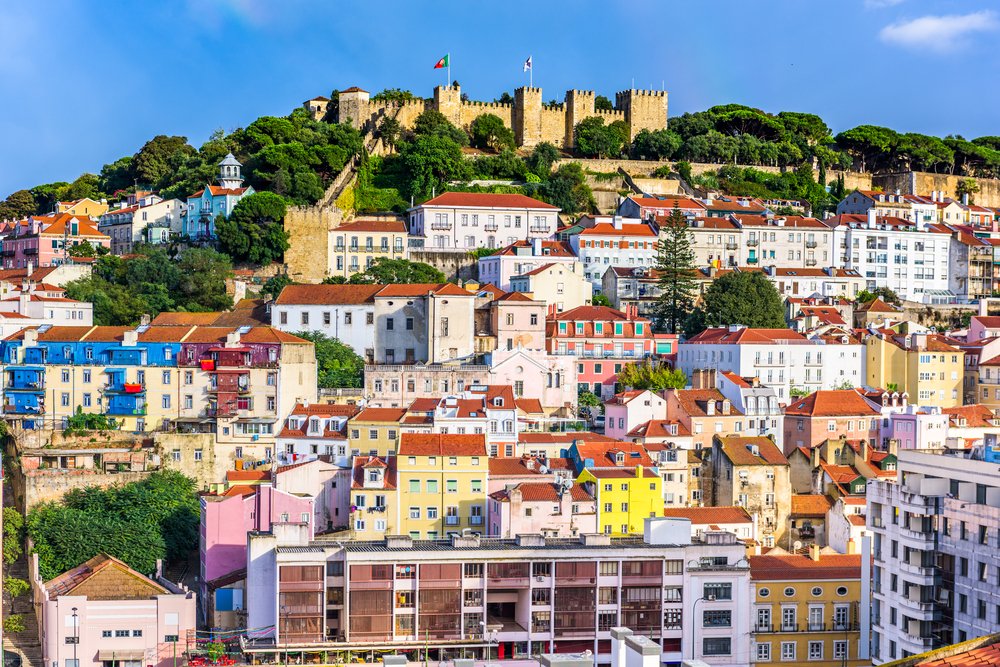 One of the prettiest miradouros in Lisbon, I adore this view which gives you a gorgeous panorama of Alfama and Sao Jorge castle from the other side.
Unfortunately, there were large railings that have been added recently which detracted quite a bit from the view.
I'm not sure if they're permanent or temporary, but they were there in March 2019 when I visited.
Recent TripAdvisor reviews seem to indicate they've been removed as there have been no recent mentions of them, so let us know in the comments what your experience is if you visit!
See the graffiti-covered Ascensor da Gloria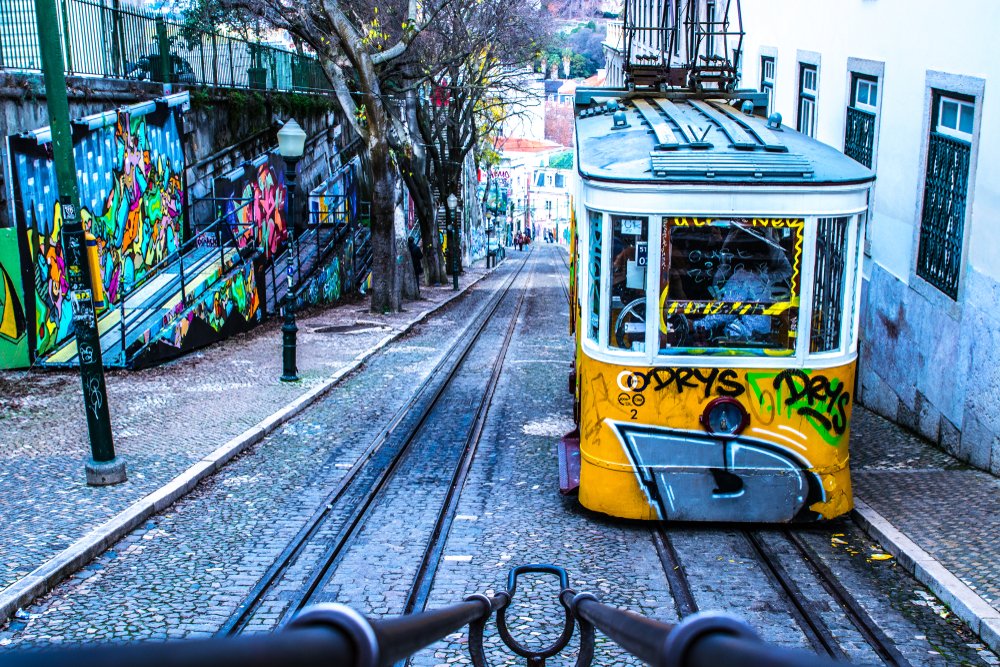 The Ascensor da Gloria is yet another one of Lisbon's elevators, but this one is particularly cool because it passes a ton of gorgeous street art called Galeria de Arte Urbana.
Plus, the funicular itself is usually covered in graffiti too! It's a must for street art lovers.
Cost: 2.90 euros one-way to take it or you can easily just walk (though the cobblestones are a bit slippy, so be careful!); included on your Lisbon transit pass
End your time in Lisbon on a tasty note with a food tour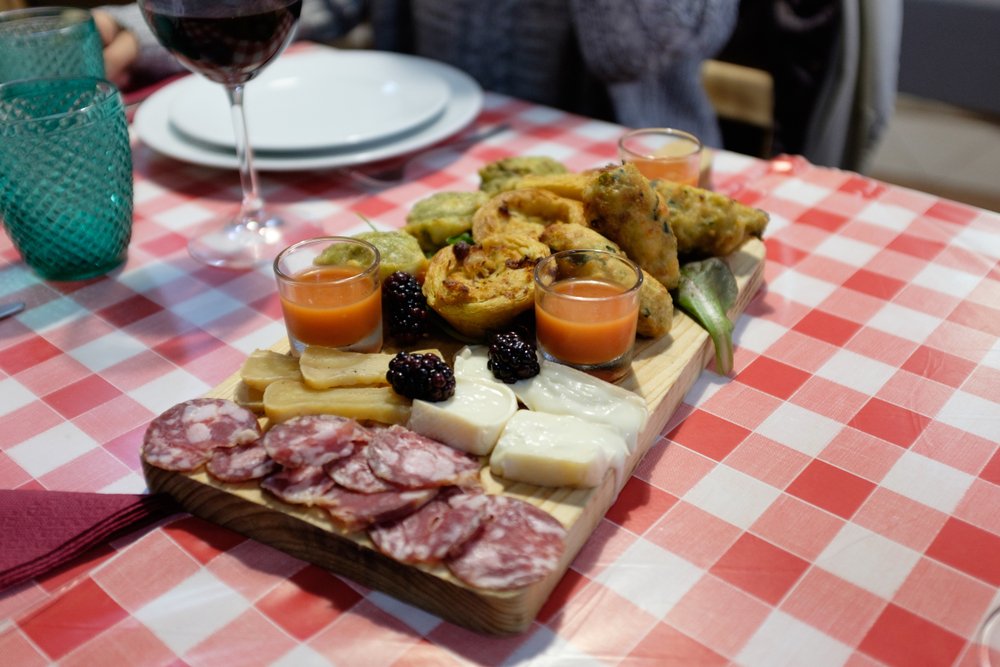 There's so much good food and wine to be had in Portugal, and if you have only 2 days in Lisbon, you better make the most of it!
If you're a foodie I strongly recommend dedicating your last evening in Lisbon to taking a food tour to discover the culinary culture of this delicious city!
If you're vegan, check out this guide to eating vegan in Lisbon.
Whether you want to take a private food tour with a local or a group food tour based on a specific theme, there are plenty of excellent food tours for all budgets and styles to choose from.
A great option for people who don't love guided tours but do love to eat with the guidance of locals is the bitemojo self-guided tour, which you can book here.
It's all run via an app using GPS, and it includes six tastings for a fixed price, giving you the history of where you're walking and alerting you of cool things along the way.
I did a bitemojo tour in Barcelona and loved it, and while I haven't tried out the Lisbon one myself, I would definitely recommend one in Lisbon if you want a budget-friendly, self-led tour.
Alternately, if you want the guidance of an expert and the community of a group tour, I strongly recommend this Inside Lisbon food tour which has over 600 positive reviews.
It's affordably priced and lasts three hours, and it includes several tastings of delicious Portuguese wine and food like cod cakes, vinho verde, port wine, chouriço, Portuguese tapas called 'petiscos' and more!
This 3-hour history and food tour run by Discover Lisbon is a great and affordable food tour option alternative as well.
It covers small plates at three different restaurants and three glasses of wine.
More Than 2 Days in Lisbon?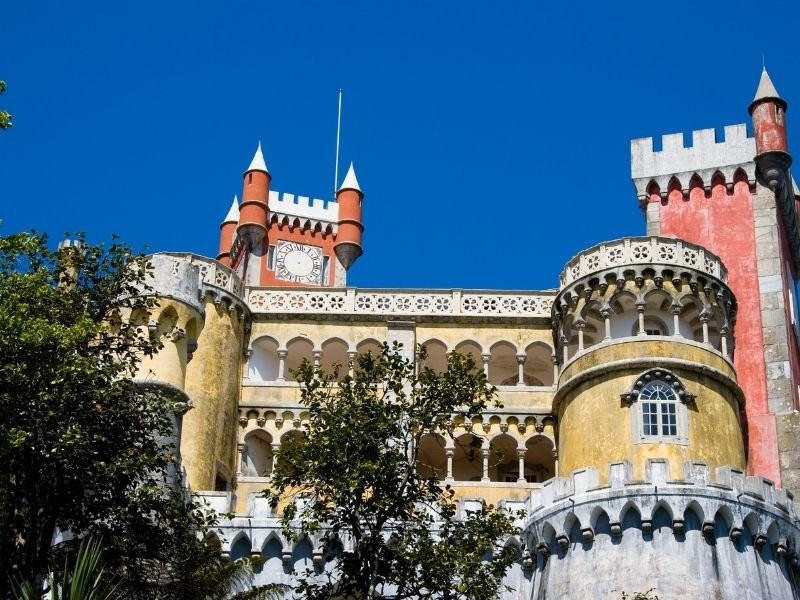 Have some extra time in Lisbon?
The next thing you ought to prioritize is absolutely a day trip to Sintra, just outside of Lisbon.
This Sintra day trip will bring you to Pena Palace and other Sintra landmarks, as well as Cabo da Roca (the westernmost point of continental Europe), and Cascais.
It allows for a nice blend of organized transportation and guidance as well as free time to enjoy the sites at your own pace.
Other Lisbon & Portugal Resources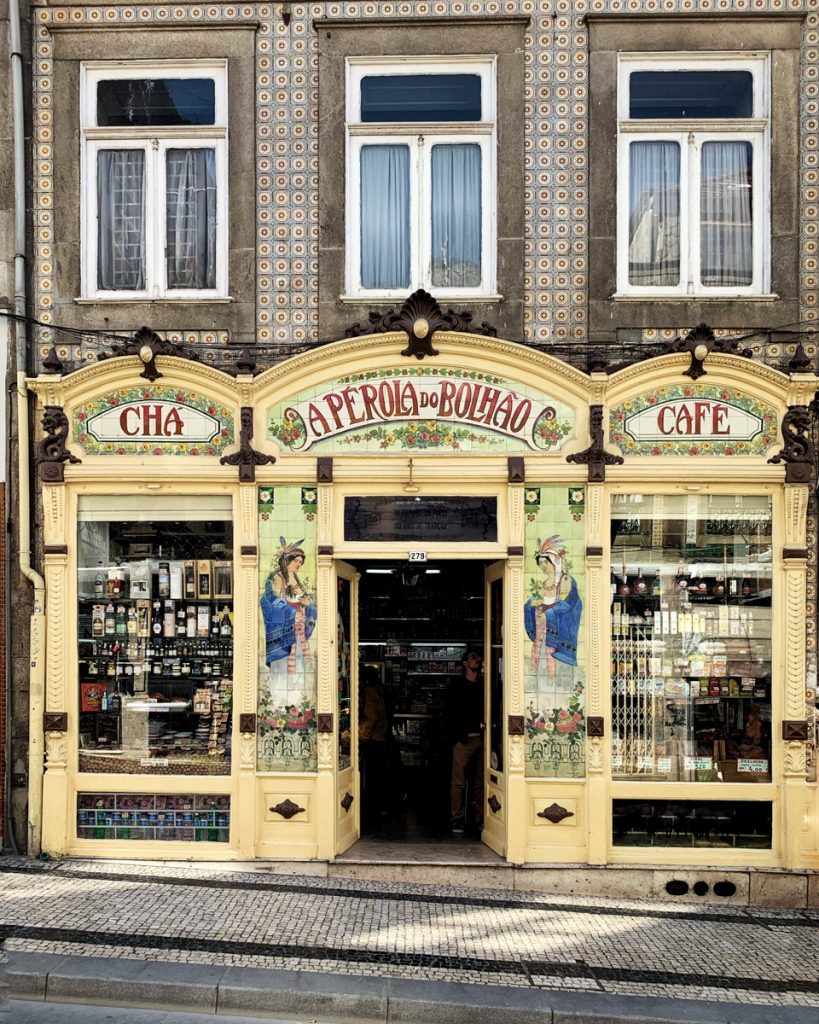 Lisbon is one of my favorite cities, and I visit it at least once a year! I have guides on where to stay in Lisbon, the best photography spots in Lisbon, as well as how to pick between Lisbon or Porto.
Not sure when to visit Lisbon? I love the off-season! Here's my guide to visiting Lisbon in March.
If you'll be visiting Porto, check out my Porto itinerary as well as my guide to day trips from Porto and a road trip guide to getting to Porto from Lisbon (plus how to rent a car to do just that!)
Finally, why not add on a trip to the Azores when you're in Portugal? It's one of my favorite places in Europe!
Read about where to stay in the Azores and what island to pick, what to do in Sao Miguel, my Sao Miguel road trip itinerary, and tips for driving in the Azores.
I also have a handy Azores packing list!
Allison Green is a former educator turned travel blogger. She holds a Masters in Teaching and a B.A. in English and Creative Writing. Her blog posts merge her educational background and her experience traveling to 60+ countries to encourage thoughtful travel experiences that both educate and entertain. She has been a speaker at the World Travel Writers Conference and her writing, photography, and podcasting work has appeared in National Geographic, CNN Arabic, CBC Canada, and Forbes, amongst others. Now based in the San Francisco Bay Area where she grew up, she has also lived in Prague, Sofia, and New York City.