Are you planning to visit Milan for 2 days, maybe a weekend, and want to make the most of it? Then this is the guide that you need!
Unlike other Italian cities that pack so many things to do that it feels like you need a whole month to see them, Milan is quite easy to visit in a couple of days.
This is not because there is little to do, but because all of Milan's landmarks are concentrated in quite a small area!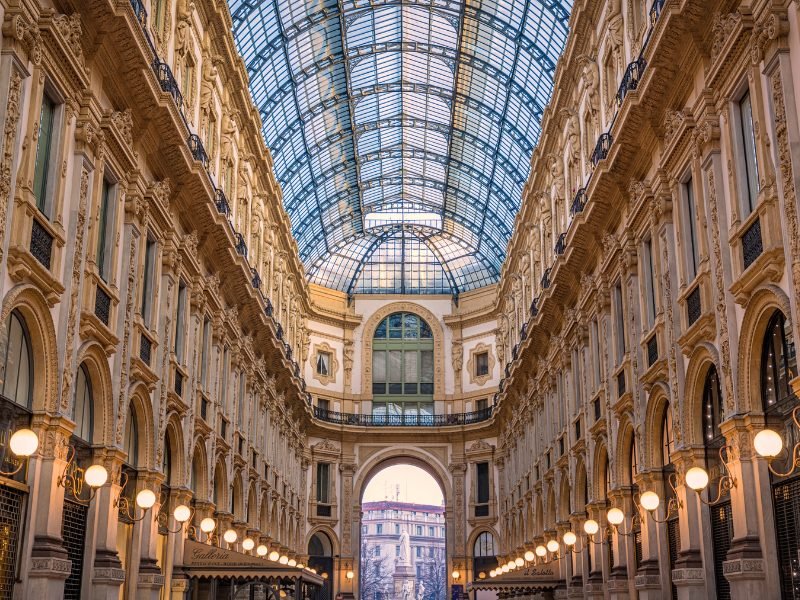 Note: This post contains affiliate links, which means I may receive a small commission if you purchase something through one of these links. Thank you for supporting the free content on this site! For more information on affiliate links and cookies, see my disclosure page for more details.
Besides, the city has a super-efficient transport system that makes it simple to reach those few attractions off the beaten track.
If Milan is a city you plan to include in your Italy itinerary (and trust me, you should), then read on and to know more about those things you should do in Milan in two days.
If you have more than 2 days in Milan, that's a perfect excuse to start exploring some of the epic day trips around Milan — like Lake Como and its lakeside towns, Lake Garda, and more.
Before we get started on our Milan itinerary, here are a few things you need to know!
What to Know Before You Visit Milan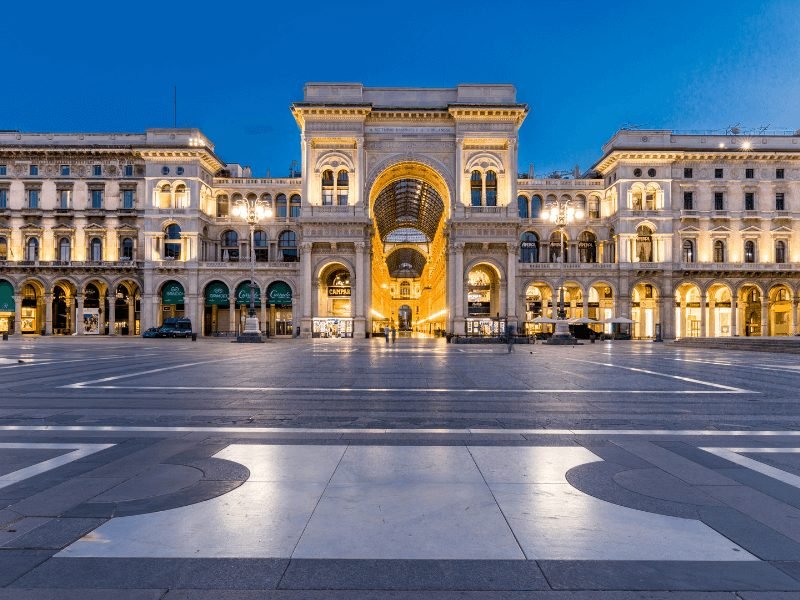 As a major force in global economy, Milan is both the economic capital of Italy and also the second-most populated city in the country after Rome.
It's also considered the Fashion Capital of Italy — something to say about an already quite fashionable country!
This Milan itinerary doess't cover it specifically, but if you're a big fashionista, you'll want to check out the trendy Fashion District.
Whether you're window-shopping or maxing out your card at the flagship Prada, you're sure to enjoy it.
A few of the best shopping streets are Via Montenapoleone, Corso Garibaldi, and Corso Vittorio Emanuele II, which you shouldn't miss if you like fashion. You can also take a guided fashion tour.
In Milan's Business District (Porta Nuova) you will find Italy's Stock Exchange (locally known as Borsa Italiana) as well as the headquarters of most national and international banks.
Milan is also one of the top European places to visit for those interested in fashion and design!
It is home to the world's oldest shopping mall, the Galleria Vittorio Emanuele II, as well as important schools for industrial design, high-end fashion, and modern art.
Often described as the least traditionally Italian city in the country, Milan has more of an international atmosphere, appealing to international students who choose to live, study, and work in the city.
When it comes to history and culture, Milan may not be as popular as Florence or Venice.
However, don't overlook all of Milan's incredible museums, churches, and other historic buildings that reflect its incredible past as one of Italy's most important centers for the arts.
Getting to Milan, Italy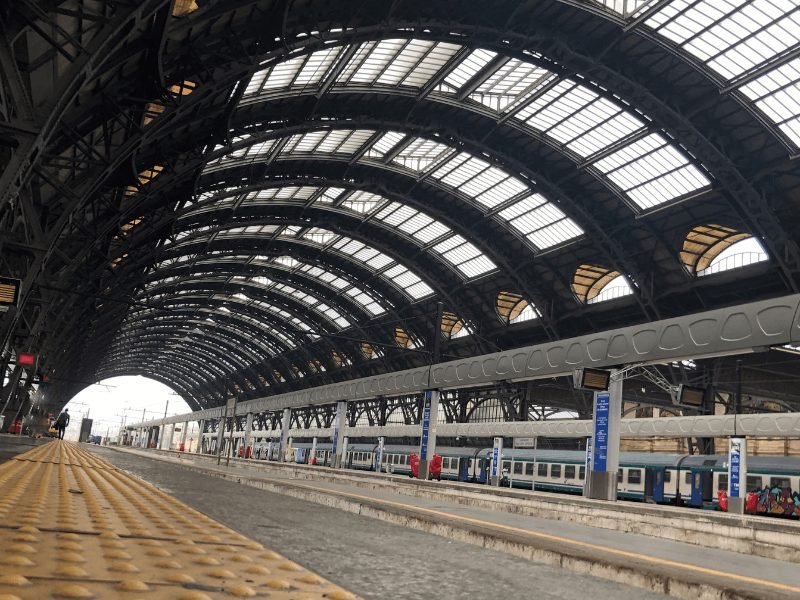 Milan is Italy's one of Italy's most important cities and thus it is well-connected by all forms of transit.
Milan is located in the northern region of Lombardy, making it easily accessible by plane, but also by car from the rest of Italy and by train from other European countries.
The city of Milan has two international airports, Milano Malpensa and Milano Linate, as well as an efficient urban transport system.
It can be quite affordable to get to Milan from other European cities if you choose one of the several low-cost carriers that operate in Milan.
All RyanAir flights, for instance, are operated at the Milano Orio Al Serio Airport, located in the nearby town of Bergamo, only an hour from the center of Milan.
Other low-cost air companies, such as EasyJet and Vueling operate both at the Milano Malpensa Airport and Milano Linate Airport.
If you are coming to Milan from a country outside Europe, then Milano Malpensa will be your airport of arrival.
Alternately, you could also land in Rome or Venice and easily reach Milan by train, especially if you are doing a longer Italian itinerary that also includes places like the Cinque Terre, Naples, and the Amalfi Coast.
The Best Time to Visit Milan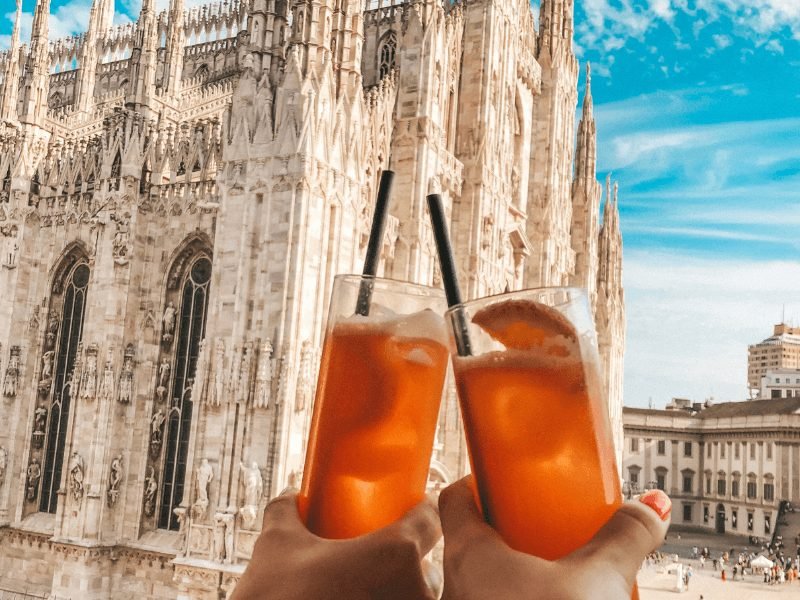 Milan attracts tourists all year round!
In general, the best seasons to visit are (of course) spring and autumn, when temperatures are neither very high nor very low.
Winter in Milan can get pretty cold and rainy, and on a few rare occasions, the city can also see snow.
Summers are shorter in Milan than in the southern area of the country, but they can be really hot and many attractions can be closed or operate with reduced hours, especially in August.
The hard-working population in Milan takes their summer break very seriously, so the city is often empty in August.
This can be perfect to walk around and enjoy the lack of traffic and its beautiful parks in complete solitude, but many shops will be closed too.
Where to Stay in Milan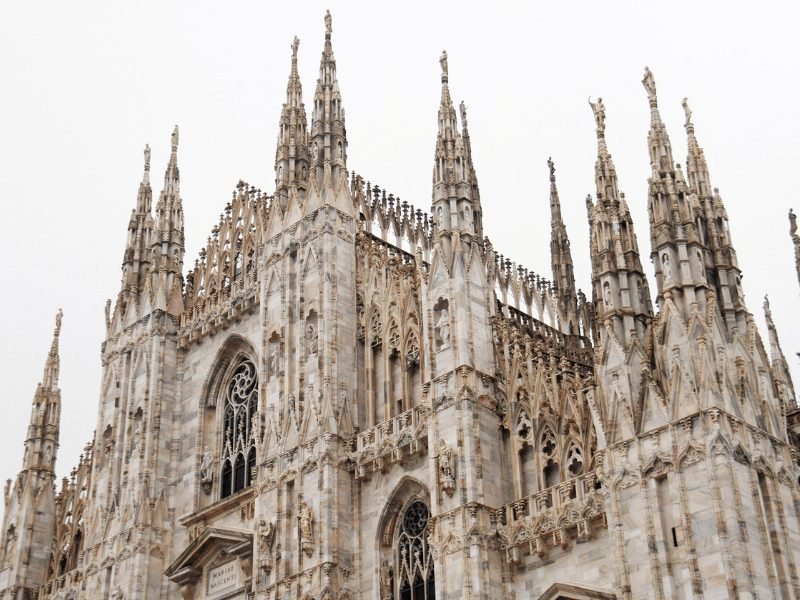 The best way to make the most of your 2 day itinerary in Milan is to stay in a central location that makes it easy to move around on foot or with minimal use of public transport.
Areas such as near the Duomo or Castello Sforzesco are central and perfect to visit the most important landmarks in town.
Those who prefer more of a laid-back vibe should check places to stay in areas such as the Navigli or Brera.
Both neighborhoods offer enough to do and discover, while the atmosphere is a bit less noisy and chaotic than what you will find in more central districts.
Alternatively, you can stay in the areas of Porta Romana or Corso Buenos Aires.
These are tranquil and residential areas, perfect to blend in, feel like a local, and soak in the unique Milanese environment.
If this is your first time in town and you are not sure where to book your place to stay, keep in mind that the city is fairly safe.
However, it is always a good idea to avoid the areas immediate to the main train station (Milano Centrale) which, as in any important tourist town, attract massive crowds making it easier for the occasional pickpocketer to target distracted travelers.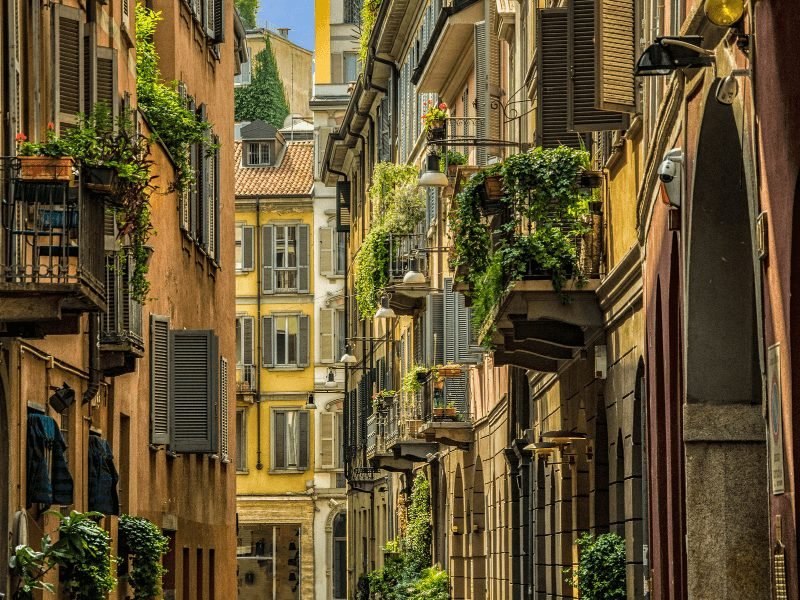 Downtown Milan
One of the best options in downtown Milan is Antica Locanda Dei Mercanti, a gorgeous guest house located in an elegant 18th-century building with a beautiful terrace.
It's within walking distance from Castello Sforzesco, the Duomo, and many shops as well as also offering easy access to the metro.
Brera
For a convenient place to stay in a quieter part of Milan, San Marco Boutique Apartments features comfy spacious studios in the Brera district with nice amenities like modern kitchens and A/C.
The location is perfect, too: just minutes from landmarks such as the Last Supper and the Brera Art Gallery
Porta Romana
If you want to stay somewhere a little off the beaten path of the main tourist circuit in Milan, La Casa Colorata features beautiful modern units — with access to two saunas in the common relaxing area!
It is located in the heart of the Porta Romana neighborhood which great for getting the idea of the local side of life in Milan, and guests raved about their enthusiastic and wonderful host, Cinzia.
Getting Around Milan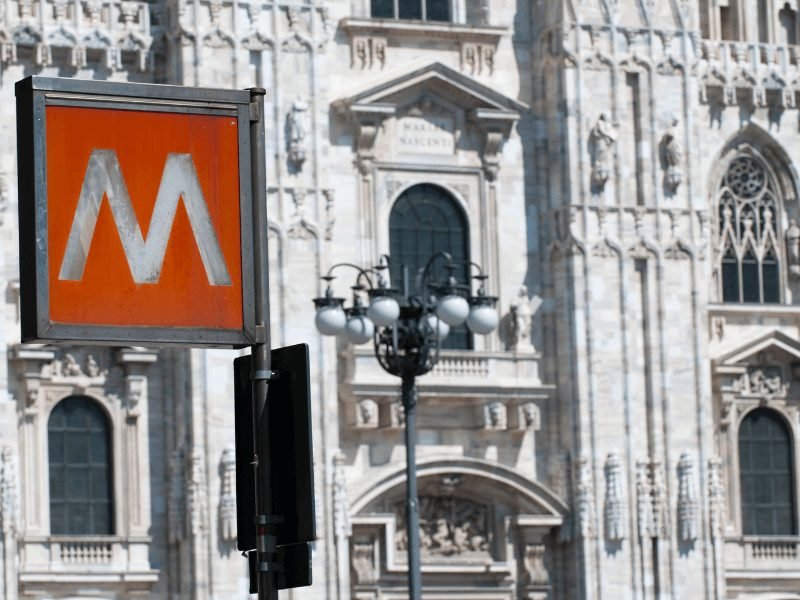 While staying in a central area and navigating by foot is the easiest way to get around Milan, the city also has a fantastic public transportation network.
That means that staying in more residential areas can still be a good choice if you want to experience a quieter, more local side to the city.
You can buy metro tickets for 12 euros for a 3-day ticket that would cover your entire weekend in Milan, or buy tickets individually at 2 euros per ride at the metro station.
You can also book this Milan City Pass that is valid for 48 hours and allows you to move around for an affordable fee. It also includes a lot of attractions, including the following:
The Duomo Cathedral & its rooftop terraces
La Scala Museum & Theatre
The World of Leonardo Museum
Triennale Design Museum
Navigli Canal Cruise (spring/summer only)
… and several more Milan attractions and discounts, totaling up to a potential value of 300 euros
Milan Itinerary: Day One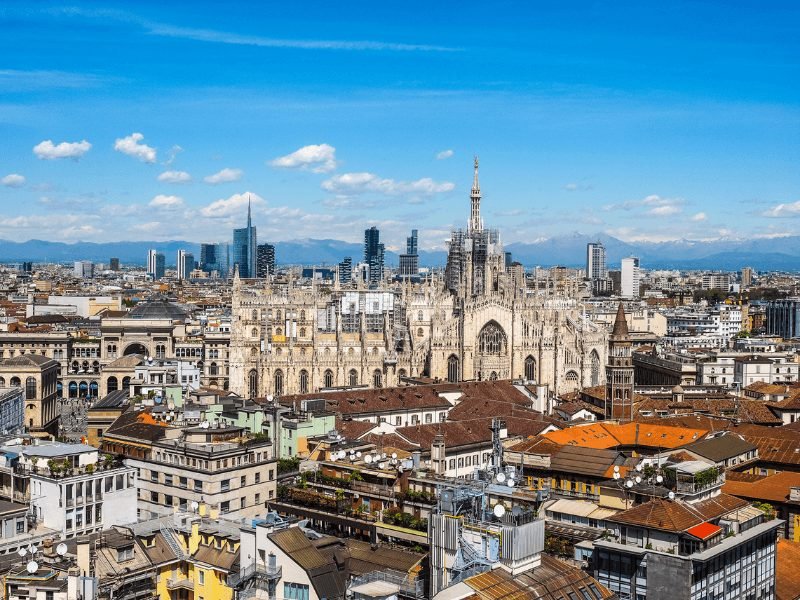 Whether you love art and entertainment, visiting churches or castles, shopping or tasting the local cuisine, Milan is an excellent destination, offering all of that and more!
For that reason, in this 2 day Milan itinerary, I've included several opportunities in this to explore all of those possibilities and much more!
Let's get started with the first day your itinerary for Milan — the true Italian way, with coffee!
Have breakfast like a local.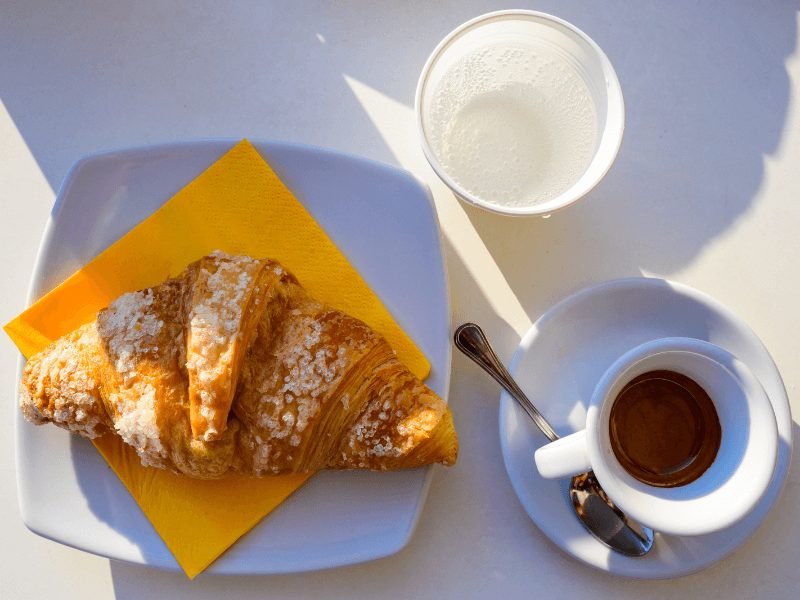 Start your day by experiencing the local Italian breakfast culture!
A typical Italian breakfast consists of a quick cup of espresso or cappuccino and a cornetto, a delicious pastry that is part of the Milanese tradition, which can be plain or filled with custard, chocolate, or jam.
Italians tend to have a heavy lunch, so starting with a light breakfast is key to enjoying a larger lunch later on.
The best places to fully savor this tradition are the historic bars and coffee shops located along Corso Vittorio Emanuele, the most important pedestrian street in town, just a few steps from the Duomo, Milan's historic cathedral and the next stop on our Milan itinerary.
A few of the places where I suggest you go for a Milanese breakfast are Motta Milano 1928 or Il Bar at La Rinascente Mall food court.
Local's Tip: Try to finish your coffee before 9 AM, to get to the next stop while it is still not so crowded.
Admire the spectacular Duomo di Milano.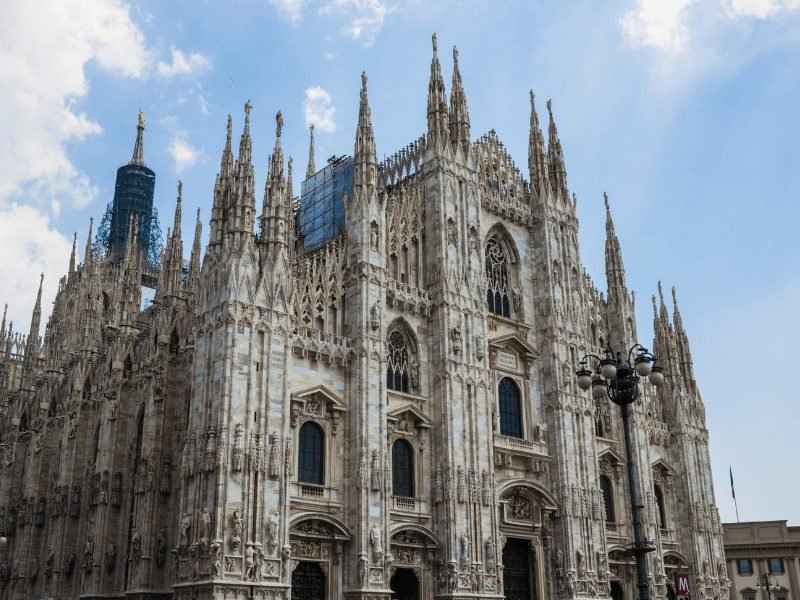 The imposing white Milan Cathedral, more popularly known as il Duomo, is a must-see example of Gothic architecture.
You simply can't miss it when exploring the city center — it's the #1 Milan landmark!
Also known as the Metropolitan Cathedral-Basilica of the Nativity of Saint Mary, this impressive building is one of the most intricate examples of Perpendicular Gothic and Flamboyant Gothic styles.
It took almost six centuries to be finished — due to the length of its construction, it encompasses the work of over 75 different architects!
The construction of the Duomo began in 1386, and the final details were completed in 1965. No wonder it's so impressive!
It's also quite large: in fact, the Duomo is Italy's largest church, but also third-largest church in the world!
Planning a visit to Duomo di Milano can a bit overwhelming, as there are several ticket options that all offer different price points and sights included. We've written a full guide to visiting the Milan Duomo here.
Undoubtedly the most visited landmark in Milan, it is always a good idea to book a small group guided tour to avoid the long waiting lines.
As a bonus, a tour also helps if you're interested in learning about the secrets of the building, the construction process, and visiting the less accessible areas.
A tour like this will also give you access to such sights as the roof and terraces (with spectacular views of Milan) as well as the archeological area underneath.
This tour in particular also allows you to visit the Duomo Museum and San Gottardo Church, making it a great value.
Book your skip-the-line tickets and tour of the Milan Duomo and terraces!
Wander through the magical Galleria Vittorio Emanuele II.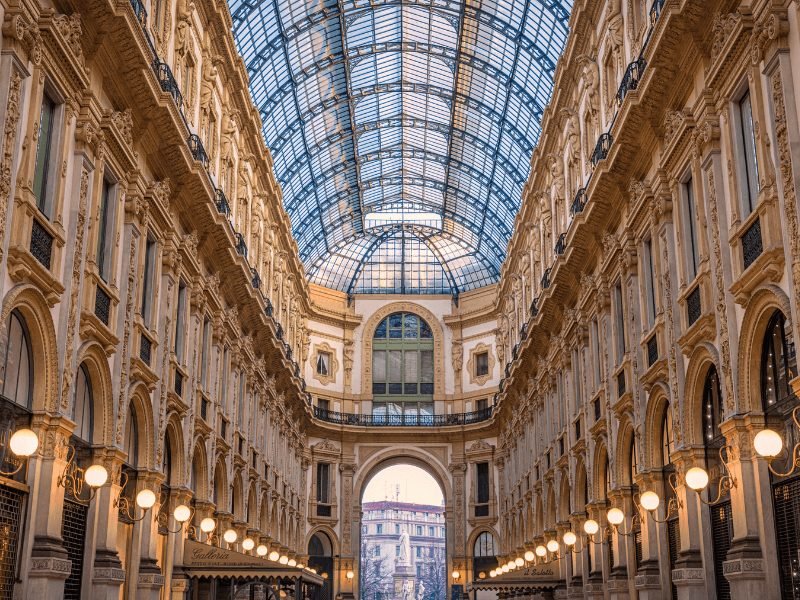 Right opposite the Cathedral, you cannot miss spending some time at Galleria Vittorio Emanuele II.
This is probably the most beloved place in town and is a popular meeting place for locals in addition to being a favorite photo spot for tourists.
Built between 1865 and 1877, the galleria is the oldest active shopping gallery in Italy and it was named after the first king of the Kingdom of Italy.
The shopping arcade connects the Duomo Square (Piazza del Duomo) and Piazza Della Scala, right opposite the famous Opera House, Scala di Milano.
Once inside, do not miss the architectural gems it features, including the central octagonal space with a magnificent glass dome.
It's reminiscent of the beautiful covered passageways in Paris and is simply a must-see.
Pass through the galleria to visit La Scala Opera House.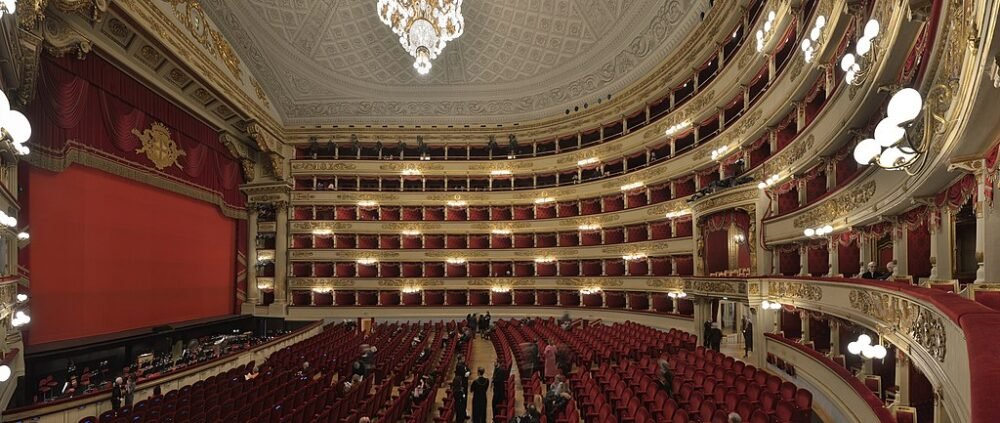 Among the most prestigious opera houses in the world, Teatro Alla Scala, or La Scala, as locals refer to it, is another can't-miss on this Milan itinerary.
Located right on the opposite side of the Galleria that faces the Duomo, La Scala is a remarkable opera and ballet theater.
Since its opening back in 1778, the venue has hosted Italy's greatest opera artists as well as singers and ballet dancers from around the world.
La Scala is also home to its chorus, prestigious ballet school, and the famous Filarmonica Della Scala orchestra.
Visitors can head to the official website to book a tour of the La Scala Theater Museum which features a collection of paintings, drafts, statues, costumes, and other objects related to the theater itself and the history of opera.
It is also possible to join a guided tour like this one which will reveal tons of historic details and curious secrets about the theater!
Local's Tip: Keep in mind that the theater's opera season often starts on December 7, the day when locals celebrate their patron saint, Sant'Ambrogio.
The opening performance is a popular event in Milan, so make all the arrangements beforehand if you'd like to attend as this performance, in particular, sells fast!
Tickets can only be booked on the official website.
Have a delicious lunch in downtown Milan.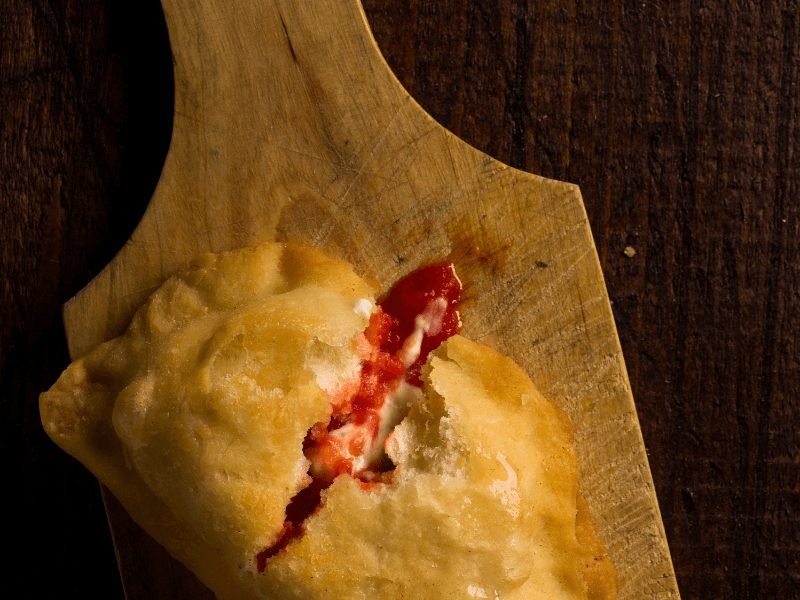 There are tons of great places where to grab a quick bite and then continue touring the city!
One of the best of them is Panzerotti Luini, located within walking distance from both La Scala and the Duomo.
It is a very popular bakery among locals, which has been selling panzerotti turnovers with savory fillings for decades.
A panzerotto resembles a small calzone: it's made with pizza dough, filled with a variety of different ingredients, especially mozzarella cheese, and deep-fried.
It's absolutely delicious — though maybe not the healthiest choice — and will certainly keep you fueled while you tackle the rest of this day's Milan itinerary.
You can learn more about this place and its unique Pugliese-style dish on their website.
Still hungry? Grab a gelato before continuing on. You only have two days in Milan after all… might as well make the most of it!
Explore the Piazza Mercanti.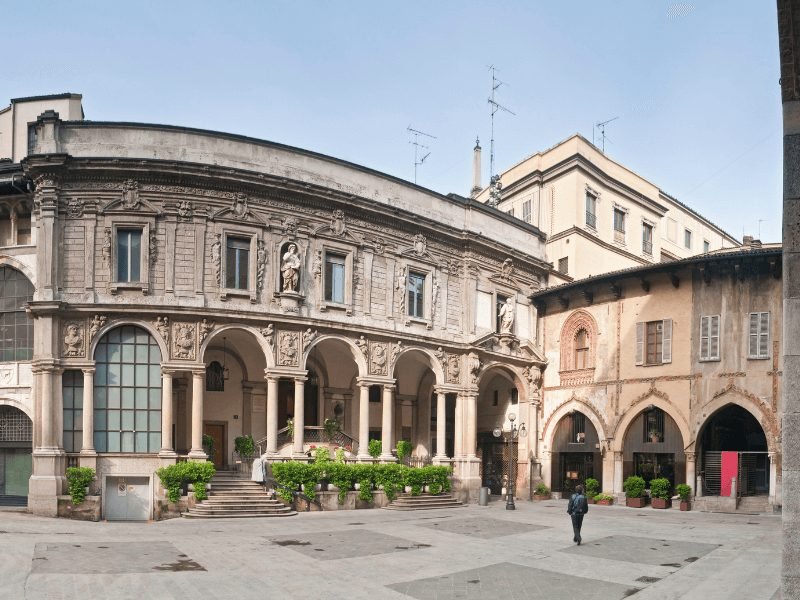 Once you've had your delicious lunch, next walk along Via dei Mercanti to get to the magnificent Piazza Mercanti.
This spectacular open area used to host Milan's public market in the past as well as some notable buildings which still stand today, including the Palazzo Delle Scuole Palatine, an important school during the medieval times.
In the area, there is another important building; don't miss the Palazzo Della Regione, which has housed the Justice Courts of Milan for centuries.
Marvel at Sforza's Castle.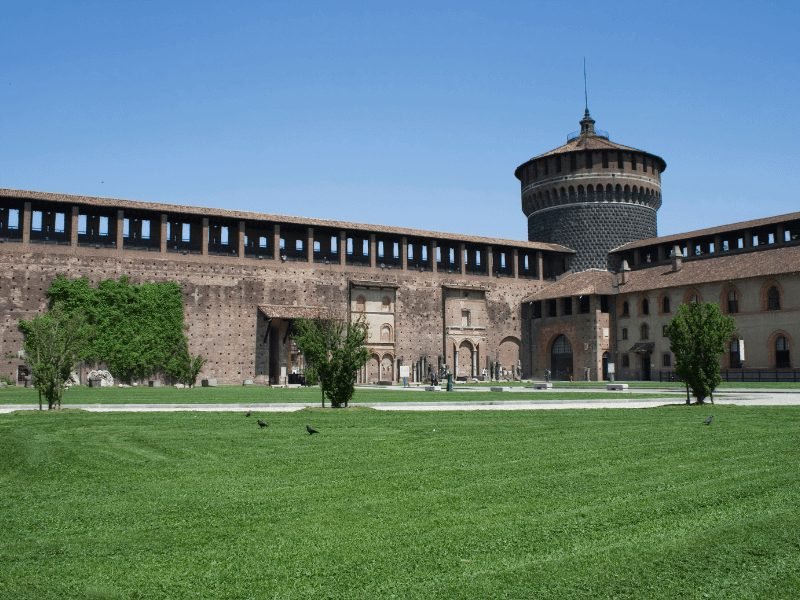 At the very end of Via dei Mercanti, you can easily spot the uncanny shape of the Sforza's Castle, the Castello Sforzesco, the most impressive fortress in the Lombardy region.
This is a typical medieval fortification that stands on top of an older fortress. It was built back in the 15th century by Francesco Sforza, one of the best-known Dukes of Milan.
Considered one of the largest citadels in Europe during its years of splendor (between the sixteenth and seventeenth centuries), today it is possible to access the different courtyards and open areas for free!
However, to visit the various art exhibitions and collections that are hosted in the many rooms of the castle, you need to purchase an entry ticket.
This ticket will give you access to all of the exhibitions, something worth considering as the different rooms not only host important collections but also frescos and other works by Renaissance-era important artists including Bramante, Michelangelo, and Leonardo da Vinci!
Since the castle is a great place to walk on your own while enjoying the nearby green landscapes as well as the open courtyards it can be a good idea to book a self-guided audio tour like this one to visit every corner of the impressive building without any rush and at your own pace.
The museum hosts also different specialized museums, such as an art collection, a museum of ancient art, a museum of musical instruments, an Egyptian museum, the Archaeological Museum of Milan, and many more.
Relax and unwind in Parco Sempione.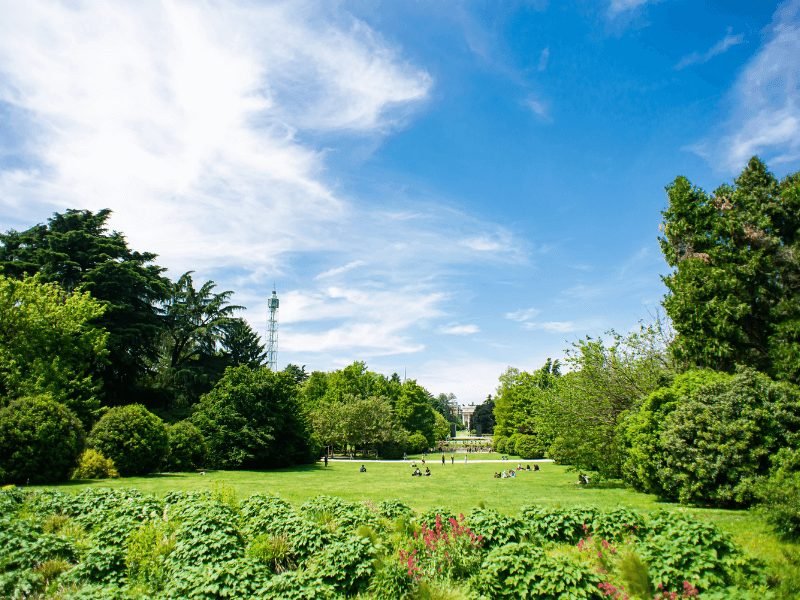 Once you've checked out the castle, you can spend some relaxing time at the Parco Sempione, which can be accessed from the Sforza's Castle back gate.
The park offers a huge green area with fountains and landscaped gardens.
It also has lots of benches and spots where locals love to go for a quick picnic during their lunch break or any time in the afternoon!
The Sempione Park features dedicated paths for joggers and walkers, as well as bike lanes, so it's a great place for people-watching and getting a sense of the pace of Milanese life.
Enjoy a Milanese aperitivo.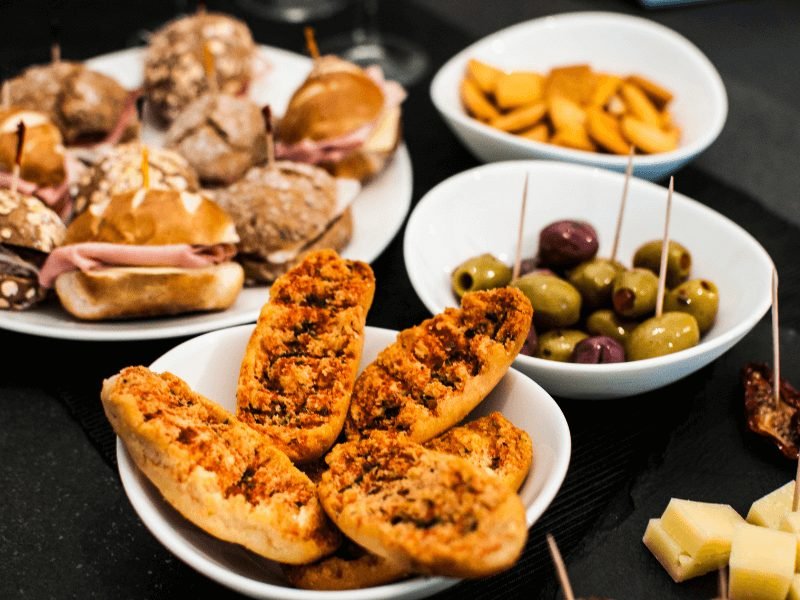 After all this Milan sightseeing, you can finally call it a day and head to experience one of the most authentic traditions in the city, the aperitivo hour!
Locals love to meet at around 7 PM, right before dinner, at one of the many bars in town to chat and share this unique tradition!
For the price of a drink — often a Negroni, a Campari-based cocktail, or a glass of Italian wine — you can access the aperitivo buffet!
Here, you can enjoy as many servings as you want of tasty Italian nibbles, including cheeses and cold cuts, but also different types of bread, olives and even tiny portions of pizza.
Some aperitivi can so abundant that skipping dinner is not rare!
Some of the best places in town for your aperitivo are Camparino in Galleria, adjacent to Galleria Vittorio Emanuele II, Terrazza Duomo 21, in Duomo Square, and Terrazza Aperol in the same area.
Milan Itinerary: Day Two
Admire the Last Supper and Santa Maria delle Grazie Church.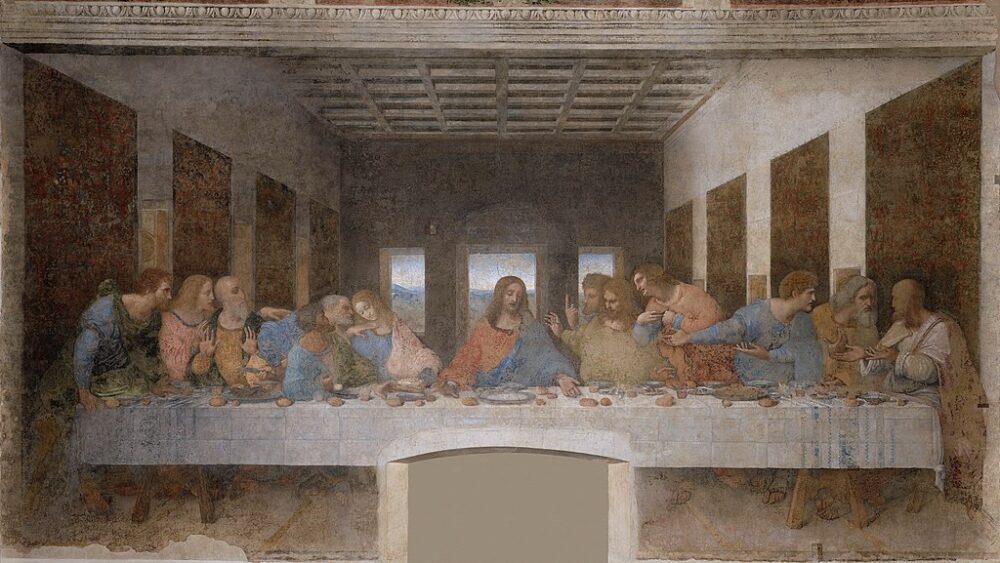 It is impossible to visit Milan and skip one of the greatest art masterpieces of all time, the Last Supper!
It is a great idea to leave the experience for the early morning of the second day, as it is often crowded. Even if you book an organized tour (which is strongly recommended), there is some waiting time to complete the visit.
This UNESCO World Heritage, the church Santa Maria Delle Grazie is home to the famousLast Supper painting by the remarkable Leonardo Da Vinci.
Since it is a hot tourist spot in the city, booking your visit in advance is something that I highly suggest.
And I do not mean the day before, but at least a couple of weeks or even months before the actual trip!
This small group tour that I recommend offers a great value-for-money experience.
The guided visit includes a visit to the old refectory where all visitors are allotted a 15-minute time frame to admire the painting.
By joining this tour you will also have the opportunity of learning about the incredible history behind the masterpiece as well as dedicated time to view the painting in an organized fashion.
Don't miss out — book your tickets to the Last Supper in advance here!
If you're interested in further exploring the city's art scene, then take advantage of the area!
Not far from this church, you can also check out the Pinacoteca Ambrosiana as well as the Sant'Ambrogio Basilica.
The latter is an important church dedicated to Milan's patron saint — and it's also one of the best best-preserved examples of Lombard Romanesque architecture!
Check out the works at the Brera Art Gallery.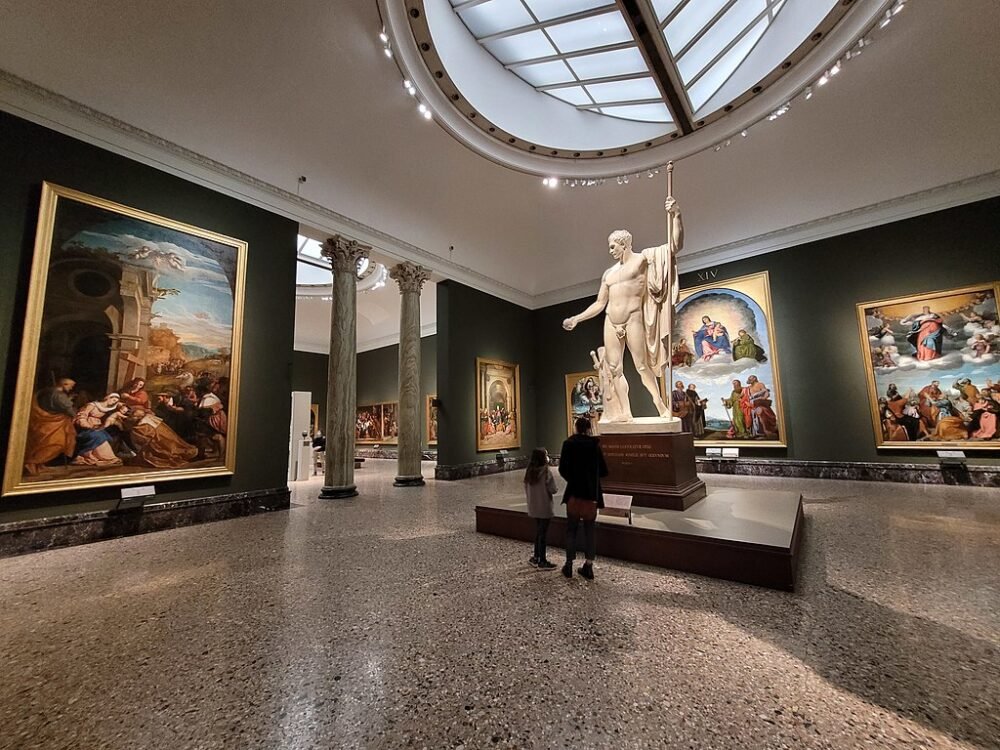 Have a quick panini for lunch and head to the Pinacoteca di Brera for a quiet afternoon discovering some of the most remarkable Italian (and some European) works of art.
These paintings are hosted in the magnificent Palazzo Brera, in one of the most beautiful neighborhoods in town, a vibrant bohemian-feeling district also known as Brera (one of our recommended neighborhoods to stay in Milan).
In the same building, there is also an ancient astronomical observatory and a botanical garden.
A tour of the most important parts of the gallery can take you anything between two to four hours, depending on your interests!
Wander around the Navigli and its canals.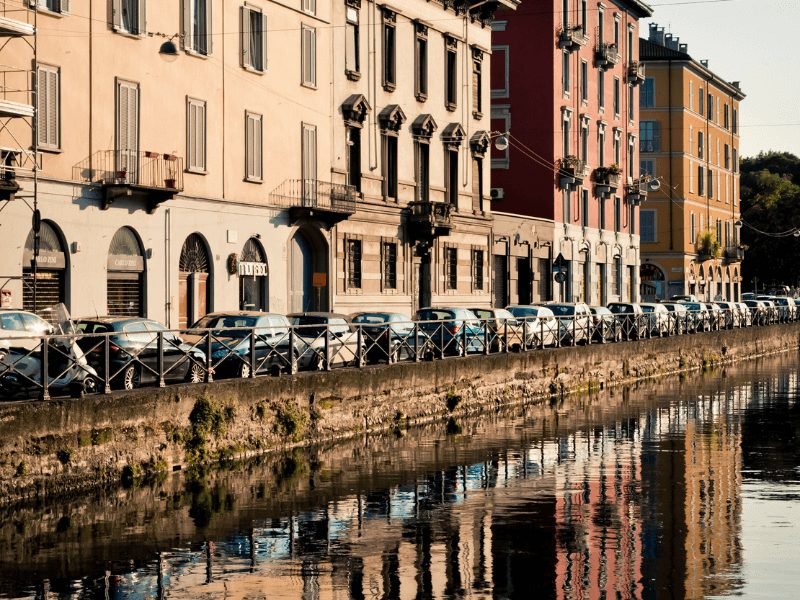 Head to the Navigli district next to explore its canals, and then go for a proper Italian dinner and to enjoy the best of the local nightlife.
The legendary canals of Milan are located in the southern part of the city. This area is a unique spot where you can find dozens of shops, bars, and cafés that are open every day of the week!
However, the area is really popular during the weekends, as it is one of the places that Milanese residents choose to gather and spend a good time with friends.
I cannot think of any better way to end your Milan experience than a sunset walking tour of the Navigli!
The Navigli are a system of interconnected canals that have been around for a long time they date back to the Middle Ages, but they have turned into a popular spot only in the last 15 years or so.
These five canals were used in the past to connect the commercial ports in the Adriatic to Milan.
Today, the canals are mostly used for irrigation and tourist cruises, especially in the biggest canal of the five, Canal Grande also known as Naviglio Grande.
Have a final dinner in the Navigli.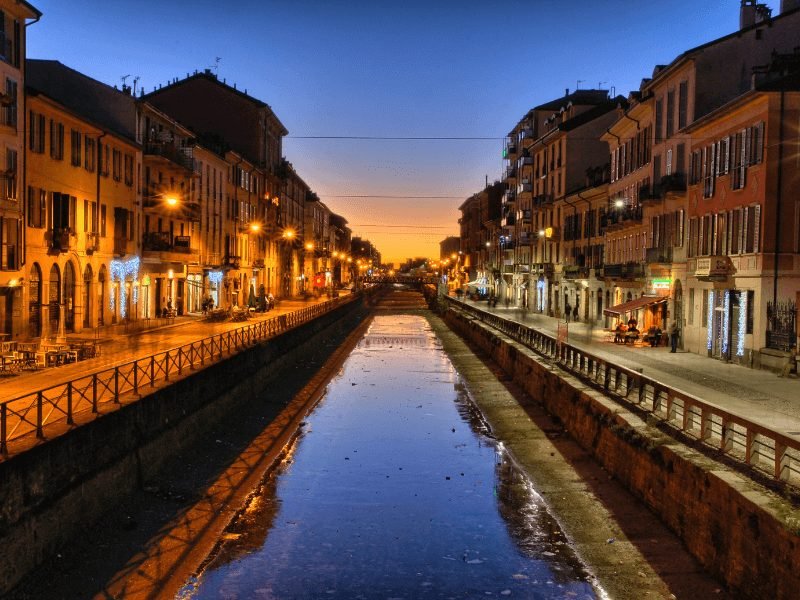 After checking out the canals, it's time to have a final Italian dinner in Milan.
Is there any better way to end your 2 days in Milan than enjoying a traditional pizza? I don't think you can beat the experience.
Although there are different restaurants and trattorias where to eat at the Navigli, no other pizza house beats the delicious toppings that you can find in Pizzium.
There are many Pizzium restaurants in town, but the one at the Navigli is probably the most popular.
It is located on Vigevano Street in the Navigli district, and booking ahead is suggested.
Not in the mood for pizza? Enjoy a few Italian dishes in one of the many trattorias, and then go for a late drink by the romantic canal setting!
If You Have More Than 2 Days in Milan…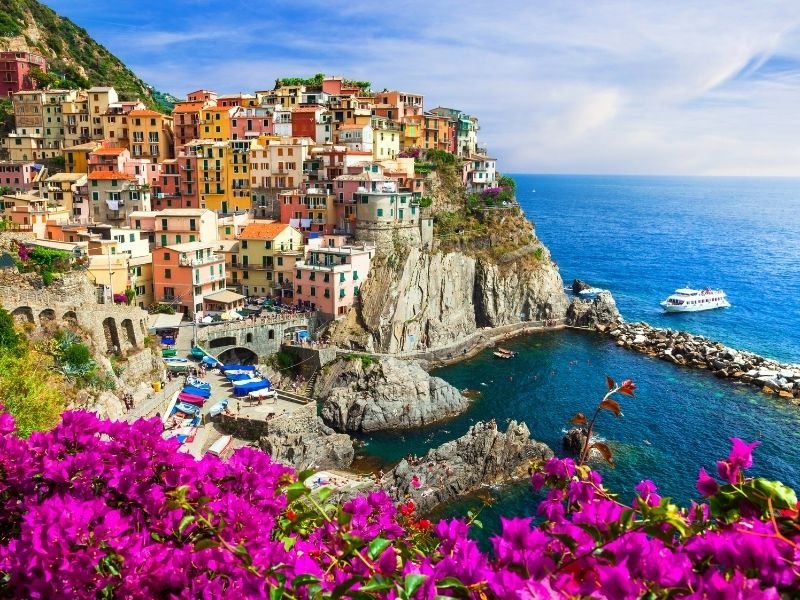 Milan makes a great base for different day trips from the city.
Milan is located at quite a strategic point in the north of Italy and is home to one of Italy's most important train hubs (Stazione Centrale di Milano or Milan Central Train Station).
This allows travelers not only to reach any other Italian (and European) city, often with a direct train!
But it also means that train travel from Milan is also a great and cost-efficient way to reach small, lesser-known towns in Northern Italy that are definitely worth a day trip!
You can also visit places in southern Switzerland such as St. Moritz and Lugano.
Interesting places to visit from the center of Milan by train include cities such as Bergamo, Brescia, Vicenza, Verona, and Padua.
From Milan, it is also easy to discover other gems such as Lake Como & Bellagio, the Cinque Terre, Venice (and Venice's wine country), Bologna, and Florence (and Tuscany's wine country).
And if you take advantage of fast trains, such as Frecciarossa, you can even get to Rome and Naples in a few hours too.
If you prefer the guidance of a tour, here are a few suggested organized day tours from Milan.
Gabi Ancarola is a full-time travel blogger, tour guide, and freelance writer currently living in Crete, Greece. She spent decade of her life living and traveling Italy, and she shares her knowledge of Italy in her writings as an Italy expert on Eternal Arrival. She also shares her knowledge of Crete and Greece on her blog, TheTinyBook.com, where she has also published several digital travel guides.