If you're planning a trip to Morocco, I'm sure you've daydreamed of its many colorful walls, ornate doors, aromatic spices, and busy markets chock-full of dreamy décor.
You probably have bookmarked a few Instagrammable spots you want to check out, and maybe you've gone so far as to sketch out your desired itinerary.
But there's a lot more that goes into planning a vacation to Morocco than meets the eye at first glance, and I'm here to help you plan the trip of a lifetime with minimal effort using this simple Morocco trip planner checklist!
AKA, I'm helping you learn from my mistakes so you have a much better time than I did.
Morocco is not a country you want to show up unprepared to. It's not a destination for travelers who still have their training wheels on.
Harassment is constant, whether it's sexual in nature or simply vendors/guides trying to get you to make a purchase.
In the medinas, you can't really take much at face value; directions are often wrong and signs often lie, trying to lure you into a specific shop.
Basically, you need to adjust your expectations and prepare yourself mentally that Morocco is not a relaxing destination.
But, with preparation, you can reduce a lot of stresses and end up enjoying your trip due to your advance planning.
So, without further ado, here's how to plan a trip to Morocco without the stress or hassle.
Planning a Trip to Morocco in 11 Simple Steps
Step 1: Check visa requirements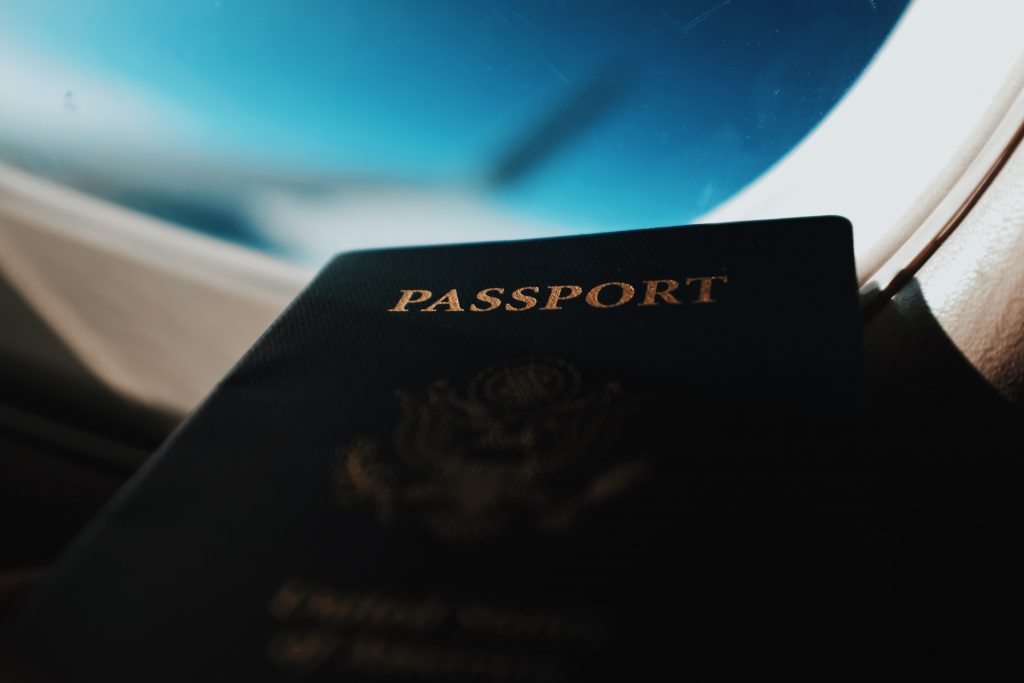 Note: This post contains affiliate links, which means I may receive a small commission if you purchase something through one of these links. Thank you for supporting the free content on this site! For more information on affiliate links and cookies, see my disclosure page for more details.
Morocco has a pretty permissive visa policy. At present, here are the nationalities that do not require a visa for stays less than 90 days (but please confirm with your country's embassy to Morocco before going forward as policies sometimes change).
All EU citizens, Algeria, Andorra, Argentina, Australia, Bahrain, Brazil, Canada, Chile, Gabon, Hong Kong (30 days), Iceland, Indonesia, Ivory Coast, Japan, Kuwait, Liechtenstein, Macau, Malaysia, Mexico, Monaco, New Zealand, Niger, Norway, Oman, Peru, Philippines, Qatar, Russia, San Marino, Saudi Arabia, Senegal, Singapore (30 days), South Korea, Switzerland, Tunisia, Turkey, U.A.E., U.S.A.
Citizens of the Republic of Congo, Guinea, and Mali must receive an electronic travel authorization but do not need a proper visa. Citizens from all other countries not mentioned here require an official visa from a Moroccan embassy, so if you are from a country that is not visa-exempt, check your country's Moroccan embassy website to see requirements.
Also, be 100% sure that your passport has at least 6 months validity in it. If it does not, there is a huge likelihood that your plane will refuse to allow you to board, and even if you do get to Morocco, they may refuse to let you in if your passport is due to expire within the next 6 months.
Step 2: Book your tickets!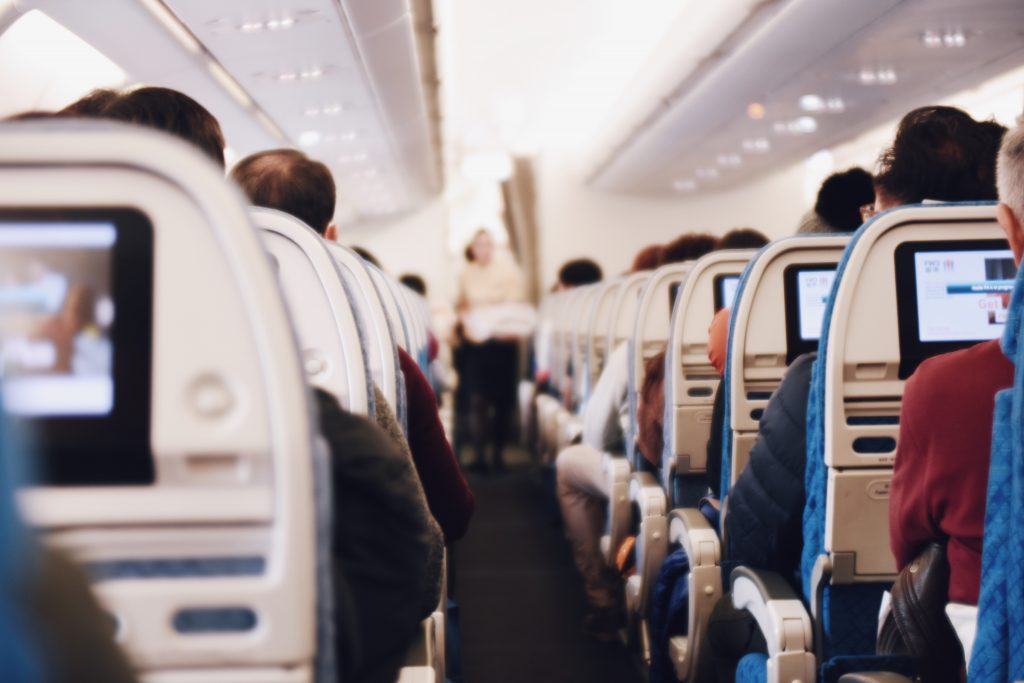 How much is a flight to Morocco? When planning a Morocco vacation, a large part of the cost will depend on where you are coming from, obviously, as well as where you fly into.
The main airports in Morocco are Marrakech (RAK), Rabat (RBA), Casablanca (CMN), and Fes (FEZ). If you are flexible with where you arrive, you may find better deals.
I generally use Skyscanner in order to take advantage of their powerful search engine which allows you to search multiple dates as well as multiple airports.
If you're coming from the U.S. or Asia, expect to pay at least $500 USD roundtrip unless you get a major deal. If you are flying from Europe, though, you are in luck — flights to Morocco can often be less than $10 USD each way when you encounter a promotion!
If you are trying to save money on a flight, you may want to compare what it would cost to fly into Europe to a country that has cheap flights to Morocco and see if then taking a budget airline flight from there is cheaper. There are typically good deals to Morocco from major French, German, and British cities.
Step 3: Plan your Morocco itinerary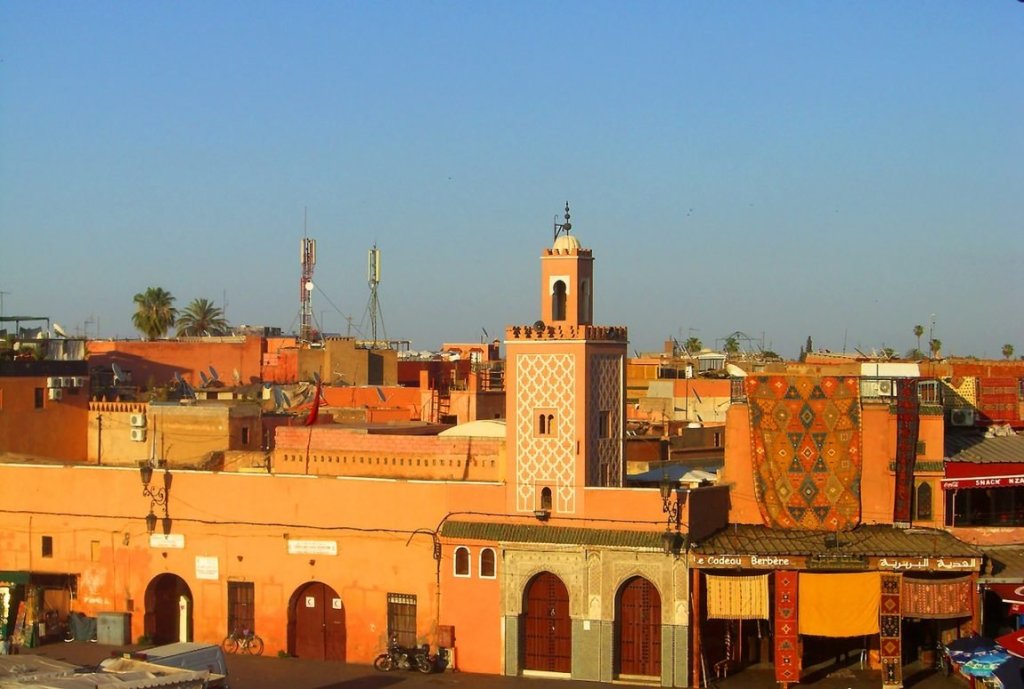 I'm in the process of creating a Morocco itinerary you can easily replicate, but you can start with my 3 day Marrakech itinerary. If you have a short trip to Morocco, I'd recommend spending it in Marrakech as it has the most things that are of interest to tourists and generally is one of the cheaper airports to fly into, especially from Europe.
If you have more time, I'd recommend adding on a trip to the desert (read my guide here). That adds another 3 days to your itinerary. So if you only have one week in Morocco, I'd just do 4 days in Marrakech (allowing one day for a day trip) plus 3 days on a desert tour which includes return transfers from Marrakech.
If you have more time, I'd opt for a desert tour that ends in Fes (like this one) so you can spend about 2 days in Fes (optional), then another 2-3 days in Chefchaeouen, my personal favorite place in Morocco. You can spend a few days exploring the photogenic blue medina and spend a day hiking in Akchour.
From there, it's easiest to depart via Tangier as it's only a 2.5 hour bus ride, or you could also go back to Rabat (the capital) or Casablanca (one of Morocco's most beloved cities). That's enough to easily fill in another week or so.
If you had more time still, you could continue down the coastline to Essaouira and Taghazout before circling back to Marrakech and flying out. For that itinerary, I'd recommend about 3 weeks.
There are also multi-day tours you can take if you'd like to take some of the stress out of planning a vacation to Morocco.
This 7-day whirlwind tour incorporates Marrakech, Ait Ben-Haddou, Ourzazete, the Sahara, Fes, Meknes, Casablanca, and Rabat, before returning to Marrakech. If you have limited time and you really want to see all of Morocco, this is the best tour, but it's very fast-paced.
A shorter but slower-paced trip would be this 4-day tour which encompasses Fes, Meknes, Rabat, and Marrakech, but skips the desert.
Step 4: Budget your trip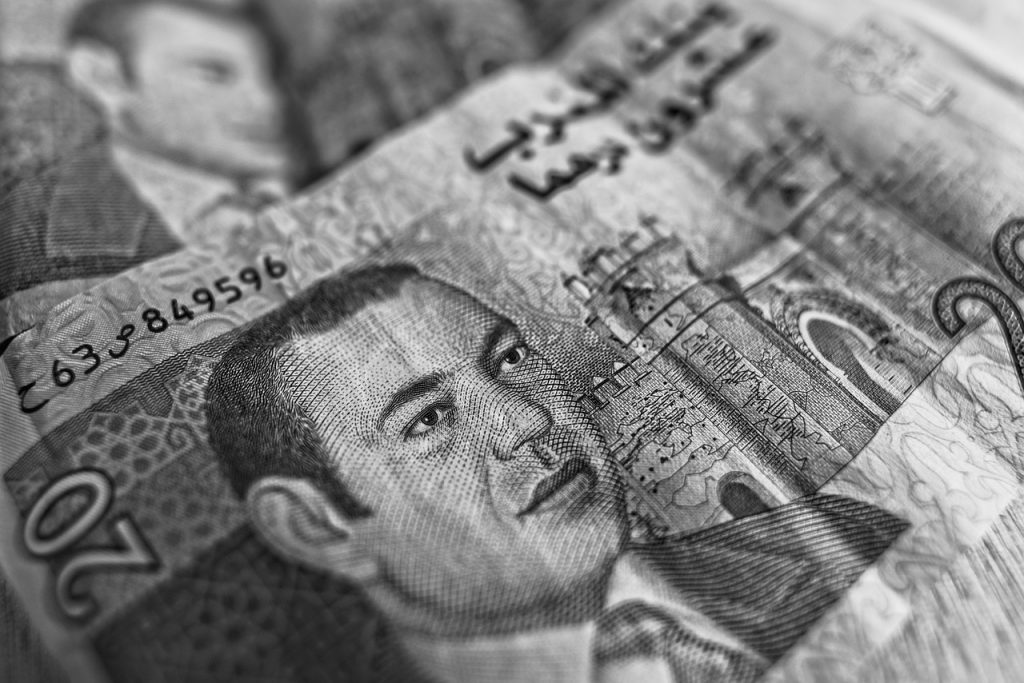 Before you can get booking tours/activities and accommodations, I think it's helpful to have your budget in mind for your trip so you can create an appropriate Morocco travel plan.
So, how much does a trip to Morocco cost? Really, almost whatever you want it to.
You can really spend a wide range in Morocco. If you are planning a trip to Morocco on a budget, it's quite possible to see the country for about $30 a day, but this means you will be limited in terms of shopping, activities, and accommodation options.
Honestly, after having done it, I don't recommend visiting Morocco as a backpacker as I think it's much better experienced as a mid-range traveler. There are so many great activities and day trips that will not quite do the trick on a backpacker budget, transportation between cities can be quite pricy, and the experience of staying in a riad is simply a Morocco must-do (I wouldn't want to go to Morocco and stay in a hostel, not when there are beautiful riads to stay in all over the country!).
Mid-range travelers, family travelers in Morocco, and luxury travelers will have a much better time in Morocco. A beautiful riad can be had for about $50-70 USD per night for a couple or family traveling Morocco with kids, which gives you plenty of wiggle room to spend on shopping, activities, and meals.
A budget of $100 per day per person in Morocco will give you a pretty luxurious experience, staying in gorgeous riads, eating as much as you want, enjoying massages at hammams, going on day trips and activities, etc.
Meanwhile, if you really want to spend, the sky is your limit as there are lots of gorgeous luxury properties like La Mamounia and Riad Yasmin which can easily go for upwards of $500 per night.
I recommend deciding in advance what you want to spend in total, breaking that into a per-day, per-person cost. Allocate about 1/3 of that for accommodations, 1/3 for activities, and 1/3 for incidentals and extras like shopping, transportation between cities, and meals. That should give you a good benchmark for how to budget for Morocco.
Step 5: Plan Your Activities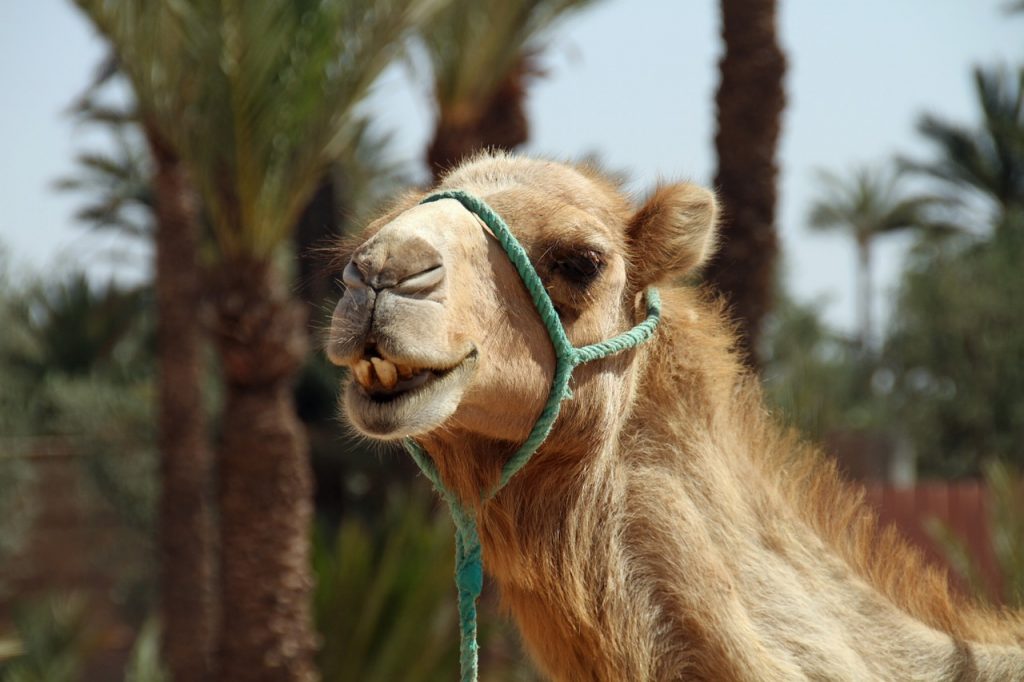 This advice may be a bit controversial as some people say you should wait until you get to Morocco to book activities as you can often haggle a better price in person.
This is what I did when I was in Morocco and it bit me in the ass, as I ended up paying for a cheaper desert tour that cut a lot of corners (I wrote about the experience here so you can avoid it!)
I'm talking no A/C on the bus on 115 F degree days, assuring me the transfer onwards to Fes was included when in fact it wasn't, taking me to a scammy rug shop where they replaced the rug I purchased with something that was falling apart at the seams…
Oh, and I woke up with my desert guide in my face presumably moments away from groping me in my sleep.
So, after that, I highly recommend booking all your Morocco activities in advance so that you can be sure of their safety and reputation, as there's not exactly much transparency when it comes to dealing with tour vendors in the souks, who will tend to promise you the world and wait until you are far, far away before you realize they weren't exactly truthful.
While Morocco is safe, scams involving tourists abound, so do your research ahead of time to avoid being disappointed.
You may pay a little more, but you are much less likely to be disappointed or tricked, and honestly, that's worth paying for to me. If you're comfortable taking a gamble in pursuit of a bargain, you can wait to book until you're in Marrakech, but as someone who did just that – I don't recommend it.
For me, I enjoy a blend of independent travel and structured activities. I recommend touring Morocco on your own, and combining it with classes, activities, and day trips with locals to enrich your experience.
I'll briefly list a few of the activities I think would be crucial to enjoying a Morocco trip and you can piece it together to create the perfect trip for yourself – just click the link to read more about each activity.
Suggested Marrakech Activities
Suggested Desert Trip
Suggested Fes Activities
Suggested Chefchaouen Activities
Suggested Tangier Activities
Suggested Casablanca Activities
Step 6: Book your accommodations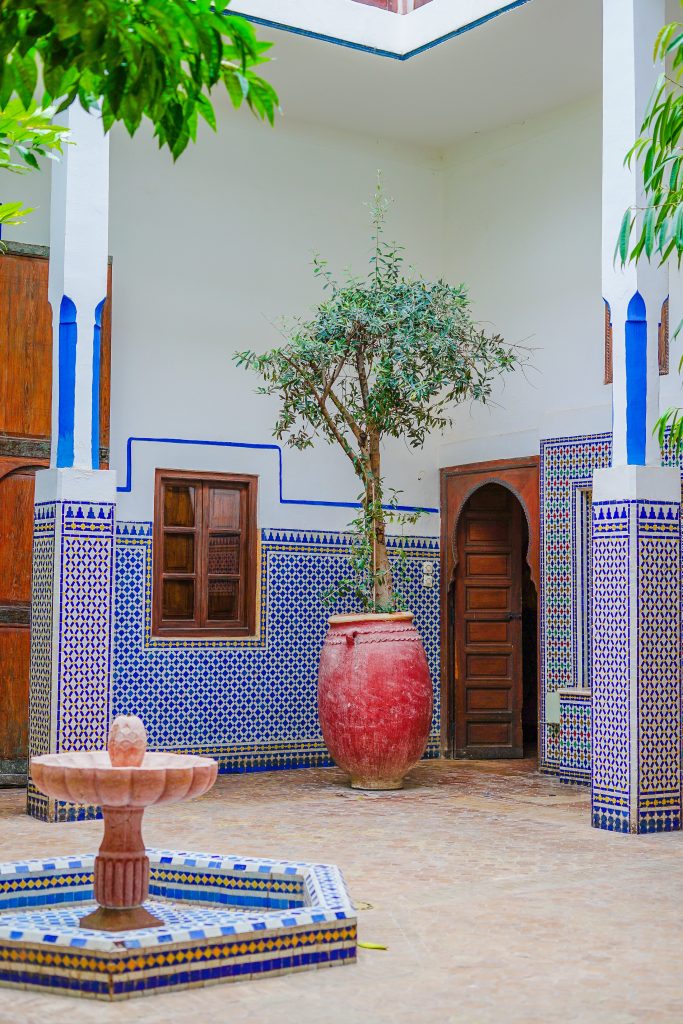 Of course, you can't go to Morocco and not stay in a riad! So, what exactly is a riad?
Basically, a riad is a Moroccan traditional home that has been converted into guesthouse, with a gorgeous inner courtyard that is a welcome respite from the hustle and bustle of hectic Moroccan cities.
I have full guides to the best riads in Marrakech and the best riads in Fes, but below are my quick-and-easy Marrakech recs.
Budget: Nondescript on the outside, Riad Dar Maria is gorgeous and cozy on the inside. Its updated design makes the indoor courtyard a lovely place to relax, and comfortable private rooms with A/C offer excellent value for the price. The riad is family-run and they treat you like one of their own. Highly recommended by fellow travelers with a 9.5 average rating on Booking.com. Click here to see lowest prices and current availability.
Mid-range: The lovely Riad Enchanté lives up to its name – it will truly delight and enchant you. With stunning tilework, a rooftop terrace (with jacuzzi!), large rooms with A/C, and amazing attention to detail (check out those lovely wooden doors), you'll probably never want to leave this homey, delightful riad. Click here to see lowest prices and current availability.
Luxury: For five-star comfort at not insanely outrageous prices you can't do much better than Villa Lavande, a traditional riad with a comfortable in-house hammam, a gorgeous pool, air conditioning (a must if you travel in summer), and helpful staff. Cooking lessons are available on-site in case you fancy learning how to make your own tajine… or you can simply eat at the in-house restaurant beloved by guests. It's located in the medina but away from the hustle and bustle, the best of both worlds. Click here to see lowest prices and current availability.
Also, if you're planning to spend time glamping in the Sahara desert, read my guide to the best luxury campsites in the Sahara Desert here — it'll help you narrow down your choices from the huge field of options!
Step 7: Research any vaccinations you may need & prepare a travel medicine kit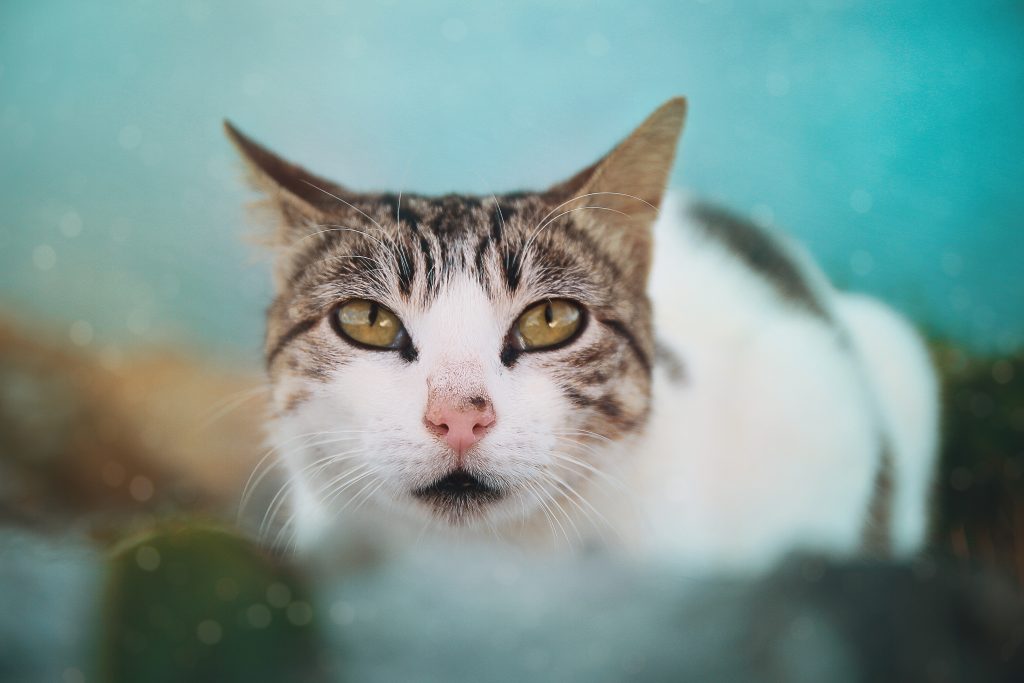 The CDC is my guideline when checking travel vaccinations for different countries. They recommend checking that you're up-to-date in terms of boosters for the following common vaccinations: measles-mumps-rubella (MMR), tetanus, chickenpox, and polio. They also strongly recommend Hepatitis A and typhoid, both of which can be gotten from contaminated food or water.
Other potential vaccines you may want to consider are Hepatitis B and rabies. Rabies is possible in Morocco, and a tourist recently died of rabies after being bitten by a cat. Keep in mind that even if you get the rabies vaccine, you still need to get post-exposure shots after a potential encounter with a rabid animal.
If you get bitten or scratched by an animal while in Morocco, whether you've been previously vaccinated or not, you need to seek immediate medical attention and doctors can assess whether or not to give the post-exposure series of shots. Rabies is nearly 100% fatal, but the vaccine is 100% effective if given in time after exposure, so please don't take any chances.
I had to do a series of rabies post-exposure shots after a cat bite in Ukraine and while it was annoying, especially since I had to coordinate the shots over 3 different countries, I am glad I took the precaution.
In terms of travel medicine kit, I always recommend having the following items in your mini first-aid kit: stomach tablets like Pepto Bismol, anti-diarrheal like Imodium, motion sickness pills like Dramamine, and painkillers like ibuprofen or aspirin. Be sure to also bring sunscreen and a strong mosquito repellent, preferably with DEET, as well as some after-care for the inevitable bites. A topical antibiotic and bandaids are also great for any bumps or scrapes. More on this in my Morocco packing list section!
Step 8: Learn a few common Arabic words and phrases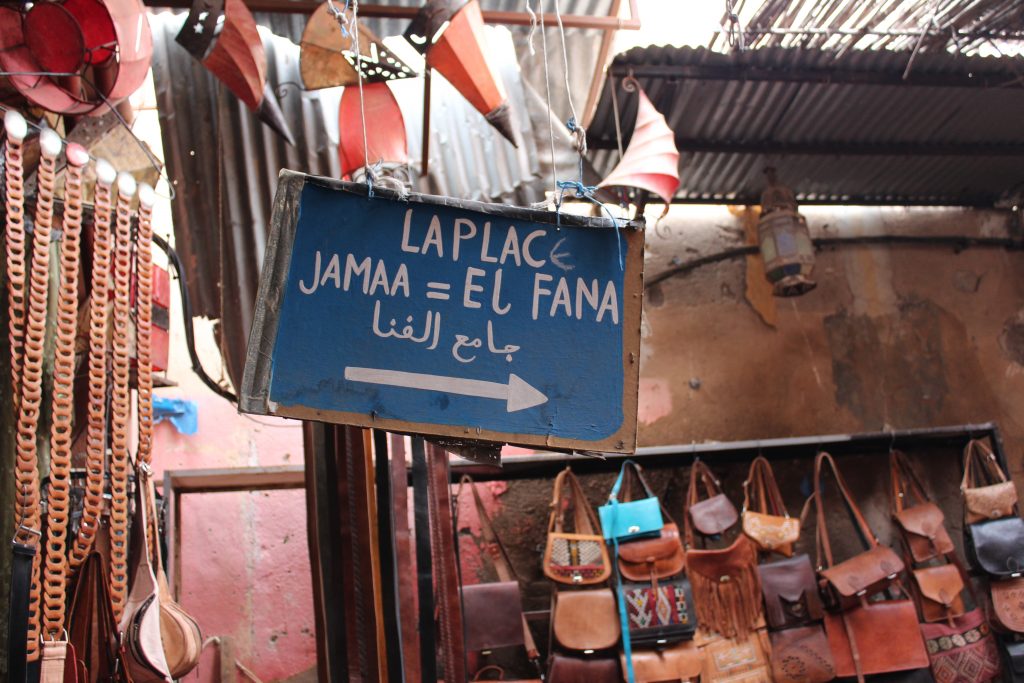 While French is widely spoken in Morocco, and it can come in handy if you already speak French, if you are going to learn a few phrases I recommend learning the Moroccan Arabic (Darija) phrases which tend to be more widely understood. In the North, Spanish is widely spoken – I found it useful in both Chefchaouen and Tangier.
Moroccans are quite talented linguists, and on one occasion I had a conversation with a taxi driver in no less than 4 languages (Arabic, Spanish, French, and English!). It's not uncommon to meet Moroccans who speak 4+ languages – especially shopkeepers, who love to impress you with a litany of greetings in a variety of languages hoping they'll land on your language!
Generally, most people who work in service or tourism will have at least a functional understanding of English, and younger people in cities tend to have a fairly high level of English. However, you may not get very detailed answers to your questions unless you hire a qualified English-language tour guide.
Regardless of the language abilities, I still recommend you learn a few Darija phrases to show respect to the country you're visiting!
Hello – As-salaam alaykum
Thank you – Shukrun
Please – Afak
Excuse me – Smahli (add -ya if speaking to a woman)
Yes – Iyah
No – La
No, thanks – La, shukrun (trust me, you'll want this one)

It's a small gesture, but it shows respect to the country you are visiting, so I highly recommend learning at least a few words: at minimum, hello and thank you.
Step 9: Pack your bags!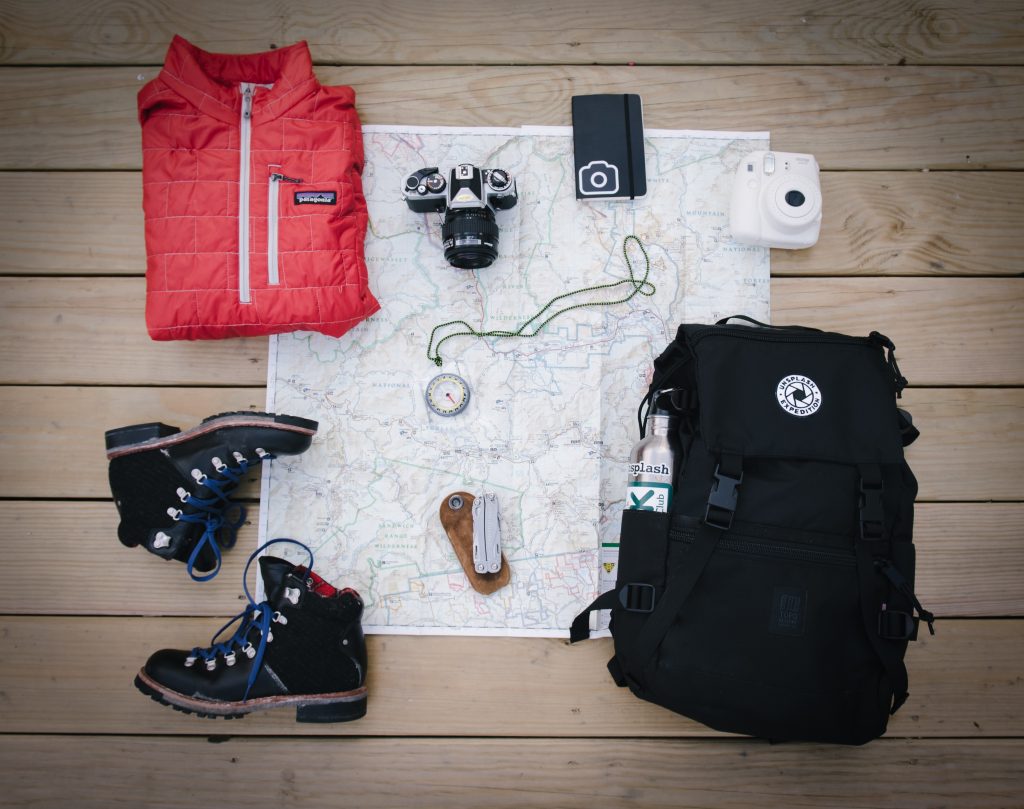 If you're not sure what to pack for Morocco, I've got your back – I've written a Morocco packing list here. It's geared towards female travelers, as that's my experience, but men may find some of the recommendations useful as well and can just substitute out their own clothing and toiletry recommendations. I include all the recommended dress for women there so please refer to it as this article is already quite long already!
I recommend bringing a backpack and not a suitcase to Morocco if you can. The medinas are quite annoying to roll a suitcase through and you have a lot more agility with a backpack. I use and love this Tortuga backpack for travel as it's carry-on friendly yet can fit all I need for 3+ weeks of travel.
Keep in mind that pickpocketing is pretty common in crowded areas of Morocco, especially the Marrakech souks. I recommend this backpack with locking zippers which is made by PacSafe. It has a ton of security features – metal mesh that makes it slash-proof, locking zippers that can then be threaded into a hard-to-open clasp, and RFID blockers. It's also very subtle and doesn't look like a tempting, expensive bag. But just as importantly, it actually is quite cute and you won't mind being seen or photographed with it!
Step 10: Prepare for your arrival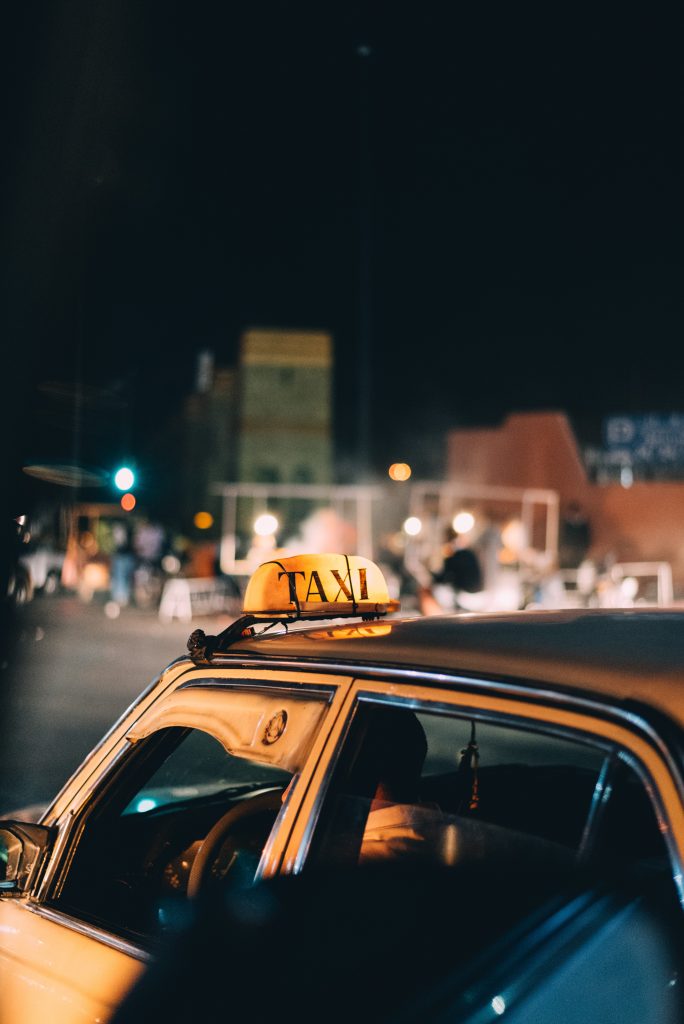 There are a few things you should do prior to arriving to make your life easier.
1) Download Google Maps for the city you're arriving in. It's not always the most helpful for the Moroccan medinas, which have too many alleyways that aren't represented on the maps, but it's a good start for getting oriented, so have it anyway.
2) Book a shuttle to get you to your hotel. Your hotel may offer you this service, or you can book a transfer online from a reputable company here for about $15 USD. Don't get a taxi at the airport or you'll likely get ripped off.
3) Figure out either if you're going to use a roaming plan on your phone or if you can purchase a local SIM card or WiFi device. Doing this research in advance can save you a fortune!
4) Have some cash in USD or euros on hand in case you have any issues with withdrawing money from the ATM. You get a better rate withdrawing from the ATM than exchanging money, so I recommend using an ATM as much as possible and only exchanging your cash in an emergency.
Step 11: Don't forget travel insurance!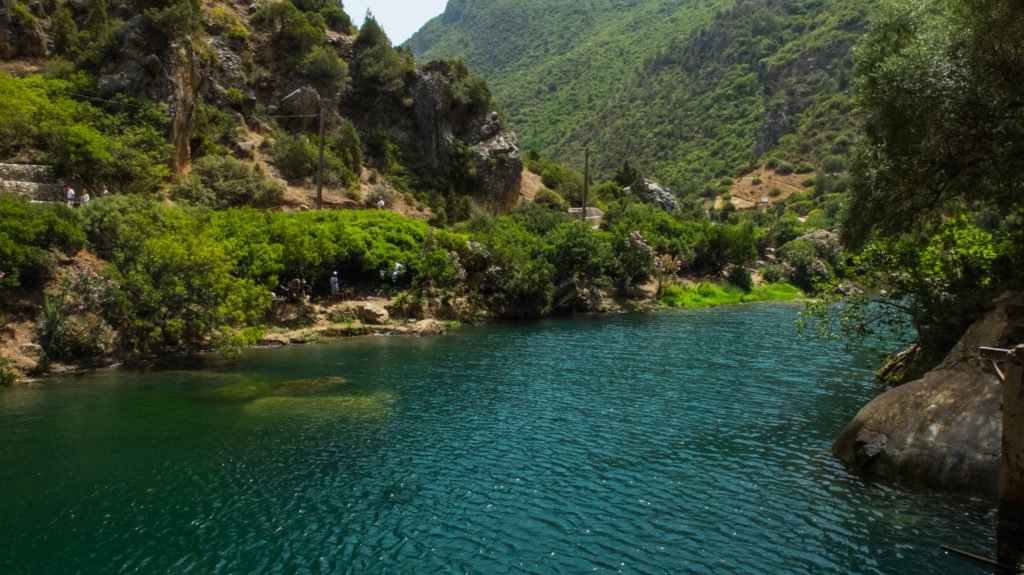 I put this last so it's fresh on your mind: travel insurance is a good idea for Morocco and for travel in general! I have been a paying customer of World Nomads for years. It's nice to have the peace of mind it gives me in case of emergencies, accidents, illnesses, theft, or trip cancellation or disruption.
While Morocco is safe to travel around, there's always risk inherent in everyday travel, so it's better to play it safe. The last thing you want is for an illness, crime, or accident to ruin your trip – so it's better to be prepared.
Want to save this Morocco travel planner for later? Click to Pin!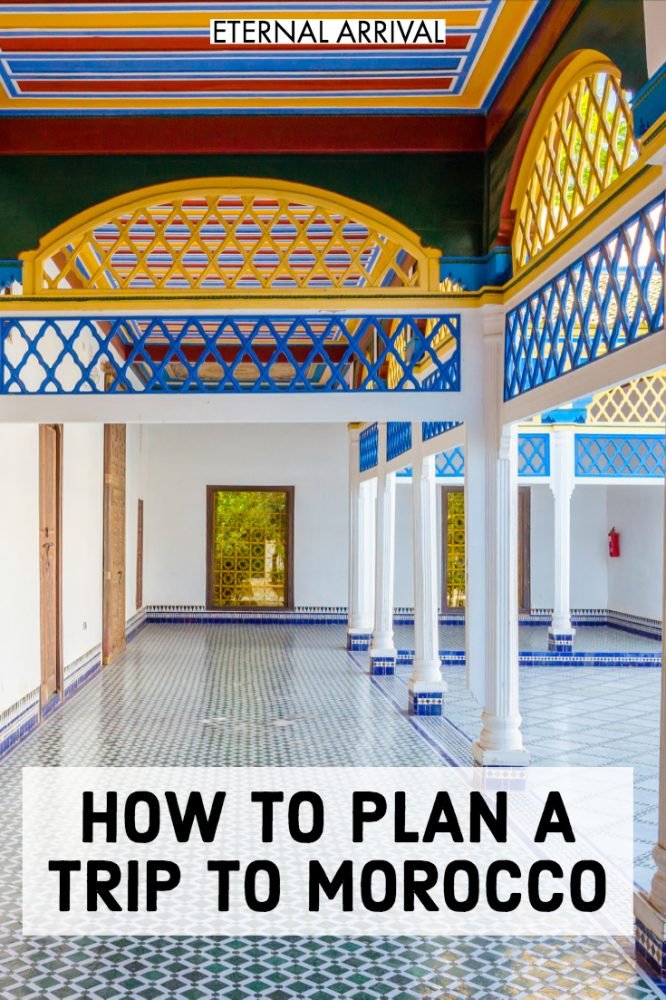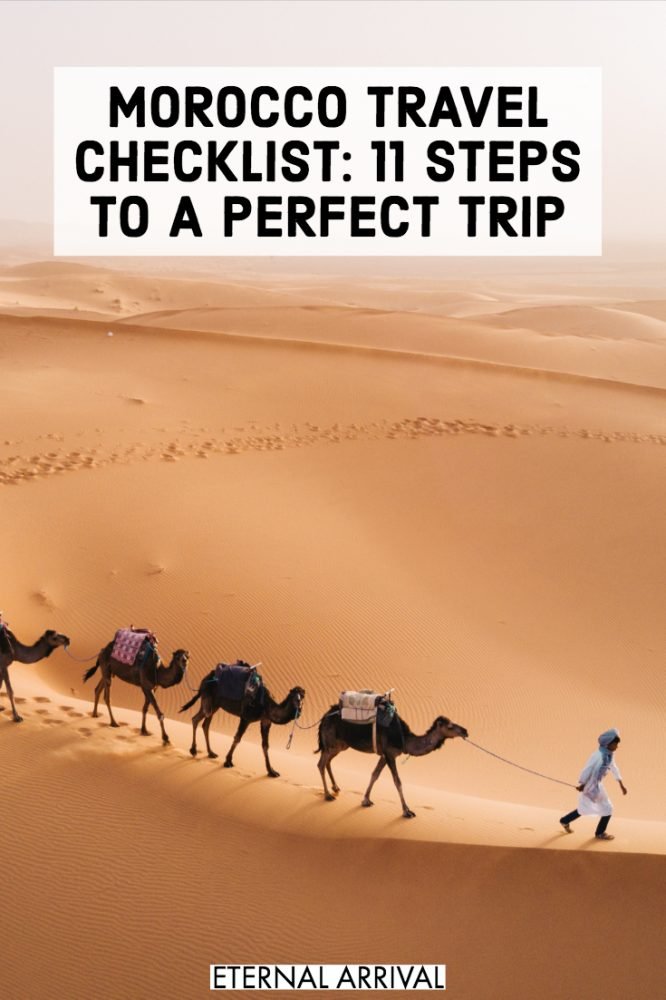 Allison Green is a former educator turned travel blogger. She holds a Masters in Teaching and a B.A. in English and Creative Writing. Her blog posts merge her educational background and her experience traveling to 60+ countries to encourage thoughtful travel experiences that both educate and entertain. She has been a speaker at the World Travel Writers Conference and her writing, photography, and podcasting work has appeared in National Geographic, CNN Arabic, CBC Canada, and Forbes, amongst others. Now based in the San Francisco Bay Area where she grew up, she has also lived in Prague, Sofia, and New York City.