If you've landed on this page, you're probably a bit overwhelmed when it comes to deciding where to stay in Taipei, Taiwan.
It's a huge, sprawling city of over 7 million people, and there so many different neighborhoods in Taipei, each having its own personality.
There's sparkling Ximending with its neon lights, Shilin with its famous night market, Xinyi with its classic sights like Taipei 101: each Taipei neighborhood offers something different than the next.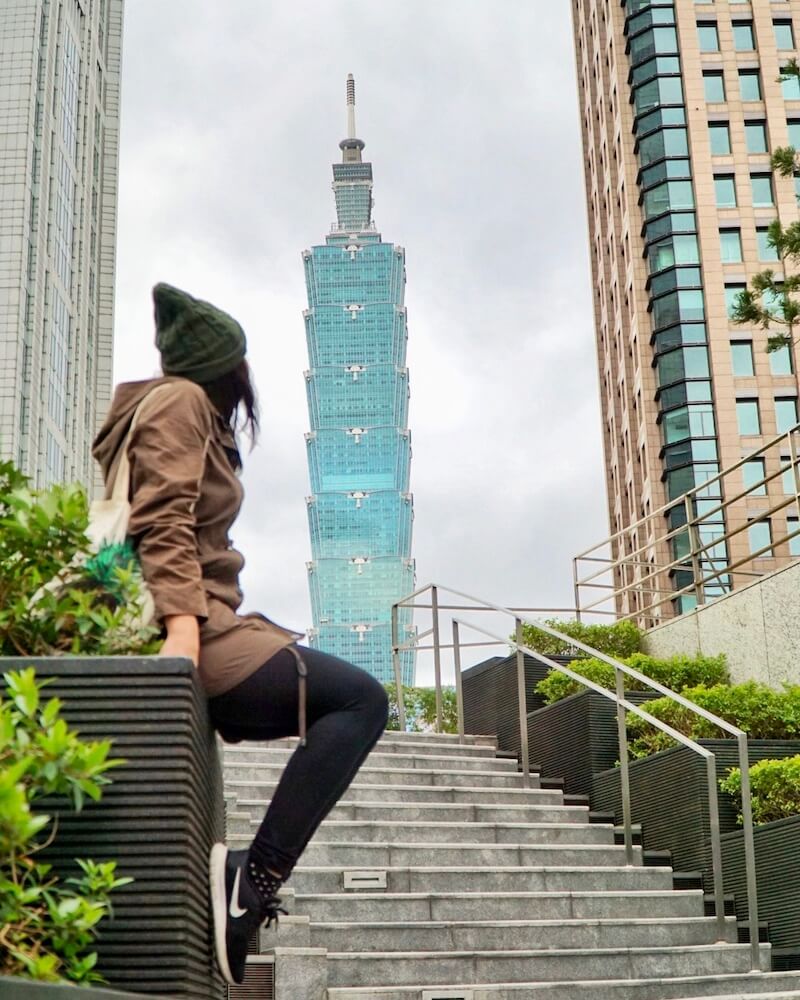 Note: This post contains affiliate links, which means I may receive a small commission if you purchase something through one of these links. Thank you for supporting the free content on this site! For more information on affiliate links and cookies, see my disclosure page for more details.
However, choosing the best area to stay in Taipei is a little less daunting when you consider the fact that nowhere in Taipei is really that far away.
Thanks to the excellent and ridiculously efficient MRT system (seriously, it makes this girl who survived a decade of NYC's MTA want to cry, it's so good) you can get to all of the best Taipei districts in minutes, for around 50 cents a ride.
This perfect transportation system makes traveling between neighborhoods easy, making every location in Taipei honestly a pretty good one.
So, if you haven't quite figured out where to stay in Taiwan's vibrant capital city? I've got your back.
I've done the research, culling reviews of the best hotels in Taipei from various sources and checking maps to make sure my suggestions for where to stay in Taipei are in good locations.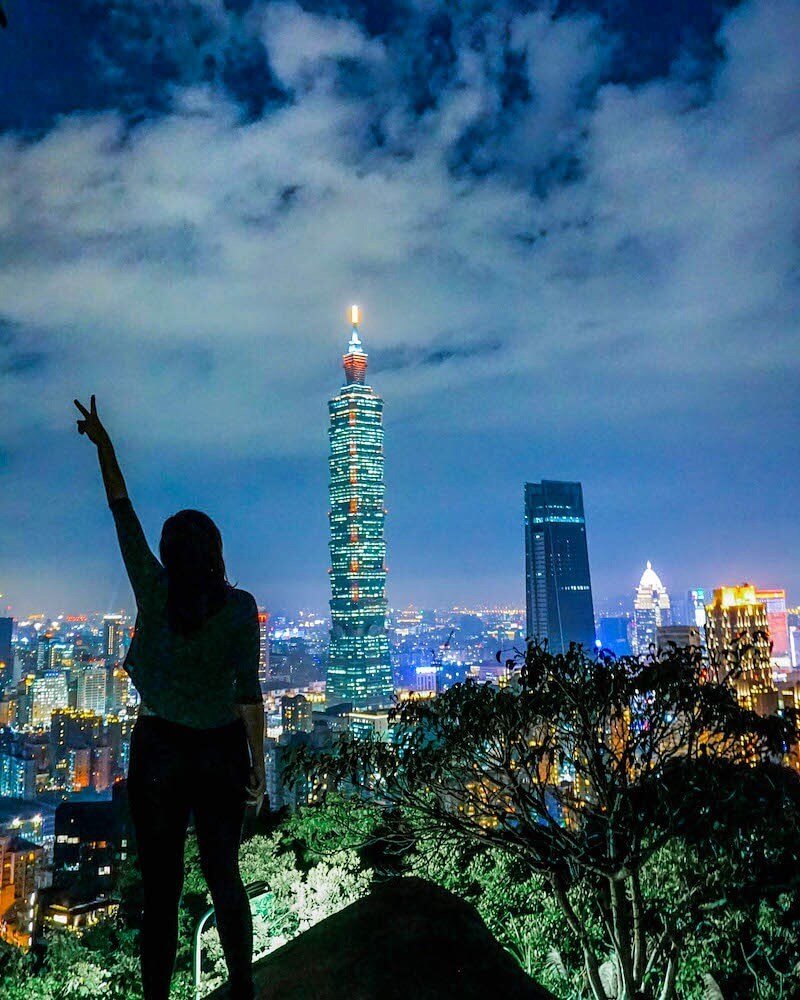 I've picked the best Taipei hotels and hostels in each neighborhood, culminating in this ultimate guide to my top recommendations of the best places to stay in Taipei.
I'll break this post down by neighborhood, giving a quick preview of the different districts in Taipei and why you'd want to stay in each Taipei neighborhood, what sights are there, and what kind of traveler it's good for.
This way, you can pick the best district to stay in Taipei for your interests and desires. Then, I'll give you three options for Taipei accommodations in that neighborhood, so you can find the best place to stay in Taipei for your budget.
Where to Stay in Taipei: Neighborhood by Neighborhood
Xinyi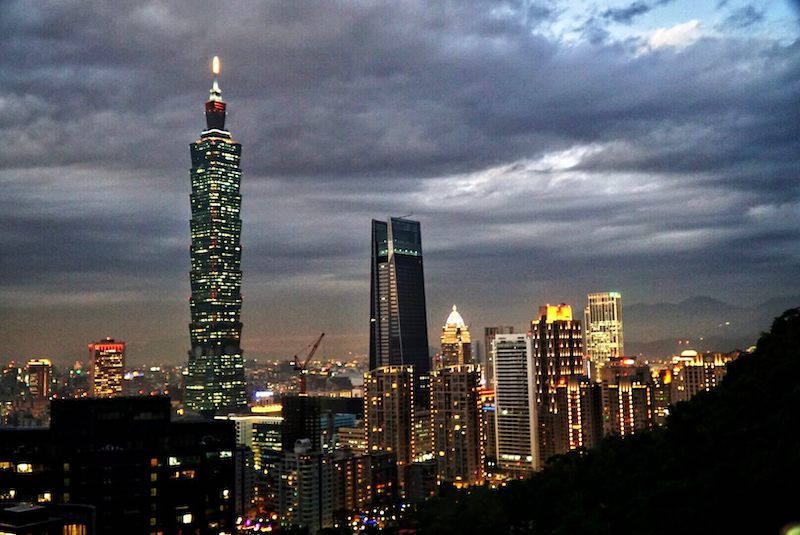 Best for: luxury seekers, people who want to stay in the heart of Taipei, business travelers
If you're looking for the best place to stay near Taipei 101, you've got to pick Xinyi.
This is where you'll find the hottest restaurants and hotels to stay in Taipei. Though of course, with the near-perfect location comes higher prices, so if you are on a strict budget, this may not be the best Taipei neighborhood for you.
From Taipei 101 to Elephant Mountain, Xinyi offers a bit of everything, from soaring skylines to nature escapes.
From the metro you can be up Elephant Mountain mere minutes, with some of the best views of the Taipei area at your doorstop.
Meanwhile, there are plenty of world-class restaurants just a short walk from wherever you end up staying in Xinyi, so you can rest assured that an excellent meal is never more than a few minutes' walk away.
For first timers, Xinyi may just be the best location to stay in Taipei (in my opinion!)
While, in general, Xinyi isn't exactly the best neighborhood to stay in Taipei for budget travelers, that doesn't mean there aren't deals to be found.
The lovely Just Inn Taipei is a well-rated option that's rather affordable given its location!
Just a few minutes' walk from the metro, literally all of Taipei is at easy reach, and the Taipei 101 is a short walk away.
This isn't a hostel, either: it's got affordable private double and single rooms, all for less than $100 a night much of the time.
The design downstairs in the lobby area is very cute and welcoming, and the rooms are pretty charming as well, despite their overall small size.
Little details make up the difference here: modern bathrooms, good lighting, fun little details like hand-painted murals on the walls.
Plus, the staff's hospitality add to the comfortable, relaxed vibe!
For an affordable Taipei lodging option near the Xiangshan (Elephant Mountain) metro and Taipei 101, look to Home Hotel, which promises hospitality that'll make you feel welcome no matter how far you've traveled.
Named two years in a row by the Michelin Guide, this hotel features simple but spacious rooms with a minimalist but comfortable design.
The large windows offer great views of the surrounding Xinyi cityscape, and some of the bathrooms even have their own soaking tubs.
This hotel also offers a fitness center, room service, and a 24/7 front desk in case you need anything during your stay.
Check out availability, prices, room types, and reviews here!
While mid-range and budget options are slim in Xinyi, you're spoiled for choice in the luxury department!
But if I had to pick one, I'd pick the W Taipei as the best hotel to stay in Taipei near the Taipei 101 building, specifically the Xinyi district.
I've stayed in W Hotels twice and always loved my experience. I love how they blend luxury and quirky in a way that feels tongue-and-cheek, not stuffy.
W Hotels are artsy, trendy, colorful, and chic, and the one in Taipei is no exception.
With 5 star amenities, including the WET outdoor pool with poolside bar, the luxe AWAY spa, and the hip on-site bar Woobar, the 400-square-meter FIT gym with state-of-the-art equipment, the chic restaurant YEN… you basically would never need to leave your hotel…
… but of course you will, because you're in the best area of Taipei!
However, if you prefer a more classic take on luxury, there are some perfect options for you as well.
The Grand Hyatt in Taipei offers prestige and unparalleled 5-star service (I've stayed at the Grand Hyatt during my time in Vienna, and it was marvelous).
Le Meridien Taipei is a perennial favorite among luxury hotel lovers and is often considered to be one of, if not the, best hotels in Taipei.
Da'an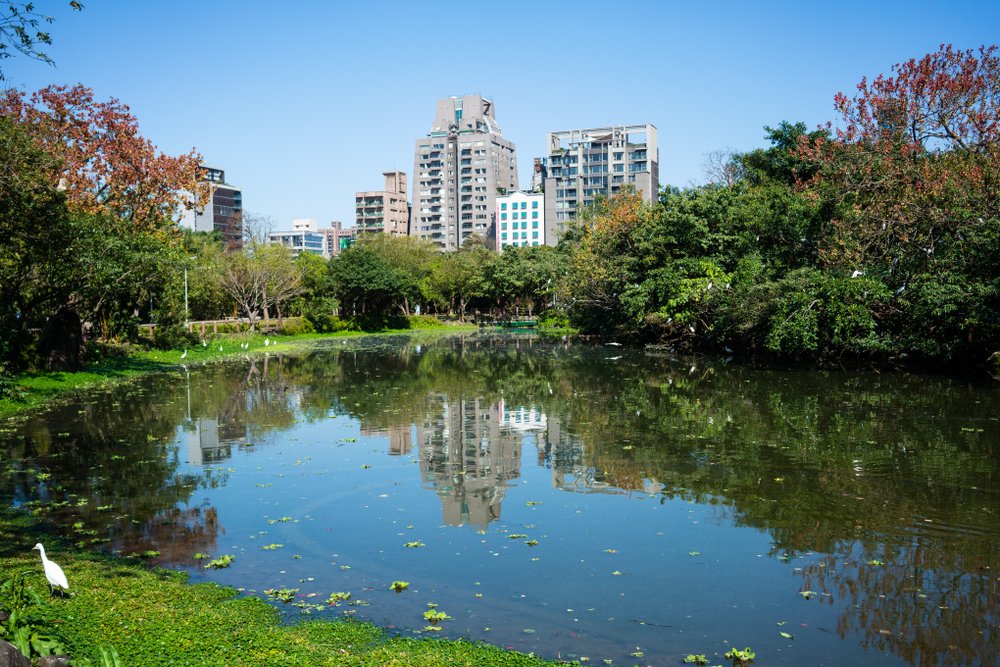 Best for: people who want a quiet place to stay in Taipei, a more residential side to the city
Da'an is right next to Xinyi but the vibe couldn't be more different.
Long a favorite with the expat community in Taipei, Da'an has a nice blend of residential buildings and quiet businesses catering to a foreigner-friendly crowd.
The biggest part in the city, Da'an Park, is right in the heart of the neighborhood, offering a buffer between the business of Xinyi and the peacefulness of Da'an.
There are no hostels in Da'an so if you are traveling on a shoe-string budget I would not recommend this neighborhood.
However, if you're looking for a cozy yet cheap hotel in Taipei, Chaiin Hotel is a great option with plenty of affordable rooms on offer.
With easy access to the Dongmen MRT and a 5-minute walk away from happening Yongkang Street, it's a fantastic location.
All rooms have A/C, private bathrooms, desk areas, and flat-screen TVs, although note that the most basic budget rooms do not have windows.
Perks like bathrobes and slippers, an electric kettle, and a mini-fridge all make this budget hotel feel more luxe.
For a glamorous yet affordable place to stay in Taipei's quiet Da'an district, I recommend Madison Taipei.
Just 10 minute walk from the Da'an Metro station, it's great option for travelers who want to see a less touristic side of Taipei.
Rooms are well-designed, with large and cozy beds, plenty of warm wood tones and freshly pressed white linens to give a minimalist yet comforting aesthetic.
The en-suite bathrooms are sleek and modern, with beautiful marble floors, fancy toilets, and even bespoke Madison Hotel slippers to use during your stay!
A multi-year winner of the World Luxury Hotel awards, this hotel offers great value for your stay!
For a glamorous place to stay in Taipei not far from Da'an Park, I recommend Chez Nous.
This gorgeous, trendy hotel is just two stops on the metro away from Taipei 101.
But even better, it's just a short walk from one of my favorite streets in Taipei, Yongkang Shopping Street (where you'll find the original branch of Din Tai Fung).
There's also an on-site bar and restaurant if you don't feel like exploring the neighborhood or just want a lazy meal in after a full day of exploring Taipei.
Rooms feature A/C, hardwood floors, flatscreen TVs, and basic kitchen amenities like coffee and tea makers and a mini-fridge.
All rooms have a seating area (some even have a duplex, two-story option!); some rooms even have a gorgeous private terrace area.
Rooms are beautifully furnished with lovely wood accents and vibrant blues, creating a calm oasis away from the bustle of Taipei.
Bathrooms are the true epitome of luxury, with marble floors and even soaking tubs with gorgeous brass accents on the knobs, as well as walk-in showers!
For the quality and the price, it's one of the best hotel deals in Taipei.
Zhongzheng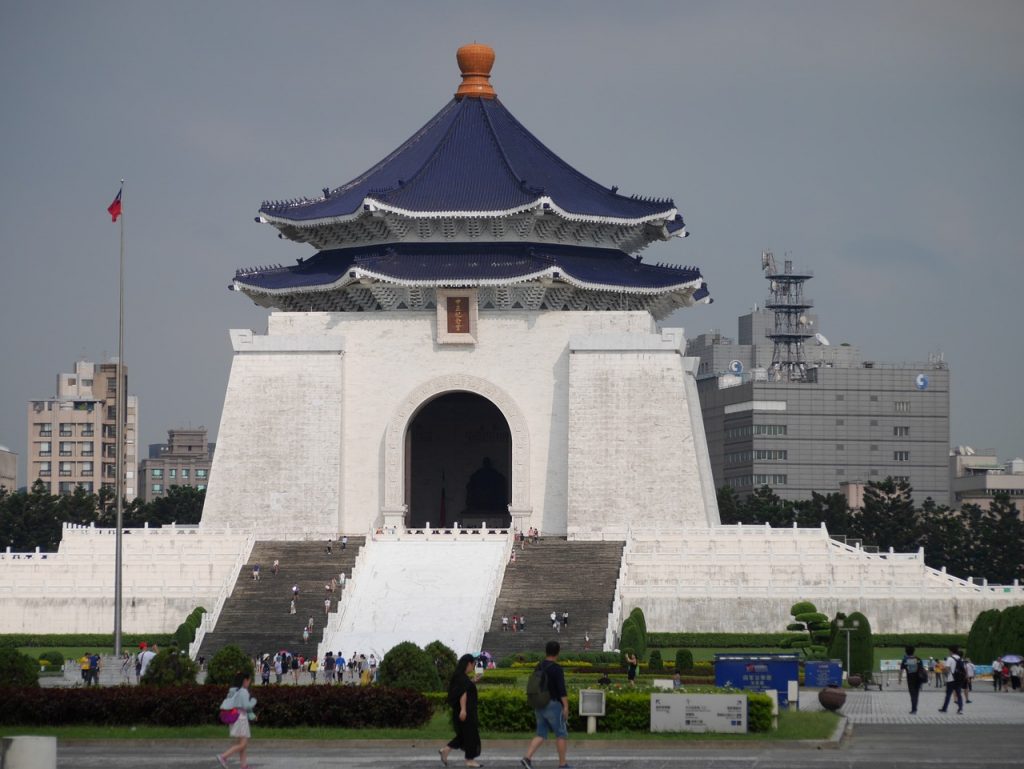 Good for: staying in the heart of the action, young people and Instagram lovers
The heart of one of Taipei's most attraction-filled areas, Zhongzheng is a great area to stay in Taipei if you are after its most photogenic places.
Home to the complex which houses Chiang Kai-shek Memorial Hall and the National Concert Hall, this square is iconic Taipei and it's a must-visit on any Taipei itinerary.
There's also the 2/28 Peace Park and several other gorgeous sights right in this area, plus it's not far from Taipei Main Station for all your travel needs!
This charming budget hotel offers quite a lot for its budget price tag. Its location is great, near the iconic and beautiful 2/28 Peace Park.
Both Ximending and Taipei Main Station are a 10-minute walk away, so it's truly as central as it gets!
The rooms are a little small but the space is put to good use, with many rooms featuring seating, work desks, and places to put your things, in addition to full-sized beds.
Note that the cheapest rooms don't have windows, so if that's a dealbreaker for you, look for the other rooms in this hotel!
This fun boutique hotel is located right within one of Taipei's very own creative parks, a unique cultural institution you'll find in Taiwan.
These parks mix restaurants, art installations, pop-up shops, and nature all into one place — and yes, some even have hotels, too, like Hua Shan Din at Huashan Creative Park.
From its gorgeous black and yellow-detailed exterior to its funky rooms with creative, cartoon-y wallpapers, this is a hotel where design has been thought of in every step of the process!
The premises are wild — think art gallery meets candy shop meets loft — and there's always a free flow of snacks available to guests!
For one of the fanciest hotels in the Zhongzheng area, I highly recommend the Sheraton Grand Taipei Hotel.
While it has great name recognition as part of the Sheraton brand, it's also just a dang nice hotel in a lovely neighborhood midway between Chiang Kai-shek Memorial Hall and the Taipei Main Station MRT.
It's right next to the lovely Shantao Temple and its accompanying MRT station, so it's truly a lovely location!
The hotel offers 5-star luxury in the heart of it all, with great amenities like a day spa, fitness room, outdoor pool, and literally nine dining options (not like you need them in a city as fun to eat in as Taipei, but y'know, options are sweet!).
There's a helpful concierge desk who can help you with any pressing Taipei questions and with making needed bookings.
While the facilities throughout the hotel are great, the rooms offer next-level luxury and privacy.
The rooms themselves are inspired by both Chinese and modern elements, providing ample workspace in the spacious rooms.
The bathrooms have a bathtub, excellent toiletries, and bathrobes for you to feel like a true luxury stay
Datong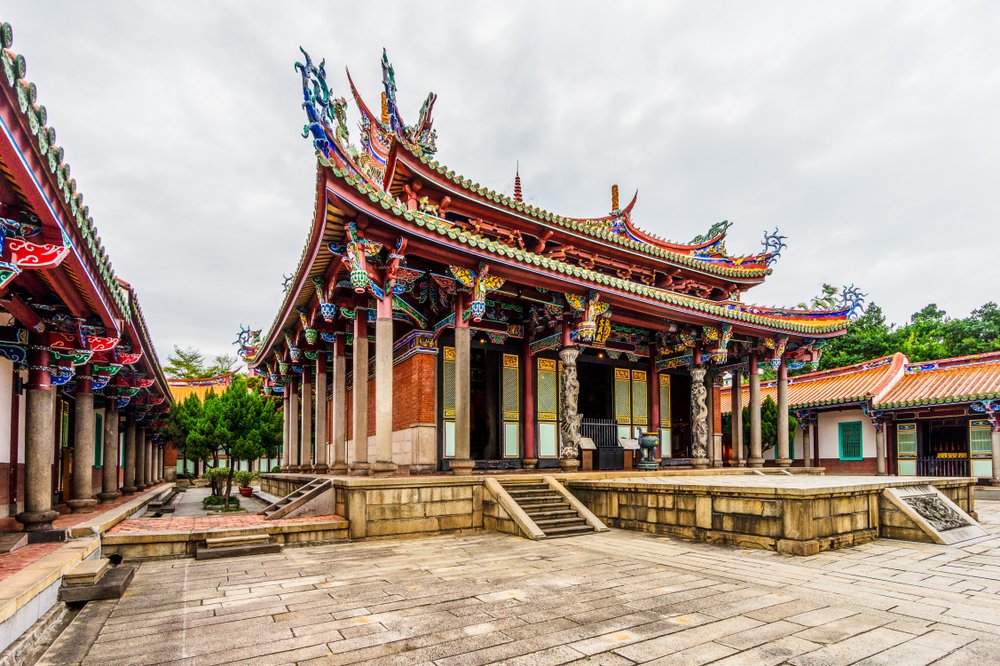 Good for: travelers who want a slightly off the beaten path place to stay in Taipei close to their favorite sights
Just north of bustling Wanhua district and its Ximending neighborhood, Datong is relatively quiet by comparison and in that lies much of its charm.
If you want a more local and quiet feel, without the crowds that come with Ximending or Xinyu, then this is the choice for you.
Many of the best attractions are still within a short walk, but you can also easily escape the noise.
One of the best places to stay in Taipei on a budget is CU Hotel.
It offers fantastic location as well as lovely aesthetics at an affordable price that will make any backpacker very, very happy — with a choice between both dorm-style rooms and private rooms.
This is one of the better cheap accommodations in Taipei and should be on the short list for any budget traveler!
The hostel rooms are very well-designed in a way that I wish more hostels were — simple things like privacy curtains and places to store your stuff next to your bed really go a long way.
For an affordable yet private place to stay, I recommend Bayman Hotel in Datong.
It's still close to the Taipei Main Station MRT (about a 10-minute walk) but it's in a more residential and relaxed neighborhood where you can unwind and get a feel for the real Taipei.
There's a great night market nearby if you're curious to try one of the most essential things to do in Taipei!
The location is great and the price is fantastic for what you get: private rooms and modern bathrooms (some even with bathtubs)!
They have comfy beds with reading lights next to each bed, plenty of outlets to charge overnight without inconveniencing yourself.
The furnishings are simple, but for the price and location combined, it's hard to beat.
Datong isn't the fanciest neighborhood of Taipei, but that does mean that you can get an excellent hotel for a fraction of the price of the luxury hotels you'll find in Xinyi and Songshan.
I love the unique design of The Door Inn: everything is soft and white, so it's literally like stepping into a cloud!
Despite the stark whiteness of everything, it manages to feel uber-cozy and peaceful (and not like a padded wall room).
Little touches add that sense of softness, whether it's the inspiration wall art, plush bean bags to sit on, lovely balcony views, or little pops of greenery here and there.
It's certainly a unique design and one that Instagrammers will appreciate!
Songshan
Best for: people who love design hotels, business and luxury travelers, artsy people
Songshan is the area roughly above Xinyi and its skyscrapers and to the side of the fun shopping district of Zhongxiao.
It's a great choice for business travelers and people looking for a slightly more creative variety of options when it comes to where to stay in Taipei.
There are lots of design hotels in this neighborhood as it's inspired by the Songshan Creative and Cultural Park which is at the heart of this neighborhood.
In fact, one of my top Taipei hotel recommendations for Songshan is in the park itself!
It's also close to other essential sights like Sun Yat-Sen Memorial Hall and it's not far from Raohe Night Market, which is often considered one of the most authentic local night markets.
This isn't the cheapest area to stay in Taipei, but there are some hostel options, the best of which is Hostel Jiizu.
There's a range of options from dorm beds to economy doubles and deluxe quadruples, so there's something to suit virtually all budgets and group sizes.
It's a little bare bones, especially in the dorm and economy rooms, but it's clean, well-located, safe, and quiet, and the dorms have privacy curtains.
The shared bathrooms are also really nice, which is a huge plus!
For the price and location, it's hard to find anything that offers similar quality at this price point!
For a super unique place to stay, check out arTree hotel, which is essentially the world's classiest treehouse meets a 5-star hotel.
With the greenest lobby and dining area you can imagine, completely inspired by a canopy of trees, this hotel is designed beautifully while still being in the center of Taipei just a few minutes' away from an MRT station.
Meanwhile, the rooms are entirely modern, with all the luxury amenities you'd expect: deep-set bathtubs, A/C, epic city views, delicious in-restaurant dining options, an upscale bar, a fitness center, a spa, the works!
For how creative and high-quality his hotel is, the prices are really quite affordable. 
Want to stay in one of the most creative Taipei neighborhoods with tons of luxe perks at your fingertips?
Look no further than Eslite, which offers up luxury meets a dash of artsy creativity.
Located in Songshan Creative & Cultural Park, this 5-star hotel is one of the best hotels in Taipei, beautifully appointed with tons of amazing details like unending shelves of books in the lobby (swoon!).
With perks like private balconies, enormous beds, sunken bathtubs, in-room sound systems, you can stay in style at Eslite without paying an insane amount — this area is much cheaper than the area around Taipei 101!
Ximending (Wanhua)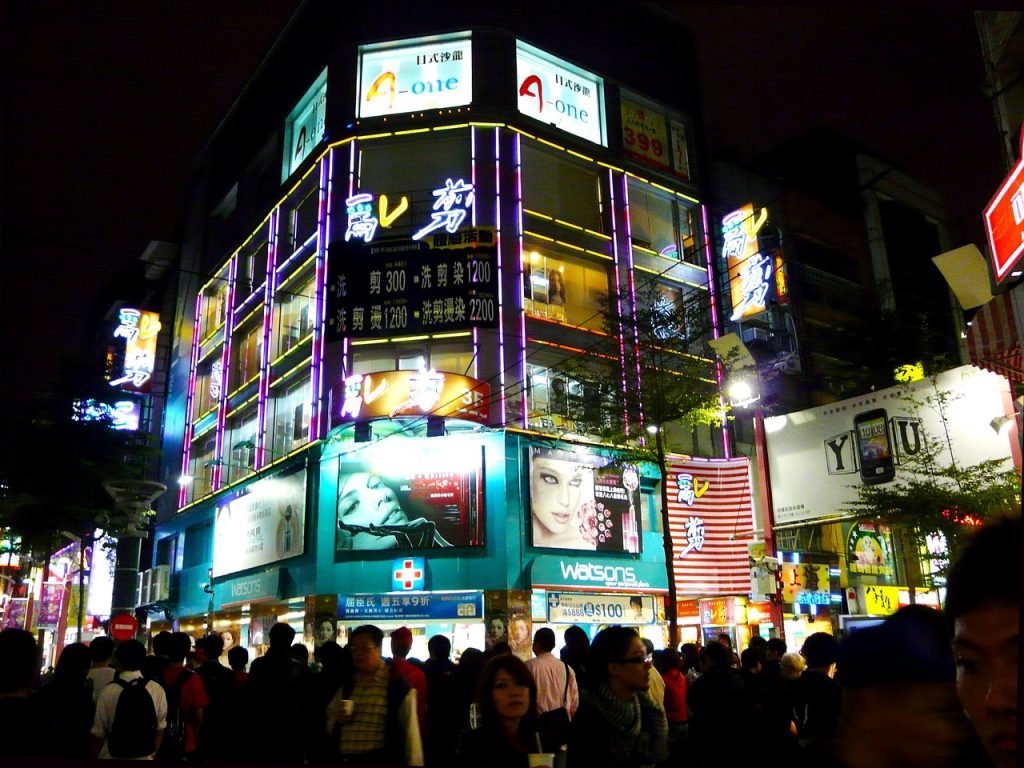 Good for: young people who want to stay in the heart of the action in Taipei, people who love bright lights and buzzy areas
Often compared to Shinjuku in Tokyo or Dotonbori in Osaka, Ximending is where the young people in Taipei come to walk around, eat, and hang out in the neon-light glow of Ximending.
The larger district is called Wanhua, but people are generally more familiar with the Ximending area which surrounds the Ximen MRT station.
This is a great option for being centrally located in the heart of the action, but it can be a little crowded and thus a little noisy, so keep that in mind!
This may just be the most beautifully designed hostel in all of Taipei!
With a rooftop social area, funky design in all its common areas, social events that the hostel hosts, and in-house laundry, Meander Taipei is a hostel you could actually settle into.
It has an amazing central location in Ximending, one of the most bustling neighborhoods of Taipei all times of day, but especially the evenings!
The dorm rooms are well-designed and colorful, with privacy curtains and individual bunk lights so you can have your own little area of the room.
But there are also some lovely double and triple rooms, also for an affordable price, less than $100 per night.
The trendy Cho Hotel has one of the best locations in Taipei, a two-minute walk from the Ximen MRT and the Red House theater.
It's a design hotel, so expect a fun and aesthetically pleasing environment that will surprise you!
There are lots of lounge areas where you can relax and enjoy the creativity of the space.
It almost feels like a very artsy friend's house with all the different rooms to lounge in and explore.
There are a variety of rooms, ranging from basic double (note that these are windowless) for a very affordable price all the way up to luxury quadruples which are great for families or groups of friends traveling together!
No matter the room type, the rooms are clean and cozy, feature cool murals, and have modern en-suite bathrooms.
For the price point, it's a great choice in Ximending.
A 10-minute walk from Ximending (or take the free shuttle bus there!), the 5-star Taipei Garden Hotel is a great pick for a luxury stay in Taipei.
With spacious, no-nonsense rooms with stunning city views and modern bathrooms (some with bath tubs!), the hotel is fairly standard in terms of its room design.
Where it stands out, though, is its amenities, including a spa with treatment rooms and a fitness center.
If you want a spa stay without a huge price tag of some of the other 5-star hotels in Taipei, this is a great pick.
Check out prices, reviews, room types and availability here!
Taipei Main Station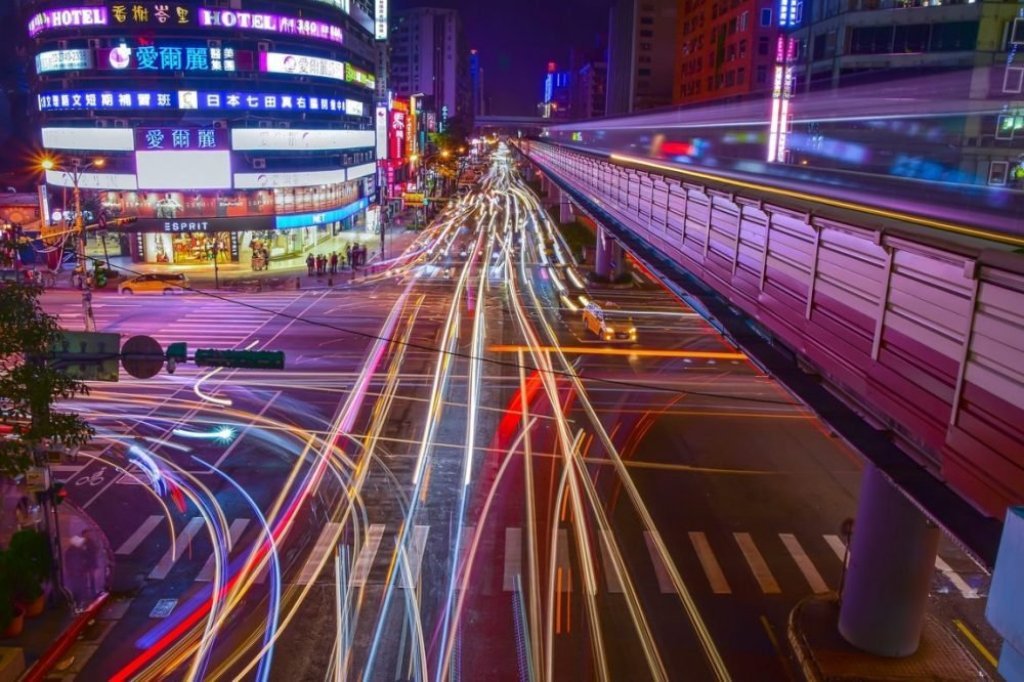 Best for: people who want to be at the heart of Taipei's transportation options and are planning multiple day trips, people on a short stay to Taipei
While not in and of itself the most fun neighborhood in Taipei, for its ease of access to virtually everywhere in the city and beyond, Taipei Main Station is unparalleled.
It's perfect for people who plan to take advantage of the city's many day trip options.
It's also good for people who are doing a quick visit to Taipei (maybe just for a layover) and want to stay central.
Personally, I love Taipei Main Station's convenience as it's rarely more than 20 minutes away to anywhere I want to be in Taipei city center!
For a budget-conscious yet fun place to stay near Taipei Main Station, I highly recommend the funky Morwing Hotel – Culture Vogue.
It has extremely affordable private rooms with A/C just a 5-minute walk from the Main Station, perfect for all travel opportunities.
The rooms are quirky and colorful, with themes that veer a bit on the strange side of things (room designs encompass everything from Milan to Le Petit Prince to anime characters to Santorini…).
But hey – for the price and the location, it's hard to find fault!
Guests agree, giving it high points for its location, cleanliness, price, and friendly staff.
If you value location and comfort over cohesive aesthetic principles, it's a great choice.
If you're looking for an affordable yet beautiful and trendy place to stay in Taipei Main Station's vicinity, I highly, highly recommend citizenM North Gate.
That's because Taipei is home to one of my favorite affordable hotel chains, citizenM (I stayed with them in Shoreditch, London and loved it!).
I love booking rooms with citizenM because I know that I'm going to get a well-designed room at an affordable price, without having to pay for a bunch of luxuries I won't use.
The design is fun and quirky, with a real sense of personality that is missing from many hotel chains.
You always know when you are stepping into a citizenM and I love that!
Luxury
To be as close to Taipei Main Station as possible without, y'know, actually sleeping in it, I recommend Caesar Park.
This glam 4-star hotel has all the amenities you need in the perfect location, 400 meters from Taipei Main Station.
There's an on-site restaurant and spa, so it's a great place to unwind after a long flight to Taipei when you need to recover from jet lag, as it's only one hour door to door from Taoyuan Airport.
The room decor isn't super modern (think carpets and bland curtains), but it's quite comfortable and spacious.
If you want a super design-focused hotel, there are better options (check the offerings in Songshan) but if you just want a clean, luxurious stay in one of the best locations in Taipei, Caesar Park is a great choice.
Zhongshan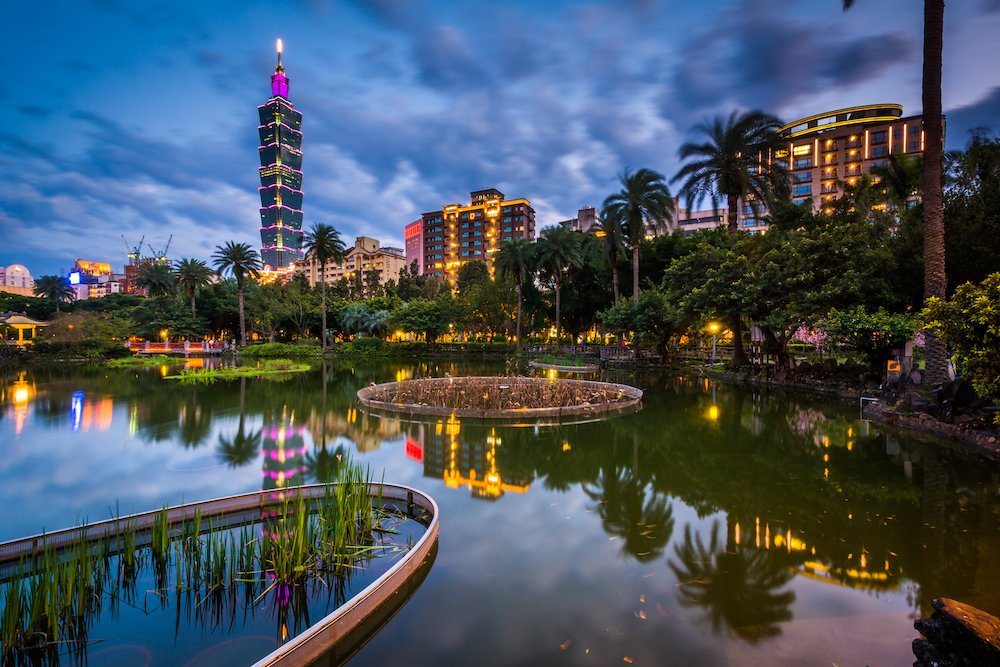 Best for: hipsters and nightlife seekers
Bordering Songshan and Datong, the Zhongshan neighborhood is the perfect place to stay for trendy travelers!
If you love funky boutiques (and fast fashion), quirky and Instagrammable cafés, trendy restaurants, sleek bars and nightlife options — this is the place for you.
Whereas Taipei can generally be a bit of a quiet city after dark, Zhongshan is the exception as this is where many of the city's best bars can be found as it's sort of the unofficial nightlife district.
It's also the most LGBTQ-friendly neighborhood in the city, so this is a great place to stay in Taiwan for LGBTQ travelers as well as anyone hip, fun, and tolerant!
There aren't too many hostels in the area, but if you want to stay in a budget-friendly place in Zhongshan I recommend 4Plus Hostel.
Housed in a quirky mint-green building, on the inside the hostel is quite comfortable.
The lounge areas aren't anything special but the rooms are really well-done!
Each bunk in the female dorm and 4-bed dorm has a privacy curtain, USB charging ports, outlets, and reading lamps: the recipe for a perfect hostel set up.
Note that the 6-bed mixed dorm doesn't have quite the same nice setup, so keep an eye out and check the photos of your room type before booking.
Check out availability, prices, room types, and reviews here!
If you want to stay in affordable luxury in Taipei's fun Zhongshan district, I'd pick Green World Grand NanJiang.
With a straight-up glamorous lobby that will make you shocked at how affordable the hotel is, this is one of the best options in the trendy nightlife and shopping district of Zhongshan.
We're talking spacious rooms, huge bathrooms with bathtubs included, and a fantastic breakfast spread including dumplings…. brb, booking myself in now.
With a fantastic location close to the MRT, it's a wonderful place to stay in Taipei.
The Hilton brand is synonymous with luxury everywhere, and that's definitely no exception for the lovely Doubletree By Hilton Zhongshan.
With everything from twin rooms to king suites, there's something for everyone in this hip hotel.
The rooms are your standard luxury hotel offering – crisp white sheets, comfortable beds with fluffy linens, great views, TVs, the works.
Some rooms have extra perks, like the corner king suite with a soaking bathtub with incredible views of Taipei. But even the standard rooms are quite lush and welcoming!
The hotel has all the amenities you'd expect from a four-star hotel, including a fitness center, on-site restaurant, and concierge service.
Shilin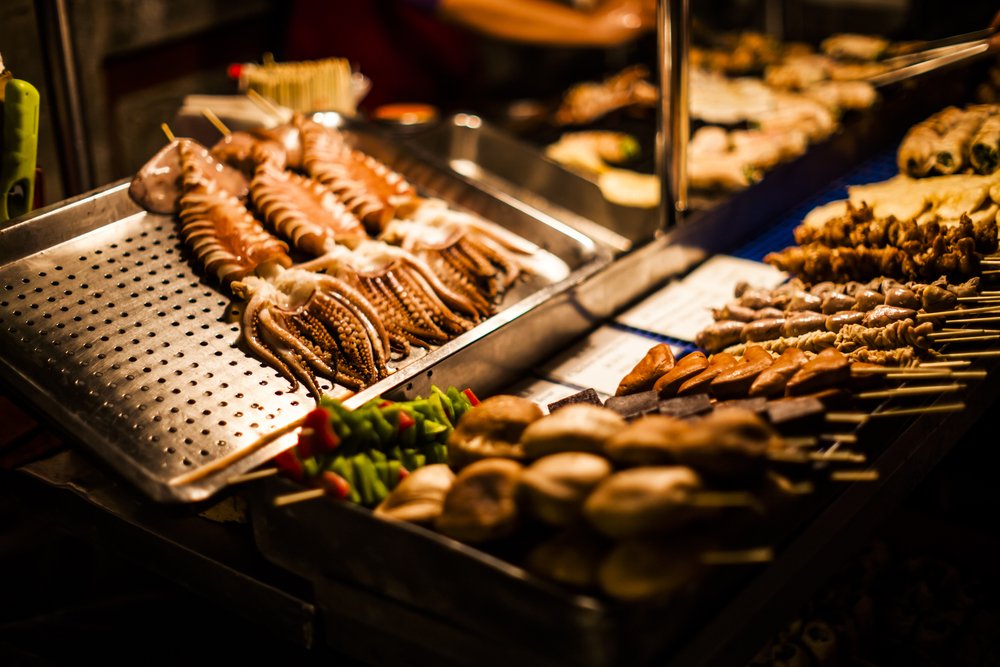 Best for: foodies and budget-savvy travelers who don't mind spending a few more minutes on the MRT to get more bang for their buck
The biggest (and in my opinion, best) night market in the city can be found in Shilin, and the neighborhood has basically become synonymous with its night market.
But even by day, it's a great area to stay in Taipei: quiet as it's away from the main hustle and bustle of downtown, but bursting with businesses and shops at all hours of day.
It's also close to the the buses to Yangmingshan National Park, one of my favorite city escapes from Taipei, which leave from the Jiantan MRT.
This was my first stop where I stayed in Taipei, and I highly recommend it to foodie travelers who want to have one of Taipei's best night markets literally on their back door.
Yes, it's touristic, but that means you won't have issues communicating with vendors and you'll be able to try all the Taipei must-eats all under one (non)roof.
For a place to stay near the Shilin Night Market, Papersun Hotel is just 400 meters away from the action!
It's also a cute but affordable design hotel, with an intriguing interior (think: rainbow sculptures of animals meets white-spined bookcases — a classic combination, I know).
The rooms are also quirky and full of personality, with pops of color in fun hues like yellow and lime green, livening up the otherwise rather plain room.
For a good price and a great location, this is the place to stay in Shilin!
Mid-Range
Just 100 meters from the Shilin Night Market, Tango Inn Taipei Jihen is the best mid-range option in the area!
Plus, you're so close you're practically inside the market.
The hotel design manages to be both eclectic and aesthetically pleasing, with greenery-covered walls, mix-and-match carpets, and brightly colored details.
Inside the rooms, the color palettes are more restrained: think faux-wood walls, white sheets, and bright wardrobes or chairs for a needed pop of color.
The en-suite bathrooms too are very modern, with step-in showers and high-tech toilets.
Luxury: The Tango Hotel
Not to be confused with the above, similarly-named hotel, The Tango Hotel is a great option in Taipei.
It has a few locations around Taipei but it's the Shilin location that catches my eye.
The hotel has a lot of perks that other top hotels in Taipei don't have, like an outdoor swimming pool (great in summer when Taipei gets crazy hot).
And if you're visiting in a season when using the outdoor pool is a no-go, there's also a jacuzzi!
The rooms are gorgeously designed, minimalist without being too bare. Mostly done in shades of white, neutral, and black, there is a very elegant look that complements the hotel's location with views of the greenery outside perfectly.
Some rooms even have terraces with mountain views of Yangmingshan National Park, and some rooms have jacuzzi bathtubs (can this be a thing in every hotel from now on, please?).
For the quality of the hotel, it's a fantastic price, and all because you're just a few more stops out of Taipei city center on the MRT.
Beitou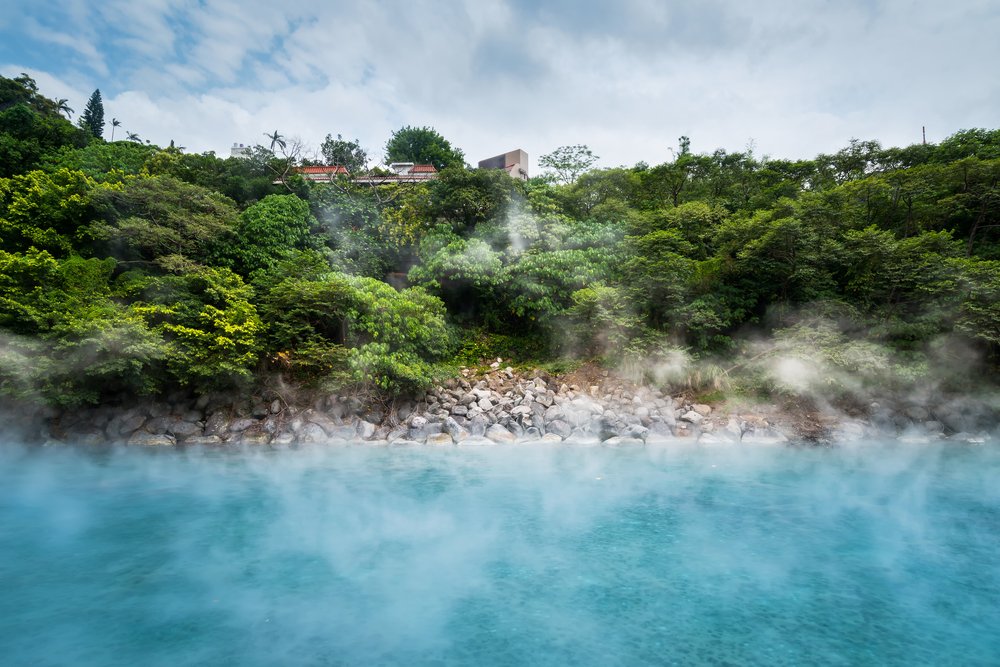 Best for: people who really want to relax and not feel like they're in a city, people who want a spa and wellness experience
If you're looking for a wellness-inspired getaway while in you're in Taipei, Beitou is the obvious choice.
It's one of the best places to stay in Taiwan for health and relaxation.
While easily connected to the rest of Taipei by MRT, the neighborhood of Beitou offers plenty of spa hotels.
They all boast natural mineral-rich waters which come from geothermal activity from the volcanic landscape of Taiwan!
The best example of said activity can be seen at the incredible (and incredibly foul-smelling!) Hell Valley, where water so hot it nearly boils as it meets the air floats beautifully into the sky above.
A hostel in the middle of a luxury hot springs destination? It surprised me too!
But the On My Way Hostel in Beitou looks amazing for travelers on a budget who still want to get their feet wet and enjoy the Beitou hot springs area without spending a fortune on a luxury hotel.
With lots of shared common space including a lounge area and kitchen and bright, clean, cluttered dorm rooms, On My Way provides a social atmosphere in a less touristic part of town.
It's conveniently close to some of Taipei's hot springs, which can be enjoyed for just a small fee!
If you don't want to stay in a hostel (same) bud don't have the budget for the 5-star Grand View Resort (same), there's definitely plenty in the middle for you to enjoy in Beitou!
The 4-star Beitou Hot Spring Resort is a fantastic option for travelers who are budget-minded, but also want to splurge a little bit on a one-of-a-kind experience.
I mean, how often can you stay in a hotel where you have your very own steam room and hot spring tub in your room (for under $200 a night, no less)?
To me Beitou Hot Springs Hotel strikes the perfect balance of luxurious yet attainable, great for a special stay if you're not someone who typically splurges on luxury experiences.
There's a hot spring bath, jacuzzi, and massage center on site so you can relax in or outside of your room.
The on-site Chinese restaurant serves up incredible dishes, including a complimentary breakfast with dim sum!
As a budget-savvy traveler, who knows when to save and when to splurge, it'd be my personal choice for where to stay in Taipei's Beitou area.
By far the best hotel in Beitou is Taipei's Grand View Resort. It's the top 5-star resort in the Beitou area, making it a no-brainer for a luxury hotel in Taipei.
It's located a 10-minute drive from the Xinbeitou MRT, but there is a free shuttle that can bring you there and back as needed.
Located in the heart of Taipei's hot springs area, this beautiful resort was designed by the same architect as the Taipei 101, Li Zuyuan – yup, that's some pretty big accolades, and reason enough to stay there in my mind!
The on-site restaurant is run by a chef trained in culinary arts in Paris, who can prepare both Chinese and French cuisines with a skillful hand.
Despite how luxurious the hotel is, it keeps a restrained hold on its aesthetics with a focus on natural touches and neutral colors.
The interiors are framed with timber and there are gorgeous cypress trees on the property.
You can relax in the white sulfur hot springs, the spa, or at the pool, or work up a sweat at the fitness center.
But best of all, every single room has its own private hot and cold spring so that you can bathe in total privacy.
It's not a cheap hotel in Taipei, but it is truly world-class luxury.
Allison Green is a former educator turned travel blogger. She holds a Masters in Teaching and a B.A. in English and Creative Writing. Her blog posts merge her educational background and her experience traveling to 60+ countries to encourage thoughtful travel experiences that both educate and entertain. She has been a speaker at the World Travel Writers Conference and her writing, photography, and podcasting work has appeared in National Geographic, CNN Arabic, CBC Canada, and Forbes, amongst others. Now based in the San Francisco Bay Area where she grew up, she has also lived in Prague, Sofia, and New York City.