Sardinia is a stunner, with sand so silky and water so crystal-clear and ice-blue that it looks as if you're in the Caribbean, not the Mediterranean.
So it should come as a surprise to absolutely no one that Sardinia is one of the top beach destinations in Italy.
The island is home to some of Europe's most spectacular beaches, after all — and that's saying something for a continent that counts Greece and Spain among its numbers.
While virtually every inch of Sardinia's coastline is spectacular, the northern part of the island is home to some of the best beach towns in Sardinia, known for its rugged coastline and turquoise waters.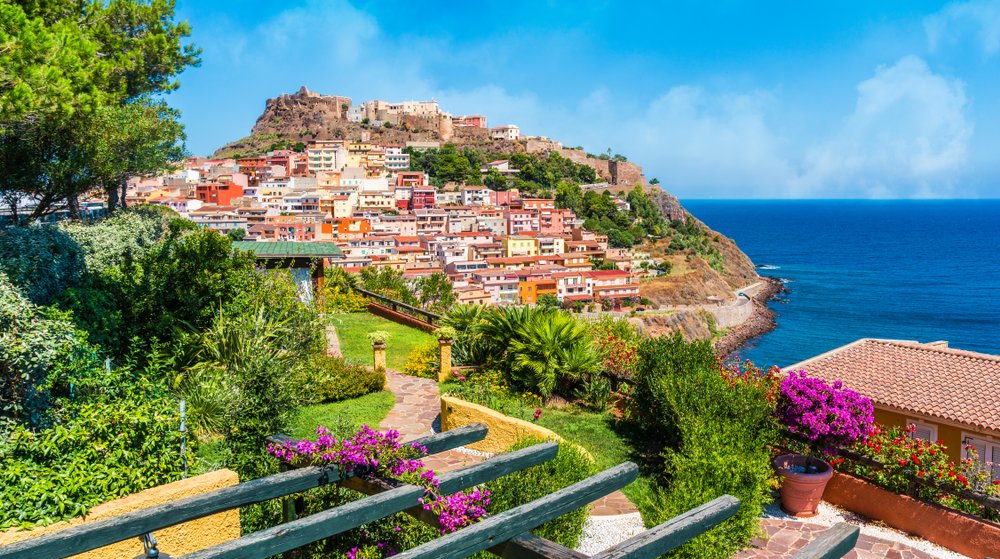 Note: This post contains affiliate links, which means I may receive a small commission if you purchase something through one of these links. Thank you for supporting the free content on this site! For more information on affiliate links and cookies, see my disclosure page for more details.
Take it from someone who lived in Italy for over 15 years! Even the worst beaches in Sardinia (at least considered so by locals) are simply gorgeous.
You'll rarely find such crystalline waters anywhere else in Italy, let alone Europe for that matter.
But while the north of the island is most popular, rest assured that you can find many beautiful beach towns all over Sardinia.
In this guide, I'll give you some of the best options, from charming small Sardinian coastal towns in the south to exclusive vacation spots in Sardinia's posh northern area.
Whether you're road tripping through Sardinia or planning to just have a restful beach vacation spot as your home base, this guide will help you narrow down your (seemingly endless) choices when it comes to Sardinia beach towns!
So rent your car, pick your favorites, and plot out your ultimate Sardinia itinerary!
The Best Beach Towns in Sardinia
Villasimius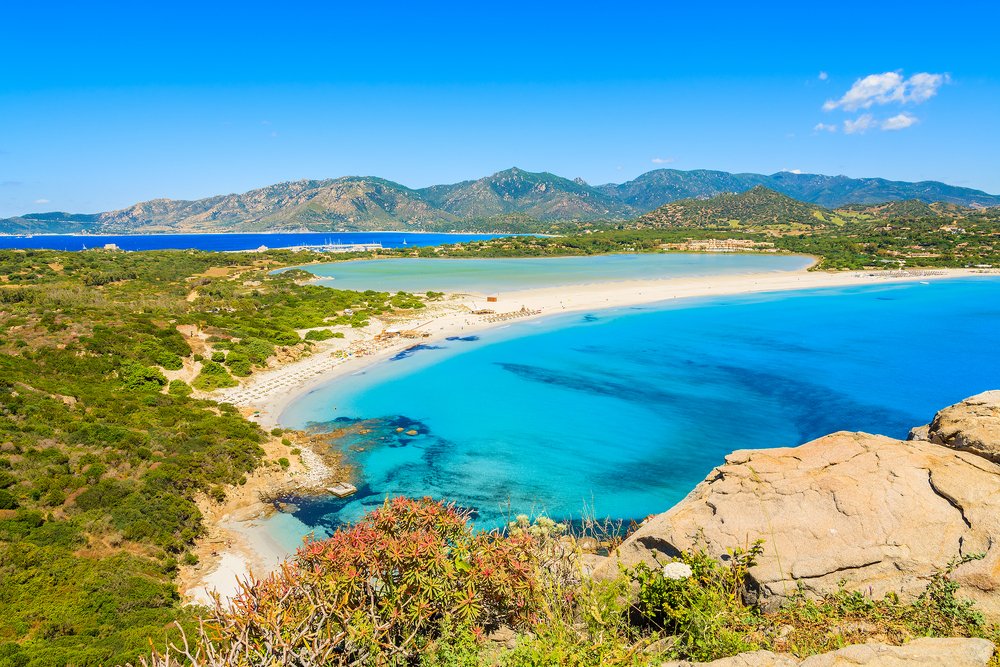 Located just one hour from Sardinia's capital city, Cagliari, the charming Villasimius is known for its white-sand beaches bathed by turquoise waters.
But it's equally as well-known for the nearby hiking area of Capo Carbonara. What better way to cool down after a hike than to take a dip in the sea?
The quaint Sardinian coastal town doesn't offer many attractions, but it does boast some of the most beautiful beaches in south Sardinia!
Spiaggia di Simius is the closest to town, but Spiaggia di Porto Giunco and Spiaggia di Punta Molentis are also worth checking out.
In summer, Villasimius can get very crowded and accommodations options are limited, so it can fill up fast.
However, it's a great destination if you're staying in Cagliari, even if you just pop by Villasimius just for a day trip!
Relax at the beach, enjoy the spectacular view from Torre di Porto Giunco, and discover little coves around Capo Carbonara, like Cava Usai, Cala Caterina, and Cala Burroni.
Arbatax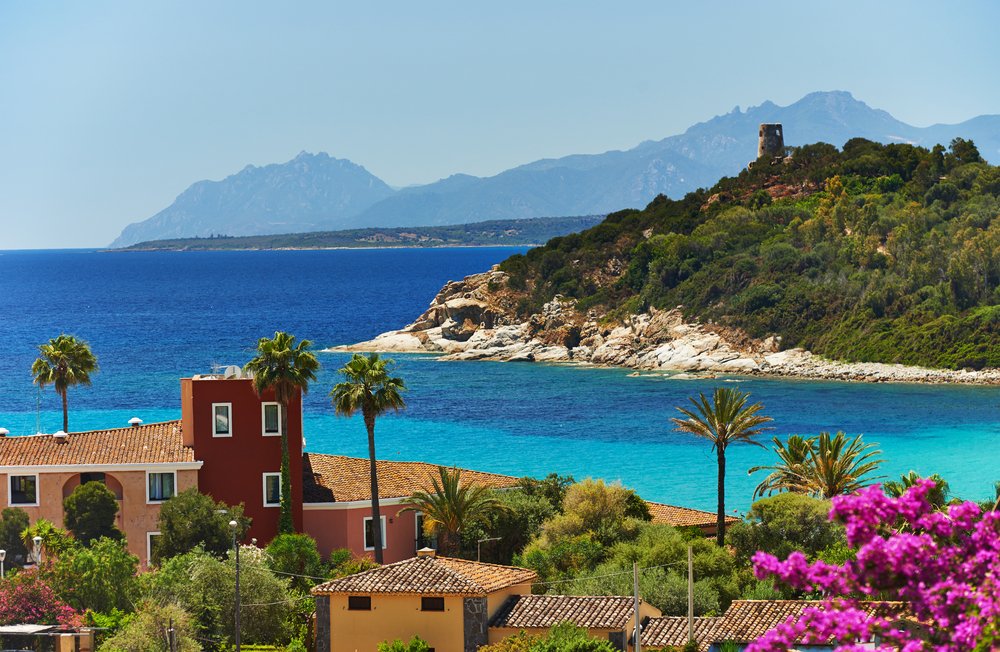 The charming Sardinian beach town of Arbatax has historically been a strategic port town on the eastern coast of Sardinia and remains, at its heart, a port town to this day.
It's connected by regular ferry services to the mainland port of Civitavecchia, just north of Rome.
If you want to travel to Sardinia via sea from Italy and not have to fly — whether to reduce your carbon footprint or just avoid the hecticness of air travel — this is one of the most convenient options for getting to Sardinia!
Arbatax is roughly halfway along the Sardinian coast, about 2 hours from Cagliari and 2.5 hours from Olbia.
Best of all, you can find lovely beaches within walking distance from the town center, like Spiaggia Cala Moresca and Spiaggia di Porto Frailis.
Close to the marina, you can check out the beautiful landscape with the remarkable red rocks and crystalline waters.
Arbatax is also known for its high-quality fish and seafood, being a major fishing hub for the island.
Plus, the nearby Tortolì Pond is known for its local, sustainable fish farming practices, especially mussels, prawns, eels, and mullets.
Santa Maria Navarrese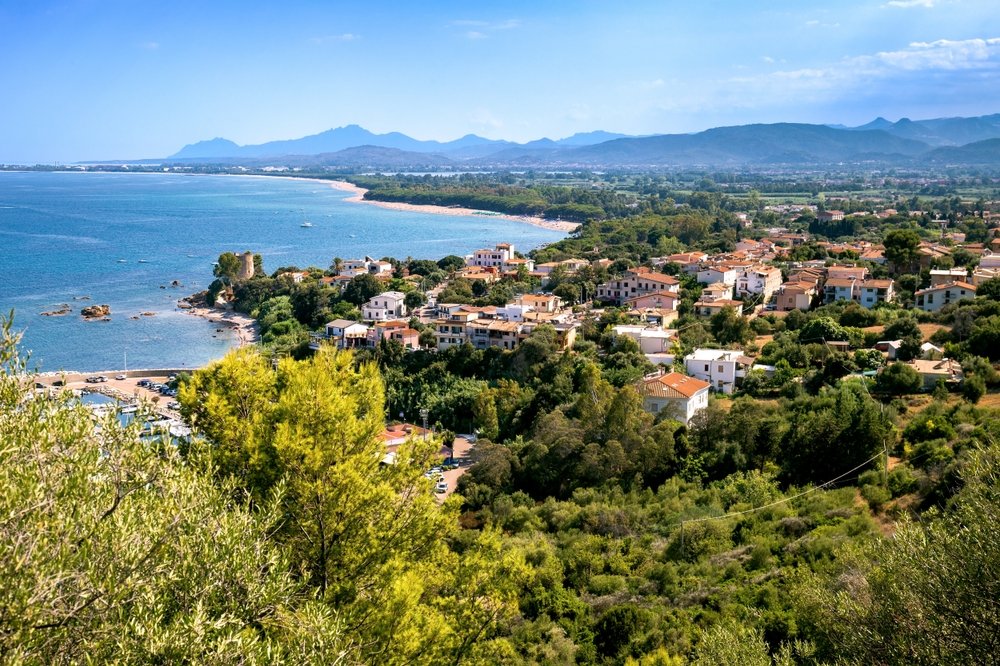 Just north of Arbatax, Santa Maria Navarrese is a lovely coastal town in Sardinia known for its beautiful beaches, picturesque marina, and plethora of nearby hiking areas.
The two main beaches in town are the long, white-sand beach of Santa Maria Navarrese and the smaller, pebble beach of San Giovanni.
Its headlands with the historical Tower of Santa Maria Navarrese separate the two beaches.
Just north of the seaside town, you can hike to Croce Pittaine, a viewpoint offering sweeping coastal views.
Alternatively, go on an easier hike along the coast to the viewpoint of Su Runcu Nieddu or further north to Cala Riu Gennaisso.
Cala Gonone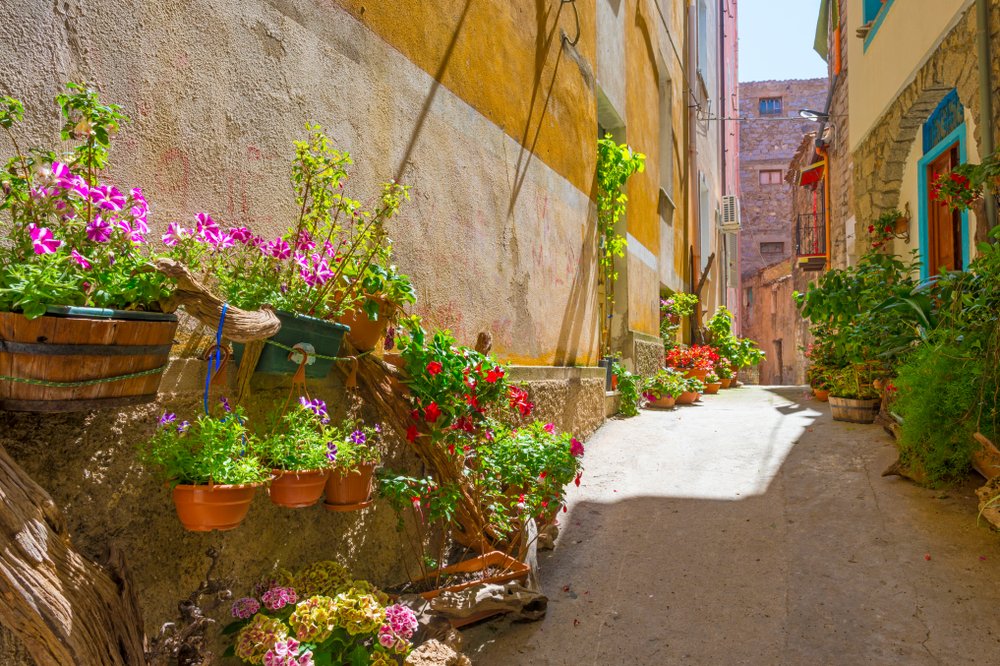 For something different, check out Cala Gonone: this charming little seaside town on Sardinia's eastern coast is just a 45-minute drive from Nuoro.
The small but stunning town is a popular destination for scenic boat tours and relaxing beach holidays.
The landscape south of Cala Gonone is breathtaking, with turquoise waters and dramatic cliffs — best explored by a boat tour, of course.
You can join a full-day cruise of the Gulf of Orosei to discover gorgeous coves and beaches like Cala Luna, Cala Mariolu, and Cala Goloritzé.
If you want to stay close to town, you can spend a relaxing day at the lovely Palmasera Beach.
In the off chance that you experience some rain while you're in Sardinia, you can still get your aquatic fill by heading to the Aquarium of Cala Gonone.
San Teodoro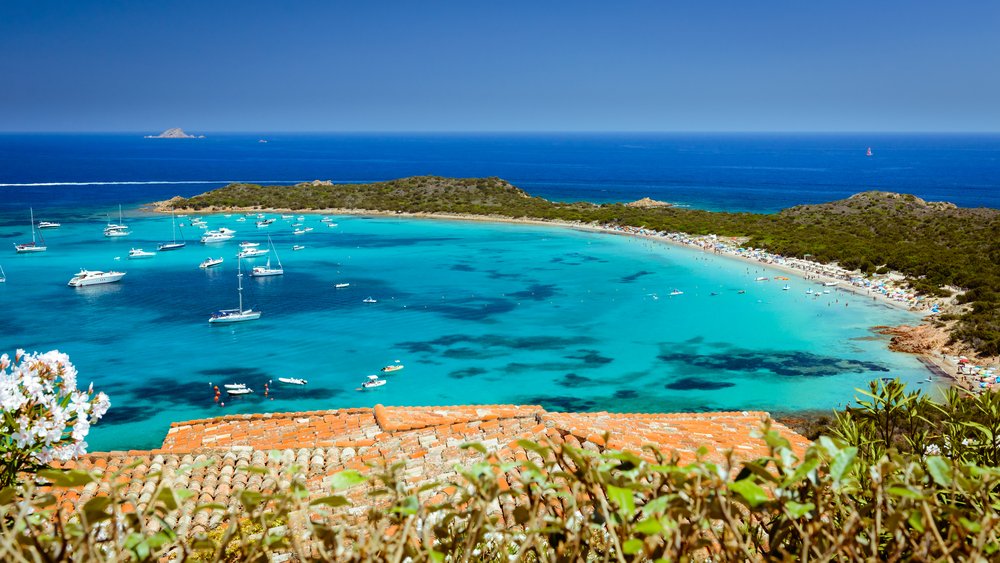 Just south of Olbia, San Teodoro is a town known for its many white-sand beaches, perfect for swimming, lounging, and water sports like surfing and kite surfing.
La Cinta Beach is a long, smooth stretch of white sand bathed by waters so clear you'll feel like you landed in some tropical destination!
South of San Teodoro, Spiaggia Isuledda and Spiaggia Li Marini are other spectacular beaches with unreal landscapes.
So how does a Sardinian beach town like this get any better? Add some flamingos, naturally!
The Lagoon of San Teodoro to the north is home to beautiful pink flamingos, which you can spot year-round, although the best period is at the beginning of summer, from May to June.
San Teodoro is also a good base to explore Capo Coda Cavallo, a gorgeous area with stunning beaches and hiking trails.
Some of the best beaches around the promontory are Spiaggia di Capo Coda Cavallo, Spiaggia di Salinedda, and Cala Brandinchi.
If you want to explore a little more, you can also rent a canoe or pedal boat to check out the little Isola di Proratora.
Porto San Paolo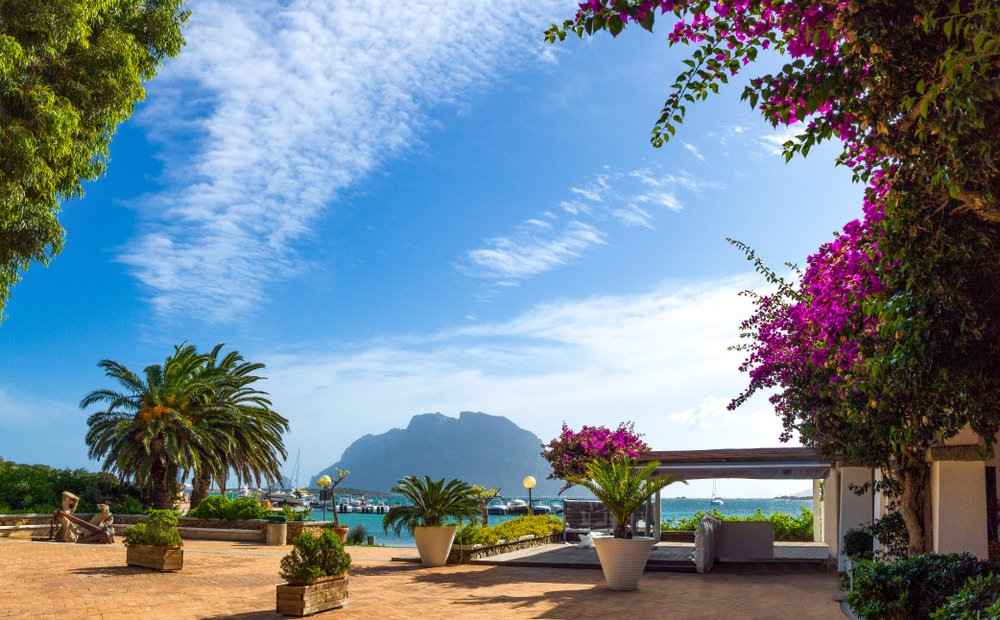 The lovely beach town of Porto San Paolo is a small town roughly a 20-minute drive south of Olbia.
The town is a perfect destination for a day trip from Olbia, but you can find plenty of things to do if you want to spend a few days here!
Just off the main beach in town, Spiaggia di Porto San Paolo, lies the islet Isola dei Cavalli, a little oasis with white-sand beaches and beautiful nature.
Further out, you can visit the larger Isola Tavolara, another spectacular corner of paradise.
South of the little town, explore the gorgeous Punta Don Diego with its stunning coves and viewpoints.
Relax on the lovely Spiaggia di Punta Don Diego, look around in wonder at the beautiful nature, and go snorkeling at the nearby shipwreck Relitto Chrisso.
North of Porto San Paolo, explore the beaches around Capo Ceraso — there are many!
Le Tre Sorelle, Spiaggia di Poltu Casu, and Spiaggia di Capo Ceraso are the most picturesque ones.
Porto Cervo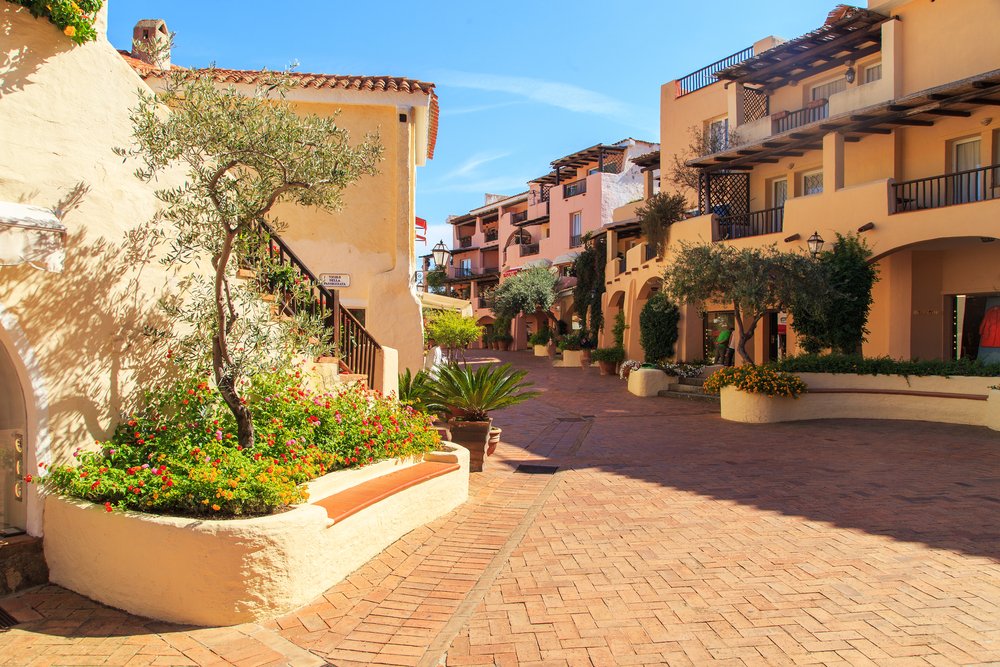 The lively Porto Cervo is one of Sardinia's top destinations for nightlife.
With exclusive beach clubs, high-end restaurants, and luxury hotels, Porto Cervo is among the favorite summer beach towns in Sardinia for celebrities and big spenders.
South of Porto Cervo, you can find the spectacular beaches of Grande Pevero and Poltu Di Li Cogghj.
In the north, discover the rugged coastline of Baja Sardinia from the beautiful hiking trails and check out the coastal view from Belvedere Baja Sardinia.
If you're looking for the best clubs in town, check out the mystical location of Ritual Club among castle ruins (yes, really!) or the luxurious Billionaire in Golfo Pevero.
In the small center of Porto Cervo, explore the old harbor area or go shopping in the high-end fashion stores.
Palau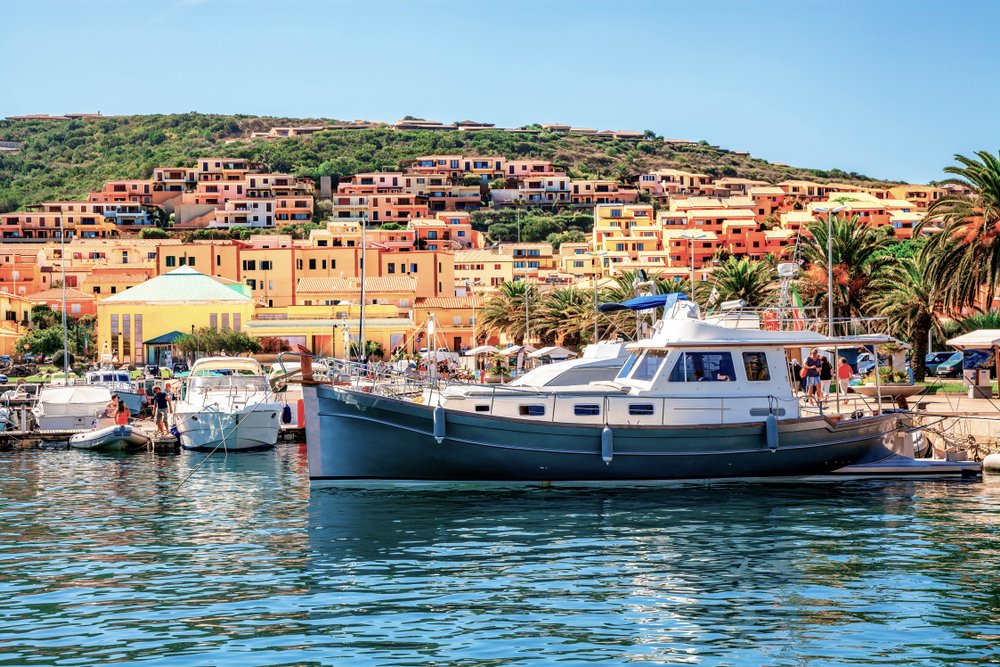 Sharing the name of the Pacific island country (and with waters nearly as blue!), Palau is a small town on Sardinia's northern coast, overlooking the La Maddalena archipelago.
Although visitors usually pass by Palau to catch a ferry to the nearby islands, it's worth spending time discovering this lovely seaside town in Sardinia.
Wander around the delightful marina area, check out the lovely beach Spiaggia di Palau Vecchio, and walk through the Palau Vecchio Garden to the lighthouse of Punta Palau.
If you're looking for activities just outside town, head to Capo d'Orso to admire impressive rock formations.
Take a second glance at Roccia dell'Orso — this unusual rock formation looks quite like a bear when you look at it from the right angle (since orso means 'bear' in Italian).
La Maddalena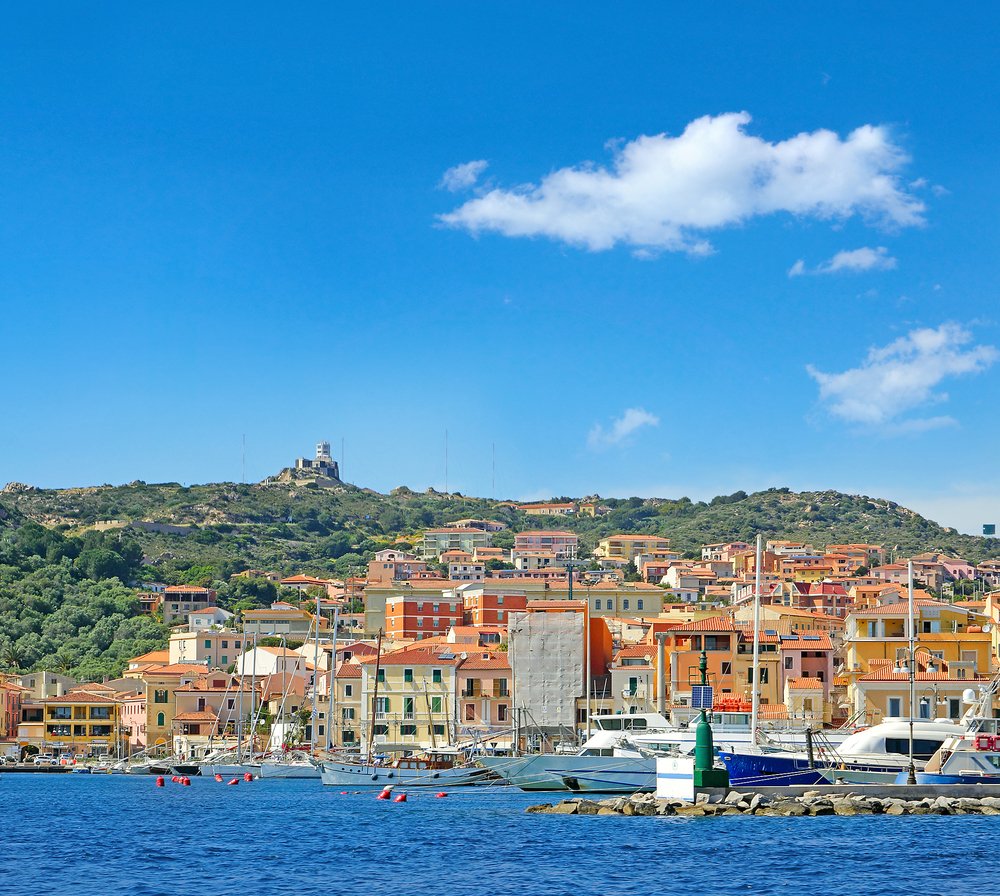 Want to really get away from it all and none of these Sardinian beach towns are quite cutting for you?
Hop on a ferry in Palau and head to La Maddalena, the main town on the archipelago with the same name.
The town occupies the southern area of the main island, La Maddalena, which is connected by bridges to both Caprera Island and the teeny-tiny Giardinelli Island.
The town of La Maddalena is the perfect base to explore the archipelago further — especially its stunning beaches!
Due to the rugged coastline of La Maddalena, you'll find that this island is dotted with stunning tiny beaches and coves with turquoise waters and unique rock formations.
To name just a few, stop by Spiaggia di Bassa Trinita, Spiaggia dello Strangolato, and Spiaggia di Cala Spalmatore.
The neighboring island of Caprera will also reward you with spectacular beaches!
Don't miss out on the southern area of Punta Rossa.
Here, you can relax on the charming beaches of Cala Andreani or Spiaggia del Relitto and enjoy the view from Fortezza Bastiani.
Santa Teresa Gallura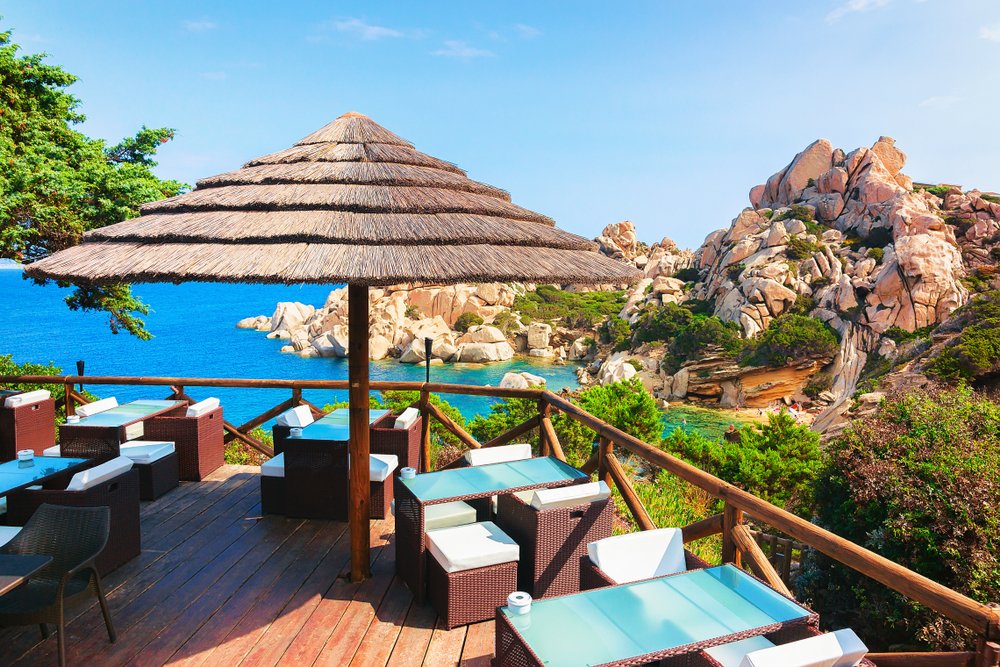 At the northernmost tip of Sardinia, Santa Teresa Gallura is one of the most charming seaside towns on the island.
If you're island hopping in the Mediterranean, it doesn't get any more convenient than this!
The town of Santa Teresa Gallura is just a one-hour ferry ride from Bonifacio, on the French island of Corsica.
You can even see the southern coast of Corsica from Santa Teresa Gallura! The best viewpoint is Belvedere di Torre Longosardo.
Nearby, you can relax on the town's main beach, Spiaggia Rena Bianca.
Just outside Santa Teresa Gallura, you can visit the archaeological site Lu Brandali to learn about Sardinia's historic dwellings, the nuraghe.
Not far from the site, explore Capo Testa, a small peninsula with hiking trails, little beaches, charming cafés, and the best spot to watch the sunset!
Castelsardo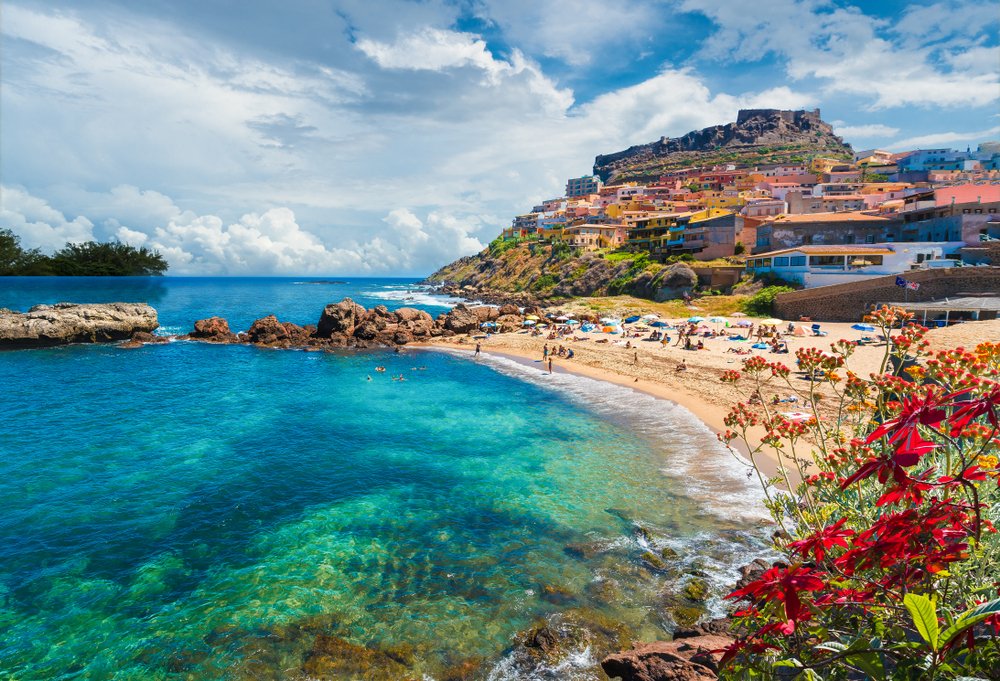 Roughly halfway along Sardinia's northern coast, Castelsardo is a picturesque town that developed around the hilltop medieval Castello dei Doria, also known as Castello Bellavista.
The 13th-century castle is the main sight in town and offers beautiful coastal views — but its beaches are also a huge draw.
The town was recognized by several associations of towns of historical interest, including I borghi più belli d'Italia — the most beautiful village sof Italy.
For an iconic view of the colorful town, head to Torre di Frigiano, near the little harbor.
Another must-see in town is the Castelsardo Cathedral or Concattedrale di Sant'Antonio Abate.
If you want to spend some time at the beach, Spiaggia La Marina di Castelsardo is the closest to the historic town and offers beautiful views.
Alternatively, for a more quiet beach, head to Spiaggia di Ampurias, just a five-minute drive away.
Stintino
The beach town of Stintino lies on the northwestern tip of Sardinia and is better known as the departure point for the nearby Asinara National Park.
Asinara is one of Sardinia's largest islands and gets its name from the population of albino donkeys living there!
You can easily reach Asinara by boat from the port of Stintino, so a stay in Stintino before heading to Asinara is a great choice.
Aside from visiting the nature preserve on Asinara, there's much more you can do in Stintino.
North of the small town, the rugged coast is sprinkled with charming little beaches like Cala Lupo, Cala di Chiara Luna, Spiaggia il Gufo, and Spiaggia Punta Negra.
The most beautiful location for swimming and diving is the northern tip of La Pelosa — you'll find a handful of gorgeous and relatively quiet beaches here.
To name just a few, there's Spiaggia La Pelosa, Spiaggia della Pelosetta, and Spiaggia del Gabbian: all beautiful beaches bathed by turquoise waters and offering views of the nearby Isola Piana and the historical stone tower Torre della Pelosa.
Bosa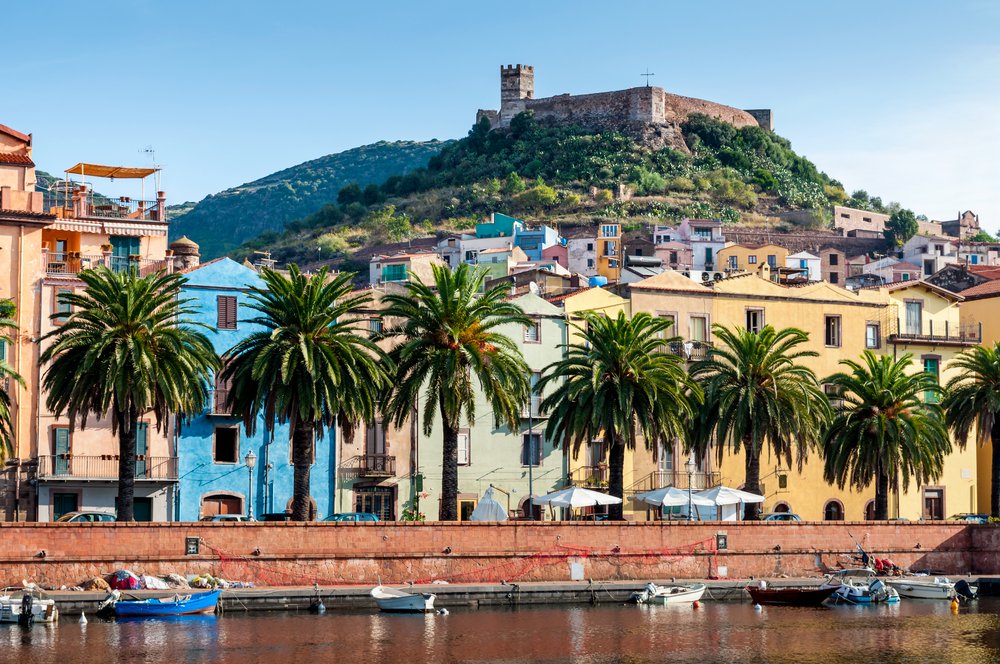 Although Bosa isn't technically considered a seaside town, it's only a few kilometers inland on Sardinia's western coast.
Still, I'm breaking my own rules to include it on this list, as Bosa is one of Sardinia's most beautiful towns, known for its colorful houses and the hilltop Castle of Serravalle.
The castle offers sweeping views of the town and the River Temo, but the best view of the town is from the viewpoint on the opposite riverbank. Search for Panorama di Bosa on the main road leading into town.
If you want to go to the beach, you can easily reach Spiaggia di Bosa Marina, just a five-minute drive from the center of Bosa.
North of the Temo River, you can pay a visit to the gorgeous beaches of Cane Malu and Cala 'e Moro, as long as you're up for a short hike.
San Giovanni di Sinis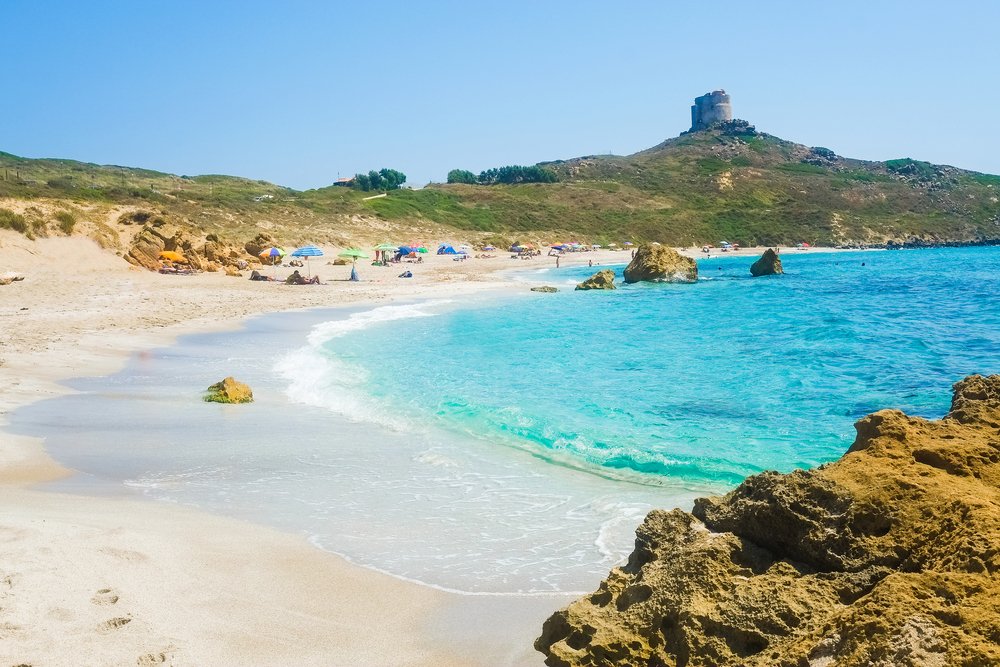 A former fishing village, San Giovanni di Sinis has recently gained popularity as a beach destination in Sardinia.
This quaint village is almost at the southern end of the Sinis Peninsula on Sardinia's western coast.
South of San Giovanni di Sinis, you can explore Capo San Marco and visit the Archaeological area of Tharros.
Once a Phoenician city, Tharros dates to the 8th century BCE!
However, its history goes back even further: based on Nuragic settlements discovered there, it's believed that the area around Capo San Marco was already inhabited as far back as the 16th century BCE.
The best way to discover this stunning area is by walking around the many paths and taking in the breathtaking views.
Along the way, you can stop for a swim on Spiaggia di Capo San Marco.
Sant'Antioco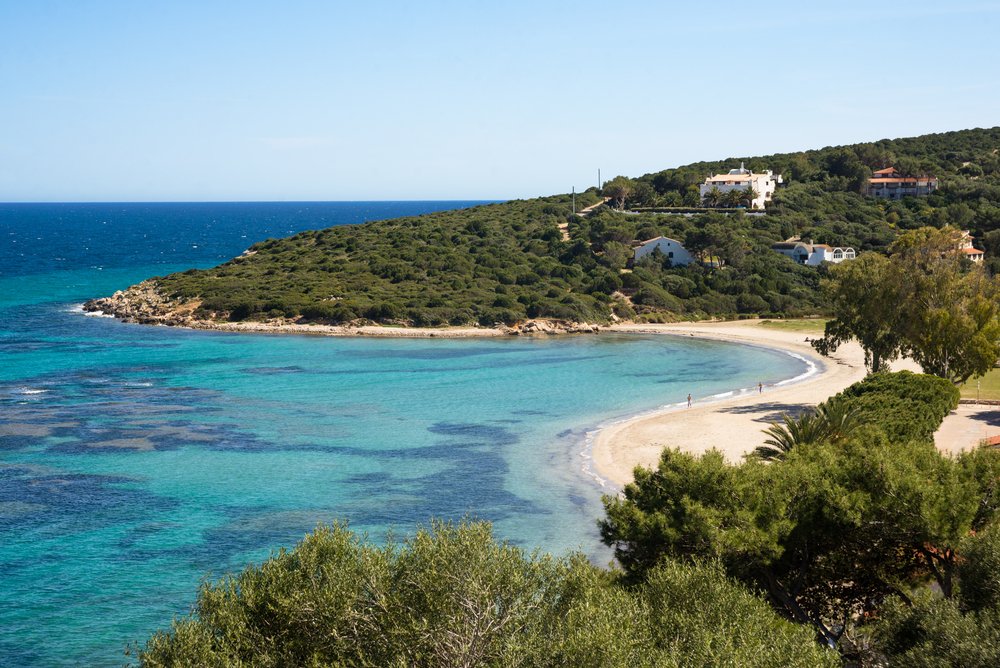 The lovely Sant'Antioco is a small town on the island that shares its name, located in the southwest of Sardinia.
The island of Sant'Antioco is connected to Sardinia by a bridge, which makes it easily accessible — no need to time ferry crossings or hope for space on a crowded ferry!
To sweeten the deal, it's just over one hour from Cagliari by car, making it doable as a day trip from the capital.
Perfect for history buffs and beach bums alike, Sant'Antioco is home to an important archaeological site as well as the Archaeological Museum of Ferruccio Barreca, displaying artifacts dating back several millennia.
The island was inhabited at least starting from the 5th millennium BCE and has preserved several traces of the Nuragic civilization who lived there.
Aside from discovering ancient archaeological sites, you can enjoy the gorgeous nature of the island.
If you're lucky, you may see the flamingos around Stagno sa Punta de s'Aliga, just south of Sant'Antioco.
Around the island's southern tip, you can find the most beautiful beaches, including Spiaggia Coaquaddus and Turri Beach. The area is also great for walking around and appreciating the stunning coastal views.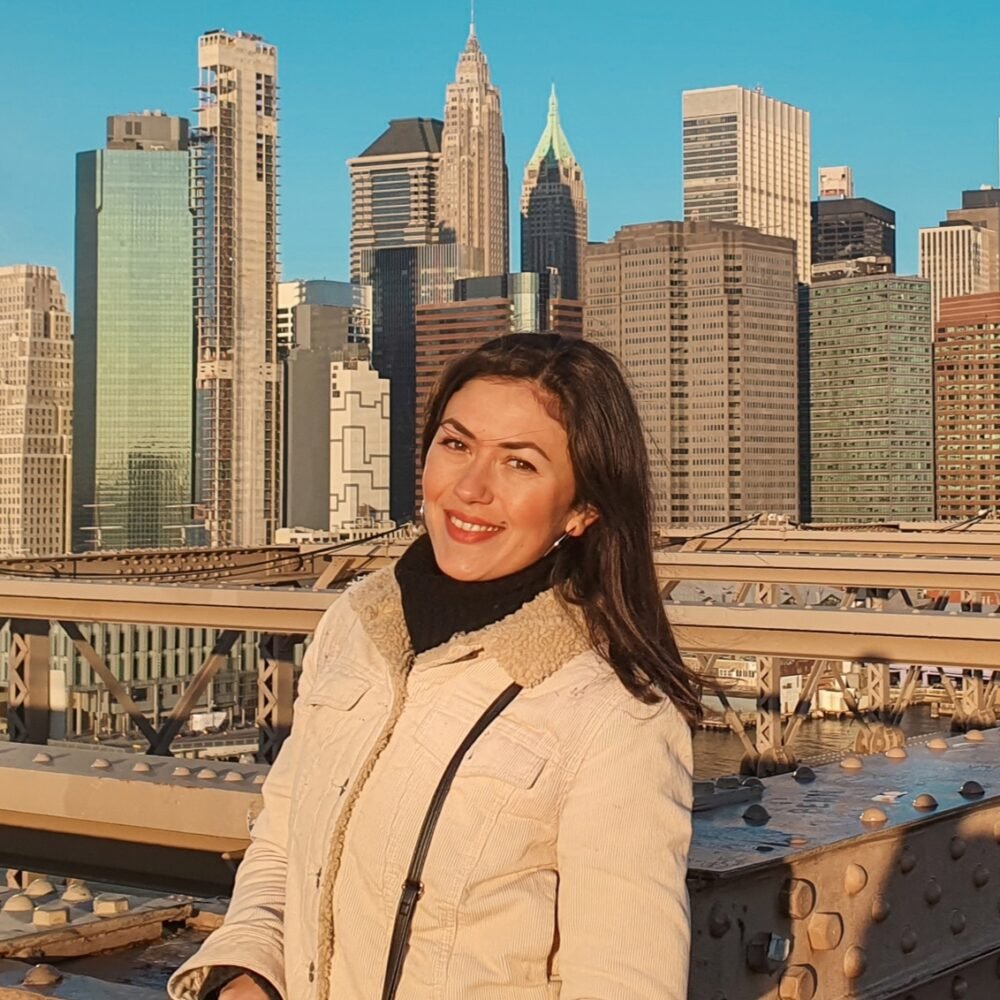 Roxana is a Romanian-born freelance travel writer who has lived in Italy for over 15 years. She has a Master's in Journalism and a Bachelor's in Film Studies. Her mission is to find hidden gems, even in the most popular travel destinations, and to inspire people to explore new places and cultures with the same curiosity! When she is not traveling, writing, or planning her next trip, she is either binge-watching TV shows or reading books.