Cascading green waves with flashes of purple and red against a midnight blue sky: since I was a child, I was obsessed with the idea of one day seeing the Northern lights, even before I knew anything about what caused them.
Flash forward to age 26, when I finally decided to make this dream a reality when I saw some shockingly cheap roundtrip tickets to Sweden (I guess very few people try to swap the cold of NYC for the cold of Stockholm).
I knew what this meant: I could finalize realize my dream of seeing the Northern lights.
So in true type-A fashion, I laboriously researched the best place to see the Northern lights in Sweden.
And lo and behold, the Northern lights in Abisko kept popping up as the absolute best place to see the aurora borealis in Sweden… but also as one of the top places to see the aurora in the world.
Statistically speaking, scientists agree that the Abisko Northern lights are among the most reliable in the world.
Supposedly, there's an 80% success rate of seeing the lights if you stay in Abisko for three nights.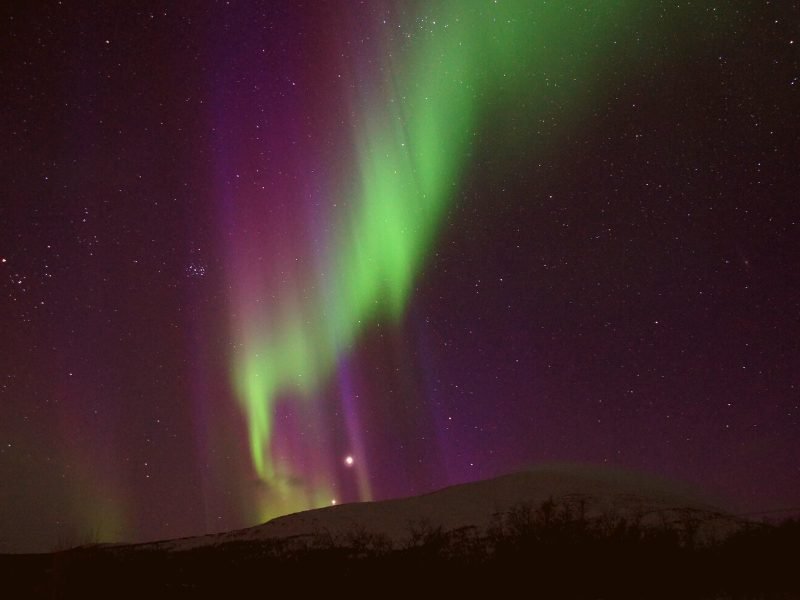 Note: This post contains affiliate links, which means I may receive a small commission if you purchase something through one of these links. Thank you for supporting the free content on this site! For more information on affiliate links and cookies, see my disclosure page for more details.
Anecdotally, I have friends who had previously been to Iceland or Norway in winter and failed to see the Northern lights, even on a multi-week trip.
I didn't want that to happen to me, especially on a trip planned to specifically to see the Northern lights.
In all my research, the the Northern lights in Abisko National Park seemed to have consistently highest success rate.
And I found that to be true — and actually, my three nights in Abisko, I saw the lights (to one extent or another) all three nights!
Flash forward to 2020, I planned a return trip to the Arctic hoping to see the Northern lights again, this time in Tromso.
Personally, when I compare my times chasing the Northern lights in Abisko and Tromso, I found I saw way better lights in Abisko way easier, for a fraction of the cost of Tromso (though I did love Tromso in winter for many other reasons).
Getting to Abisko from Stockholm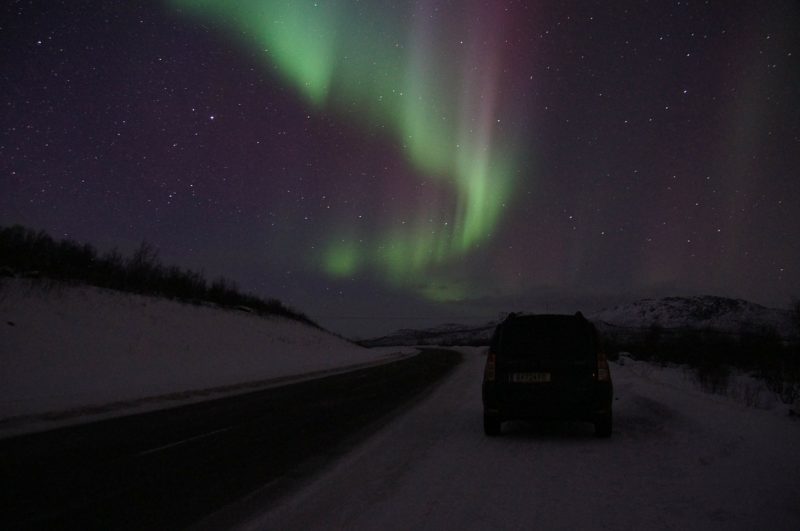 Contrary to what you might think, flying is actually usually the best way to start an Abisko Northern lights trip, even if you start in Stockholm!
The train from Stockholm to Kiruna is about to $100 USD each way and takes 17 hours.
Time was a luxury we did not have, and most people on short weekend breaks will not either.
If you have the time, Kiruna is worth a few days exploring, as it's a super cute and unique town if you have the time.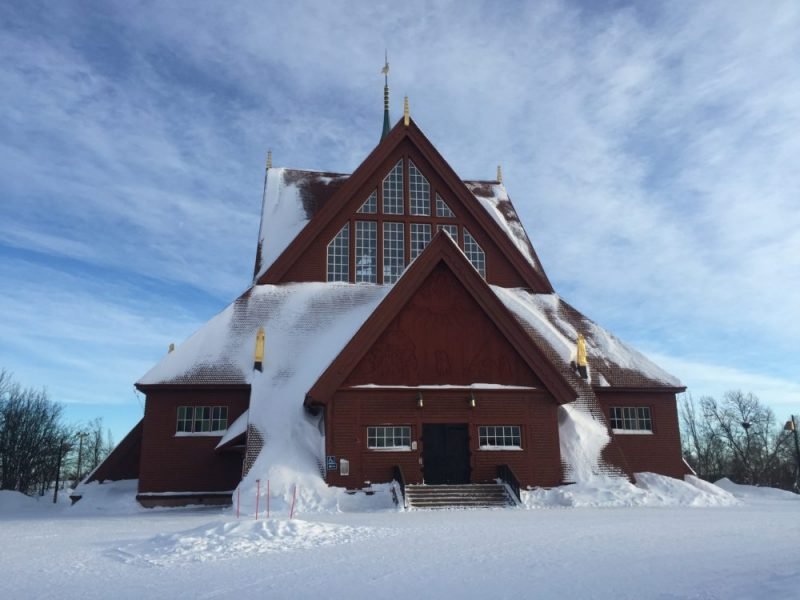 But I was on a strict schedule, so I headed straight to Abisko after touring Kiruna for a little less than a day.
From Kiruna, you have a few choices to get to Abisko, where you can view the Northern lights a lot easier than in Kiruna proper (due to light pollution from the city and a slightly worse microclimate).
You can take either an obscenely expensive taxi (I believe it would have been about $200 USD), heading to Kiruna by bus or taxi and then taking the train to Abisko (about $11), or booking a direct shuttle bus to Abisko (this is the best way).
There is also a once-daily public bus (line 91) that goes directly from the airport to Abisko, but it is generally really hard to line up your flight arrival time with the bus departure.
It's worth looking into, but don't get your hopes up. It didn't work out for us when we visited in 2016, and we had to resort to the most chaotic way to get to Abisko from Stockholm (don't be like us — just book the d*mn shuttle bus).
7 Ways to See the Abisko Northern Lights
There are several ways to see the Abisko Northern lights, depending on your budget and how much time you have.
The cheapest (but least reliable) is just hoping for a clear day, walking away from any source of light pollution, and looking up!
However, this isn't the optimal way to see the Northern lights in Abisko, because weather conditions may not be favorable in your exact location and you won't have a guide who can predict where the aurora will be at its strongest.
Lights over Lapland Photography Tour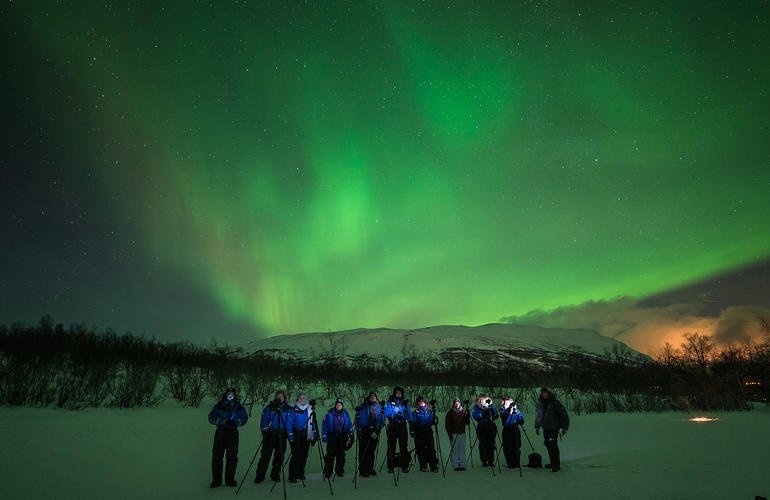 Ask anyone and this is their top recommendation for an Abisko Northern lights tour.
The Lights over Lapland photography tour has the best reputation in town because it's run by a passionate aurora photographer who will not only bring you to great spots but also teach you how to photograph the lights on your own.
Plus, you don't need to splurge on your own fancy camera for this — they will provide you a DSLR camera to use, all set with the proper settings ready to go, and they'll also give you a brief overview of the skills needed to snap your very own photos of the Northern lights.
You'll get personalized attention since the tour is limited to eight people, and the tour is prepared for any eventuality so that you can see the lights.
Depending on whether the Northern lights are dancing, you'll either seek out the lights on foot based out of their nearby lavoo camp, in a sleigh pulled by a snowmobile in the wilderness camp, or go further afield to chase the lights in a 4×4 van.
You'll have four hours of aurora hunting so you have plenty of time to cross your fingers and hope for the best.
You won't just be standing around as you wait for the lights to appear, either; during the tour, your guide will explain the cultural and spiritual significance of the Northern lights to the Sámi indigenous people of the region.
Budget-Friendly Aurora Chasing Tour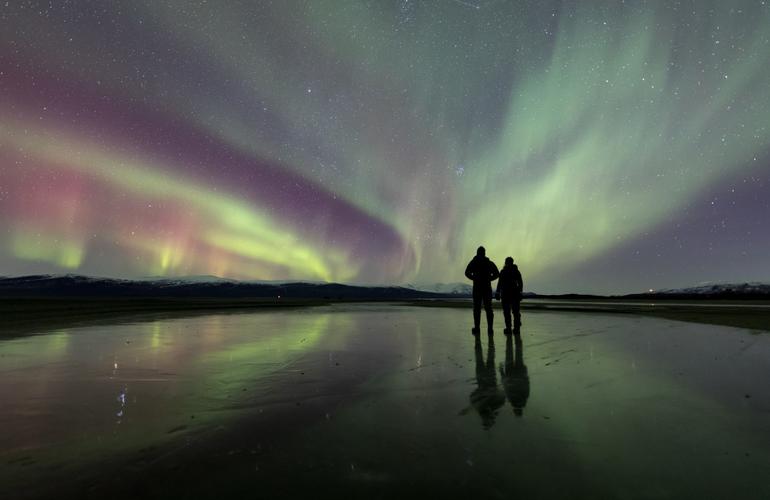 While the Lights over Lapland Photography Tour is my top choice in Abisko, it's also a little bit pricy.
This aurora chasing tour is a decent amount cheaper, so if you're on a budget, this may be the way to go in Abisko.
This tour does not include photography equipment, but if you already have your own high-quality camera set up (at a minimum, this includes a mirrorless or DSLR camera, wide-angle lenses, and tripod) then this may not matter to you.
This tour goes by minivan up to 90 kilometers away from the heart of Abisko National Park if needed to one of their favorite spots, such as Lake Torneträsk, Bear Mountain, or the mountains near Björkliden.
Note that this tour has less personalized attention than the above tour, since there can be up to 18 guests per tour.
That said, if you don't mind the lack of photography equipment or the larger group size, it's a great option!
6-Hour Northern Lights Tour with Dinner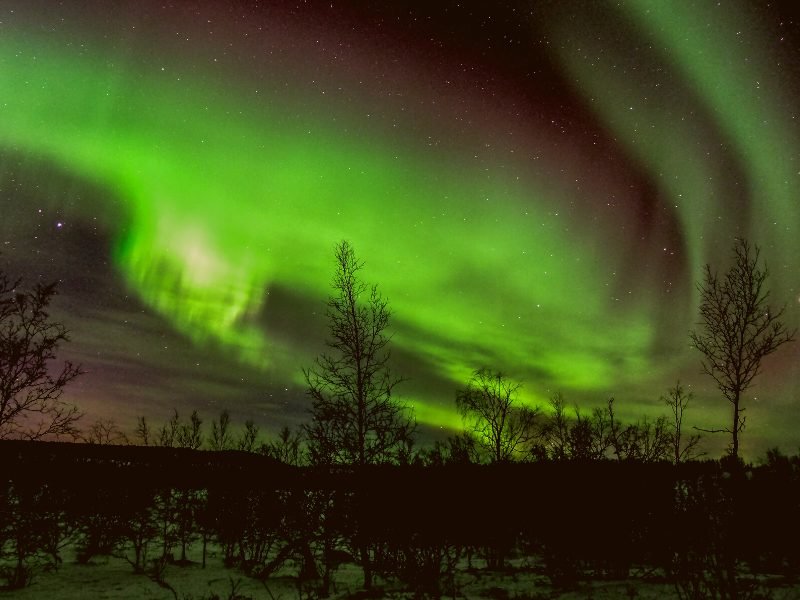 If 4 hours of aurora chasing isn't enough for you, here's another great value offer — a 6-hour long Northern lights chase including dinner!
This small group tour (max. size 12) includes dinner first, then departing on a minivan tour chasing the lights.
This way, your guide will bring you to the best spot for the aurora based on the night's forecast and microclimate conditions.
They'll set up camp with a roaring campfire and hot tea and coffee so you can stay warm while waiting for the aurora to show!
This tour's extra value comes from its two additional hours of aurora-watching compared to other tours as well as including dinner as part of the experience.
However, keep in mind that it does not provide any photography equipment, so you'll have to bring your own from home.
Aurora Watching Tour with Sami-Style BBQ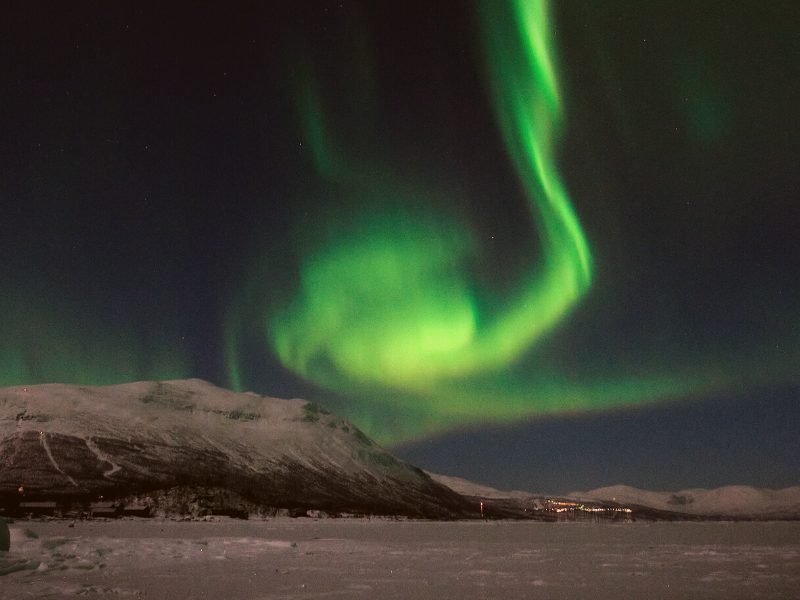 This BBQ & aurora watching tour combines a culinary experience with Northern lights chasing, sharing delicacies from the local Sámi culture such as smoked reindeer as you enjoy a BBQ dinner.
(Reindeer not your jam? Fish, vegan, and vegetarian options are all available, too.)
After the BBQ dinner, you'll head out into the more remote countryside in search of the aurora — depending on the weather and where you need to go, you'll either explore by bus or by snowmobile!
Note that this is a shorter tour compared to others, at about 2-3 hours, so it may not be the best option if you are really dedicated to seeing the lights and getting the perfect snaps!
Visiting the Aurora Sky Station
One of the most popular ways to see the Northern lights in Abisko is to visit the Aurora Sky Station located not far from STF Turiststation.
This tour brings you from STF Turiststation to a chairlift which will bring you to the top of Mt. Nuolja, about 3,000 feet above sea level (900 meters).
The views of Abisko and Lake Törnetrask below you are pretty epic — add in the Northern lights over Abisko and it's like a painting come to life!
The benefit of the Sky Station is that you get to stay indoors in a cozy and comfy setting while you wait for the Northern lights to appear.
The downside is twofold: one, you're locked into one location, so if the weather conditions are poor there, you won't really be able to change it up.
The other downside is that because you're high up, you may experience some different weather conditions that actually make viewing the lights harder, such as if a cloud settles atop the mountain.
That said, the Abisko Sky Station is a popular choice for many, because it's comfortable to sit in the sky station and enjoy a meal here while you wait for the lights.
While I wouldn't recommend it as the only way to see the Northern lights, having a meal here and spending a night here would be a good way to supplement another Abisko Northern lights tour experience.
Aurora & Guided Snowmobile Tour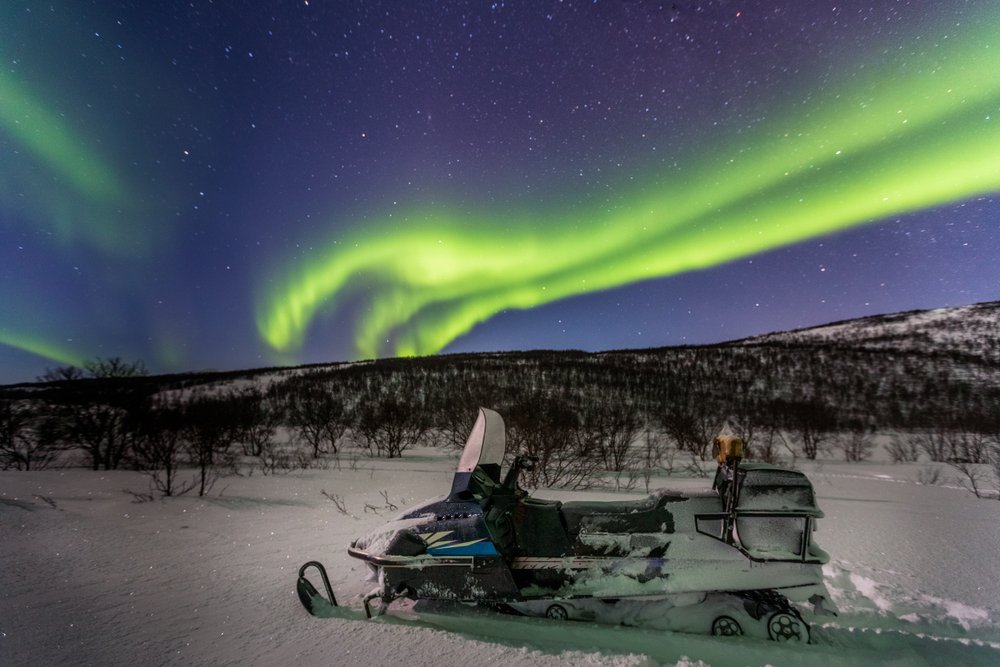 If you want to combine your Abisko Northern lights chasing with a fun out-in-nature activity, this aurora and snowmobile tour is an excellent option.
Cozy up in your provided thermal suit and choose between driving your own snowmobile (alone or with a passenger) or hop on board a sled pulled along by a snowmobile.
In between glimpses at the sky for the aurora, keep an eye out on the snow-covered ground too for local wildlife like moose and reindeer along the way.
This tour is capped at 10 people to ensure a small group experience, and it lasts for about 3 hours.
Self-Guided Aurora Watching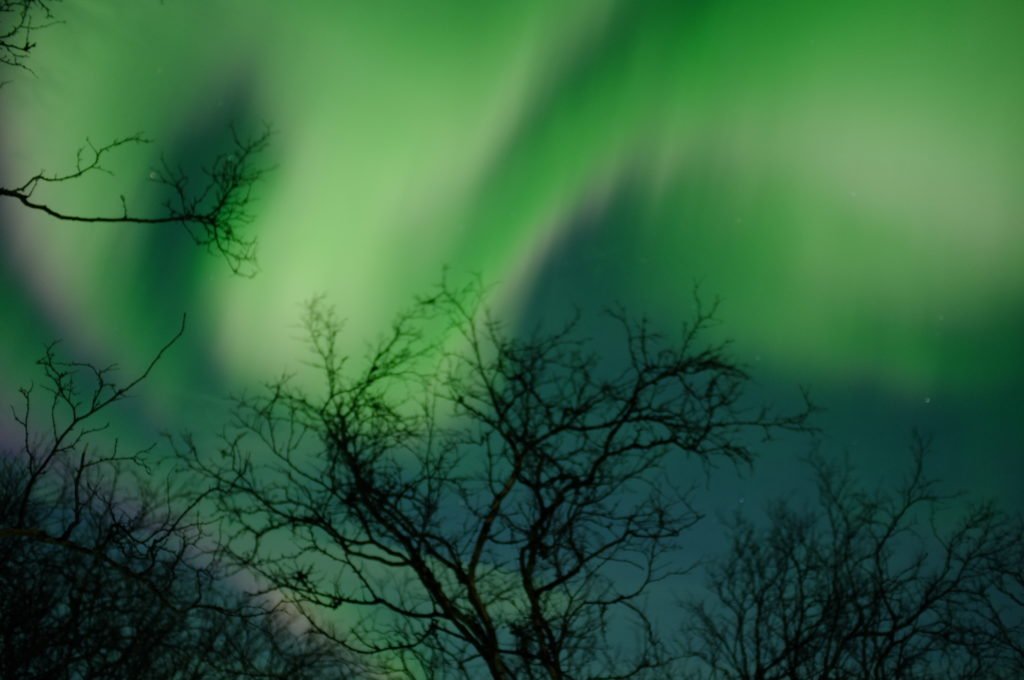 That said, you don't need to take an Abisko Northern lights tour in order to see the lights. Self-guiding is an option, too!
I was on a strict budget while I visited Abisko since it was back in my teaching days, and I was spending my money elsewhere on things like my dog-sledding tour so I didn't take a Northern lights tour while in Abisko.
Instead, each night when I was staying at STF Turiststation I would check the aurora livestream (it's since changed, but you can now find it livestreaming on Twitch — it's going off right now as I type this, at 3 AM Swedish time!) and then go for a little night hike with my photography gear.
The first two nights I did this, there was Northern lights activity in Abisko but I didn't get to take very good photos, because the conditions were really fleeting and I didn't really know what I was doing.
Plus, it was really cold and standing around aimlessly without a fire or anything didn't make it easy to have the patience I'd need for a better chance of great photos.
The final night I got better photos, walking down from where I was staying at STF Turiststation to the frozen-over Lake Törnetrask and being determined to truly see the lights.
Just as I was giving up and heading back in, the Northern lights erupted above me and I was able to snap the above photo!
It's not a fantastic photo, but I'm proud that I was able to capture the purple element which was visible even to the naked eye.
So, yes, you can absolutely self-guide and see the Northern lights on your own! However, after taking several Northern lights tours in Tromso, I have to say that if you can afford it, taking a tour offers a far better and more comfortable experience, with a much higher guarantee of seeing the lights.
Personally, if I were to re-do this trip, I'd take a tour at least one night of my trip — it would have been worth the extra expenditure, something I can now only see with hindsight.
Where I Stayed to See the Abisko Northern Lights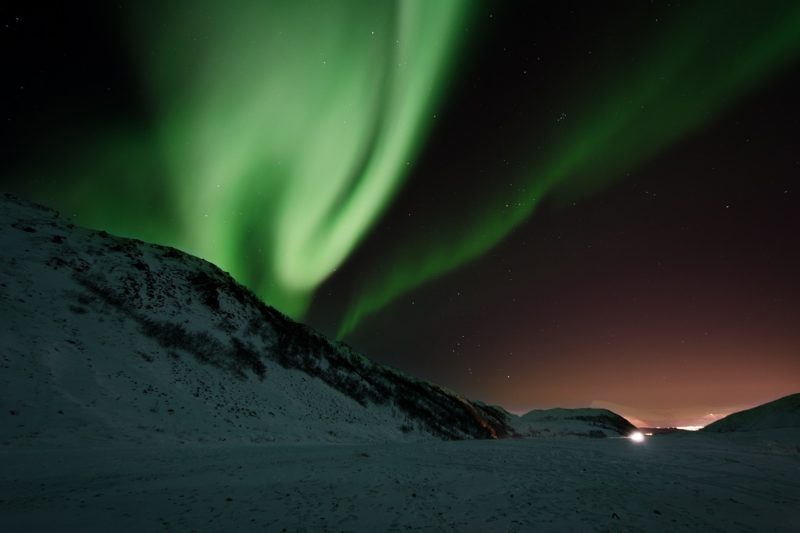 Originally, we booked to stay at Abisko Hostel & Huskies.
I mean, it has huskies in the name — how could you not?
However, due to a last minute problem with the hostel (a malfunctioning fire alarm system that they were fixing), they had to cancel our reservation.
But they rebooked us for no extra cost at STF Turiststation, a more expensive (but incredibly nice!) hostel that also has cabins and private rooms.
And we had a whole 6-room hostel room to ourselves!
We loved our stay at STF so much that if your budget allows I'd really recommend staying there, because you truly can't beat having all of Abisko National Park to yourself.
STF has multiple saunas, snowshoe and cross-country ski rentals, TWO of the nicest hostel kitchens I've ever seen, a fireplace and lounge room.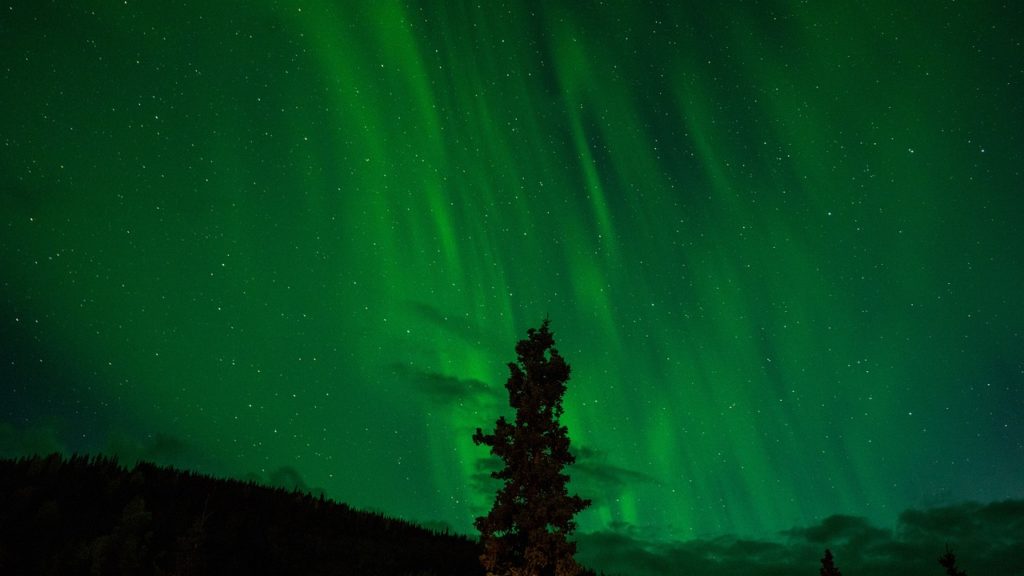 Plus, it's walking distance to frozen waterfalls and the frozen lake in Abisko National Park, which are great places to go during the day while waiting for the Northern lights to appear at night.
Even if you don't stay there, it's a great place to go for lunch – they have a daily buffet for about $15 USD, which is a fantastic deal for pricy Sweden.
The people at Abisko Hostel & Huskies were so lovely, and really helped us out with everything related to our stay… but I can't speak to how the dorms were as we ended up being unable to stay there.
The dogsledding tour we took with them, however, was excellent!
Daytime Things to Do in Abisko (Before the Northern Lights Come out!)
Spend the after going dogsledding with huskies.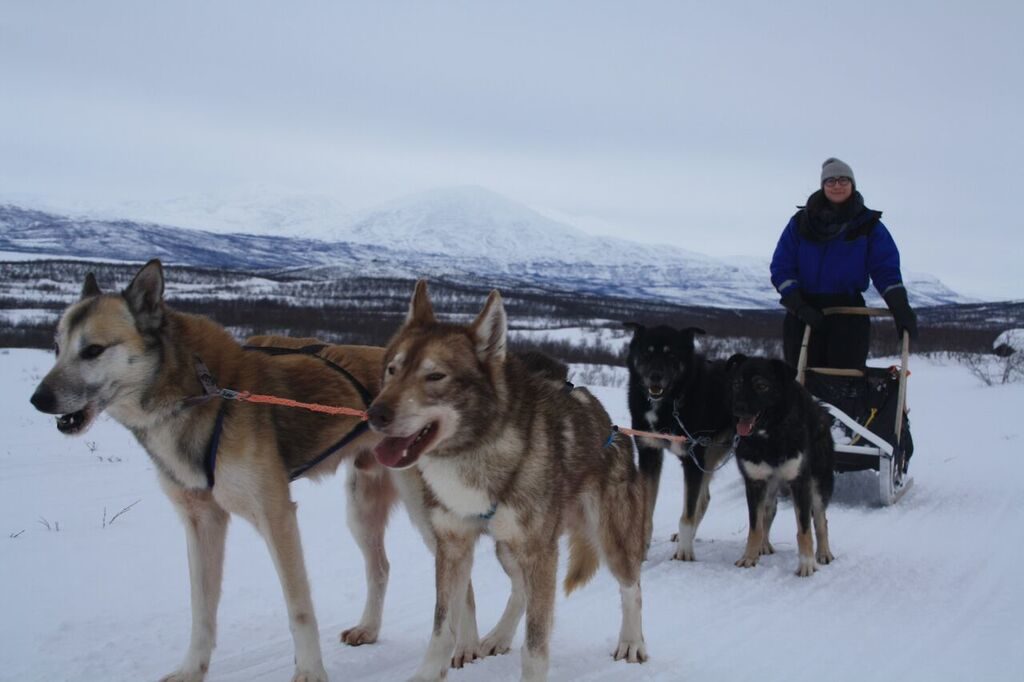 As I mentioned before, I loved my dog-sledding tour in Abisko!
While in general, I'm a traveler who is hesitant to support animal tourism, I think dog sledding is different. (I even wrote a whole post on dog sledding in Norway to explain why!)
And in Abisko, I was able to see that the staff really value the dogs' safety and wellbeing.
They had an awareness of each dog's personality and knew how to pair the dogs with other dogs they'd get along with.
Sled dogs aren't like your average dog – while obviously domesticated, there's still a touch of the wild in them.
There's a very clear hierarchy amongst sled dogs, and certain dogs need to be at the front of the line or else they get really upset.
I appreciated how the staff knew about this, anticipated it, and kept the dogs happy — they were literally howling with happiness, ready to run before we left.
At approximately $170 USD, a two-hour sled ride with the dogs is certainly an expensive treat, but it was well worth it to me.
However, for me, the realization of a childhood dream was worth the added cost.
Chase (frozen) waterfalls in Abisko National Park… or even climb them!
Abisko National Park is a stunning setting even if it weren't for its frequent dalliances with the Northern lights — and seeing it by day is a must.
Take some snowshoes (if you're staying at STF Turiststation, they'll rent you some!) and go for a hike to find the beautiful frozen waterfalls.
The staff at the front desk can draw you a map to find it, just a 15-minute trudge through the snow away.
If you're feeling exceptionally brave, we saw people ice climbing up the waterfalls, using a belay set-up and climbing with pickaxes and crampons.
Back when I saw this with my own eyes in 2016, it was a big ol' nope for me, but now 2023-era me who loves rock climbing is wondering when I can get back and try my hand at ice climbing!
Learn about the indigenous Sámi culture.
The Arctic region of Europe has its own Indigenous population: the Sámi people, who inhabit the Sápmi region which includes parts of Northern Norway, Sweden, and Finland, as well as Kola peninsula in Russia.
The Sámi people have lived off and cared for the land for centuries and continue to live in this region today, despite attempts from the nations who claimed Sápmi land in their borders to erase or assimilate Sámi culture.
The exact arrival of the Sámi in the region and who they originated from is still unknown, but most scholars agree at the Sámi have been inhabiting the Arctic region continuously for at least 2,000 years.
Despite harsh Arctic weather, attempted forced assimilation through political and so-called 'educational' means, and the division of their ancestral lands into four distinct nations, the Sámi continue to preserve their traditions, language, and culture.
One fascinating facet of this culture is the unique relationship between the Sámi people and the semi-domesticated reindeer they herd through the wild lands of the Arctic region.
For many centuries, the Sámi hunted reindeer as a wild species, but since the 1500s, that changed when some Sámi began herding reindeer and domesticating them, similar to free-grazing cattle.
Reindeer husbandry is still a major part of the Sámi economy, though now tourism plays a role in that, with many Sámi people choosing to remain static through the winter period and establishing a farm that tourists can visit rather than roaming nomadically as they would historically do.
Visits with the Sámi people often include checking out the reindeer farms and getting a chance to feed reindeer or go reindeer sledding.
This Sámi tour is the one I would recommend as it is also run by Lights over Lapland, which enjoys a great reputation in the region. 
The 7-hour tour consists of a visit to a reindeer farm in Rávttas, a small Sámi village 45 minutes away from Abisko.
The tour is inclusive of roundtrip transportation and lunch. On the tour, you'll get the chance to meet and feed the reindeer, learning about Sámi culture from an English-speaking Sámi tour guide, and enjoy a short reindeer sled ride
What to Pack for a Trip to Abisko's Northern Lights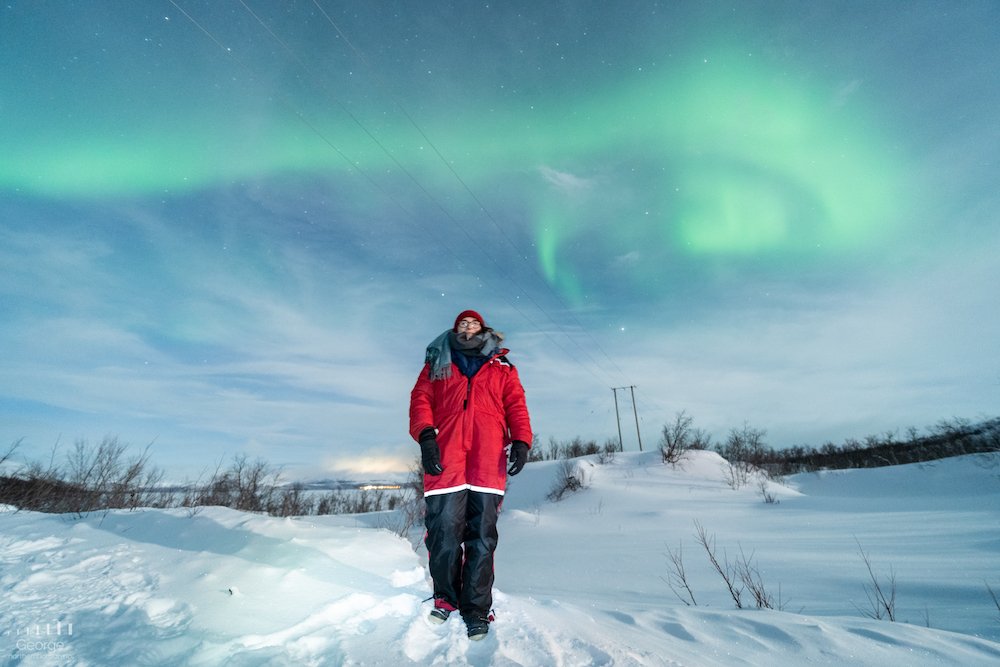 Despite being located north of the Arctic Circle, Abisko isn't always as cold as you might think.
Temperatures of -20°C / -4°F are common, and on rare occasions, the weather will reach as low as -40°C / -40°F.
However, when I visited in mid-February, the weather really wasn't that bad. In fact, Abisko was warmer than the weather in NYC that I had left behind! We usually had temperatures of around -1°C/30°F during the day, and as low as -9°C / 15°F at night.
However, the weather is unpredictable, so you will most certainly want to pack accordingly. Here's what I recommend you bring (for a more complete list, check out my winter in Sweden packing list)
Down Parka
Base Layers (either merino wool or other performance fabric)
Warm Sweaters + Waterproof Pants
Wool Socks + Snow Boots
Touchscreen-friendly Gloves + Waterproof Gloves over them
Hand Warmers (Electric or Disposable)
Tight-knit Hat + Large Scarf
Mirrorless/DSLR camera + Wide Angle Lens (+ Extra Batteries!)
Tripod + Lens Defogger
Don't Forget Travel Insurance!
When planning any trip, especially a winter trip, be sure not to forget about travel insurance!
I use SafetyWing and its Nomad Insurance to insure all of my trips for its affordable rates and comprehensive coverage for all my travel needs.
For a trip as expensive as traveling to Sweden, and with weather as unpredictable as it is in the Arctic, it's especially important for me to have coverage.
It provides both travel insurance (coverage for trip delays, cancellations, interruptions — the likelihood of which increases in winter) and travel medical insurance (coverage for things like accidents, illnesses including Covid, etc. — also more likely in winter!).
Coverage is really affordable — for me, it costs roughly $11 USD for a week of coverage outside of the U.S., with a policy max of $250,000 after a deductible of $250. Not bad!
Allison Green is a former educator turned travel blogger. She holds a Masters in Teaching and a B.A. in English and Creative Writing. Her blog posts merge her educational background and her experience traveling to 70+ countries to encourage responsible, enriching travel. She has been a speaker at the World Travel Writers Conference and her writing, photography, and podcasting work has appeared in National Geographic, CNN Arabic, CBC Canada, and Forbes, amongst others. Now a full-time traveler, she has lived in Prague, Sofia, New York City, and the San Francisco Bay Area.