Lake Garda is the largest lake in all of Italy, spanning three regions: Lombardy, Trentino Alto-Adige, and Veneto.
The closest cities to Lake Garda are Brescia and Verona, but you can easily reach it from Milan and Venice as well.
The southern towns on Lake Garda are popular destinations for day trips, but if you're looking for the full experience of the area, I recommend spending at least three days traveling around the lake.
Renting a car is the best way to explore, but you can also get around by bus with some patience.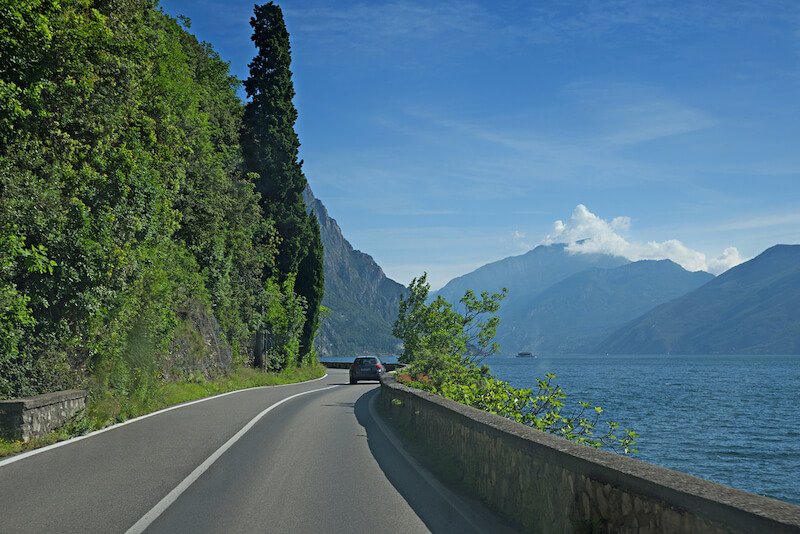 Note: This post contains affiliate links, which means I may receive a small commission if you purchase something through one of these links. Thank you for supporting the free content on this site! For more information on affiliate links and cookies, see my disclosure page for more details.
In this guide, I'll share my take on the most beautiful towns you should visit on Lake Garda.
I've lived and traveled around Italy for over 15 years, and Lake Garda is one of my all-time favorite destinations in Northern Italy!
Whether you want to just circle the lake on a short road trip or to spend several luxurious days exploring these gorgeous towns thoroughly, Lake Garda won't disappoint you.
Where to Stay in Lake Garda
Sirmione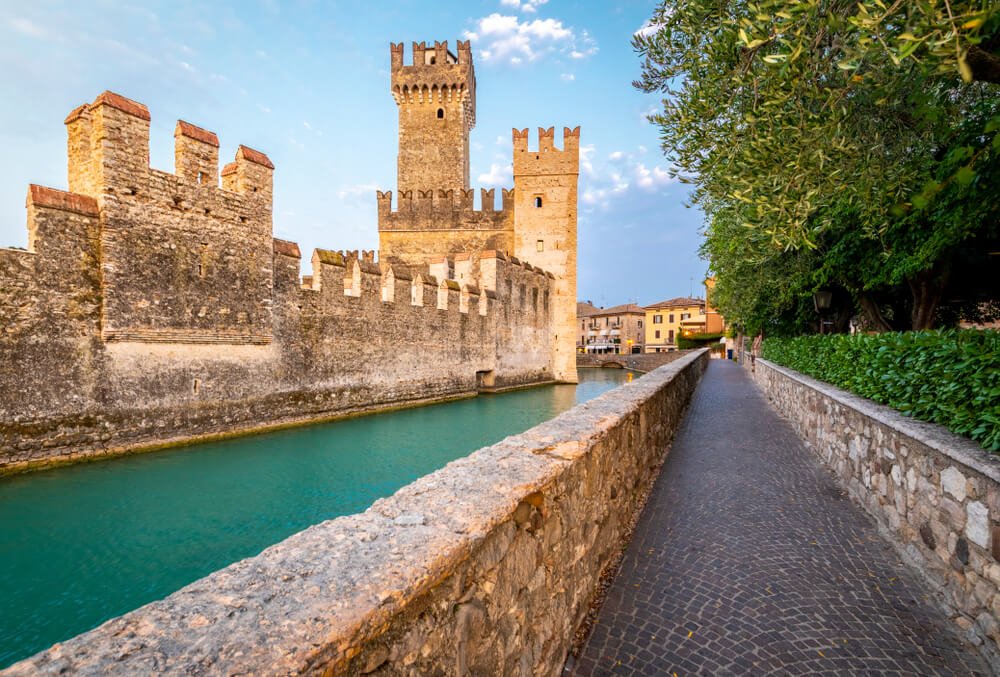 Sirmione is one of the most popular and picturesque towns on Lake Garda, so perhaps it's no surprise that it's the top of our list for where to stay in Lake Garda.
Sitting on a narrow peninsula extending into the lake on the southern shore of the lake, Sirmione is a popular departure point for boat tours and an ideal base from which to explore the southern portion of the lake.
At the very tip of the peninsula, you can visit the Archaeological Site of Grotte di Catullo, once the location of an imposing Roman villa.
In the historical center of Sirmione, be sure to visit the 13th-century Scaligero Castle with its historic drawbridge and the charming medieval Church of San Pietro in Mavino.
All around the peninsula, you can enjoy a stroll along the lakeshore or even relax at one of the many beaches and go for a swim.
For a delicious lunch in a quaint setting, head to Bon Ton Bistrot. If you're up for a gourmet meal in a modern setting, try La Rucola 2.0.
Lastly, a great way to experience Sirmione is with a scenic boat tour around the peninsula.
You can choose between many options, from half-hour tours focusing on the highlights to half-day tours.
Book in advance if you're visiting in the summer, as they fill up quickly!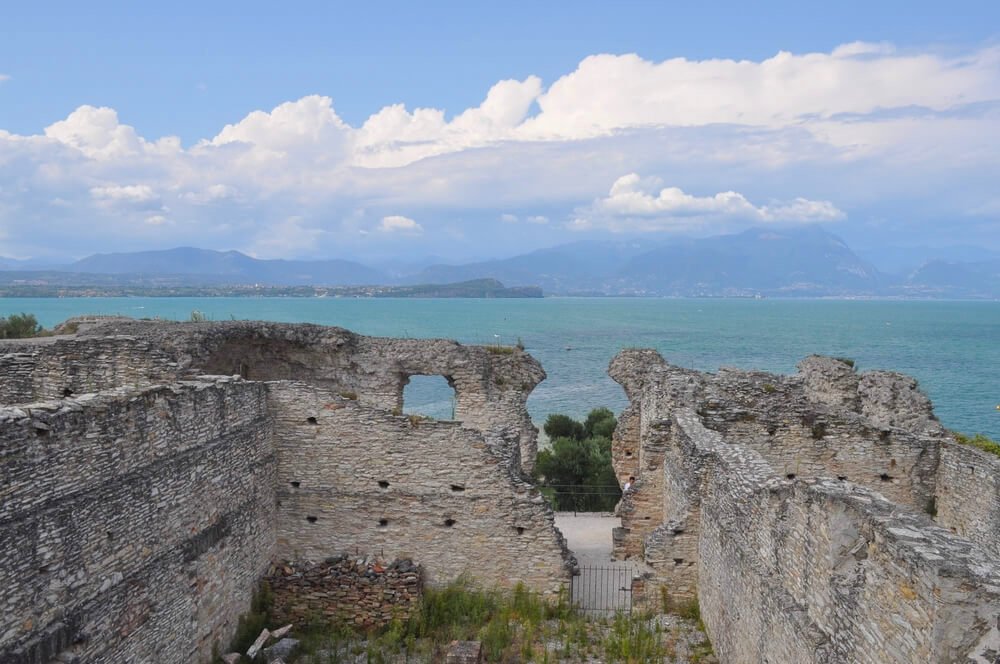 For a beachfront budget option, there's Hotel Pace, located on the beach near the old walled city of Sirmione.
This small, old-fashioned Italian hotel features air conditioning, but guests should be prepared to carry their luggage as there is no elevator. Despite this, the hotel offers a charming and affordable stay in a prime location.
Located inside the old city walls of Sirmione, Hotel Casa Scaligeri is a charming mid-range option that won't break the bank.
The hotel's rooms are modern and stylish, featuring clean geometric lines, warm lighting, natural wood, and white linens.
Guests can even enjoy private loungers with lake views for a relaxing and peaceful experience away from Sirmione's crowds
The stunning Grand Hotel Terme, a 5-star hotel close to Sirmione's old town, is one of the best places to stay!
The biggest draw is its thermal pool with naturally heated, mineral-rich thermal waters and shower-like jets, perfect for a revitalizing soak.
There's also a private spa area that includes a glass-walled sauna, offering picturesque views of the lake while you steam.
The large and roomy guest rooms are minimalist, keeping the focus on the beauty of Lake Garda.
Desenzano del Garda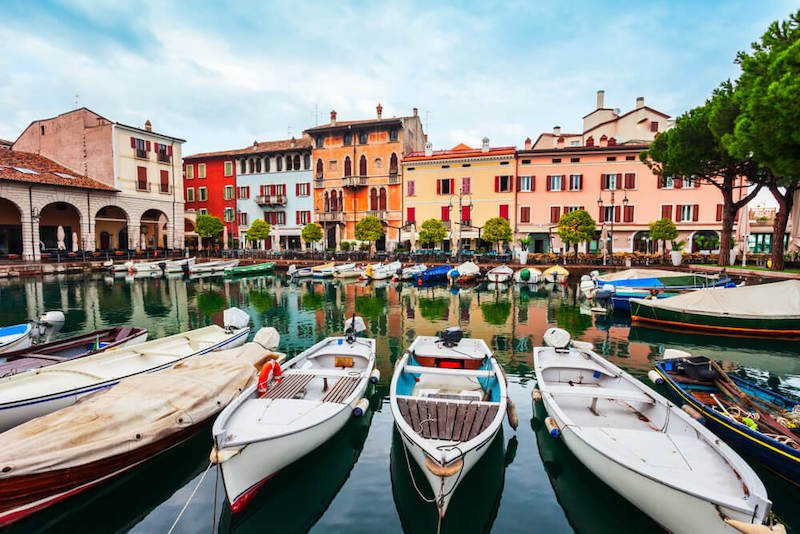 Desenzano del Garda sits on the southwestern shore of Lake Garda, only a 20-minute drive from Sirmione.
The town is much larger than Sirmione, featuring a delightful historical center, a lovely marina, and several landmarks and museums.
The hilltop Castello di Desenzano del Garda, once a strategic military building and refuge from foreign invasions, is now one of the town's most important landmarks, offering sweeping views of the lake.
The other must-see spot in Desenzano del Garda is the archaeological museum, Villa Romana di Desenzano del Garda.
The site is home to the ruins of an ancient Roman villa, whose impressive, well-preserved mosaics are still on display for you to admire.
Desenzano is the ideal location to watch the sunrise over the lake.
You can also go swimming and sunbathing on one of the many beaches, visit the Museo Civico Archeologico Giovanni Rambotti, and check out the Duomo di Santa Maria Maddalena.
From the port of Desenzano, you can join boat tours around the lake or even rent a boat to explore the lake by yourself.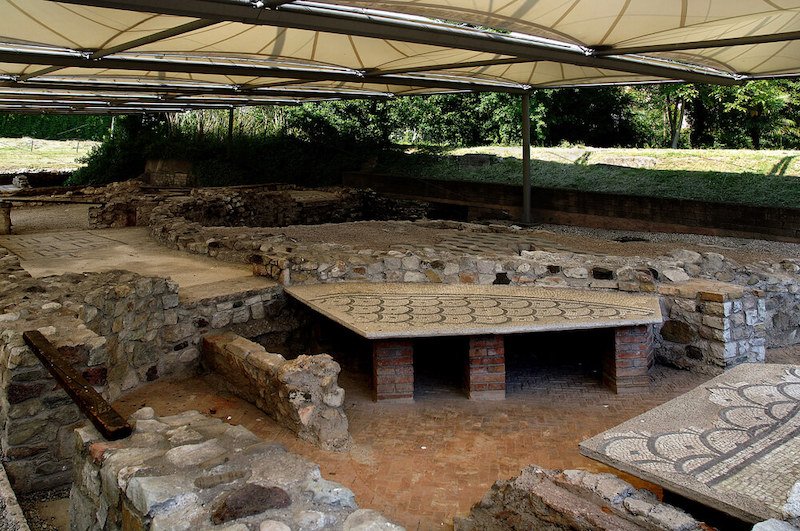 Set back a bit from the lakeside action, Hotel Benaco is nevertheless a perfect budget option with plenty of amenities you wouldn't expect at its price point.
While certainly not a luxury option, there is a little bit of an oasis here in the form of its own little garden and outdoor pool area if you want to relax in privacy.
The hotel's rooms have an antique feel, though slightly dated. On the same note, the fitness room is a bit out-of-date, but you can still squeeze in a quick workout, should you want to.
For travelers on a budget, note: the free breakfast buffet is really generous, too!
Best Mid-Range Option: Park Hotel
The Park Hotel is a pretty cool spot with some sweet features. We can't stress enough it's gorgeous rooftop pool, complete with sun terrace with lake views and even a hot tub to soak in.
The location is another big selling point. Right on the Lungalago promenade, you can't ask for better views!
The hotel's rooms are spacious and comfortable (A/C, WiFi, it's got the basics covered), but perhaps a bit outdated in terms of style.
The Palace Hotel in Desenzano del Garda is a great luxury hotel with so much to offer. You've got two lovely pools to choose from, one of which is an outdoor heated pool with stunning views of the lake.
But the real deal here is the spa. It's a haven for all things relaxation! We're talking a Finnish sauna, Turkish steam room, infrared sauna, and even a salt room.
And let's not forget about the rooms! The bathrooms are also pretty seriously spa-worthy, with soaking tubs and lovely marble counters The bedrooms may not be the fanciest rooms you've ever seen, but trust us, the other amenities make up for it big time.
Salò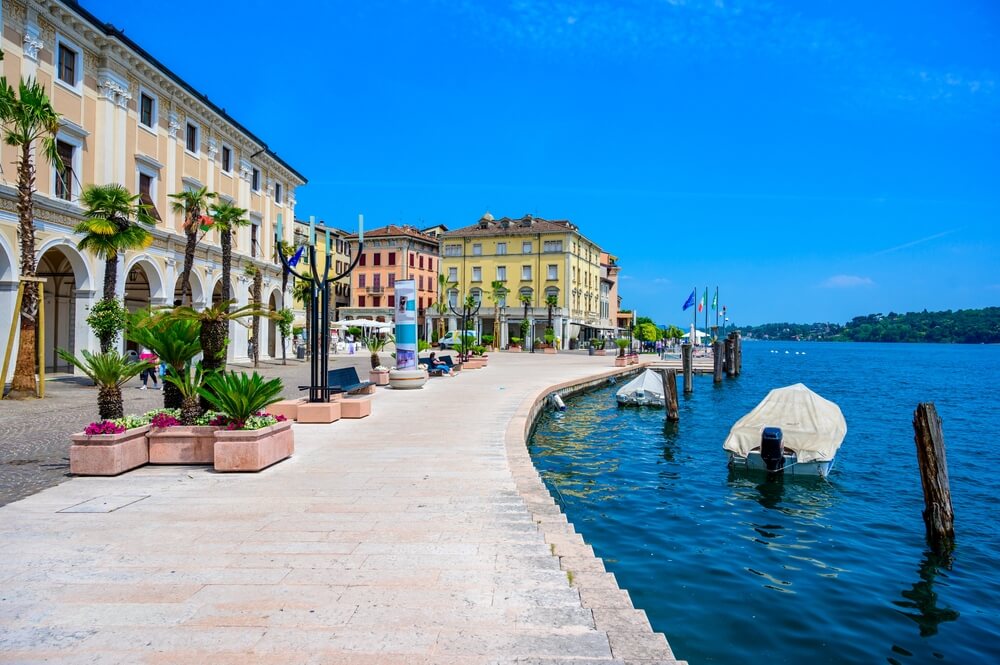 The Lake Garda town of Salò lies enclosed within a natural inlet on the western shore of Lake Garda.
From strolling along the beautiful Lungolago di Salò to visiting local museums and enjoying delicious food, there's so much to do in Salò.
Rest assured, whichever you choose, you're guaranteed to have a lovely time.
Pay a visit to the beautiful Duomo di Santa Maria Annunziata, walk around the historical center, and discover the art and science exhibitions at MuSa – Museo di Salò.
If you happen to find yourself in town on a Saturday, head to the weekly Mercato di Salò to buy local delicacies and souvenirs.
All along the lake shore, you'll find countless panoramic views, beaches, and restaurants. Salò is especially famous for elegant fine-dining venues.
Enjoy a gourmet lunch with a view on the beautiful terrace of Magnolia Restaurant or at the lakeside Locanda del Benaco.
For tasty baked goods, head over to Pasticceria L'io Goloso.
If you enjoy hiking, take an afternoon to explore the trails in the hills surrounding Salò and enjoy sweeping lake views from the panoramic viewpoints.
Top destinations include Belvedere Amici del Golfo, La Corna, and Belvedere Isabella northeast of Salò.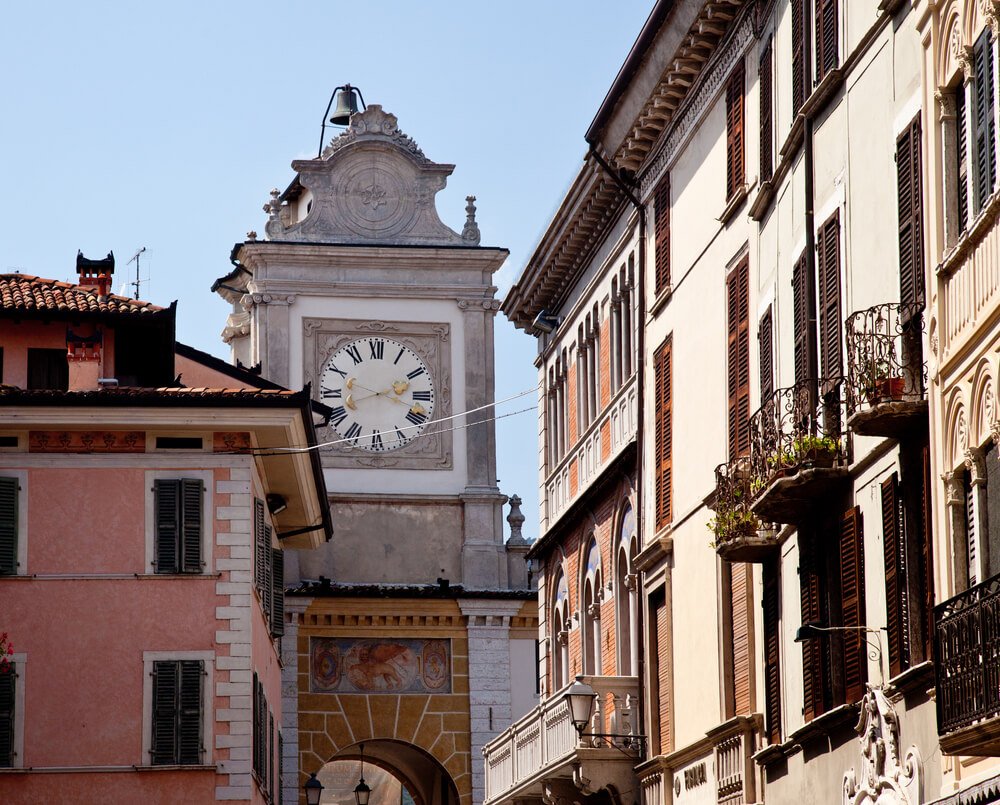 Hotel Eden is a great budget option in Salò's historic center, set on a major piazza that overlooks the clock tower and the lake beyond in the distance.
The hotel has an old-school feel, with elegant chandeliers and vintage furnishings throughout. Some of the rooms even have balconies with town square views!
The key highlight of Hotel Eden is its location. It's situated right in the heart of Salò, making it easy to explore the town's charming streets and attractions.
And with lake views from some of the rooms, you'll be able to enjoy the beauty of Lake Garda even though you're not on the Lungolago promenade.
For a mid-range but elegant stay, Hotel Laurin is a great choice. Once a privately-owned Art Nouveau villa, the hotel has worked hard to maintain much of its original aesthetic for a one-of-a-kind stay.
Though it has historic roots, the hotel has been updated with modern amenities, like WiFi and parking with EV charging. The rooms themselves are delicately renovated with tasteful decor, balancing its original detailing and modern conveniences.
Of course, there's also the stunning outdoor swimming pool and spacious gardens, great for relaxing away from the town.
For a stunning gourmet experience, the renowned Magnolia restaurant is a can't-miss.
The ornate and elegant dining room is complete with frescoes and chandeliers, creating an atmosphere of opulence and grandeur that suits its fine dining menu.
How about staying in a former monastery turned into a luxury hotel? Look no further than Villa Arcadio, tucked away in the hills behind the town of Salo.
From its ivy-covered exterior to its interior with exposed beams and stonework, the historic ambiance is ever-present.
While you're about a 10-minute drive from town, the lake views are still in sight from the pool area. There's also a terrace, perfect for sunset drinks.
The short drive away from town is worth it; the secluded atmosphere is unmatched elsewhere in Lake Garda, especially given the historic nature of the hotel.
But it's not all old news here: there's a great spa, complete with a Finnish sauna and a range of massages and treatments.
Gardone Riviera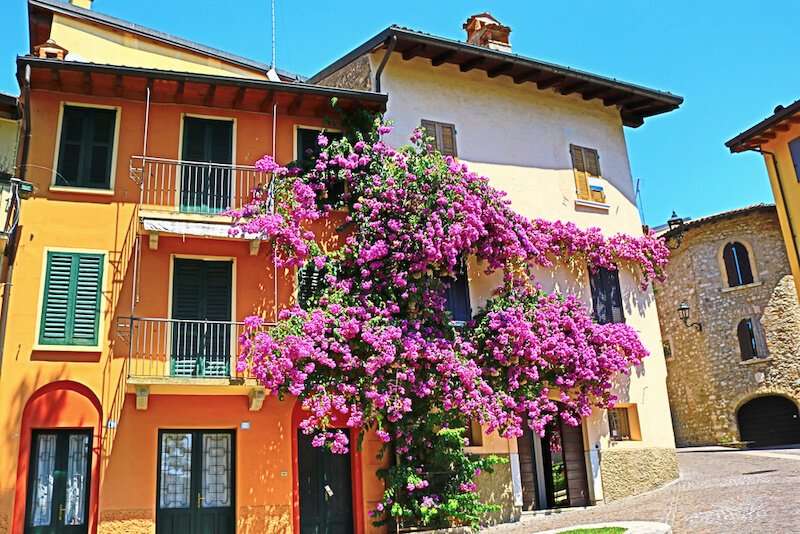 Just north of Salò, Gardone Riviera is a town of sumptuous villas and lush greenery.
Villa Alba and Villa Fiordaliso are just two of the many luxury villas overlooking the lake, most of which have been turned into hotels or event venues.
However, the most impressive is La Torre di San Marco, an event venue featuring a beautiful Venetian tower right on the lake shore.
The most notable landmark in town is the Vittoriale degli Italiani, a complex of monumental buildings featuring, among other things, a modern amphitheater, a cruising warship, and beautifully landscaped gardens.
The complex was once the home of poet and novelist Gabriele D'Annunzio, who lived here until his death in 1938.
He is buried in a mausoleum, also part of the Vittoriale. You can visit the external areas of the impressive complex and get a guided tour of D'Annunzio's house.
Another place worth checking out in Gardone Riviera is the Botanic Garden André Heller.
The garden dates back to the early 20th century and boasts a spectacular variety of plants, along with sculptures, ponds, bridges, and a bamboo forest.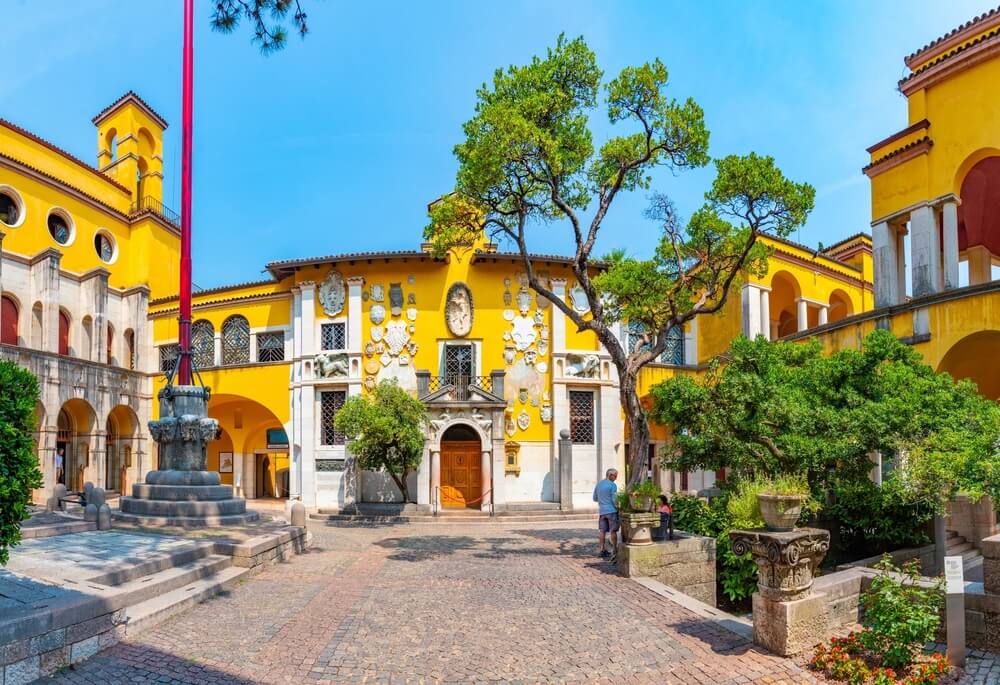 Looking for a budget-friendly hotel that won't let you down? Hotel Du Lac is right on the Lungomare and boasts an amazing lakefront view. Plus, there's a gorgeous panoramic patio where you can soak up the Lake Garda views.
If you really wanna treat yo' self, go ahead and splurge on a unit upgrade with a balcony and a stunning lake view.
The rooms are on the smaller side, but hey, what do you expect at this price point? You gotta give a little to get a little, right?
For a fun, vibey option, look no further than Hotel Bella Riva: it's an homage to artsy design, full of personality and drawing inspiration from Klimt everywhere, even on the headboards of the beds. Talk about attention to detail!
The bedrooms are luxe, with plenty of space and even awesome soaking tubs in some of the rooms.
It gets better outside: the sun terrace is absolutely stunning, with an outdoor pool, sun loungers, and a view of the lake that's straight-up breathtaking. No spa amenities here, but who needs 'em when you've got all this?
For the ultimate luxe experience, the Grand Hotel Fasano is Instagram gold. Its lakefront location and an outdoor swimming pool will have you snapping pics for days. Seriously, your feed will be on fire!
But that's just the start of it: the spa is next-level amazingness, inspired by ancient Roman baths, it's got an indoor pool, hot tub, and Turkish steam room.
Plus, the hotel is actually two buildings in one: a modern one and the renovated 19th century Villa Principe that'll make you feel like old-school royalty.
The rooms are appropriately regal-feeling, too!
Toscolano-Maderno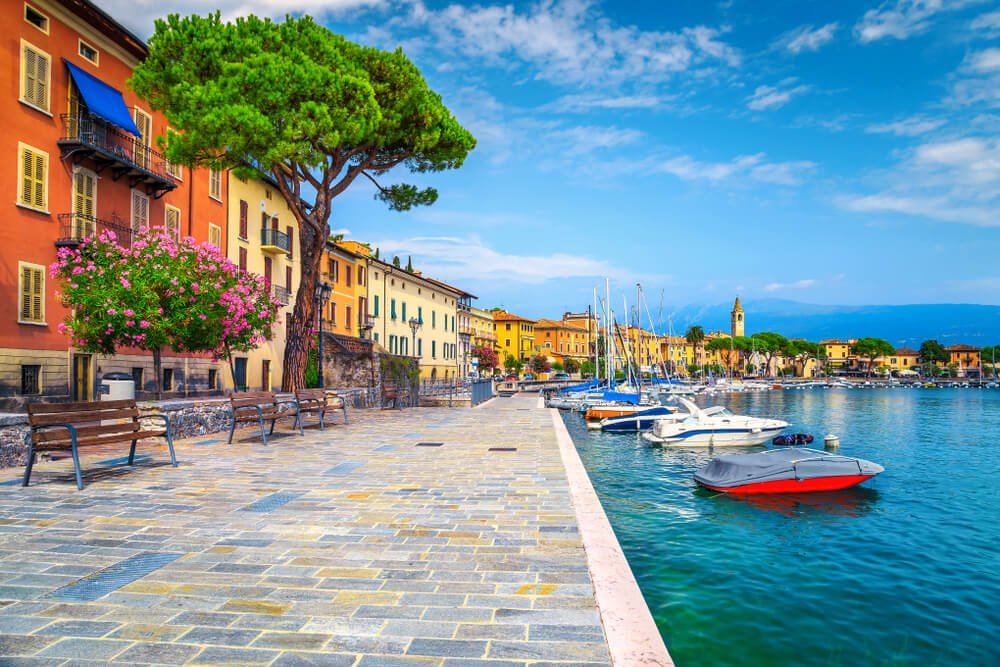 From Gardone Riviera, drive north for just five minutes to reach Toscolano-Maderno.
Once upon a time, these were two distinct towns, but over the years, they've merged together into a single destination.
If you're looking for a quaint town to explore on Lake Garda, you should stop by Toscolano-Maderno.
One of the best things to do in town is visiting the Paper Museum, Museo della Carta e della Valle delle Cartiere.
Not only can you learn about the history of papermaking in an ancient paper mill, but you'll enjoy the peaceful location surrounded by the lush vegetation just out of town.
Explore the trails around the Valle delle Cartiere (Paper Mill Valley) and visit the museum.
You can explore many areas on your own but the ancient section of the museum is only accessible on a guided tour, which is included in the entry fee.
Another thing you shouldn't miss is the stunning Chiesa di Montemaderno with its gorgeous views.
Back in town, stroll along the lake, relax on the small but lovely beaches, and enjoy a tasty lunch.
Try the delicious fresh pasta dishes at Osteria Gatto d'Oro or enjoy refined dishes with a view at the polished La Terrazza sul Lago.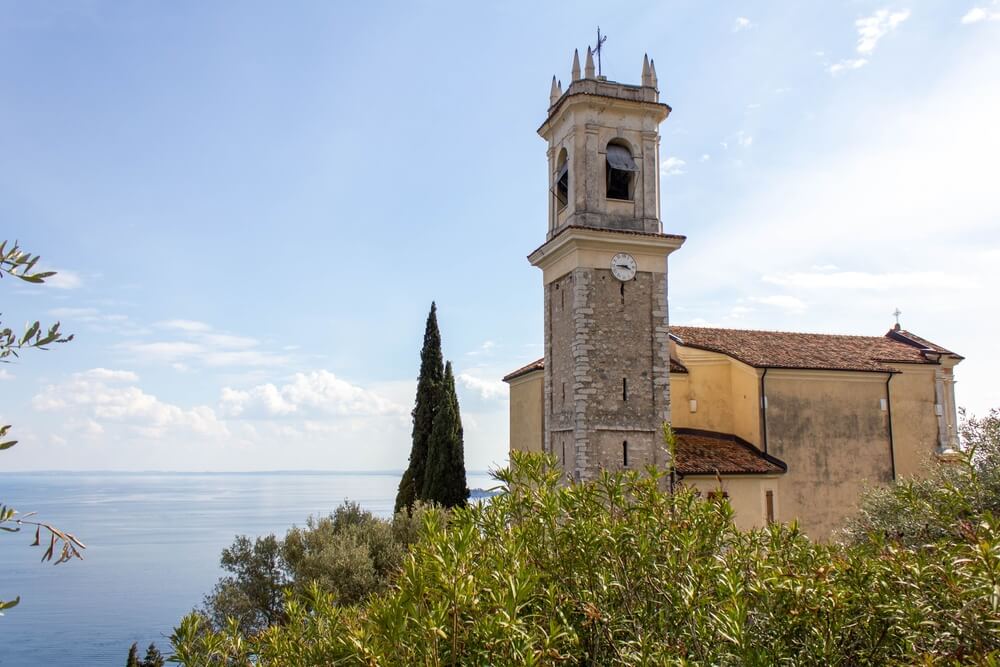 For a budget vacation rental, Garda Friends Apartment is a great choice in the heart of Toscolano-Maderno if you don't mind a small space for the sake of privacy!
This small, loft-style apartment has a tiny dining area and kitchenette, seating area, and views of town.
There's a loft bedroom with a king bed as well as a sofa bed, sleeping up to four (though it'll be a squeeze).
Ennesima Osteria con Alloggio is a unique hotel in Toscolano-Maderno, marketed as a "bike hotel" but suitable for all types of guests.
The hotel is designed with a funky aesthetic, featuring modern rooms with colorful wallpaper and stylish decor.
One of the highlights of Ennesima Osteria con Alloggio is its lovely bar in town, providing a great spot for socializing and relaxing after a day of activities.
The hotel's bike-friendly amenities, including bike storage and maintenance services, make it a convenient choice for people planning to explore Lake Garda by bike.
Whether you're a cyclist or not, Ennesima Osteria con Alloggio is a great choice for a comfortable and unique stay in Toscolano-Maderno.
With its funky decor, modern amenities, and convenient bike-friendly services, it's sure to appeal to a variety of guests.
For a unique guesthouse, look no further than Villa Mimosa au Lac: ideal for its picturesque location, private beach area, garden, and a terrace with stunning lake views.
The vintage furnishings add to the overall 'historic villa' ambiance, creating a home-away-from-home feel. Each room features a private entry, providing guests with privacy despite the B&B-style setup.
The villa is ideally located, just a short walk from the town center, where guests can explore a variety of shops and restaurants.
Gargnano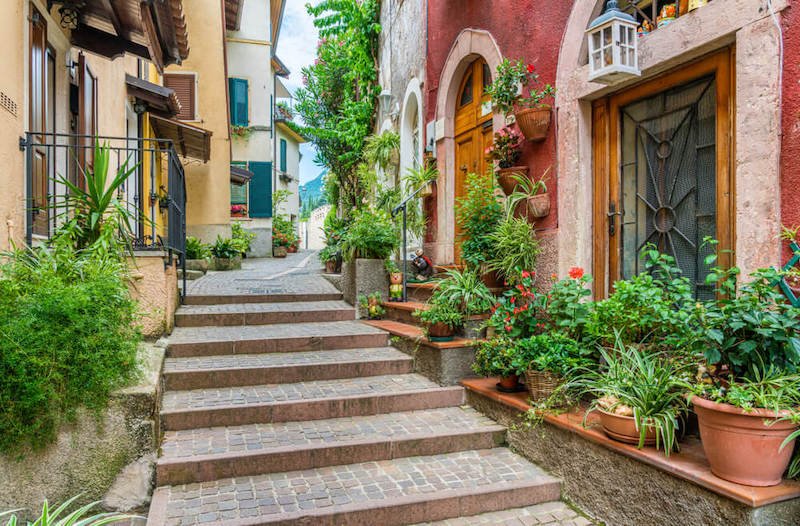 The beautiful Gargnano on the western shore of Lake Garda is part of the protected area Parco Regionale dell'Alto Garda Bresciano.
Once you're there, it's easy to see why many historical personalities and celebrities have chosen Gargnano as their home, ranging from novelist D.H Lawrence and even Benito Mussolini, who lived in the imposing Villa Feltrinelli, now a gorgeous five-star hotel.
Wandering around the picturesque town, it's not hard to understand why someone would live in Gargnano!
From the lovely lakeside promenade Lungolago Gargnano to the picturesque alleys and beautiful parks, Gargnano's charm is undeniable.
Some places you can't pass up the chance to visit in the town are the gorgeous Monastery of San Francesco and the Limonaia la Malora, where you can sample and buy locally-made Limoncello and other products.
As for places to eat, try Trattoria S. Martino – le 3 oche or AEOLUS Restaurant.
Last but not least, visit the monumental Villa Bettoni with its sumptuous interiors and the gorgeous gardens on the lake shore.
The villa houses its original 18th-century furniture and decorations, as well as beautiful artwork.
Be sure to plan ahead, though, as visiting the villa requires a guided tour booked in advance.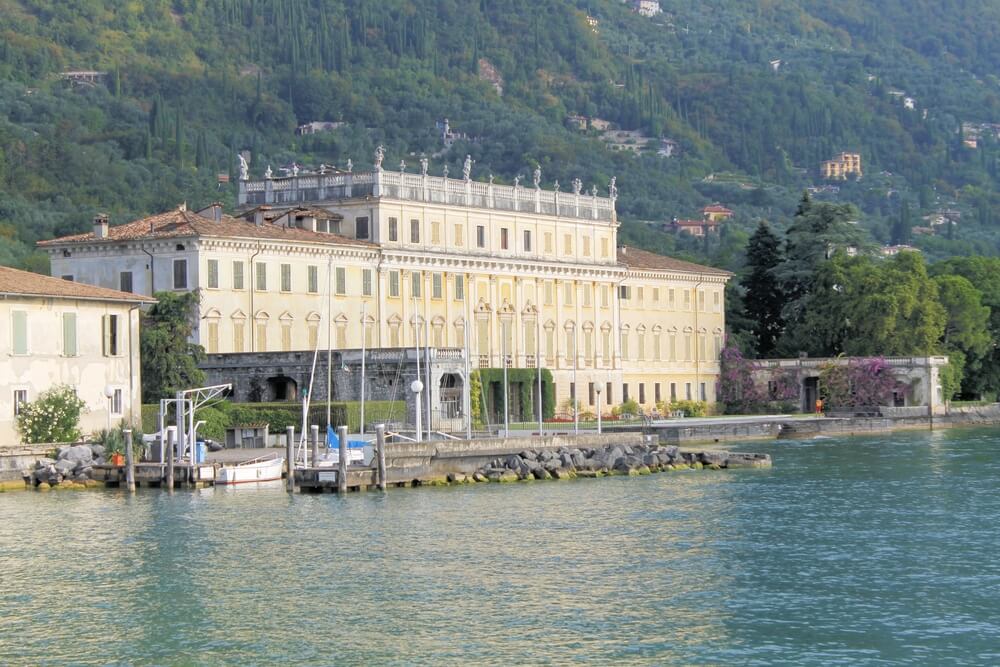 Hotel Livia is a charming hotel located near Villa Bettoni in Gargnano. The property is located on a hill with a slight elevation for a breathtaking view of Lake Garda.
The hotel features a small garden area (complete with a lemon orchard and olive grove — does it get even more like Eden?) and a small pool for guests to enjoy.
The on-site restaurant is a real treat, offering delicious cuisine that is sure to satisfy the hungriest of stomachs.
The rooms are clean and modern, nothing in particular to write home about, but cozy nevertheless.
If you're looking for a peaceful retreat in Gargnano, Hotel Livia is definitely worth checking out.
Corte Alma Spa and Luxury Home is a beautiful bed and breakfast that'll feel like your home the second the gracious hosts welcome you in!
This small but lovely B&B oozes historic charm with stone walls and exposed wood beams. There's a small courtyard with a terrace, perfect for dining al fresco, or there's even a small hot tub you can enjoy.
The rooms are decorated in a minimalist style with some vintage details, featuring white and bright decor that lets in plenty of natural light and wood elements.
Whether you're looking for a romantic getaway or a peaceful retreat, Corte Alma Spa and Luxury Home is an excellent choice for your stay in Gargnano.
Want to swim in an infinity pool that seems to float endlessly into the lake behind you? Look no further than Lefay Resort & Spa, one of the most stunning hotels in the entire Lake Garda area.
Located in the hills above Gargnano, that's how you get the stunning optical illusion of floating into the lake behind you. But there's perks to that location beyond just the views!
You'll be amidst olive groves, lush hills, and stunning gardens; but don't worry, a free shuttle will happily whisk you to town, so no worries about finding parking in the center.
Of course, it's got spa in the name, and it delivers: we're talking about the Mondo Lefay Spa of course, with its Turkish steam room, sauna, solarium, and indoor pool!
Limone sul Garda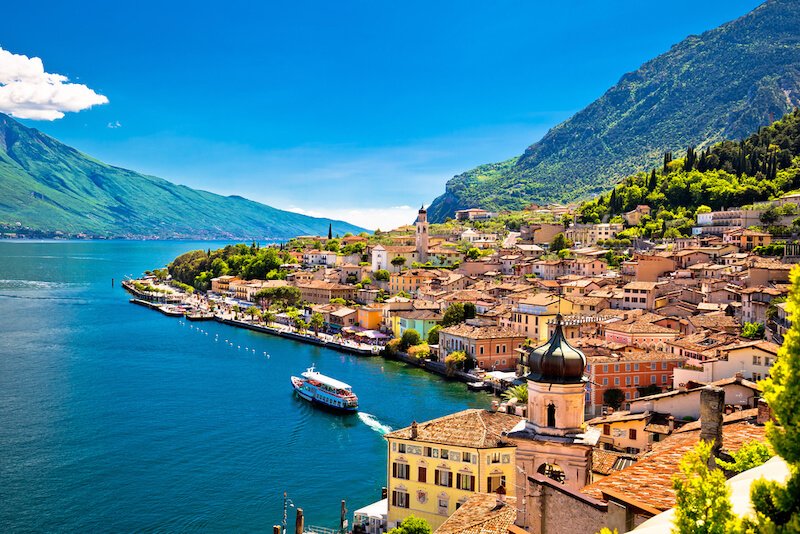 The lovely Limone sul Garda lies on the western shore of Lake Garda, toward the far northern end of the lake.
As the name suggests, Limone sul Garda is famous for its lemon houses, or limonaie in Italian, an alternative to an orangery.
Strangely enough, despite this history, the town's name does not come from lemons, but probably from limo or lemos, the Celtic for elm.
For centuries, the town was isolated due to the lack of roads!
Up until as recently as the 1940s, the only way to reach Limone sul Garda was by boat or walking through the trails across the southern mountains.
With the construction of roads came international tourism, and nowadays, Limone sul Garda is among the most popular towns on Lake Garda.
It should come as no surprise that one of the must-see sights in town is a museum dedicated to lemon trees.
Limonaia del Castèl features beautiful, terraced lemon groves overlooking the lake and exhibits about lemon trees and other citruses.
A recently built pedestrian and bicycle path follows the ancient trail that used to lead people to Limone from the southern mountains, opening up some truly gorgeous lake views.
Just north of Limone, hit the hiking trails and discover the beautiful Sopino Waterfall.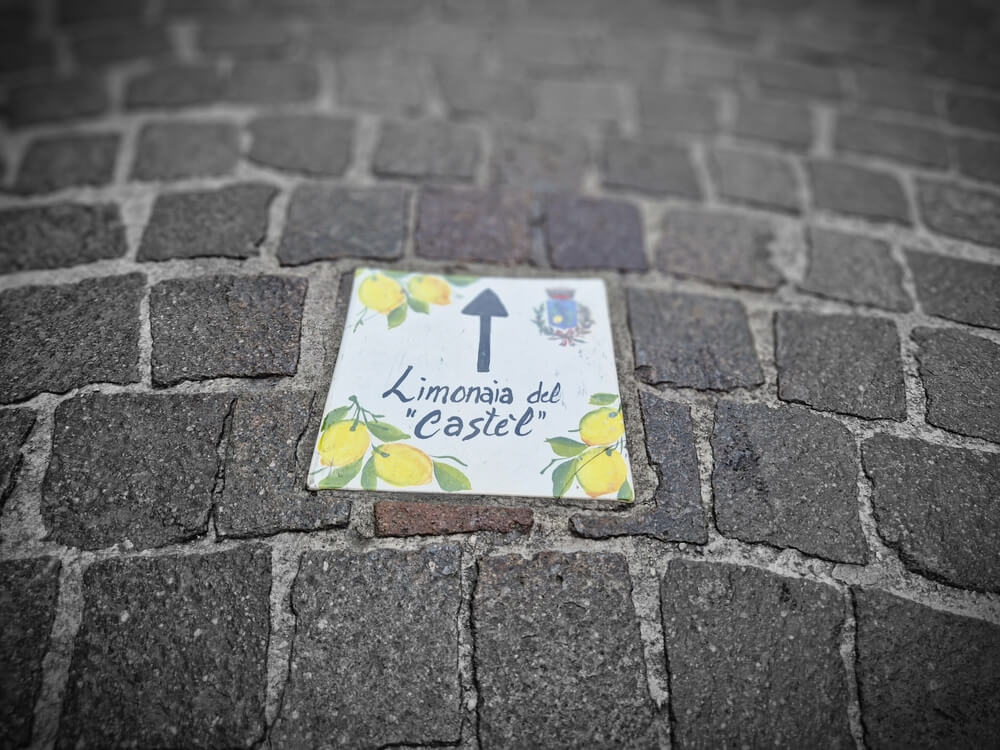 Garni Gianmartin is a great option for those on a budget looking to stay right on the waterfront without breaking the bank.
The hotel offers free private parking, making your stay hassle-free. The rooms, though small and dimly lit, are comfortable and offer stunning lake views.
The buffet breakfast is really good, and while the decor is a little strange with oddly placed stones that suggest an old stone wall (but clearly isn't one?), it doesn't detract from the overall experience.
For a mid-range stay, Hotel Caravel offers large, comfortable rooms in a hotel that is well-equipped and scenic, with great lake views.
During the summer, guests can enjoy the outdoor pool and plentiful loungers with lots of space to sprawl and enjoy the Lake Garda sun.
For those looking to relax, the sauna with windows facing out to forest views is a great perk — they even have an outdoor wooden tub where you can dunk water on your head after!
Park Hotel Imperial is a luxurious hotel located above the town of Limone sul Garda, offering elegant rooms with big balconies providing sweeping views of the lake.
The hotel features a hot tub and sauna, as well as a stunning fitness center with outdoor exercise bikes overlooking the lake. Lemon trees surround the pool area, adding to the beauty of the surroundings.
The rooms are furnished in minimalist style with shades of gray, and the marble bathrooms come with rain showers. Guests can also enjoy the spa with sauna and various treatments.
Free parking is available, and the town is just a 15-minute walk away.
Riva del Garda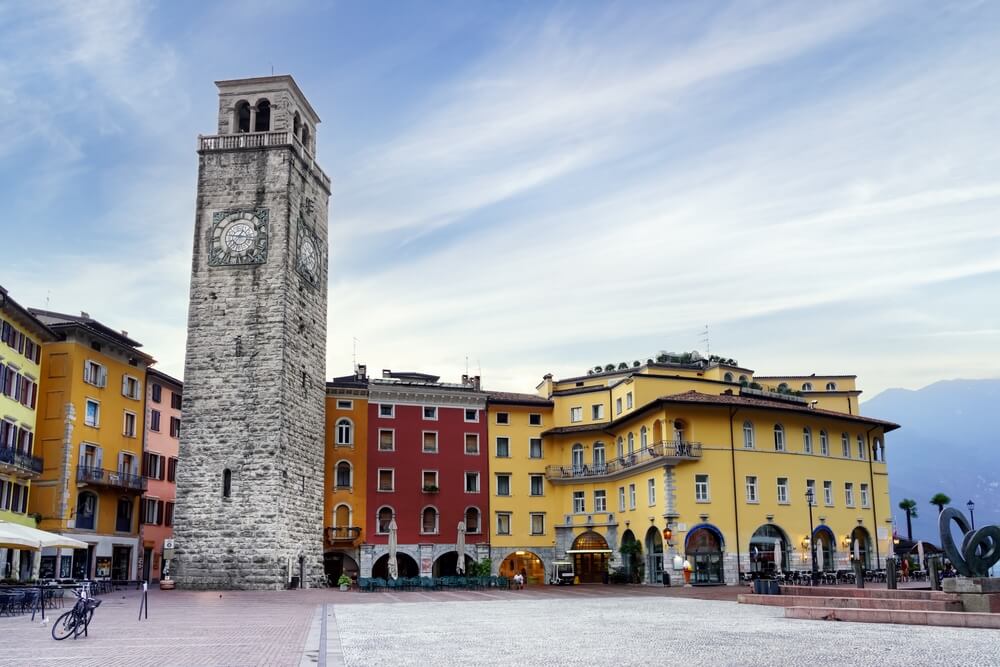 The riveting Riva del Garda lies at the far northern end of the lake with its elegant historic center, gorgeous panoramic viewpoints, and great museums.
The town is a popular destination for watersports enthusiasts due to the constant winds.
There is plenty of sightseeing to do in Riva del Garda, starting with the lakeside medieval fortress Rocca di Riva with the archaeology and art displays at MAG Museo Alto Garda.
After you've taken in the local history, climb to the top of the clock tower Torre Apponale to enjoy lovely lake views and explore the lively area around Via del Marocco.
To the east of the town center, you can catch the mountain cable car and visit Bastione di Riva, a 16th-century fort rewarding visitors with sweeping views over Lake Garda and the surrounding mountains.
If you're feeling adventurous, or just want to stretch your legs a bit, you can also hike up to the fort along a lovely trail.
Back in town, relax on the beaches to the west, stroll along the lakeside trails, and enjoy the view from Punta Lido.
After you've worked up an appetite, have a tasty aperitivo at Panem, eat delicious pizza at Bella Napoli, or try the fancy dishes at Al Volt.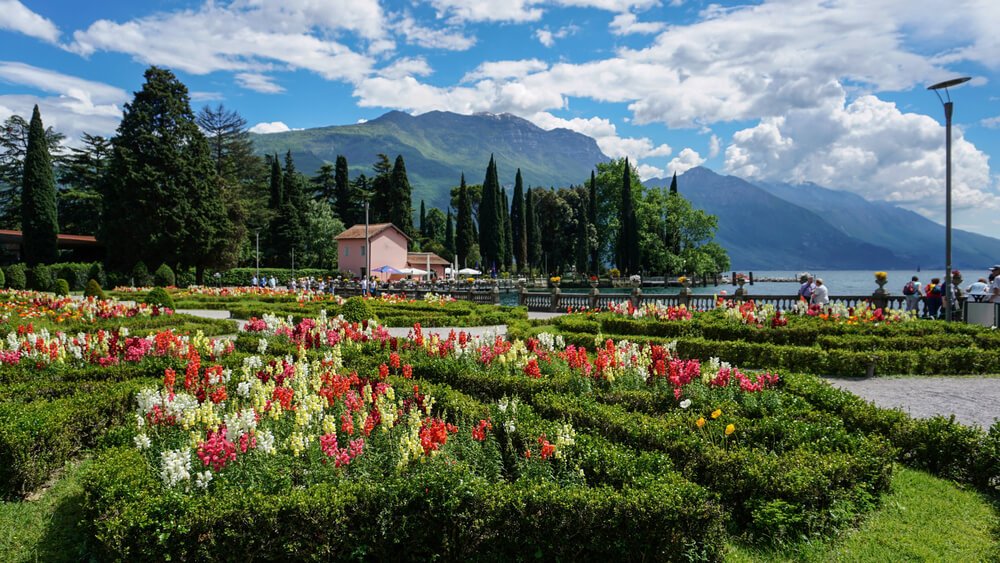 For that homey, family-run vibe, Villa Bellaria is a great budget choice.
They've got a mix of rooms and self-catering apartments, so you can pick what's best for your group (such as if you want your own kitchen, though missing out on Lake Garda's restaurant scene would be a bummer).
Feeling up to some adventure? Borrow some free mountain bikes and hit the trails to explore the area. If you'd rather relax, the lake and the old town are both just a short walk away.
Best Mid-Range Option: Hotel Luise
For a boutique hotel at a great price, check out the charming Hotel Luise. It's only a 5-minute walk from the lake and similarly close to town, so it's super convenient.
It also has a gorgeous outdoor pool with great views, plus throw in free bike rental if you want to explore the surrounding area.
The rooms are really fun and individualized, with its own funky vibe complete with statement wallpaper. Themes include geography, the underwater world, and more!
If your standards are high, look to the Lido Palace: now a 5-star luxury hotel, it used to be a literal former Hapsburg summer palace, done in a Belle Époque style.
No wonder it's earned its spot in the swanky Leading Hotels of the World group!
Don't expect a dusty old palace vibe here: they've renovated the interior to be all modern and sleek, with extra-large beds and a super luxe-minimalist design.
But let's talk about the real deal here: the spa. It's got an indoor pool, sauna, Turkish bath, and a salt therapy room, and it's all kinds of delightful. And don't even get me started on the outdoor pool with its killer lake views!
Malcesine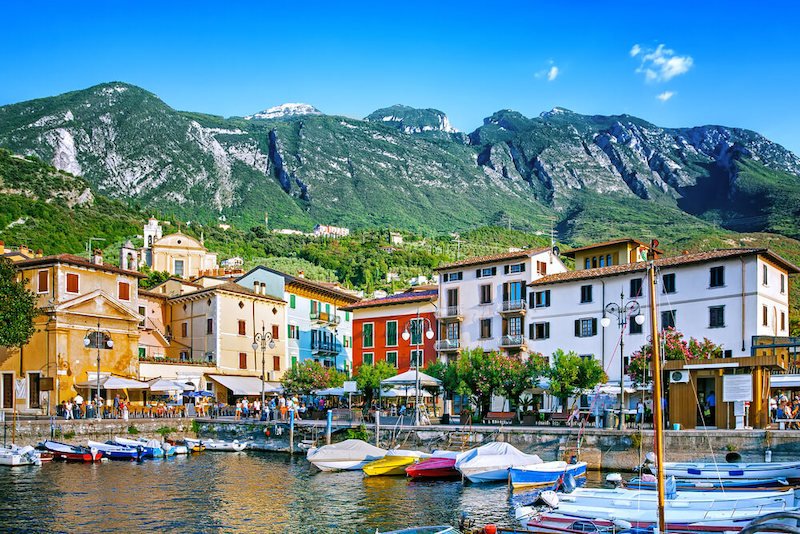 The Lake Garda town of Malcesine stretches for several kilometers along the eastern shore of Lake Garda, but its historic center is a small cobweb of narrow, cobblestone streets with colorful houses.
The town is the last within the Veneto region, bordering the Trentino-Alto Adige region to the north. A ferry connects Malcesine to Limone sul Garda on the opposite shore.
The Castle of Malcesine, known as Castello Scaligero, is the main attraction in Malcesine, dominating the town from a small rocky hill on the lake shore.
The castle, like the one in Sirmione, was owned by the noble family Della Scala, hence the name Castello Scaligero.
These are two different castles though, so don't get them confused!
The castle became famous after Goethe described it in Italian Journey, an account of his travels around Italy.
Aside from the castle, another must-see in Malcesine is Palazzo dei Capitani, an imposing palace with gorgeous lakeside gardens that also houses a history museum.
For one of the best views looking out over Lake Garda, catch the cable car to Monte Baldo and explore the beautiful hiking trails.
Unlike the pricy towns on the western shore, Malcesine has several cozy and affordable restaurants serving heartwarming local dishes.
Try the tasty pasta at Trattoria da Nonna Pina or the hearty food traditional of Emilia-Romagna at Vidoc.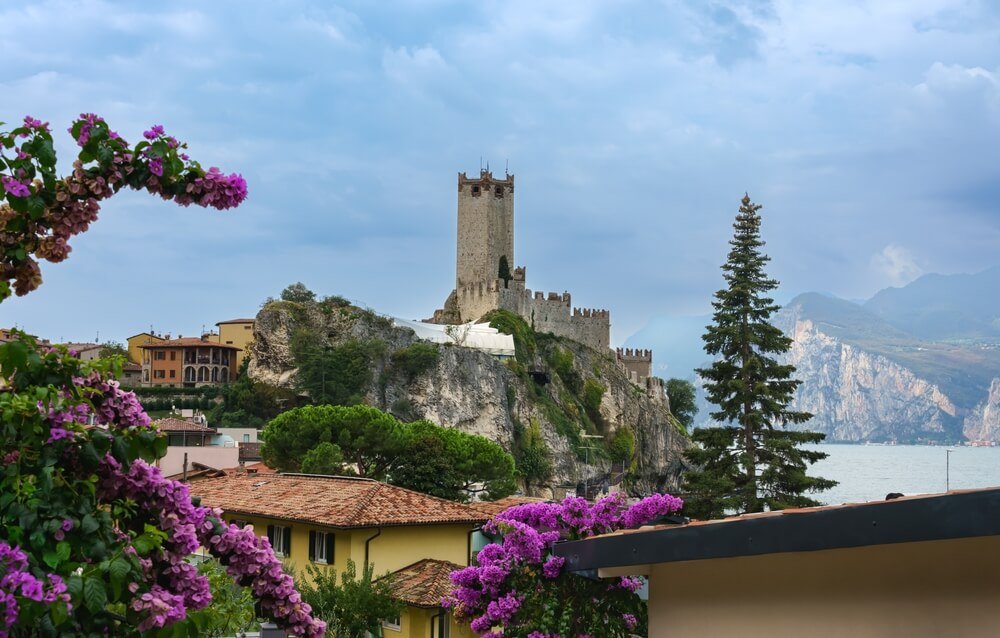 Located near the waterfront and castle in town, Hotel Meridiana boasts large modern rooms with high ceilings for an open and spacious feel.
While the bathrooms may not be the most updated, the delicious breakfast and proximity to local attractions make up for it.
The hotel also features a small fitness area for those who want to stay active during their stay, as well as a large pool where you can take a dip or even do some laps.
Best Mid-Range Option: Hotel Vega
Hotel Vega is a lakefront gem, offering a private beach and garden terrace with stunning lake views.
Take a dip in the little pool with hydromassage jets to soothe those tired muscles, while enjoying the breathtaking views all around.
The rooms are modern and brightly lit, with balconies offering both lake and mountain views – every room in this hotel boasts an incredible view. The hotel's coolest feature is its unique half-circle pool overlooks the lake.
Meanwhile, the Mediterranean-style rooms with white arches, blue details, and Greek island vibes add to the overall 'island escape' ambiance.
But better yet, the terrace with sun loungers and umbrellas is the perfect place to soak up those Lake Garda views. It's a little slice of the Med in Northern Italy!
Ambienthotel PrimaLuna is a great luxury choice for a stellar stay in Malcesine.
The uniquely-shaped curving pool is a real standout feature – it's elevated above the lake and offers an incredible view of the water.
Plus, there's an outdoor jacuzzi that's perfect for soaking in the hot water and the views.
The dining room is an experience in itself – with full glass windows overlooking the lake, it's like dining on the water!
And let's talk about the rooms – they're so colorful and full of life, with an industrial vibe and bold furnishings. The bathrooms are just as bright and cheerful!
Plus, the breakfast spread is well-rounded and delicious, with tons of fresh fruit – perfect to fuel up before a day of adventure on the lake.
Bardolino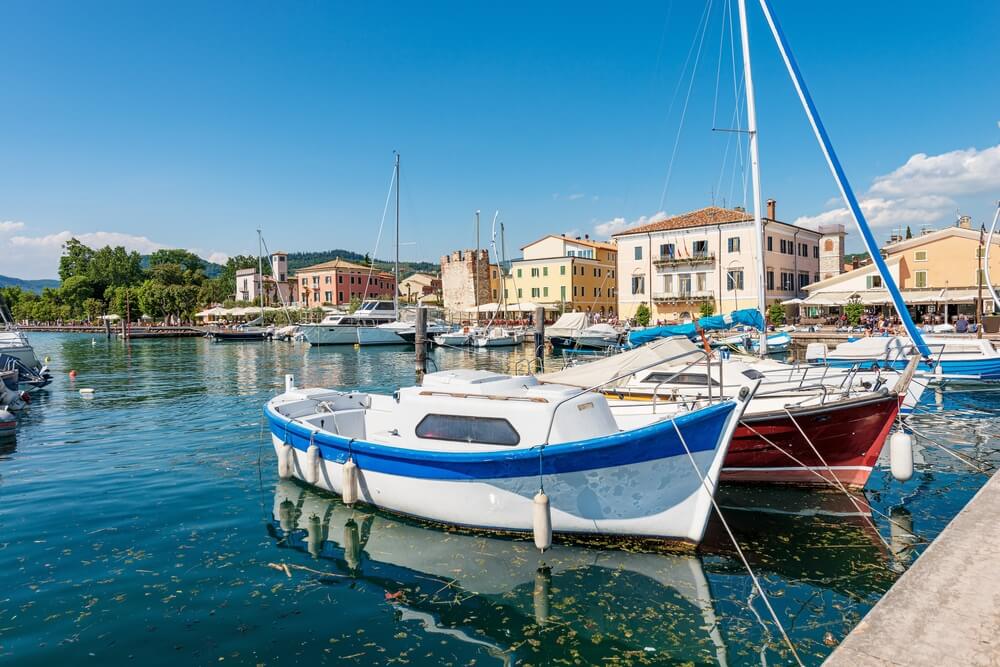 Beautiful Bardolino is a small town on Lake Garda's eastern shore, best known for its wine production: particularly, the local varietal that shares the town's name.
Boasting a lively and colorful marina, a charming medieval center, and several museums, Bardolino is the perfect stop to relax and enjoy peaceful strolls along the lake.
The town has a long history dating back thousands of years, although most archaeological findings date back to the Roman settlement.
Bardolino's historic center, as you see it today, features beautiful medieval buildings, churches, and city walls. Chiesa di San Severo is the most remarkable church in town.
Bardolino is home to several museums, including the Museo dell'Olio, dedicated to olive oil manufacturing, the ethnographic Museo Sisàn, and the Zeni Museum, dedicated to winemaking.
This last one is hard to pass up, as it offers not only free tours, but wine tastings as well!
Another great way to enjoy a glass of Bardolino wine is by pairing it with delicious food at one of the many restaurants in the historic center.
Try the seafood restaurant La Virata Trattoria del Pesce or the charming La Piccola Osteria.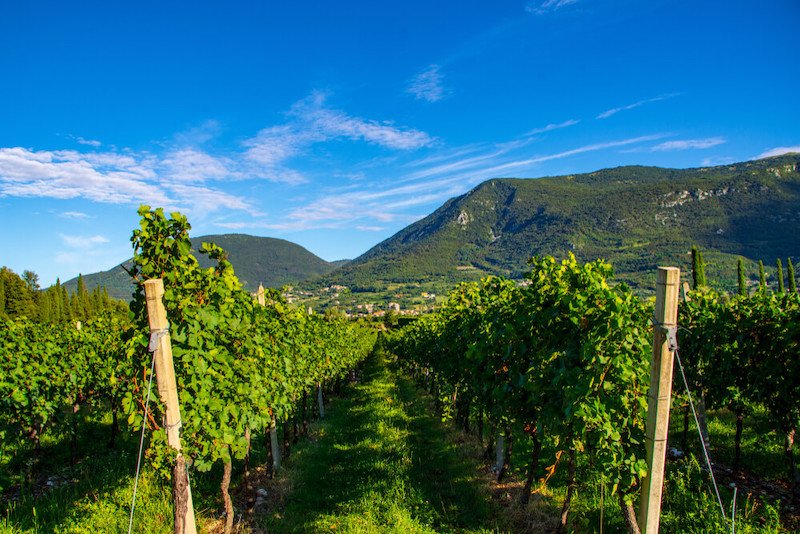 Whenever you see the word 'albergo,' you can be assured you're staying somewhere authentically Italian: Albergo Fiorita is just that.
This quaint little guesthouse offers a typical Italian stay in the heart of the action in the old town.
The guesthouse offers comfortable but not overly-trendy rooms, with amenities such as A/C and free Wi-Fi.
The friendly hosts and free parking add to the charm of this traditional Italian guesthouse.
Plus, it's just a short walk to the lake, making it a great location for your Lake Garda adventure.
The lovely Palace Hotel San Pietro is a 4-star gem with a gorgeous courtyard that hides a pool tucked away from the business of Lake Garda for your own private oasis experience.
The lounge chairs and umbrellas surrounding the pool make it feel like a luxurious hideaway, plus there is also a little terrace area where you can enjoy an aperitivo.
The rooms are fit for royalty with high ceilings, fancy vintage furnishings, and modern upscale bathrooms.
It's just a few minutes' walk to the town center, so you're never far from the action.
Hotel Caesius Thermae & Spa Resort has everything you need for a relaxing Garda getaway.
You'll have 5 (yup, five) pools to choose from, both indoor and out, including some with thermal waters.
Speaking of thermal waters, let's talk about the spa!
Yup, they have the thermal pools that they're named after, but they also have other typical spa offerings, like a Turkish bath, a Finnish-style sauna, and a tea room for relaxing in.
They're also known for their Ayurvedic treatments!
The rooms are simple but spacious, and the focus is on the amazing spa amenities and the views!
Lazise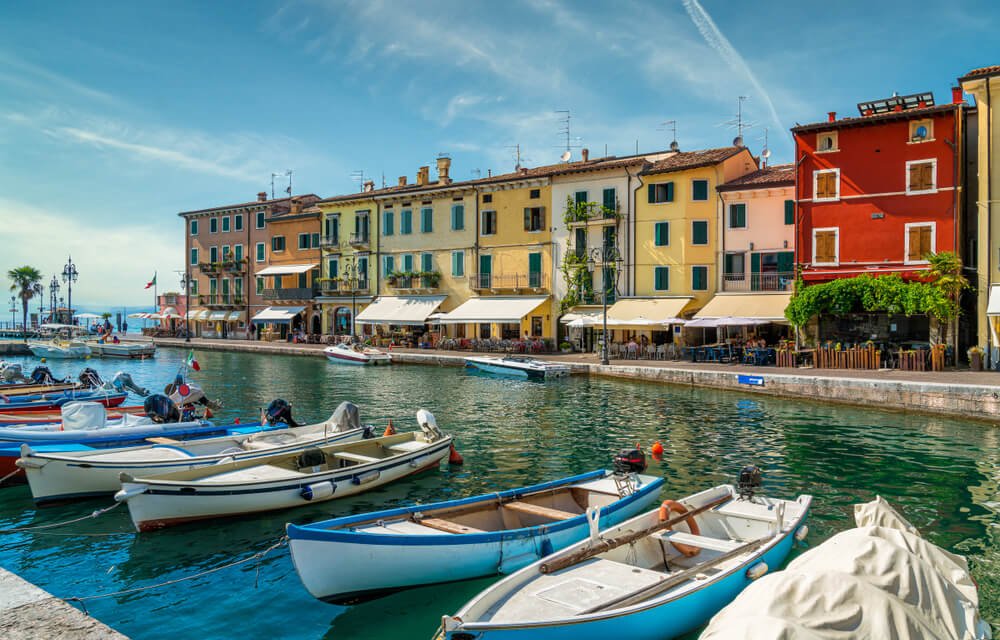 You may be surprised to learn that Lazise is the most visited lakeside town in Italy and among the most visited tourist destinations in the whole country!
Every year, the town welcomes roughly 3.5 million visitors, so if you want to visit Lazise in summer, consider yourself warned and prepare for the crowds.
The town was inhabited during prehistoric times, but its most flourishing period started in the late 10th century when the Roman Empire allowed the construction of the castrum (fortified settlement) and granted unprecedented autonomy to Lazise.
You can still see well-preserved remains of the city walls along with the imposing Castello di Lazise, one of the many castles built by the Della Scala family.
Unfortunately, you can't visit the castle, but you can admire the impressive structure from the outside.
Stroll along the Lungolago Marconi at sunset, explore the charming historic center, and visit the beautiful church of Saints Zenone and Martino.
Lastly, enjoy delicious food at Cozzeria, one of the most iconic restaurants in Lazise.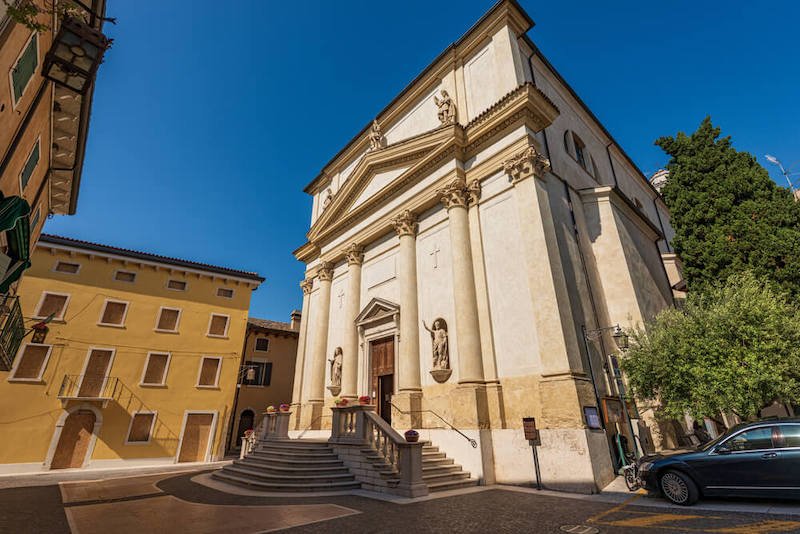 Albergo Tecla is a charming traditional Italian albergo located in the center of Lazise, just steps away from the beautiful lakeshore.
The rooms are simply furnished but comfortable, with basic amenities such as air conditioning and WiFi.
Grab your complimentary continental buffet breakfast and if you have a balcony in your room, you can sip a cup of coffee while admiring the town views.
Overall, Albergo Tecla is a great budget-friendly option for travelers looking to stay in the heart of Lazise.
Best Mid-Range Option: Classique
The aptly-named Classique hotel lives up to its name, with a refined and elegant atmosphere that preserves the charm of its original building.
The rooms and suites at Classique are simply beautiful, with high ceilings and original details like crown molding or exposed beams that add character and charm to each room.
The rooms are spacious and refined, but the Queen Suite in particular stands out, breathtaking with its two-story layout and stunning decor.
Plus, the hotel is located just a few hundred feet from the lake shore, making days spent in the water a breeze.
Best Luxury Option: Hotel Corte Valier
Hotel Corte Valier is a luxurious hotel in Lake Garda with plenty of amenities to make your stay unforgettable.
From its large outdoor pool surrounded by lush grass and trees to its spa with a wood dry sauna, Turkish bath, indoor pool and hot tub, you'll be in a spa-like paradise.
Treat yourself to some relaxation with one of their signature wellness treatments, or keep up with your workout regimen at the excellent modern fitness center.
The rooms are spacious and comfortable, with spa-like bathrooms that have separate showers and baths. Plus, each bathroom comes equipped with every toiletry you could need.
Best of all, all rooms have stunning lake views, so you'll never tire of the scenery — there's truly not a bad view in the house!
One of the highlights of the hotel is the incredible breakfast that's included with your stay. The breakfast spread is extensive, with plenty of options to satisfy every palate and dietary need.
Peschiera del Garda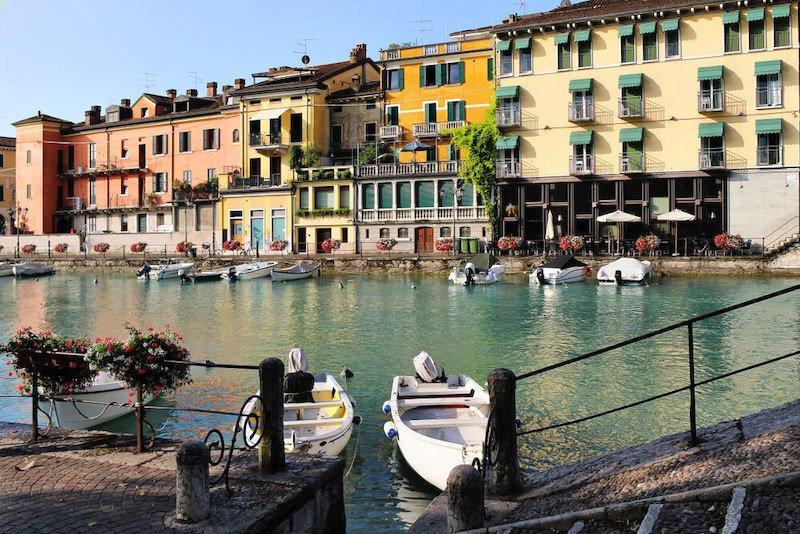 Finally, Peschiera del Garda sits on the southern shore of Lake Garda, east of the Sirmione peninsula.
The town is built across a series of small islands and is surrounded by defensive walls.
The fortified town was made a UNESCO World Heritage Site in 2017 as part of a series of fortified cities famous for their Venetian defense systems.
Porta Verona is one of the gates of the fortified city and is still the main entrance to the Old Town, built at the end of a bridge over the Mincio River.
At the opposite end of town, you'll find the less elaborate (but still beautiful) Porta Brescia.
The old town of Peschiera del Garda spreads over two small islands connected by several bridges running between them and to the two shores of the Mincio River.
The best thing to do in town is to explore the impressive historic center with its multiple defensive buildings.
Peschiera del Garda is one of the two towns on Lake Garda with a train station, together with Desenzano del Garda.
This makes it an ideal town for a day trip from Milan, Venice, or Verona.
Just north of Peschiera, you can spend a day at Gardaland, one of Europe's biggest and most visited amusement parks — a great choice for families!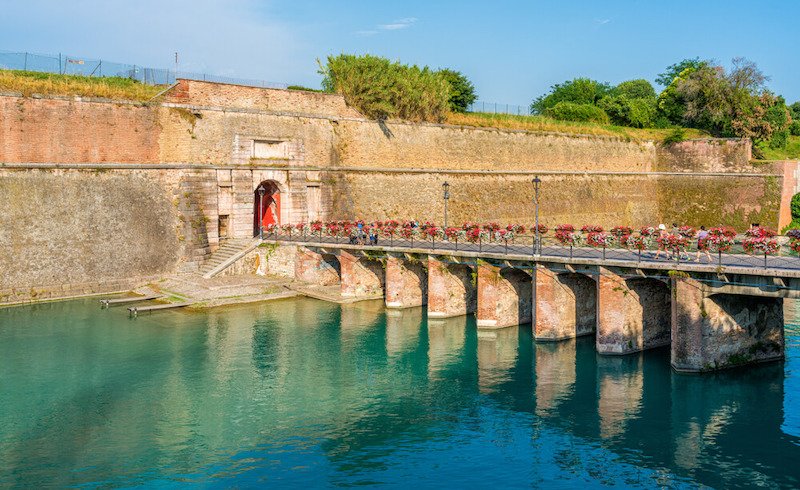 SEI Garda Apartments offer 6 private apartments with lovely contemporary designs, mostly in black and gray color palettes.
The apartments have large and spacious bathrooms, as well as a small kitchenette and seating/eating areas, perfect for self-catering.
This is not your typical hotel, but rather a modern and stylish apartment complex you can stay at: somewhere between an Airbnb and a hotel.
The apartments are great for families, with bunk beds for the kids. The location is also a plus, as it is close to Gardaland, one of the most popular theme parks in the area.
For a spa experience that won't drain your entire vacation budget, look to the Ziba Hotel & Spa.
Located in a 19th-century building just outside the town center, the hotel still retains its original detailing but with an update to its rooms, giving them a minimalist facelift.
Besides its outdoor pool, there's also a spa, with a Finnish sauna, Turkish bath, and hot tub perfect for relaxing in between Lake Garda adventures.
Le Ali Del Frassino is a luxurious hotel with multiple outdoor pools, including a larger pool for families and a quieter infinity-style pool right on the water.
The sizeable rooms are minimalistic but beautiful, with exposed beams adding a touch of rustic charm.
The hotel also has a top-notch spa with an indoor heated plunge pool and sauna, as well as a fitness center.
A highlight of the stay is undoubtedly the amazing free breakfast!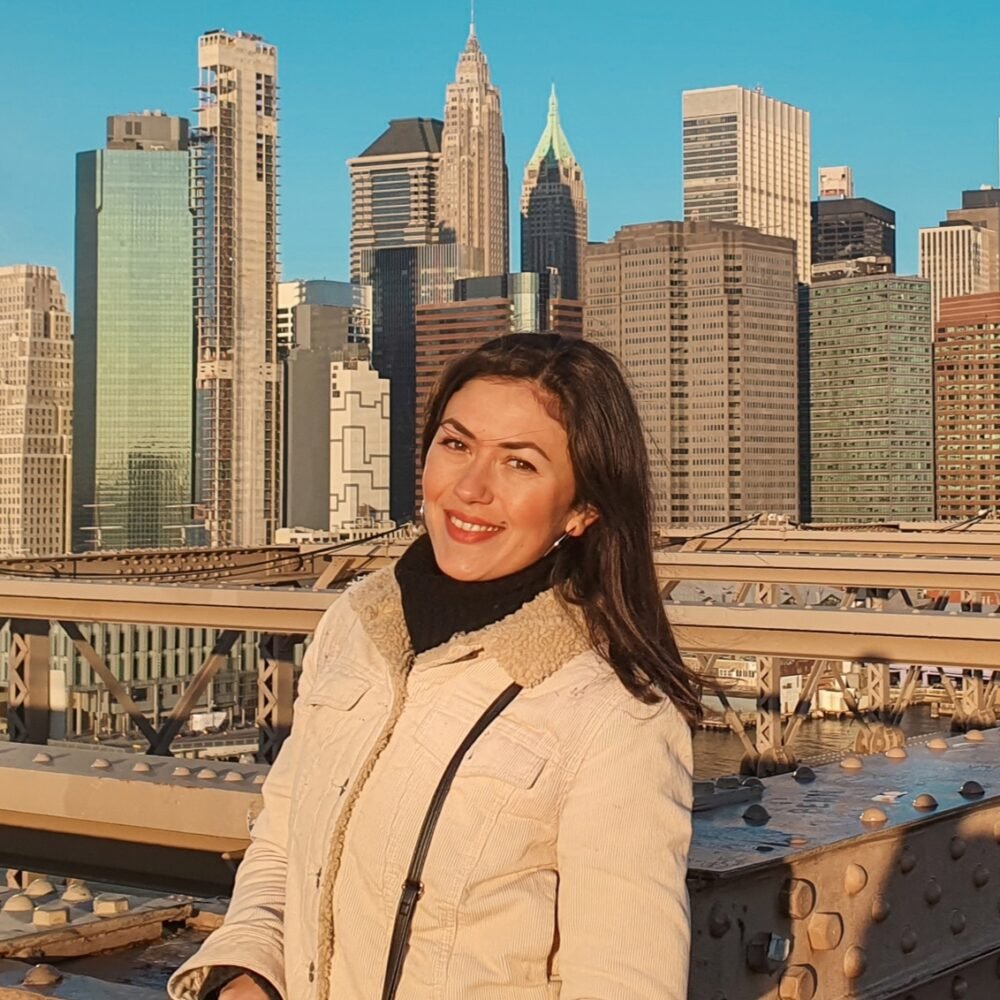 Roxana is a Romanian-born freelance travel writer who has lived in Italy for over 15 years. She has a Master's in Journalism and a Bachelor's in Film Studies. Her mission is to find hidden gems, even in the most popular travel destinations, and to inspire people to explore new places and cultures with the same curiosity! When she is not traveling, writing, or planning her next trip, she is either binge-watching TV shows or reading books.