Note: This post may contain affiliate links. Please see my disclosure page for more details.
Deep in a cave in Belize's interior jungle is a sacred Mayan burial site, where the remains of 14 human sacrifices have been found. To get there, you'll have to swim through bracingly cold waters, wedge yourself between glimmering stalactites dripping down from the ceiling, and navigate using only a headlamp to see your way through pitch darkness. Sound crazy? It just may be, but doing the ATM cave tour was easily the most unique and interesting thing I did in my 10 days in Belize.
After a bumpy car ride from San Ignacio, we arrived in the park and walked half an hour to reach the cave entrance. Entering the cave, we swam through crystal blue waters teeming with tiny fish. Though the water was cold, we warmed up quickly under the exertion of swimming wearing our clothes, socks, and sneakers.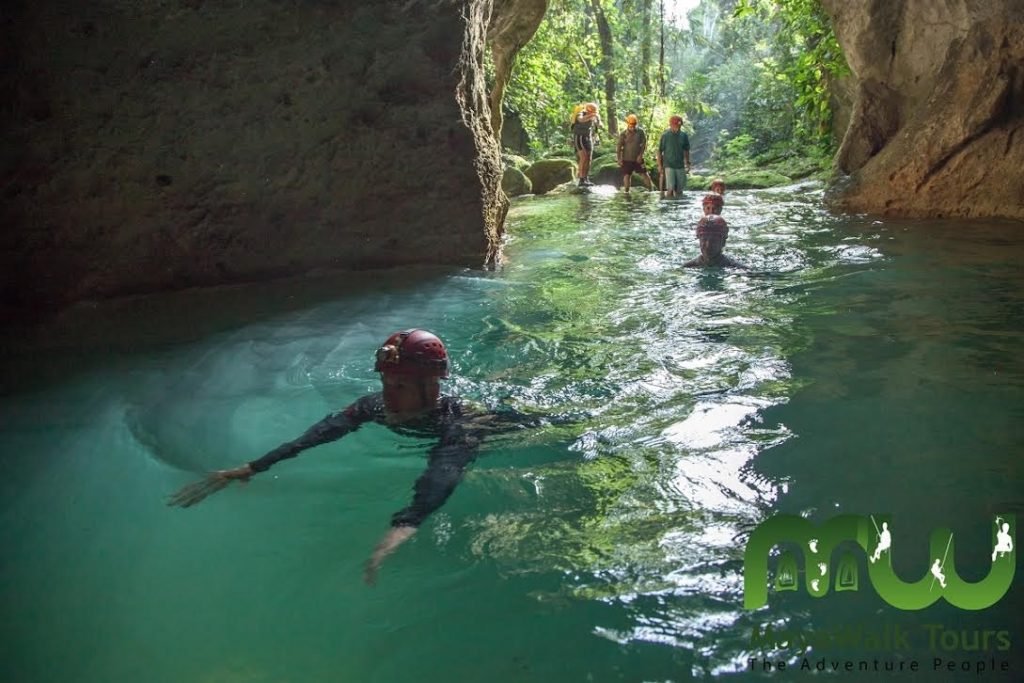 The ATM Cave tour is one of the most popular Belize activities. The ATM cave holds the unique distinction of being the #1 sacred cave in the world by National Geographic. Because of that, it is required to wear clothing over your bathing suit for respect and go to shoeless when traversing the fragile burial sites. Similarly, you are no longer allowed to bring cameras, after a tourist dropped his camera on one of the skulls, putting a large hole in it. Because of this bone-headed (pardon the pun) move, cameras are now banned from ATM cave tours.
Though I have to say, I'm a bit happy for the camera ban. Not having a camera forced me to live in the moment rather than trying to capture the magic of Actun Tunichil Muknal for the blog. Luckily Maya Walk provided me with photos to use for this post (note: all photo credit belongs to them)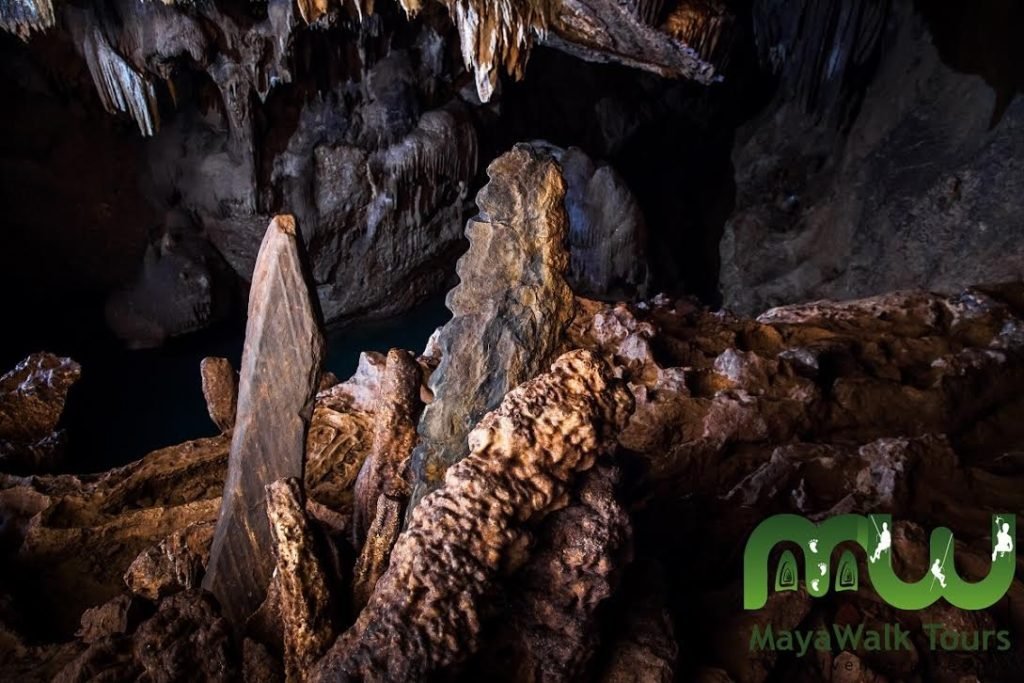 The ATM Cave was extremely narrow at some points – sometimes, you'd have to angle your head just so to make sure you could squeeze through a crack in the cave's walls, dipping nearly up to your shoulders in cold cave water. While I found it to add to the excitement, it's definitely not an adventure for the severely claustrophobic!
Other times, the cave was so wide you almost felt as if you were walking into completely nature-made atrium.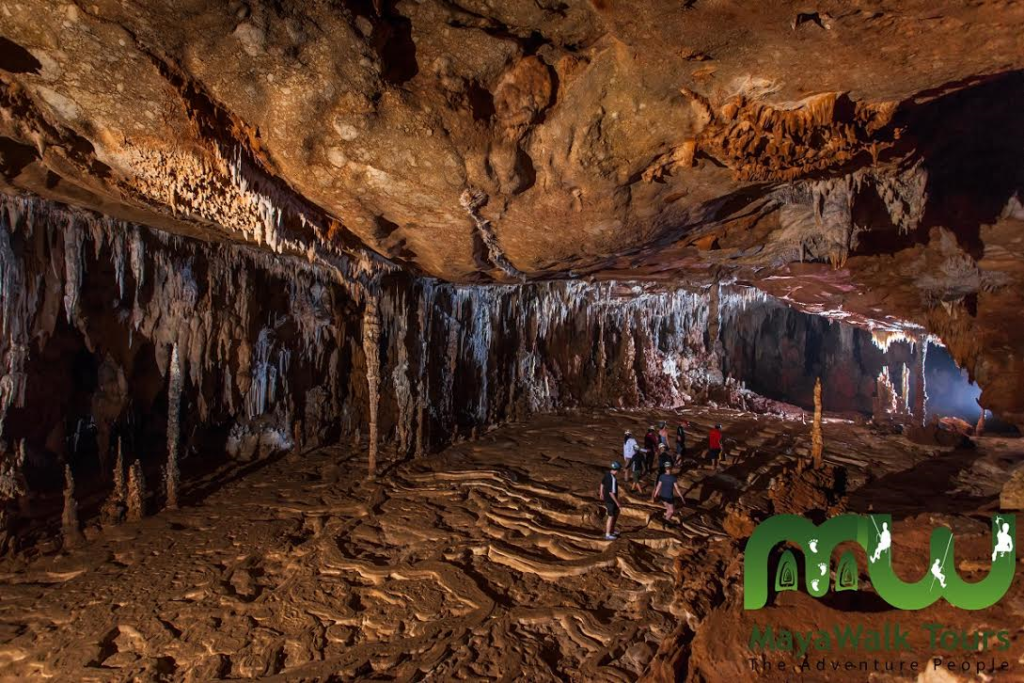 We caved about 1 kilometer into the center of Actun Tunichil Muknal, where we had to scrabble up a series of rocks to get to a series of large "rooms" in the cave. There, our guide pointed out shards of pottery from as far back as 700 AD scattering all over the cave and up its walls, some high up on ledges to protect them from the flow of water.
It turns out the pottery was broken on purpose, rather than by fragility or aging. The Mayans believed that they needed to break the pottery in order to release the spirit of the person and allow their soul to rest in the afterlife.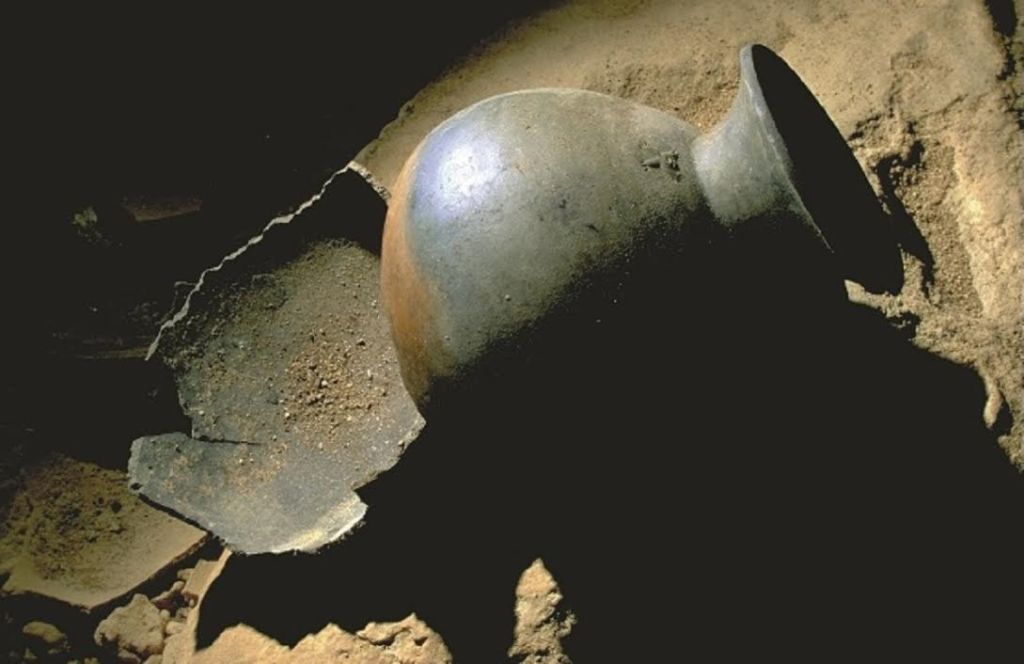 Walking a little further, avoiding the orange tape on the ground which marked spots of archaeological importance, we reached the first sign of human sacrifice on our tour of ATM Cave: the skull of a young nobleman. Mayans practiced body modification, particularly head shaping. They placed boards on the foreheads of newborns of high stature to shape their foreheads. One single filed tooth remains on this skull with the misshapen forehead: further evidence of his nobility.
Though we may gasp at this now, consider the fact that women today inject themselves with botulism and stuff silicone in their bodies in pursuit of beauty, and you'll realize we aren't so far off from the Mayans. Seeing the skull of a sacrificed child nearby, however, is a little harder to chalk up to moral relativism.
We continued on, up a precarious ladder, into the final chamber, where we were able to see the pièce de résistance: the intact skeleton of a young boy completely covered in travertine deposits that sparkle and shimmer like diamonds in the light of your headlamp.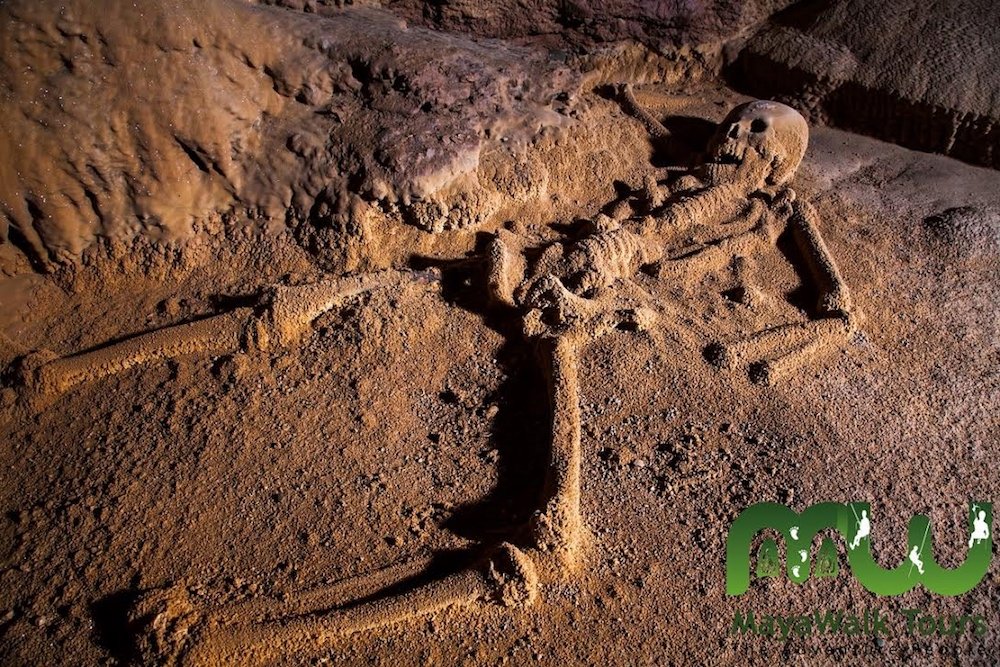 As we walked back down, I marveled at the beauty of the cave's stalagmites and stalactites, coming together at times to form columns over the course of centuries. No wonder the Mayans felt something when they were in this place: it is an underworld of sorts, disconnected from heaven or earth.
Seeing the light of day again after traversing our way back through the cave, I felt something inside me change. I've never been a particularly spiritual person, but I felt deeply moved by seeing the way people from long ago lived, believed, and ultimately died. Although human sacrifice is understandably seen as barbaric today, the Mayans who worshiped in the ATM Cave were responding to fears and mythology in a way that made sense for their time.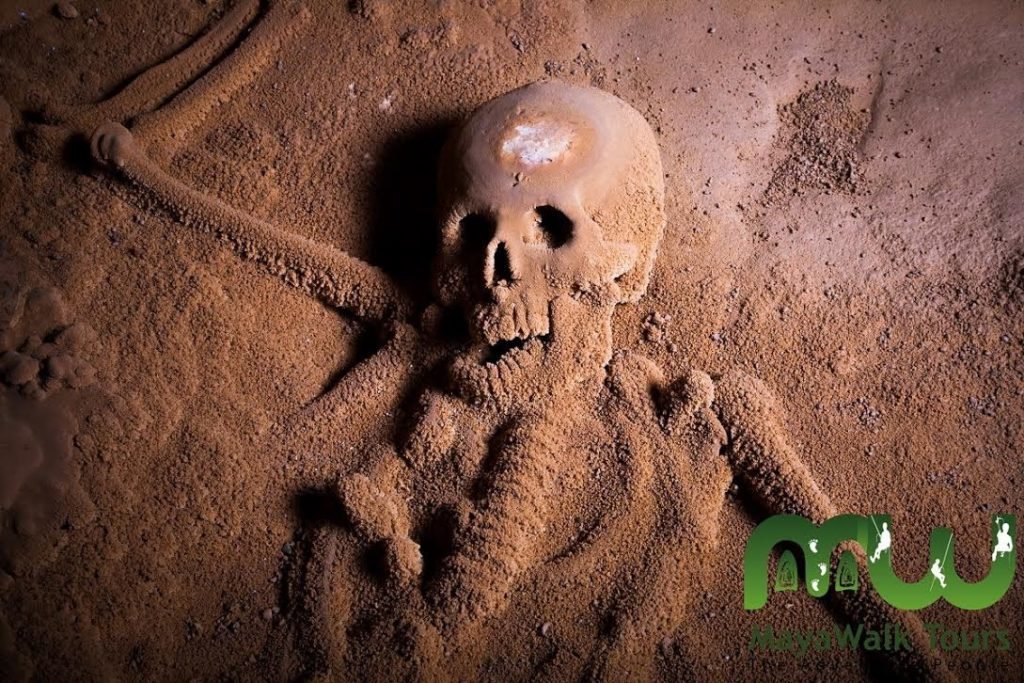 Anthropologists and archaeologists now have evidence to suggest that the Mayan civilization ended because of a prolonged drought. The ATM Cave provides some proof of that. Geologists are able to see periods of drought quite literally crystallized into Actun Tunichil Muknal itself. Perhaps the Mayans, fearing for their culture's future, sacrificed these nobles and children in a failed attempt to save their civilization itself from the ravages of drought.
In the face of our current and coming climate change, this hits a particularly resonant note. It also resonates because the ATM Cave, too, is at great risk. While the Mayan civilization likely ended due to drought, Actun Tunichil Muknal and the Mayan ruins within it could likely meet the inverse fate. Flash flooding caused by more frequent and powerful hurricanes could destroy what remains of ATM Cave. Hurricane Earl, which slammed Belize in 2016, luckily did not cause any lasting damage to the cave,  but who knows what the future of stronger storms could bring?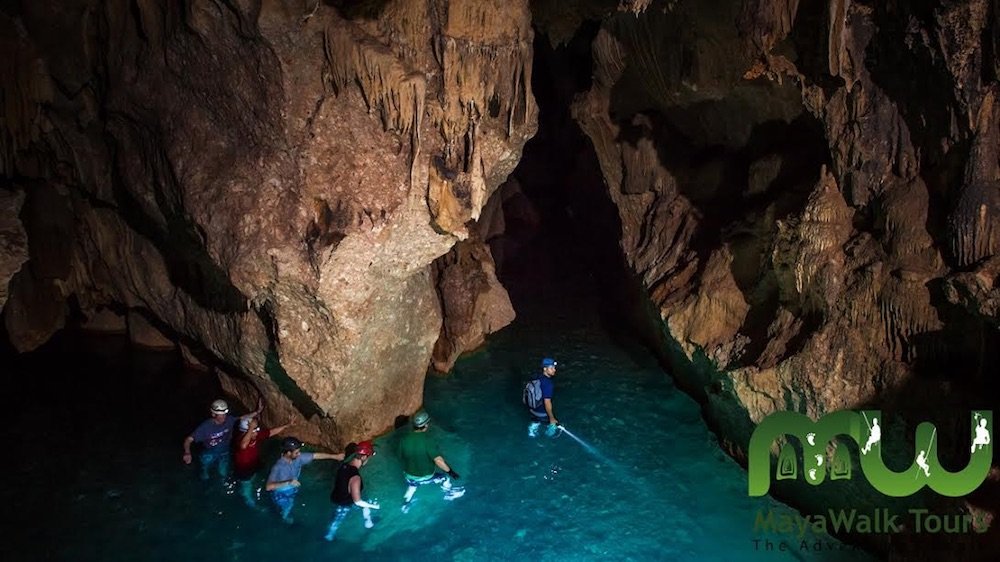 Likewise, tourists themselves threaten the future of the ATM Cave. In response to that, the body which protects the cave has put up precautionary protocols. They limit the visitors to 125 per day, in groups of 8. All guides are required to be licensed and entering without a guide is strictly prohibited. After a tourist damaged one of the skulls, cameras were banned.
It is important to tour ATM Cave with licensed and ethical tour guides, who do not risk damaging ATM Cave to amuse their clients. Choose a well-respected tour. As a result of the limited number of places available for the ATM cave tour, prices are high. During peak season, you will want to reserve in advance to ensure you have a spot, as once those 125 spots are booked, the tour is full for the day.
It'll be one of the highlights of your Belize trip — trust me.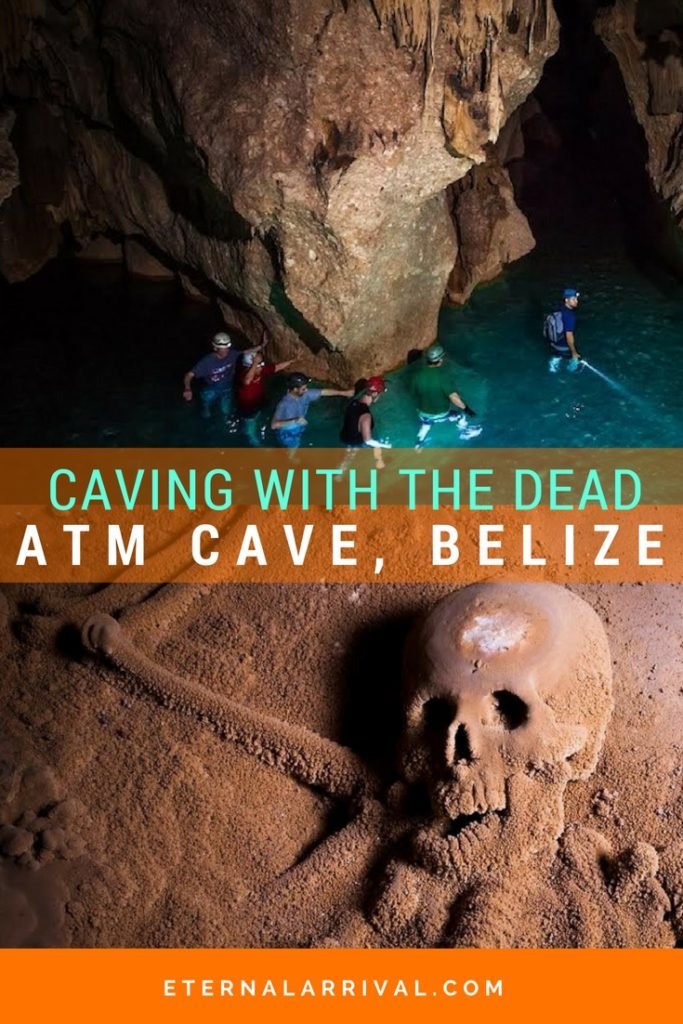 Note: I received a complimentary ATM Cave tour from Maya Walk in order to review it. All opinions shared are my own.