From the enchanting islands of Tahiti and Bora Bora to the dive paradises of Rangiroa and Fakarava to the lesser-known gems like Tikehau and Rurutu, there is no shortage of natural beauty on the islands of French Polynesia
You can explore the ancient temples and cultural treasures of Raiatea, hike through the lush landscape of Nuka Hiva, dive with walls of sharks in Fakarava, or walk through the vanilla fields of Taha'a in the sweet-scented air.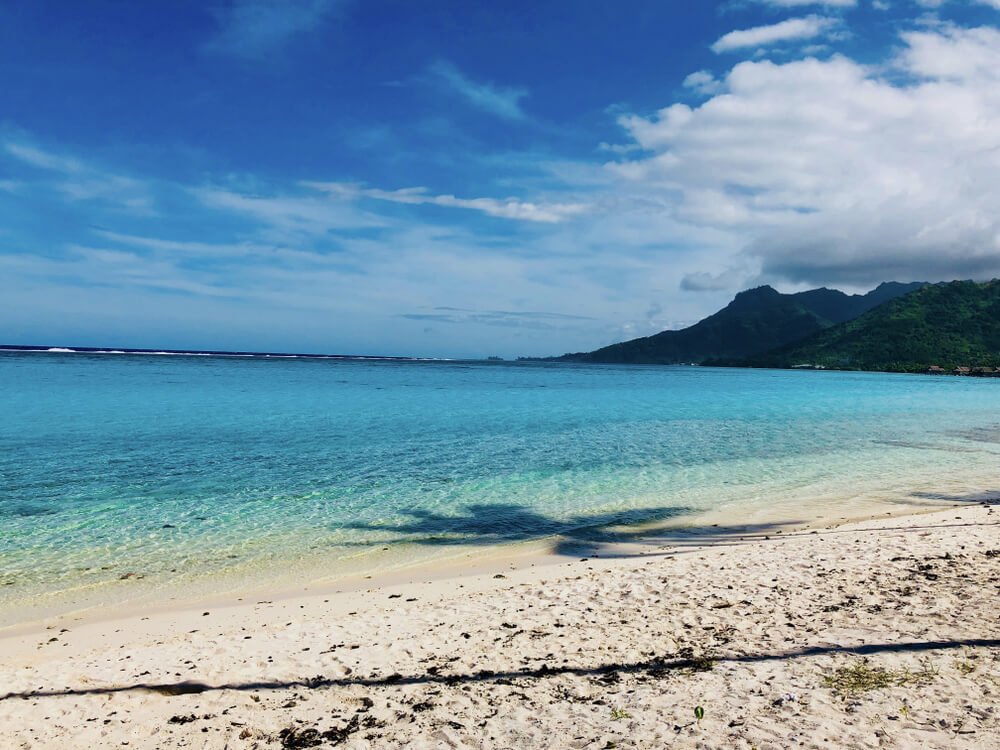 Note: This post contains affiliate links, which means I may receive a small commission if you purchase something through one of these links. Thank you for supporting the free content on this site! For more information on affiliate links and cookies, see my disclosure page for more details.
But French Polynesia is not just about the incredible natural beauty and adventure.
The islands are also home to a rich and diverse culture, with unique traditions, crafts, and cuisine that have been preserved through the centuries.
Here are 15 of the best islands to in French Polynesia to visit for all kinds of travelers, from the most often-visited islands to remote picks!
The Best Islands in French Polynesia: The Society Islands
Tahiti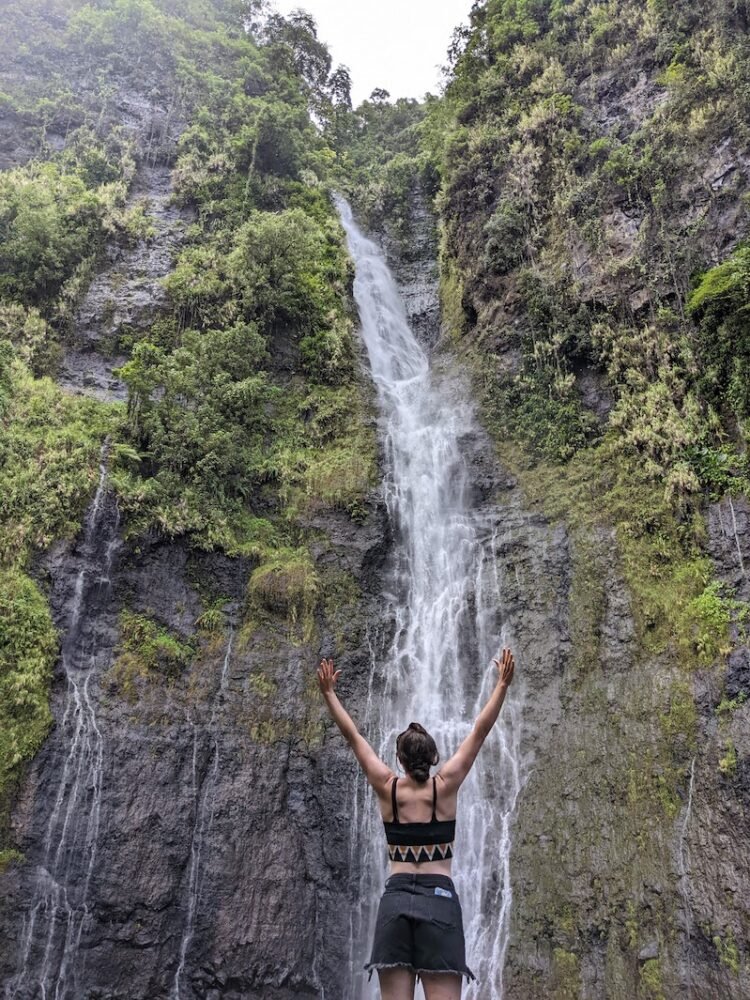 As the largest island and the only incoming hub for international flights, Tahiti is one of the best islands in French Polynesia as it has a little something for everyone.
This beautiful island is often given short shrift, as people make their way towards other spots in the island nation.
But trust me: even if you plan to fly on to other French Polynesian islands, save yourself at least a full day to explore Tahiti (or better yet, 3+ days for a full Tahiti itinerary).
To truly experience the island to its fullest, I recommend renting a car in Tahiti.
This way, you can drive to its most beautiful sights, like its Maraa Grottos, the Vaipiha Water Gardens, Point Venus (and other black sand beaches), and the Fa'aruma'i Waterfalls.
If you have more time in Tahiti, you can take a 4×4 safari tour of the Papeno'o Valley, one of the most spectacular and untouched parts of the island.
I also suggest dedicating some time to the charming area of Tahiti Iti, the smaller peninsula attached to Tahiti, where you can find surfers tackling some of the craziest waves in the world at Teahupoo.
There's no shortage of things to do in Tahiti (I've listed 33 of them in this post alone!), and it has its own overwater bungalow resort, so be sure to give the island its due.
Moorea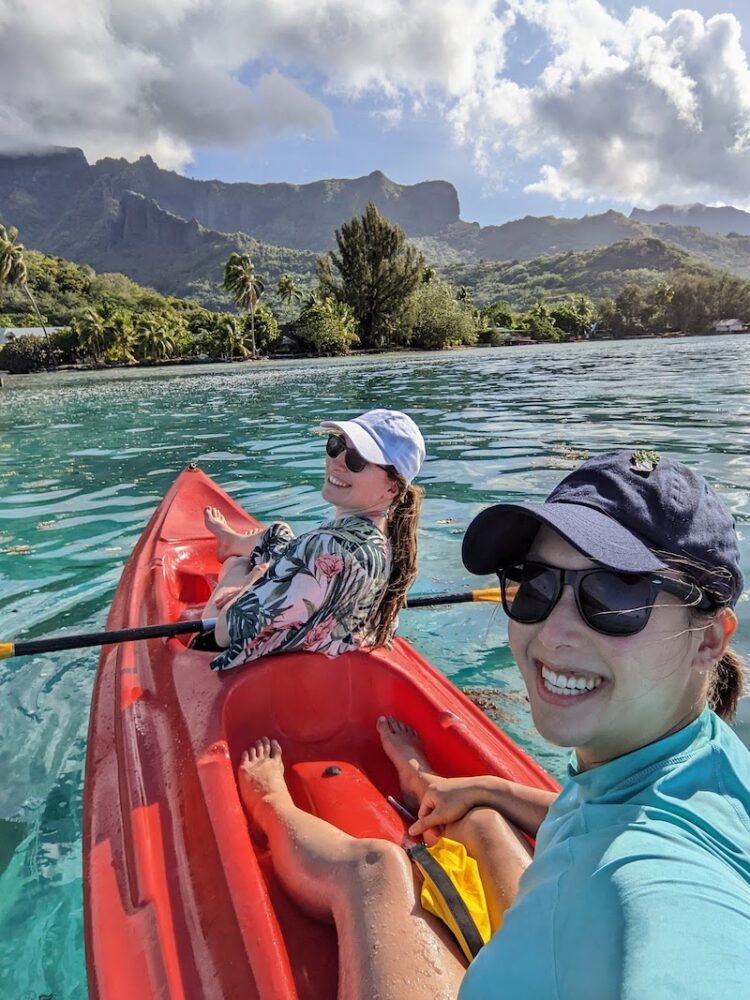 Tahiti's sister island is easily accessible by just a 30-minute ferry ride, so it's no surprise that Moorea is a top contender when it comes to the best islands in French Polynesia.
It's quieter and more laid-back than Tahiti yet it's nearly as accessible since there's no need to take another flight.
However, it has a rural island feel that Tahiti doesn't quite have, while still having a ton to do.
Moorea is also doable on any kind of budget: from affordable guesthouses to fancy resorts with overwater bungalows, there's all sorts of places to stay in Moorea.
Moorea is also a fantastic spot for snorkeling and scuba diving!
You can snorkel with sharks and rays in a gorgeous blue lagoon off of the Les Tipaniers Beach, where there is also a beautiful coral garden in between two islets (motus).
If you have your diving certification, Moorea also has beautiful coral reefs that will enchant and bewilder you with their beauty. We saw an uncountable number of sea turtles while diving in Moorea!
Moorea is also known for its pineapple plantations, where it grows some of the sweetest pineapple you can ever hope to taste. Don't miss trying Rotui juice when in Moorea — it's made right on the island!
A popular thing to do in Moorea is take a 4×4 safari tour to Magic Mountain, the Belvedere, and the pineapple fields — places that are hard to get to with your own rental car, as the roads can be quite rough here.
Other popular things to do in Moorea include hiking, visiting the marae or ancient archaeological sites, and visiting its public beaches.
However, you'll definitely want to rent a car to do all that — Moorea is larger than it looks and quite spread out!
We spent 5 days in Moorea and could have easily spent more!
Bora Bora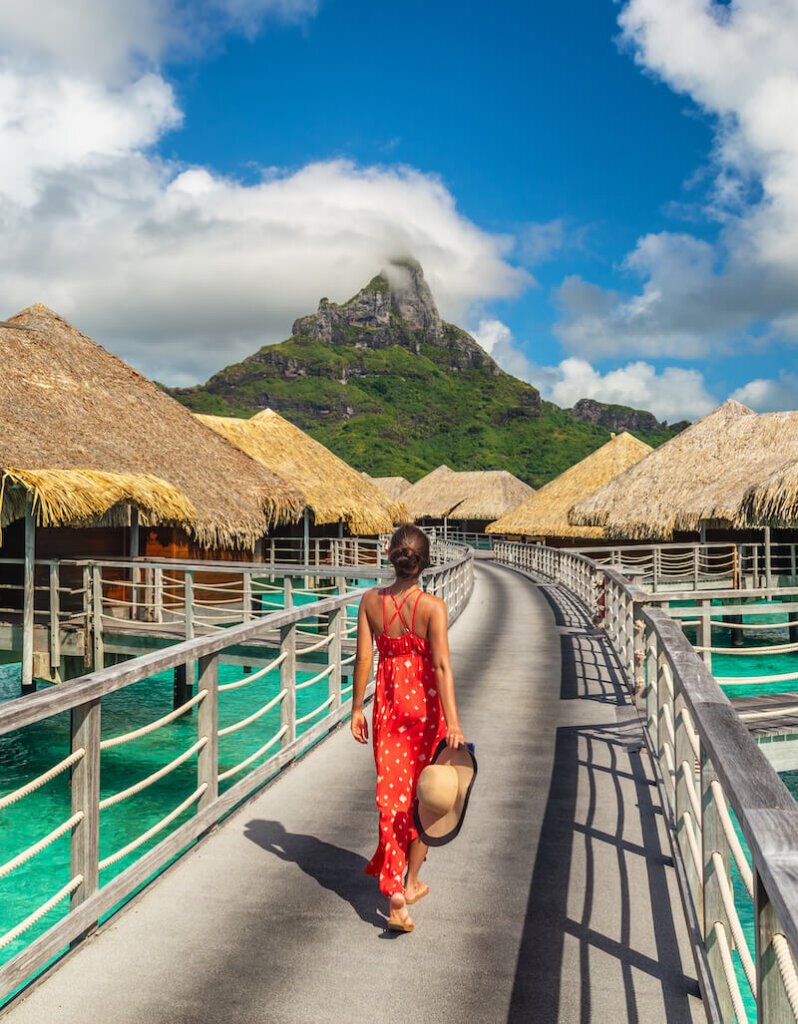 Ah, Bora Bora — it's hard to think of what to say about this South Pacific paradise that hasn't already been said!
Known for its overwater bungalows that are the dream of would-be honeymooners everywhere, Bora Bora is also known for its white sand beaches, otherworldly blue waters, and gorgeous landscape featuring Mt. Otemanu at the center.
Bora Bora is uniquely shaped in that there is a large main island that is fringed by smaller islands forming a near-perfect circle around it.
Along this island ring, you'll find all the luxury hotels you can imagine clustered around it, which is why each resort enjoys a spectacular view of the main island of Bora Bora and Mt. Otemanu!
However, Bora Bora isn't only about luxury getaways: there's more to the island than just this, and it actually can be visited on budget.
There are a number of pensions and guesthouses on the main island where you can stay rather affordably (well, affordably compared to the resorts, I suppose).
The main island itself is beautiful — you should take the chance to bicycle around the whole island, as its paved perimeter main road is only 20 miles, easy enough to do in a day!
You can also chill on the public beach, Matira Beach, one of the most beautiful white sand beaches in Bora Bora.
The rest of the typical Bora Bora activities tend to be organized through resorts, including things like catamaran cruises, lagoon tours, and snorkeling excursions.
Huahine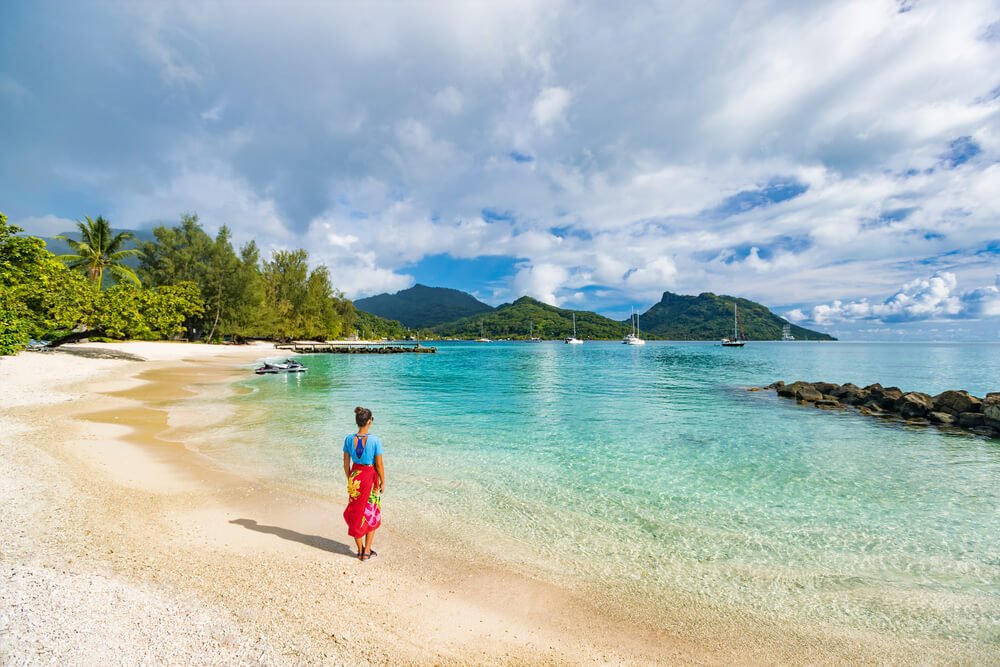 Huahine is a stunning, lush group of two islands (separated into Huahini Nui and Huahine Iti, similar to Tahiti) connected via a bridge.
It's an island where time truly slows down, and you can go at your own pace. Perhaps the best way to experience that for yourself is by exploring it by bike!
There are a number of marae (ancient Polynesian places of worship) on the island, including Anini Marae, Marae Manunu, and Marae de Maeva, which can give you insight into the island's indigenous culture.
Other interesting places to visit include the Huahine Pearl Farm, where they cultivate the famous Tahitian black pearls, as well as the famous river that houses the blind, blue-eyed eels you can only find on Huahine (look for it as Anguille Sacre dagli Occhi Blu on the map).
And of course, with beautiful islands come beautiful beaches! Huahine's beaches are defined by their pure, powdery white sand and aquamarine waters.
Some of the best beaches include Hana Iti Beach, Avea Beach, and the Te Ava Nui Beach, and you can snorkel at Coral Gardens (Jardin du Corail) and Avea Beach in the main town of Fare, or take a snorkeling tour to see more far-out spots.
Maeva is another interesting spot to visit on Huahine, as it was the center of royal power pre-colonization. You can learn more about its history by exploring its marae and visiting the Fare Potee, which is a replica of a traditional Polynesian house that now houses a museum.
Maupiti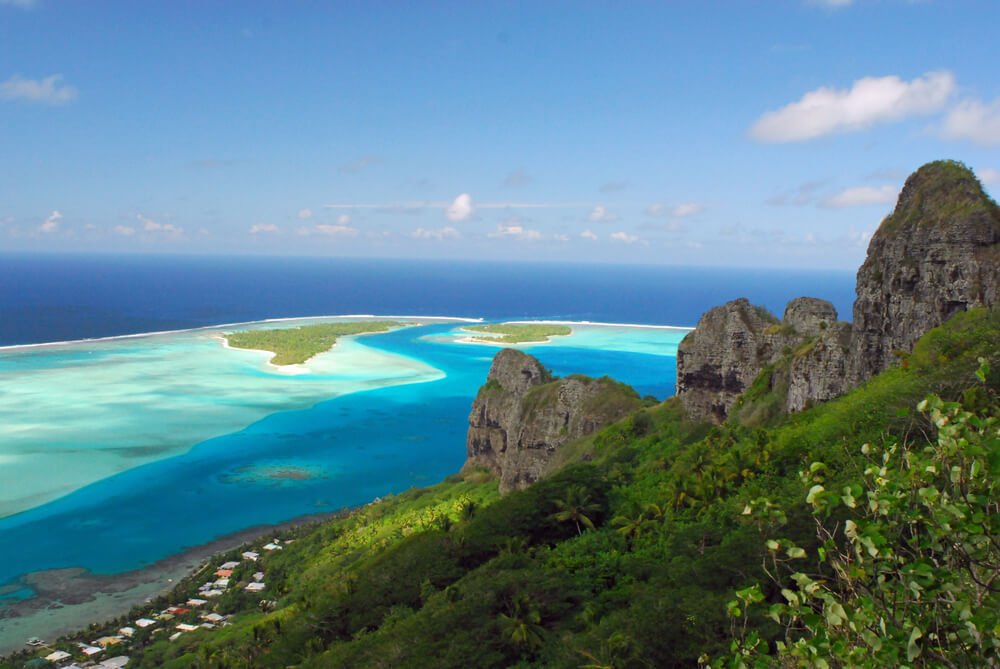 One of the smallest islands on this list, Maupiti packs a punch with only 7 square miles and a population of under 1,300 people.
Despite its small size and most westerly location, Maupiti is definitely one of French Polynesia's best islands to get a sense of the authentic local culture as it is relatively unchanged by tourism.
While it may have a small amount of coastline relative to other islands, Maupiti still offers a plethora of sandy beaches, including the popular Tereia Beach.
One of the main attractions on Maupiti is its ancient marae. The marae were sacred places for Polynesians where they performed religious rituals and ceremonies.
Noteworthy in Maupiti are two historical archaeological sites the Vaiahu Marae and the Haranae Petroglyphs.
These sites provide a glimpse into Polynesian history and culture, and are a must-see for anyone interested in anthropology or archaeology.
For adventurous travelers, hiking up Mount Teurafaatiu is an unforgettable experience.
It's a tough slog, usually about a 3-hour climb up to the summit, but the view from the top is out of this world! The lagoon blues, punctuated by tiny green motus, is like a view out of a dream.
Finally, Le Palais de la Mer is a unique spot like nowhere else in French Polynesia!
This giant art piece is a palace created entirely of seashells, created by Ah-ki Firuu, a local musician and artist.
He dreamed up a house inspired by the sea, entirely made from materials found in the ocean, including clam shells, mother of pearl, and ocean stones.
Visiting here is whimsical and magical experience!
Tours cost about $20 USD per person, but it's worth it to see this unique piece of art and celebrate one man's vision and one of Maupiti's few local artists.
Taha'a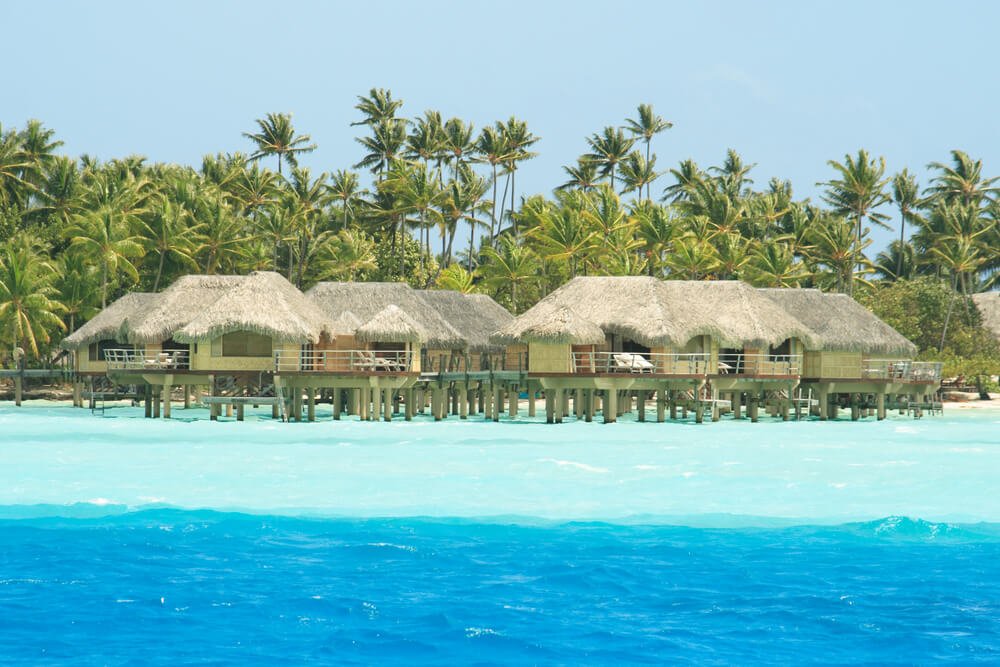 With just 33 square miles of land, Taha'a is small but mighty – and it packs a serious punch when it comes to natural beauty.
Did you know vanilla is actually made from an orchid? Well, this island is famous for its vanilla production – in fact, it produces 70% of all vanilla in French Polynesia!
You can take a vanilla tour at Maison de La Vanille or La Vallée de la Vanille and learn all about the fascinating process of growing and harvesting vanilla — it's far more labor-intensive than you can imagine.
The aroma of freshly harvested vanilla pods will make your mouth water, and they're the perfect French Polynesia souvenir to bring home.
But Taha'a isn't just about vanilla – it's also surrounded by stunning motus and white sand beaches.
The west coast of the island offers a breathtaking view of Bora Bora, and there's a resort with overwater bungalows that offer the ultimate in luxury and relaxation.
For those who love snorkeling, Taha'a is a dream destination — and there's also one dive shop in the island, in case you wish you delve deeper.
The shallow channel near the Tautau motu offers great snorkeling, and the Coral Garden off of Le Taha'a Island Resort & Spa is a must-see.
You can also take a lagoon tour and see manta rays, stingrays, black tip sharks, and of course, the Coral Garden.
And if you're in the mood for something a little stronger than vanilla, you can visit the rum distillery and sample some of the island's finest spirits.
Raiatea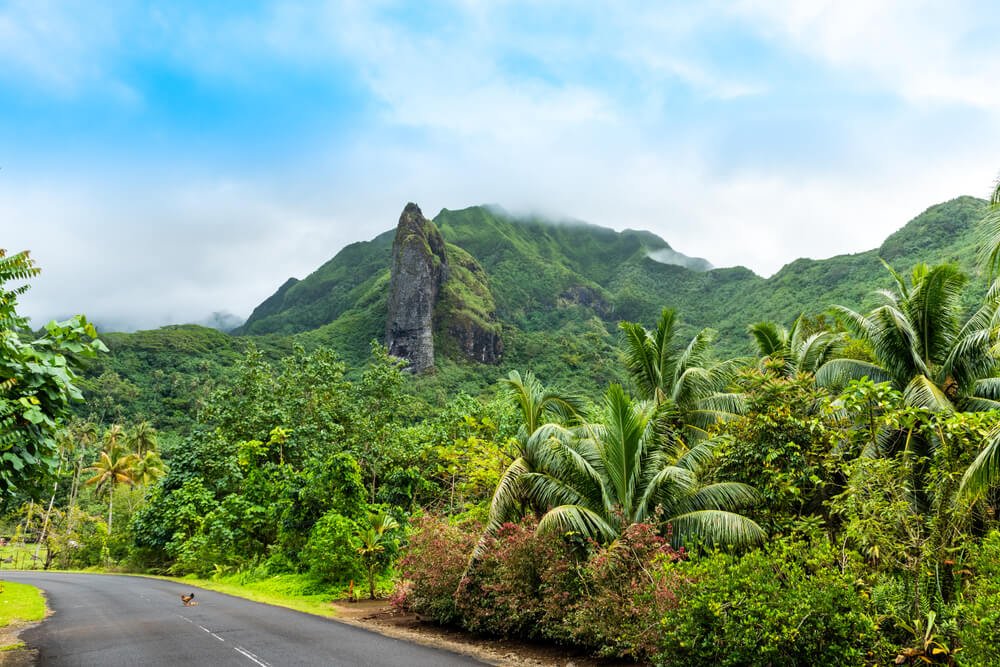 Compared to the tiny, rural Taha'a, Raiatea is positively bustling.
The second largest island in the Society Islands, and home to the largest town after Papeete, there's typically a lot going on in Raiatea.
This island is steeped in history and culture, with the famous Marae Taputapuatea located here, one of the most important spiritual centers in the whole region.
But that's not all Raiatea has to offer. If you're an adventurer at heart, you'll love kayaking down the Faaroa River towards the motus.
It's like paddling through paradise, with lush greenery and stunning scenery all around you!
And if you're into diving, Raiatea has some seriously incredible dive sites for you to explore.
Check out the Miri Miri, Motu Nao Nao, and the Teavapiti Pass for some unforgettable underwater magic.
And don't forget about the wreck dive of the Nordby, which is sure to satisfy your inner explorer.
Up for a road trip? It's one of the best ways to explore this large island!
You can circle the ring road, a nearly 100 kilometer sealed road that takes you on a scenic journey around the island.
Into scenic views that have to be earned, not driven to? You gotta hike up the Temehani Plateau, home of the tiare apetahi, one of the rarest flowers in the world.
The Best Islands in French Polynesia: The Tuamotu Atoll
Rangiroa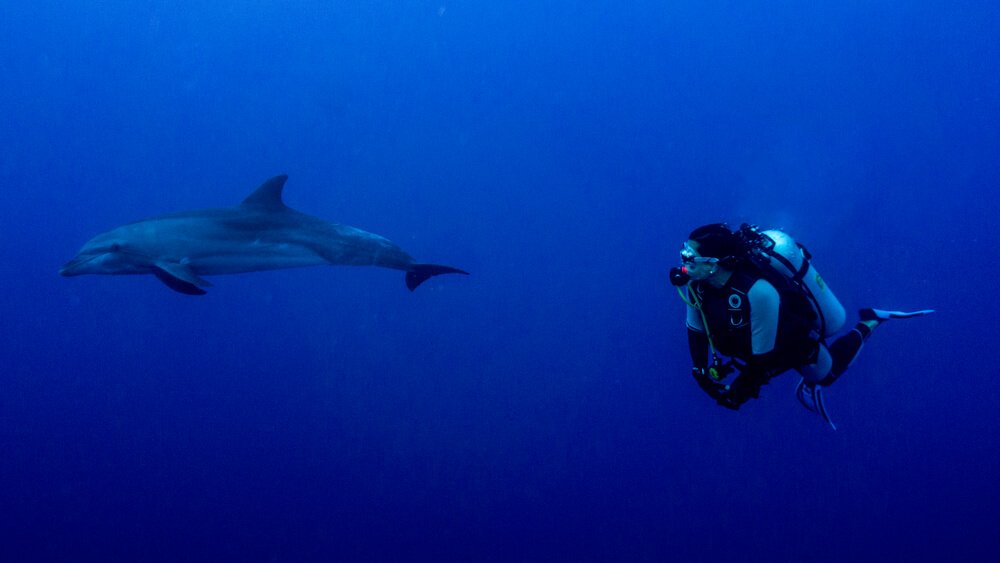 One of the best islands in French Polynesia for diving is Rangiroa, hands down!
The main reason to head out to the Tuamotu Atoll is its incredible diving, and Rangiroa is among the top destinations for diving in the world!
This atoll (as Rangiroa is actually a collection of islands as opposed to one singular island) surrounds a stunning clear lagoon — a lagoon so large, Bora Bora would fit inside it easily!
But dive beneath Rangiroa's clear waters and you'll see where this island truly comes to life: its stunning marine world.
Rangiroa is known for being one of the best places to dive with dolphins in the world! The best place to see dolphins is through the Tiputa Pass.
This pass is rich with life, including schools of large fish like trevally and barracudas — which also makes it rich with larger sea life, like sharks and bottlenose dolphins!
It's not unusual, though by no means guaranteed, to get to dive alongside some curious dolphins as you explore the Tiputa Pass.
The Tiputa Pass is home to several famed drift dives, and you have the chance to see all sorts of life depending on the time of year, sometimes even including giant hammerhead sharks!
The Avatoru Pass is another famous dive site in the Rangiroa atoll.
While not quite as legendary amongst divers as the Tiputa Pass, it still has its benefits, including the opportunity to see the rare silvertip shark that is hard to find elsewhere in the islands of Tahiti!
You can also find huge schools of bluefin jacks, the occasional sighting of manta rays, sea turtles, and of course, a rich variety of tropical fish enjoying the spectacular coral reefs.
Fakarava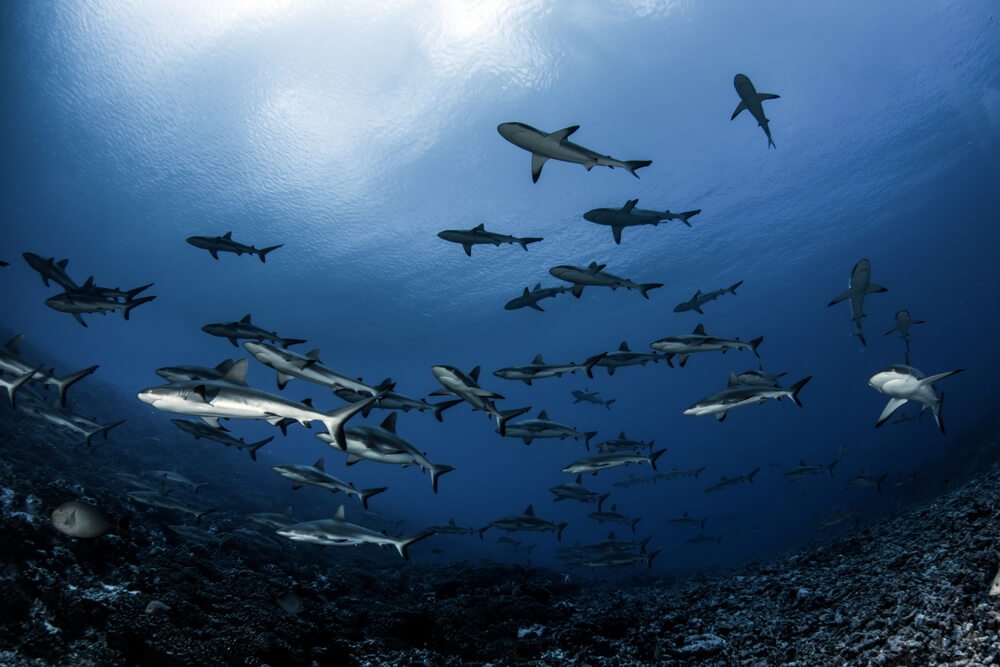 Another famous dive spot in French Polynesia is Fakarava, another atoll in the Tuamotus.
Fakarava's best spot to dive is the southern pass (the Tumakohua Pass) which is home to the famed 'Great Shark Wall'.
That actually refers to a once-a-year event where the sharks assemble in even greater numbers than usual.
However, in reality, the 'shark wall' happens regularly — practically daily — where you can see huge numbers of sharks as you drift through the massive numbers of sharks on a current bringing you by.
Another popular dive spot in Fakarava is the northern pass (Garuae Pass).
This dive spot is more about tropical fish and coral garden landscapes than the large number of sharks you'll find in the Tumakohua area.
Tikehau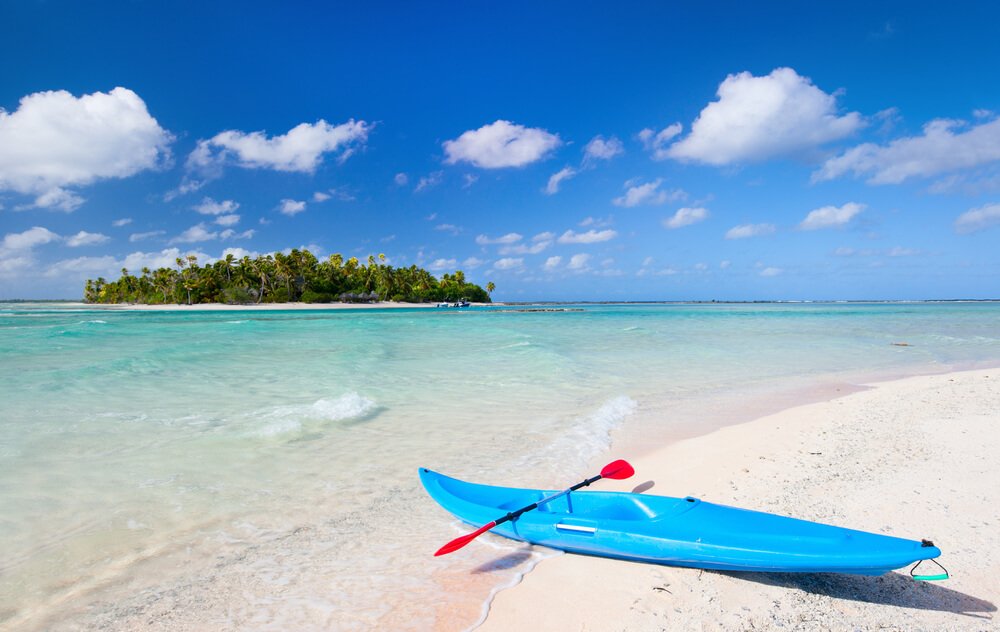 For a little-touristed slice of paradise, head to Tikehau, where the laidback island vibes will surely have you slowing down.
This is the Goldilocks of tourism: just enough to do here, but not enough that it feels like a large-scale tourist operation.
You could do just about anything in Tikehau: relaxing on its beautiful white sand (or even pink sand) beaches, kayaking to other beaches, or biking around the island (you can rent from Tikehau Plongée, also the main dive school of the island, alongside Raie Manta).
When it comes to diving, you can't miss exploring the dive sites around the Tuheiava Pass, where mostly drift dives await you.
The marine life here is beyond incredible, with an abundance of nurse sharks, moray eels, barracudas, angelfish, and possibly even tiger sharks or hammerhead sharks.
Jacques Costeau studied French Polynesia's waters in detail, and he reported Tikehau as having the largest biodiversity of fish species, and it's easy to see why.
For a truly unique experience, take a lagoon tour that includes a visit to a manta ray cleaning station, where you can even snorkel with these majestic creatures.
This tour also includes a visit to Bird Island and a pink sand beach!
And if you're looking for a quiet spot to just soak up the scenery, Coconut Beach is the place to be.
The Best Islands in French Polynesia: The Marquesas Islands
Nuku Hiva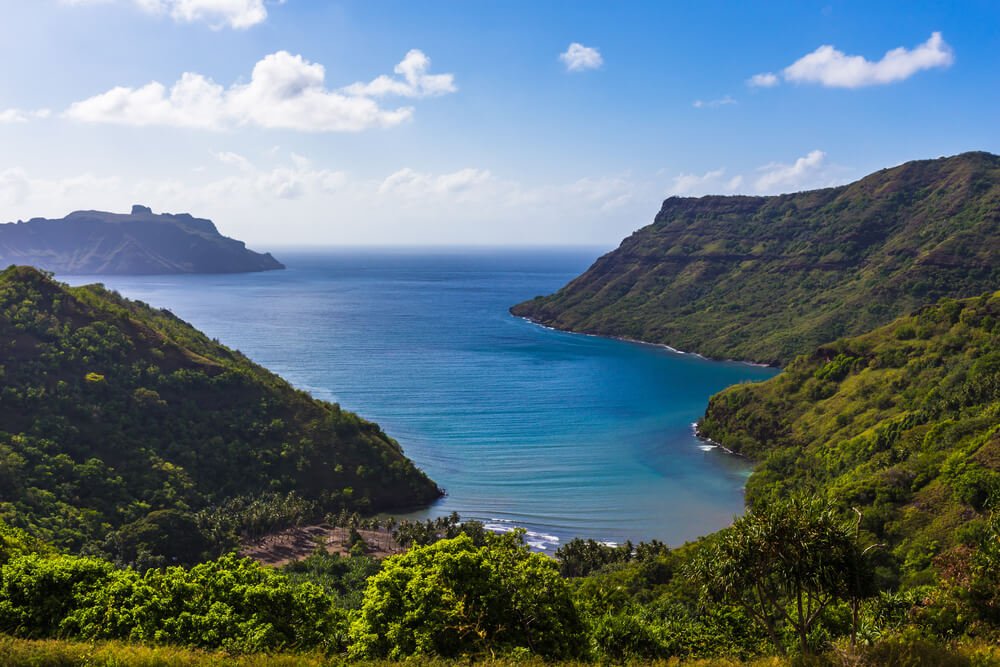 Nuka Hiva is the largest island in the Marquesas archipelago, one of the most remote in the world — we're talking 900 miles away from Tahiti and almost 3,000 miles from any continent!
But the long journey is definitely worth it for the jaw-dropping beauty of Nuka Hiva!
Take in the breathtaking views of its "Grand Canyon," a sight similar to Waimea Canyon in Kauai, which is best seen from the air. Another must-see spot is the Toovii Plateau, lush and green with a peaceful atmosphere that's perfect for relaxation.
Arts and crafts are big here, especially Marquesan wood carvings that are famous worldwide. And if you're up for a hike, head to Vaipo Waterfall and take in the natural beauty of the lush greenery and cascading water.
Another highlight of Nuka Hiva is Anaho Bay, which is the only reef in the area, making it a great spot for snorkeling and diving. It's home to a stunning coral reef, where parrotfish, snappers, and groupers abound.
But generally, Nuka Hiva's diving is renowned for its larger pelagic species and unique underwater topography.
Another popular dive spot is the Hakatea Bay, where you can find large schools of pelagic fish, as well as reef sharks, manta rays, and even hammerhead sharks!
The Taipivai Valley is another must-visit dive site, where you can explore underwater caves and tunnels, as well as encounter barracudas, napoleon fish, and moray eels.
Hiva Oa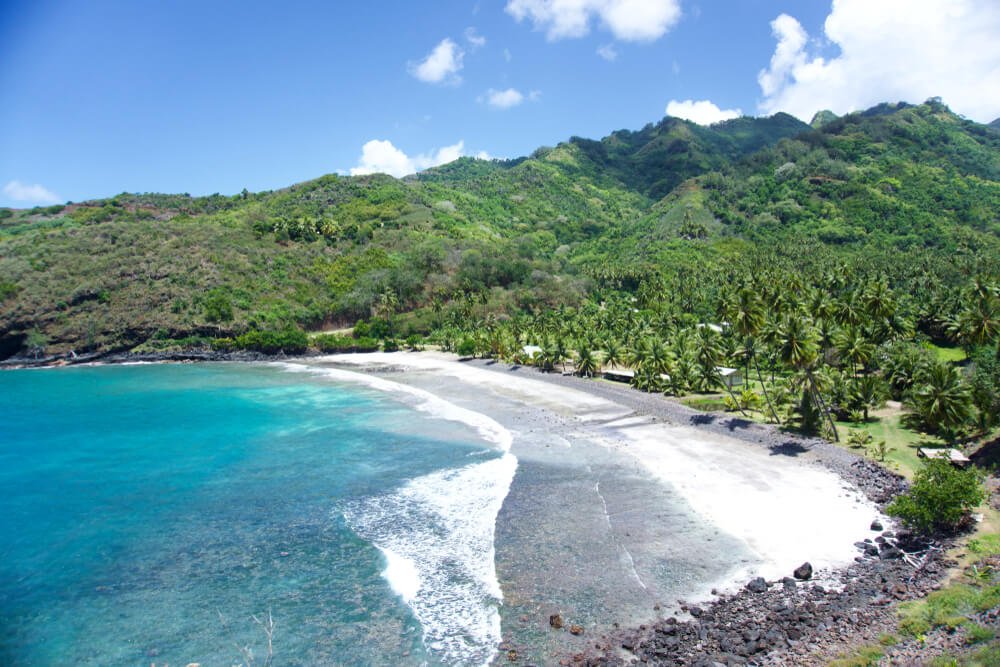 Hiva Oa is the second-largest island in the Marquesas Archipelago and is a hub of ancient culture and natural beauty, from Taaoa Bay to the Upeke and Lipona Archaeological sites, with huge tikis.
The area is also perfect for hiking: take a scenic trail leading to Hanatekuua Bay, where you can take a refreshing dip in the crystal-clear waters to celebrate the end of a hard-earned hike.
Hiva Oa is also a great base for exploring the surrounding islands, and a day trip to Tahuata Island is a must-see.
For underwater enthusiasts, Marquises Diving is the island's dive shop and the #1 way to explore the region's marine life.
Visibility is low here and you won't find coral reefs, but you will find a ton of large pelagic life like oceanic manta rays, dolphins, and a number of shark species, such as hammerheads.
Most dive sites are located in the channel between Hiva Oa and Tahuata, and some of the most well-known are Le Rabot and Kui Point.
The Best Islands in French Polynesia: The Austral Islands
Rurutu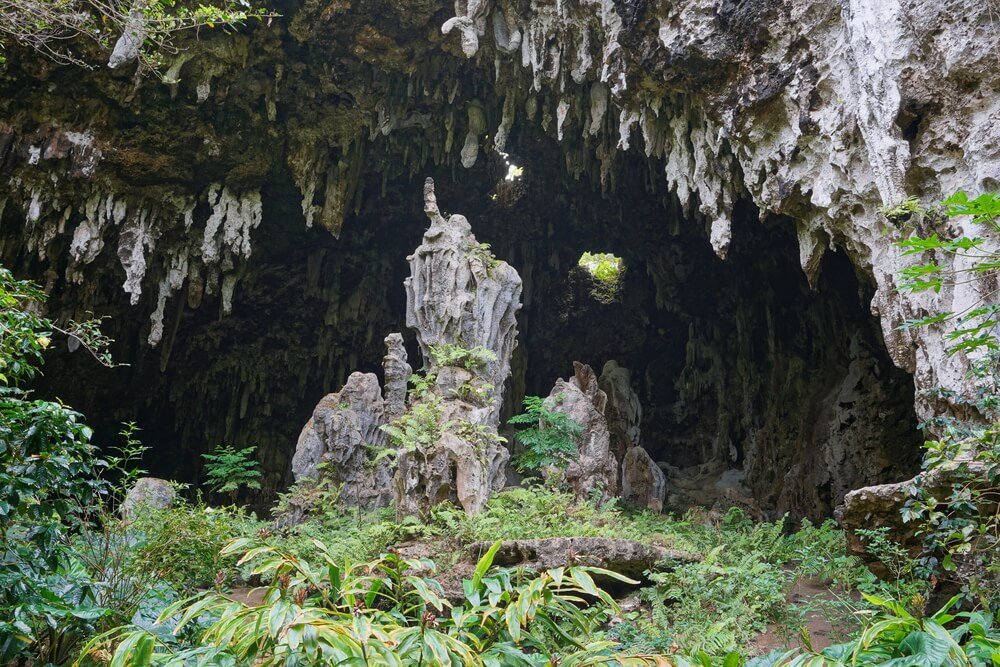 Rurutu is a picturesque island located in the remote Austral Island group and is known for its incredible whale watching opportunities.
Every year between July and October, the island is a hub for migrating humpback whales.
If the weather and water conditions are good, strap on your mask, snorkel and fins and hop in!
The experience is truly unforgettable, and witnessing these majestic creatures in their natural habitat, sometimes alongside their young, is something that cannot be described, only felt.
Apart from whale watching, Rurutu offers a variety of other activities.
One popular option is to take a 4×4 tour organized by a guesthouse, which is a great way to explore the island's natural beauty and stunning landscapes.
Rurutu is also known for its unique caves, and the Grotte Ana Aeo, also called the "Mitterrand cave", is a must-visit destination.
Rurutu's beaches are also worth exploring, and Toataratara Beach is a great spot for swimming and enjoying a lazy day on the sand.
Allison Green is a former educator turned travel blogger. She holds a Masters in Teaching and a B.A. in English and Creative Writing. Her blog posts merge her educational background and her experience traveling to 70+ countries to encourage responsible, enriching travel. She has been a speaker at the World Travel Writers Conference and her writing, photography, and podcasting work has appeared in National Geographic, CNN Arabic, CBC Canada, and Forbes, amongst others. Now a full-time traveler, she has lived in Prague, Sofia, New York City, and the San Francisco Bay Area.