Crystalline turquoise waters, powdery soft sand beaches, candy-colored coastal towns on clifftops: these views await you when you visit the Algarve coast in the southernmost part of Portugal.
With Spain flanking its east and the Atlantic Ocean to its west, the Algarve's little section of the Mediterranean is one of of Europe's most scenic, with dramatic coastlines giving way to stunning views in nearly every Algarve beach town.
You'll see remarkable sea arches you can kayak to (and through), rugged rock formations formed off the coast sticking out from the sparkling sea, and beaches packed with colorful umbrellas.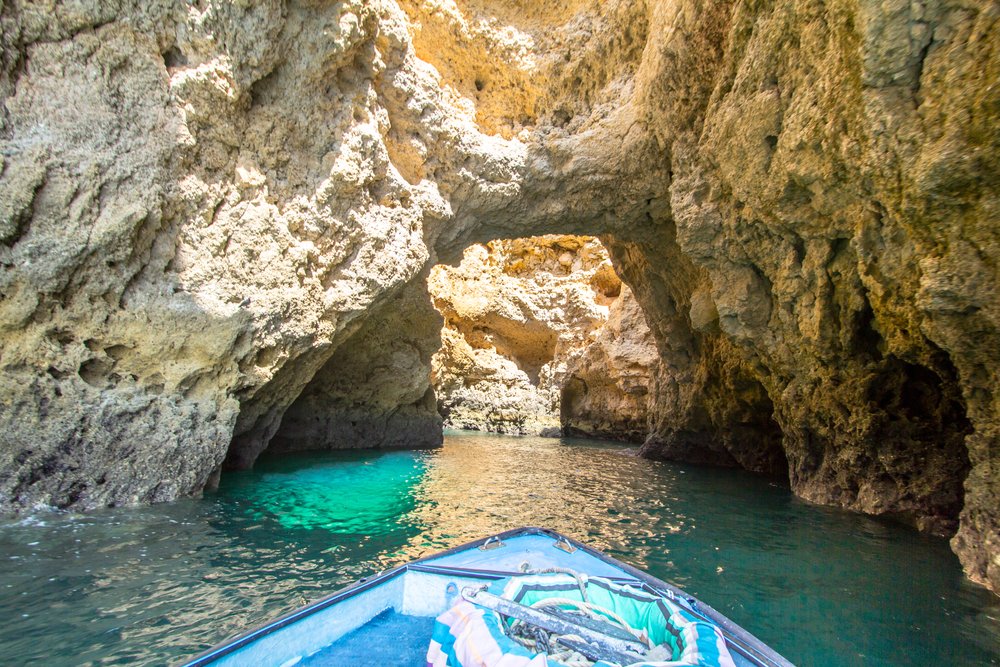 Note: This post contains affiliate links, which means I may receive a small commission if you purchase something through one of these links. Thank you for supporting the free content on this site! For more information on affiliate links and cookies, see my disclosure page for more details.
I lived in Portugal for more than two years and during that time, each summer I took some time to escape to explore the Algarve and its lovely beaches, visiting twice during my time there.
I took two road trips from Lisbon to the Algarve, visiting the scenic small towns in the Algarve along the way.
This guide focuses on where to stay in the Algarve, based on my personal experience exploring the Algarve.
In it, I'll help you decide what the best town in the Algarve to stay in is, based on what attractions, benefits, or drawbacks come with each one.
Whichever you choose, it's best to rent a car in Portugal for the easiest access to these charming small Portuguese towns!
Here's a guide to renting a car in Portugal — it's less intimidating than you think, once you know a few tips.
Best Towns to Stay in the Algarve
Lagos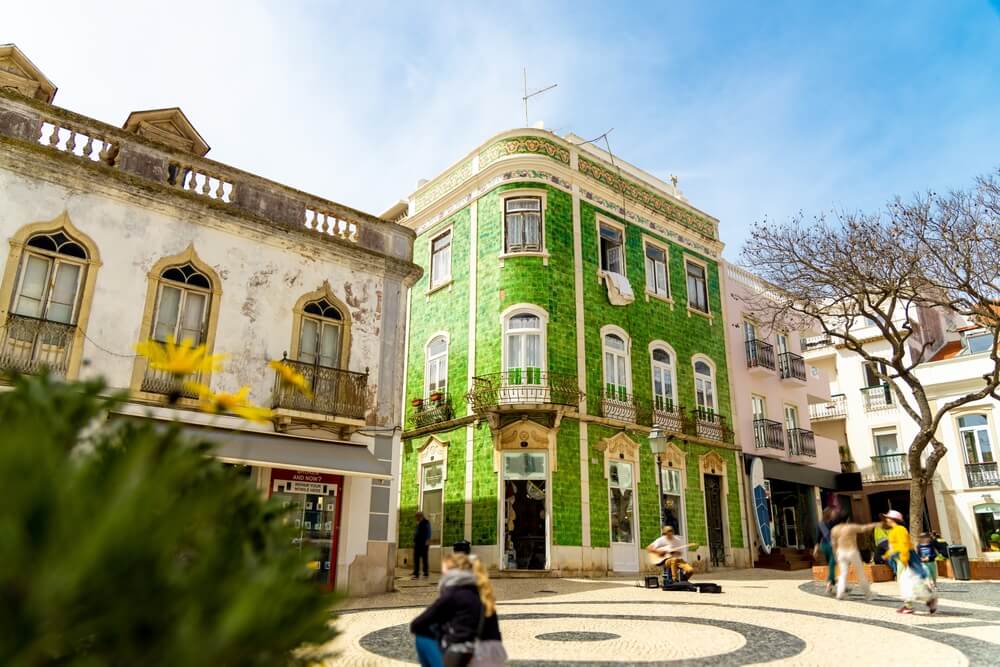 Pros:
– Lots of restaurants and bars, as well as nightlife options
– Central location makes it easy to access other parts of the Algarve by car
– Near to some of the best beaches, including Praia Dona Ana and Meia Praia

Cons:
– Quite crowded during peak season, making accommodation scarce and parking a nightmare
– Further from the eastern Algarve, where Tavira and Faro are, two other scenic Algarve towns
– Larger city, so not good for a laidback vacation far from crowds
Lagos is perhaps one of the most famous towns to stay in on the Algarve, located to the west of the Algarve coast.
It's just half an hour from Sagres, which is the southwestern-most tip of Portugal.
Thanks to its whitewashed houses, charming historic center, and gorgeous seaside promenades, Lagos is one of the top choices for Algarve towns.
I mean, with scenery straight out of the pages of a travel magazine, who's surprised?
The top reason to stay in Lagos is that you'll be within walking distance of some of the most spectacular rock formations along the coast of the Algarve!
Just west of the town center, you'll discover the marvelous Ponta da Piedade, a system of marine caves, arches, and stacks in the crystal-clear waters this area is famed for.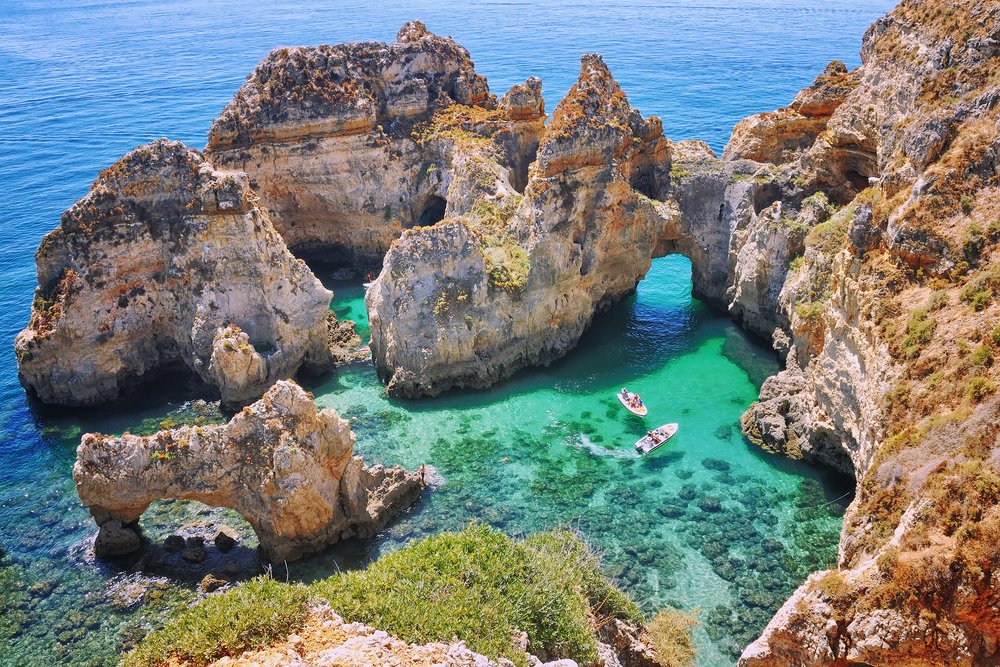 You can admire Ponta da Piedade from a variety of scenic viewing points along the coast, or descend a long staircase to reach the departure point for boat and kayak tours.
Taking a sailing tour along the dramatic coastline of Lagos is an even better way to experience this gorgeous Algarve town.
Lagos is also close to some of the most scenic beaches of the Algarve, particularly Praia de Dona Ana and Praia do Camilo.
The beaches are close to each other, enclosed by limestone cliffs and featuring remarkable rock formations.
To reach the beaches, you'll have to climb down a couple of long and steep staircases, but they're worth the challenge.
Don't forget to check out the spectacular views from above before heading down to the beach!
Where to Stay in Lagos:

Budget | The affordable Indigo Guest House is charming and stylish without breaking the budget. It's intimate, with just six rooms, so you'll feel right at home. There's a lovely rooftop terrace with great views over the city.

➤ Check availability, prices, and reviews here

Mid-Range | Stylish Casa Margô is charming and small, with just 7 rooms each decorated with its own theme. There's a lovely plunge pool and rooftop terrace with great views of Lagos. With nearly perfect ratings, this is a crowd favorite in Lagos.

➤ Check availability, prices, and reviews here

Luxury | The 5-star Boutique Hotel Vivenda Miranda offers small-scale luxury with just 25 rooms, each beautifully designed. The grounds are lush, with a gorgeous infinity pool, stunning gardens, and lovely views of the water. There's an on-site yoga studio and spa for added relaxation.

➤ Check availability, prices, and reviews here
Portimão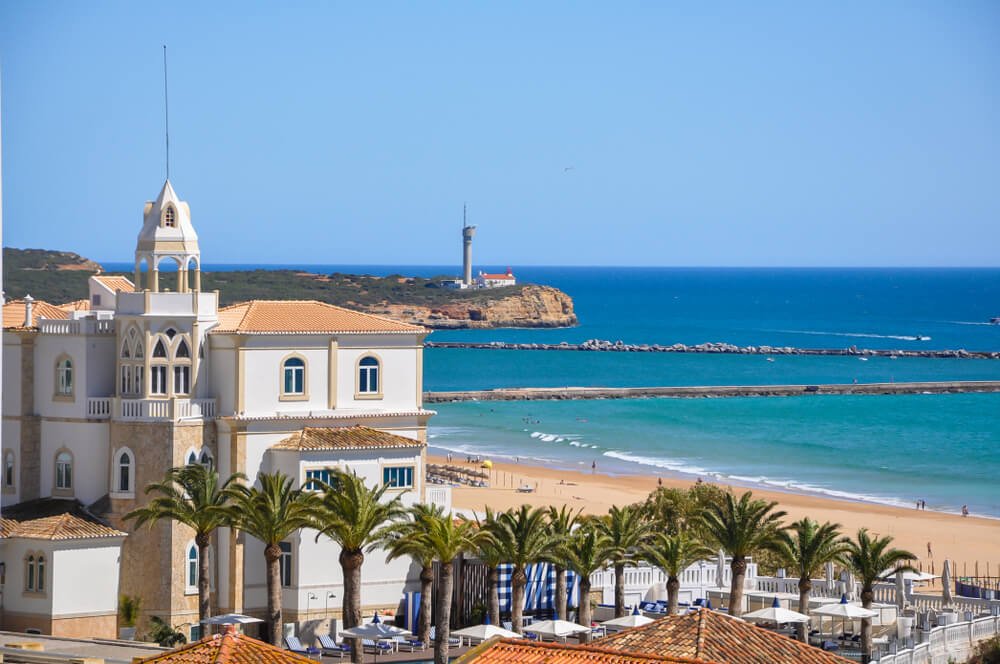 Pros:
– Central location near Lagos, Carvoeiro, and Benagil Caves
– Near some of the best beaches, like including Praia da Rocha and Praia dos Três Irmãos.
– Lively nightlife scene with lots of options

Cons:
– Touristic and can feel less authentic than smaller Algarve towns
– Can be loud at night in center due to nightlife
– Limited public transportation and difficulty parking in center
Half an hour east of Lagos, Portimão is another convenient town to make your home base in the Algarve.
You'll still be within a short drive from all the scenic spots near Lagos, and you can enjoy other spectacular beaches, the most notable being Praia da Rocha.
The historic center of Portimão is a bit further inland, along the shore of the Arade River.
Here's where you'll find most landmarks, like the 15th-century church Igreja de Nossa Senhora da Conceição and the regional heritage museum Museu de Portimão, dedicated to the local fishing tradition.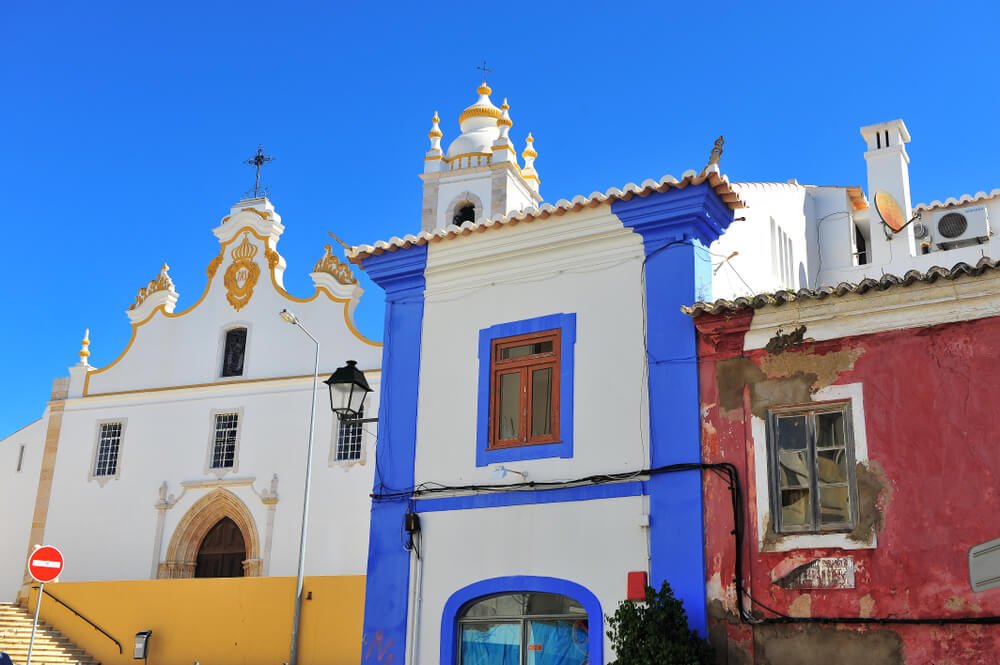 The area along the main beach of Praia da Rocha is filled with shops, restaurants, and bars, ideal for dining out and enjoying the local nightlife.
During the daytime hours, you can visit the medieval fort Fortaleza de Santa Catarina and check out the stunning coastal views from Miradouro dos Três Castelos.
Another beach worth checking out just west of Portimão is Praia dos Três Irmãos, a long sandy beach with even more remarkable rock formations and caves for you to explore.
Where to Stay in Portimão:

Budget | The charming Villa Prana features spacious rooms with A/C and green tropical detailing. It's a great place to unwind, as it's home to on-site yoga classes for an additional fee, as well as massages that incorporate Ayurvedic treatments.

➤ Check availability, prices, and reviews here

Mid-Range | The boutique hotel Villa Moments is a small but charming guesthouse with just six rooms. There's a swimming pool, hot tub, and sun terrace on-site, great for relaxing. But you're also just a stone's throw from all the beaches, stores, and restaurants of Portimão town center.

Luxury | The stunning 5-star Bela Vista Hotel & Spa is part of the Relais & Chateaux group, a trusted luxury brand. With Art Nouveau styling and a lovely vintage vibe, there's a certain "Accidentally Wes Anderson" vibe to it. To dial up the luxury, there's an on-site spa, fitness center, outdoor pool, and restaurant/bar, as well as a private beach club and hotel gardens.

➤ Check availability, prices, and reviews here
Carvoeiro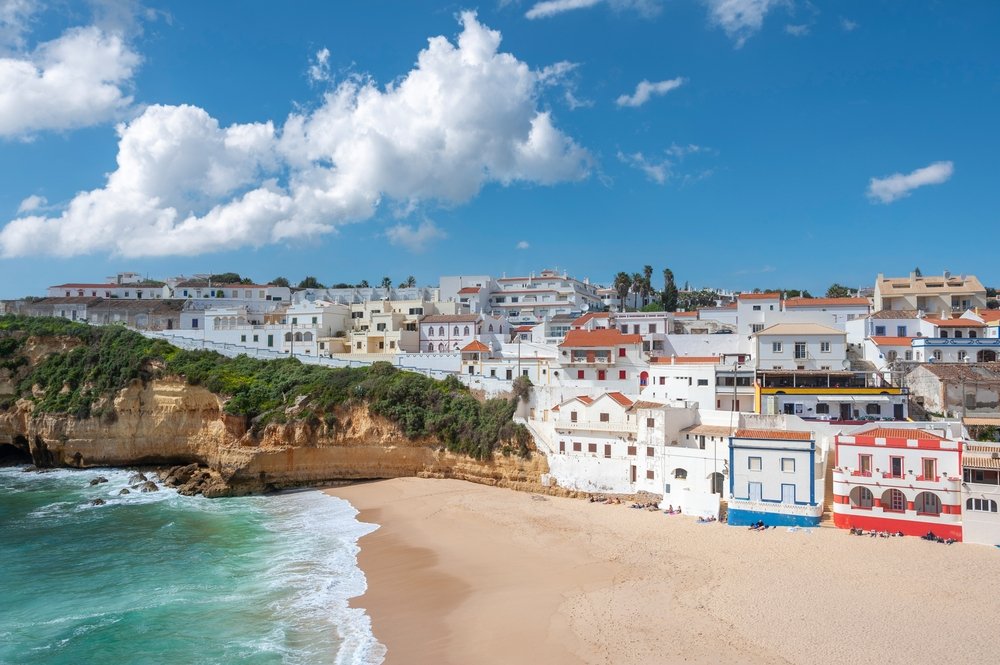 Pros:
– Home to stunning cliffside views and great beaches like Praia do Carvoeiro and Praia de Vale Centeanes
– Quiet, laidback town is more peaceful than other Algarve towns
– Center is picturesque with a more authentic Portuguese charm

Cons:
– Limited nightlife options, so not as lively
– Less accommodation options, especially limited during peak season
– More expensive than other places in Algarve due to its small supply and high demand
A short drive east of Portimão, you'll find the charming town of Carvoeiro.
This is an ideal town to stay in the Algarve if you want to explore the renowned Benagil Caves and enjoy pleasant walks along the coast.
The town is quite large, but the most picturesque area is around the main beach, Praia de Carvoeiro.
The little beach is also the departing point for boat tours to the spectacular Benagil Caves as well as the spot to rent kayaks or paddle boards to explore the coast on your own.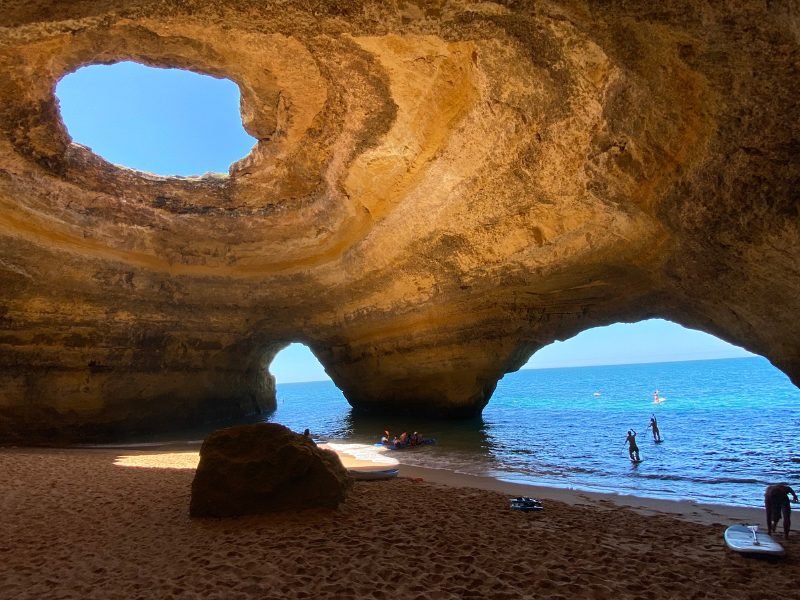 East of Praia do Carvoeiro, walk along the coast through the impressive landscape of the Algar Seco.
This part of the coast features a system of caves, tunnels, and passages slowly eroded through the limestone cliff by the ocean over the course of millennia.
To the east of Carvoeiro, you can enjoy even more stunning beaches, including the secluded Praia do Vale de Centeanes, Praia de Vale Covo, and Praia do Carvalho.
You can also enjoy sweeping coastal views from the Carvoeiro lighthouse and the stunning viewpoint of Miradouro do Vale Suspenso.
Where to Stay in Carvoeiro:

Budget | Hotel Carvoeiro is a little old-fashioned and could use some updating, but it's still a good choice for those on a budget. Rooms are spacious with plenty of place to sprawl, and there's an on-site pool to cool off in. It's a little far from beaches, about a 15-minute walk, but that's a small price to pay for the good deal you get here.

➤ Check availability, prices, and reviews here

Mid-Range | The lovely condo-hotel Hello Villas gives you all the benefits of a vacation rental with the perks of a hotel, like fresh pool towels and on-site breakfast. Each of the 10 villas has its own terrace, well-equipped kitchen, Wi-Fi and A/C. There's also an on-site pool, a fitness center, and a place for kids to play.

➤ Check availability, prices, and reviews here

Luxury | The massive Tivoli Carvoeiro is a luxurious five-star resort with nearly 250 rooms and suites, with ocean or garden views. There's an on-site spa, outdoor pools and hot tub with stunning cliffside ocean views, and a garden worth drooling over. Besides that, there's also tennis courts and a kids club, making it a good choice for families.

➤ Check availability, prices, and reviews here
Armação de Pêra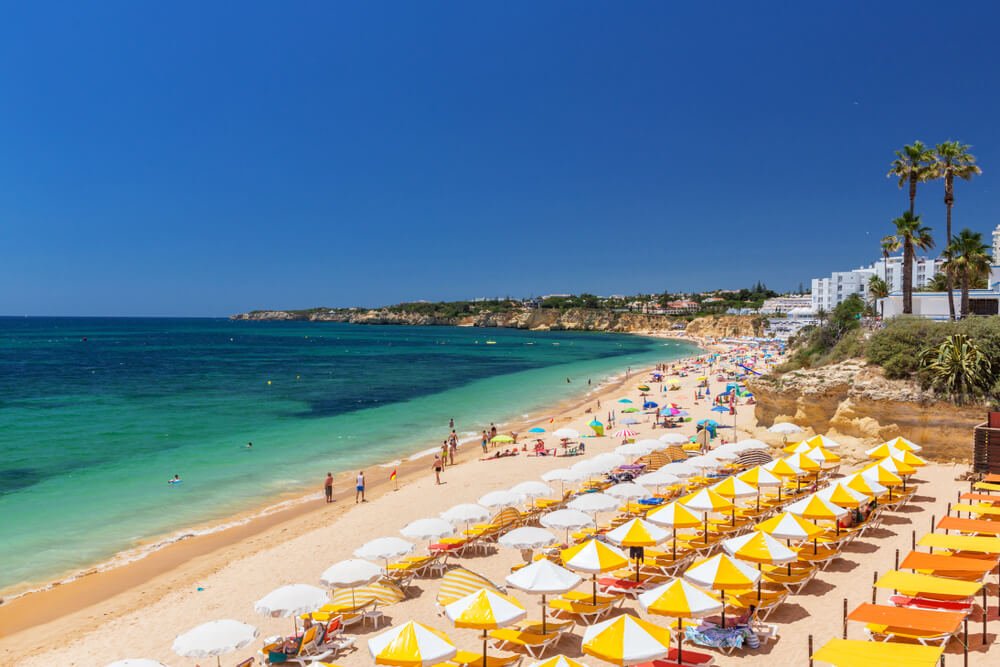 Pros:
– Home to Praia da Armação de Pêra, one of the largest beaches in the region
– Great hiking in the surrounding areas
– Popular with families as it's near Zoomarine and Aqualand water park

Cons:
– Nights can be a little noisy if you're in the center
– Limited parking in the small town center
– Limited accommodations options mean higher prices
This quiet little Algarve town between Carvoeiro and Albufeira is the perfect base along the coast if you are looking for long stretches of sand to relax and enjoy swimming in the turquoise waters.
Though slightly less popular than Lagos and Portimão, Armação de Pêra is still among the top choices for travelers visiting the region.
The town is located along the main beach, Praia de Armação de Pêra, and features many hotels, restaurants, and bars.
The beach continues to the east until Praia da Galé.
In between naps on the beach, you can explore the town and enjoy the views from the Fort of Saint Anthony.
To the west, you can check out impressive beaches, including Praia de Nossa Senhora da Rocha and Praia da Marinha.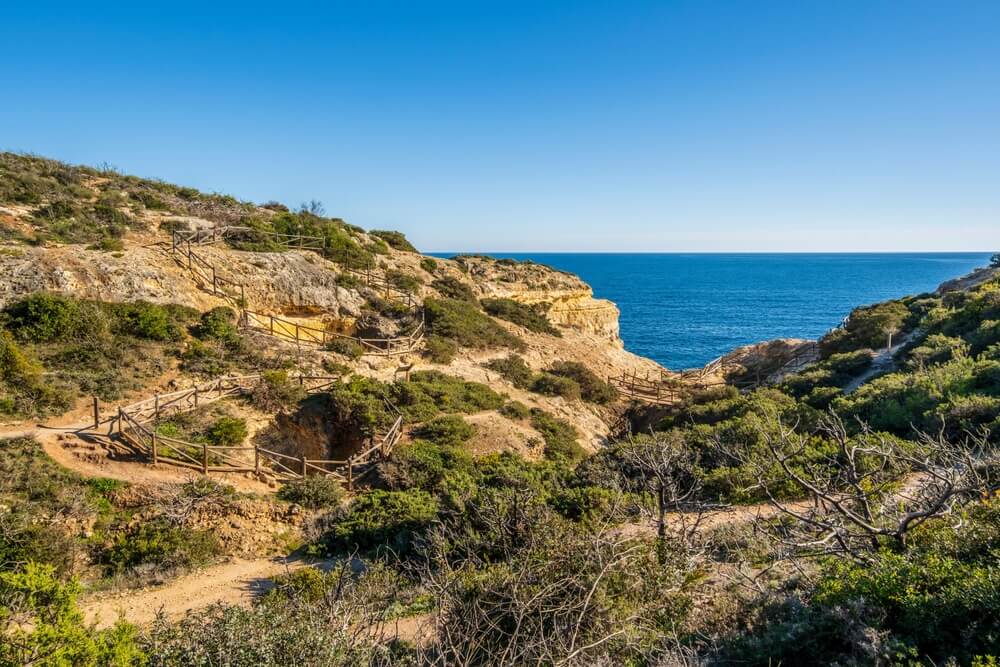 All along the coast, you can find walking trails and beautiful viewpoints.
For some truly unforgettable natural scenery, walk along the Seven Hanging Valleys Trail, where you can check out Arco de Albandeira.
Along the way, enjoy the view of more remarkable rock formations emerging from the ocean, like the famous Yellow Submarine.
Armação de Pêra is also a perfect spot for families with children. North of town, you can enjoy a day at the waterpark Aqualand Algarve or visit the marine park Zoomarine Algarve.
Where to Stay in Armação de Pêra:

Budget | Located two miles inland from the beach, closer to Alcantarilha, Hotel Capela das Artes is a great steal on a literal olive grove… not bad! While the sea isn't far, but the saltwater outdoor pool makes it feel even closer. Rooms have A/C and WiFi, but the setting feels peaceful and almost rural. Hard to believe you're in the Algarve!

➤ Check availability, prices, and reviews here

Mid-Range | The charming Apartmento Moura is right on the beach — it doesn't get more central than this. This apartment has an eclectic, modern design with lots of blue elements that evoke the sea while staying minimalistic. You'll have all the perks of apartment living — a washer-dryer, large kitchen, etc. — while also having some hotel-like perks such as a shared outdoor pool.

➤ Check availability, prices, and reviews here

Luxury | The 5-star Vilalara Thalassa Resort is the place to go for spa lovers. This stunning cliffside hotel has gorgeous grounds and stunning views of the ocean from every single room's private terrace. The hotel spa is a must-visit, with a sauna, Turkish bath, and indoor pool. There are several on-site restaurants and bars to choose from, multiple swimming pools, tennis courts, a private beach: there's really no reason you'd have to leave, but being that you're in the Algarve, I hope you will!

➤ Check availability, prices, and reviews here
Albufeira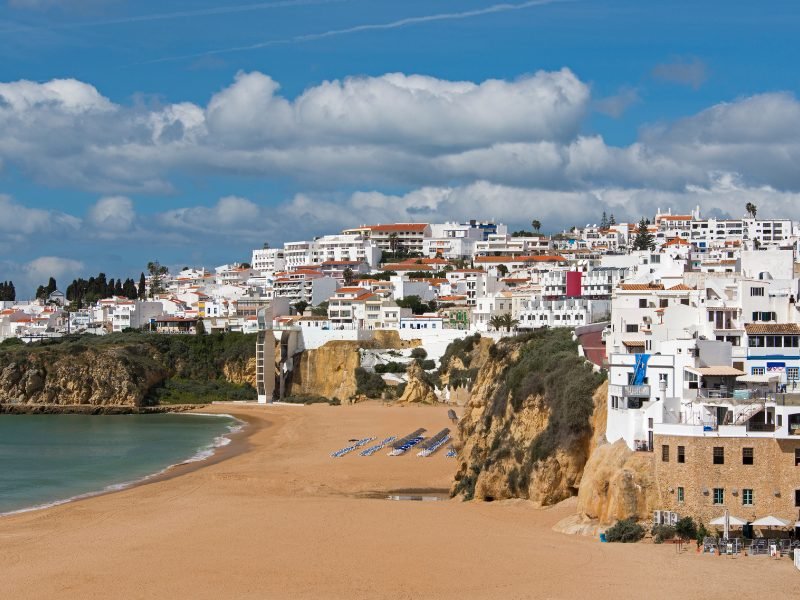 Pros:
– Home to several beautiful beaches like Praia da Oura and Praia dos Pescadores
– Many restaurant and nightlife options
– Near to family-friend spots like Zoomarine and Aqualand water park

Cons:
– Can get very noisy at night with lots of nightlife
– Very touristic and overdeveloped, can feel inauthentic
– Accommodations are very expensive
The lively Albufeira is the place to go if you want to experience the vibrant nightlife and meet other travelers and expats.
The town is super popular among foreigners, especially British and Northern European travelers escaping cooler weather.
The former fishing village with whitewashed houses offers the perfect combination of lovely beaches, a charming old town, and great restaurants, bars, and clubs.
Wander through the Baixa de Albufeira with its charming little alleys, squares, and beautiful churches, relax on the main beach Praia dos Pescadores, and enjoy the view from Miradouro do Pau da Bandeira.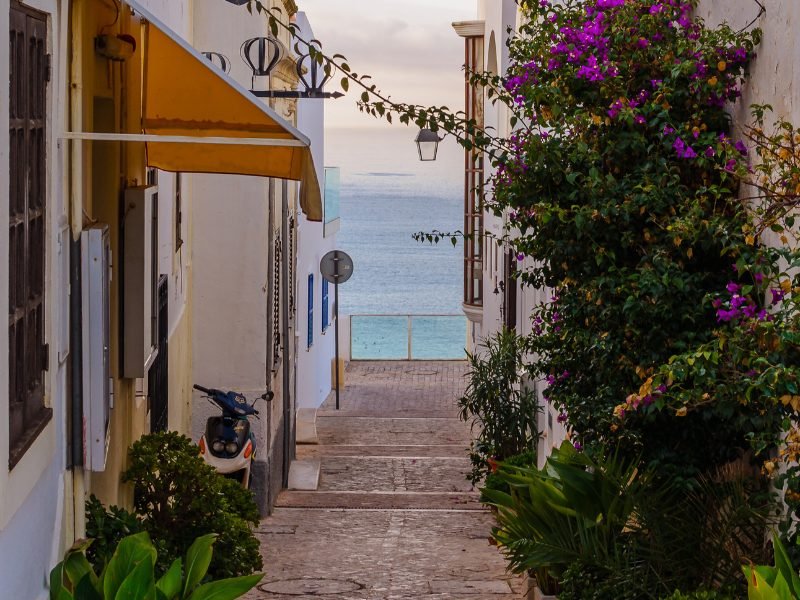 To the east of Praia dos Pescadores, just a short walk away, you can find the long sandy beach Praia dos Alemães, perfect for swimming or working on that vacation tan.
If you're traveling with a car and don't mind a bit more travel time, a short drive further east will allow you to discover more impressive beaches like Praia dos Aveiros, Praia da Oura, Praia Santa Eulália, and Praia Olhos de Água.
The nightlife area is known as the Strip or Rua dos Bares, and it's a street just outside the old town, lined with everything you could ask for, from pizza restaurants to Irish pubs and bars.
Whether you want to listen to live music, enjoy a late-night drink, or go dancing, you'll find a spot here.
Where to Stay in Albufeira:

Budget | The centrally located condo-hotel Luna Solaqua is in the heart of Albufeira, close to Old Town and Oura Street. There's a large pool all guests share, as well as A/C rooms with WiFi, balconies, kitchenettes, and en-suite bathrooms.

➤ Check availability, prices, and reviews here

Mid-Range | The beachfront VidaMar Resort Hotel located right on Salgados Beach is a stunner with an outdoor pool and breezy bed-like cabanas for lounging. The rooms are modern and minimalist, with muted colors that put your attention on the great views. There are several pools and a kids club, making it a great choice for families, and there are half-board options to make your stay even smoother.

➤ Check availability, prices, and reviews here

Luxury | Each W hotel has its own personality, and the W Algarve is no exception! Located in the resort area of Sesmarias, you'll have all the luxe 5-star amenities you crave, like a gorgeous pool, an ultra-modern lobby, and a luxurious spa. The rooms are quirky with that typical W aesthetic of funky-meets-modern for a unique hotel experience like nowhere else in the Algarve.

➤ Check availability, prices, and reviews here
Faro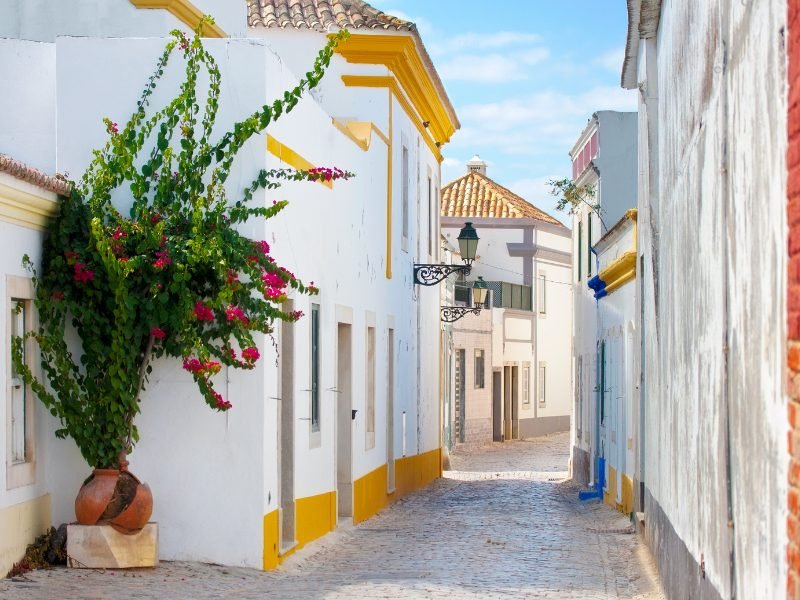 Pros:
– Stunning historic old town with traditional Portuguese charm
– Some of the best shopping and dining in the Algarve
– Local international airport for easy arrival

Cons:
– Limited nightlife options even for being the capital of the Algarve
– Not on the coast
– Rental car is necessary for enjoying Algarve beaches
The capital of the Algarve, Faro, is generally the first stop for travelers flying directly to the southern region of Portugal.
It's super convenient, as Faro International Airport is only 4 kilometers west of Faro and operates flights to many European capitals and big cities.
The two main reasons to spend time in Faro are to explore the beautiful old town, with its landmarks and museums, and to discover the Nature Park of Ria Formosa along the coast.
The park and lagoon of Ria Formosa are great spots to stroll and watch the birds, especially the flamingos.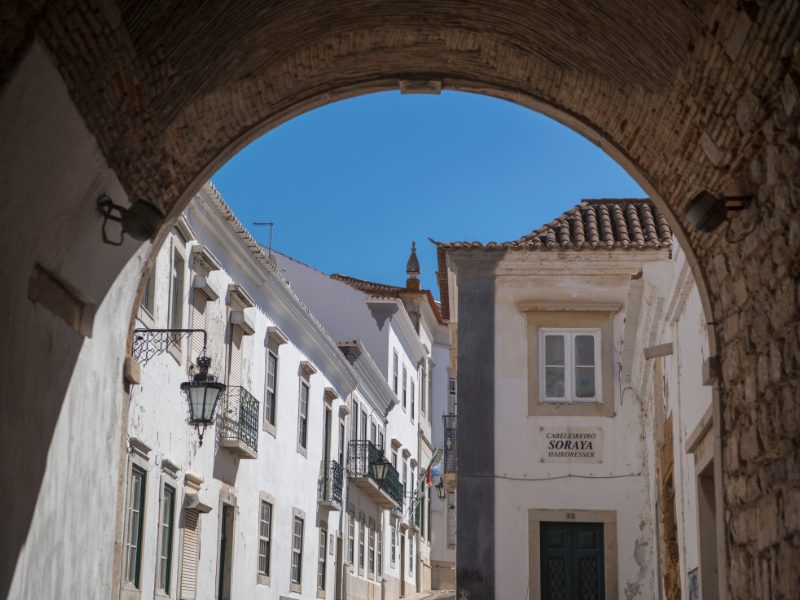 In Faro's old town, admire the neo-classical architecture, especially the monumental Arco da Vila, and be sure to check out the exhibitions at the Municipal Museum of Faro.
If you've got even more time, visit the creepy bone chapel Capela dos Ossos de Faro along with the 13th-century city cathedral Igreja de Santa Maria.
The Faro Marina is lovely to enjoy an evening walk on the water stroll around the charming Jardim Manuel Bivar, and visit the science museum Algarve Life Sciences Center.
As for beaches near Faro, Praia de Faro and Praia da Barrinha are the closest ones to town.
Where to Stay in Faro:

Budget | Sunlight House is a funky little guesthouse with private rooms, with adorable bright yellow and pastel decor that looks like a Pinterest board came to life. The rooms themselves are more muted, reminiscent of a traditional B&B.

➤ Check availability, prices, and reviews here

Mid-Range | The lovely little Lemon Tree Stay is a cute B&B right on Praça da Liberdade in the heart of Faro. At its heart is — you guessed it — a courtyard with a lemon tree, where guests can get away from it all. The rooms are minimalist-modern, with gorgeously updated bathrooms and a shared kitchen area you can use.

➤ Check availability, prices, and reviews here

Luxury | The most luxurious option in town, 3HB Faro is still a steal! With two restaurants, a rooftop pool and bar, a fitness center, a spa with a sauna and indoor plunge pool, you could get wrapped up in your hotel and never leave. Luckily, the beach is a quick drive away (shuttles are also available).

➤ Check availability, prices, and reviews here
Olhão
Pros:
– Set among islets with beautiful beaches on Ilha da Culatra and Ilha da Armona
– Fishing town with excellent seafood restaurants
– One of few Algarve towns that is not overdeveloped and maintains its charm

Cons:
– Not particularly known for its nightlife options
– Not many significant attractions in town proper
– Difficulty parking in town unless accommodations offers it
Olhão is a quaint town just east of Faro, surrounded by a set of islets along the coastline.
The nearby Culatra Island provides long stretches of sandy beach and is connected to Olhão via a regular ferry service.
The other island connected by ferry is Ilha da Armona, which also boasts a wide beach, Praia da Armona.
In Olhão's old town, the highlight is the Mercados de Olhão, a buzzing bazaar inside two historic red-brick buildings overlooking the lagoon.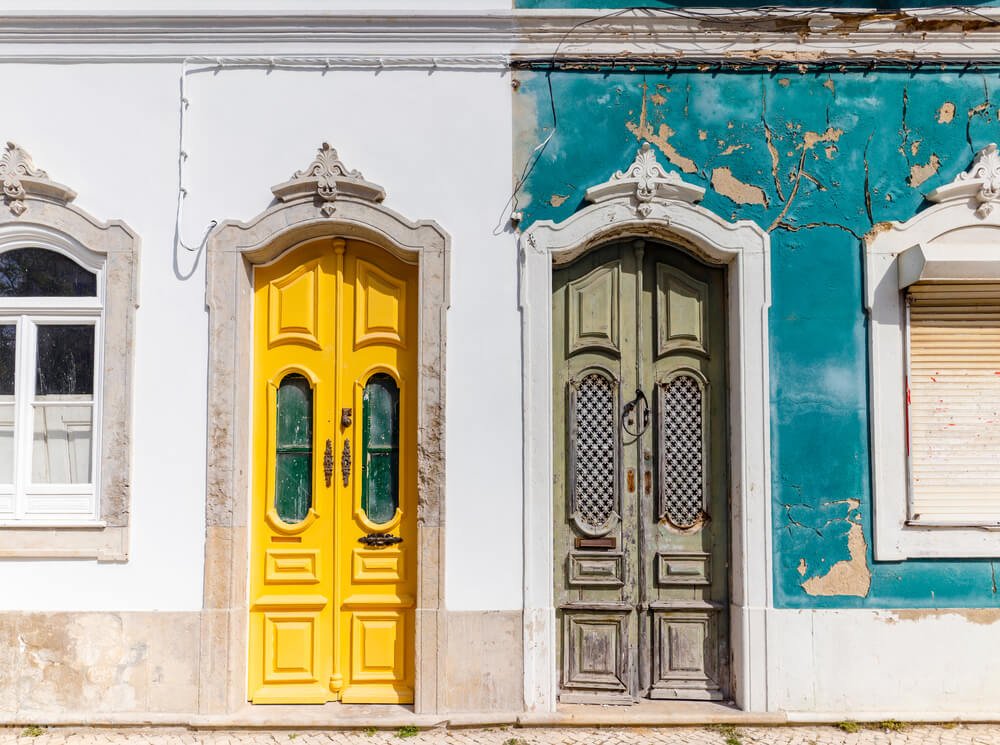 Whether you want to buy fresh seafood, sample Portuguese delicacies, or buy some souvenirs to take home, this lively market is the place to go.
Explore the small town, stroll around the marina and nearby parks, and eat delicious local dishes.
To enjoy tasty grilled fish and seafood dishes, head to Vai e Volta or Chá Chá Chá.
To the west of Olhão, visit the Salinas do Grelha.
While you're there, take a tour of the salt pans to learn about their century-old history in salt production, get a salt mud treatment, and enjoy floating in the so-called "Dead Sea", a small lake with a salt concentration similar to its namesake.
Where to Stay in Olhão:

Budget | The budget-friendly Hotel Cidade de Olhão has small rooms that nevertheless have all you need, including a work area, en-suite bathrooms with tubs, WiFi, and A/C. There's also a small shared pool area in case you want to take a dip in the comfort of your own hotel.

➤ Check availability, prices, and reviews here

Mid-Range | The lovely Pure Formosa Concept Hotel is a stunning option with a rooftop pool overlooking the river and nature preserve, with sun loungers and umbrellas to keep you shaded. The shared spaces are luxe and minimalist, and the rooms are too, with sand-colored furnishings with wood and earth-toned details.

➤ Check availability, prices, and reviews here

Luxury | The Real Marina Hotel & Spa, a 5-star overlooking the Ria Formosa Nature Park, is a stunning option. Relax at the large pool surrounded by loungers or at the spa center with a sauna, Turkish bath, and hot tub. Rooms are spacious with luxe bathrooms with details like marble counters and soaking tubs.

➤ Check availability, prices, and reviews here
Tavira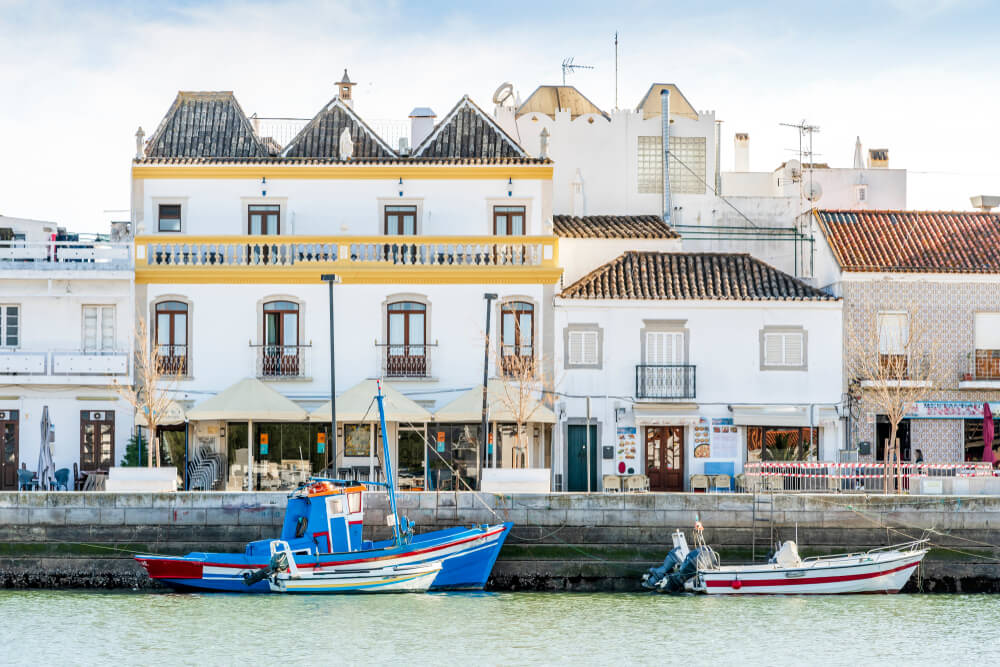 Pros:
– Not overdeveloped, quiet local charm
– Charming town center with Tavira Castle and Roman Bridge
– Near nature preserves like Rio Formosa Nature Park

Cons:
– Limited nightlife options in town
– Doesn't have the prettiest beaches in the area
– Very far east so not close to sights like Sagres, Lagos, Carvoiero, etc.
Located toward the eastern end of the Algarve coastline, close to the Spanish border, Tavira is a lovely town straddling the Gilão River.
Like most towns in the area, Tavira is separated from the coast by a set of islets and inlets forming the Ria Formosa lagoon.
Staying in Tavira is a great idea if you want to combine beach days and cultural visits to the historical landmarks in the beautiful old town.
Castelo de Tavira is the main sight, featuring delightful gardens and gorgeous views over the town's rooftops.
The nearby Igreja de Santa Maria do Castelo is a National Monument of Portugal, featuring a bell tower offering panoramic views that you'll absolutely want to bring your camera for.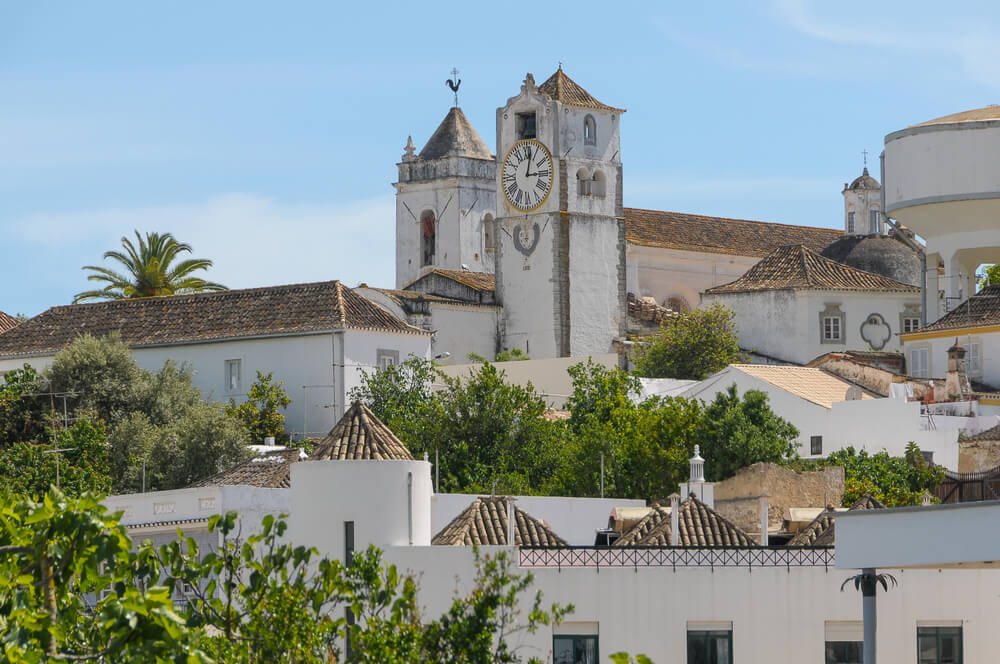 Explore the rest of the small but charming old town, walk along the river, cross the medieval bridge Ponte Antiga de Tavira, and visit the beautiful Igreja da Misericórdia.
If you want to shop for fresh fruits, vegetables, and local products, head over to the Tavira Market.
Since it's slightly inland, Tavira is further from the beaches than other towns in the western Algarve.
The closest beach is Praia da Ilha de Tavira, stretching along Tavira Island. You can reach the island via a scenic ferry ride along the Gilão River from Tavira's center.
Where to Stay in Tavira:

Budget | In the heart of town on Praça da República, Formosa Guest House is located right next to the Roman Bridge and other key sights. Beyond that, it has charming rooms that combine new and old, modern and antique. There are two kitchens to share and each room has its own updated, modern bathroom.

➤ Check availability, prices, and reviews here

Mid-Range | The modern design hotel OZADI Tavira Hotel is minimalist with fun colorful touches and other elements of whimsy like geometric prints. The bathrooms are recently refreshed with lovely soaking tubs to relax in at the end of the day. There's a great outdoor pool, a fitness center, and a restaurant with pool views.

➤ Check availability, prices, and reviews here
Sagres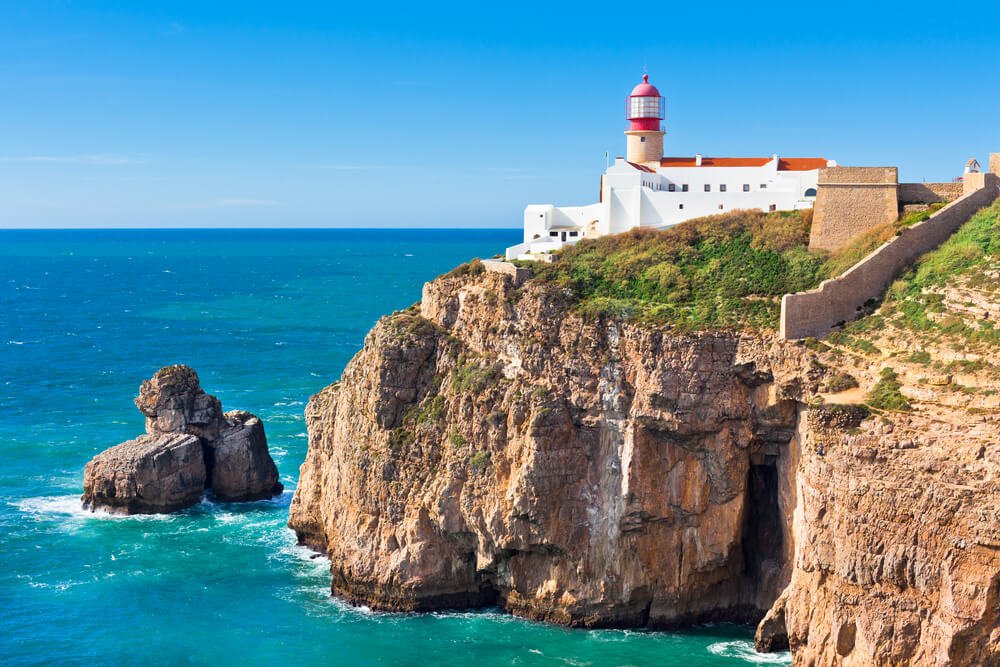 Pros:
– Rugged, wild coastline with both Atlantic and Mediterranean access
– Active destination, great for surfing and hiking
– Excellent seafood restaurants

Cons:
– Quite windy compared to other locations due to Atlantic winds
– Far from places like Lagos, Albufeira, Faro since it's so far west
– Some beaches are difficult to access, not great for limited mobility issues or families with small kids
At the far southwestern tip of Portugal, you'll find the small town of Sagres, the perfect place to escape the crowds of the most popular beachside towns.
While not many people choose Sagres as their base to explore the Algarve, the area is popular among day visitors.
Long ago, people once thought Cabo Sagres, a promontory overlooking the seemingly endless Atlantic Ocean, marked the end of the world.
There, you can visit the Sagres Fortress and lighthouse and check out the giant Compass Rose.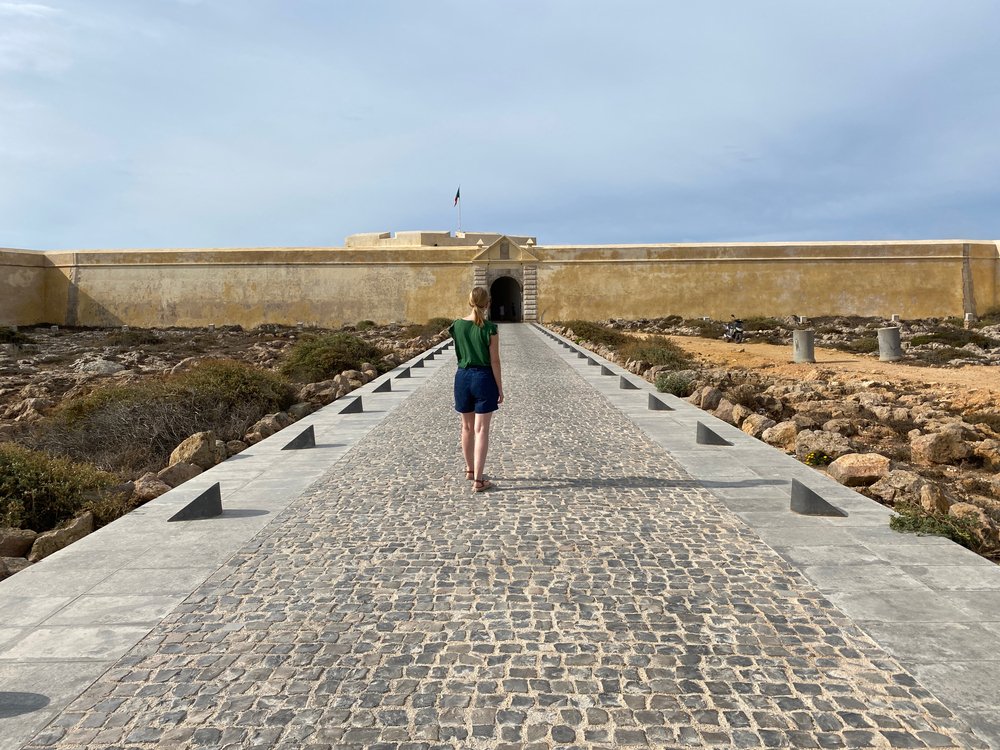 The nearby Cabo de São Vicente, with its red lighthouse sitting at the edge of the cliffs, provides more scenic views of the coastline.
Between the two promontories, you can relax on the spectacular Praia do Beliche, a beach with gorgeous golden sand backed by tall limestone cliffs.
Another scenic view closer to the town of Sagres is Ponta da Atalaia, an area featuring beautiful walking trails that offer sweeping views.
The closest beaches to Sagres are Praia da Mareta and Praia da Baleeira, on both sides of Ponta da Atalaia.
If you're looking for great spots to enjoy tasty local dishes, try the fresh seafood at the unassuming A Sereia or the cute little surf-inspired restaurant The Hangout.
Where to Stay in Sagres:

Budget | The cheerful Casa Azul Sagres offers rooms and apartments just a 5-mintue walk from the beaches of Sagres. The rooms have balconies with stunning views of the surrounding nature, as well as WiFi and A/C and seating areas. You can even arrange to take surf lessons here!

➤ Check availability, prices, and reviews here

Mid-Range | Right amidst Costa Vincentina Natural Park, the lovely design hotel Memmo Baleeira is a real gem among the natural beauty of this part of the Algarve. Outdoor amenities like an infinity pool, sun loungers, and fire pits bring nature and the hotel together. There is also an on-site spa with an indoor pool and fitness area. The rooms are spacious and modern with great views of the surrounding nature.

➤ Check availability, prices, and reviews here
Aljezur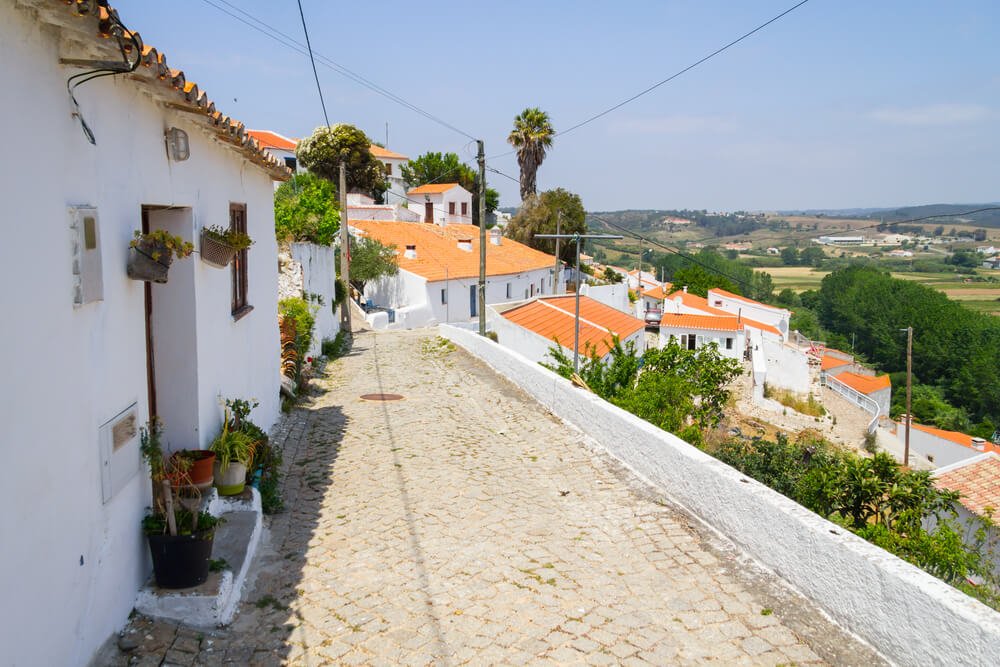 Pros:
– Charming small hilltop town with loads of character
– Near hiking trails like Rota Vicentina
– Great place to escape the crowds and enjoy some peace and quiet.

Cons:
– One of the furthest towns northwest; far from other Algarve towns
– Limited dining options, especially in off-season
– Infrastructure is not the best for people with mobility issues or small kids
One of the most underrated places to stay in the Algarve is the small town of Aljezur.
The town is not on the coast, so it tends to be overlooked by people who head to the Algarve exclusively for the beach.
However, it's their loss, as this town is a little gem worth discovering!
Aljezur lies just inland off the western coast of the Algarve, south of the beautiful coastline of the Parque Natural do Sudoeste Alentejano e Costa Vicentina.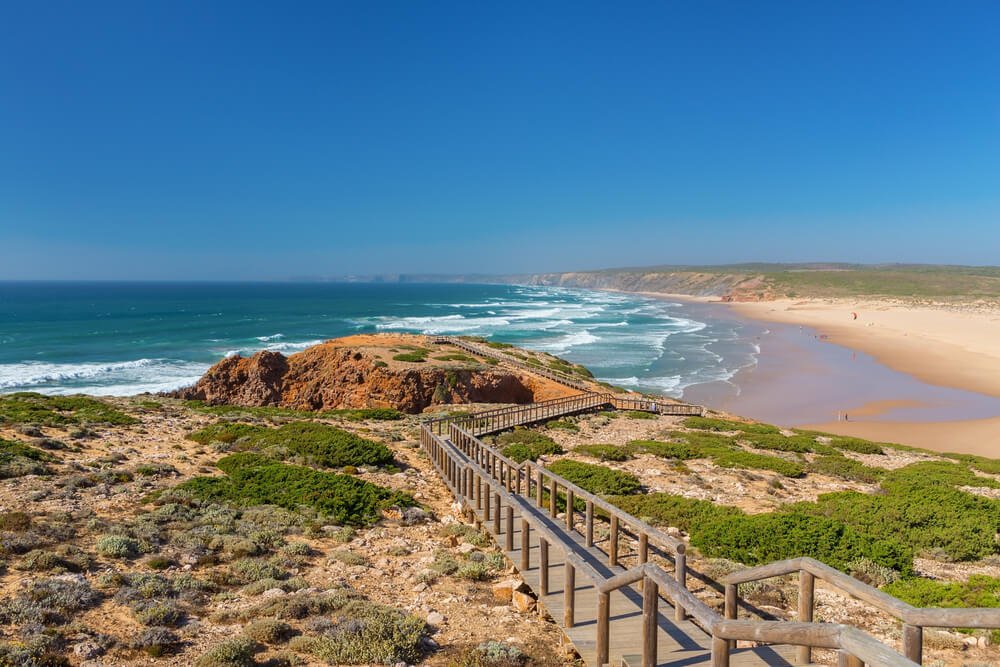 This is an ideal stop if you want to discover the wild coast within the protected area, with its spectacular, secluded beaches and impressive scenic views.
The Castle of Aljezur sits on a hill overlooking the town and surrounding valleys.
At the foot of the castle hill, the small town of Aljezur is a cobweb of little alleys with charming, whitewashed houses.
Visit the Museu Municipal de Aljezur to learn about the local history, and check out the religious art at Museu de Arte Sacra Monsenhor Francisco Pardal.
Within a short drive from Aljezur, you can relax on gorgeous beaches like Praia da Amoreira, Praia da Carriagem, or Praia do Vale dos Homens.
A bit farther south of Aljezur, you can check out the renowned surf beach Praia da Bordeira.
Where to Stay in Aljezur:

Budget | The petite Hotel Vale da Telha offers quite a lot for its small price tag: outdoor pool and jacuzzi with lounge areas, bathrooms with excellent showers, and a tasty breakfast! It's a great base for people exploring the nature area around Aljezur.

➤Check availability, prices, and reviews here

Mid-Range | There are five little villas at Herdade Monte Do Sol, a charming little countryside farm hotel outside of Aljezur. The villas are all standalone, with exposed beam ceilings and original stone walls, comfortable with A/C for the summer and a fireplace for the winter. They share a pool and there are even goats, horses, and other animals on the farm property!

➤ Check availability, prices, and reviews here

Luxury | The unique Praia do Canal Nature Resort effortlessly combines the area's natural beauty with a minimalist resort with a hybrid indoor-outdoor concept. There's an infinity pool with submerged loungers built in, perfect for taking in an Atlantic sunset. The rooms are separated into their own little standalone units, with stunning views, patios, and gorgeous boutique furnishings. There's even the grand suite which has its own rooftop bath in a stunning marble soaking tub!

➤ Check availability, prices, and reviews here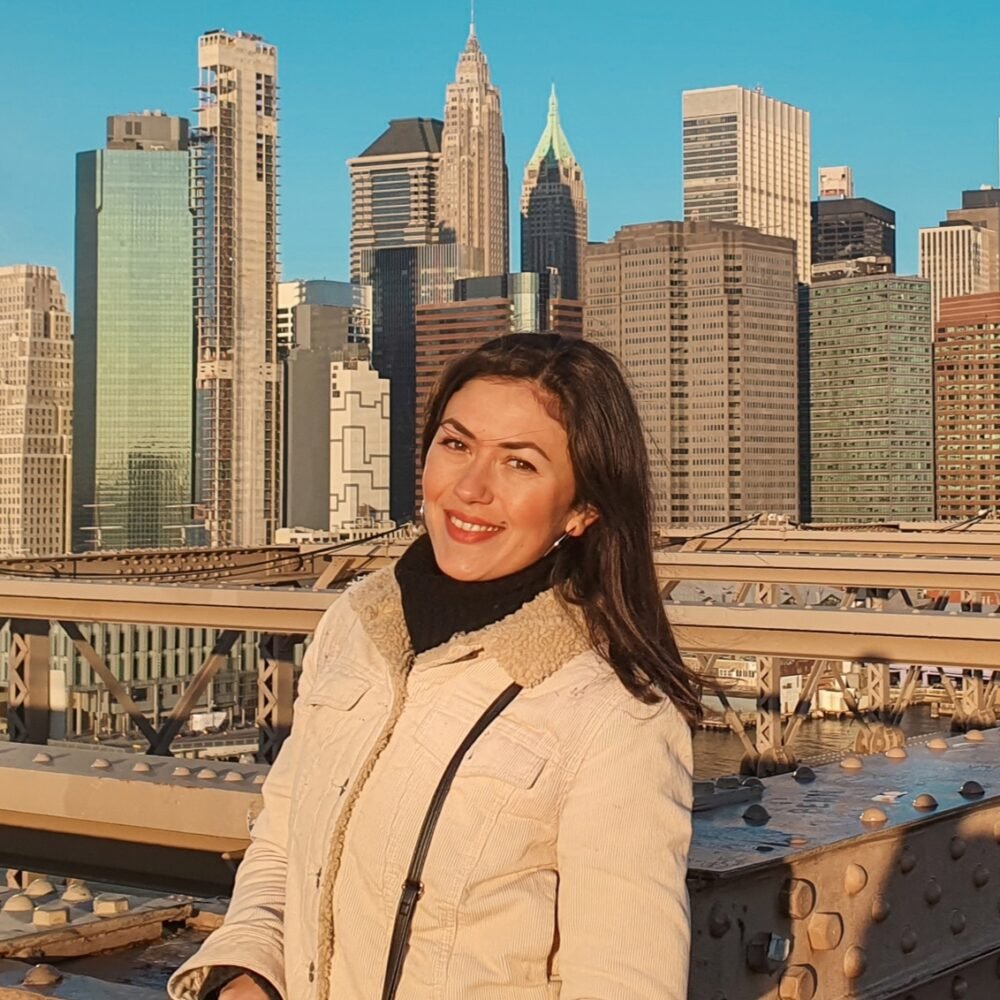 Roxana is a Romanian-born freelance travel writer who has lived in Italy for over 15 years. She has a Master's in Journalism and a Bachelor's in Film Studies, and she studied at Università degli Studi di Roma Tre. Besides her native Romania, Roxana has lived in Rome, Lisbon, and Berlin, and she has traveled through much of Europe in search of hidden gems, history, and culture.