Captivating Catania is a Sicilian city right at the foot of Mount Etna that deserves more attention than it gets.
It's best known for its gorgeous Baroque architecture, charming historical town, and of course, stunningly gorgeous views of the spectacular (and spectacularly active) volcano.
When living in Italy, I made several trips to Sicily, and on one of those, I absolutely fell in love with Catania for its stunning architecture and vibrant atmosphere.
While other major Sicily destinations like Palermo and Taormina might get all the attention from tourists and travel guides, it's worth stepping off the typical tourist path to explore Catania's beauty!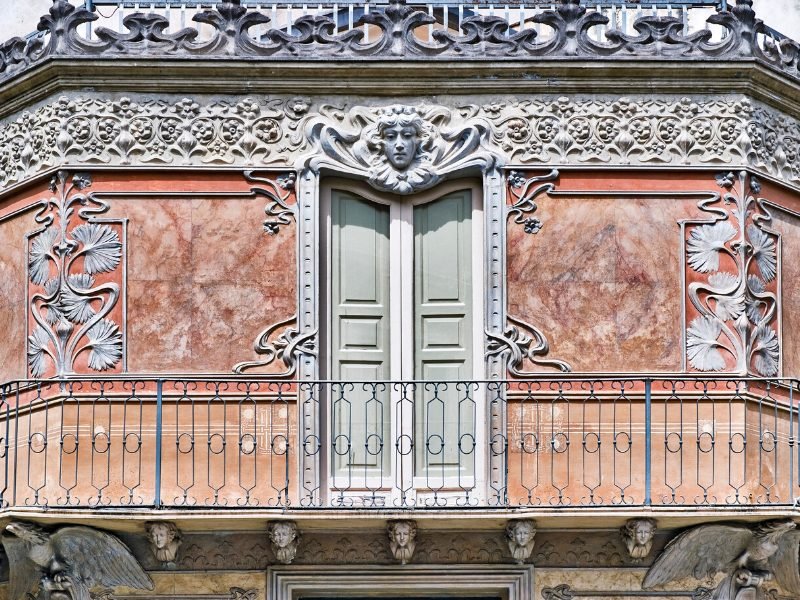 Note: This post contains affiliate links, which means I may receive a small commission if you purchase something through one of these links. Thank you for supporting the free content on this site! For more information on affiliate links and cookies, see my disclosure page for more details.
Yes, Catania is a major airline hub, but people often zip out of Catania in a hurry on their way to other destinations like Taormina and Syracuse.
Don't know where to start? Don't worry! This guide will help you check off all the key monuments and spots for a quick two day trip to Catania.
Your first day of this Catania itinerary will be spent exploring the charming historical center and taking in the local culture, while the second day is dedicated to the Etna hike, which is a can't-miss attraction when visiting Catania.
Things to Know Before Visiting Catania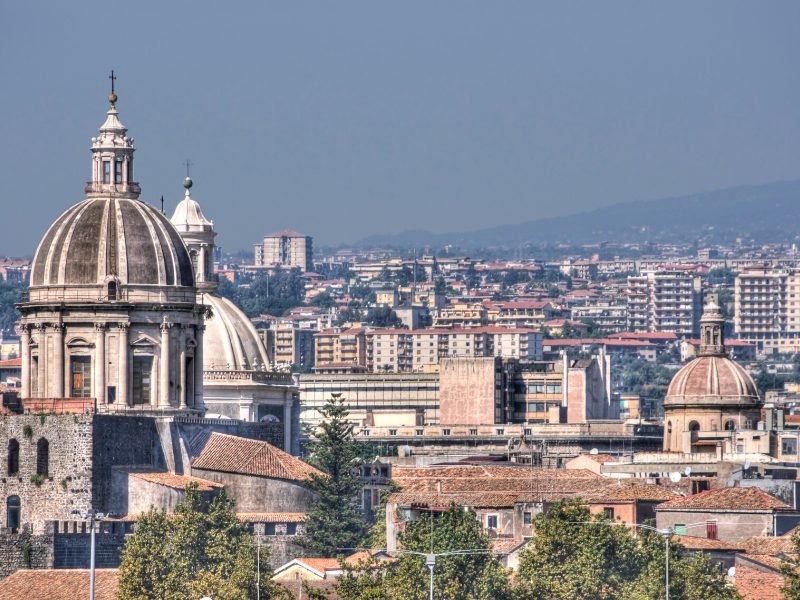 Catania is Sicily's largest city, so if you only have two days in Catania to explore, you'll want to have a plan to make the most of that time.
Luckily, this guide will help you make the most of a short visit!
Here are a few helpful things to keep in mind while planning your itinerary for Catania.
Getting To and Around Catania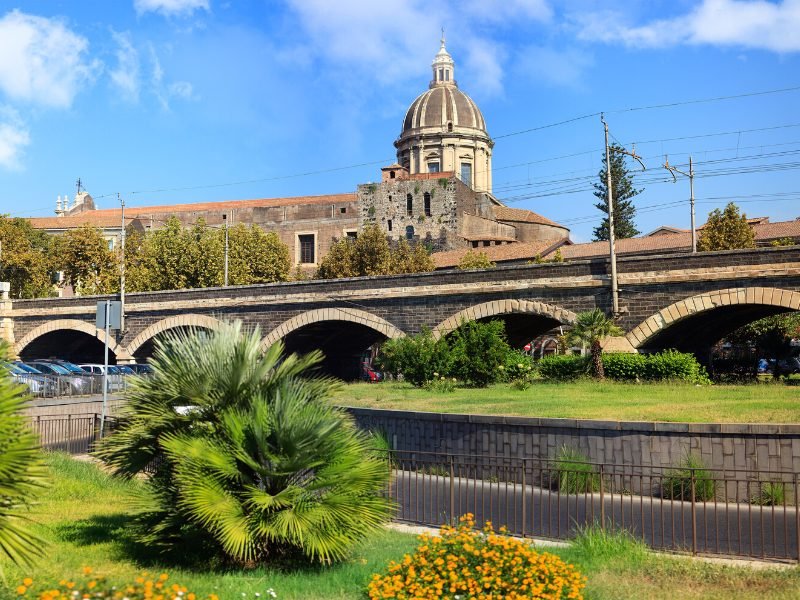 Catania's airport is the largest in Sicily and it's just outside the city center.
By bus, it only takes around half an hour to travel from the airport to the Catania center – talk about convenience!
If you'll be coming to Sicily from the mainland (via the ferry departing from either Villa San Giovanni or Reggio di Calabria), you'll disembark in Messina.
From there, you can drive for just over an hour or catch a 2-hour train straight from Messina to Catania.
The historical center of Catania is relatively small, which is great because it means you can get around on foot without spending your whole day cursing your footwear (though definitely wear comfy walking shoes!).
If you follow this itinerary for 2 days in Catania, you won't need to use public transportation, but you'll still find plenty of buses serving the key areas in case you want to give your feet a break.
That said, if you want to explore outside Catania, renting a car becomes a good idea!
Just read this guide to renting a car in Sicily first to eliminate any surprises.
Best Time to Visit Catania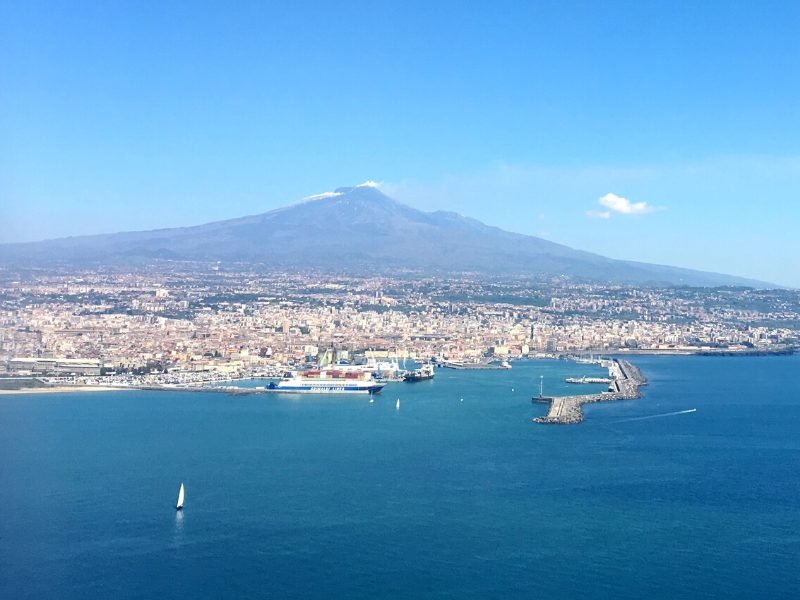 Like the rest of the island of Sicily, Catania's incredible Mediterranean climate makes it a great place to visit year-round.
If you're looking to avoid the crowds, why not take advantage of the gentle winter weather and visit then?
Well, not so fast. It's not that simple!
The one downside of this approach is that it may be more complicated to hike up Mount Etna in the colder season, so if that's something you want to do, avoid visiting from November to early March.
Plus, the cooler weather means you won't be able to truly enjoy the many beautiful beaches near Catania!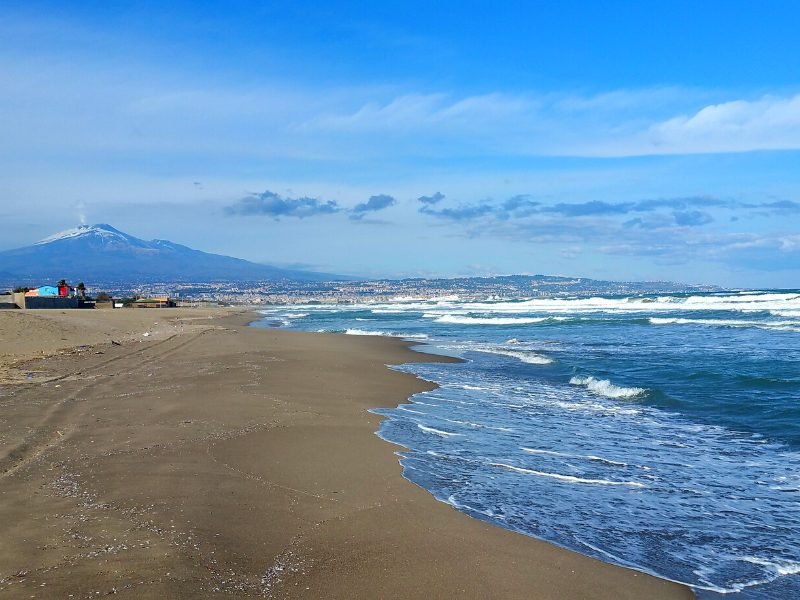 On the other hand, summer is the peak of tourist season, so brace yourself and expect Catania to be very crowded.
On top of that, it can get quite hot, making it less than ideal for a busy day spent walking around Catania's landmarks.
All in all, if you can, you should also avoid visiting from late June to mid-September.
That leaves you with, in my humble opinion, two brilliant options left for planning your trip.
Spring and fall are the seasons when the weather is nice and the crowds are not overwhelming, as long as you avoid Easter!
In short: the entire month of May and the second half of September are the two sweet spots when it comes to planning a Sicily trip.
How Many Days Do You Need in Catania?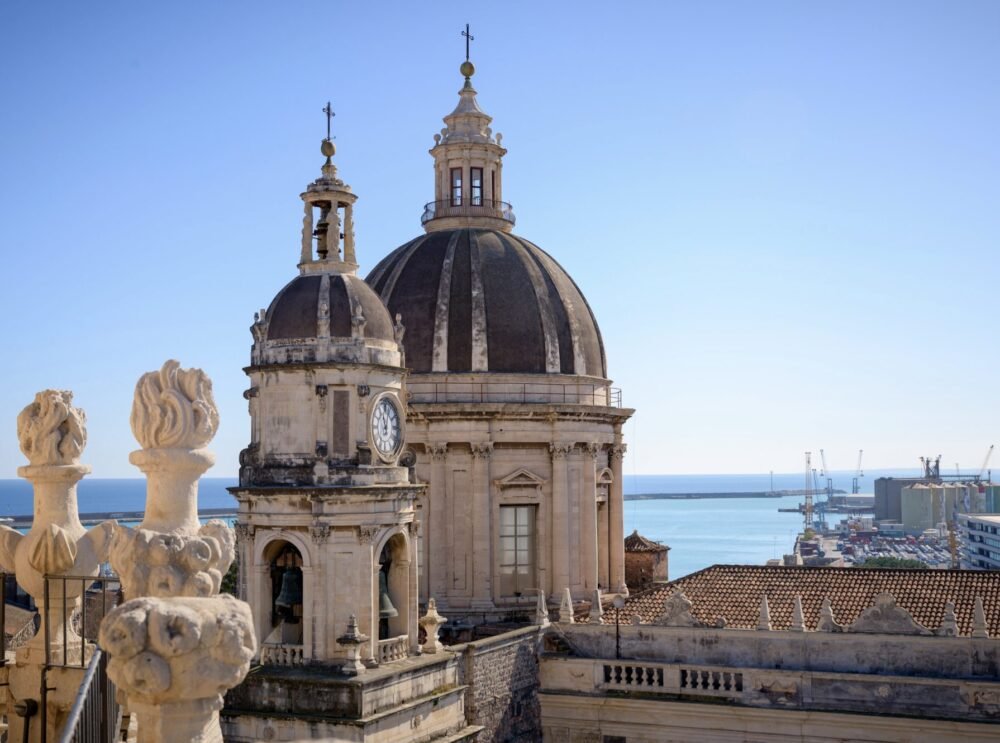 Like I said earlier, the thing that really made me fall in love with Catania was the sheer variety of spectacular attractions it offers.
If you had all the time in the world, you could easily spend four to five days in Catania to explore the major landmarks, visit museums, and go on short day trips to the surrounding areas.
If you're really looking to save time and just want to visit the main landmarks, you could even do that in just a single day, given how compact Catania's center is.
However, with Catania being so close to Mount Etna, it'd be a shame to miss out on the unforgettable volcano hike.
The views of the Mediterranean Sea's gorgeous waters that you'll see from its slopes are picture-perfect, especially when contrasted against the rugged volcanic landscape — trust me, you won't regret taking the time to see them.
So go ahead, add an extra day to your Catania itinerary – it's worth it.
Trust me, two days is the perfect amount of time to see the major sights and hike the volcano if you have limited time to spare on your Sicily trip.
Day 1 of Your Catania Itinerary
Have a delicious Sicilian breakfast.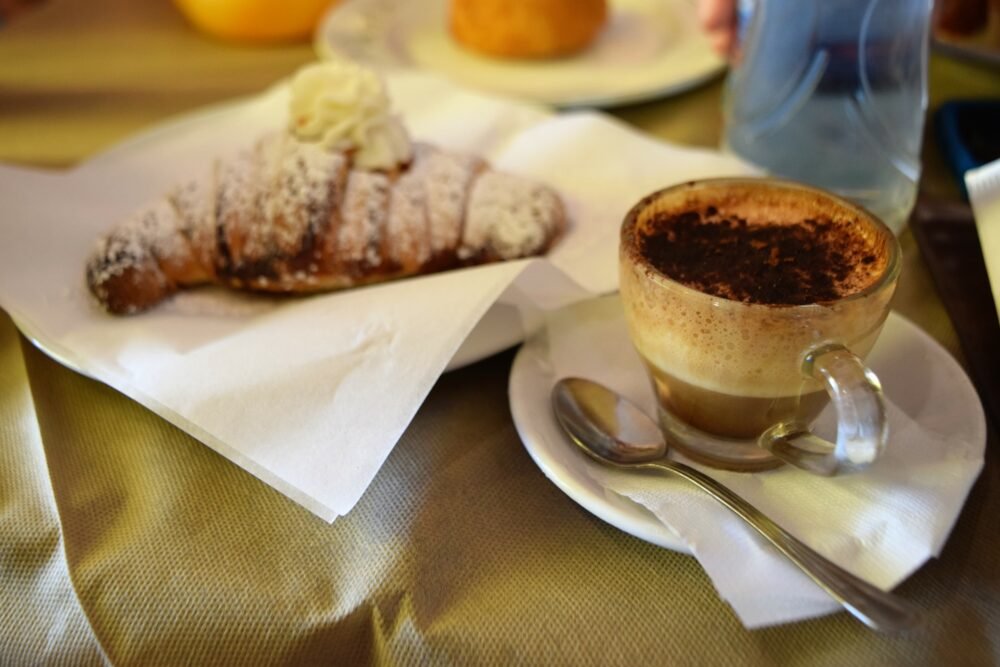 If you're anything like me, local foods are one of the best things about traveling, and Catania's got plenty to offer.
So once you wake up on your first day in Catania, stretch your legs and get ready to start walking, because it's time for coffee and a tasty breakfast!
Head to Ciao Café, only a couple streets over from Piazza del Duomo, and try their stuffed croissants, available in both sweet and savory options.
You can even get a croissant filled with scrambled eggs – that'll certainly keep you sated for the busy day ahead of you!
Now that you're all fueled up and ready to see the sights, head to Piazza del Duomo, Catania's main square, to check out some of the city's most important landmarks.
I'll go through it in a self-guided fashion, but you can also book a guided walking tour of the city center which will cover these sights and give you even more historical context behind them.
Admire the Fountain of the Elephant and its quirky history.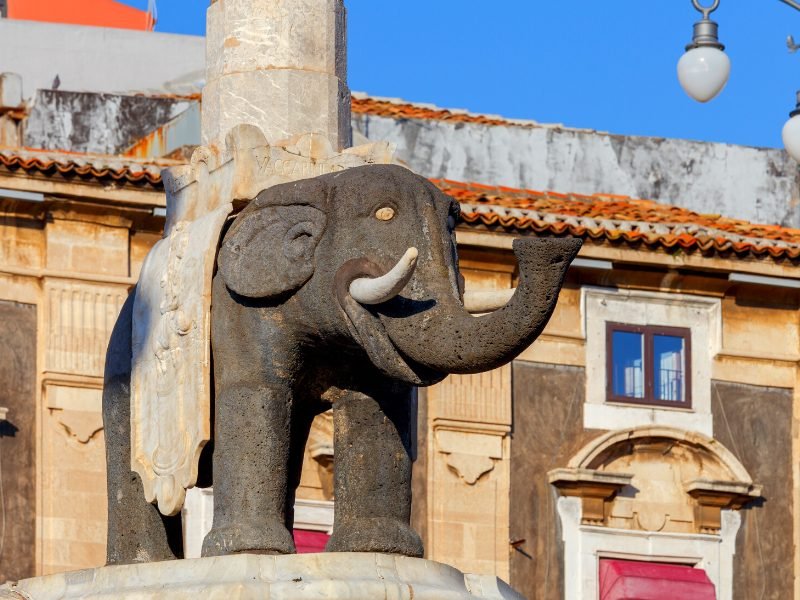 As you arrive in the square, you'll notice the iconic Fountain of the Elephant, Catania's symbol.
The fountain is called u Liotru in Sicilian, which comes from Eliodoro, a legendary personality from Catania.
Legend has it that Eliodoro failed to become a bishop, so as revenge, he used magic to disturb religious services in the town, including making a stone elephant walk.
Believe it or not, it's a fun piece of local lore!
Architect Giovanni Battista Vaccarini designed and created the fountain between 1735 and 1737, as part of the city's renovation after the devastating earthquake of 1693.
The elephant carries an Egyptian obelisk on his back and points his trunk at the Cathedral of Saint Agata.
But Catania and elephants go hand-in-hand with a history that goes back way before this fountain was even conceptualized.
In fact, the elephant has been the symbol of Catania since 1239.
If we zoom back even before that, during the Muslim conquest of Sicily in the 9th and 10th century CE, Catania's name was Balad-el-fil or Medinat-el-fil, meaning "the city of the elephant."
Visit the Cathedral of Saint Agata.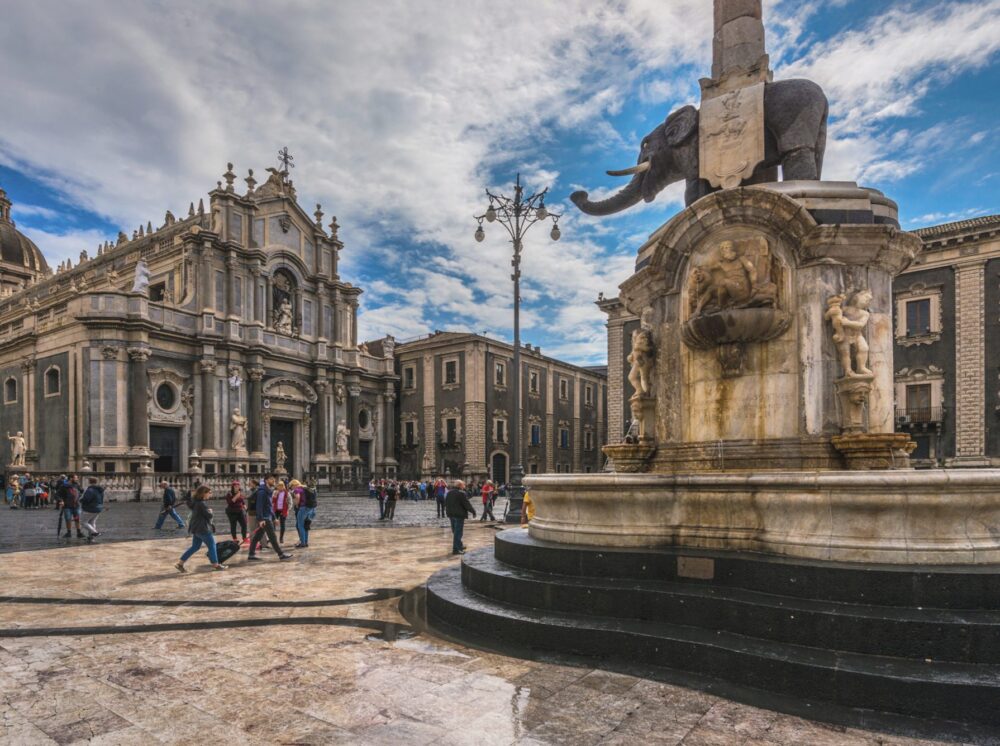 From the fountain, follow the elephant's pointing trunk to Cattedrale di Sant'Agata, conveniently directing you to our next stop on this Catania itinerary!
Also known as Duomo di Sant'Agata, this is Catania's most important church. The cathedral is dedicated to the martyr Saint Agata, the patron saint of Catania.
The church has a long history and was renovated multiple times following damages caused by earthquakes and fires – Sicily certainly hasn't had an easy time of it.
The original cathedral was built at the end of the 11th century on the ruins of the Roman Achillean Baths, which lie under Piazza del Duomo and are open for tours.
The church was destroyed first in 1169 and then in 1693 by the most destructive earthquake ever recorded in Sicily.
To restore the cathedral after this second round of damage, architect Gian Battista Vaccarino designed the current Baroque façade in 1711.
You can visit the cathedral for free at any time except during mass. For a €3 fee, you can get a guided tour of the cathedral.
If you're looking for the full historical experience, you can combine the guided tour with a visit to the Achillean Baths for €5.
Head underground to explore the Achillean Baths.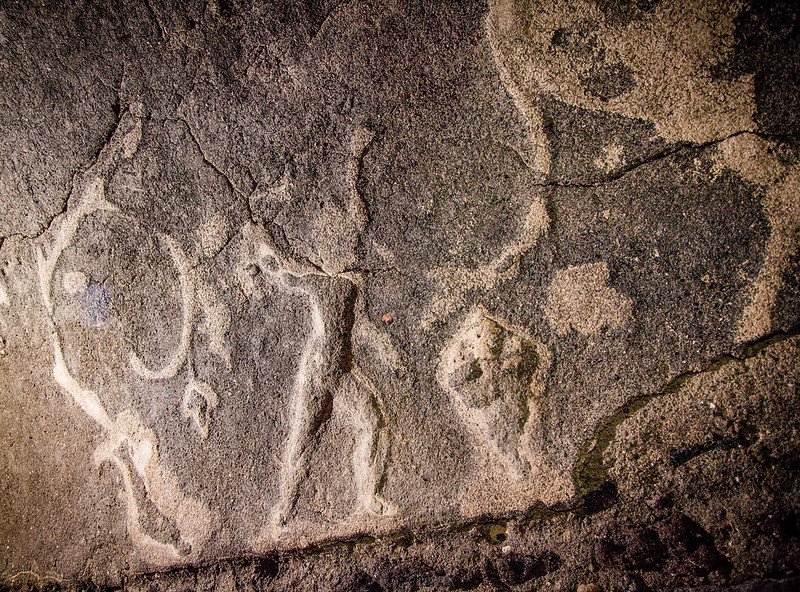 As you may have already guessed, Catania has a fascinating underground filled with ancient ruins.
One of the most famous sites is the Achillean Baths, of which a small portion remains for tourists to explore and visualize how life was nearly two millennia ago.
Though the exact construction date of the baths is unknown, they likely date all the way back to the 4th or 5th century CE.
If you're curious about Catania's ancient history, pop underground to explore the system of ancient paths and pools once covered in marble.
Though the spectacular marble facades have been lost to time, you can still see wall decorations, while the inscriptions uncovered in the baths are now on display inside Castello Ursino.
Check the panoramic view from Badia di Sant'Agata.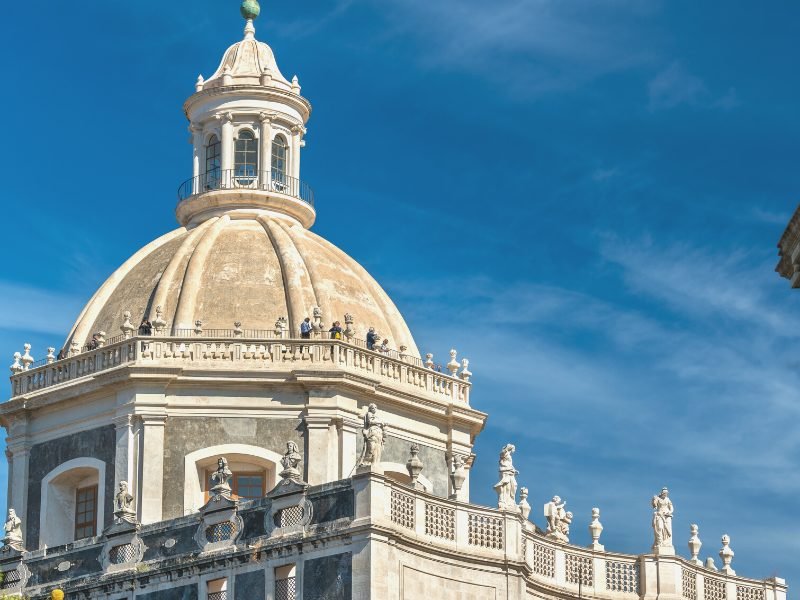 Right by the cathedral, you'll see another beautiful Baroque church, Chiesa della Badia di Sant'Agata.
The church, like many other buildings of its era in Catania, was built by Vaccarini in the gorgeous Baroque style.
A nunnery of the Benedictine order was once attached to the church, hence the name Badia, which means abbey.
In 2015, after a long restoration process, the church finally opened its terraces and dome to the public.
For a €5 fee, you can climb to the terrace and take in an astonishing panoramic view of the whole city.
From up there, you can admire beautiful landmarks like the cathedral, the castle, the Massimo Bellini theater, and the other churches of the historical center.
Visit the Greek-Roman Theater.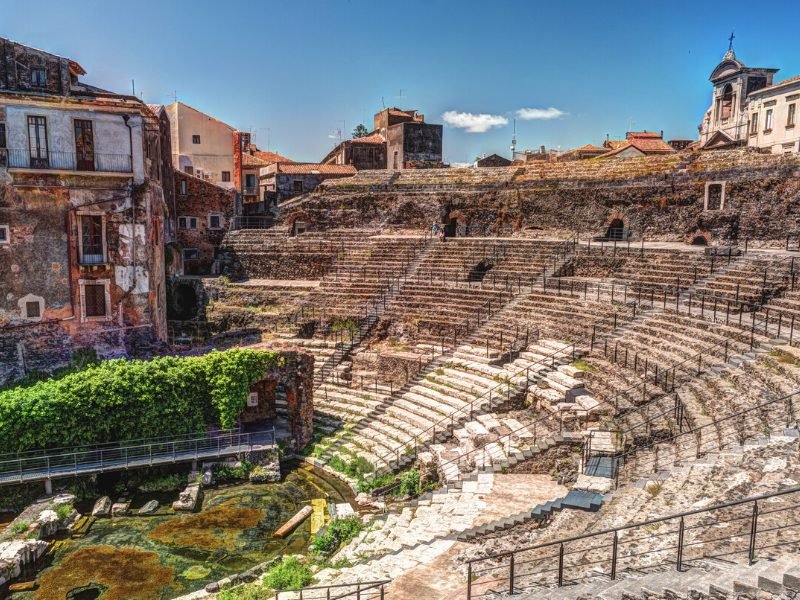 From the abbey, walk five minutes to reach the ancient Greek-Roman Theater.
Stepping into this site is like stepping back in time, since the theater as you see it today dates to the 2nd century CE, probably to the restoration period initiated by Emperor Hadrian.
Next to the Greek-Roman theater, you'll see the smaller Odeon Theater, not quite as impressive but worth a peek.
The Roman theater is a restoration of an older Greek theater, believed to date to the 4th century BCE.
The theater fell into disuse around the 6th century CE, and parts of it were stripped away for parts to build modest dwellings for everyday citizens.
The area became known as Quartiere Grotte, or the Cave Quarter in English.
It wasn't until the late 19th century that the local administration decided to remove the dwellings and excavate and showcase the theater… although the process wasn't completed for almost a century (likely delayed in no small part due to Italy's legendary bureaucracy!).
The entry ticket to the theater is €6, and it includes the visit to the Odeon Theater as well.
Discover the Monastero dei Benedettini di San Nicolò l'Arena.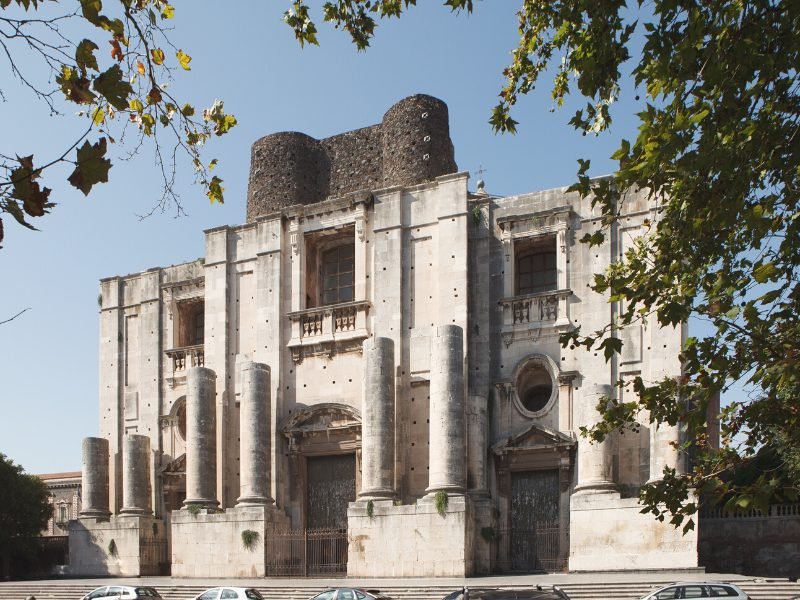 If you want to join an English-language guided tour of the Monastero dei Benedettini di San Nicolò l'Arena, you'll want to plan your itinerary around it, since the only available time slot is 1 PM.
Alternatively, Italian tours take place every hour between 11 AM and 5 PM, and you get a translated text to follow the tour, so it's doable at other hours, just perhaps not as enjoyable.
You can't explore the monastery on your own, but the guided tour is totally worth it. The monastery is one of the most beautiful landmarks in Catania.
Just be sure to book a few days in advance, as English tours tend to sell out faster.
The guided tour lasts just over an hour and takes you through the key areas of the monastery, including the beautiful cloisters, the underground library, the ancient Roman domus, the gorgeous garden Giardino dei Novizi, and the monumental stairway, one of the monastery's most iconic features.
Stop for lunch somewhere delicious.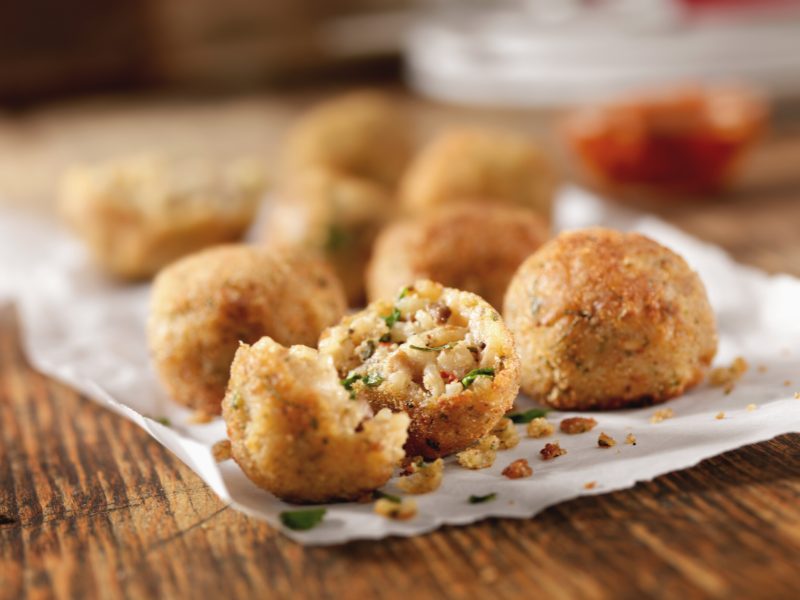 After your monastery visit, it's time to stop for lunch, and you're in for a real treat, with several mouth-watering restaurant options within walking distance.
For delicious fish and seafood, check out Cu a Voli Cotta Cu a Voli Crura (try saying that ten times fast!), just 10 minutes from the monastery.
Don't worry if you don't eat fish, since their vegetarian options are excellent, like an otherworldly pistachio pasta I still dream about.
If you'd rather just stop off for a quick bite, try the traditional arancini (fried risotto balls stuffed with various bits of goodness) at Canusciuti Sicilian Café, just a 5-minute walk from the monastery.
They serve a variety of arancini, tasty sandwiches, fried seafood, and more, so you're sure to find something to delight your taste buds!
Another option is to take a tasty street food tour of Catania! These food tours start on the early side, so have a light breakfast and switch up this itinerary a bit.
I would swap around a few things on the itinerary so that you do most of your sightseeing after your street food tour (which runs from around 10 AM to 1 PM)
Visit the historic and beautiful Castello Ursino.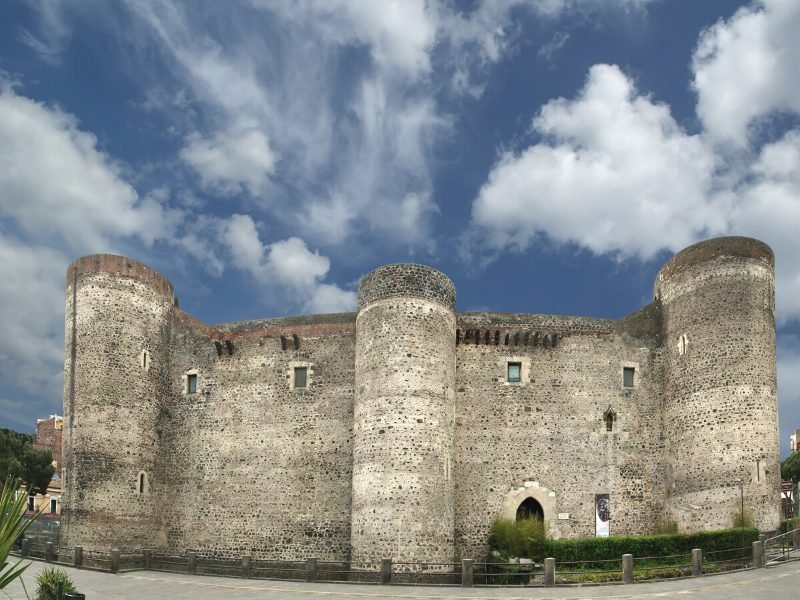 After lunch, head over to see another important landmark in Catania, the 13th-century Castello Ursino.
This one's also nearby: you can easily reach the castle on foot in just 10 minutes from Piazza del Duomo.
At the time of its construction, the castle was on a cliff overlooking the sea, but later Etna eruptions were so severe they changed the landscape completely, and the castle is now one kilometer inland!
The castle was built during the reign of Frederik II as a royal residence, and it later served as the seat of the Sicilian Parliament.
This once-seaside castle has special historical significance, given that it was one of the few that survived the massive 1693 earthquake.
In 1932, the city of Catania acquired the castle and opened the Civic Museum inside to house a rich collection of artworks and artifacts documenting the city's history.
You can visit the museum and stroll through Catania's past for just a €6 fee.
Take a tour or catch a show at Teatro Massimo Bellini.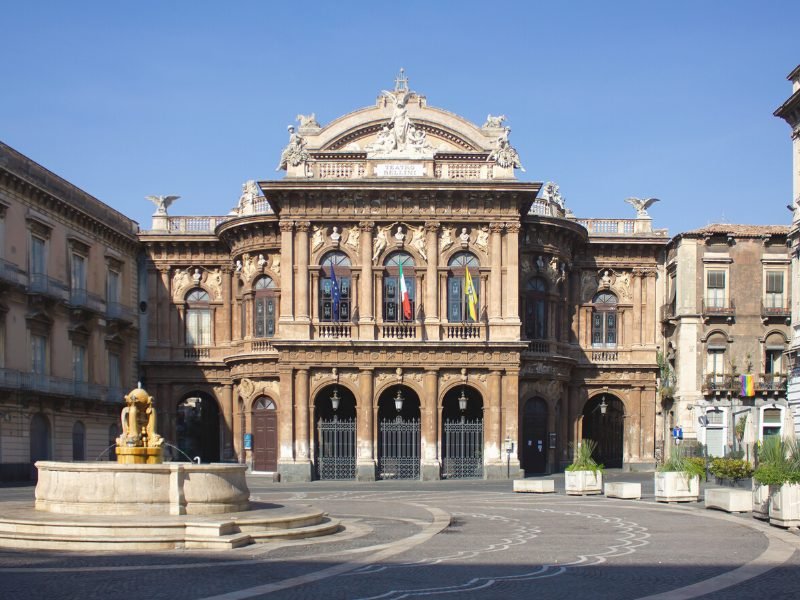 One thing you can't miss while exploring Catania is Teatro Massimo Bellini, the city's main opera house.
You can get a guided tour of the theater, but to truly appreciate the beauty of this gorgeous space, you'll want to settle in and enjoy a show.
Check the theater website to see what's on and grab a ticket to watch a play in this lavish 19th-century theater!
Tickets start from as little as €15 for concerts and €20 for opera shows – talk about a steal.
The afternoon shows usually start at 5:30 PM, and if you really want to make a night of it, you can check out the evening shows at 8:30 PM.
Stroll on Via Etnea and check out some piazzas and churches.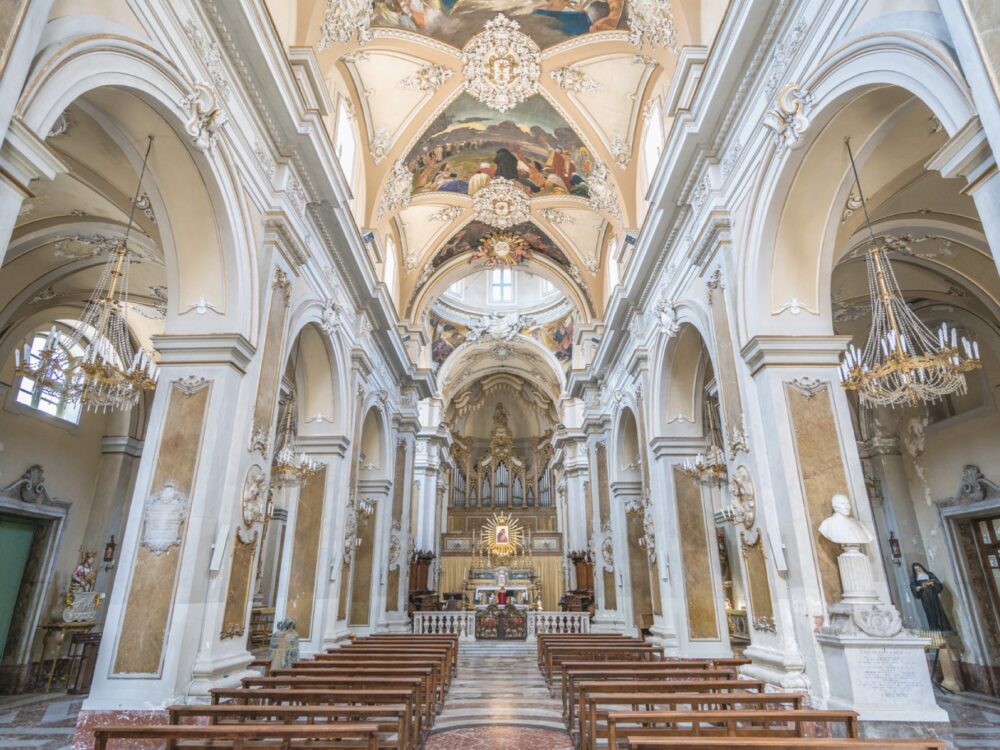 Ready to do a little shopping and support some local vendors? Spend the rest of the afternoon strolling along the main shopping street in Catania, Via Etnea.
The street starts from Piazza del Duomo and continues for almost 3 kilometers until Viale Marco Polo.
The portion of the street running from Piazza del Duomo to Basilica della Collegiata is reserved for pedestrians, so you can enjoy a pleasant walk while stopping in to admire the boutiques and beautiful Baroque buildings.
Just one block from Piazza del Duomo, you'll reach Piazza Università, a wide square surrounded by beautiful 18th-century buildings.
Don't forget to stop and admire the gorgeous ornate façade of Basilica della Collegiata, and maybe step inside to see the vaulted ceiling covered in beautiful frescoes.
Admire the semi-underground Roman Amphitheater.
Keep walking north along Via Etnea until Piazza Stesicoro.
There, right in the middle of the modern city, you can see the ruins of the Roman Amphitheater of Catania.
The amphitheater dates back to 300 BCE and is now below ground level, as the modern buildings were built on top of it.
Only a small portion of the ancient structure is still visible, but it's still an impressive sight to see Catania's past poking through to the present day.
Especially when you look at it from angles where you can see both the Roman ruins and the modern city in the same glance, it really reminds you how the city was quite literally built atop its past!
Have a delicious Sicilian dinner.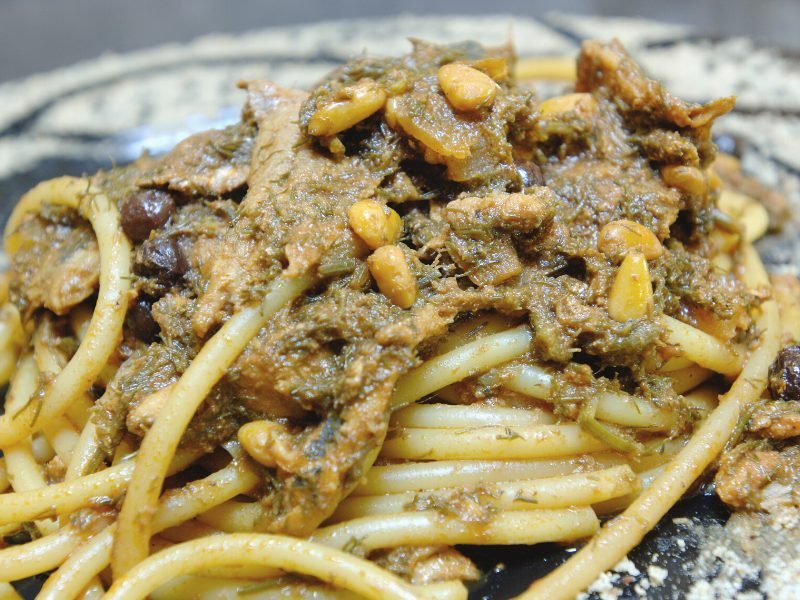 Last, but definitely not least, end your day with dinner (and maybe even a glass of local Italian wine!) at one of the many restaurants around the historical center.
For great local food, try Trattoria U Fucularu. Being Sicily, it's no surprise that their specialty is seafood, but you can find other options too, including vegetarian dishes.
If that's busy or just doesn't suit your tastes, Ristorante da Antonio is another lovely place serving delicious Sicilian seafood specialties and other local dishes.
A few Sicilian specialties to look out for include pasta alla norma (an eggplant pasta originally from Catania, great for vegetarians) and pasta con le sarde (a flavor bomb of a pasta, made with sardines, fennel, raisins, and pine nuts).
Day 2 of Your Catania Itinerary
Pick one of three ways to experience Mount Etna.
After your first day exploring the city, it's time to get out and take in the natural beauty of the local landscape.
Catania is a popular departure point for guided tours on Mount Etna, and with good reason: it's practically Catania's backyard!
Less than an hour away from the city, the volcano is among the most active in the world. While you're so close, you shouldn't pass up the chance to hike it. You'd regret it later!
If you decided to rent a car in Sicily, it's possible to drive to Mount Etna yourself.
Alternatively, if you didn't rent a car, you'll have to join one of the many guided tours — public transportation won't get you far when it comes to experiencing Etna.
You can choose between purely hiking tours or experiences including tasting local products.
Here are a few popular tours departing from Catania that I'd recommend.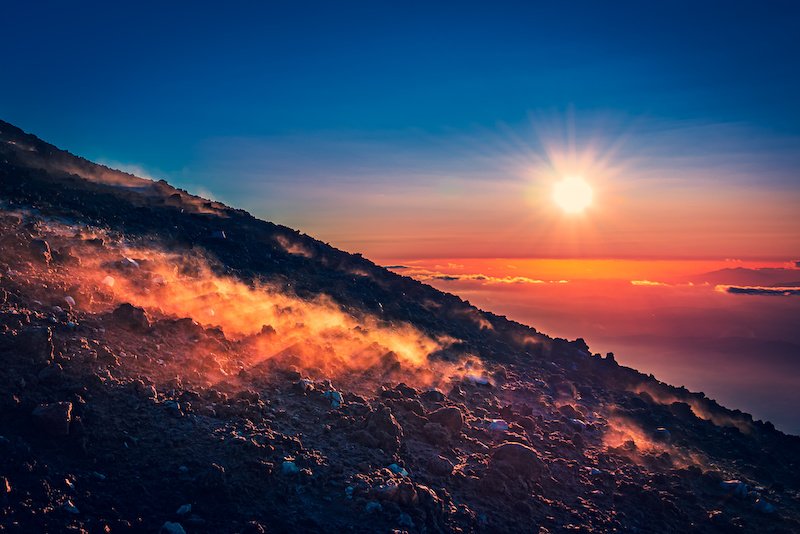 From mid-May to mid-October, this tour offers two daily sessions, one in the morning and one in the afternoon that ends with a beautiful sunset view.
If you're visiting during the rest of the year, however, you'll only be able to take the morning tour.
This tour includes almost everything: a transfer with pick-up from your accommodation in Catania, a local guide, a short trek on Etna, a visit to a lava flow cave with safety equipment, and some delicious tastings of local products.
However, lunch is not included, so be sure to plan accordingly and pack something to eat… the tastings will be delicious, but not quite enough to make a lunch out of.
On your way from Catania to Mount Etna, your knowledgeable local guide will tell you all sorts of fun facts about the volcano's explosive history.
Then, you go on a guided walk to admire the spectacular lava fields and ancient craters.
After the hike, relax with a small tasting of Sicilian biscuits (known as cantucci) and local wine.
Once this tasty treat has boosted your spirits, it's time to dive in and explore a lava flow cave with your guide. Don't worry, you'll get helmets and flashlights for this.
On your way back, your group will stop at the Monte Pomiciaro viewpoint to take in the panoramic view of the Valle del Bove, one of the best views in Sicily you could ask for!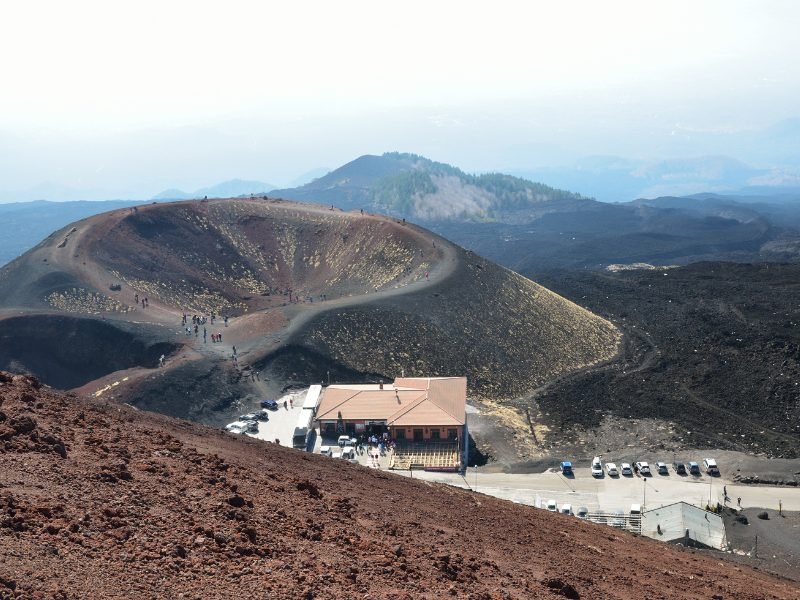 On this incredible 7-hour tour of Mount Etna, you'll walk through the lava fields with a naturalist guide who will tell you about the volcano's history.
You'll see the lava flows left over from the 1792 eruption, learn about the resilient fauna and flora on the volcano who are able to call this unpredictable place home, admire the spectacular Bove Valley, and even explore a lava cave.
Along the way, you'll have the option to stop and try local products, but bring some extra cash, since these aren't included in the tour price.
However, the price does include all the necessary equipment to hike on Etna, from hiking shoes and walking sticks to jackets and rain ponchos if necessary.
This is a big perk if Etna is the only hike you'll be doing in Sicily and you don't want to pack a bunch of hiking gear that'll only get pulled out once!
This tour is usually available year-round, but you'll need to secure your spot a few days in advance, as it's likely to sell out.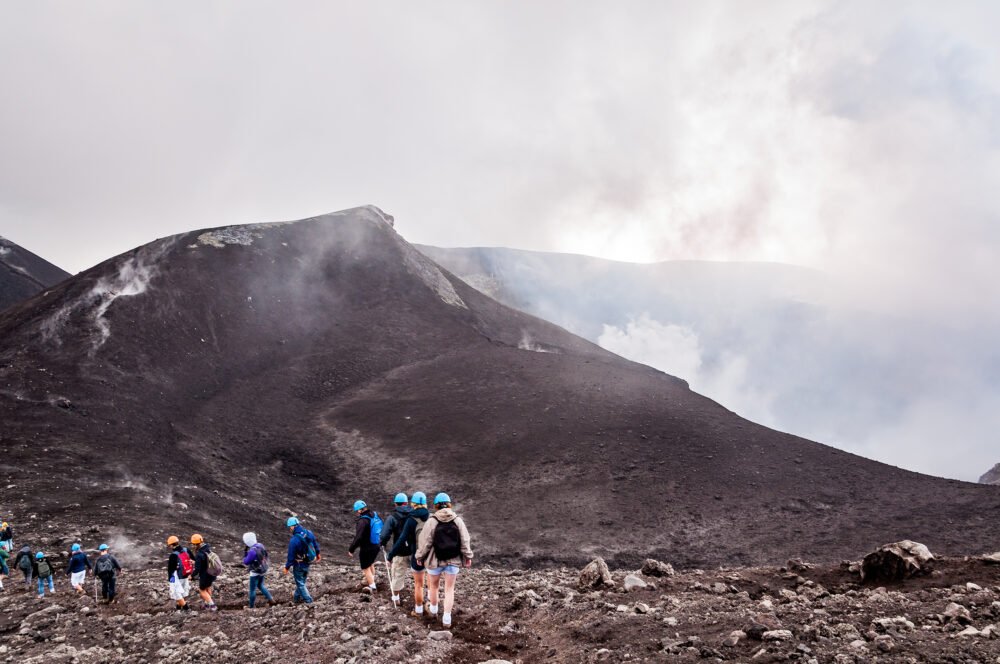 This tour is more expensive than the others, but that additional cost covers an incredible cable car ride to the peak of Mount Etna.
If you want to hike to the top of Mount Etna and enjoy a 360-degree view of the Sicilian landscape and Mediterranean coast, this tour is for you.
Quick note: The basic tour does not include transfers to and from Catania, but you can add on a transfer for an additional fee.
The tour starts at the Rifugio Sapienza, roughly an hour from the center of Catania.
Public transport to the refuge is limited to nonexistent, so this tour is a better option for those who decided to rent a car or don't mind paying the extra fee for the transfer.
↳ Not sure who to rent your car with? I always pick Discover Cars to search for the best deal for multiple reasons.
🚗 Best Sicily Rental Car Prices: Discover Cars

This search engine not only looks at the typical rental car agencies (which can be $$$), it also looks at local, small Sicilian agencies that may offer better deals. Their pricing is straightforward (no bait-and-switches) and they offer free cancellation if you need it.

➜ Check rental prices in Sicily with Discover Cars here!
On this tour, you'll hike with an alpine and volcano guide and experience the most spectacular views imaginable of the volcano.
Catch the cable car at Rifugio Sapienza, then ride in a 4×4 Jeep to get to the trailhead at 2,900 meters (9,500 feet).
From the trailhead, it's time to hike for about 1.5 hours uphill, but rest assured, all that hard work is going to pay off when you get to experience the otherworldly view of the volcano summit.
After you catch your breath, the descent takes around 2 hours, since you need to be extra careful on the volcanic landscape when descending.
Circle back to discover more corners of Catania.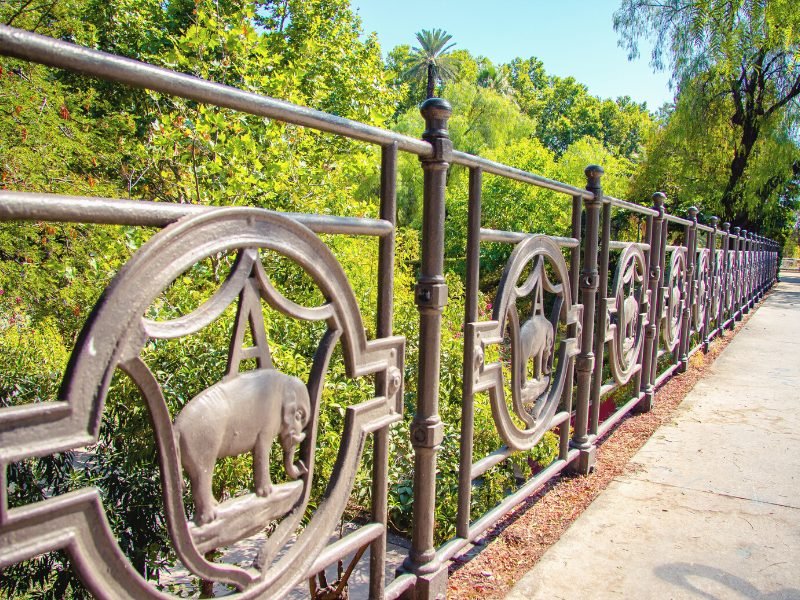 If you have any time and energy left after the Etna hike, you can spend it by going on a relaxed stroll around the lovely Villa Bellini or visiting one of Catania's many museums.
A few options include the Museum of Contemporary Art in Sicily, the Cinema Museum, or the history museum Museo Storico dello Sbarco in Sicilia 1943.
For one last vacation indulgence, end your trip with another Sicilian dinner.
Try one of the places mentioned above, or check out Vuciata, another traditional Sicilian restaurant with local specialties that'll have you planning your next trip back to Catania before you know it.
Where to Stay in Catania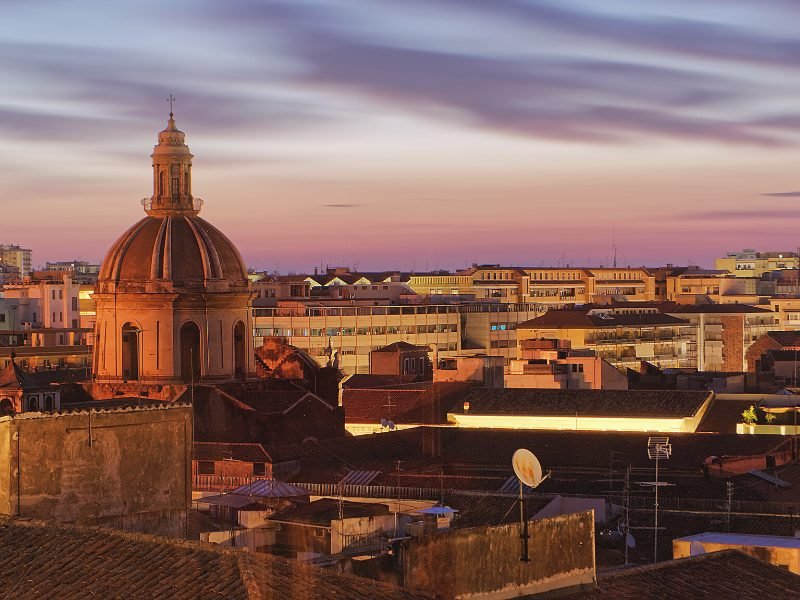 Definitely stay central when you book your hotel in Catania. With this short two-day itinerary for Catania, it's all about location, location, location when it comes to accommodations!
For the purposes of this post, in high season, budget hotels are under $100 USD per night, mid-range hotels are $100-200 USD per night, and luxury hotels are $200 USD or more per night.
This lovely, central hotel is surprisingly budget-friendly for its aesthetic and charm.
They offer spacious split-level rooms with two floors, loft-style, as well as standard double rooms.
Plus, the hotel embraces its artistic theme, with details like vintage vinyls, contemporary art, and even a drum set in the lobby!
For a B&B stay with a boutique hotel feel, this hotel is perfect — and its location is hard to beat, too.
The palatial vibe is backed up by the building's history: it was beautifully renovated, a Sicilian palace turned boutique hotel.
They kept up some of the exquisite detailing, like gorgeous tiles, high ceilings with crown molding, and iron-banister staircase.
But then they also revitalized it with modern furnishings and amenities (and some of the prettiest bathrooms I've ever seen!).
Basically, it's a design geek's dream. (It's me, hi).
This charming hotel-meets-spa is the perfect place to kick back and relax after a tough day schlepping Catania's streets or hiking on Mt. Etna.
With such a central location (just 1,000 feet from the main piazza), you'd be surprised at the luxury this small hotel hides inside it!
We're talking saunas, steam rooms, and all sorts of spa treatments and massages.
The rooms have a modern but warm aesthetic: minimalistic but plush, with extra-large beds and gorgeous bathrooms.
Plus, the rooms that have their private terraces have insane views, with city or mountain views.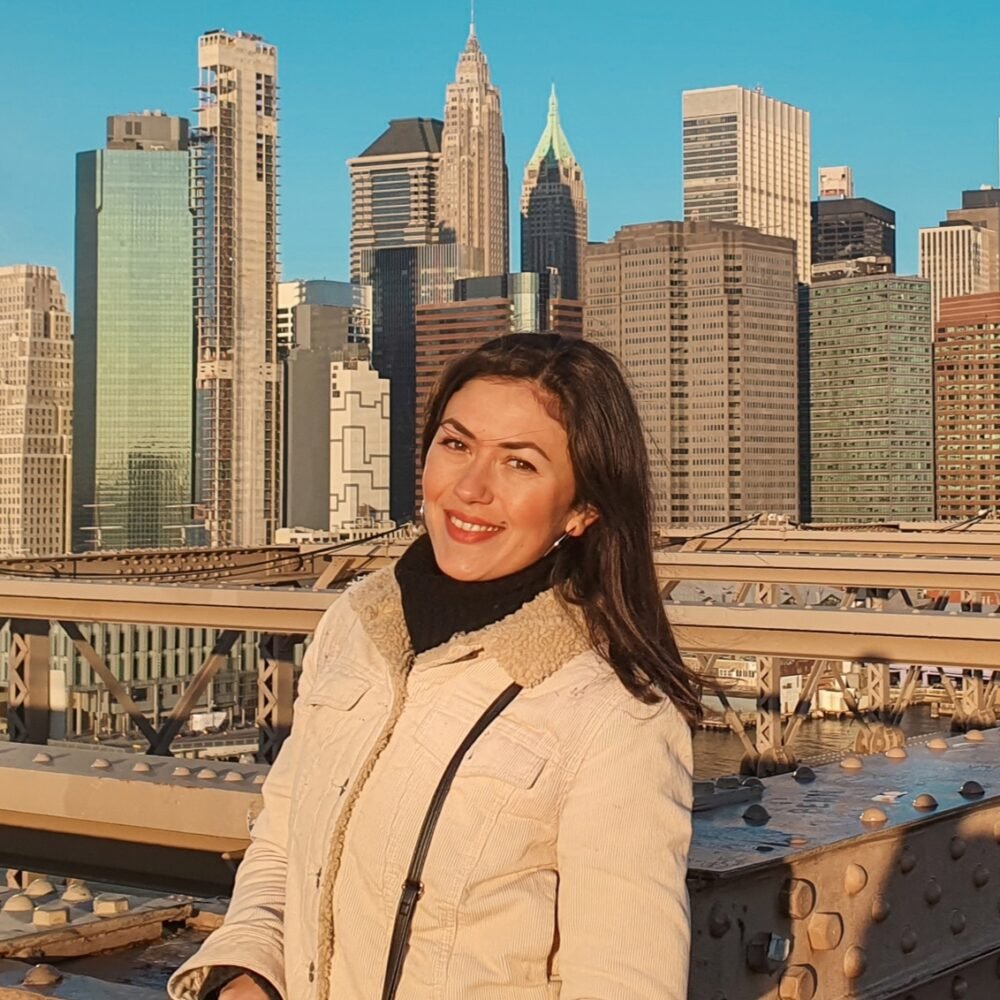 Roxana is a Romanian-born freelance travel writer who has lived in Italy for over 15 years. She has a Master's in Journalism and a Bachelor's in Film Studies. Her mission is to find hidden gems, even in the most popular travel destinations, and to inspire people to explore new places and cultures with the same curiosity! When she is not traveling, writing, or planning her next trip, she is either binge-watching TV shows or reading books.