Ah, Catania! This gorgeous region of Sicily's coast is one of the great delights of the Italian island, and that's saying something.
Looking back at my time in Italy, some of the best memories I have are from days spent wandering Catania's scenic coastline, taking in the gorgeous colors of the Mediterranean, or even just lying back and soaking up the warm sun on a beautiful black sand beach.
It may be better known as the gateway to Mount Etna, but Catania can also be a lovely beach vacation destination in its own right.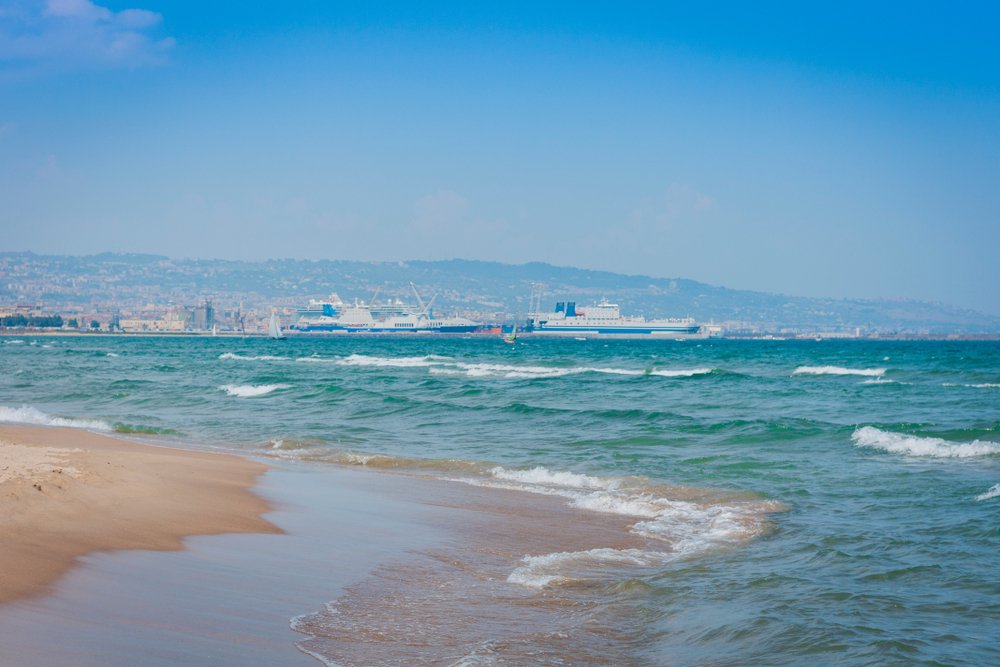 Note: This post contains affiliate links, which means I may receive a small commission if you purchase something through one of these links. Thank you for supporting the free content on this site! For more information on affiliate links and cookies, see my disclosure page for more details.
The city has so much to offer, including everything from gorgeous Baroque churches to monumental squares and incredible museums.
However, if none of that is calling your name, or if you just need to soak up some rays and swim in the gorgeous waters of the Mediterranean, you can find many beautiful beaches near Catania within a short drive or bus ride.
Any time between April and October is a perfect time for a little seaside rest and relaxation when visiting Catania.
The long stretch of sandy beach along the south of Catania runs for several kilometers, which means there's plenty of spots to roll out your towel and just settle in for a perfect day at the shore.
Close to Catania, you can find a nice mix of beaches, from white sand to rocky and volcanic ones.
As a general rule, in the north of Catania, you'll mostly find rocky beaches, while in the south, you can enjoy big stretches of sand.
I was lucky enough to explore the area surrounding Catania on a couple of occasions, and my favorite places were always the rocky beaches in the north and the charming little fishing villages that accompany the beaches.
To be fair, though, spots like those may be better for short sightseeing stops, but not so great for spending an entire day, unless you like lying out on hard rocks… in which case, don't let me stop you!
In the guide that follows, I've included a variety of Catania beaches to choose from.
Whether you're looking for a popular beach with bars and restaurants, a charming village, or a vast sandy beach to relax all day long, you're guaranteed to find it here.
Getting to These catania Beaches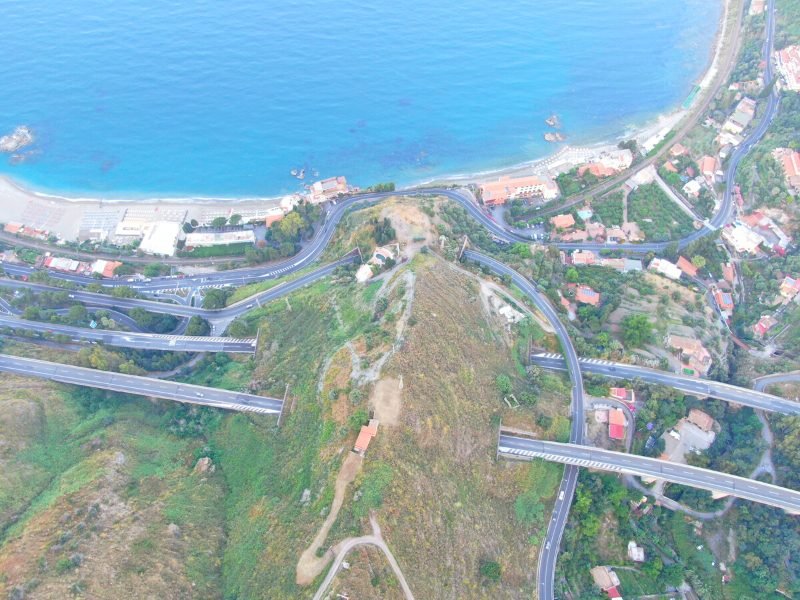 I've noted where you can easily reach a particular Catania beach by public transit.
However, I've also listed beaches near Catania that are harder to get to and thus best accessed by rental cars.
Whether you choose to rent a car depends on your Sicily itinerary and destinations — meaning it's not mandatory, but it may be helpful.
If you want to hop beach Sicily beach town to beach town, visit off-the-beaten-path beaches, and generally have more freedom, renting a car is a must. (But read this guide to renting cars in Sicily first!)
On the other hand, if you are primarily focused on city time, visiting only larger destinations like Catania and Palermo, a car may not make the most sense — unless you want to make lots of stops along the way.
If you do rent a car in Catania, I highly recommend (and personally use!) Discover Cars.
They always find the best prices compared to other car rental search aggregators. Plus, they show ratings and reviews from recent renters, so you can easily weed out unreliable companies.
Plus, their full coverage insurance is some of the cheapest around, typically adding only around $7 a day to have total peace of mind about your rental.
Tip: Be aware that Italy rental car prices only include a collision damage waiver, not full coverage, so you'll definitely want to add on full coverage to avoid any headaches if something goes wrong with your rental.
🚗 Best Sicily Rental Car Prices: Discover Cars

This search engine not only looks at the typical rental car agencies (which can be $$$), it also looks at local, small Sicilian agencies that may offer better deals. Their pricing is straightforward (no bait-and-switches) and they offer free cancellation if you need it.

➜ Check rental prices in Catania with Discover Cars here!
The Best Beaches In & Near Catania
Playa di Catania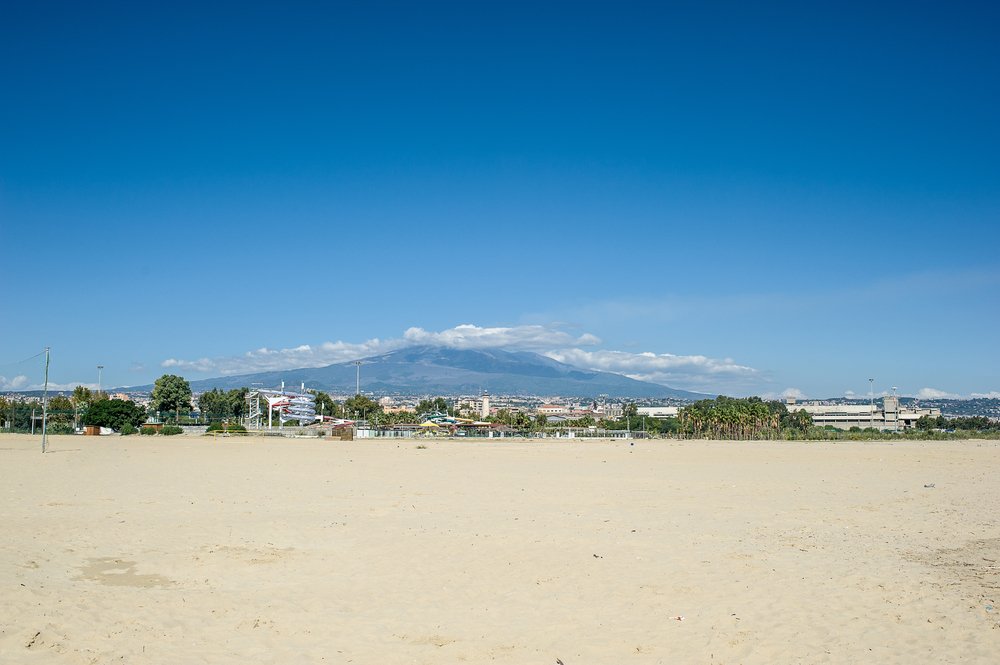 Starting off our list, we've got the most convenient beach to check out in Catania, called, well… Playa di Catania.
Yes, you read correctly, that's the name, and no, it's not Spanish; it's just the local dialect.
The coastline here is known as Plaia, since it's a stretch of sandy beaches extending 18 kilometers south of Catania all the way to the village of Agnone Bagni.
Traveling from the port, as you go further south, the beaches just get better and better.
Sharp-eyed travelers may notice that the various beaches are numbered, so you'll find Spiaggia 1, Spiaggia 2, and Spiaggia 3, which are the closest to Catania.
If you're looking for a clean beach with gorgeous sand and crystalline waters, head over to Spiaggia 3.
Traveling by car? Drive south for just about 15 minutes from the center of Catania.
No car? No worries! You can also reach Spiaggia 3 by public transport. Catch bus D from Piazza Borsellino and get off at Kennedy Est (3).
Once you arrive, there's a big stretch of free beach and a few beach bars nearby, where you can rent sunbeds or just kick back and watch the waves while enjoying a nice cool drink.
Spiaggia San Giovanni Licuti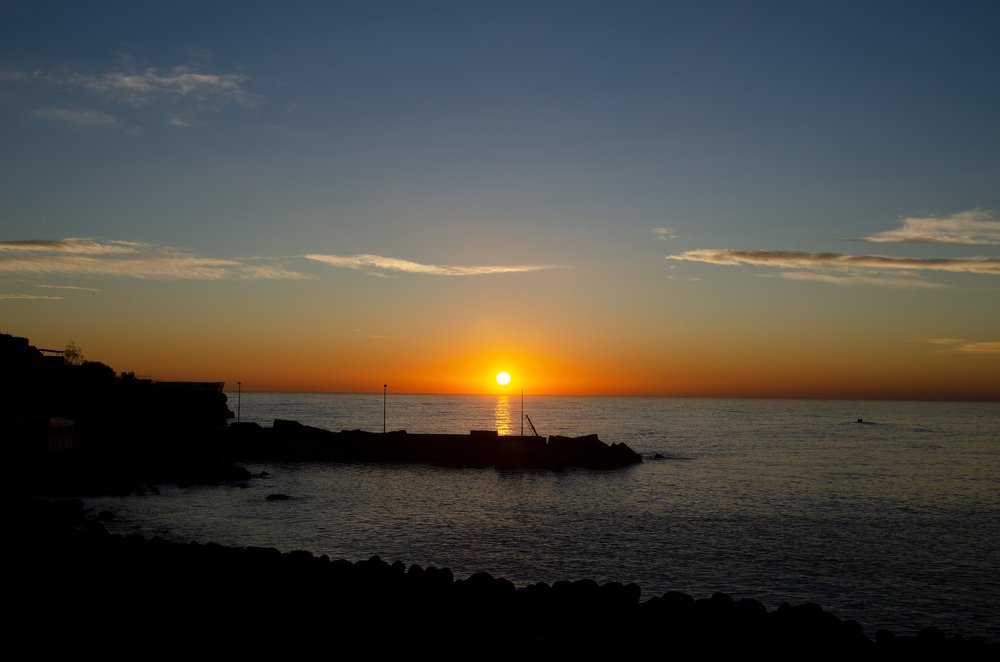 The stunning beach of Spiaggia San Giovanni Licuti is so close to Catania's historical center that you can even walk there if you're staying in the northern part of the city.
If you want to save your energy for swimming, though, the fastest way to get there is bus 935, which departs from Corso Sicilia and stops at Messina Piccanello, just a 10-minute walk from the beach.
The beach is a mix of eye-catching black sand and big volcanic rocks. There's some great spots to stretch out along the sandy portion, but you'll want to get there pretty early in the morning before the beach fills up!
A long wooden footbridge leads directly into the water, sparing you a tough scramble through the rocks.
Conveniently, this beach is super close to the city, so when you're ready to head back, you can find all types of restaurants and bars just minutes away
All in all, this may not be the most peaceful and relaxing beach, but it's a great option if you're short on time and just need a a beach near Catania to chill for a few hours and cool off with a dip in the Mediterranean.
Riviera dei Ciclopi, Aci Trezza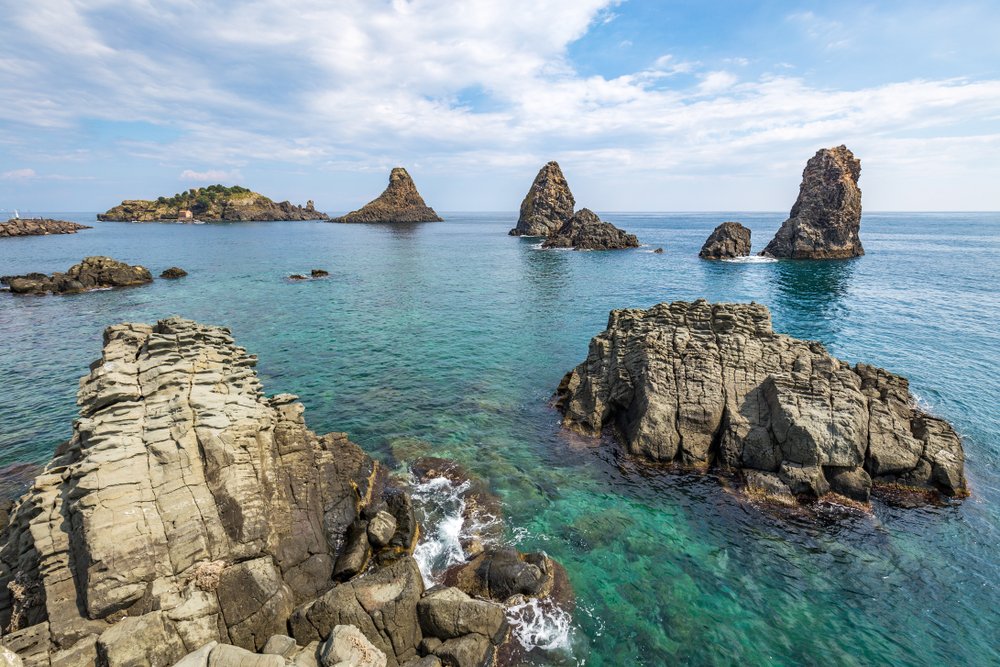 The charming Aci Trezza is a small fishing village north of Catania, known for the landmarks called the Islands of the Cyclops.
Why? Just off the coast, three striking sea stacks stand out from the waves.
According to legend, these are the very same stones that the monster Cyclops hurled at Odysseus in the epic poem, The Odyssey.
Continuing the mythological naming trend, Riviera dei Ciclopi is the coastline looking out on the stunning rock formations.
The beach here is rocky, but if you look hard enough, you can find a few spots to lie down and enjoy the sun after going for a swim in the crystal-clear waters.
You may not be comfortable spending a whole day, but it's worth stopping by for a couple of hours to take in the gorgeous landscape, and combining it with a stop at the charming little seaside village.
You can reach Aci Trezza by bus 534 from Piazza Borsellino, or just a quick 20 minute trip by car.
Aci Castello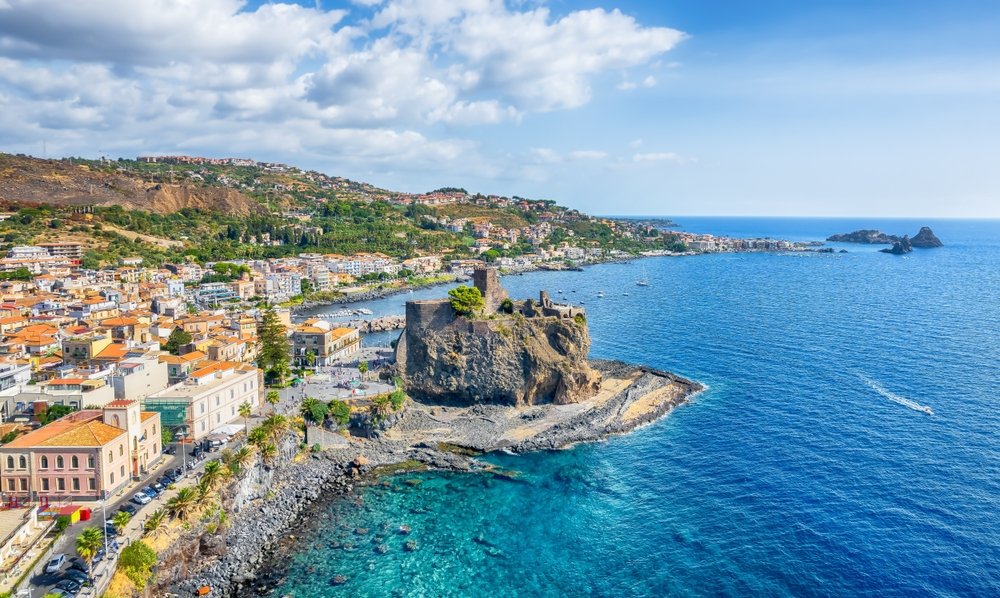 Continuing south from Aci Trezza, Aci Castello is another lovely seaside village.
The village is best-known for the ruins of the Norman Castle of Aci, perched on a huge rock on the coast.
The historical castle looks over the Lungomare of Aci Castello, where you can stretch out on the rocky beach and swim in the deep blue waters.
Similar to Aci Trezza, there is no sandy beach at Aci Castello. However, the crystal clear waters and the volcanic rock beaches are spectacular.
You can easily visit both Aci Trezza and Aci Castello in one day. The same bus, number 534, stops in Aci Castello as well. If you're renting a car, they're also quite close.
While you're in town, be sure to check out the views from the castle and stop for lunch at one of the seafood restaurants, such as Ristorante Giancarlo Barone Acicastello.
The local dishes made from fresh-caught seafood are absolutely exquisite!
Spiaggia del Mulino di Acireale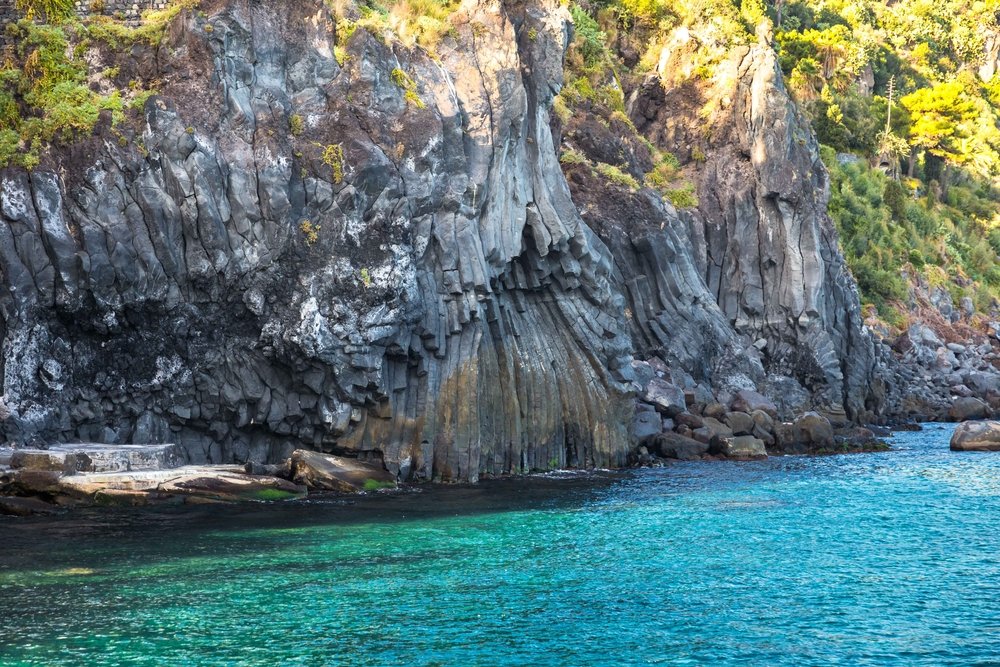 Further north of Aci Castello and Aci Trezza, you can find the town of Acireale.
Much bigger than the previous villages, Acireale is served by the railway, so you can get there by train from Catania in just 20 minutes. By car, it can take anywhere from 25 to 40 minutes.
Spiaggia del Mulino di Acireale is part of the nature preserve Riserva Naturale Orientata La Timpa.
To access it, you'll have to descend a winding road known as Sentiero delle Chiazzette.
Once you get there, just take a moment to bask in the natural beauty; the rocky beach is surrounded by lush greenery and bathed by clear waters.
Not far from the beach, you'll find the restaurant Al Molino S. Maria la Scala and the bar Bora Bora where you can have a refreshing drink.
This Catania area beach might be a little harder to reach than some of our other options, but trust me, the spectacular coastal views are absolutely worth the trip.
Spiaggia di Praiola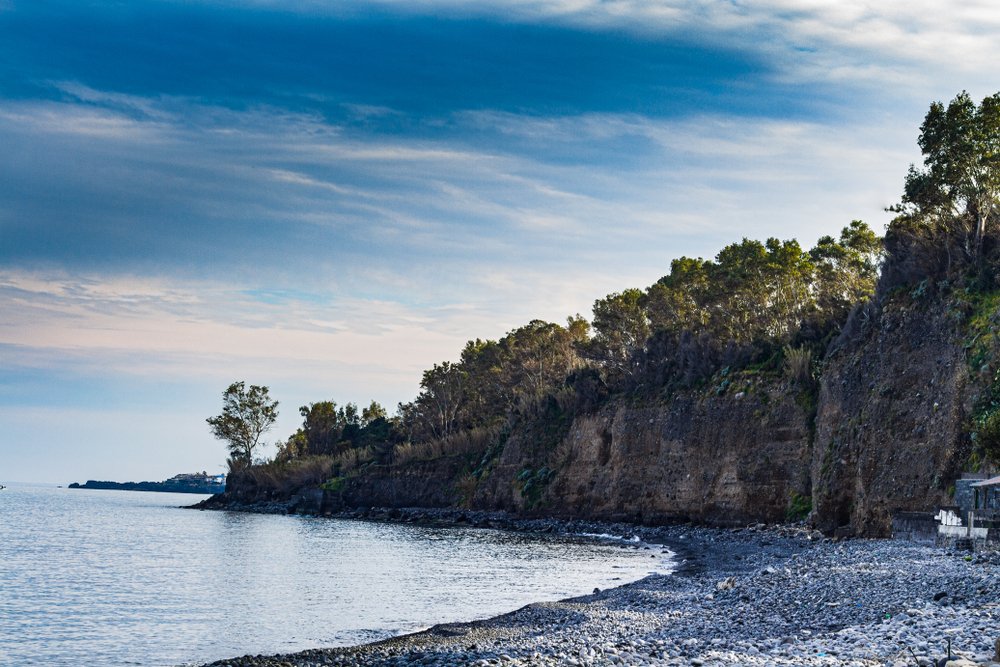 Moving further north, you can find Praiola, a small beach belonging to the town of the same name.
Be sure to pack a pair of beach shoes, since the beach here is made of small volcanic pebble stones and rocks, while the seabed is coarse black sand.
Like all the beaches north of Catania, this may not be the ideal spot to relax for an entire day, but if you're looking to dive in and swim in crystal clear waters, it's perfect!
One quick word of caution for those traveling with small children: the waters may be clear and gorgeous, but they get pretty deep just a few steps from the shore!
The beach can get quite crowded in the summer months, so you'll want to get there early to make sure you can find a good spot.
You can get to Praiola by train from Catania Centrale, but be prepared, it's a 20-minute walk from the train station to the beach.
The train takes about half an hour to get to Carruba, the closest station to Praiola.
If you're lucky enough to be traveling here by car, it's just over half an hour from Catania.
Spiaggia di Mascali, Fondachello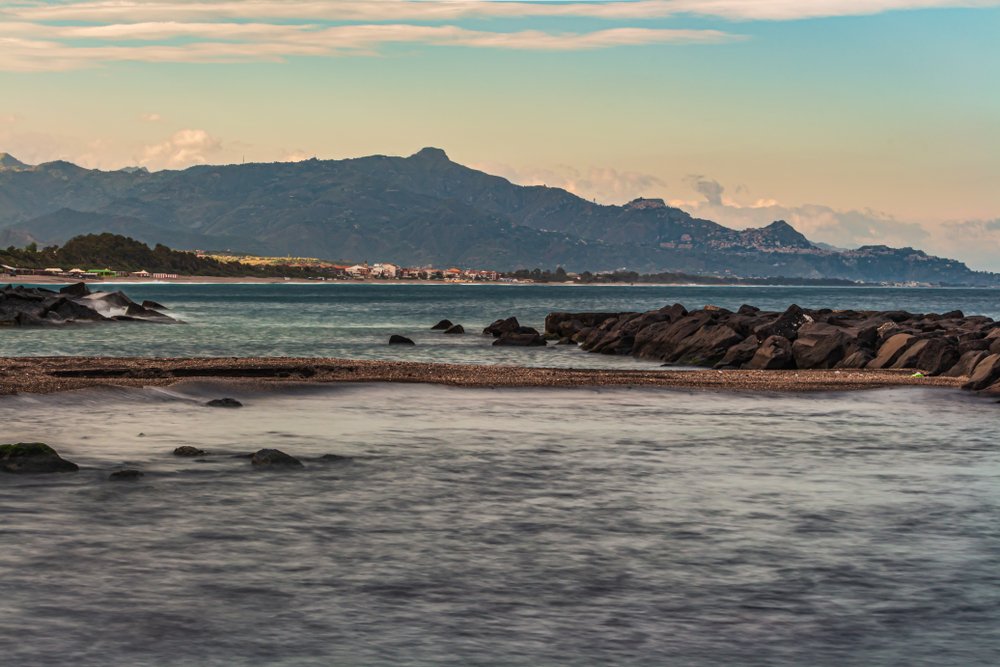 Still in the north of Catania, Spiaggia di Mascali is a long stretch of stony beach covered in tiny pebbles.
Here, you'll find many areas of free beach, but there are also several bathing establishments (lidos, if you want to feel fancy and Italian about it!) if you want to rent sunbeds and umbrellas.
This beach is a great choice if you want to spend an entire day sunbathing and swimming in the beautiful waters.
The sea is crystalline and ideal for some incredible Mediterranean snorkeling. The water is immediately deep right off the shore, so it's perfect for diving.
The beach is in Fondachello, roughly 30 kilometers north of Catania.
By car, it only takes a bit more than half an hour to get there, but if you're relying on public transport, leave early, since it'll be a bit of a longer journey.
You can catch the train to Mascali and walk about half an hour to the beach or the Interbus bus towards Taormina, which will let you off a 20 minute walk from the beach.
Oasi del Simeto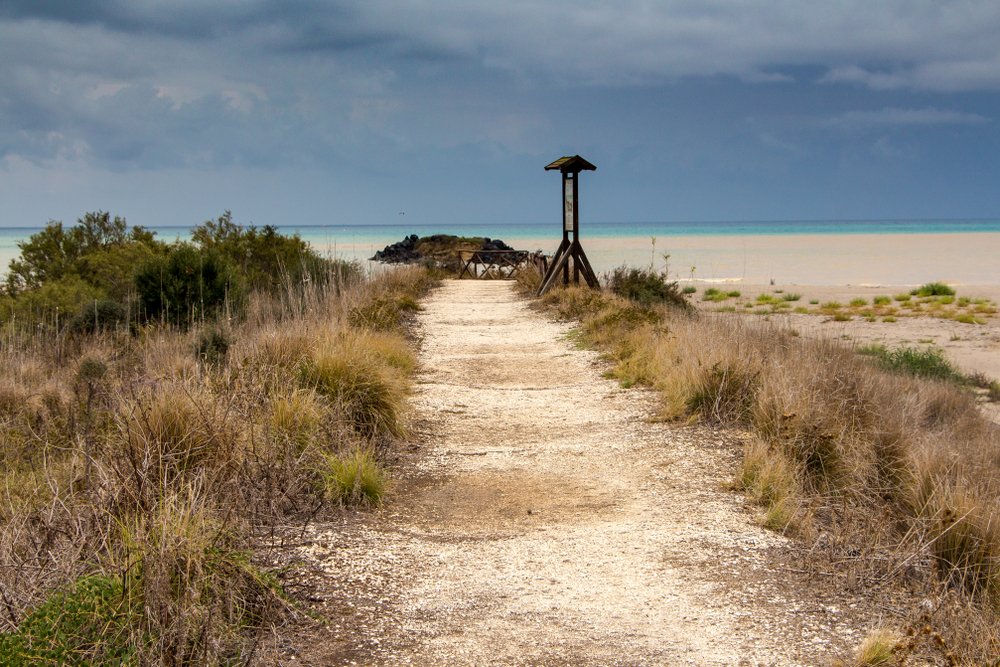 Hoping to see some wildlife on your Sicilian vacation? Oasi del Simeto is a wonderful nature preserve just south of Catania.
The area is mostly a wetland, ideal for birdwatching, but on the shore, you'll find long stretches of sandy beach. The beaches here are perfect for a relaxing day surrounded by nature!
You'll find long stretches of free beach interrupted by a few beach bars and bathing establishments.
Rent a sunbed and umbrella to lie comfortably in the shade, or bring a towel and lie on the soft sand.
Ready for a delicious lunch break or a refreshing drink? Check out one of the many beach bars.
From the city center, you can reach the area by car in just 15 minutes or catch a bus.
Line D is the fastest option, as it only takes 15 to 30 minutes, depending on where you want to stop.
Vaccarizzo-Delfino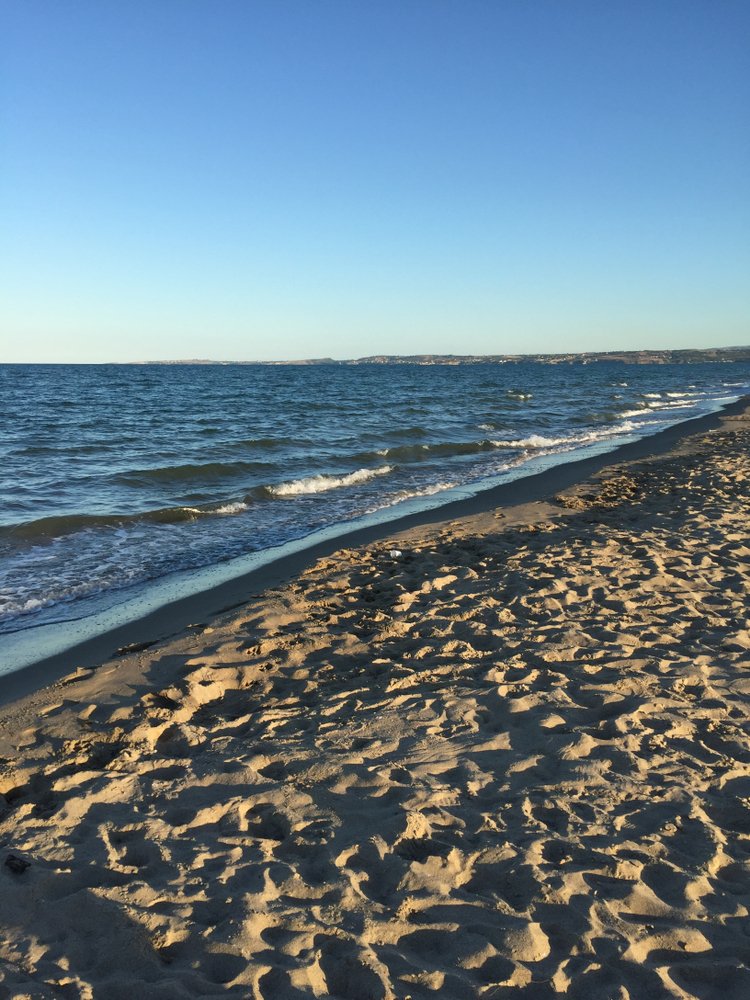 South of the Oasi del Simeto, Vaccarizzo-Delfino is a small seaside village with long stretches of gorgeous white sand beach.
The beach is one of the favorites among Catania locals, but not very popular among tourists.
If you want to avoid crowds and enjoy a relaxing day the way the locals do, this is a great option off the beaten path.
Stop at Lido Vacarizos if you want to rent a sunbed, or continue further south and enjoy the free beach.
Just a heads up before you plan your trip: the village is mainly a summer destination, so most places are only open during summer.
But that's probably not going to be a problem, unless you're planning some sort of winter beach vacation, you brave soul!
You can also find many options for accommodations here if you'd like to spend a few days by the beach and get out of the hustle and bustle of Catania's city center.
The bus from Piazza Borsellino in Catania to Vaccarizzo takes just about an hour, so bring a book and be prepared to settle in for a whole day at the beach to make the most of that travel time!
Spiaggia Viale dei Fiori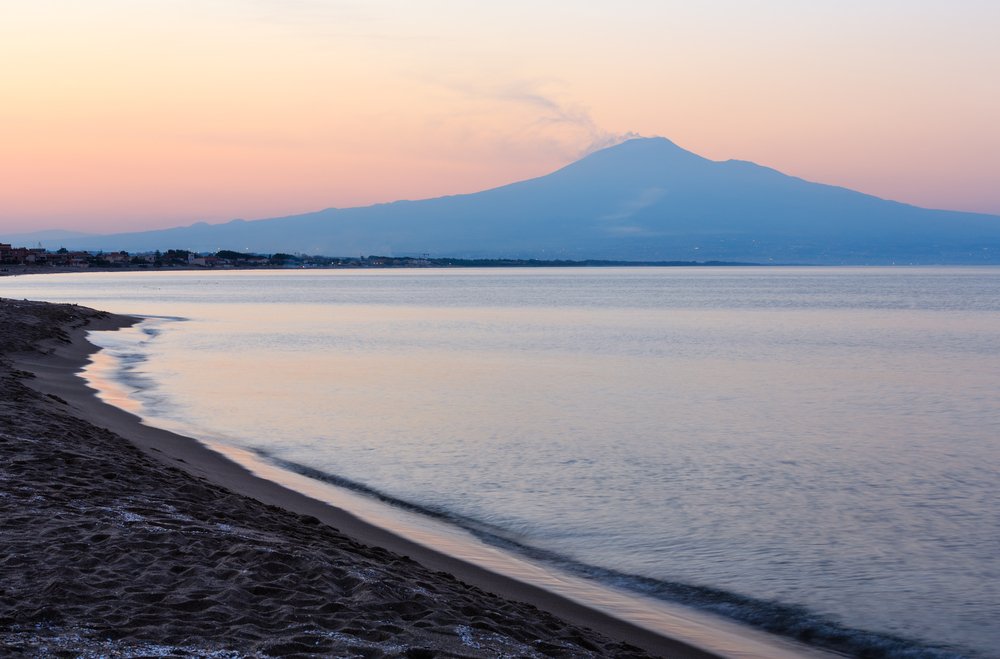 The beach resort of Agnone Bagni is another popular vacation destination, especially among locals.
Less than half an hour south of Catania, the town is home to lovely sandy beaches and clear waters perfect for swimming or snorkeling.
Spiaggia Viale dei Fiori is probably the best area, although it's all a part of the long sandy beach known as the Plaia that starts in Catania.
Aside from being a well-serviced area with many beach bars and restaurants nearby, the beach in Agnone Bagni has a spectacular view of Mount Etna in the background.
Depending on the time of year, you could even admire its snow-capped volcano peak while swimming in the pleasant waters – talk about contrast!
The only downside is that the area is not connected to Catania by public transport. This option is only possible if you can rent a car or are willing to pay a significant amount for a taxi.
Giardini Naxos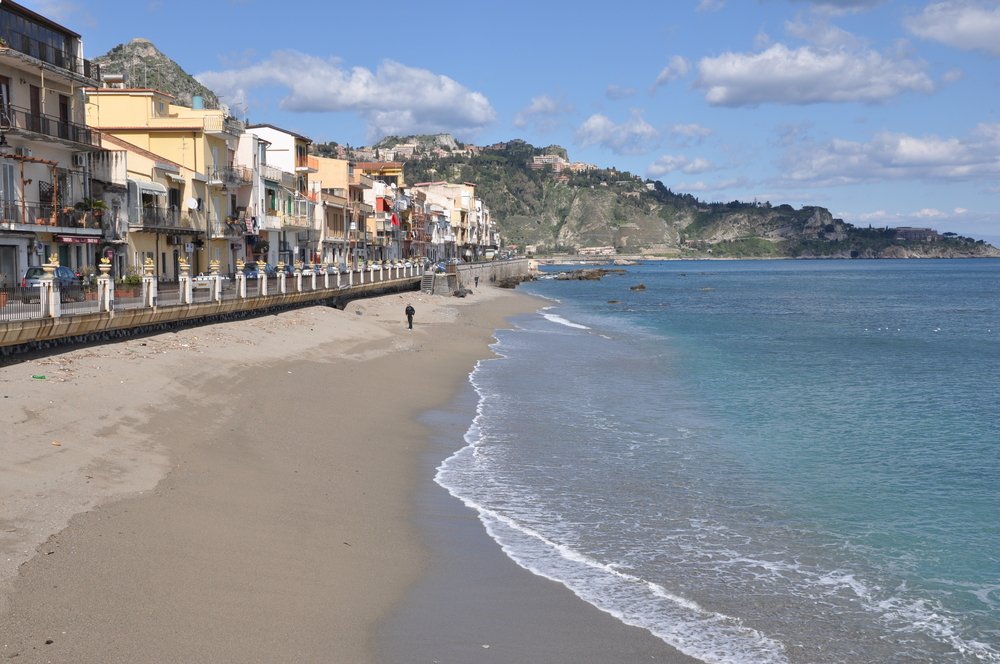 If you're up for a longer trip from Catania, you may want to check out Giardini Naxos.
By car, it only takes about 40-45 minutes, but by public transport, the trip can take up to two hours.
The easiest way is to catch the train from Catania Centrale and get off at Alcantara.
The train station of Alcantara is a 20-minute walk from the center of Giardini Naxos, where you'll also find the main beach.
The town is a popular tourist destination in its own right, due to the archaeological area and museum.
This popularity comes with a cost, though, as the beach can get extremely crowded in the peak season, so either get there early or avoid it in July and August.
Because of its proximity to the ever-popular town of Taormina, Giardini Naxos is one of the preferred beaches near Taormina for tourists and locals looking for a beach break.
However, even with the crowds, the charming town has a lot to offer, so you can combine your beach day with a nice walk around the small historical town and stop for lunch at one of the many restaurants.
Check out the lively and colorful C'era Cu C'era for Sicilian dishes or try the pinsa at Che bella pinsa"ta.
Given its proximity to Taormina, Giardini Naxos would make a great stop between Catania and Taormina if you are driving by car and want to make a stop between destinations.
Sbarcatore dei Turchi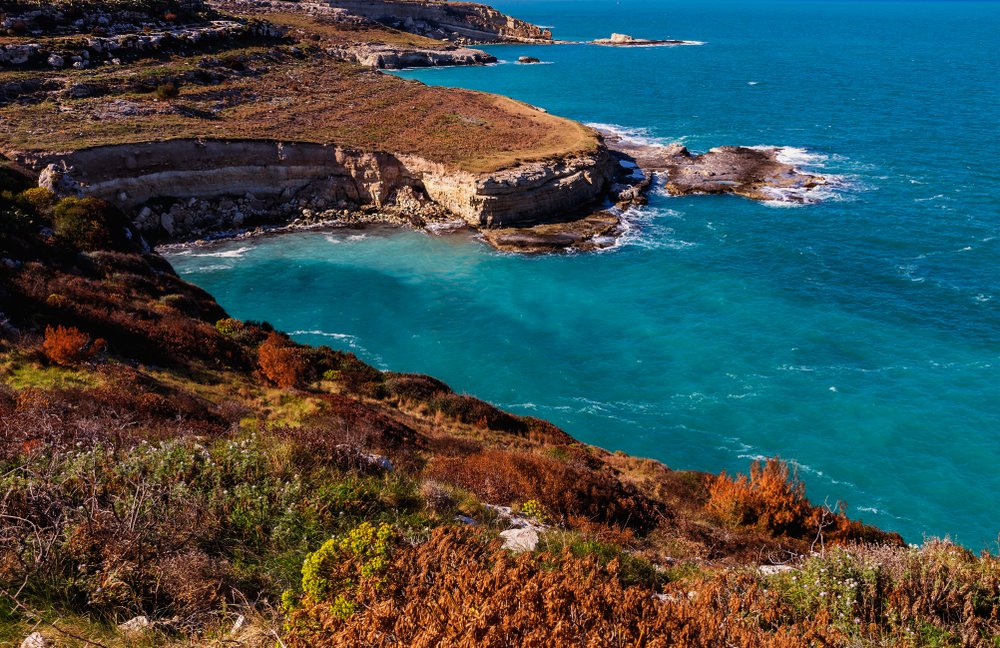 The entire coastline of Augusta, a town south of Catania, is spectacular!
The beautiful Sbarcatore dei Turchi (Italian for Turkish boatman) is just one of the many spots you can check out here!
If you're willing to drive for about 40 minutes or catch a train for an hour, then be sure to add this place to your Catania itinerary.
The mix of turquoise, emerald, and deep blue water and the dramatic coastline combine to make this place one of the most picturesque on the eastern coast of Sicily.
When you imagine the beauty of the Mediterranean, this coastline is exactly what you're picturing!
There is no sandy beach, just rocks and cliffs, but the landscape alone is worth the trip.
You can still find areas where you can lie on the rocks and go for a swim, but be careful and avoid swimming if the sea is too rough.
Sbarcatore dei Turchi is a pretty wild area, so don't expect to find bars and restaurants. Better to plan ahead and bring some food and water for your trip!
***
With these 12 beaches, you should have plenty of options near Catania. If you want even more options, check out the best beaches near Taormina, since these two Sicilian destinations are rather close to one another!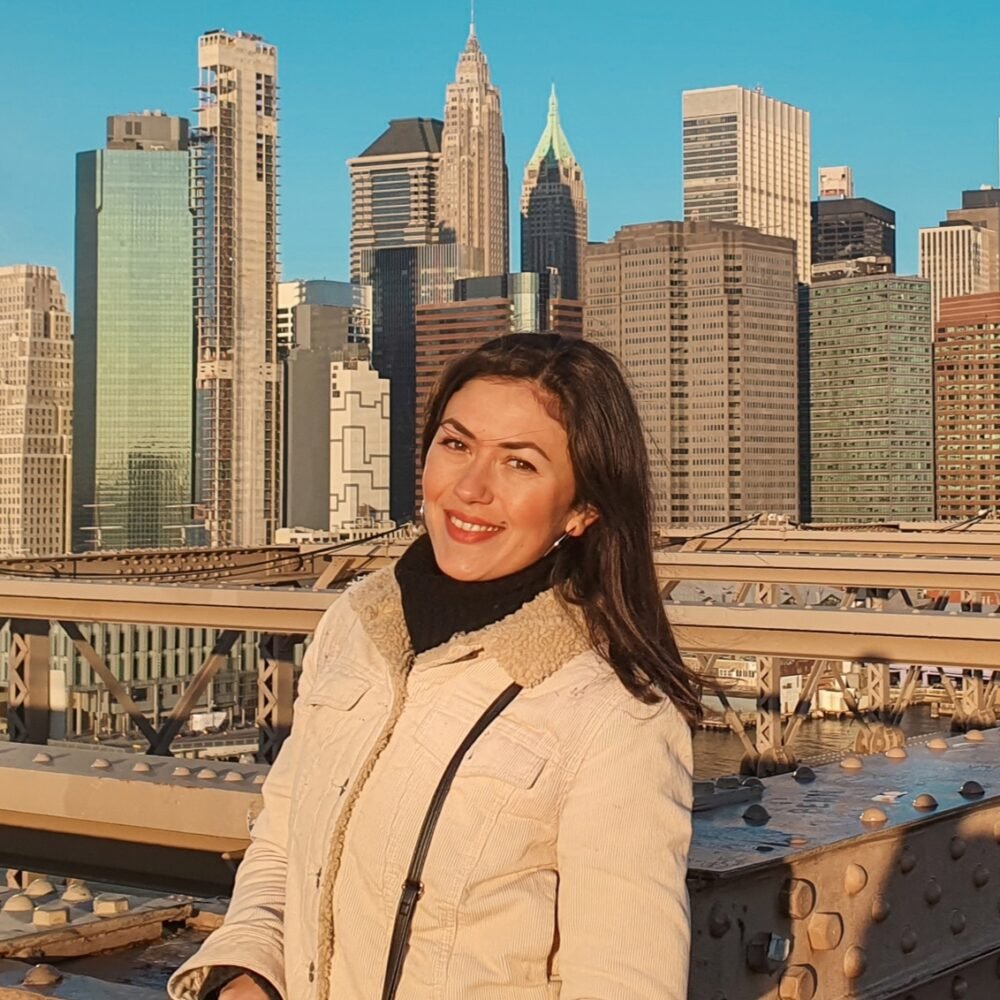 Roxana is a Romanian-born freelance travel writer who has lived in Italy for over 15 years. She has a Master's in Journalism and a Bachelor's in Film Studies. Her mission is to find hidden gems, even in the most popular travel destinations, and to inspire people to explore new places and cultures with the same curiosity! When she is not traveling, writing, or planning her next trip, she is either binge-watching TV shows or reading books.