Naples is one of the most fascinating cities in Italy: a place where it is easy to experience the country at its most authentic and discover centuries of history as well as incredibly tasty gastronomy.
Chaotic, noisy, and at times a bit overwhelming, Naples (Napoli in Italian) is a fascinating destination with very unique sights to offer, greeted with the characteristically warm Southern Italian hospitality!
The locals — often described as loud and proud — are welcoming and open-hearted, and they will go the extra mile to make you feel happy and at home!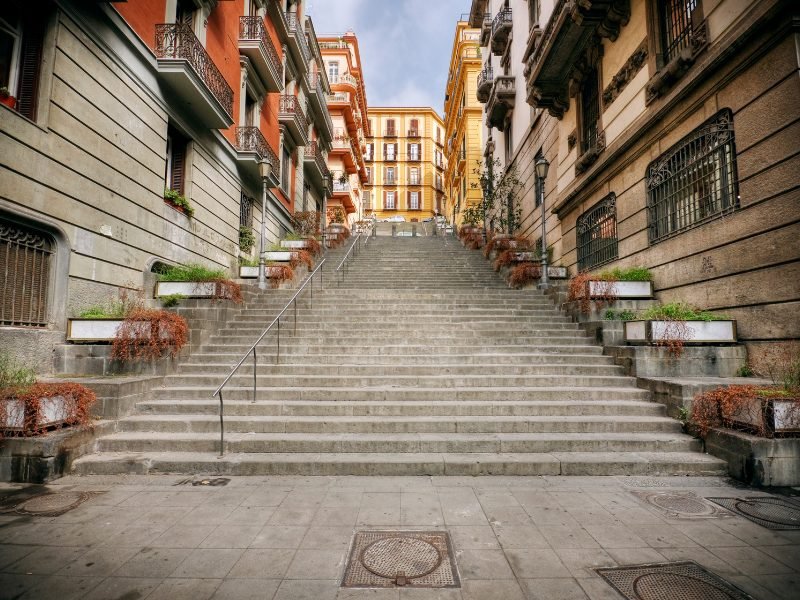 Note: This post contains affiliate links, which means I may receive a small commission if you purchase something through one of these links. Thank you for supporting the free content on this site! For more information on affiliate links and cookies, see my disclosure page for more details.
If you're planning to spend some time in the region of Campania in the south of Italy, then this Naples itinerary is indispensable to helping you make the most of your time here.
Naples also makes a great base for a standalone Italian vacation, where you can hang your hat for several nights in one hotel, while doing easy day trips as well to places like Herculaneum and/or Pompeii, Procida, Capri, or the Amalfi Coast.
This post is written by Gabi Ancarola, a long-time Italy resident who spent 10 years living and traveling the country. She now lives in Crete, where she leads tours, writes travel guides, and runs the award-winning Greek travel blog The Tiny Book.
How this Naples Itinerary Works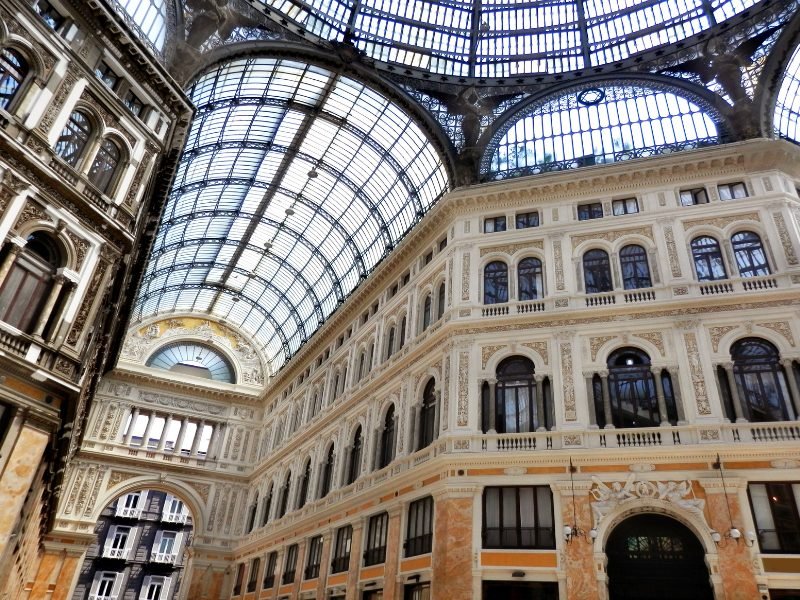 This 4 day Naples itinerary first has you spending a full two days exploring the ancient history of Naples.
You'll explore everything from the the picturesque old town to some of its most impressive churches, and of course — tasting the most delicious pizza in the world: Neapolitan pizza!
If you have four full days in Naples, I really suggest you devote the last two days of your trip to visiting some of Naples' most important nearby areas.
The final two days of this Naples itinerary include one full day trip to Pompeii and Mt. Vesuvius and another full day trip exploring the Amalfi Coast area.
Unless you plan on spending several days along the Amalfi Coast later in your itinerary (in which case, I suggest you read this guide to spending 5 days on the Amalfi Coast), then you might want to spend another day in Naples.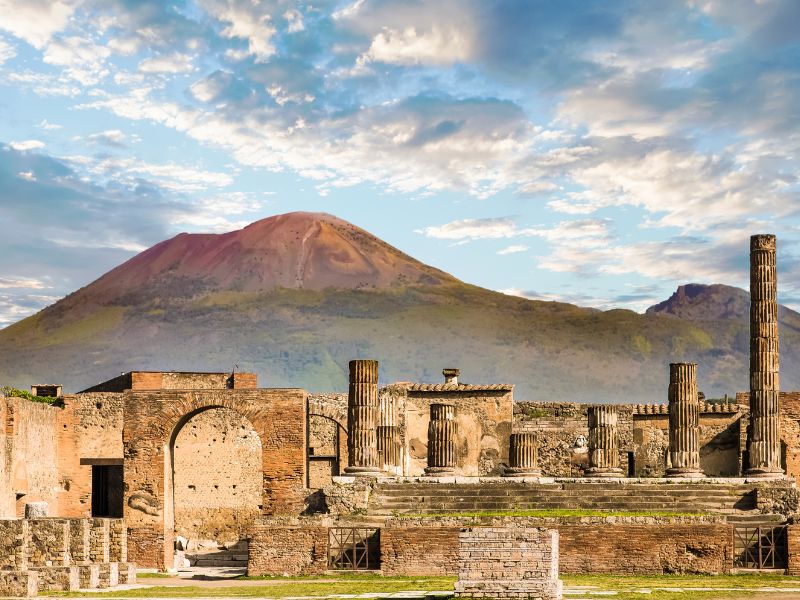 On day 3, we'll explore the archaeological site of Pompeii to visit the impressive excavations of the ancient city buried by the ashes of the Vesuvius eruption back in 79 AD.
On our fourth day, we'll check out some of the picturesque villages along the Amalfi Coast, facing the romantic Gulf of Salerno.
Here, you'll be able to discover the traditional coastal settlements perched on the edge of the cliff or spend a few hours on Amalfi beaches, swimming in the crystal clear waters of the Mediterranean. 
As you can see, spending three to four days in Naples is perfect to discover one of Italy's most magnificent places!
You'll find interesting churches, castles, unique archaeological ruins, and some of the most ravishing seaside towns that stand along the idyllic coast of Amalfi. 
If you combine all this with Naples' excellent food and unique vibe, you will certainly live one of the most unforgettable vacations ever!
Where is Naples?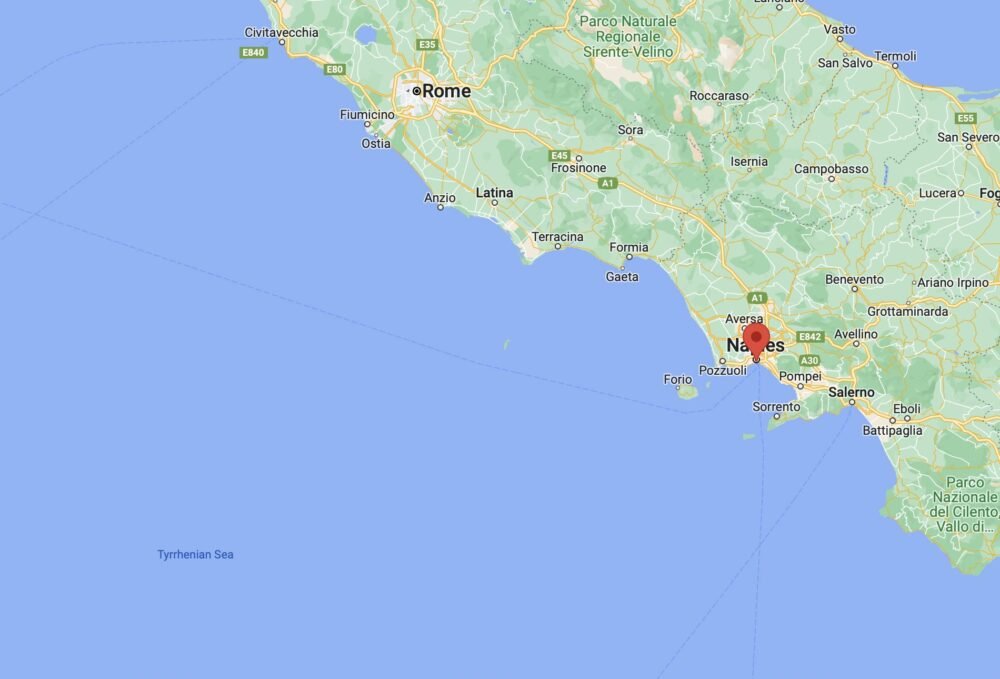 Naples is located in the southern part of the Italian peninsula in Europe, in the region known as Campania.
It's about 2 hours (by car or train) from Rome, Italy's capital (another place worth spending 2 or 3 days!)
Being part of Southern Italy, Naples enjoys mild Mediterranean weather, with long hot days during summer as well as short but intense winters.
Getting to Naples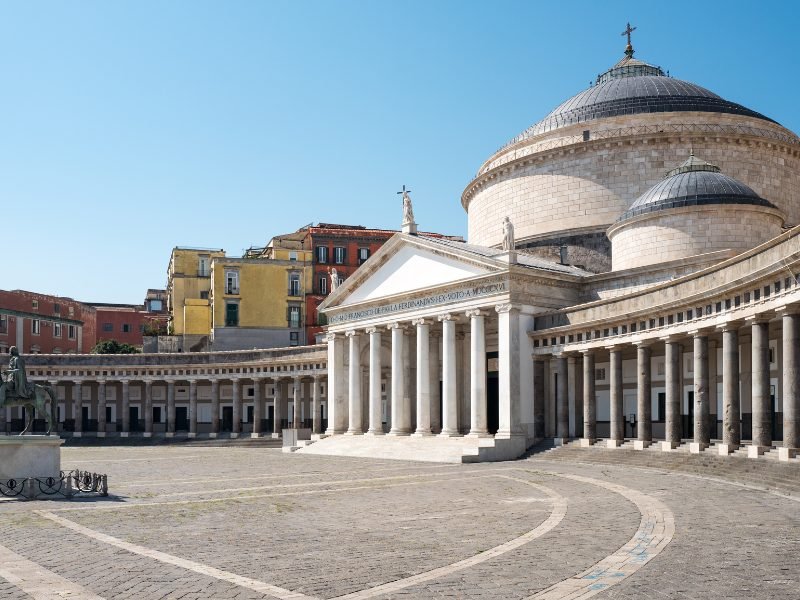 Plane
The fastest way to get to Naples from other Italian cities is by plane.
The Naples Airport (Napoli Capodichino) is about 6 kilometers from the city center, making it quick and convenient to get into the city after your flight.
It welcomes flights from other important Italian cities such as Milan, Turin, and Venice, as well as from several European capital cities.
From the airport, you can get into the city center via the Alibus shuttle or for a smooth arrival process, you can arrange a taxi in advance, with a driver who meets you in the airport via Welcome Transfers.
Train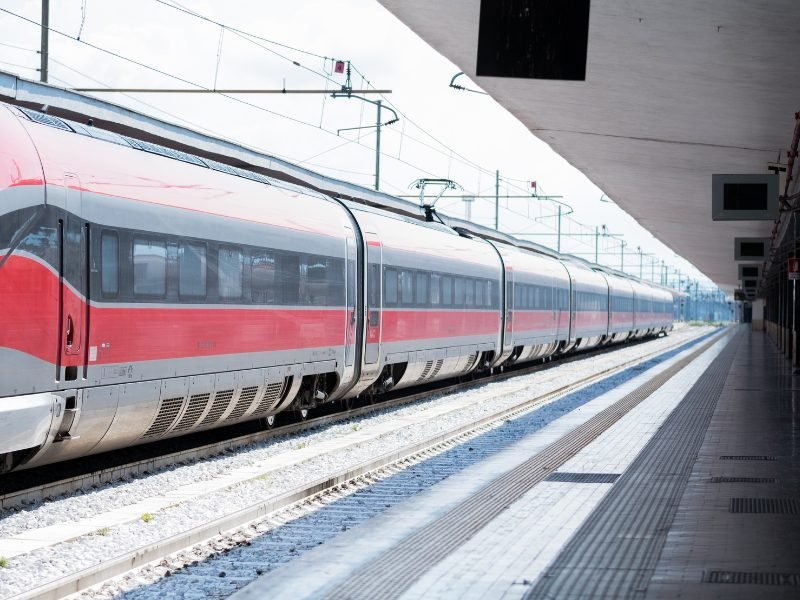 Another convenient way to get to Naples is by train.
There are several train stations in town, but the most important of them, Piazza Garibaldi Station (also known as Napoli Centrale) is the one receiving the most high-speed trains (known as FrecciaRossa).
High-speed trains connect Naples with Rome (about 1.5 hours with a high-speed train, and about 3 hours with a cheaper regional train), Milan (about 4 hours), Florence (about 3.5 hours), Venice (a bit more than 5 hours) daily.
If train travel is your preferred way of moving around in Italy, then check train timetables and fees at the official Trenitalia website.
Keep an eye on seasonal discounts, special passes, and dedicated offers which pop up on the site from time to time!
Getting Around Naples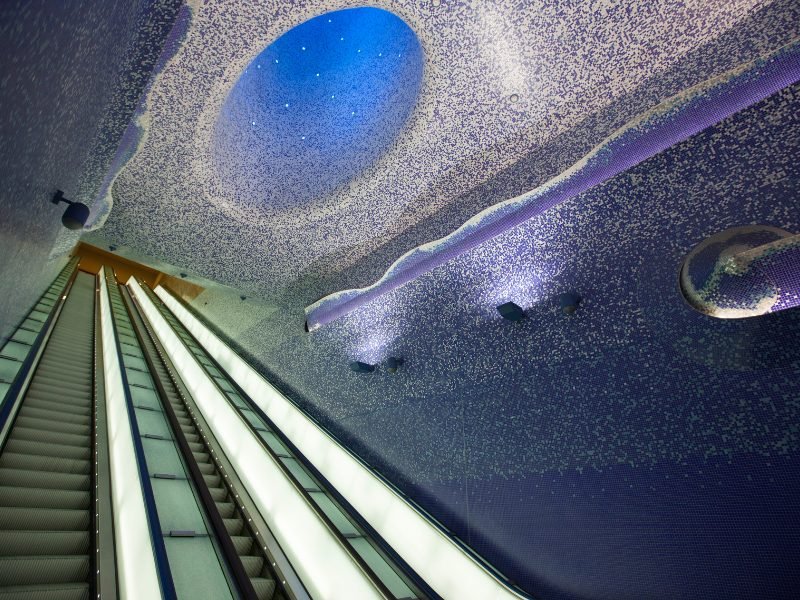 Moving around in Naples is also quite simple. Much of it is walkable on foot, but the city also has a cheap and efficient metro system that connects every district in town.
You can travel around with the public bus, the metro, and local trains, all of them frequent and fairly punctual too.
Some of the metro stations are extremely beautiful, such as the one pictured above at the Toledo metro station at the Montecalvario Entrance — it's worth a stop just to admire!
You don't need to rent a car for Naples, but it can be helpful if you prefer to access sights independently vs. a tour, as both the Pompeii day and the Amalfi day have you using tours.
Read this guide to renting a car in Italy before you check out car rentals to know what to keep an eye out for!
If you do prefer to rent a car during your stay, I recommend searching for cars via Discover Cars. 

They're my preferred search engine for renting cars all over the world because they scan over 500 different agencies to get the best price on your rental. Compare rates here!
Is Naples Safe?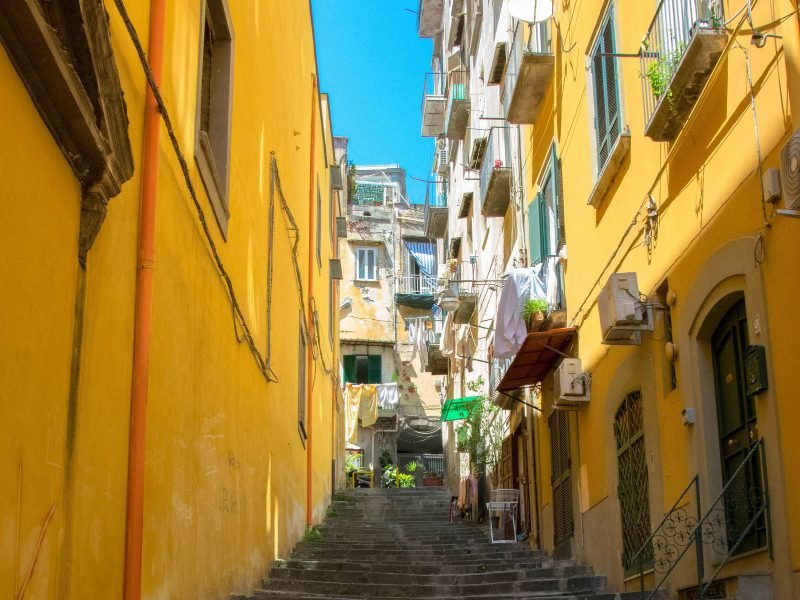 Even though in the past, the city was often described as unsafe or dangerous, things have improved over the years.
Naples is no less safe than any other popular European city, where common sense will be the most important tool you need to explore with total peace of mind.
When possible, it's best to avoid crowded areas where pickpockets work deftly, as well as hanging out near big stations or other transport hubs, especially late at night.
As always when traveling in Europe, keep a vigilant eye on your personal belongings and, whenever possible, pay with a credit card instead of using cash.
That said, there's no reason why safety should be a major concern if you are visiting Naples.
At the end of this post, I'll give more details on my favorite anti-theft bags, but if you're already curious, it's this PacSafe backpack!
Best Time to Visit Naples
Naples is a great destination all year round, with gorgeous weather from late April well into October, when the first rains usually start.
If cold weather is not an issue for you, or you're not planning on spending time at the beaches of the Amalfi Coast, then visiting in winter can be a great alternative to save some money!
Hotel fees are usually lower in winter and availability also increases.
You will also find fewer crowds at most attractions, including the archaeological sites of Pompeii and Herculaneum, two wonderful sites worthy of your attention while in Naples.
Although on one hand, reaching some of the islands, such as Ischia and Capri, can be more difficult to due to the bad weather (which can make some ferry rides quite intense!), they'll also be nice and peaceful, with few people around.
If you would like to visit the beaches in Naples, Sorrento, and the Amalfi Coast, but don't really enjoy very hot weather, I suggest visiting in spring (April-May) or autumn (September-October).
The water will be a little warmer in autumn, so it's preferable for swimming!
It's best to avoid July and August, the central (and hottest) months of the year, which are also the busiest and most expensive!
4 Day Itinerary for Naples & Beyond
Day 1 in Naples
Wander around the city center or take a walk up Vomero Hill.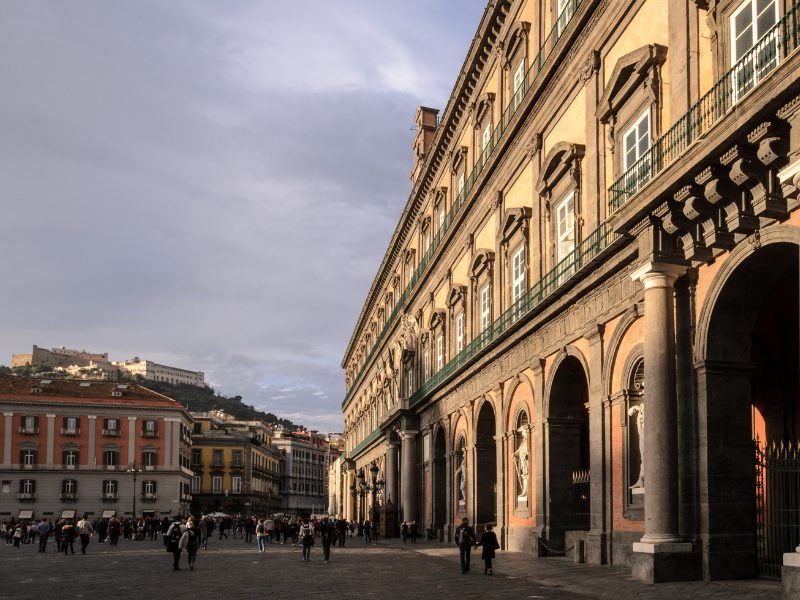 The best way to get acquainted with the city is by exploring it on foot. Getting lost in the historic center is a great way to be surprised by the different buildings you will find along the way!
Alternatively, you can take a short climb up to Vomero Hill in order to discover the impressive views of the Gulf of Naples, featuring also the nearby islands of Procida, Ischia, and Capri, as well as the famous Mount Vesuvius.
Once you've soaked in the impressive views over the entire city of Naples, head back to the city center and embark on a gastronomic guided tour.
Sample Naples' incredible street food scene.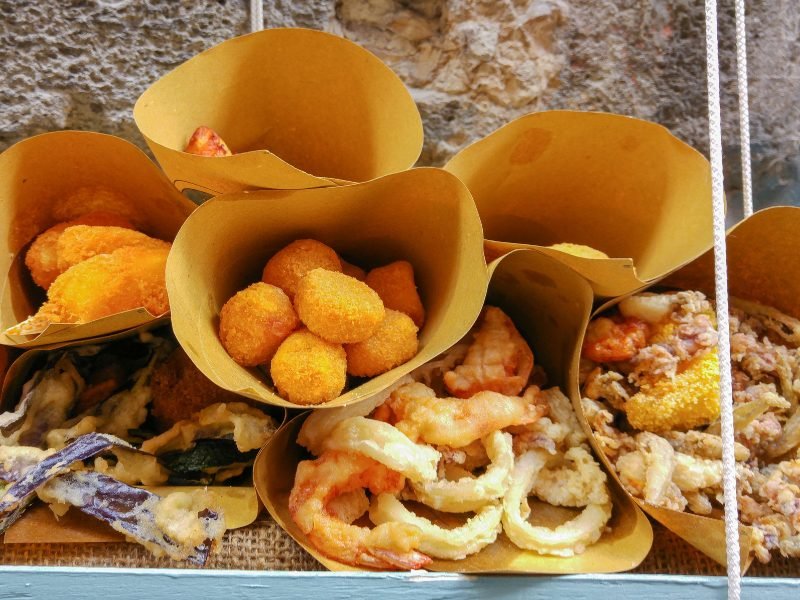 You can do this on your own, literally stopping at every bakery, pizza place, or bar in town, or you can join an organized food tour.
This local-led street food tour will not only combine the best views in town, but will offer a close-up experience of Naples' best flavors and mouthwatering street food.
On such a tour, you will be able to learn directly from the locals — everything about Naples' traditional dishes, as well as the city's history and culture.
Of course, Naples' food scene isn't just limited to pizza and espresso, but also unique delicacies such as pizza fritta (fried pizza), and other trademark Neapolitan favorites, including gelato, taralli biscuits, babá pastries, sfogliatella, and arancini.
This delicious gastronomic experience includes stops in different churches and other public buildings, but especially in all the most famous food places in town, including well-known bars, popular restaurants, and typical trattorias.
And for an even more traditional twist, it also features a stop at a local shop where you can taste and buy fresh mozzarella, ham, salami, and mortadella!
Finally, this gastronomic adventure includes also a visit to a limoncello factory!
Bursting with lemon scents and flavors, limoncello is the most characteristic spirit you can taste in the Campania region!
Check out Naples' underground side.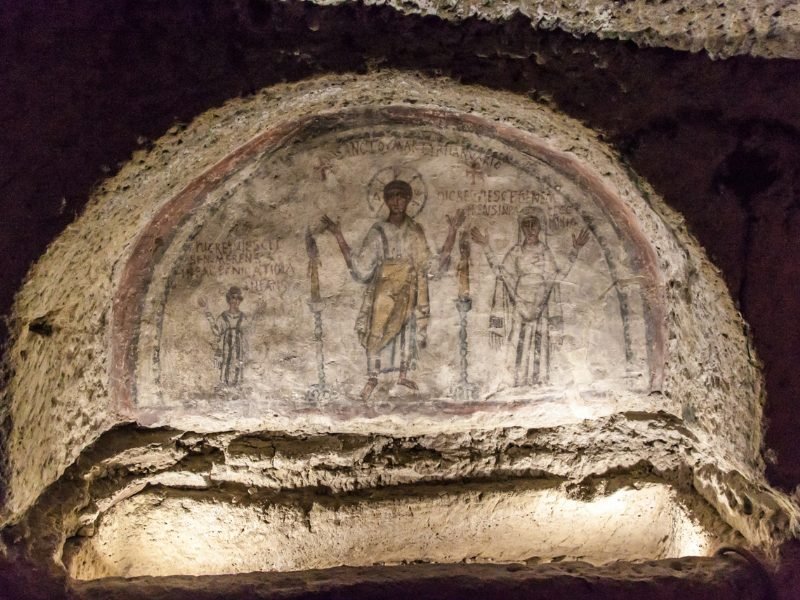 In the afternoon, let's escape some of the hustle and bustle of Naples' city streets to check out some of the lesser-known spots in town!
We'll descend more than 40 meters (130 feet) below the busy streets of Naples and leave the city chaos behind.
In fact, you can check out Naples' striking system of underground passages and corridors, including the areas used as air-raid shelters during WWII!
You will be able to check the damp and mysterious underground corridors that were also used as aqueducts during Roman times.
You can either visit on your own or explore them with a local to better understand the past and intricate history of this fascinating city.
Another similar option is to check out one of Naples' many catacombs systems. The most popular are the Catacombs of San Gennaro, which date over 2,000 years old.
The catacombs changed shape several times, including a major expansion in the 4th century CE, the addition of the Crypt of the Bishops with 5th century mosaic work, and Byzantine artwork added in the 9th and 10th centuries.
Book your tickets to the San Gennaro Catacombs in advance – this is a popular Naples itinerary item!
Other underground exploration options include The Bourbon Tunnel and the San Gaudioso Catacombs, but I think the two other options above are better.
After all, we only have 4 days in Naples and the vicinity, so we don't want to spend all your time underground Naples!
End the day with a walk along the water and a pizza.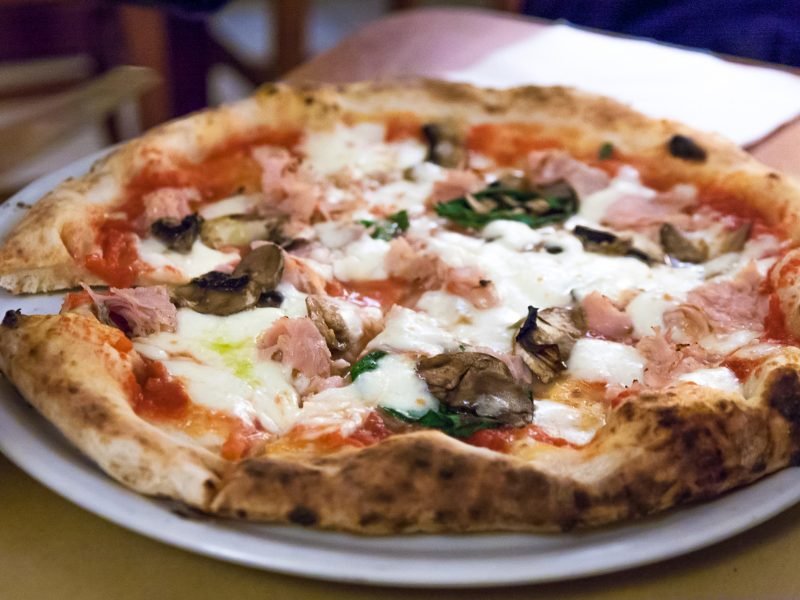 End your first day in Naples with a quiet stroll along the waterfront to enjoy not just the gorgeous sea views but also the busy coastal scene of Naples.
And if you're in the mood for a romantic moment, this is the spot to be to admire an unforgettable sunset!
Later on, you can head to a small trattoria or pizzeria and indulge in an authentic Margherita pizza.
Many pizzerias are located along the Via dei Tribunali, and one of the most popular places is Gino e Toto Sorbillo, though there are countless other pizza options if that is too crowded!
Day 2 in Naples
Check out Naples' Royal Palace.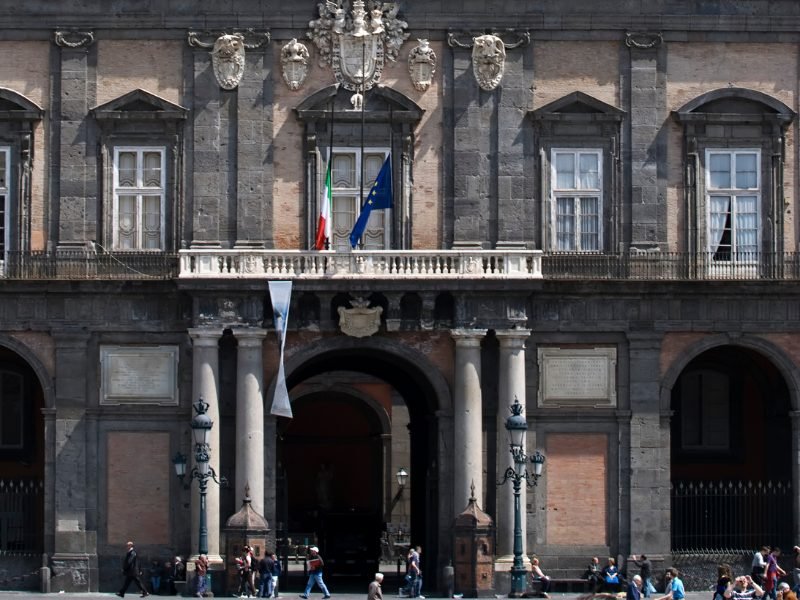 You can spend the second day in Naples taking a closer look at some of the spectacular buildings that adorn the city!
Set your alarm clock early and, right after breakfast with a cappuccino and a cornetto pastry, head to the Royal Palace.
This lavish residence dating back to 1620 features sumptuous marble floors, impressive ceilings, and opulent decorations.
The place was once home to French Kings and Spanish rulers that governed Naples in the past, and it's as exquisite as you'd imagine!
Inside the palace, it is also possible to visit the Royal Palace Museum, the Library, and the magnificent San Carlo Theater which dates back to 1737 and is the oldest opera theater in the world!
You can buy a skip-the-line ticket to the Naples Palace online here!
Admire the Cathedral of Naples.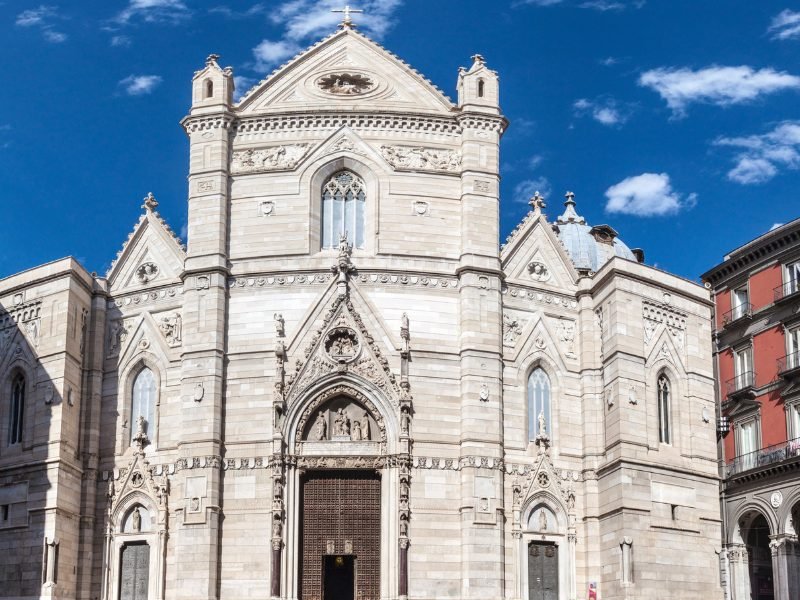 Right after, you can head to the impressive Cathedral of Naples (also known by many other names, including Cattedrale di Santa Maria Assunta, Duomo di Napoli, or Cattedrale di San Gennaro).
This unique and eclectic building was completed back in the 13th century, and has been subjected to many updates since!
With such a long history, the building features a delicate balance of several architectural styles as it has been built and renovated over the centuries.
However, its Gothic and Baroque details are the most outstanding features of the building, and it's part of what makes this Cathedral such a must-see in Naples. Plus, it's free!
See the beauty of the Museo Cappella Sansevero.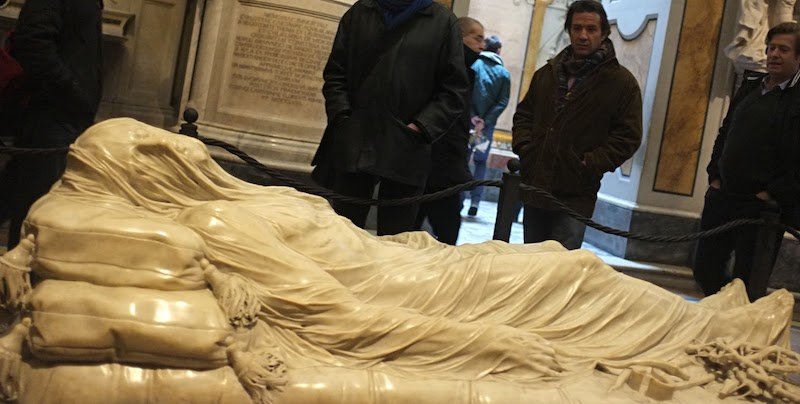 This baroque gem, built in the 1500s, is one of the most important landmarks in Naples.
Originally built as a chapel to accompany the nearby Palazzo Sansevero, it now houses several important works of art including several important marble Rococo sculptures.
The most famous of these is the Veiled Christ sculpted by Giuseppe Sanmartino, which is one of the main reasons people visit this chapel.
Entry to the church to see the Veiled Christ statue is included on many guided walking tours of the city, including this one.
Wander through the Galleria Umberto.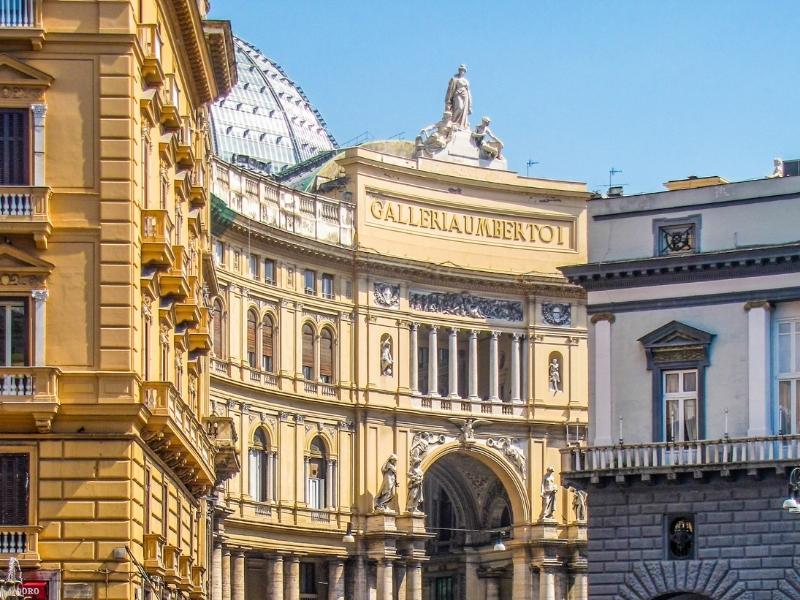 This stunning covered gallery is similar to ones you'd find in Milan, Vienna, and Paris, and its one of the pride and joys of Naples' cityscape.
Dating back to the late 1800s, like many covered galleries of this time, you'll find a beautiful glass-and-iron ceiling and stunning architecture that houses cafés and boutiques.
Explore the old Castel dell'Ovo fortress.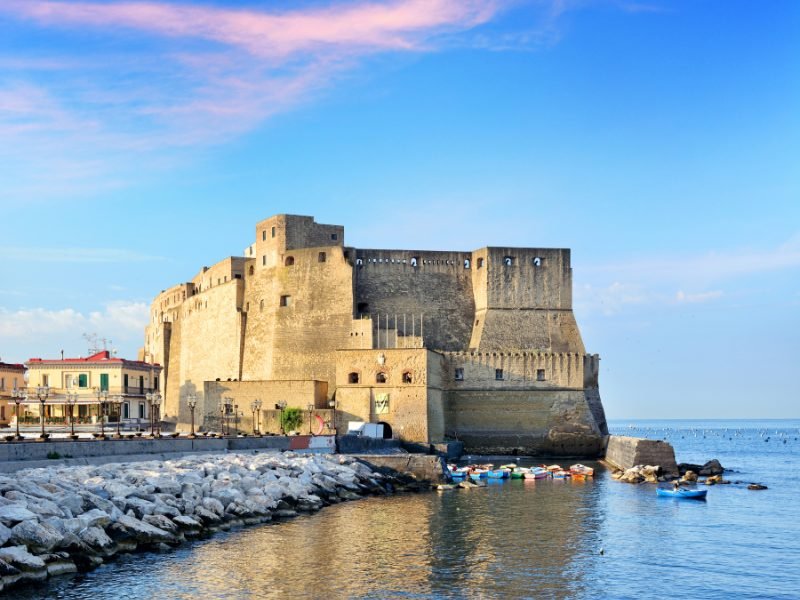 Your next stop should be the unique fortress known as Castel dell'Ovo, once located on an island that is now connected to the mainland through a man-made pier.
The dark fortress dates back to the 15th century, and it is a distinctive building offering some impressive panoramic views of the Gulf of Naples.
The fortress is stunning, but the sea views just may be even better! Plus, admission is free.
Geek out at the National Archaeological Museum.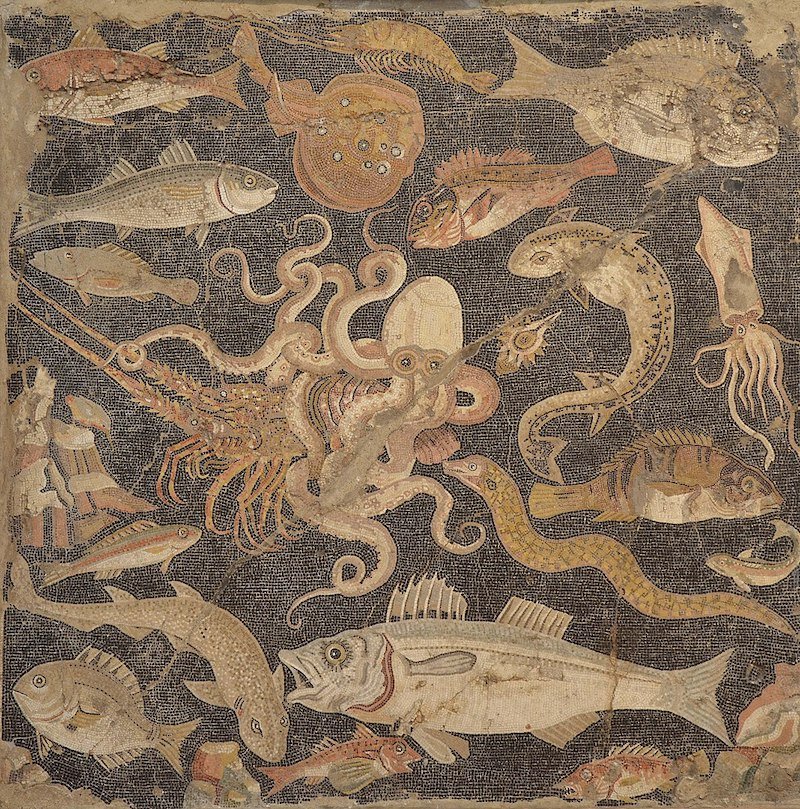 If you're fascinated by Italy's history, then a visit to the National Archaeological Museum of Naples is another ideal stop during your Naples itinerary!
There are all sorts of mosaics and frescoes that have been beautifully preserved at this museum.
Since tomorrow is all about a visit to the Pompeii Archaeological Site, this will be a little Pompeii primer!
You will simply be amazed at the Pompeii exhibits in this museum, and it'll whet your appetite for the next day's exploration!
Book your skip-the-line tickets for the National Archaeological Museum here!
Wander down Spaccanapoli.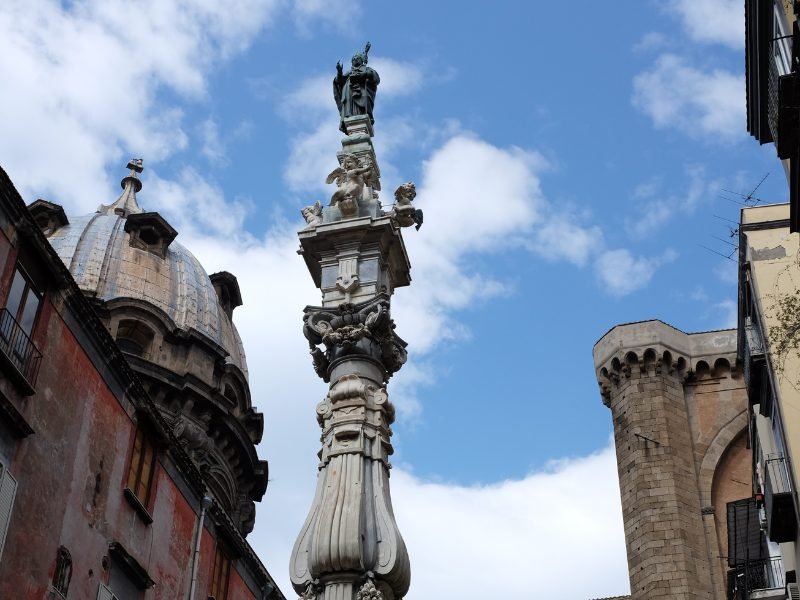 End your second day in Naples visiting one of the most original streets in town, Spaccanapoli.
Spaccanapoli, which means "Naples divider" is the name that locals give to the street its adjacent quarters.
Here, you'll find a ton of traditional alleys, artisan shops, small restaurants, and tons of souvenir stores, all tucked away in little hidden corners.
When you walk around the area, it is easy to feel like a local yourself!
The place is popular among young crowds, and it is the right place to visit for a taste of Naples' local music, cuisine, and relaxed evening vibe.
Day 3: Pompeii and Mount Vesuvius from Naples
Head to Pompeii and Mount Vesuvius.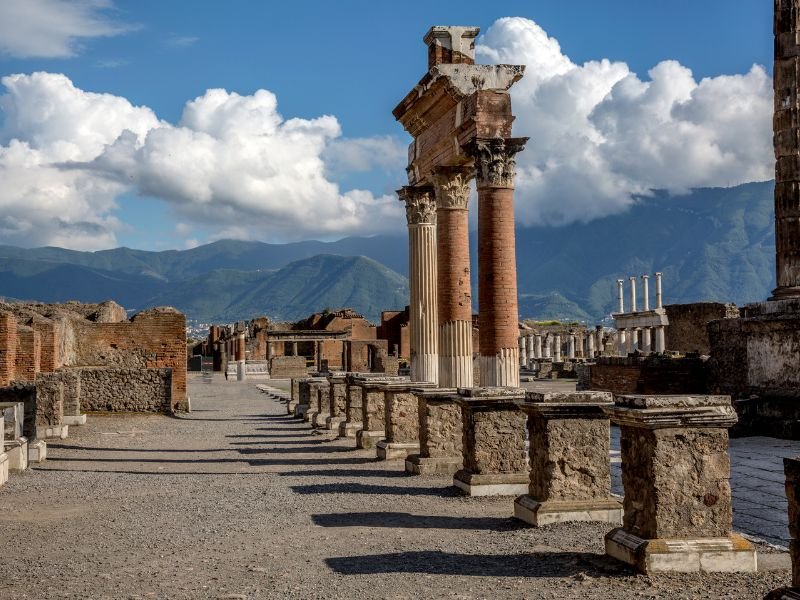 Devote your third day in Campania to experience two of the most iconic spots in the region: Mount Vesuvius and the ruins of Pompeii!
You can explore both sites on your own with the local train, the Circumvesuviana, or join an organized full-day tour that will make the logistics of reaching the top of Mt. Vesuvius a lot easier!
With a tour, you will be skipping most of the arduous climb (about 1,000 meters or 3,300 feet), all while sitting in a comfortable off-road vehicle! Much better than hoofing it independently, especially in the summer!
Trust me, from here, the views of Pompeii, Naples, and the bay are simply breathtaking— absolutely worth it!
This highly-rated guided tour takes you to the ruins of Pompeii (with a convenient skip-the-line ticket) as well as Mount Vesuvius on an easy day trip from Naples.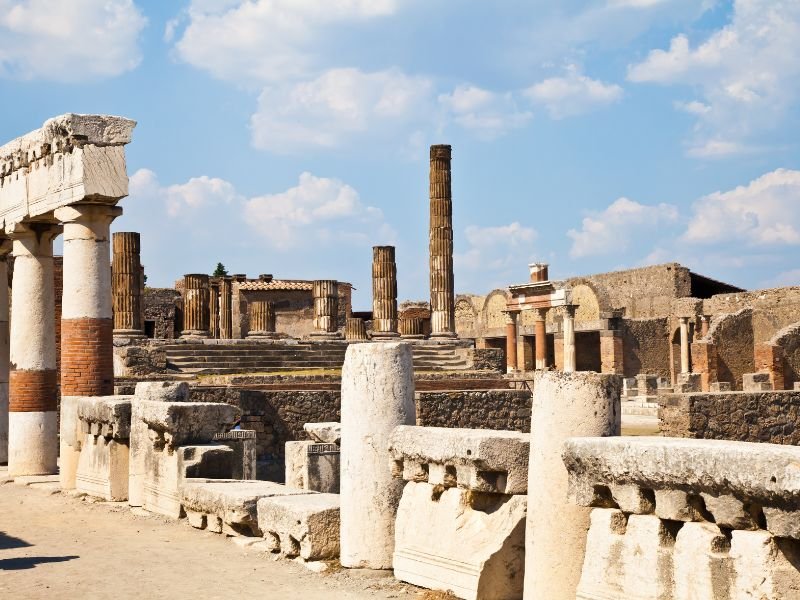 Pompeii is a UNESCO World Heritage Site which is not only fascinating but also incredibly big.
Visiting with a guide will not only put the visit into a historic perspective, but will also direct you to the right places you should visit.
It's easy to get overwhelmed once inside the archaeological park, so having a guide will help you be sure you don't miss any of the most unmissable spots, such as artworks, mosaics, and frescoes, including the Roman Forum.
One more interesting view will be the plaster casts of the people who perished in the city at the time of Vesuvius' eruption, which was in 79 AD — nearly two millennia ago.
Right after the ruins, you will be able to head to the edge of the Vesuvius crater from where you can take incredible snapshots of the Gulf of Naples and learn some more about the geology and history of Italy's most feared volcano.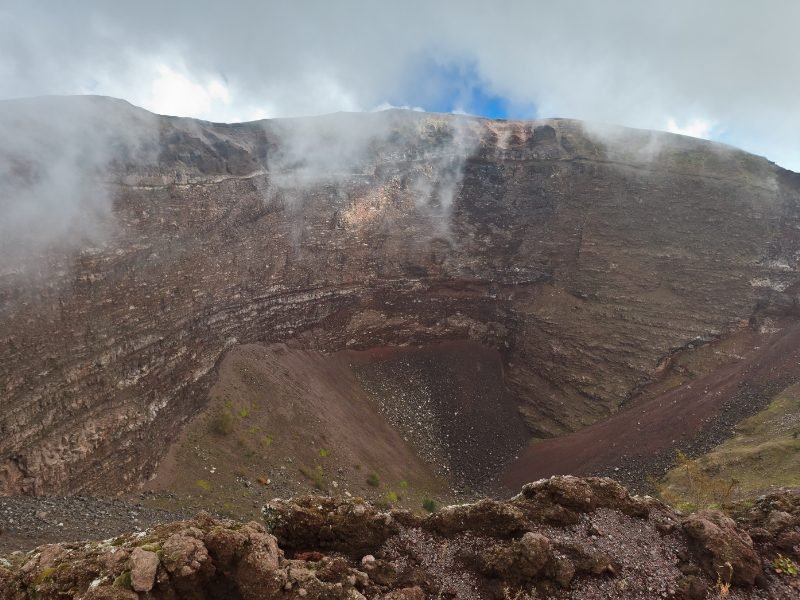 It's hard to believe that this now peaceful crater is what ended the massive city and civilization of Pompeii!
After visiting Mount Vesuvius, head back to Naples for another delicious dinner (perhaps trying a new pizzeria or some local seafood) and a stroll around town by night.
If Pompeii is a little too on-the-beaten-path for you, there's also the option to visit Herculaneum.
Here's a breakdown of the differences between the two sites here.
Day 4: Highlights of the Amalfi Coast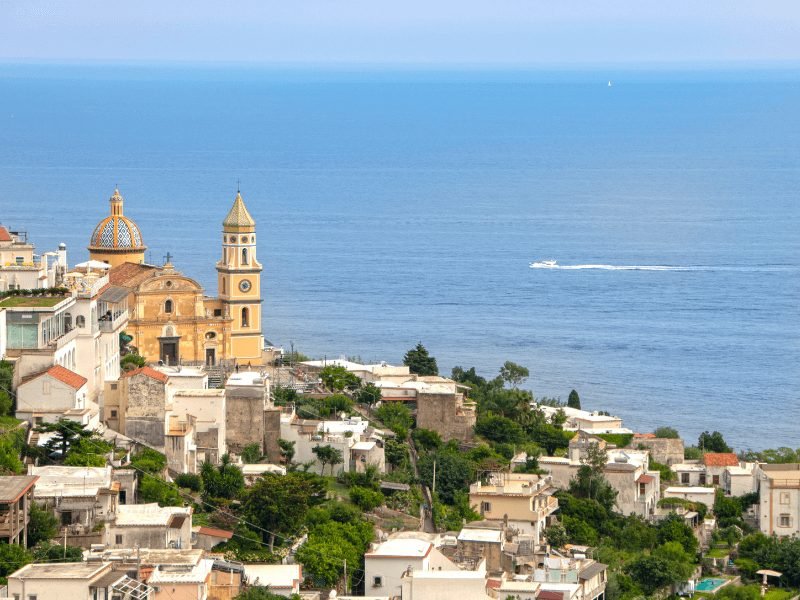 Although I've already discussed everything you can do on the spectacular Amalfi Coast in this article, having fewer days to devote to the area does not necessarily mean that you should skip its highlights… on the contrary!
There is a lot you can see and discover even when you have just one day to devote to the Amalfi Coast, a stretch of coastline famous all over the world for its natural beauty and romantic coastal towns.
Of course, you might not be able to visit all the small towns and villages that belong to the Amalfi Coast, but you will be able to check at least some of them during this last day of your Naples itinerary.
You can move from town to town by bus or by ferry (except during winter); however, traveling on your own might take up too much time, leaving fewer hours to explore the coastal villages.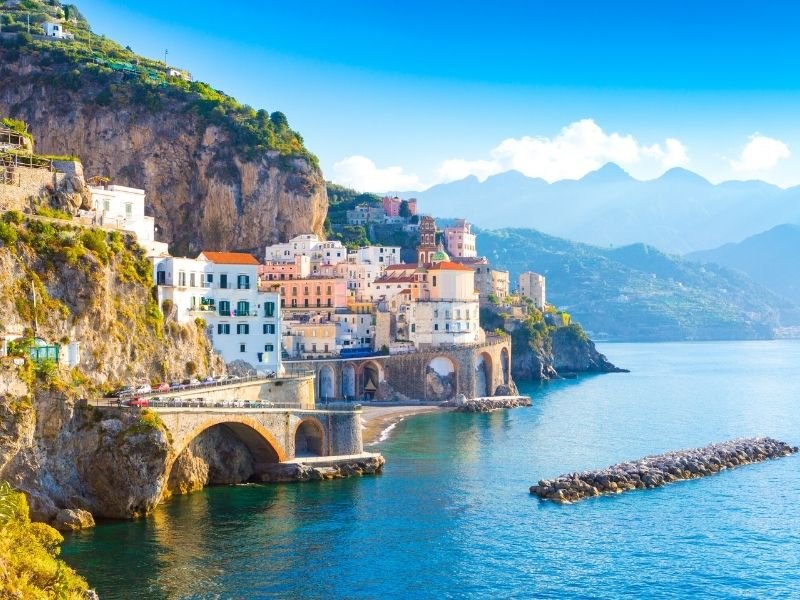 For that reason, I strongly suggest you book an organized tour — this way, you don't have to deal with parking or navigating winding roads and traffic, either.
If you're traveling on a budget and can only take one tour during your trip to Naples, let this one be it.
You will be able to discover all its most remarkable sights, including a visit to the colorful Amalfi Coast towns of Positano, Amalfi, and Ravello. The tour departs from Naples or Sorrento.
The first cliffside village you will explore is Positano, with its unique historic district, gorgeous beaches and pizza restaurants, and stunning sea views.
A second stop in the town of Amalfi will be perfect to admire the impressive Cathedral of Amalfi in the village's main square, an iconic church built in honor of Saint Andrew, mixing Byzantine, Norman, and Moorish architectural traits.
Once you've visited the church, devote some time to check out the artisan's shops and boutiques in town or go for a traditional lunch with sea views.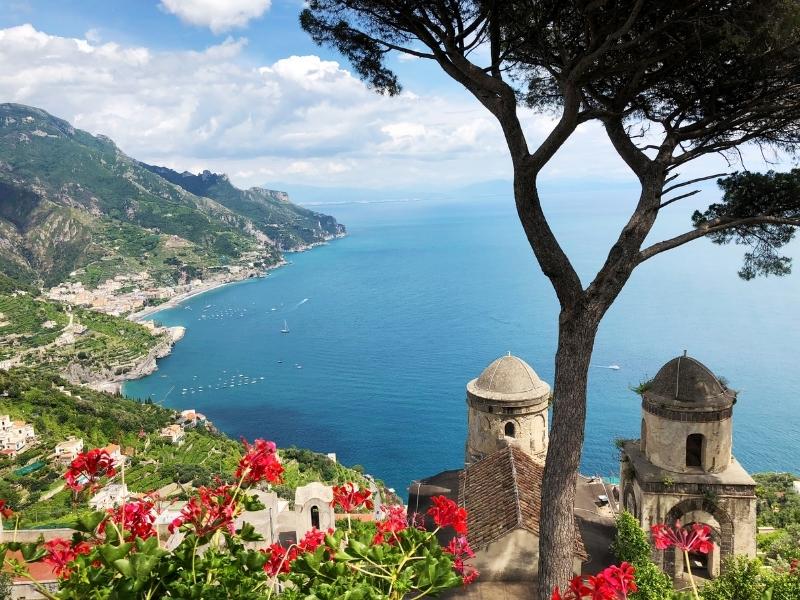 The third place you should visit when exploring the coast of Amalfi is Ravello, with its impressive hilltop villas with well-manicured gardens right on top of the sea, overlooking the Gulf of Salerno.
Known as Italy's City of Music, Ravello is famous for hosting annual music contests and festivals that are very popular among locals.
Book your tour of these three quintessential Amalfi Coast towns here!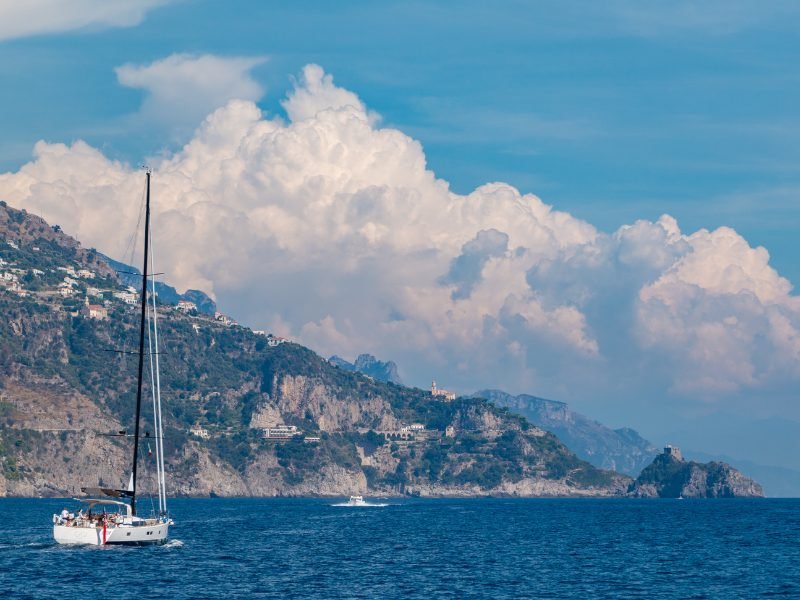 Another option is to experience the Amalfi Coast by sea!
This boat cruise departs from Naples and shows you all the gems of the Sorrento peninsula and Amalfi coastline, including Positano, Amalfi, and the optional addition of Ravello as well.
If you prefer arriving to these gorgeous coastal towns by boat, this is an epic tour for you! However, do bring some seasickness pills if you're prone to motion sickness — this coastline can occasionally experience rough waters!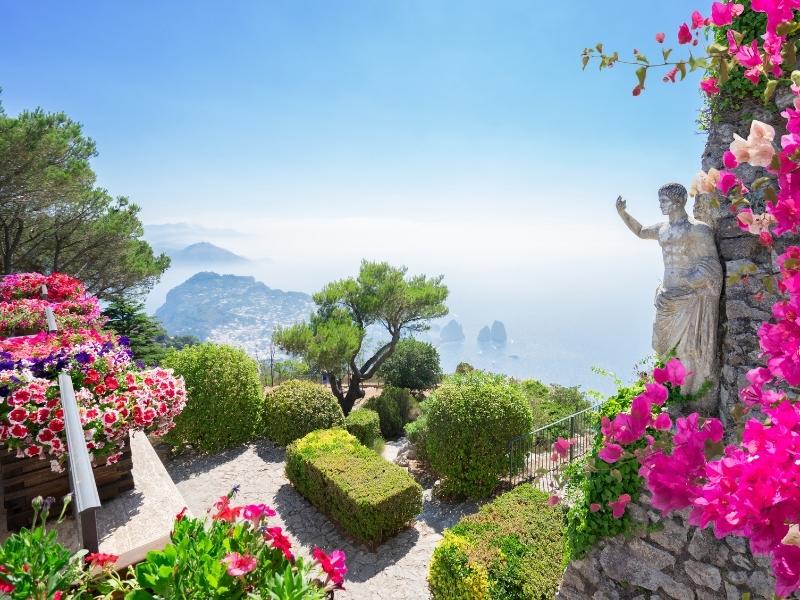 One final option for a day trip is the beautiful island of Capri.
This tour includes transfers between Naples and the ferry terminal, tickets on the hydrofoil between Capri and Naples, a guide, and entrance tickets to the Blue Grotto (Capri's most famous site).
The tour also includes the opportunity to see some of Capri's other famous sights, such as the Piazzetta and the Gardens of Augustus on a guided walking tour.
Where to Stay in Naples: Best Areas and Hotels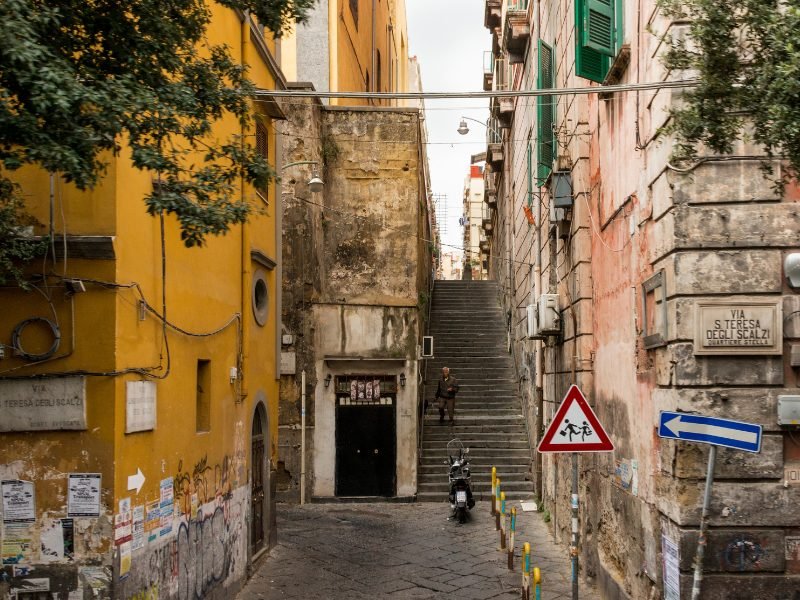 There are several neighborhoods that you can pick for your stay depending on your budget and also taking into account how you're planning to move around.
You can stay virtually anywhere if you're planning to rent a car to visit the coast.
However, it's important to keep in mind that traffic tends to be chaotic in the city center, and finding a place to park is no easy task.
It may be best to skip renting a car until you plan to head to Pompeii and the Amalfi Coast.
And even then, it may be better to do a day trips — there are easy guided day trips to Pompeii (including a licensed archaeological guide) and day trips to key Amalfi Coast towns, by boat and by bus!
Historic Center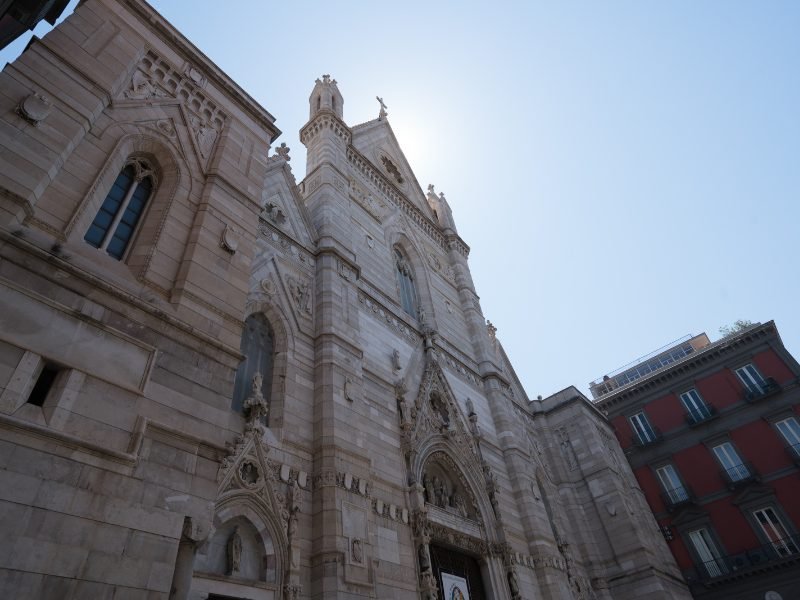 Staying in the historic city center is perfect to explore the main landmarks of Naples on foot!
Just a few steps and you will reach the Duomo of Naples, but also the historic Piazza del Plebiscito Square, Umberto I Gallery, the Saint Gaudioso Catacombs, and some of the best pizzerias in town, because Naples is, above all, the place where Margherita pizza was born!
Besides, if you pick accommodation in Naples' historic center, you will be also close to several metro stations in order to reach more distant areas, the beach, and other nearby attractions.
For instance, Decumani Hotel de Charme is a mid-range hotel, comfy and affordable, just meters from the Santa Chiara Church.
The place is in a convenient area of the historic center and it features elegant rooms with private balconies, some of them with seating areas, and bathrooms with a spa bath.
Check rates, availability, and guest reviews at Decumani Hotel de Charme here!
Lungomare Caracciolo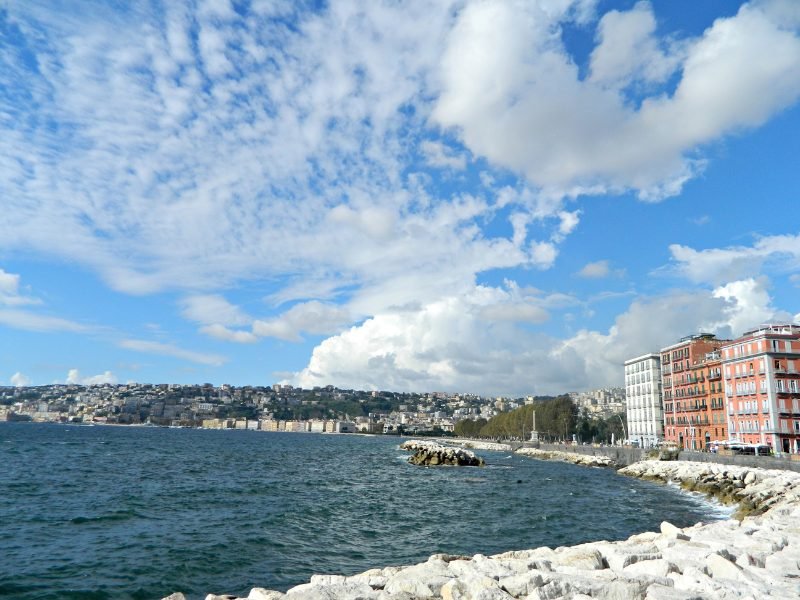 Another great area for a stay in Naples is the Lungomare area, which literally translates as "along the sea"!
Naples' seafront offers incredible views that extend all the way to the impressive Mount Vesuvius.
In the area, you will find easy access to the coast and the beach, as well as pedestrian roads and plenty of shops.
In this area, rental homes abound. An apartment such as Vacanzella is ideal for a group of friends or a couple.
The apartment is also close to important landmarks, including Galleria Borbonica, Piazza Plebiscito, and the popular road Via Chiaia.
Check rates, availability, and reviews at Vacanzella apartment here!
Vomero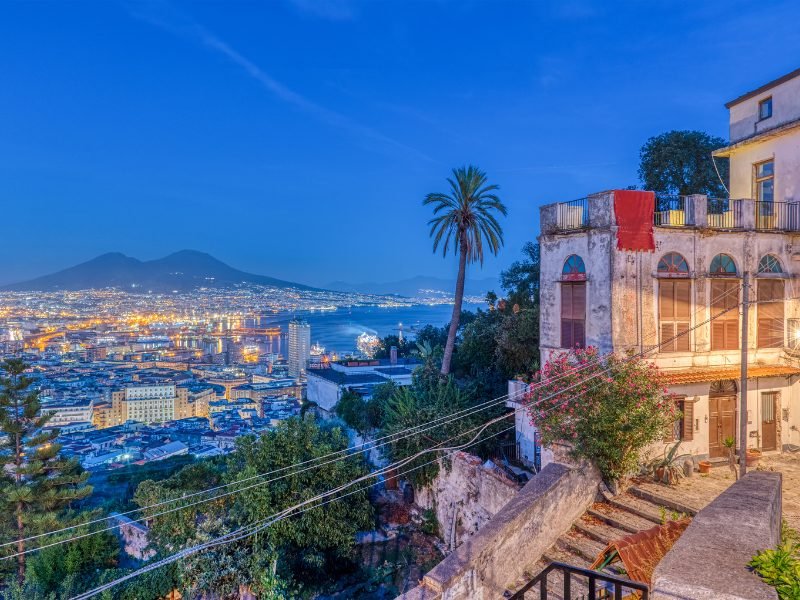 This is another good area in Naples to book your stay. This nostalgic, bohemian corner of Naples stands atop a small hill, offering stunning views of the city and the sea.
The place is also well connected to the historic district by public transport, and there are many small restaurants, bars, and traditional trattorias, usually open until late at night.
If you like the idea of staying in Vomero, check out Le Petit Palais, a gorgeous guest house located close to the popular Via Chiaia Street not far from the magnificent San Carlo Theater.
This quaint bed and breakfast offers affordable accommodation in a convenient area around the tranquil quarter of Vomero.
Check rates, availability, and reviews at Le Petit Palais here!
How to Pack for Naples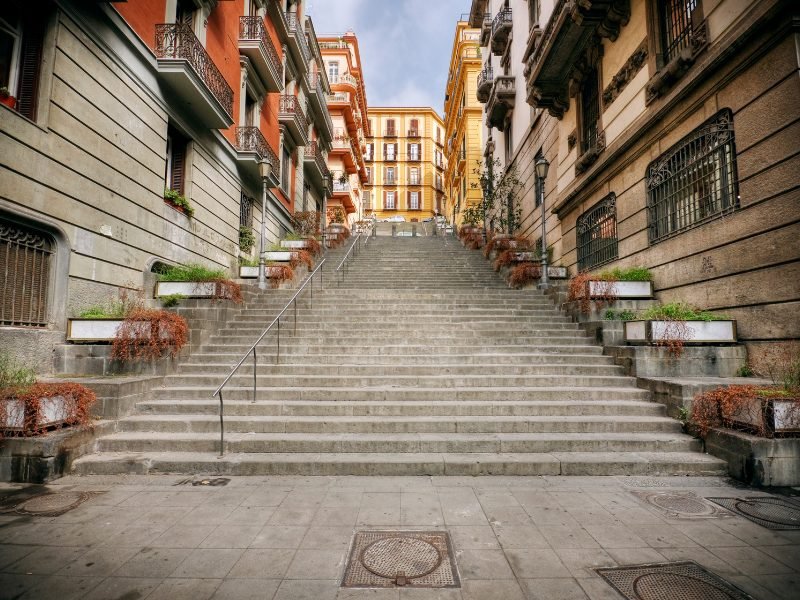 Comfortable Shoes: When checking out Naples, you will be spending most of your time walking around the alleys of the city. As a result, you'll want good walking shoes or trekking sandals are ideal to move around for long hours in total comfort. I wear and love Birkenstocks for warm weather and Adidas Cloadfoam sneakers for cooler weather.
Clothing: You'll want to adjust based on the weather. Comfortable linen-blend pants or light midi or maxi sun dresses are perfect for summer and spring.
Meanwhile, a comfortable pair of dark wash jeans and boots like these waterproof Blundstone ankle boots will make a great winter outfit for Naples.
Sunscreen and Sunhat: Especially if traveling in summer, be sure to pack sunscreen and a sunhat! I like Supergoop sunscreen for my face and neck and then a cheaper sunscreen for any exposed parts of my body.
I try to go for mineral-based sunscreens as they're better for you and the environment. And of course, don't forget a floppy, packable sunhat like this one!
Sunglasses: Either your favorite style from home or prescription, you'll want shades to fit in with the cool Italian style and to keep your eyes protected from the sunny days!
Anti-theft backpack or crossbody bag: While Naples is safe, there is a relatively high risk of pickpocketing in all major Italian cities.
I counter this by using anti-theft bags that make me a less appealing target to pickpockets, who are typically looking for the most unaware and easy targets.
My PacSafe CitySafe has been with me to 30+ countries and I love how safe I feel walking around the city with it on my back.
The interlocking zippers (which then thread through another clasp) and slash-proof construction means I barely have to think about it while I walk around the city. Plus, it's just cute!
They also make a CitySafe Anti-Theft Crossbody bag, but I don't think it's quite as cute — plus, one-shoulder bags tend to make me feel lopsided and uneven at the end of the day. However, if that's what you like, go for it!
Both options also allow for more freedom of movement when exploring the archaeological site of Pompeii, Mt. Vesuvius, and also when jumping on the train or bus to move around!
Protect your travel investment!

Travel insurance coverage helps you recoup your losses in case of emergency, accident, illness, or theft.

I rely on SafetyWing for coverage when it comes to trip interruptions and cancellations as well as accidents and medical emergencies.

It offers great rates starting around $12/week with clear, easy-to-read coverage.
Gabi Ancarola is a full-time travel blogger, tour guide, and freelance writer currently living in Crete, Greece. She spent decade of her life living and traveling Italy, and she shares her knowledge of Italy in her writings as an Italy expert on Eternal Arrival. She also shares her knowledge of Crete and Greece on her blog, TheTinyBook.com, where she has also published several digital travel guides.