If you'll be visiting Portugal with a car and you plan on driving from Lisbon to Porto, you might as well make it a fun road trip and have a few stops along the way.
Portugal's two biggest cities are just over three hours apart, but there's a lot to be discovered between them.
During the two years and change I spent living in Portugal, I explored most of the Central Portugal region and discovered gorgeous cities, coastal towns, and impressive landmarks, all worth exploring on a road trip from Lisbon to Porto.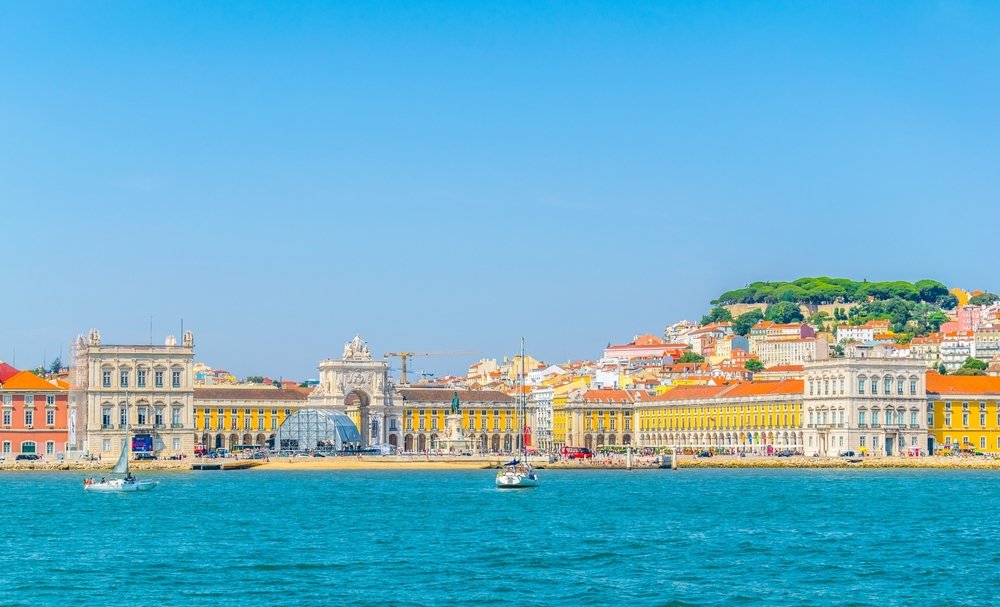 You could easily spend four or five days visiting Central Portugal, but you can also have a couple of overnight stops and see the main sights if you're a little short on time.
This Lisbon to Porto itinerary is for a three day trip, and it covers the most important cities on the drive between Lisbon and Porto.
You can follow it step by step to take in all the beauty Portugal has to offer, or skip some stops and shorten the itinerary to only two days.
However, if you've got the time, all the places included in this guide are absolutely worth visiting.
Of course, you can also do this itinerary in reverse, a Porto to Lisbon road trip, just by following the itinerary backwards.
Things to Know Before Doing a Road Trip from Lisbon to Porto
Before diving into this road trip itinerary from Lisbon to Porto, let me tell you a few things that will help you have a great experience.
Driving from Lisbon to Porto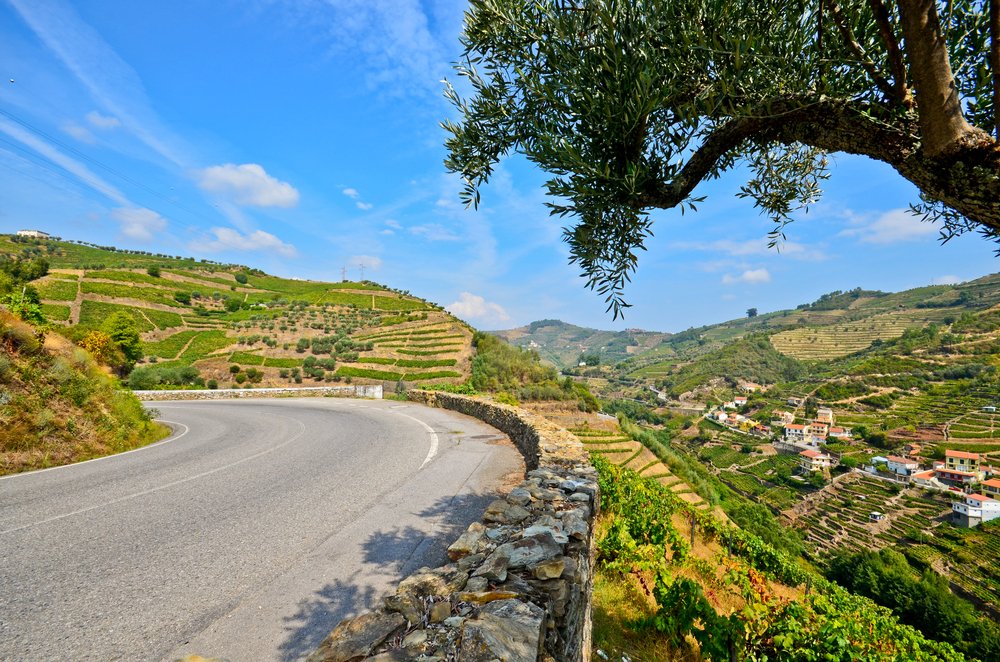 Note: This post contains affiliate links, which means I may receive a small commission if you purchase something through one of these links. Thank you for supporting the free content on this site! For more information on affiliate links and cookies, see my disclosure page for more details.
Driving in Portugal is pretty easy, especially if you stick to the main roads, so lucky for you, this Lisbon to Porto drive itinerary does exactly that. Some small towns may have narrow streets, but you'll mostly avoid those!
Unlike in other European countries, if you're a US citizen with a license, you don't need an international driving permit for Portugal.
However, if you also plan to drive in other European countries, like Spain, you may need one, so check in advance. European travelers can drive freely in Portugal with their license.
One thing to be aware of is that you may need to pay some tolls.
If you rent a car in Portugal, you usually have the option of including a Via Verde transponder in your car, which allows you to pass through dedicated toll gates while paying automatically by a linked credit or debit card.
Alternatively, you can pay the toll at the toll gates.
Most of them have the option to pay by card, but bring some change just in case, as some international cards may not work.
Best Time for a Road Trip Between Lisbon and Porto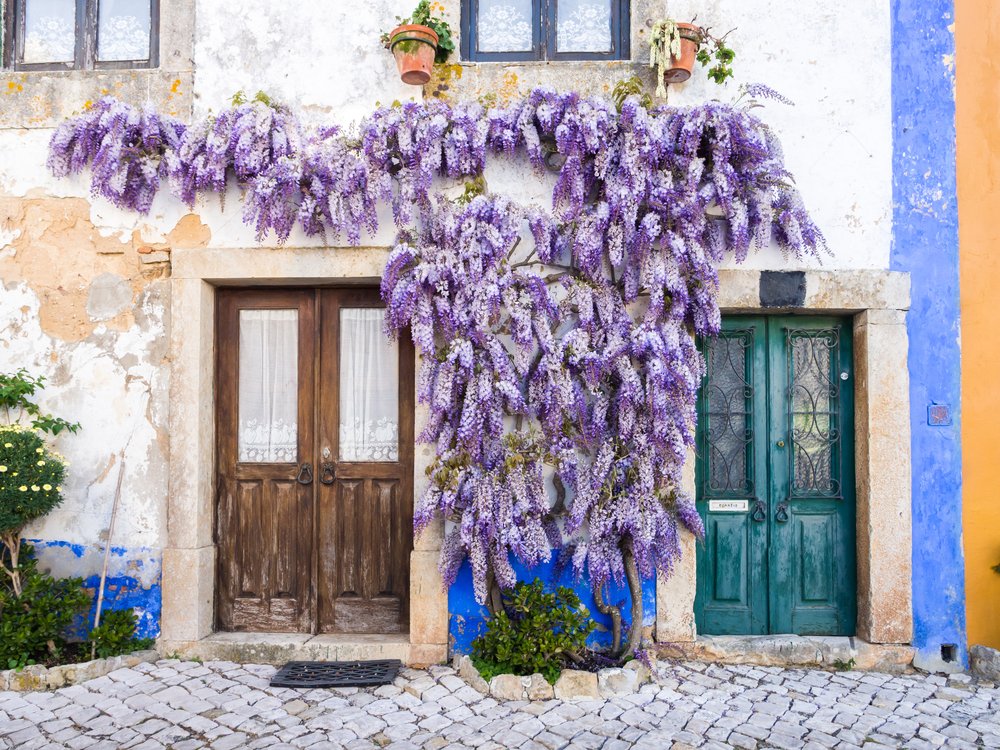 Honestly, any time of the year is great to visit Portugal.
Even during the winter months, the temperatures are mild and pleasant. The only downside is, it can get a bit rainy, especially in the north of Portugal.
If you're looking to avoid crowds, beware!
Summers can get pretty busy, as this is when most Europeans travel to Portugal.
Although Central Portugal is usually less crowded than the south, you'll still find huge crowds in Lisbon and Porto.
To avoid these crowds (and higher prices, and higher temperatures!), try to visit in spring or fall, when Portugal is at its dreamiest.
April to early May (excluding the Easter period) and late September to October are generally good months for a road trip between Lisbon and Porto.
Renting a Car in Portugal
Tip: I have a full guide to renting a car in Portugal here — but here's the the quick tips
When looking for a rental car, I always use Discover Cars to search for the best deal for multiple reasons.
I also always search from the airport as my pick-up destination, because the prices are usually the best here… inside the city center, it can be a lot pricier.
It's also best to plan to return to your original pick-up point via car to avoid hefty one-way fees!
Tip: Make sure you book your car rental with full coverage insurance for peace of mind — it starts at only $7 per day, cheaper than you'd get at a rental agency!
🚗 Best Portugal Rental Car Prices: Discover Cars

This search engine not only looks at the typical rental car agencies (which can be $$$), it also looks at local, small Portuguese rental agencies that may offer better deals. Their pricing is straightforward (no bait-and-switches) and they offer free cancellation if you need it.

➜ Check rental prices in Lisbon with Discover Cars here!
How Long Does it Take to Drive from Lisbon to Porto?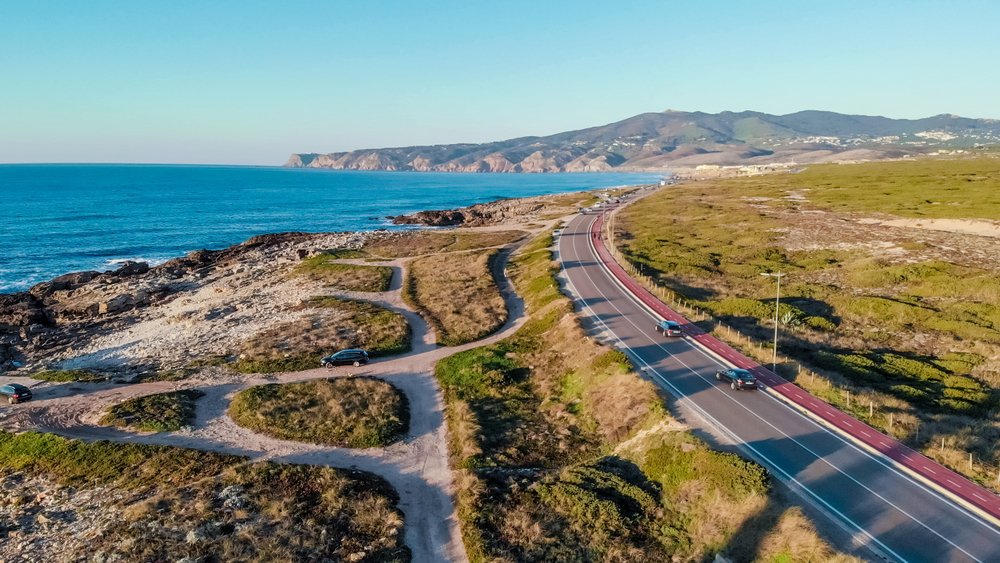 If you were to drive straight from Lisbon to Porto, it would only take a little over three hours, but you'd miss so much!
While the actual Lisbon – Porto driving time is short, you really ought to stretch it out and enjoy the Central Portugal region as much as you can.
The drive between Lisbon and Coimbra is particularly stunning!
Central Portugal is so rich in natural landscapes, beautiful cities, and lovely coastal towns and small Portuguese villages.
You could even spend one week on the road getting from Lisbon to Porto and barely scratch the surface of this incredible region.
Three days is the perfect amount of time to stop by the most important cities and check out historical landmarks if you stretch out the Lisbon to Porto drive into an actual vacation, not just a transit!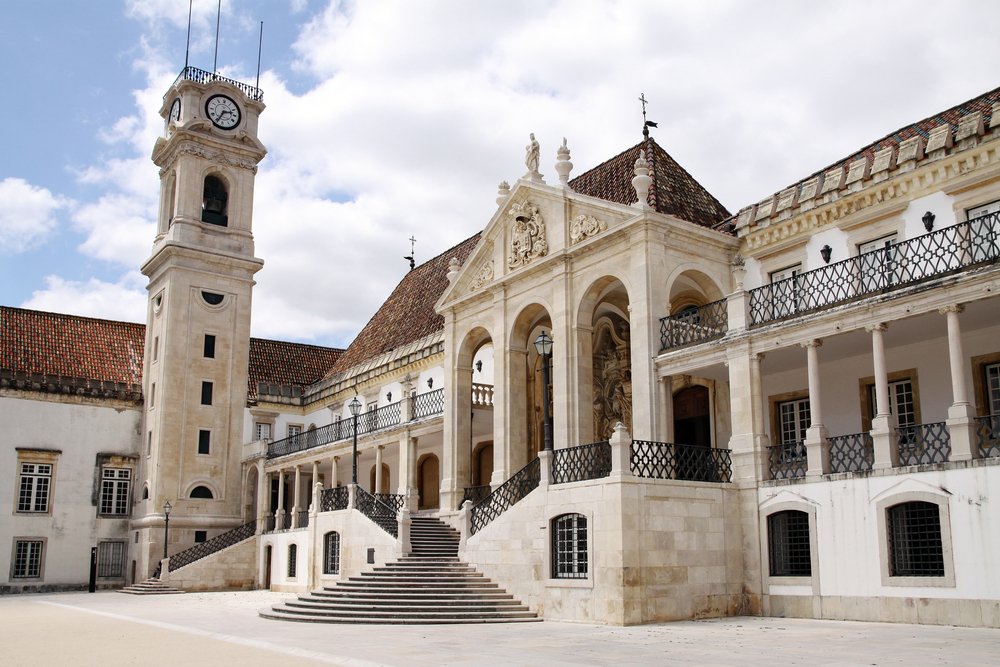 Along the way, you'll see UNESCO World Heritage Sites, spectacular coastal towns, and gorgeous cities such as Coimbra, Tomar, and Aveiro.
If you can, I really recommend taking your time and including all the stops mentioned in this Lisbon to Porto itinerary. You're on vacation, after all!
However, if you are short on time, you can skip some stops and only spend the night in Coimbra.
Even a two-day road trip Lisbon to Porto itinerary can still allow you to discover spectacular places.
If you absolutely have to shorten your trip, I recommend shortening this list of places to visit between Lisbon and Porto.
Prioritize Ericeira, Nazaré, Batalha, Tomar, Coimbra, and Aveiro, and skipping the rest.
Day 1: Lisbon to Nazaré
Drive from Lisbon to Ericeira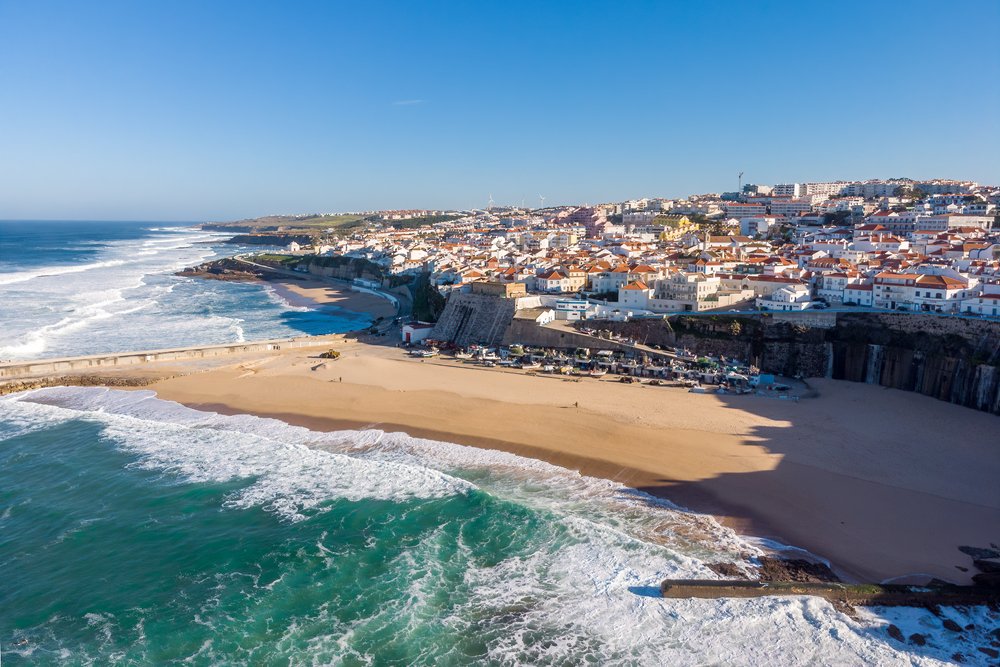 After you've spent a day or two in Lisbon, it's time to head out. Ready to hit the road?
Start this Lisbon to Porto road trip by driving north from Lisbon toward the coast to reach your first stop for the day, the beautiful seaside town of Ericeira.
On your way to Ericeira, you can also stretch your legs with a short stopover in Mafra to visit Mafra National Palace.
The Palace-Convent of Mafra and the Royal Building of Mafra, simply known as the Palace of Mafra, is an impressive palace and monastery combining Baroque and Neoclassical styles.
The landmark became a UNESCO World Heritage Site in 2019, and is considered Portugal's most important monument of Baroque architecture.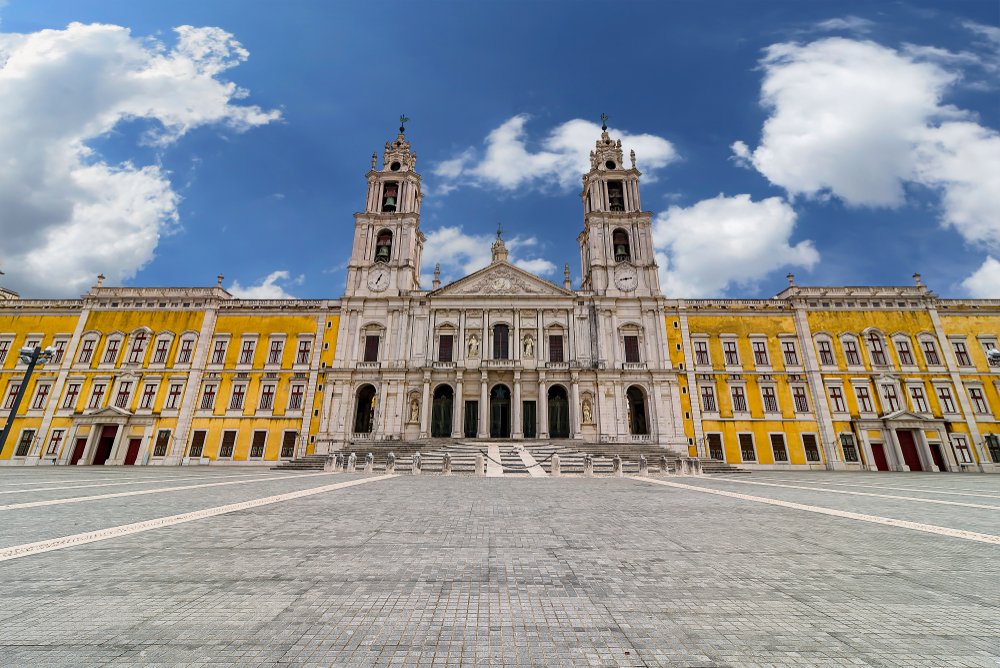 While you're there, admire the magnificent façade before exploring the palace interior to discover its lush royal apartments, beautiful basilica, a convent with its lovely cloisters, and the wonderful library.
From Mafra, you only need to drive around 15 minutes to Ericeira.
The lovely town is a popular surfing spot and, since 2011, Europe's only World Surfing Reserve!
Every year, a round of the ASP World Tour Surf Championship takes place on Ribeira d'Ilhas beach.
Wander around the charming center of Ericeira, grab a coffee, and stroll on the wonderful Praia dos Pescadores, or even just admire it from above.
Even if you're there in winter and it's too cold to enjoy the water (well, it's Portugal where the beaches are freezing year-round, so that's no great loss), you'll enjoy gorgeous sea views.
Stop for lunch in Peniche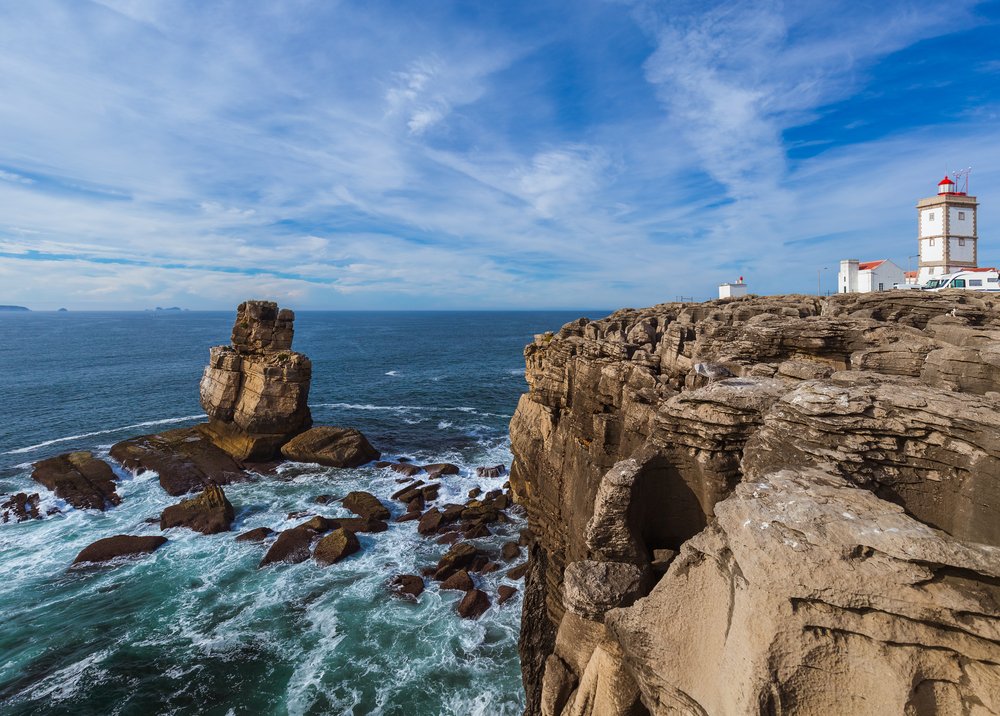 From Ericeira, hop back in your car and keep driving north along the coast until you reach Peniche, another charming seaside town.
Peniche is better known for the small archipelago just off its shore, the Berlengas, home to the Berlengas Nature Reserve.
Between May and October, you can find regular boat service from Peniche to the Berlengas.
In the off season, you may still find small boats offering to take you there, but they won't be quite as cheap.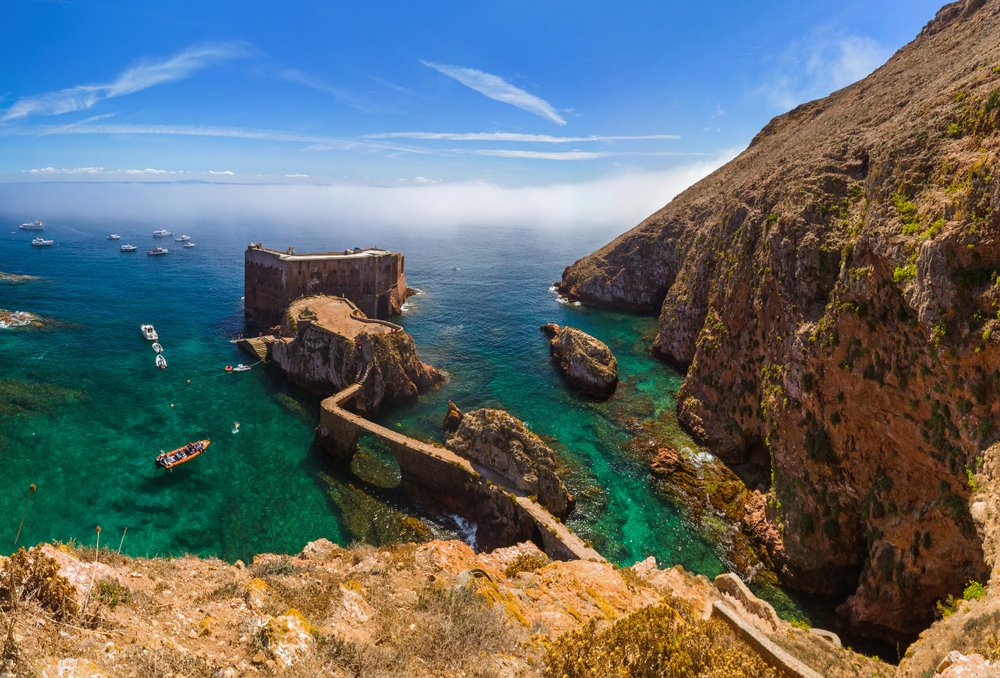 Of course, even without a trip to the unspoiled nature reserve on the Berlengas, Peniche is still worth exploring.
You should get to Peniche in plenty of time for lunch, so you can enjoy a traditional Portuguese meal at a charming restaurant like St. Pedro Peniche or Entre Amigos.
A must-try when in Portugal, especially in a seaside location, is bacalhau (codfish).
The recipes are countless, so it's hard to go wrong with any dish that features this local delicacy!
After lunch, take a walk along the paths around Ilhéu da Papôa to enjoy spectacular sea views and visit the Church of São Pedro.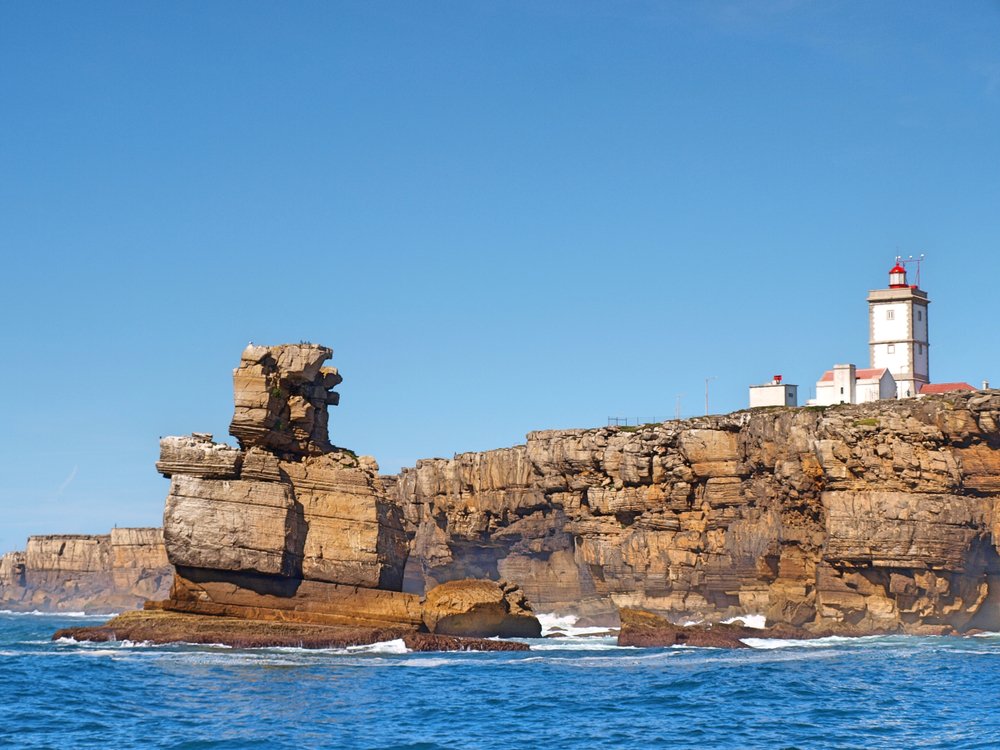 Then, walk to the Miradouro da Cruz dos Remédios to enjoy the view, admire the beautiful azulejos in the nearby Santuário de Nossa Senhora dos Remédios, and check out Cabo Carvoeiro Lighthouse.
All around Peniche, which covers a small rocky peninsula, you can find many more beautiful views, so be sure to bring a camera.
If you visit in summer, you can stretch out and soak up some sun on the wide beach Praia do Molhe Leste, or watch the surfers do their thing on Praia dos Supertubos.
Stop by Óbidos
Before driving to Nazaré, the last destination for the day, stop by the medieval walled town of Óbidos, just half an hour from Peniche.
Though small, the town hosts many events throughout the year, from the Medieval Market in July to the Christmas Village in December and the literary festival Fòlio in October.
As though a literary festival wasn't enough, the bookish town of Óbidos features several charming bookstores, earning the town the UNESCO recognition of the City of Literature in 2015.
For my two cents, the best thing to do in Óbidos is to simply wander around the narrow streets and walk along the city walls to take in the lovely views.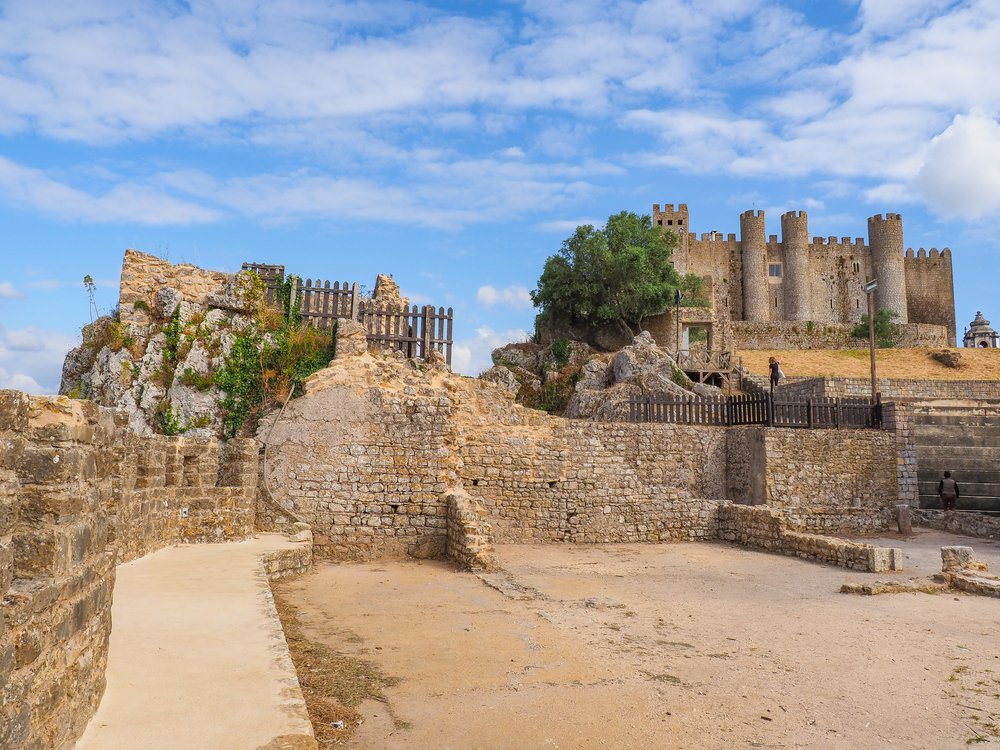 Afterwards, you can check out the medieval Castle of Óbidos, which is now home to an exclusive luxury historical hotel or pousada, and visit the tiny Church of Saint Mary.
For a delightful local treat to finish up your visit, you can't leave without trying a sample of the local sour cherry liquor, Ginja de Óbidos, also known as Ginjinha.
The best way to try it is in a tiny chocolate cup that you can then eat. But remember, it packs a bit of a punch, so stick to the one sample if you're planning to keep driving on after this stop!
Have dinner and spend the night in Nazaré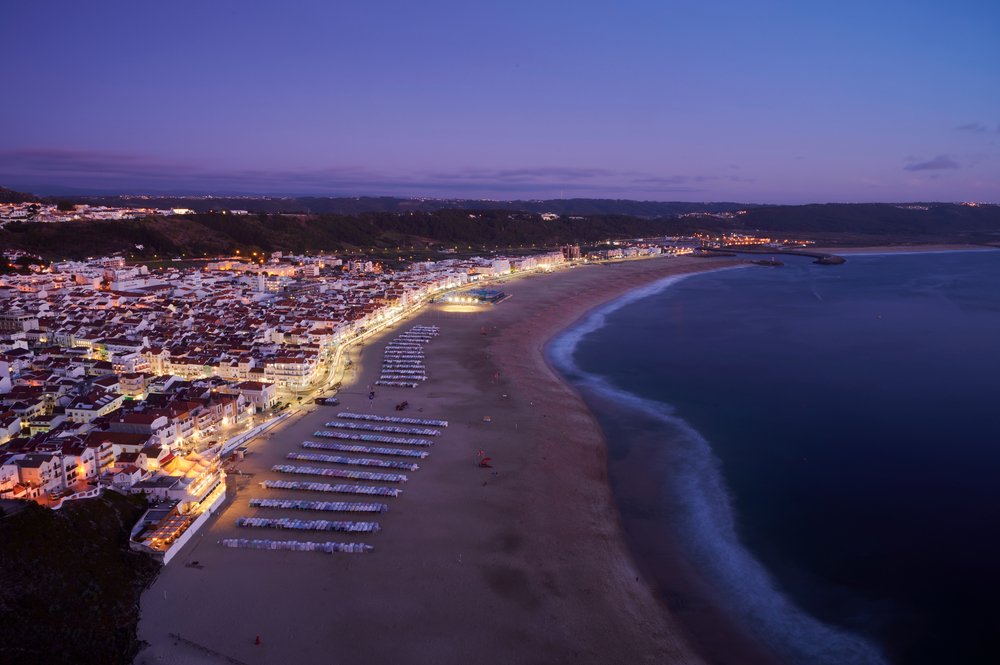 You will likely get to Nazaré by the late afternoon or evening, so you won't have much time to explore the town.
Spend the rest of your day strolling around town before heading out to enjoy a delicious dinner.
You can save the gorgeous beaches and scenic views for the morning after you've had a good night's rest!
You'll be spoiled for choices here, especially if you're looking for a traditional Portuguese dinner in Nazaré.
Some of my favorites are Tabernassa, specializing in meat but also serving fish and some vegetarian meals too, Maria do Mar for traditional fish and seafood dishes, and A Tasquinha, an unassuming small tasca (Portuguese restaurant) with outsized local charm.
Day 2: Nazaré to Coimbra
Explore Nazaré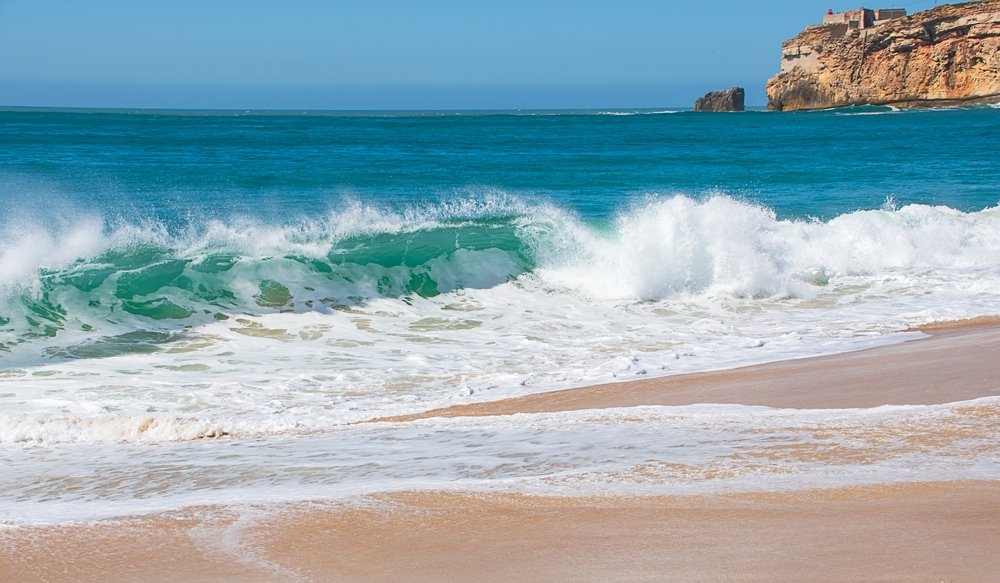 Ready for another exciting day on the road, taking the scenic route from Lisbon to Porto?
You can spend some more time in Nazaré in the morning before continuing to drive north toward Porto.
This small seaside town is known for the giant waves that attract many big-wave surfers!
Nazaré's waves are some of the largest in the world!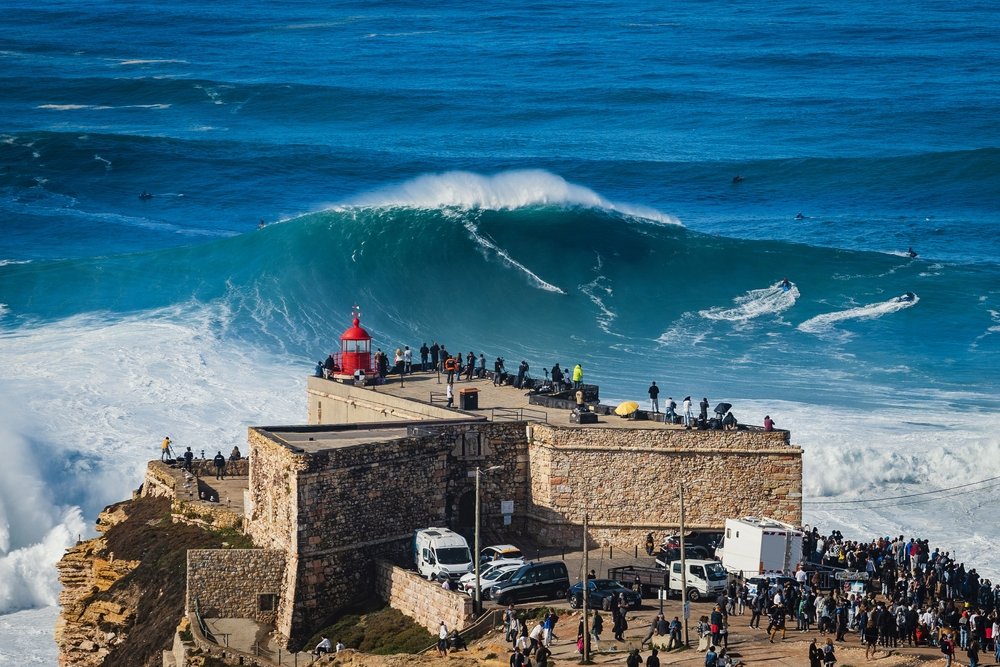 While you may not always get to see the giant waves that Nazaré is famed for, you absolutely have to check out the view from Forte de São Miguel Arcanjo, the best spot to watch the waves.
The fort, and most other landmarks in Nazaré, are located in the upper town, which you can easily reach via the mountain cable car.
Another great spot to check out is Miradouro do Suberco, with stunning views overlooking the huge Nazaré Beach.
Nearby, visit the Santuário de Nossa Senhora da Nazaré, a lovely church in the heart of town.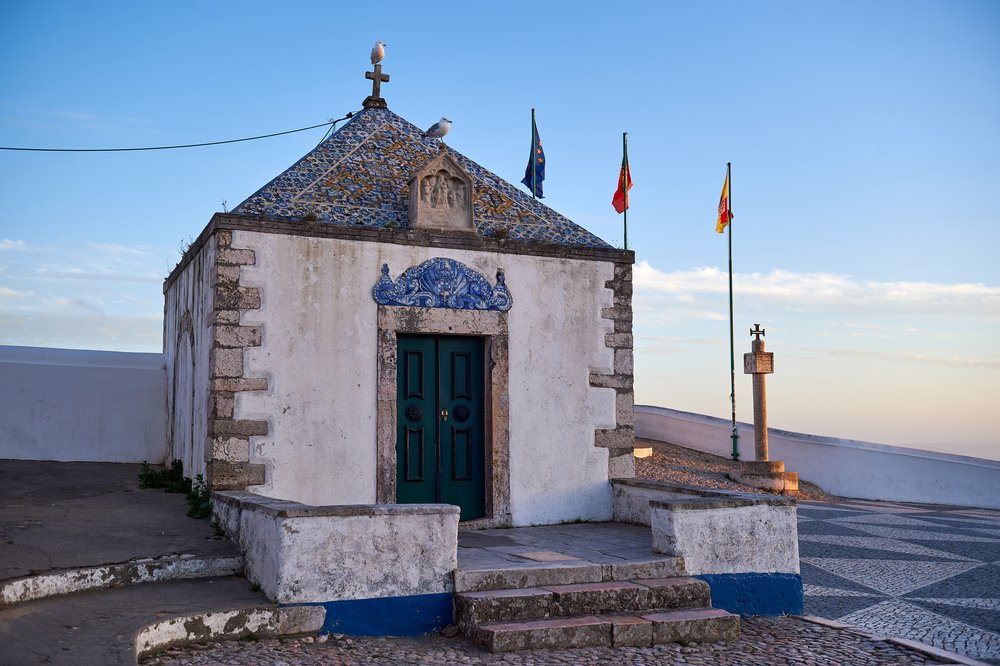 The beautiful interior is decorated with the typical Portuguese azulejos (painted ceramic tiles), paintings, and sculptures.
Closer to the sanctuary, check out Baloiço da Ladeira, a cute swing overlooking the town and the sea from Miradouro da Nazaré.
Once you get back to the lower part of the town, stroll along the beach and enjoy a coffee, or indulge in delicious ice cream at Gelatomania before getting back on the road.
Drive from Nazaré to Batalha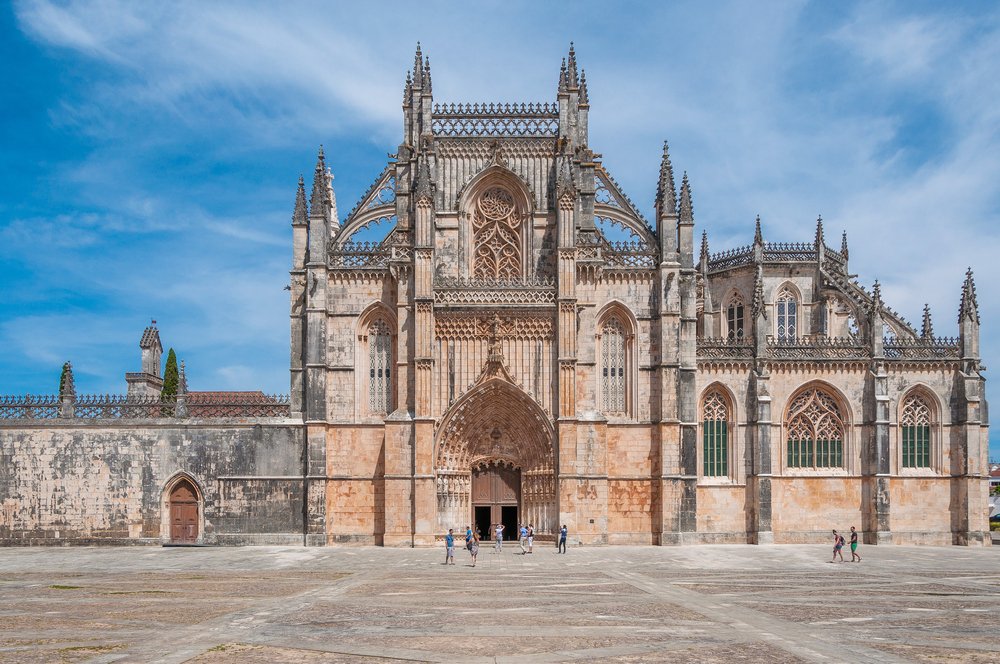 From Nazaré, you only need to drive for around half an hour to reach Batalha.
This small town is famous for the grandiose Monastery of Saint Mary of the Victory, also known as the Monastery of Batalha.
This spectacular monastery is among Portugal's most important Gothic landmarks and became a UNESCO World Heritage Site in 1983.
The historic monastery was built following the historical Battle of Aljubarrota, in which the Portuguese won against the Crown of Castille, preserving Portugal's independence.
The town of Batalha was founded along with the monastery by King João I of Portugal, who led the Portuguese army to victory in the battle nearby.
The monastery was dedicated to the Virgin Mary to thank her for the victory against the Castilians.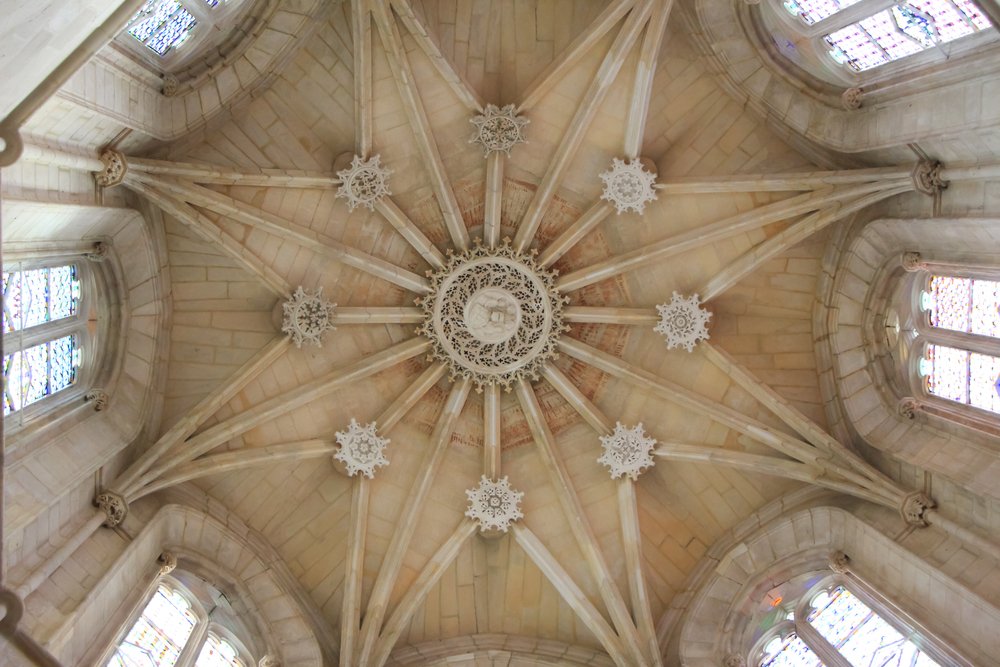 This monastery is truly massive, so plan to spend between one and two hours visiting.
While you're there, be sure to admire the interior of the beautiful church with its vast nave and stained-glass windows and check out the tombs of Portuguese royal members in the Founder's Chapel.
You should also leave some time to wonder at the marvelous Unfinished Chapels (Capela Imperfeitas – literally, 'imperfect chapels'), and stroll around the gorgeous Royal Cloister.
Stop by Fátima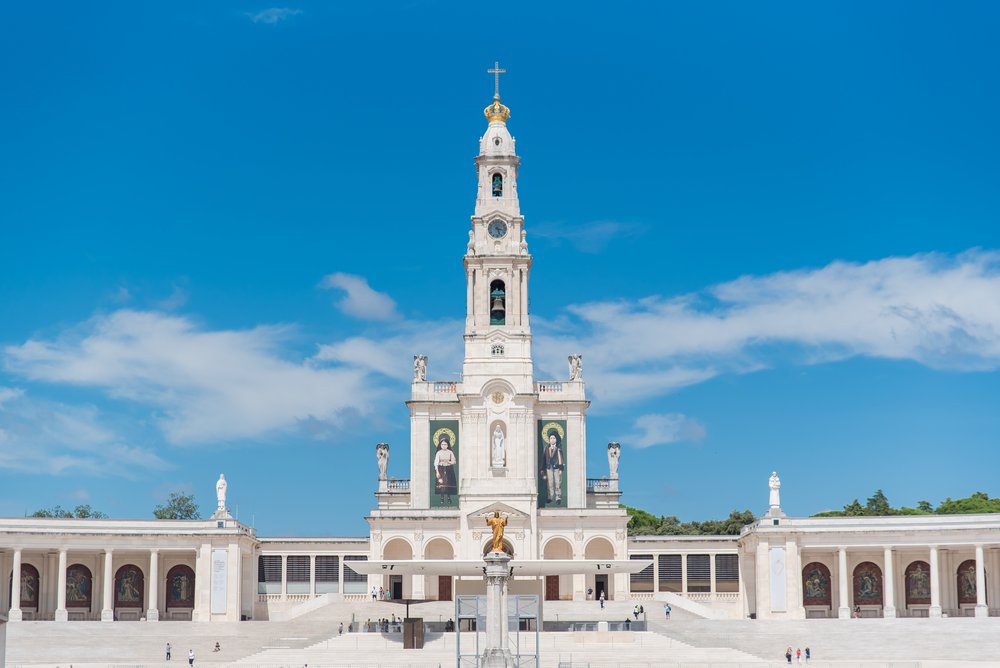 Less than half an hour from Batalha, the town of Fátima is a renowned pilgrimage site drawing thousands of visitors every year to see the Sanctuary of Our Lady of Fátima.
The town is famous for the Marian apparitions of 1917 when three children witnessed the appearance of the Virgin Mary.
Following the apparitions, a small chapel was built on the site in 1919.
The town quickly became a famous pilgrimage site, and the shrine you can see today was built to enclose the chapel along with two minor basilicas.
The Sanctuary of Our Lady of Fátima is pretty much the only reason to visit Fátima, so you can skip this stop if you're not interested or just want to save a bit of time.
However, the sanctuary is quite impressive, and it's only a short detour on the way to the next destination, Tomar.
Have lunch in Tomar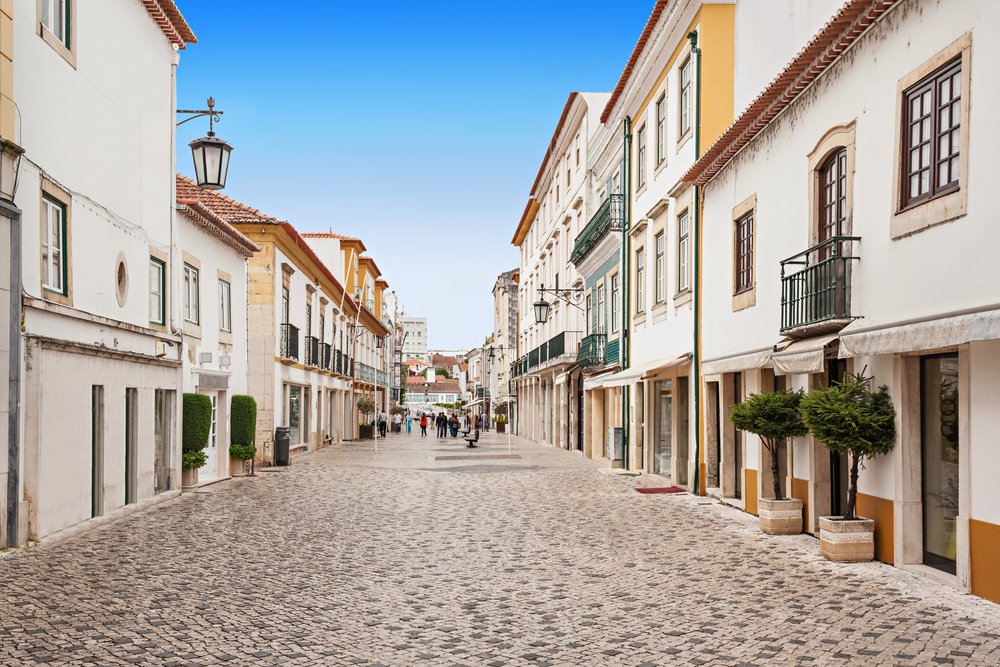 Tomar is an absolutely cannot miss a stop on your way from Lisbon to Porto!
The medieval town was the last Templar town built in Portugal in the 12th century.
The Grand Master of the Knights Templars at the time, Gualdim de Pais, ordered the town's construction within the walls of the Convent of Christ, a former Templar stronghold.
Before exploring Tomar and visiting its landmarks, stop in town for lunch in a real-life medieval restaurant.
Taverna Antiqua takes the medieval theme to a whole new level with an unmatched eye for detail.
The tables are made of raw wood, the plates and cups are all traditional pottery, and the whole place is candle-lit.
Needless to say, the food is delicious and heartwarming.
After an unforgettable medieval meal, it's time to explore the charming Tomar.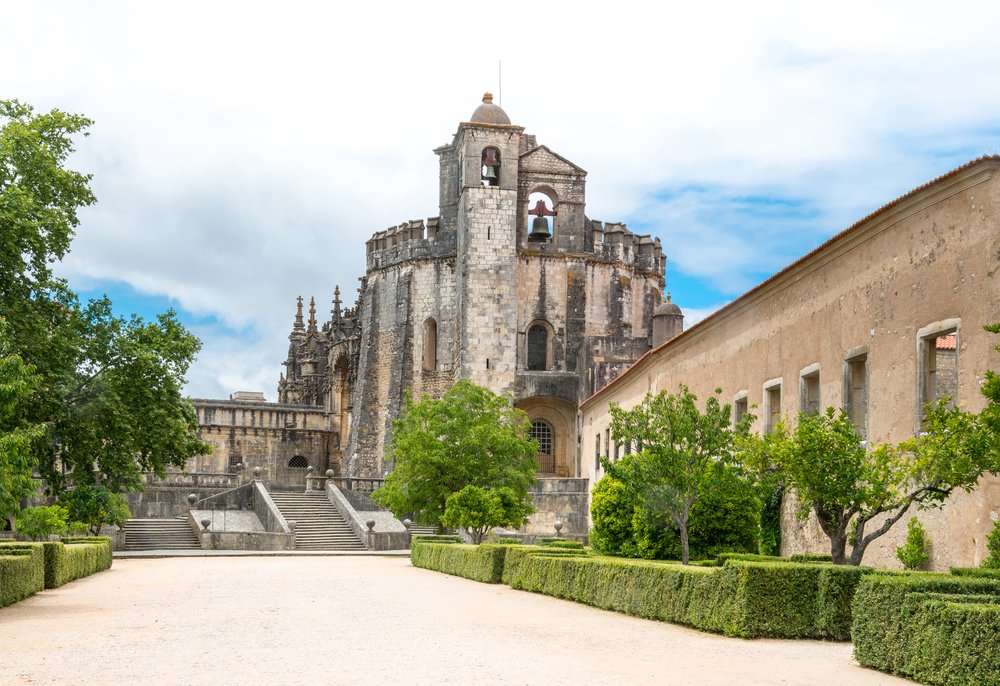 The Convent of Christ and the nearby Castle of Tomar are the two must-see places in Tomar, together comprising a UNESCO World Heritage Site.
The convent features beautiful medieval cloisters and Manueline architecture elements, and the castle boasts stunning views of the convent and the town of Tomar.
Other places worth your time are Praça da República and Igreja de São João Baptista, right by Taverna Antiqua, and Church Santa Maria do Olival on the opposite riverbank.
If you're looking for some time outdoors, you can also spend some time strolling along the river and through the lovely Park Mouchão.
Stop by Leiria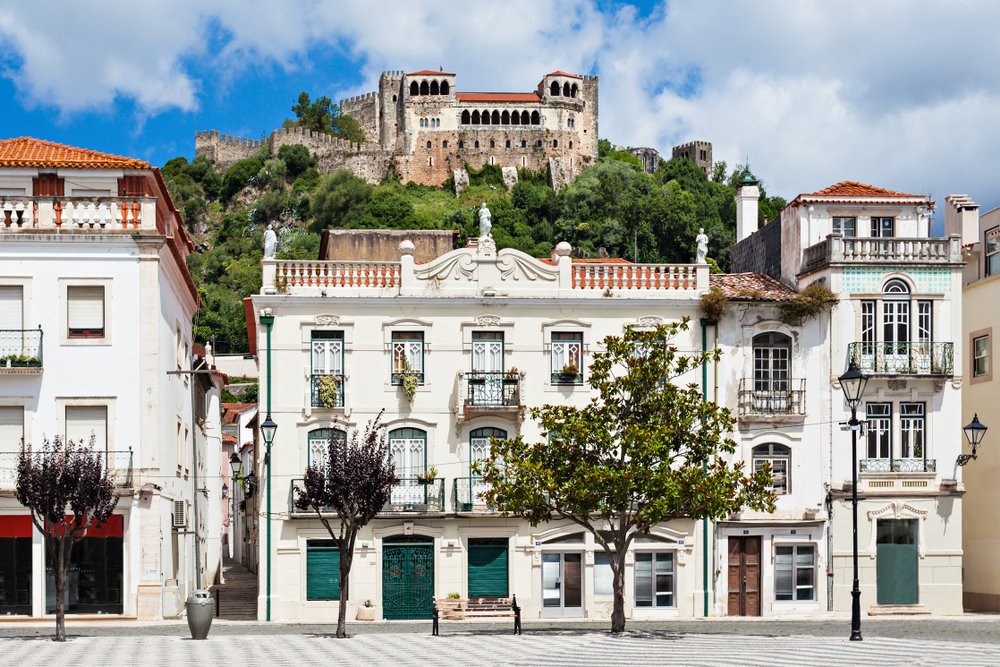 From Tomar, you'll need to drive back toward Batalha and slightly north to Leiria for one last stop before heading to your final destination for the day.
Leiria is the second largest city in the Central Region of Portugal after Coimbra.
The most important landmark in Leiria is the medieval hilltop castle, which is connected to the lower city by a free lift.
The castle combines Romanesque and Gothic elements, with distinctive Gothic arcades overlooking the city.
The visit also includes access to the beautiful gardens and the impressive halls and rooms.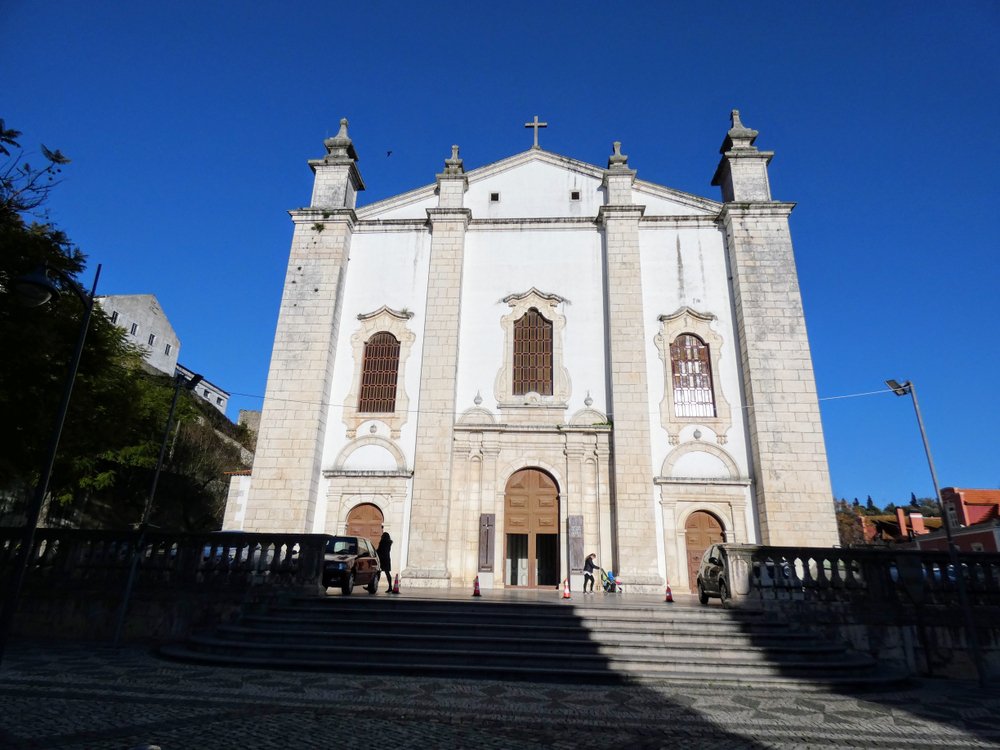 Other places you can visit in Leiria are Our Lady of the Immaculate Conception Cathedral, a small but beautiful church.
Other nice places in Leiria include the Luís de Camões Garden, and Mercado de Sant'Ana.
For film fanatics, a trip to the Museu da Imagem em Movimento is the perfect way to round out your time in Leiria.
Drive to Coimbra for the night
You'll likely get to Coimbra in the evening, just in time for a short walk around the historical center before you head out for dinner.
There is plenty to see in Coimbra, but you can thoroughly explore the historical center and the key landmarks in the morning.
For dinner, you can choose between several options. Zé Manel dos Ossosi is a quiet, unassuming little spot, but it's a traditional Portuguese tasca serving heartwarming traditional food, so it's worth a try.
Other great options are Solar do Bacalhau and A Cozinha da Maria.
Day 3: Coimbra to Porto
Visit Coimbra and its famous university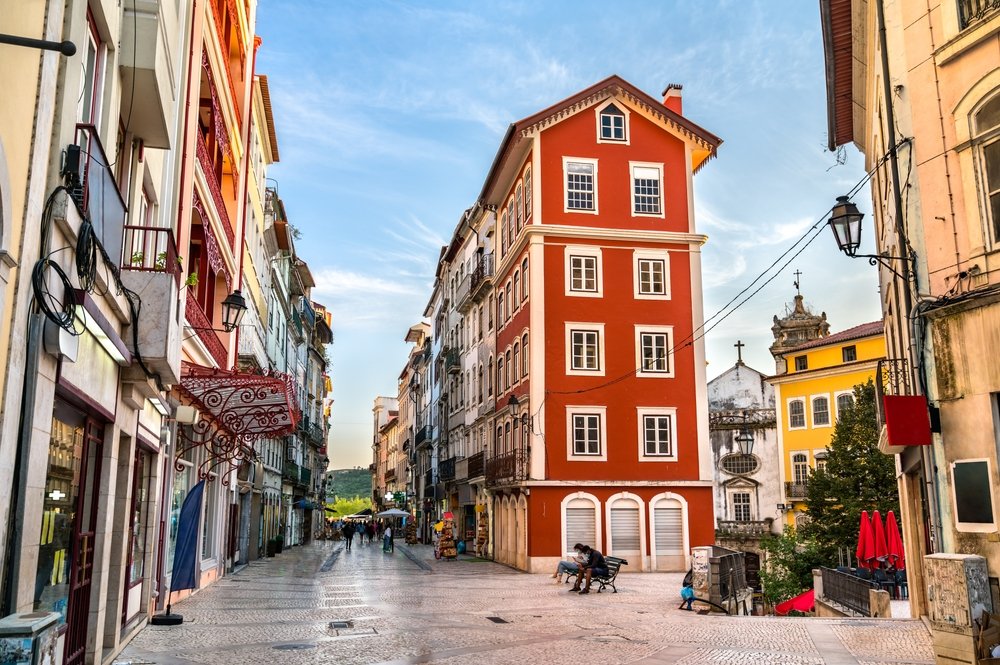 Spend the morning exploring Coimbra and visiting some of its impressive landmarks.
A must-see in Coimbra is, of course, the university!
Coimbra is Portugal's university city, home to one of the oldest universities in the world.
The university was founded all the way back in 1290 in Lisbon but moved to Coimbra in 1537.
In 2013, the University of Coimbra became a UNESCO World Heritage Site.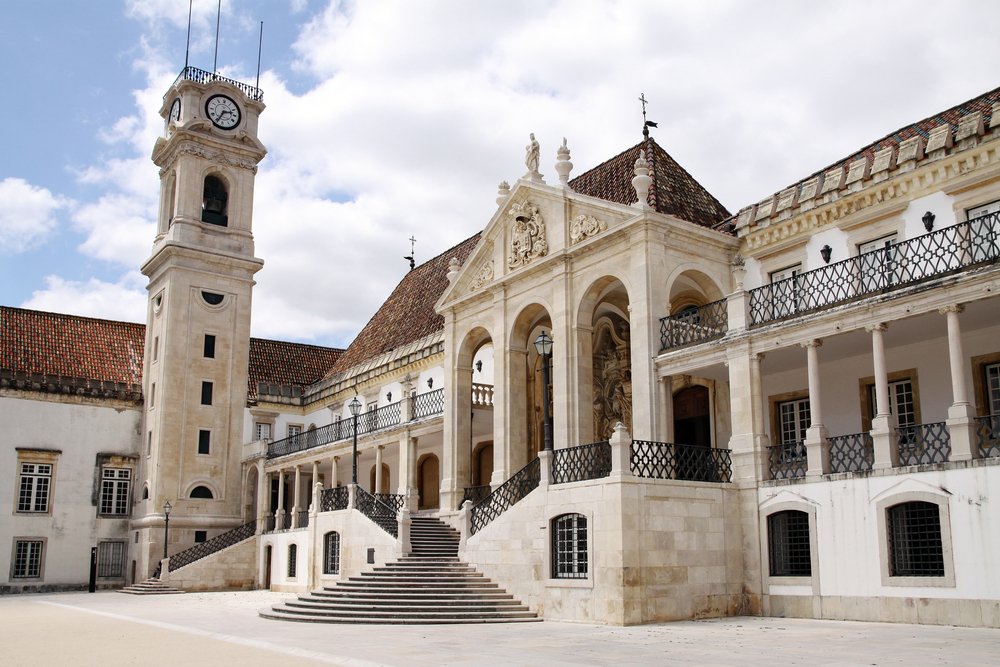 You can visit many university areas, including the Science Museum, the Cabinet of Curiosities, the Royal Palace, Saint Michael's Chapel, and the Joanina Library.
A ticket for the full visit is €17.50, but you can also choose just a few areas you are interested in.
Even just from the outside, the university is truly impressive and offers sweeping city views from the main square, Paço das Escolas.
Other must-see landmarks in Coimbra include Coimbra Cathedral (Sé Velha), the Church of the Holy Cross, housing the tombs of Portugal's first two kings, and the university's Botanical Garden, which is free to visit.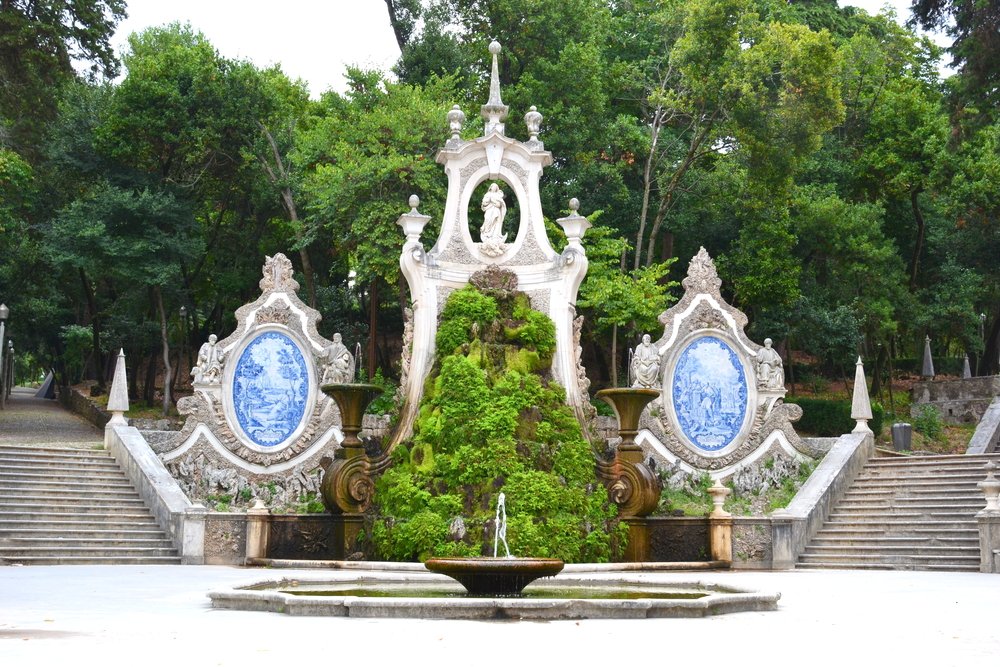 Another lovely park for a stroll is Sereia Garden if you find yourself wanting to stretch your legs a bit more on this Lisbon to Porto drive!
If you have any extra time, take a walk along the Mondego River, explore Parque Verde do Mondego, and cross the pedestrian bridge Pedro e Inês to Parque do Choupalinho to admire Coimbra from afar.
On this riverbank, you can also visit the archaeological site Mosteiro de Santa Clara-a-Velha.
Stop for lunch in Aveiro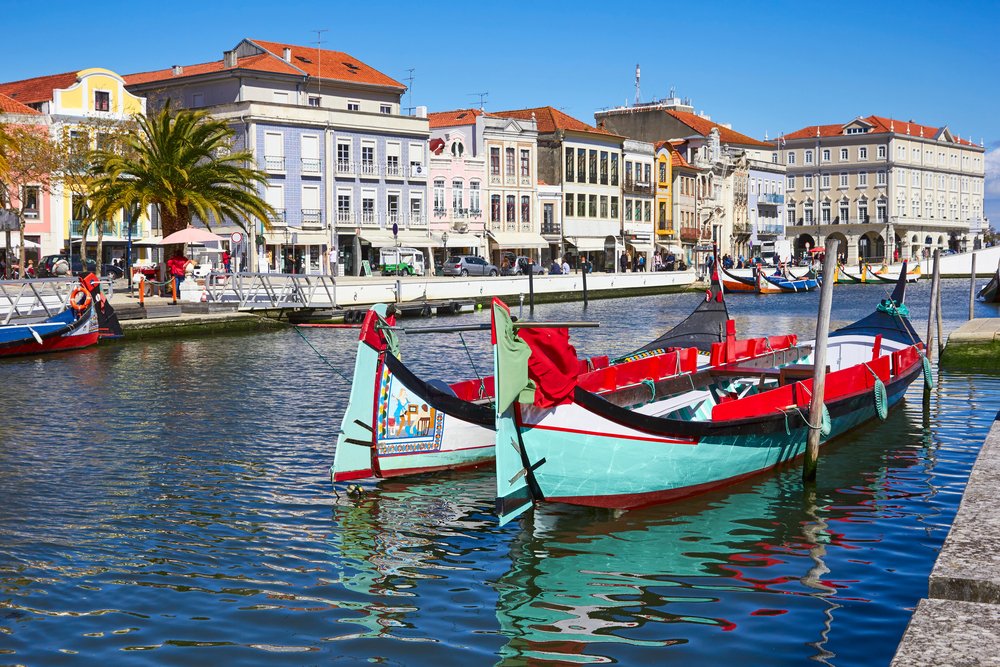 Your last stop before getting to Porto is Aveiro, also known as the Portuguese Venice.
While the comparison may be a bit of a stretch, Aveiro is a lovely city known for its canals and the colorful boats called moliceiros, which resemble the Venetian gondolas.
Aveiro's moliceiros were traditionally used to harvest seaweed (moliço) but are now mainly used for boat trips along the city's canals.
While you're there, make sure to take a closer look at the paintings on the moliceiros.
The subject matter ranges widely, but there's more than a few that are funny or even downright raunchy!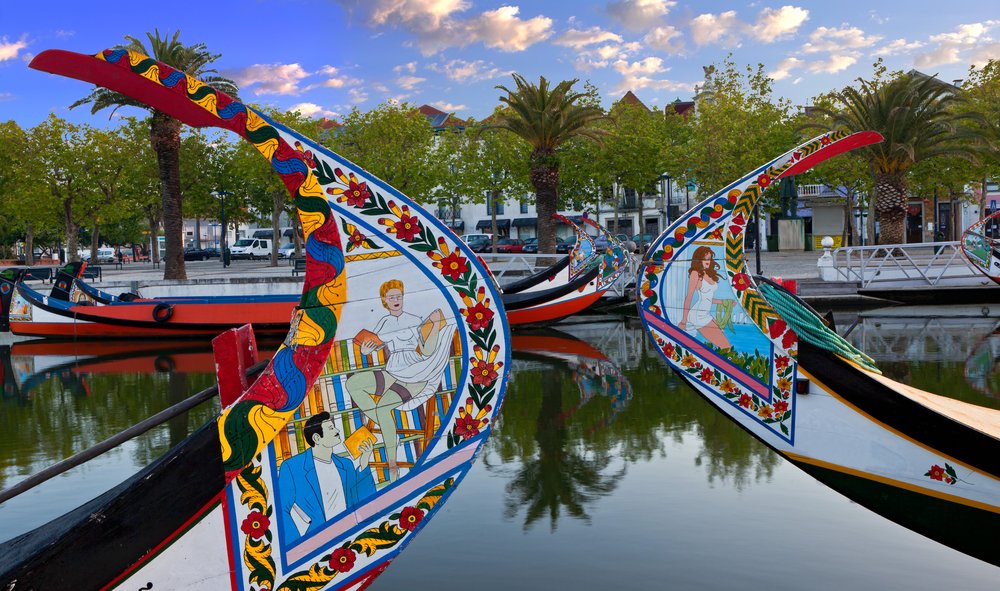 Joining a Moliceiro boat trip is a great way to explore Aveiro and learn about its unique history. You can book it in advance or just play it by ear and find a tour on the spot.
Aside from the boat ride, you can stroll around the small but charming city center and along the canals, visit the Cathedral of Aveiro, and go for a walk in quaint Infante Dom Pedro Park.
Have lunch in Aveiro before you get back on the road to Porto.
If you're just looking for a simple meal, Restaurante Picota and Taberna do Arco both offer cheap and tasty Portuguese dishes. For more refined dishes that are still affordable, check out Restaurante O Bairro.
Before you leave Aveiro, make sure you pick up one of the traditional desserts it's famed for, such as ovos moles and tripas.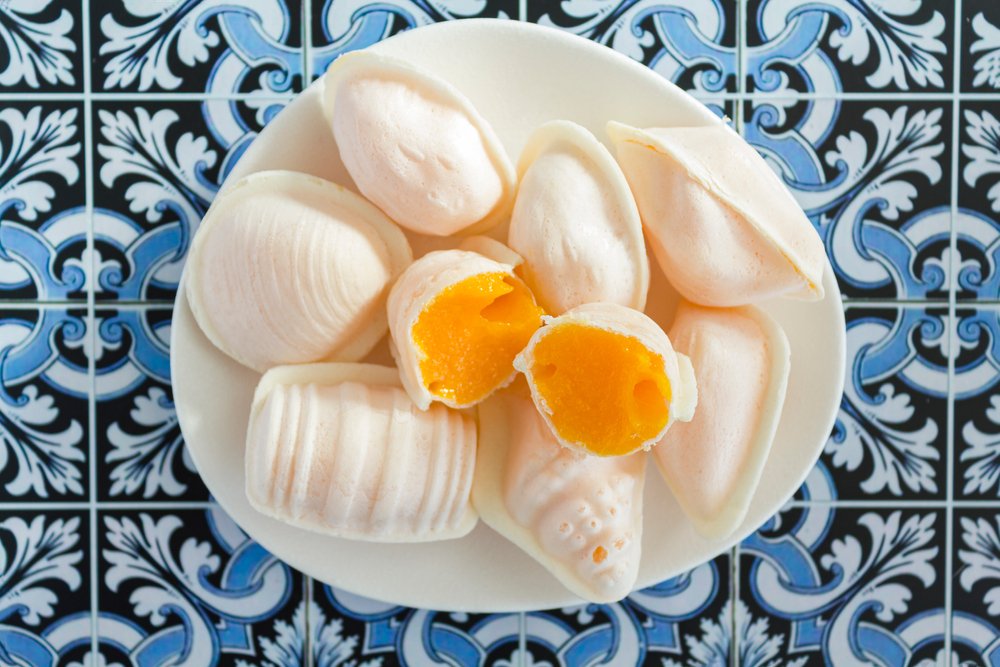 Ovos moles look like eggs and are filled with an egg yolk and sugar cream, giving them the name "ovos" (Portuguese for eggs).
Tripa de Aveiro is a sort of undercooked waffle, traditionally filled with the same cream of the ovos moles.
Before driving north toward Porto, you can take a short detour to the coast to check out Praia da Costa Nova.
The area is famous for its traditional colorful striped houses!
Tip: Stop by Zé da Tripa for the best Tripa de Aveiro.
Finish your road trip driving from Aveiro to Porto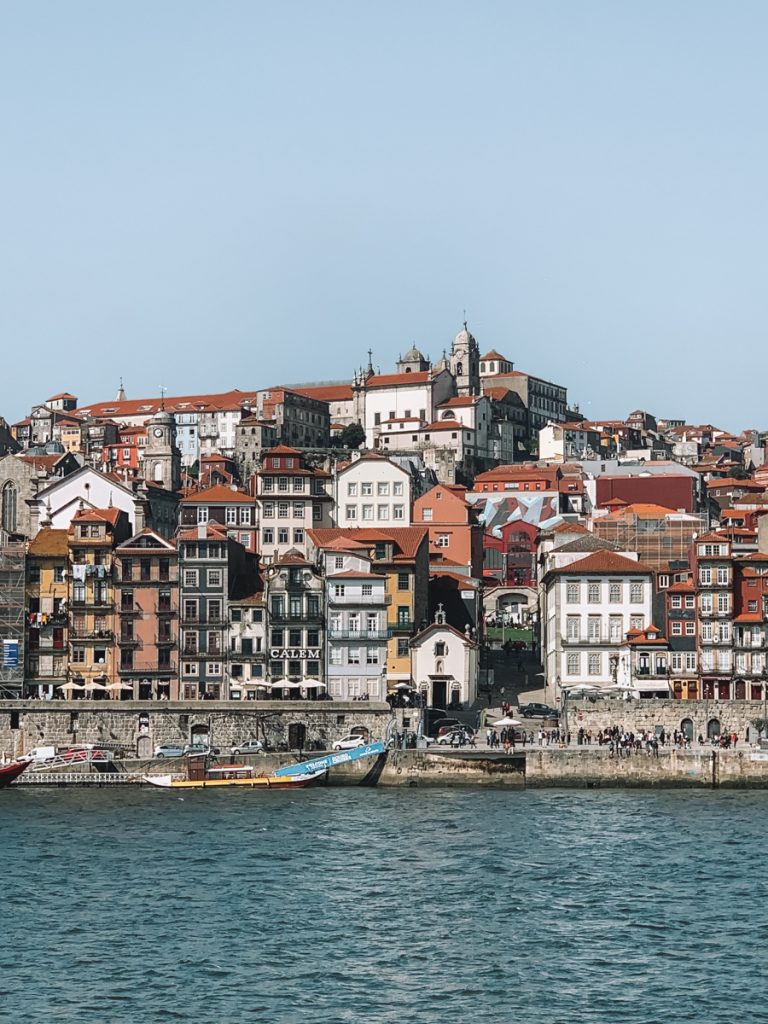 From Aveiro, you can get to Porto in under an hour – yes, the end of this Lisbon to Porto road trip is in sight!
On your way, you can stop by Vila Nova de Gaia to take in the wonderful views of Porto.
The two cities are separated by the Douro River and connected by the famous Ponte Luís I, and it's a great vantage point to see all of Porto and its hills laid out in front of you.
It's easy to think that Vila Nova de Gaia is a part of Porto, but it's a different city, better known for the many Port wine cellars all along the riverbank.
Check out the spectacular views from Mosteiro da Serra do Pilar and Jardim do Morro.
Last but not least, you just need to cross the Douro River to finally get to Porto, where you'll wrap up your road trip.
More Places to See in Central Portugal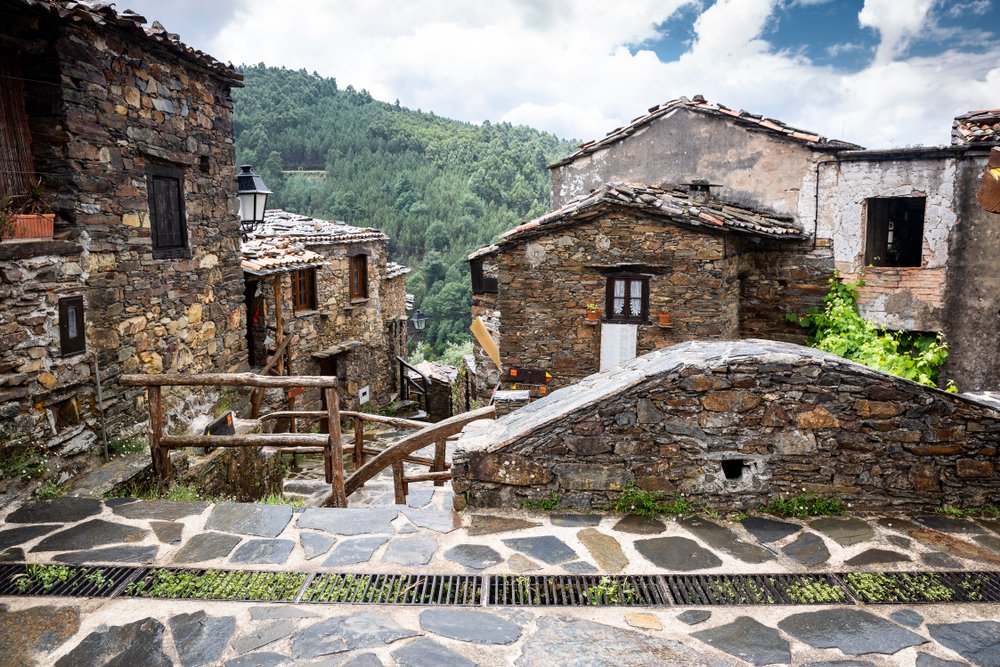 If you have more than three days for your road trip from Lisbon to Porto, you can spend more time in Coimbra.
This is a good jumping-off point to explore the nearby Serra da Lousã Mountains, wander around the charming schist village of Talasnal, discover the wonderful Serra do Açor, or visit the sleepy but lovely village of Piódão.
Other places worth discovering in Central Portugal are Caldas da Rainha, Alcobaça, Castelo Branco, Viseu, and Serras de Aire e Candeeiros Natural Park.
You could also spend a few days after you reach Porto exploring the Douro Valley with this 2-day Douro Valley itinerary or embarking one some of the great day trips from Porto if you want to use Porto as your home base.
Tired of driving yourself but want to explore Northern Portugal's wine region? Check out these wine tours from Porto that cover both the Douro Valley and Minho regions.
Not that you needed any more ideas!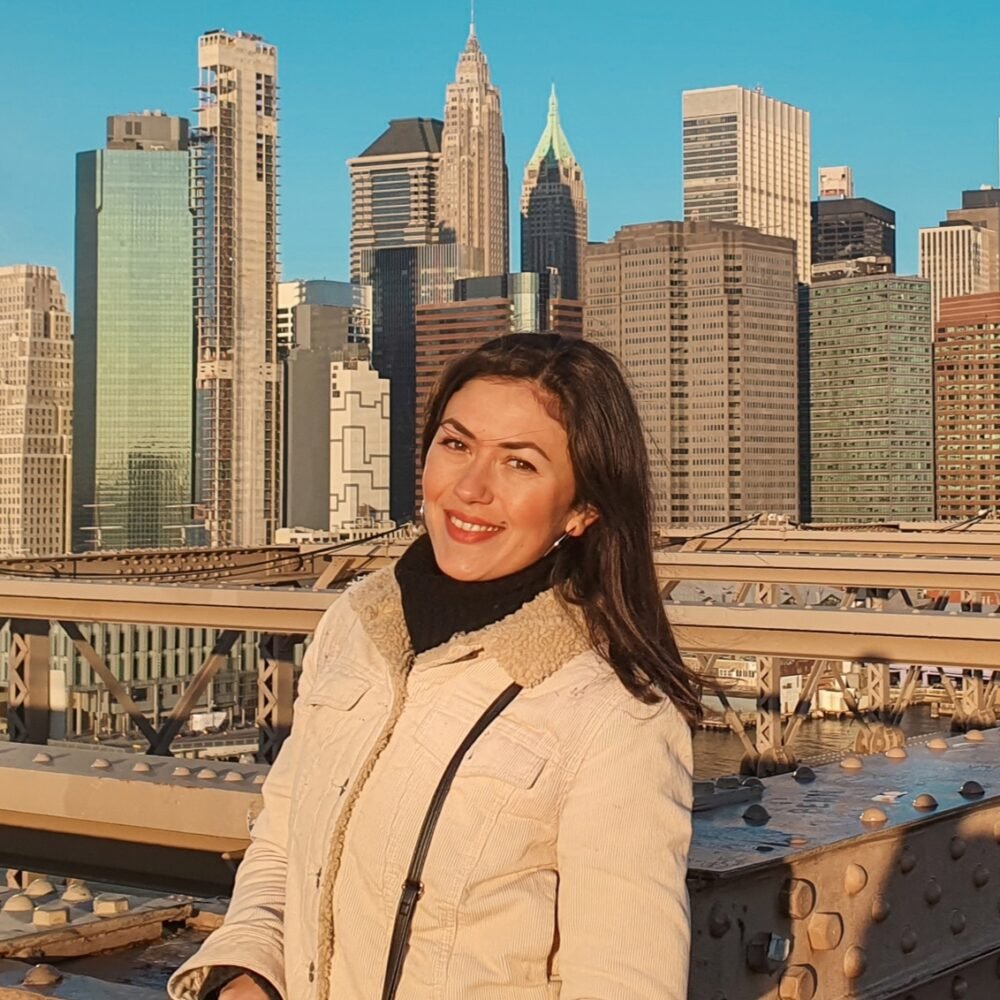 Roxana is a Romanian-born freelance travel writer who has lived in Italy for over 15 years. She has a Master's in Journalism and a Bachelor's in Film Studies. Her mission is to find hidden gems, even in the most popular travel destinations, and to inspire people to explore new places and cultures with the same curiosity! When she is not traveling, writing, or planning her next trip, she is either binge-watching TV shows or reading books.